The 10 Best Jamaica Airbnbs With Pools, Beach Access, and Luxurious Amenities
Jamaica is filled with stunning beaches, lush jungles, and a vibrant culture filled with music and great food. It's no wonder that Jamaica is one of the most popular Caribbean destinations for travelers, and the right Jamaica Airbnbs will put you right next to it all.
The grande dame of Jamaica is Montego Bay, which has four of the poshest resorts in the Caribbean, while Ocho Rios is the island's major port of call for cruise ships. If you're looking for more of a bustling city atmosphere, Kingston is where you should go.
Airbnb rentals in Jamaica offer more than just a place to stay; they provide an opportunity to immerse yourself in the culture and beauty of the island. With access to local restaurants, shops, and attractions, you can explore the best of what Jamaica has to offer without ever leaving your rental. Plus, many Airbnbs come with amenities like private chefs or beach shuttles that make your stay even more enjoyable.
No matter where you choose to stay in Jamaica, there are plenty of activities to enjoy such as hiking through Blue Mountains National Park or taking a dip in Martha Brae River. Whether you're looking for a relaxing beach vacation or an adventure-filled getaway, Jamaica has something for everyone.
We hope you love the spaces we recommend! Just so you know, Matador may collect a small commission from the links on this page if you decide to book a stay. Listed prices are accurate as of the time of publication.
Airbnbs in Kingston, Jamaica
City Nirvana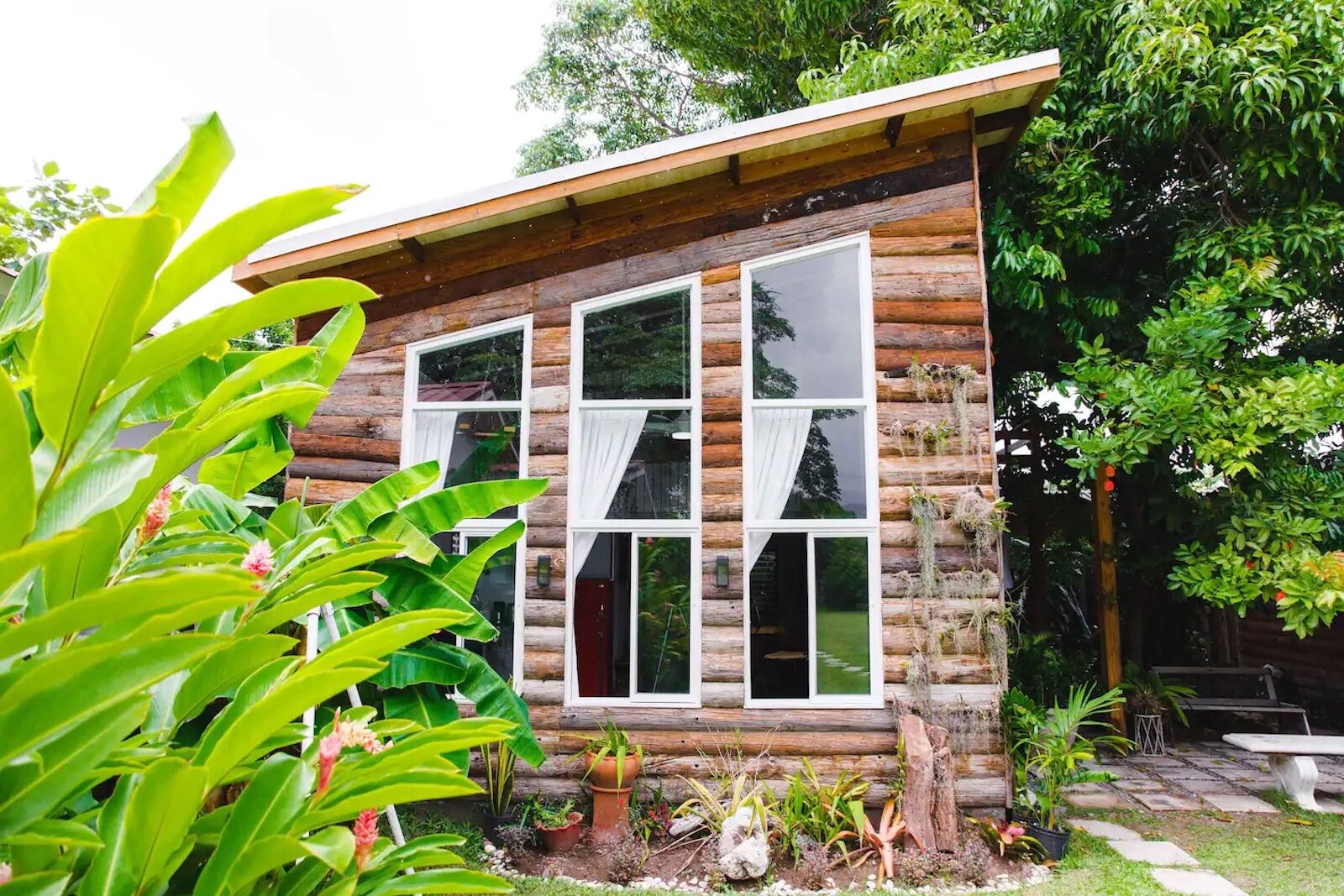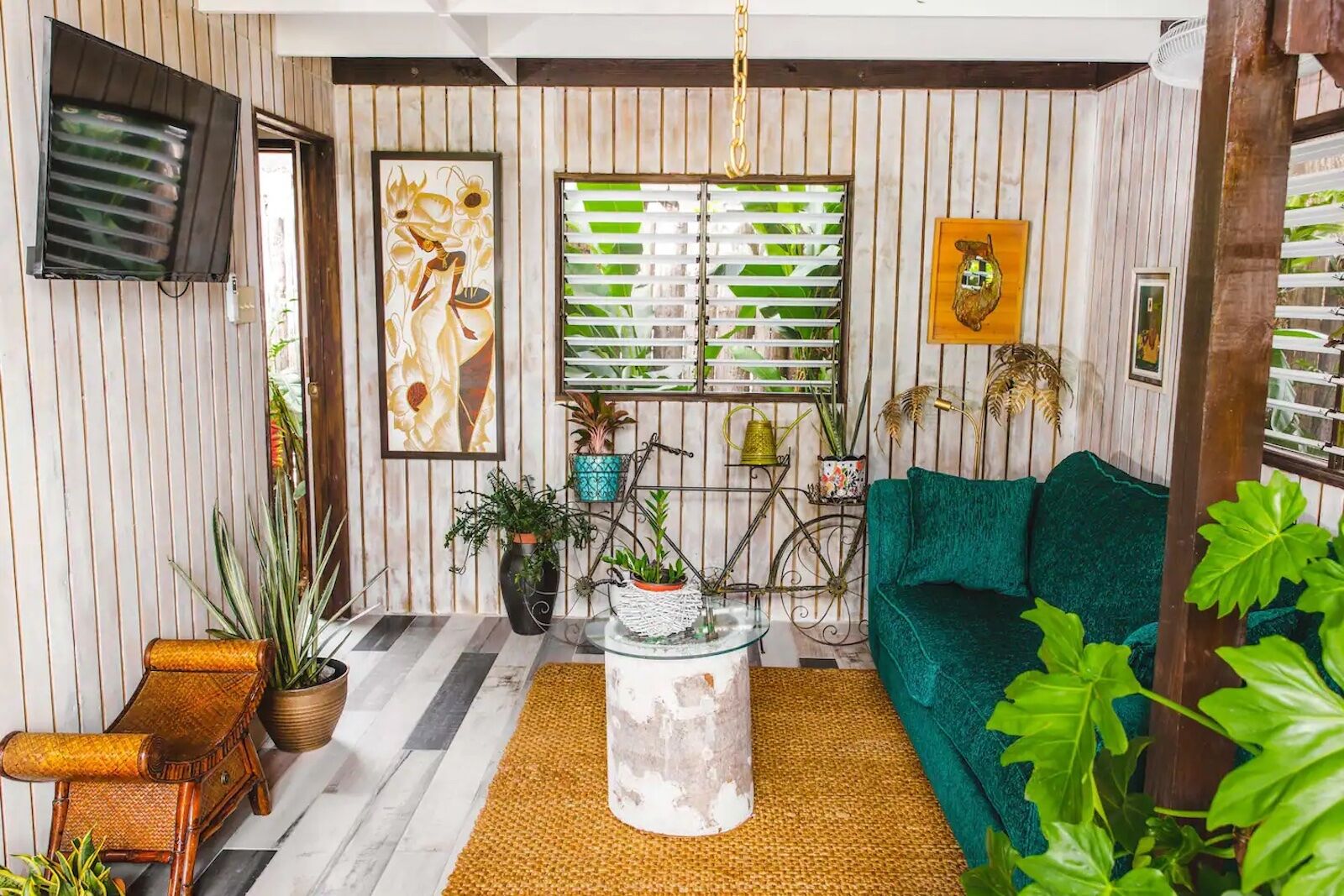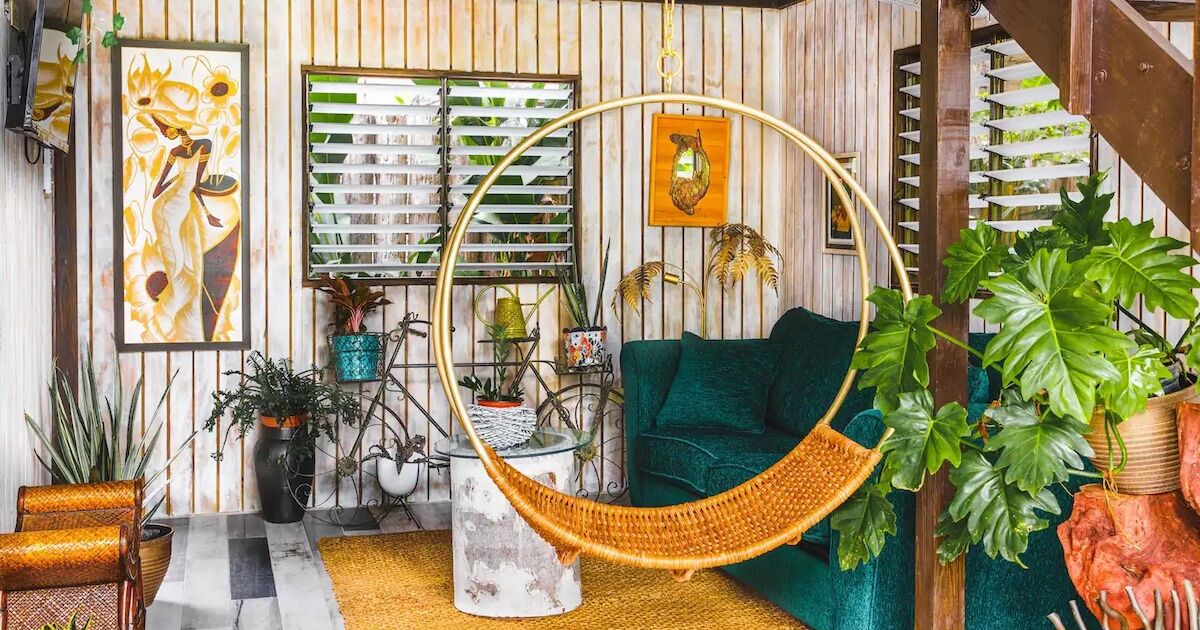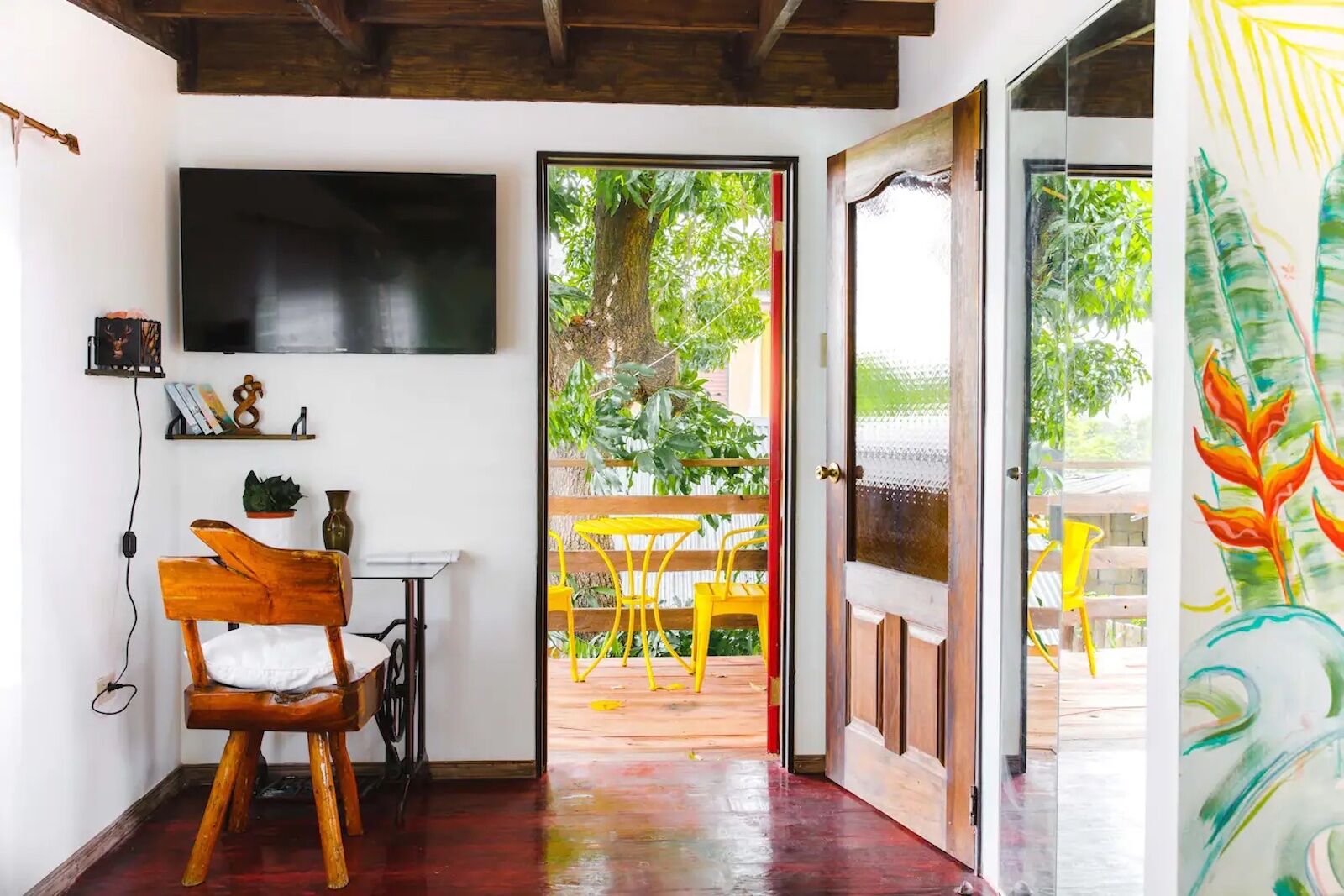 See more photos
The airbnb known as City Nirvana is a safe urban retreat located next to City Cabin in the vibrant Liguanea area. Enjoy amazing mountain views, stroll through our verdant garden, listen to birds during the day and creatures at night — all with easy access to explore the Bob Marley Museum, Devon House, restaurants, coffee shops, stores, and supermarkets. There's a living room perfect for relaxing or watching TV and a sofa bed that can sleep an additional two guests (additional cost applies). The full size bathroom offers an invigorating outdoor shower with a conch shell showerhead surrounded by palm and heliconia plants. Upstairs, there's a queen-size bed for when you're ready to drift off next to local artist impressions of our garden blooms and foliage. Step out onto your private patio for some fresh air or work remotely in anticipation of mangoes galore during mango season.
Akwaaba Penthouse Luxury Suite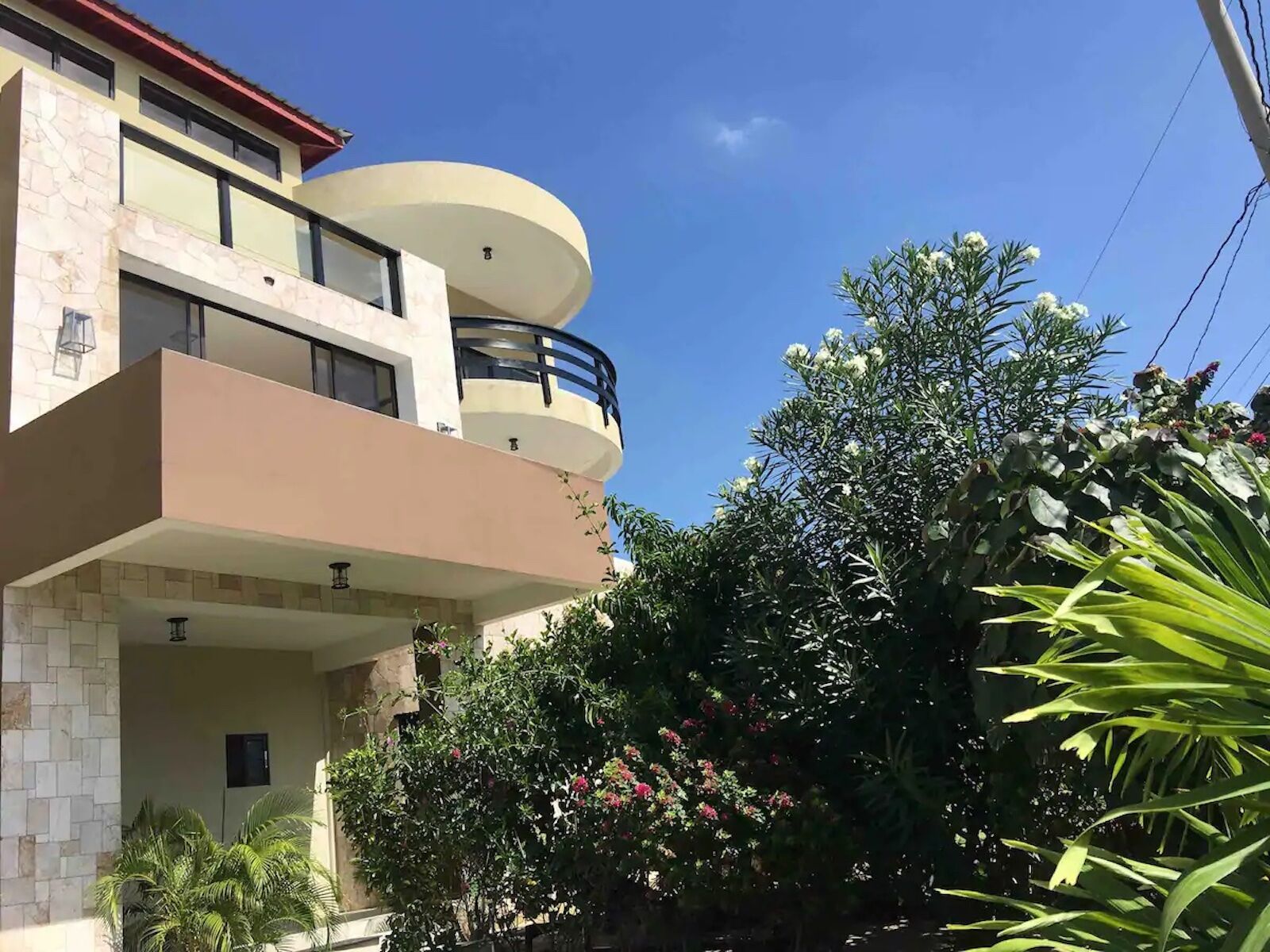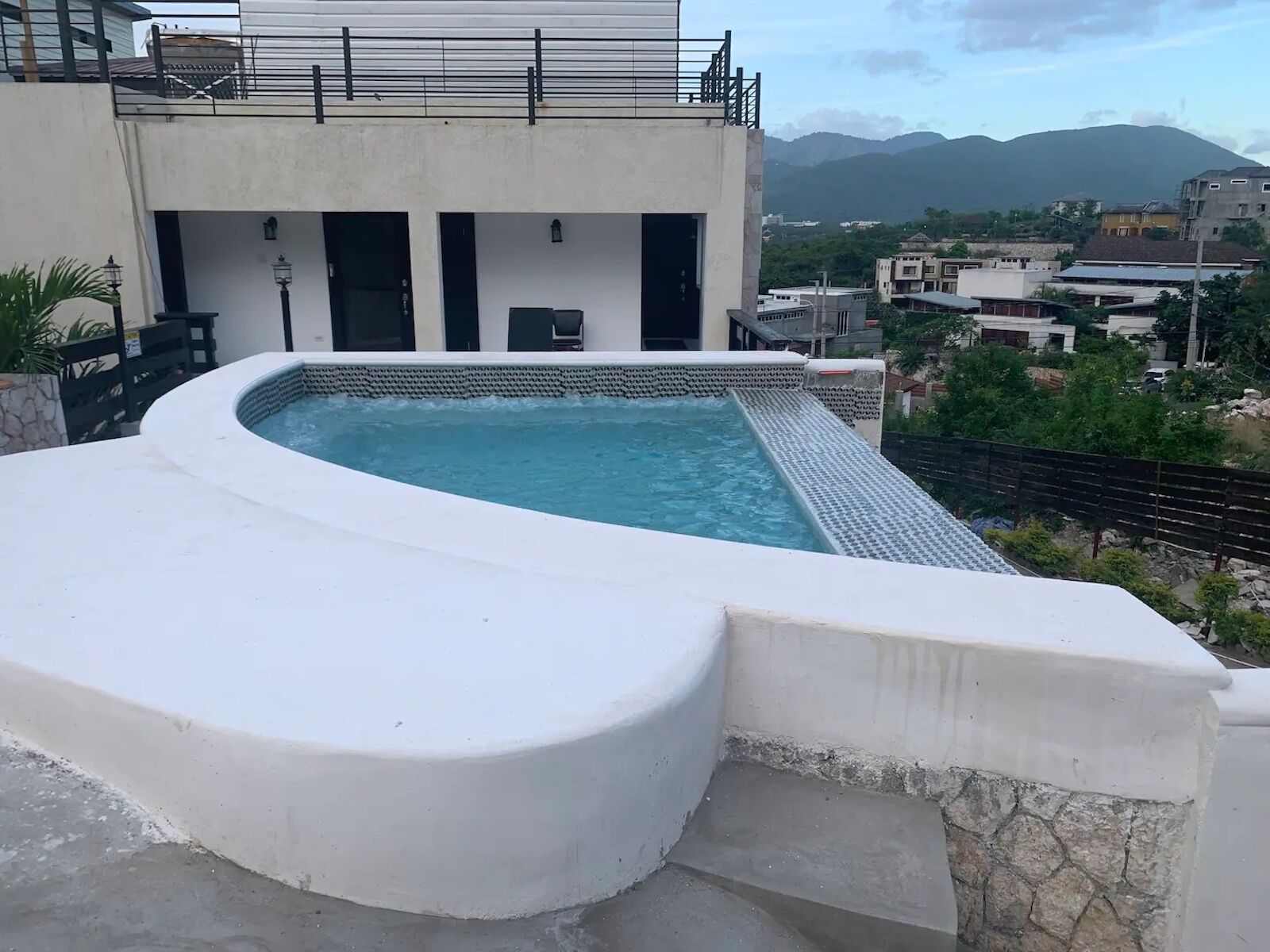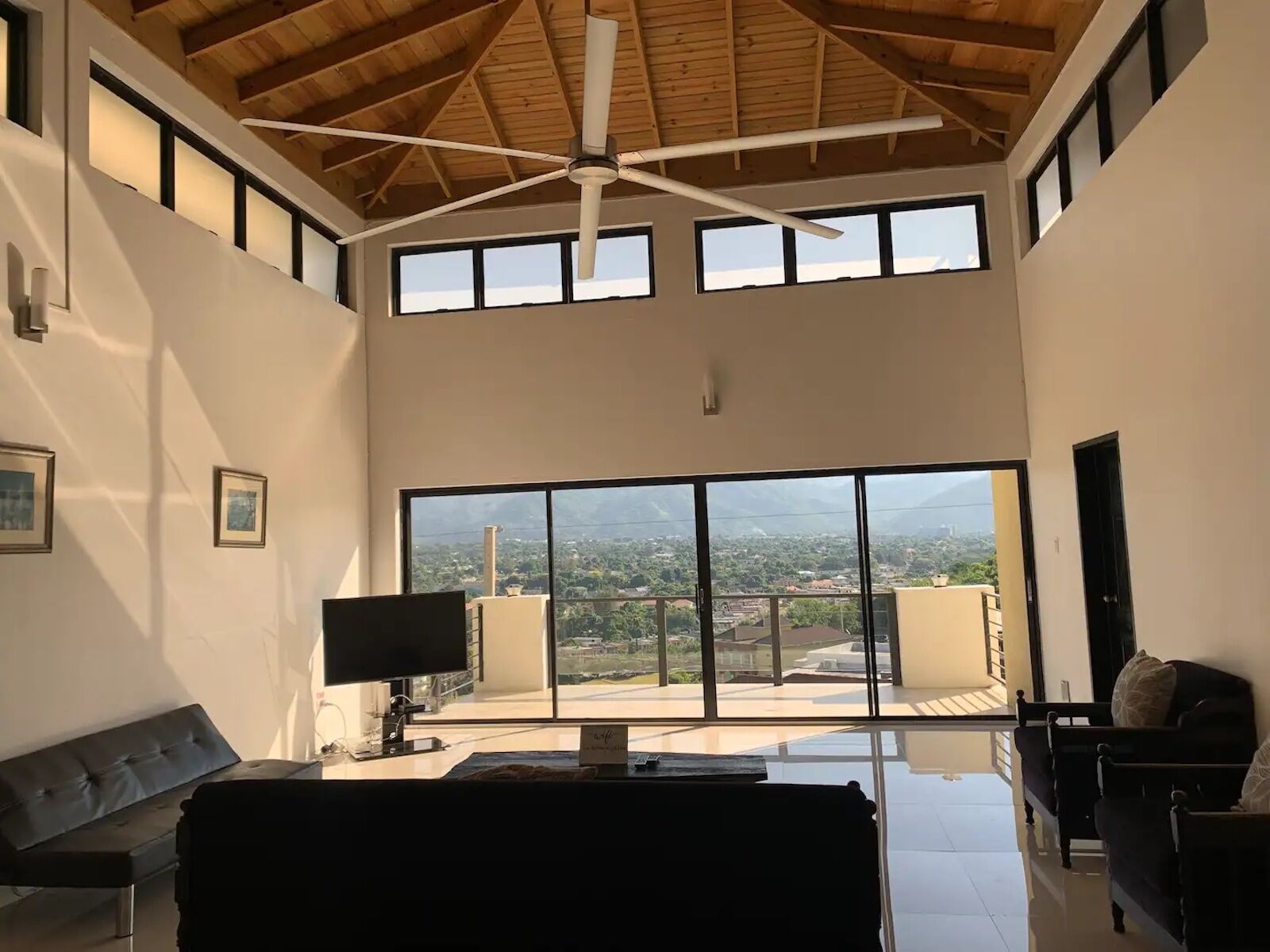 See more photos
Enjoy the best of both worlds at Akwaaba Penthouse Luxury Suite, a modern apartment perched on a slope in central Kingston. With an incredible view of the Blue Mountain and city skyline, you'll have plenty of opportunities to relax and take in the view — especially after dark when the city lights up. This spacious suite offers a king size master bedroom with bathroom for extra comfort. As it's centrally located close to shopping areas, museums and National Stadium (just 20 minutes drive from Norma Manley airport), there's no shortage of places to explore either.
Paradise Haven at Genesis 28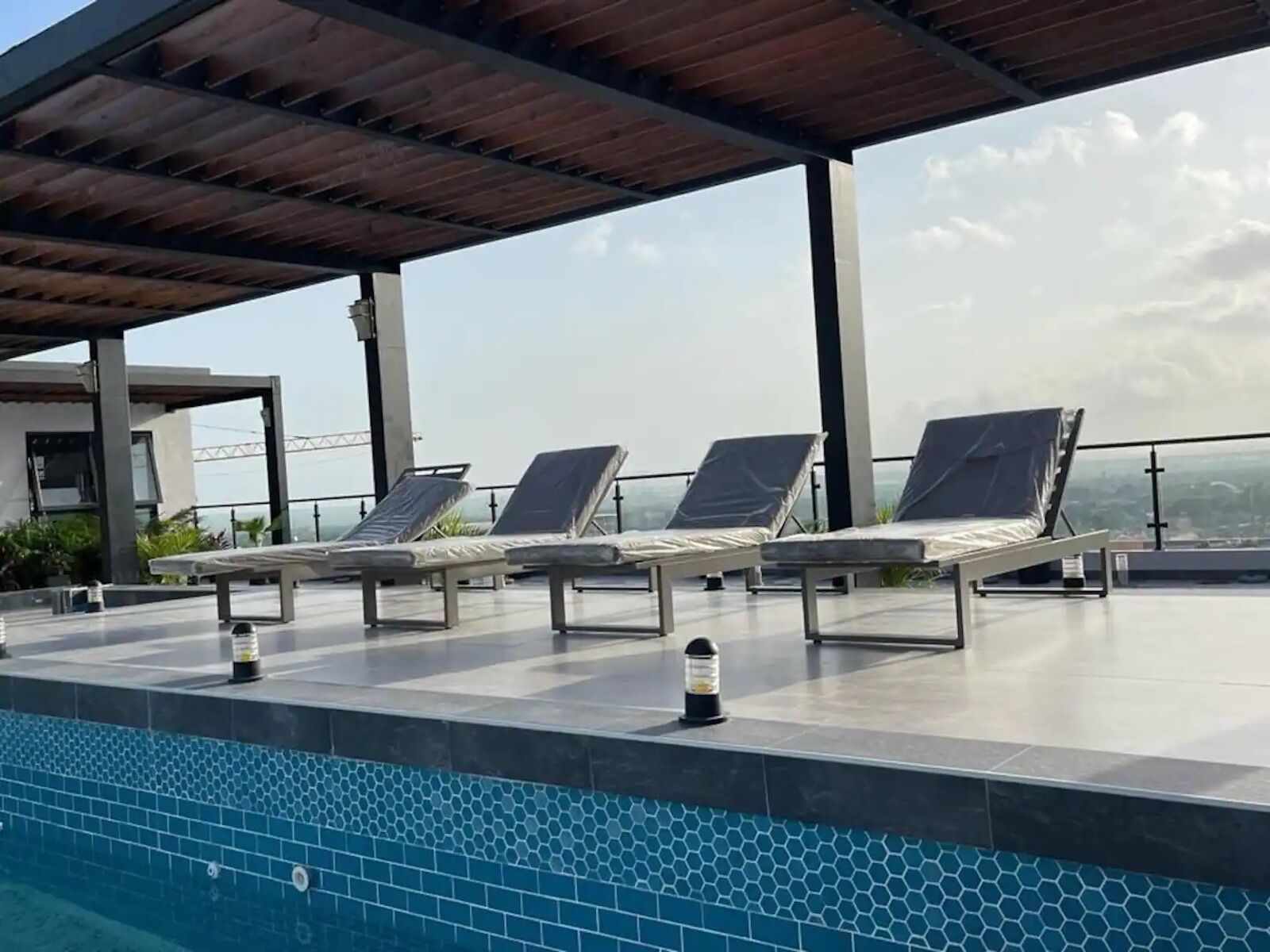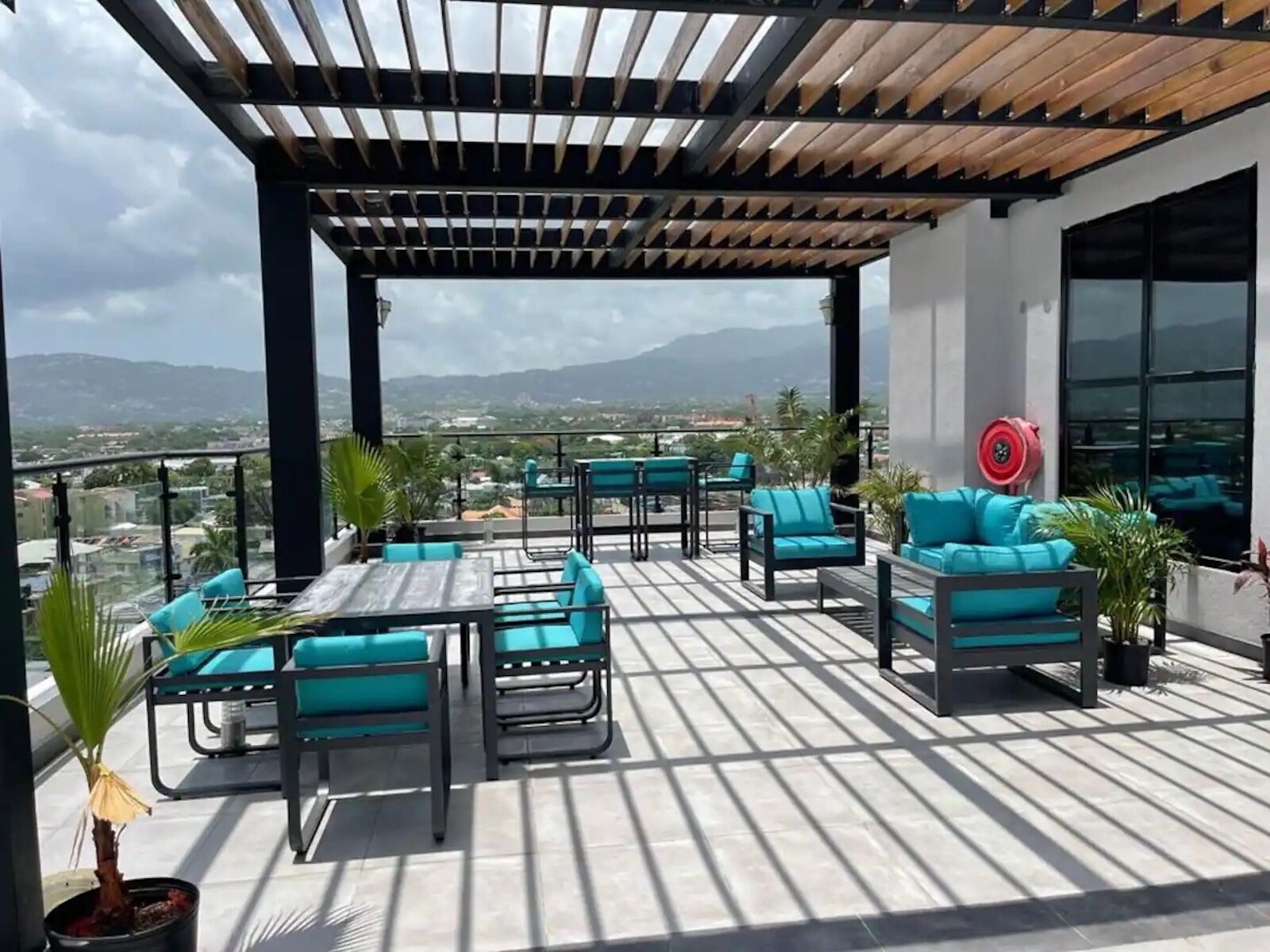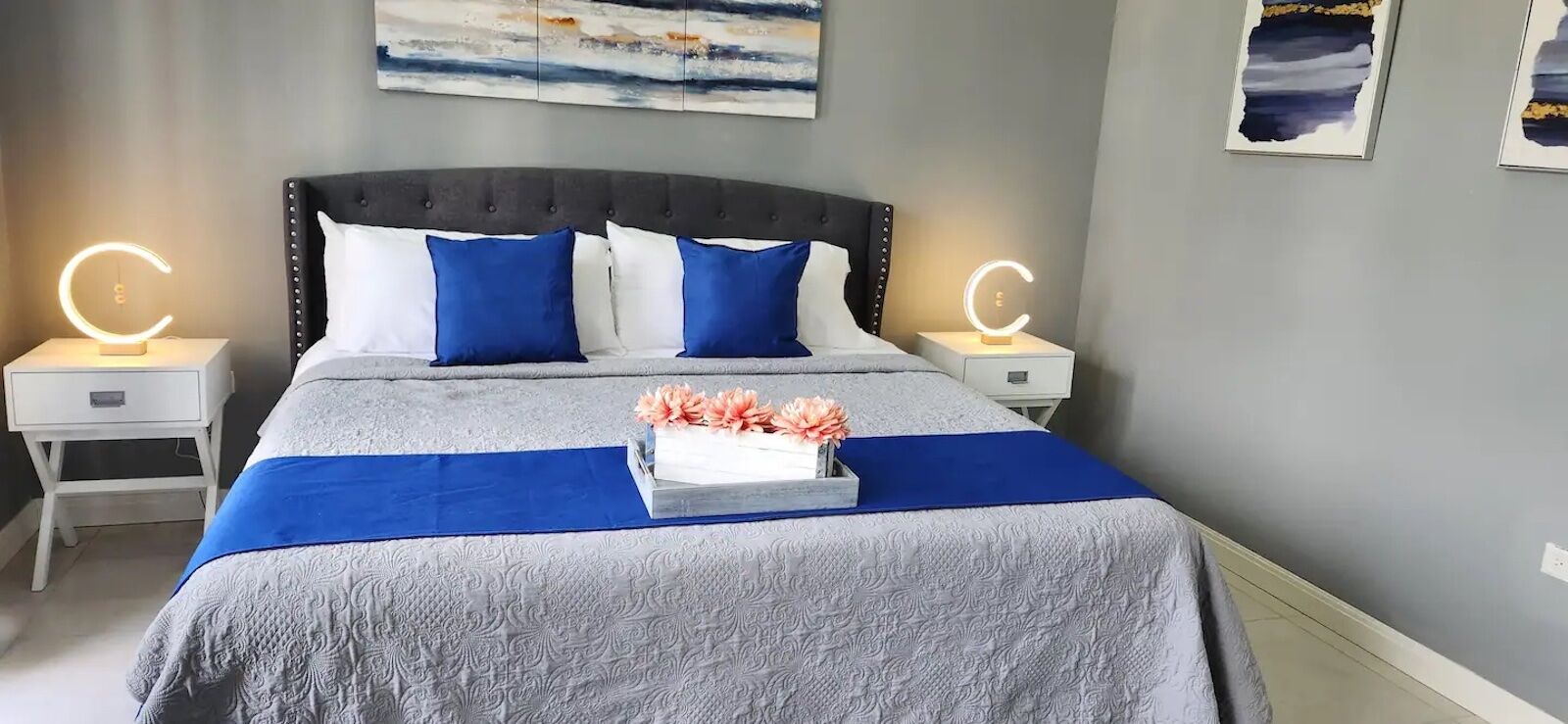 See more photos
Paradise Haven at Genesis 28 is tastefully designed with a modern and contemporary touch, offering you panoramic views of the city as well as many amenities such as an infinity pool, gym, fast Wi-Fi, smart TVs and on-site parking. The complex is also secured by 24-hour surveillance cameras and a security post for your peace of mind. You can enjoy the two bedrooms and 2.5 bathrooms that have all the comforts of home — king size beds, cable TV, air conditioning and more — plus a designated work area for longer stays. Relax in the rooftop infinity pool or sauna, or watch movies in the theater while enjoying the spectacular views.
Airbnbs in Montego Bay, Jamaica
Oceanfront Two Bedroom With Pool and Beach Access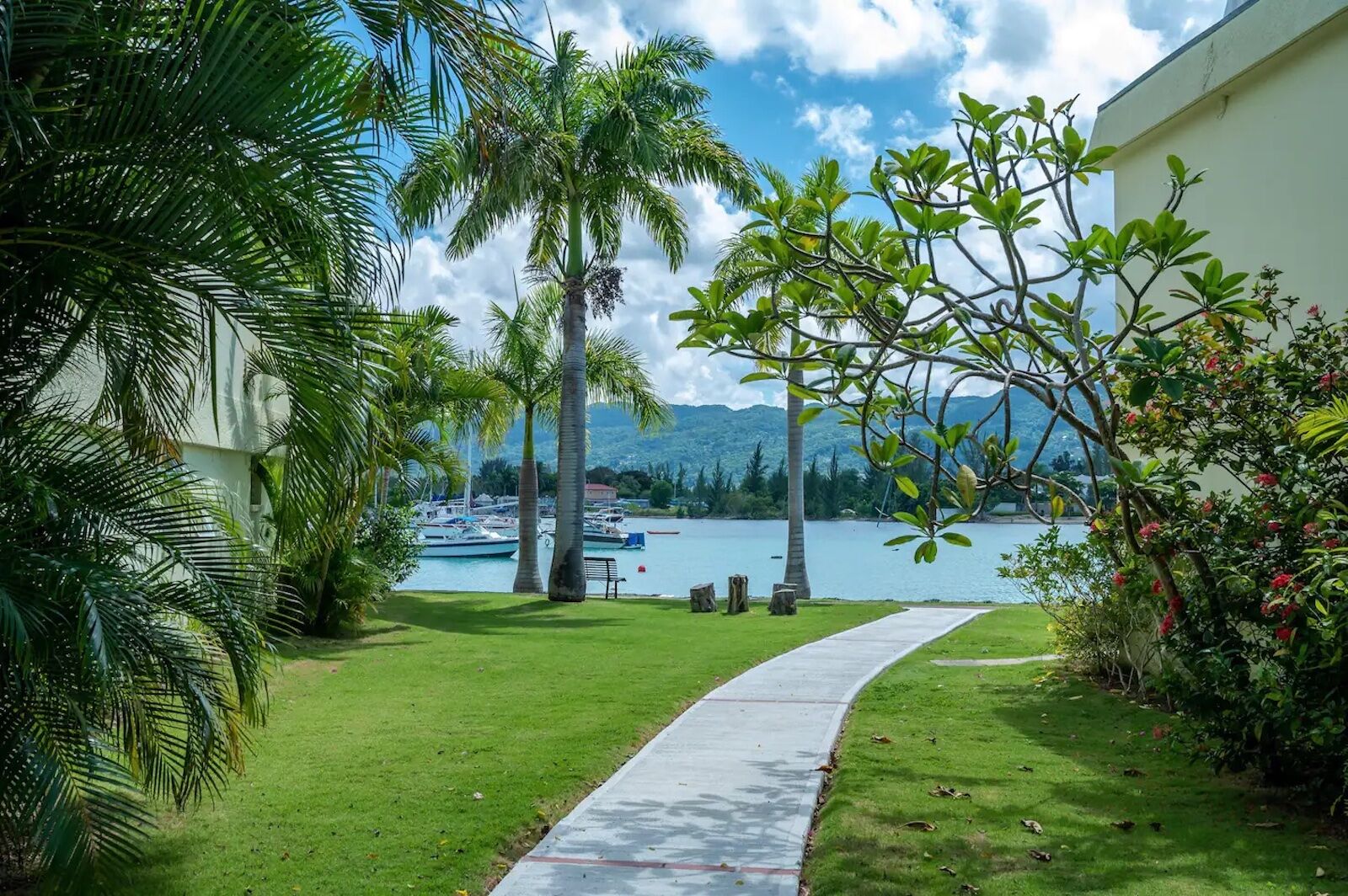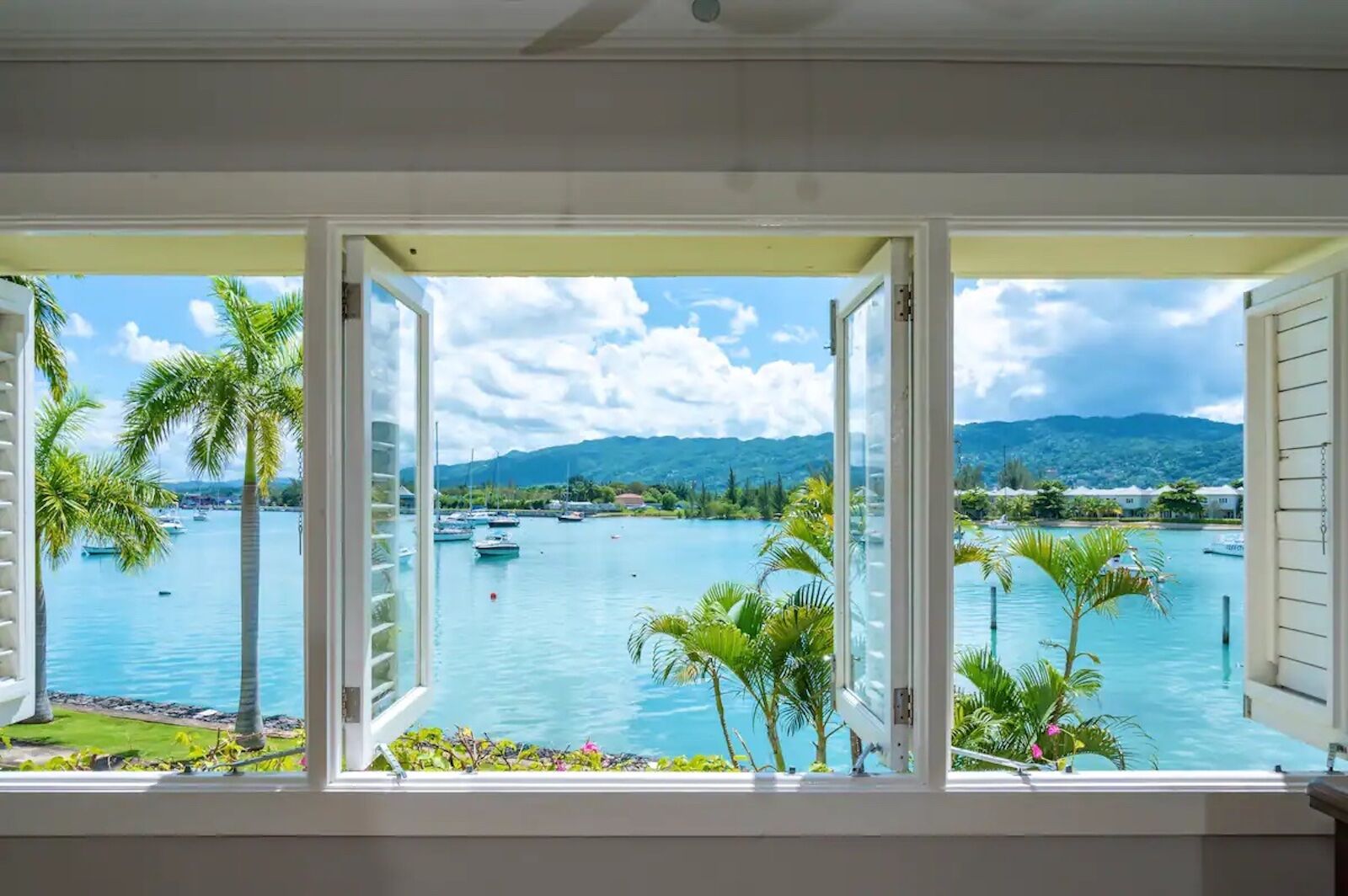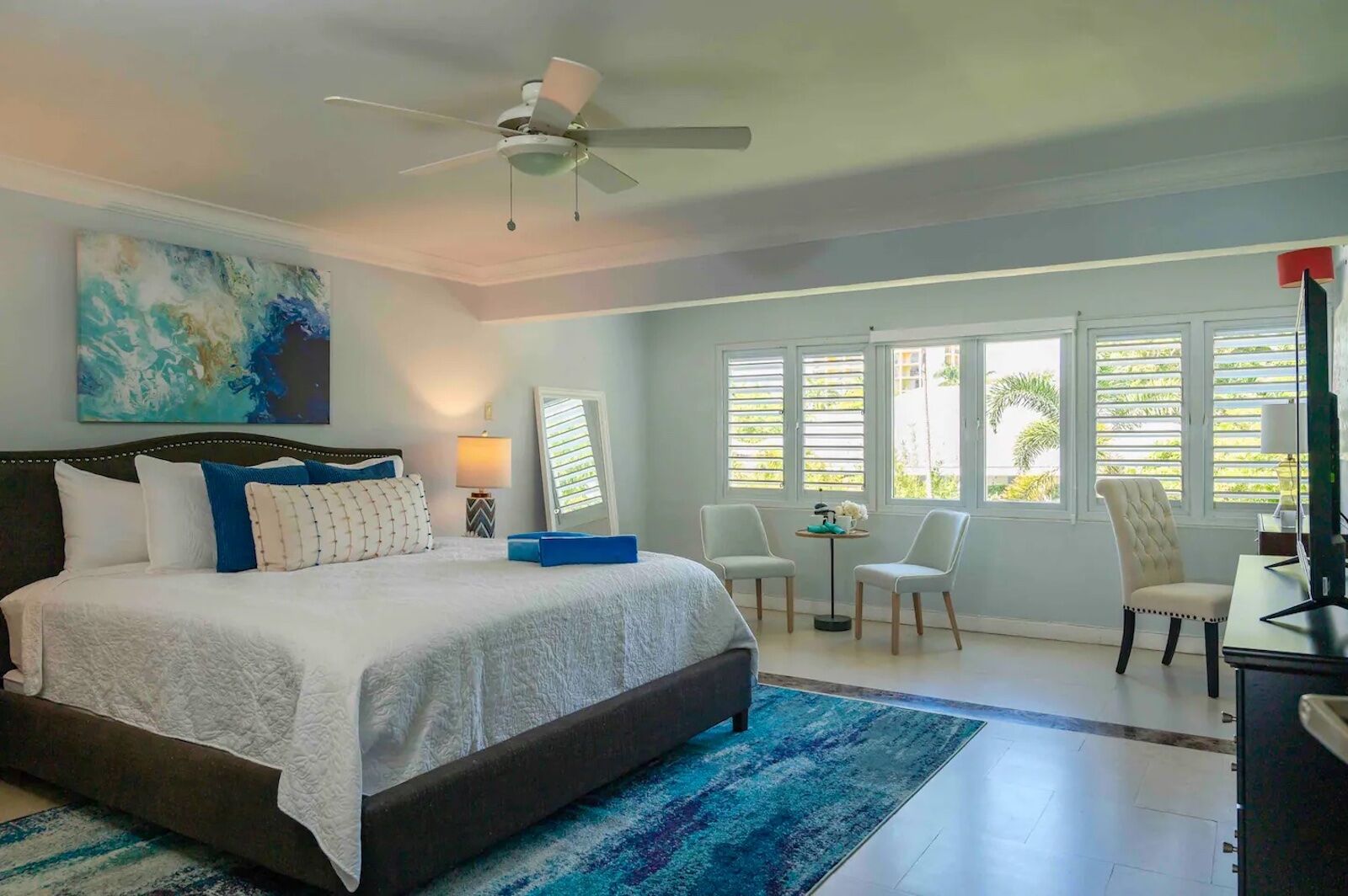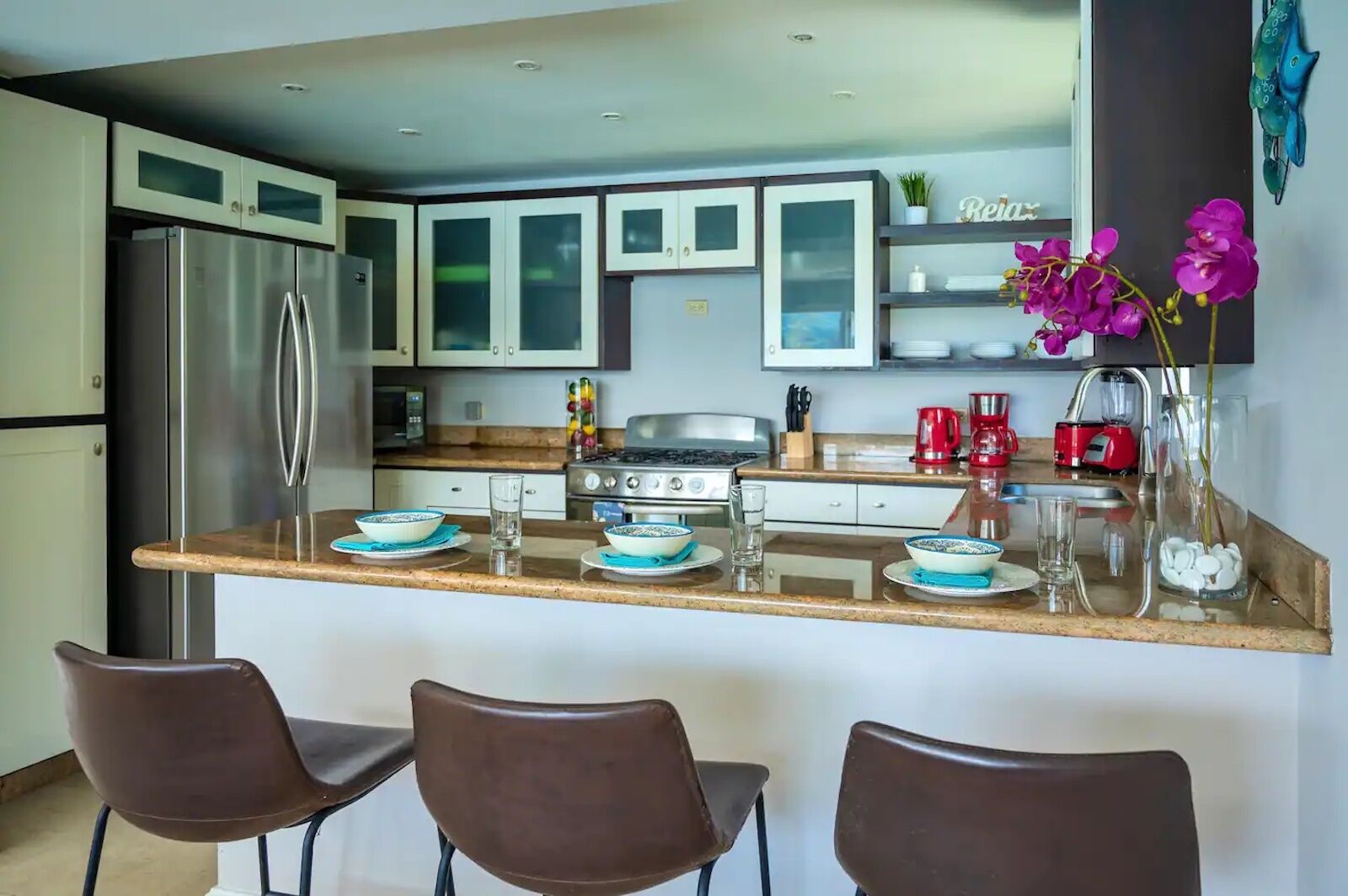 See more photos
This two-bedroom waterfront apartment overlooks the Caribbean Sea. The condo is superbly located and everything is virtually on your doorstep, only 20 minutes away from the Sangster International Airport. You will feel right at home, and our services come complete with a large fully equipped kitchen, filter coffee machine, cable TV, Wi-Fi, washer and dryer, AC in all bedrooms, ceiling fans, and an abundance of natural light. There's also a pool, kids pool, kids play area and manicured gardens as well as barbecue and bar for shared use of all residents. You can access neighboring Montego Bay Yacht Club and Marina Palms Restaurant for some fine dining.
Glory at Montego Bay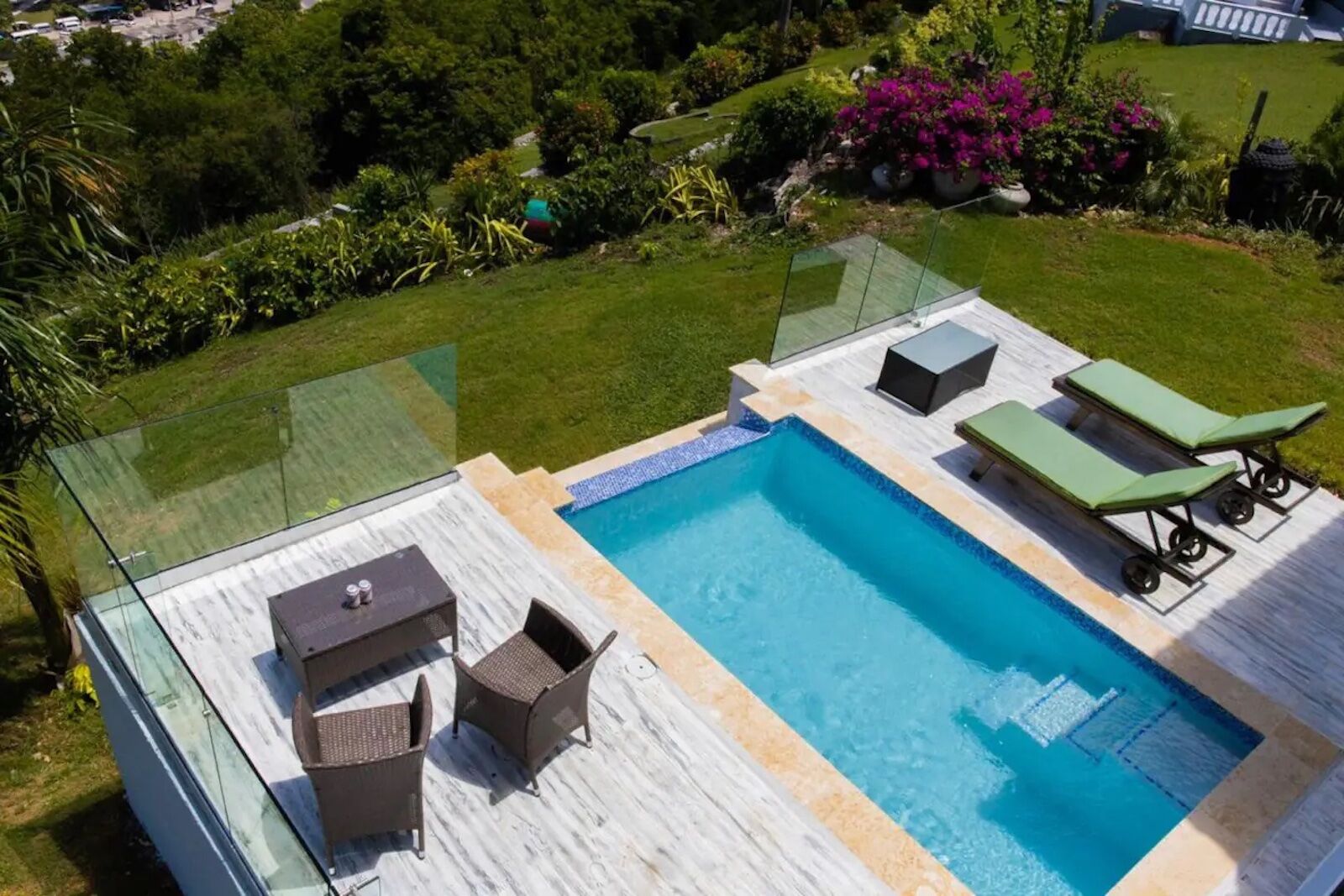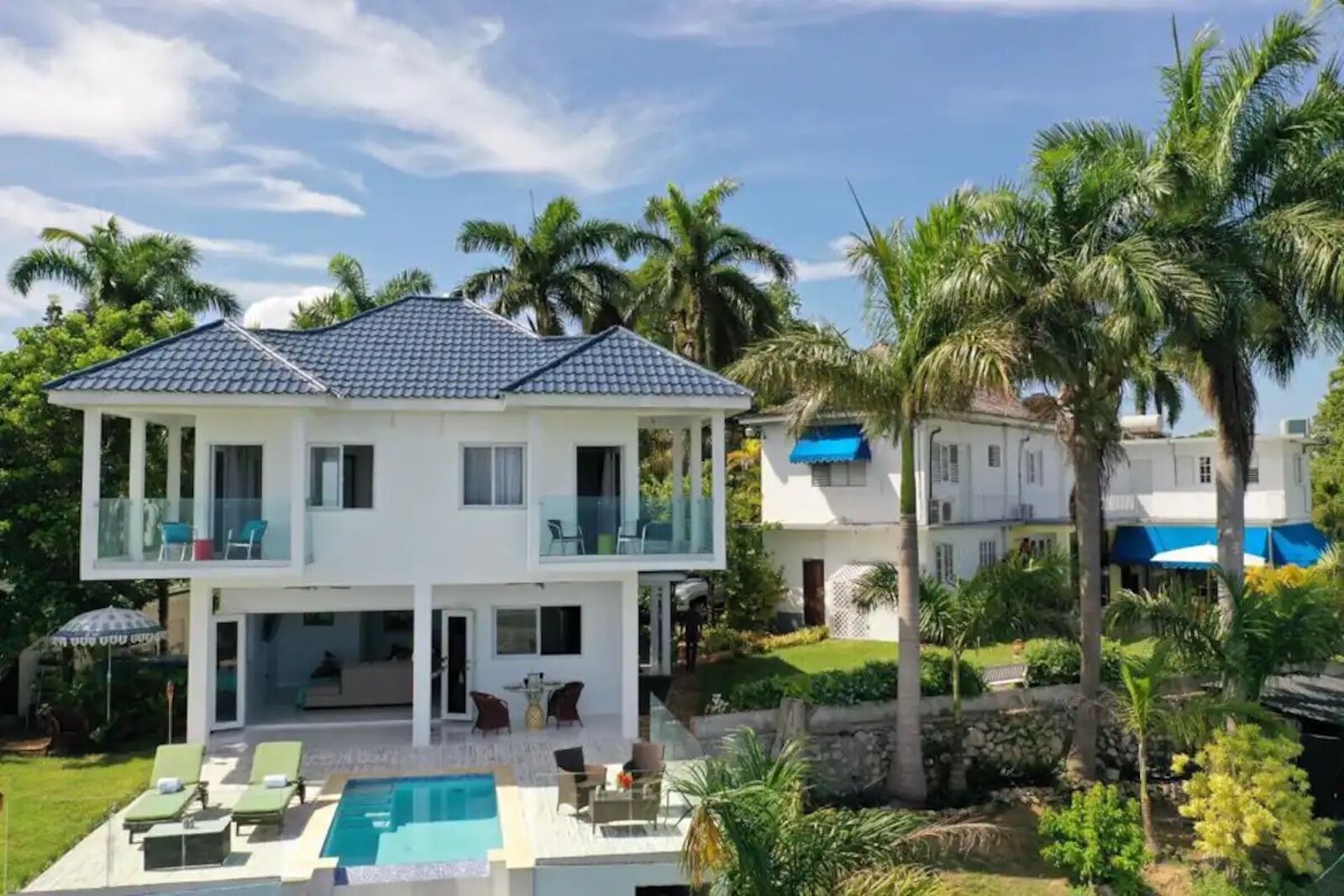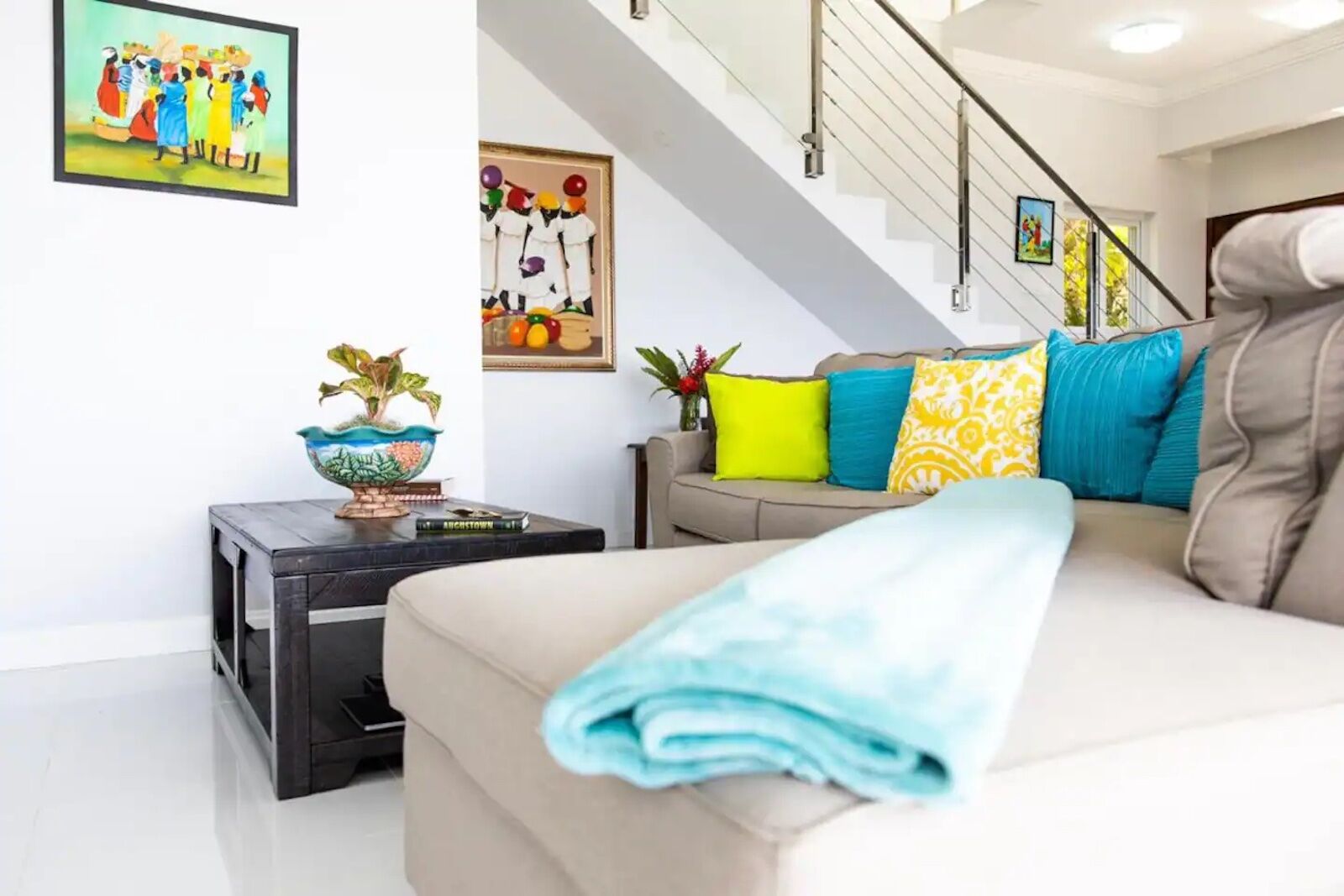 See more photos
This family cottage is situated on the grounds of Victory, presenting you with a unique opportunity to experience Jamaican home living. With a spectacular view of the Sangster International Airport and Caribbean Sea, as well as only being five minutes away from world-famous Doctors Cave Beach, not to mention five minutes drive from the airport, you won't want for much more during your stay. The owners also own the SeaGull at Little Bay Country Club in Negril, so you know there's attention to detail. Inside the cottage there is a Bose music system to provide entertainment and relaxation alongside with other services offered upon request.
Ocean View Two Bedroom with a Rooftop Pool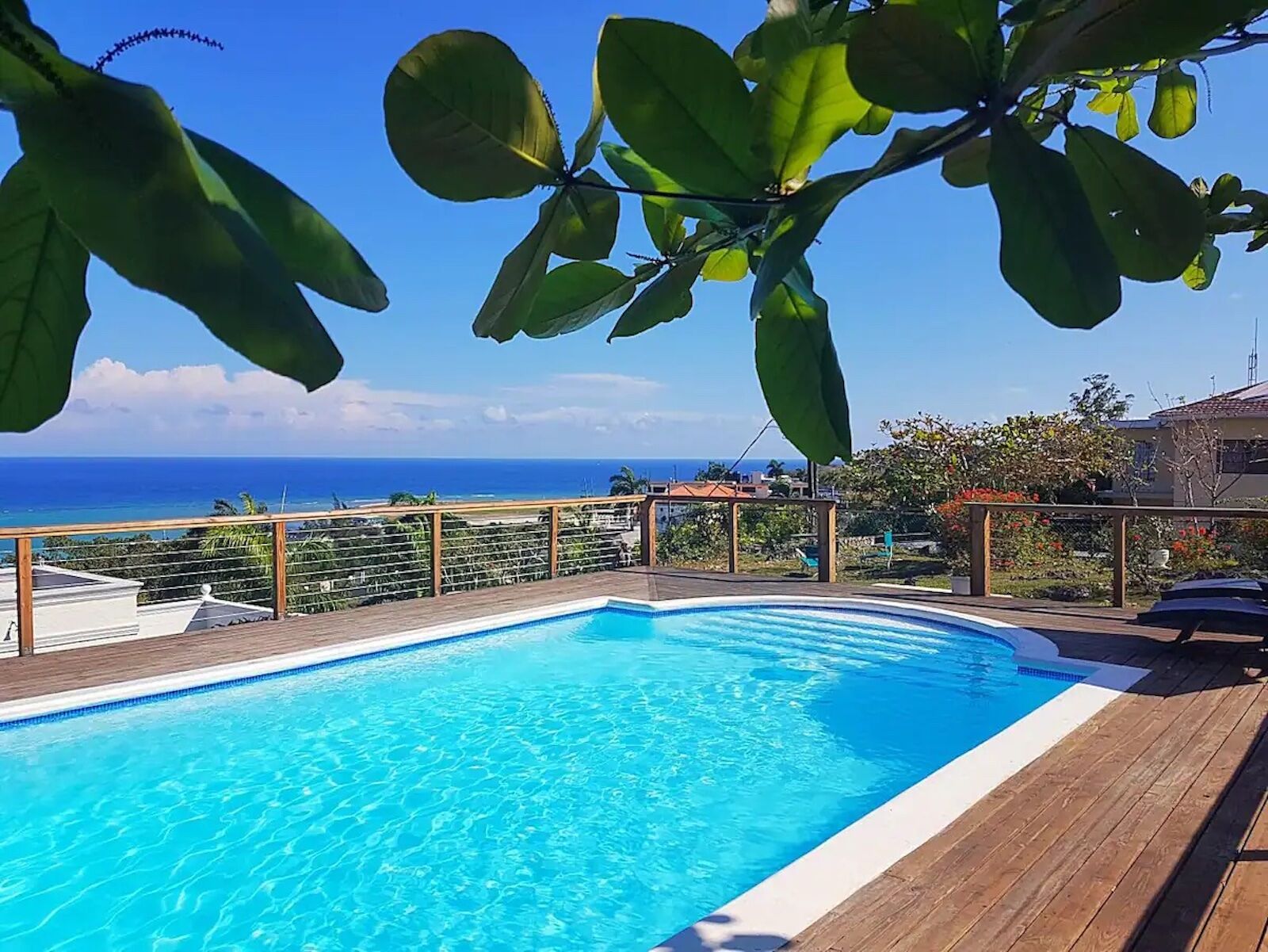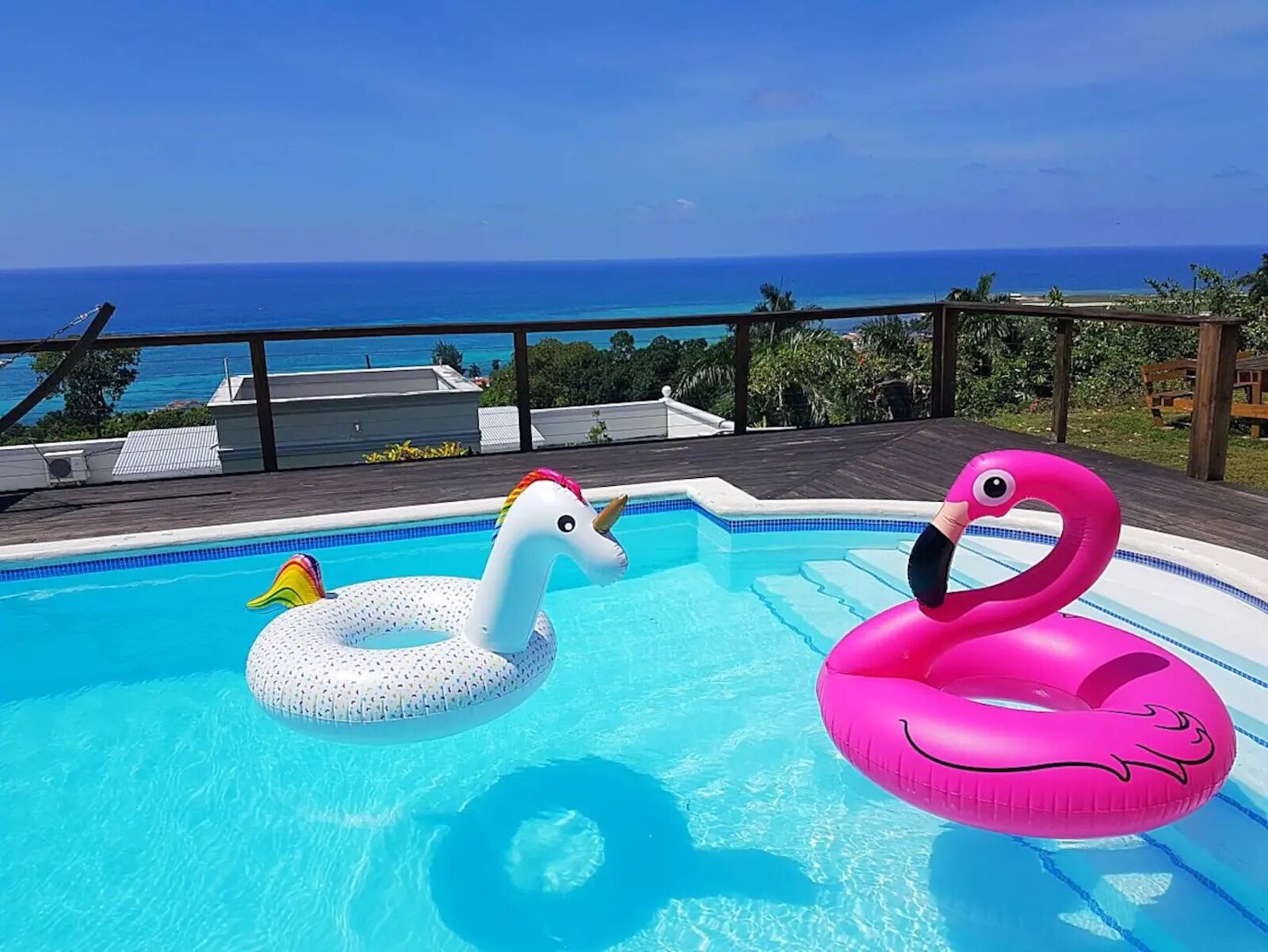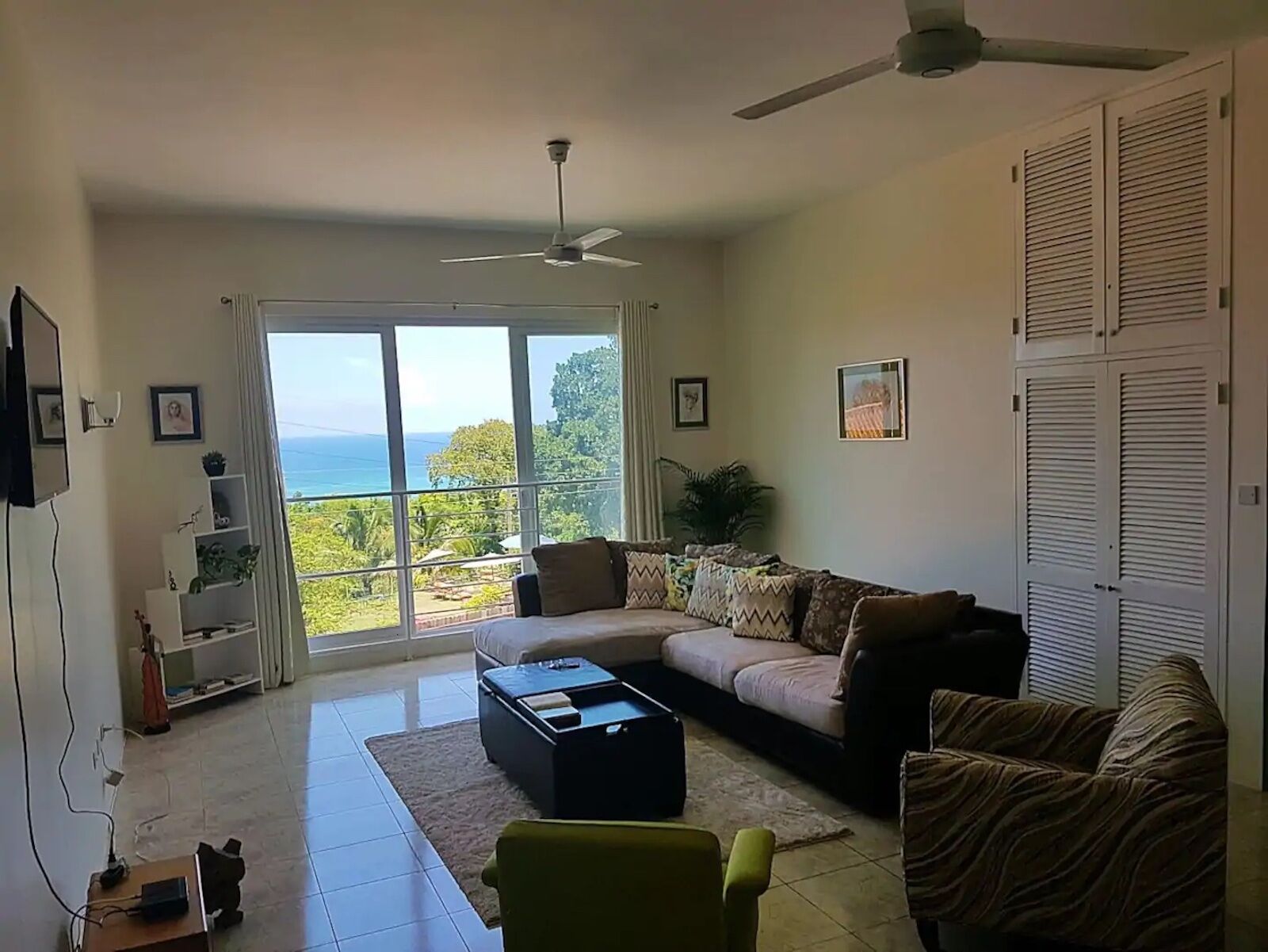 See more photos
Wake up and pull away your curtains to a breathtaking view of the Caribbean Sea while you relax and unwind in a spacious and modern home away from home. The apartment is palatial, cool, and conveniently located near both the airport (just five minutes by car) and the Hip Strip (20 minutes on foot or five minutes by car). Enjoy the roof top pool with an incredible ocean view, or watch as planes land at the airport. It's fully equipped with shatterproof windows, air conditioning throughout, free Wi-Fi and cable TV, two cozy en-suite bedrooms with queen size beds (additional bed available upon request for larger groups), microwave, stove, toaster, kettle, cooking supplies, linens, bath and beach towels. There's also a security guard onsite between 5 PM to 11 PM for added peace of mind. Airport pickup is available for an additional cost based on availability.
Airbnbs in Ocho Rios, Jamaica
Oceanfront Luxury Condo With Pool and Chef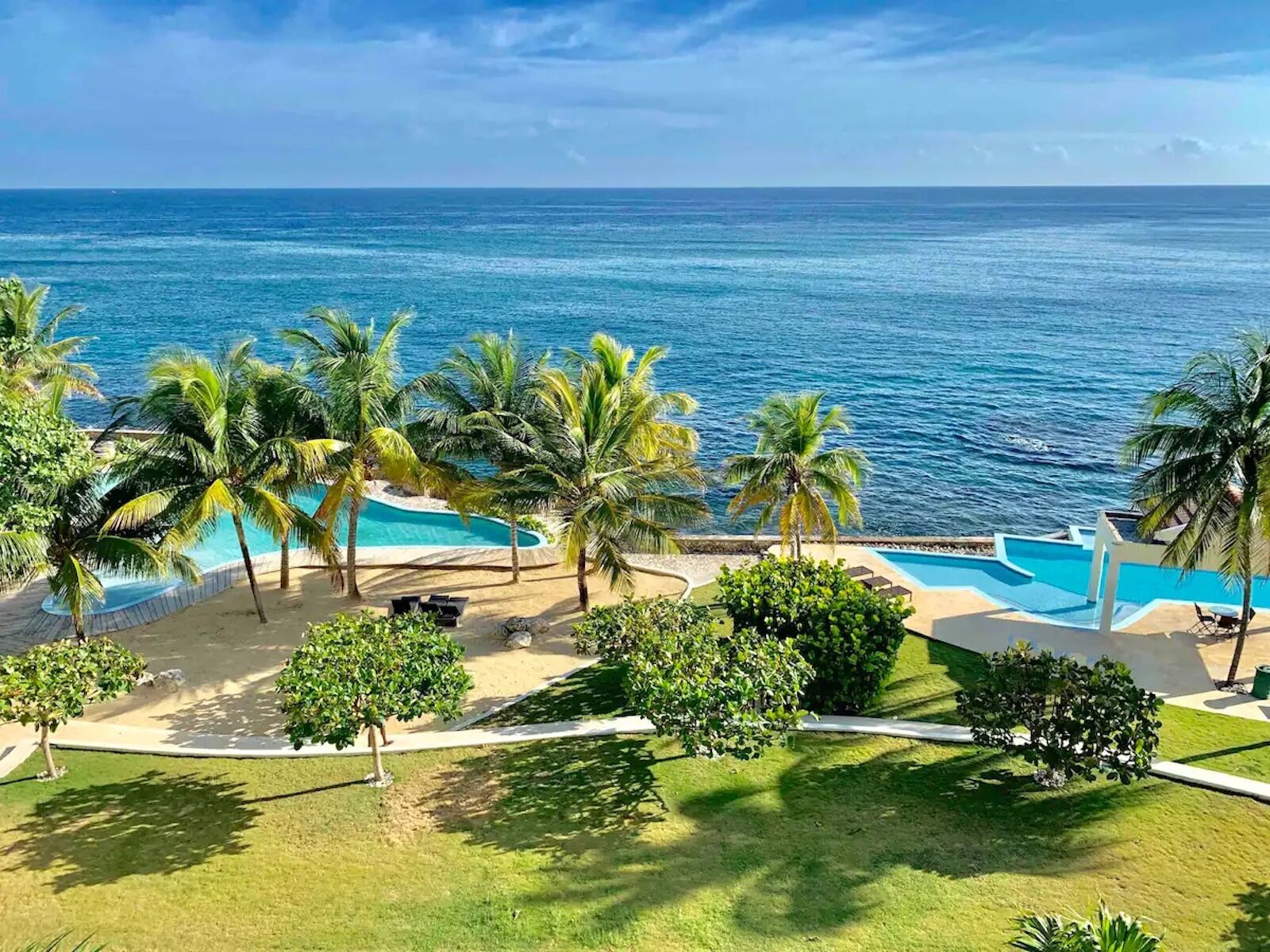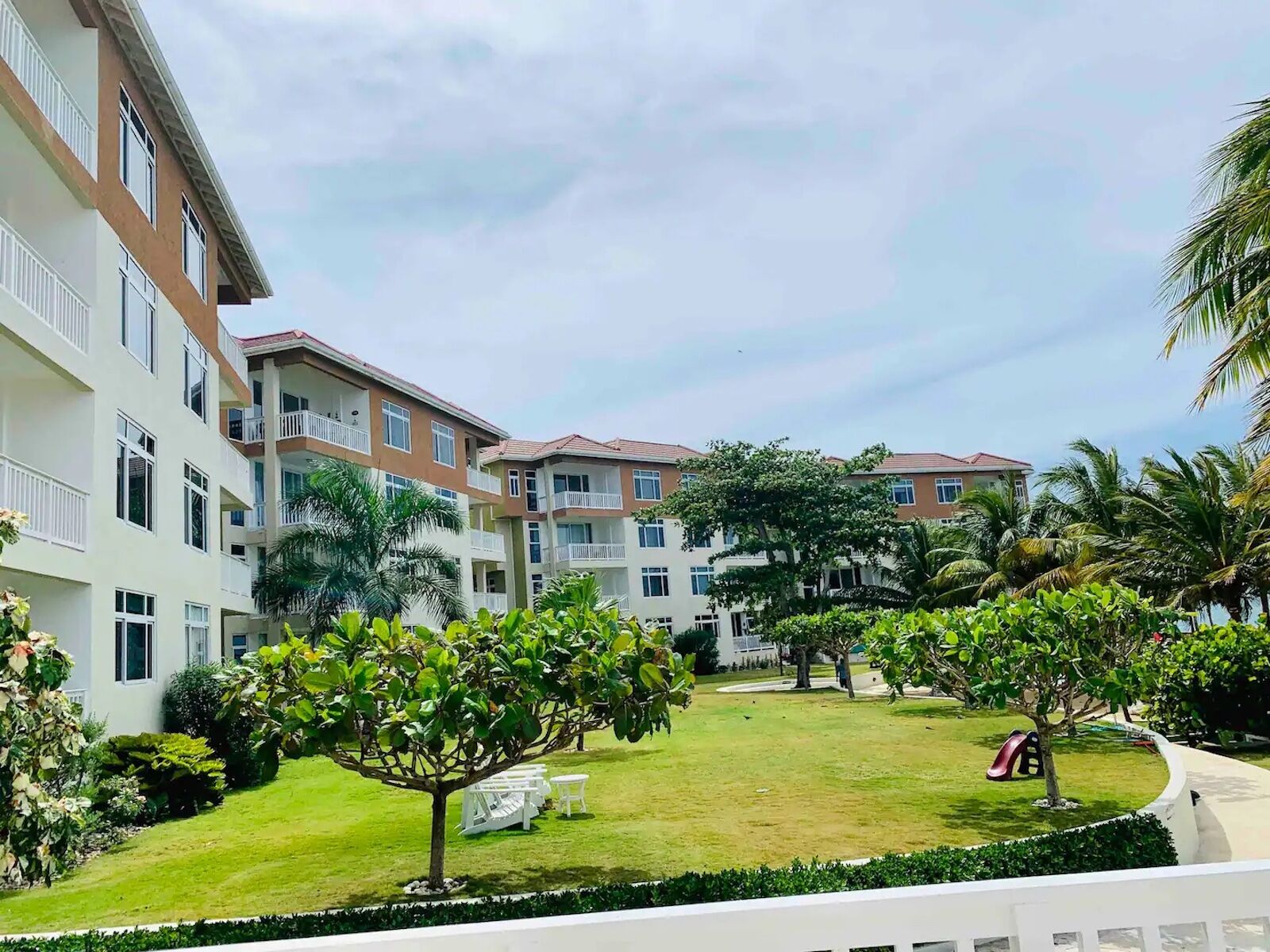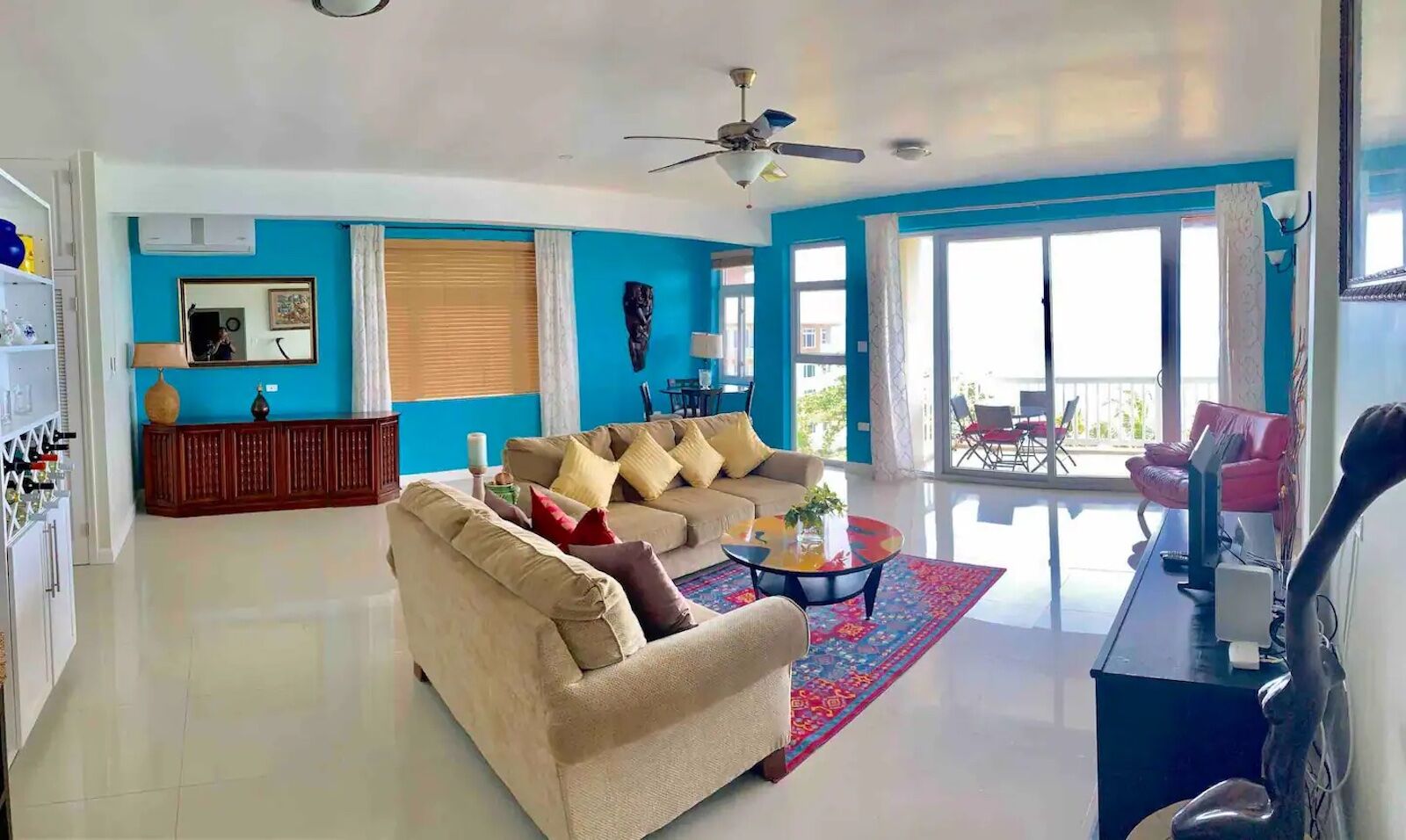 See more photos
This luxury two bedroom, two bathroom oceanfront penthouse condo is in an upscale gated community with 24-hour security. Relax by one of two swimming pools, a tennis court, and gym, or take in the view of the Caribbean Sea from the living room or master bedroom. The unit comes with a full kitchen, air conditioning, flat screen TVs, Wi-Fi, and more. Guests have access to all community amenities, including chef services, meals, and housekeeping (for a fee). There are all-inclusive packages with up to two meals per day as well as daily housekeeping.
Oceanfront Paradise Penthouse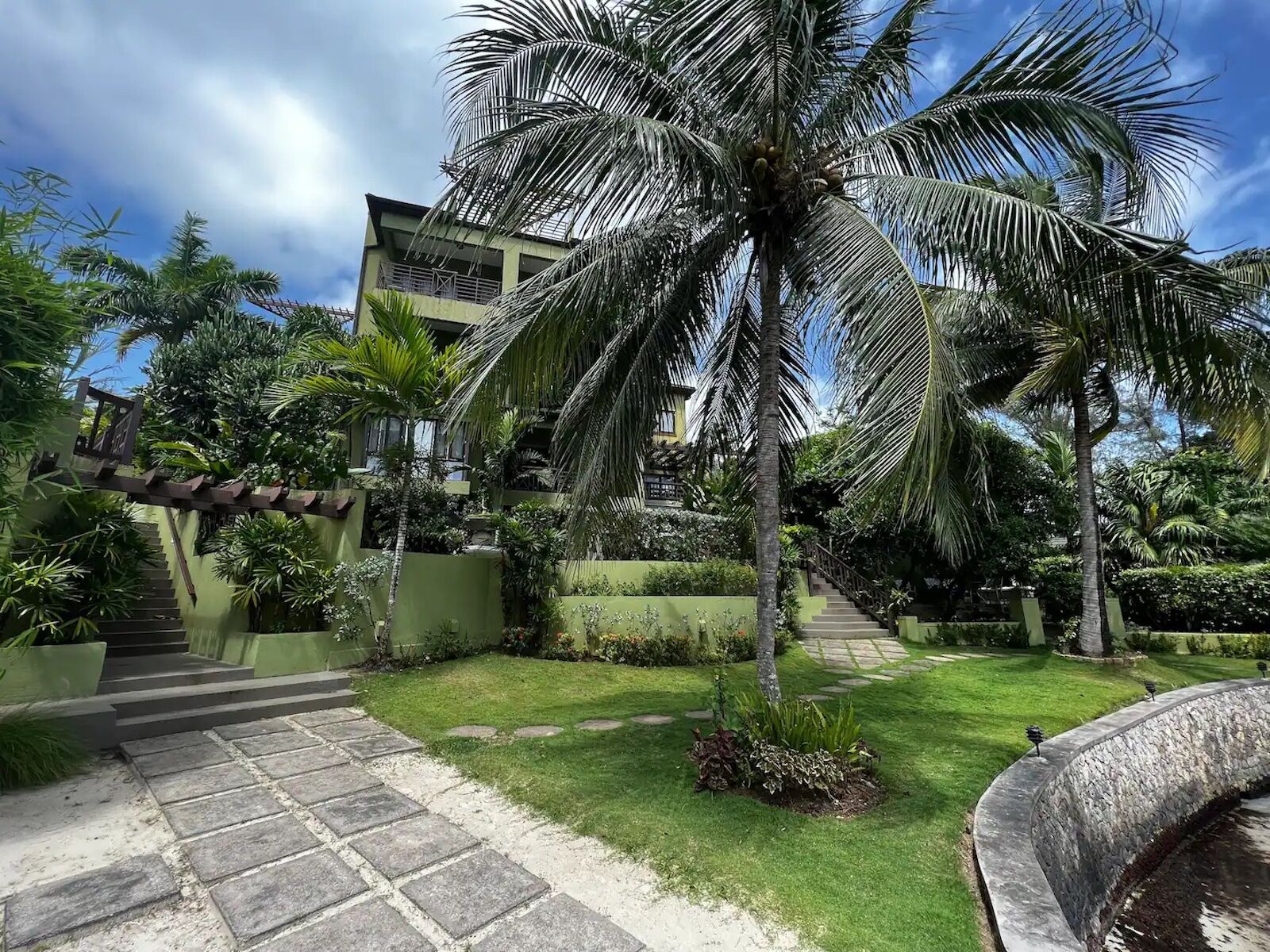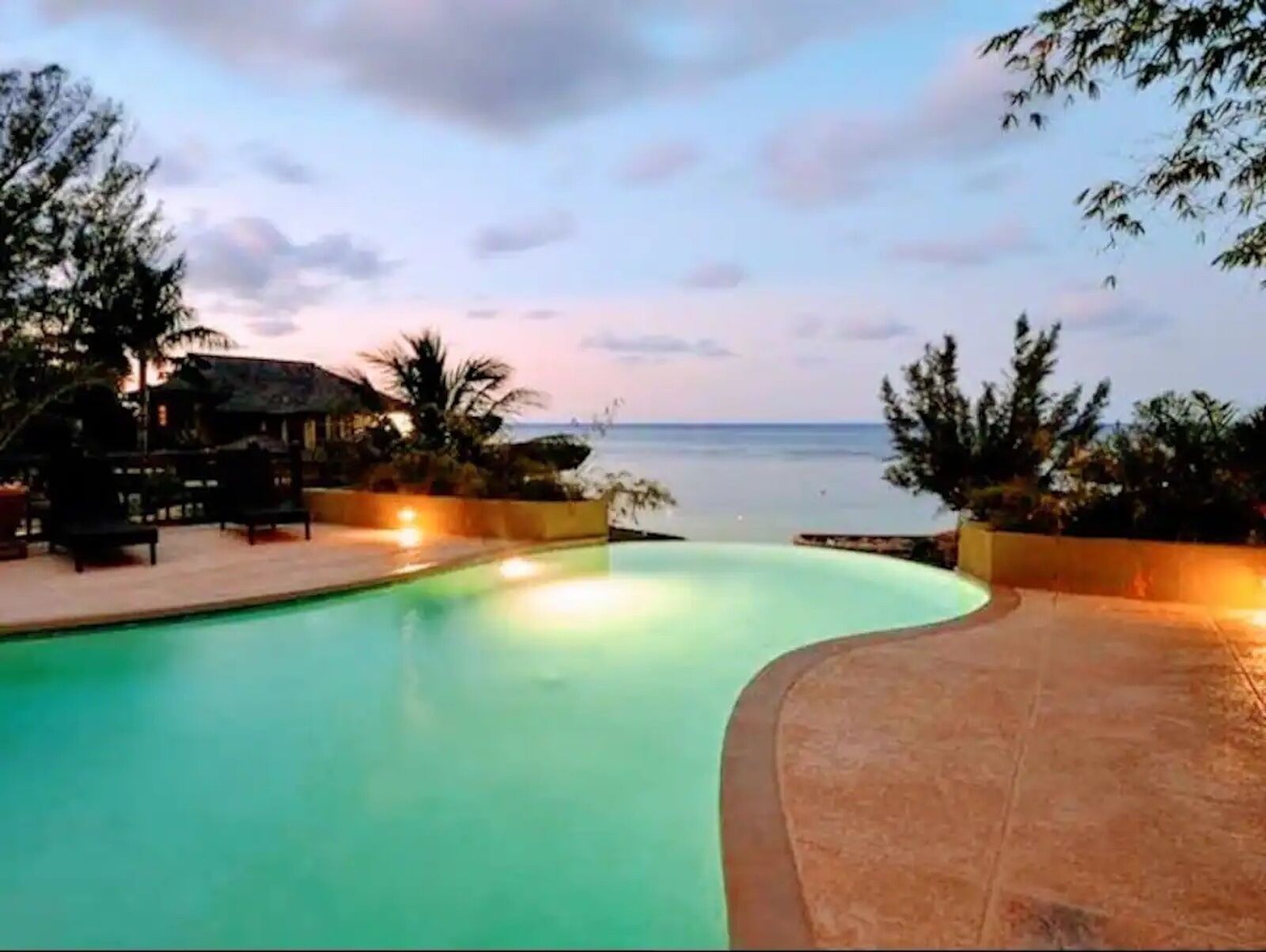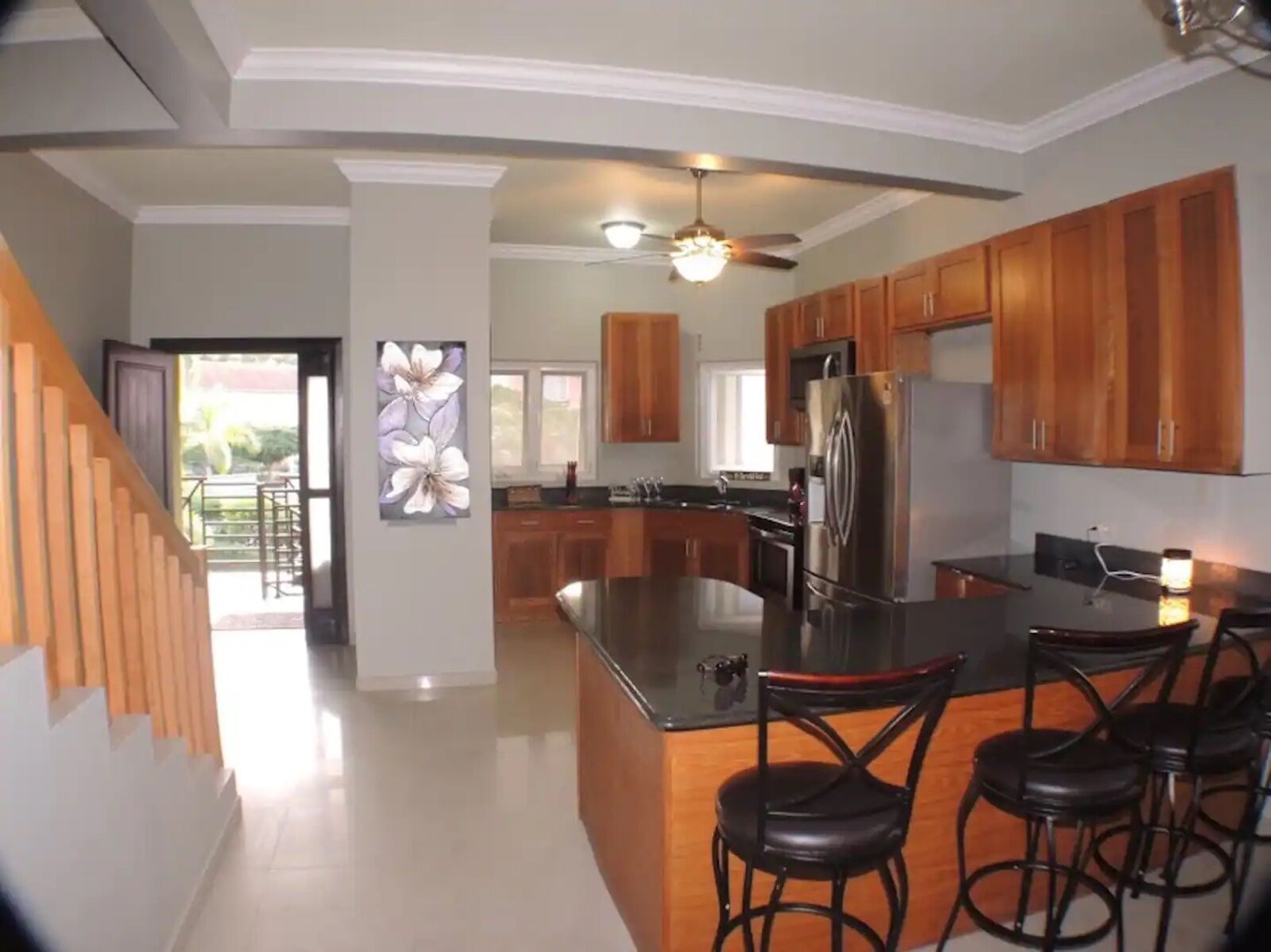 See more photos
Paradise Penthouse is located in the peaceful, upscale gated community of Ocho Rios. This 3,100-square-foot oceanfront space has been freshly renovated with stainless steel appliances, modern furniture, and pillow top mattresses throughout. Accommodate up to eight people with three bedrooms and four bathrooms. Enjoy private balconies with views of the tropical gardens and ocean from all three rooms. Easily access fine dining, shopping, banking, eateries and additional beaches in less than five minutes or discover some of Jamaica's top attractions within 10 minutes such as Dunn's River Falls and Mystic Mountain. Guests also get to enjoy amenities such as air conditioning in every room, flat screen TVs in all rooms, free Wi-Fi, Netflix, mini bar inside the condo, infinity pool, barbecue facilities, children's swing set with play area, and more.
Penthouse With Rooftop Patio on the Beach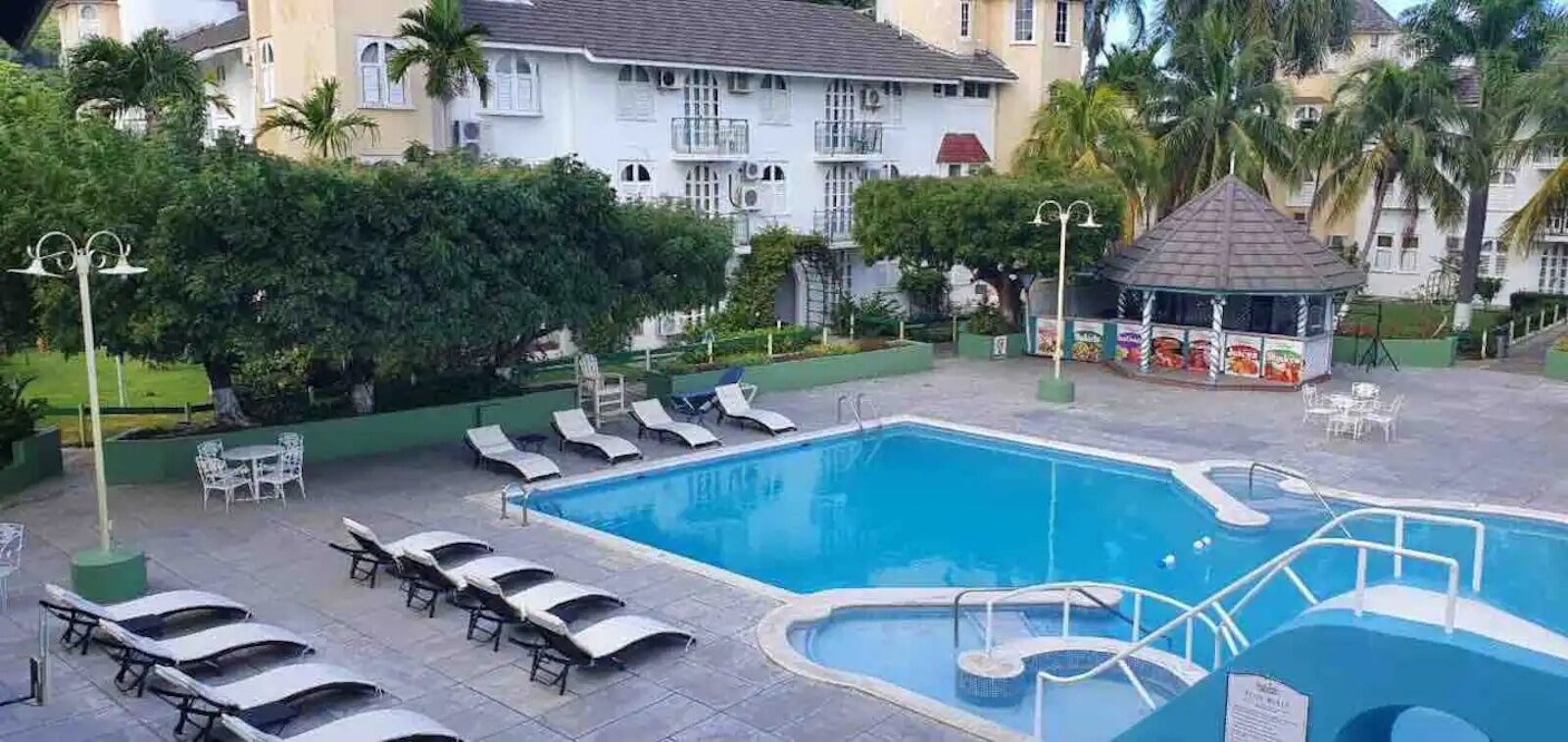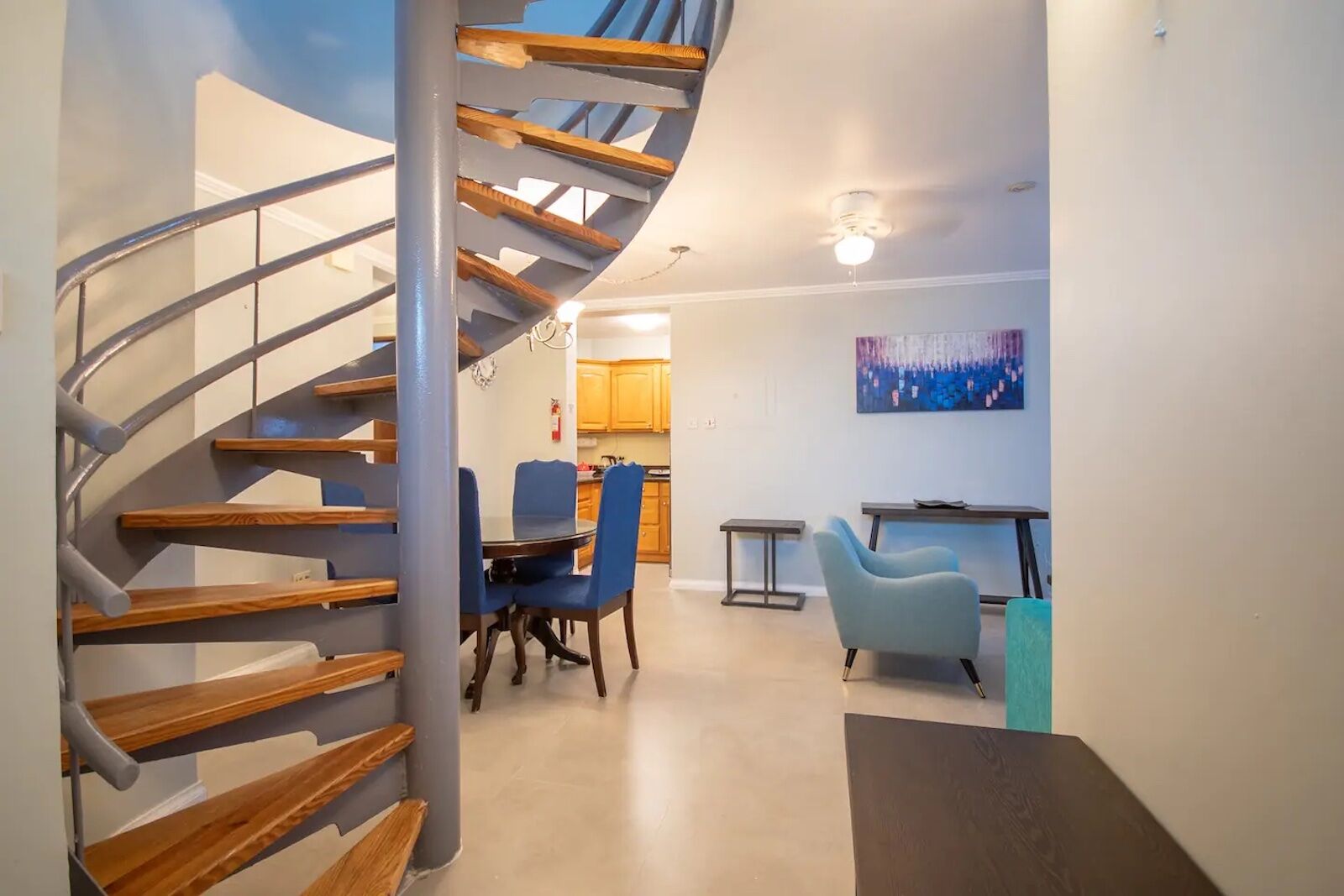 See more photos
This two bedroom penthouse in the heart of Ocho Rios offers magnificent views of the beach and mountains. It has a private patio with an outdoor shower, a fully equipped kitchenette, three TVs with cable, computer and wireless internet, plus a VOIP telephone to call worldwide (for a fee). Costco-sized beach towels are also provided. There is an on-demand water heater and newly installed glass windows with bug screens. Guests must walk up two flights of steps to access the property, and transportation to and from the airport can be arranged for an additional fee.
What did you think of this story?