Explore McCarthy, Alaska: the Quirky, Former 'Sin City' Inside a National Park
As you might expect, getting to a tiny town deep inside an Alaskan national park is no small feat.
Travelers who want to visit McCarthy, Alaska, have just one road to choose from for driving into town. But rental cars aren't allowed to drive on it. And it's basically impassable during heavy rain. Oh, and since it used to be a railroad track, there's a slight chance a rusty nail could pop your tire at any time.
But if you make it in, well, welcome to McCarthy.
McCarthy, Alaska, has a population of 123, according to census data — though it was essentially abandoned when the nearby mines of Kennecott closed in 1938. By the 1950 census, it had re-grown to a whopping 36 residents.
However, McCarthy is today a town — but only technically. There's no law enforcement of any kind, including health inspectors, as evidenced by the mud-covered, free-range dogs that freely stroll through the town's restaurant and hotel while their owners are working. The main drag through town is more of a packed-earth pathway than a vehicle read for roads — but that makes sense, as at least half of the visitors to town fly in on bushplanes. And the folks who drive in don't tend to leave very often.
This is everything you need to know about the lost-in-time, quirky, and adventure-ready town of McCarthy, Alaska.
The history of McCarthy
McCarthy burst into existence around the turn of the 19th century for a straightforward reason: to give workers from the nearby Kennicott Mine a place to blow off steam (and blow their paychecks). The Kennecott Mine (now the Kennecott Mines National Historic Landmark) opened in 1910, one decade after explorers found ore in the mountains of what is now Wrangell-St. Elias National Park.
The enormous copper mine was one of the world's largest, employing nearly 600 men at its peak. Most workers had only a few days off per year. And since most vices — including gambling, drugs, and booze — were banned in the town, it didn't take long for a place where they weren't banned to spring up nearby.
That town was and still is McCarthy. Nearly all buildings in town date to the 1910s or the 1920s, after a massive fire started by a brothel patron's cigarette burned almost the entire town to the ground in 1921.
The Kennecott Mine shuttered its doors in 1938, and both the mine and town of McCarthy were more or less forgotten about, appearing sporadically in lists of demographic data for Alaska between the 1940s and 1950s. But around 1970, tourists began to return around the development of the Trans-Alaska pipeline, and the 1980 designation of Wrangell-St. Elias as a national park cemented the town's future as a national park gateway town.
Today, the town looks much like it did in the 1920s. Most businesses are in original buildings, and there are more historic cars parked around town than there are functioning vehicles. WiFi is spotty and lodging accommodations are a bit rustic, but the beer is cold, the dogs are friendly, and the town is literally steps away from the largest national park in the United States.
Where is McCarthy, Alaska?
McCarthy is surrounded by — but not part of — Wrangell-St. Elias National Park. The closest town to McCarthy is Chitina, about a five-hour drive northeast of Anchorage. McCarthy sits on the Kennicott River in a massive valley near the meeting points of the Kennicott and Root glaciers. Aside from the Kennecott National Historic Site, there's basically nothing else artificial nearby.
By the way: we're not being lazy with how we're spelling Kennicott (or Kennecott). The natural features in the area are spelled "Kennicott," named after early western explorer Robert Kennicott. However, the mine is spelled Kennecott (with an e), probably due to a clerical error sometime in the early 1900s.
Getting to McCarthy
The journey is the destination if you're keen to visit McCarthy and you have two whole options for getting there.
The first (and most infamous) option is to drive the McCarthy Road from Chitina to McCarthy. It's 59 miles long and mostly gravel, following the path cleared in the 1910s for the railroad that carried copper from the mines. The National Park Service removed the tracks, but the road is still uneven and unpaved — and it's not uncommon for old nails to pop up, especially after heavy rain. Expect ruts, dust, potholes, and more, and give yourself at least two hours to make the drive in good (summer) conditions.
Most rental cars won't allow their vehicles on the road, so you'll need to have your own car or rent from one of the few companies that will allow it. In good conditions, most cars with decent clearance should make it, but you'll need an AWD or 4WD car with high clearance in rain, mud, or snow. The road has no cell coverage, no gas or amenities, and probably not too many other cars. And you're not allowed to drive through McCarthy, so you'll have to leave your car near the road and walk to town.
So why drive it? The views are beautiful, and it's an excellent drive if you're keen to spot wildlife (pack binoculars). The NPS website has a nice driving guide with recommended photo stops along the way, so be sure to bookmark and download it in advance.
The second option for getting to McCarthy, Alaska, is probably the most popular — taking a quick 25-to-45-minute flight with Wrangell Mountain Air from the Chitina airstrip. The airline offers scheduled daily flights for a surprisingly low $330 per person round-trip, though they also offer flightseeing and charters.
Wrangell Mountain Air planes are not your standard small airline experience. They're bushplanes with propellers, with no security checks, assigned seats, or amenities of any kind. In fact, when you purchase your flight, you'll get a confirmation email telling you not to worry if you get to the landing strip before your flight and it looks completely abandoned.
Depending on the weather, the flight can take anywhere between 20 and 45 minutes, offering stunning views of the park's untouched wilderness on the way. There are luggage and weight maximums, so read up on the airline's regulations before arriving for your flight.
You can also fly from Anchorage on flights from Reeve Air and Copper Valley Air, though it's far more expensive.
What to do in McCarthy
Tour the abandoned Kennecott Mine
The Kennecott Mine was one of the largest mines in the world and the many remaining buildings are downright massive. The mine and the entire town surrounding it are now the Kennecott Mines National Historic Landmark, and local operator St. Elias Alpine Guides offers tours inside the main mine building during the summer.
It offers a fascinating lesson on the history and experience of working in the 14-story mine throughout the roughly two-hour tour. The mine is the tallest wooden structure in the US and in a state of preserved decay, which means it's not open to anyone other than guided tours.
Explore Wrangell-St. Elias National Park
The US National Park Service manages about 83 million acres of land, and Wrangell St. Elias accounts for an astonishing 15 percent of that land. The park is roughly 13 million acres, making it the largest national park in the United States and larger than Yellowstone National Park, Yosemite National Park, and Switzerland — combined.
You can day hike or head out on overnight trips from McCarthy, guided or unguided. If you've never backpacked in Alaska, you'll likely want to use a guide, especially if you're unfamiliar with bear safety or wild weather. There are several trailheads near McCarthy, or you can use a service like Wrangell Mountain Air to drop you at a backcountry location and pick you up elsewhere in a few days.
St. Elias Alpine Guides is the premier guiding service in McCarthy for both quick overnight hikes and serious summit attempts of peaks like Mt. Blackburn (16,390 feet above sea level) or Mt. St. Elias, the park's eponymous 18,008-foot-tall peak.
The vast majority of the park is untouched wilderness, which means no set trails, maps, or campsites. Again, if you're unfamiliar with Alaska backpacking, use a guide.
Take a flightseeing tour
If you want to see the park while still keeping your risk of a bear encounter fairly low, book a flightseeing tour that leaves from the McCarthy airstrip. Tours start around $250 per person and can take you past glaciers, mountains, valleys, or whatever else you'd like to see. On clear days, it's very possible to spot sheep and mountain goats on some of the exposed ridgelines.
Where to sleep in McCarthy, Alaska
As you may expect, there's no Holiday Inn in "downtown" McCarthy. But in a town like McCarthy, Alaska, you'd be cheating yourself if you didn't stay somewhere that leans into the town's historical roots, anyway.
Your options for lodging are the no-frills Ma Johnson's Hotel, or the more luxurious and comfortable Kate Kennedy House.
Ma Johnson's is a former boarding house that now rents to tourists instead of miner's families. Rooms are basic, with shared bathrooms, no electrical plugs, and no heat, in the case of the rooms on the top floor. But the hotel stays cozy thanks to the heat blasting up from the first floor, and the walls are decorated with vintage decor and memorabilia. The hotel describes itself as a "living museum," and that's not wrong. It's extremely kitschy, comes with breakfast across the street at the Salmon & Bear Restaurant, and is a one-of-a-kind hotel you won't find in too many other national park gateway towns.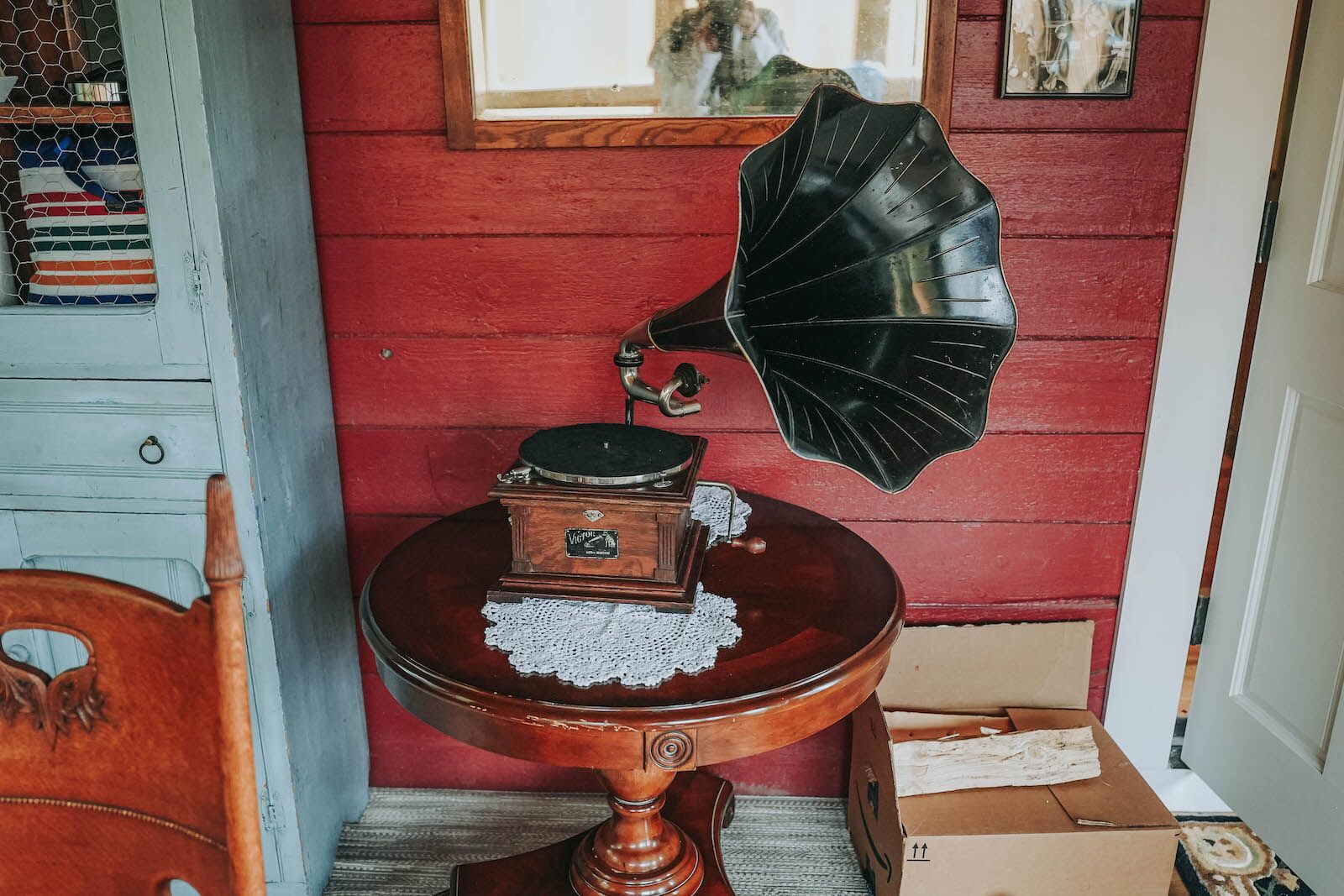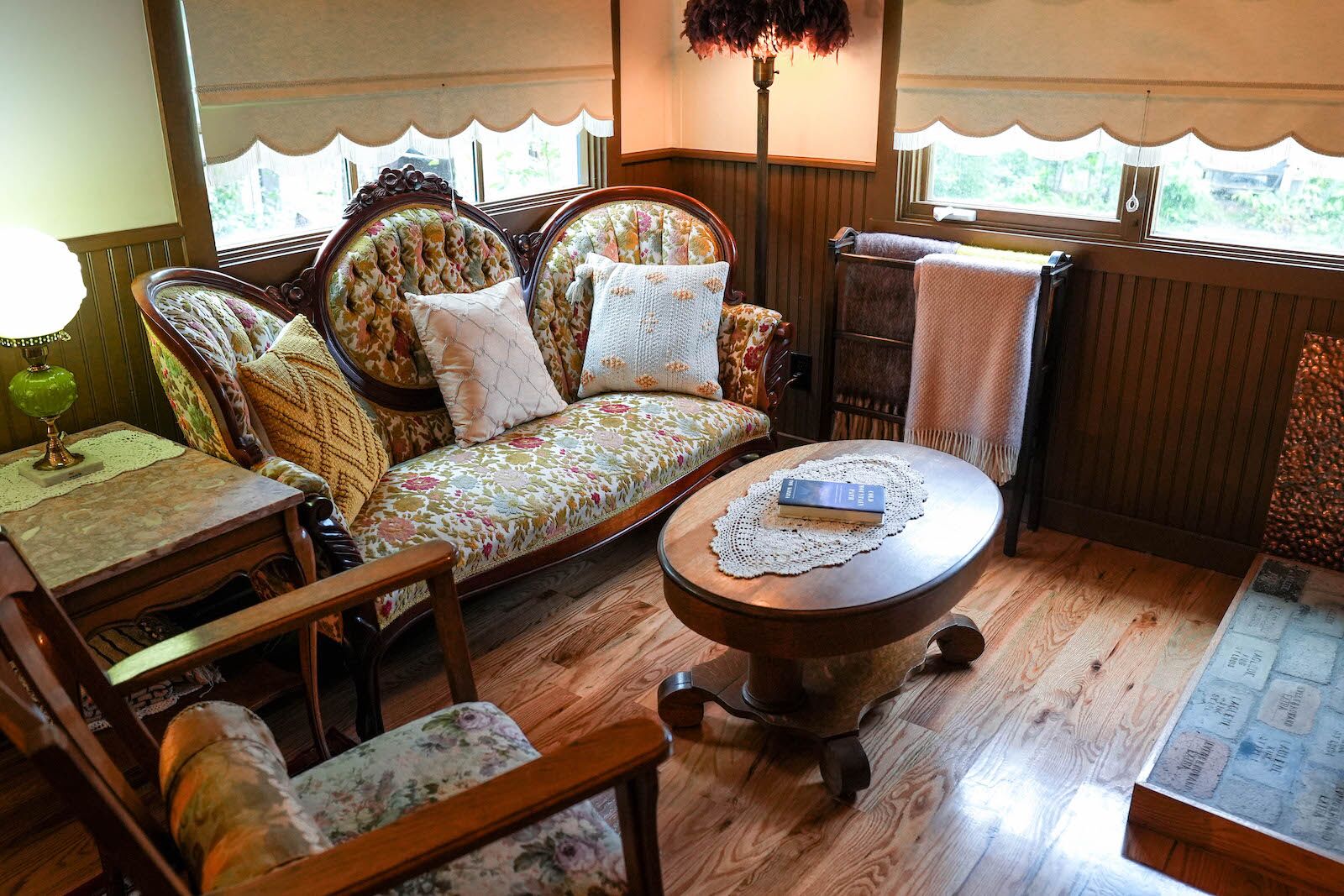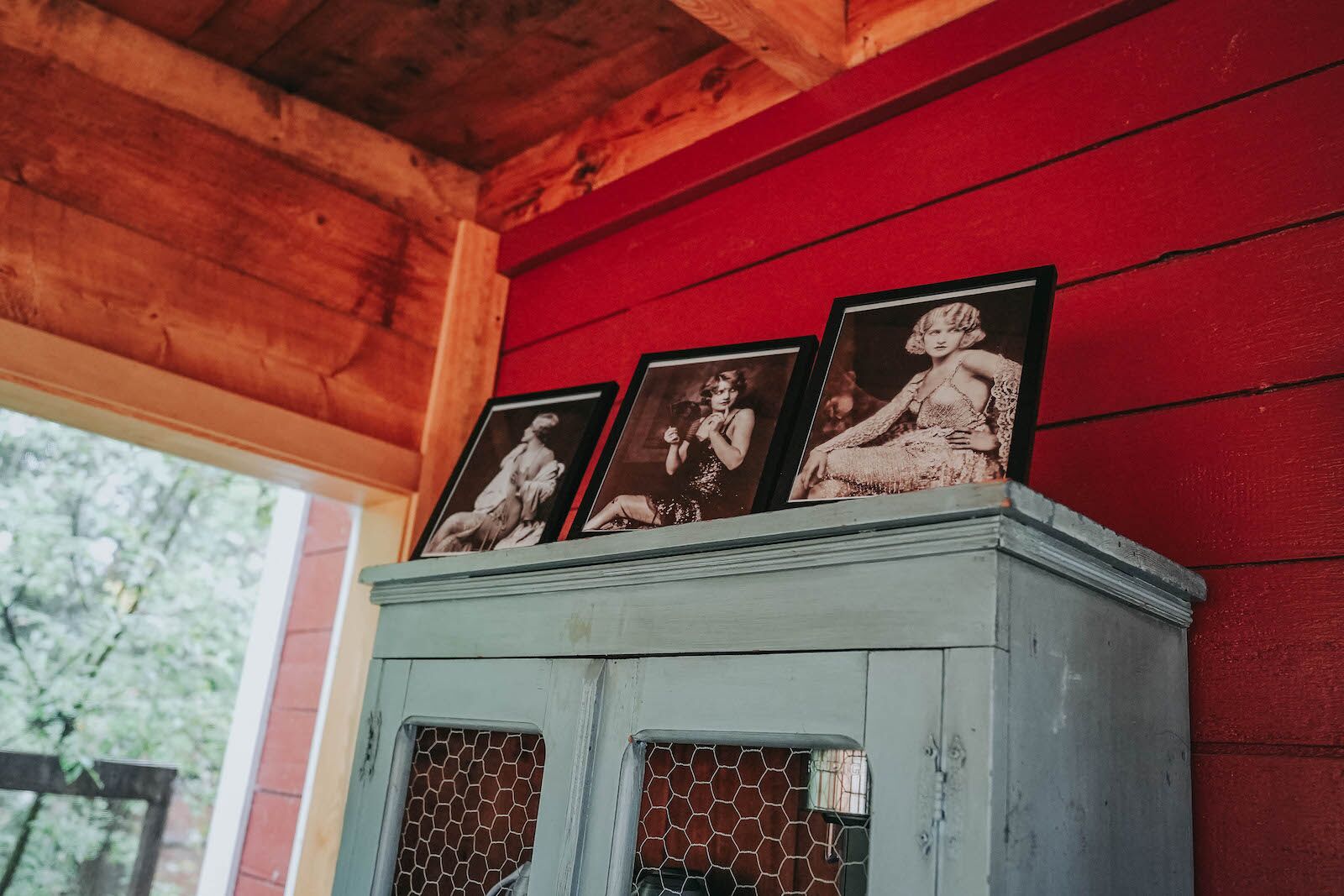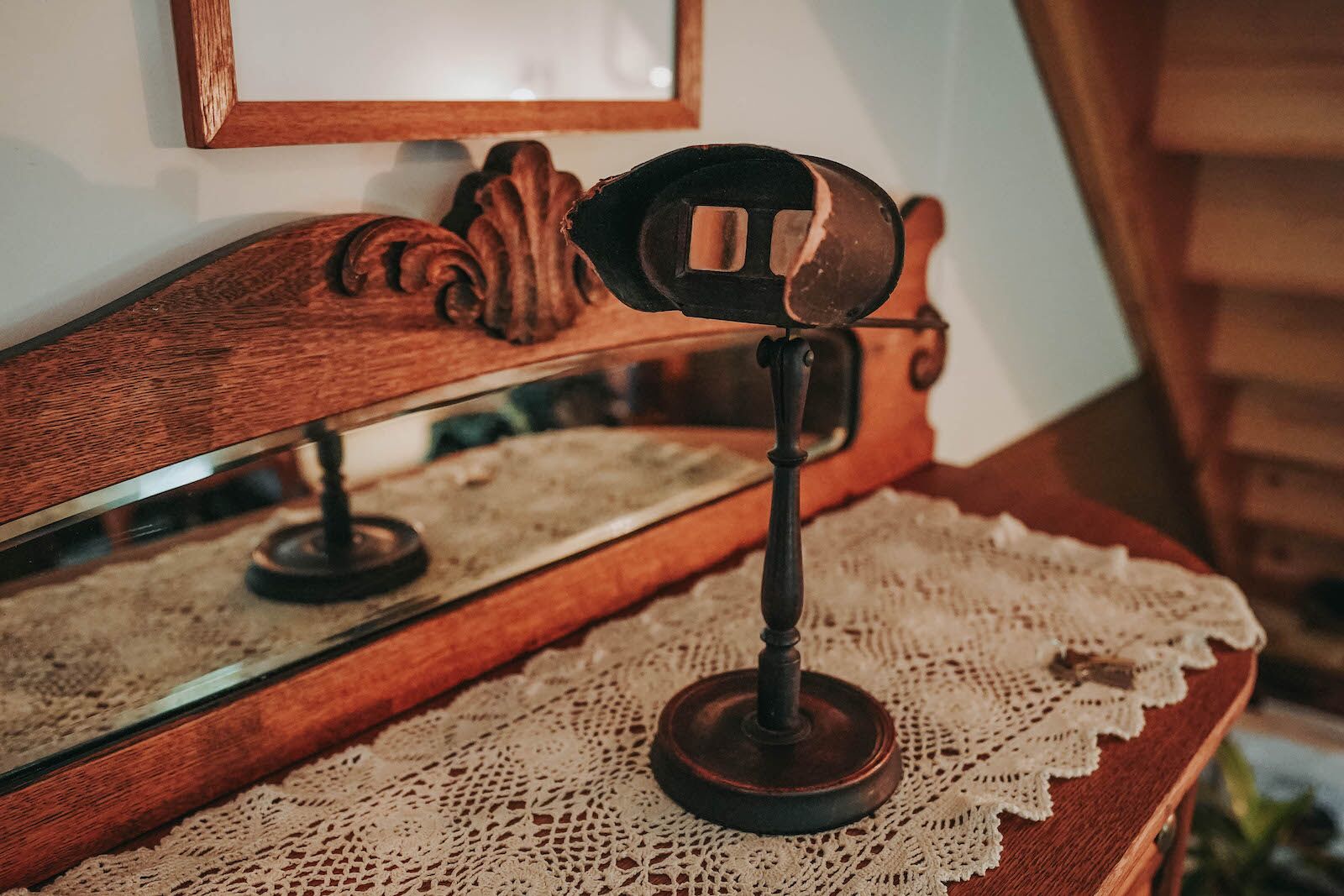 For something more high-end, book the restored Kate Kennedy House, a mail-order home from the 1920s owned by the town's beloved madame. The home is decorated with period furniture and the shelves are stocked with historical items, ranging from a Victrola machine to family photos. It's pricier, but more comfortable and private than Ma Johnson's. Book by contacting Ma Johnson's Hotel, which also runs the Kate Kennedy house.
There are also a few homes and other lodging options available in town through booking platforms like Airbnb.
McCarthy food and drink
Your dining options are few, which means they can get quite busy in the height of tourists season. The Potato, open late May through mid-September, is the most social and modern option in town, offering indoor and outdoor dining and a menu of burgers, pizza, sandwiches, and hand-cut french fries. It also has a solid breakfast menu; the french fry and jalapeno egg burrito is certainly the most popular in town.
The Golden Saloon is more of a bar/pub-style menu with an extensive beer selection. It hosts open mic night on Thursdays during the summer, game nights on Fridays, and live music most Saturday nights — and you might as well go, 'cause you'll hear it from everywhere in town.
Salmon & Bear is a more intimate, fine-dining experience, though wearing dirty hiking clothes is totally acceptable. You'll want to make reservations as early as possible, though guests of Ma Johnson's are guaranteed a table at some point during their stay. If you're doing a multi-day backpacking trip, consider saving Salmon & Bear for the day you return from your trek.
There's also a general store with basic food, camping supplies, a small alcohol selection, coffee and muffins, and rather tasty ice cream.
Weather and when to go
Spoiler: go in summer.
Summer is peak season in McCarthy, Alaska. From roughly Memorial Day to Labor Day the town is quite busy and you'll want to make reservations for lodging and tours in advance. There's a brief lull in early September, then it picks up again through the end of the season (usually around the end of September).
Come October, most businesses in McCarthy close up shop. Only about 20 residents live in McCarthy year-round, since winters are quite harsh. There's very little to do, and almost no reason for a non-resident to be in town from October to May. It's also difficult to get to McCarthy in winter, as Wrangell Mountain air only flies May through September. However, Copper Mountain Air does fly year-round, weather permitting. The road is technically open year-round, but it's not maintained or plowed.
The average daily temperature in the winter is two degrees Fahrenheit, with about 70 inches of snow on average. Summers are still chilly — you'll definitely want hiking pants, a beanie, and an insulated jacket — and rain is possible almost every day. Weather forecasts in McCarthy are rarely accurate, so the weather could be just about anything, even in the peak of summer (as with most of Alaska, really). 
More like this
What did you think of this story?