Outdoor Dining in Santa Fe: 8 Top Patio Restaurants
in paid partnership with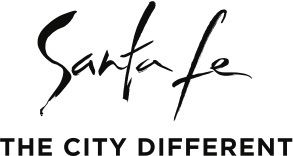 In her novel Death Comes for the Archbishop, Willa Cather wrote of the New Mexico landscape, "Elsewhere the sky is the roof of the world, but here the earth was the floor of the sky." Her take on the terrain around Santa Fe perfectly captures the sense that earth and sky are closer to the touch here. You'll feel it immediately upon visiting — it's a theme woven through the city's style, design, and its palate.
Now, views of the high-desert landscape meeting seemingly endless azure skies can naturally be found on any outdoor trek, but how about while dining? Santa Fe's eateries take full advantage of their surrounds with al fresco dining spaces, playing with the elements and nodding to the wealth of beauty out their doors. To take in the earth, sky, and open air in Santa Fe, just grab a seat at one of the distinctive restaurants on this list. Buen provecho!
Coyote Cafe & Rooftop Cantina
The Rooftop Cantina is the wild child to its companion restaurant, Coyote Cafe, where diners tuck into downstairs booths to sip wine and nibble lobster tail. Up at the Rooftop, the second-story cantina keeps the margaritas and conversation flowing amid street-art murals and brightly patterned oilcloth tablecloths. Glass garage doors open to a roof deck overlooking Water Street, just a block from the Santa Fe Plaza.
This relaxed joint has a menu to match its atmosphere, with dishes like the green chile cheeseburger piled high with onion rings, bacon, and a fried egg; and the often underrated but locally loved Frito pie, with corn chips smothered in red chile beef, beans, cheese, and all that comfort-food goodness you can rely on in Santa Fe.
Luminaria Restaurant & Patio
The outdoor dining space at Luminaria Restaurant & Patio is sandwiched between two striking Santa Fe sights. It extends from the stacked adobe–style architecture of the Inn & Spa at Loretto, where it's housed, and abuts the Gothic-style Loretto Chapel, modeled after Paris's Sainte-Chapelle.
With views of both design marvels, Luminaria feels globally inspired. Yet an horno-style fireplace reminiscent of the traditional ovens used in New Mexico's pueblos roots the patio in the Land of Enchantment — especially when it roars with piñon logs on cooler evenings. Downhome dishes, like chips and guacamole or quesadillas, get upscale twists here, matching the simple grandeur of the space itself.
Restaurant Martín
Owner/chef Martín Rios spent two decades coming up through the ranks of Santa Fe's fine-dining scene beginning as a 17-year-old dishwasher. Now, at the helm of his eponymous bistro, he's a multi-time James Beard Award semifinalist. Although he hasn't yet clinched that Best Chef Southwest Award in the Academy Awards of the culinary world, he's still considered a star among Santa Fe chefs.
The evolving menus at Restaurant Martín are refined yet approachable as Chef Rios draws on global ingredients; his Guadalajara, Mexico, roots; and his training. The intimate restaurant flows to an outdoor flagstone patio. The walled, high-desert garden doesn't offer Santa Fe's signature views, but here you don't need to look much beyond the tasty dishes put in front of you.
The Teahouse Santa Fe
Around a hundred galleries and boutiques pepper Santa Fe's Canyon Road, creating a diverse catalog of shopping destinations in one fell swoop. The historic stretch once housed artists during the city's art colony days, but it's now best known for its internationally renowned galleries.
The Teahouse Santa Fe nods to this history, offering art collectors a shady, Zen-like spot to rest on their intimate patio. Diners can sip loose-leaf teas from China, Indian, Japan, and Sri Lanka, as well as closer to home. The menu also delivers light bites, from breakfast scones to lunch salads, paninis, and sandwiches.
The Shed
The City Different takes its red and green chile seriously, with various versions topping, slathering, and smothering many dishes around town. But The Shed is a consistent favorite when it comes to locals' discriminating chile palates. This family-owned restaurant has been going strong since 1953 and serves its classic New Mexican dishes on Palace Avenue, just east of the Santa Fe Plaza. It's particularly known for the red chile enchiladas made with blue corn tortillas.
The Shed operates in a nine-room rambling adobe dating to 1692 (that's Santa Fe for you!). Diners may also choose to eat outside, on Prince Patio, the sunny flagstone courtyard in front of the hacienda that earned its name from Governor Bradford Prince in 1879.
Terra Restaurant
A 15-minute drive from the Santa Fe Plaza delivers diners to the Four Seasons Resort Rancho Encantado Santa Fe and its Terra Restaurant. The setting is The City Different's outskirts, in the foothills of the Sangre de Cristo Mountains, where piñon trees are more numerous than people.
Terra's patio offers prime sunset viewing — from this vantage point, you can watch the Sangres earn their name as the alpenglow colors their peaks. Upmarket dishes draw from local ingredients and influences, such as piñon-crusted lamb and green chile braised short rib.
The Anasazi Restaurant, Bar & Lounge
People watching is on the menu as much as dinner at The Anasazi Restaurant, set within the Rosewood Inn of The Anasazi. The earthen-hued patio edges Washington Avenue, one of the arteries to and from the Plaza, just a few steps away.
The restaurant's highly desired location puts diners in the center of the action during several of the city's top art markets and celebrations, including the Santa Fe Indian Market and the Traditional Spanish Market. (Reservations are a must during these events.) Meanwhile, its contemporary American menu showcases elevated local flavors, with many ingredients sourced from area farmers and purveyors.
Paper Dosa
Although it's known for New Mexican cuisine, Santa Fe also counts numerous internationally inspired restaurants on its roster. Paper Dosa takes its name from its signature South Indian dish, but you'll find all manner of curries and uttapams on the menu here. South India native Paulraj Karuppasamy and his wife and business partner, Santa Fe native Nellie Tischler, own and operate the often-packed restaurant. The midtown eatery overflows into a walled patio where high-desert plants edge a dozen or so tables adorned with crisp, crepe-like dosas and dipping sauces.
Whatever restaurant you choose, whether it's a New Mexican comfort classic or a fine-dining standout, you'll never be far from the outdoors at these impeccable Santa Fe spots.
What did you think of this story?