in paid partnership with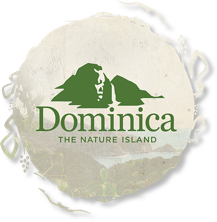 Dominica is right in calling itself the Nature Island. They're trying to tell you this isn't your standard Caribbean isle, all white sand, palm trees, and margarita-drenched cabanas. Dominica rises granite into the sky, ancient lava gradually losing its reign to the silent crawl of the jungle. Here, beaches hide in crescent coves, rivers wend through cypress tunnels, and one massive lake boils over a geothermal hot spot.
In other words, you've got a lot to take in. The island is large enough that you'll want several home bases, each readying you to explore a different part of this under-the-radar isle. From luxury to bang-for-your-buck, here are six dreamy places to stay on Dominica, the Nature Island.
Secret Bay
Location: Portsmouth
At Secret Bay, you'd be likely to score a celebrity sighting — think Mick Jagger status– if you were likely to see other people at all. Their six villas are set apart, high in the trees, each its own two-story hideaway overlooking the Caribbean. The bottom floor is for hammocks and reading by the ocean on slow mornings; the main floor is for time spent in your private pool, on your deck counting the birds and waves, and in the open-air kitchen, trying your hand at local fare. Even if you don't spot any celebrities, you'll certainly live like one.
If you never choose to leave your villa, the only person you might see is your personal attendant. They'll take care of everything, from stocking your fridge with coconut water and fresh poke bowls to planning your excursions around the island. You'll even get a phone for texting (and, if you like, an eReader for your daily NYT binge). The Secret Bay "way" is to make sure you're worried about and wanting for nothing, and the staff will ensure that happens. With so few guests at any one time, anything you need is priority #1.
Jungle Bay
Location: Soufriere
If you're looking for an eco-friendly stay, check out Jungle Bay. Not far from the southern tip of the island, this luxury resort and spa is in a class all its own. Their carbon footprint is 30-40% smaller than those of their counterparts, and they operate in alignment with international geotourism and ecotourism guidelines. It's a feel-good stay without any sacrifice whatsoever.
There's an emphasis on the local — even the bedding is hand-painted — and the grand. Villas are nearly 1,000 square feet, every room claims ocean views, and the spa has 14 private suites. The property is minutes from Soufriere Sulphur Springs and Champagne Reef, where bubbles pop up from the ocean floor like it's always New Year's Eve.
Pagua Bay House
Location: Marigot
If you want a luxury experience for less than a luxury amount of cash, Pagua Bay House is, somehow, just that. It's close to the Douglas-Charles Airport, a great home base for tackling the eastern side of the island — stay here on your last few nights before you depart.
The cabanas — imagine wooden, island-style yurts — also strike a hard-to-find balance, brimming with both character and modern amenities. But Pagua's best feature is its open concept — development is sparse here, the ocean anything but. Sit by the pool watching the waves, or play cornhole on the lawn with a 180-degree view of the Atlantic. Grab a drink in the open-air restaurant, hang out with some very polite cats, absolutely inhale fresh fruit juice, and try to choose dinner from their elaborate menu. Their breakfast is a draw, too.
Fort Young Hotel
Location: Roseau
If you're the "get out there and see everything" type of traveler, check out Fort Young Hotel. It — a colonial military fort from the 1700s — sits on the southwestern edge of the island, a long white sentinel over the water. The downstairs bar absolutely hops at night, and a few steps over is the onsite headquarters of Dive Dominica. Whale-watching cruises port out of Fort Young's docks regularly, regardless of season. Really, this is the center of all that happens in Roseau.
Grab a room with a balcony and simply watch the fishing boats crisscross the watery horizon, or grab a chair on the lower deck, right above the waves. When you need to stretch your legs, Fort Young runs daily excursions around the island, including to nearby Trafalgar Falls.
Atlantique View Resort and Spa
Location: Anse De Mai
This is where you get off-grid on the Nature Island. Dominica's north is less developed, wild with nature and arguably the best beaches, like Batibou and Number One Beach. The drive up is so steep you'll question whether your vehicle can make it, but it's all for a great reward: Atlantique View Resort, like its name implies, commands the volcanic cliff it calls home, a lime-green castle fit for the jungle.
The three-tiered swimming pool is just part of the maze, paths leading you to open-air bars in and among the greenery that proliferates around the island. Rooms are snug and comfortable with a touch of opulence, some deep in the gardens, some closer to the ocean. Run and owned by Dominicans, this is perhaps the most "authentic" lodging on this list.
Hotel the Champs
Location: Portsmouth
Right in the city, high, high, high up Banana Trail Road, Hotel the Champs is your "urban escape" option. It's run by Hans and Lise — Dutch expats, honorary Dominicans — and it feels like the boutique-style Airbnb of your dreams. With only five rooms, it's really an inn, where travelers chat with each other while delighting in Lise's breakfast skills, where the rooms showcase Dominican art and furnishings, where you can pop right down the hill to hang out with the locals and grab a cold Kubuli.
The pool is rooftop, and the views — check out Cabrits National Park, jutting out to the hotel's northwest — go for miles. Nearby is the Indian River, made famous in Pirates of the Caribbean: Dead Man's Chest. It's the heart of Dominican life, the throughline of the Nature Island. Like every other place around here, it's worthy of exploration. Your hotel will be waiting when you return.