This Luxury Lodge in Kruger National Park Is One of Africa's Best Safari Destinations
Within half an hour of arriving at the tranquil Singita Lebombo Lodge in the heart of South Africa's Kruger National Park, I sat with guide Solomon Ndlovu and tracker Andrew Mathebula in Landcruiser surrounded by a pride of hungry lions.
"We'll just have to switch off the engine and see what happens," Ndlovu said in a loud whisper. "We don't want to interfere with the hunt."
Most of the pride, who moments after our arrival on the scene had taken an interest in a herd of unassuming upwind zebra, were now strategically crouched around our open vehicle. Some fanned out and disappeared into the neighboring bushes and others remained still as mimes with eyes fixed on the middle distance.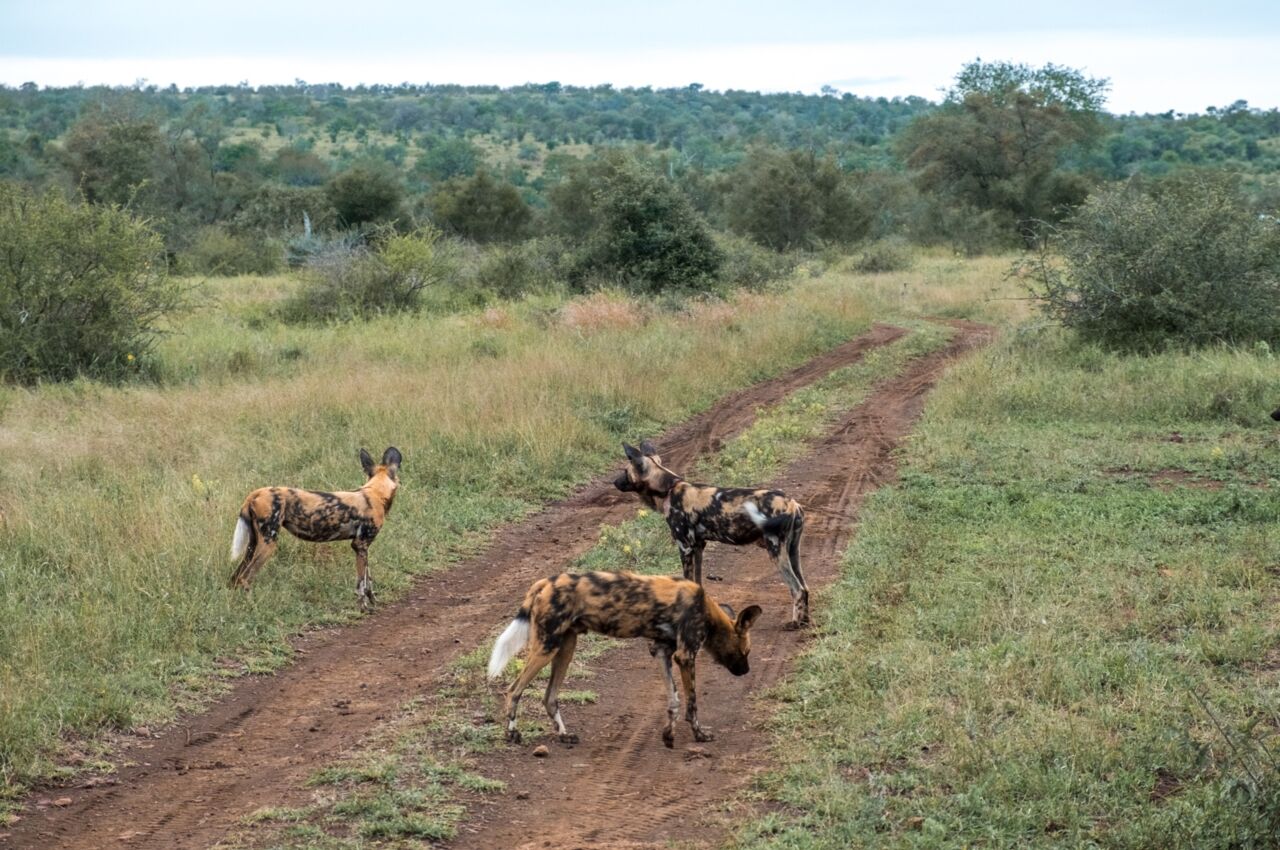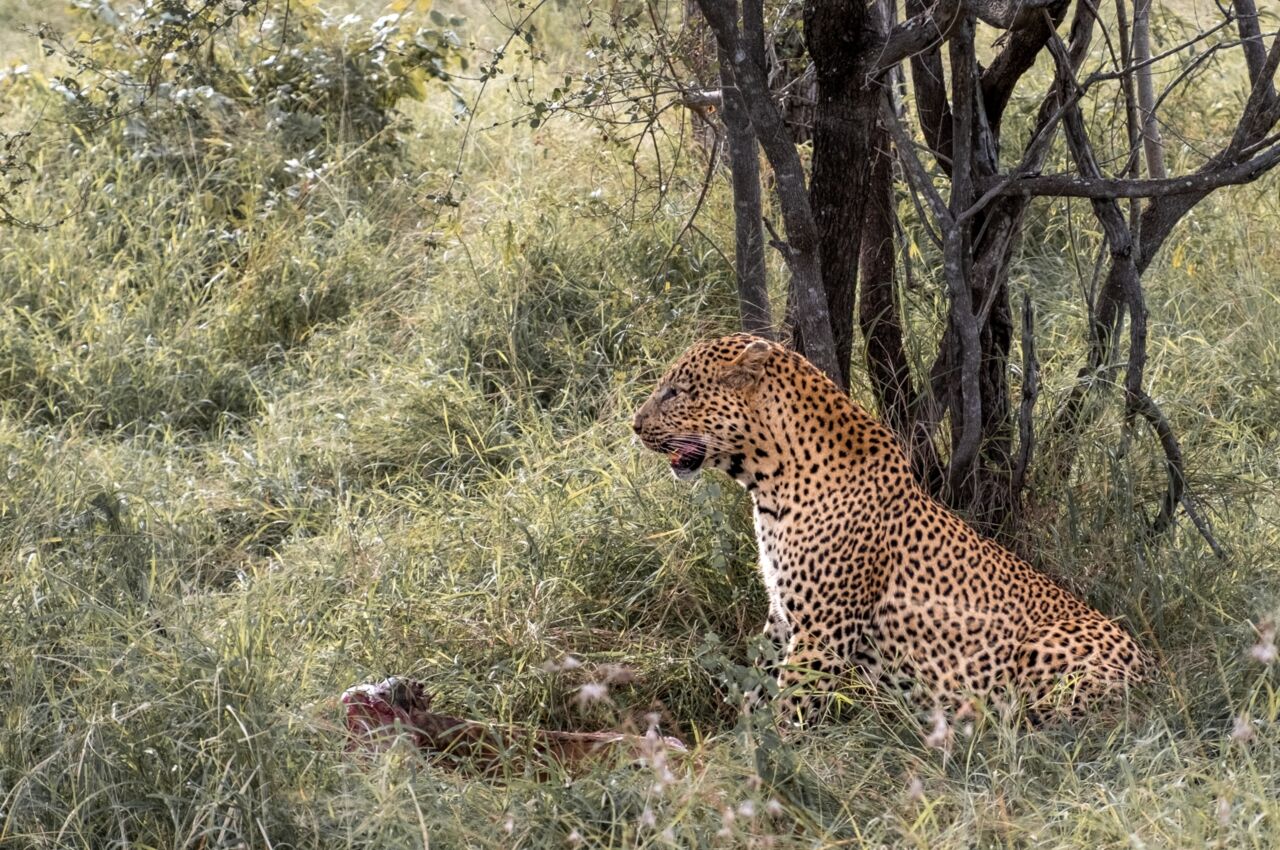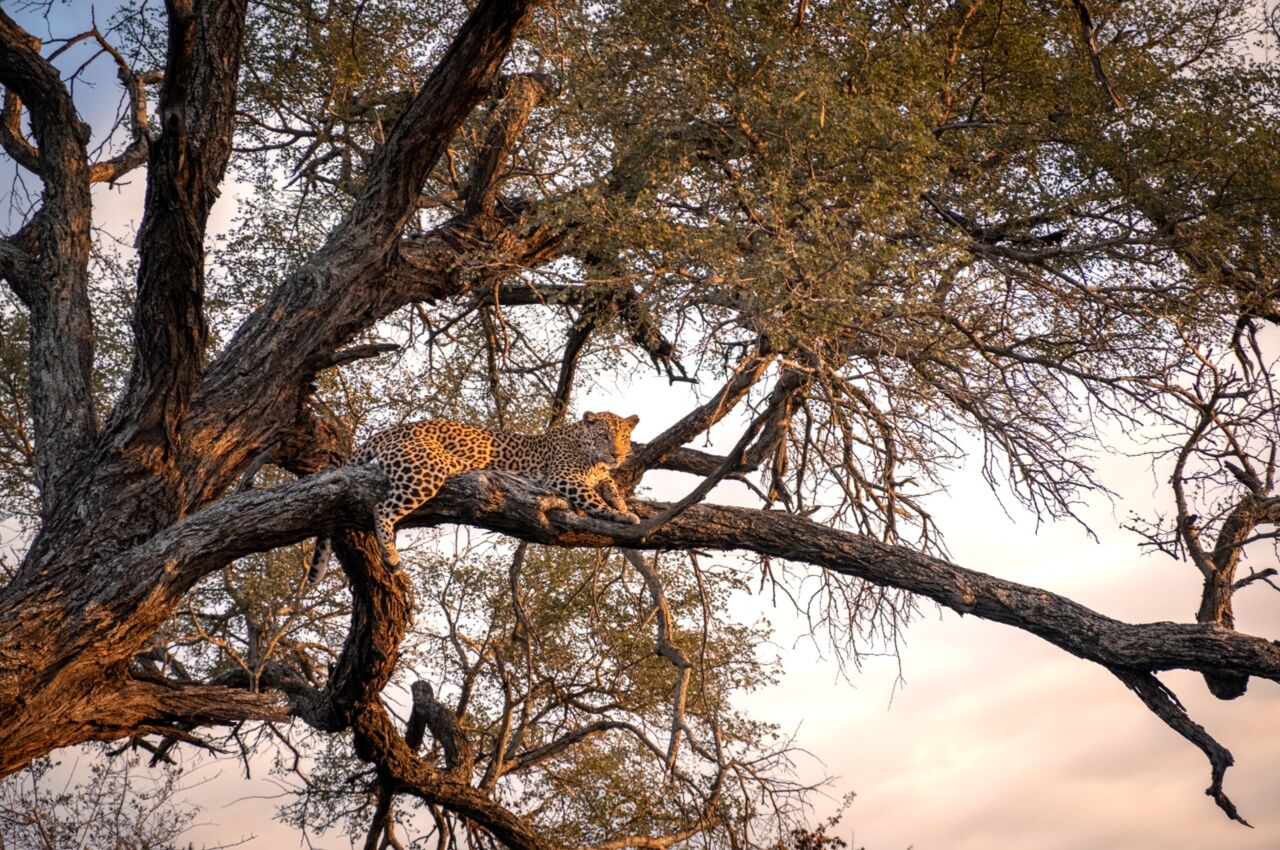 As each of us collectively held our breath, we had little choice but to heed Ndlovu's advice and wait until the pride had caught dinner.
"How's that for an introduction to Lebombo?" Ndlovu said through a broad grin from behind the steering wheel. "I think it's now time for a sundowner."
Ndlovu was referring to the South African safari tradition of finding a scenic location at which to toast another successful day — or, in this case, arrival — in the bush.
At a scenic cliffside location overlooking Singita's private concession, Ndlovu and Mathedbula laid out a sunset spread. And with gin and tonic in hand, I stood in silence surveying the land that would be home for three days of unbeatable wildlife sightings and a once-in-the-lifetime safari adventure.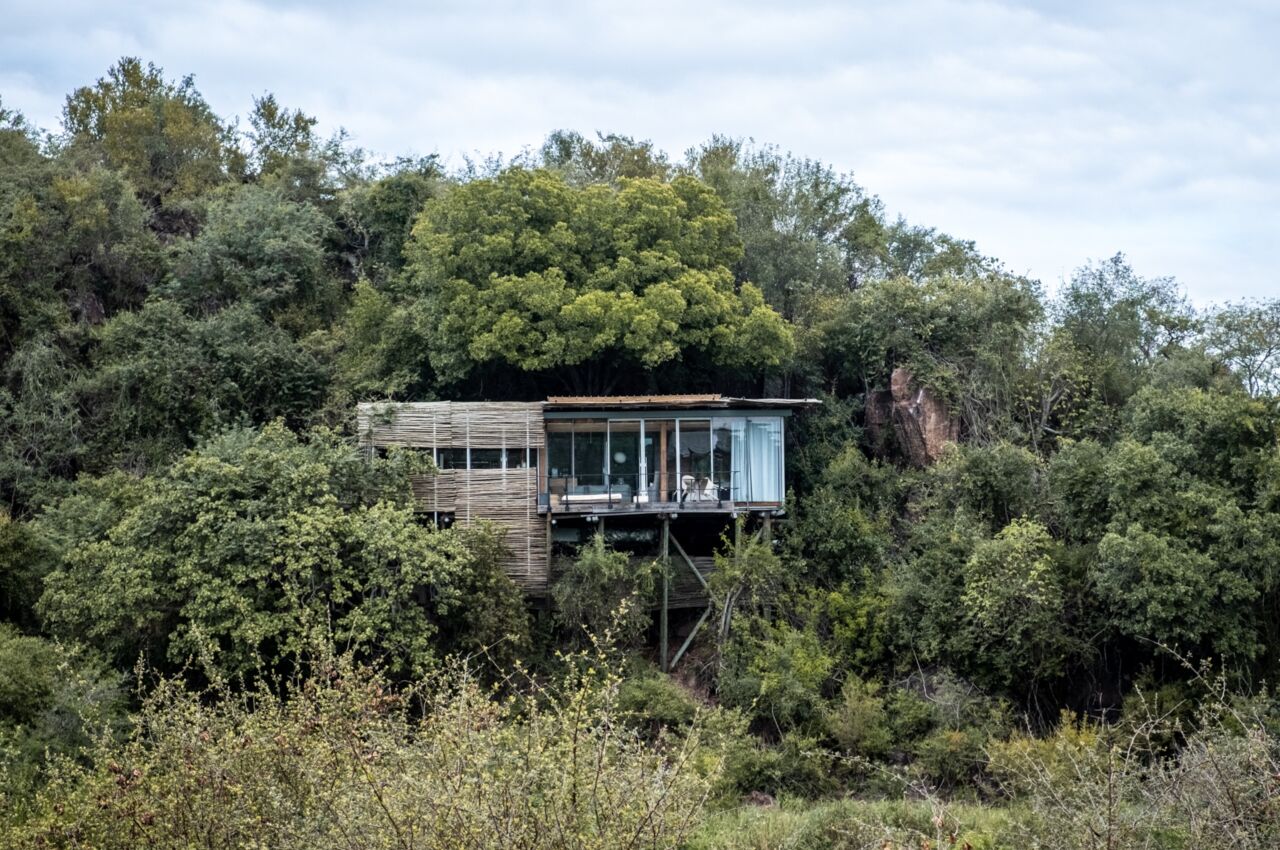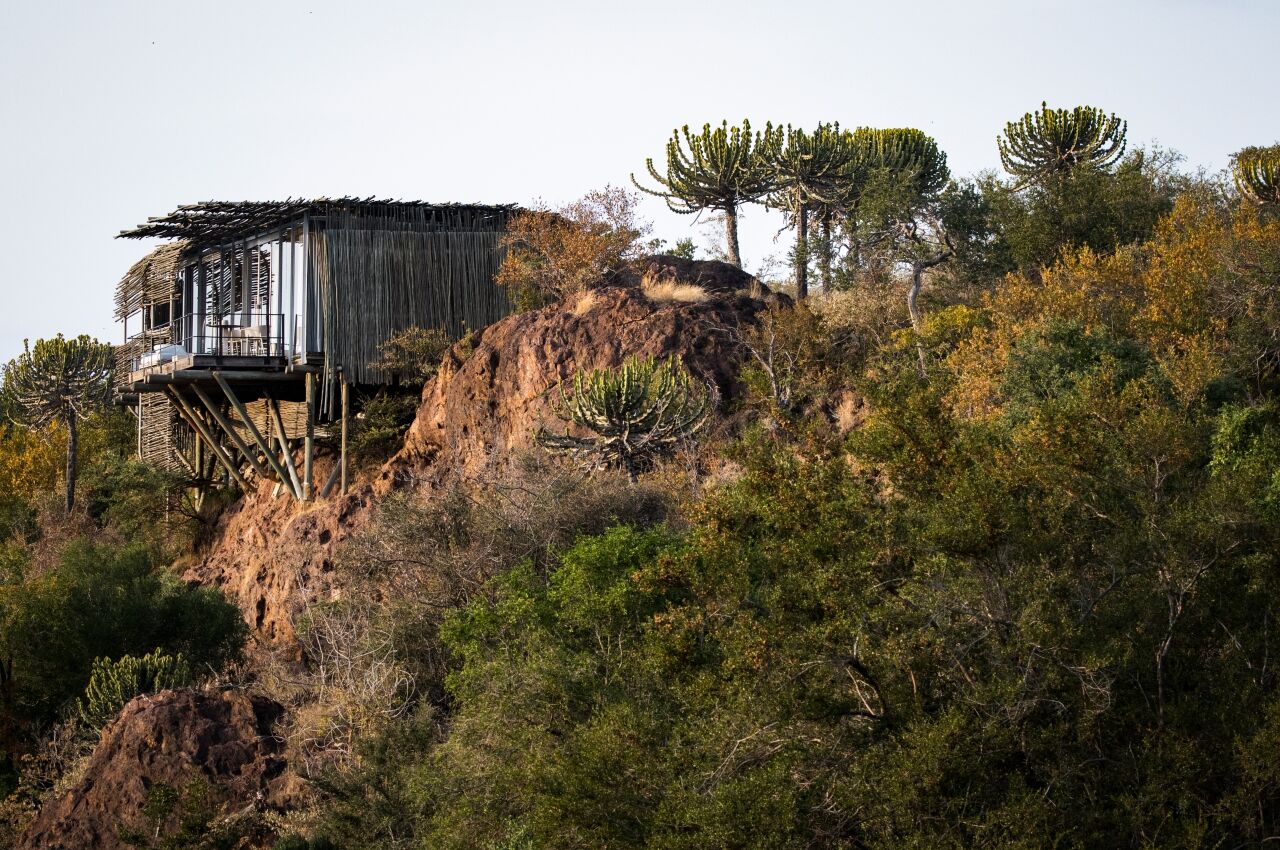 It's a curious thing when visiting a luxury safari lodge that, most often, the first and most highly anticipated thing you do is to leave and explore. The allure of the Big Five living in the surrounding wilderness is hard to resist — but in the case of Singita Lebombo, returning to the lodge is also a central part of the experience.
Singita's Lebombo Lodge is a dramatic cliffside sanctuary located above the gurgling N'Wanetsi River. The lodge has exclusive rights to traverse a private tract of land. There are no fences dividing the Singita's properties, and wildlife are free to roam throughout.
The properties manager, Daniel Zents, explained to me that the design of the lodge was inspired by the eagles' nests built into the riverside cliff face.
"It's an incredibly tranquil place to live and work," Zents says. "And you'll see how the rooms and common areas were built in such a way to place you directly into nature. Without sacrificing any of the luxuries, of course."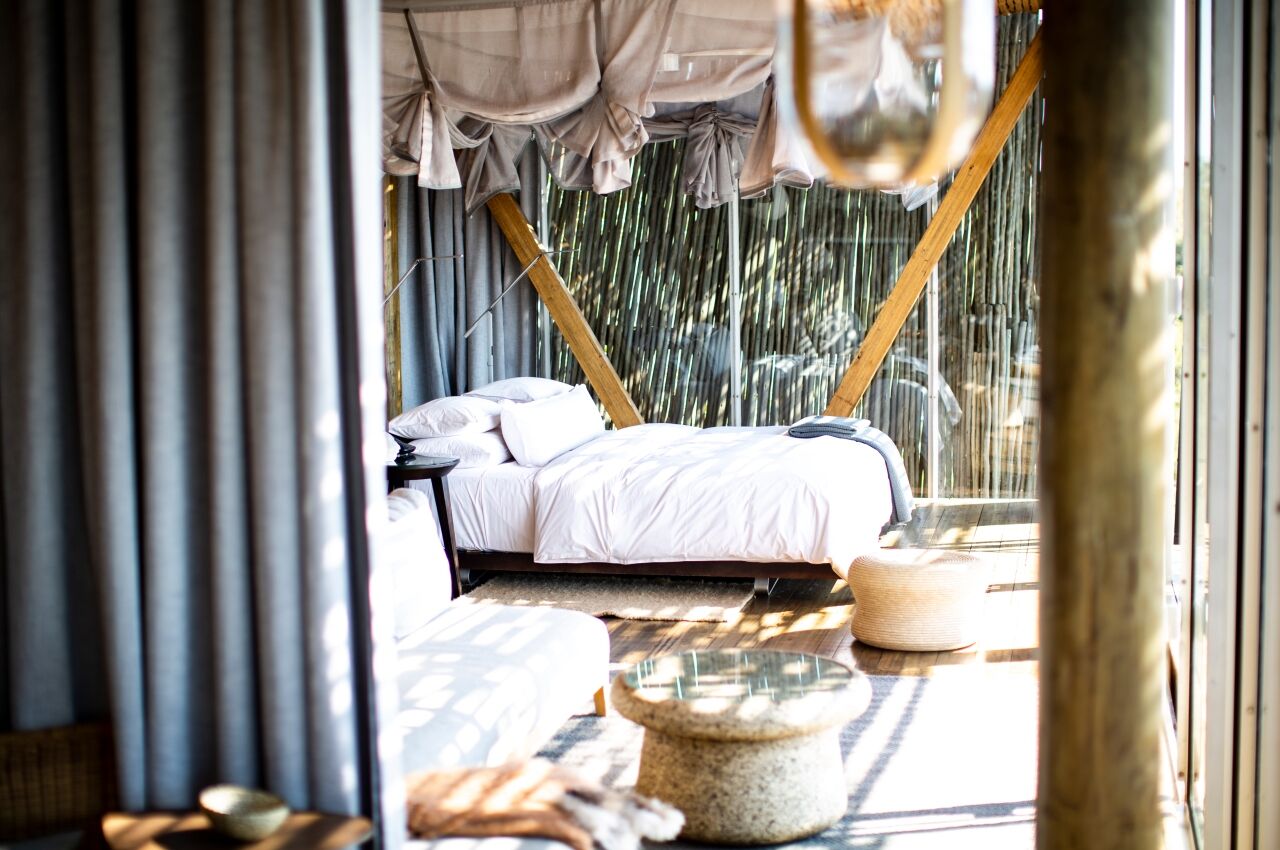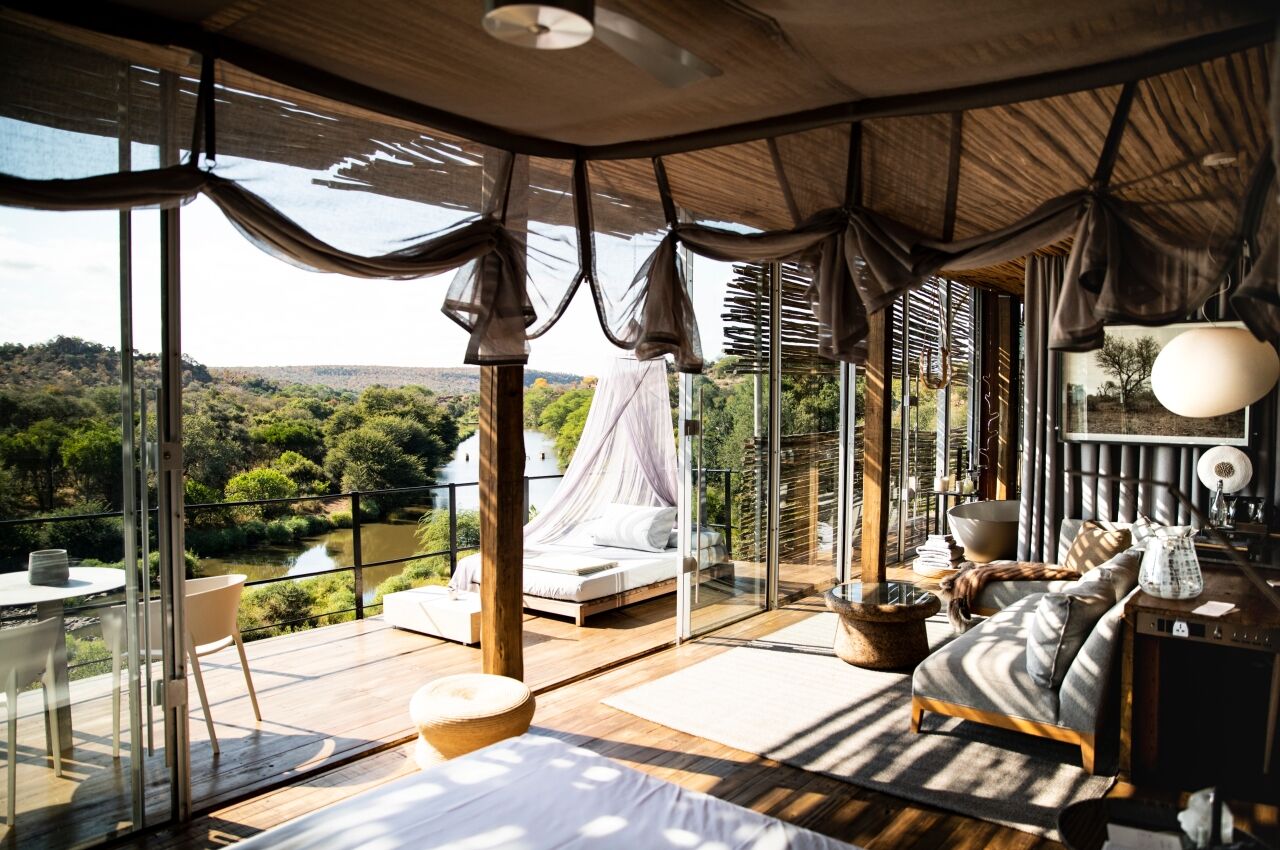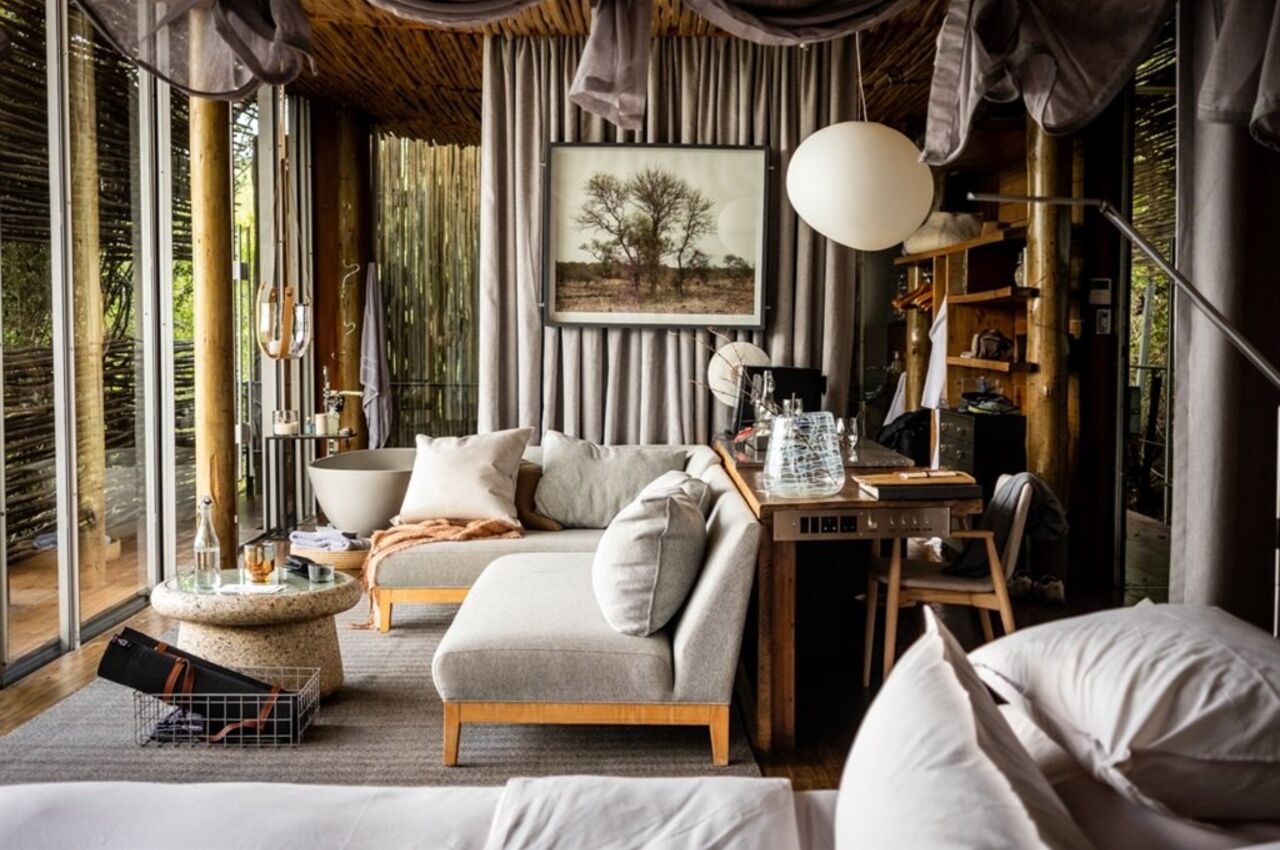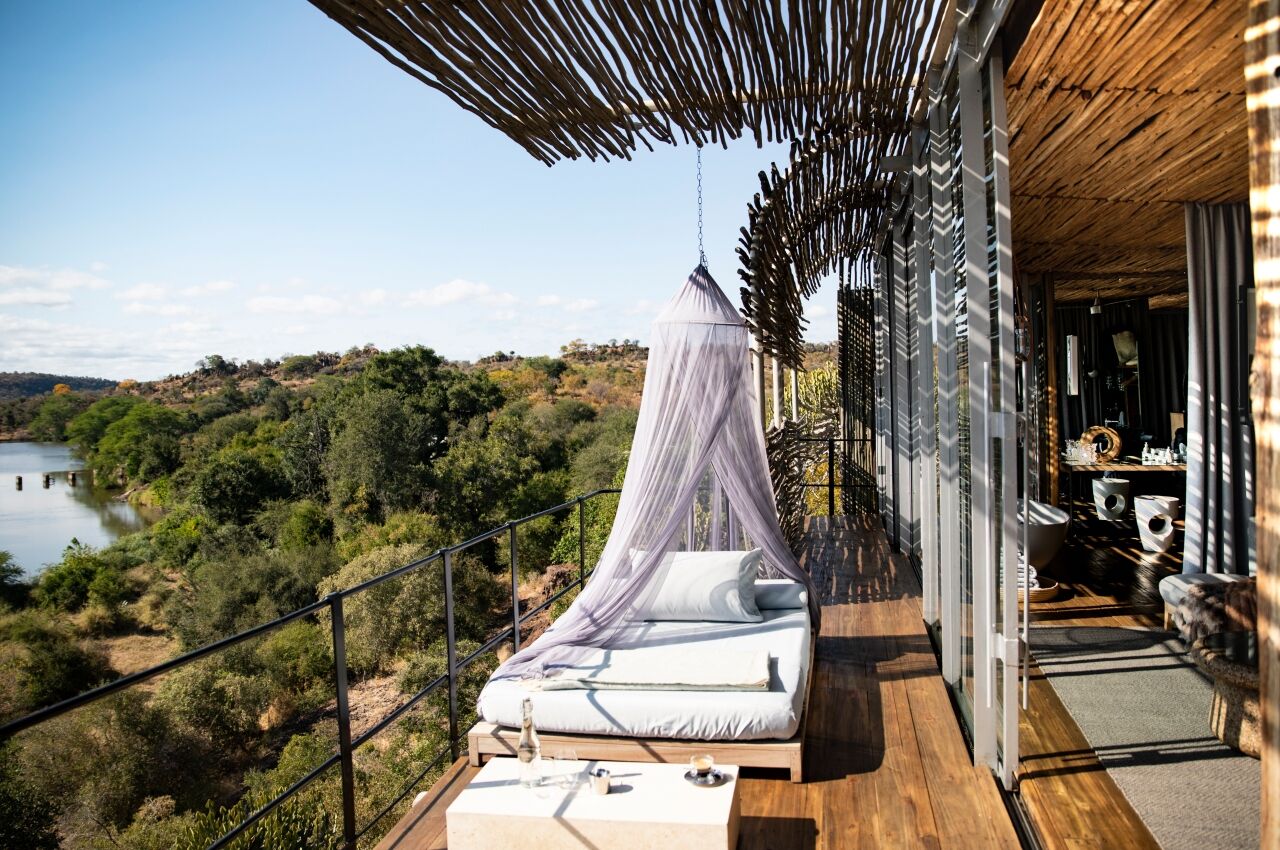 There are 14 loft-style suites at Lebombo that sleep between two and four guests, and a large villa that sleeps eight. And with each spaced out across the cliffside and nestled among the trees, privacy and exclusivity are a given.
Each elevated suite capitalizes on its location in the South African bush, with floor-to-ceiling sliding doors to let in light, fresh air, and the breeze. And whether relaxing on the sofa, on the bed, in the bathtub, or on the balcony, you'll find expansive panoramic views of the river below and the distant Lebombo Mountains after which the lodge is named.
Rooms have a fully stocked coffee station and minibar, an oversized bathtub, an indoor-outdoor shower, and a king-size bed. And if you'd prefer to sleep under the stars, the team will make up a balcony daybed, complete with mosquito net and plush blankets and pillows.
Of course, there's as much attention to opulence, comfort, and luxury in the lodge's common areas.
The main bar and lounge also resemble an eagle's nest, albeit a particularly giant one. And nearby is a library, two lap-style pools, spa, boutique and gallery, and a tranquil dining area where most guests take their meals.
And, despite being hundreds of miles from the nearest supermarket or liquor store, the food and wine plays a central role at Singita Lebombo.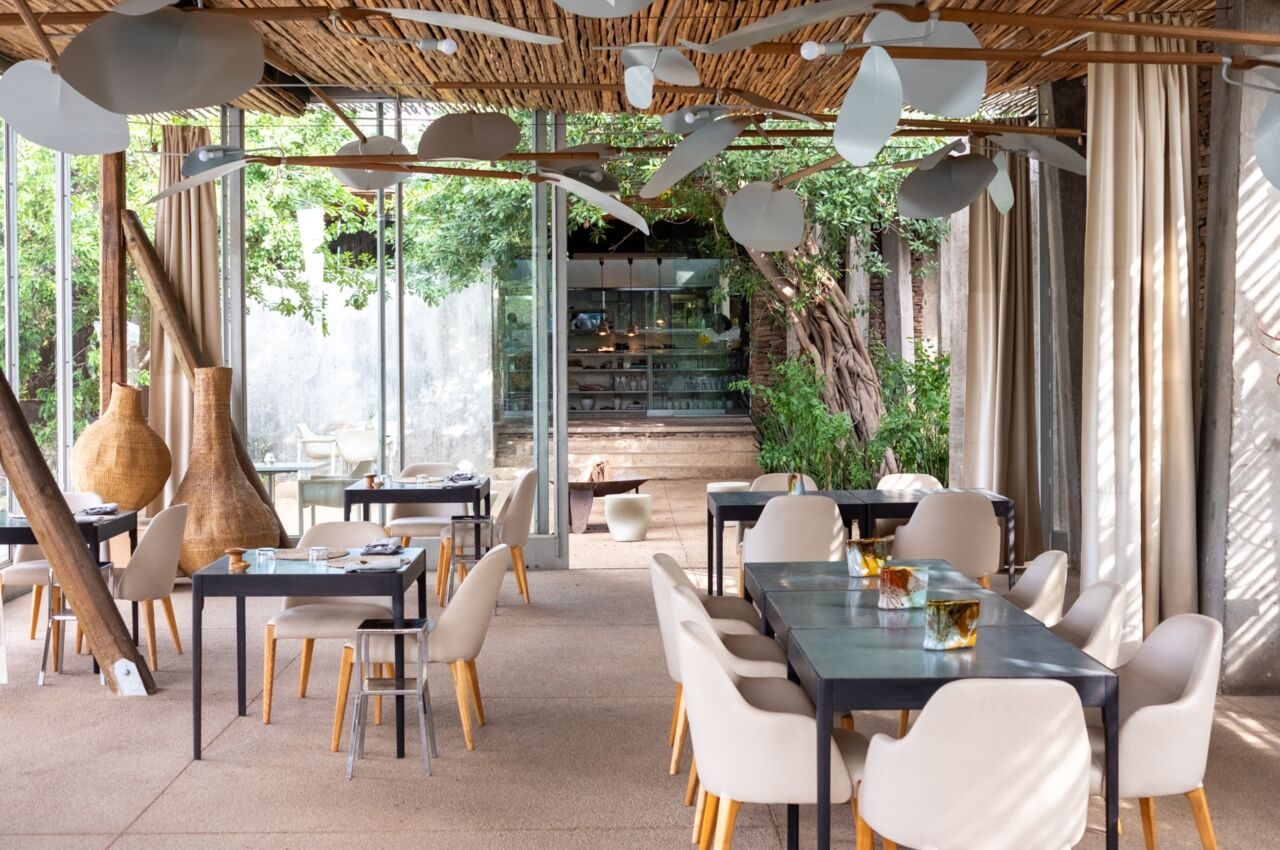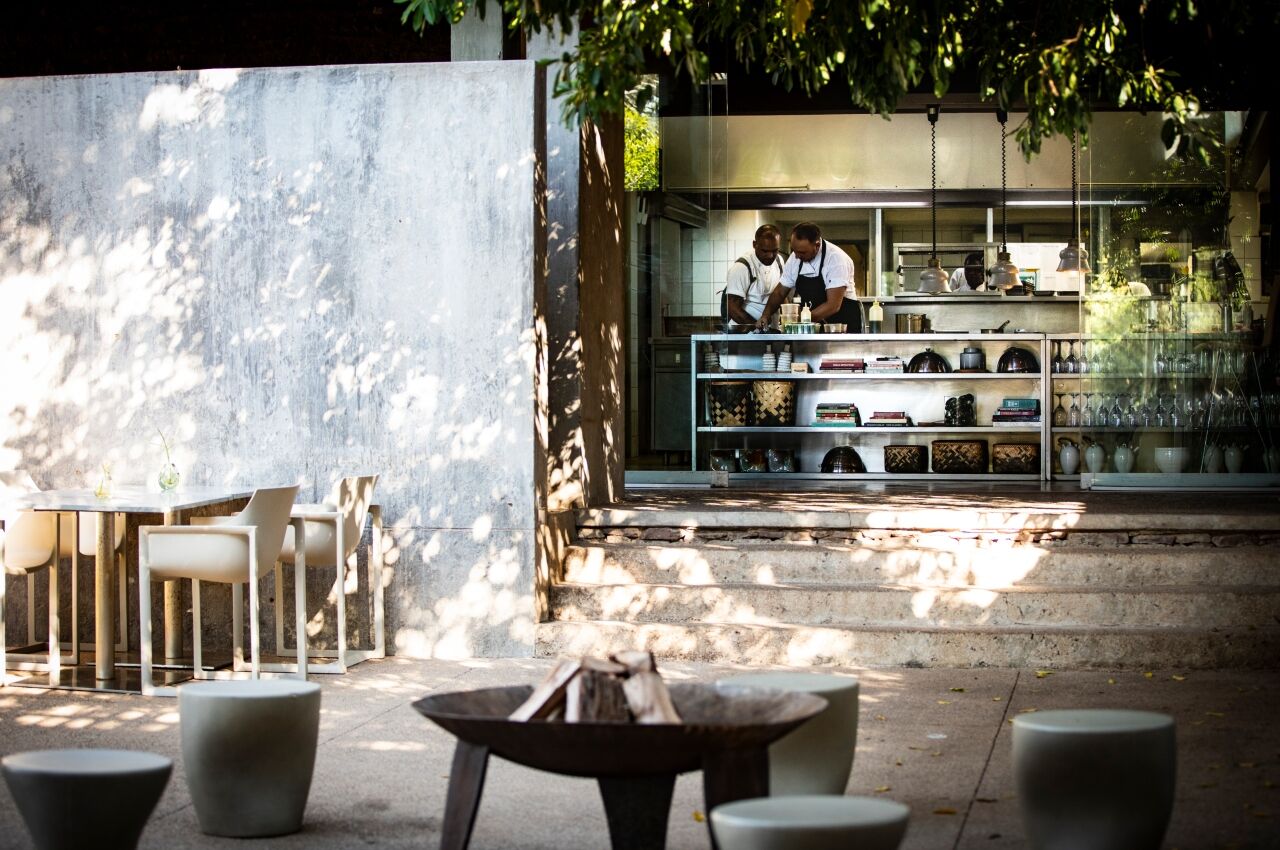 Given that most guests leave early for game drives, and have snacks and coffee before departure and at designated scenic stops, it makes sense that Lebombo offers an all-day brunch option.
You can start your brunch journey at any time with a selection of local cheeses and charcuterie, or jump straight into a diverse menu of superb breakfasts, fresh salads, or more substantial meals. Fresh ice creams and sorbets follow, and if you're starting early, there's a selection of cocktails and wines selected to pair perfectly with the meal, with which to celebrate your morning's game viewing.
Singita procures more fine wine than many other businesses in South Africa, and after aging these to perfection they transport them to lodges throughout Africa. At dinner each evening, a sommelier does the rounds to ensure that guests are fully versed in the available wines, and to recommend a varietal based on a specific dish.
The lodge is also home to an in-house culinary school, overseen by one of the country's top chefs and restauranteurs, Liam Tomlin. The school upskills and trains unemployed youth from surrounding communities, with the aim of producing around ten internationally qualified commis chefs each year. Guests can chat with the students, and even participate in some activities with them — but for most, the food experience takes place in the dining room.
A stay at the lodge includes all meals and beverages, including premium wines, craft beers, spirits, and liqueurs. And a large hinged case of Cuban cigars awaits anyone who wants to indulge further after their fine-dining meal.
There aren't many boxes left unchecked by the experience at Singita Lebombo. But if there's one criticism to level against a stay there, it's that a typical holiday doesn't feel long enough to appreciate everything on offer.
Staff, who know your names from arrival and cater to your every need, walk the perfect line between comfort, class, and familiarity to make a stay at Lebombo instantly welcoming.
The retort, therefore, may be to skip over some of the morning and evening activities. But with award-winning guides like Ndlovu delivering fascinating twice-daily game drives, these excursions are near impossible to turn down. Still, with so much luxury, peace, and tranquility at the lodge itself, I'd recommend soaking up a few additional hours in what may be one of the best safari lodges in Africa.
What did you think of this story?