in paid partnership with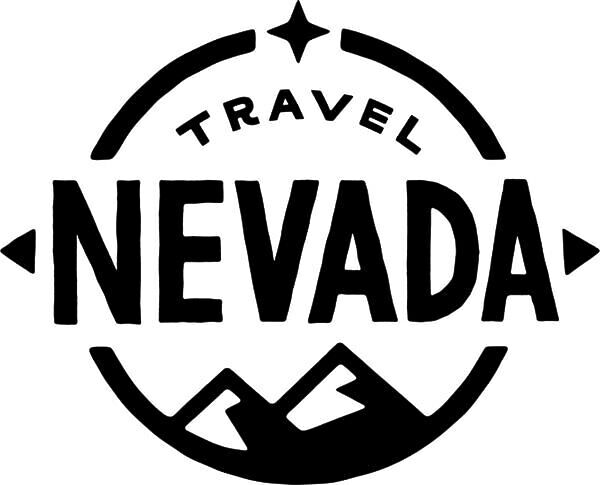 Looking for weird and wonderful experiences on your next Nevada trip? The state has an array of offbeat driving tours, eccentric collections, and quirky art installations that will satisfy your itch for the unconventional. From encountering ghosts, aliens, and creepy clowns to exploring an 11.3-acre micronation, think as far outside the box as you can and you're sure to have an unforgettable vacation in the Silver State. Here are a few ideas to get you started.
1. Warp your perspective at the International Car Forest of the Last Church
As the saying goes, "One man's trash is another man's treasure." Case in point: the International Car Forest of the Last Church, the country's most extensive open-air art gallery composed of junk cars. A quick and worthwhile detour off US-95 between Beatty and Tonopah, this unusual exhibit is home to 40 different sculptures — i.e., vehicles — each carefully stacked or standing with front ends buried in the sand and serving as a blank canvas for rotating commissions from Nevadan artists.
The International Car Forest is free to visit anytime. Afterward, head to the neighboring town of Goldfield and visit Rocket Bob's Art Cars for more auto-inspired art.
2. Go international on a trip to the Republic of Molossia
Turn a road trip through Nevada into an international adventure with a stop at the Republic of Molossia. Founded in 1977 and ruled by His Excellency, President Kevin Baugh, the Republic of Molossia is a micronation located near Dayton, Nevada. Though the nation is not officially recognized by the United States or the United Nations, it has its own currency, laws, and infrastructure — including a post office.
Visitors are welcome during "tourist season," which is generally April 15 through October 15, by appointment only. While a passport is technically not required, plan to bring one for the stamp. Be sure to leave any firearms, explosives, onions, fresh spinach, and plastic bags at home, as these items are all prohibited in the Republic of Molossia.
3. Face your fears at the Tonopah Clown Motel
Fear them or love them? The Tonopah Clown Motel houses one of the largest private collection of clown figurines in the world (3,000 of them!), which is constantly growing thanks to donations.
Believe it or not, the clowns are only one reason why the Tonopah Clown Motel has been named America's Scariest Motel. Guests have also experienced ghostly visitors from the adjacent Tonopah Cemetery (and a paranormal activity disclaimer is included on the motel's website!). It all adds up to a spot that's as much a destination in its own right as it is a lodging option for exploring the Tonopah region. Don't miss it.
4. Step back in time in Virginia City
On an average day, the haunted past of Virginia City draws ghost hunters and paranormal experts from all over the world. However, a series of only-in-Nevada annual events, including the World Champion Outhouse Races, the International Camel and Ostrich Races, and the Rocky Mountain Oyster Fry, ensure there's never a dull moment in this historic city.
Once a bustling metropolis and the epicenter of a 19th-century mining boom, Virginia City has a colorful past that lives on today. Visiting feels like stepping into the setting of a classic Western film (or Westworld), with perfectly preserved saloons, churches, and Victorian homes. And whether you're touring museums, hunting for ghosts, or shopping for souvenirs, there's plenty to explore.
5. Live out your horror fantasies at Tom Devlin's Monster Museum
Horror movie buffs will want to make a pit stop in Boulder City to check out Tom Devlin's Monster Museum. A special effects makeup artist for the past 20 years, Devlin's work has appeared in over 100 feature films, and some of his best pieces are on display in his gallery at the museum.
Self-guided tours are available, but true monster maniacs will want to opt for the fully immersive RIP Experience, which includes car service in a custom hearse and a behind-the-scenes tour with Devlin. Ready for a glow-up next Halloween? Devlin sells a line of custom Halloween masks onsite.
6. Keep your eyes peeled for art on a drive down Guru Road
A quick detour off the Burner Byway, Guru Road makes for a fun adventure on the way to or from Burning Man (another out-of-the-box experience in its own right). This open-air art collection is the work of Dwayne "Doobie" Williams, who crafted dozens of installations between 1978 and 1992. Pieces include a whimsical mound of rocks that pays tribute to Elvis Presley and a tongue-in-cheek "weather station."
Entry to Guru Road is free — or, as Williams says, "the price is right" — and it's accessible 24/7 by foot or car.
7. Explore a ghostly "Last Supper"
For more open-air art adventures, visiting the ghost town of Rhyolite, just west of Beatty (en route to Death Valley), is a must. Once a small mining town, Rhyolite was hit hard by the financial panic of 1907, causing the local mine to close just years after it had opened. By 1920, the town was entirely abandoned.
Today, it's one of Nevada's most significant ghost towns and home to the Goldwell Open Air Museum. The outdoor sculpture park began with a ghostly rendition of "The Last Supper," a piece by Belgian artist Albert Szukalski. It's since been joined by six other outsized, see-it-to-believe-it pieces of peculiar creativity.
8. Experience an out-of-this-world road trip on the Extraterrestrial Highway
Paranormal enthusiasts and UFO hunters, start your engines! The Extraterrestrial Highway is 100+ miles of remote road that connect the Nevada Test and Training Range, the infamous Area 51, and the small town of Rachel — home to the Alien Research Center.
While you could technically zip down the entire ET Highway in about 2.5 hours, why not make a UFO-spotting night of it? Dock your vessel at the mothership — a.k.a. the Little A'Le'Inn — a.k.a. the only bar, cafe, and motel (read funky, glorified multi-room trailers) along the route.
9. Check the time at RyanHenge
A sundial, solar calendar, and art installation all in one: RyanHenge is the culmination of decades' worth of night-sky studies by Ryan Williams, CEO of Western Elite Landfill. Williams spent years charting the stars on the landfill property before deciding to build a Stonehenge-inspired solar calendar. The final product, completed in 2017, includes 57 giant columns surrounding a painting of a world map, and the large flagpole at the center serves as a functioning sundial.
Can you set your watch to it? Maybe not — but when you get here, you'll be able to confirm that Nevada does indeed have more weird than you could ever enjoy in just one trip.