The Essential US Virgin Islands Travel Guide, From Beaches To Where To Eat
"Driver's license, please," asked the official at the St. Croix airport when I touched down on the largest US Virgin Island. Even after boarding my flight without a passport, it was surreal to think that my American driver's license was the only identification I needed to access the soft, pale beaches and balmy tropical breezes that lay ahead.
Together with St. Thomas and St. John, St. Croix is one of three main US Virgin Islands, a territory that also comprises around 50 smaller landmasses in the Caribbean Sea. Of the trio, only the smallest island, St. John, lacks an airport, though the ferry from St. Thomas is just 45 minutes. On a recent trip to the Caribbean, I visited all three islands. After stepping off the plane in St. Croix, I spent a week engulfed in a culture I'd never experienced before. The warmth of the welcomes I received was surpassed only by the warmth of the sunlight that showers the islands year-round, having no formal rainy season.
Within days, I was in love — a fate I'm convinced is inevitable for anyone who visits the US Virgin Islands, whether or not you need a passport to find out. Here's your essential US Virgin Islands travel guide, from one traveler who's already itching to go back.
Getting to know the US Virgin Islands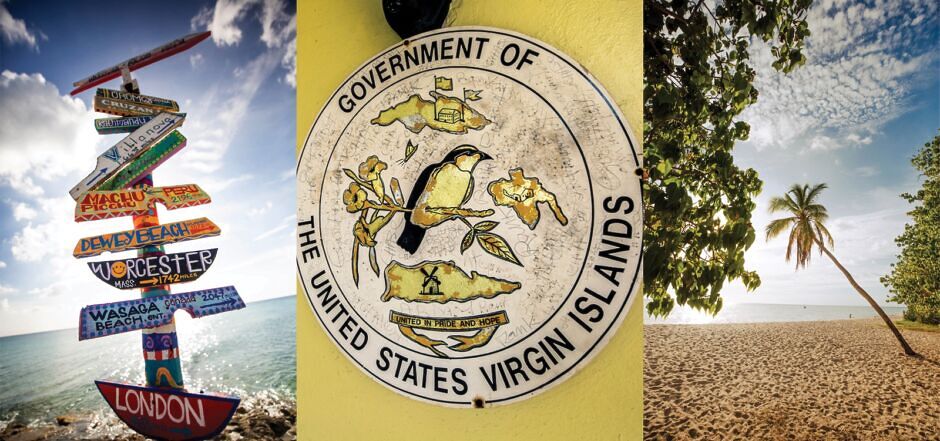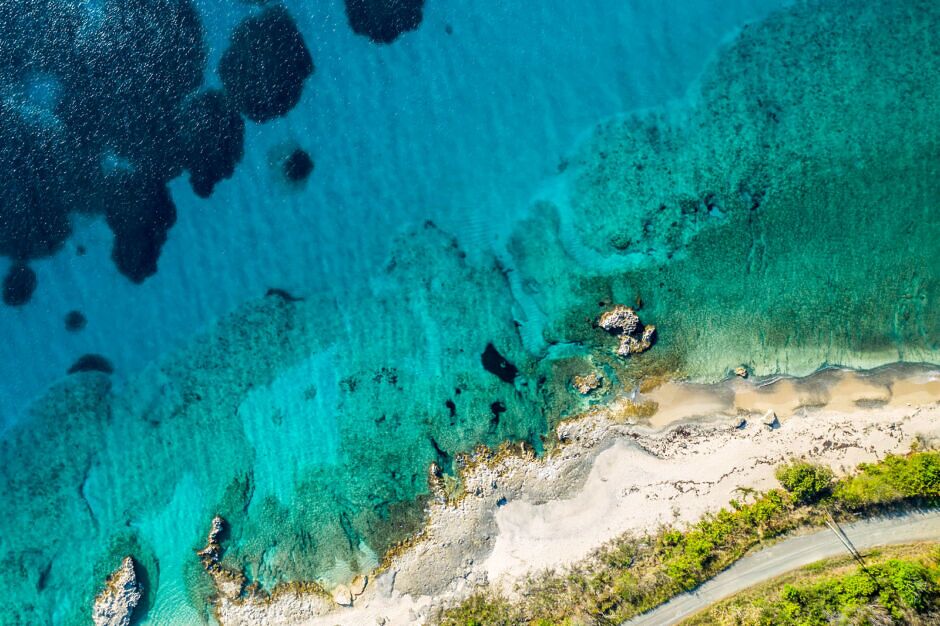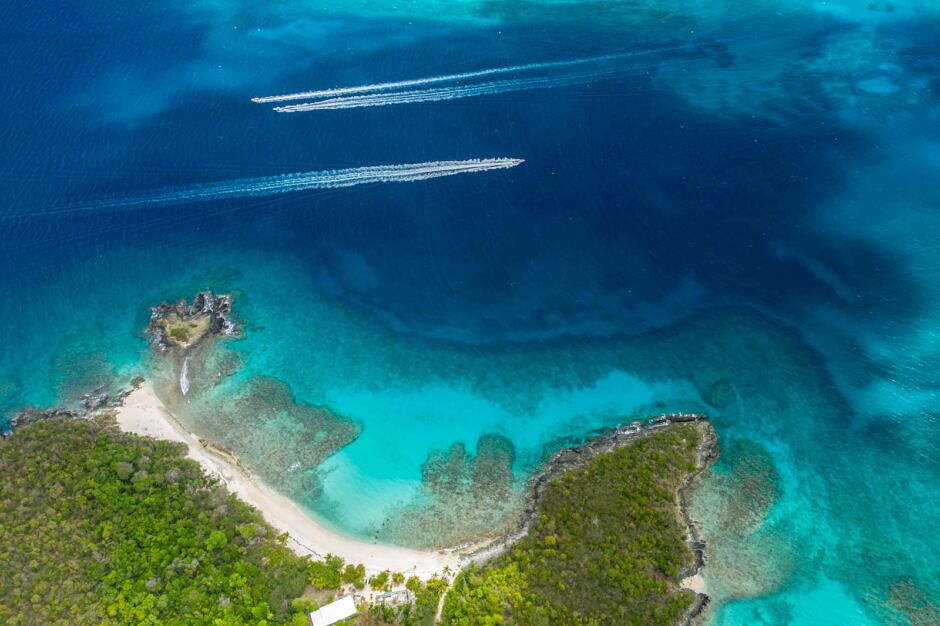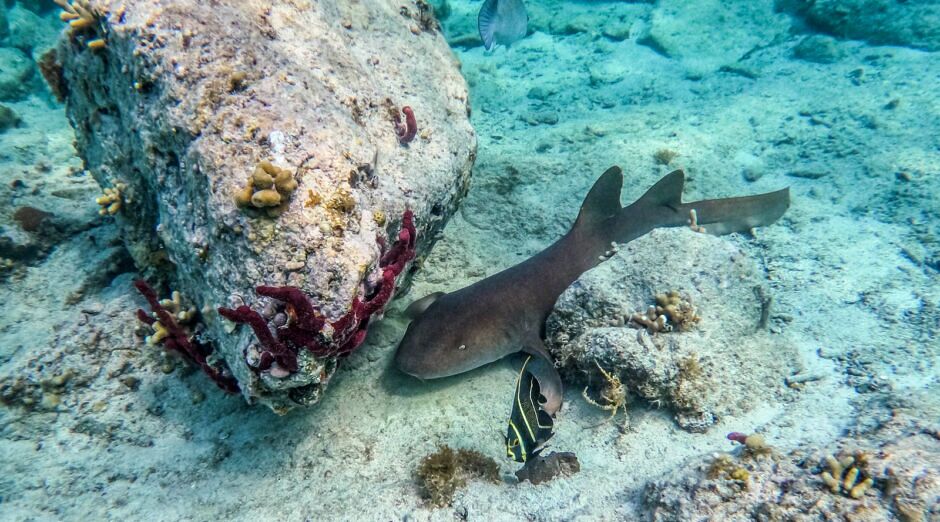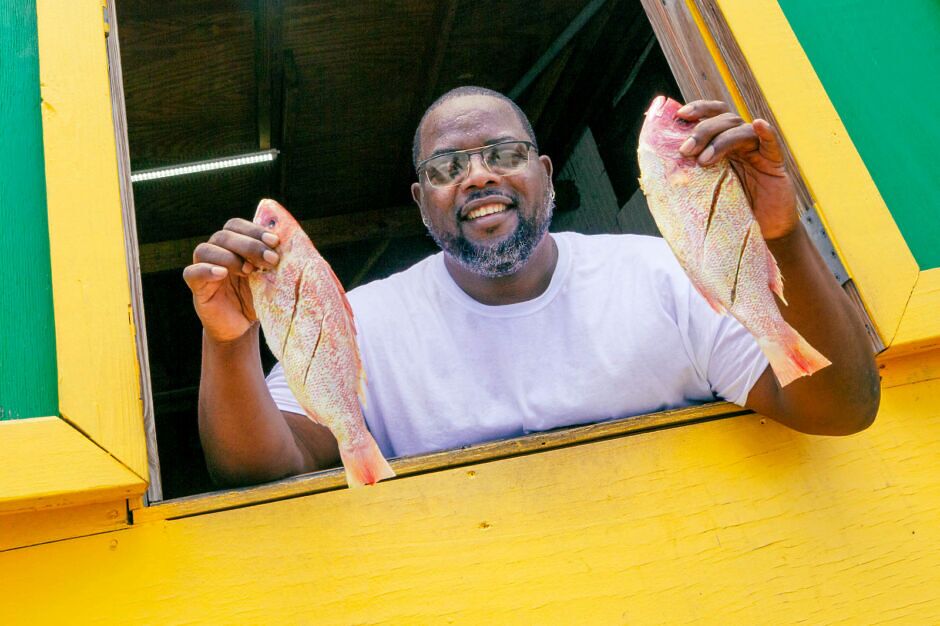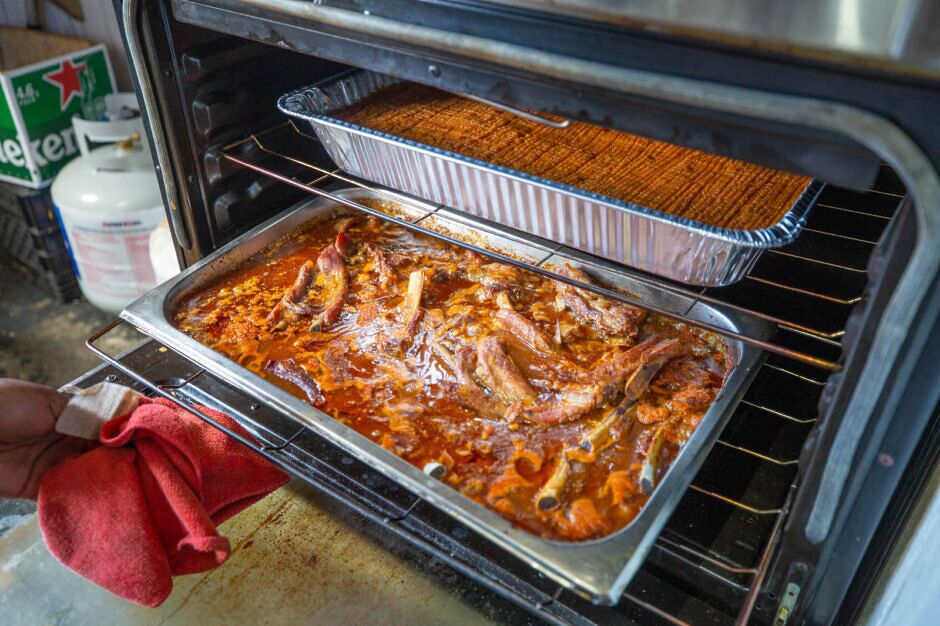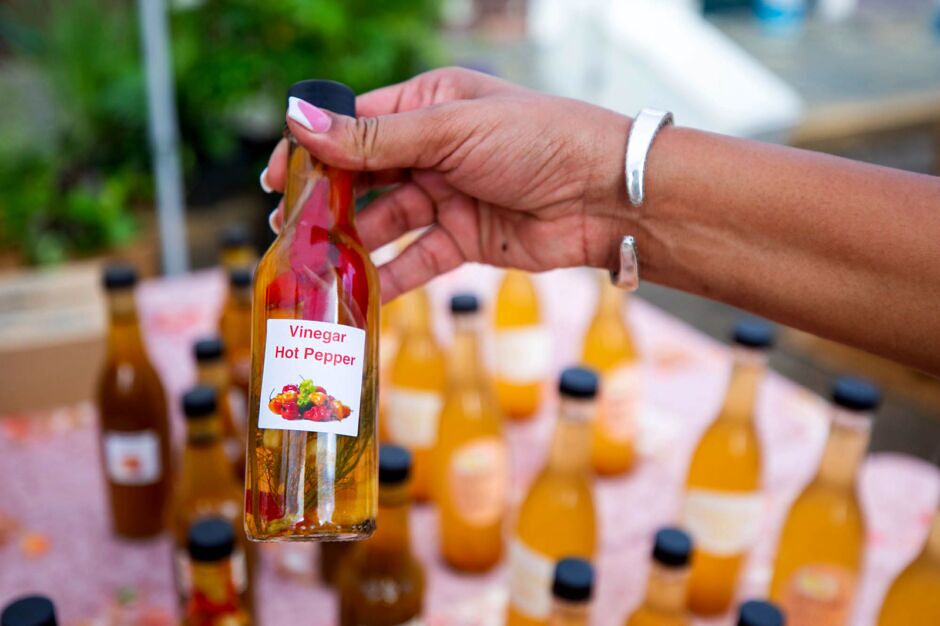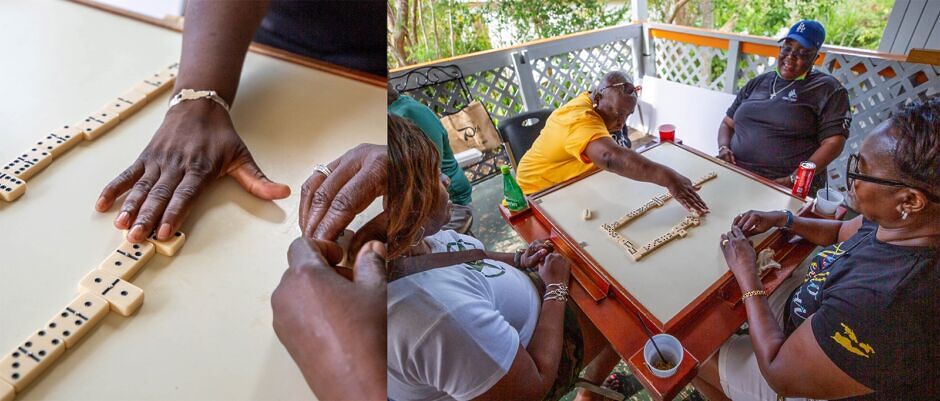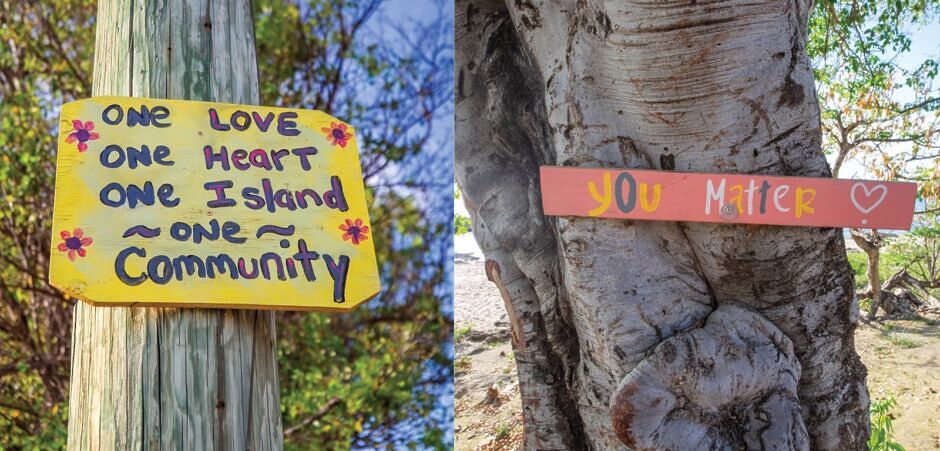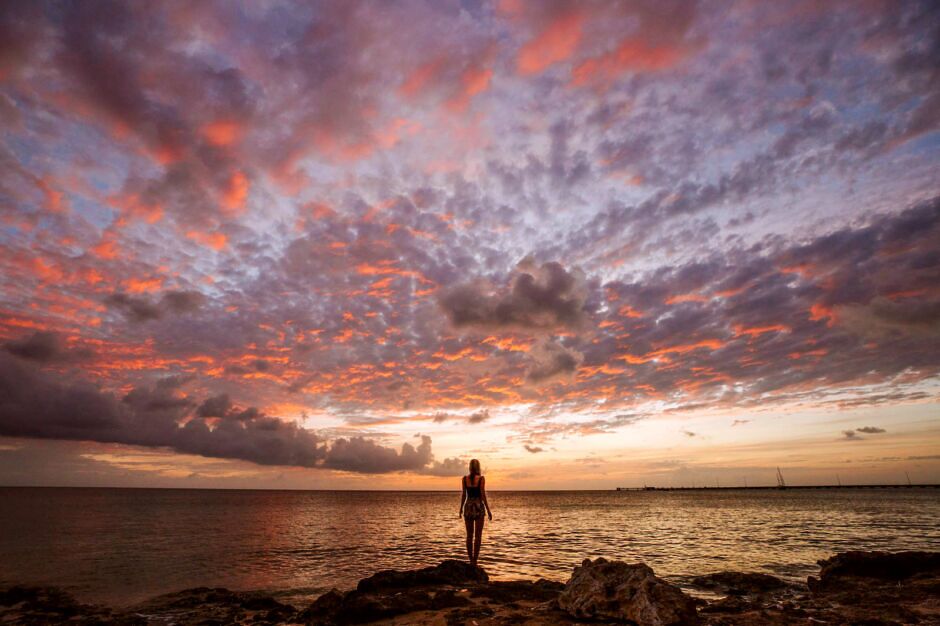 The best US Virgin Islands beaches
Rainbow Beach, St. Croix: The string of blue umbrellas lining Rainbow Beach lets you know you've arrived at one of St. Croix's most popular hangouts. Calm waters make this a particularly kid-friendly stretch of coast while the frozen cocktails at Rhythms cater to the adults in the group. You might even catch some live music while you're there.
Coki Beach, St. Thomas: Coki Beach is where the people of St. Thomas go to unwind, especially on Sundays when picnickers keep the food vendors busy. You never know who might make an appearance at this sandy hotspot in northeastern St. Thomas. Even Pressure, the island's resident reggae star, has been known to frequent Coki Beach.
Magens Bay Beach, St. Thomas: Magens Bay has the buzziest beach on St. Thomas. Some say it's one of the most buzzworthy beaches in the world. It's not the best for snorkeling, but you'll love sinking your toes into the soft white sand and floating in the smooth water. After, head for the hills to see the ultimate panorma at Drake's Seat lookout. Note that there's a $5 entrance fee to access the beach for everyone over 12.
Cinnamon Bay, St. John: Mile-wide Cinnamon Bay is St. John's longest beach. Part of Virgin Islands National Park, it's a boon for beachgoers who get bored of lounging on the shore, from kayakers to hikers to birdwatchers. It's also one of the many spots in the US Virgin Islands with grassy seafloors that're prime feeding territory for green turtles, which you can strap on a snorkel and see up close.
Honeymoon Beach, St. John: An easy two-mile hike down Lind Point Trail leads you to Honeymoon Beach, one of seven beaches on Caneel Bay within Virgin Islands National Park. The sand is Colgate white, the water is electric blue, and the shore is virtually empty. Between dips and snorkeling sessions, carve out time to appreciate the view — a view so wide you can see the British Virgin Islands right there from the sand.
What to see in the US Virgin Islands
Historic Christiansted, St. Croix: Before St. Croix's largest town, Christiansted, belonged to the US Virgin Islands, it was the capital of the Danish West Indies. Danish colonial architecture such as the Government House on King Street is evidence of that. So is the fact that street placards bear both English and Danish translations. Get to know the island's historic core on a self-guided walking tour through Christiansted, following in the footsteps of Founding Father Alexander Hamilton who spent much of his childhood on St. Croix.
Estate Whim Sugar Mill, St. Croix: Across the US Virgin Islands, colonial-era sugar mills remind visitors of the role sugar plantations historically played in the Caribbean. St. Croix was among the region's most prolific sugar-producing islands. Though many of its sugar mills are still standing, Estate Whim has the only plantation museum in the US Virgin Islands, which provides vital context into the lives of the enslaved peoples who were forced to work the plantations.
Annaberg Plantation, St. John: Established by Danish colonists in the late 1700s, the Annaberg Plantation became one of St. John's biggest sugar producers, as well as an exporter of rum and molasses. What remains of the plantation now serves as the nucleus of the Annaberg Historic District on the island's north shore, which is overseen by the Virgin Islands National Park Service. Like Estate Whim, Annaberg teaches visitors about the history of sugar production in the US Virgin Islands and its ties to the African slave trade.
Virgin Islands National Park, St. John: More than half of St. John belongs to Virgin Islands National Park, which spans roughly 13,000 acres of land and sea combined. To recommend a visit to the park is essentially just a recommendation to visit the island, but there are a couple of sites worth prioritizing: the Underwater Snorkel Trail in Trunk Bay and the plantation ruins, pre-Colombian rock carvings, and 40-foot waterfall on the Reef Bay Trail, to name a few.
The best US Virgin Islands tours
Mutiny Island Vodka, St. Croix: The Caribbean is all about rum, but St. Croix's Mutiny Island Vodka makes the case for a clearer spirit — one that's miraculously made from breadfruit. Tours of the Sion Farm Distillery where Mutiny Island Vodka is produced include a visit to the newly renovated bar and tasting room, as well as a sneak peek at the newly installed copper still.
Cruz Bay Water Sports, St. John: Cruz Bay Water Sports is another operator with locations on both St. Thomas and St. John. Sunset sails, dinner sails, and snorkel sails are just a few of the outings on the menu. I did the Lime Out Day Sail on the Jammin' boat, which included stops at three different clear-water snorkel spots and lunch at a floating taco bar.
Ocean Surfari, St. Thomas: Sailing is big in the US Virgin Islands — really big. The day I spent sailing around St. Thomas with Ocean Surfari was a highlight of my trip, in no small part thanks to the unforgettable crew. Beyond boating, excursions focus on snorkeling and sport fishing, both of which can be arranged from either St. Thomas or St. John.
Where to eat in the US Virgin Islands
La Reine Chicken Shack, St. Croix: Roasted chicken, curry chicken, stew chicken. Chicken wings, chicken soup. Welcome to your one-stop shop for the world's most popular poultry. But that's not all that's on La Reine's menu, which changes daily. You'll also find meats like goat, oxtail, pork, and beef and seafood like conch, lobster, saltfish, and salmon, alongside sides such as johnny cakes, macaroni, tostones, and cassava. It's all delicious — and served fast. That's what makes La Reine a local favorite on St. Croix.
Where: 24-I, Christiansted, St. Croix 00820
Caroline's, St. Croix: Caroline's is more than an all-day breakfast and brunch spot. It's an experience that starts with oceanfront views, transitions into ultra-photographable floral decor, and descends into a feast of pastries, benedicts, crepes, and more. Do yourself a favor and order the beignets, either traditional style or with dark rum pecan caramel sauce.
Where: 59 King St, Christiansted, St. Croix 00820
Dushi by the Sea, St. Thomas: Dushi herself dishes out daily specials at this seaside joint near Coki Beach where customers line up before the doors even open. The demand makes sense as soon as you've experienced her warm personality and generous portions. But be warned: You'll probably find yourself sluxxin' down Dushi's fried fish even if you're not hungry.
Where: Rte 388, St. Thomas 00802
Rudy's Fraco Sno-Cones, St. Thomas: Rudy is a local legend who's been serving up sno-cones in a variety of flavors since before folks can even remember. Tamarind? Soursop? Name a fruit that's native to St. Thomas, and Rudy's got it. You might just find a new favorite.
Where: 84Q5+6WF, Tutu Park Mall Annas Retreat, St. Thomas 00804
Blue 11, St. Thomas: That Blue 11 is located in the Yacht Haven Grande marina is your first clue that it's a memorable dining experience. That you can choose between seven-, nine-, and 11-course tasting menus — with optional wine pairings — confirms it. Signature dishes include the poached halibut with passion fruit butter and the braised wagyu short ribs with sweet potato puree and a cinnamon port reduction.
Where: 83PH+WGG, St. Thomas 00802
Lime Out, St. John: Picture yourself enjoying fresh tacos and craft cocktails in the middle of the ocean. You can do that at Lime Out, a floating resto-bar in Coral Harbor with eight different tacos including ceviche, short rib, and a vegan option with black beans and quinoa. You'll need to charter a boat to hang here as swimming across the harbor is prohibited, but the Smokin' Luca featuring mezcal and native tamarind juice is well worth the adventure.
Where: West Fortsberg Coral Bay, St. John 00831
Bajo el Sol, St. John: If you're looking for a proper rum tasting on St. John, look no further than Bajo el Sol. In addition to the 100-plus rums in its arsenal, Baja el Sol doubles as an art gallery, bookstore, and cafe where you can learn all about the Caribbean's favorite spirit in one of the coolest settings in the US Virgin Islands.
Where: Mongoose Jct, St. John 00830
Ocean|362, St. John: Ocean|362 puts a fresh spin on Caribbean classics, both figuratively and literally given its commitment to using ingredients that were picked, speared, and otherwise sourced right in the restaurant's backyard. Dinner service is the best way to sample the island-to-table cuisine, but don't skip cocktails on the top-floor bar for an equally delicious view.
Where: 362 Strand Gade Estate, St. John 00831
Where to stay in the US Virgin Islands
The Fred, St. Croix: I stayed at The Buccaneer in St. Croix, a beach and golf resort in Christiansted Harbor, but I also had the pleasure of lounging poolside at The Fred, an adults-only boutique resort in Frederiksted. Whichever hotel is more your speed, be sure to swing by The Fred for a dip and a photoshoot with the cock portrait in the lobby.
Where: 605 Strand St, Frederiksted, St. Croix 00840
Margaritaville Vacation Club, St. Thomas: The swim-up bar at Margaritaville is reason enough to pick this Wyndham resort as your home base in St. Thomas, with your choice of studio, one bedroom, and two bedroom suites that can accommodate two to six guests. The fact that Coki Beach is just a 10-minute stroll away seals the deal.
Where: 6080 Estate Smith Bay, St. Thomas 00802
The Hills, St. John: On an island that's 60 percent national park, there's something fitting about booking a private villa rather than a room in a more sprawling resort. The Hills has 22 well-appointed vacation rentals on offer to make St. John feel like your island home away from home, complete with unbeatable views overlooking Cruz Bay.
Where: 11 Bay View Terrace, Cruz Bay, St. John 00830
What did you think of this story?