in paid partnership with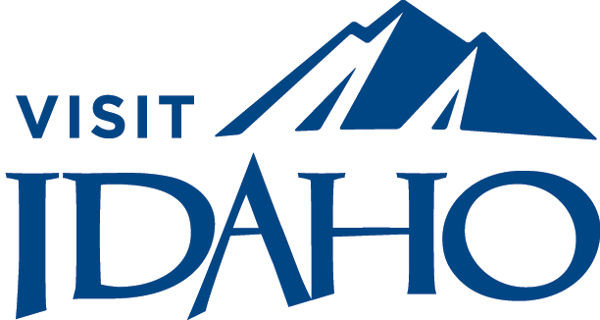 While the snowpack brings a peaceful near-silence to the wintertime landscapes of Idaho, the cold weather doesn't mean outdoor activity cools off this time of year. If anything, adventure heats up when the snow starts to fall. (And silence is meant to be broken, anyway.)
Whether you're trekking to a backcountry hot spring, sitting back on a sleigh ride to a world-class meal, or dog-sledding while enjoying views of the Tetons, there are endless possibilities to keep winter packed with adventure in Idaho. We've broken it down for you in the guide below — now all you have to do is get there.
NORTHERN IDAHO
Adventure #1: Eagle viewing at Wolf Lodge Bay near Coeur d'Alene
Idaho has some of the most impressive swaths of wilderness in the continental U.S., which naturally attracts a large number of birds of prey. Wolf Lodge Bay, at the northwestern tip of Lake Coeur d'Alene, is a prime stop on the Idaho Birding Trail. It makes for a great visit year-round, but from November to February you might see anywhere from dozens to hundreds of eagles in a single day.
Adventure #2: Snowmobiling with Selkirk Powder Guides
Snowmobile adventures with Selkirk Powder Guides begin at the top of Idaho's largest ski area (by skiable acreage): Schweitzer Mountain Resort. Here, a day out sledding is a near guarantee of deep power and spectacular views, as you zip through the 186,000-acre Priest Lake State Forest. Tours run daily and cover both groomed and ungroomed trails, with snacks and drinks included (conveniently, these double as handwarmers).
NORTH CENTRAL IDAHO
Adventure #1: Catching a steelhead salmon
Idaho is primo for fishing no matter the time of year, but winter brings a more tranquil experience, and a greater likelihood that you'll be able to keep what you catch. The best way to plan a steelhead trip to the Clearwater or Salmon River during the coldest time of year is to go with a licensed guide in Lewiston, Riggins, and surrounding areas. They know all the best holes and eddies and will make sure you have a good time, regardless of what's biting.
Adventure #2: Snow tubing at Snowhaven
Not everyone knows how to ski, but it's pretty much guaranteed they can handle sitting in a tube and letting gravity take 'em for a ride. This is one of the best family-friendly winter activities, with adults getting a child-like kick out of the goofy adrenaline rush as much as the kids. Snowhaven Ski and Tubing Hill, just outside of Grangeville, is the place to give it a go.
SOUTHWEST IDAHO
Adventure #1: Snowcat dining at Brundage Mountain Resort
Brundage Mountain's Bears Den Dinner After Dark is one mouthful to say, many mouthfuls to enjoy. This experience pairs an alpine adventure with a four-course meal. The night begins with a snowcat ride to the cozy, one-of-a-kind winter setting, where you'll be greeted with a warm drink (perhaps a mulled wine with cardamom crema?). Then, you'll sit down to a fresh, seasonal dinner — a glass of house wine or a pint of local beer is included — before the return trip through the snow.
Adventure #2: Riding the Glade Runner Mountain Coaster at Bogus Basin
Take a roller coaster, put it in the mountains, and put the brakes in your hands — that's the Glade Runner at Bogus Basin Mountain Recreation Area. Hop on, and you're going for a 4,330-foot low-speed, high-speed, or your-speed ride on Idaho's only mountain coaster. If you were looking for a thrilling and totally unique way to rip through the snow north of Boise, you've found it. And remember: braking is optional.
SOUTH CENTRAL IDAHO
Adventure #1: Snowshoeing to Willow Glamping Yurt
Castle Rocks State Park is home to a handful of winter-friendly accommodations, but the Willow Glamping Yurt is top of the list. Cozy inside the canvas walls, with a king bed to boot, you'll be glam-camping in a snow-covered meadow near Almo Creek, with views of the park's famous spires, monoliths, and Cache Peak out your front door. Plus, you're right there to explore the wintry landscape. Snowshoe around Eagle Rock Grove or spot pinyon jays and great horned owls. (Oh, and there's free wifi, but who needs it in a spot like this?!)
Adventure #2: Chasing powder at Pomerelle
Located in the Sawtooth National Forest, Pomerelle Mountain Resort regularly racks up more than 500 inches of snow a year. The mountain could also brag about its 24 groomed runs, two terrain parks, a vertical drop of 1,000 feet, and additional Nordic loops that expand the accessible terrain to 500 acres. Apart from the numbers, you're also sure to have killer views from 8,000 feet up in the Sawtooth National Forest — when you're not up to your eyeballs in fresh pow, that is. An adult day pass is only $45, a rate that's nearly impossible to beat.
SOUTHEAST IDAHO
Adventure #1: Taking a winter soak at Lava Hot Springs
Lava Hot Springs may not have any actual lava, but that's probably for the best — you'll have a far better time soaking in their naturally heated mineral pools, hitting up the indoor aquatic center, scaling the climbing wall, or going for a dive. Bubbling from natural underground springs at over 2.5 million gallons a day, the mineral pools lack the sulfur content that gives so many other natural springs that characteristic odor. They top out at 112˚F, and the five pools are open year-round — adults can spend an entire weekday here for $6!
Adventure #2: Ice fishing at Bear Lake
Spanning both sides of the Idaho/Utah border, Bear Lake is an awesome place for ice fishing. The chilly waters are home to trophy cutthroat trout (this is where the Idaho state record cutthroat was caught — 19 lbs!) and four endemic species, including the Bonneville cisco that spawns January-February. Brave the cold to jig for trout and whitefish, and make a day of it with warm drinks and friends.
EASTERN IDAHO
Adventure #1: Dogsledding on the western side of the Tetons
In the high desert of eastern Idaho, close to Yellowstone and the Grand Tetons, the small city of Ashton is home to what's thought to be the oldest dogsled race in the continental U.S. The American Dog Derby takes place the third weekend of February — but you can also book a tour any time to enjoy a dogsled ride for yourself. Silver Sage Mushing takes their team — and you — cruising across the snowy landscape, with spectacular views of the Tetons on clear days.
Adventure #2: Taking a guided snowmobile trek to Mesa Falls
The Teton Valley and Island Park area is a beautiful chunk of the state that has a bit of everything — waterfalls, jagged mountains, and tons of wildlife. And one of the most exciting ways to see it is by snowmobile. Island Park has more than 950 miles of trails, but a trip to Mesa Falls is a must. There's a restaurant on the way, so a tour can include a hot meal before or after the ride (and subsequent walk up) to the 100-foot falls.
CENTRAL IDAHO
Adventure #1: Taking a sleigh ride to Sun Valley's Trail Creek Cabin
It's hard to get a more classic winter experience than a horse-drawn sleigh ride. Add dinner in a log-cabin-turned-restaurant that was built in 1937, and you're pretty much inside a Christmas card. Sun Valley's Trail Creek Cabin also has incredible views of Bald Mountain and multiple dessert options, so you'll be left wanting for nothing. Grab reservations as early as you can — availability is limited, and Idahoans love their adventures enough to always book in advance.
Adventure #2: Snowshoeing to Goldbug Hot Springs
Tucked between Salmon and Challis, up a dirt road and snow-crusted trail, Goldbug Hot Springs is a dream-worthy place for a soak. These steaming pools are perched cliffside, fed by a creek that cascades into waterfalls. The winter hike is about two miles, and it'll be less challenging if you're equipped with snowshoes and maybe a pair of trekking poles (though you can still expect a hefty elevation change and some potentially icy patches). The turnoff to the trailhead is near mile marker 282 on US-93, and it's 1000% worth the trip.