in paid partnership with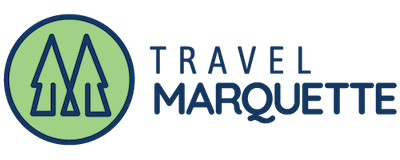 There aren't many cities in the Midwest sandwiched between sand dunes and national lakeshores, between sea cliffs and waterfalls, between national trails and dense pine forests. In fact, there might just be one: Marquette, Michigan.
In winter, this wild-north landscape somehow comes more alive: Think frozen waterfalls, ice caves, snowshoe trails, ski jumps, speed slides, sleigh rides, even views of the Northern Lights. And all of it comes with built-in social distancing.
"Flyover country" this is not — when you're ready to travel, here's what your winter could look like in Marquette.
1. Skiing 100+ miles of Nordic trails
A couple decades ago, Marquette decided it should take cross-country skiing seriously. Today, you'd think it had always been in the city's blood: Well-groomed trails — over 100 miles! — warming huts, accessible trailheads (with rental options), and plenty of online resources make partaking a breeze, even for beginning skiers and city-slicker newcomers.
The largest trail system in the area is the Noquemanon Trail Network. The northern section — 30+ miles — follows the Dead River along the north side of the city. It's classified as easy to intermediate, and the trails are flowy, scenic, and always well-marked. The southern section — 45+ miles — is a bit more technical, leading visitors to waterfalls and up to some rocky views. The NTN also runs the in-town Fit Strip, a 1.6-mile easy-access loop that's lit in the evenings for night skiing.
The Forestville Trails (30+ miles) require some decent expertise; on the other end of the spectrum, the Blueberry Ridge Pathway (13 miles) has two classic tracks groomed side-by-side — half your party can ski while the other hangs out in boots or snowshoes.
Tip: Don't haul your own equipment — the NTN Forestville Trailhead has rentals available onsite.
2. Fat-biking the best trails in the nation
Marquette was early to this scene a decade or so ago, and now it's easily one of the best fat-biking destinations in the country. The area gets an impressive 150 inches of snowfall annually, and folks here know exactly what to do with it: There's rock-riding at Harlow Lake, flow-riding on the NTN's North Trails (plus some nice elevation on the South Trails), and well-maintained, beginner-friendly tracks on the 14-mile RAMBA system.
If you're new to the sport, remember that the colder, the better. Sunny, blue skies, and 20ºF? That's a perfect fat-biking day. Head to a rental shop like Lakeshore Bike, and they'll equip you with all the gear and knowledge you need for a fast-paced day on the trails.
3. Snowshoeing and hiking along sea cliffs and national scenic trails
You cannot visit Marquette and not check out Presque Isle Park. It's a 323-acre forested peninsula that extends deep into Lake Superior — when Central Park's Frederick Law Olmsted was brought in to design this landscape, he uttered three wise words: "Don't touch it." His prescience kept this place as wild as can be.
Park at the pavilion, and lace up your boots or strap on your snowshoes. The road that loops the peninsula is closed in winter, so you have free rein of the entire place. The outlooks on the park's east end sit on high sandstone cliffs — at least make it here to watch the waves pound the shore. You could also head deep into the central forest or to Blackrocks, an unbelievable spot for cliff-diving come summertime.
As if that weren't enough, you can also catch the North Country National Scenic Trail up here, a 4,600-mile footpath that stretches from North Dakota to Vermont. Unlike its sibling the Appalachian Trail, the NCT sees scant numbers of hikers, especially come winter. It passes right through town and sticks to the shores of Lake Superior.
Sugarloaf Mountain is great for when you're pressed for time — a quick half-mile climb takes you to the top, where you'll have views of the lake, town, and the surrounding wilderness.
4. Zooming down, then jumping off that ski hill
Just three miles from downtown but still surrounded by Northwoods with views of Lake Superior, Marquette Mountain is small-but-mighty: There's 600 feet of vertical, 169 acres of slopes, and 25 ski trails. The mountain averages 210″ of snow a year, and the longest run is 1.25 miles. Two-day passes will only set you back $99, and it's open for night-skiing and snowboarding, too.
The Ishpeming Ski Club, though, might be the place that blows past your expectations. Their "Suicide Bowl" has five ski jumps: K13, K25, K40, K60, and the famous K90 Suicide Hill. The volunteers — the club's a local institution and a labor of love — will teach you how to jump off their 140-foot scaffold, provide any and all equipment, and, of course, keep you safe. You want thrills? You got 'em.
5. Attending your first horse-drawn sleigh-ride party
Not every wintry moment in Marquette can or should be spent defying the laws of gravity. When you're feeling cozy, ready to spend a chilly night by the fire with your pod, check out Sleighman's horse-drawn sleigh rides — or better yet, their sleigh parties. At one of these outdoor, private extravaganzas, there will be continuous rides for small groups through the forest, a bonfire for those waiting their turn, a toboggan hill for those with energy to burn, and a warm shelter for your potluck. Who's bringing the cocoa crockpot?
And if you're ready and willing to take the lead, the reins can be yours — after a few lessons, that is — upon request.
6. Hiding in ice caves — or climbing up them
Park at the end of Frey Road, slip on your ice cleats, and get walking. It's .75 mile to a tributary of the Rock River, where melting snow freezes as it falls over a small cliff, forming the ephemeral Eben Ice Caves once the low temps hit. The frozen curtains somehow light up electric-blue in most shades of daylight, forming a wall you can walk under, shielded from the outside world by their icy glow. It's an experience you might never have anywhere else.
Local's note: The trek here is half a mile of hills, and the cave's floor is often slick, so don't skip the ice cleats. It's difficult to admire the phenomenon when the ground feels like a Slip 'N Slide.
For ice you climb up, not under, that's where a visit to Pictured Rocks National Lakeshore comes in. There are dozens of ice-climbing routes in the area, but The Curtains at Pictured Rocks has captured the most hearts. Beginners (and photographers!), head here. If you're handy with crampons and picks, check out Dairyland, the "mother of Munising climbs."
Keep in mind that you'll likely have to walk on a frozen Lake Superior to get to where you're going — which truly adds to the experience.
7. Luging with Olympic hopefuls
Say you don't want to ski, hike, jump, ride, climb, or bike — Marquette still has a wildcard up its sleeve: speed-sliding. The Lucy Hill Luge Track at the Upper Peninsula Luge Club has a 280-foot drop over half a mile, and it's the only full-length natural luge track in the country. Olympic hopefuls train here, but it's open to the public, too.
What's speed-sliding exactly? You steer an old-fashioned wooden sled with your feet and hands (metal runners make sturdy contact with the ice), zooming yourself down an unrefrigerated, boarded hill. Even spectating is a trip! The folks at the club will give you all the instruction you need — all that's required is to come appropriately dressed and ready for the thrill.