7 Yellowstone Restaurants and Bars for an Après-Hike Meal
Yellowstone National Park is famous for many things — wild bison, world-famous geysers, winter wildlife, and even a small section of the park where some say you can get away with murder.
And that's all in addition to the draws of all national parks, like hiking, beautiful scenery, and opportunities for hiking and backpacking. Add into that the fact that Yellowstone National Park isn't near any major towns — the closest town with more than 10,000 residents is Jackson Hole, about 60 miles to the south — and it's easy to see why staying inside the park can sometimes be the best option.
Fortunately, because the park is so big and so popular, there are more than a few Yellowstone restaurants, bars, and lounges where you can grab anything from a picnic lunch to a creative cocktail to a multi-course wine-pairing meal. Here's the scoop on where to go to wet your whistle or carbo-load before your all-day hike.
---
---
The history of Yellowstone National Park
Yellowstone is the world's first national park, established March 1, 1872. It's mostly in Wyoming, although it also extends into Montana and Idaho. Yellowstone is also home to the Yellowstone Caldera, a super-volcano that last erupted 640,000 years ago and has the potential to cause a global volcanic winter if it were to erupt again (no, seriously). The park is visited annually by millions of tourists and was the 12th most popular site of the more than 400 managed by the National Park Service in 2022.
The park's first hotel was the Lake Hotel, constructed in 1891. It remains one of the oldest structures in the park. While it's obviously received some structural and design updates over the years, it still retains much of its original charm and character.
When to visit Yellowstone
Yellowstone gets lots of snow, and not all the roads and entrances are open year-round. That also means most of the Yellowstone restaurants have a limited season. It's usually around May to October, but it varies from place to place (and may change if there's an early-season storm).
Matador has a full guide to the best time to visit Yellowstone, along with tips for what to do every season.
Where to find the best Yellowstone restaurants and bars
There are a few "villages" in the park, most of which have a few lodging and dining options. The park website has helpful maps of the various key locations in the park, most of which are to the north and west of Lake Yellowstone.
When you're planning your trip, take into account where you're coming from. Yellowstone has five park entrances, but only the north entrance is open year-round. The west entrance is usually the first to open in the spring, but it really depends on weather and snowfall.
The best Yellowstone restaurants
Bear Paw Deli
Closest entrance: West
Open: Early May to mid-October
The Bear Paw Deli is a quick, grab-and-go Yellowstone restaurant in the Norris Geyser Basin area of Yellowstone National Park. It serves sandwiches, soups, salads, and other light meals. The menu features a variety of options, including vegetarian and gluten-free options. The atmosphere at Bear Paw Deli is casual and relaxed; dirty hiking clothes are totally fine. It's open during the peak tourist season in Yellowstone National Park, typically from late spring to early fall, but may be closed during the winter months due to severe weather conditions. It also closes around 1:30 PM.
Bear Paw Deli is inside Old Faithful Lodge and is one of the best places in the park to pick up a grab-and-go lunch near some of Yellowstone's most popular sights — including Norris Geyser itself, which is the park's hottest and oldest.
Wylie's Canteen
Closest entrance: East
Open: Mid-June to late September
Wylie's Canteen is a counter-service restaurant in the park's Lake Village area. It offers a relaxed, family-friendly atmosphere and serves various breakfast, lunch, and dinner options. The menu features classic American cuisine focusing on locally sourced ingredients, including fresh produce and meats from nearby ranches.
The dining room features large windows with stunning views of Yellowstone Lake and the surrounding mountains, making it a great spot for a meal with a view. The restaurant has a spacious interior with plenty of seating, making it a convenient option for families and large groups. You can also take your meal to go and find plenty of outdoor seating around the Lake Village Area.
The menu isn't too creative, focused mostly on burgers and sandwiches, but it has options for most dietary needs, including vegetarian, gluten-free, and kids' menu options. It's also not too expensive and is very kid-friendly, kind of like a ski lodge cafeteria (if ski lodge food was reasonably priced).
Canyon Lodge Ice Creamery
Closest entrance: North
Open: Mid-June to mid-September
It's no surprise what this place serves up. This is one of the most popular Yellowstone restaurants in the summer, especially starting around 3 PM when people are finishing their hikes for the day and looking to treat themselves to something sweet.
The Canyon Lodge Ice Creamery is a dessert shop located in the Canyon Village area of Yellowstone National Park, named for the famous"Grand Canyon of Yellowstone." The shop serves a variety of ice cream flavors, along with other sweet treats like shakes, sundaes, and cones. Visitors to the park can enjoy a refreshing scoop of ice cream on a hot day, or indulge in a sweet treat after a day of exploring.
The atmosphere at the Canyon Lodge Ice Creamery is relaxed and casual, with a focus on providing visitors with a fun and enjoyable dessert experience. The shop has indoor seating for those who want to sit down and enjoy their ice cream, and there is also outdoor seating available during the warm months. It serves up scoops and sundaes, and one of the most popular is the Mt. Washburn: several scoops of ice cream with seasonal berry sauce, chopped pecans, and low-fat granola. It's best for a group to share, or someone seriously hungry after a long hike.
Lake Yellowstone Hotel Dining Room
Closet entrance: East
Open: Mid-May to early October
If you like the idea of dining in a white-table restaurant but also want to ensure you don't miss a second of Yellowstone's gorgeous views, make reservations at the Lake Yellowstone Hotel Dining Room. The hotel was built in 1891 and is one of the oldest structures in the park. The dining room is known for its elegant ambiance and offers breakfast, lunch, and dinner. The dining areas has panoramic views of the lake and surrounding mountains, adding great views to the great food. It's a bit more expensive than other Yellowstone restaurants, but, hey, you're paying for the ambiance.
Getting a reservation can be a little tricky. For starters, you stay in the park (camping counts). If you're outside the park, you're only allowed to dine on a first-come, first-served basis. If you're staying in the park, you can make your reservations up to 30 days in advance. But if you're staying at the Lake Yellowstone Hotel, you can reserve your table up to 60 days in advance. When you book your lodging in the park, your confirmation email will include a link to book reservations.
The best Yellowstone National Park bars
The Bear Pit Lounge
 

View this post on Instagram

 
Closet entrance: West
Open: Early May to mid-October
Whether you're staying there or not, you can still cozy up to the large wooden bar at the Bear Pit Lounge inside The Old Faithful Inn. Technically, it's also a dining option (in fact, it's one of the more affordable Yellowstone restaurants), but it's best known for its beer and cocktails, especially in the late afternoon before campers head back to their tents and people arriving for the weekend have just checked in.
Cocktails are reasonably priced, with most setting you back only $6-$9. And beers are even more affordable, at around $5.
If you plan to come for dinner or want to snag a table, be prepared to lurk and snag a spot as soon as you see it. The Bear Pit Lounge doesn't take reservations and many people who can't get walk-up reservations at the Old Faithful Dining room will instead try to dine at the Bear Pit. All that is to say, just get there early, and don't be afraid to elbow your way up to the bar if need be.
The Firehole Lounge
 

View this post on Instagram

 
Closet entrance: West
Open: Year-round
The Firehole Lounge is a good option for a cocktail next to the fireplace in summer or winter. Though that said, it's only reachable by snowcoach in the winter since it's inside the Old Faithful Snow Lodge. The Snow Lodge also has a dining room (The Obsidian Dining Room), which can be a great place to get dinner after a drink at the Firehole.
Unlike most Yellowstone restaurants, the Obsidian Dining Rooms only takes reservations in winter, not summer. So if you're there in the summer, feel free to wander into either option without a res. The Dining Room is slightly more formal as the Firehole Lounge is more of a plaid-flannel-and-exposed-wood type of place. And the prices match — beers are around $5.
You can drive to the Snow Lodge in the summer, but you'll need to book a tour in the winter. You'll get there via a Snowcoach — the park's recognizable overland vehicles equipped with snowmobile-style treds for safely moving across ice and snow.
The Seven Stool Saloon
Closet entrance: South
Open: Mid-May to early October
You won't find much online about the Seven Stool Saloon, but that's all the more reason to check it out. It's a casual bar in Grant Village, an area of the park near West Thumb (and the closest in-park hotel to the other nearby national park, Grand Teton). The Saloon is just outside the entrance to the more well-known Grant Village Dining Room. It's open with the same seasonal hours as the rest of Grant Village. And as you may expect from the name: it's small. So expect to make friends with everyone else also throwing one back.
Where to stay in Yellowstone
Yellowstone National Park has one company that runs all the lodges within the park boundaries. It runs nine lodges, including a winter lodge (Old Faithful Snow Lodge) and most of the restaurants. You make reservations online through the Xanterra website for hotels or front-country campgrounds. As with most parks, backcountry campgrounds are managed via Recreation.gov.
We hope you love the spaces and stays we recommend! Just so you know, Matador may collect a small commission from the links on this page if you decide to book a stay. Listed prices are accurate as of the time of publication.
Wander Camp Yellowstone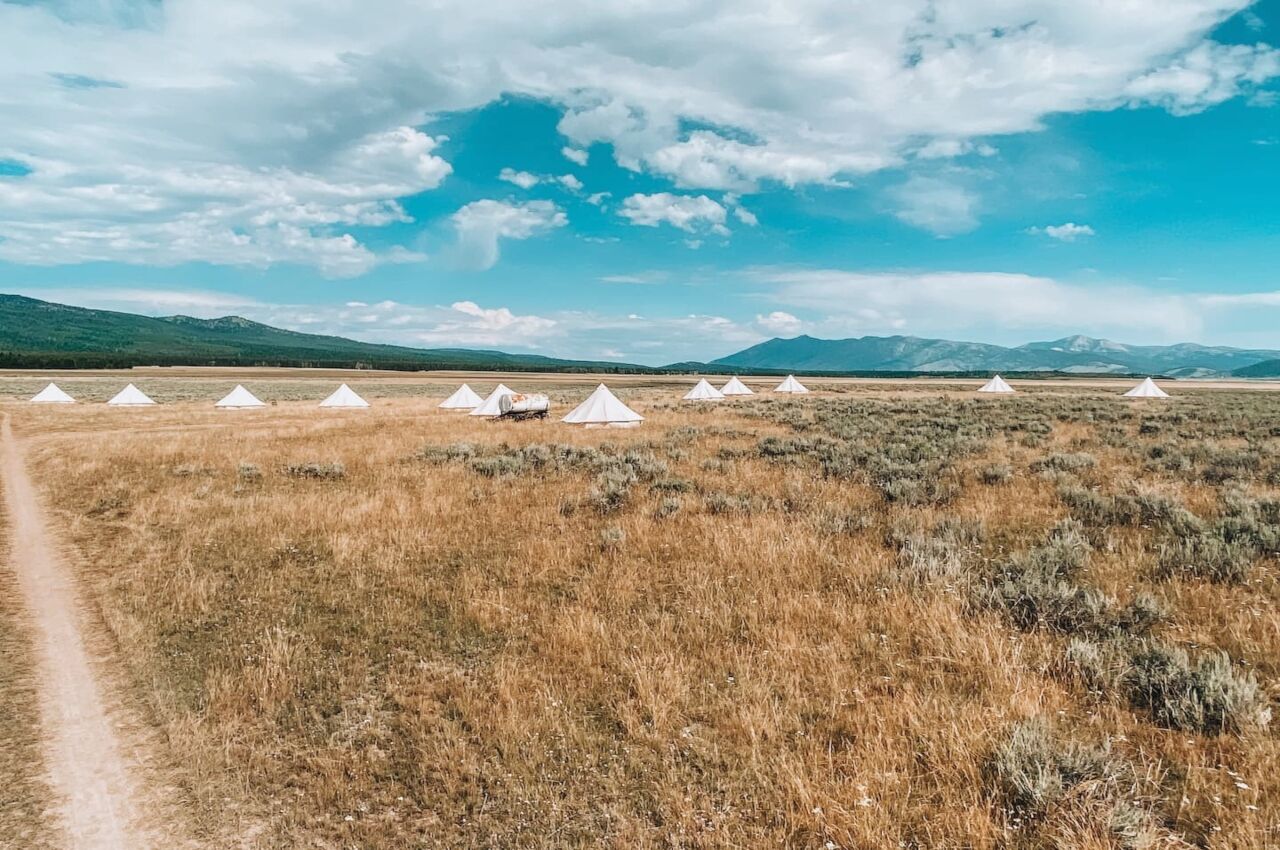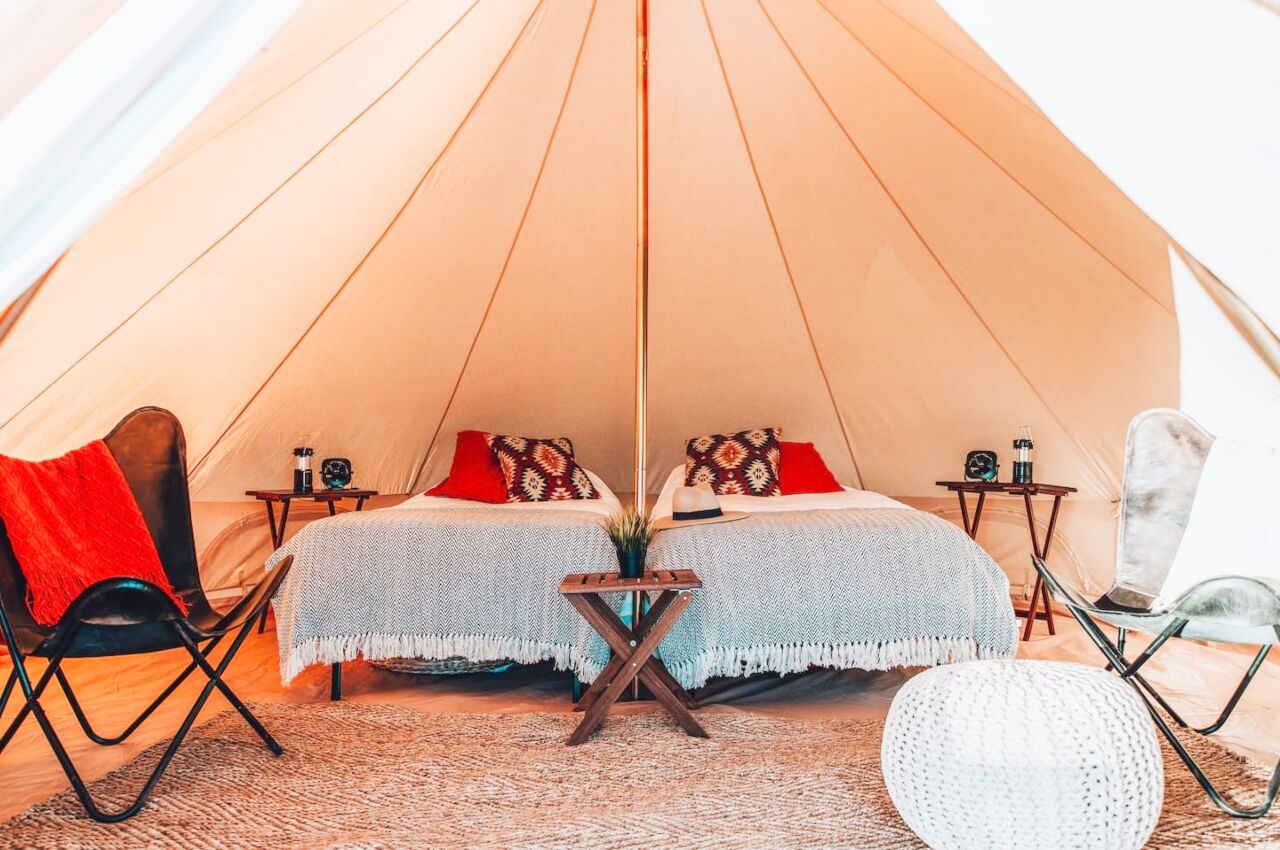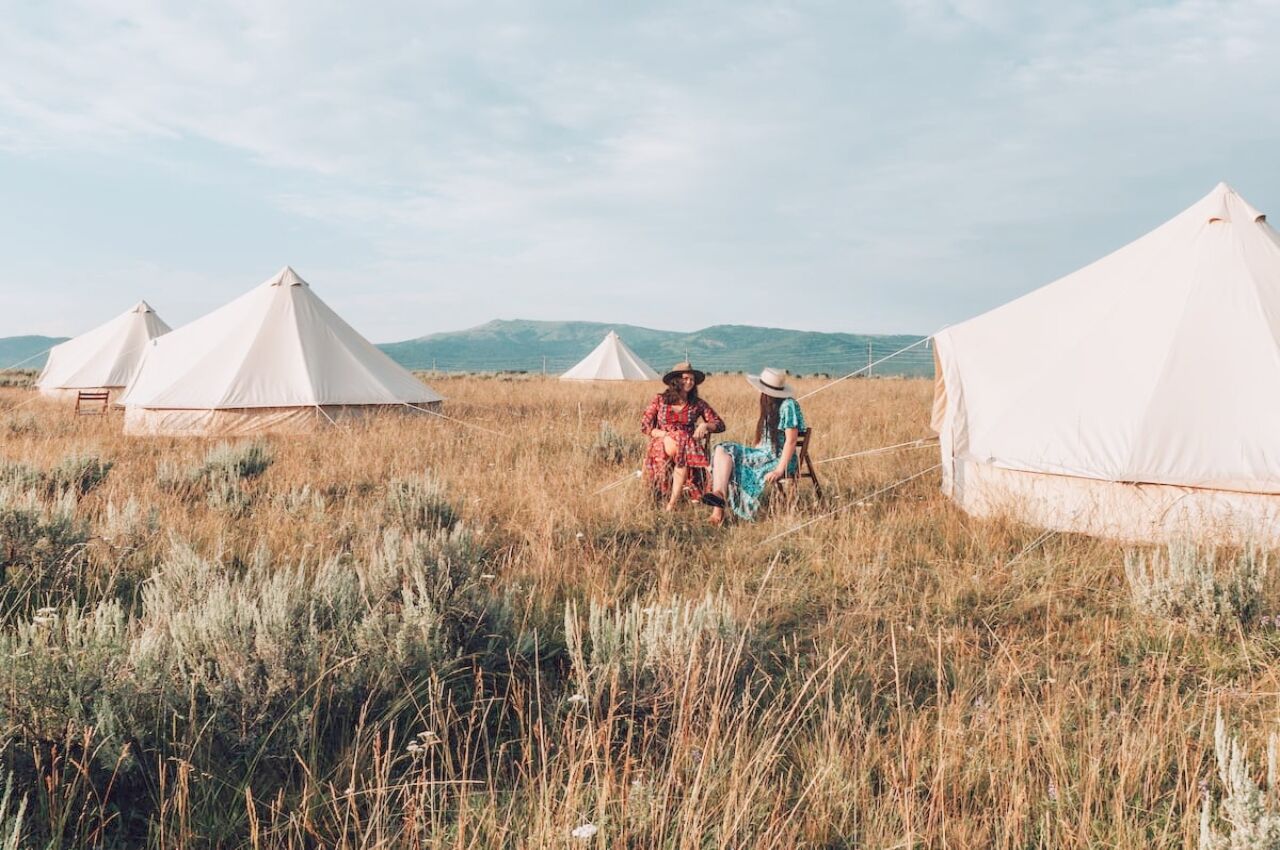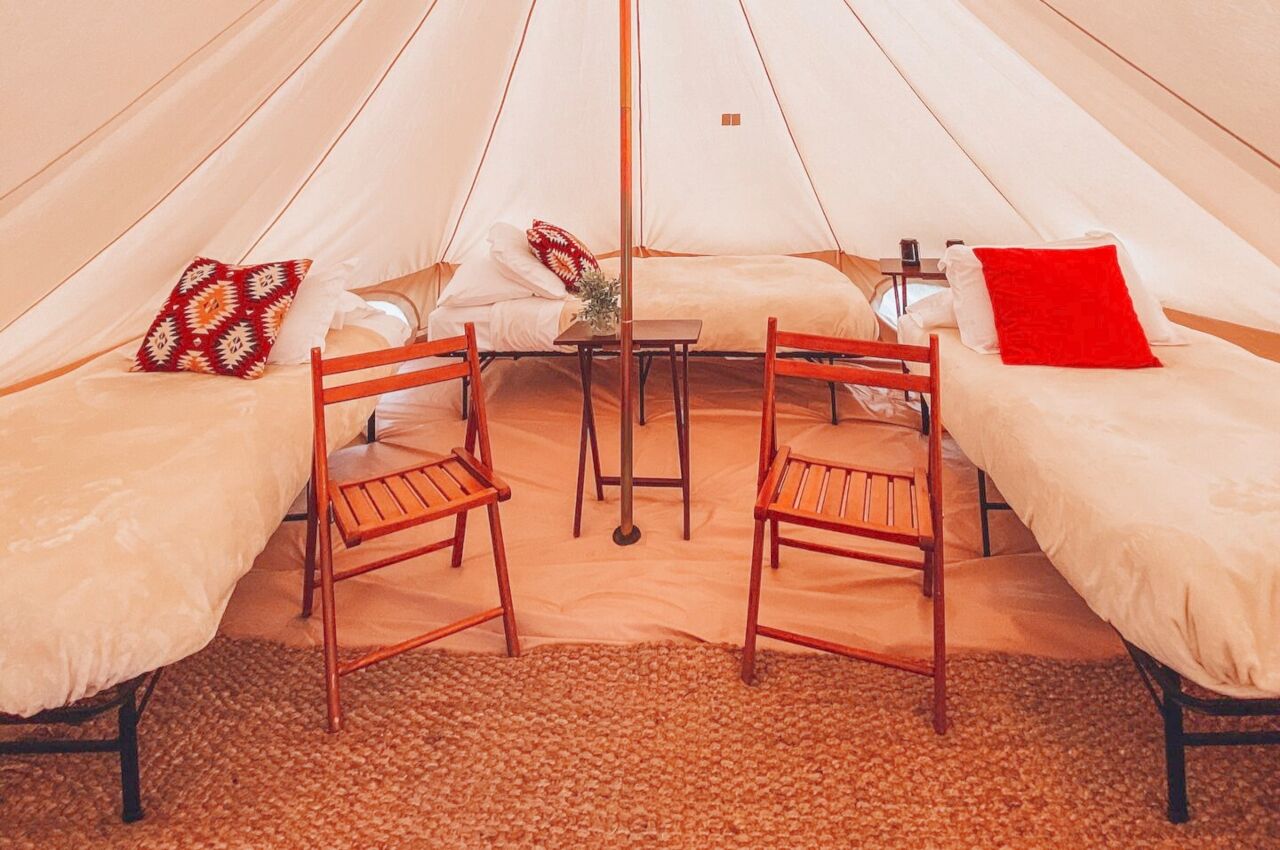 What's more appropriate for a visit to a national park than sleeping under a tent? But if you want that tent to be comfortably furnished with cushy rugs, check out this Airbnb Plus glamping rental. It's about 20 minutes from West Yellowstone. Rooms have solar lighting, shared bathrooms, access to unbelievably good stargazing, and start around $139 a night.
West Yellowstone Townhouse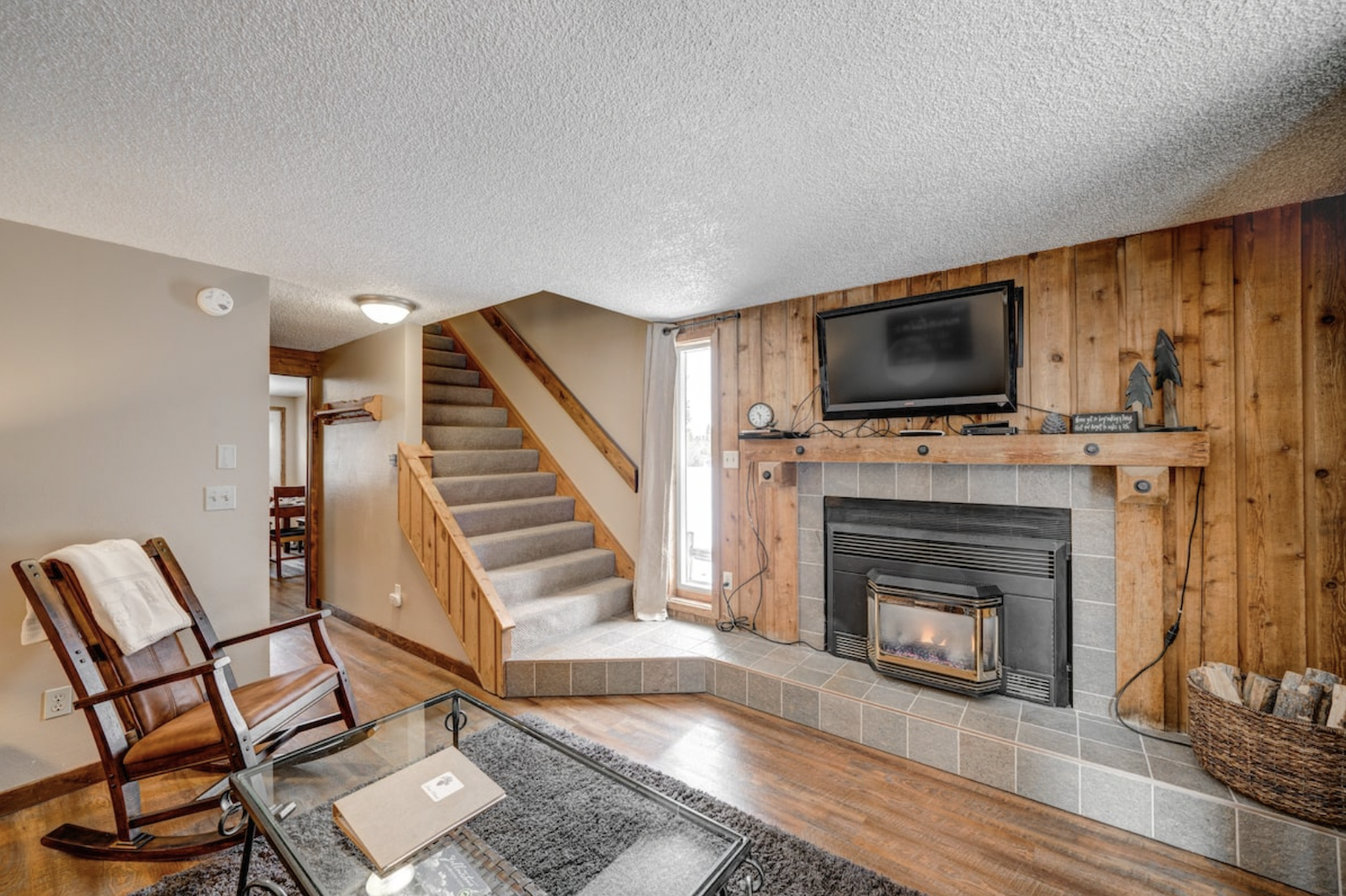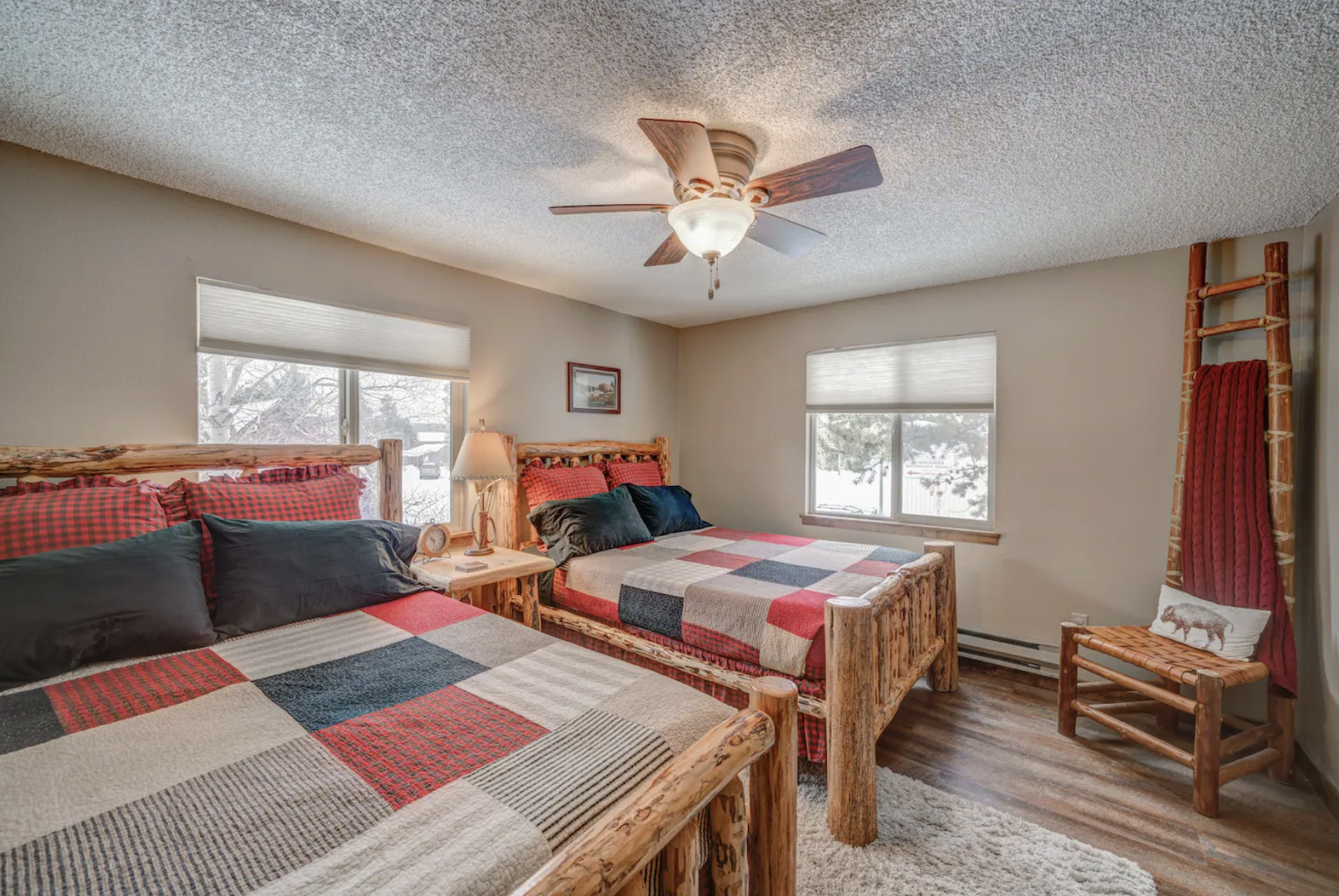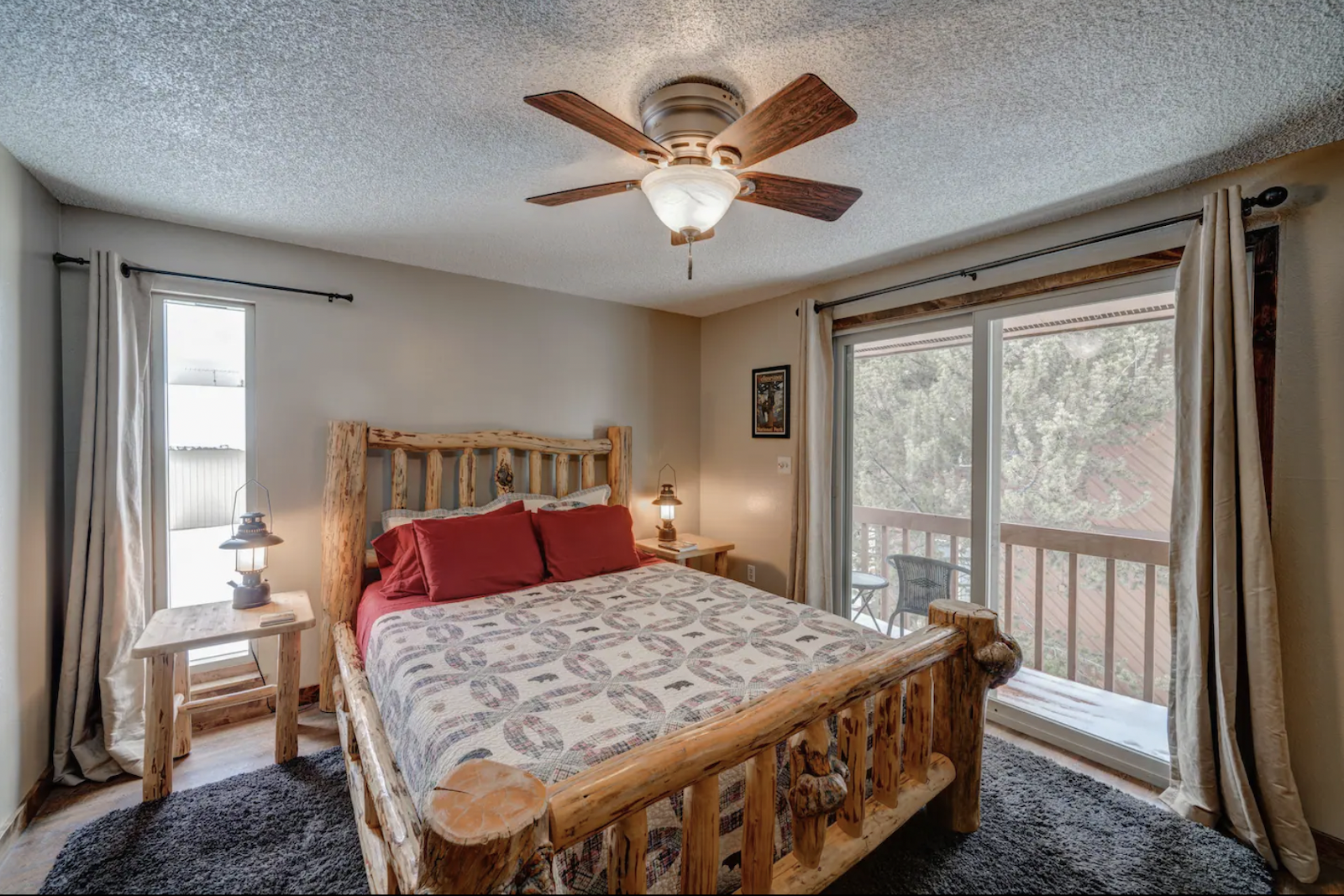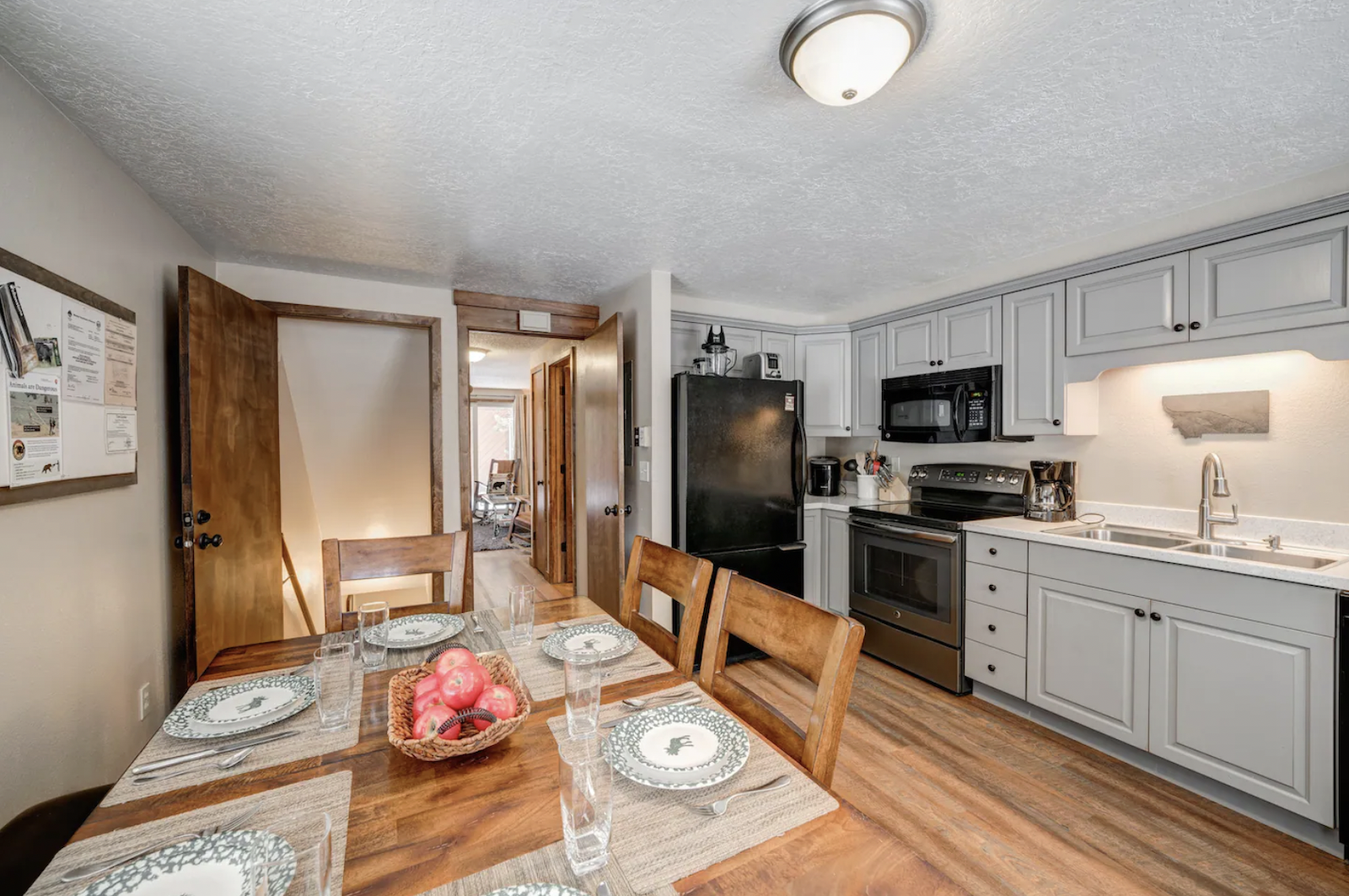 While you probably do want to rent a car (or to sign up for a tour) if you're visiting Yellowstone, you actually can walk to the park gate from this modern townhouse. The three-bedroom Airbnb rental in West Yellowstone is six blocks from the entrance. It's a great pick for families as it has two bedrooms with large beds on the top floors and a third bedroom with twin beds on the bottom floor near a second living room, so kids can have their own section of the house. Rates start around $180 a night.
Bighorn Cabin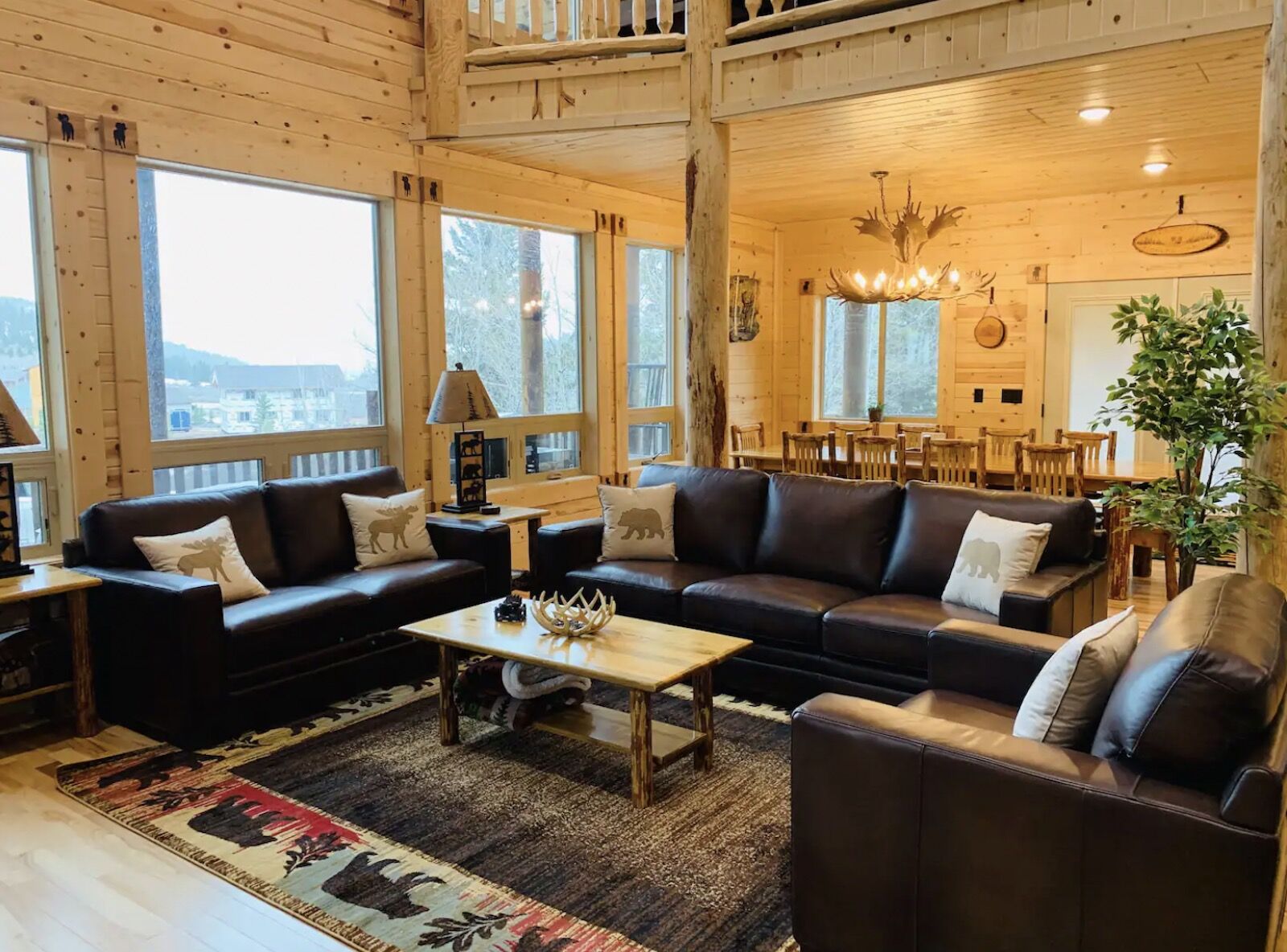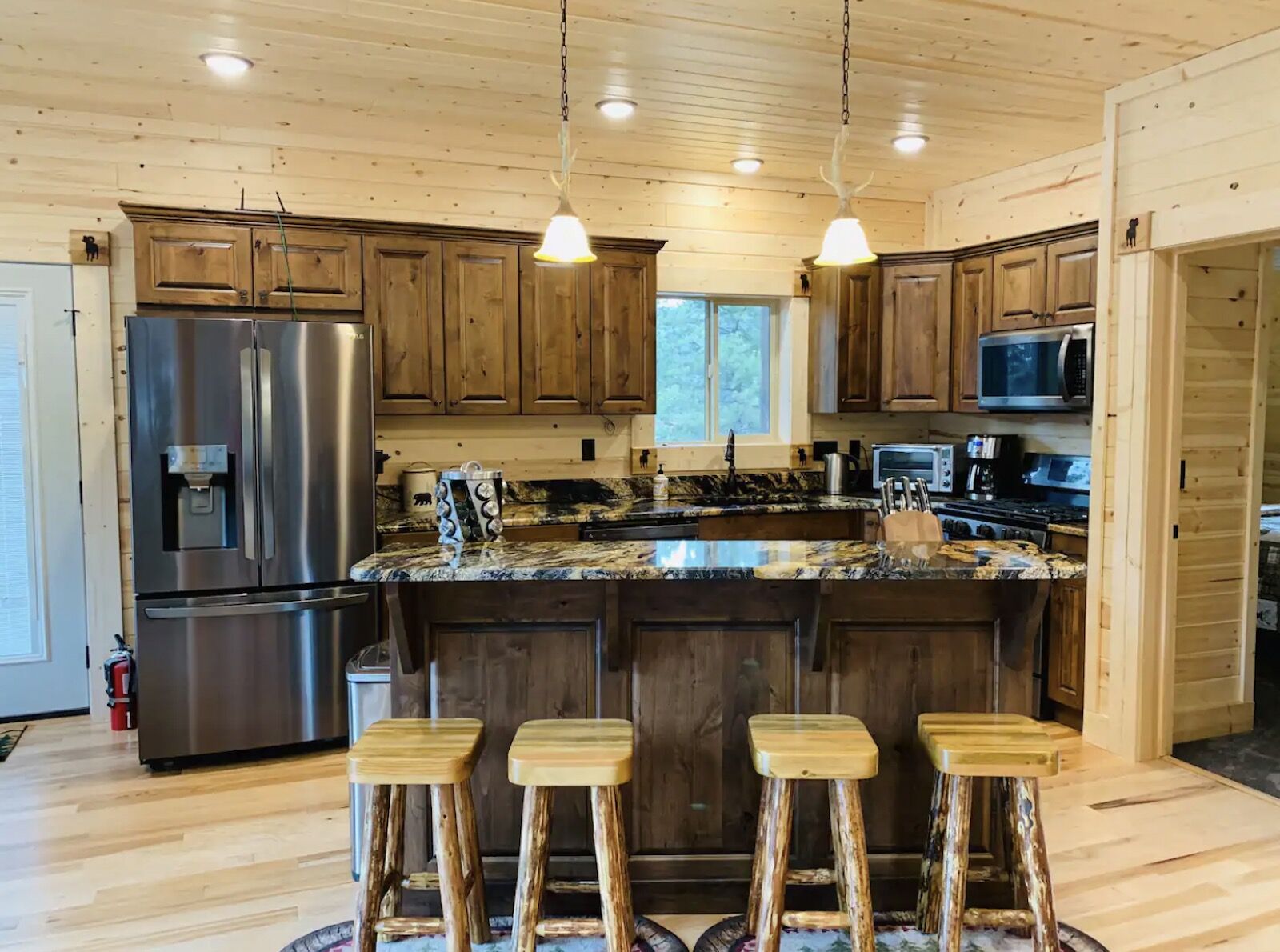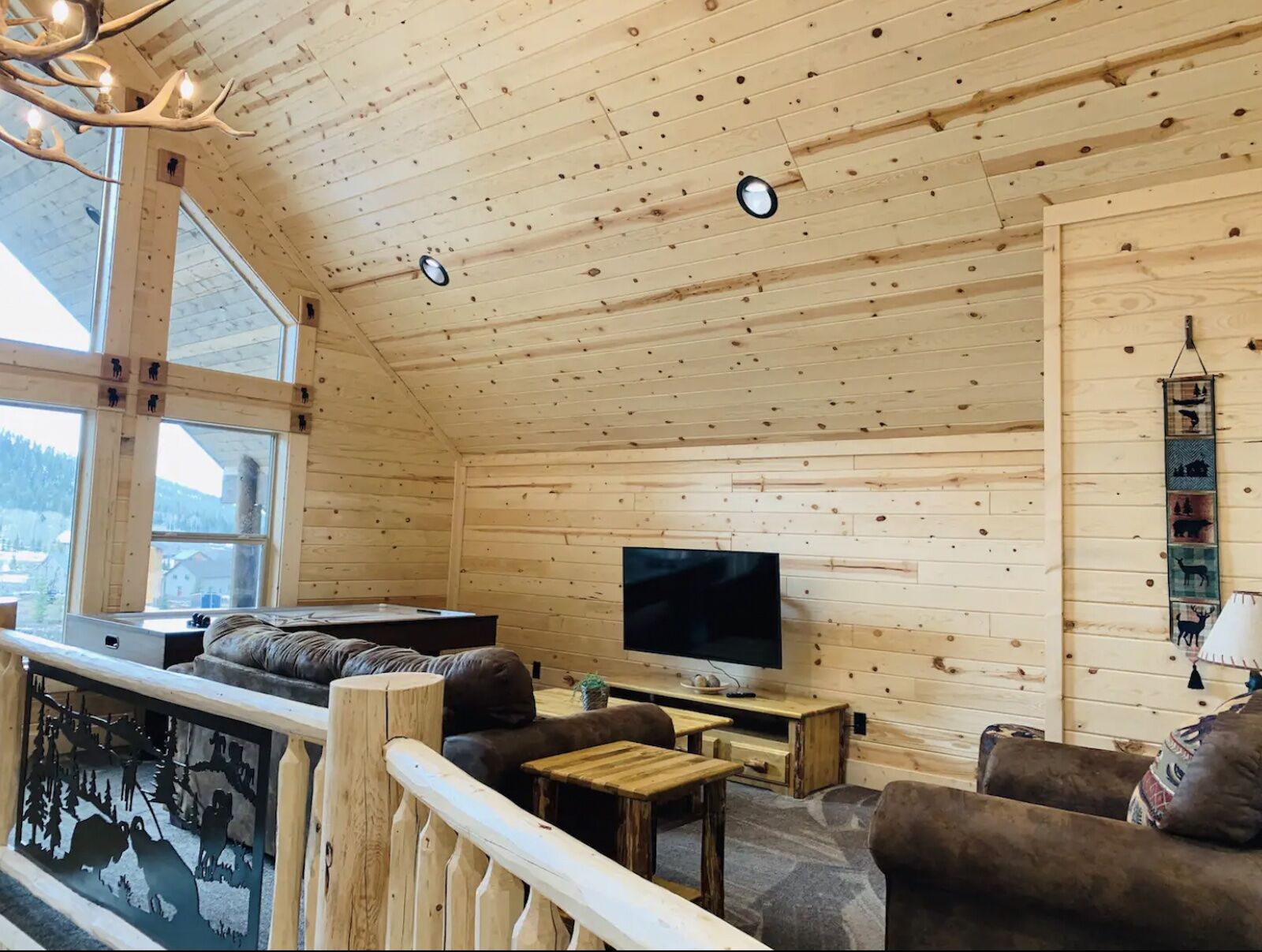 If you've got a group or a few couples looking to spend some time together in the park, check out the reasonably priced Bighorn Cabin on Airbnb. It's a high-end and roomy four-bedroom log cabin with a lofted space, and outdoor fire pit, and a private hot tub. It's about 10 minutes from Yellowstone's west entrance and starts around $350 a night, which is pretty good if you split it four (or five) ways.
What did you think of this story?