Where To Stay: Zion National Park
Imagine yourself with family, friends, or even alone on horseback, meandering the trails in and around Zion National Park. After a day of hiking or canyoneering, what's better than relaxing by the pool or hot tub with a stunning view of the desert mountains behind you? Experience all this and more at Utah's first-ever national park and really immerse yourself in the park's nature, wildlife, and historical landmarks and features. Really get up close and personal with the park at these Zion lodging and dive into the geology, tours and history, and culture that Zion has to offer.
We hope you love the Zion lodging options we recommend! Just so you know, Matador may collect a small commission from the links on this page if you decide to book a stay. Listed prices are accurate as of the time of publication.
Cable Mountain Lodge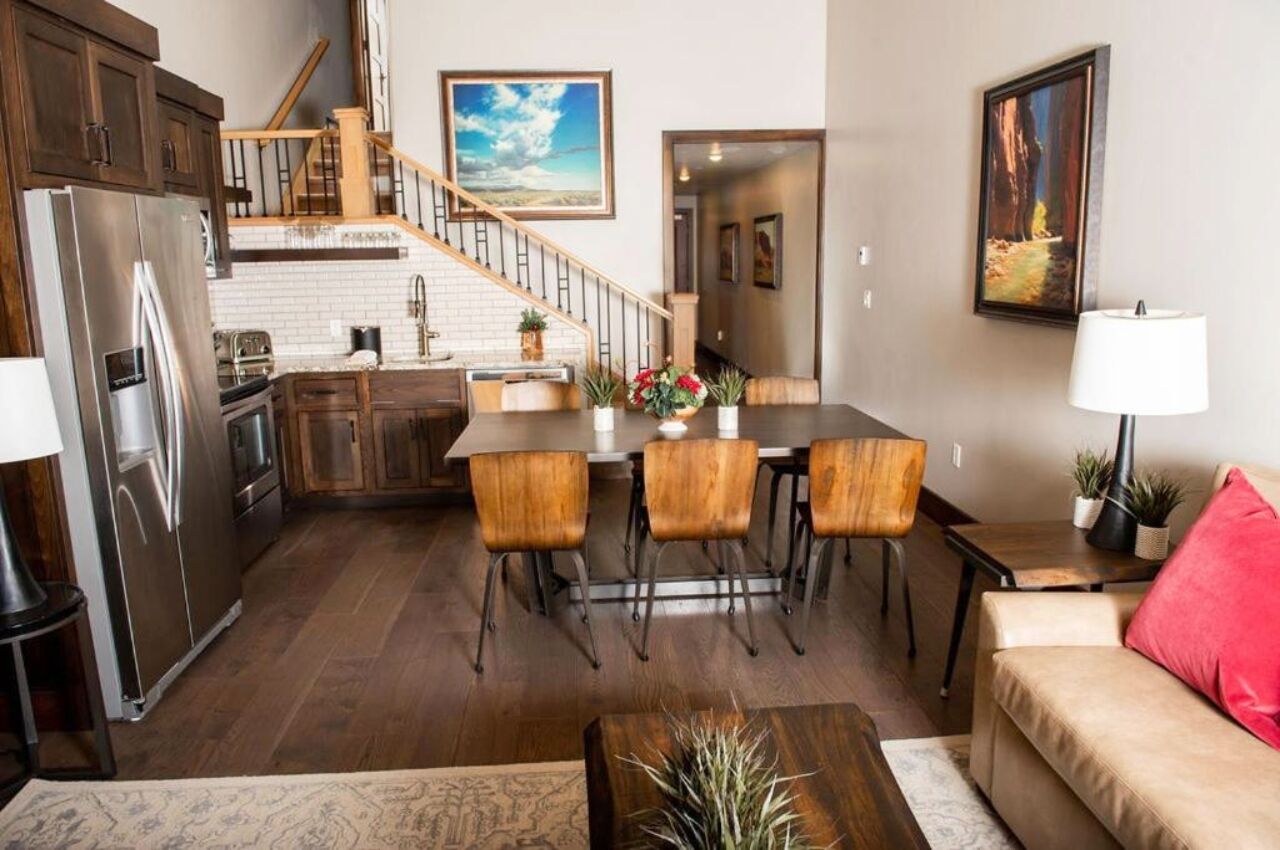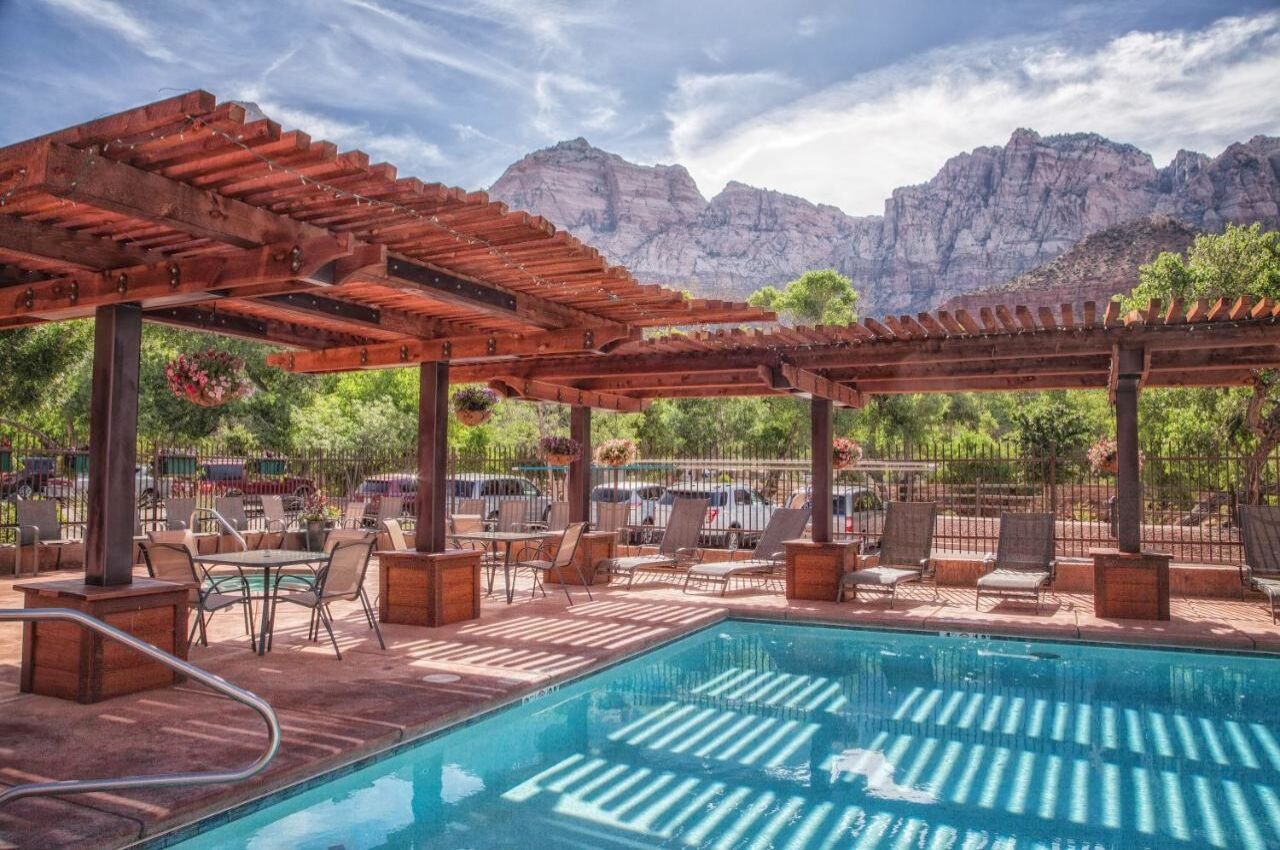 The Cable Mountain Lodge is adjacent to the Zion National Park visitors center. Enjoy the best of both worlds here with the amenities of a top luxury hotel while experiencing the wilderness and nature of the national park. The lodge offers residences, suites, and studios. If you're looking to immerse yourself in a relaxed mood, the lodge has an on-site spa and other amenities, including a pool and hot tub.
Price: From $296 per night
Under Canvas Zion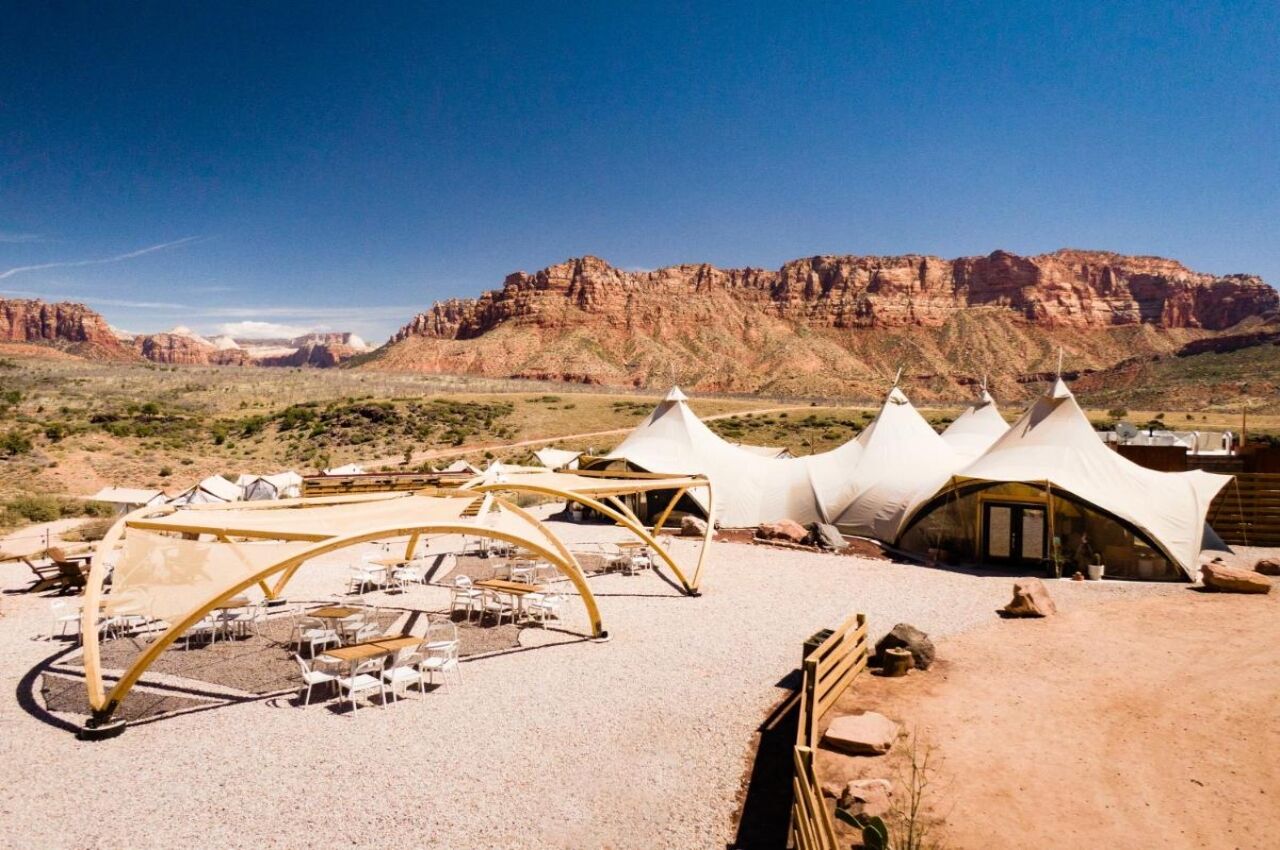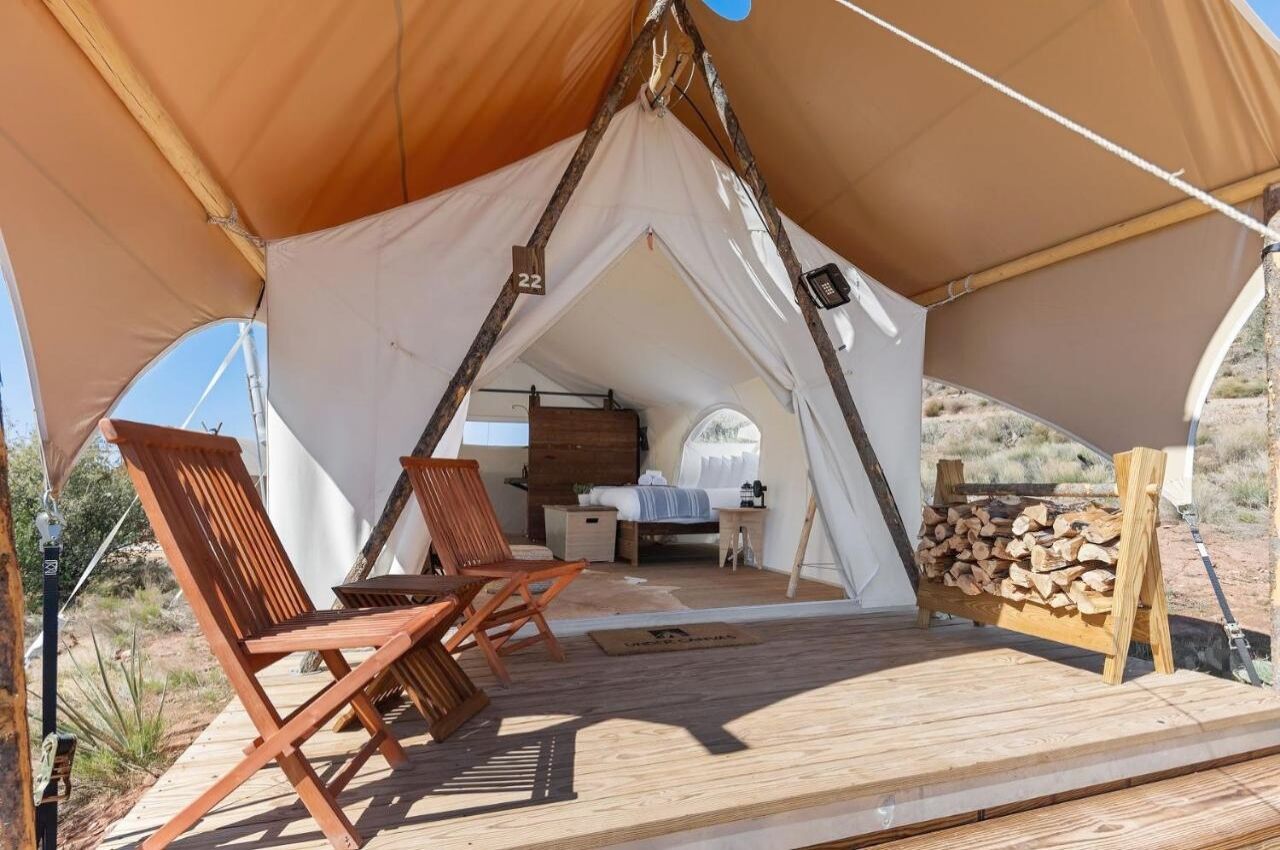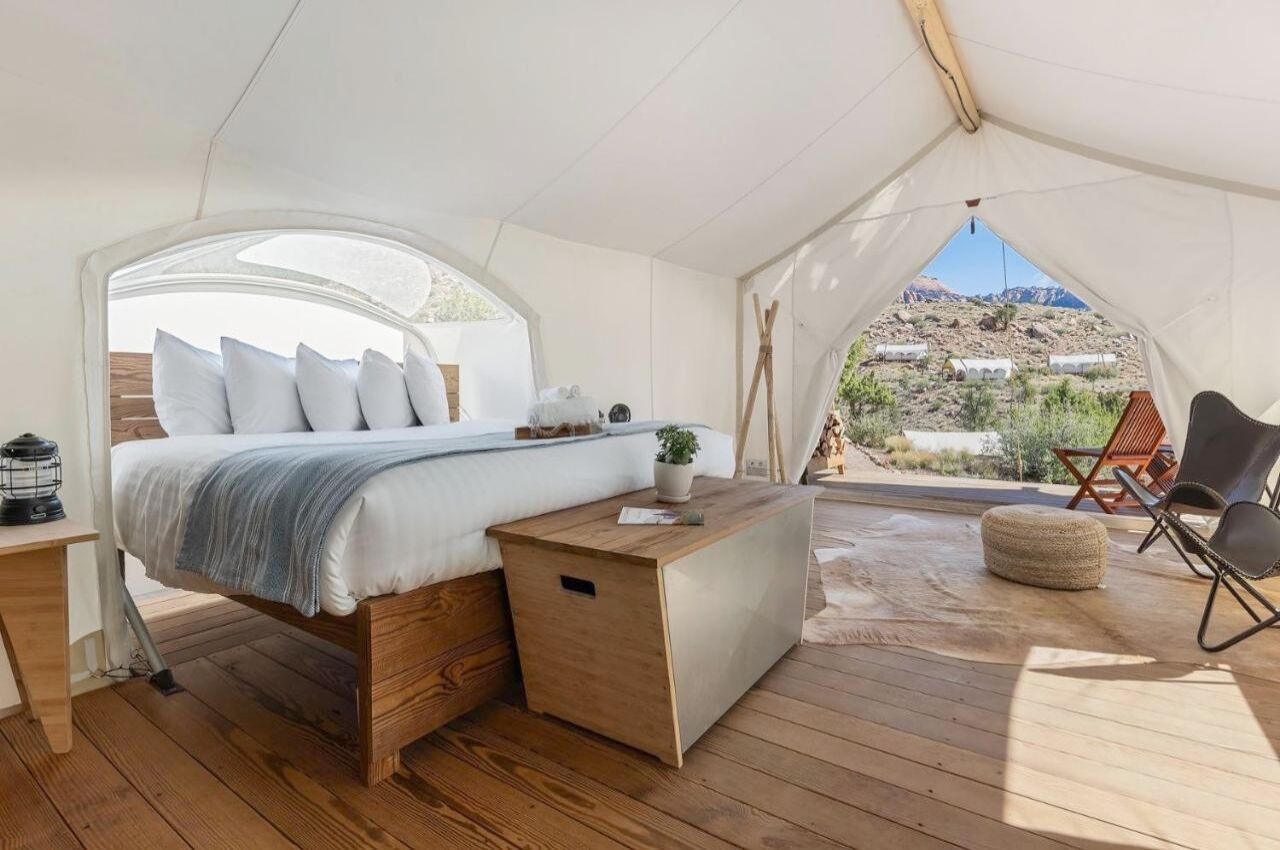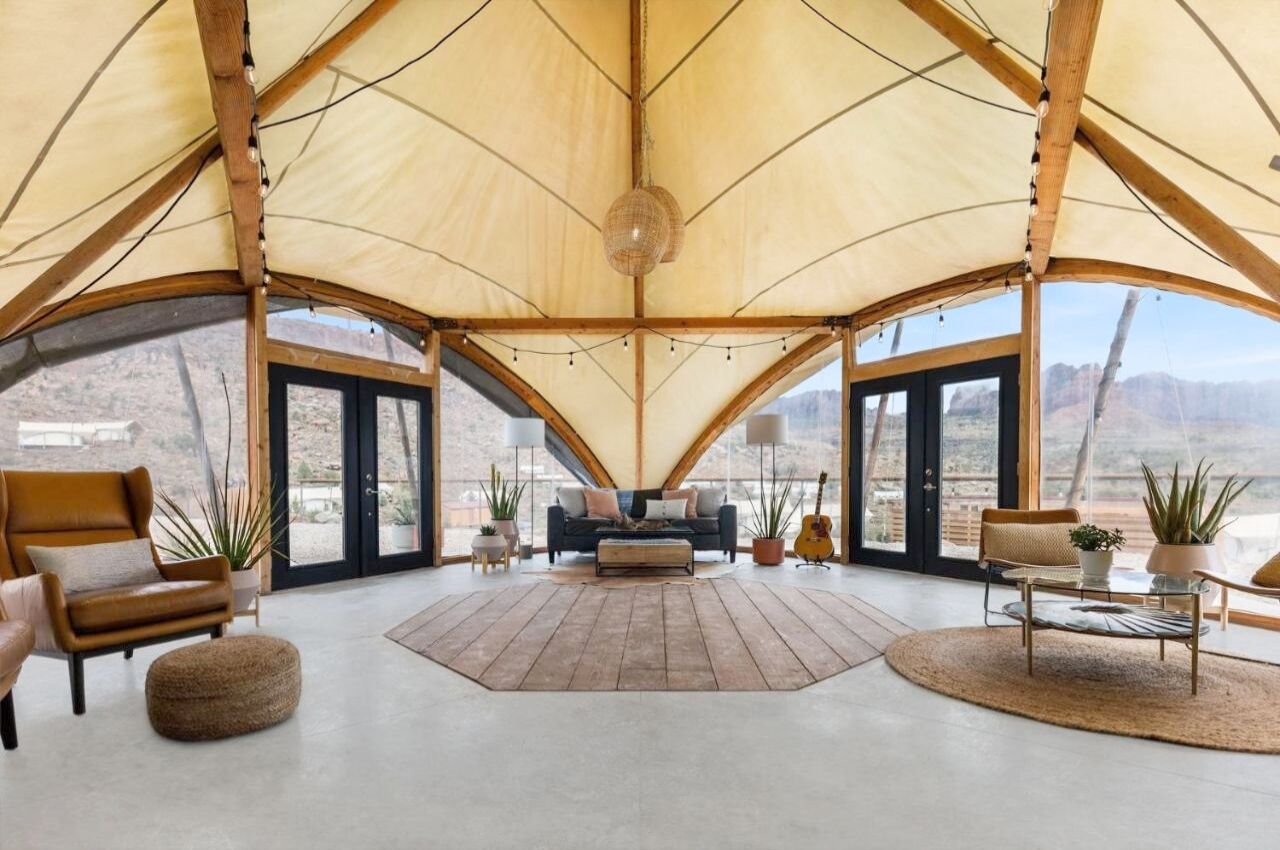 Want to feel what it's like to sleep under the stars? This glamping experience Under Canvas Zion gives you that perfect opportunity to take on nature head-on and experience all that Zion has to offer. Under Canvas, Zion offers guests three tent types: the Suite, Angles Landing Suite, and the Stargazer. Amenities include on-site dining, fire pit, and smores, activities like yoga and kids activities, experience coordinate, and the tents include West Elm furnishings.
Price: From $439 per night
Zion Mountain Ranch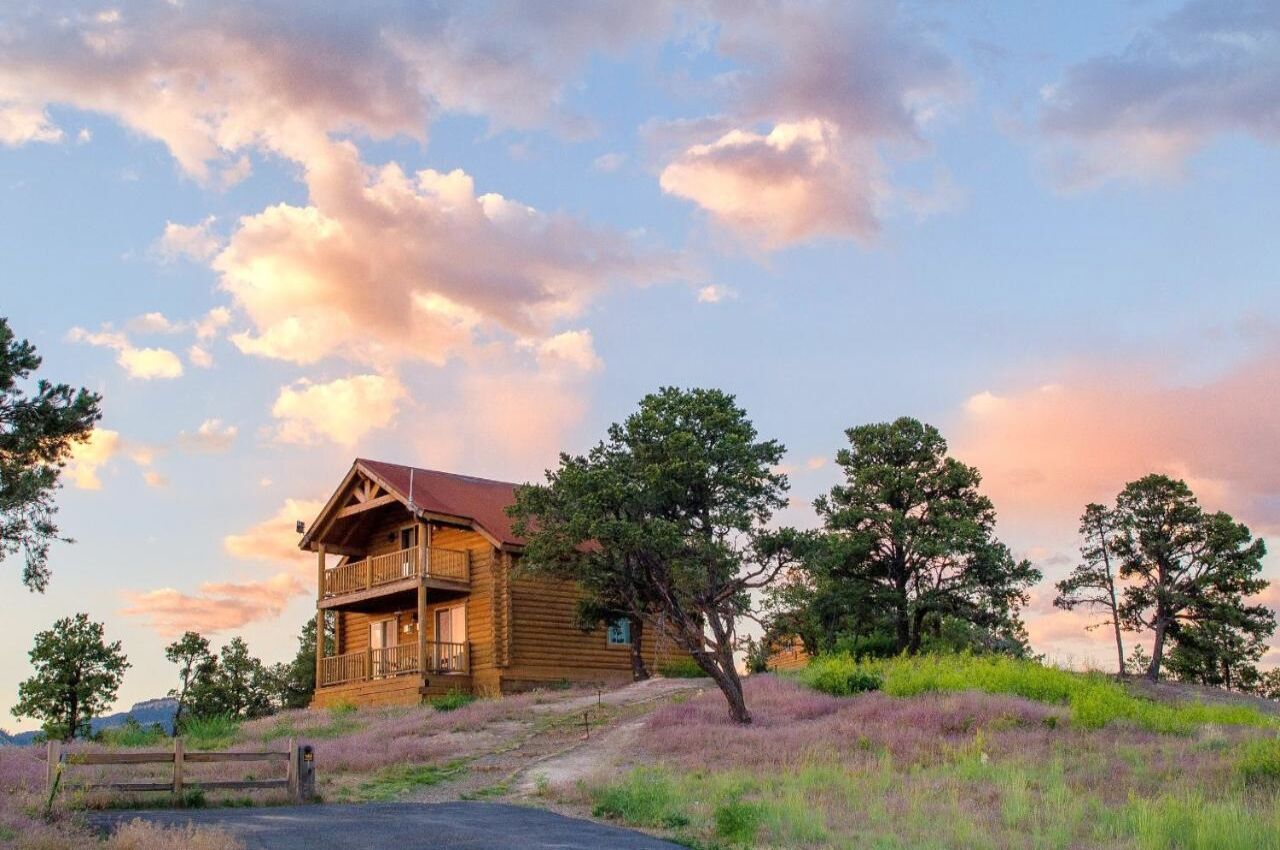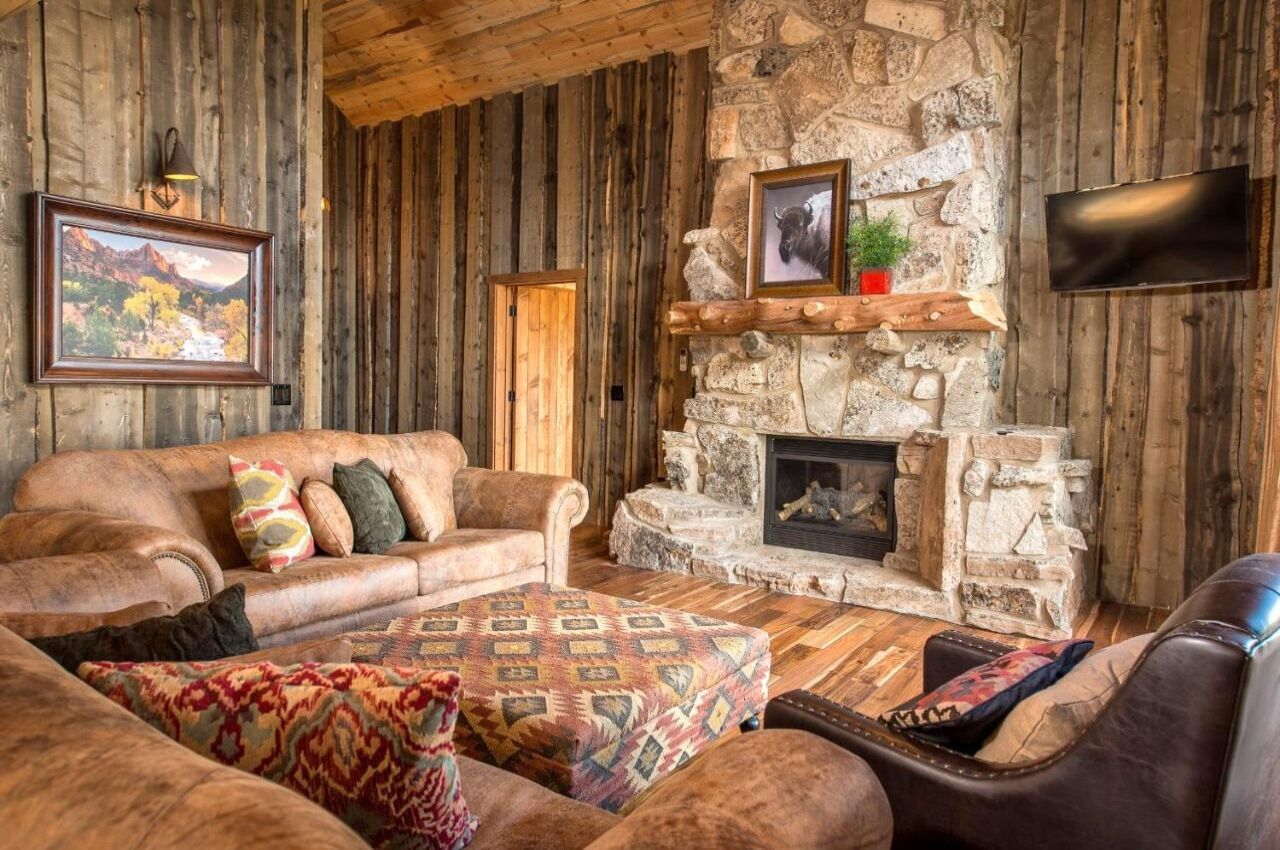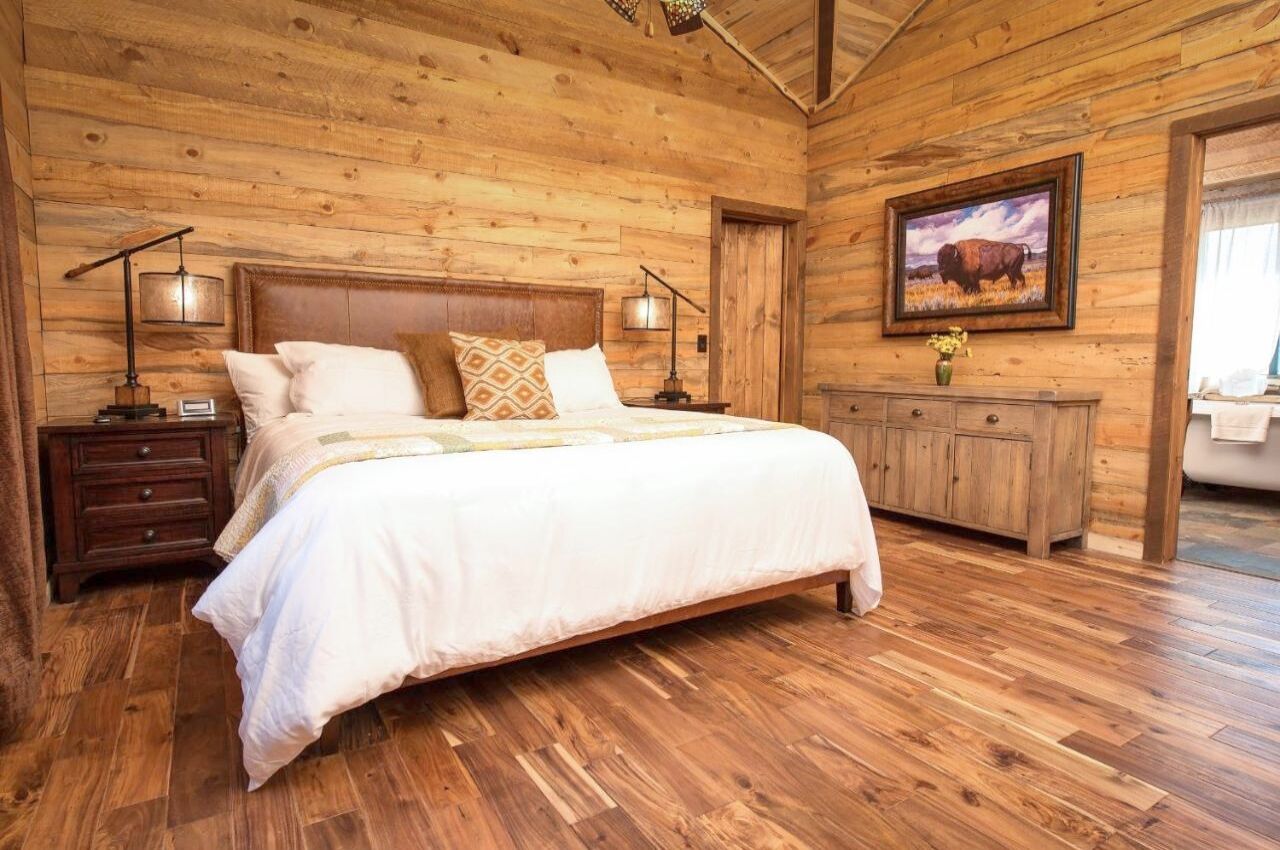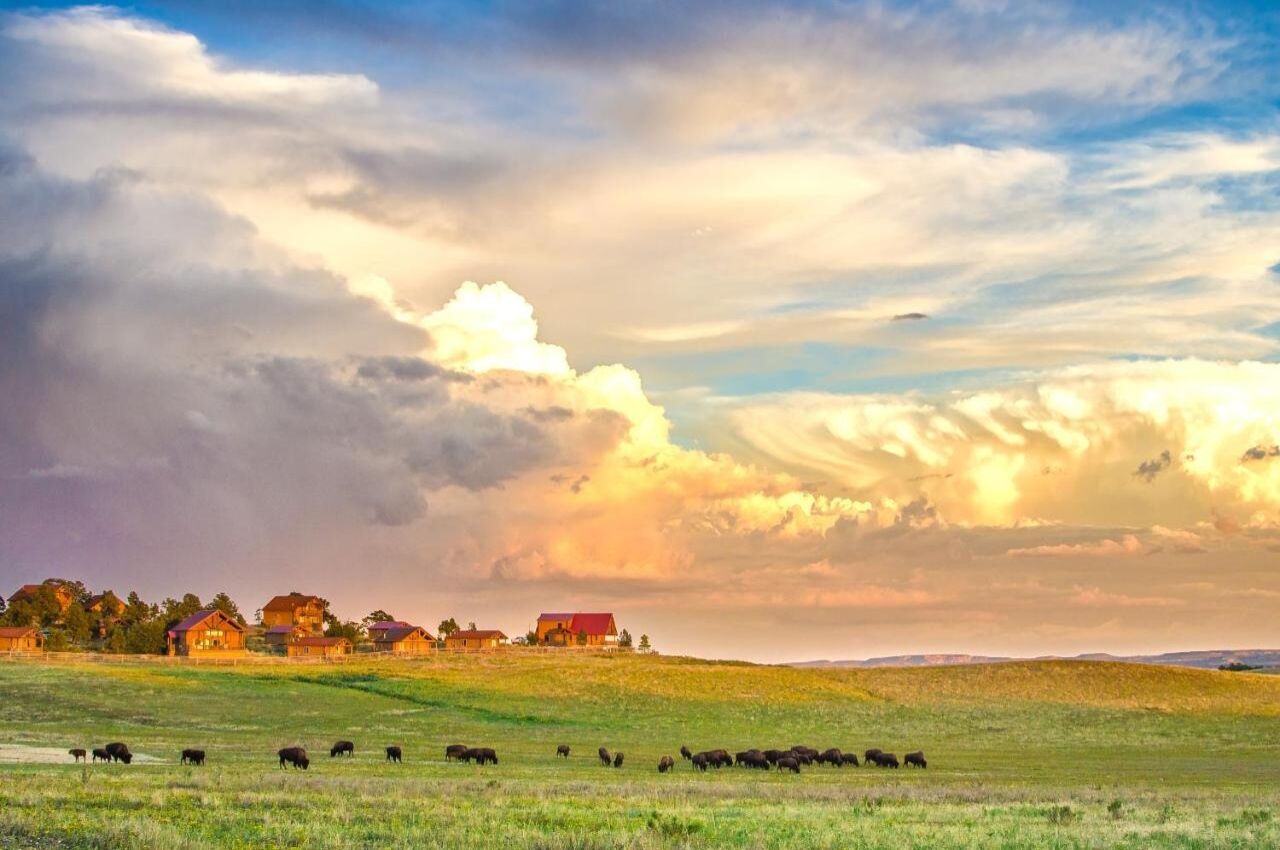 Slow down and unwind and take in the mountains wildlife with this premier Zion lodging with Zion Mountain Ranch. Zion Mountain Ranch is the authentic western experience perfect for anyone. The ranch has private cabins and premier lodges for any type of stay, whether a family, couples, or solo adventure. Zion Mountain Ranch hosts plenty of activities like jeep tours, canyoneering, guided hikes, and more.
Price: From $249 per night
Zion National Park Lodge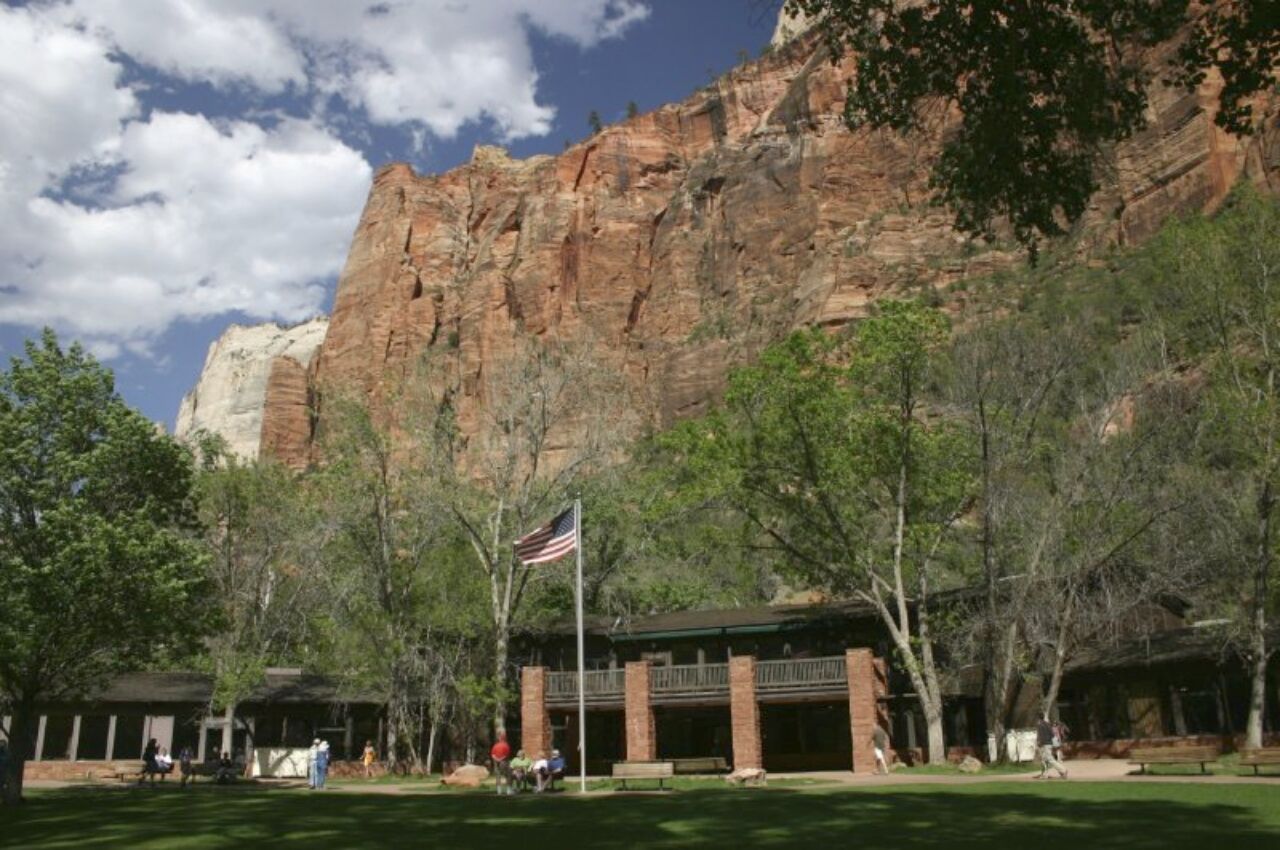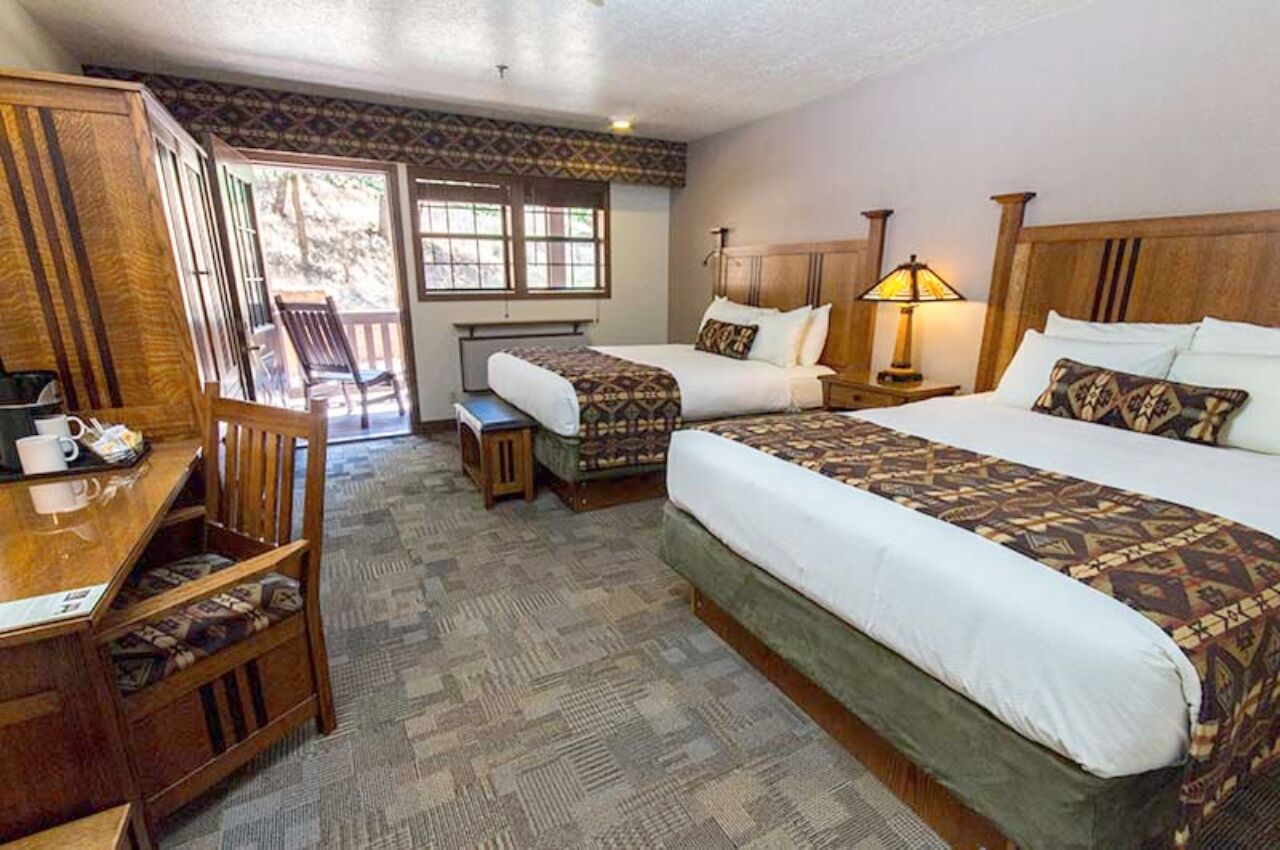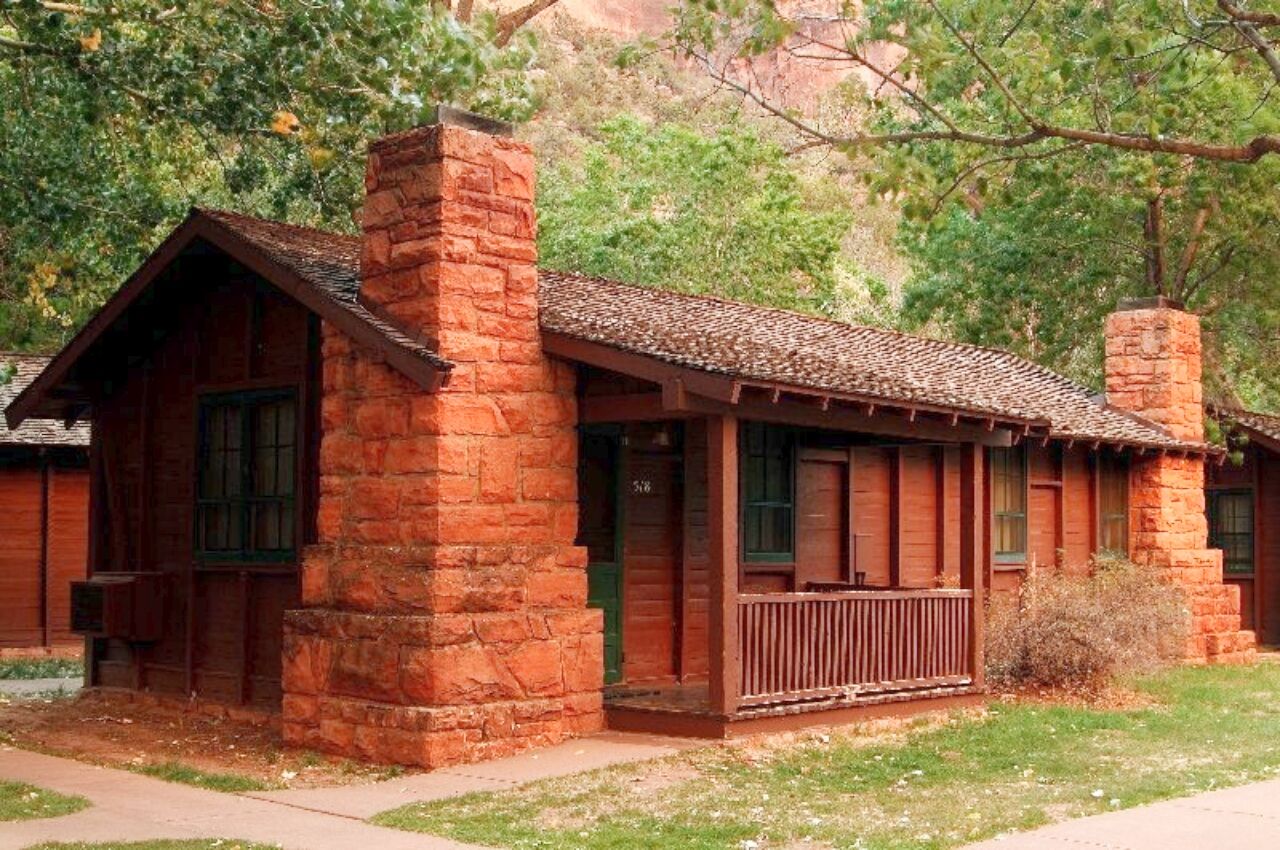 Set inside Zion National Park as the only "in-park" lodging is the Zion National Park Lodge. This lodging is now open and offers historic cabins, hotels, suites, and accessible rooms. This Zion lodging has many unique experiences and outdoor activities with its prime location. You can experience the geology of zion, tram rides, and more on-site activities. Zion National Park Lodge lodging does offer two dining options. There is Castle Dome Cafe for a casual, laid-back feel, and more upscale dining is found at the Red Rock Grill.
Price: From $220 per night
Zion Ponderosa Ranch Resort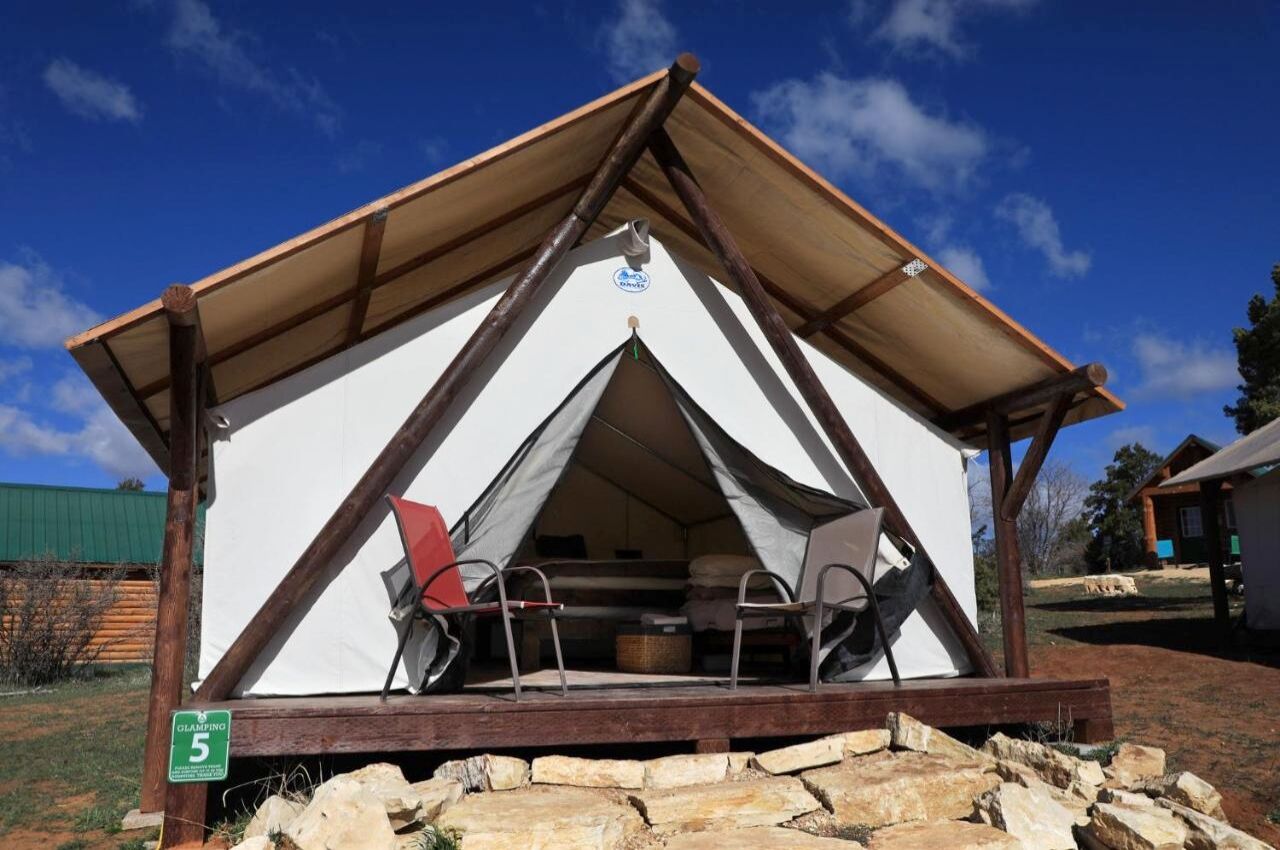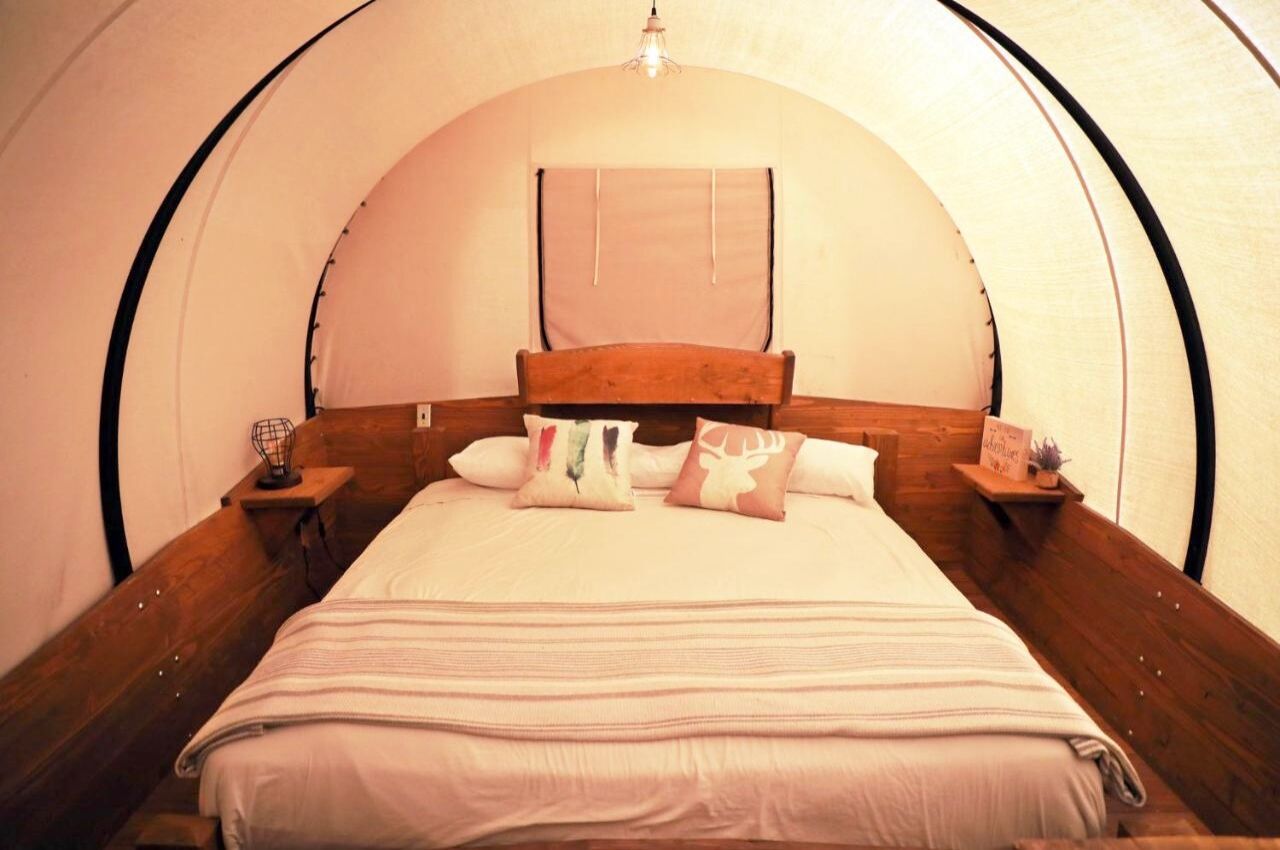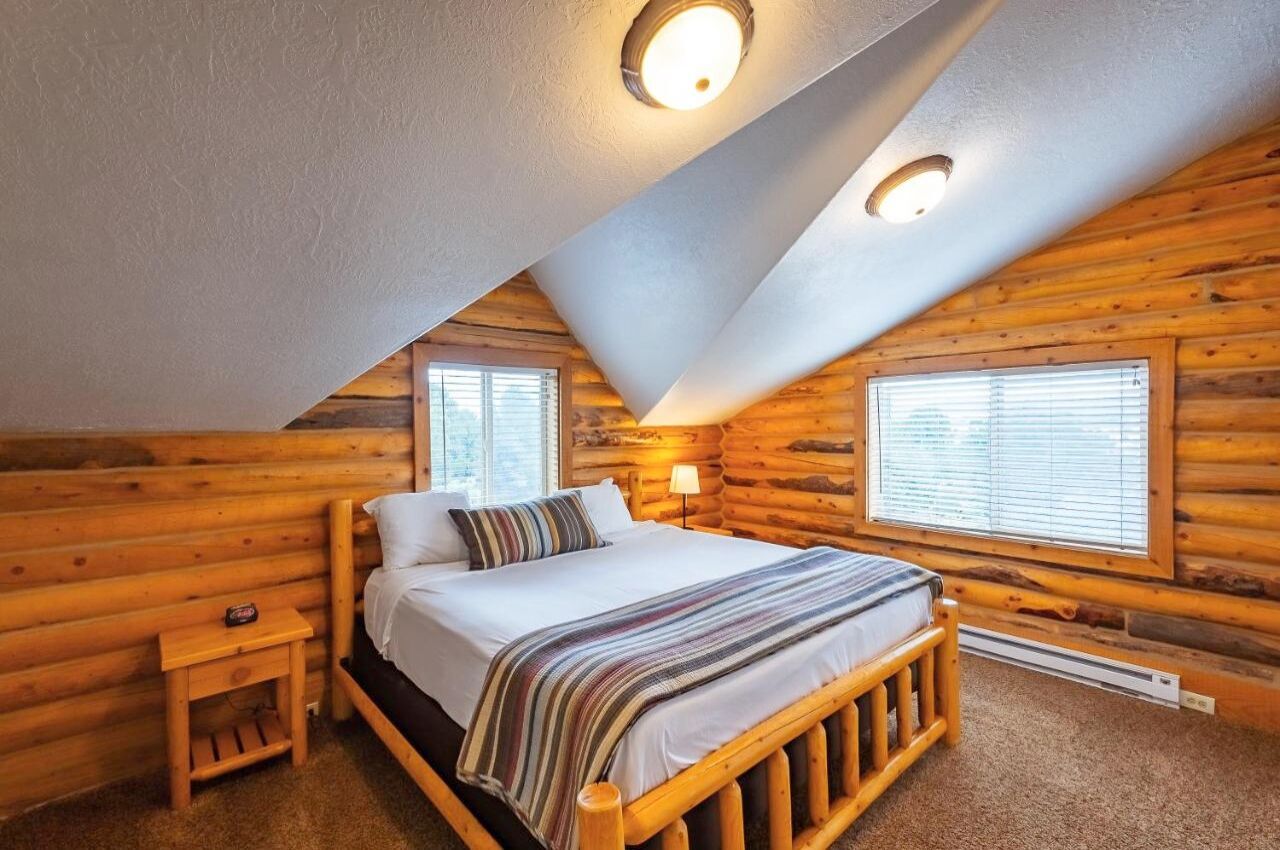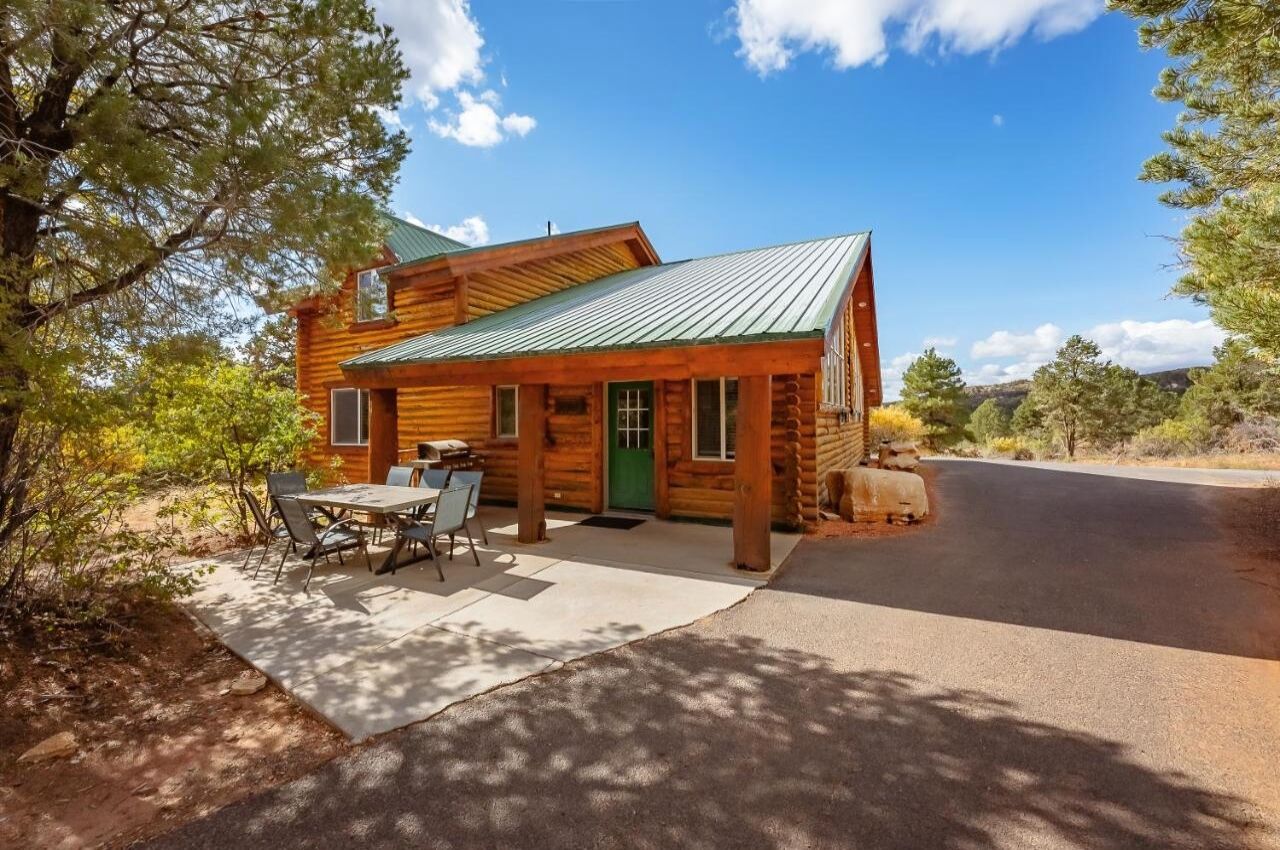 Just East of Zion National Park is the Zion Ponderosa Ranch Resort. This ranch resort has eight different accommodation options, each unique but upholding the mantra of the desert — solitude is king, and respect for nature is the lay of the land. There are lodging options from cabin suites to deluxe glamping to vacation homes. This resort also offers four guided recreation activities to explore like no other. The resort hosts many retreats and events like corporate retreats, experimental education events, family reunions, and outdoor women retreats.
Price: From $306 per night
Hampton Inn & Suites Springdale/Zion National Park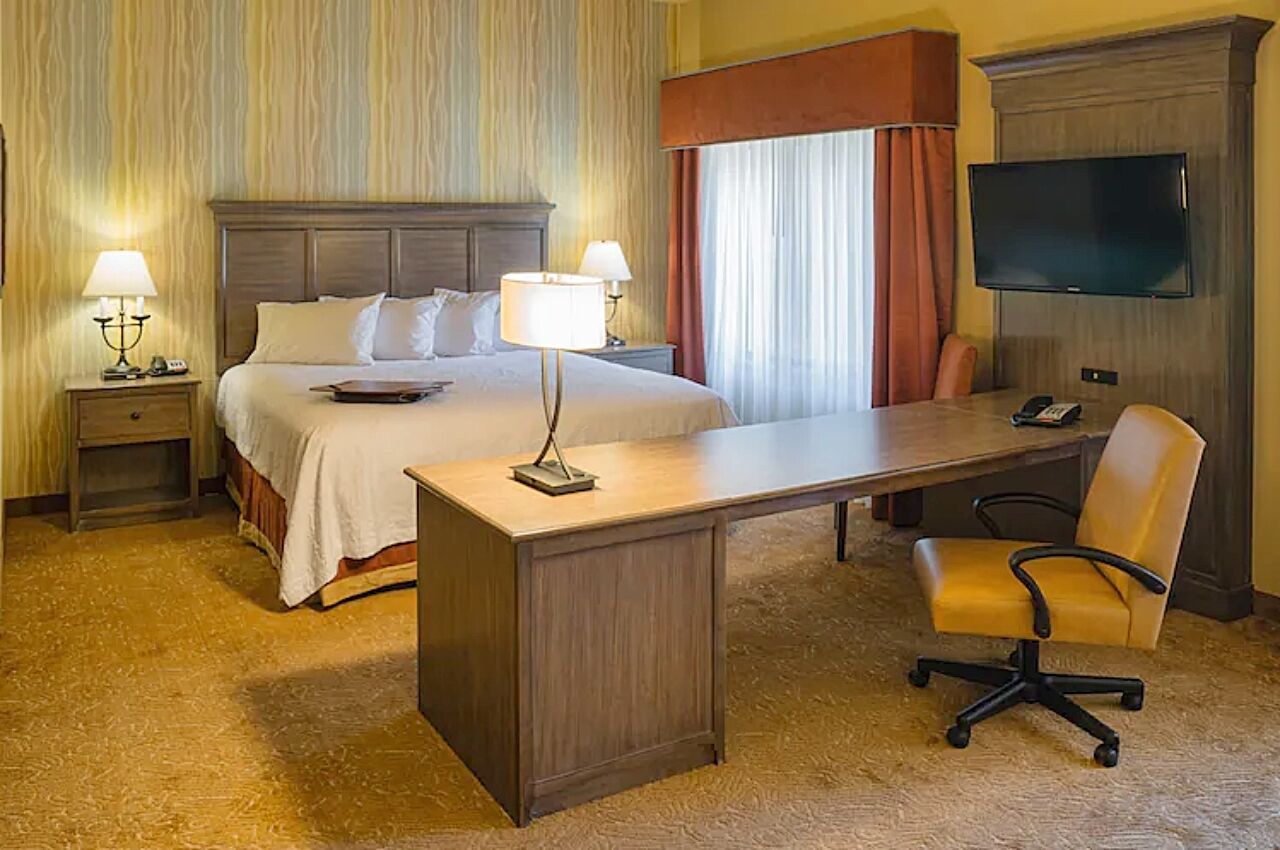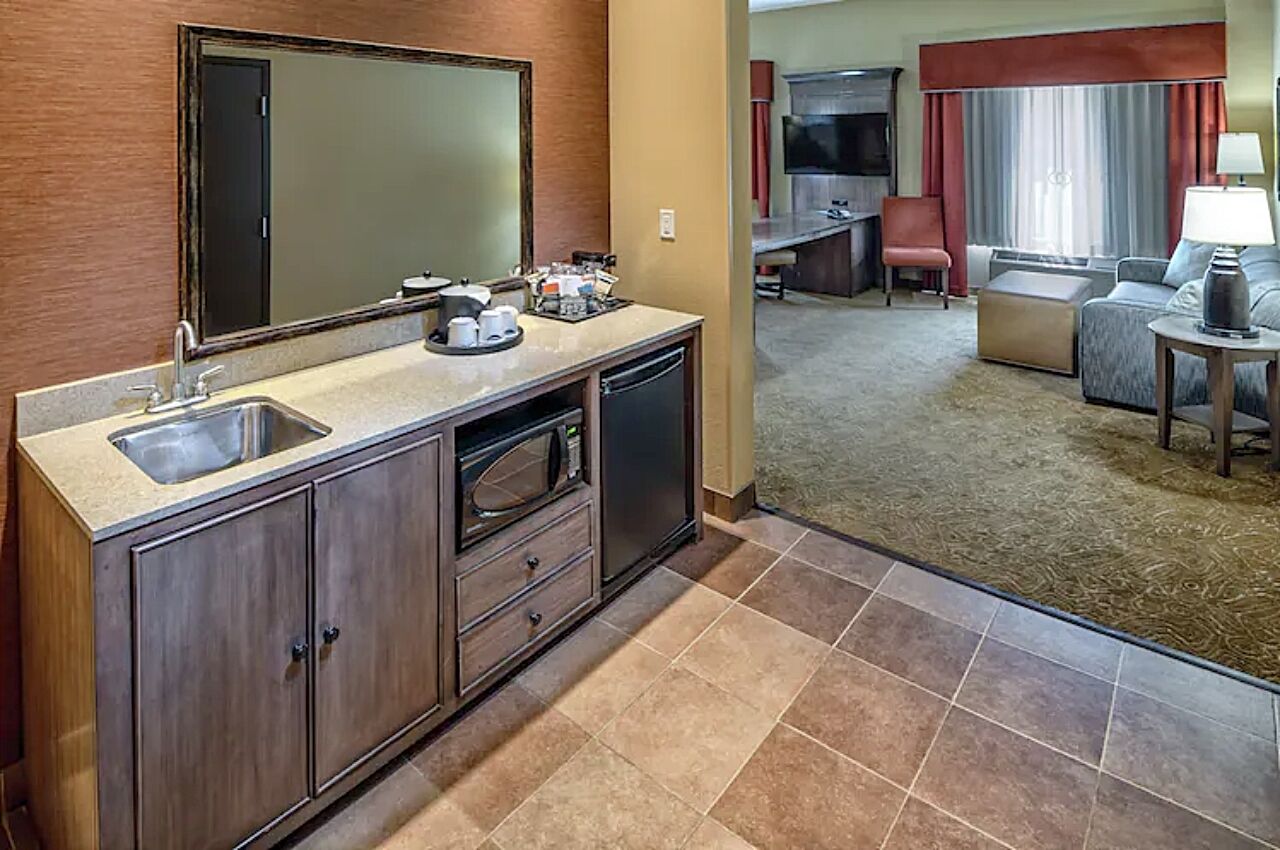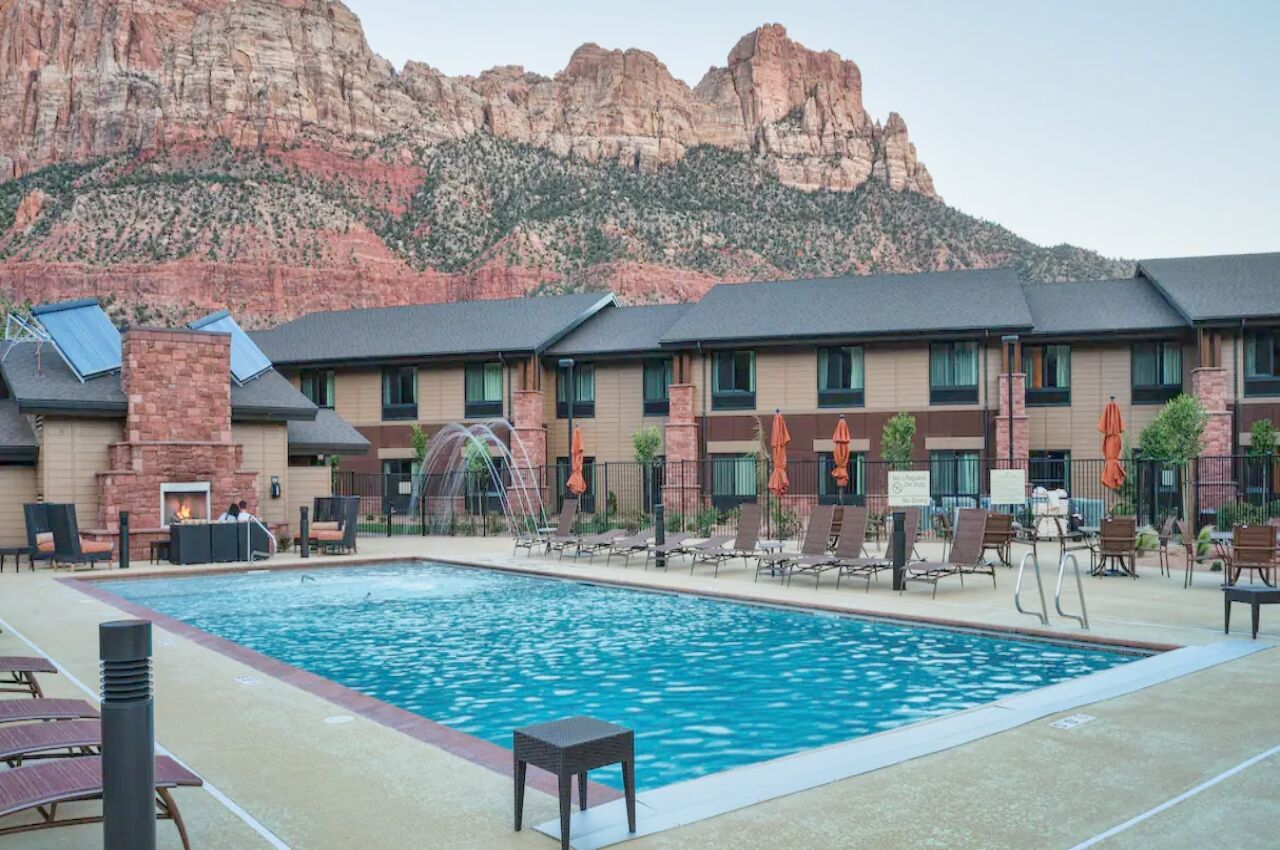 Just off Route 9 and less than a mile away from local restaurants and cafes is this Hampton Inn & Suites Springdale/Zion National Park hotel. This hotel is five minutes away from the Zion National Park visitor center and The O.C. Tanner Amphitheater. This hotel offers standard rooms, suites, and accessible rooms.
Price: From $362 per night
SpringHill Suites by Marriott Springdale Zion National Park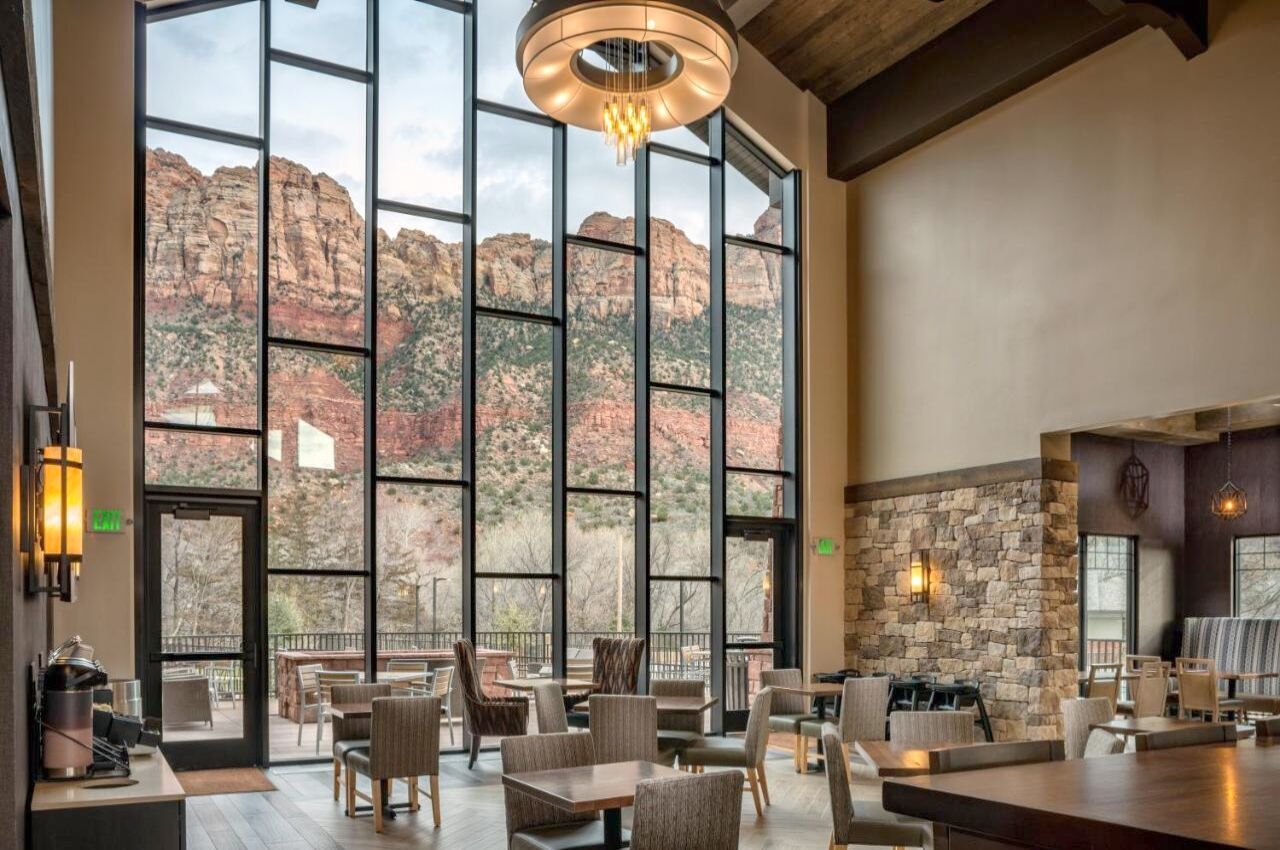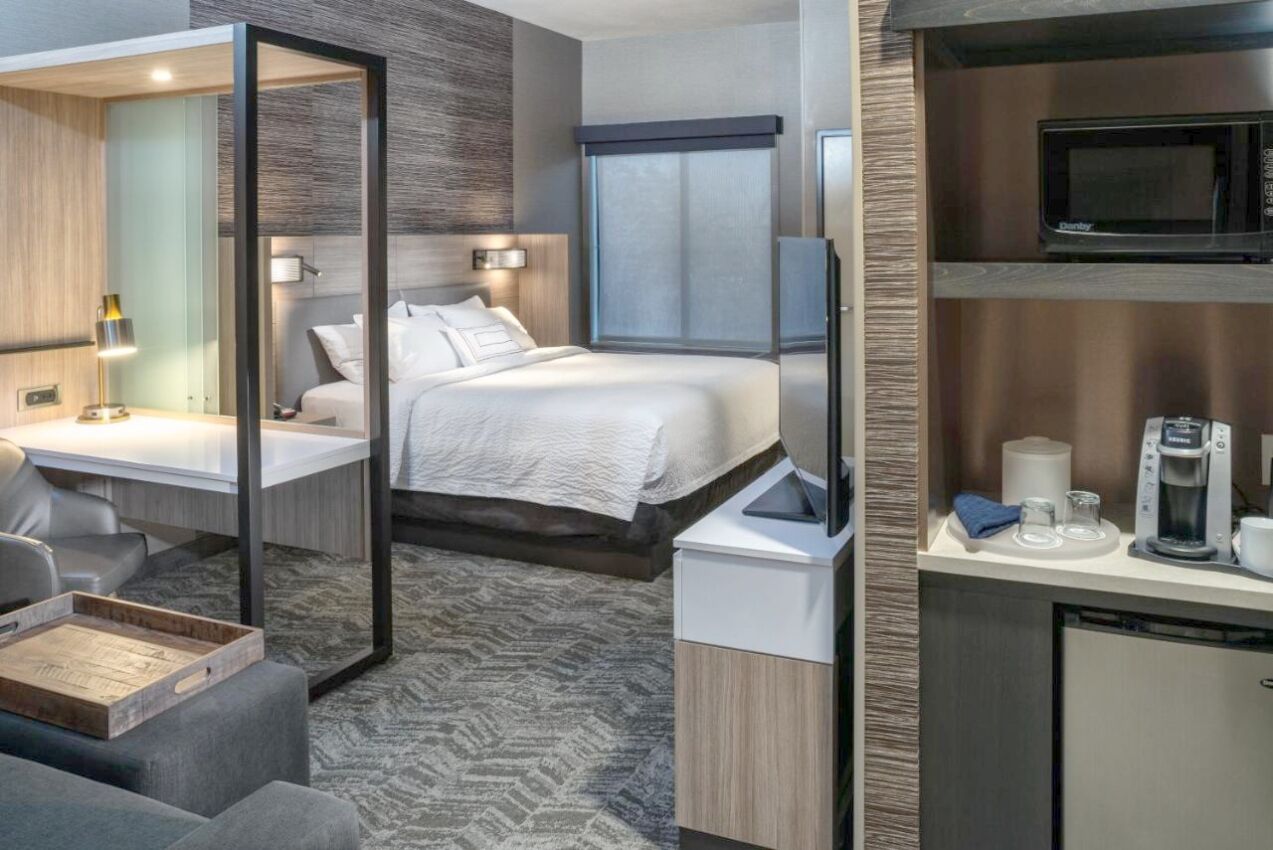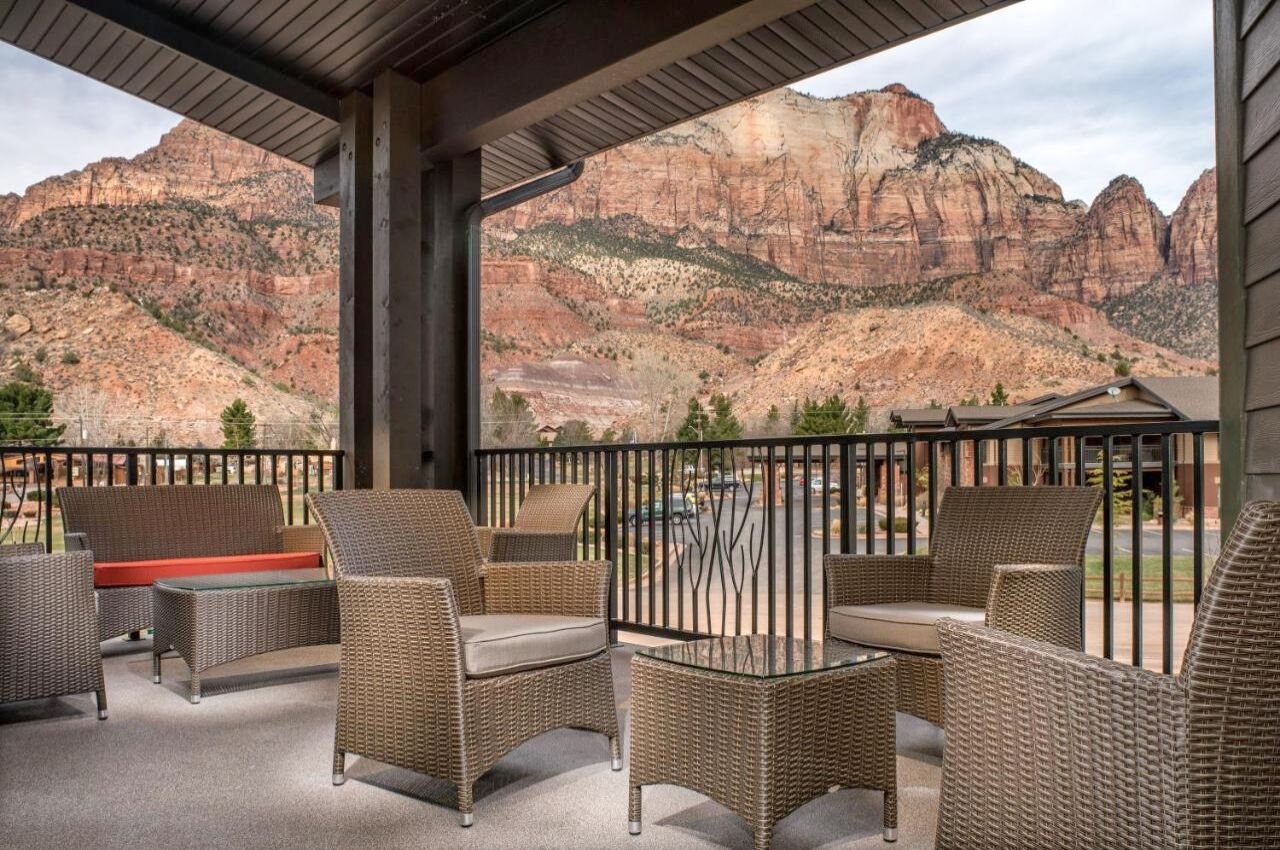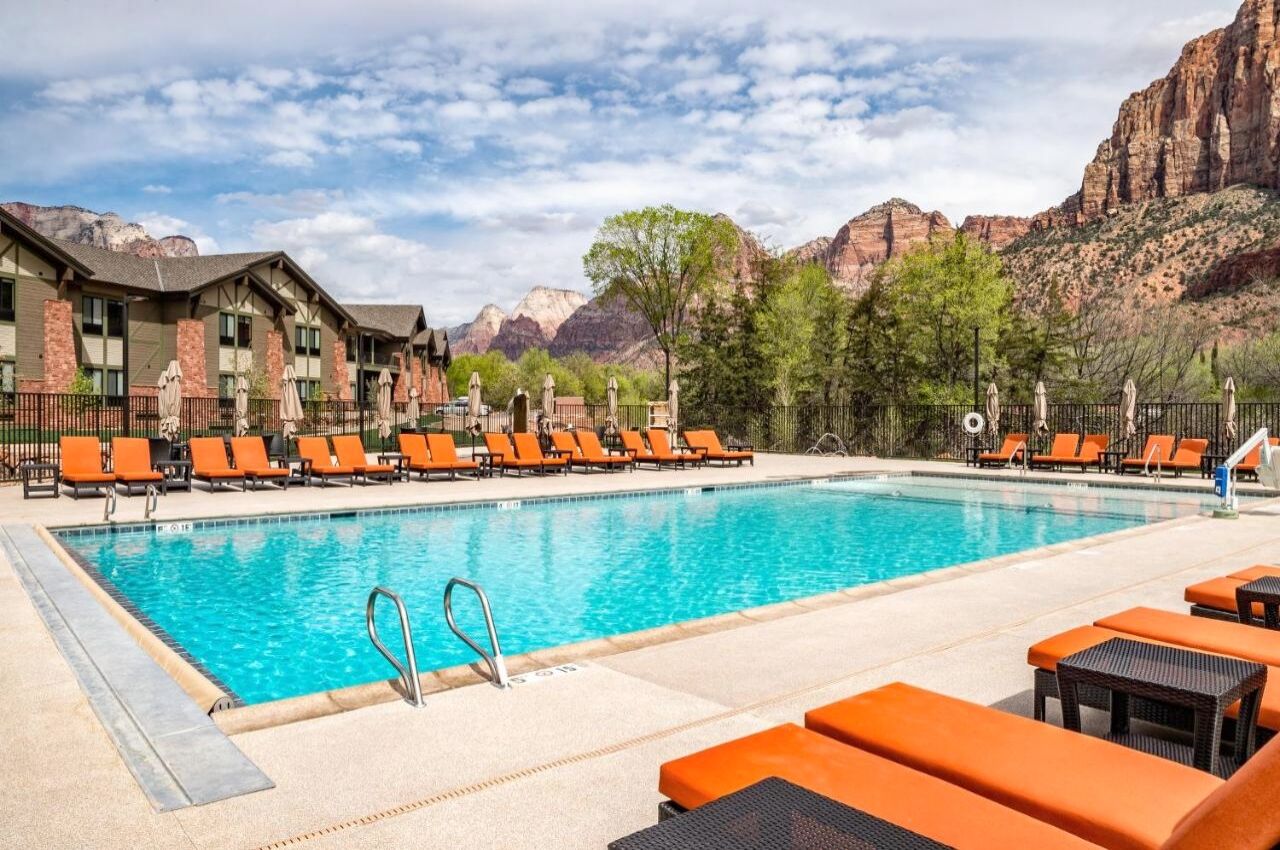 Experience a luxury Zion lodging stay at the Springhill Suites Premier hotel. This luxury hotel is centrally located and offers many amenities like a seasonal outdoor pool and hot tub with canyon views, indoor and outdoor fireplaces, and even viewing the night sky on a stroll along the Virgin River.
Price: From $309 per night
The Dwellings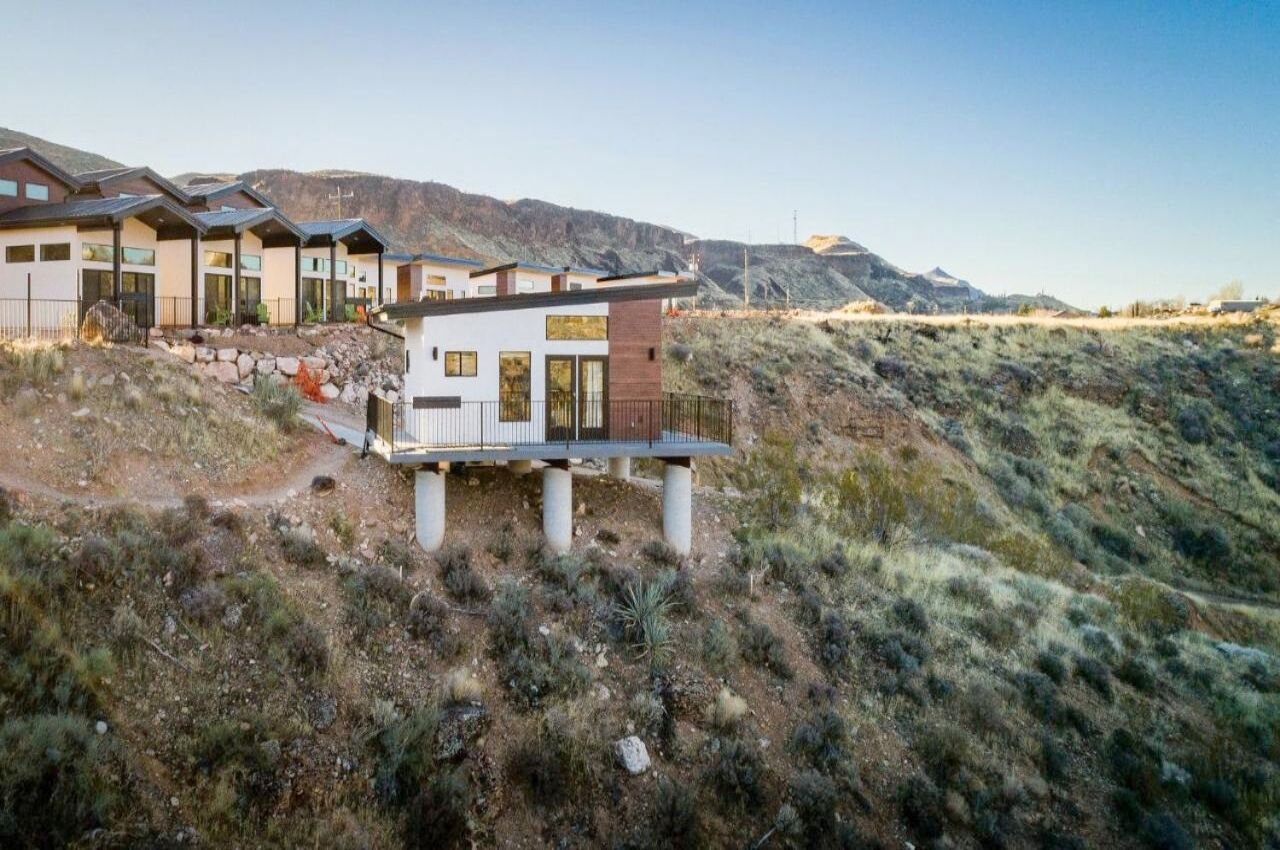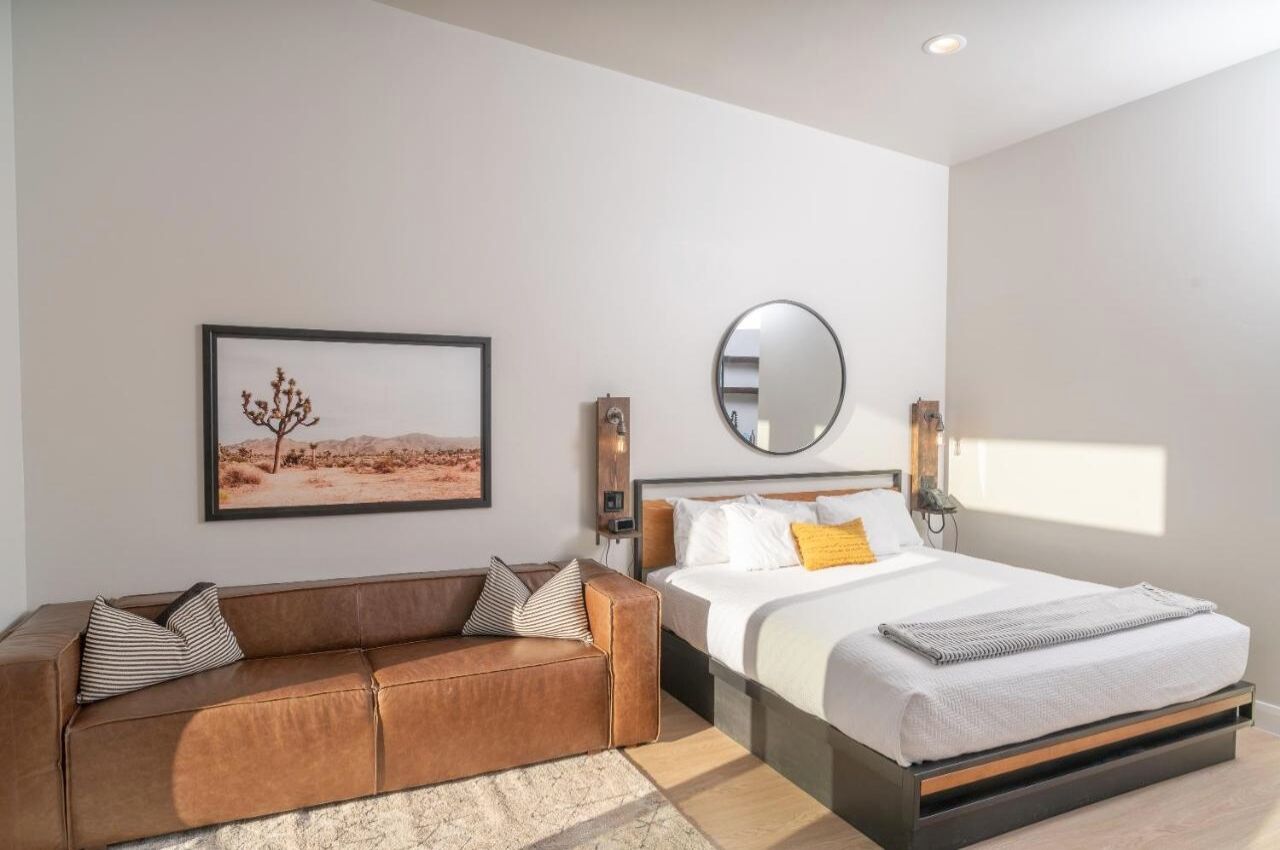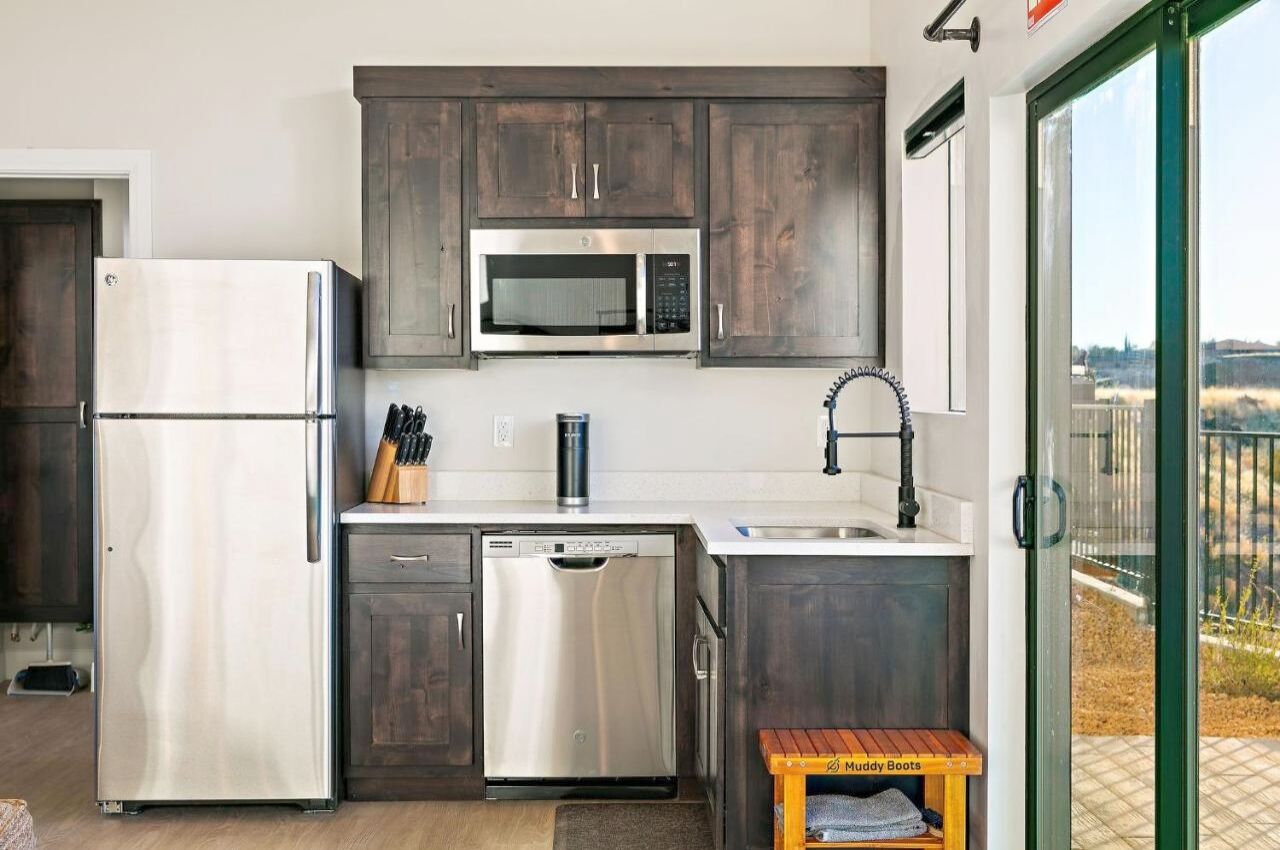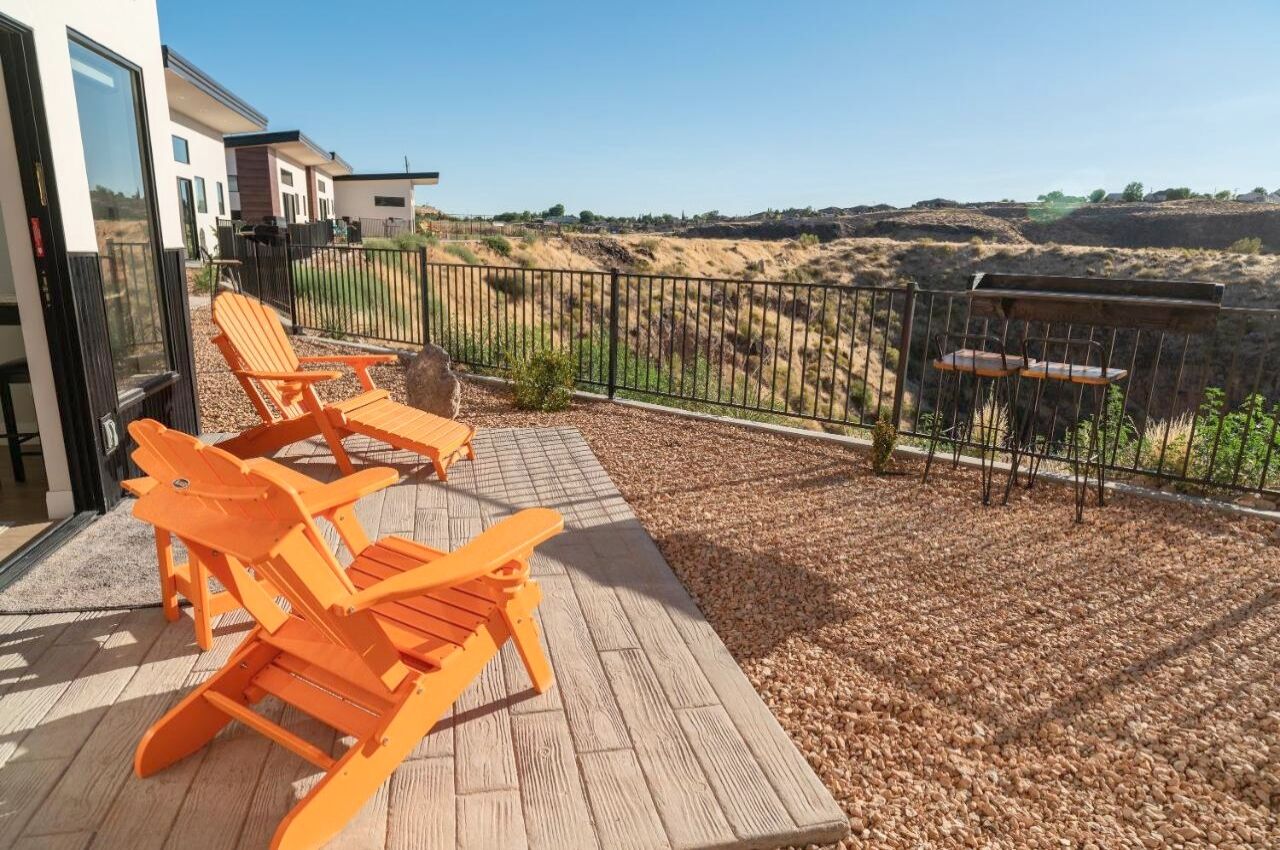 Want to feel like you're on the edge of the earth? Well, these remote luxury tiny homes give you just that feeling and more. The Dwellings are inspired by smaller footprint living spaces. This zion lodging is just 25 minutes away from Zion National Park. These tiny homes have a cocktail bar in the backyard direct access to the Confluence Park Trail, and each of them comes with a private patio with stunning views. The Dwellings are centrally located and have easy access to other restaurants, grocery stores, and other shops.
Price: From $219 per night
Driftwood Lodge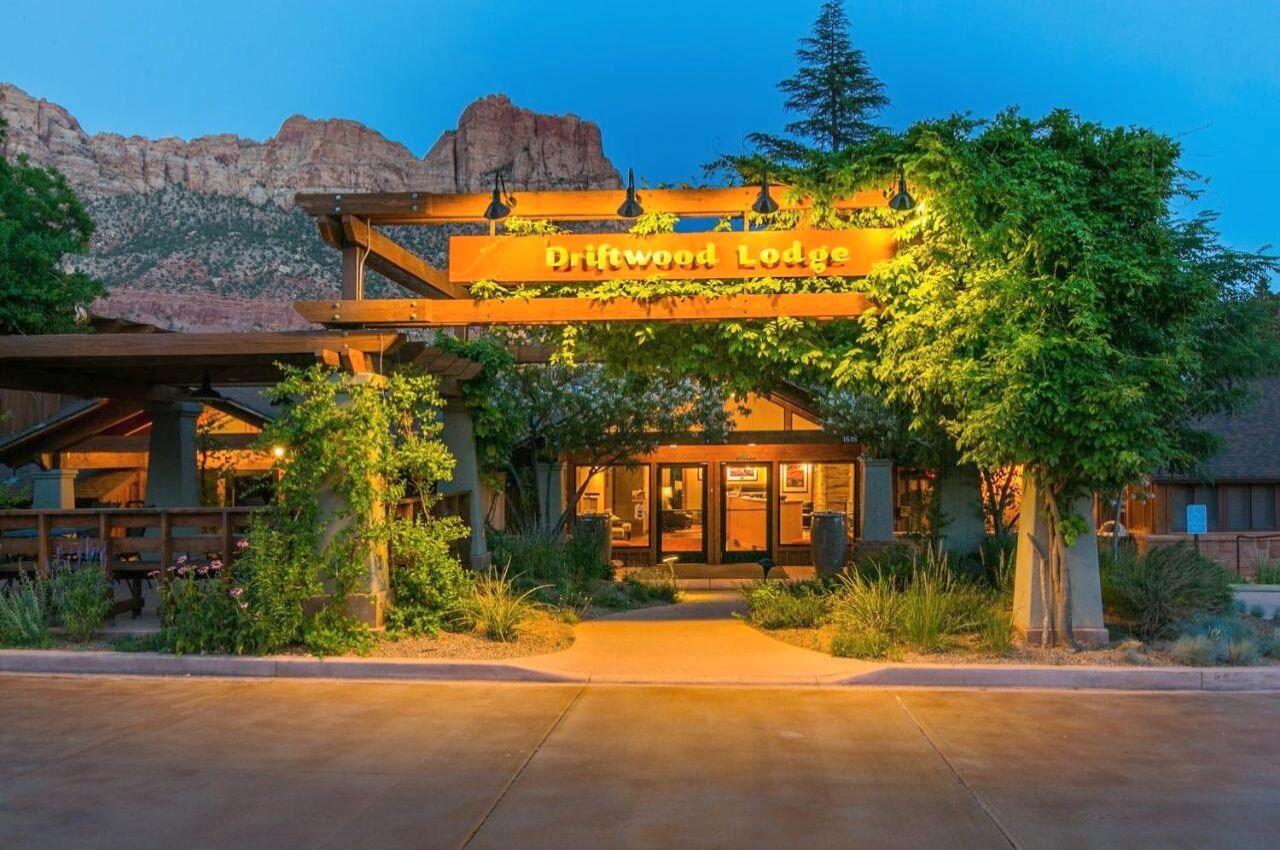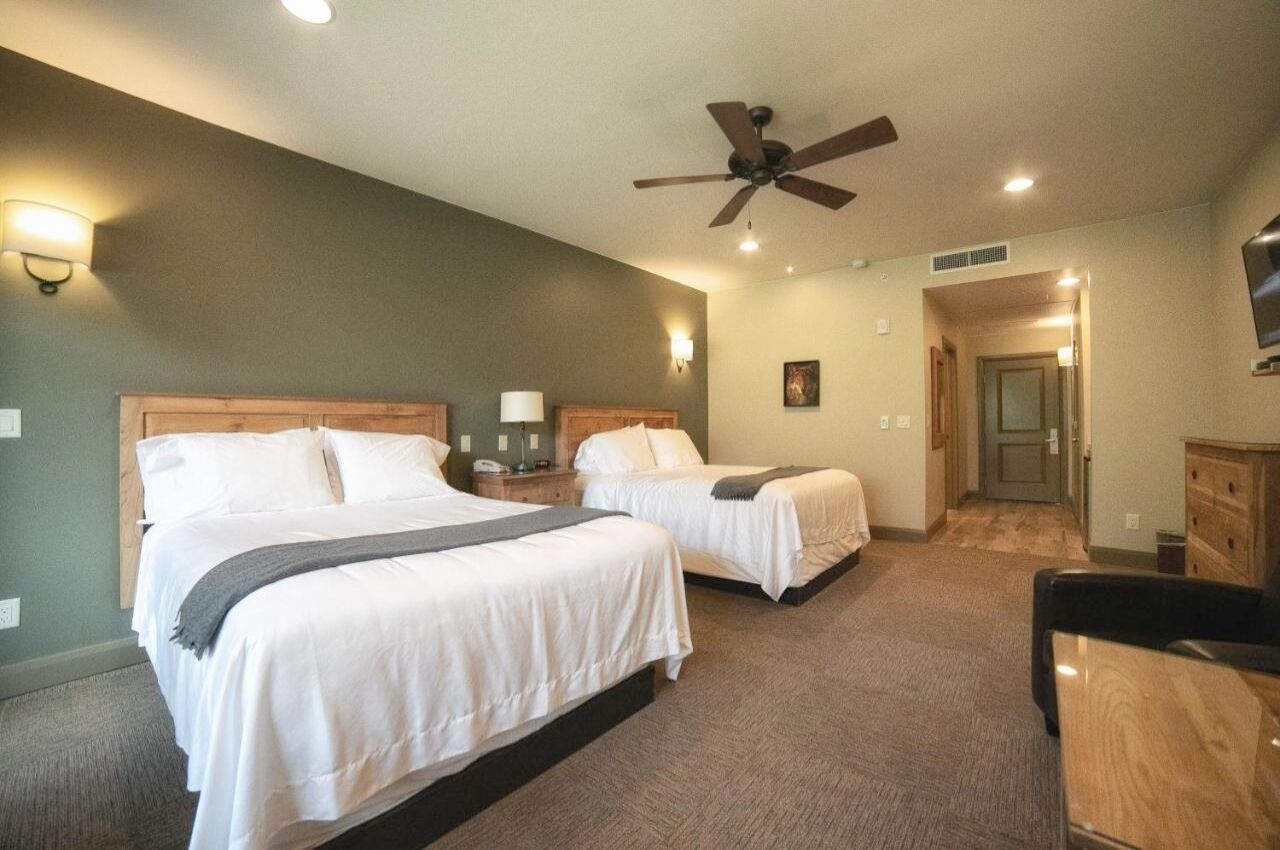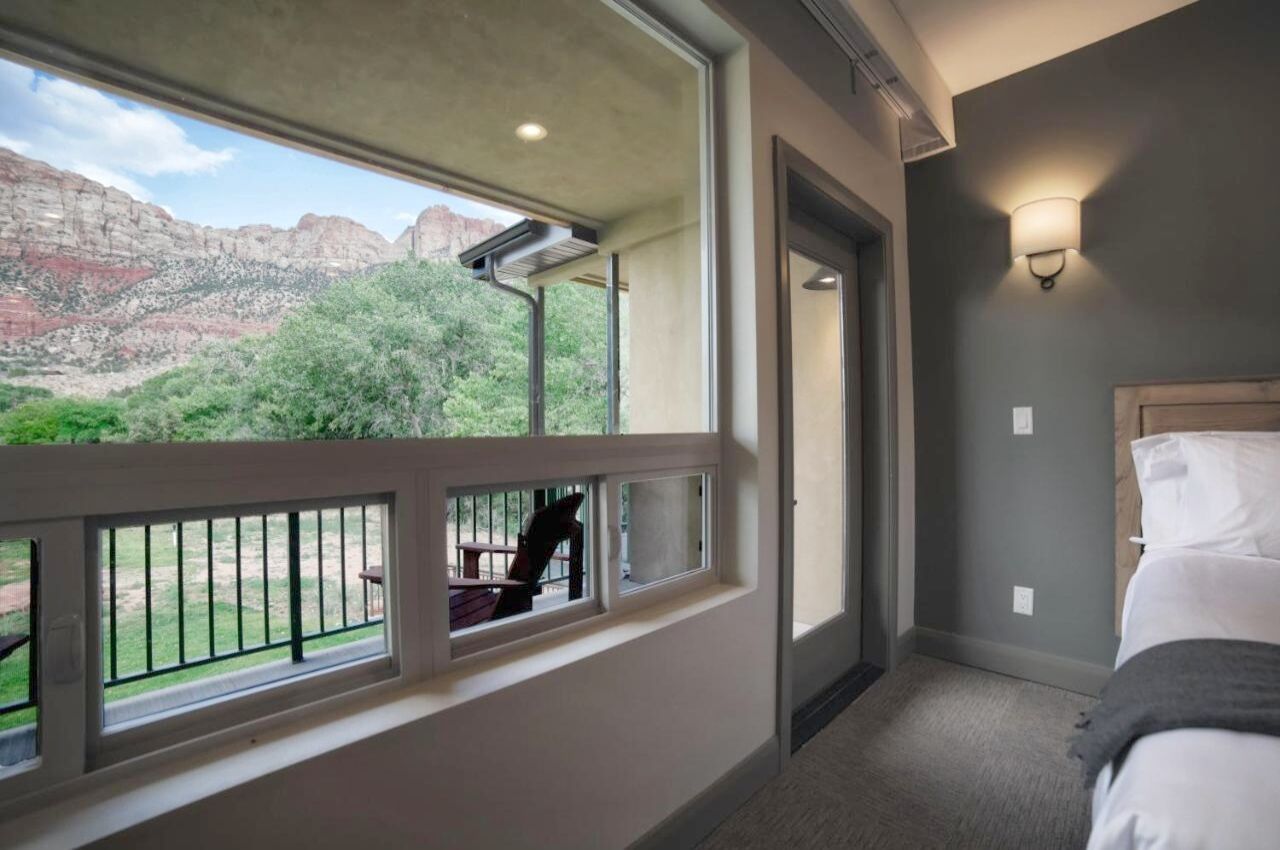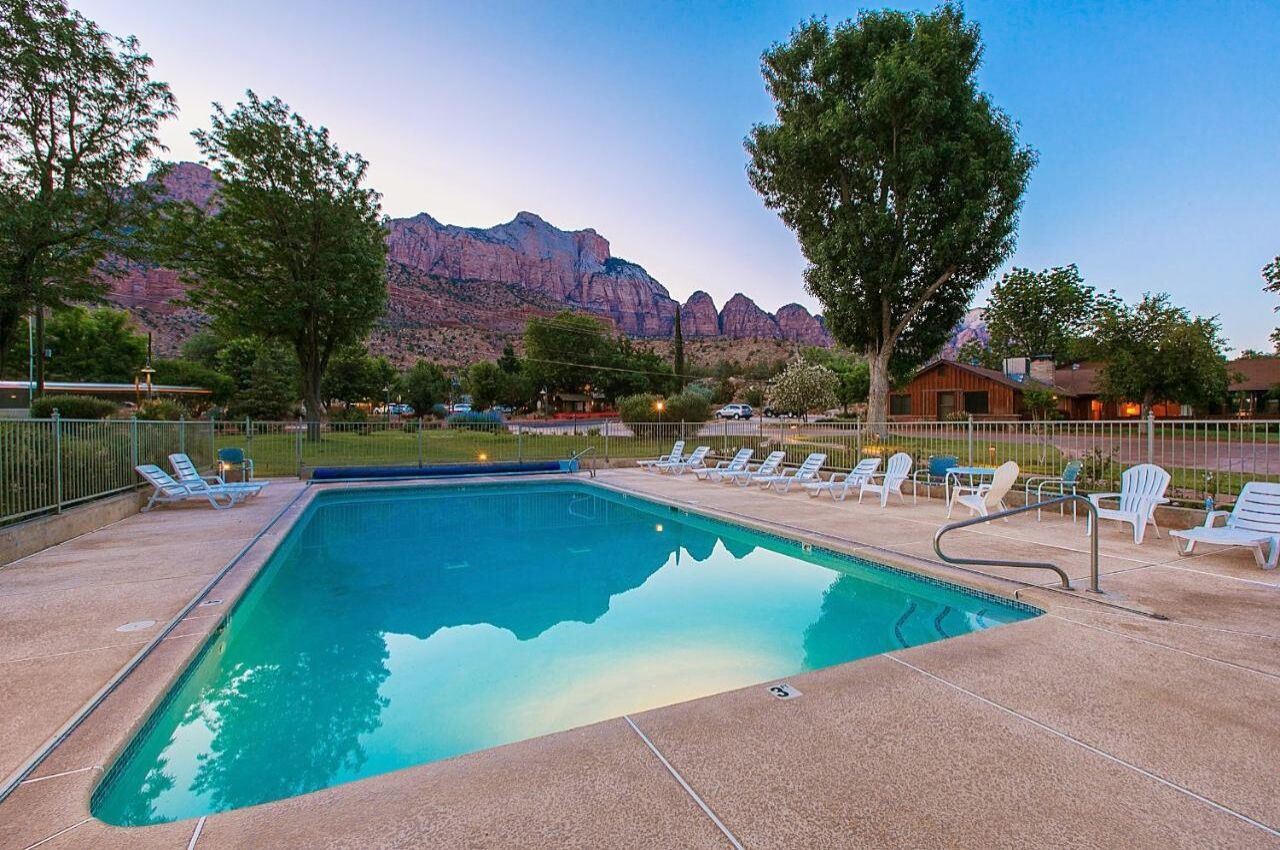 Experience luxury and comfort right near the heart of Zion at the Driftwood Lodge. The Driftwood Lodge has everything you need to explore nature, create your next adventure at Zion and relax and unwind. At Driftwood Lodge, you can experience views of the canyon, Virgin River, The Watchman, and The West Temple. On these 17 acres of private property, the luxury hotel rooms have private balconies and patios, a pool, riverfront beach access, wildlife on the property, and a top-rated contemporary, American cuisine restaurant called Kings Landing Bistro.
Price: From $670 per night
What did you think of this story?