These Stunning Cabins Are the Ultimate Zion National Park Basecamps
From hiking to climbing to horseback riding to going sightseeing, there are many experiences to have at Zion National Park. Ready to dive into all the activities? Here are the most stunning Zion National Park cabins that are perfect for your adventure to the national park and put you right in the middle of the action.
We hope you love the Zion National Park cabins we recommend! Just so you know, Matador may collect a small commission from the links on this page if you decide to book a stay. Listed prices are accurate as of the time of publication.
1. Newly built spacious cabin with grand porch and hot tub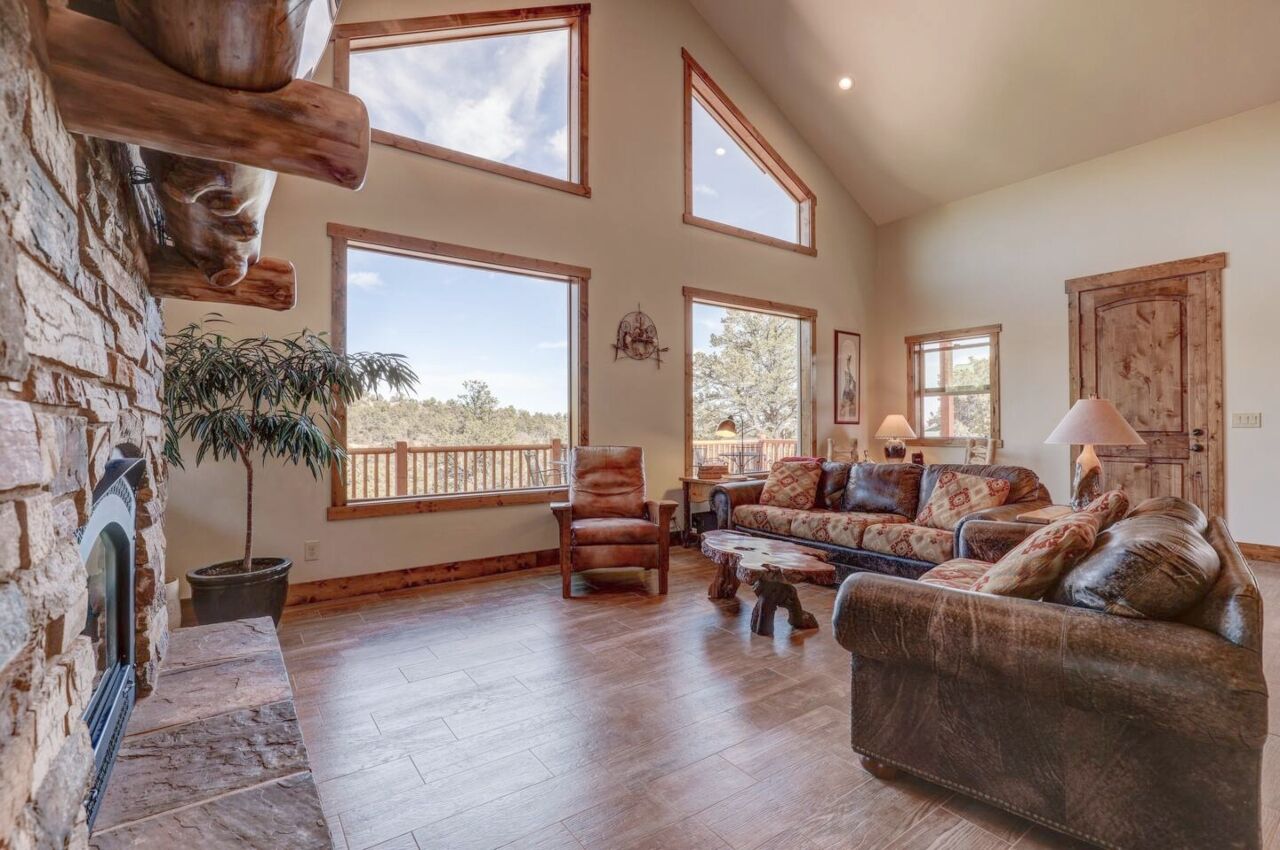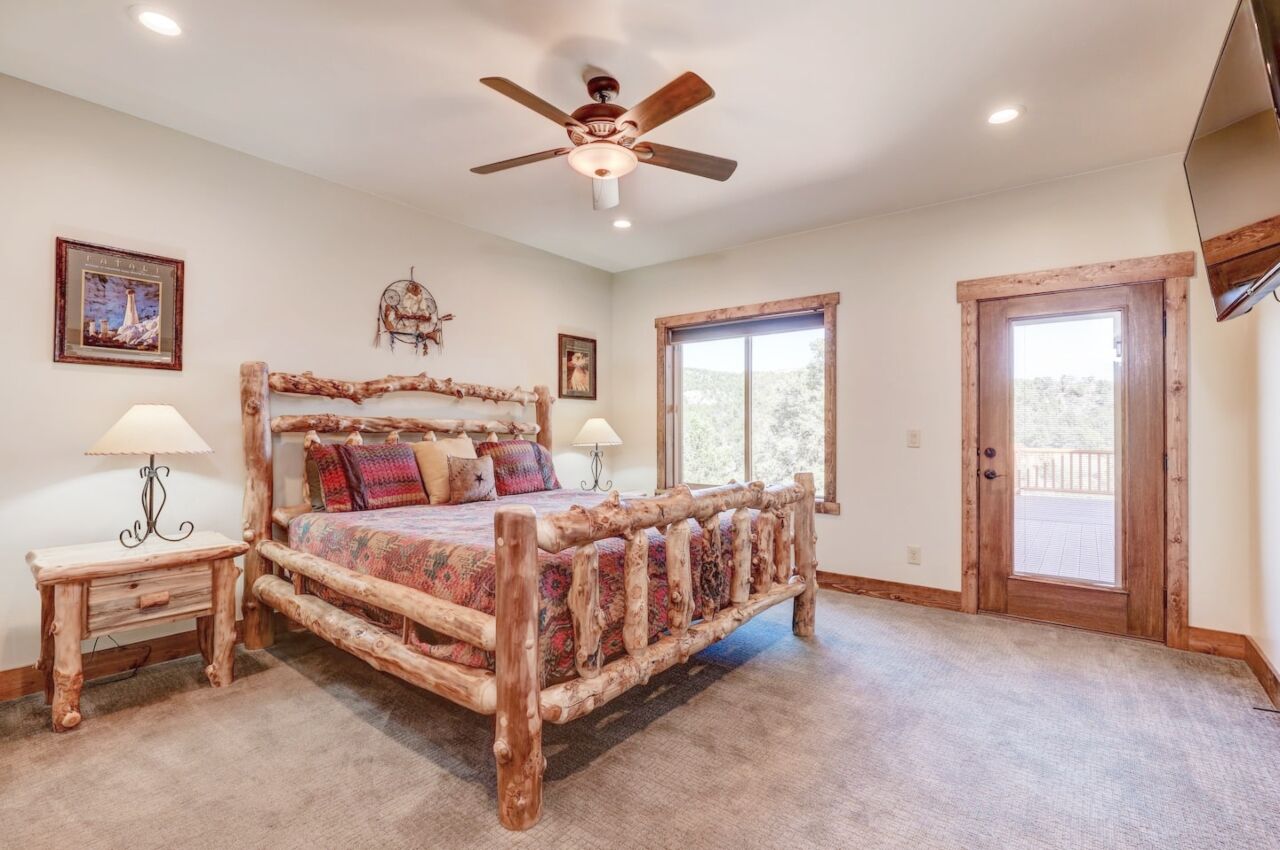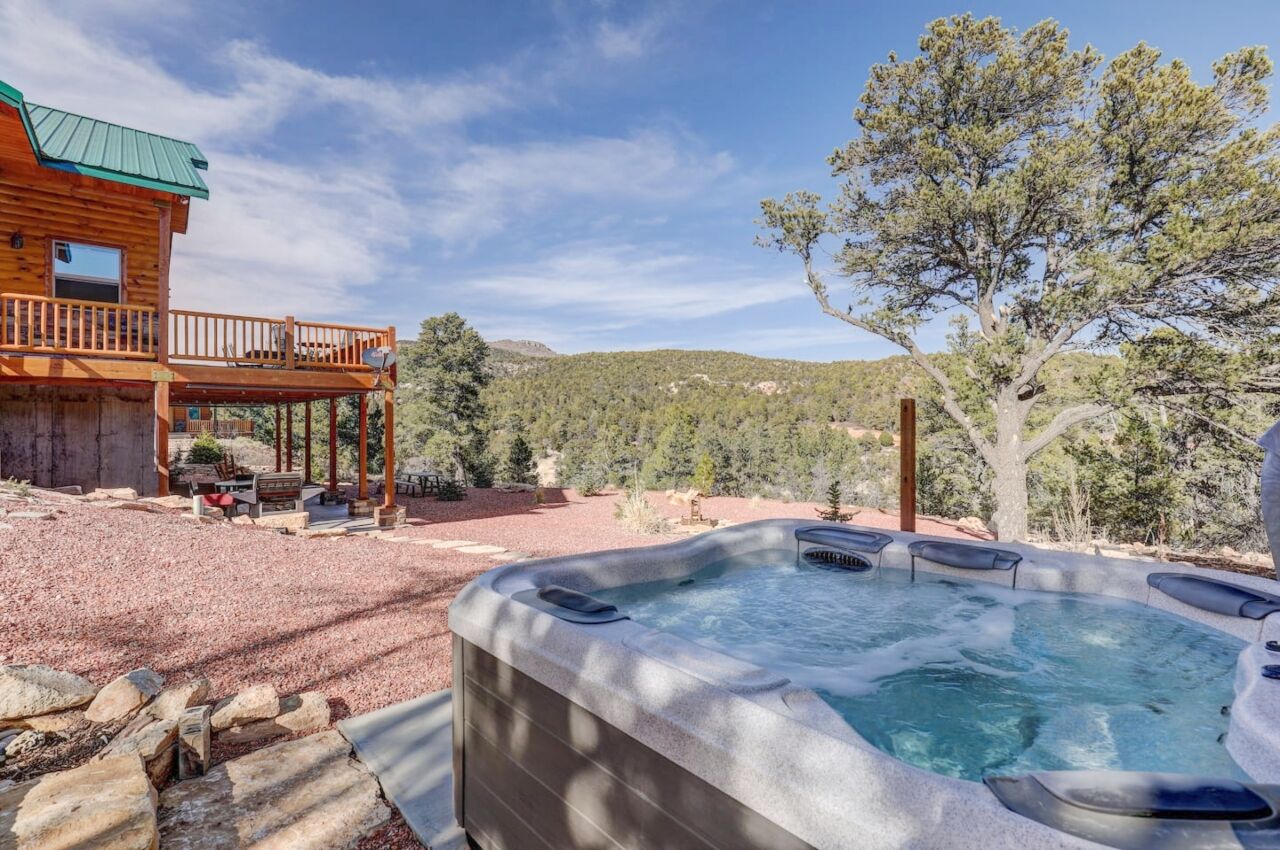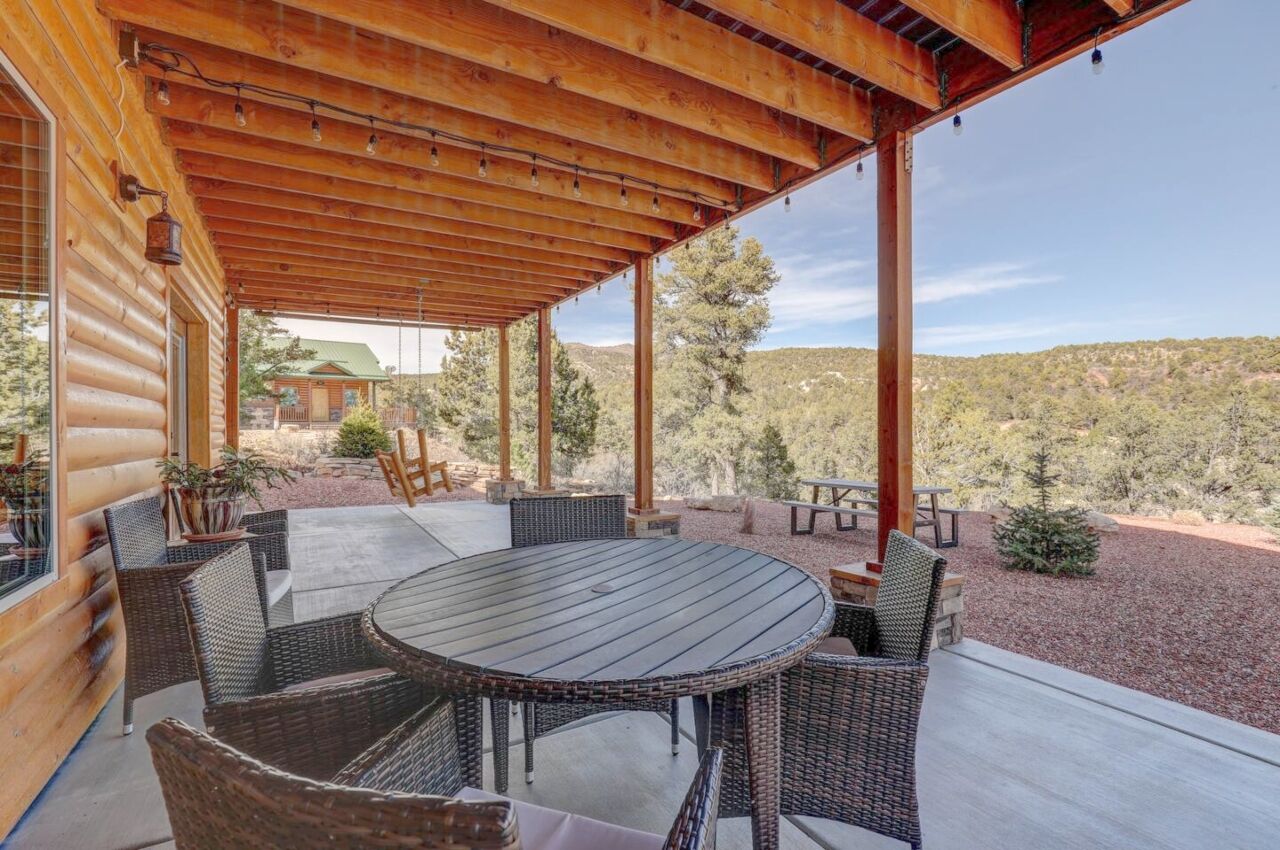 Take a family vacation at this grand, newly built cabin on the canyon ridge. This cabin has a spacious living room with a fireplace and windows, stunning views, and a large kitchen. There is also a second-floor patio area that wraps around the house and a bottom deck area with multiple seating areas, and a great place to wake up and have a cup of coffee.
Thirteen guests, five bedrooms
Price: $700 per night
2. Two story cabin with spacious deck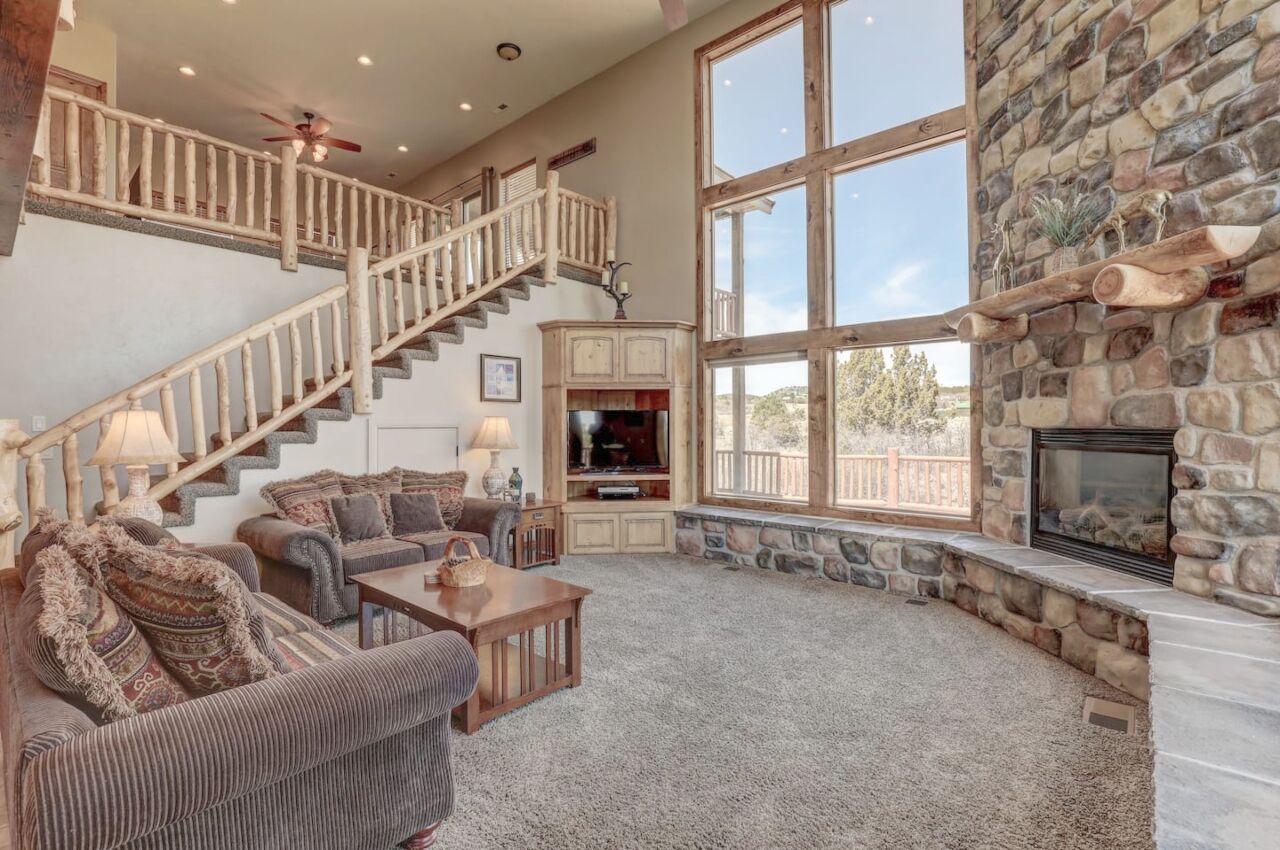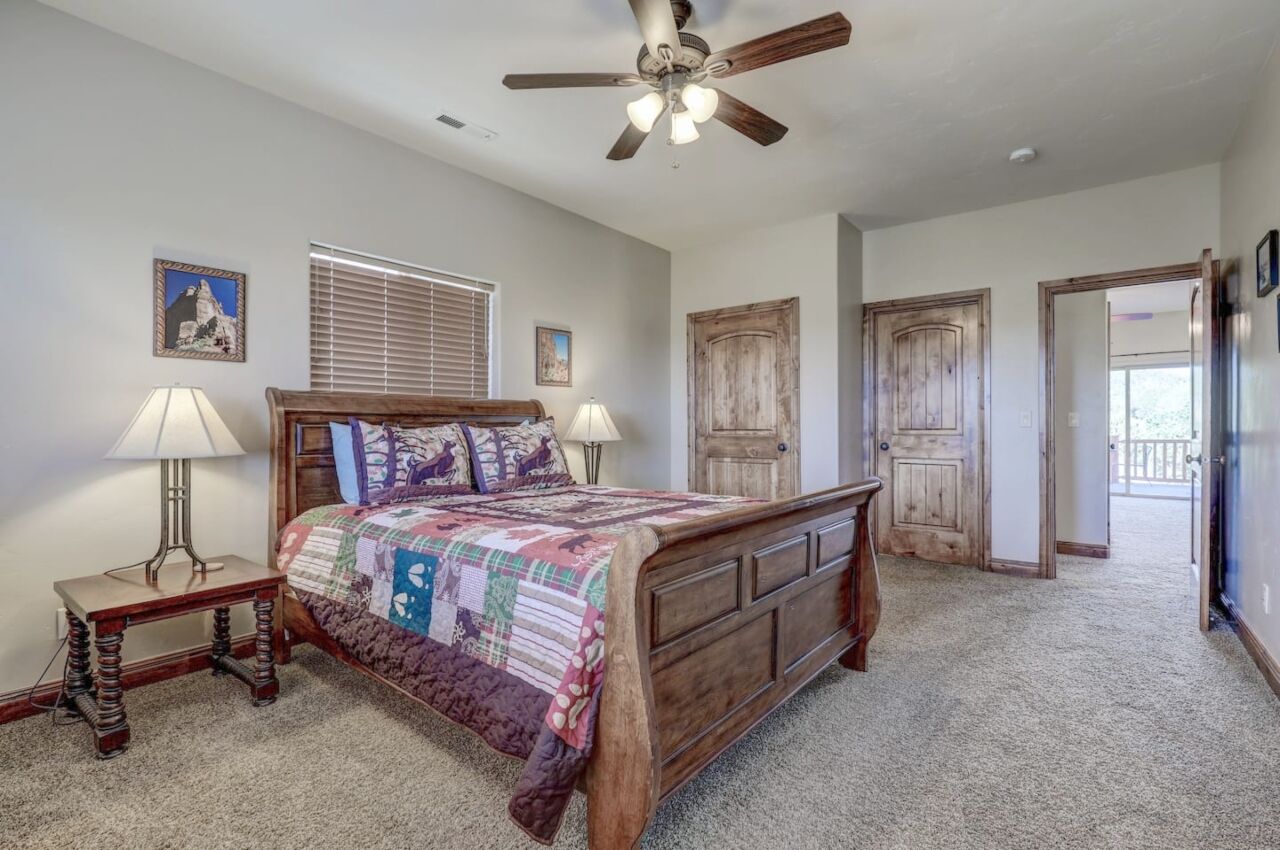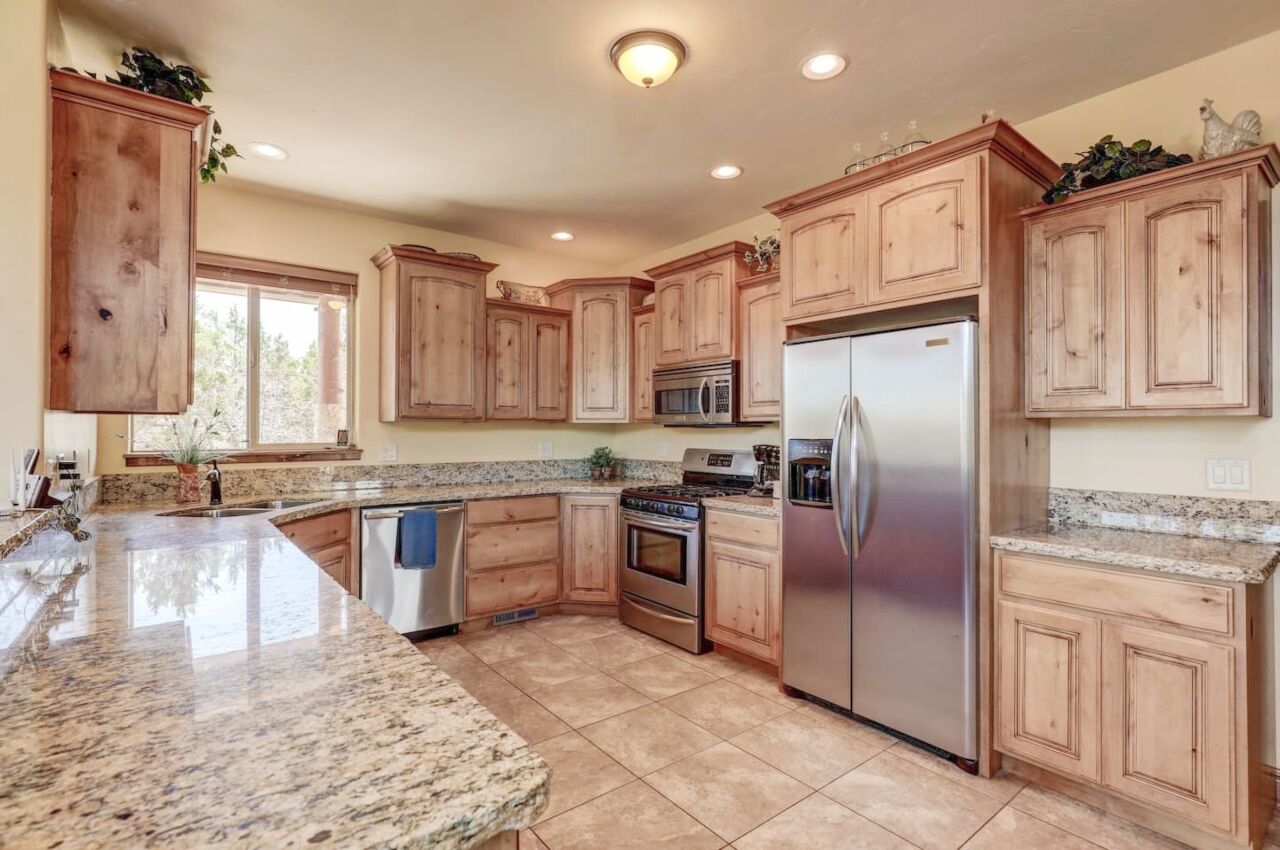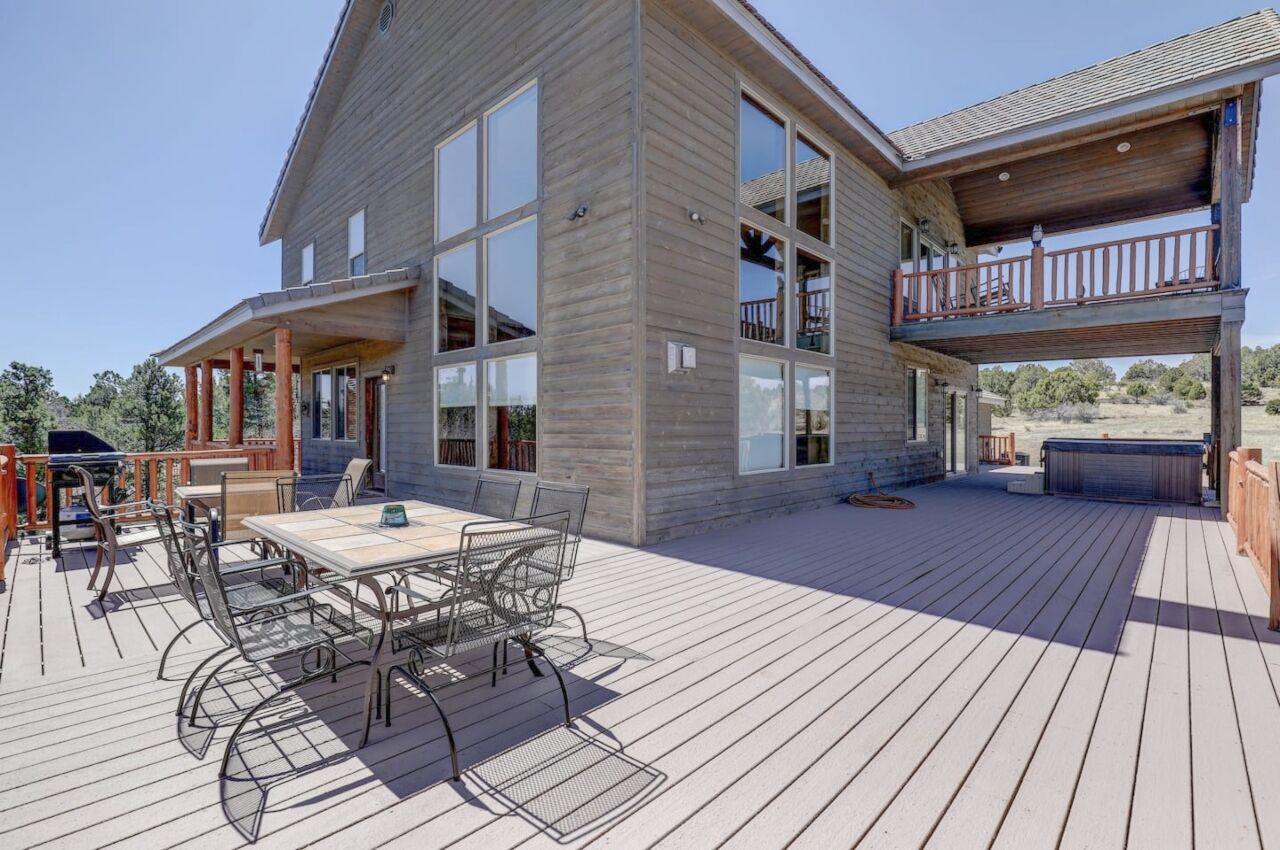 This two-story cabin is the luxury spot everyone dreams about, located at the East entrance of Zion National Park. It can accommodate up to fourteen guests to be the ideal spot for a family or friend's gateway. The cabin is near trails East rim, Cable Mountain, and Observation Point.
Fourteen guests, four bedrooms
Price: $500 per night
3. Nama-stay dream cabin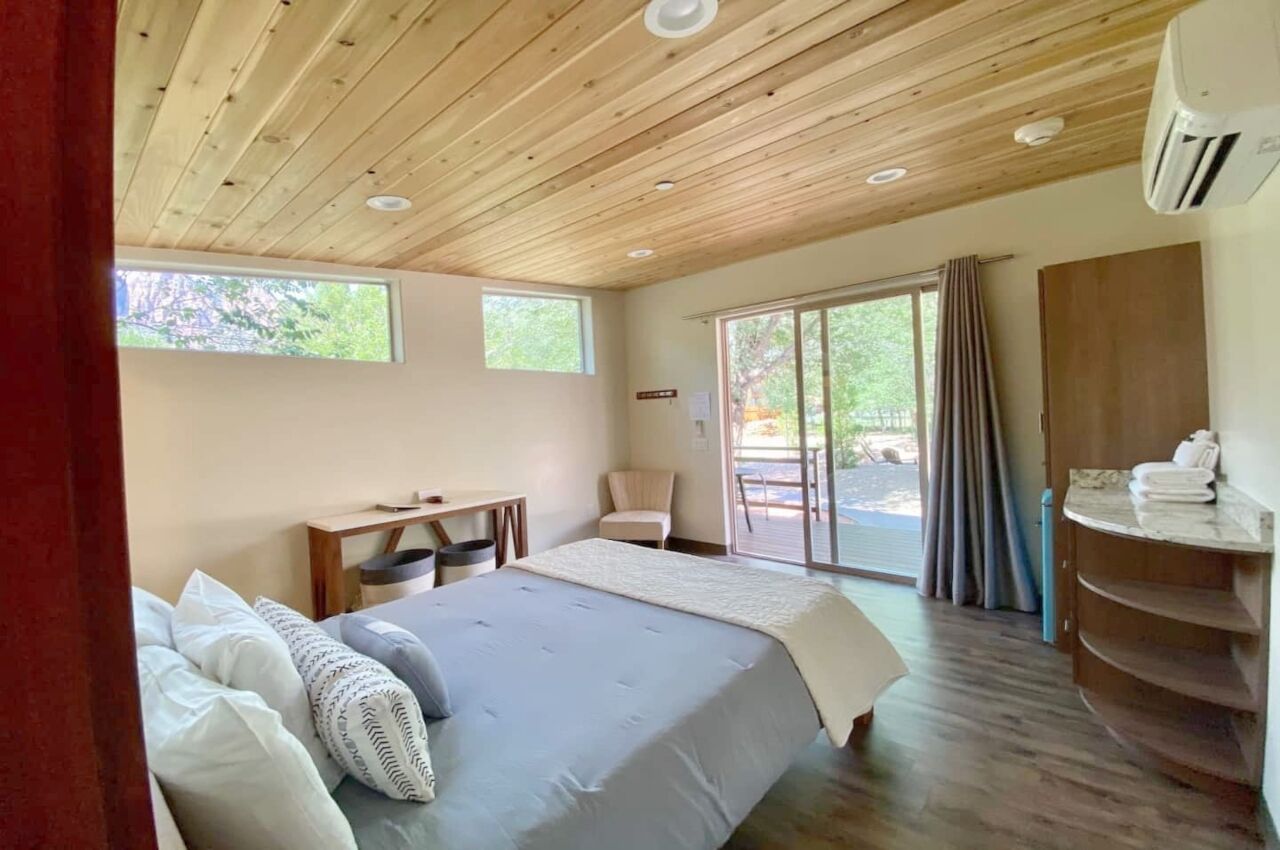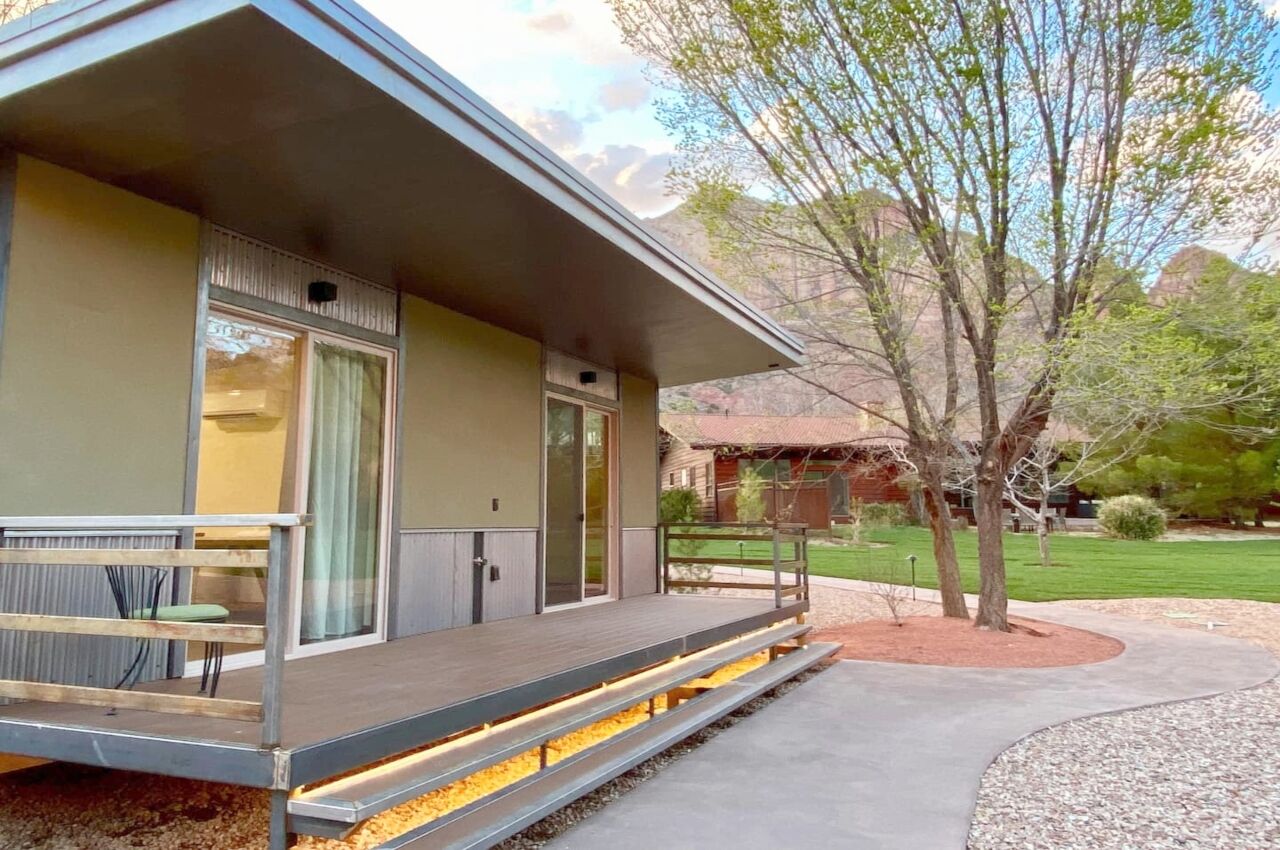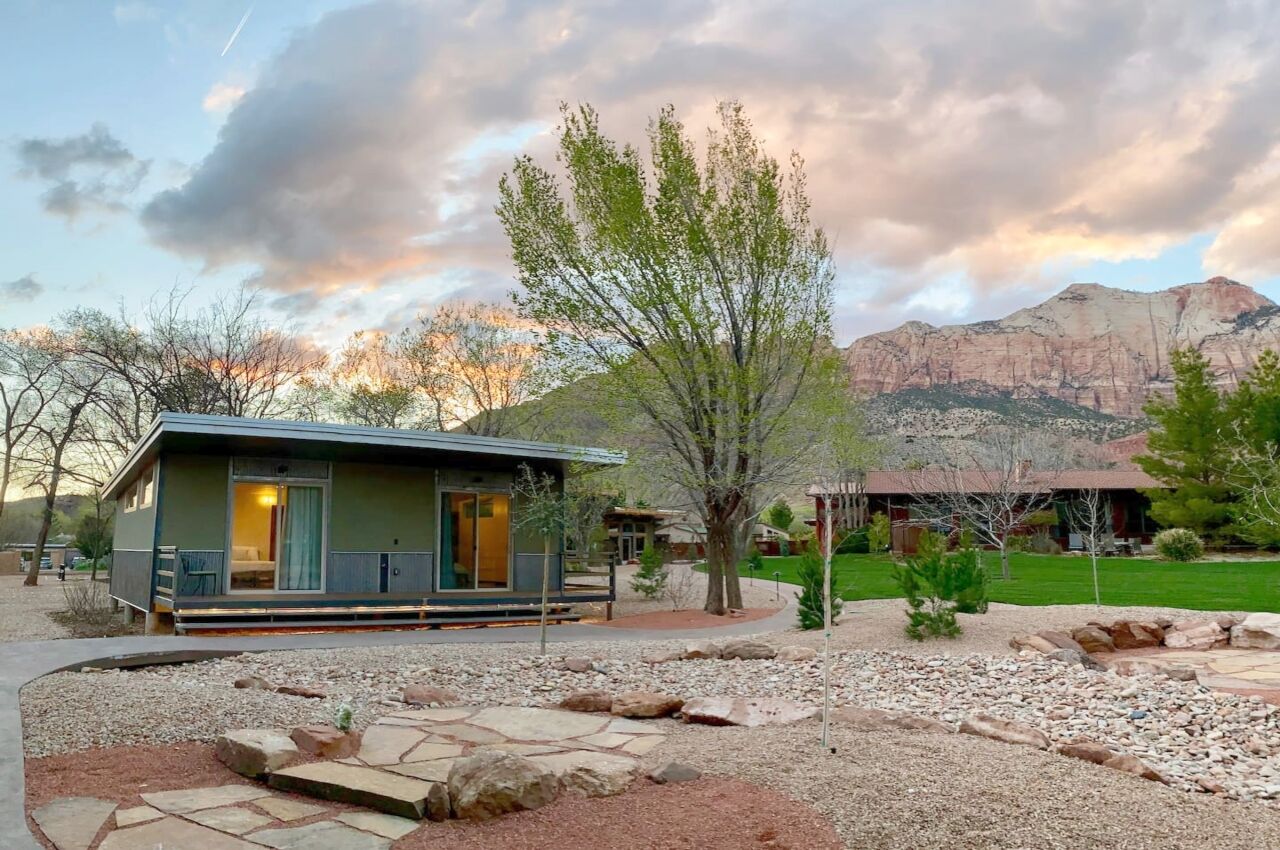 Relax and reconnect with nature at this quaint cabin. It's minutes from grocery stores, shops, and restaurants, and is just five minutes from Zion. The cabin features a luxurious queen-sized bed, a private bathroom/shower, spacious cabinetry, granite countertops, and a mini-fridge.
Two guests, one bedroom
Price: $145 per night
4. Remote eco-friendly A-frame cabin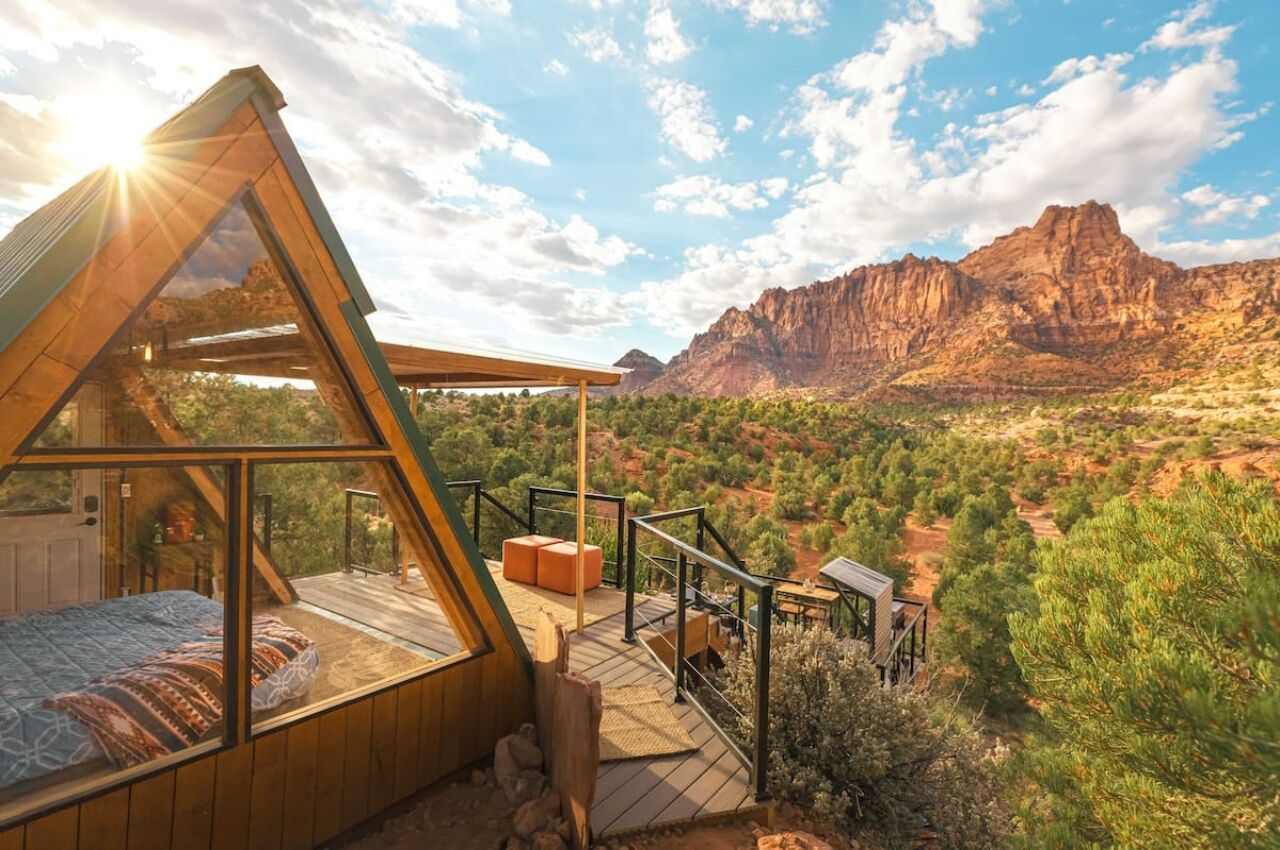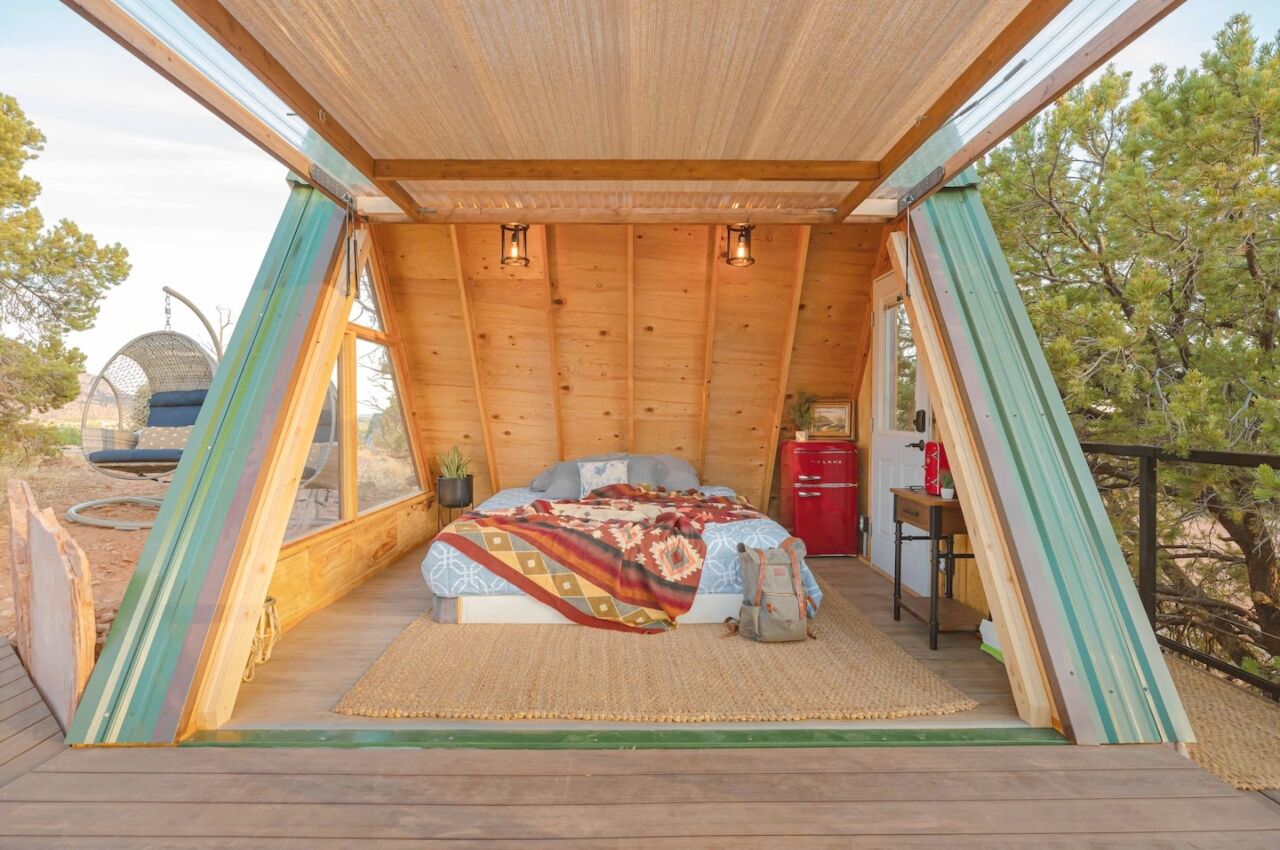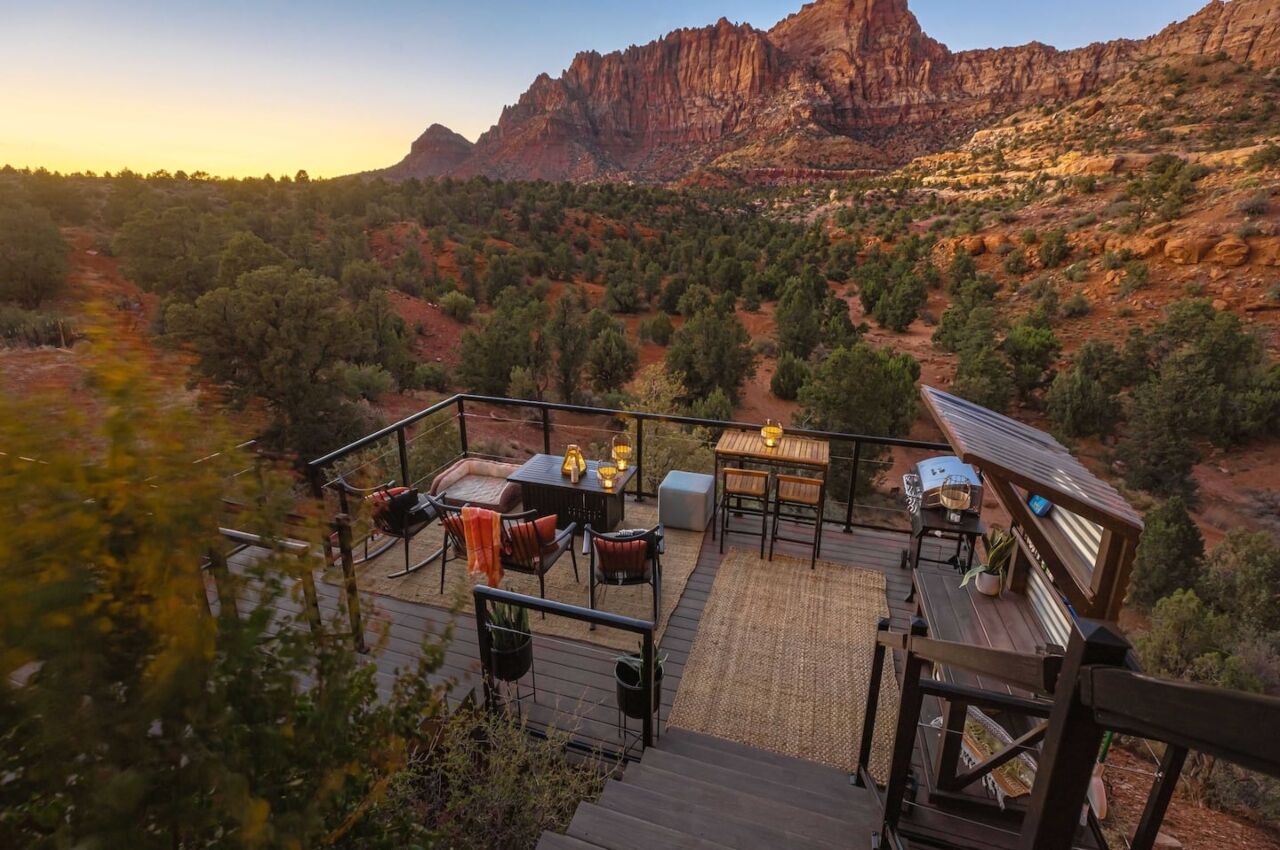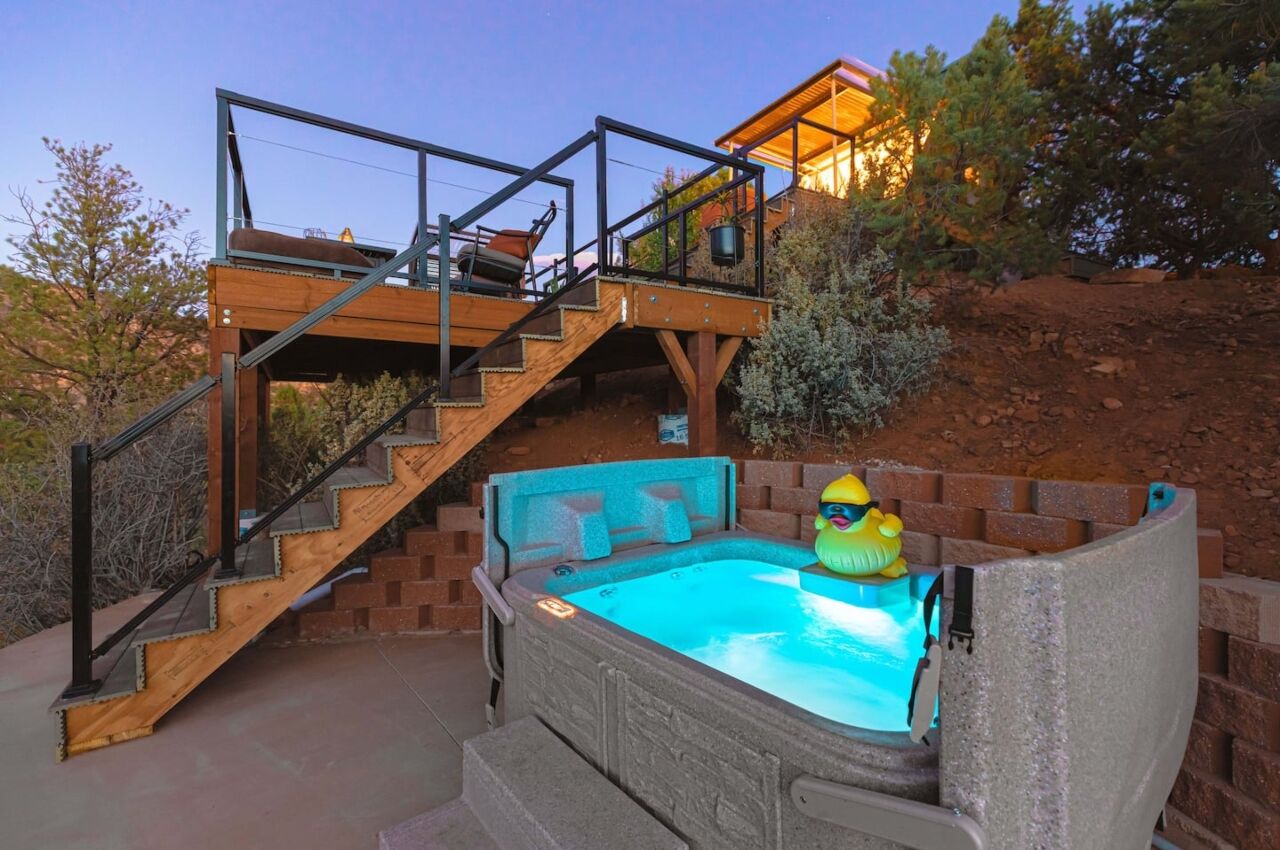 Another perfectly secluded cabin for those looking for more of a serene scene with peace. If you're someone taking a solo trip and looking for the perfect remote cabin this peaceful cabin may be your pick. This quaint cabin is nestled on the outskirts and has stunning views of the southern side of the Zion mountains. The place has everything one would need, like a bedroom with a queen-sized bed, a living room, and a full bathroom. The perfect experience to immerse in nature and get away from the hustle and bustle.
Two guests, one bedroom
Price: $645 per night
Taking a national parks road trip through Utah's national parks? Check out Matador's guides to the best places to stay in Utah:
5. Simple rustic cabin perfect for couples or solo travelers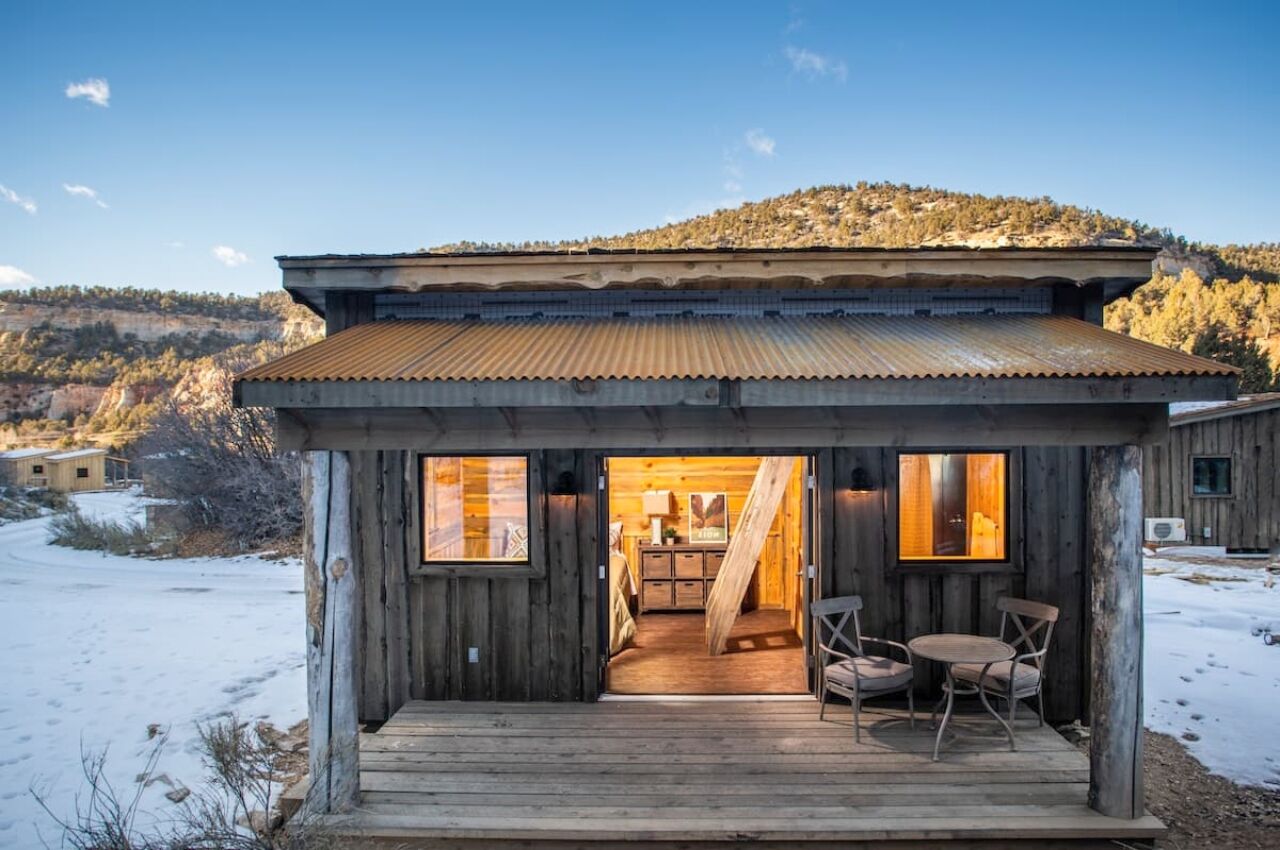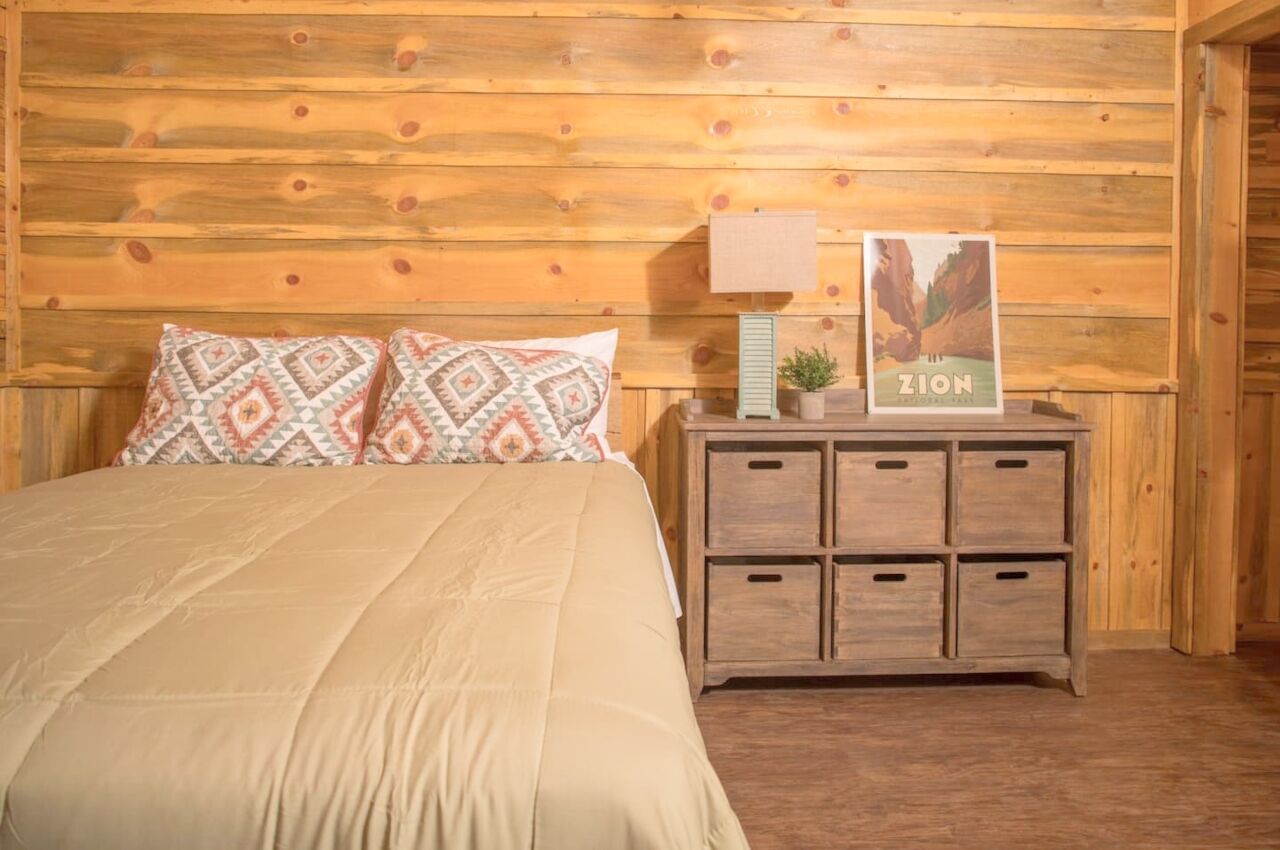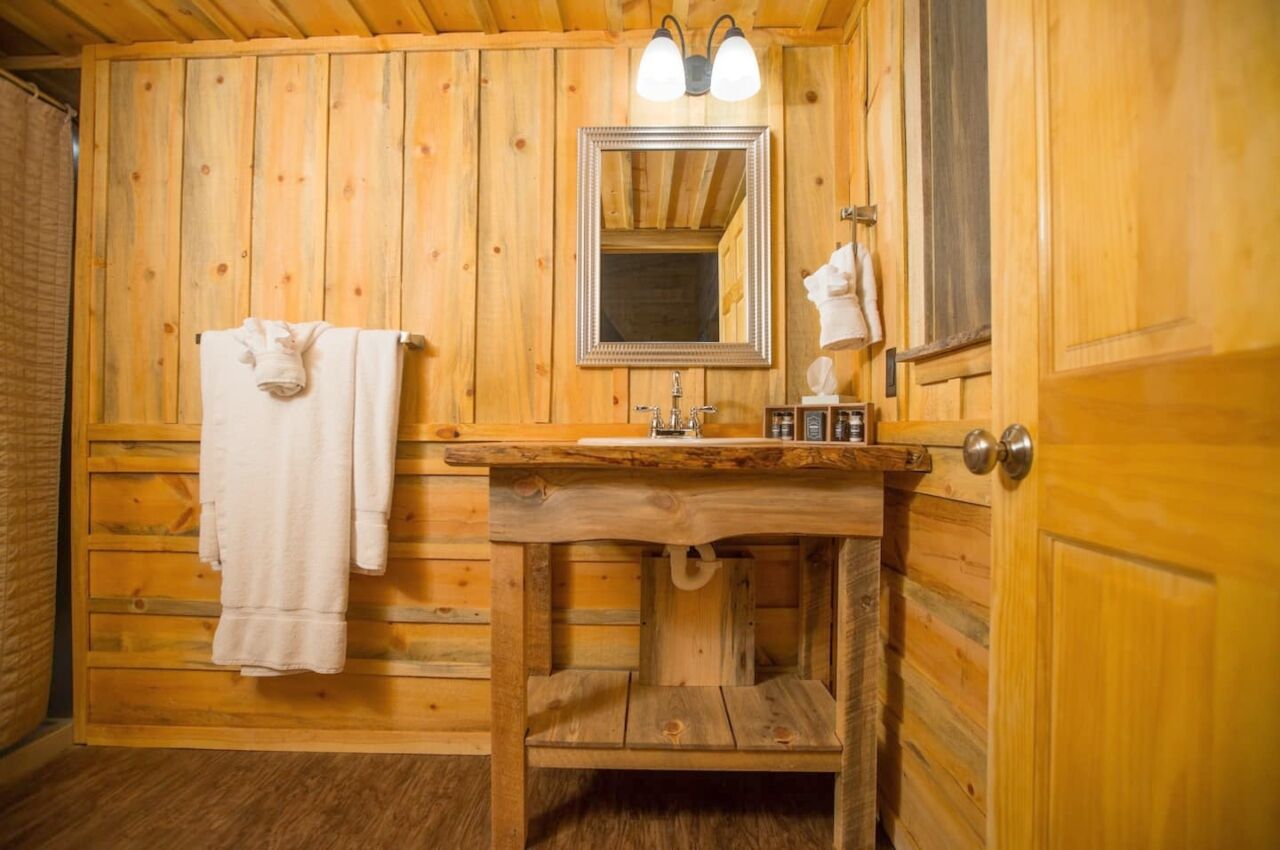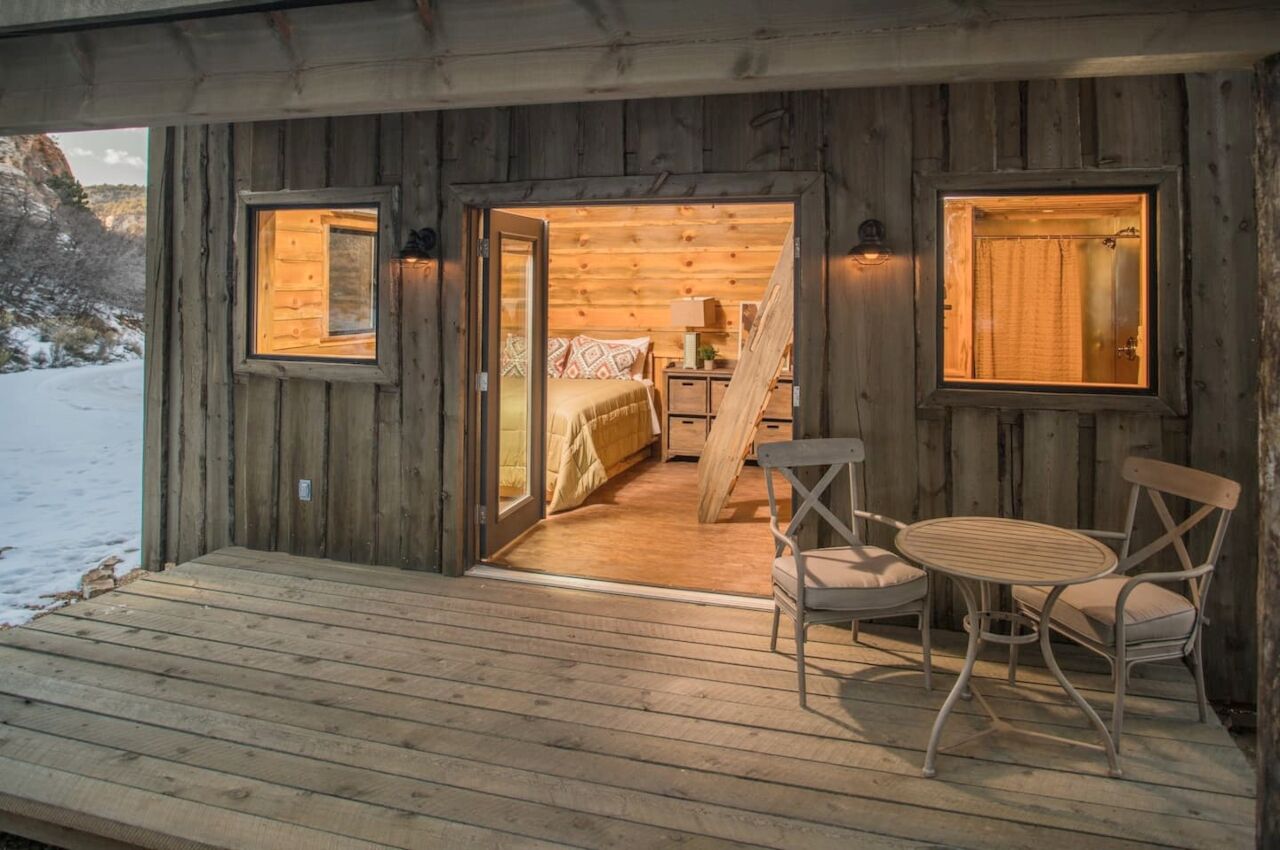 Welcome to this cozy rustic cabin that's the perfect place for couples or solo travelers. This secluded cabin is 400 square feet and features a full bathroom, queen-size bed, a loft, and a community fire pit. Guests can also catch the sunrise and sunset on the front porch, and the cabin is only less than a mile away from Zion.
Two guests, one bedroom
Price: $185per night
6. Cozy and quaint cabin near Observation Point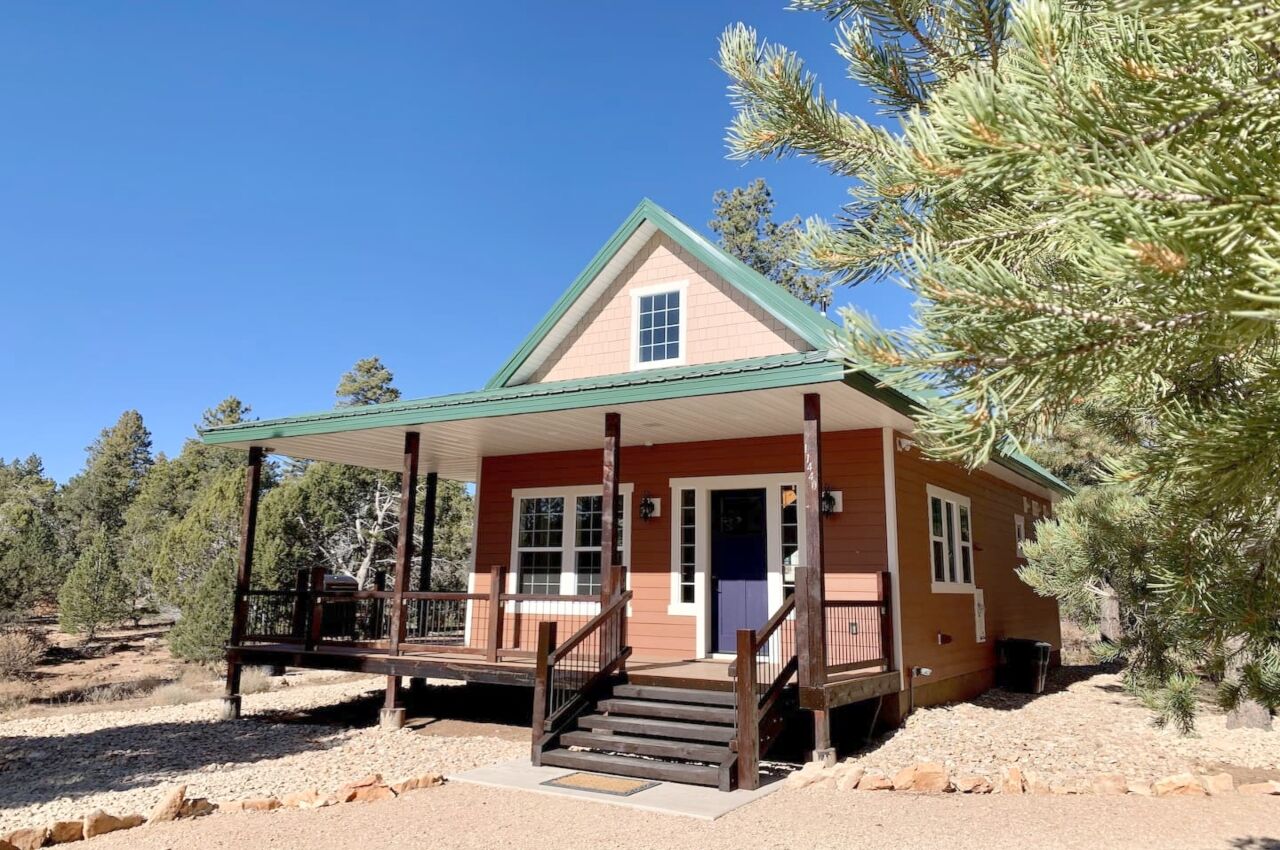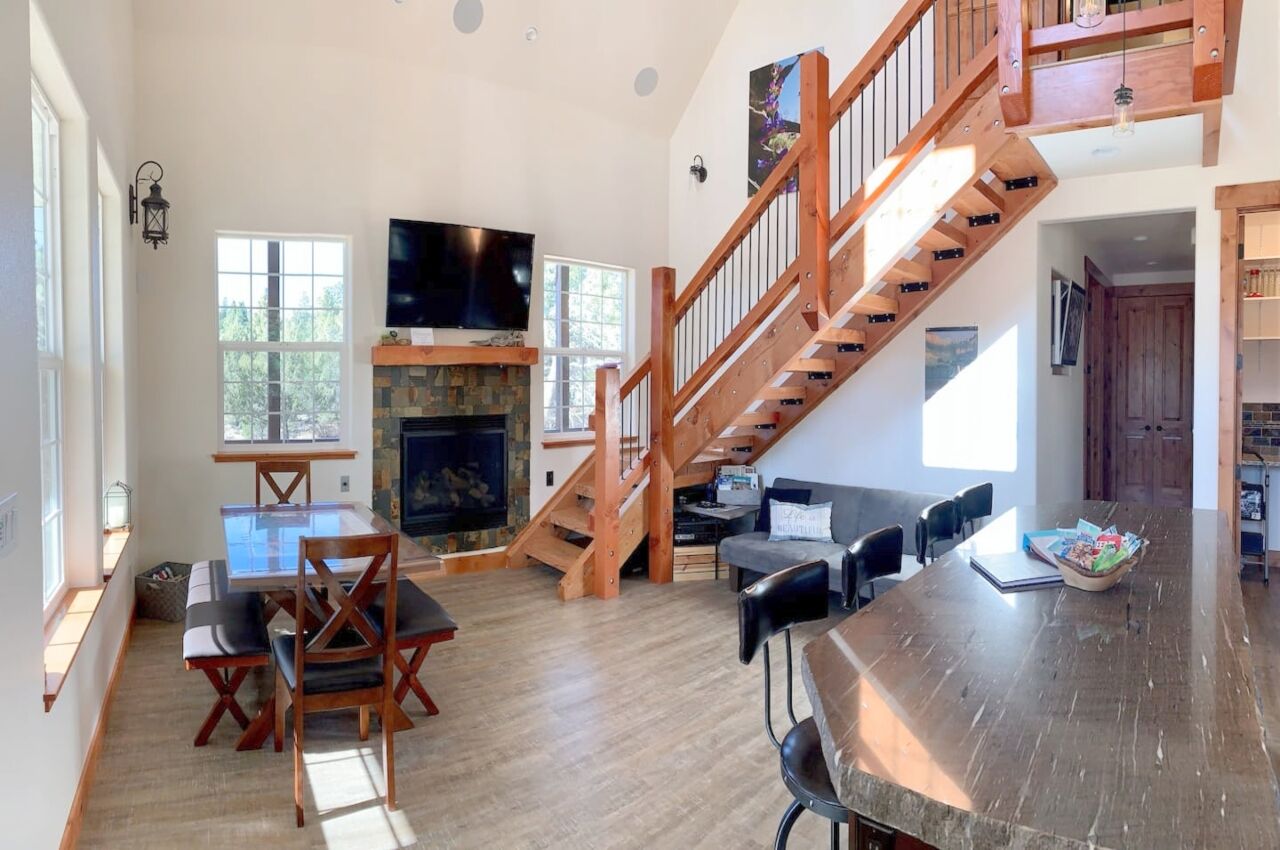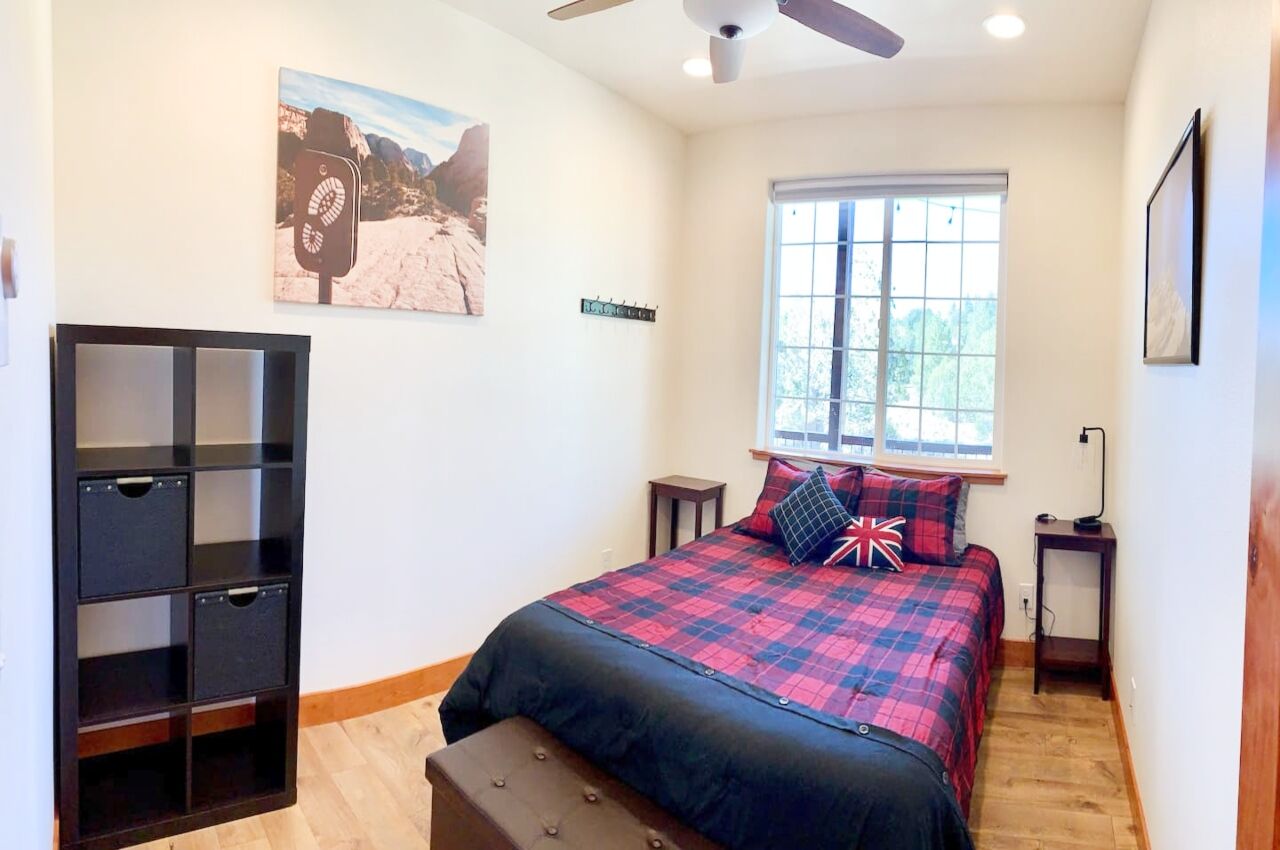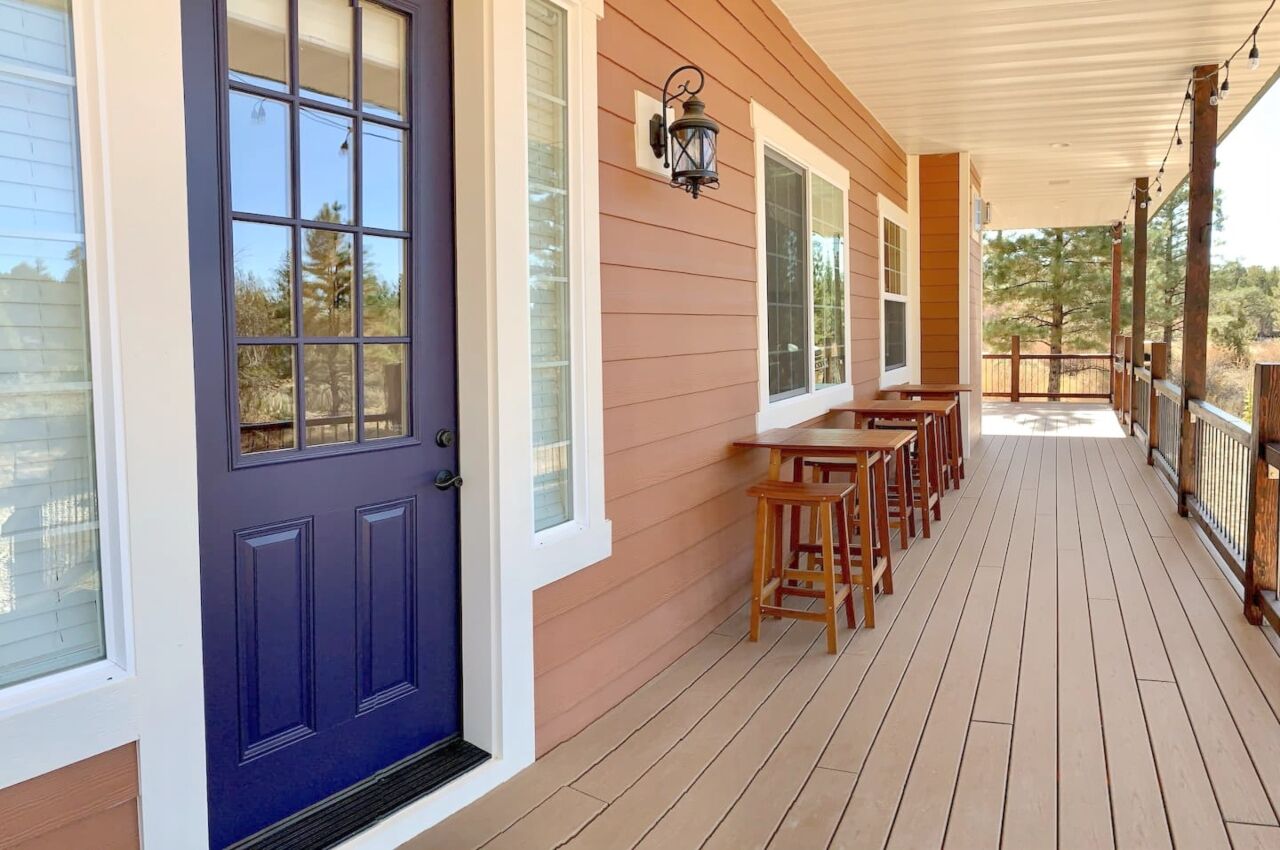 The perfect cabin that gives all the privacy that one could want. This secluded cabin is on the boundary of Zion National Park. There are two private bedrooms, a large loft bedroom, a fully equipped kitchen, and a spacious living room. If guests want to get outside, there is a wrap-around porch, a grill, and an outdoor fire pit in the backyard.
Nine guests, three bedrooms
Price: $353 per night
7. Secluded cabin perfect for biking and hiking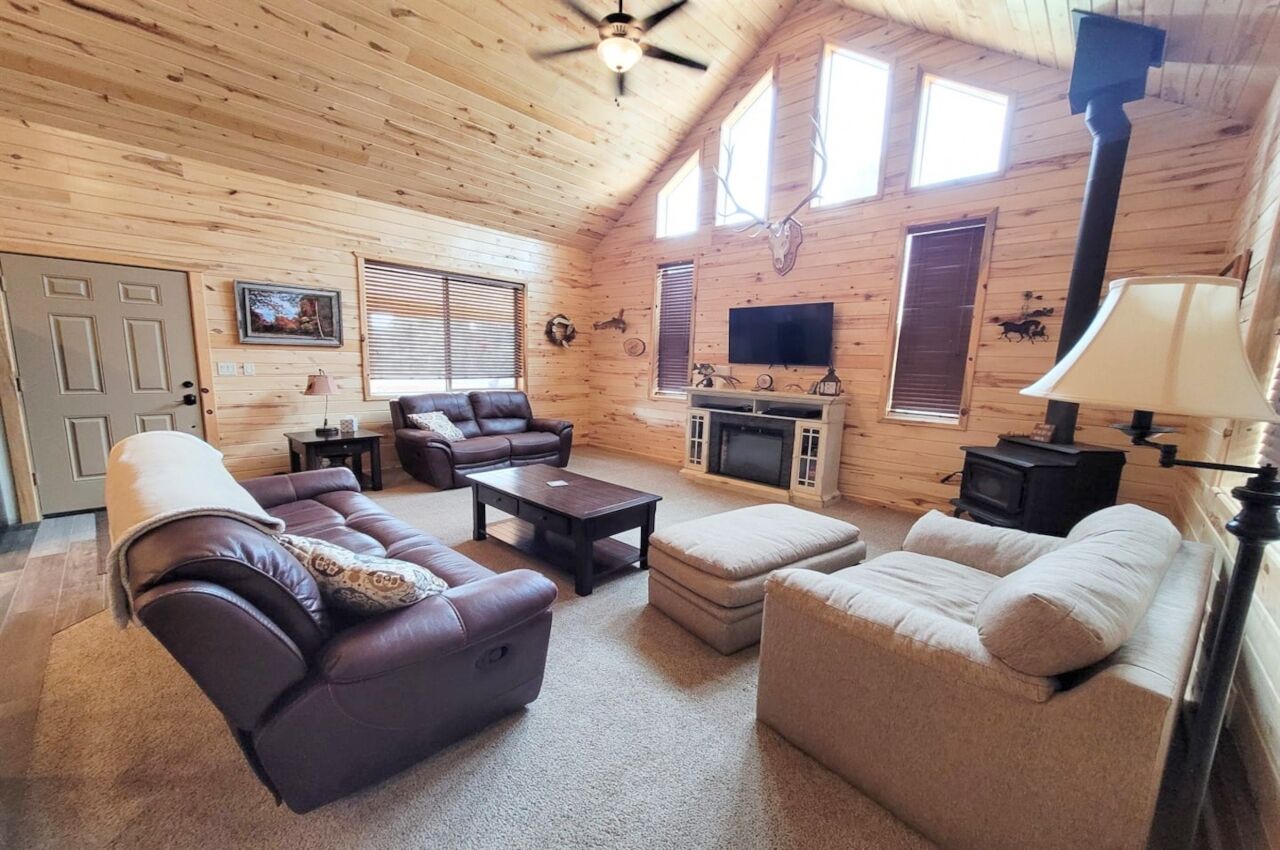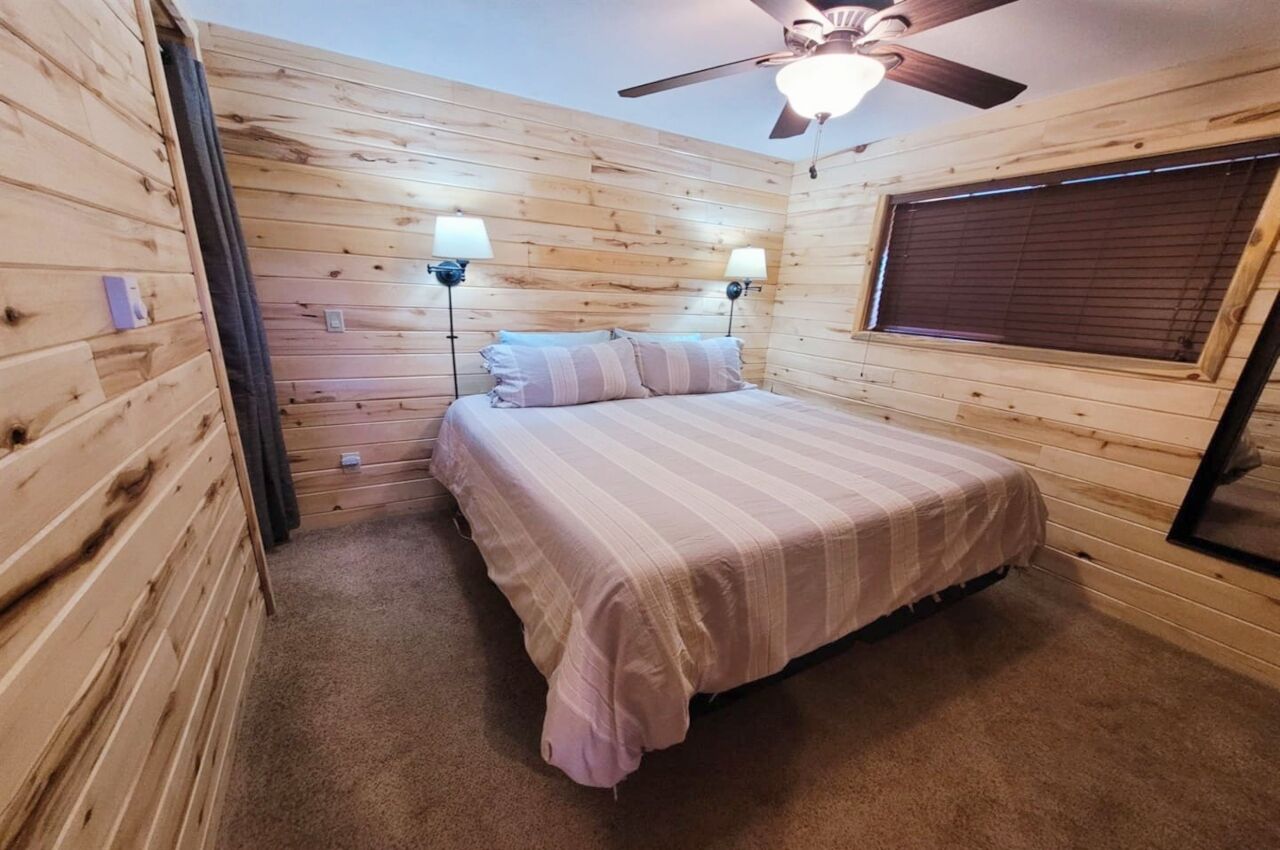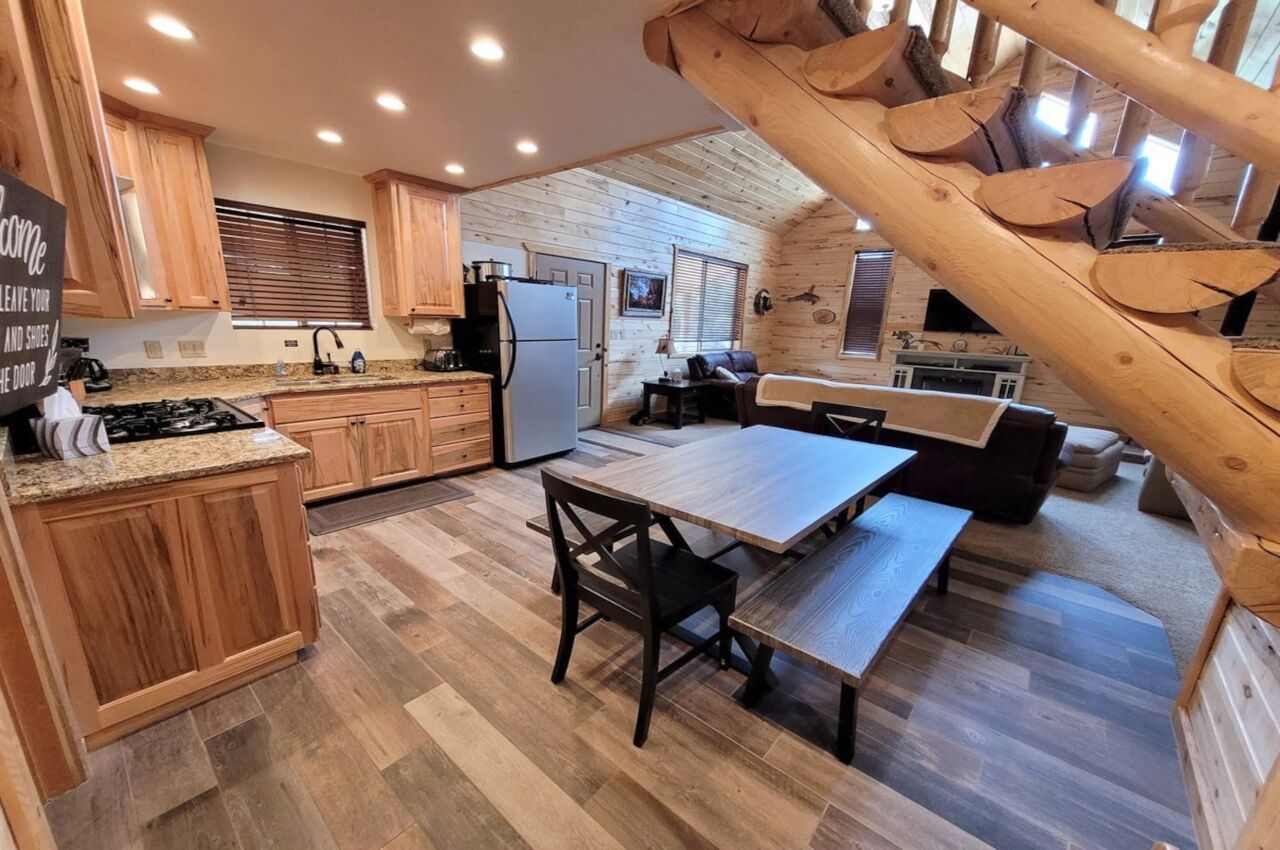 This remote cozy log cabin is perfect for a family vacation. The cottage is just 20 miles from the East Zion National Park entrance. The cabin has a primary bedroom and one other bedroom perfect for the kids. There is a front and back porch if guests would like to wind down outside, and in the back, there is a gas BBQ and a fire pit perfect for roasting marshmallows. Since the cabin is remote, guests can bike and hike to Observation Point, Table Mountain, and DeerTrap or do other sightseeing.
Six guests, two bedrooms
Price: $261 per night
8. Private and relaxing cabin within walking distance to Zion National Park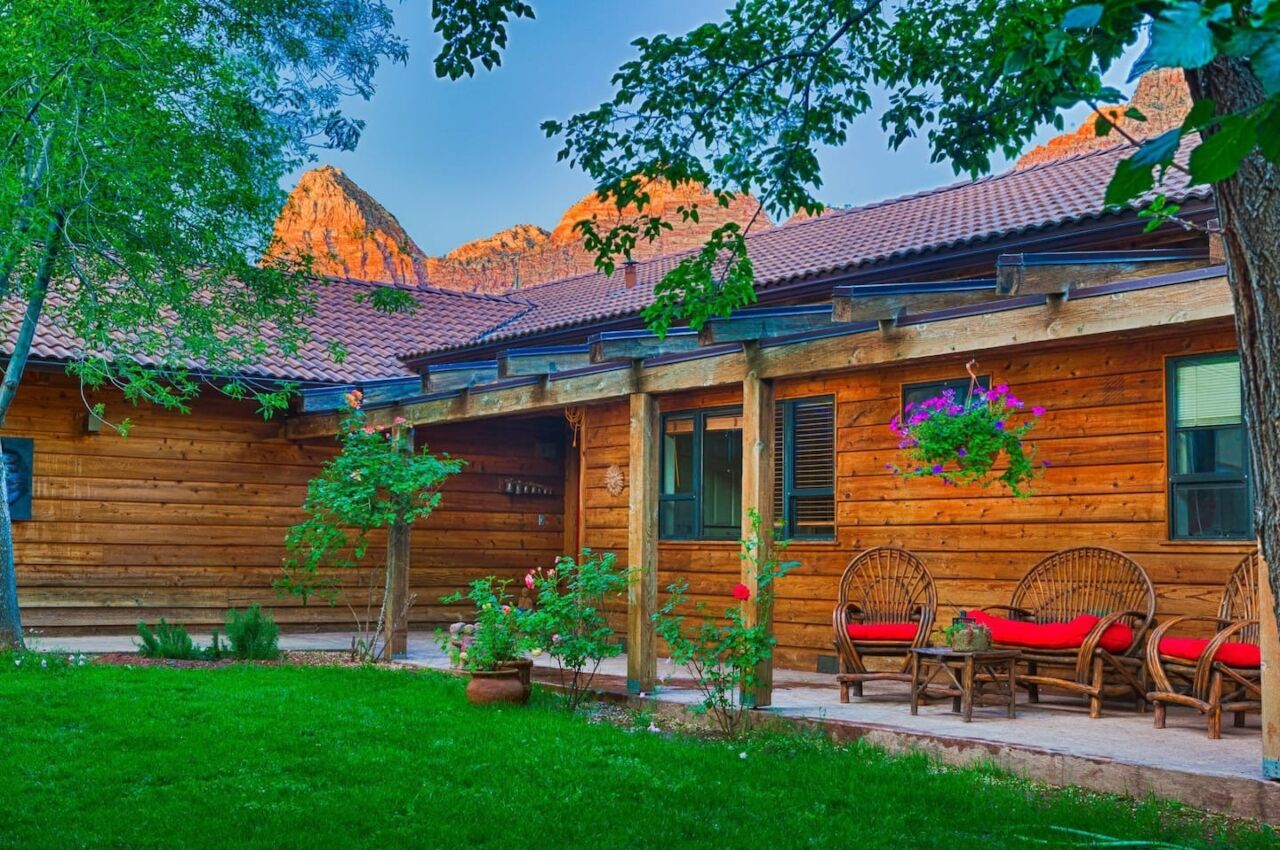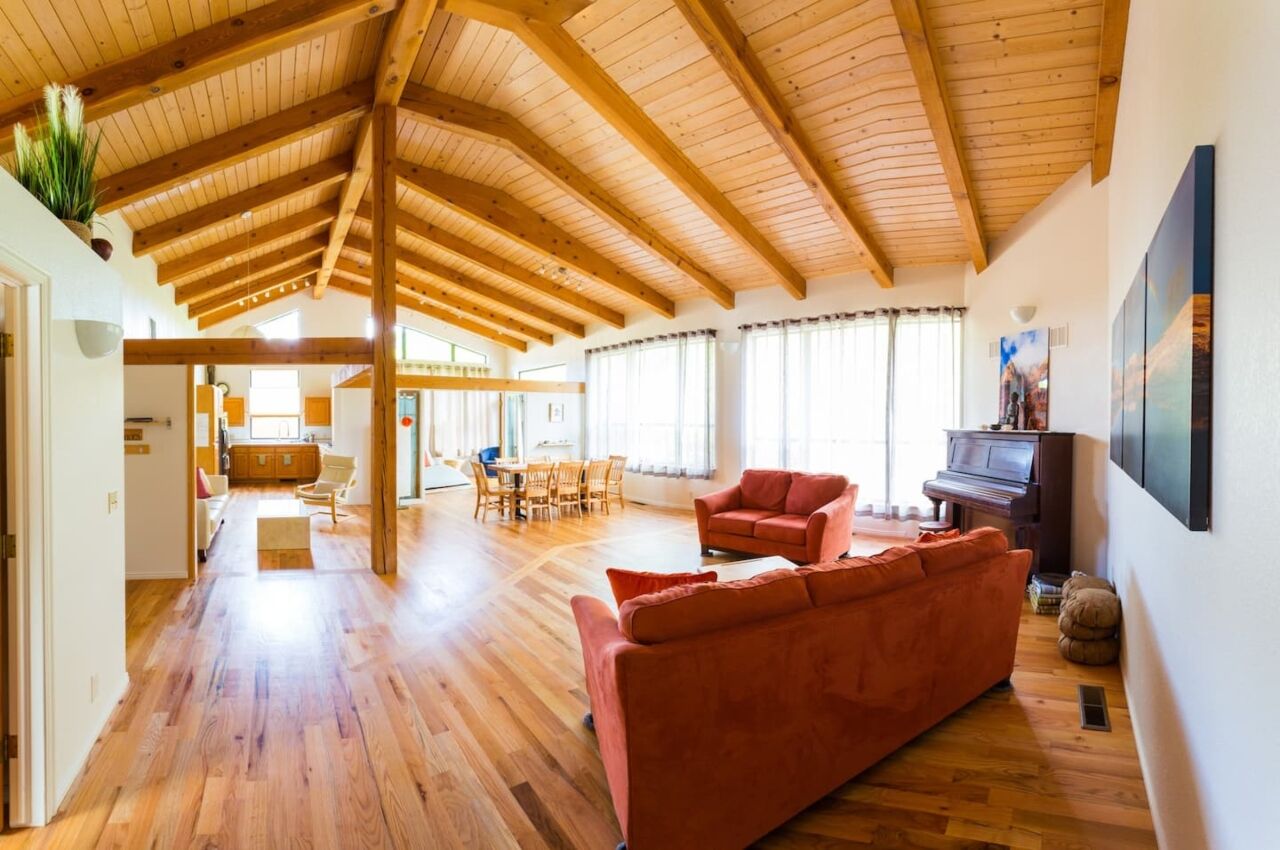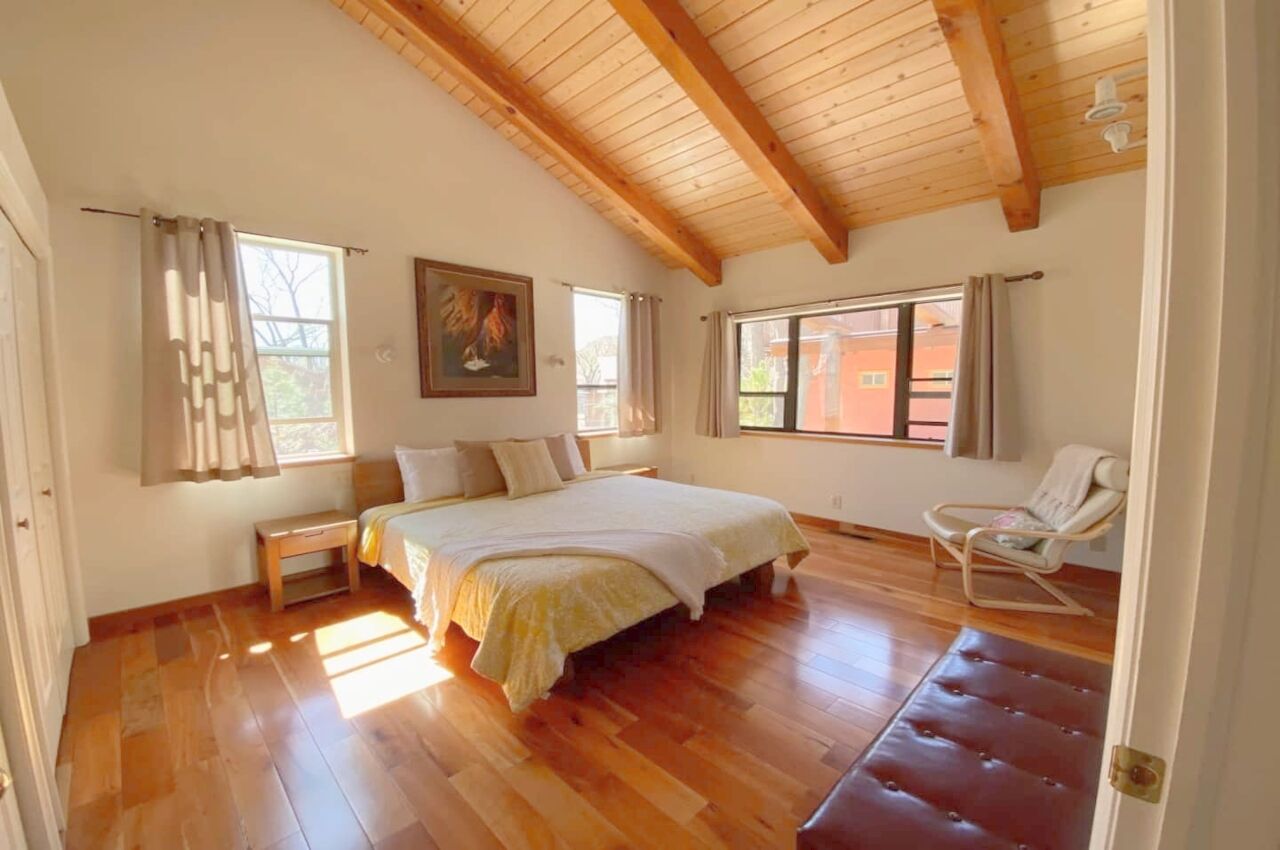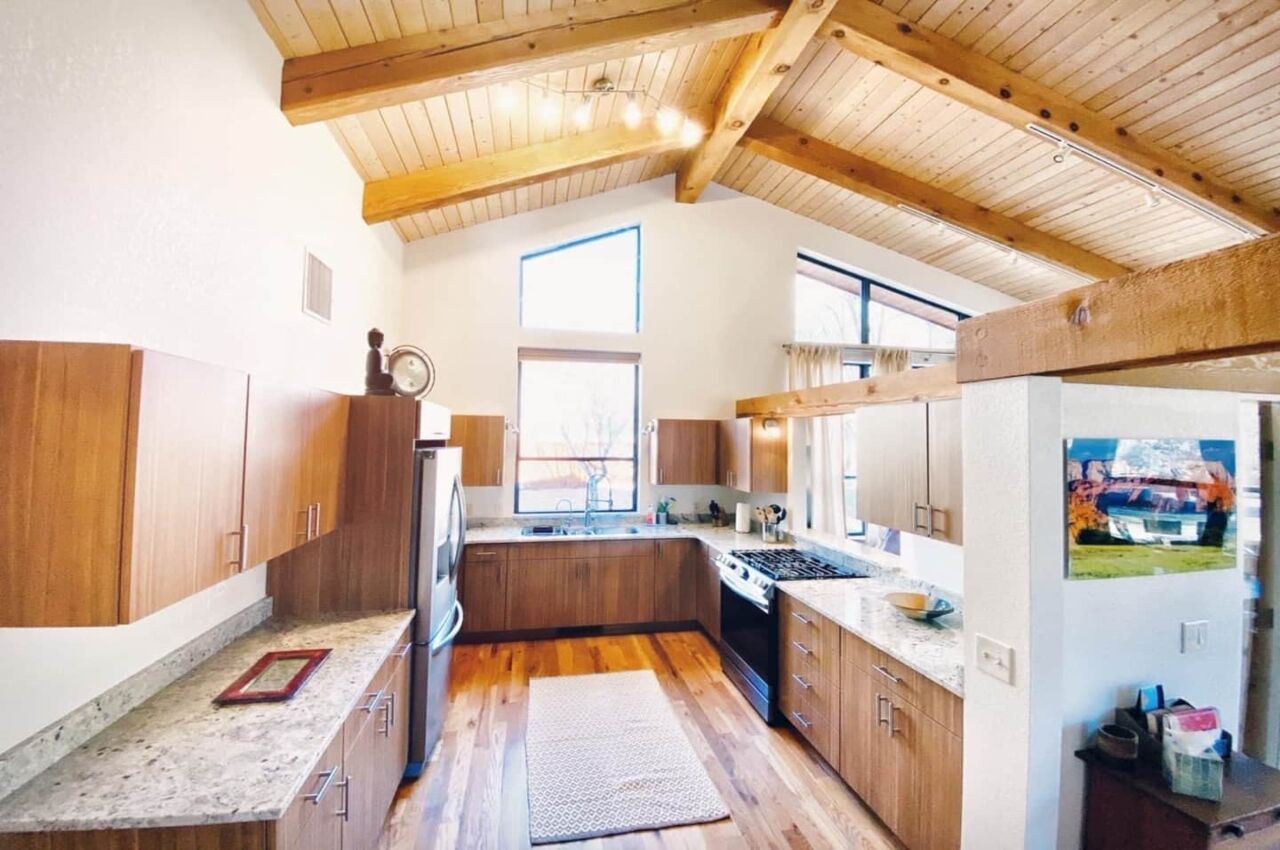 Take a vacation to a whole other level with this serene, relaxing, cozy cabin. This three-bedroom cabin has a fully equipped kitchen, an open living room with floor-to-ceiling windows, natural lighting, and spacious bedrooms. The home has fantastic views and is within walking distance of Zion National Park.
Eight guests, three bedrooms
Price: $565 per night
9. Off-grid A-frame cabin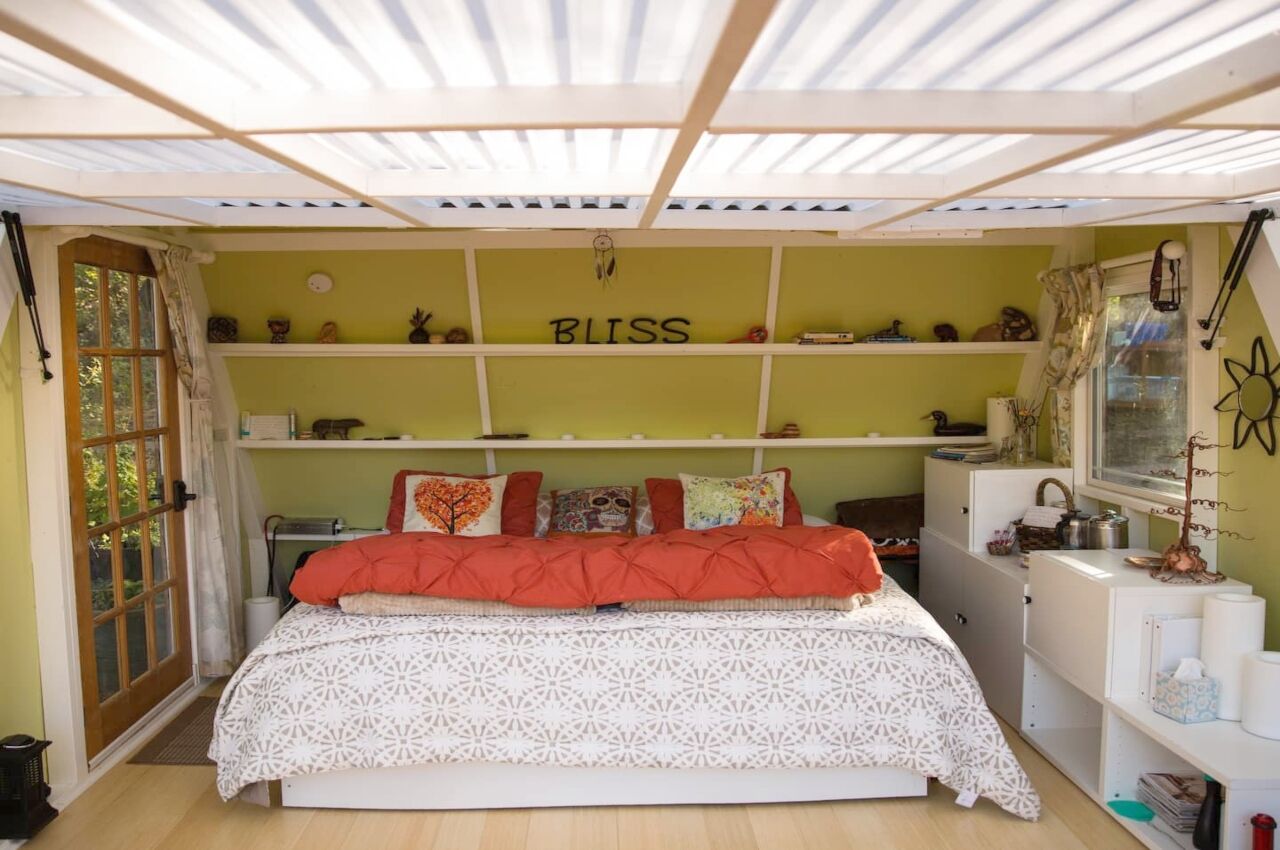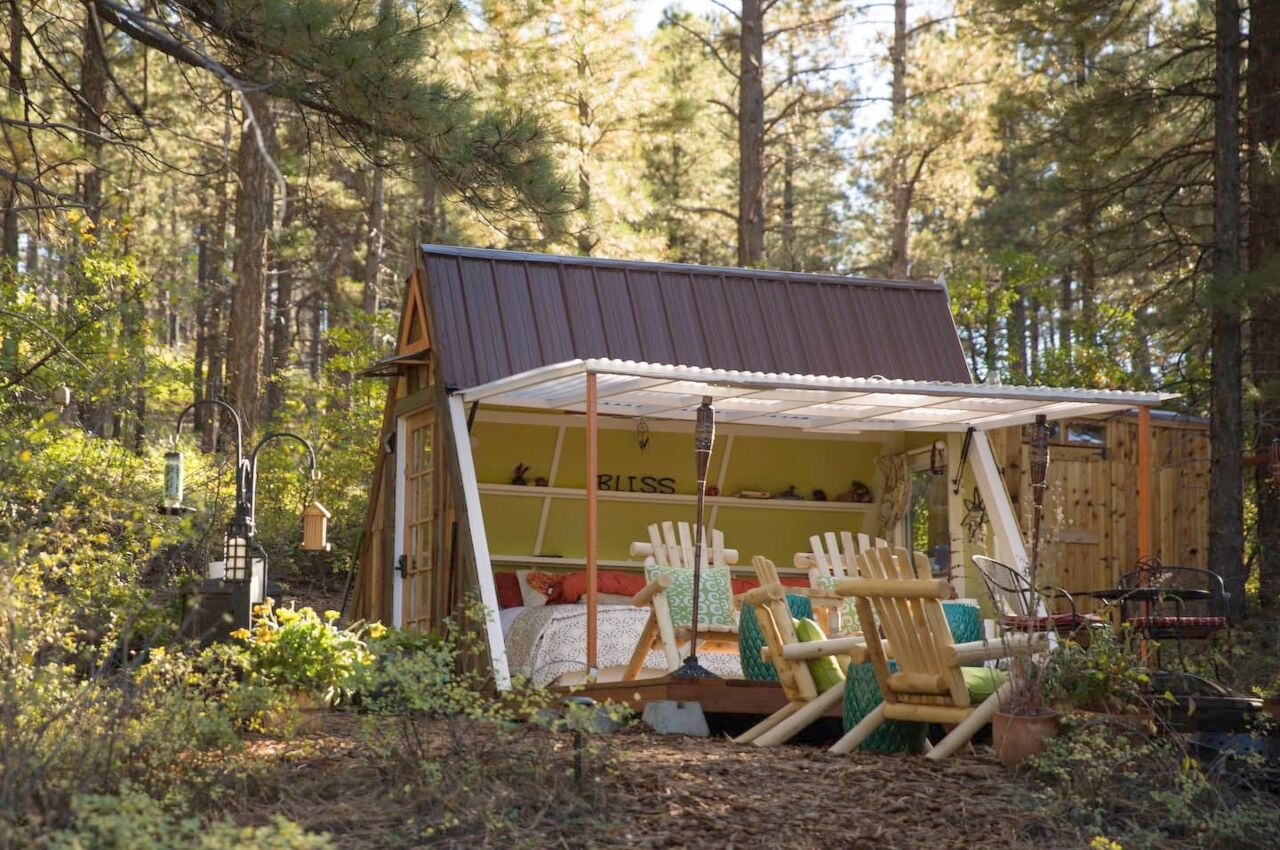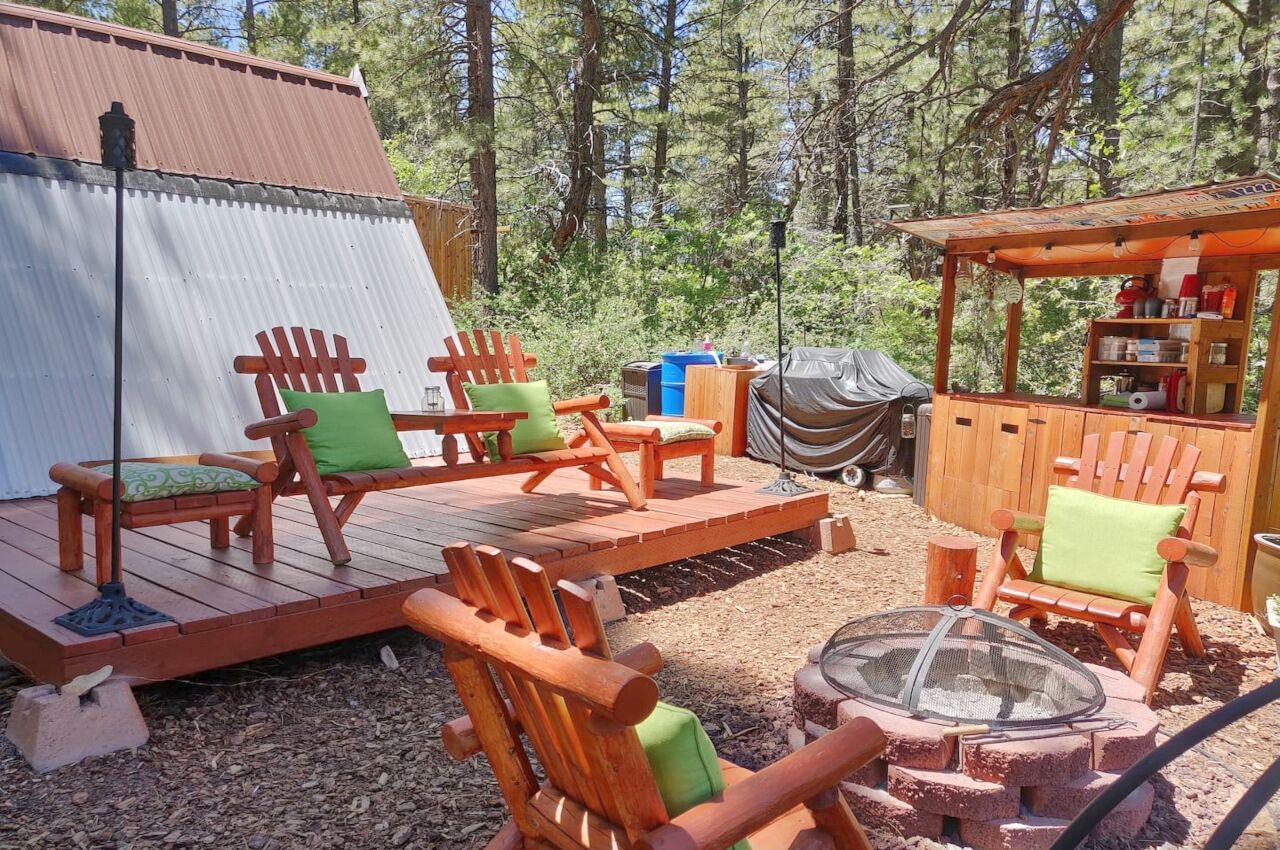 Immerse yourself into all nature has to offer at this convertible a-frame cabin. This unique, quaint rustic cabin is entirely off-grid in nature. At this A-frame cabin, guests can watch shooting stars with a 180-degree view of the sky. There are lounge chairs, hammocks, giant Jenga and cornhole boards, a fire pit, and other fun activities and entertainment. The cabin is located on the border of Zion National Park and is only 140 feet from the East Rim Trailhead.
Two guests, one bedroom
Price: $150 per night
10. Charismatic and peaceful cabin retreat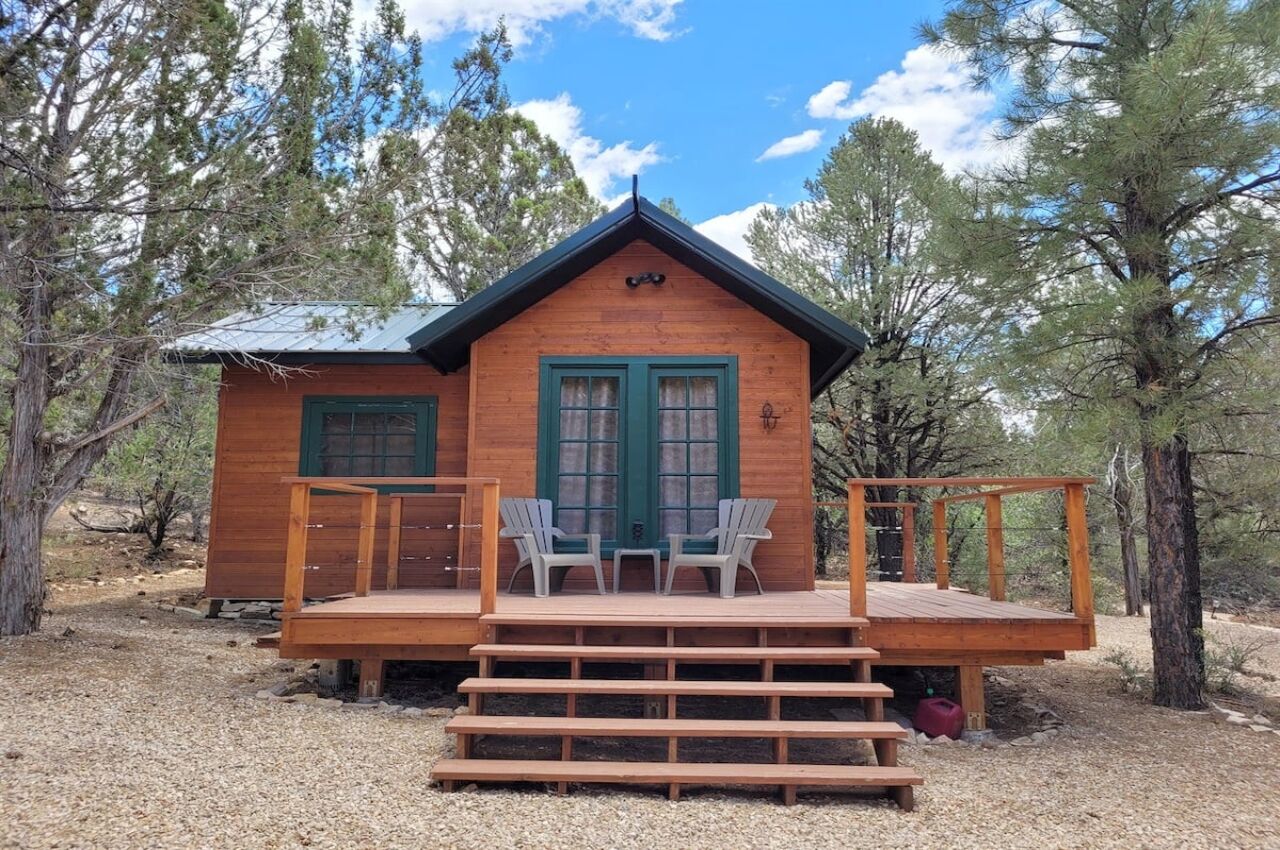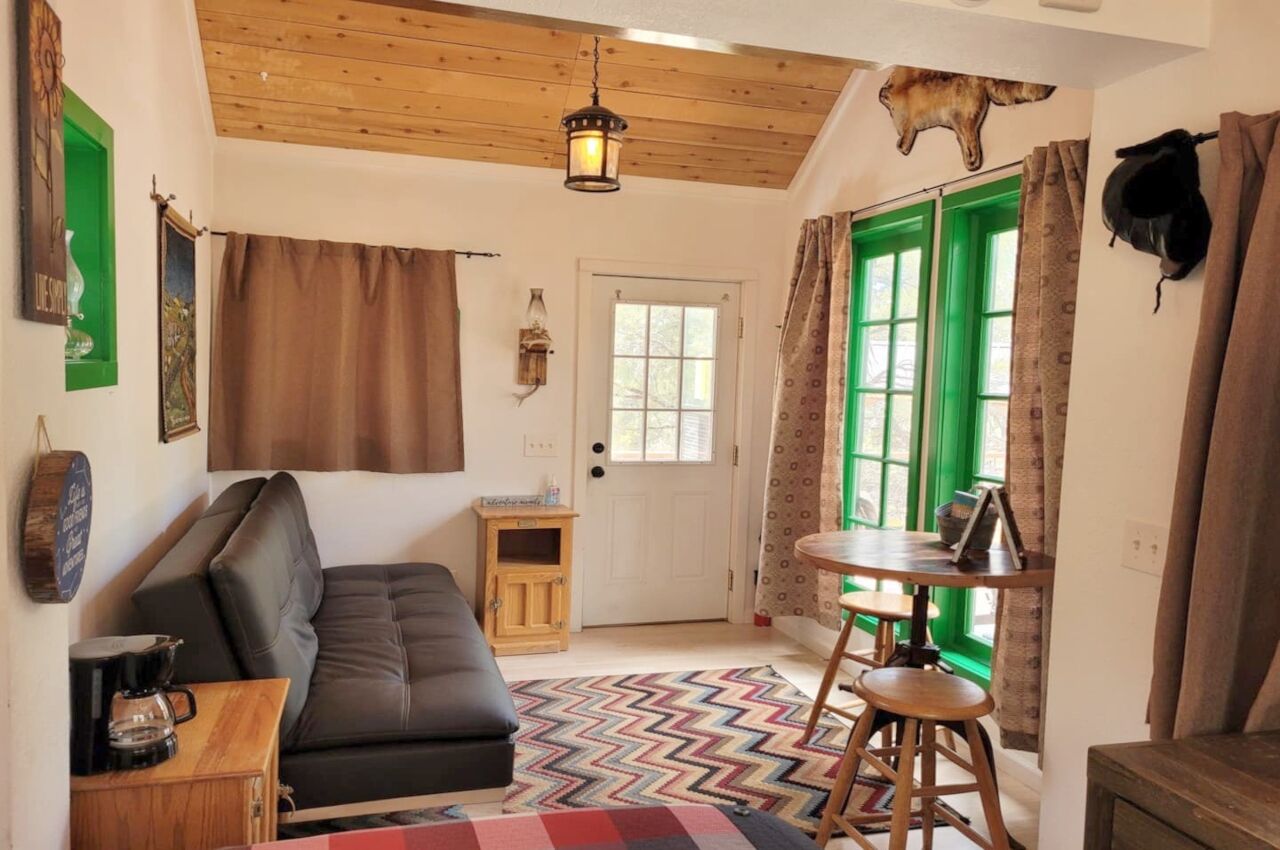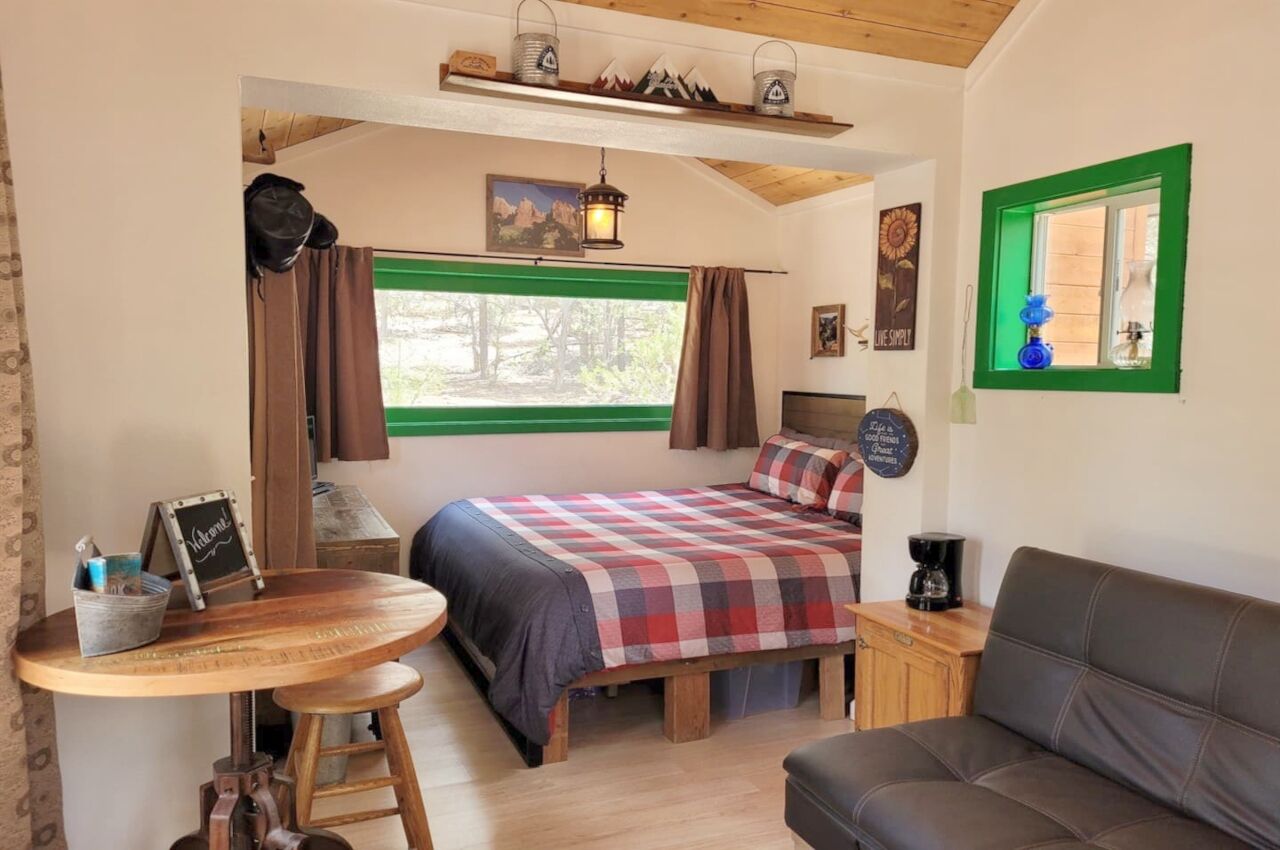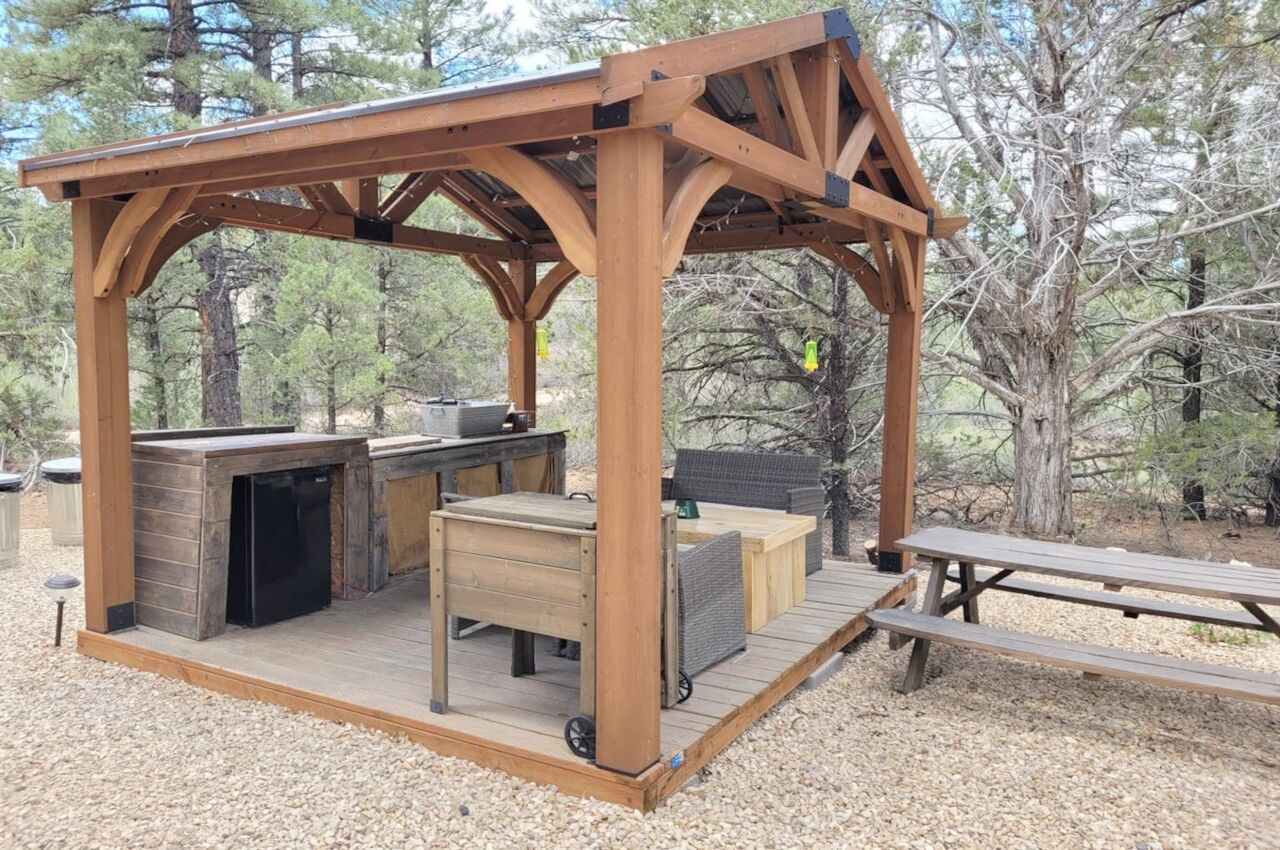 This charming and straightforward cabin offers a peaceful getaway from the busy world. The cabin features a king-sized bed, a futon, tv and also there is a covered outdoor gazebo with an outdoor sink, a mini-fridge, and outdoor seating. The cabin has a separate bathroom area and a large deck with chairs perfect for sitting out and reading a book, and also, there is a fire pit perfect for keeping warm. The cabin is located on the East Rim of Zion and near Cable Mountain and Deer Trap.
Two guests, one bedroom
Price: $209 per night
11. Fairytale themed tiny home in the middle of nowhere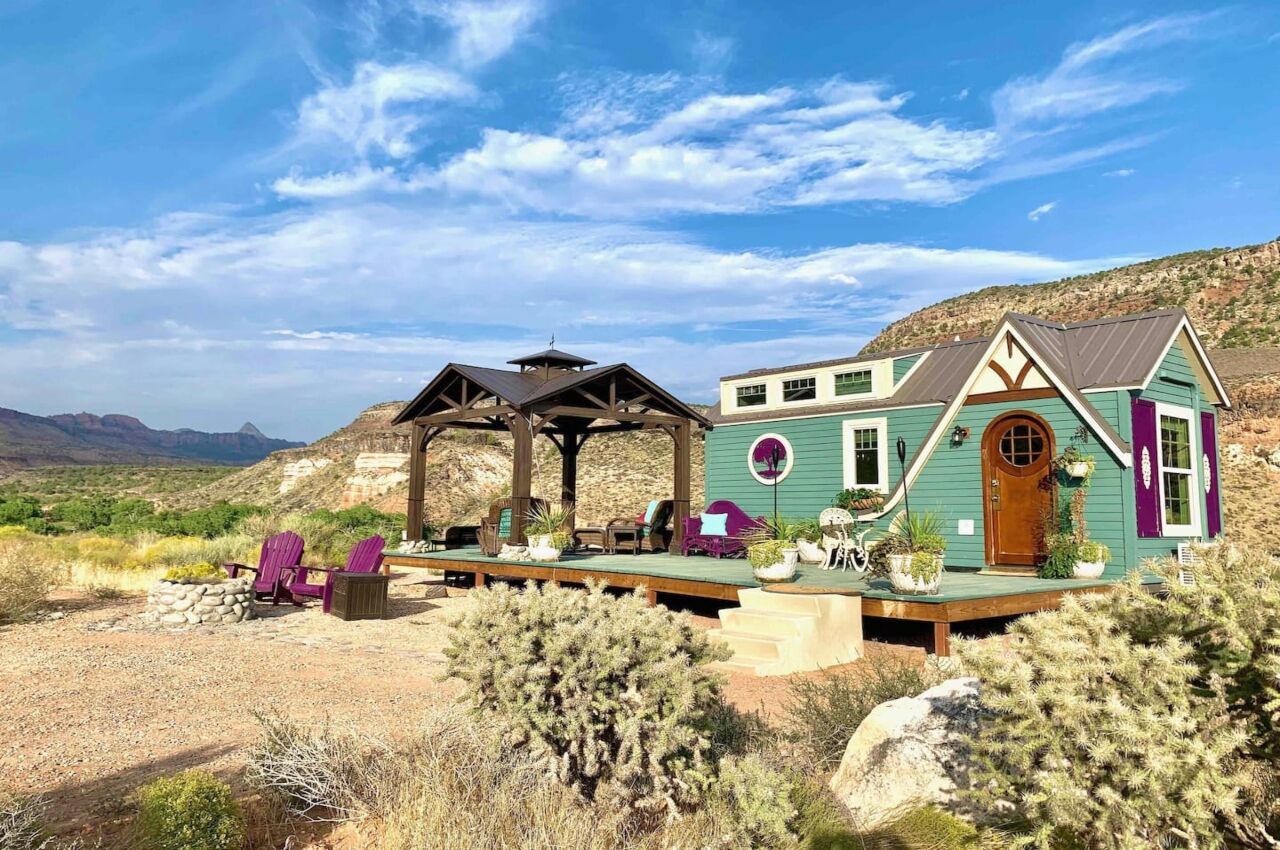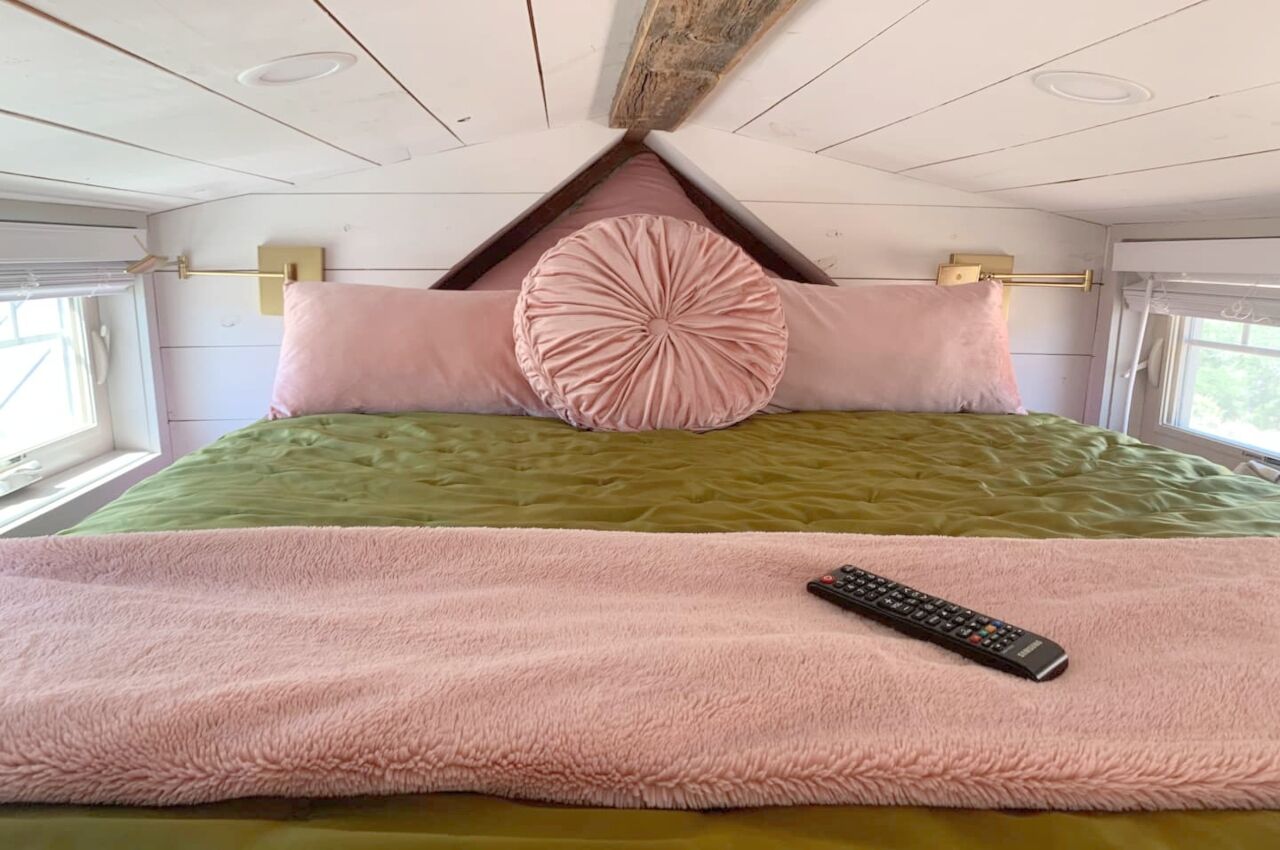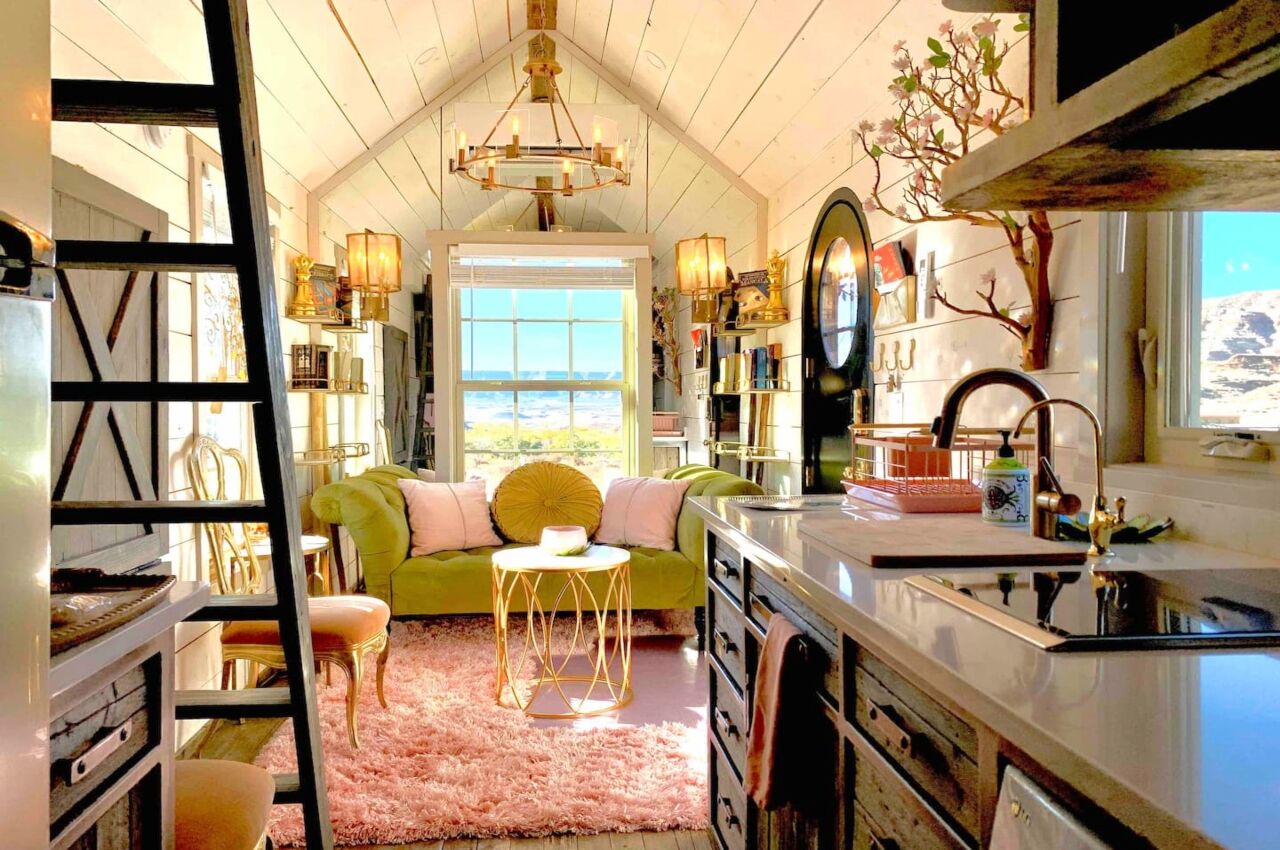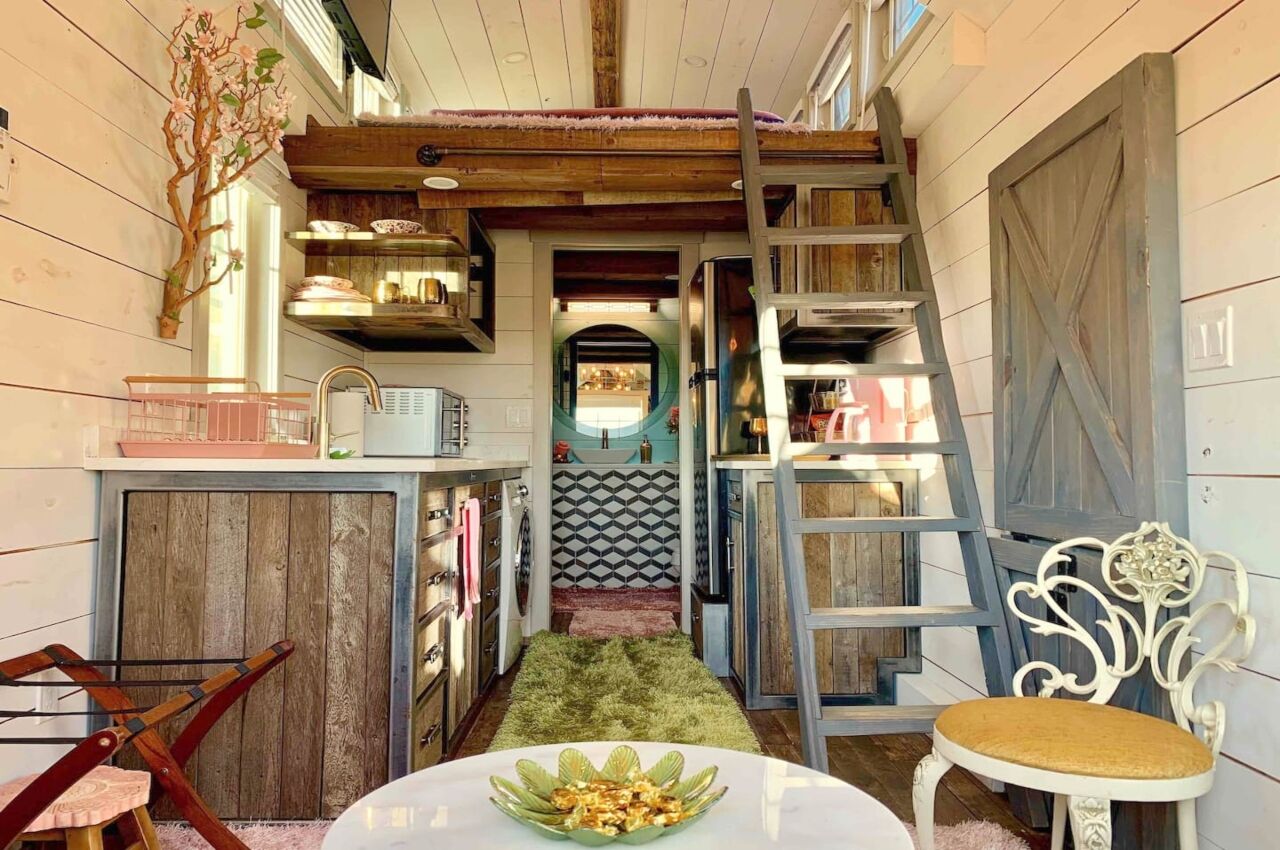 Stay at this whimsical tiny home on your next Zion gateway. Named after Mother Eve, this fairytale tiny home is the mother of tiny homes at Zion National Park. The home is fairytale-themed and equipped with a kitchen, living area, a large bathroom with a walk-in shower, and a lofted bed area. Outside is a spacious front porch area with seating, a BBQ grill, and a fire pit to enjoy those beautiful mountain views.
Two guests, one bedroom
Price: $599 per night
What did you think of this story?