in paid partnership with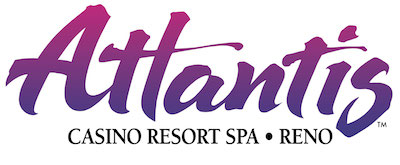 1. Tear up Tahoe's slopes
Nevada isn't all desert and neon lights. Tahoe's slopes make for some of the best skiing and snowboarding in the country, and some of its hills — reaching up to 10,100 feet — often stay open as late as May.
The Tahoe area has one of the highest concentration of ski resorts in the world, and the Atlantis Casino Resort Spa has ski packages for eighteen awesome hills within an hour of Reno. Making the most of all that powder really doesn't have to break the bank, either — a night at the resort combined with a day pass for Boreal Mountain Resort runs from $89 per person. Cut your latte habit for two weeks and you're there.
2. Have the ultimate spa day
You'll find Northern Nevada's only Forbes Travel Guide four-star luxury spa at the Atlantis, where 30,000 square feet is dedicated to whirlpool spas and giant pools, herbal steam and cedarwood saunas, tea lounges for men and women, and treatment rooms where the hardest decision you'll have to make is whether to opt for the Rasul Mineral Mud Ceremony or the Cleopatra Milk and Honey Hydration Wrap — basically a delicious cocoon. There's even a Brine Inhalation-Light Therapy Lounge — it's as close as you can get to being by the Pacific when you're four hours from the ocean.
And if you're think this all sounds pretty top-notch, you're not alone. Spa Atlantis has been voted one of the ten best spas in the world, taking the Spa Finder's Readers' Choice Award for Best Casino Spa four years in a row.
3. Learn to play a winning hand
Walking into a glittering casino can be pretty intimidating when the stakes for the only bets you've ever placed have been bragging rights. But don't sweat it just yet — at Atlantis you can master your poker face during free lessons in popular table games like three-card poker, blackjack, craps, and roulette. Might as well log the practice, since you'll get a free chip for your first real gamble afterward. Wishing you beginner's luck!
For the seasoned casino-goer, there's no shortage of options at Atlantis, either. There are 1,450 slots and video poker games, as well as over 700 penny slot machines and dozens of table games. Home to Reno's first non-smoking poker room, it's modern, too. No wonder it's been voted the best casino in the city.
4. Experience the live music scene
From Xanadu Bar to the Center Stage Cabaret Bar, the Atlantis was made for a big night out. And you won't be breaking the bank to enjoy yourself — you won't even be opening it. The nightly cabaret shows in the main casino room are totally free. Jazz, R&B, rock…whatever genre you're into, you'll find it here.
5. Check out the National Automobile Museum
If you've never seen a Phantom Corsair or a 24-carat, gold-plated DeLorean DMC-12 in real life (and Back to the Future doesn't count), this is your place.
Reno's National Automobile Museum is home to hundreds of historic vehicles from the 19th and 20th centuries. From the 1949 Mercury that James Dean drove in Rebel without a Cause to Elvis Presley's and Frank Sinatra's old wheels and the USA's winning entry into the 1908 New York to Paris auto race — the 1907 Thomas Flyer — there's a lot to see across the museum's four galleries.
Tip: Stay at the Atlantis on the National Auto Museum Package and you'll get free entry to the museum with your stay in the Luxury Tower. And yes, the Luxury Tower is as swanky as it sounds.
6. Get spirited while you dine
Don't expect simple wine and food pairings at Spirited Dining events at the Atlantis. Seasonal dishes matched with Scotch whiskies, tequilas, or Taittinger Champagne are served at these monthly multi-course dinners, and new combinations you've definitely never tried before are always front and center.
Highlights to keep an eye out for? April marks a celebration of Scottish and American whiskies, and July showcases Fortaleza Tequila — quite possibly the best way to welcome the summer.
7. Live it up in luxury
When your Reno home base has floor-to-ceiling windows that look out across the Sierra Nevada mountains, you really won't want to leave. That's totally okay. Stay in the Executive Jacuzzi Suites or the Jacuzzi Suites at the Atlantis and you'll get personal butler service as well as your own Jacuzzi bubbling away in the bedroom. So slip on that cozy complimentary robe, crack open the mini bar, and order some room service. If anyone asks, say it's what the doctor ordered.
8. Hang out by the pool. All. Year. Round.
With more than 300 sunny days a year, Reno is one of the sunniest spots in the country. It's a city made for long, lazy days spent by the pool guilt-free. And for those rare, cloudy days? The Atlantis is the only Reno resort that has both indoor and outdoor pools, so whatever the weather, you can always be poolside — whether it's a day by the outdoor pool bar or chilling on a lounger inside. And if ever gets truly chilly, you can always head back to your Jacuzzi suite…
9. Eat your way around the world
With eleven places to eat or drink at the Atlantis, you're more likely to run out of vacation time before you run out of food options. The 28-day-aged prime cuts at the Atlantis Steakhouse are a Reno go-to, and the Sky Terrace Oyster Bar is one of the best places to eat in the city. And then there's nine others.
Vegetarians and vegans don't have to worry about limited options, either — no lunches of soup crackers paired with a celery stick here. At Bistro Napa, where the focus is on fresh, organic ingredients, the stuffed Japanese eggplants with goat cheese and wood-fired artichokes are a must-order. Then there's the fresh vegetarian pizzas and pastas at Café Alfresco, tempura green beans and avocado-filled veggie wraps at the Purple Parrot, made-to-order veggie rolls at the Sushi Bar, and the ever-fresh spring vegetable risotto at the Atlantis Steakhouse. Safe to say if you're bored eating here, it's on you.
10. Be part of the arts
Reno is the unofficial gateway to Burning Man, so its thriving arts and alternative culture shouldn't be a surprise. From vintage stores like The Nest to gigantic artists' spaces like The Generator, there's hints of Burning Man culture here year-round.
The Explore Art Package at the Atlantis includes free entry to the acclaimed Nevada Art Museum, so you can spend an afternoon wandering through exhibits that include anything from contemporary art by Petah Coyne and Michael Heizer to art collections inspired by and straight out of the American West. The permanent collection covers four stories and contains more than 2,000 works of art from the past three centuries. Reno definitely isn't just about desert and neon lights (but those are awesome, too).