in paid partnership with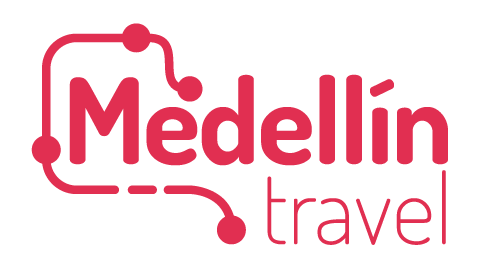 1. You may have been mispronouncing its name.
Rather than saying Medellín like "meddling," the two ls are actually pronounced like a j. Try it: Me-de-jin.
2. The beach look doesn't work here.
How to spot a foreigner? They're the ones in vests, shorts, and sandals, stroking their beards in confusion on the metro. While Medellín's climate typically means crisp blue skies and bright sun (this is the City of the Eternal Spring, after all), you'll still want to ditch the beach wear and dress like a Paisa, as locals are called. To deck yourself out in stunning dresses, flowing skirts, or slick shirts, check out the independent boutiques on Vía Primavera.
3. When it comes to soccer, color matters.
Rivalries don't get much fiercer than the one between Independiente Medellín and Atlético Nacional. The two teams share the same stadium but split residents' loyalties, so think carefully before declaring yourself rojo (red, for Medellín) or verde (green, for Nacional). Future friends, acceptance into a bar, or even a future spouse might depend on it.
4. August is blooming great!
Medellín bursts into color and life during the Feria de las Flores flower festival. While street parties, antique car shows, and late-night concerts enthrall the throbbing crowds, a nearby town offers a unique insight into the main parade.
Santa Elena, 40 minutes from Medellín, hosts demonstrations on making a flower display called a silletero. During the celebration, locals strap these wooden frames — festooned with flowers and often weighing as much as 120 kilos — to their backs and walk down to the center of Medellín as a reminder of how people transported goods through the steep roads of the country. These tradition began in 1957 and in 2014 it was declared National Cultural Intangible Heritage by Colombia.
5. Narcos is almost as phony as the show's Paisa accents.
Yes, Netflix's hit series entertains, and it's brought the city into the limelight once again. The problem lies with the historical inaccuracies that lead visitors into thinking everything in the show portrays reality. Real City Tours owner Pablo Alvarez Correa set up his free walking tours to "show a different side to Medellín." It's definitely worth joining this four-hour journey through the city center, to Fernando Botero's famously disproportioned bronzed statues, and to El Laboratorio de Café for what might be the best fresh-brewed coffee in the city.
As for Brazilian actor Wagner Moura's Pablo Escobar accent? Well, as one commentator put it, "Imagine Sherlock Holmes played by a Frenchman."
6. Paisas welcome you like a member of the family…
Staying with locals not only allows you to practice your Spanish and learn Antioquia customs, you immediately become part of a Paisa family. Upon first meeting, expect your hosts to offer you arepa cornbread, and then ask why you chose Medellín to visit and what you like most about their city. They'll then put an arm around your shoulders because "aquí, somos una familia" — here, we are family.
7. …and their greetings can go on, and on, and on.
Phone call or face-to-face, the number of greetings available to a Paisa can seem endless.  From the most common "¿cómo estás?" to the local ¿bien o qué?" or "¿sí o qué?" — literally "yes or what?" — greeting someone three or four minutes into a conversation is normal here.
8. Paisas love small talk…
Paisas have an infatuation with adding -ito/-ita, -cito/-cita, or -ecito/-ecita to the end of a word, making it diminutive and a smidgen cuter. And while nothing changes — a cafécito is often no smaller than a café — I say embrace the local lexical twist the next time you head to a fondita with an amiguito to have a comidita.
9. …but words aren't always necessary.
Wondering why locals pout their lips in a certain direction? They're indicating where something is. Why is she patting an imaginary dog? She wants you to come over. Why is he chopping his neck with his hand? He thinks the price for this drink is too expensive!
10. There's more to Medellín nightlife than Parque Lleras.
The problem with heading right to a city's most popular nightlife spot is…everyone goes there. Medellín's glitzy tree-shrouded park draws an ever-growing international crowd, meaning an evening of speaking only Spanish seldom occurs.
Instead, mix with locals on the salsa-filled streets of Laureles and in steamy El Tibiri. Carlos E. Restrepo offers an alternative vibe for grabbing a coffee (try Ciudad Café), while downtown Parque Periodista throbs every Tuesday with live salsa music at El Eslabón Prendido.
11. Parks aren't actually parks…and that's totally fine.
Call me a traditionalist, but for me parks host throngs of kids playing soccer and cricket (yes, I'm English). And, most of all, they sprout grass. Not in Medellín. Here, parks, or parques, are squares that hold limited greenery but maximum entertainment.
Head to Parque de los Deseos to watch a late-afternoon movie, bob along to live acoustic music at Parque Poblado, or discover a beautifully renovated train station at Parque de las Luces.
12. Sundays provide the perfect detox.
Sundays in Medellín are a time to practice healthy body and mind. It's a day where many of the main streets close to cars so everyone can go cycling, skating, or jogging with ease. There's free yoga at the stunning Jardín Botánico, and the chance to gulp down an organic carrot and beetroot juice or tamale at the Telemedellín and Parque La Presidenta farmers markets.
Yes, Sundays — along with every other day of the week — are pretty excellent in Medellín.