in paid partnership with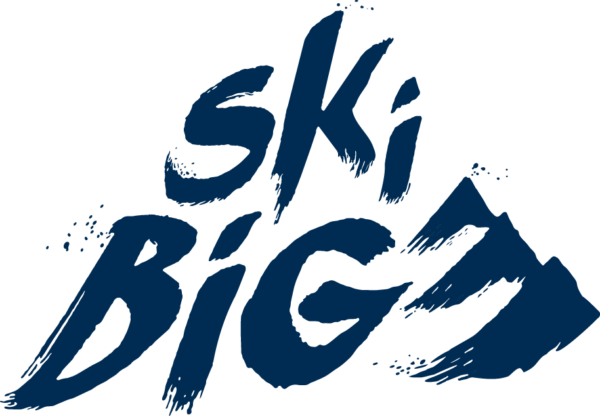 1. Carving the Continental Divide
Taking turns between British Columbia and Alberta on the Continental Divide Express at Sunshine Village is an experience. You're dipping between two provinces and have views across two incredible parks (Banff National Park and Mount Assiniboine Provincial Park) on a chairlift that's about to drop you off in the midst of the highest-elevation resort in the country.
You're looking out at the glaciated peaks and deep valleys that define the Canadian Rockies, jagged mountains in every direction, as far as the eye can see; the rivers to the west of you run through the thick forest of BC out to the Pacific, while the rivers to the east, like Banff's Bow River, head all the way through the prairies to Hudson Bay. Ski views don't come any better.
2. Finding the place where the beauty sinks in and you can just let go
When you get to the bottom of the back bowls at Lake Louise and the pitch levels out, you can sometimes hit a stretch of fresh powder to the left of the groomed trails and ride it back to Paradise chair. Floating through the fluff, effortlessly, looking up and around, the mountains all white, the sky deepest blue — it feels like a secret world made just for you.
3. Dining under the full moon at Norquay
Studded with five-star hotels and award-winning restaurants, Banff does luxury really well. And when that opulence gets combined with the kind of experience you couldn't have anywhere else, it's just about the best thing ever. Imagine drinking champagne and sharing a table with other skiers in a lodge sitting at 6,000+ feet in the Canadian Rockies. Imagine looking out at grand mountains peaks lit by the full moon. Imagine a four-course dinner prepared by an expert chef, and tucking into dishes like dashi confit duck rillette, lobster and wakame gyoza, bison and wild mushroom broth, mandarin and green tea brulee.
That's the experience you can have at the Cliffhouse Bistro on Mt Norquay. The moonlight dinner happens only twice a year (Jan 14 and Feb 11, 2017 ), so you'll want to book early.
4. Leaving DEN or SFO first thing in the morning and being in Banff for lunch.
So many US cities fly direct to Calgary — the airport's only three hours from Los Angeles, two from Denver, or an hour and a half from Seattle — and once you land you're a quick shuttle ride from Banff.
If you rent a car to get to the slopes, expect no traffic, no hairpin turns, and no mountain passes — just the wide Trans-Canada leading you from Calgary's city lights towards those rolling foothills that dip into some of the world's most staggering mountains. An hour and a half later and you're in Banff town. Look northwest — there's Norquay, just ten minutes from town. Another twenty minutes along the highway and you're at Sunshine Village; 40 minutes more and you're at Lake Louise. Take your pick! It's all right there for you.
5. Discovering that a great snow day isn't the only kind of magic
One winter day, my friends and I drove over to the Chateau Lake Louise and happened on the Ice Magic Festival. The courtyard of the famous hotel was full of enormous ice sculptures, the scene so wintry I was half expecting Tilda Swinton to pop out in full White Witch of Narnia regalia. We bought hot chocolates and walked among near-life-size ice speed skaters, snowboarders, and ski jumpers. Turns out, every year world-class artists come here to compete in a big ice carving competition — this season the fun happens January 19-29, 2017.
If we'd thought ahead, we could have gone ice skating on the lake beneath the shadow of Victoria Glacier, snow tubing up on the hill, dog sledding, or joined a traditional horse-drawn sleigh ride alongside the lake, all wrapped up in a cozy blanket.
6. Walking over ice bubbles that look like space cities
Frozen Rocky Mountain lakes are typically serene and beautiful. Around here, though, you also get an added bonus: At Banff's lakes like Minnewanka, Vermillion, and Abraham, methane gas bubbles sometimes freeze beneath the surface, forming strange and beautiful towers of white bubbles in the ice.
They're just about the coolest things ever, like frozen jellyfish…that can explode! If you were to 'pop' one of the bubbles and hold a match over it, it'd light on fire. Please don't do that, though. Parks Canada won't be very impressed, and nor will your parka. Instead, maybe just walk over the bubbles suspended in the frozen landscape and appreciate the quiet stillness of winter in the Rockies.
7. Stumbling onto unexpected, copious amounts of snow
My friend and I were riding up the gondola at Sunshine. We hadn't checked the forecast, but the friendly gents sitting across from us mentioned something about six inches of fresh snow. We looked at them pie-eyed. Goat's Eye was a playground that day, with powdery turns at every corner. Turns out, those champagne powder days are pretty standard for Banff and Lake Louise. The mountains typically get 30 feet of snowfall each season.
8. Meeting your impromptu tour guide
One day at Lake Louise, I was skiing alone. I'm not usually much of a talker on the lift, but for some reason that day I struck up a conversation with my chair mate — a local with an incredible, non-ironic mustache. He'd been skiing the hill for more than 35 years. I told him I didn't know Lake Louise all that well, so he offered to show me around for a while. It was really kind of him, and we had a blast.
The best part? This is is totally the norm here. I've found that people are eager to share their insider knowledge and favorite runs no matter where you're skiing in Banff and Lake Louise. In fact, Lake Louise's Ski Friends program sees locals share their love for the mountain and terrain tips with visitors for free. Sunshine Village offers a similar program — SnowHosts — with free tours beginning at 11:45 daily in front of the Old Sunshine Lodge. And it's not just on the ski hill. Chat with local business owners, servers, or any park locals, and they'll probably be happy to share their trove of secrets.
9. Finding your favorite local brew
Alberta has lots of craft breweries, and you'll find them at the ski resorts and all over Banff. Keep your eye out for Big Rock, Village, Grizzly Paw Brewing Company, Wild Rose, and Banff's own Banff Ave Brewing Company. I discovered Fernie Brewing Co's What the Huck! Huckleberry Wheat Ale over a prosciutto pizza drizzled with truffle oil at the Bear Street Tavern. Now that was a memorable moment.
Tip: A few weeks into the resorts' opening for winter, from November 25-26, the Banff Craft Beer Festival takes over the ethereal Cave and Basin National Historic Site — home to a natural grotto full of thermal waters (and endangered snails) — with food from the best local restaurants, and beer samples from the best local breweries.
10. Sighting the Skoki Lodge after your 7-mile ski in
After making your way up, up, up Deception Pass, seeing the log cabin with smoke coming out of the chimney feels like a small miracle. It gets better as you're fed gourmet food among kerosene lamps and candlelight before slipping into a cozy, real bed. It's rustic, and remote, and after the long ski in, it might as well be paradise. Even when you have to go to the outhouse in the middle of the icy night, the world feels wrapped up close around you. Because those stars, you know?
11. Making fresh mid-morning tracks
One day at Lake Louise, they were bombing the runs off Boomerang and access was closed. We ran around the rest of the back side, but after one trip up the summit platter, my friend insisted on waiting by the roped-off area. After about 10 minutes, they finally took down the rope and we hustled on back and hiked up the ridge. There, we looked down at untouched snow. I felt like I was jumping into a swimming pool of powder.
12. Watching the sunset from up high on Norquay and then strapping on your skis for night skiing.
Banff buzzing somewhere far below you, the quiet winter night all around. You, on the only mountain in the Canadian Rockies with night skiing. It's a whole other way to rock a Friday night, and the experience — running through January and February — is included with your Tri­-Area Lift Ticket.
13. Chilling in the Banff Upper Hot Springs for apres
They're always the perfect temperature. Situated high over town and fed from mineral waters that rush out beneath Sulphur Mountain, it feels so good to rest those weary ski legs in the big steamy pool, watching some of Banff's most epic peaks — like Rundle — turn gold at sunset. Come late and stay late if you'd like a quiet moment at the Springs; they're open till 10pm in the winter (11pm on Fridays and Saturdays). Entry is free with your Tri­-Area Lift Ticket when you buy a multi-day ticket for three or more days.
14. Ending the day with a quiet mountain view
There isn't much better of a feeling than kicking off your boots, grabbing a cold one, and putting your feet up to revel in the warmth of a fireplace. The bustle of Banff is great, but so is finding some solitude in the hamlet of Lake Louise or staying at the Sunshine Mountain Lodge — Banff National Park's only ski-in ski-out property. It's about coming back after a day of skiing, jumping in the hot tub, enjoying a glass of wine or beer by the fire, and embracing the quiet beauty of the star-filled night sky.
So when the snow starts falling against the window while you're reading by the fire in the evening, you can't help but smile thinking about the perfect powder day you're in for tomorrow.