in paid partnership with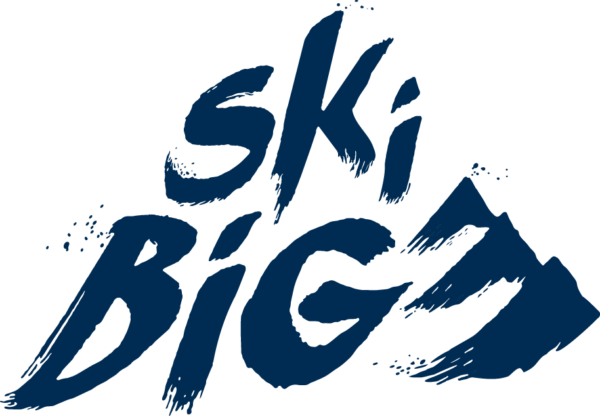 1. The snow is different here.
Located in the heart of the Canadian Rocky Mountains and protected from the mild weather flowing off the Pacific Ocean, here we ski on some of the lightest, driest, deepest powder on Earth — snow so sparkly it's called champagne, so airy it's called blue smoke powder.
And these aren't shy smatterings of snow — with a base 5,450 feet above sea level, Sunshine Village gets about 30 feet of powder a year. That's enough to cover a three-story building!
2. You don't need a car to access legendary hills.
This place is easy to get to. Hop a quick flight to Calgary, Alberta (YYC), and then it's a stress-free transfer to Banff or Lake Louise by airport shuttle or rental car. Once there, daily ski shuttles operate between Banff hotels and all three ski resorts. They're complimentary when you get a Tri-Area Lift Ticket. This one ticket covers you for unlimited skiing at three resorts (nearly 8,000 acres of terrain), daily ski shuttles, tubing and night skiing at Mt Norquay, and free admission to the Banff Hot Springs when you purchase three days or more of skiing.
Each of the Big3 has its own things going for it. Let's break it down:
Known for: Being close to Banff (the shuttle takes 10 minutes); this is a local's favorite; family friendly; no crowds even on the busiest days; great for beginner and intermediate skiers who love the immaculately groomed runs. Expert skiers can test their mettle on "The Big Chair," a two-seater that offers some of the steepest terrain in North America and amazing views of the town. Beginners don't need to miss the view — they can take the chair up and down the hill too.
Known for: Its gondola that transports skiers from the parking lot to this high alpine resort on the Continental Divide; so much powder the resort relies almost exclusively on natural snow (up to 30 feet per season); terrain (3,358 acres) for all levels (20% beginner; 55% intermediate; 25% advance/expert); a long season; Canada's only hot chair — the Teepee Town LX offers skiers and riders an orange bubble ride with heated seats.
Known for: Lots (4,200 acres) of varied terrain across three mountain faces, including gladed runs (check out Ptarmigan lift) and expert back bowl areas that provide skiers and riders almost limitless lines to choose from; plenty for intermediate and beginner skiers to explore with a green or blue run available from every lift; incredible views of glaciers and some of the highest peaks in the region.
3. Banff and Lake Louise give you two incredible home-base options.
Banff has history on its side — people have been coming here on vacation since way back in the 1880s, thanks to the natural hot springs in the area. And all that attention over the years means today this town, sitting right in one of North America's most spectacular national parks, is also bustling. It's here you'll find all the restaurants, clubs, bars, and cafés you could ever want from your ski-trip home base.
Lake Louise, in contrast, is perfect for those looking for a quiet winter wonderland away from the crowds. Sometimes it's nice to keep it relaxed. Splurging on fancy dinners at the Fairmont Chateau Lake Louise, hanging out at the Trailhead Cafe all curled up with a good book, playing cards with ski bums at one of the local hostels before going out to look at the night stars together — that's how you do Lake Louise.
4. You don't forget your beacon and shovel for Sunshine's Delirium Dive.
Just to enter the 50-degree freezone you need to prove you have a beacon, a shovel, and a buddy; this 1,300-foot black diamond drop is for experts only. Once you hit the super steep channel, you're in for an awesome ride. The Sydney Morning Herald named it one of the world's 10 best off-piste destinations, it made #15 on CNN's World's 100 Best Ski Runs, and Travel & Leisure numbered it among the scariest.
So if you really want to take on the Dive, it might be best to sign up with a qualified instructor at Sunshine Village and let the experts guide you through.
5. The view from the top of the Lake Louise gondola never gets old.
It was the first national park in Canada — of course Banff is beautiful. And that's especially true around the Lake Louise area. Ski the front slopes and you'll be eye level with some of the grandest peaks in the Rockies: Mount Temple, Fairview, Victoria, Niblock, Whyte, and St. Piran. Leaving the resort at the end of a bluebird day, seeing the skaters whiz across the lake, that fairytale chateau by your side, is also pretty great.
6. When it come to insider knowledge, all you have to do is ask.
The first time I skied Lake Louise, I landed on a chairlift with a man who'd been skiing the hill since the '80s. We struck up a conversation and he invited me to follow him to his favorite runs. Before I knew it, we were pitching down Whitehorn and traversing over to Upper Boomerang and Boundary Bowl. It was an unforgettable introduction.
If you don't get that lucky, sign up for a Big3 Guided Ski Experience. Join a group of like-minded skiers and a snow-pro who knows the area like the back of their hand. Over the course of three days, you'll be escorted with lift-line priority to discover some of the best terrain and hidden sweet spots at all three resorts.
Sunshine and Lake Louise also offer free tour guides — volunteers happy to share their knowledge and love of the slopes. It's the Canadian way. There are Snowhosts at Sunshine and Ski Friends at Lake Louise. No reservation necessary; just show up at the right time at the appointed meeting place.
7. Downhill skiing isn't the only way to explore Banff and Lake Louise.
Lake Louise and Sunshine run snowshoe tours. The Louise tour will take you on the ride up the Grizzly Gondola to the top of the mountain, from where you'll be snowshoeing, snacking, and hot chocolate drinking. Sunshine's tour involves 360-degree views of the mountains, making tracks in Sunshine Meadows' untouched powder towards Rock Isle Lake, and finishing with cheesy fondue in front of the fire back at Sunshine Mountain Lodge.
There are also plenty of groomed cross-country ski trails in and around Banff town, Lake Louise, and the Bow Valley Parkway. Up for a winter hike? Try Tunnel Mountain in Banff — rent ice cleats if the locals say it's icy — or sign up for an Ice Walk up the Johnston Canyon trail to see ice climbers make their way up frozen Johnston Falls.
8. And cross-country skiing can take you to amazing places.
Take the trip to Skoki, for instance: It's a valley, a mountain, a backcountry lodge, and an unforgettable experience. It's the not-so-easy 7-mile ski in from Lake Louise, up over Deception Pass, and carrying what you need on your back. It's the otherworldly quiet of being among snowy mountains with no one else around. It's spotting the log cabin with its hand-carved Skoki sign and being greeted by one of Chef Katie Mitzel's gourmet dinners.
It's an icy cold outhouse in the middle of the night and a good book beside a fire. It's a day of ski touring, cross-country skiing, or snowshoeing. It's quiet, solitude, friendly banter with like-minded visitors, the stunning beauty only winter in the backcountry can bring. It's magic.
9. You'll pretty much always find powder in the back bowls at Lake Louise.
The trip up the summit platter leads to the white stuff. Be forewarned that , with only one blue run exit, this area is known primarily for its blacks and double blacks. If steep is your thing, try the gully chutes. Only a few make the traverse and short hike to Brown Shirt and Boundary Bowl, where there's plenty of open space for first tracks.
10. There's nothing like an afternoon beer at Trapper's in May.
Lots of Canadian resorts have long non-glacial ski seasons, but Sunshine Village — the country's highest elevation resort — has the longest of them all. It starts as early as November and stretches to the Victoria Day long weekend in May. That equals seven months of skiing. Seven months! When the sun is out and the skiing is great, chilling on Mad Trapper's patio for a beer and thinking, "It's spring!" is pretty much as good as it gets.
11. When your ski legs get a little weary, it's time to go tubing.
Norquay and Lake Louise have sweet tube parks! And we're not talking some slow, sightseeing bump-along down the hill. At Norquay's Tube Town, you will fly. Well, just about. There's a Magic Carpet ski lift to take you up the hill, meaning you can pack a ton of rides into a couple of hours. Double up with a buddy to go really fast, and tell the snow dude or dudette at the top how fast you want to go.
PS: Tubing at Mt Norquay is free with your Tri-Area Lift Ticket.
12. Winter is a time to play and get a little weird.
Maybe you'll see costumed kids ripping downhill on cardboard at Norquay's Cardboard Sled Derby. Maybe it'll be a full day of partying at Lake Louise's Shake the Lake 2017. Or perhaps it's Sunshine's rowdy and wild-outfitted Slush Cup on closing day (May 22, 2017). Maybe it's Santas everywhere (a Santa suit on Christmas day gets you a free day of skiing at Norquay. Norquay, really! You're too good to us).
Didn't pack a funky getup? Try Crossway Community Thrift in the nearby mountain town of Canmore, or Banff's The Last Temptation Thrift. And don't be surprised if you end up coming out with armfuls of $10 cashmere sweaters and secondhand records. It's called Last Temptation for a reason.
Plan your trip to hit one of these awesomely weird events — check out the SkiBig3 Events Calendar to see what's happening when you're in town.
13. Last chair is only the beginning. It's happy and hot-tub hour back in Banff.
Followed by tons of great places to eat out, pubs, and nightclubs. For pizza, bowling, and 48 craft beers on tap check out High Rollers. Tapas in an "urban, rustic" setting? The Block. Organic wine and vegan-friendly poutine — try Nourish. Fondue? The Grizzly House. Around since the '60s, rumor has it this was once a swingers club. Every table is equipped with a telephone…you know, for picking up anyone in the room. Today you get a map of the restaurant with a number for each table, which makes for some very entertaining — and awkward — opportunities. Use them though. Once a bachelorette party bought us all tequila shots.
Once you're full, check out Rose and Crown or Wild Bill's Saloon for live music. Nightclubs: Hoodoo and the Dancing Sasquatch. For late-night eats: Aardvark Pizza and Sub.
14. Banff town is young and fun, but it's also a cultural hub.
This isn't your typical mountain town. Just up the frozen Bow River from Main Street is "the largest arts and creativity incubator on the planet." The Banff Centre offers residencies and programs in just about every arts discipline, so that kid in the duct-taped Patagonia jacket at Wild Flour Bakery might be here doing a winter residence in electronic music; the woman tanking you on Lone Pine at Norquay could be a famous gallery owner in town hosting an arts workshop.
The Banff Centre and all its creativity makes for a very different, and very welcome, atmosphere in town. And the guys up the hill don't just produce the Banff Mountain Film and Book Festival each October; throughout the year they host awesome programs, workshops, festivals, and events. Check out the calendar to see what's going on while you're here.
15. You don't have to fly to the Arctic to see epic aurora.
To see the Northern Lights you need really dark skies and clear, cloudless nights — Banff checks those boxes all winter. Check out the aurora forecasting sites here and here. If they give you the green light, it's on. The lights tend to be most active between midnight and 3am, so forego the après scene in town and head to Lake Minnewanka, a 15-minute drive through the mountains, for some of the darkest skies you'll ever see.
Look up. Have patience. You might just get to see those green flashes that pulse and shimmer among the stars, the most amazing natural phenomenon on Earth.