in paid partnership with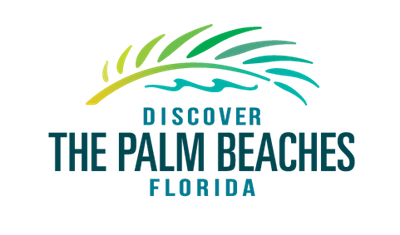 WELCOME TO THE PALM BEACHES — aka, Palm Beach County, the largest county east of the Mississippi, including 47 miles of coastline stretching from Boca Raton to Jupiter and Tequesta on Florida's Atlantic Coast. It's a place best known, appropriately, for its beaches. But you'd be missing out if you came here just to lie in the sun. The area is rife with historical landmarks, nature preserves, and museums a little different from the stuffy, dark places you're imagining — lobster rolls and arcade games, anyone?
The best part about Palm Beach County isn't necessarily throwing your towel on the sand or going for a dip in the ocean — sometimes relaxation is only fun when you've earned it. Beyond the famous beaches, you'll find no shortage of ways to get your adrenaline flowing. Here are seven unique, under-the-radar experiences you don't want to miss (between relaxation sessions on the beach, of course).
1. Snorkeling an artificial barrier reef at Phil Foster Park
Ideal for beginners, an artificial reef simulating a barrier reef can be found a mere 200 feet from the beach at Phil Foster Park. The 800-foot-long reef, built from 600 tons of Anastasia rock boulders, ranges in depth from six to 10 feet. You definitely don't need certification to get into the water here.
Roughly 300 species have been counted onsite, making the reef one of the most biologically interesting spots in The Palm Beaches. When conditions are ideal, underwater visibility can reach up to 80 feet.
Snorkel tours are offered by nearby Singer Island Outdoor Center, and experienced guides will point out difficult-to-spot marine life along the way, making the tour well worth your while. Another trusty option is Pura Vida Divers — they're a PADI 5-Star IDC Dive Center. Regardless of which business takes you there, the snorkel trail can be accessed by walking under the Blue Heron Bridge at the south side of the park. You'll know you've reached the reef when you see three hammerhead sharks, but don't freak out — the recently added sharks, created by artist Thomas McDonald, are concrete sculptures.
Tip: Bring a mask, snorkel, and fins. Check weather conditions and tide tables before your visit — and go during high tide, as low tide creates conditions for a difficult dive and poor visibility.
2. Paddling through Jupiter's waterways under the glow of the full moon
Jupiter Outdoor Center runs two-hour tours through the Loxahatchee River Aquatic Preserve. They also offer kayak and standup paddleboard rentals, so you really have no excuse to miss this one.
While on the tour (or kayaking/SUPing by yourself), you'll follow the path of the setting sun towards the west, paddling past seabirds getting ready to settle in for the evening. Once the sun has dropped below the horizon and the moon is casting light on your surroundings, take notice of the Jupiter Lighthouse, the Jupiter Inlet, and the nearby bridges. If rough tides make the trip too difficult, the experienced guides will adjust routes accordingly. Either way, paddling at sunset? Get ready, Instagram.
Tip: Check a moon phase calendar and Jupiter Outdoor Center's online calendar to view a schedule of events — and don't forget to bring your camera.
3. Touring the M/V Ana Cecilia 85 feet below the ocean's surface
Palm Beach County's 151st (and newest) artificial reef, the M/V Ana Cecilia cargo ship was intentionally sunk just off the Lake Worth Inlet earlier this year. Prior to finding its resting place at the bottom of the ocean, the 170ft, 629-ton vessel transported humanitarian goods (including clothing, furniture, toiletries, and medicine) between Miami and Cuba. In late 2015, federal agents apparently watched two men removing boxes from the freighter, which seemed innocuous enough…until they realized there were 910 pounds of cocaine hidden on the ship. They confiscated the ship and donated it to the county's robust artificial reef program.
Today, goliath grouper — which can grow to more than eight feet in length — and sea turtles frequently swim in and around the M/V Ana Cecilia. Though the bottom of the vessel sits 85 feet below the surface, its tallest compartments rise to within 45 feet. The boat is open to certified scuba divers and is located near several other great dive sites, including the Mizpah, the PC-1174, and the Amaryllis, allowing for a lengthy drift dive.
Tip: If you're short on time, make plans to get your scuba diving certification prior to visiting. The certification course requires several open-water dives, and you definitely need to be certified to go the 85 feet to the bottom.
4. Tearing up the track at Palm Beach International Raceway
Opened in 1964, Palm Beach International Raceway has seen its share of all-star performances — including the likes of Janis Joplin, The Rolling Stones, and Eric Clapton. Today, you're more likely to catch a drag race than a rock star — but if staying in one place isn't your preferred form of entertainment anyway, driving classes are offered, too. Catering to both beginners and advanced drivers, in-house driving professionals provide tips, tricks, and on-track training on the road course. You can rent a car or drive your own.
Less daunting to some, there's also a .8-mile asphalt go-kart track with 11 turns. Karts, with capacities ranging from 45 to 100mph (dependent on your experience), are available to rent. There's also the mud bog, which is exactly what it sounds like: a 300ft mud pit waiting for jeeps, SUVS, and mud trucks to take it on. If you like getting your hands (or your jeep) dirty, this is the way to do it.
Tip: Check local weather conditions and the facility's calendar prior to visiting.
5. Kayaking through the mangrove forests of Munyon Island
Found on a barrier island off the coast of North Palm Beach, John D. MacArthur Beach State Park (which includes Munyon Island) comprises 225 acres of nature trails, picnic pavilions, beaches, and tons of opportunities to get closer to the area's wildlife — and that's just on land. The park is well known as a loggerhead sea turtle nesting ground, and sightings are always a possibility during nesting season (May-October). Rare bird sightings are equally likely — the wood stork, peregrine falcon, and least tern all call this place home.
If you're looking for a water-based adventure, make your way towards the undeveloped 45-acre Munyon Island, accessible only by boat. Rent a kayak from the park and paddle your way to the entrance on the island's north side. As you navigate the mangrove-lined waterways, keep quiet — there are, without a doubt, dozens of birds nearby. The waters themselves are equally saturated with wildlife.
The island has grills and covered picnic areas, so pack a lunch and make a day of it. Bring a fishing pole if you're trying to catch your own.
Tip: Visit Munyon Island during high tide. The estuary becomes a mudflat when tides are low, making the island inaccessible.
6. Visiting a wetland restoration project at Pine Glades Natural Area
Palm Beach County's second-largest natural area (6,500 acres) now contains over seven miles of hiking trails, a canoe and kayak launch, fishing pier, observation platform, and 1,400 feet of accessible trails. The site is home to five native ecosystems (mesic flatwoods, wet flatwoods, depression marsh, wet prairie, and dome swamp), making for an impressive concoction of nearly unrivaled biodiversity — all in one place. Roseate spoonbill, blue heron, snowy egret, turkey vulture, bald eagle, and several other species of birds can be spotted within the area. American alligators and round-tailed muskrats also hang out around these parts.
Pine Glades is pretty pristine — thanks, at least in part, to recent restoration activities that have removed 576 acres of invasive melaleuca trees, treated 1,280 acres of invasive non-native vegetation, installed seepage barriers to restore the natural hydrologic cycle, and returned water flow to 340 acres of wetlands. Here, you can literally watch nature getting back into its groove.
Tip: Explore the area just before sunset. Half a mile southeast of the parking lot, you'll come across Quail Trail. Hike through and you'll likely see hundreds of wading birds fly in to roost as the sun descends.
7. Going on a safari at America's first drive-through wildlife preserve
Spanning roughly 260 acres, Lion Country Safari is home to over 900 wild animals with origins ranging from the Pampas of South America to the Serengeti of Eastern Africa. As you meander through the four-mile-long drive-through safari at your leisure (in your own vehicle), you'll encounter lions, giraffes, kudu, rhinos, and wildebeest, among others. It's an attraction obviously aimed at families with children, but any adult will feel the rush when a lion inches toward their Honda. Don't worry: You and the animals (and your Honda) are perfectly safe.
Afterwards (the driving experience typically takes around 90 minutes), be sure to roam around Safari World, the walk-through area of the park. Feed the giraffes, spot birds in the aviary, and drop by the petting zoo. If you're looking for additional entertainment, a 4,000-square-foot water "sprayground," pontoon boat tour, paddleboat lake, and mini-golf course can also be found onsite. For what it's worth, Jane Goodall, considered the world's go-to expert when it comes to chimpanzees, has visited the park roughly 20 times over the years (she generally skips the mini-golfing).
Tip: Visit when it's raining — the animals are typically more active in the cool, wet weather. Otherwise, arrive early in the morning and you'll catch the animals roaming before temperatures start to climb (and what better setting to watch the sunrise than alongside giraffes and wildebeests?).