in paid partnership with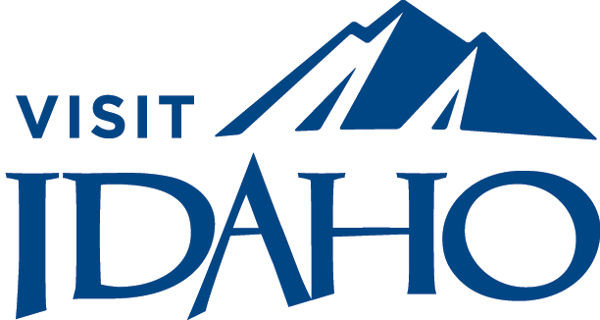 1. Paragliding off the top of Baldy
There's a famous saying in the ski community of Sun Valley that goes, "The higher you get, the higher you get." Rising 3,200 feet above the town of Ketchum, Bald Mountain is an ideal launchpad for paragliders looking to grab their favorite high. Two detachable quad chairlifts will rip you to the top, and then…feet dangling, wind ripping across your face, you'll get some of the most scenic views of Sun Valley when you're paragliding off Baldy's crown.
Beyond a few high-knee steps at takeoff, the crew at Fly Sun Valley will do all the work for you. Their keen eye on the wind and dialed-in maneuvering skills will let you simply sit back and enjoy the trip. Catch the right summer thermals and these guys can take you on one hell of a ride.
2. Floating the Middle Fork of the Salmon
The Middle Fork of the Salmon River has everything you'd expect from an epic whitewater rafting experience. On a typical trip of 5-7 days down the River of No Return, you'll encounter meaty rapids, incredible scenery, wildlife, hot springs, petroglyphs, and waterfalls.
Lewis and Clark weren't huge fans of this wild river, but there are countless raft guides who'll claim this stretch as one of their top floats in the contingent 48. Its uninterrupted nature is what makes it so special — running 104 miles through the Salmon River Mountains in the Frank Church Wilderness, the Middle Fork is as remote a spot as you can get outside of Alaska.
If you know someone with a private trip permit, butter them up accordingly for your shot at the trip of a lifetime. But don't worry if your ticket doesn't get drawn, as the folks at Solitude or Mackay Wilderness River Trips can style you out with plush glamping accommodations and gourmet meals.
3. BASE jumping off Perrine Bridge
The Perrine Bridge in Twin Falls is one adventurous option for adrenaline junkies ready to take a leap and step up their game. World-renowned BASE jumpers travel from near and far to legally freefall from this truss arch bridge 486 feet off the deck of the Snake River. This is one split-second experience that will have your pulse surging long after the ride is done.
Access to the bridge is hard to miss. You'll pass over it on your way into the town of Twin Falls, located just off Idaho's major artery, I-84. If it's your first go, check with the folks at Tandem BASE, who'll help you take that first step.
4. Mountaineering in the Sawtooths
The Sawtooths are by no means the tallest mountains around, but their summits still hold a particular lure with tons of mountaineering opportunities. From cruxy climbs and rappels to grippy boulders and smooth moran fields, this range delivers. Get to the top of one of the Tooth's peaks and be rewarded with views of the Stanley Basin, high mountain lakes, and quite possibly an encounter with a curious mountain goat.
The tiny town of Stanley is a sweet basecamp for launching your Sawtooth adventures, with close proximity to all the major trailheads and one of the best breakfasts around at Stanley Baking Co. Sawtooth Mountain Guides offers a slew of classes and trips to dial you in, if you need them.
5. Jet boating through Hells Canyon
Located in the deepest river gorge in North America, the Hells Canyon stretch of the Snake River is home to a steady, heady flow of mesmerizing whitewater along the Idaho-Oregon border. The area's wildlife is equally epic — this is bald eagle, bighorn sheep, and black bear country.
While there are countless ways to see the canyon, hopping aboard one of Killgore's aluminum jet boats is arguably your best, most adrenaline-filled option. Propelled by three power-hungry engines, these vessels are eager to cut through the mightiest class IV/V rapids.
6. Fire lookout camping
Grab the fam, load up the 4WD, and set course for what must be Smokey the Bear's favorite remote hangouts. The various fire lookouts dotting Idaho's far reaches provide a basic yet family-friendly camping getaway.
The ideal day begins with sunrise viewed from the comfort of your cozy bed, followed by a hearty breakfast cooked over a wood-fired stove. Make sure the kids are geared for a day of adventuring: wildflower and wildlife scavenger hunts along the various hiking trails. Afternoon naps are encouraged, and evening stargazing is your accompaniment to a fire-pit dinner and s'mores.
7. Mountain biking the hot springs
If you're a trail rider, you probably appreciate cracking into a frosty craft brew post ride. Throw in the ability to peel that gritty, greasy chamois off and slip into a backwoods hot springs with said frosty beverage, and you get the Idaho Hot Springs Mountain Bike Route, which mixes some of the most scenic bike-friendly terrain in the state with 40 natural pools and 11 manmade spa-style setups.
Views along the ride take the mind into Bob Ross territory, deferring thoughts of the pain cave. When inertia slows to a stall and the aches kick in, there's always geothermal reprieve close at hand. And those warm beers you've lugged along all day will chill nicely in the nearby river. Load up the panniers and hit the trails.