in paid partnership with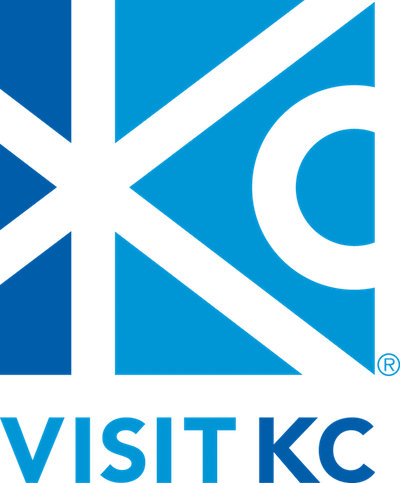 IF YOU HAVEN'T HEARD — Kansas City is hot, and getting hotter. As more and more people discover what makes this place one of the most exciting cities in America right now, there will come a time when all your friends are posting about the awesome things they're up to in KC.
Get there first. Beat them to it. Here are some places to start:
1. Catching a free movie night at the KC Public Library
The KC Public Library is most commonly noted for its Community Bookshelf, an exterior wall of the Library's parking structure designed to look like huge 25-foot book spines. But there's also a reason to venture to the roof of the Library (and of course you should explore inside, too): The Off-the-Wall film series screens monthly movies from May through September. Bring a blanket and folding chair to the rooftop terrace, where screenings start at dusk. Not only are the movies free, but the Library partners with Kansas City Bier Company to serve free samples.
The movies fall on the third Friday of every month, and each series is loosely structured around a theme. Last year was "Down the Rabbit Hole," featuring movies with characters in unexpected lands. This year's theme is "Sorta Shakespeare: Offbeat Films Inspired by the Bard."
Tip: The terrace is a public space and you should totally take advantage of it at other times, too. During the day, bring your lunch and enjoy the KC skyline or play a game of giant chess. At night, the city lights are fantastic.
2. Listening to old-school jazz at the Green Lady Lounge
KC is where jazz came of age, and you can expect ample opportunities to hear good music when you're in town. The trick is to find a place that strikes the right atmosphere and the right sound. Green Lady Lounge does both and does them both well. The lounge is dimly lit with deep red walls that give it a moody, cozy feel. Long lampshades hang low, filling the room with yellow light that reflects off the pressed-copper ceiling. Patrons are tucked away in corners, sipping Prohibition-era cocktails. And the bands playing are local.
There are two stages inside the Green Lady, one upstairs and one down. They both feature jazz but always provide two different sounds. Local bands take the stage here seven nights a week, and there's never a cover charge. Order a Green Lady cocktail to start your night and fall back into another time, another iteration of Kansas City.
3. Spending your hump day happy hour at The City Market
The City Market, in operation since 1857, is a popular place to eat and shop local, especially as it's home to the region's largest farmers market — complete with 140 farmer stalls. The market is packed with people picking up fresh produce on Saturdays and Sundays from 7am to 3pm (the rest of the open-air market is open daily during daytime hours). Now through September, there's also an Evening Market from 4pm to 7pm on Wednesdays, meaning you can check out local makers, farmers, and cooking demonstrations with a background of live acoustic music while you shop.
If your happy hour cravings aren't fully satisfied by your haul, some of the City Market's restaurants stay open later than usual during and after the Evening Market (so expect this place to be bustling). Habashi House is a local favorite for hummus platters, falafel, smoky baba ghanoush, and free tea with your meal.
4. Getting a taste of the (Scandinavian) Old Country
KC's restaurant scene is top quality and super diverse, but the new Scandinavian restaurant Krokstrom Klubb & Market is satisfying a craving we never even knew existed. It's housed in a red-brick, cottage-style building with wood accents on the exterior. When you step inside, you find a polished-yet-comfortable ambiance with wood furniture and decorative Scandinavian wall art.
The restaurant describes itself as serving "small plates and craft cocktails," which is perfect because you'll want to try everything on the menu. While the food options feature classic Scandinavian dishes like Smørrebrød, the drinks are traditional as well, including house-made aquavits, mead, and Glögg. You'll probably want to carry home one of the decorative Dala Horses just to have a reminder of this dining experience.
5. Escaping the city…without actually leaving it
Kauffman Memorial Garden is set in the heart of Kansas City and is walking distance from both the Country Club Plaza and The Nelson-Atkins Museum of Art. Despite its central location, the garden is a secluded, contemplative place. As soon as you step through the wrought-iron gates and arrive on the other side of the high, stone walls, you feel like you've entered a little paradise. The hedges are perfectly manicured and the flowers somehow always seem in bloom. Even in winter, there's greenery and a warm escape inside the Orangery.
The space is just big enough to spend a happy 30 minutes strolling about, and except for on the rare weekend morning, it remains untouched by crowds. Not to mention, a visit here is completely, 100% free of charge.
6. Sipping in secrecy at Manifesto
Slink into this darkened, speakeasy-style bar…assuming you can find it. Tucked away beneath The Rieger Hotel Grill & Exchange, Manifesto has a back-alley entrance in true speakeasy fashion.
Each drink here is a work of art. Try the fan-favorite, the Beautiful Red Bell (as in red bell pepper), or a classic horsefeather that features J. Rieger & Co. Kansas City Whiskey. Reservations are required and it's recommended you enjoy the company you bring — talking on cell phones is strongly discouraged to preserve the intimate atmosphere of this small, basement space. Manifesto is a tribute to speakeasies — the hours will slip away as smoothly as the cocktails.
7. Sliding through downtown in the KC Streetcar
The KC Streetcar opened in 2016 and features cars that are ultramodern in their appearance. With all their fancy technology, robotic lights, and invisible sensors, you'll get the feeling of being whisked away into the future — in reality, you're going from Union Station to River Market. With free rides and weekend hours until 2am, experiencing downtown KC neighborhoods without a car has never been easier.
Every month of the year in Kansas City, you can hit up First Fridays, an evening of perusing art in the Crossroads Arts District in the company of food trucks, buskers, live theater, and thousands of attendees. Follow that up with late night libations in the Kansas City Power & Light District, just a couple of streetcar stops north of the Crossroads.
8. Strolling through time on Cliff Drive
At roughly 4.5 miles, Cliff Drive is one of the shortest scenic byways in America and the only urban scenic byway in Missouri. Back in its prime, Cliff Drive ran above one of KC's wealthiest neighborhoods. Today, these former houses look like ancient, weathered castles from a storybook.
The surrounding Kessler Park is quiet and full of green spaces with views of a lake, wildflowers, trees, and hidden hillside springs. Limestone bluffs rise up out of the forest and draw climbers to their steep faces; a challenging disc golf course serves as another recreational outlet. On weekends through the end of October, Cliff Drive is completely closed to cars, providing the perfect opportunity to walk or bike as you explore a lost piece of KC history.
9. Witnessing art as a living, breathing thing
Art Alley, found in the Crossroads Arts District (specifically at 17th and Locust), is an outdoor mural spanning multiple buildings. Artists work periodically on portions of the alley to create an ever-changing piece of public artwork; you'll see the work of some of the city's best street and graffiti artists here. They often create their masterpieces later in the day, so take a late stroll through the Crossroads in the evening for your chance to see a live show. For the best chance of catching the action, schedule your visit around First Fridays.