The 9 most overlooked road trips in the US
---
The roads less traveled by
ONE THING AMERICA HAS NEVER LACKED is open road. Yet with so many options, we often tend to stick to the tried and true: Jack Kerouac's Route 66, the Pacific Coast Highway up California's coast, roads that take us to Yellowstone and the Grand Canyon and Niagara Falls.
But the US is so much more than its classic attractions. It's the country that birthed BBQ and the Blues. It's the country with both the obvious beauty of the Sierras and the subtle magic of the Iowa hills. And it's a country where early settlers on their journey towards Oregon made the American road trip a historical act.
What parts of America have we been missing? Take a look below.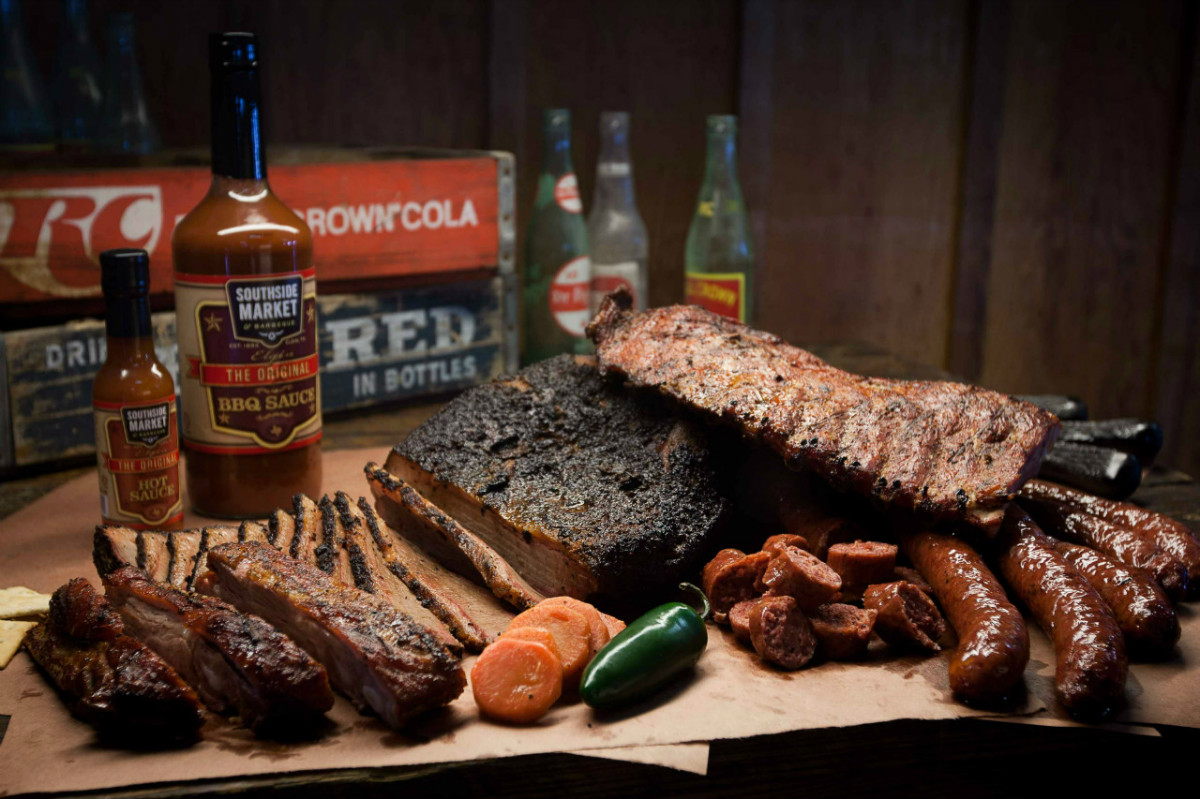 1. The Texas BBQ Trail
---
What to expect
In addition to the post-BBQ stomach ache, you can also look forward to drives through small, historic towns with 19th century architecture, and miles of green, rolling hills in between.
Start and end point
Austin to San Antonio Texas (approx. 245 miles, driving time around 4 hours).
Route and special stops
Austin: Iron Works BBQ for seasonings and spice rubs along with their famous barbecued meats. There's also Franklins BBQ which Bon Appetit Magazine ranked among the best BBQ in the country.
Taylor: Louie Mueller Barbecue has been serving their famous beef brisket since 1949.
Elgin: This town is located on Highway 290 and considered "the Sausage Capital of Texas". Stop at Southside Market, the oldest barbecue restaurant in Texas. The restaurant started as one man selling meat from the back of his wagon over a century ago to now a full-on restaurant and market. Order the Original Elgin Hot Sausage which they have served for 130 years. There's also Meyer's Elgin Smokehouse where recipes are over four generations old.
Driftwood: The Family-owned favorite The Salt Lick is known for cooking its BBQ on an open flame.
Lockhart: In 2003, the Texas Senate passed a resolution declaring this town the "barbecue capital of Texas". Black's Barbeque is one of the few Texas BBQ restaurants in Texas that uses Certified Angus beef for their brisket.
Luling: Stop at City Market serving the "Texas Trinity" of sausage, brisket, and ribs with white bread.
San Antonio: End the trip with a visit to the Alamo.
2. The Overseas Highway Through the Florida Keys
---
What to expect
Seafood, beautiful ocean drives, and access to the only living coral barrier reef in the United States.
Start and end point
Highway 1 from Key Largo to Key West (approx 127 miles).
Route and special stops
Key Largo:  Visit John Pennekamp Coral Reef State Park. Dive in the Florida Keys National Marine Sanctuary to visit the wreck of the Spiegel Grove, a Navy ship that rests 130 feet underwater. Eat at Caribbean Club where Lauren Bacall and Humphrey Bogart filmed the movie Key Largo.
Tavernier: Access the Conch Reef for great drift driving. The town is also a great spot to go paddle boarding.
Islamorada: Eat generous portions at Harriette's (try their biscuits), and eat dinner at the celebrity-adored Snapper's Waterfront Restaurant.
Duck Key: In all the areas past Tavernier, less commercial dive operators means quieter diving and more sea life. Expect to see goatfish, sea turtles, and spotted eagle rays.
Looe Key: Loee Key is home of the Underwater Music Festival and popular for its stunning topography and marine life. Snorkelers and divers both have a lot to see: lobsters, moray eels, underwater mounds of coral and more. Check out Looe Key Reef Resort & Dive Center.
Key West: Take the boat trip to Dry Tortugas National Park, almost 70 miles west of Key West but home to a historic fort, and a superb spot for snorkeling and diving. Visit Bahia Honda State Park for sunbathing on long stretches of sand. Visit the Ernest Hemingway Home and Museum for your literary fix and the Mel Fisher Maritime Museum for recovered treasures from the bottom of the sea. Eat at Turtle Kraals Restaurant and grab drinks at the popular (and Playboy-approved) Green Parrot Bar. At sunset, attend the Sunset Celebration in Mallory square, a tradition that has carried on since the 1960's (Mark Twain and Tennessee Williams used to attend).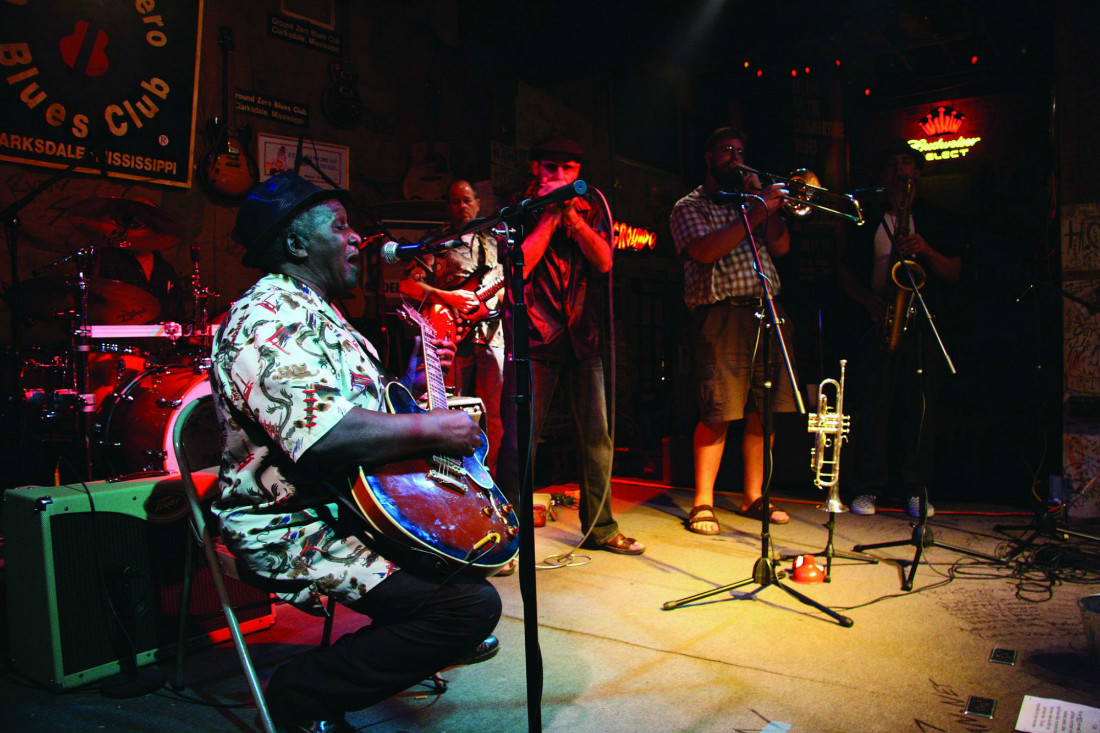 3. The Highway 61 Blues Trail
---
What to expect
The ghost trail of Muddy Waters, John Lee Hooker, Sam Cooke, Bessie Smith, B.B. King. and Elvis. All of them came down this highway on their way to Memphis, singin' the blues.
Start and end point
Vicksburg up to Memphis (3 hours and 40 minutes and approx 246 miles).
Route and special stops
Vicksburg: Visit the murals painted along the Vicksburg flood walls depicting Native American life, African American history, Mississippi river travel in the 1800's, and more.
Indianola: Visit the B.B. King Museum which uses the life of the performer to tell the history of the black struggle in America. Take in a Sunday show at Club Ebony where B.B. King, Ray Charles, and other legendary musicians have performed.
Leland: Though a slight detour to the east of Indianola, you can visit the Highway 61 Museum to learn about all the performers who grew up in the town.
Cleveland: Right outside in a town called Merigold, you can visit the last authentic rural juke house: Po' Monkey's Lounge (only open on Thursday nights, though). Admission is normally $5. A DJ plays blues and R&B, and customers can bring their own liquor if they buy mixers.
Clarksdale: The Hopson Plantation attracts an eclectic crowd of artists. Sleep at the Shack Up Inn in its restored boutique rooms. Check out live music at actor Morgan Freeman's nightclub Ground Zero Blues Club.
Memphis: Visit the Stax Museum of American Soul Music to pay tribute to singers like Otis Redding, and Isaac Hayes. And of course, stop by Graceland.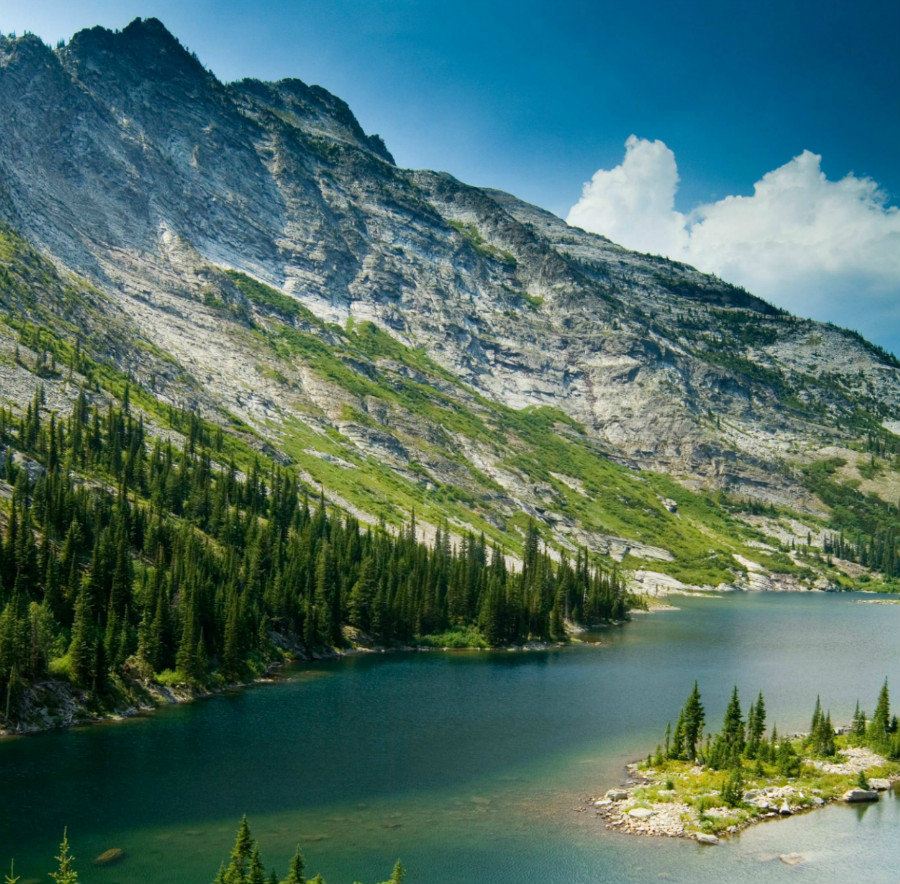 4. The Selkirk Loop
---
What to expect
An international circle around the Selkirk Mountains in eastern Washington, northern Idaho and southeastern British Columbia. It passes through rivers, lakes, mountains, and some of the artsiest towns in North America.
Start and end point
Newport circling back again (approx. 280 miles).
Route and special stops
Newport: The southernmost town on the loop, take Upper and Lower Wolf Trails for scenic viewpoints over the Pend Oreille River. After, the U.S. Route 2 splits off and transfers to Washington State Route 20, going northwest.
Cusick: Visit Gardner Cave, the third-longest limestone cave in Washington.
Ione: Take a 20-mile round trip on the Lions Club Excursion Train along the Pend Oreille River to Metaline Falls. After, transfer to Washington State Route 31 to enter Colville National Forest with several lakes and campgrounds. After, cross the U.S. and Canada national border and transfer onto British Columbia Highway 6.
Salmo: Try the local cuisine of "Russian borscht." Hike, ski, and see big-horned sheep at Stagleap Provincial Park just east of Salmo on Highway 3.
Nelson: Take a guided walking tour of this town, often called the "Heritage Capital of the Kootenays" because of its 350 preserved heritage buildings. Stroll Baker Street for some bohemian sports (Nelson has been voted the #1 small arts town in North America in the past). Outside of town, visit Valhalla and Kokanee Glacier Provincial Parks. After, transfer to British Columbia Highway 3A.
Kootenay Lake: Take the Kootenay Lake Ferry — at 35 minutes / 8 km it's the longest free ferry in the world — at the intersection of BC 3A and BC 31 which connects the loop to the eastern shore of the lake.
Creston: Famous for its abundant fruit fields (cherries are the main crop), check out the town's orchards and many fruit stands along highway 3. See the downtown murals initiated by a local artist in the late 1980's. After, transfer to British Columbia Highway 21, cross the border again and transfer to Idaho State Highway 1 after entering the States.
Sandpoint: Another famous art town with over twenty galleries in downtown. Have a wine-tasting at the Pend D'Oreille Winery (Idaho's Winery of the Year in 2003). Visit the three National Forests nearby: Idaho Panhandle, Colville and Kootenai National Forests.Take a side trip down the Pend Oreille National Scenic Byway. The loop circles back when you reach the Washington-Idaho state line, where the Loop begins again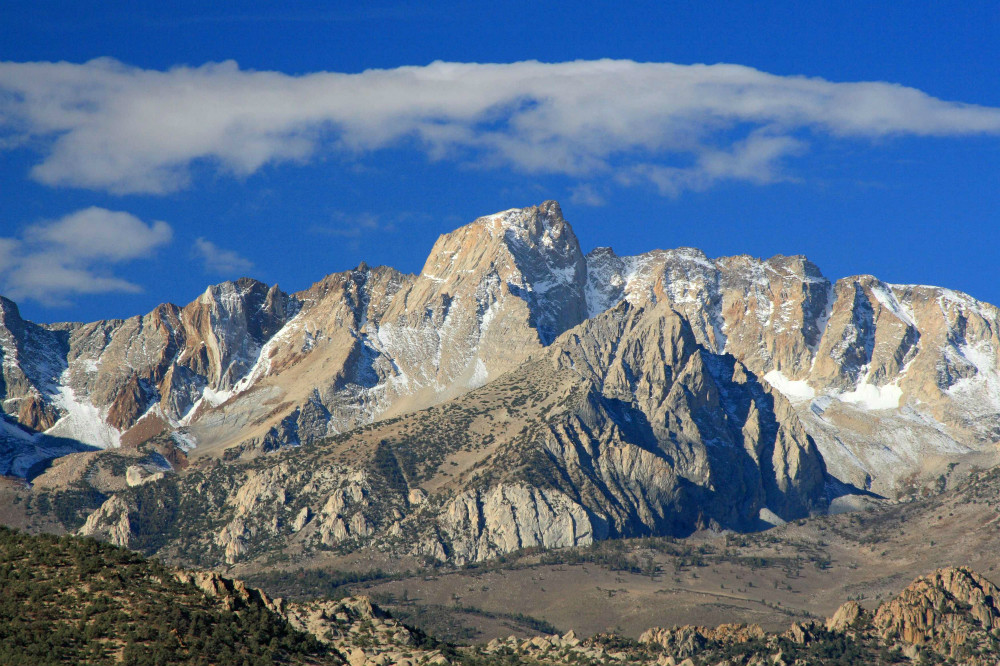 5. Highway 395 Through the Sierras
---
What to expect
A highway far less populated than the touristy Pacific Highway 1, yet with equally beautiful landscape and history.
Start and end point
Lee Vining to Lone Pine (approx. 155 miles and around 2 hours).
Route and special stops
Extensions/alternative routes
Continue south of Lone Pine to visit Manzamar, a former Japanese Internment site, between Lone Pine and Independence. Or, start north of Lee Vining in Reno and pass through the ghost town of Bodie, a former 19th-century mining settlement in California, and now a state historic park.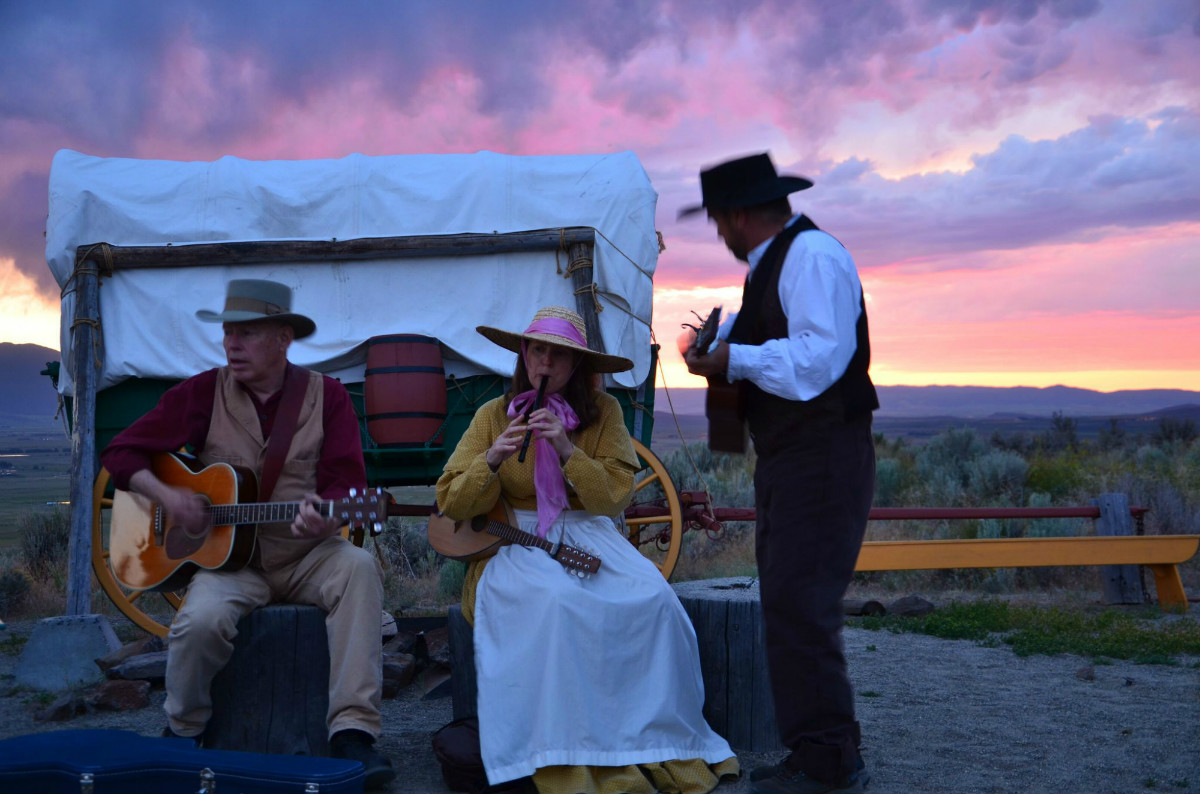 6. The Oregon Trail
---
What to expect
Every millennial has played the game; now tackle the journey yourself. The modern-day trail goes through five states and covers a ton of ground before you land in historic Baker City, Oregon.
Start and end point
Independence, Missouri to Baker City, Oregon (approx. 1,700 miles, driving time around 27 hours).
Route and special stops
Independence: Visit the small National Frontier Trails Museum.
Bridgeport, Nebraska: Stop at Chimney Rock and Scotts Bluff just after Bridgeport in Bayard. These were historic spots that let pioneers on the trail know they were on the right track. Go down Interstate 25 to see the Courthouse and Jail Rock landmarks.
Guernsey: Head up Highway 26 to this town to visit Register Cliff, where pioneers carved their names into a wall of rock. Go down 1-25 to stop at Independence Rock.
Fort Laramie, Wyoming: Take I-80 to pass through this spot which was considered the gateway to the Rocky Mountains. During the summer, there are often historic reenactments and shows. The bakery still makes bread for visitors to taste. Stay on I-80 to visit Devil's Gate, Split Rock and "Three Crossings."
South Pass City: Take Highway 789 until you can turn south on Highway 28 toward this town. Try one of 70 single malt whiskeys available at the Two-bit Cowboy Saloon (every second Saturday they have a Scotch Sipping at Six). Stay the night at Miner's Delight Inn.
Soda Springs, Idaho: Here you can see the hourly eruption of a naturally spraying geyser of carbonated water, which settlers once used for medicinal purposes.
Hagerman Fossil Beds: See over two hundred different species of fossil plants and animals, including a sabertooth cat and and a mastodon.
Baker City, Oregon: Visit the National Historic Oregon Trail Interpretive Center (complete with a simulated wagon train).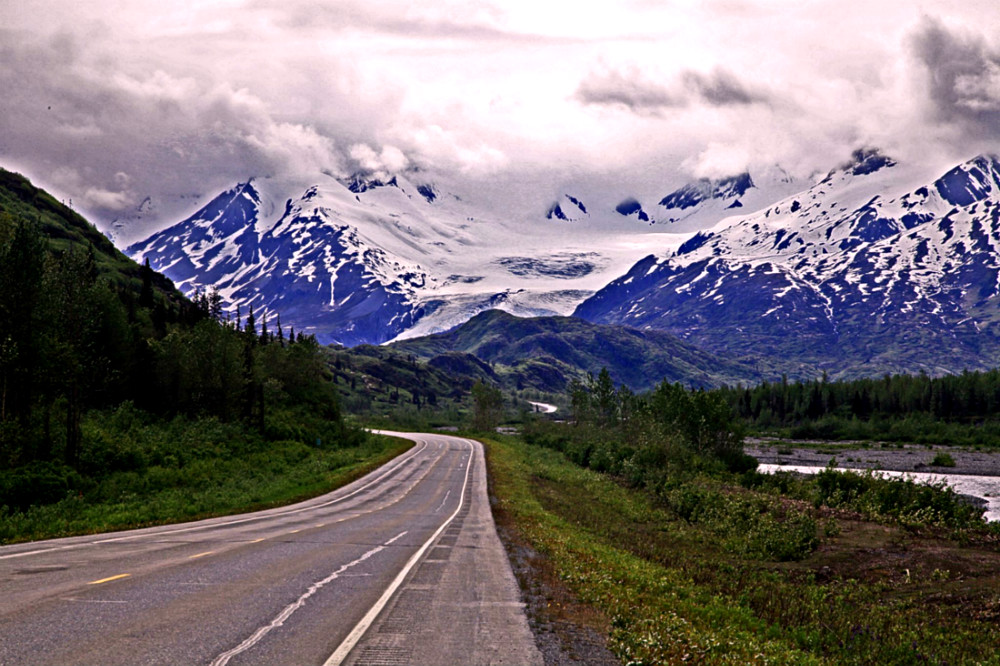 7. Anchorage to Valdez via the Glenn and Richardson Highways
---
What to expect
Glaciers, waterfalls, and desolate Alaskan landscape.
Start and end point
Anchorage to Valdez (approx. 280 miles).
Route and special stops
Eagle River Nature Center: Located forty minutes from downtown Anchorage, this spot is the gateway to Chugach State Park and a glacial river valley.
Thunderbird Falls Trail: Hike around the canyon to eventually reach the falls. Camp at King Mountain Campground.
Matanuska Glacier Scenic Turnout: The closest viewpoint of the Matanuska Glacier from the highway but visit Matanuska Glacier State Recreation Site for more views. Or, for the more adventurous, scramble Lion's Head Trail for a panoramic view of the glacier, the Matanuska River, Caribou Creek and the Talkeetna Mountain Range.
Glen Allen: Stop for gas here since it's the only gas station on the road to Valdez. Then, take the Richardson Highway down, stopping at the Worthington Glacier State Recreation Site where visitors can easily walk on the glacier. Drive through Thompson Pass and then visit both Horsetail Falls and Bridal Veil Falls Trail.
Valdez: Sometimes called Alaska's "Little Switzerland" because of its fantastic mountains, this town was the port of entry for gold seekers headed towards Klondike. Their sled trail eventually became Richardson Highway- the first automobile road in the state. Take the boat tour to Colombia Glacier, the second largest tidewater glacier in North America. Visit the Valdez Historical Museum to learn more about the gold rush, the 1964 earthquake that virtually destroyed the town, the trans-Alaska oil pipeline and the 1989 Exxon Valdez oil spill.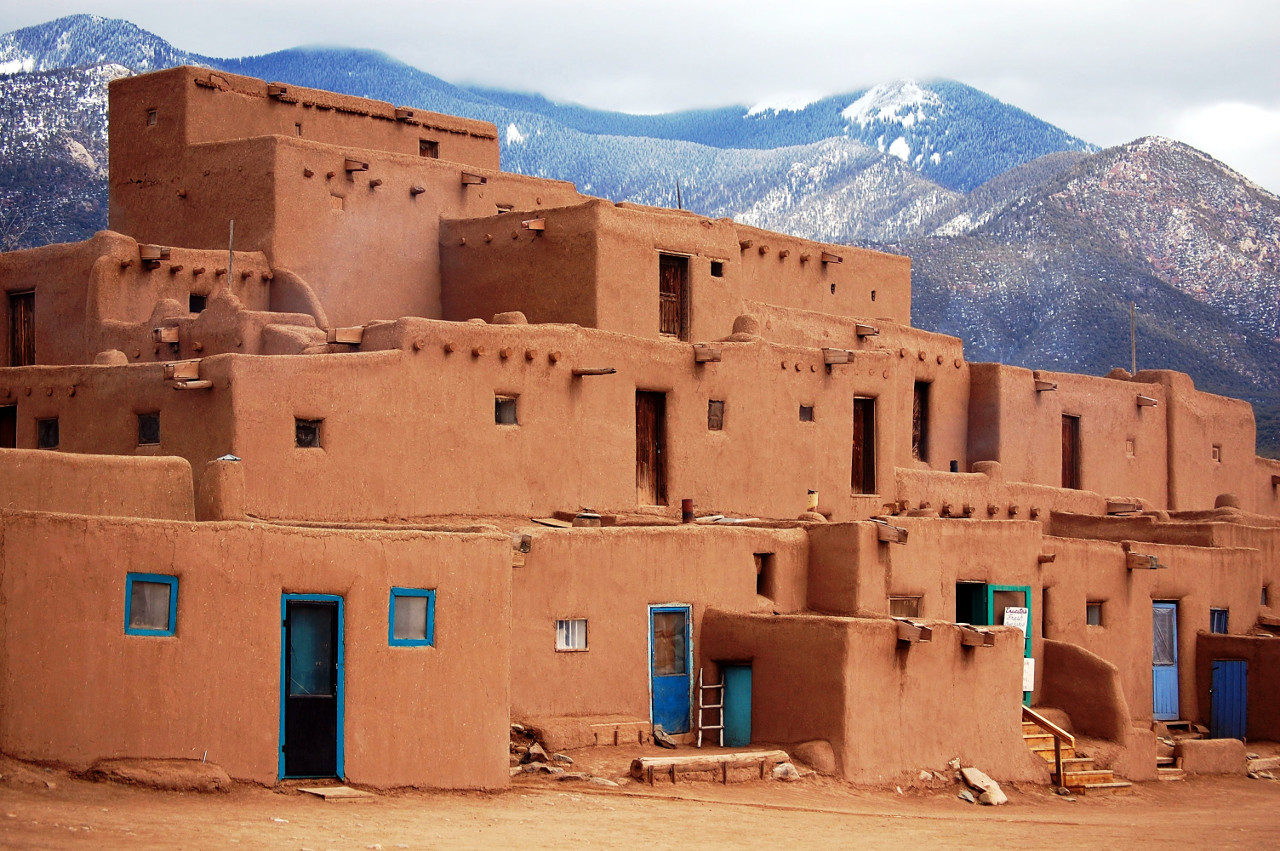 8. The High Road to Taos
---
What to expect
Churches, art, adobe, tequila- the southwest package.
Start and end point
Nambe (on the N.M.503) to Taos (approximately 56 miles).
Route and special stops
Chimayó: Byway turns north on NM 520 to pass through this town. Visit El Santuario de Chimayó and take a bit of earth from El Posito, a hole in the floor of a side chapel that has become a pilgrimage spot for its alleged healing properties. Stop at Rancho de Chimayó to try meals recommended by the Boston Globe. On the way to Truchas, stop at one of the areas many apple orchards.
Truchas: The road here runs alongside a canyon with buildings built on the edge of the rim. Look west to the Truchas Peaks rising 5,600 feet above the village. The tin-roofed adobe houses make the village look almost exactly as it did a century ago.
Las Trampas: Visit San Jose de Gracia, built in 1760 and still almost completely intact (all of its original paintings have survived). Only open Friday, Saturday, and Sunday.
Penasco: Go south on N.M. 75 through Penasco to N.M. 518. Turn north here to see pullouts that overlook the valley around Placita and stunning views of the Carson Forest and the Taos Mountains.
Rancho de Taos: Visit the Saint Francis Plaza, the Martinez Adobe, the Millicent Rogers Museum,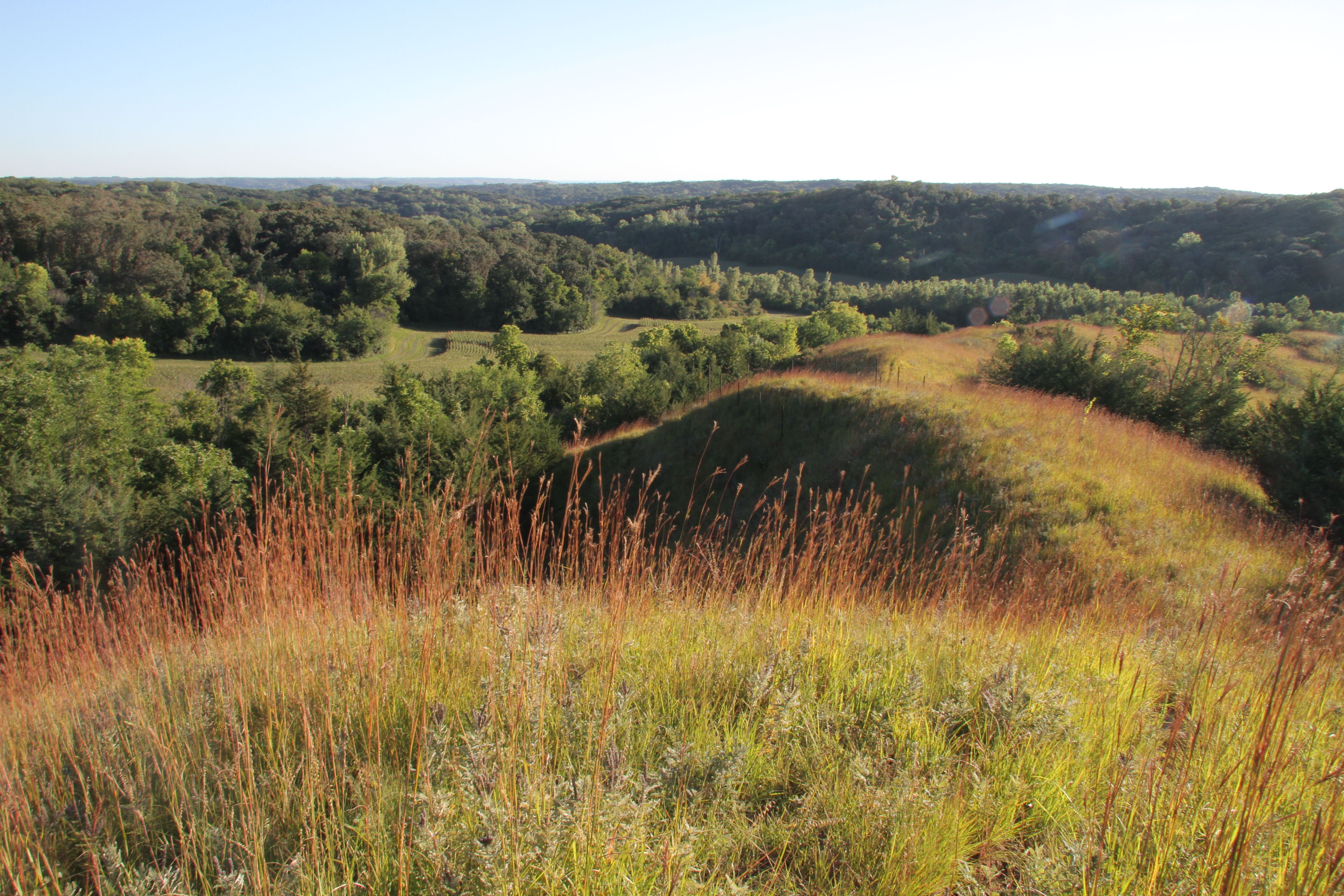 9. The Loess Scenic Byway
---
What to expect
Nowhere but China are deposits of "loess"– a type of hilly land formations made of windblown silt — higher than the ones on this route in Iowa.
Start and end point
Sioux City to Omaha (approx. 220 miles, around 2 hours).
Route and special stops
Extension
Check out the Mile Hill Lake Scenic Overlook on the way to Glenwood.