9 Sights You NEED To See in The Palm Beaches, Florida
in paid partnership with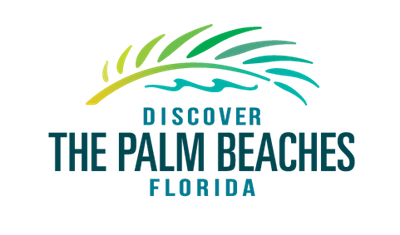 SPANNING 2,386 SQUARE MILES, The Palm Beaches (aka Palm Beach County, Florida) has no shortage of sand to sunbathe on, shopping areas to explore, and upscale restaurants at which to dine. But it's the under-the-radar spots that will surprise you most — and give you an unexpected story to tell.
Here are nine sights — some old, some new — you need to see to truly experience life in The Palm Beaches.
1. CANVAS and the murals of Palm Beach County
CANVAS is an outdoor museum show that brings together art influencers, innovative creators, and collectors from around the globe. Every November, artists from both nearby and far-flung locales gift The Palm Beaches with their imaginative creations in public places around the city of West Palm Beach (from walls beneath bridges to the sides of buildings).
Imagine watching murals, sculptures, and other art take shape right before you — a sort of real-time, interactive street museum. In addition to the formation of the art itself, music and fashion are highlighted. CANVAS also runs a charitable nonprofit organization dedicated to funding the visual arts as well as an artist-in-residence program.
Tip: Although the events associated with CANVAS occur in November, the artwork is up year-round. One of the most Instagrammed murals is on the exterior wall of the Respectable Street bar and music venue on Clematis Street in West Palm Beach. Download the CANVAS app for maps of where to see other pieces, background on the artists, and more. And be sure to check the CANVAS website for an announcement regarding the dates and details of this year's event.
2. The absolutely massive network of artificial reefs
In 2016, the 170-foot, 629-ton M/V Ana Cecilia was intentionally sunk off the Lake Worth Inlet to form an artificial reef, and it immediately became a hot spot for divers. Goliath grouper, which can grow to lengths of over eight feet, and sea turtles are often seen swimming in and around the wreck.
And the Ana Cecilia is just one of a whopping 151 artificial reefs off the coast of The Palm Beaches. So whatever you're into and whatever your skill level, there's a dive here for you. In close proximity to the Ana Cecilia are several other great dive sites, including the Mizpah, the PC-1174, and the Amaryllis, allowing for a lengthy drift dive (the USS Clamagore is reported to be joining the list soon).
Tip: Make plans to get your scuba diving certification prior to visiting, as courses typically require several sessions to complete. Or, stick to snorkeling and skip the paperwork. Grab your fins, head out to the Phil Foster Park Snorkel Trail, and go it on your own. This isn't some mediocre plan B, either — the waters along The Palm Beaches are famous for their abundant marine life…supposedly the best in all of Florida.
3. The sea turtles at Loggerhead Marinelife Center
Most of us have never gotten the chance to get up close and personal with the solitary sea turtle. But that's what a visit to the Loggerhead Marinelife Center is all about. Come for the talks, watch turtle feedings, keep them company in their open-air tanks, fish and hike on the grounds, and if you have a hard time saying goodbye, leave with one "adopted," too. (You can then livestream your turtle online until your next visit.)
Of course, this is much more than a mere aquarium exhibit. A lot of the turtles at LMC are there to be nursed back to health at the veterinary hospital. There's also an outdoor classroom, an exhibit hall, and a research center — making this place unlike what you were probably picturing. Think less zoo and more turtle university (but there's still a gift shop to satisfy all your turtle art cravings).
Tip: To visit, you'll need to join a one-hour tour or attend one of the many, many events. And while the center has plenty of reasons to visit any day of the week, any time of year, one event defines the season: If you can score a trip in August, you may find yourself in the midst of a turtle hatching release, when newly hatched sea turtles make their first crawl to the sea.
4. Swank Table Dinner Series
Swank Specialty Produce, an organic and "hydro-natural" fruit and veggie operation in Loxahatchee, curates and hosts nine annual al fresco dinners with both local and nationally recognized chefs. Imagine a farmers market putting on a Michelin-starred meal.
With each dinner being prepared by several chefs at a time and sometimes right in front of you, each experience is thematically unique, ranging from an Argentine barbecue to a Chinese New Year-themed feast. Beverage options at the Swank Table are supplied by both local and regional microbrewers, distillers, and wine makers, meaning even the drinks are thoughtfully crafted and Florida-sourced. The best part (other than all the flavors): A portion of each dinner's proceeds is donated to local charities.
Tip: These events regularly sell out, so you'll want to reserve tickets in advance.
5. Jupiter Inlet Lighthouse and Museum
Need some epic shots for your IG? Look no further. Located on the north side of Jupiter Inlet, the Jupiter Inlet Lighthouse was first lit all the way back in 1860, and it's one of the few lighthouses you'll see that's built out of brick. The onsite museum runs tours to the top of the lighthouse, where the views only get better.
The history goes deeper, too: The museum itself is located in a restored World War II radio station. Other sights to see while you're here include the Tindall Pioneer House (which happens to be Jupiter's oldest home) and the Keeper's Workshop, once used as a maintenance facility for those who kept the lighthouse in working condition.
You'll also come across the Jupiter Inlet Lighthouse Outstanding Natural Area, a conservation area that includes a hiking trail and lagoon (the area is home to 25 special status species). It's found on the north side of Beach Road, and the area contains three habitats all in one: Florida scrub, tropical hammock, and mangrove swamp.
Tip: Barring holidays, the Jupiter Inlet Lighthouse and Museum is open six days a week (closed Mondays) from May through December and seven days a week from January through April.
6. Pineapple Grove Arts District
The Pineapple Grove Arts District is an easily walkable area of downtown Delray Beach just off of Atlantic Avenue that's full of art galleries, boutiques, salons, restaurants, and bars. After wandering through Artist Alley, your best bet is to hit up El Camino for "Mexican soul-food" (preferably on $2 Taco Tuesdays).
If you're not lucky enough to land on Taco Tuesday, on the first Friday of every month an art walk allows visitors to roam the different contemporary art galleries (which feature rotating shows and exhibits) of downtown Delray Beach. And every Saturday during the right seasons, you'll come across an open-air marketplace known as the GreenMarket. More than 65 vendors can be found selling fresh produce, meats, baked goods, fresh-cut flowers, and artisan consumer products.
Tip: For a list of days on which the GreenMarket is open, be sure to check downtown Delray Beach's website. You'll also find information on restaurants, shops, and galleries within the area, allowing you to make a to-do list prior to your visit.
7. Grassy Waters Everglades Preserve
Spanning 23 square miles of coastal Florida worthy of a postcard, the Grassy Waters Everglades Preserve serves as both the freshwater supply for West Palm Beach, South Palm Beach, and the island of Palm Beach, and as respite from the hubbub of city life.
Though the Everglades continue to disappear due to constant development and the disturbance of its natural water flow, the wetland ecosystem of this preserve remains intact. Native wildlife, including alligators, otters, bobcats, white-tailed deer, and white ibises, can be spotted here — even bald eagles nest in the area during the winter months.
Hop on the boardwalk trail to check out all this wildlife — the round-trip measures roughly a mile in length. Additional trails, ranging from .5 miles to 16.6 miles, crisscross the map and go deeper into the heart of the preserve. Feel free to explore on your own, but the nature center also arranges tours for those looking to kayak, canoe, or hike with a guide. Wherever you go and whatever you do, guide or not, just be sure to pack your camera.
Tip: If you're an experienced cyclist, bring your bicycle along. The majority of the trails are rideable on two wheels. Additionally, catch-and-release fishing is allowed on Gator Lake.
8. Worth Avenue
One of the county's best-known streets, Worth Avenue is an upscale shopping district on the island of Palm Beach. It's great for exploring on foot — there are several "vias" (small pedestrian paths), many of which lead to gardens and courtyards behind the shops, restaurants, and galleries in the area. And it's hard to miss the giant clocktower at the avenue's eastern end — right next to the beach.
Worth Avenue was the home of the first Saks Fifth Avenue outside of New York City, and it hasn't lost its glitzy image. More than 200 restaurants and high-end stores — think Ralph Lauren, Tourneau, Salvatore Ferragamo, and Tiffany and Co. — are lined up along its sidewalks. For the snazziest glimpses of life in The Palm Beaches, this is the place to be.
Tip: If you're less into shopping but love the idea of hearing more about the quirky history of the area (lots of glam, a few fires, and plenty of famous families, for starters), the Worth Avenue Association puts on local events and historical walking tours. For the record, there's free two-hour parking along Worth Avenue itself.
9. Morikami Museum and Japanese Gardens
Picture wandering through the Garden of the Drops of Dew, relaxing in pagodas dimly lit by lanterns, and hopping onto stepping stones from pond shore to island and back. This is the Morikami Museum and Japanese Gardens, which today serves as both a reminder of the past and a hub of local activity (not to mention one heck of a date night). It hosts constantly rotating as well as permanent art exhibits, the ever-popular autumn Lantern Festival, and regular culinary events like Sushi & Stroll.
The garden area, Roji-en, contains six gardens, each inspired by a different period in Japanese history. The site is also home to a teahouse, where visitors can observe a traditional Japanese tea ceremony on designated days.
Here's the story behind the site: In the early 1900s, Japanese farmers settled in present-day Boca Raton. Their community, known as the Yamato Colony, grew slowly for decades until World War II. By the end of 1945, George Morikami, the museum's namesake, was the only member of the colony to remain in the area. His farm, which he donated to Palm Beach County, would become the site of the Morikami. And the rest is history.
Tip: The museum hosts a number of different festivals, classes, and more. Each day is different, so be sure to check the website for schedules (and potential closures). When you're there, check out Yamato Island, too. It's the site of the original museum building, where it all started decades ago.
What did you think of this story?