in paid partnership with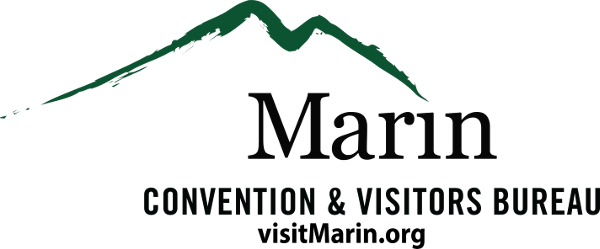 WHEN PEOPLE VISIT SAN FRANCISCO, they usually stay in the city itself. Yes, it's one of the world's most exciting metropolises, but that means constant noise, constant traffic, and consistently astronomical prices. And while you could spend weeks in San Francisco proper without running out of things to do, there's far more to experience in the Bay Area.
Marin is just a few minutes outside of the city (cross the Golden Gate and you're there) and, with over 75% open space, gives you the San Francisco experience with an easy option for escape when you need it. You'll find plenty of artisanal cheese makers and oyster shuckers here as well, it's also the source for the city's food culture.
A night spent in Marin County could mean a hotel, a houseboat in the bay, or a hike-in lodge overlooking the ocean. However it unfolds for your visit, here are some compelling reasons why your best home base during a trip to San Francisco is its neighbor to the north, Marin.
It's not concrete — it's green.
Although Marin is only three watery miles from San Francisco, it's a world apart. The horizons widen immediately as you cross the Golden Gate Bridge, with natural spaces revealing themselves in the form of the Marin Headlands, filled with bluffs, beaches, and trails.
WATCH: Matador Original Video
x
Marin was relatively lightly settled until construction of the Golden Gate Bridge was completed in 1937. Once the bridge opened, Marin's citizens moved quickly to protect the county, which today comprises part of the federal Golden Gate National Recreation Area, Point Reyes National Seashore, and Muir Woods National Monument; six state parks including Mt. Tamalpais, Samuel P. Taylor, Tomales Bay, and Angel Island; and an extensive network of county-run natural areas. It only takes a few minutes to travel from the pounding Pacific to the gentle lapping of the northern reaches of San Francisco Bay, with redwood forests, rolling oak woodlands, and farmland in between.
This is where the outdoor sports action is.
Marinites have been finding new ways to enjoy the combination of bluffs and beaches for a long time; the county is the birthplace of mountain biking and is the home of the Marin Museum of Bicycling and Mountain Bike Hall of Fame. Once you hit Mt. Tamalpais, it'll all make sense. There are plenty of places to rent bikes and experience the local terrain for yourself — try Acme in San Rafael, Sunshine in Fairfax, and 3 Ring Cycles in San Anselmo.
Great hiking is everywhere in Marin, too, if you'd rather foot it through the Headlands — favorite trails are the Steep Ravine, Dipsea, Matt Davis, and Alpine Dam on Mt. Tamalpais; the gentle Tennessee Valley trail in the Headlands; and Bear Valley, Alamere Falls, and Tomales Point in Point Reyes.
Marin is home to the oldest trail race in the US, the Dipsea, first run in 1905 (and still chugging along each year in June). The original is 7.4 miles long, and the course runs up and over Mt. Tam to Stinson Beach. Two weeks later, the trail is swarmed again for the Double Dipsea, and on the Saturday after Thanksgiving, it's the Quad.
Marin is surrounded by water on three sides. Sail SF Bay with SF Bay Adventures (check out their sunset cruises); Blue Waters is your stop for Tomales Bay kayaking (great for beginners); and don't miss 101 Surf Sports in San Rafael. Surfers head to Stinson Beach or Bolinas, although the latter is notoriously difficult to find — and locals like it that way.
It's far enough away to have its own wildlife, too.
While the only salmon you'll see in San Francisco is on your plate, Marin has the most significant coho salmon run in the Central Coast area of California. The fish are easily visible starting around January, depending on when (and, these past few years, if) the rains arrive — it's a weirdly moving experience to see the determined fish thrash upstream toward their spawning grounds.
From December through March, huge elephant seals beach themselves around Drake's Beach and Chimney Rock at Point Reyes National Seashore. Even bigger creatures pass the peninsula of the Point Reyes Lighthouse — California grey whales, on their migrations to and from Baja California, part of their 10,000 miles of annual swim laps. Marin is also home to a huge variety of birds, with grebes, buffleheads, hummingbirds, warblers, and sparrows arriving from their migrations at different times of the year.
There are tons of historic and fascinating places to stay.
San Francisco has plenty of swanky hotels, but Marin's options might just surpass the more upscale downtown options. You can hike a few miles into the West Point Inn and spend the night on Mt. Tam in an early-20th-century lodge, or hustle for a place at the Steep Ravine Environmental Cabins, dating from the '40s, and sleep right above the pounding waves near Stinson Beach. At both you'll be surrounded by wild places, and worlds away from San Francisco (while being less than an hour's drive from all the excitement). The Point Reyes Hostel is another great option for access to Point Reyes and Tomales Bay, with stellar views down to the Pacific. The hostel recently added a LEED gold-certified green building, complete with private rooms.
Want to be closer to San Francisco? There's another hostel in the Headlands, Marin Headlands Hostel, also in a historic building and with some private rooms. And Sausalito is a nautical town just a few minutes across the bridge from San Francisco — check out Airbnb for houseboats for rent by the night and sleep in the harbor next to gently clanging masts and lapping waves.
Your food won't travel far to your plate.
San Francisco is well known for its foodie scene, but, as is true with most cities, nearly all of the raw ingredients come from outlying areas. Marin is home to many locally famous farms and ranches; stay here and you'll be that much closer to the source. The San Francisco Zen Center's Green Gulch near Muir Beach provides produce to Greens, a San Francisco vegetarian restaurant known for its farm-to-table approach dating back 35 years. At the Green Gulch, you can wander the fields, check out their Zen Center, and take a hike from Tennessee Valley or a mellow stroll on Muir Beach.
There are quite a few cheese makers in Marin, making for one excellent local dairy scene. Check out Cowgirl Creamery for organic cheese in Point Reyes, Nicasio Valley Cheese for more organic cheese in Nicasio, and Marin French Cheese on the Point Reyes-Petaluma Road for cheese with a 150-year history in the area. Oysters are another source of local pride; the Marshall Store and Hog Island — where they hand-raise their oysters and pride themselves on being a sustainable food source — are a draw for day-trippers from within the city limits.
The Marin Civic Center Farmers Market is open on Thursdays and Sundays — it's considered one of the best in California. On Thursdays you'll see local chefs wandering the aisles, stocking up on pomelos or quince. Marin is destined to become even more of a food destination in the near future — construction of a new permanent market was recently given the green light, paving the way for a facility similar to San Francisco's Ferry Plaza. Stay here soon and you'll be ahead of the crowd.