Repost This Article
What you're seeing is real.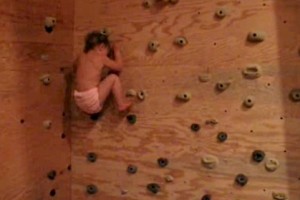 I STARTED ROCK CLIMBING last summer. I wish I'd started when I was in diapers.
Over the winter I joined a climbing gym and progressed very nicely. Now I await the snow to fully melt and the sun to dry the rocks. It will be my first season leading and I'm really stoked about it.
Climbing seems like a natural fit for me at this time in my life. There is a ton of climbing around where I live and the community is top notch. I enjoy the meditative aspect of it — the focus required when clinging by my fingertips. Nothing else exists at that moment.
I wonder what this baby was thinking about.

About The Author
Carlo Alcos
Carlo is a Managing Editor at Matador and co-founder of Confronting Love. He blogs about travel, life, and creativity at Vagabonderz.com. Like him on Facebook and follow him on Twitter. He lives in Nelson, British Columbia.
Subscribe to Matador
The best travel articles each week. No spam.
---