in paid partnership with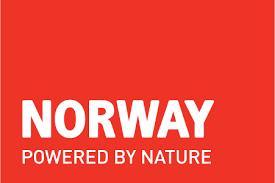 MOVING FROM GERMANY TO NORWAY almost 20 years ago, my first impression of Norwegian food was that it was actually quite similar to much of what my German family used to cook: boiled potatoes, vegetables, meat, fish. As time passed, though, my understanding of Norwegian food became more nuanced, and I realized there were more distinctions that deserved exploration.
So, what is typical Norwegian food? I recently asked my Facebook friends from around the world what comes to mind when they think of the cuisine, and they answered exactly how I expected, with traditional Norwegian dishes and ingredients — the stereotypical Norwegian diet. Salmon came up a lot, as well as fish and seafood in general. Fish soup and lutefisk made big appearances, and even the infamous rakfisk (trout that's been salted and fermented for two to three months) was mentioned.
People had heard that the country is a big consumer of dairy products like brunost, the nearly caramel-tasting brown cheese, and rømme (sour cream) — which Norwegians put on everything from rakfisk to pizza to thin Norwegian waffles, alongside a dollop of jam. Then there were the frequent references to meat products made out of reindeer and moose, and lamb dishes like fårikål (cooked for hours as a casserole with cabbage, whole black peppercorns, flour, and boiled potatoes).
And all of my friends were…half right. While it's true many of these dishes are still eaten regularly in Norway, the diet of the average Norwegian isn't necessarily so clichéd. The modern Norwegian family is just that — modern. Sandwiches for lunch, or maybe sushi from a restaurant or the local supermarket. Grandiosa, Norway's most famous frozen pizza, for dinner. A Friday night meal might be tacos, and a good snack is baconpølse, cheese sausage wrapped in bacon.
Not exactly fermented fish. And while the Norwegian diet is becoming more and more global, a change in the way Norwegians think about food is happening, too. Why can't such a variety of options be produced here, too?
It can. And it is.
The quiet food revolution
In recent years, more and more Norwegians have begun to wonder why our country, with such a rich agricultural heritage, one of the highest standards of living, and so much nature, couldn't produce some of the world's most amazing food. The answer was obvious — of course we can!
For starters, we have small-scale farmers who are incredibly passionate about their heritage — many grew up on family farms — and about growing food in a sustainable way. They might not be able to compete with bigger farms in terms of quantities or price, but when it comes to quality, know-how, and environmentally friendly methods, they reign supreme. And to the benefit of the rest of us, many aren't just farmers — they also run B&Bs or farm cafés at the same time, processing meat into sausages and meatballs, milk into cheese and ice cream, and have a farm shop for their goodies and other local products, setting the stage for a burgeoning local food movement.
Enter you and me and the rest of the country. Plenty of us are willing to stomach higher prices for truly great products, and this creates the demand necessary to keep the little guys (and gals) afloat. Supermarket chains add new products to their offerings, and the snowball grows bigger. Farmers now sell directly to consumers at local farmers markets and food halls (mathallen) — indoor markets of epic proportions that can be found in Oslo, Bergen, Trondheim, and Tromsø. And mathallen aren't only places where fresh-off-the-farm products can be bought — they also house restaurants and offer cooking classes and lectures.
This newfound hunger for all things Norwegian can be observed across the country. Just check out the sheer volume of Norwegian cookbooks appearing every year, with everything from sushi recipes that use Norwegian salmon, to how-tos for the perfect gravy, to tips for baking the perfect flatbread.
And last but not least: You'll find some of the world's best cooks in Norway — they're often spotted winning medals at big cooking competitions like Bocuse d'Or or IKA, and, as always, seeing what they can create with local ingredients.
Small-scale artisans at the vanguard
For every small-scale producer or product in Norway, there's usually a how-we-came-to-be tale to go along with it. Craft beer offers some good examples, like the story behind Austmann Brewery. In 2011, three young men decided to give their dream of opening their own craft brewery a go — but banks weren't exactly lining up to offer them a loan. The future looked bleak for the trio, until a group of local investors stepped in to make the dream a reality. In 2013, the first Austmann beer was produced, and the following year their Northumberland Brown Ale won a gold medal at the Meininger Craft Beer Awards. Today, Austmann is Norway's sixth-biggest craft brewery in an industry with rapid growth — there are now roughly 200 small-scale breweries registered across the country, a far cry from the fledgling industry that was struggling to get its start 10 years ago.
Then there's quinoa, and the case of Marthe and Jardar Røhr-Godø. A few years ago, the couple decided to take over the farm of Marthe's parents. Wanting to try something new — and already being quinoa lovers — they bought a package of seeds and planted them in the garden. Fast forward a couple years and they're cultivating quinoa on 35 acres of land and selling it in a handful of shops and farm cafés. There's been lots of interest in their quinoa-growing project so far, and by 2018 (or sooner!), their goal is to be selling their own porridge, too.
But it doesn't stop with beer and quinoa. Small-scale, locally produced meat and seafood are more popular than ever, and so is cheese — what was once nothing but brunost (brown cheese) is now camembert, blue cheese, goat cheese, brie, you name it. Just ask Gunnar Waagen — at the World Cheese Awards, he took home "world's best cheese" for his Kraftkar, a blue cheese. His cheesery, Tingvollost, started out very small and is still 100% family-run. Now, they're helping Norway become home to the best cheeses in the world — quite literally.
And, yes, Tingvollost is open to visitors. Stop in, try the world's best cheese, and visit the cows from which it comes — they all have names.
Experiencing the revolution for yourself
Any dining experience in Norway must include the traditional fare we're known for — it's a part of our culture. Our history. Our lives. But you've got to see how the country is changing, too. If you're interested in going straight to the source, visit the farmers markets (found in many of Norway's largest cities and towns) or one of the aforementioned food halls, like Mathallen Oslo or Mathall Trondheim. Many farms are open to visitors, too, and some year-round. Check out Syse Gard or Ulvik Frukt & Cideri in Ulvik (and be sure to grab some fresh apple cider) or Tronstad Gaard in Hurum, which dates back to the Viking Age.
From late July to September, you'll find food festivals in many Norwegian cities, and the largest of them (in Trondheim, Stavanger, and Oslo) can draw crowds of 200,000 visitors in a weekend. Trondheim's Trøndelag food festival is right in the city center and has over 150 vendors. Gladmat, Stavanger's food fest, is wall-to-wall people along the harbor and food from all over the world. But Oslo's Matstreif is the country's largest — it takes place in September and is so popular you'll find yourself lost in the seafood section alone.
If you're not looking to cook, restaurants are just as locally inclined. The most famous is possibly Maaemo in Oslo — it's the only restaurant in Norway with three Michelin stars. Other Michelin-starred restaurants are Kontrast (Oslo), Renaa: Atriet (Stavanger), and Statholdergaarden (Oslo). But you can have excellent food experiences just about anywhere — in Oslo, look up Engebret Café, Brasserie Paleo, or Ekebergrestauranten. Further north, check out Enhjørningen (The Unicorn Restaurant) in Bergen, Hotel Union Øye in Ørsta, or To Rom og Kjøkken in Trondheim.
Øyna in Inderøy, Kaffestuggu in Røros, Knutholmen Restaurant in the fishing village of Kalvåg, and Restaurant Magdalene in Voss are eco-certified — and many use local ingredients, to boot. To make it easy, look for the "Norwegian Foodprints" badge near a restaurant's entrance — it means the establishment uses local ingredients and makes nearly everything from scratch.
One more note: If you're traveling in the southern half of Norway, shop at any supermarket from the "Meny" chain — they carry virtually everything, including nearly 2,500 products from 450 local producers.
Coffee — a mandatory ending to every meal in Oslo
If you tend to start or finish your meals with a cup of joe, stay put in the capital — there are few cities in the world that can compete with Oslo (some would say none). This is a country notorious for its love of coffee — nine out of ten Norwegians drink coffee daily, and the average Norwegian drinks 160 liters a year.
You can get your Starbucks here if you want it, but you shouldn't. Leave the green mermaid for when you're at home and instead try out Norwegian staples like Kaffebrenneri and Stockfleths. Or, really, any of the independent espresso bars scattered throughout the country that roast their own beans. Norwegians drink more coffee than any country in the world apart from Finland, so trust that you're in good hands.
And there's proof: The accolades started a few years ago when USA Today named Oslo one of the world's "best cities for coffee." When Oliver Strand (of The New York Times) visited Oslo in 2011, he fell in love with the lighter-roasted Norwegian coffee, making a list of 12 recommended coffee shops — and that list is a good start for anyone. Give Tim Wendelboe, Mocca Kaffebar & Brenneri, Fuglen, and Java Espressobar & Kaffeforretning a try for a quintessential Norwegian coffee. It's going to be lighter than you're used to, so don't go into it expecting anything resembling your "normal" coffee, and do give your palate time to adjust. The idea is that roasting acts like a mask — so when the beans are only lightly roasted, their true characteristics are allowed to shine, making for an experience like none other.
In Norway, a good bean makes a good coffee, but an amazing one will blow your mind. Just like the rest of the country.
Feature photo: Tina Strafrèn for Visitnorway.com