22 Places To Stay in Switzerland for Epic Views of Alpine Peaks and Glittering Lakes
Switzerland may be small, but it's mighty scenic. Regardless of the time of year you visit or the region you choose to explore, there are jaw-dropping views to admire, like snow-capped peaks, glacial lakes, lush green pastures, and chalet villages. You can enjoy those views from the country's rail network, by driving or hiking to charming villages, but we recommend you take in those stunning landscapes by waking up to them. From five-star luxury hotels, to gondola-turned-tiny-house, here are 11 of the best places to stay for great views while in Switzerland.
We hope you love the Switzerland accommodations we recommend! Just so you know, Matador may collect a small commission from the links on this page if you decide to book a stay. Listed prices are accurate as of the time of publication.
1. Observatory by Randolins, St Moritz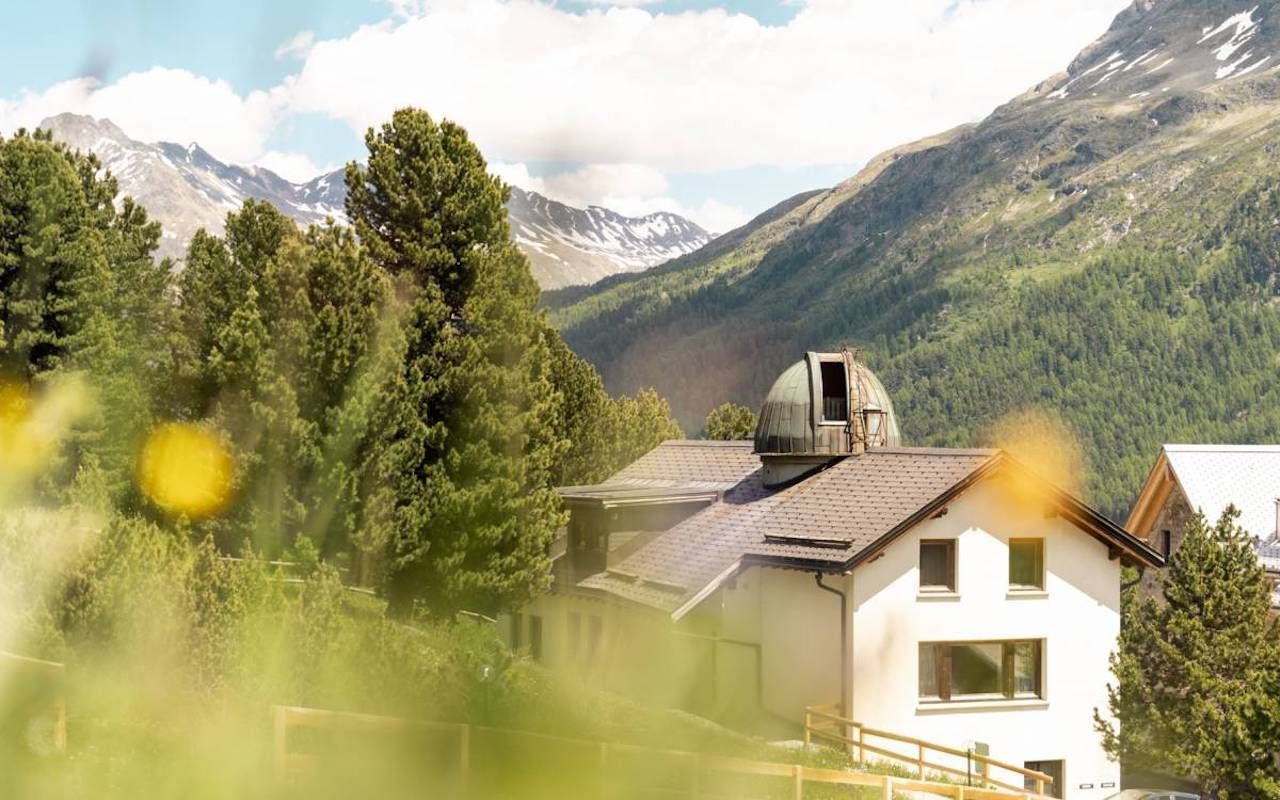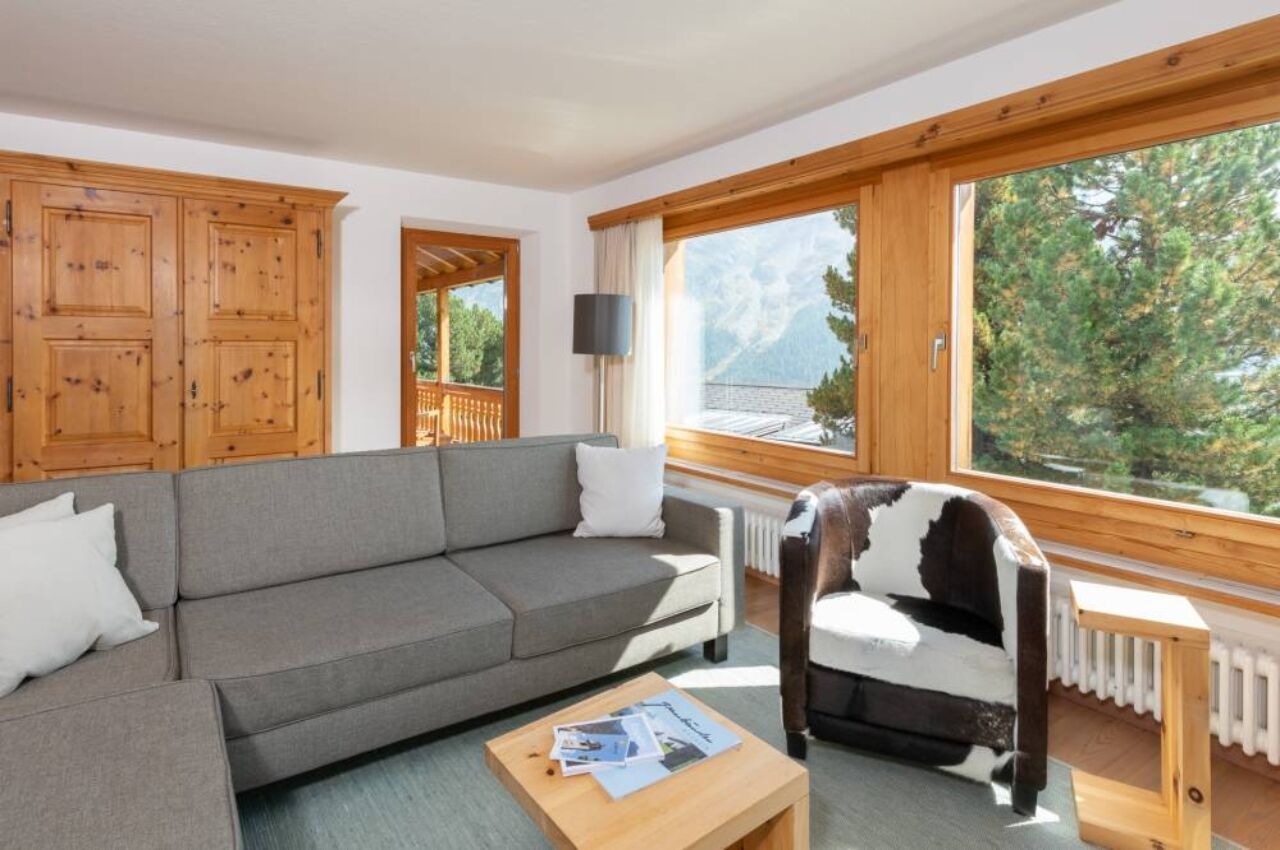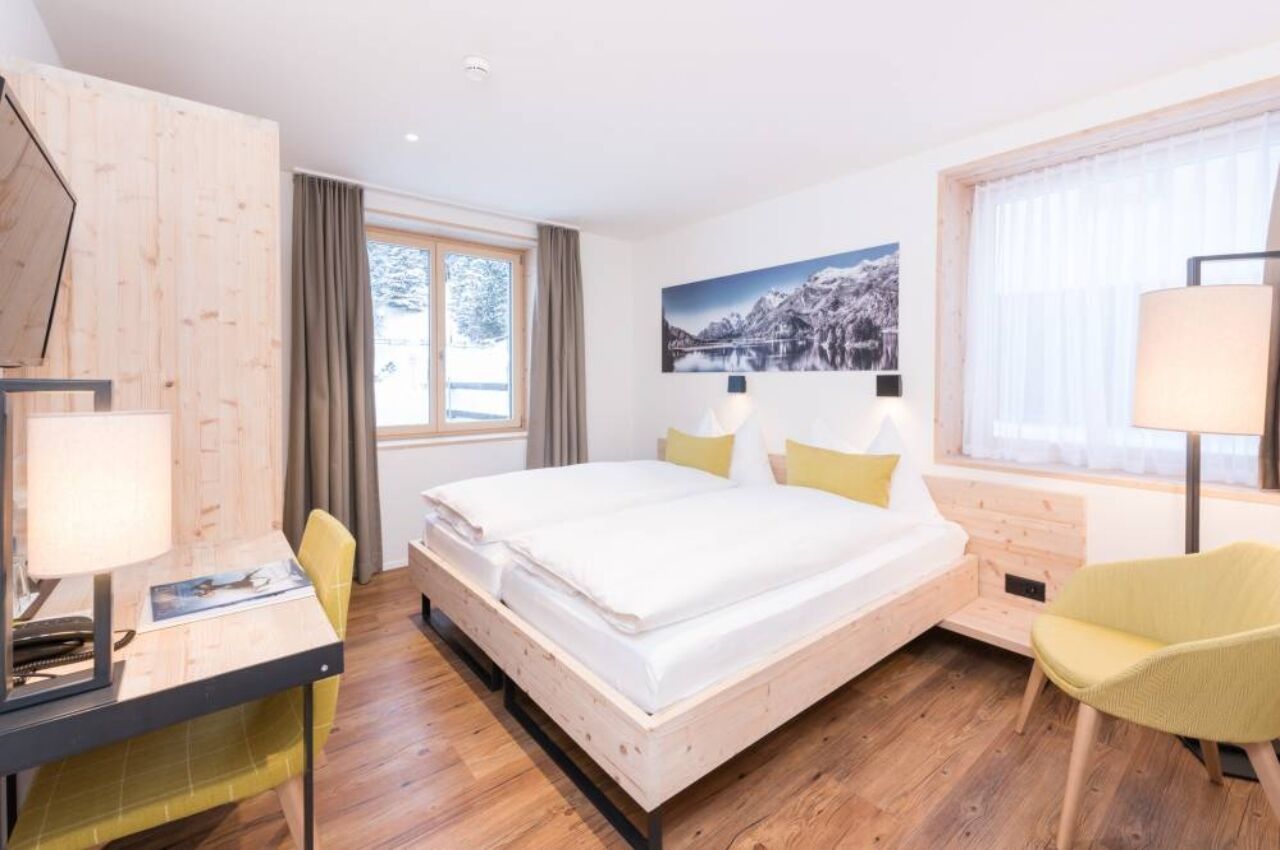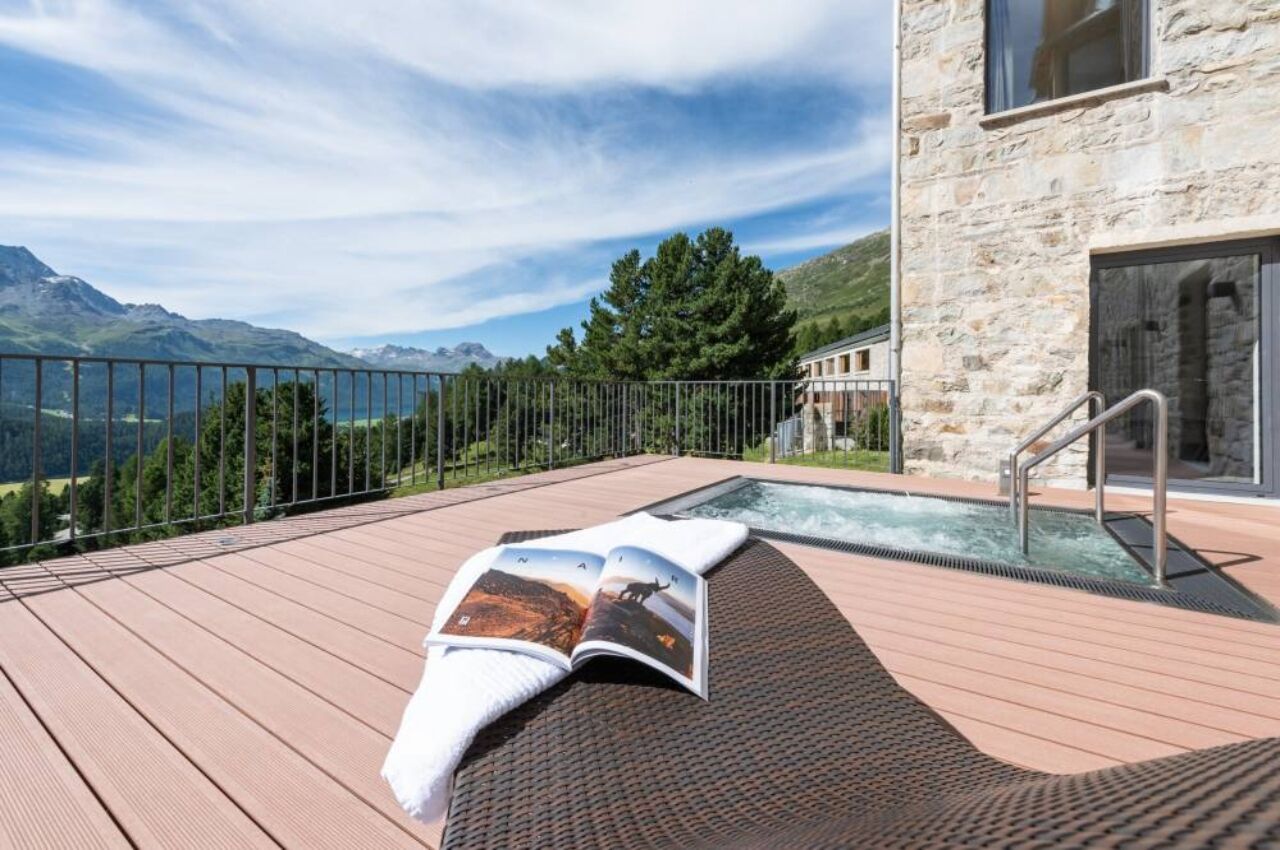 Perched 6561 feet above St Moritz, Observatory by Randolins is a former observatory-turned that has been converted into a unique hotel room that has one of the most expansive night sky views you can wish for. The room features a closed dome with a small window that can be opened for uninterrupted star gazing. The room itself comes with a cozy double bed and a private bathroom down the hall.
Sleeps two, adults only.
Prices start at $330
2. 22 Summits Hotel, Zermatt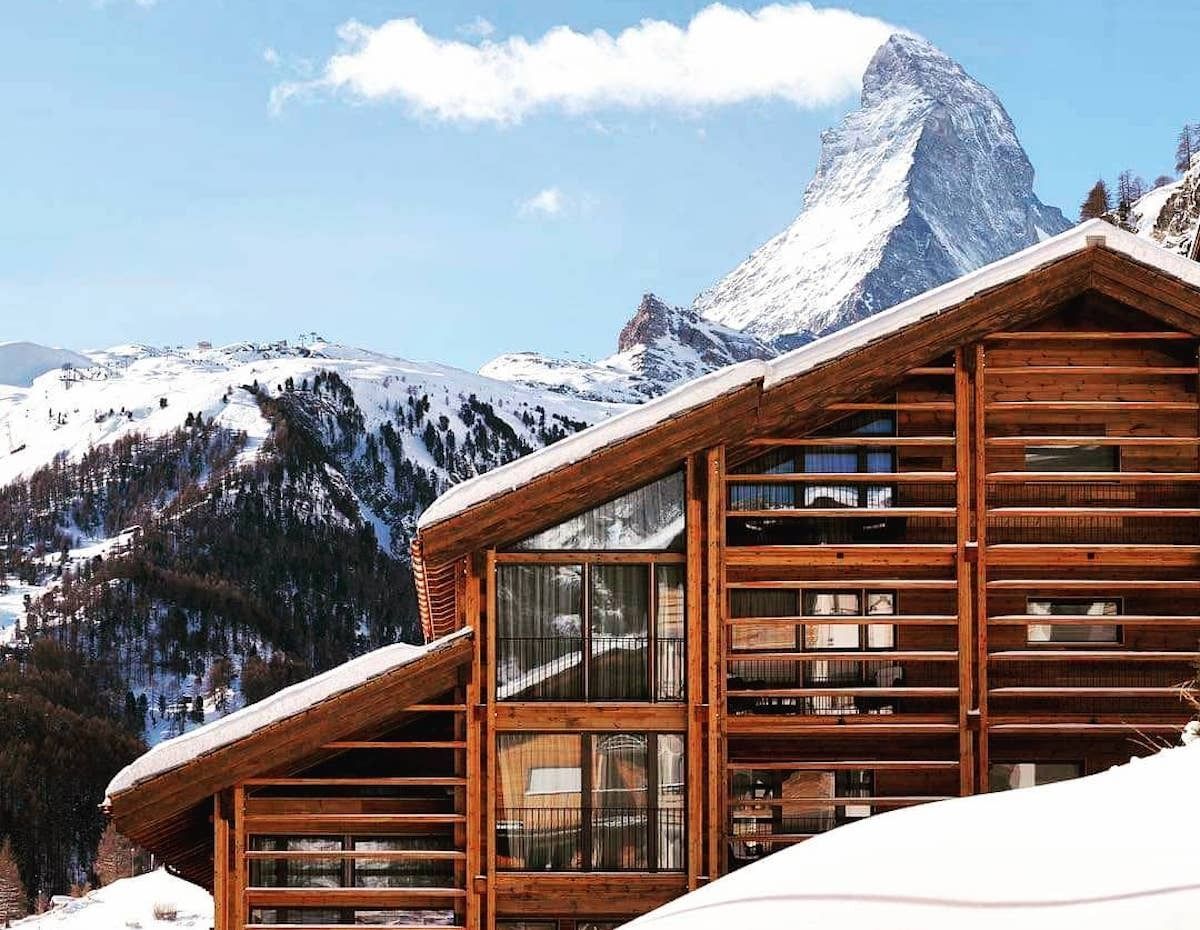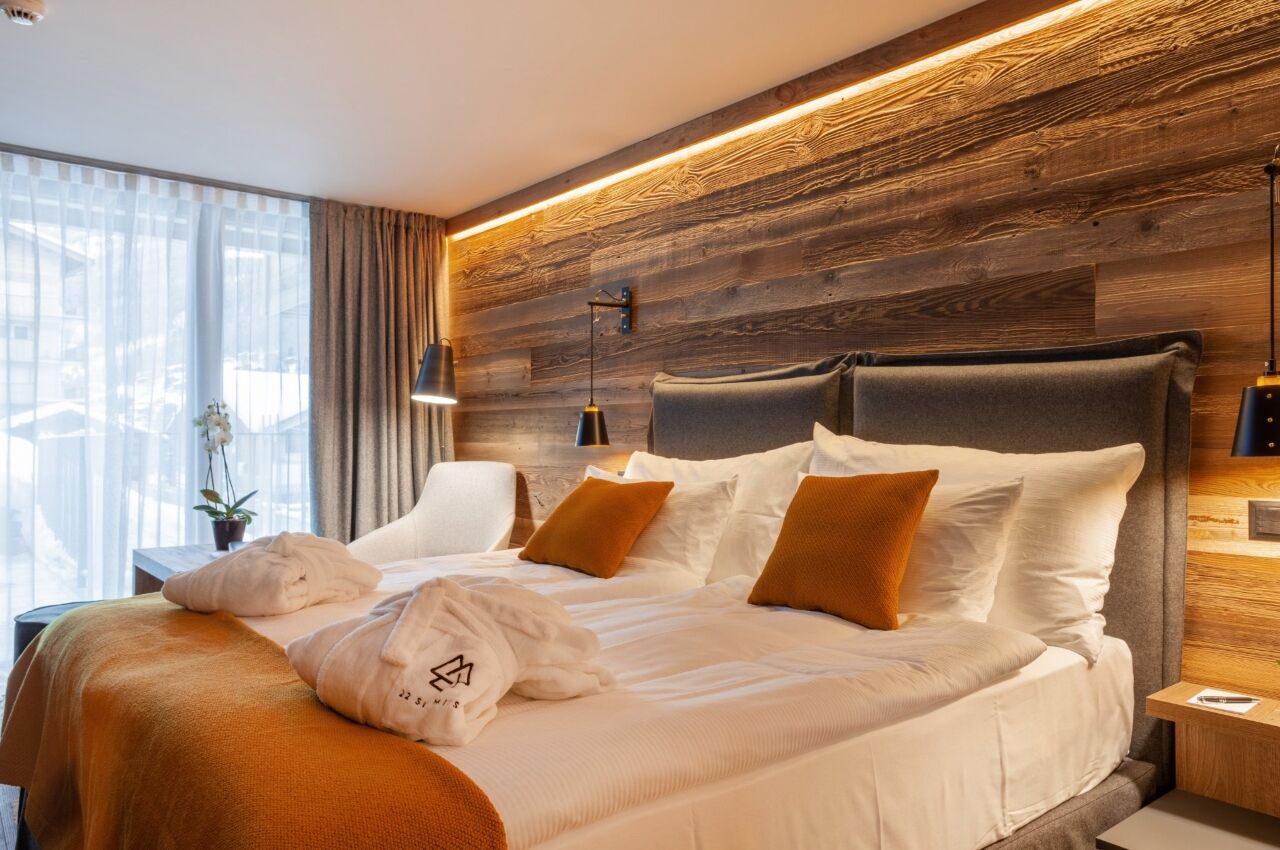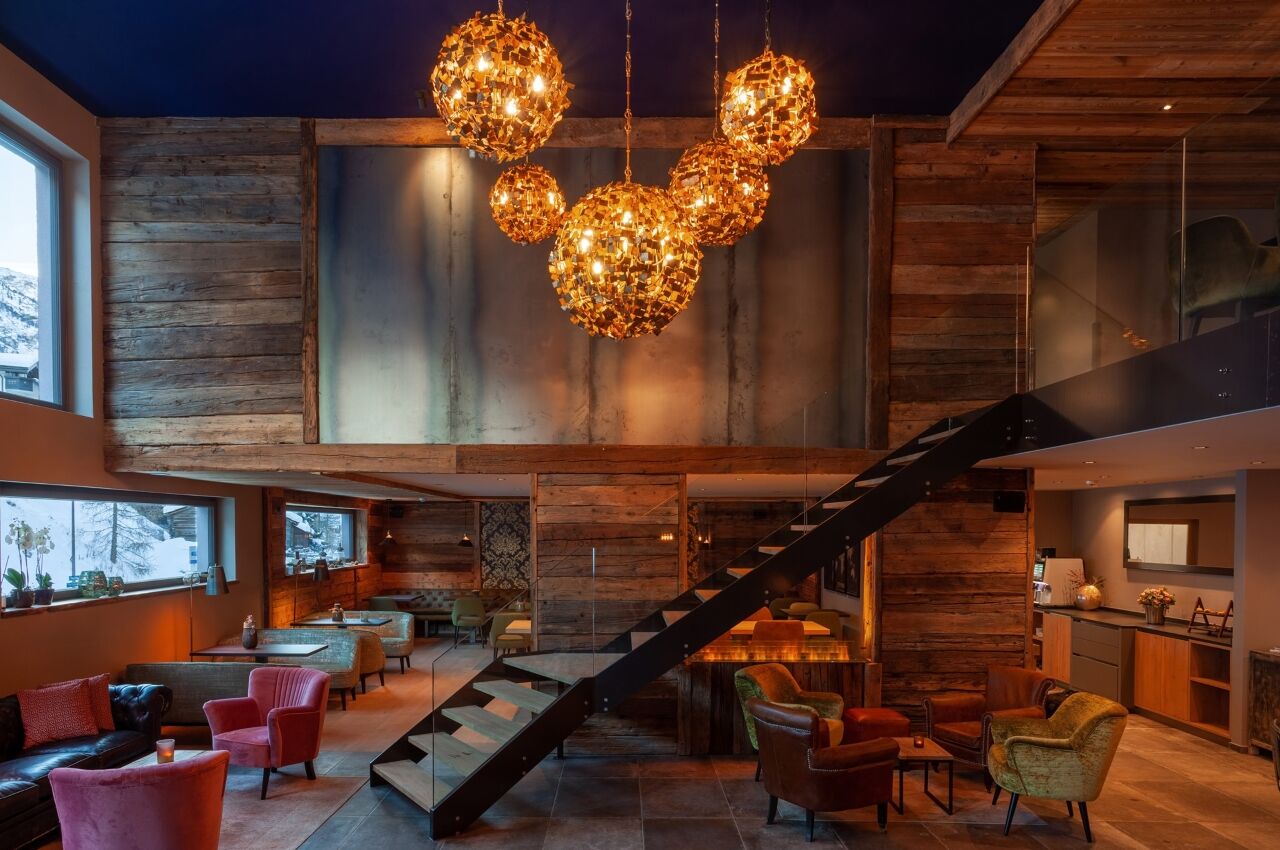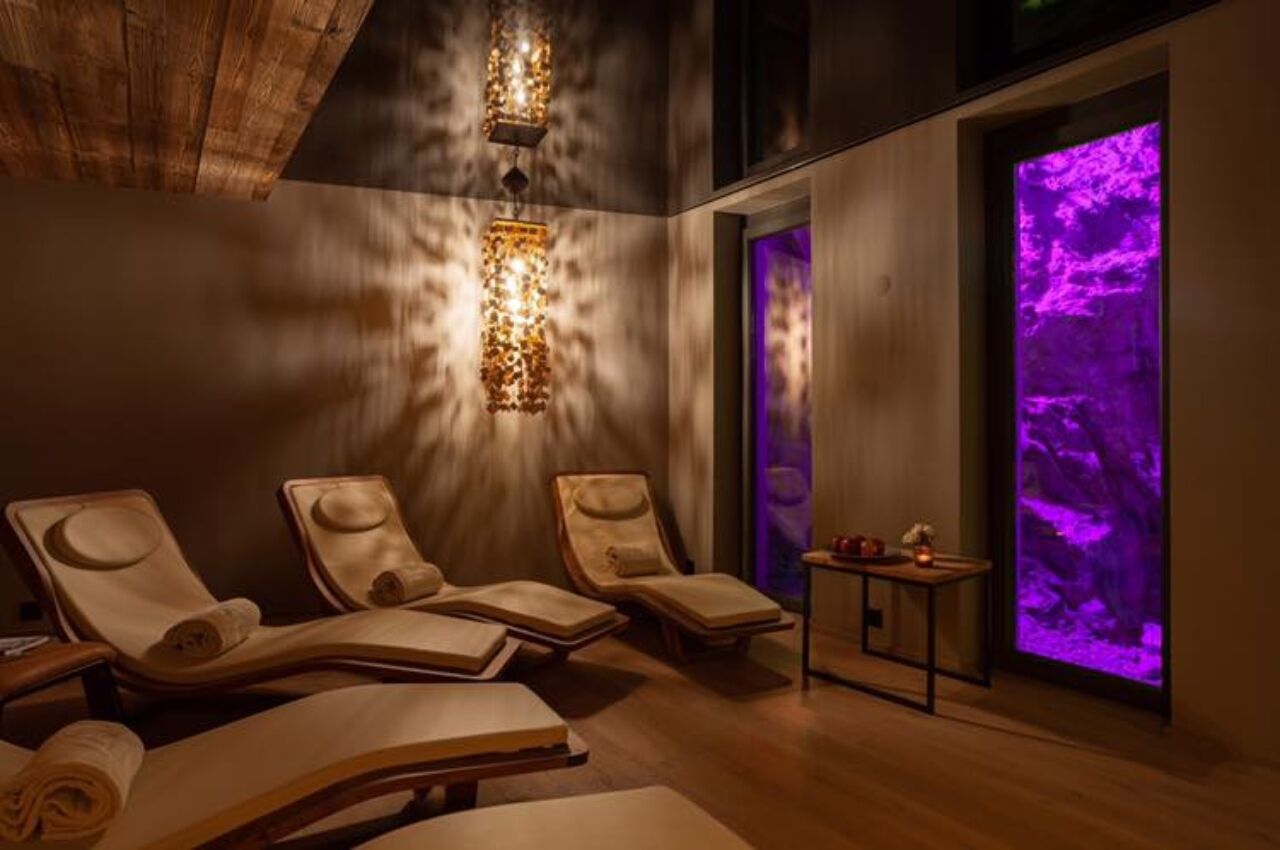 22 Summits is a four-star, family-run boutique hotel in Zermatt. Combining classic alpine chalet design with luxurious modern amenities, it is full of laid-back charm. And with vistas from every room of the surrounding peaks, including the mighty Matterhorn, you are guaranteed some of the most iconic Switzerland views. And the outdoor hot tub is the perfect place to unwind after a day on the slopes.
Prices start at $330 per night for double rooms.
3. Hotel Kirchbühl, Grindelwald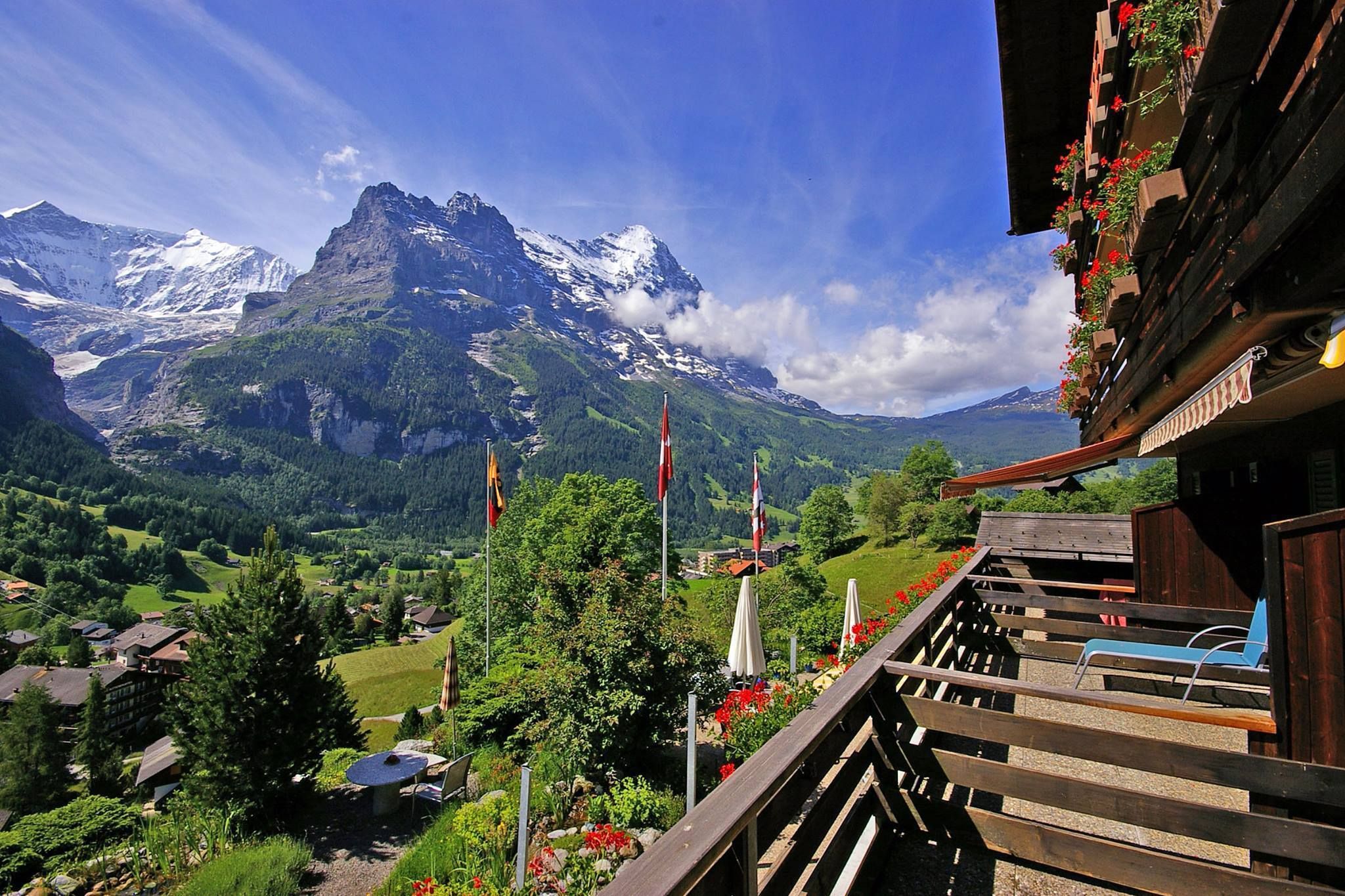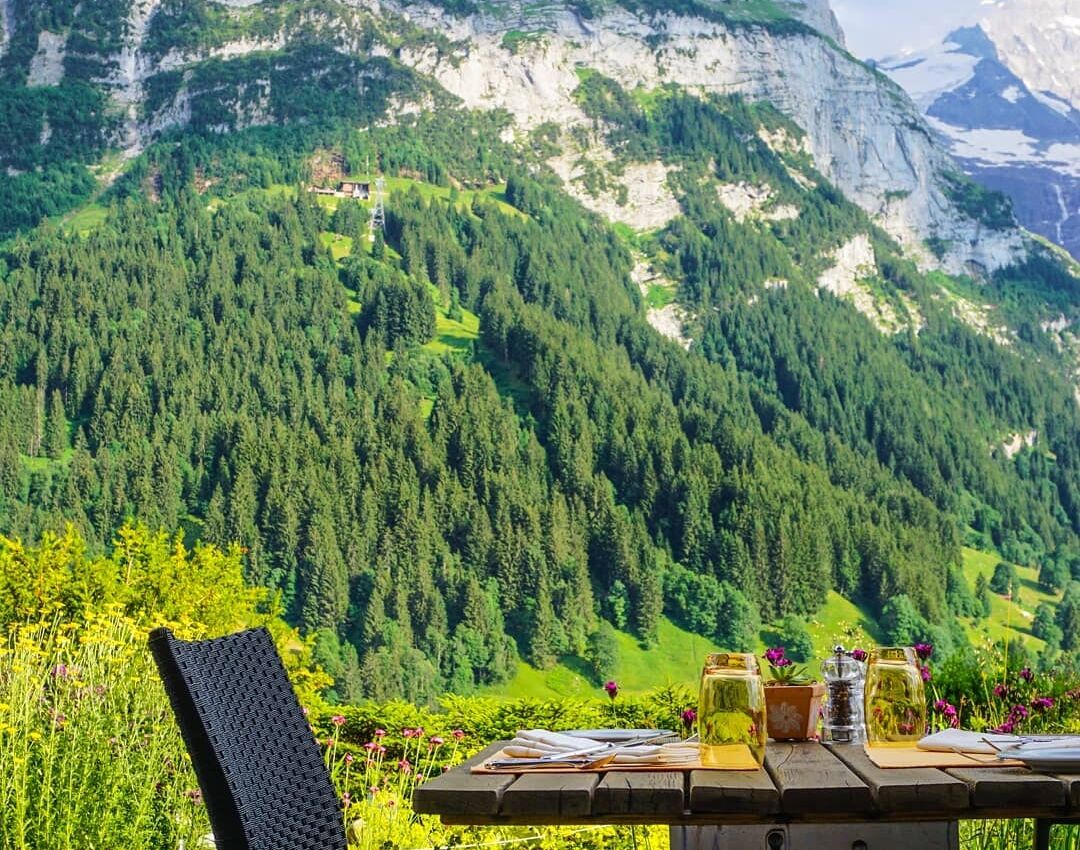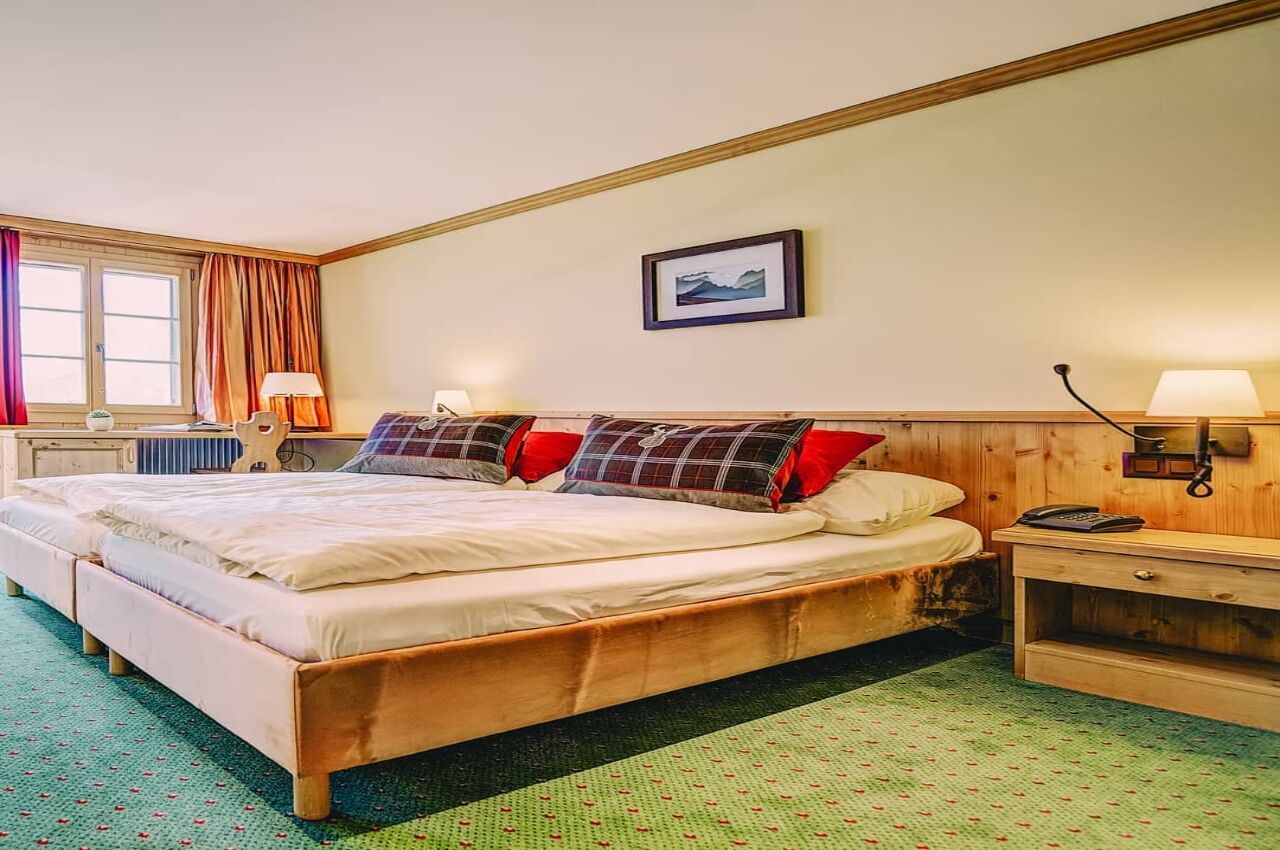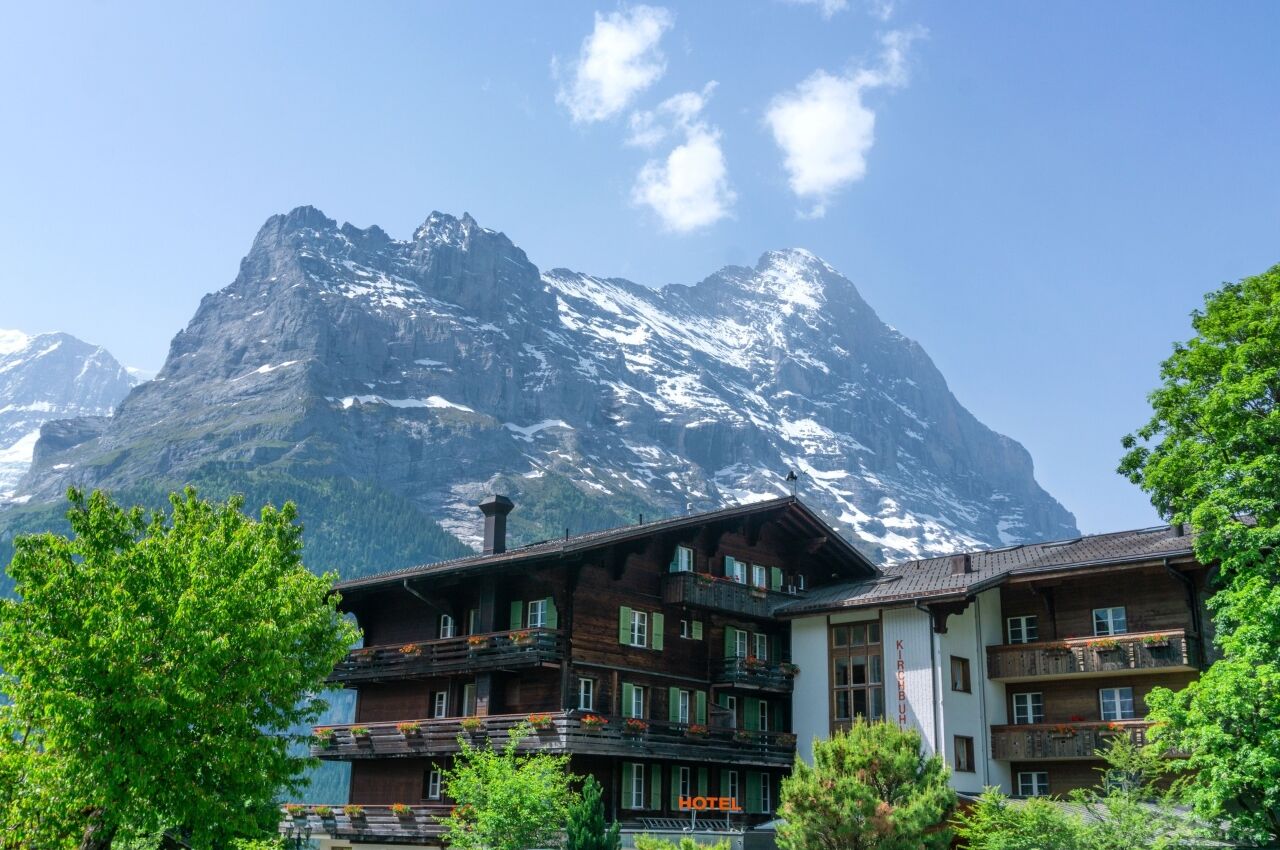 The storybook village of Grindelwald, set at the foot of the north face of the Eiger, is a picture-postcard destination that screams Swissness. The elegant Hotel Kirchbühl offers double rooms and suites with magnificent mountain views over the village church to the UNESCO Swiss Alps Jungfrau-Aletsch World Heritage site.
Prices start at $189 for double rooms.
4. Comfortable apartment in a unique location, Lake Lucerne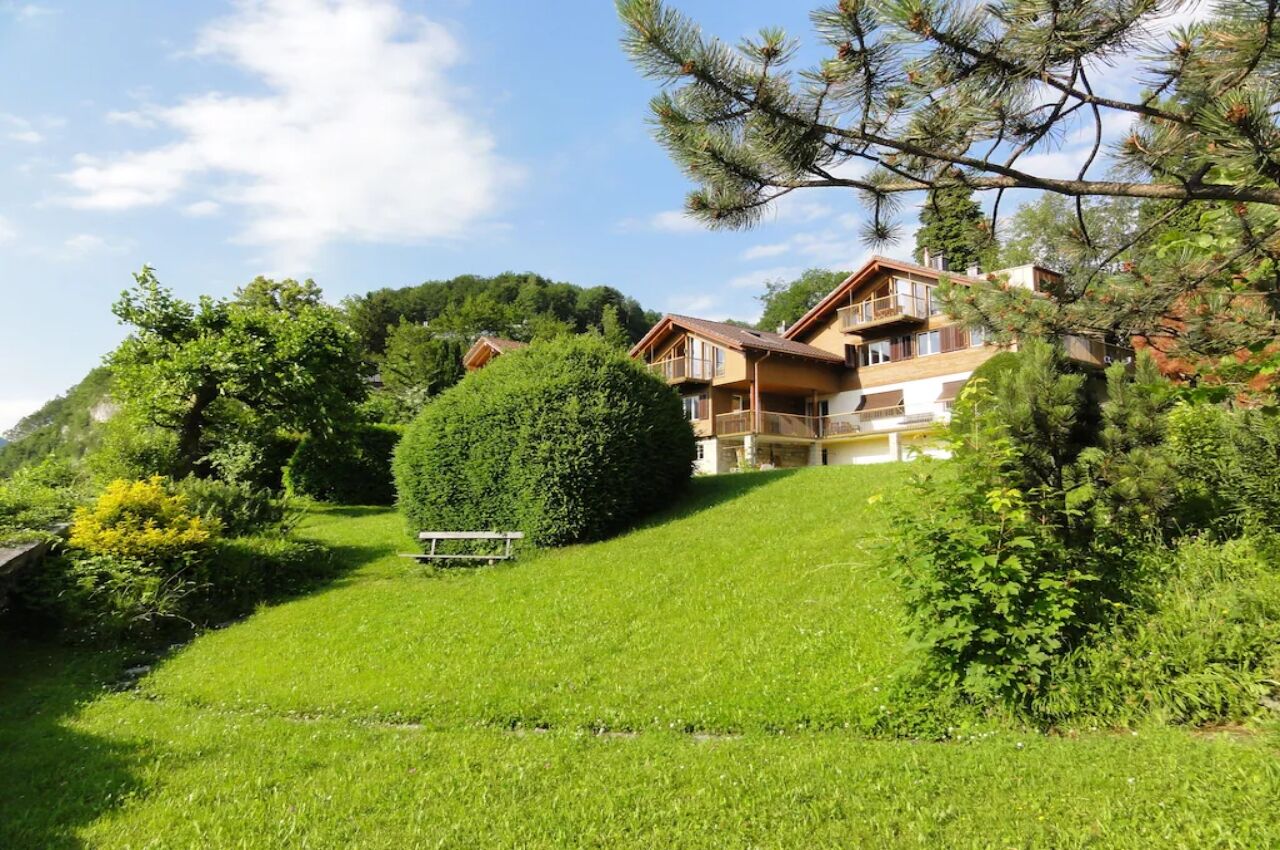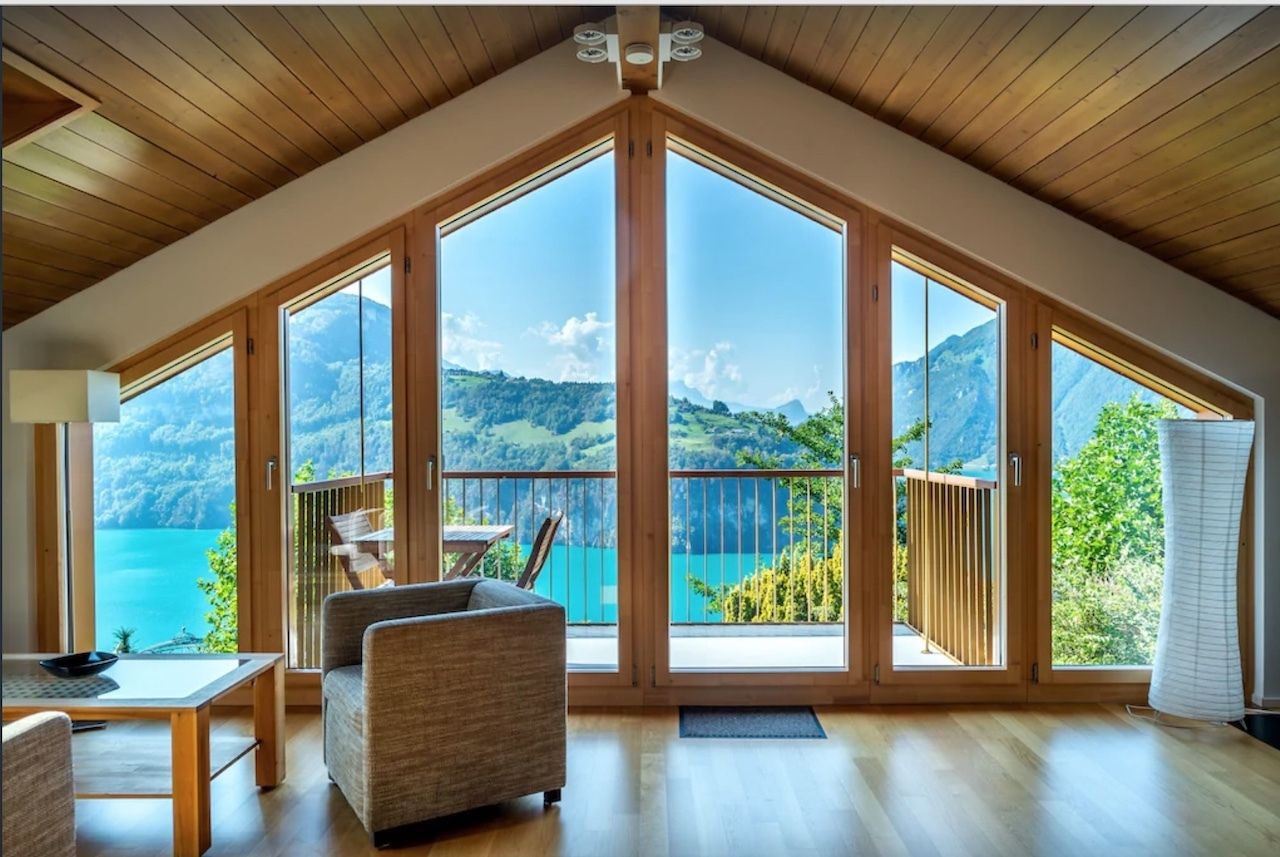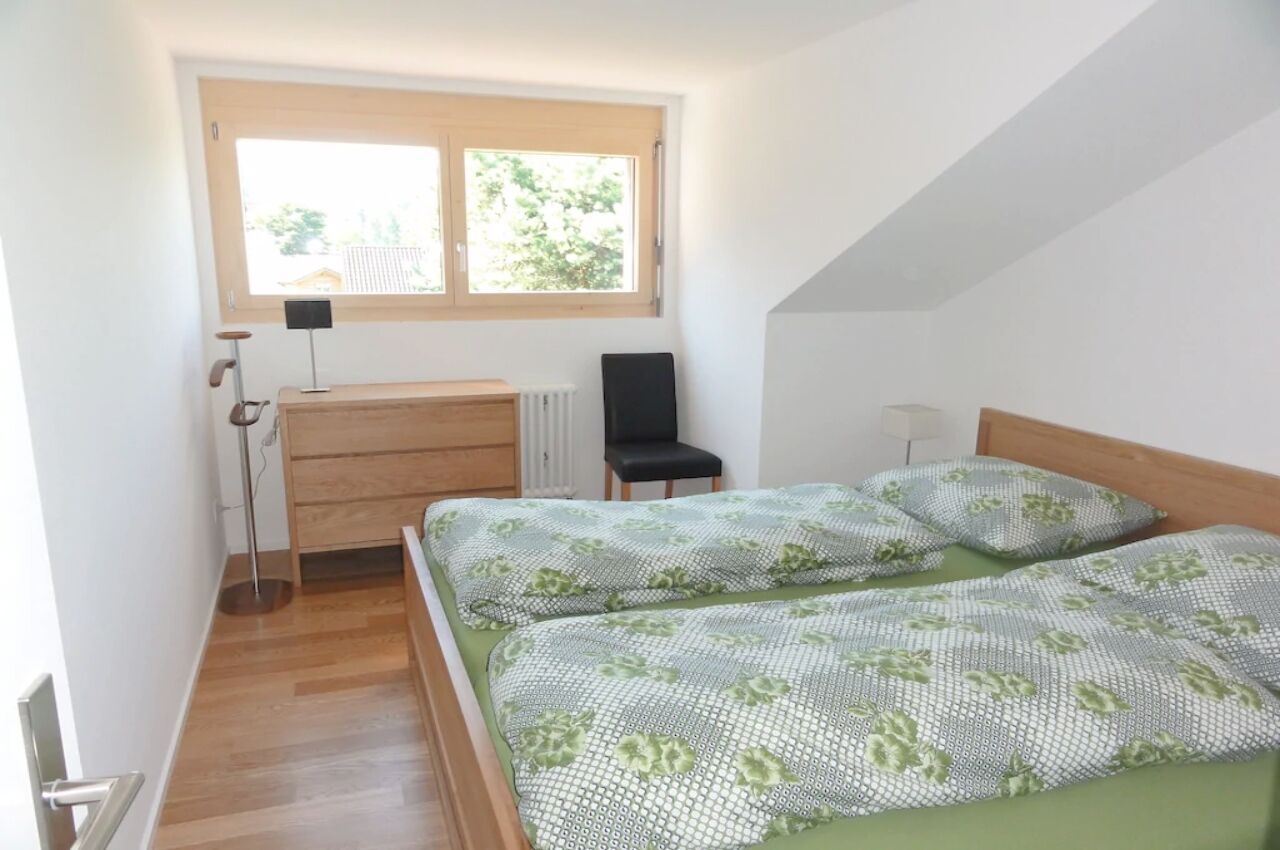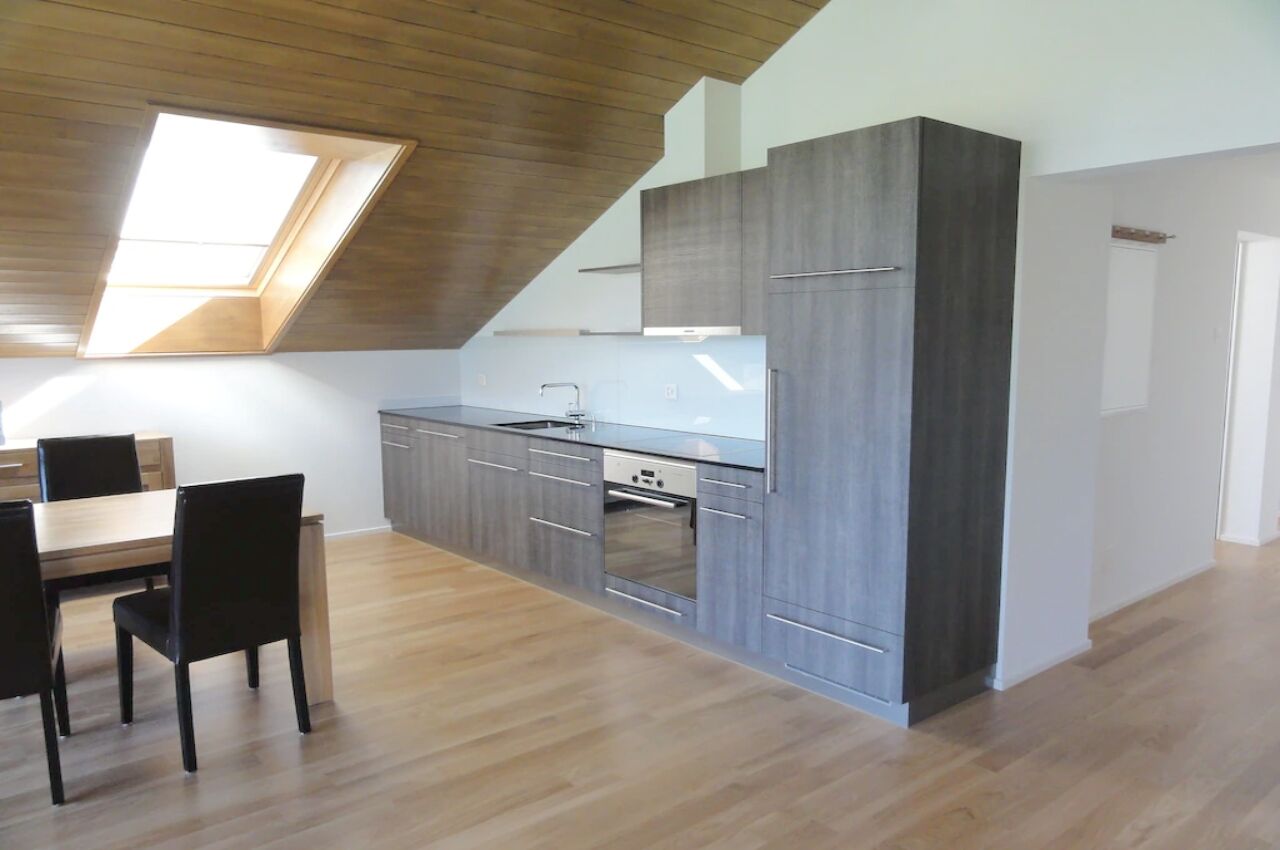 Just five minutes from Bunnen, this apartment is located in a renovated Swiss chalet-style home. Its position on a rock terrace directly above Lake Lucerne delivers one of the most famous of Switzerland views — that of Lake Lucerne. The apartment has two double beds, a full kitchen, and an open-plan living room that opens up onto the deck.
Sleeps four.
From $154 per night
5. An Airbnb with a view, Graubünden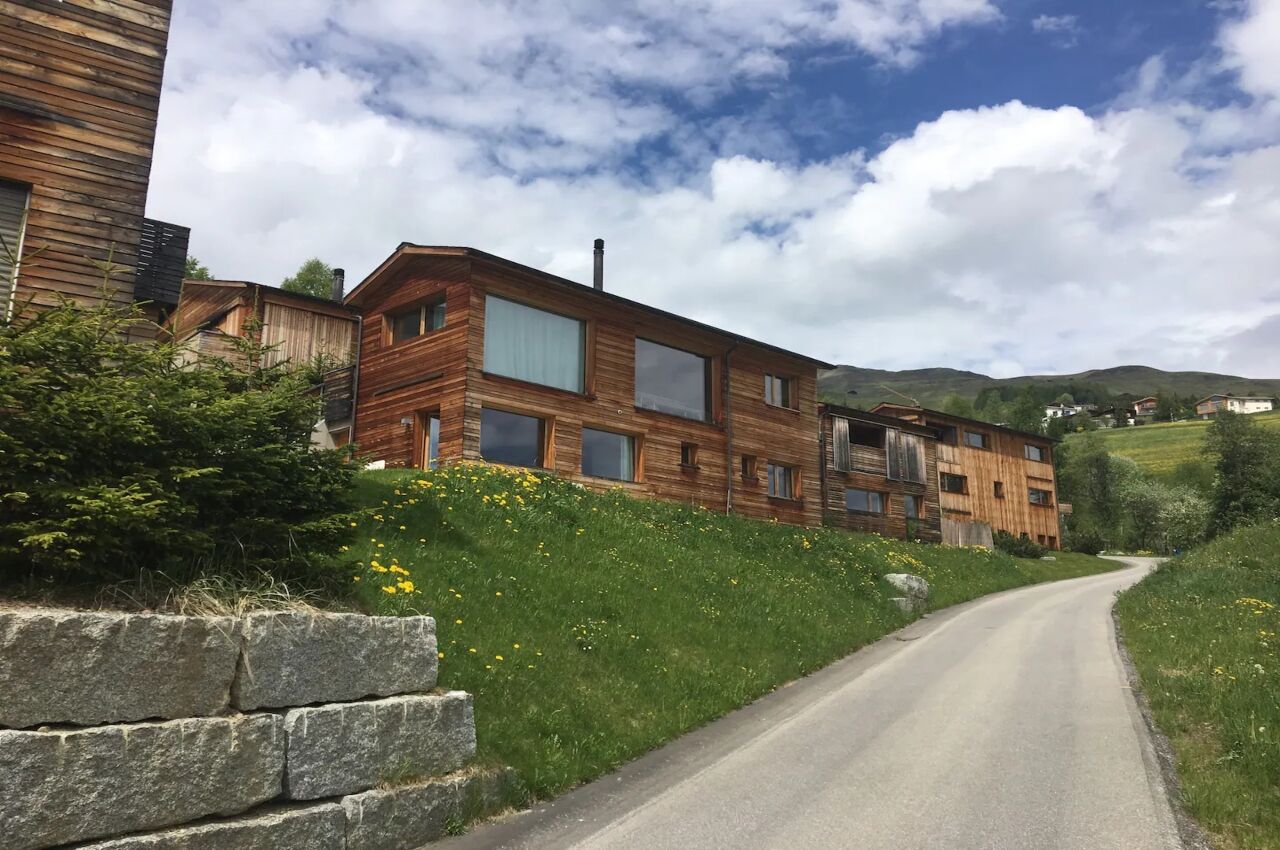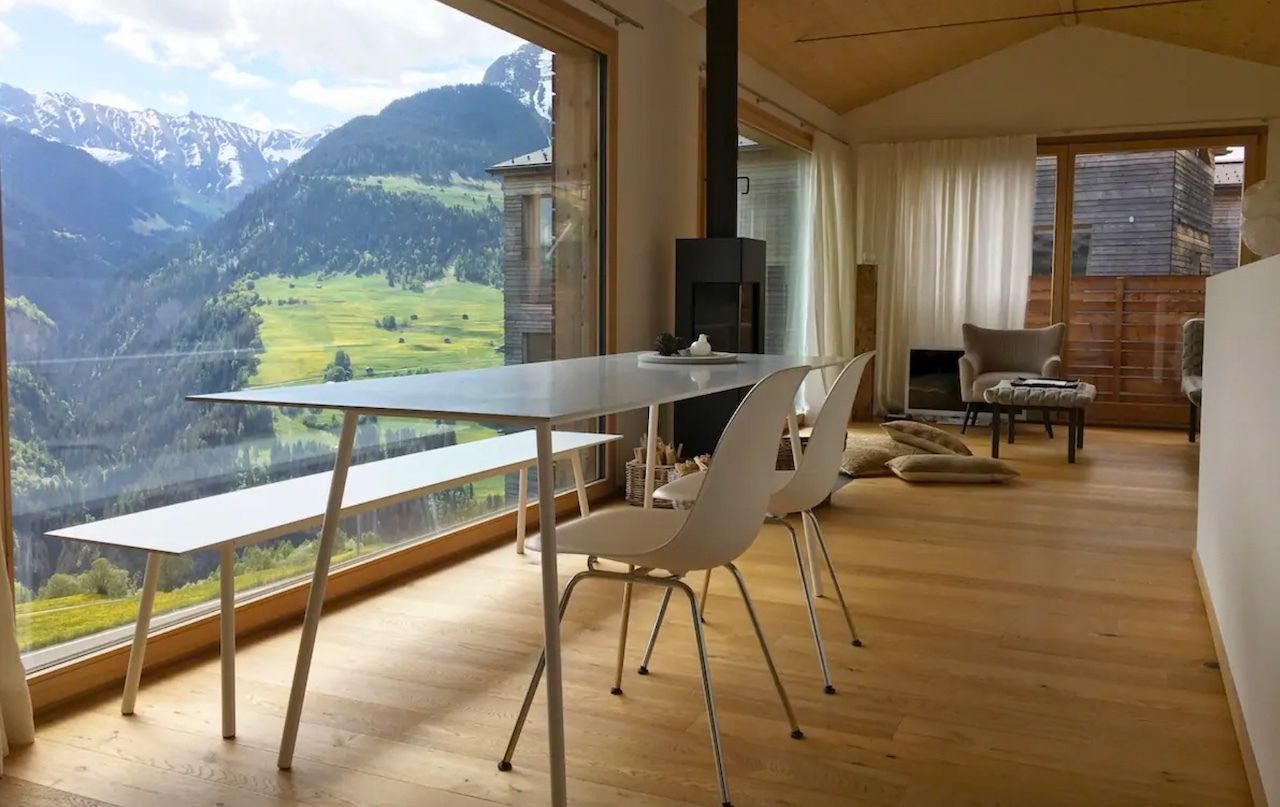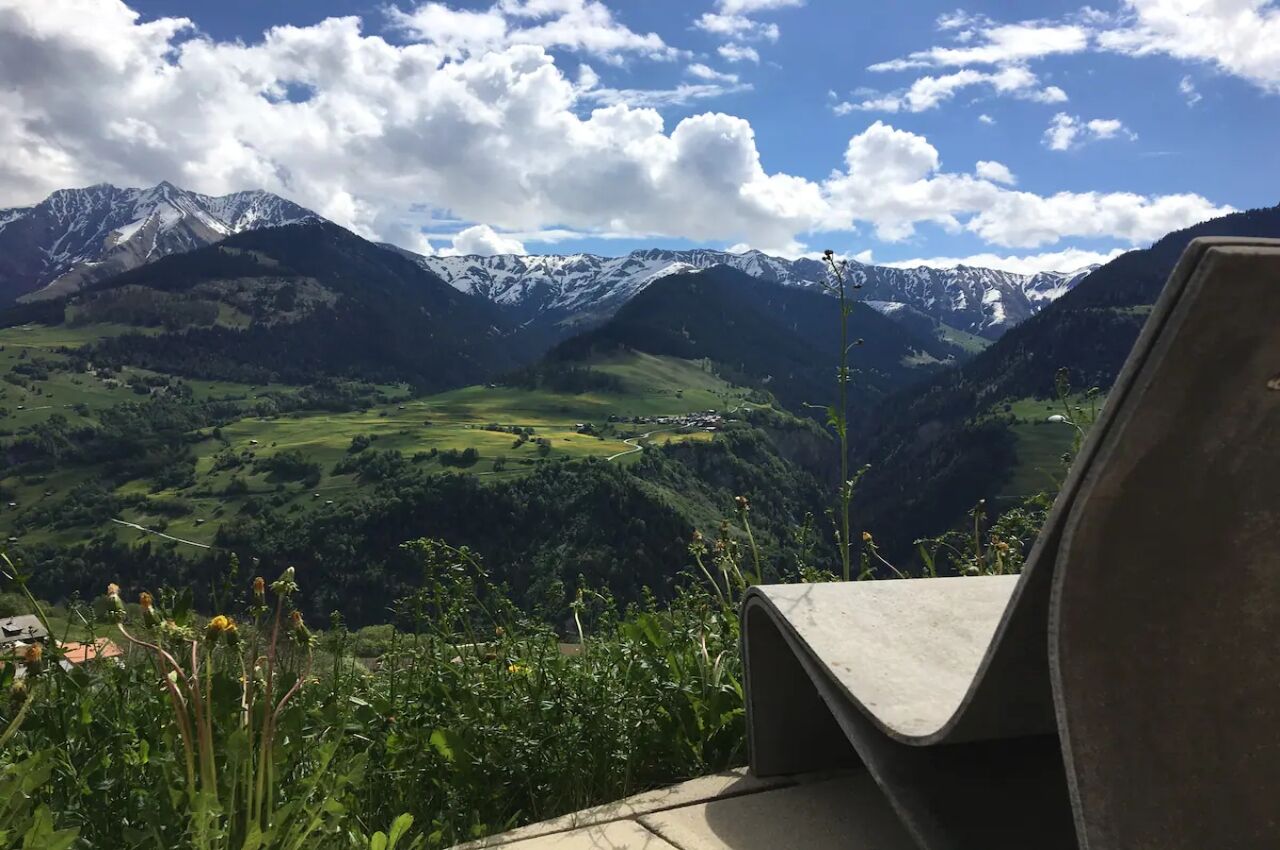 If you dream of getting away from it all, this holiday home in the mountain village of Cumbel is the most scenic place to escape to. This stylish two-bedroom home has a cozy wood interior with a modern kitchen and picture windows affording a crazy vista over the Signina alps. It's a great base for outdoors enthusiasts, no matter the season — you're in the heart of the mountains.
Sleeps two
Prices start at $165 per night.
6. Crans-Montana, Valais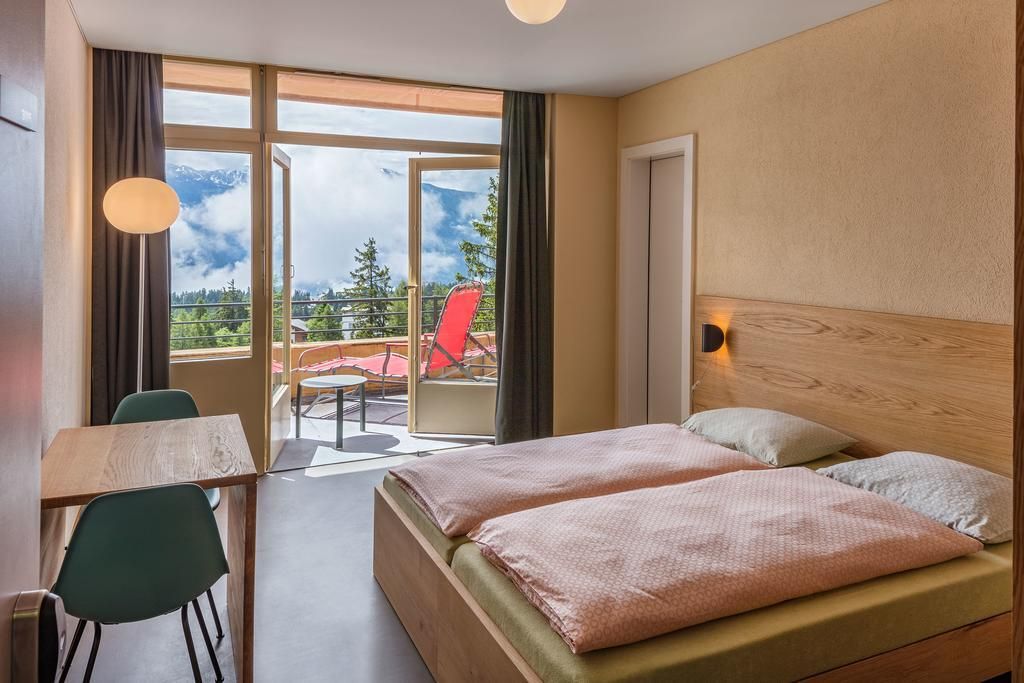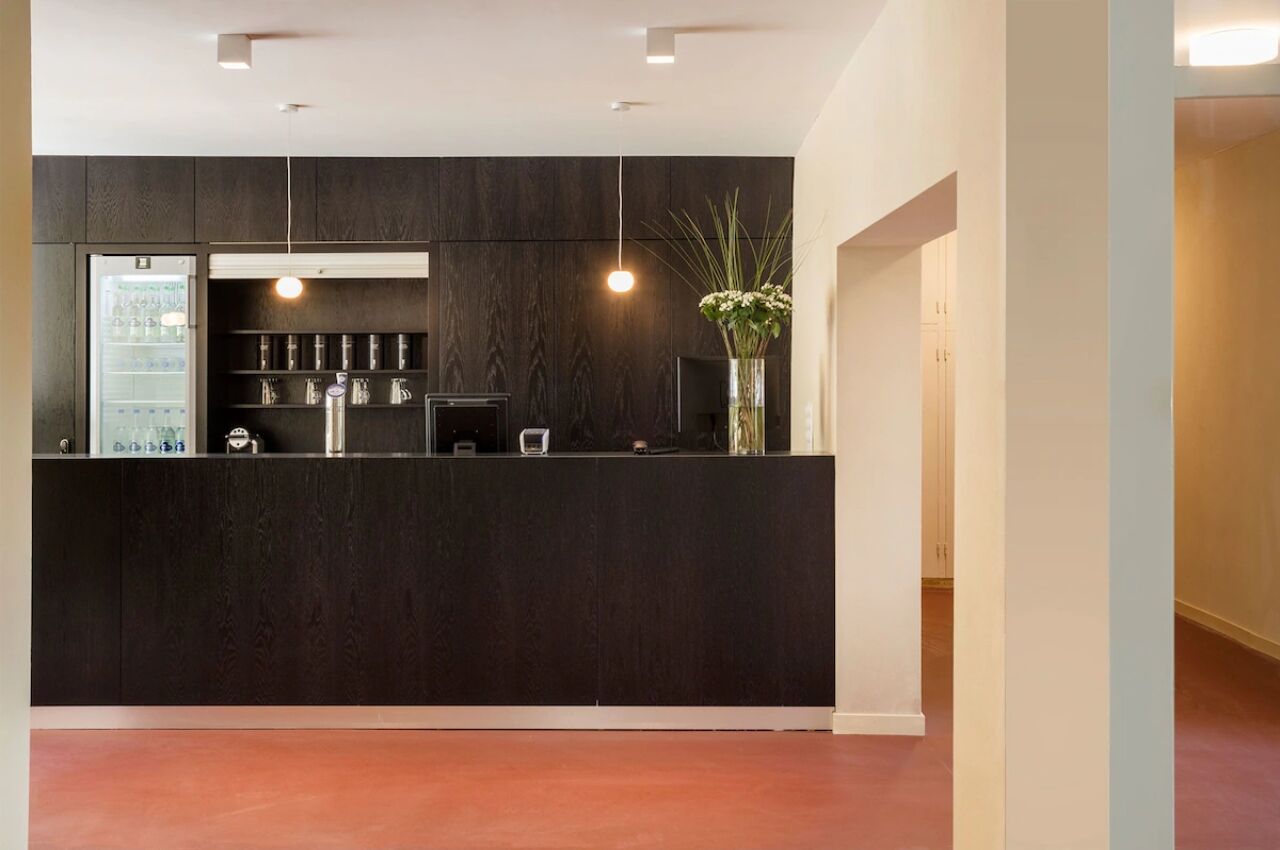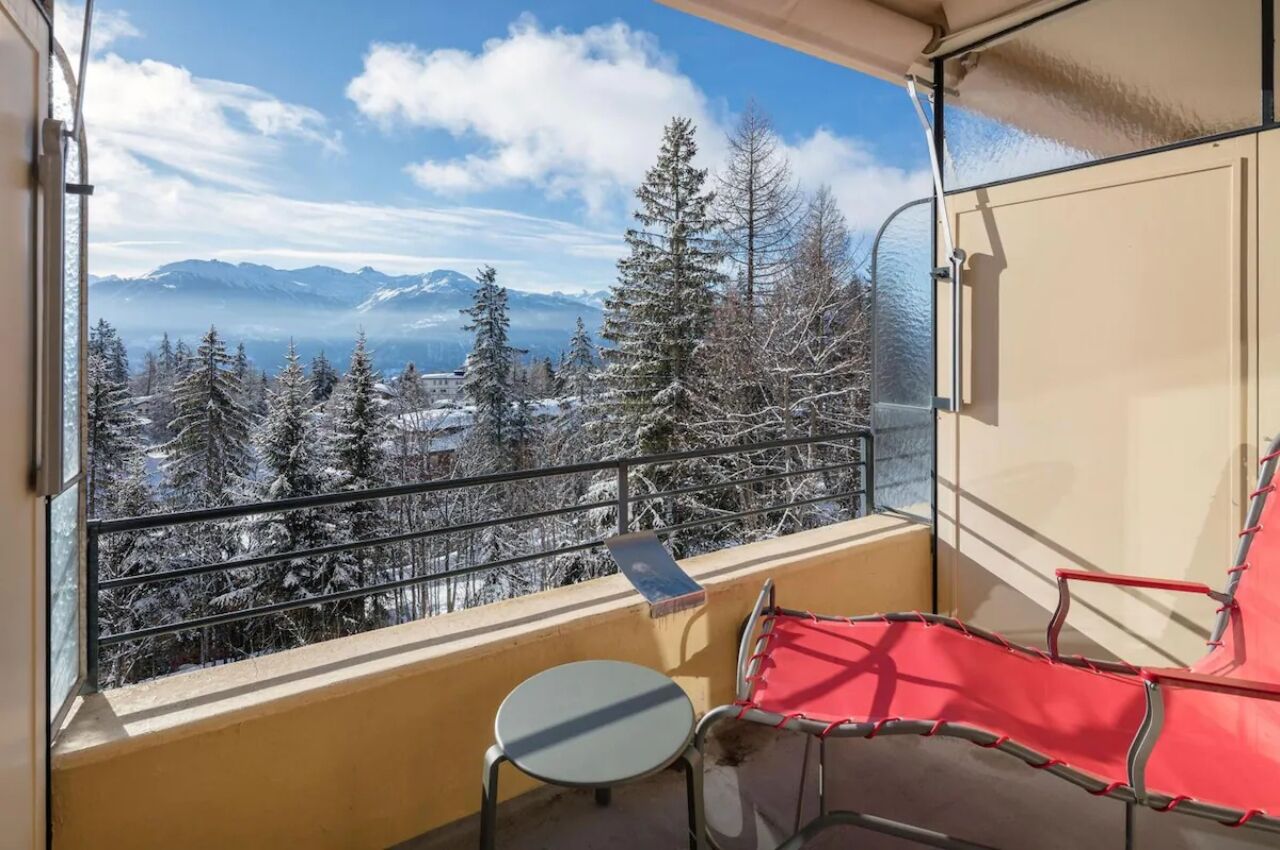 Even hostels come with stunning views in Switzerland. Bella Lui hostel, which means "beautiful light" in the old Valais dialect, is located in the Valais Alps in the south of the country, and is a hostel worth checking out. With three large sun terraces, and expansive windows, you'll be captivated by the alpine panorama, and many never want to leave. If you do, there's no shortage of biking, hiking, skiing, and water sports on offer. The hostel has six-bed, four-bed, and double rooms.
Prices start at $52 per night in a six-bed dorm.
7. Hotel Alex Lake Zürich, Zurich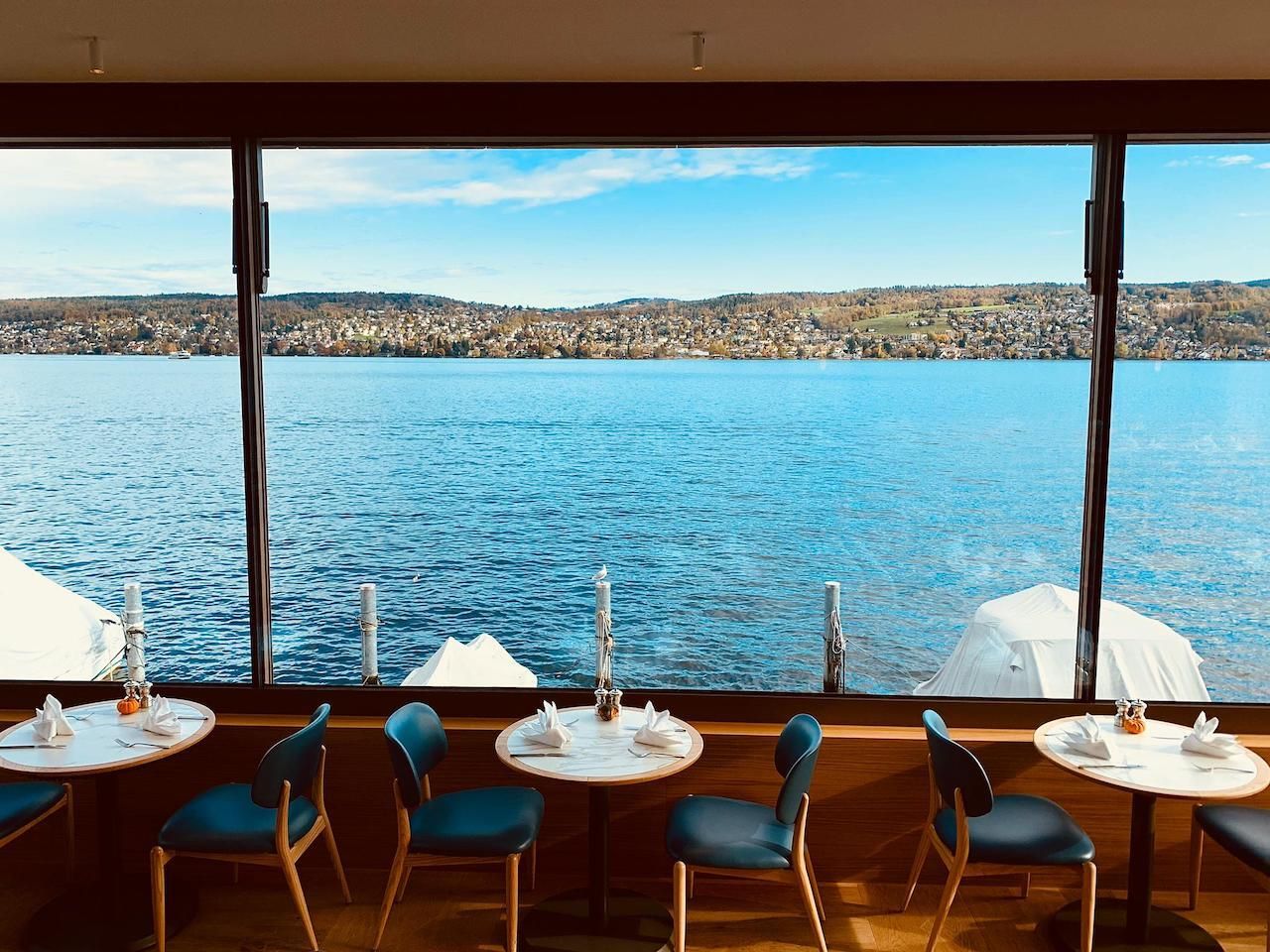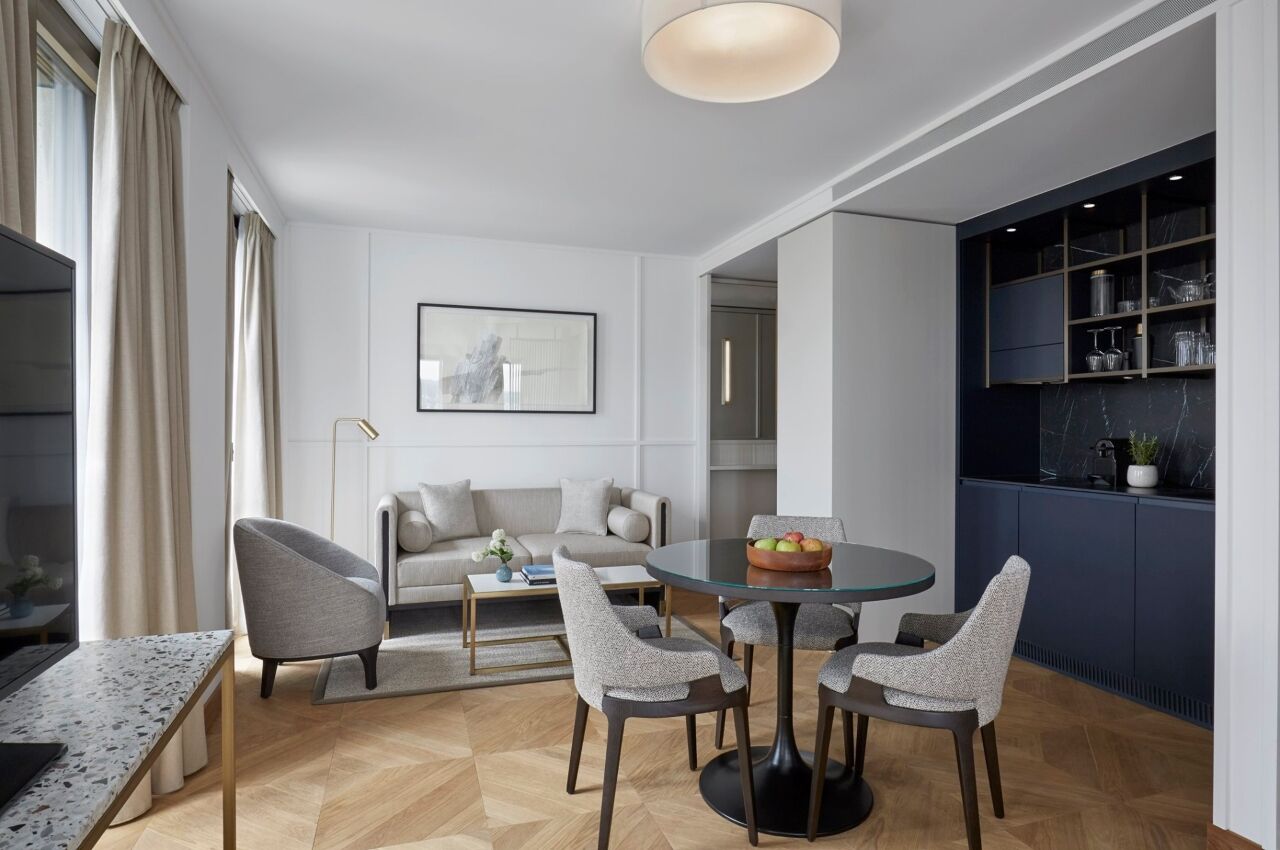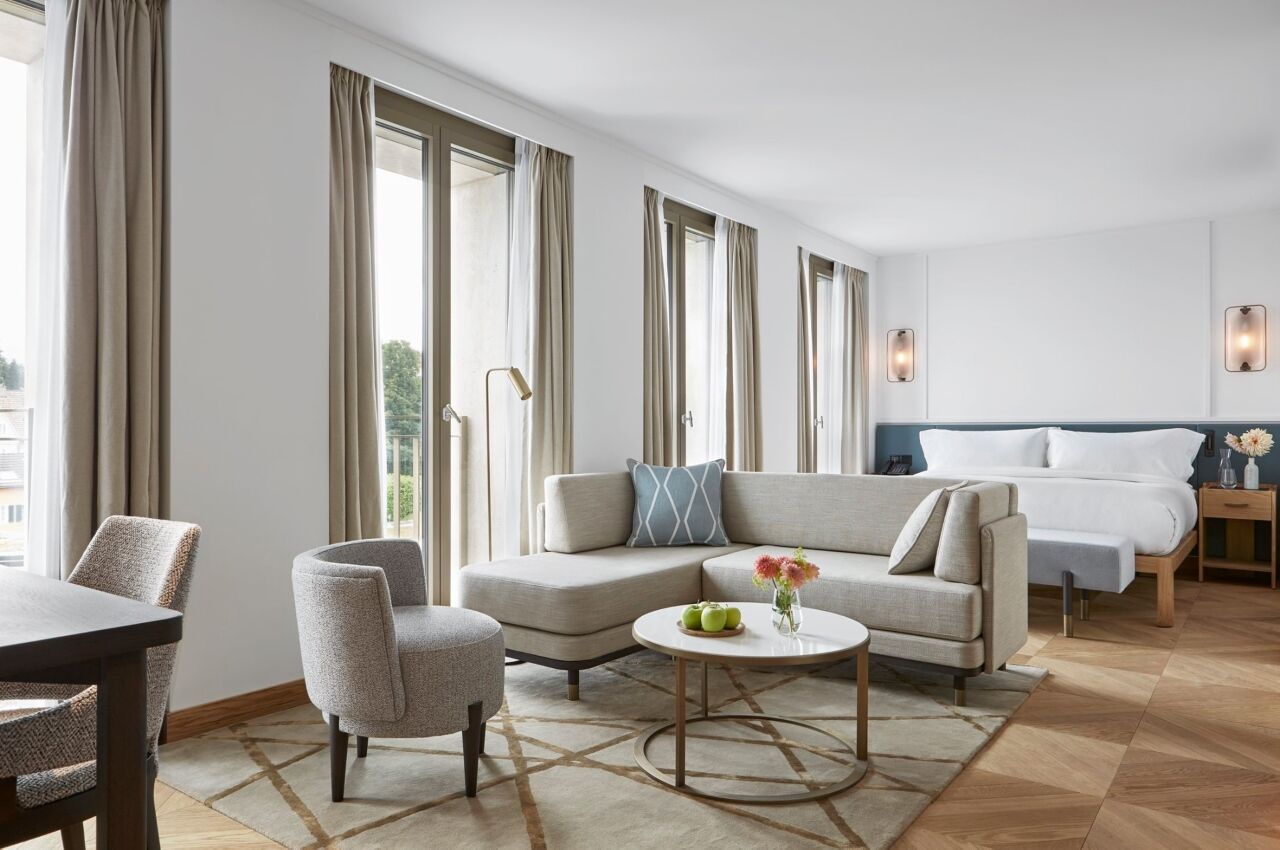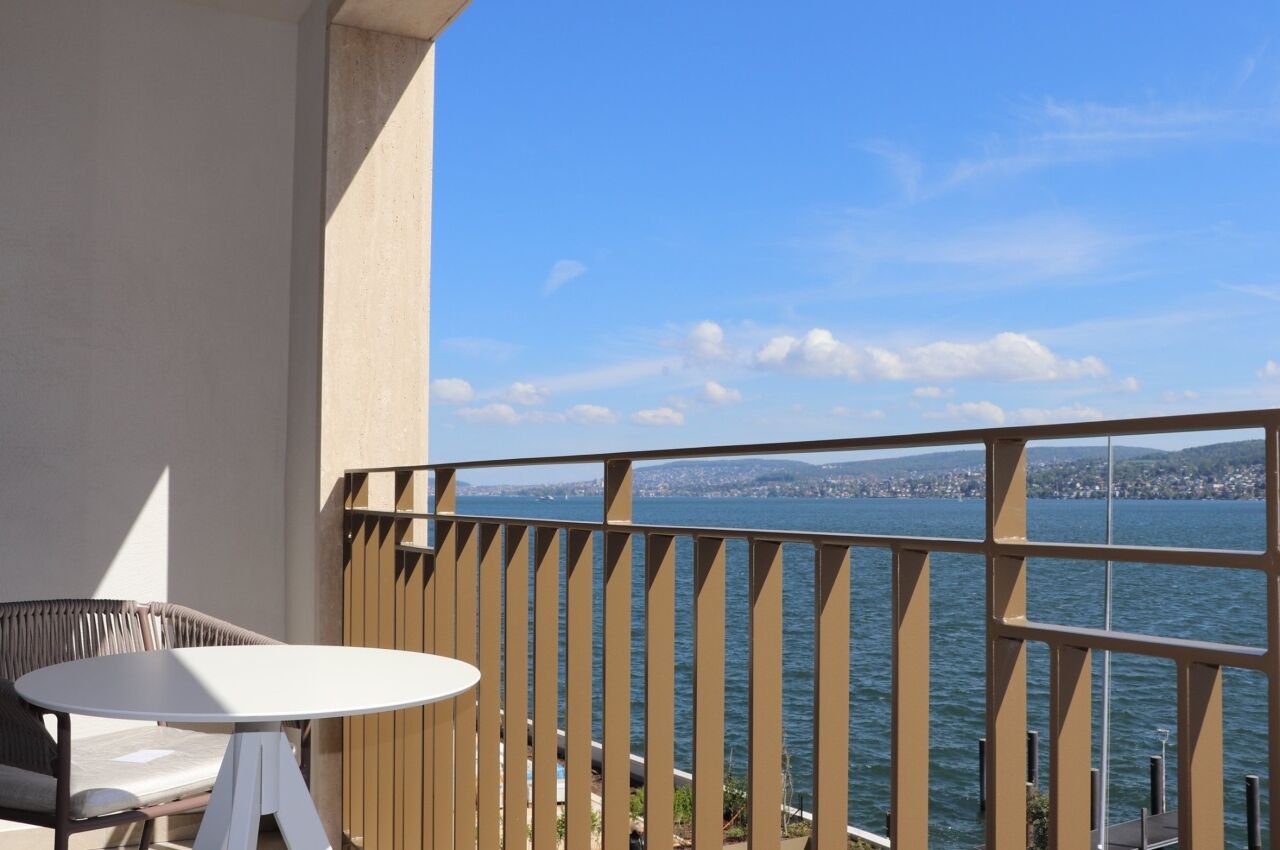 While there are beautiful water views to admire from just about every corner of this hotel, the best vista at Alex Lake Zürich might just be from the restaurant. Since reopening in 2019, this exclusive five-star superior hotel sits pretty on the shores of Lake Zurich. Studio apartments offer full kitchens and lake views that are ideal for independent short stays and longer trips. Don't miss dinner at the on-site restaurant The Boat House, which is famous for its bouillabaisse and tuna saku, and from where the views will leave you weak in the knees. Jump aboard the hotel boat to get to Zurich city centre in style.
Prices start at $387 per night.
8. Hotel Staubach, Lauterbrunnen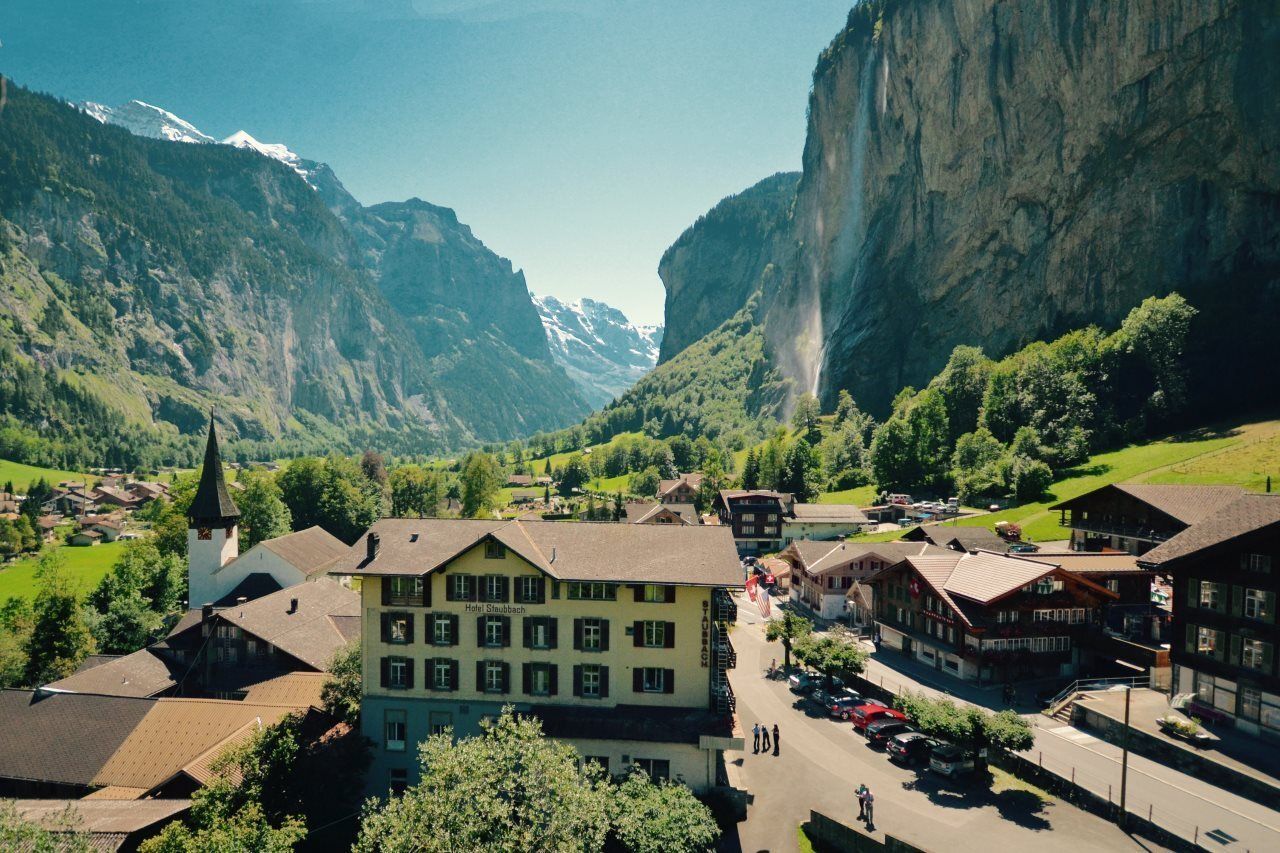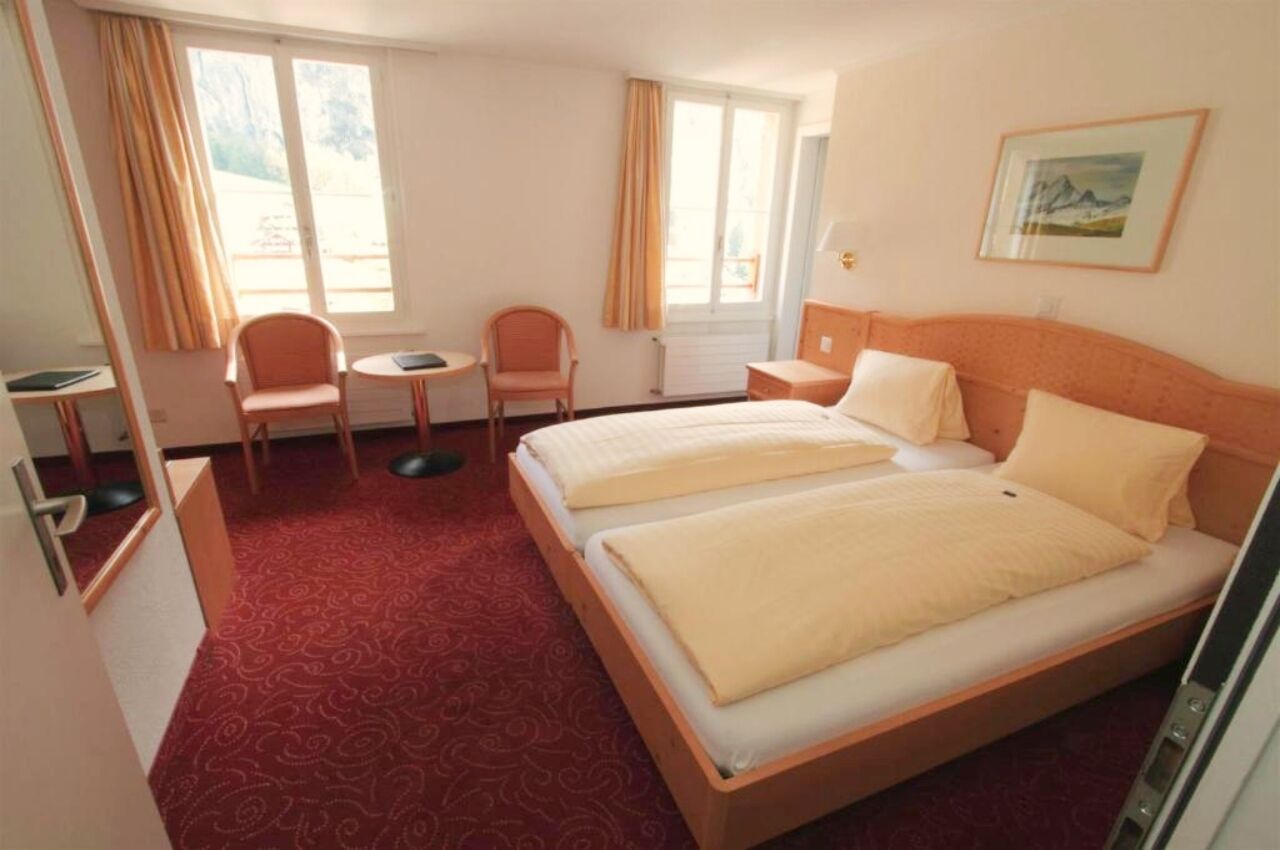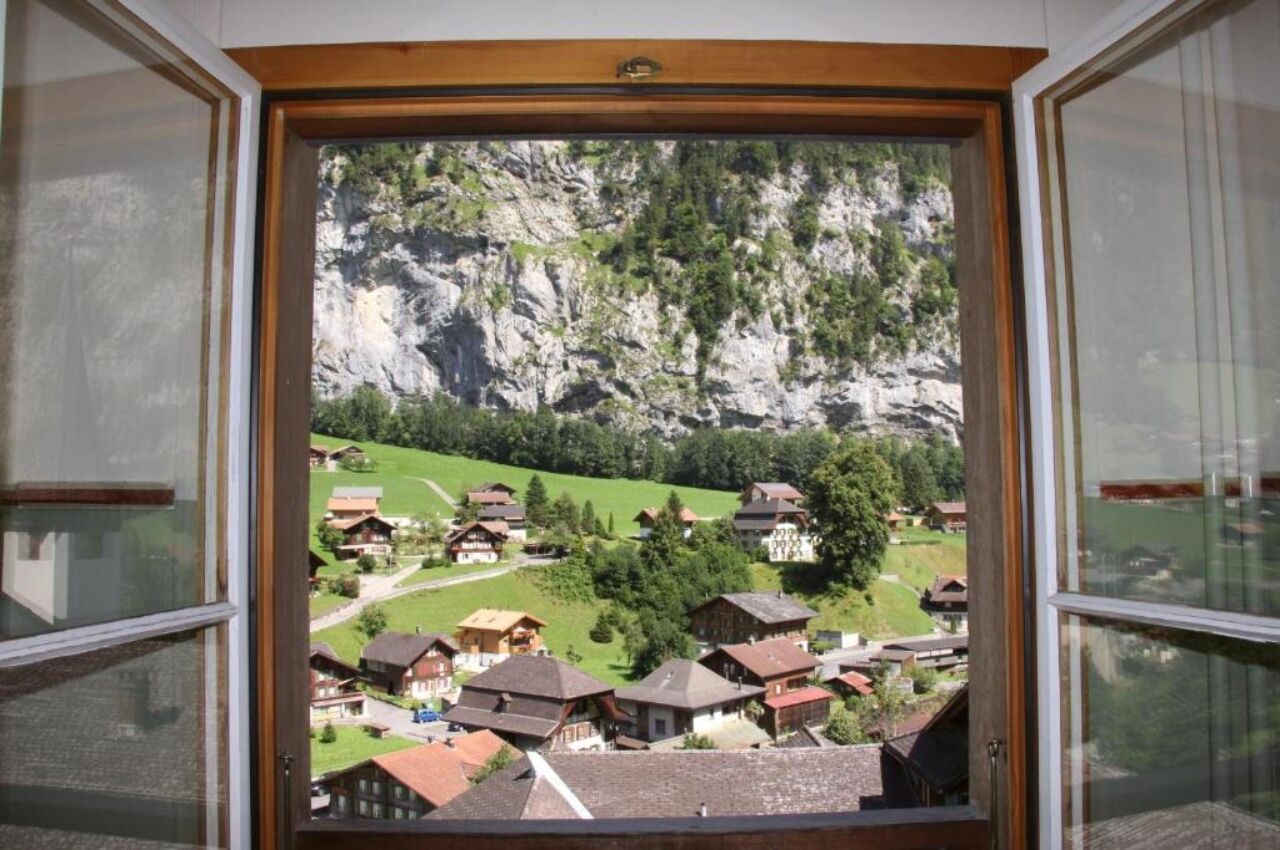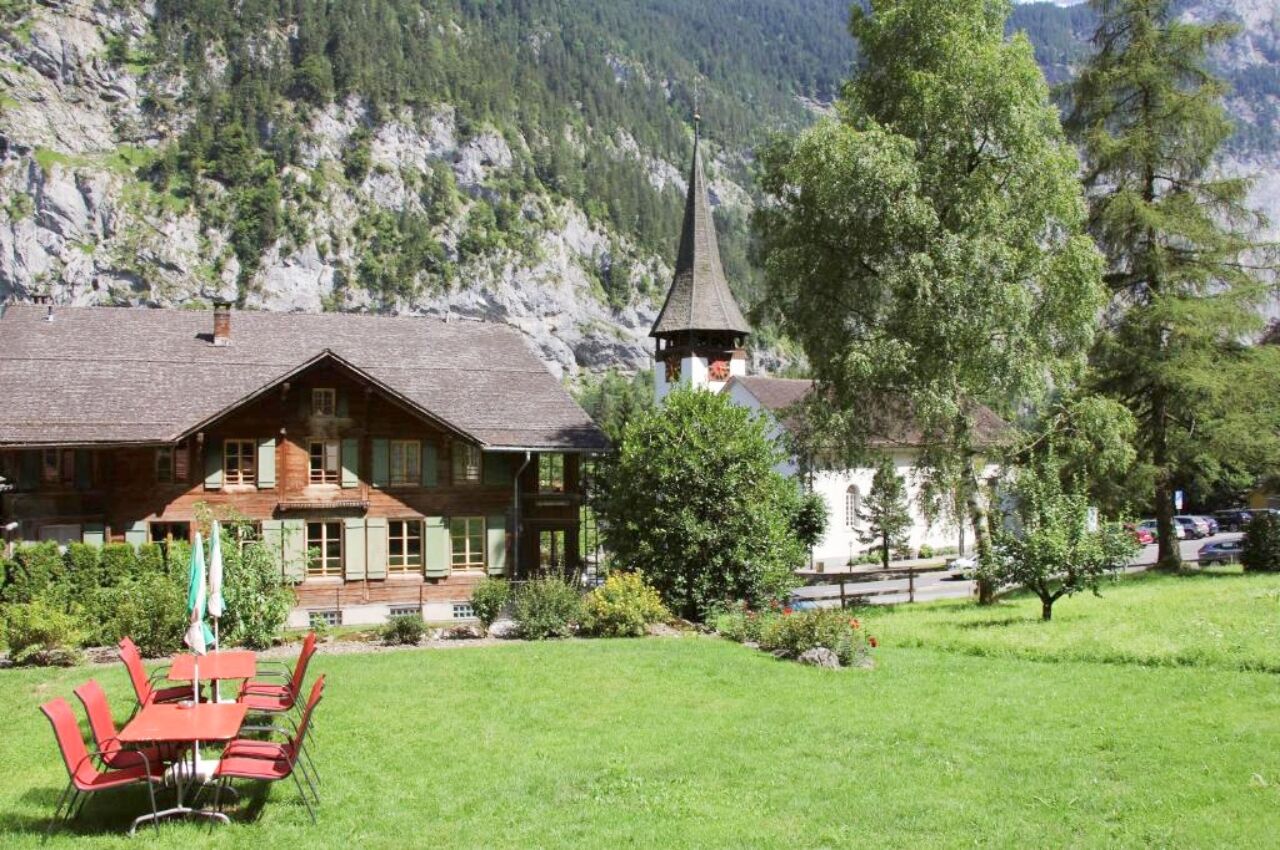 Lord of the Rings fans will love waking up to the views that inspired J. R. R. Tolkien. The scenery in Lauterbrunnen Valley is dramatic, with steep cliffs rising on either side of the beautiful little town below. Over 72 waterfalls drop from the cliff on a magical background of snowy peaks, and Hotel Staubbach — named after the highest of the falls — is one of the best places to admire the dramatic landscapes. From your room, listen to the sounds of cowbells ringing from the alpine pastures, and keep your eyes peeled for paragliders floating above the magnificent landscape.
Prices start at $131 for a room with a shared bathroom.
9. Hotel De Gruyères, Gruyères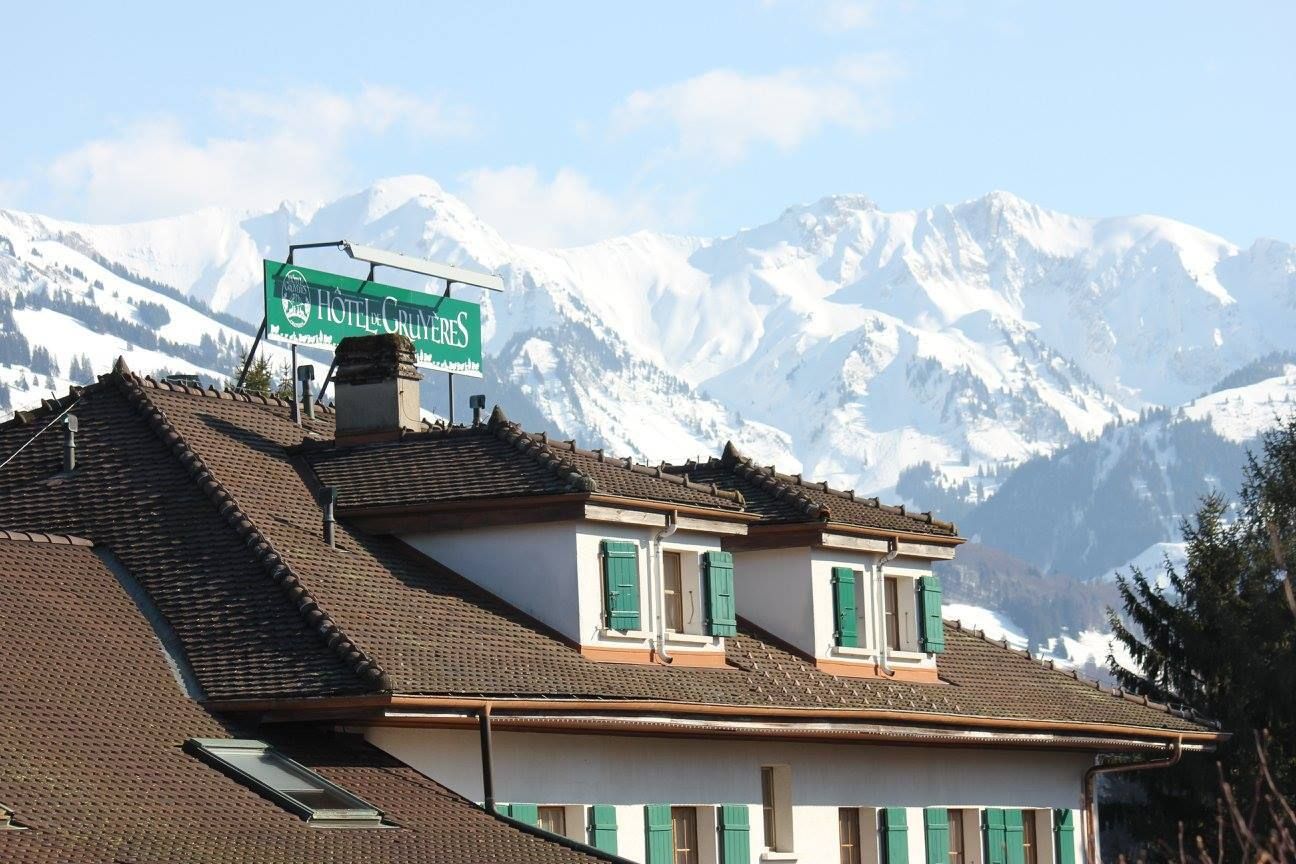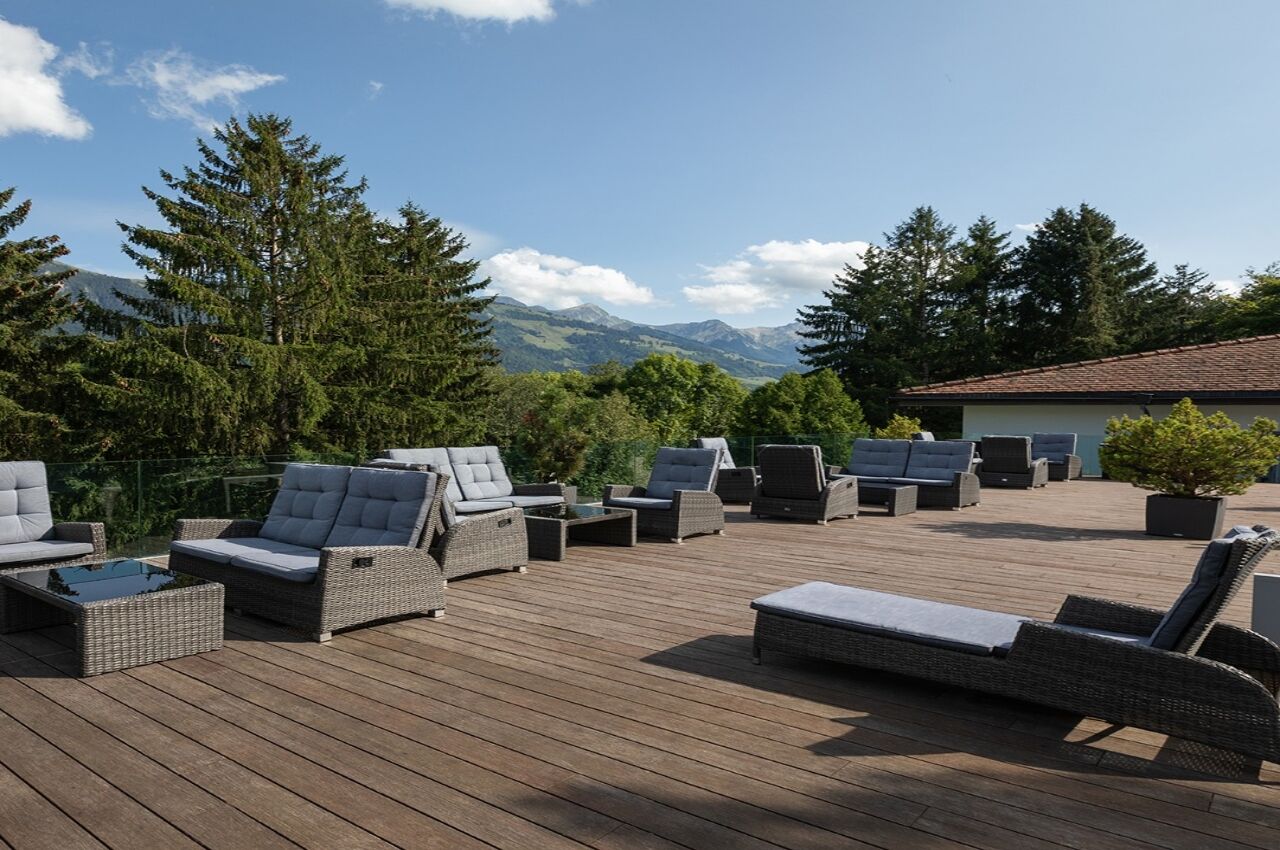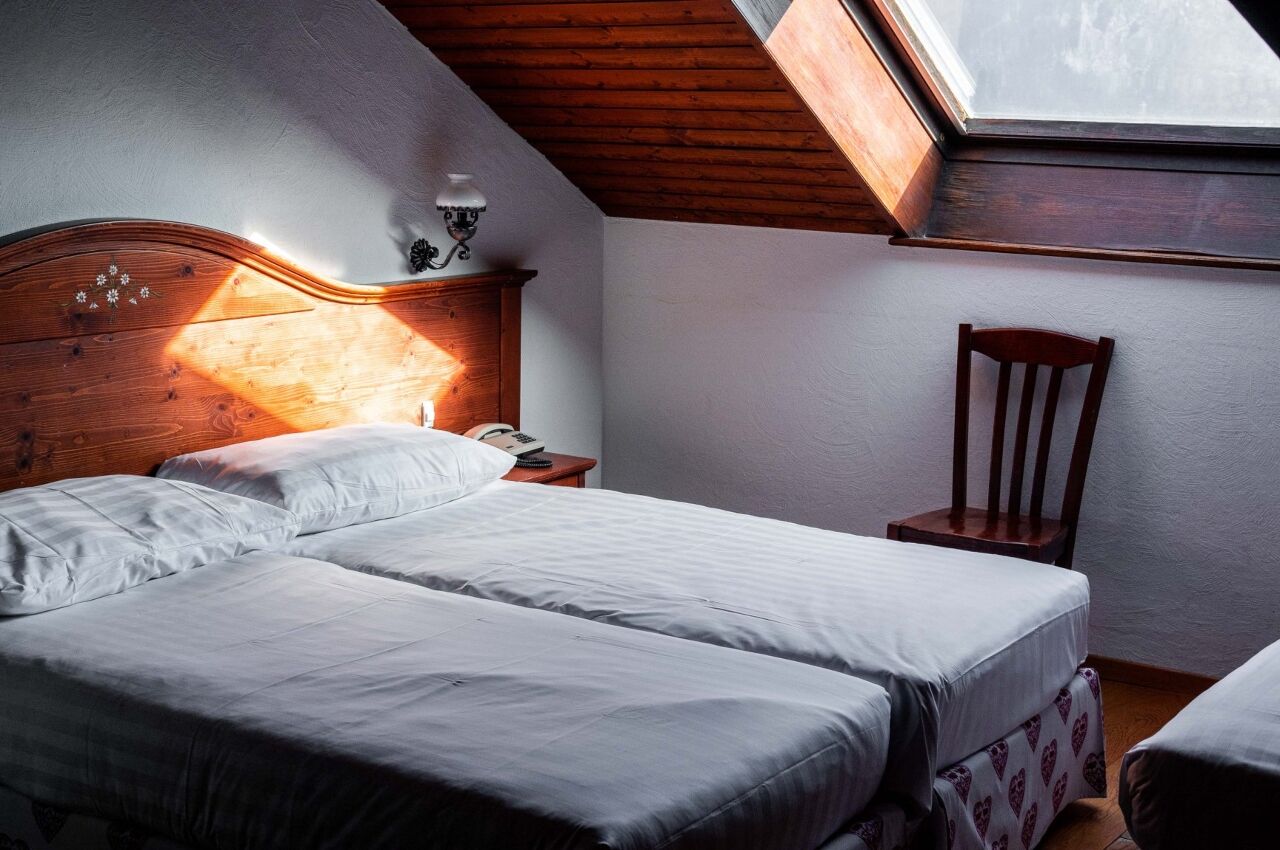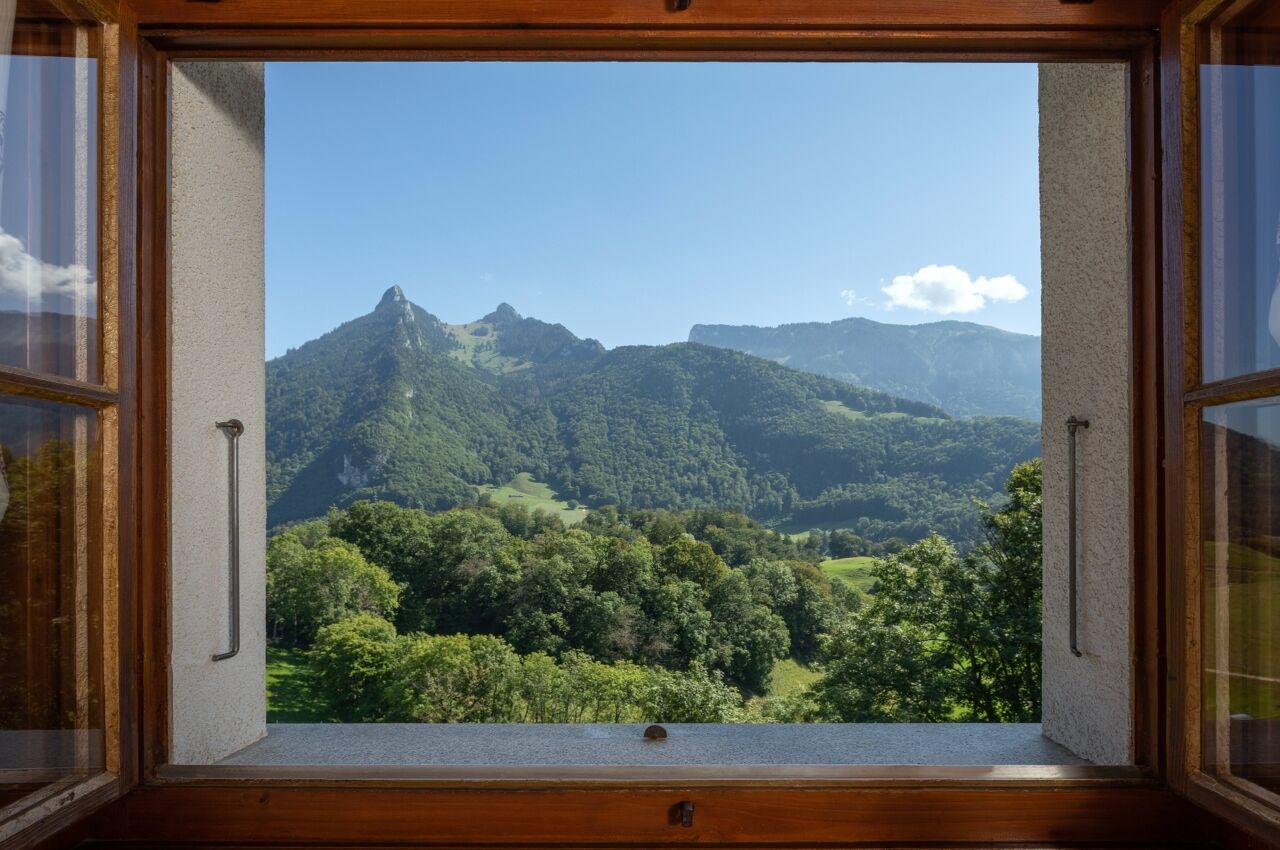 No list of the best Switzerland views would be complete without mentioning the Gruyères canton, famous for producing the cheese that makes up the national dish: Fondue. Wake up to the sounds, sights, and smells of the Swiss countryside air at Hotel de Gruyerès. The hotel sits at the gates of the medieval Gruyères Castle at the foothills of Mount Moléson. The best place to take in this iconic view is from the hotel terrace, where you can enjoy fondue with the sound of cowbells in the distance and watch the local herd of deer graze peacefully.
Prices start at $145 per night.
10. Hotel Beau Rivage, Geneva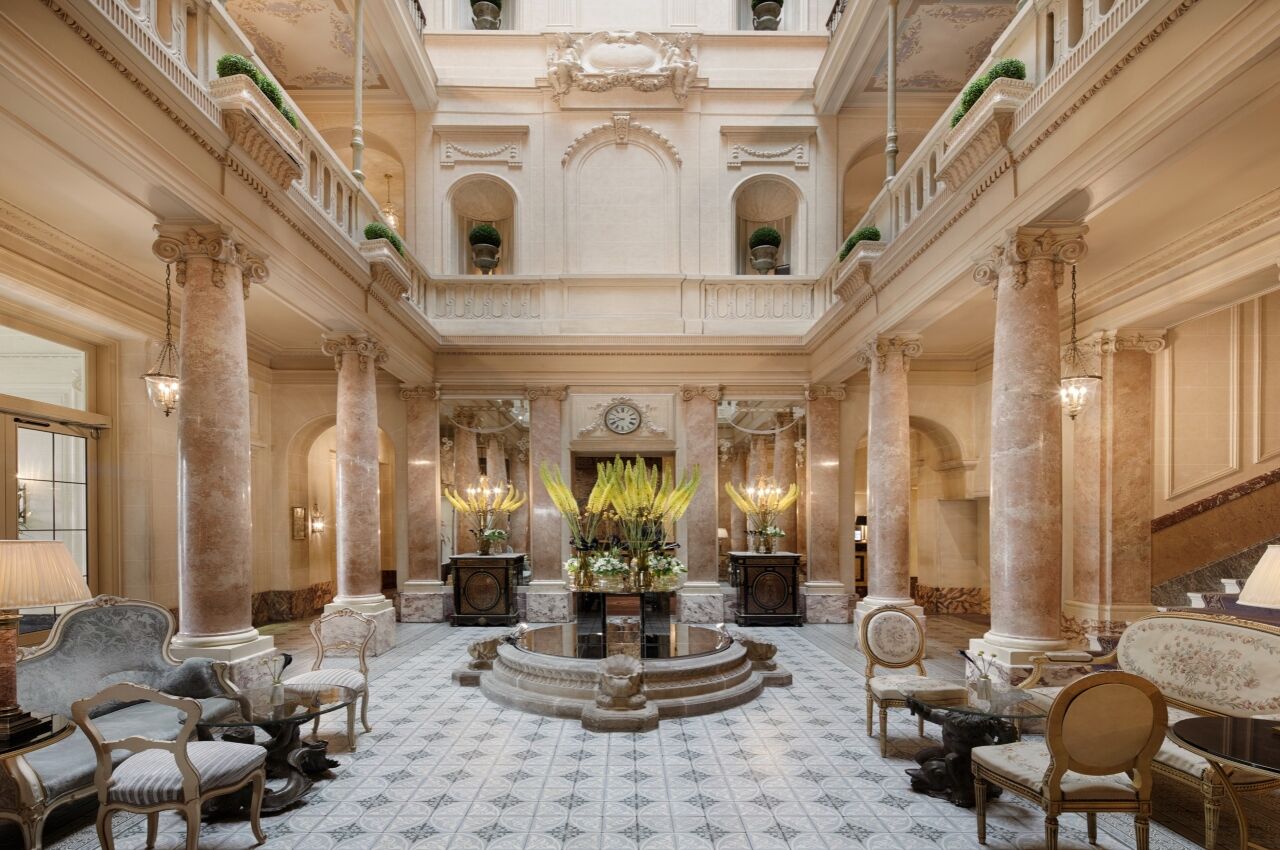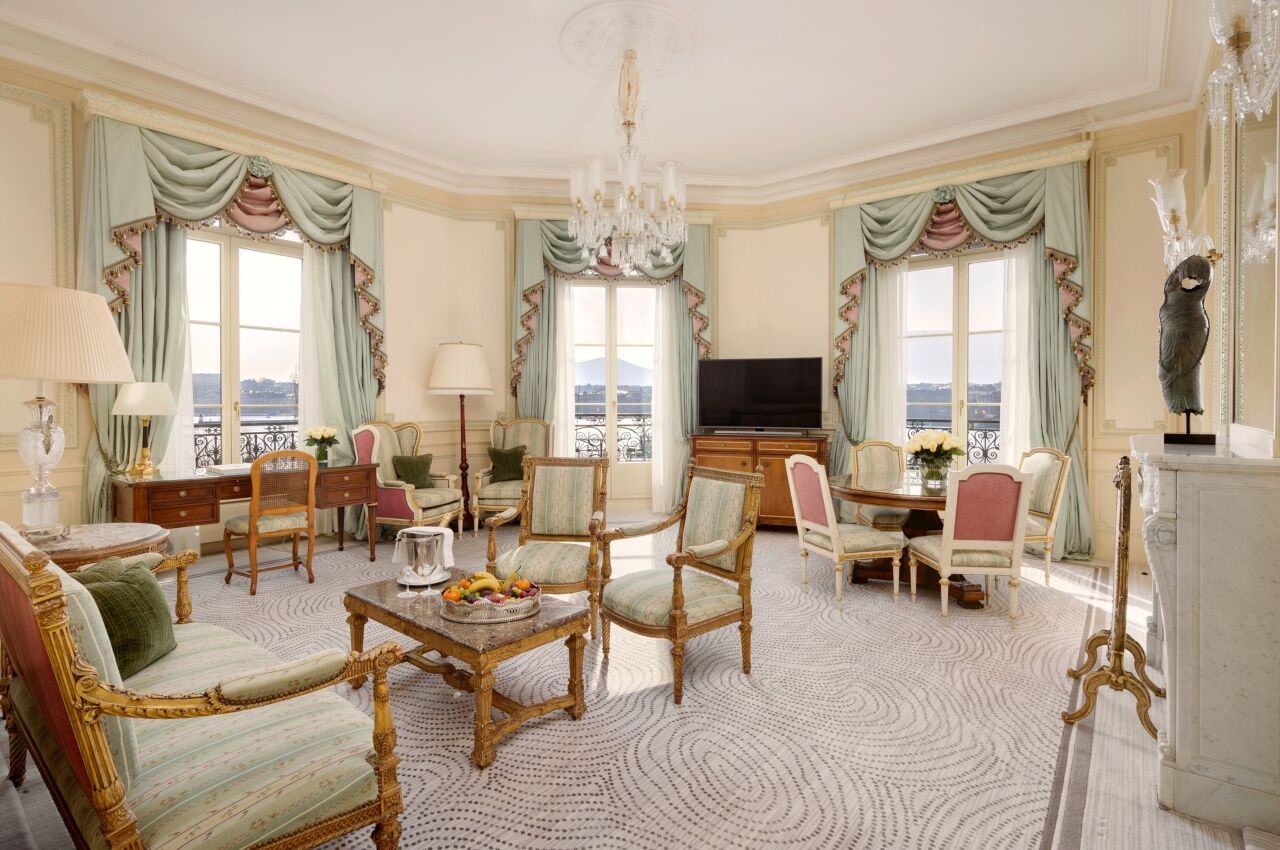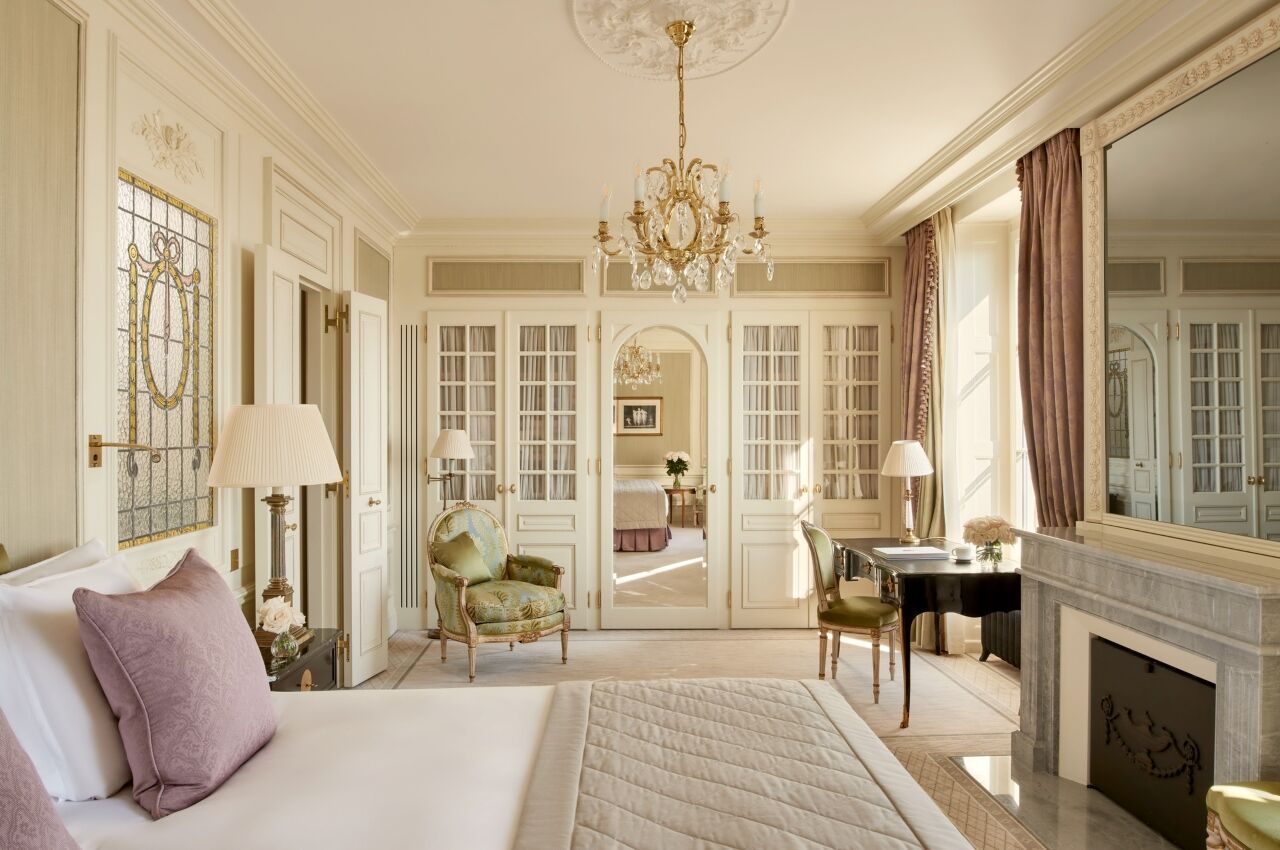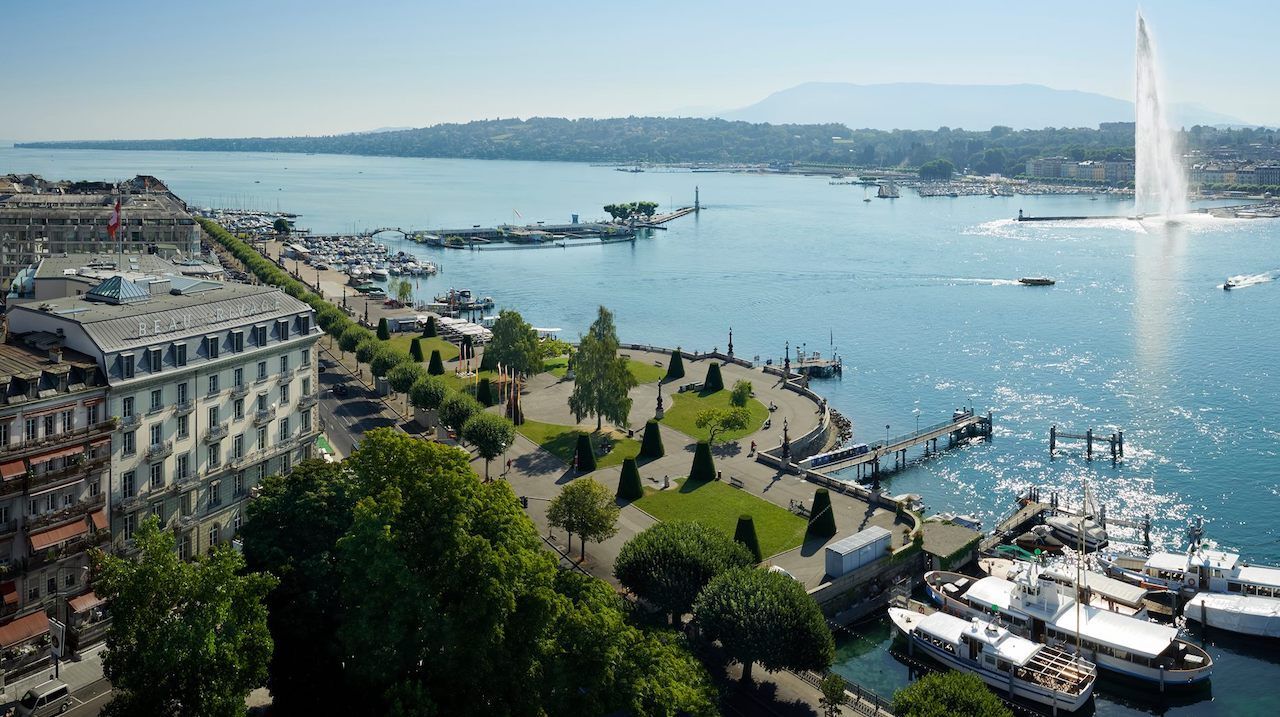 The 19th-century Hotel Beau Rivage in Geneva guarantees a mind-blowing vista from every room. In the heart of Geneva, this five-star hotel mixes world charm and contemporary chic. Lake view rooms look over the 450-foot high Jet d'Eau fountain, but park or city-view rooms are just as exceptional. Learn something new by taking a cooking class with a Michelin-starred chef in the hotel kitchen. Cocktail classes and pastry cooking classes are also on offer.
Prices start at $617 per night.
11. Tiny House Gondel, Brunni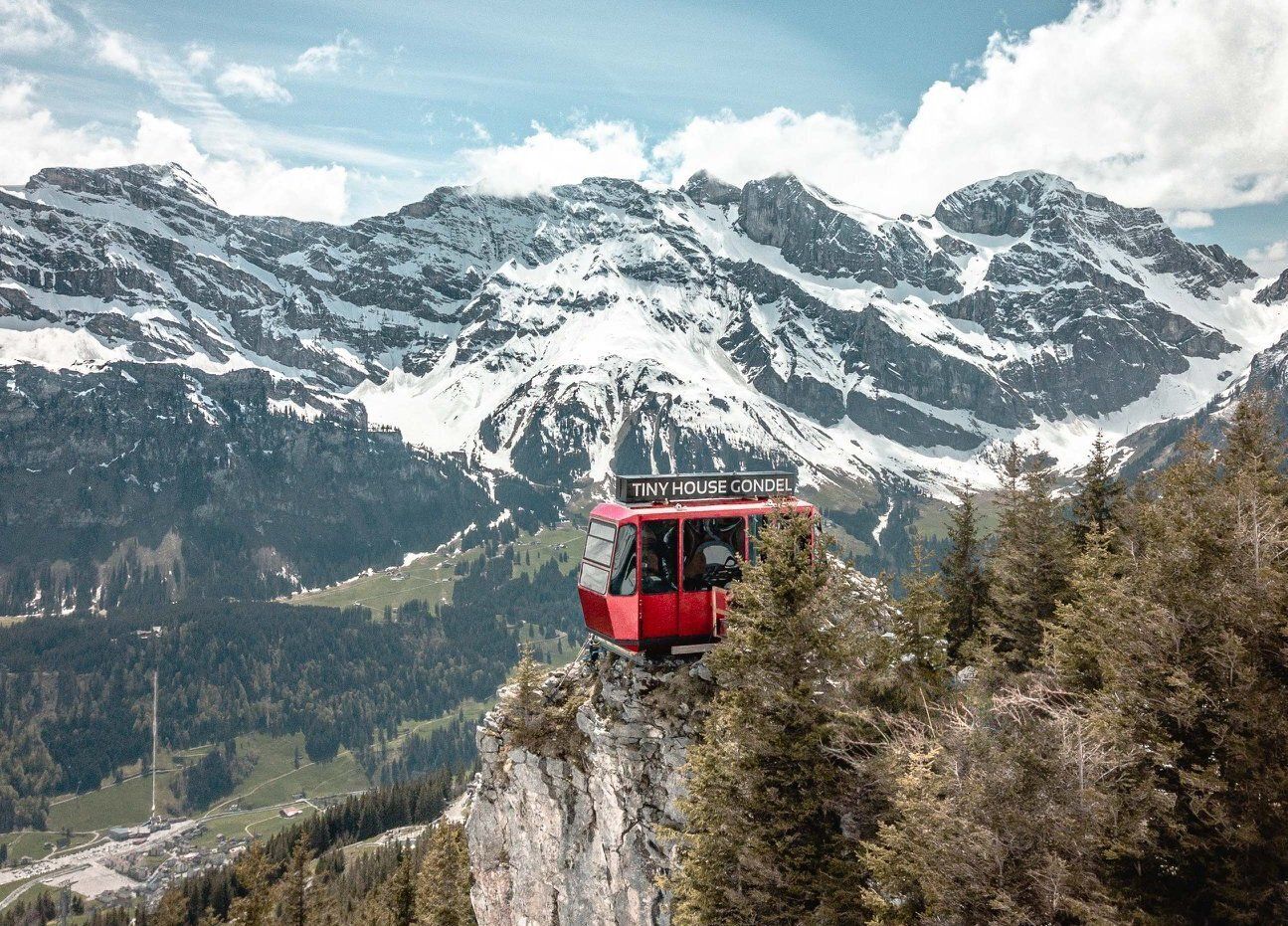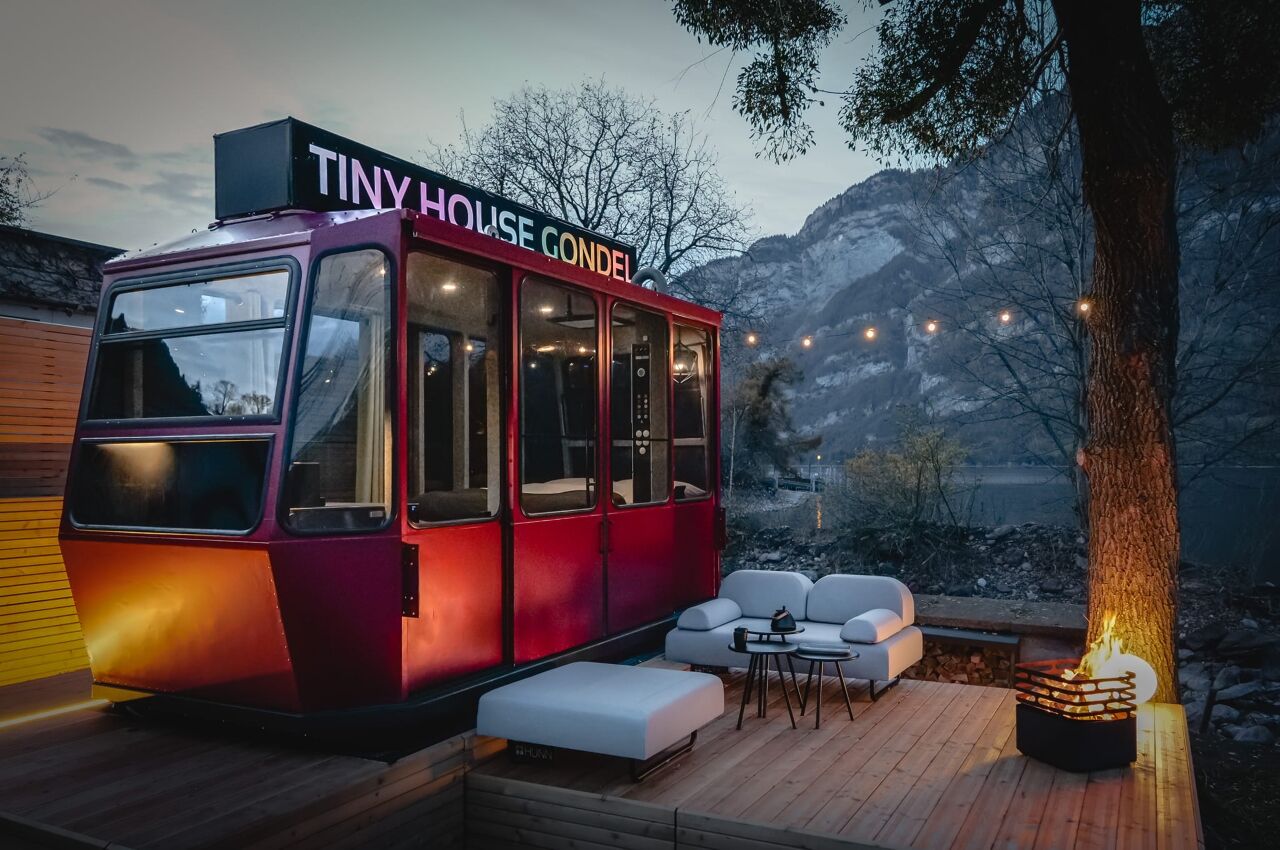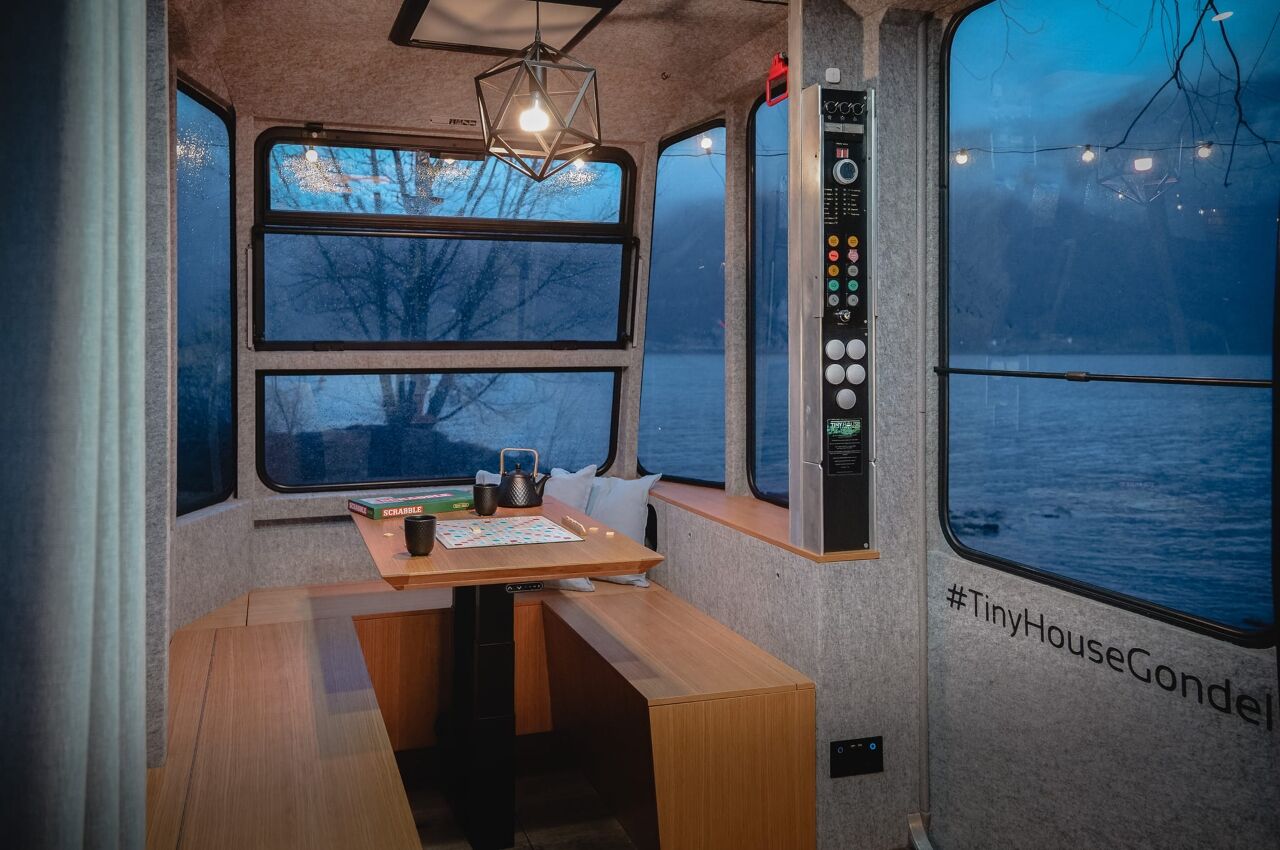 For a truly Swiss experience, spend the night in a repurposed cable car. Installed on a rock needle in the Brunni area, just south of Lucerne, a night at Tiny House Gondel will be an unforgettable experience. Stargaze as you fall asleep, and as the sun rises in the morning, a 360-degree mountain panorama will come to life before your eyes. And don't worry, the gondola is heated!
Sleeps two
Prices start at $542 per night.
Top Airbnb Switzerland vacation rentals
Airbnbs in Zürich, Switzerland
Limmatquai river view apartment with Jacuzzi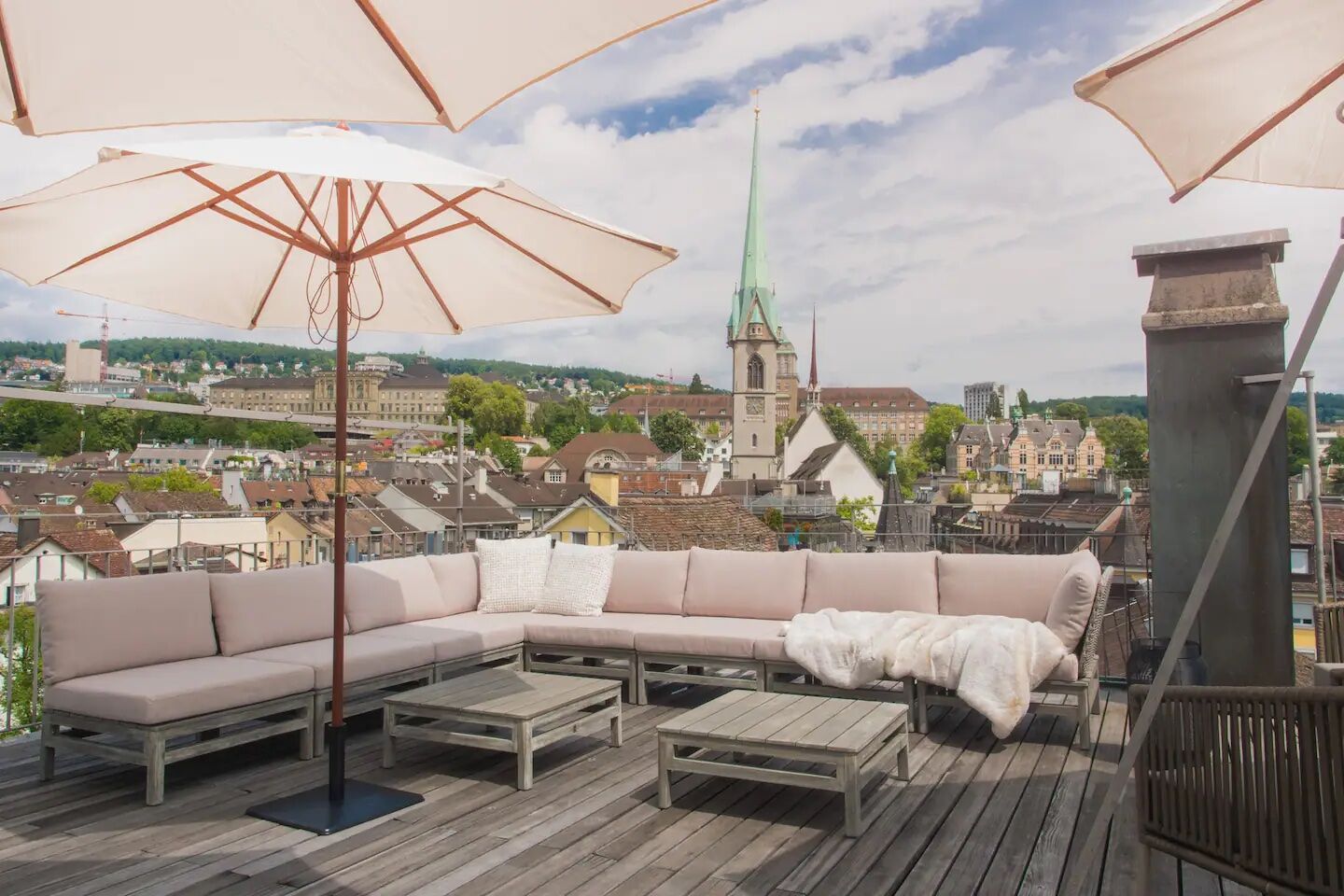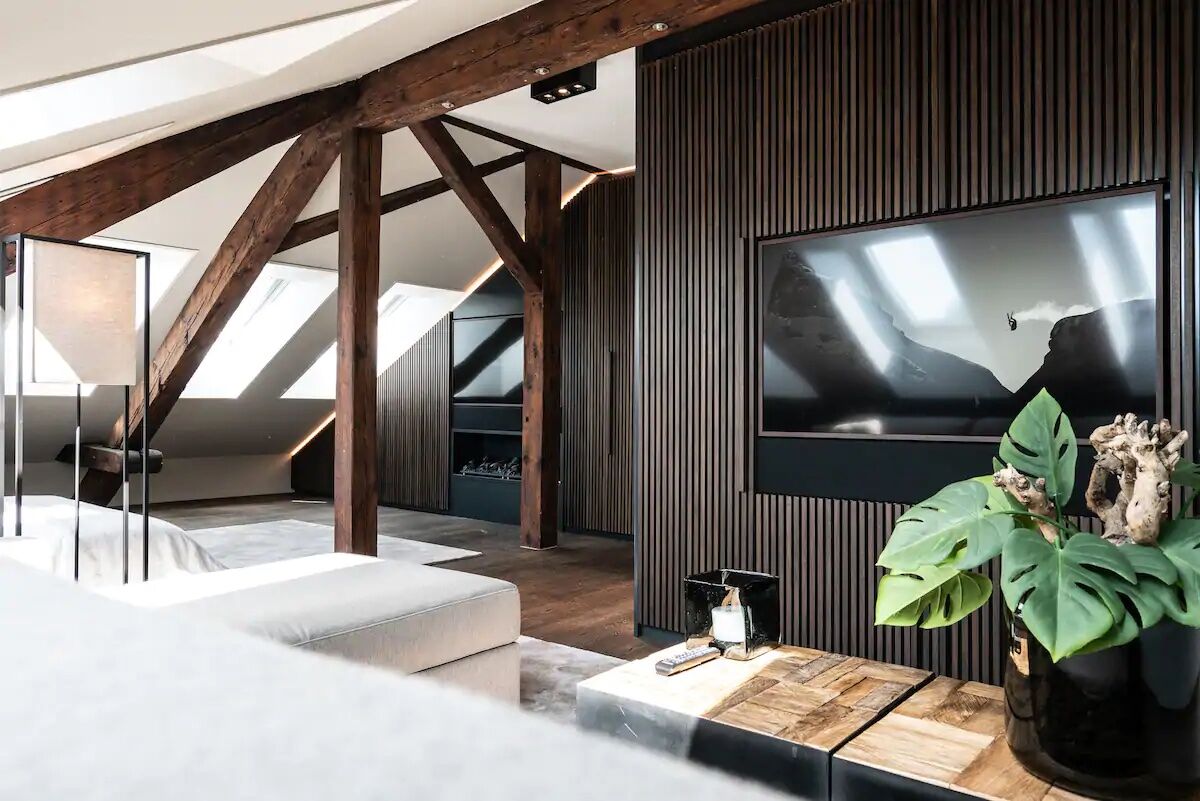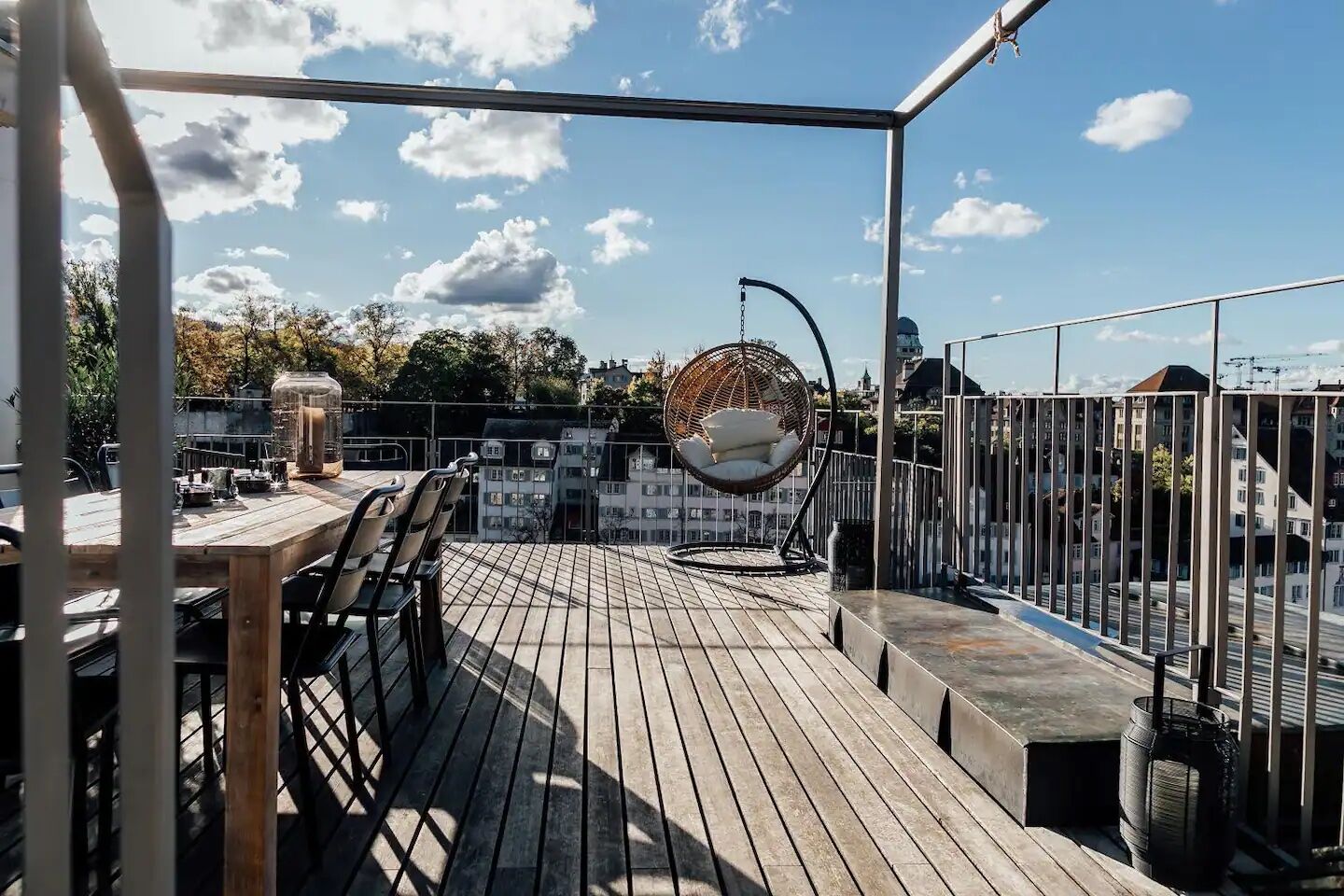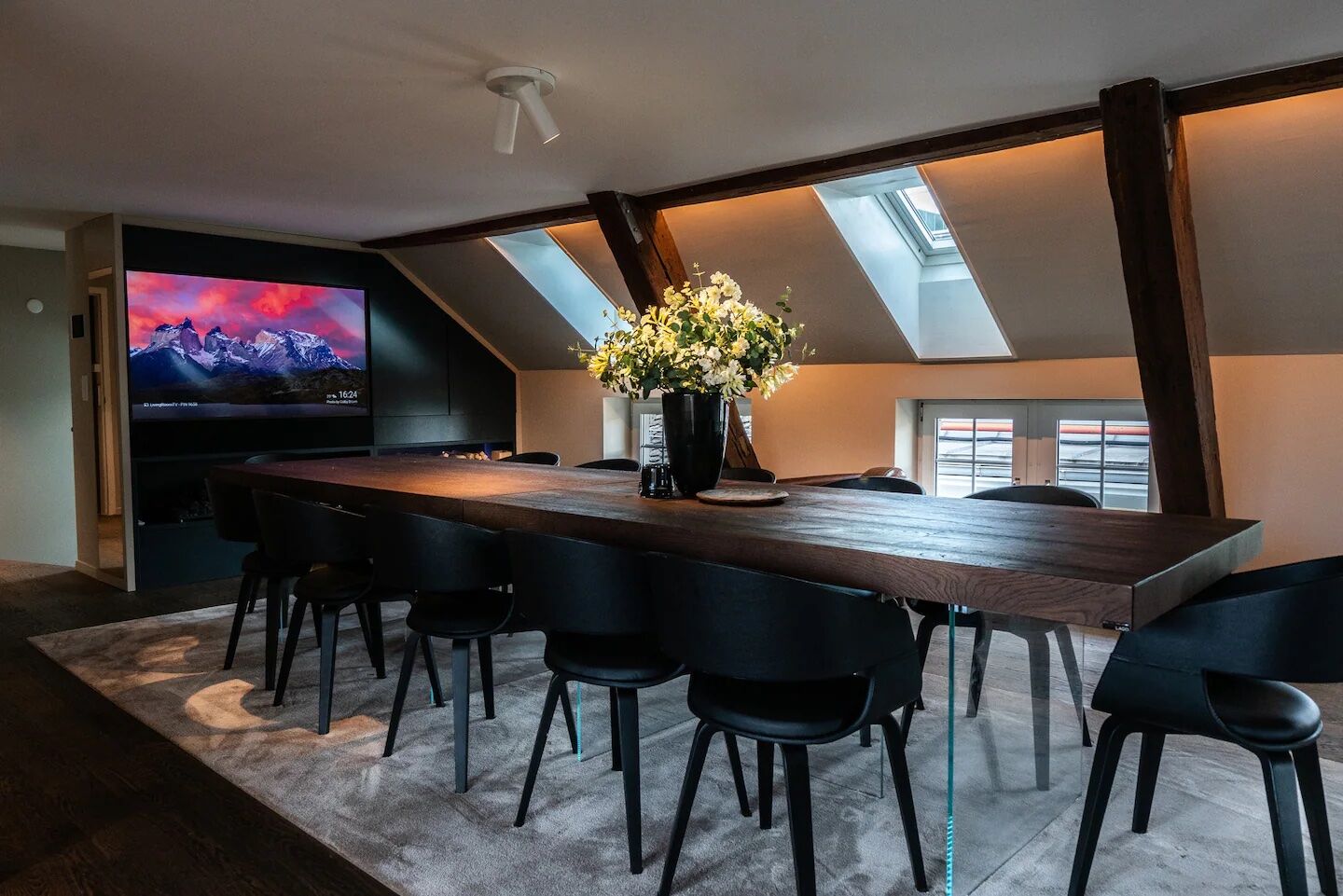 Located on the banks of the Limmat, this Altstadt Airbnb in Zürich, Switzerland, is moments from the city's historic attractions and restaurants. Minimalist interiors are accepted by dark wood and five-star amenities, including a plus TV lounge and hotel-quality bathroom. The multi-level roof terrace with river views and a hot tub and dining zone is the highlight.
Eight guests, two bedrooms
Price: $1,349 per night
Private and cozy Zürich lakefront cottage – Freienbach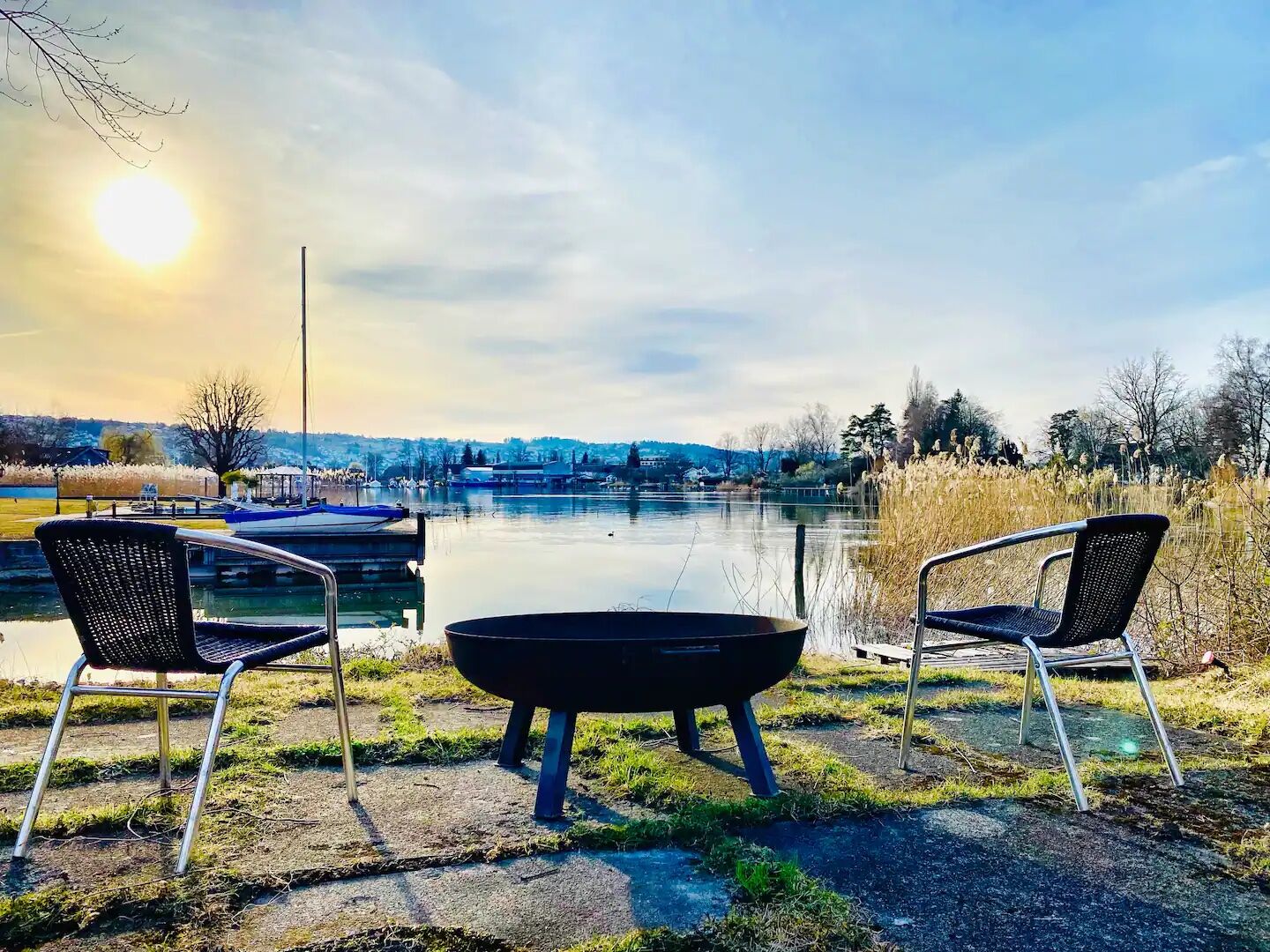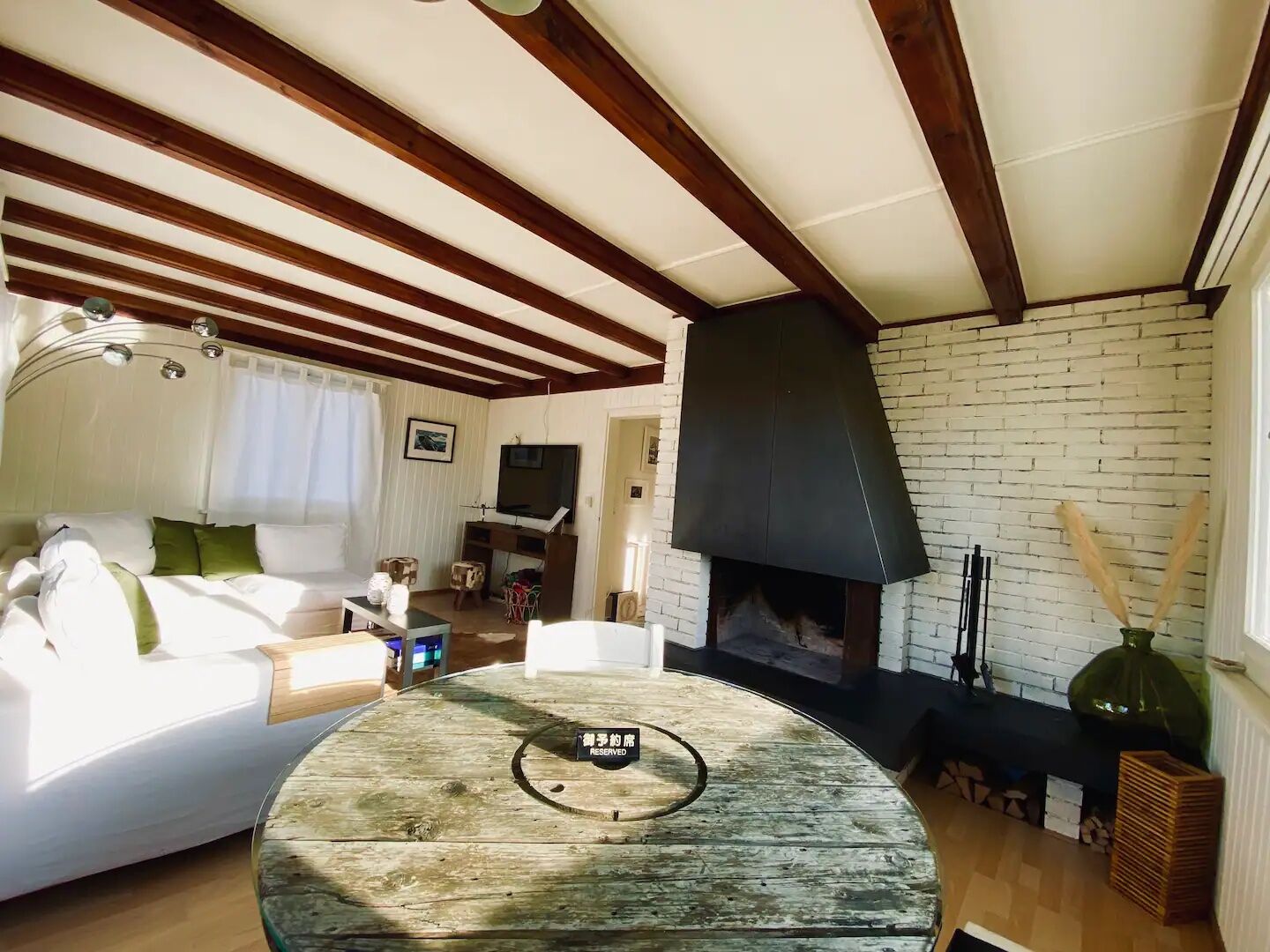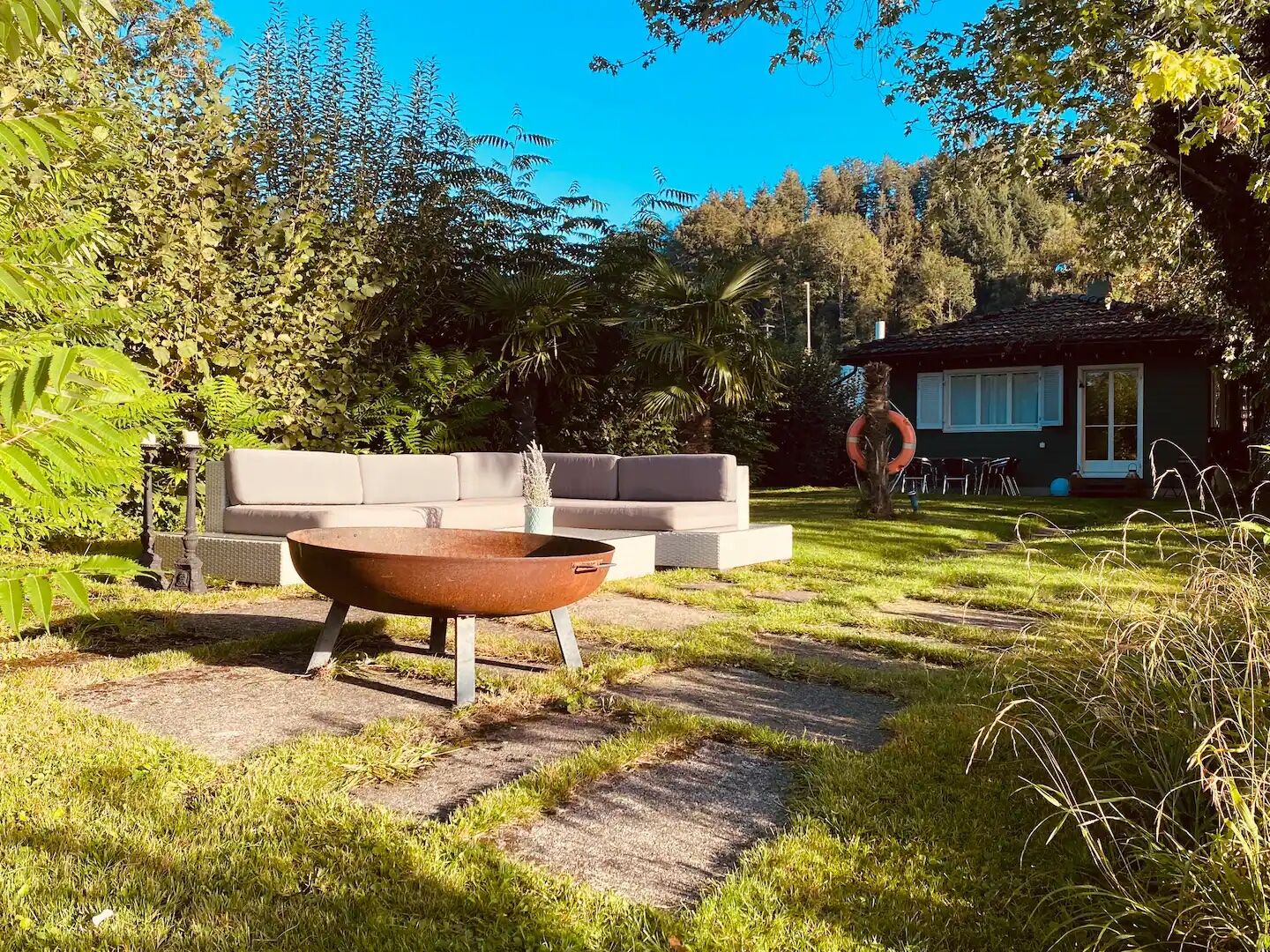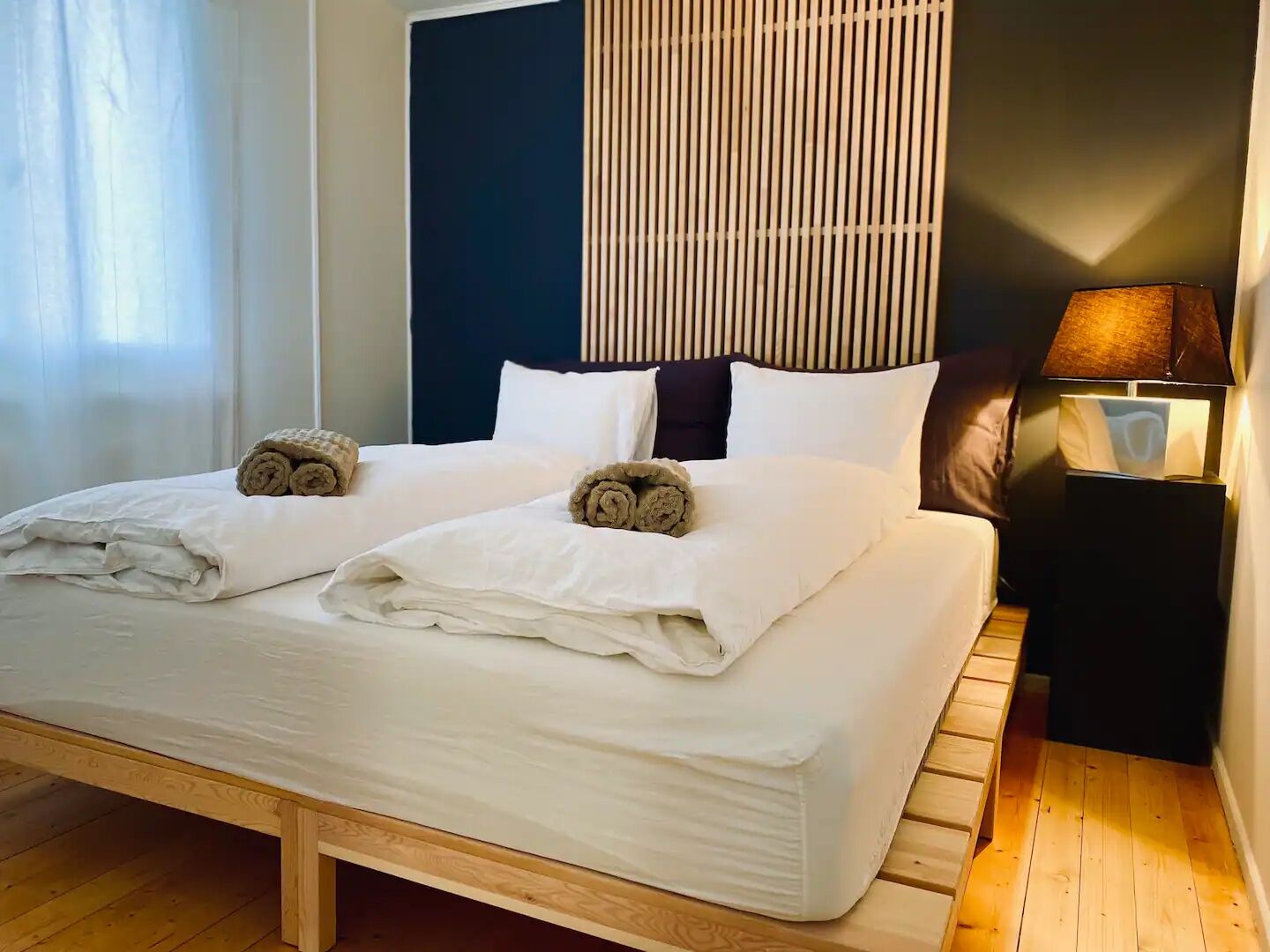 Swim from your backyard at this lakeside Zürich Airbnb. A scenic 30-minute drive from the city center, this pet-friendly cottage is suitable for families and couples. The lawn is rigged with a fire pit and a dining area where you can soak up the views over Zürichsee and the mountains. On colder evenings, fire up the caquelon and try your hand at making your own fondue around the fireplace.
Four guests, two bedrooms
Price: $272 per night
Airbnbs in Geneva, Switzerland
Wonderland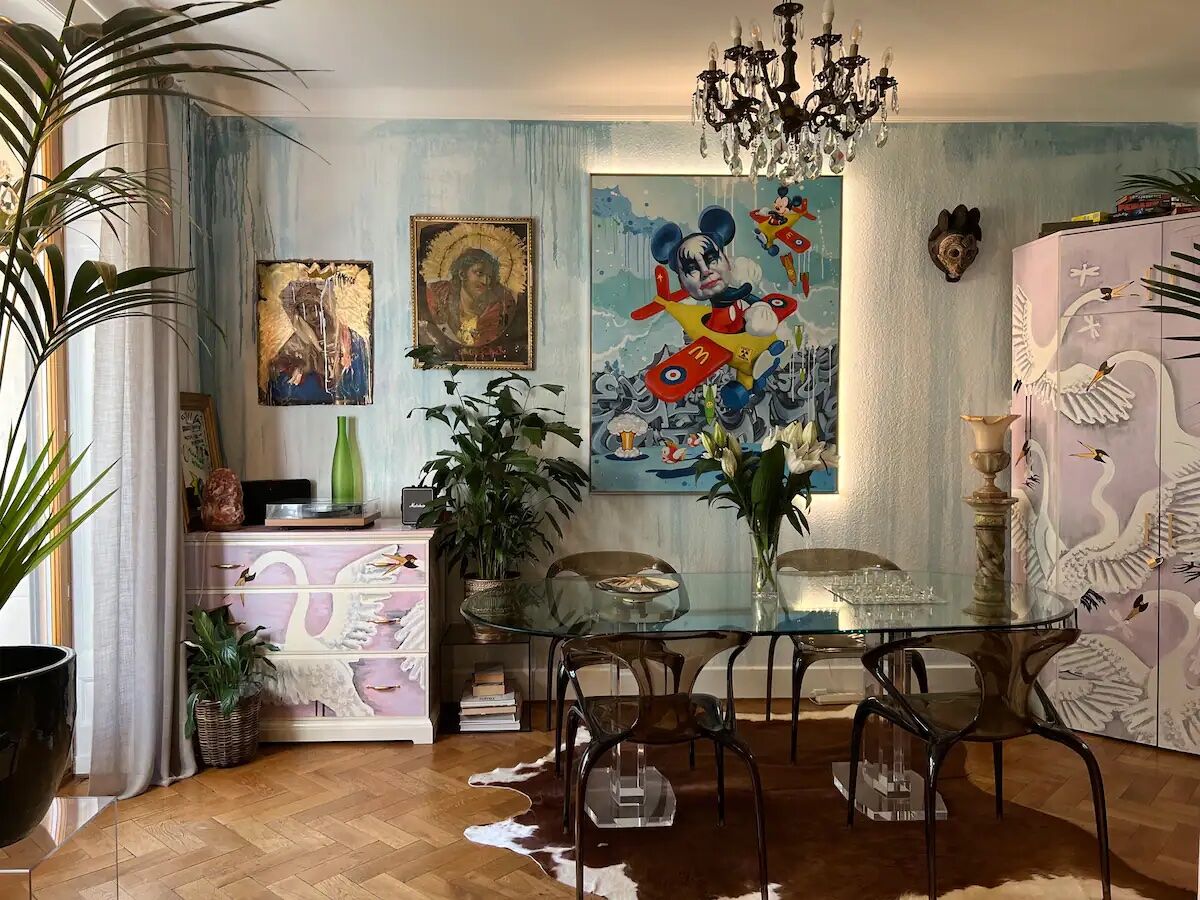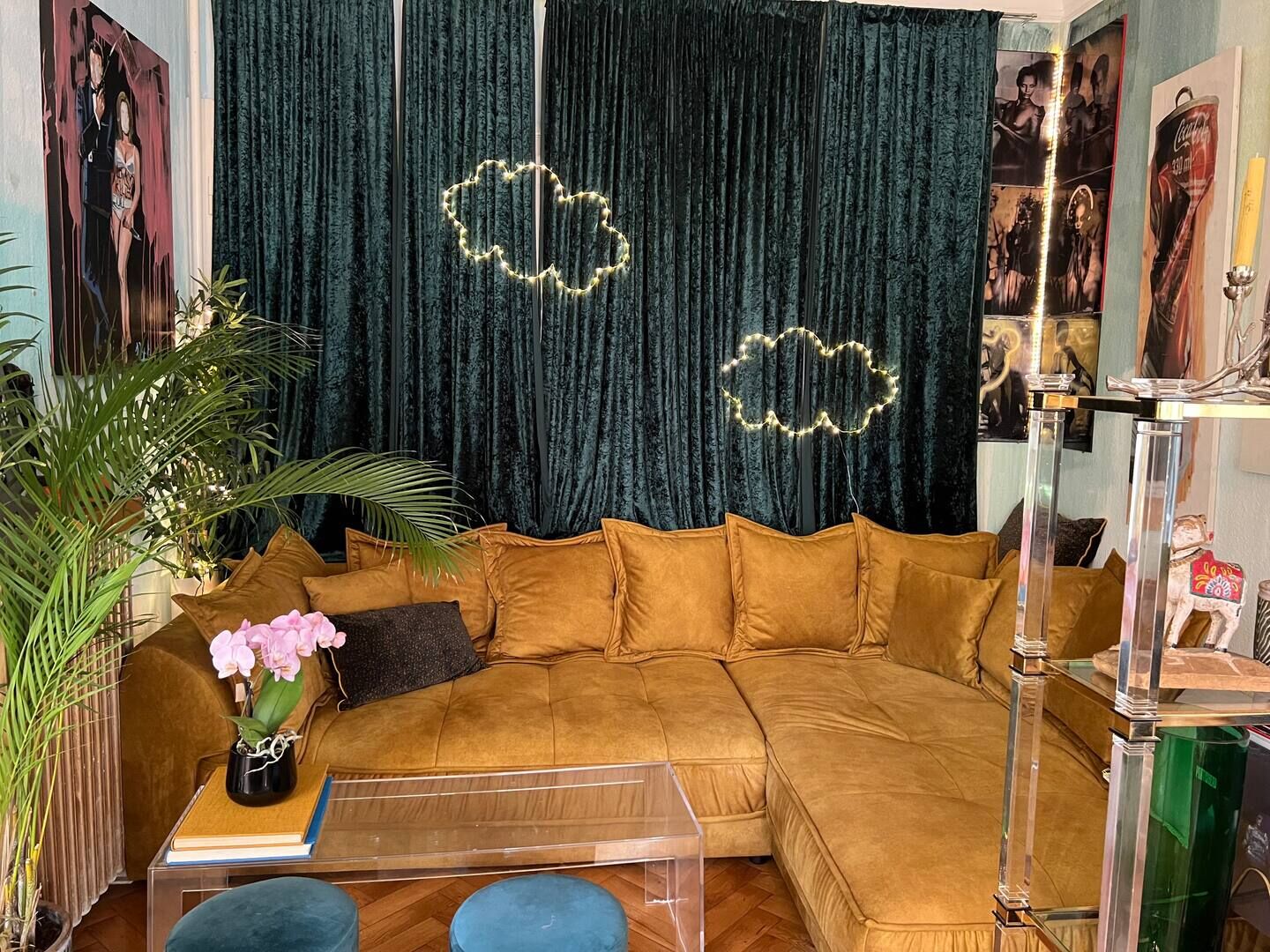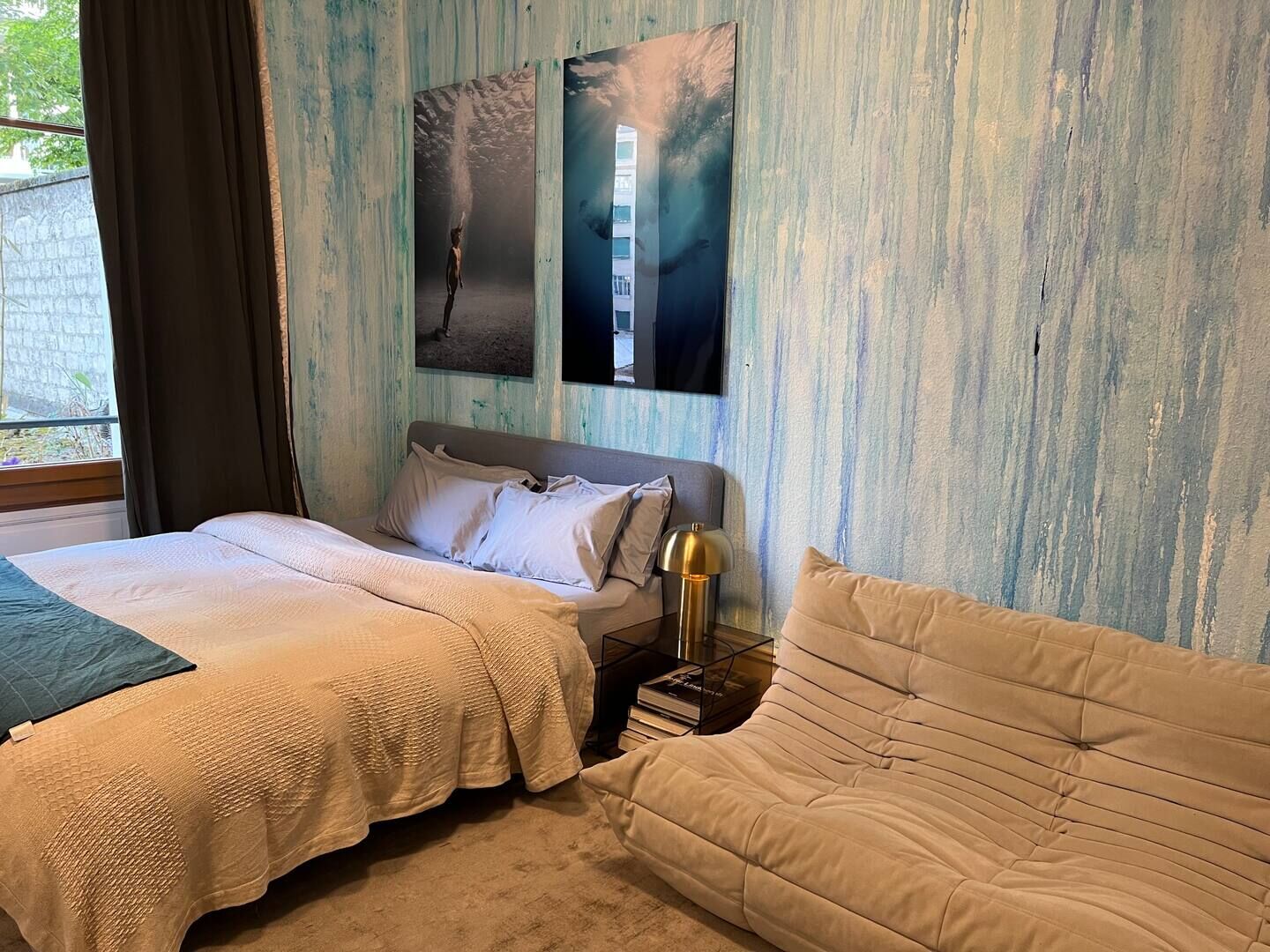 This pet-friendly Geneva, Switzerland, Airbnb is located in a peaceful neighborhood within walking distance of Vieille Ville. Interiors are uniquely appointed with contemporary and whimsical works of art and wall murals with lush plants and a piano adding yet more charm. There's a full kitchen, modern bathroom, and cute patio perfect for morning tea.
Three guests, one bedroom
Price: $281 per night</em.
Cozy chalet in the forest with a wood-fired hot tub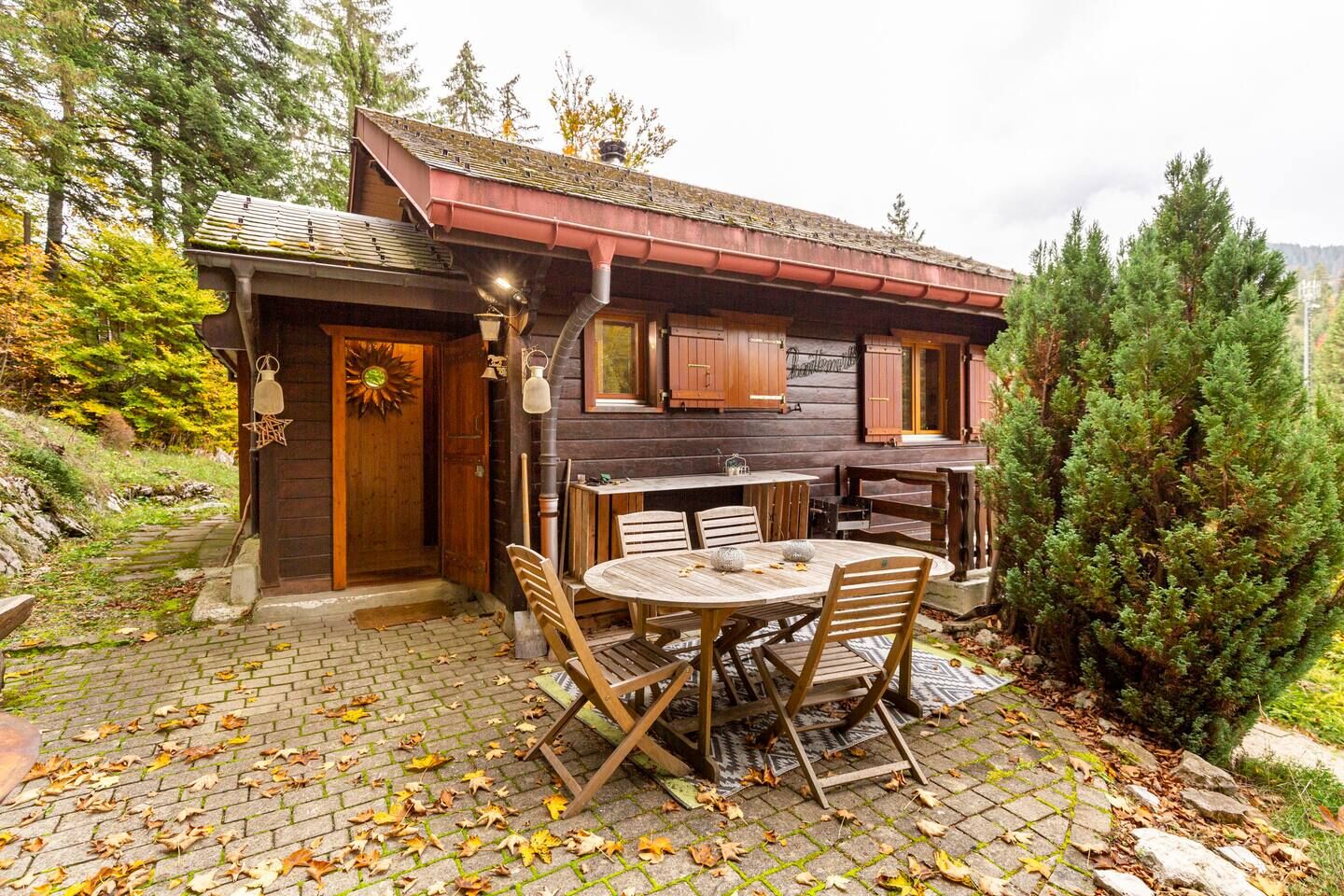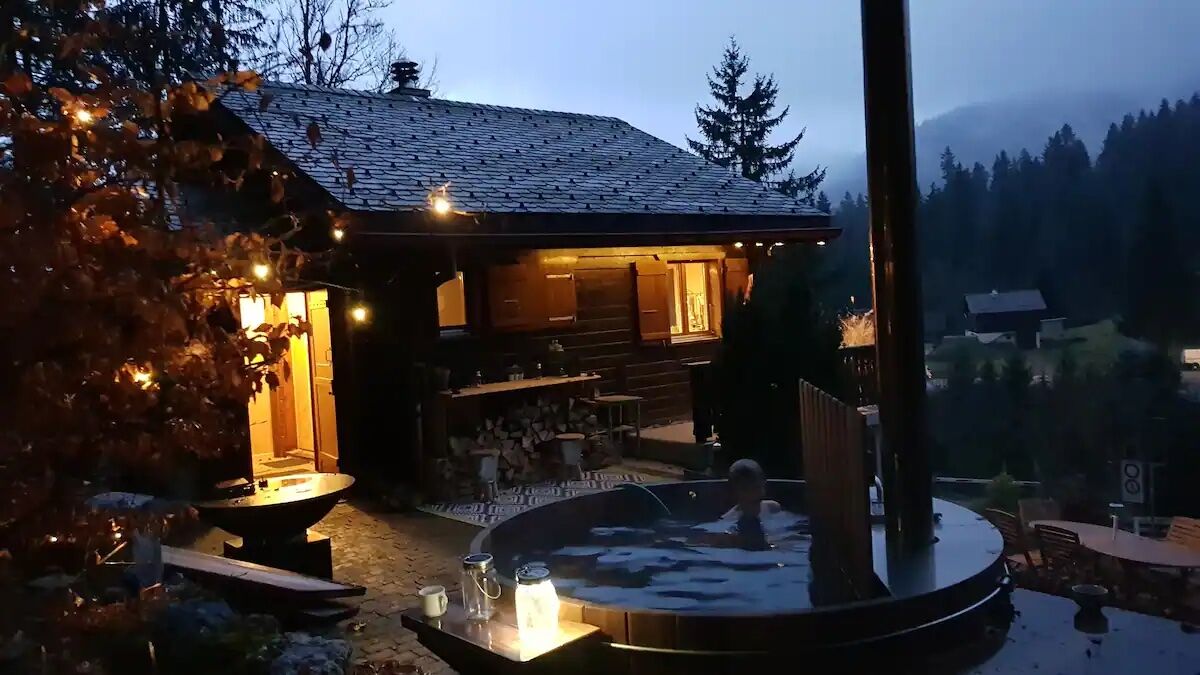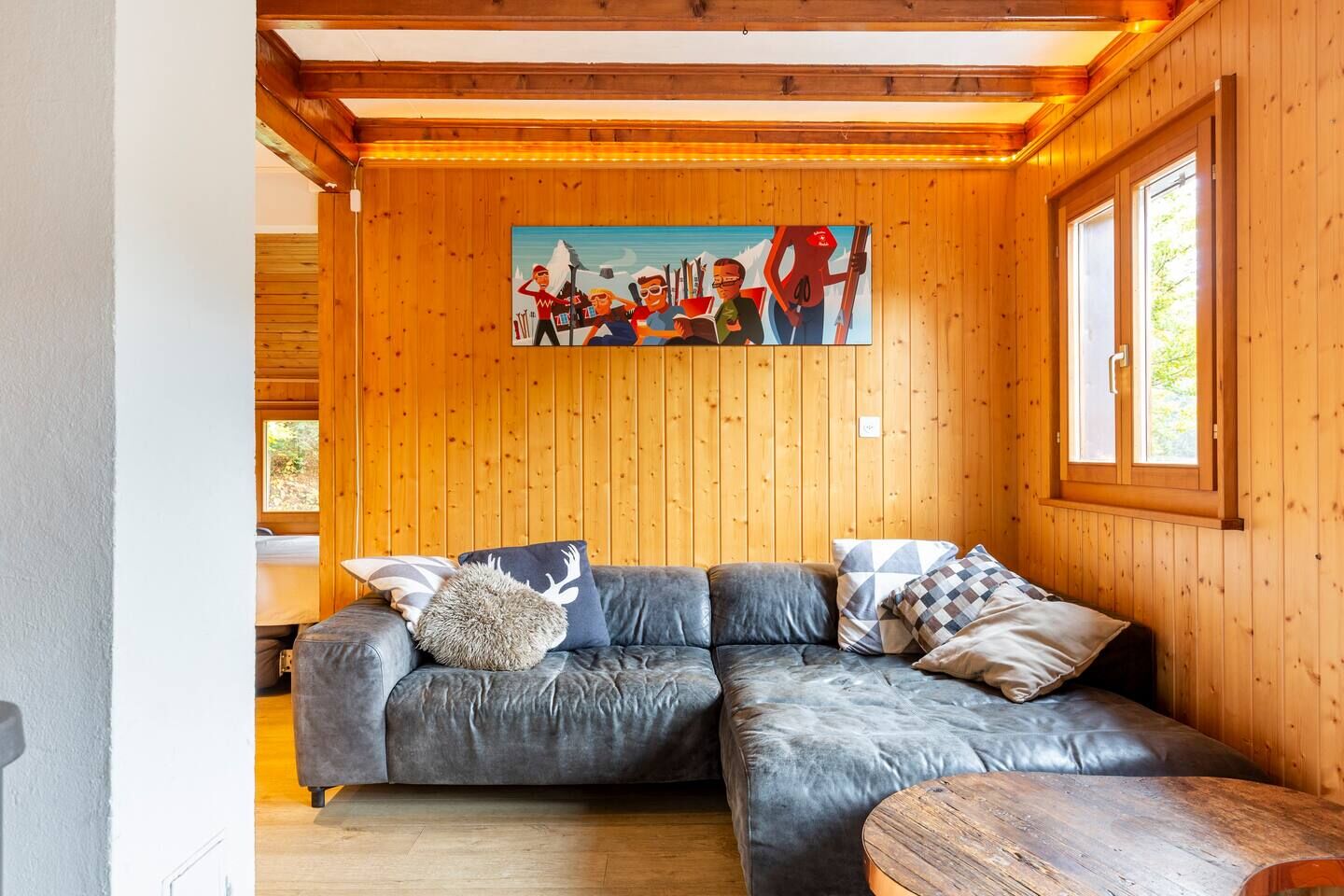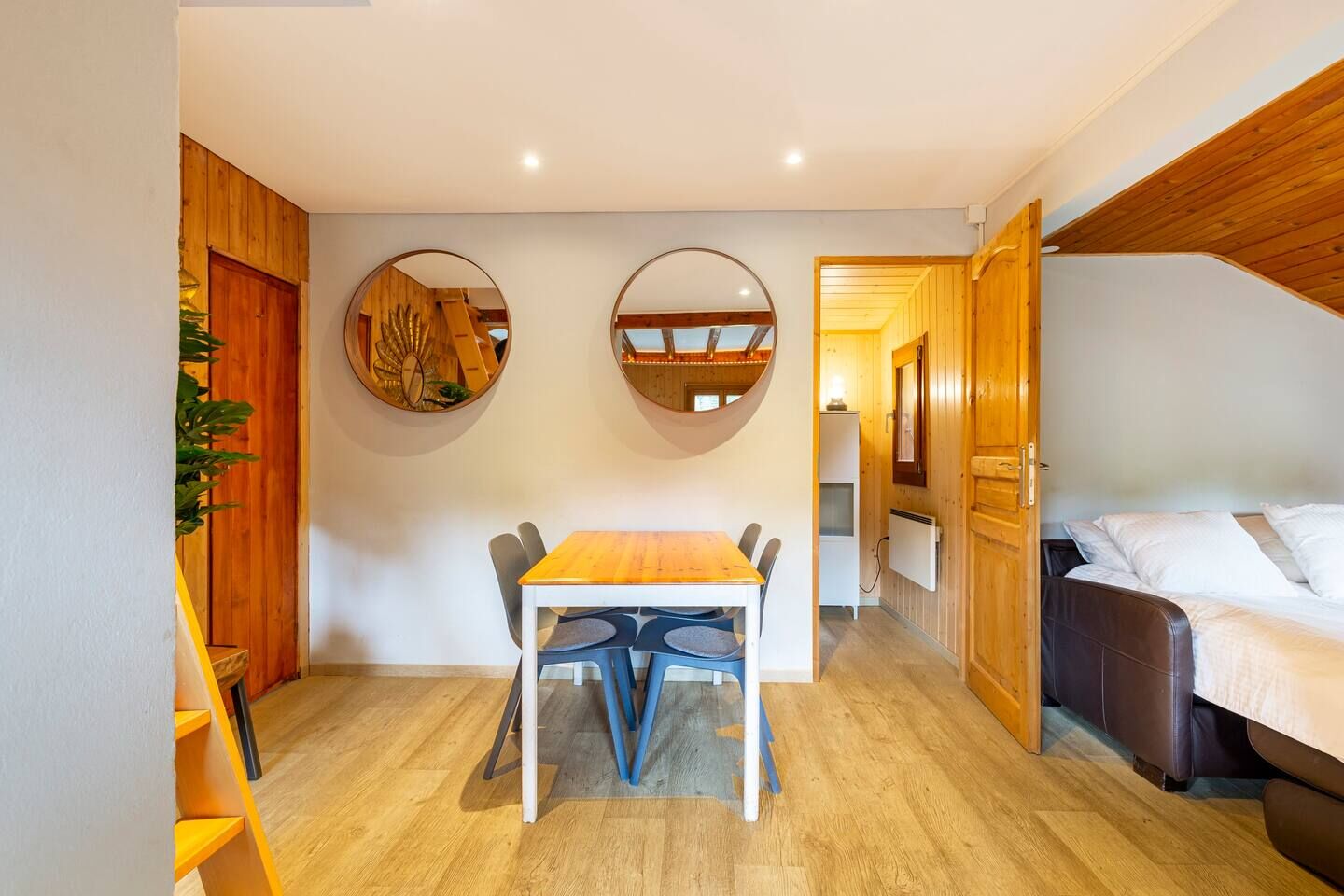 Swap the city for the countryside at this Switzerland Airbnb with a wood powered hot-tub in the suburbs of Geneva. The cabin is surrounded by greenery that you can appreciate from the verandah and remains toasty indoors thanks to the log burner. Ideal for exploring the city, hiking, and winter skiing.
Four guests, two bedrooms
Price: $162 per night
Book here
Les Pâquis apartment near the United Nations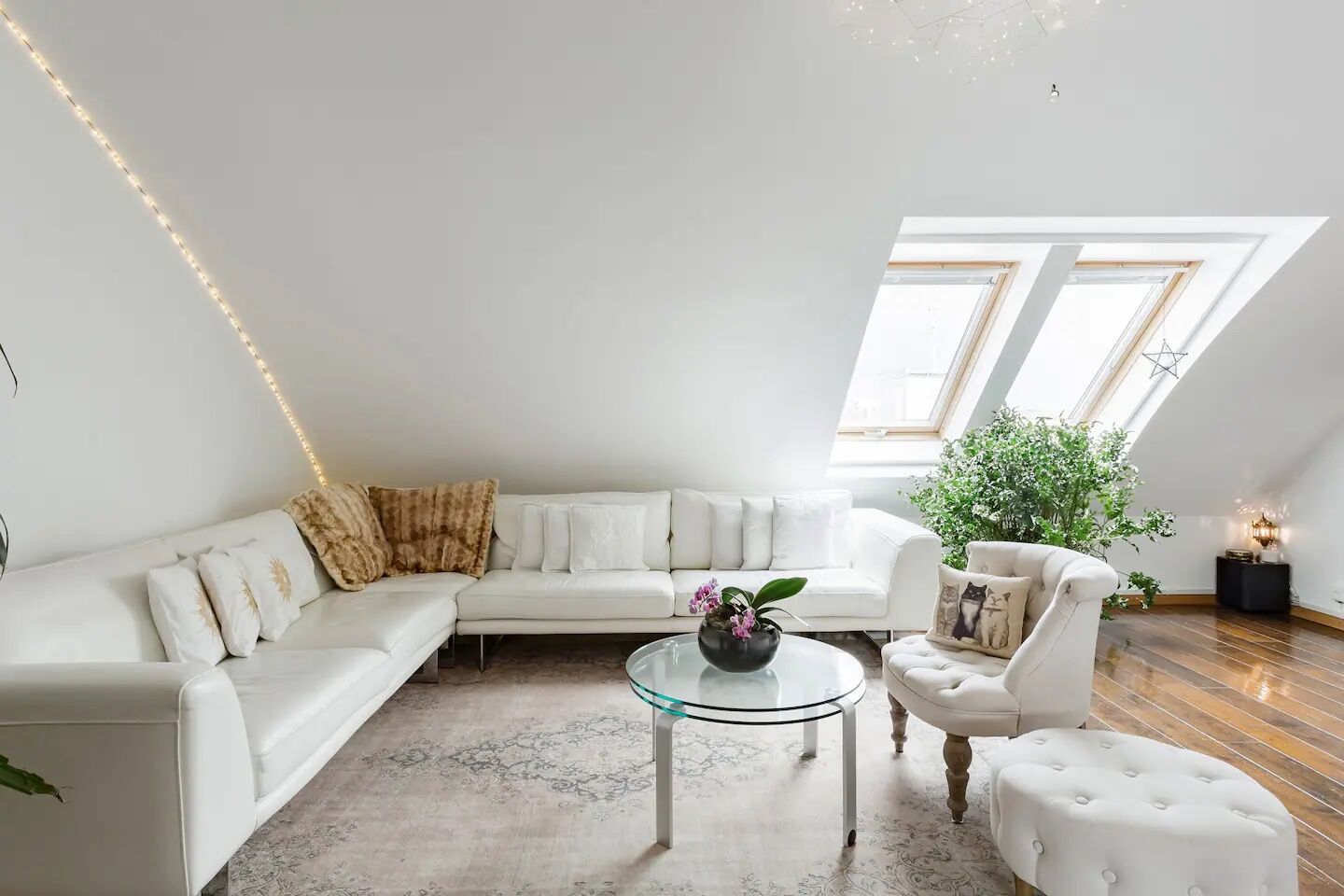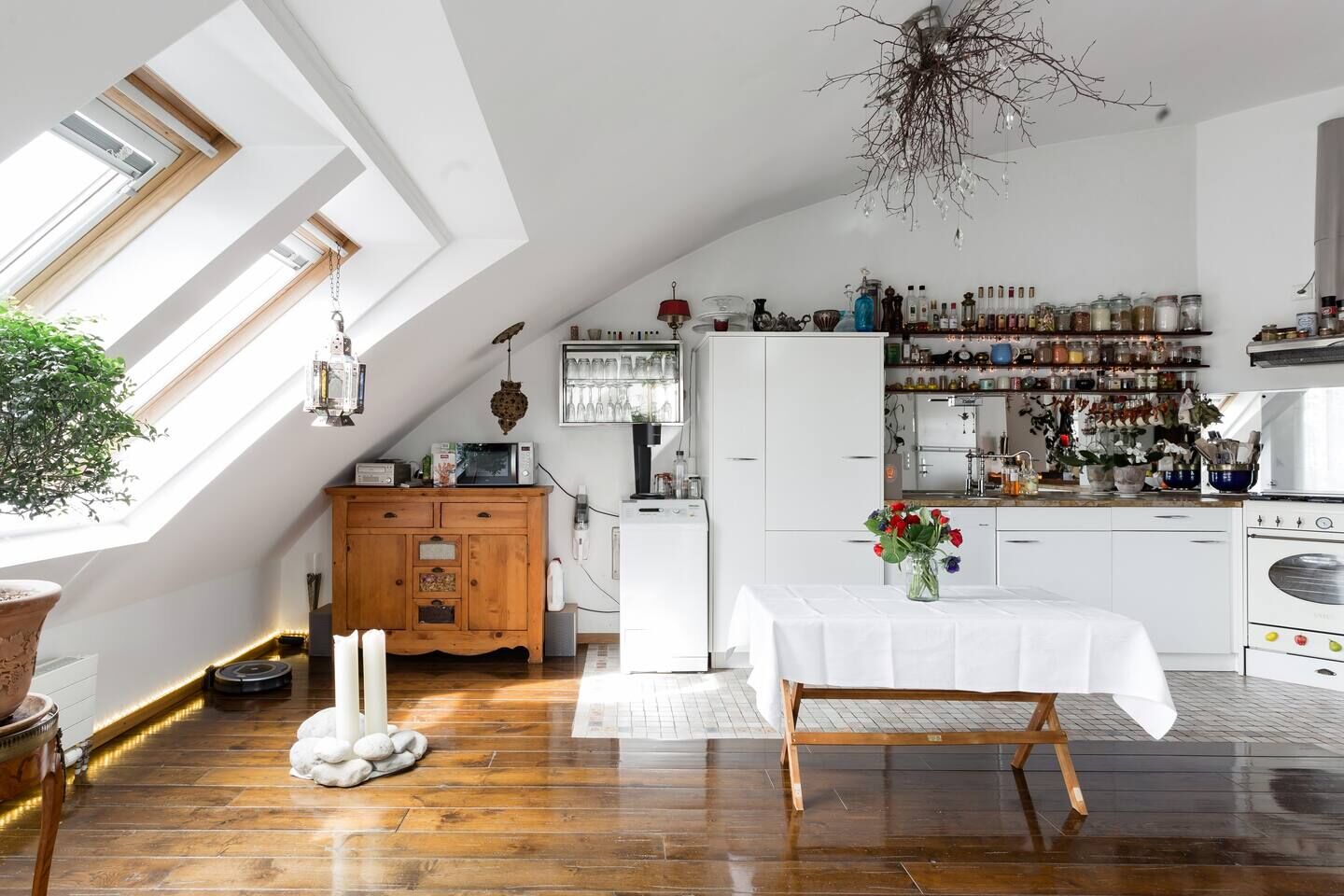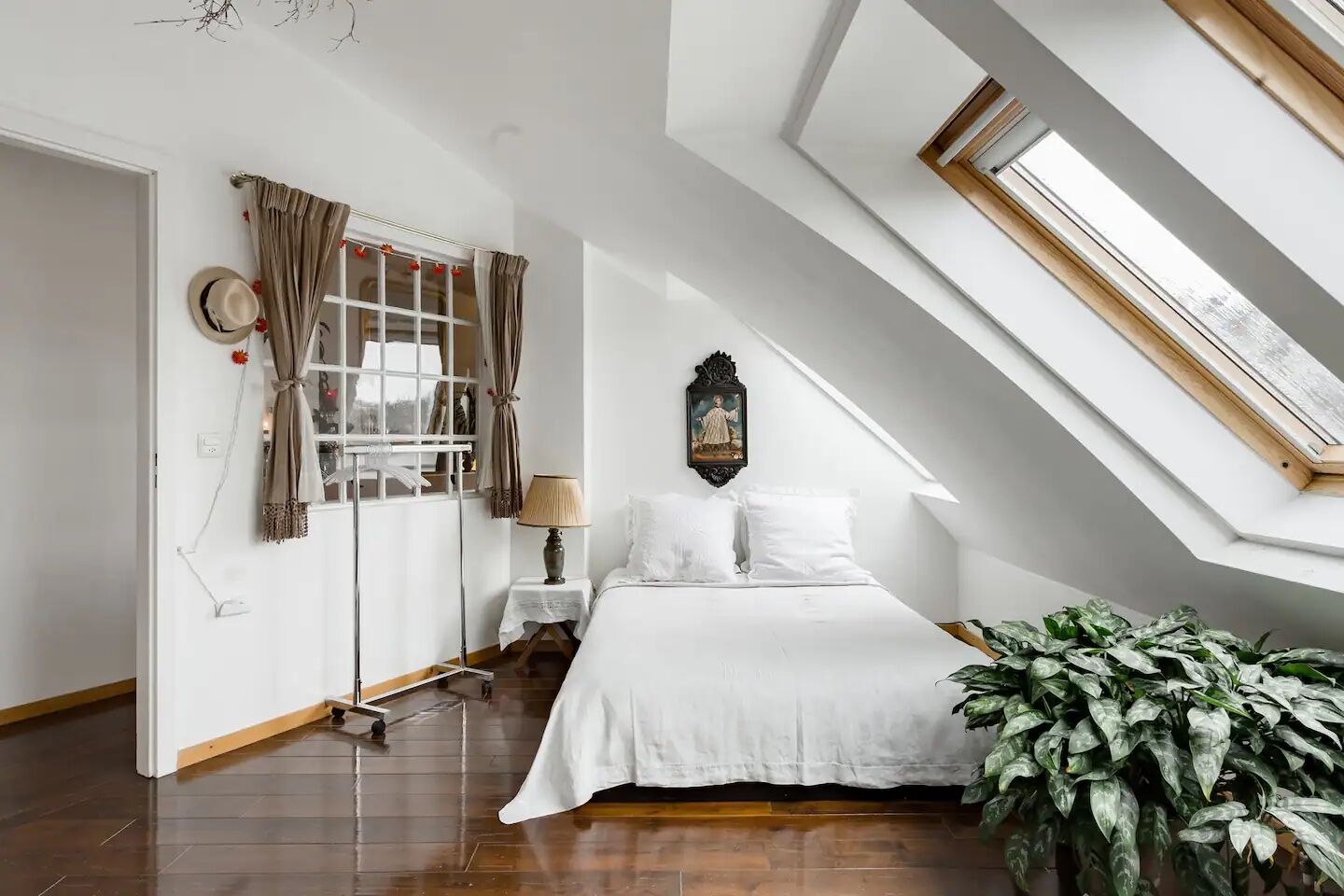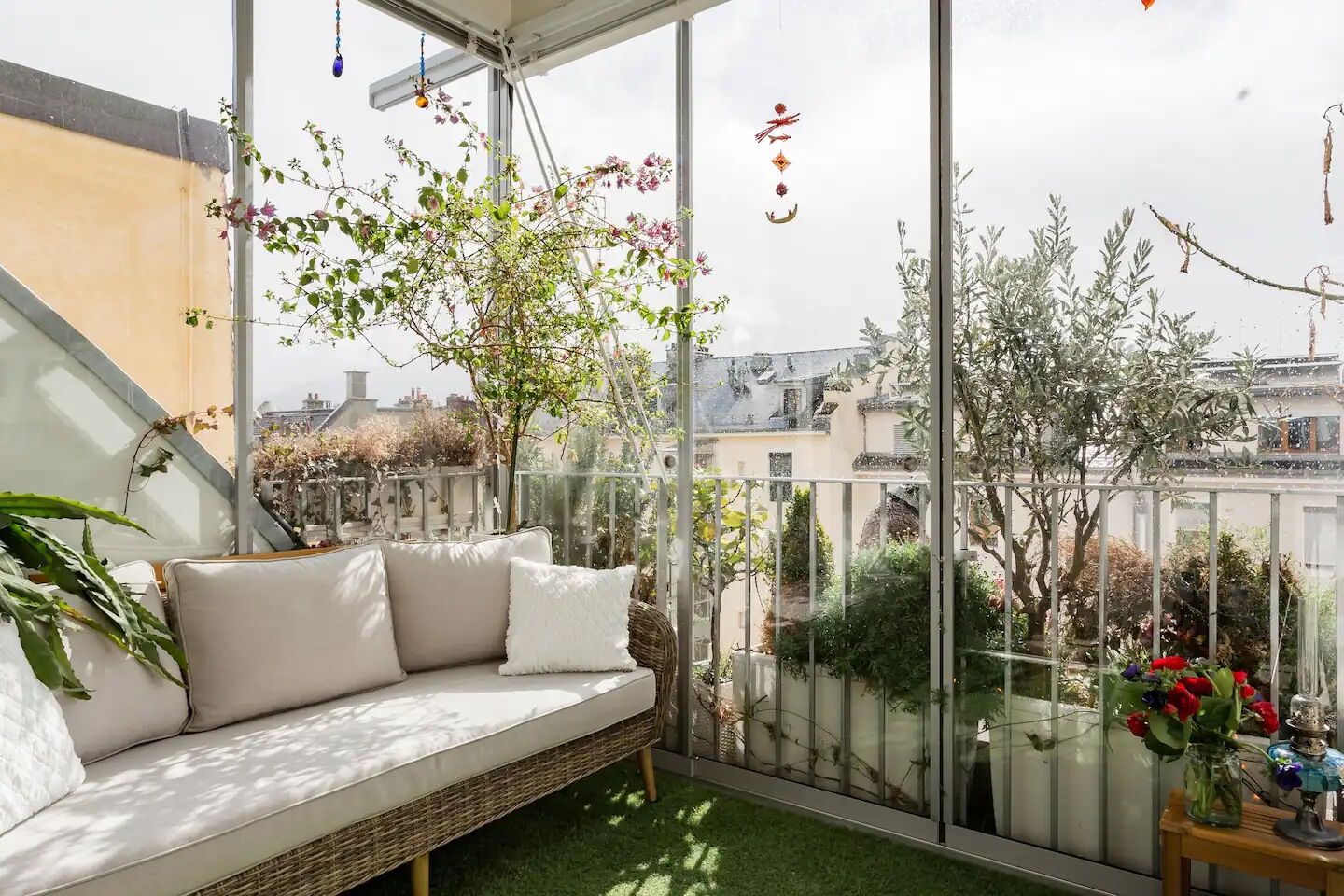 Sublimely decorated with a stylish bathroom, this loft Airbnb in Geneva, Switzerland, is a chef's delight. The kitchen is stocked with just about every spice and oil under the sun. Lay back beneath the skylight for views of the stars and settle into the conservatory with a book and glass of wine in between sightseeing.
Two guests, two bedrooms
Price: $211 per night
Airbnbs in Zermatt, Switzerland
Chalet Bergheim – ski-in/ski-out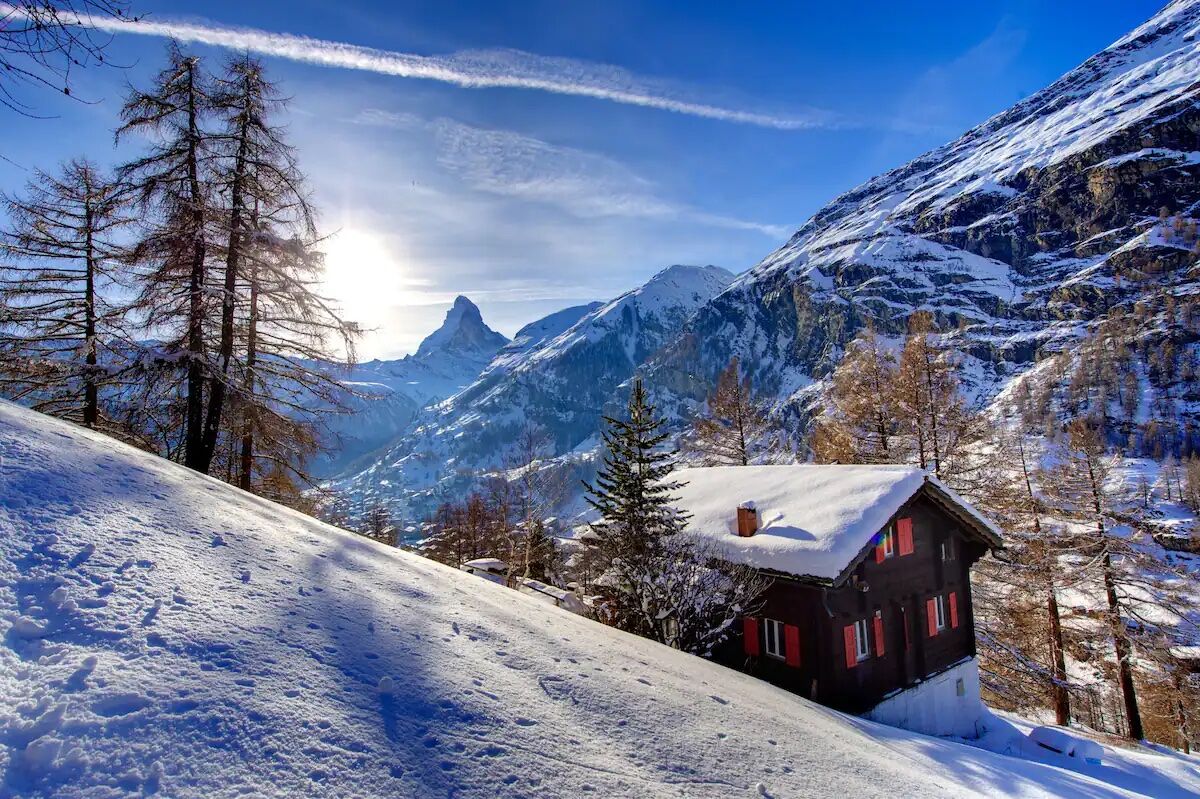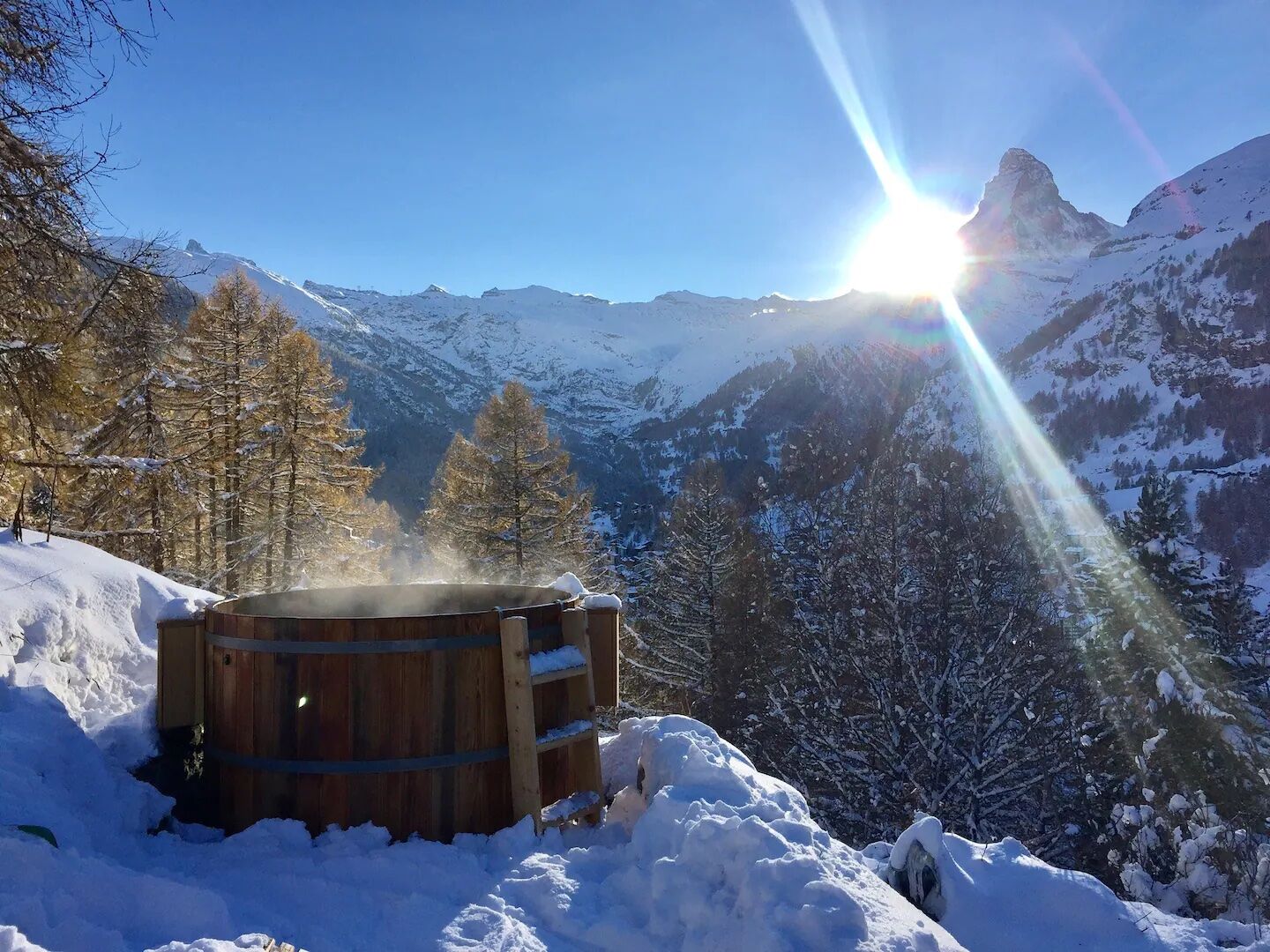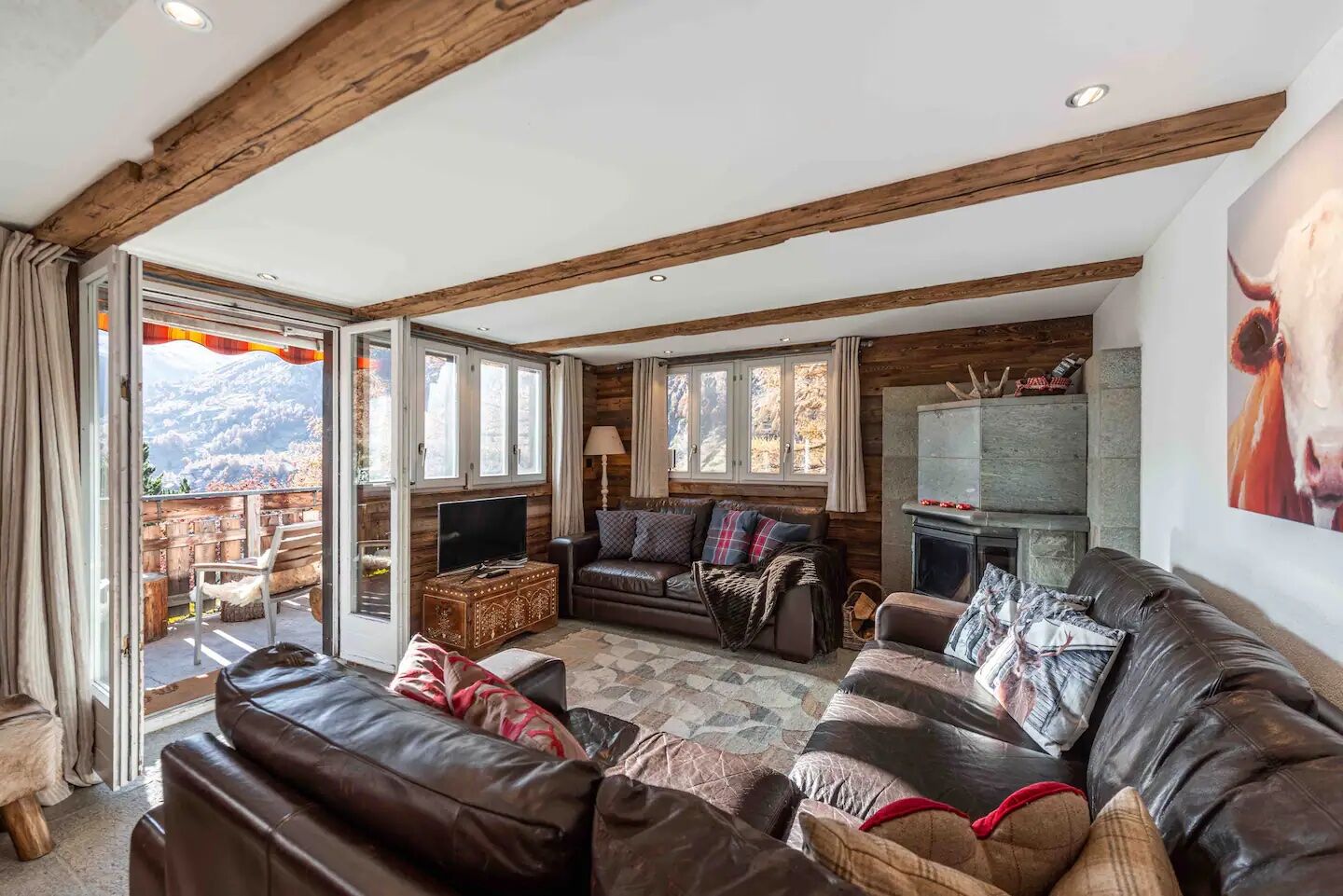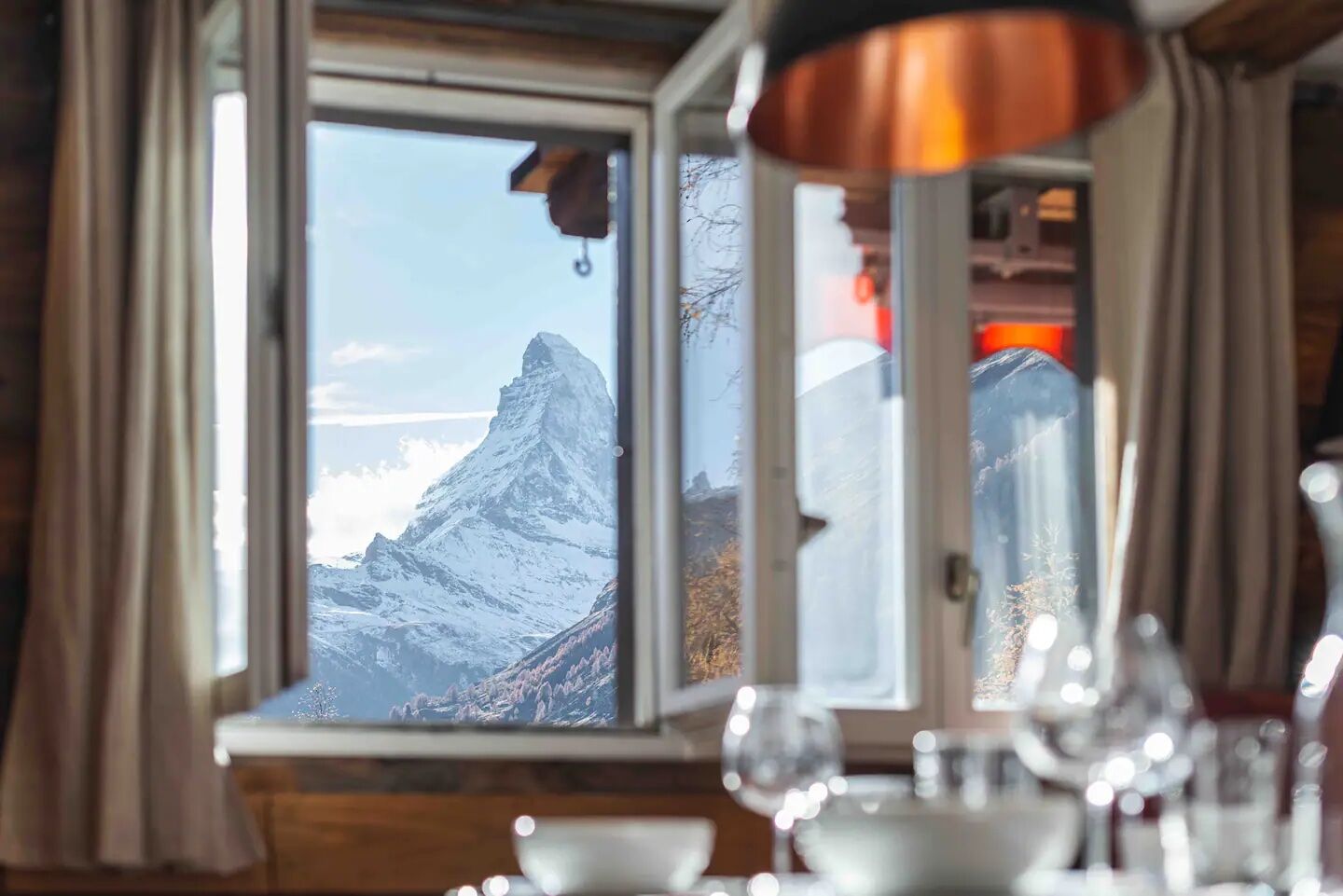 This ski-in/ski-out chalet Airbnb in Zermatt, Switzerland, gives you an eyeful of Matterhorn from its private garden with a cedar hot tub. Built in 1933, this traditional alpine cabin is furnished with hand-made furniture, natural materials, and all the mod-cons you need to stay comfy and connected. Visit in winter and you can hop straight on the Sunnegga piste. Non-skiers can give that a miss and retreat to the whirlpool bath with mountain views.
Eight guests, three bedrooms
Price: $268 per night
Central cozy penthouse roof terrace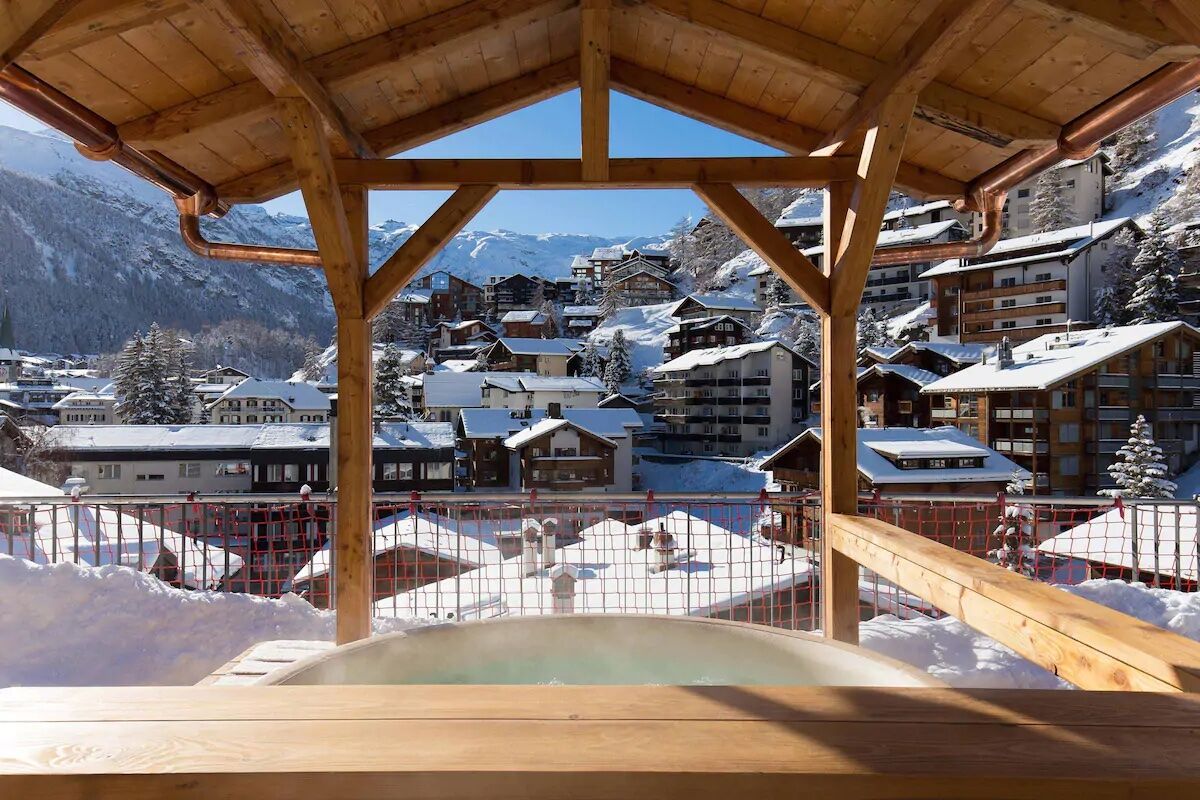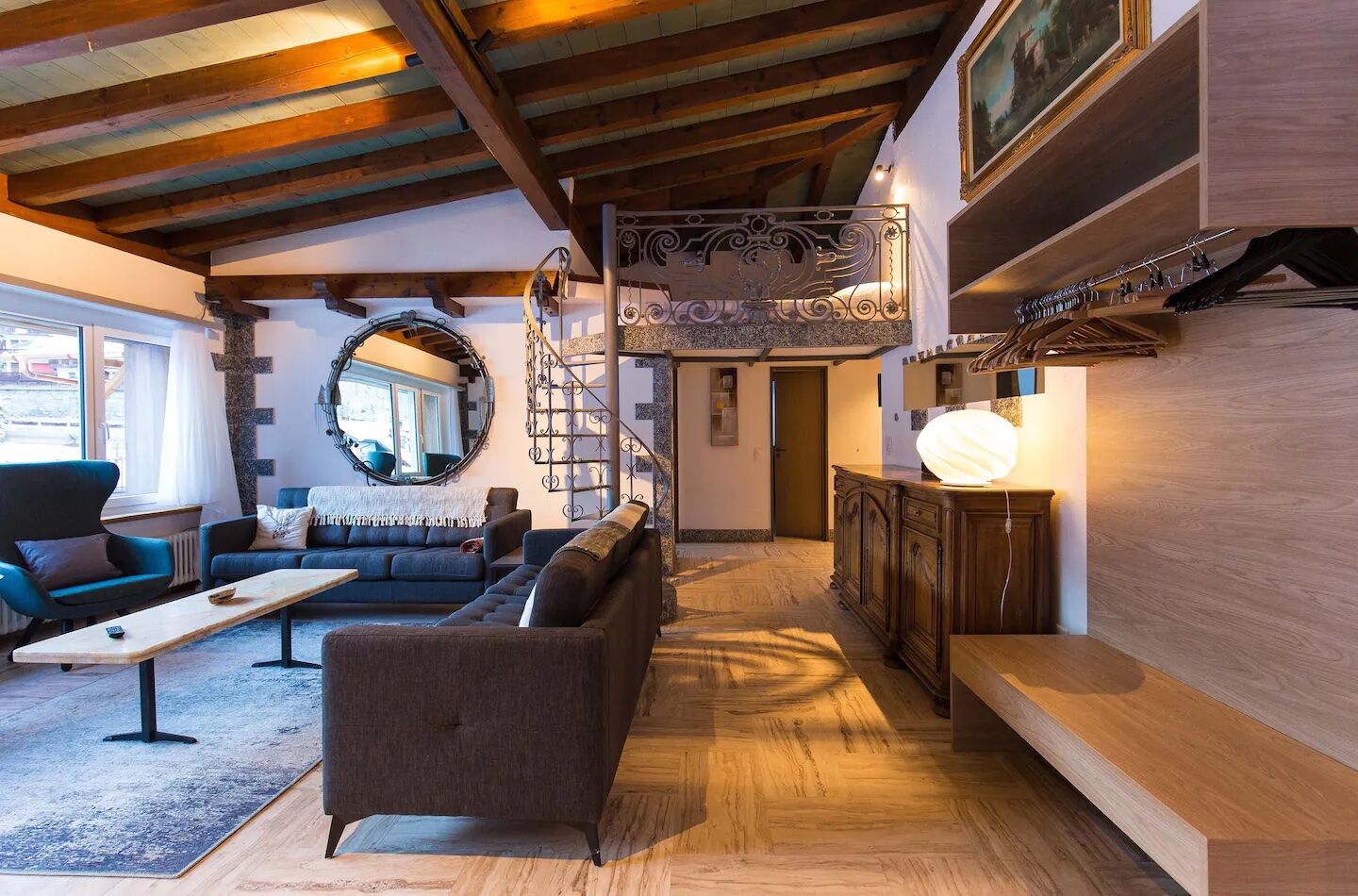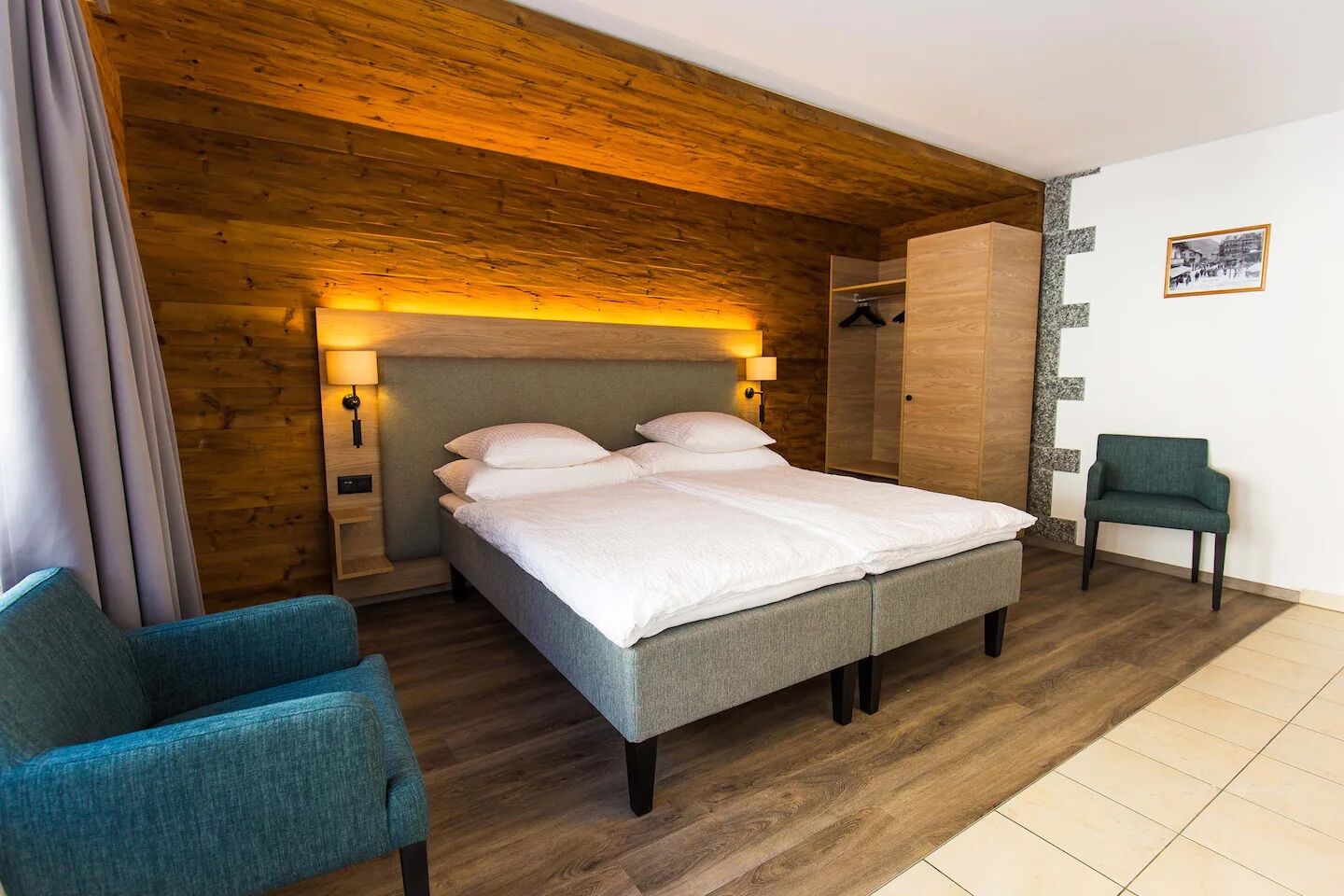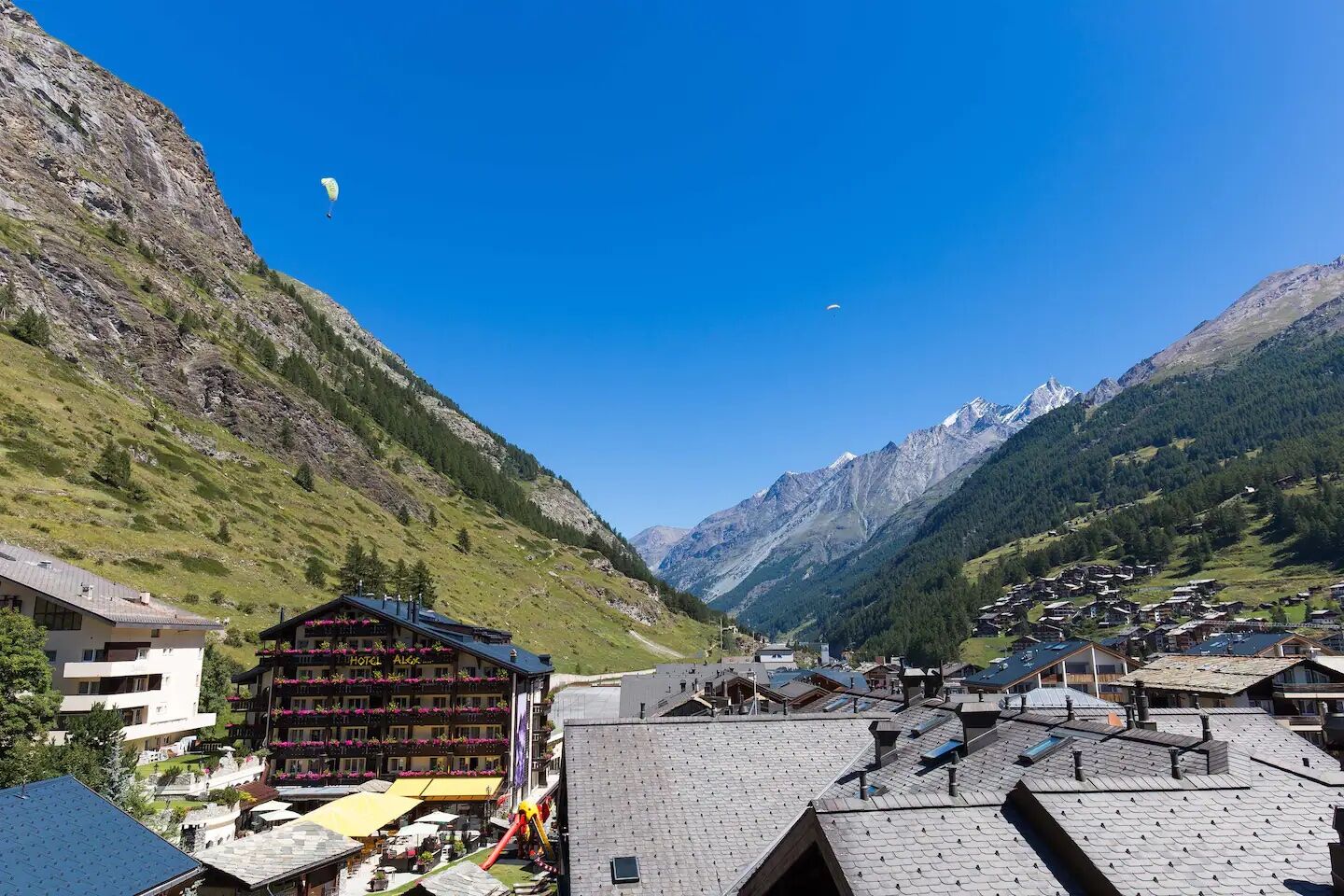 Slap-bang in the heart of town, this Zermatt Airbnb with a roof terrace and hot tub claims the top floor of the Haus Theodul lodge. This overlooks Matterhorn and the resort village. The contemporary-styled apartment is spread over two levels with a private sauna adding another layer of luxury.
Ten guests, four bedrooms
Price: $854 per night
Airbnbs in Interlaken, Switzerland
Oak, Interlaken East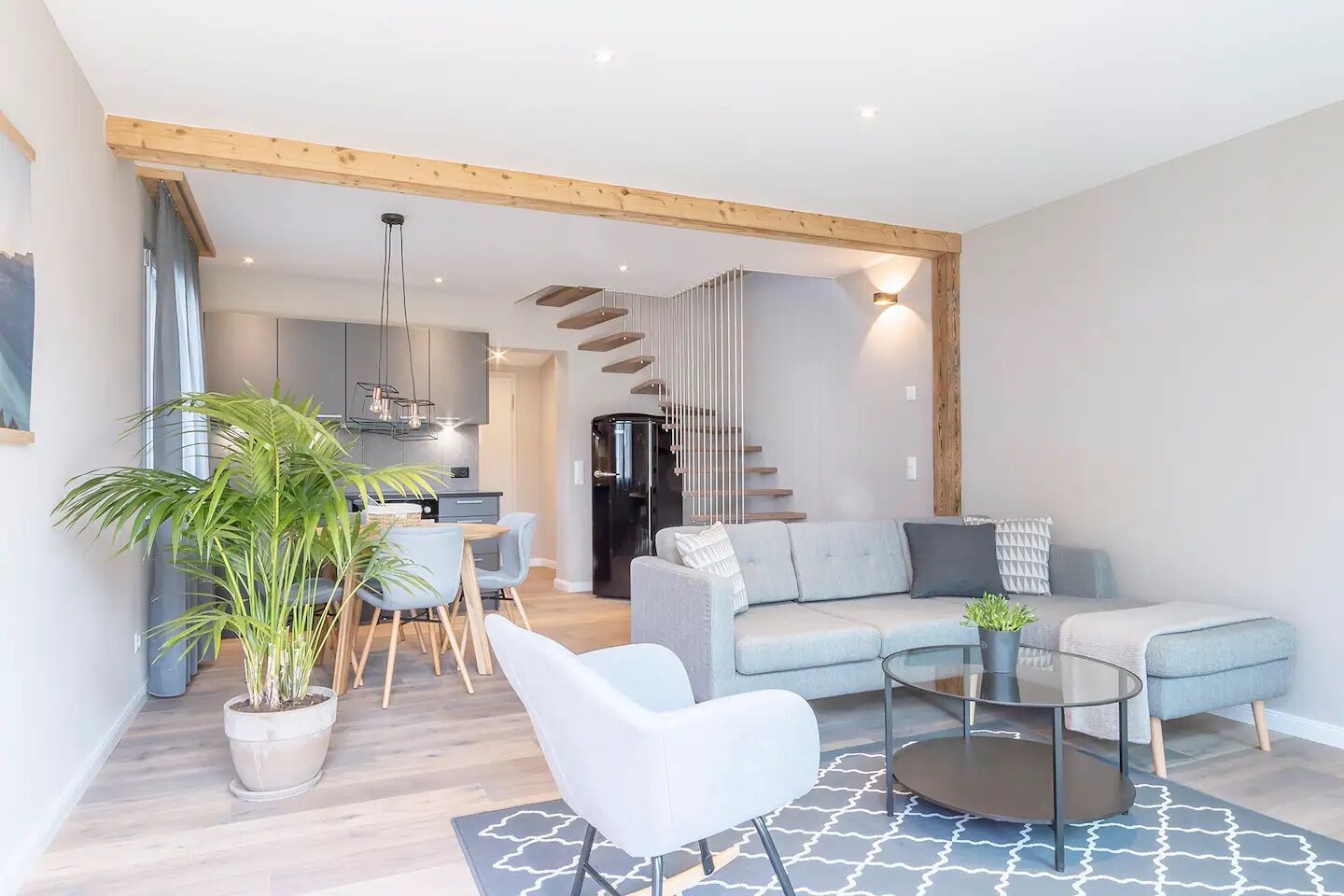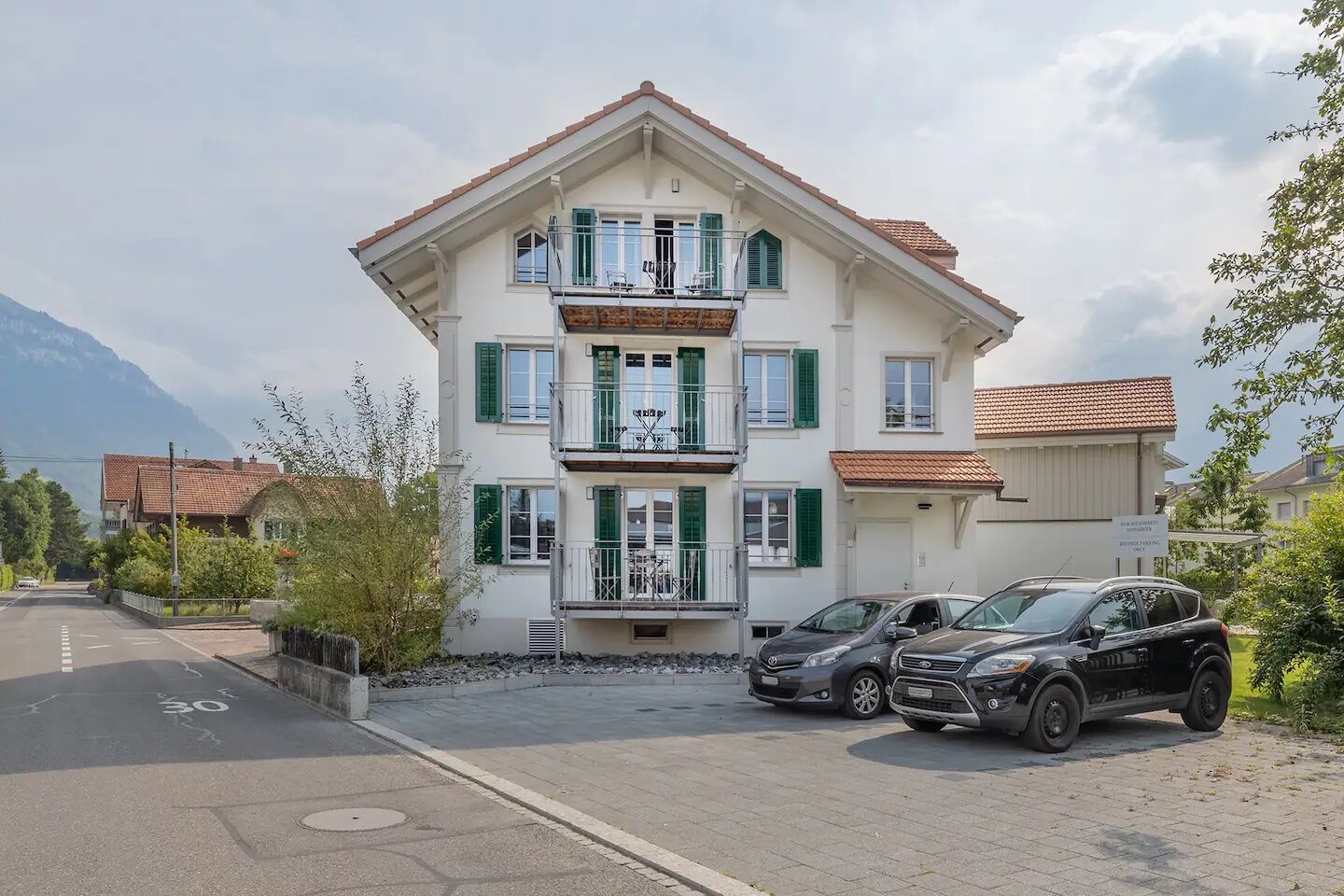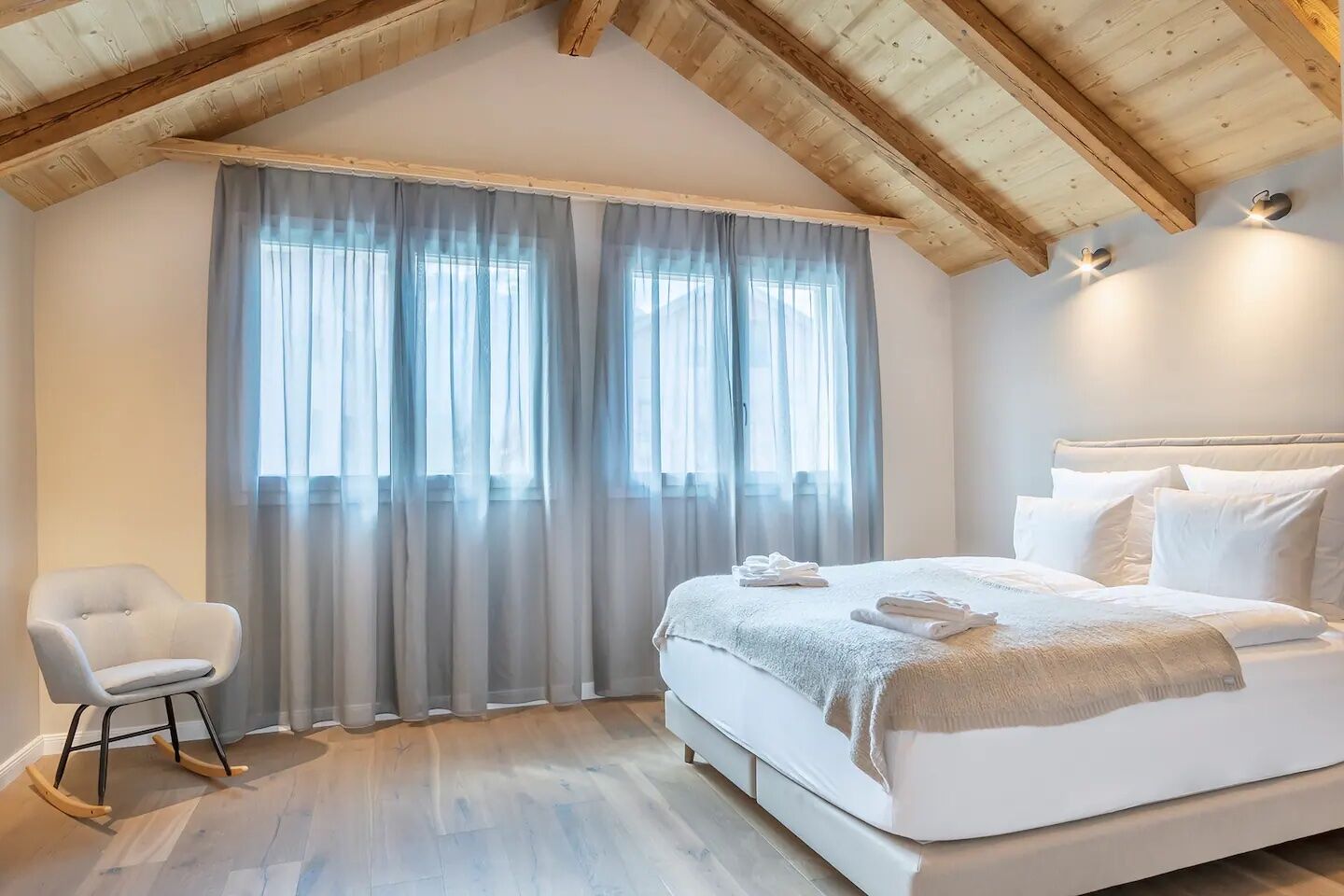 Super central, super pretty, this Interlaken, Switzerland, Airbnb is the perfect couples' retreat. Interiors cover two levels with the first floor opening out onto a tranquil terrace and garden oasis. The furnishings are comfortable with tons of space being a bonus for longer stays. Anyone road-tripping around the Bernese Oberland region will benefit from free parking.
Two guests, one bedroom
Price: $259 per night
Newly built award-winning cottage on Lake Thun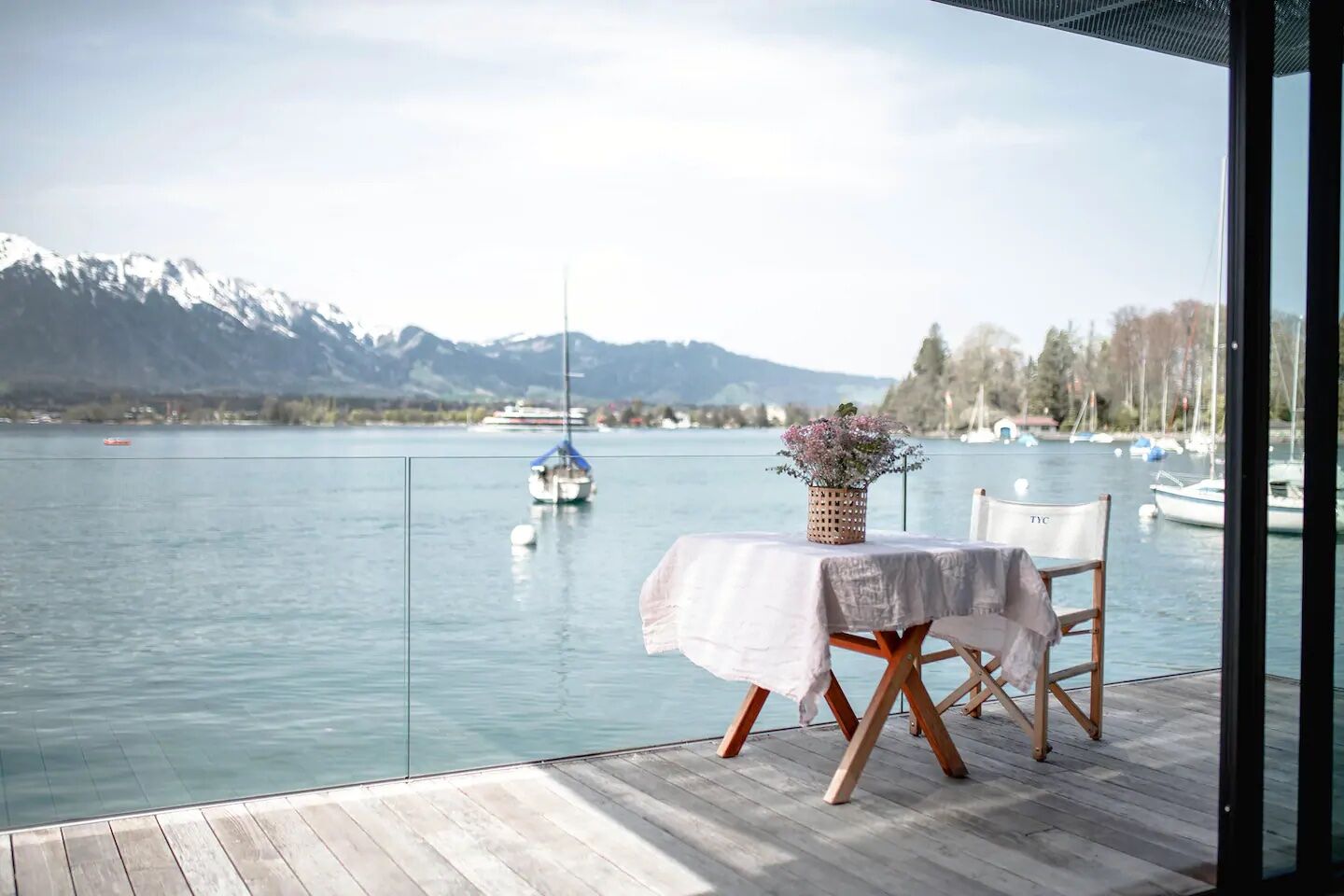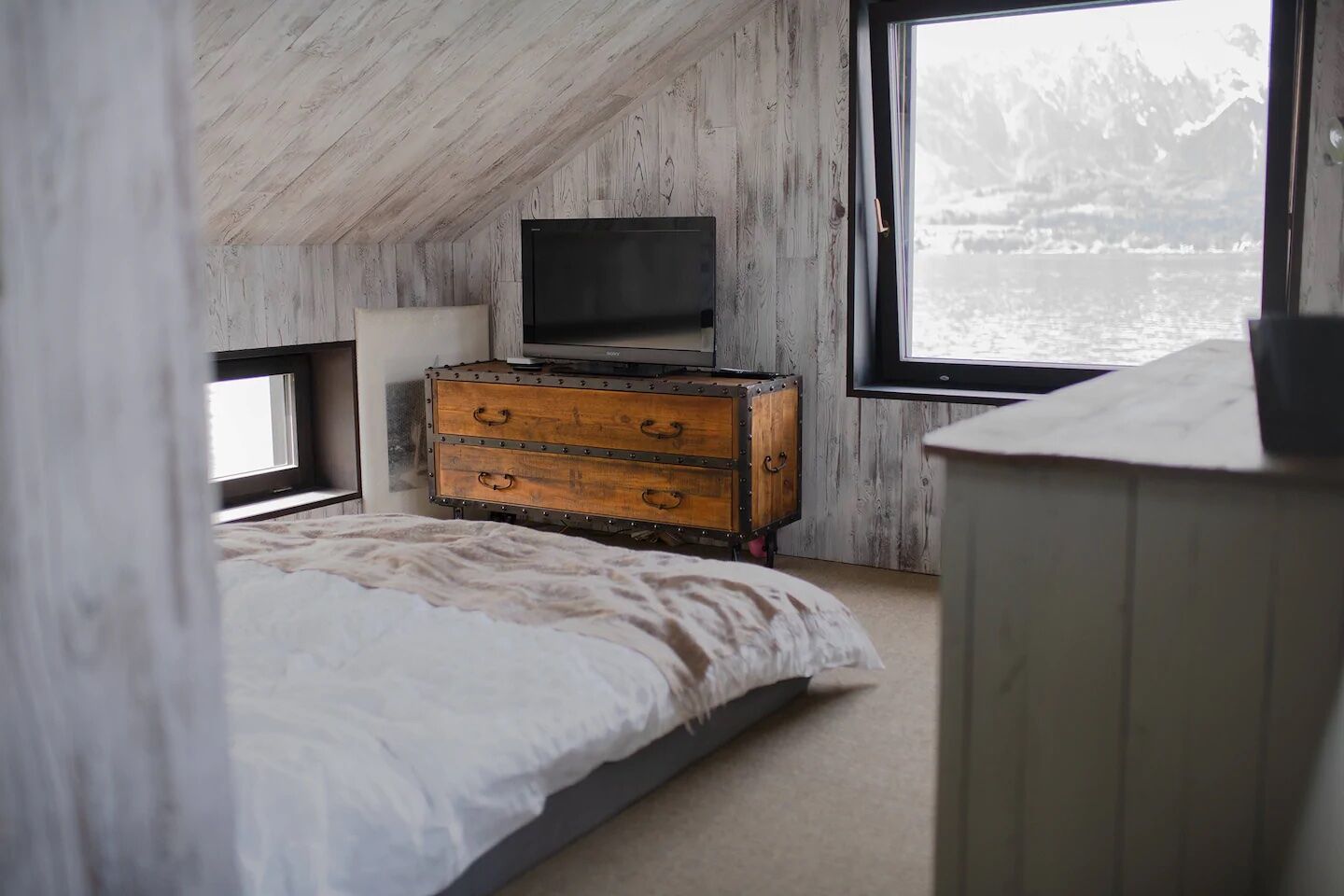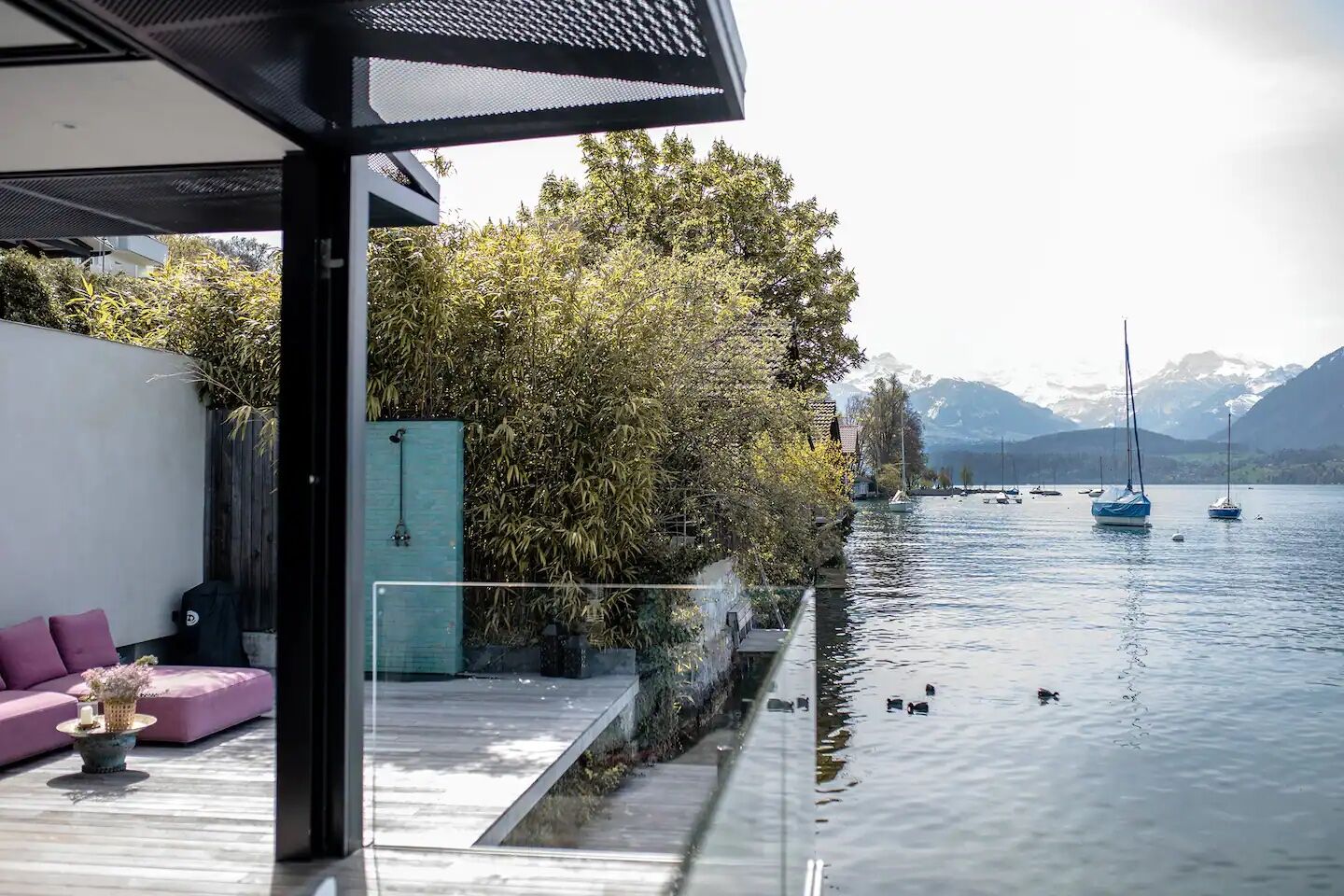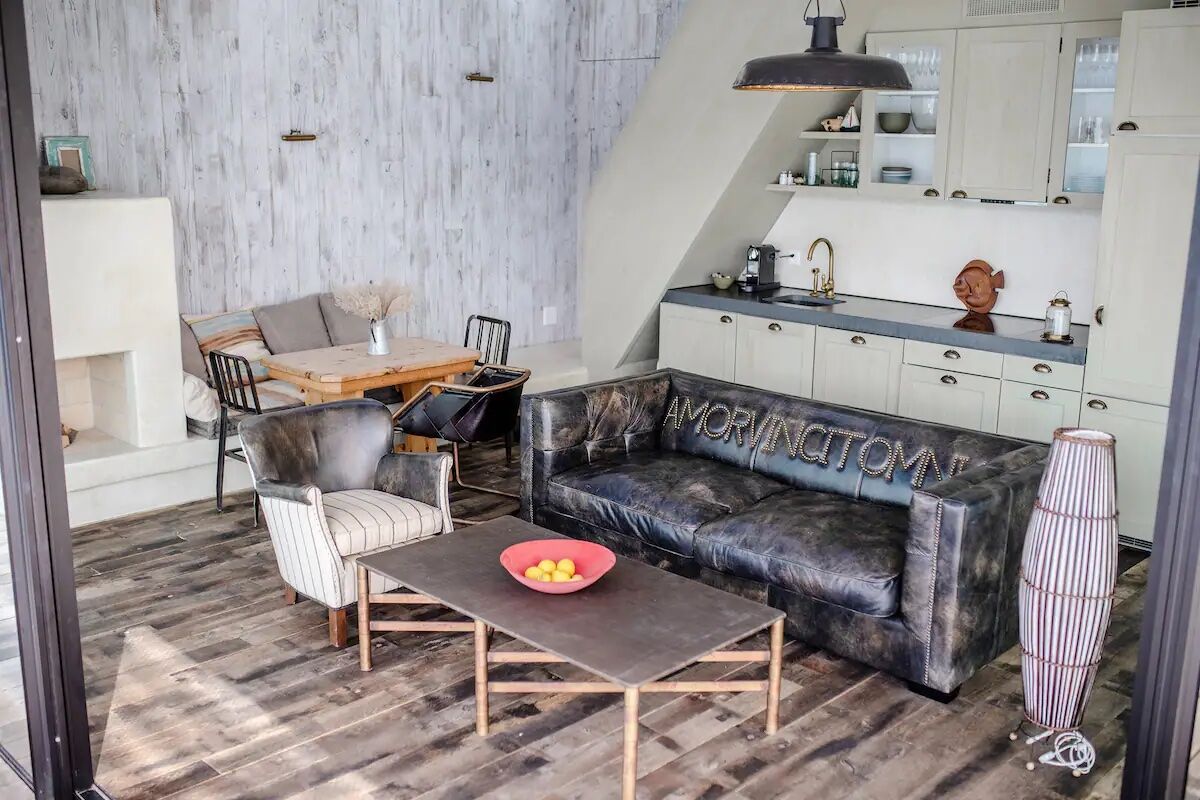 This award-winning Airbnb in Switzerland halfway between Interlaken and Bern floats on the banks of Lake Thin. Plenty of glass plus the spacious deck – with an outdoor shower – put you that much closer to nature. The host provides a kayak, paddle board, and a couple of pool floats if you feel like getting out on the water.
Four guests, two bedrooms
Price: $467 per night
Airbnbs in Lucerne, Switzerland
Secret garden with hot tub and 'wow' lake views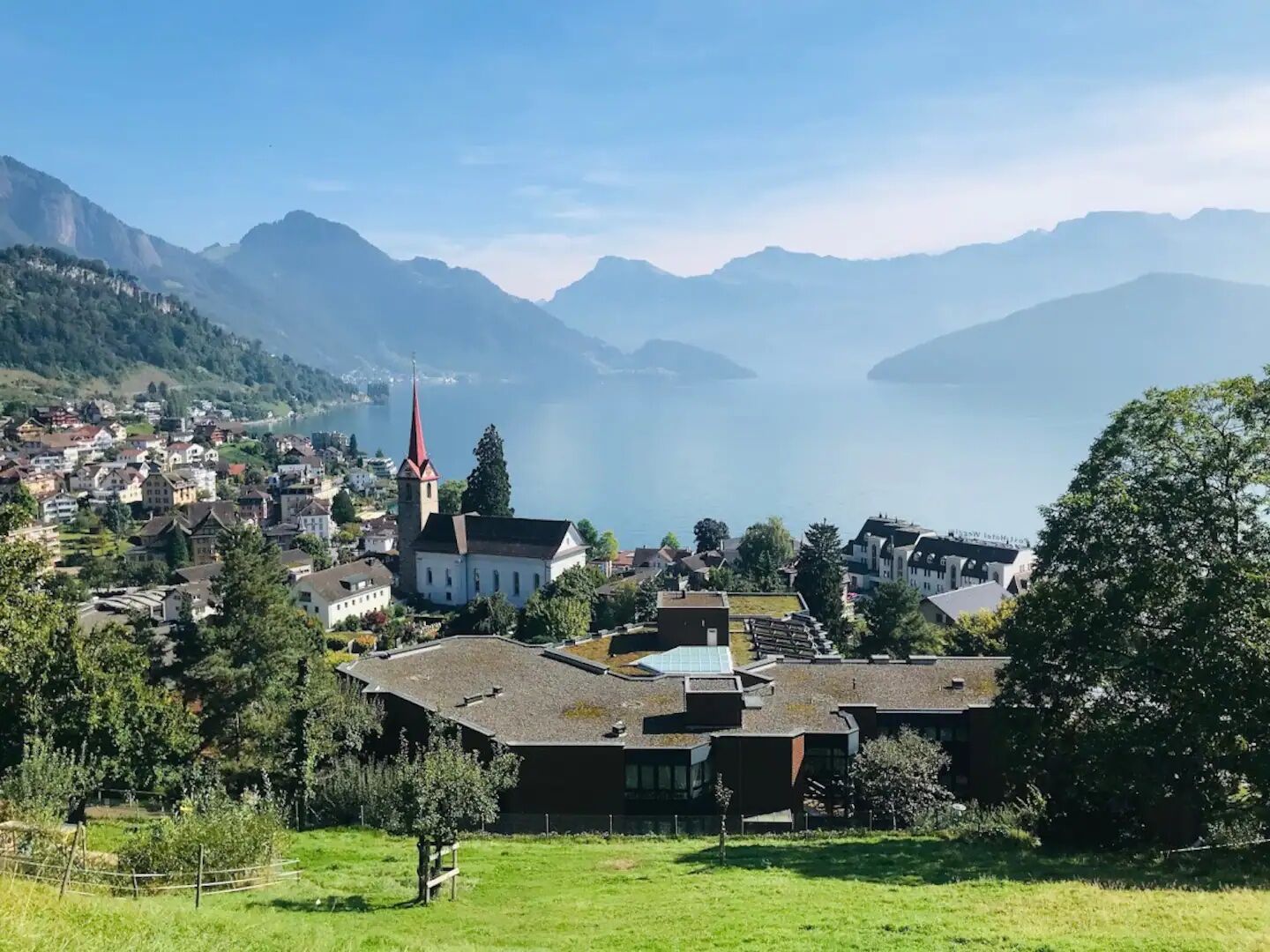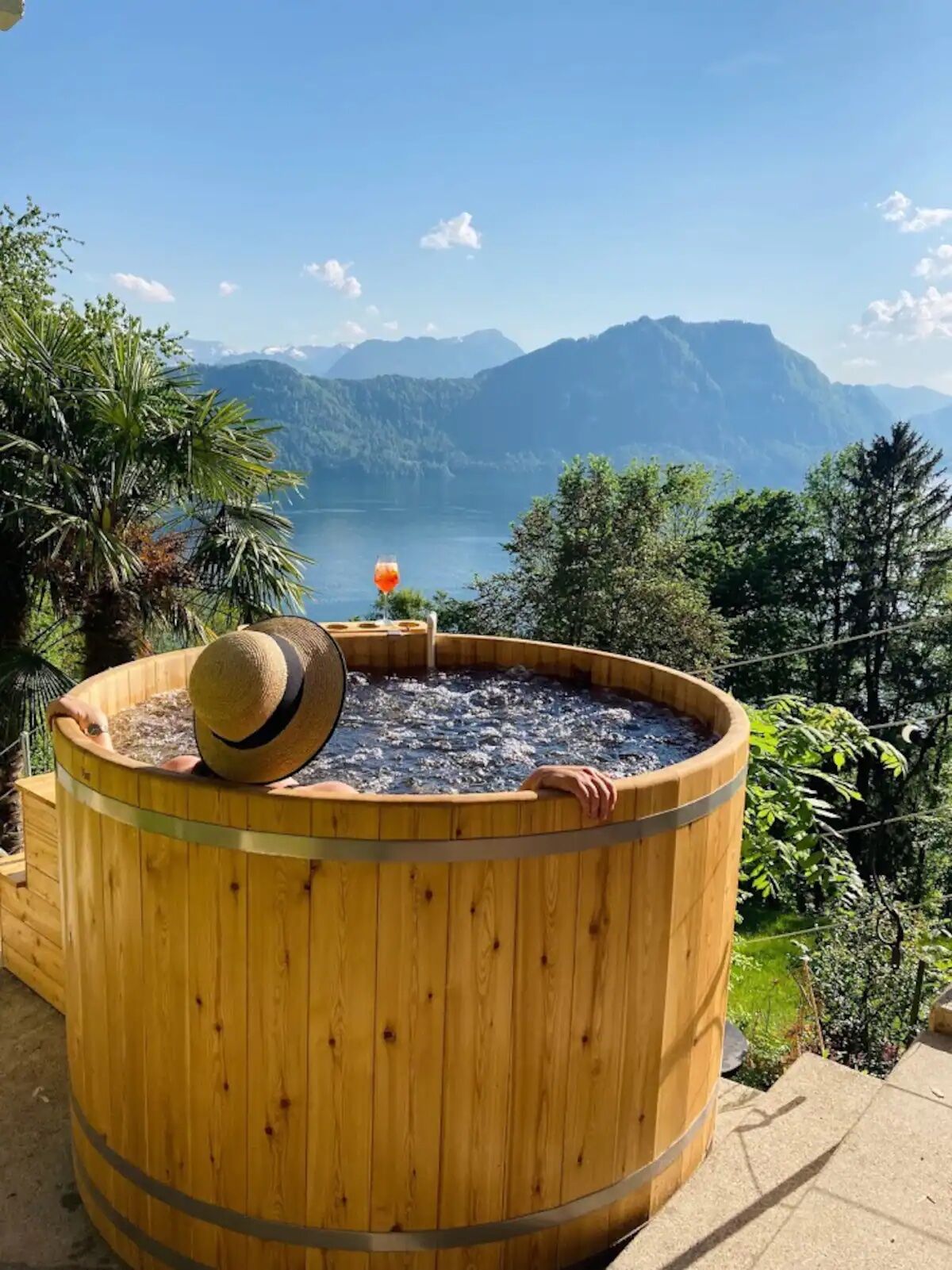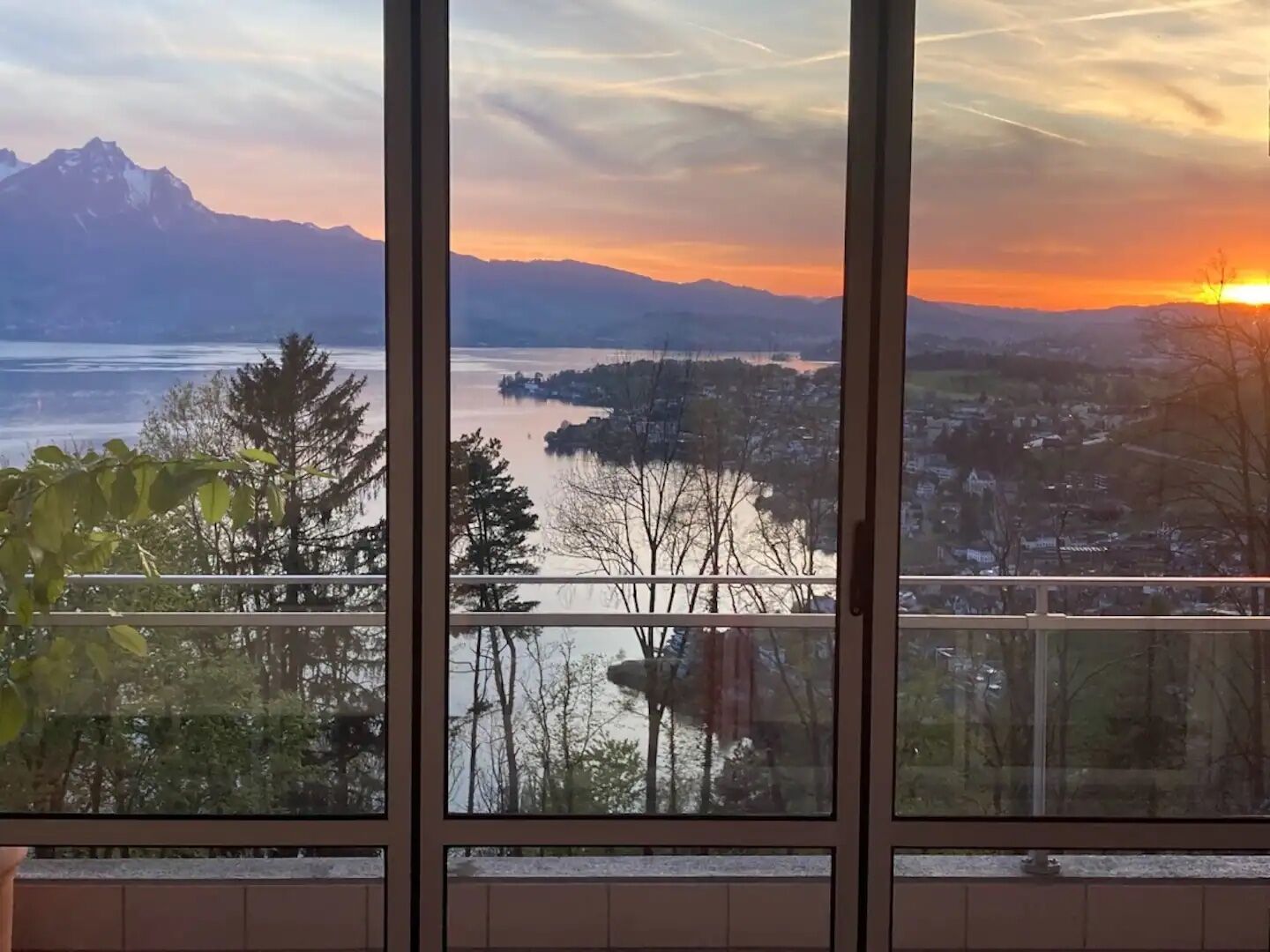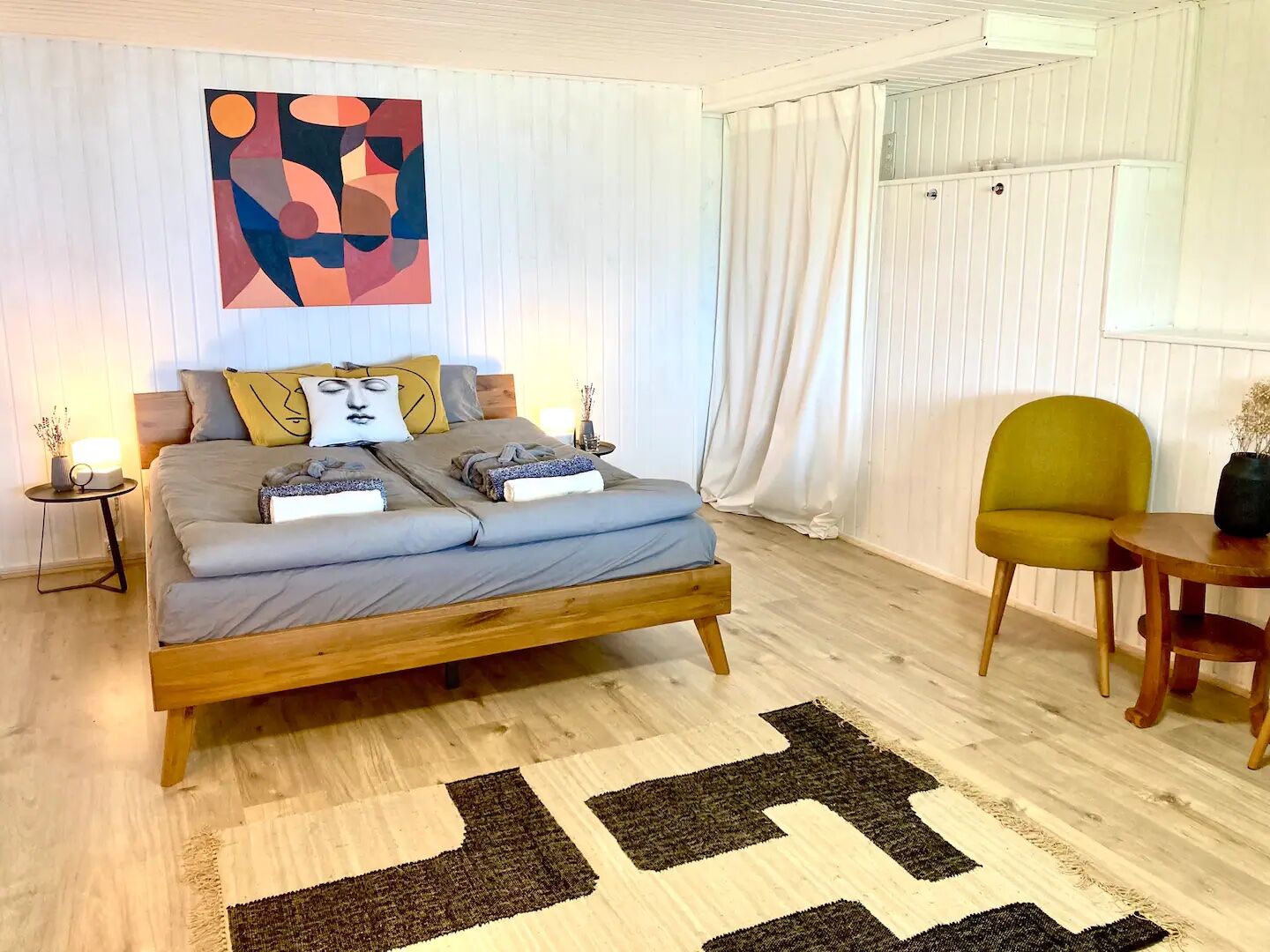 Situated on the slopes of Mount Rigi, this Airbnb near Lucerne, Switzerland, has a hot tub and personal terrace with Lake Lucerne views. When you can bear to drag yourselves away from the garden, panoramic views continue courtesy of the floor-to-ceiling windows. With two double bedrooms, the rental unit works for couples, friends, and small families alike.
Four guests, two bedrooms
Price: $308 per night
Stunning home in Sarnen near Lucerne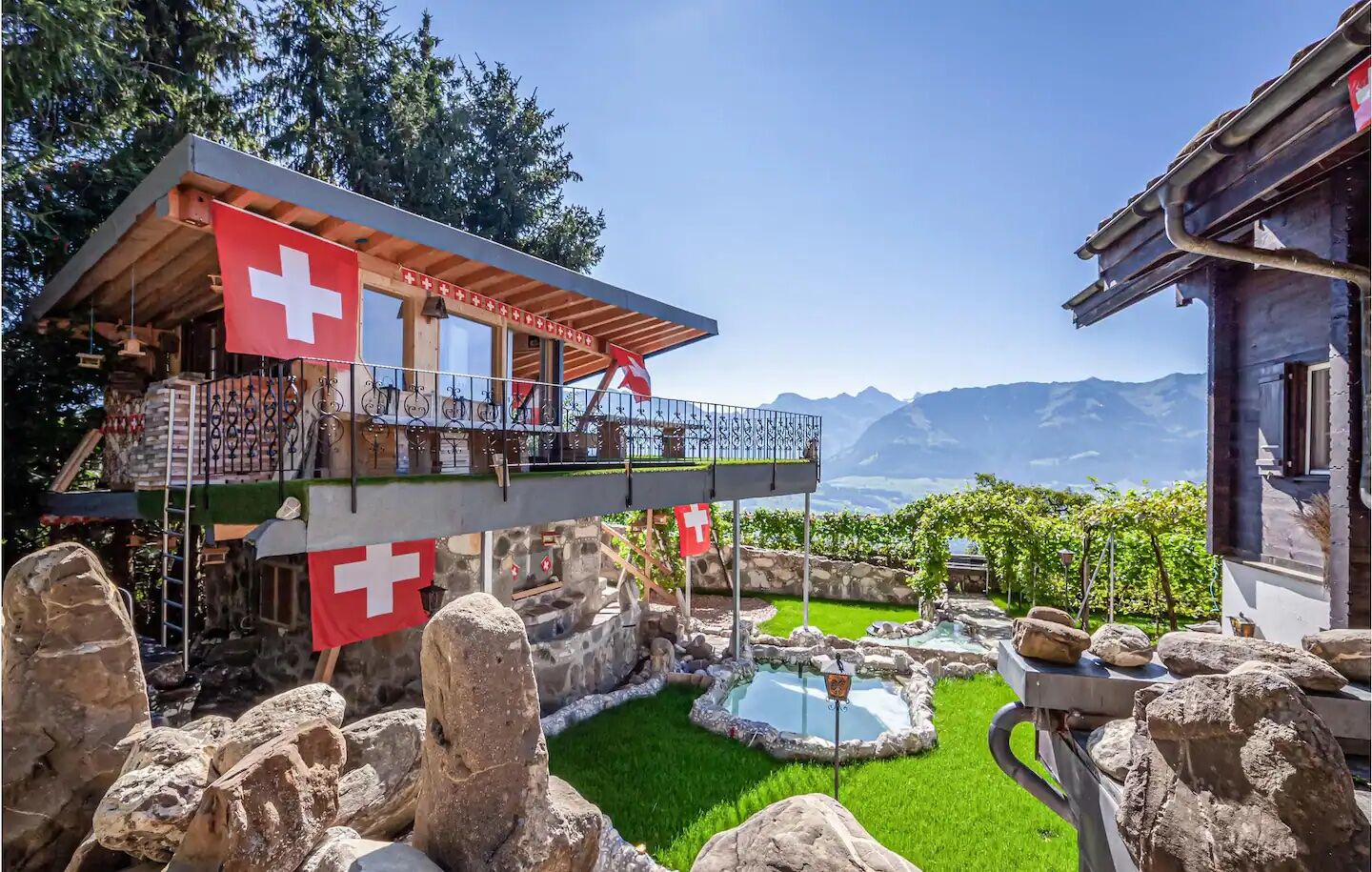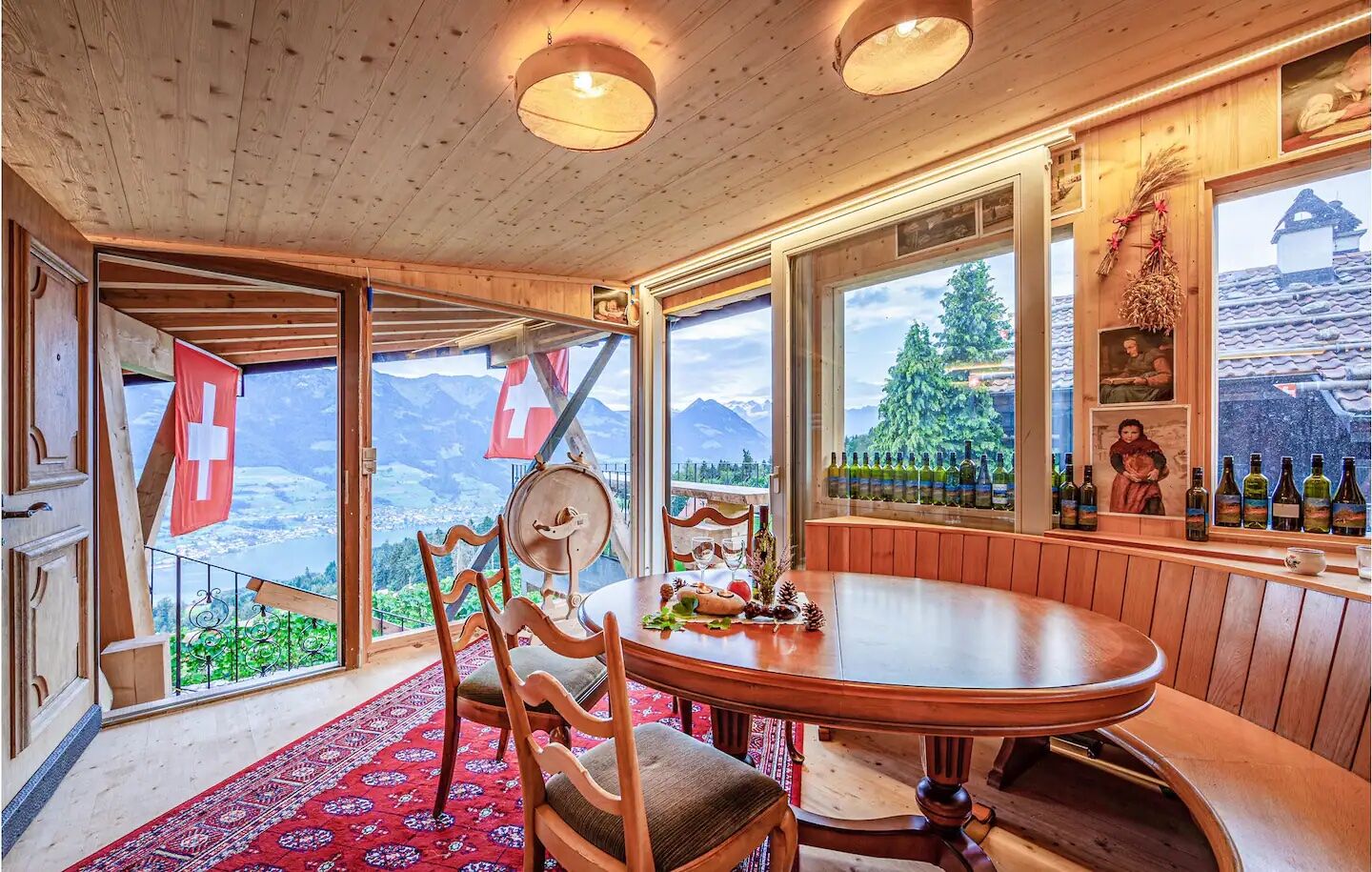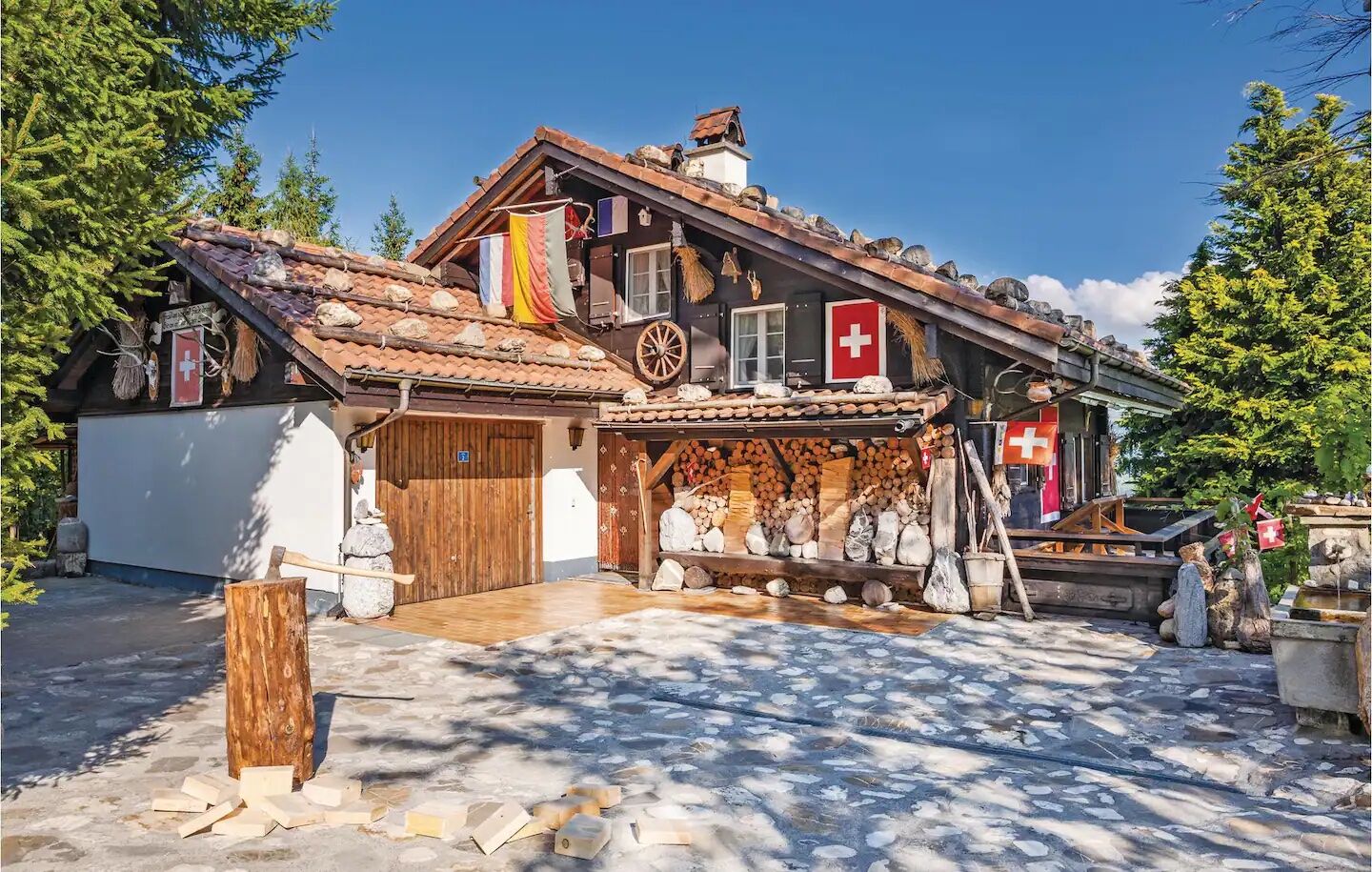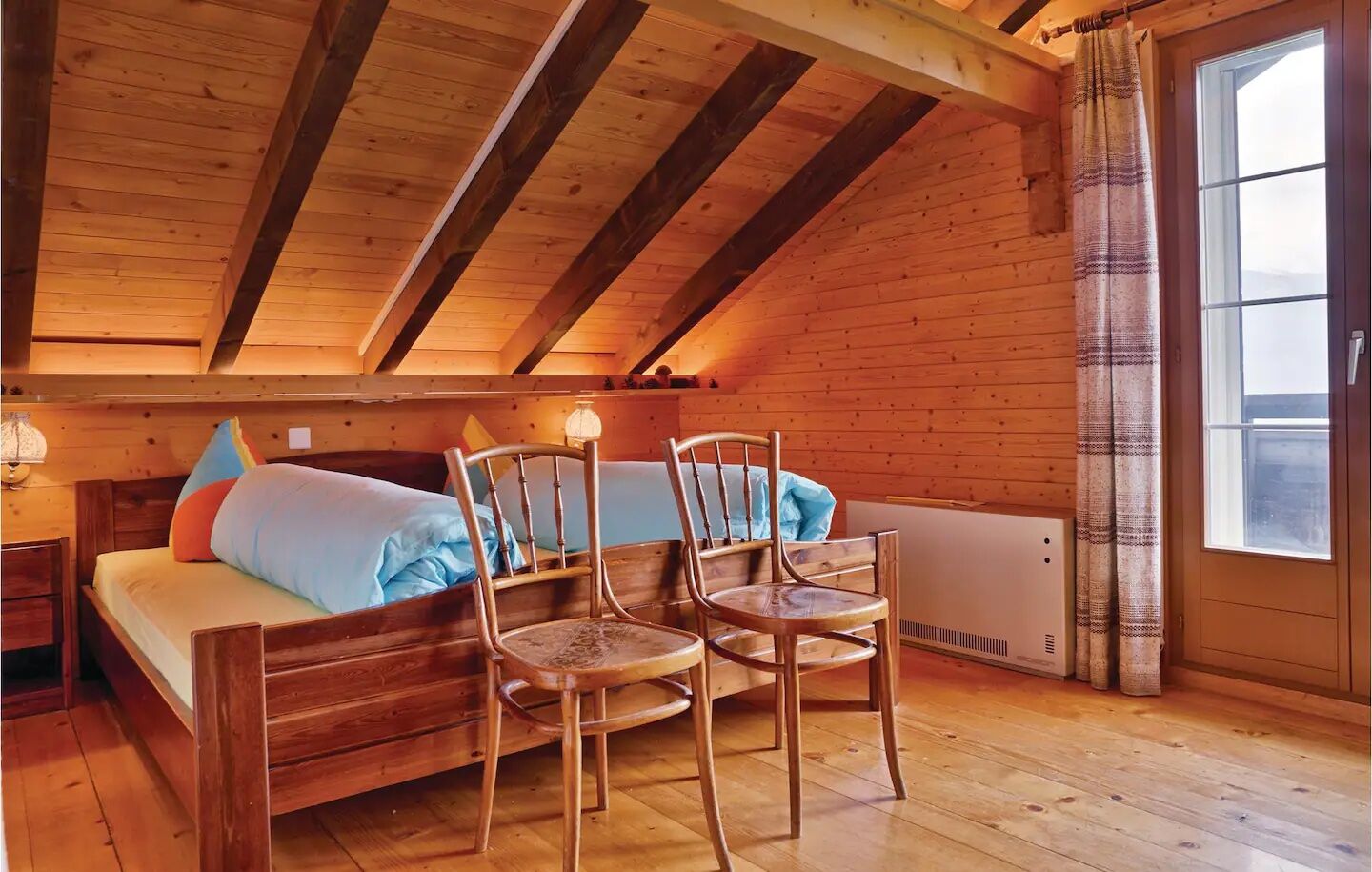 Embedded in remote nature on the outskirts of Lucerne, this Switzerland Airbnb is the archetypal mountain chalet with the added bonus of a pool. Primarily furnished with wood, the interiors are adorned with trinkets to create a homely atmosphere. With fresh water from the valleys, ample sunshine, and the famous clean Swiss air, you'll leave feeling refreshed and rejuvenated.
Twelve guests, five bedrooms
Price: $1,134 per night
What did you think of this story?