The 12 Best Airbnb Myrtle Beach Properties for the Perfect Beach Getaway
Myrtle Beach is a classic East Coast vacation spot. With the famous boardwalk, scenic golf courses, and white sand beaches, there's something for visitors of all ages and backgrounds. A seaside motel may have a sentimental charm, but nothing beats the prices and advantages that come from staying in a rental home. Airbnb Myrtle Beach has some amazing properties to choose from.
We hope you love the Airbnb Myrtle Beach properties we recommend! Just so you know, Matador may collect a small commission from the links on this page if you decide to book a stay. Listed prices are accurate as of the time of publication.
1. Eclectic oceanfront luxury right on the water with pool and hot tub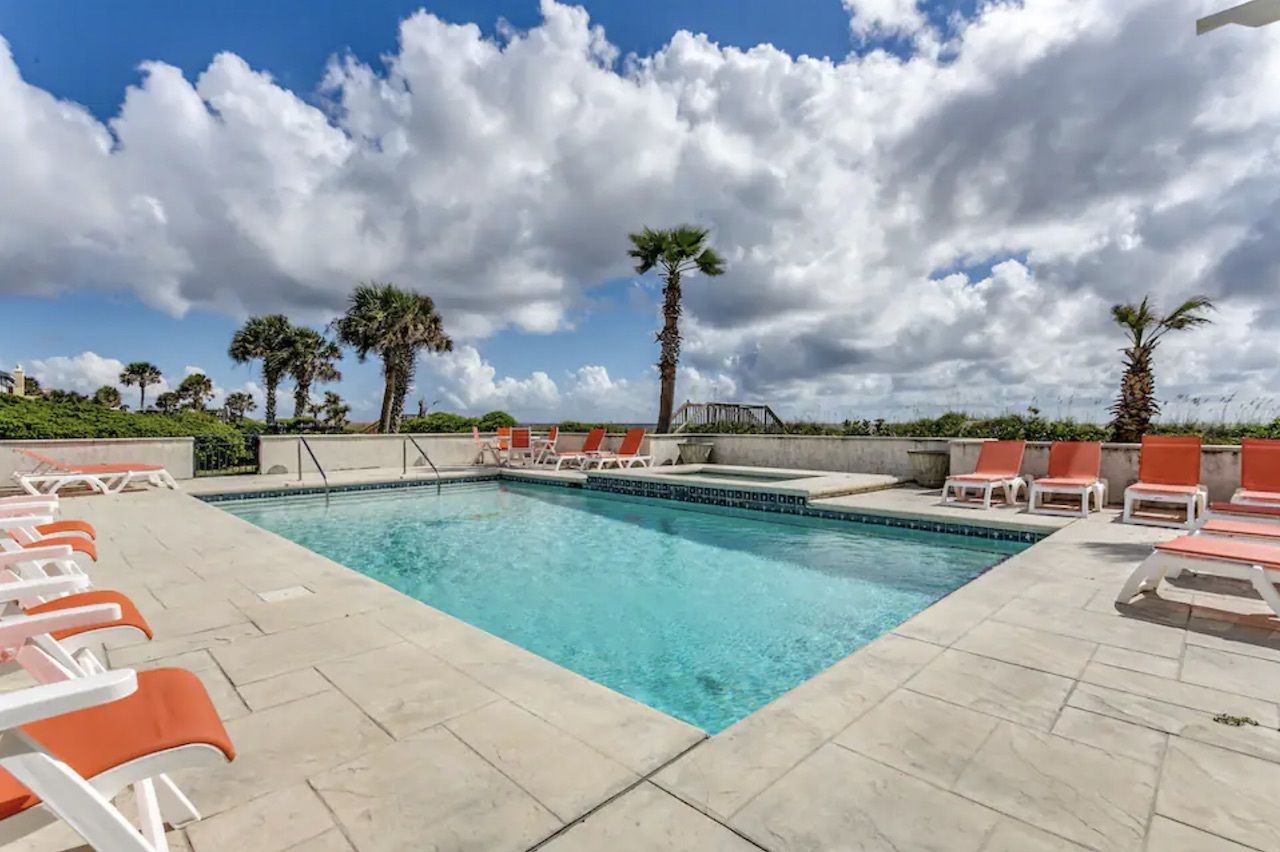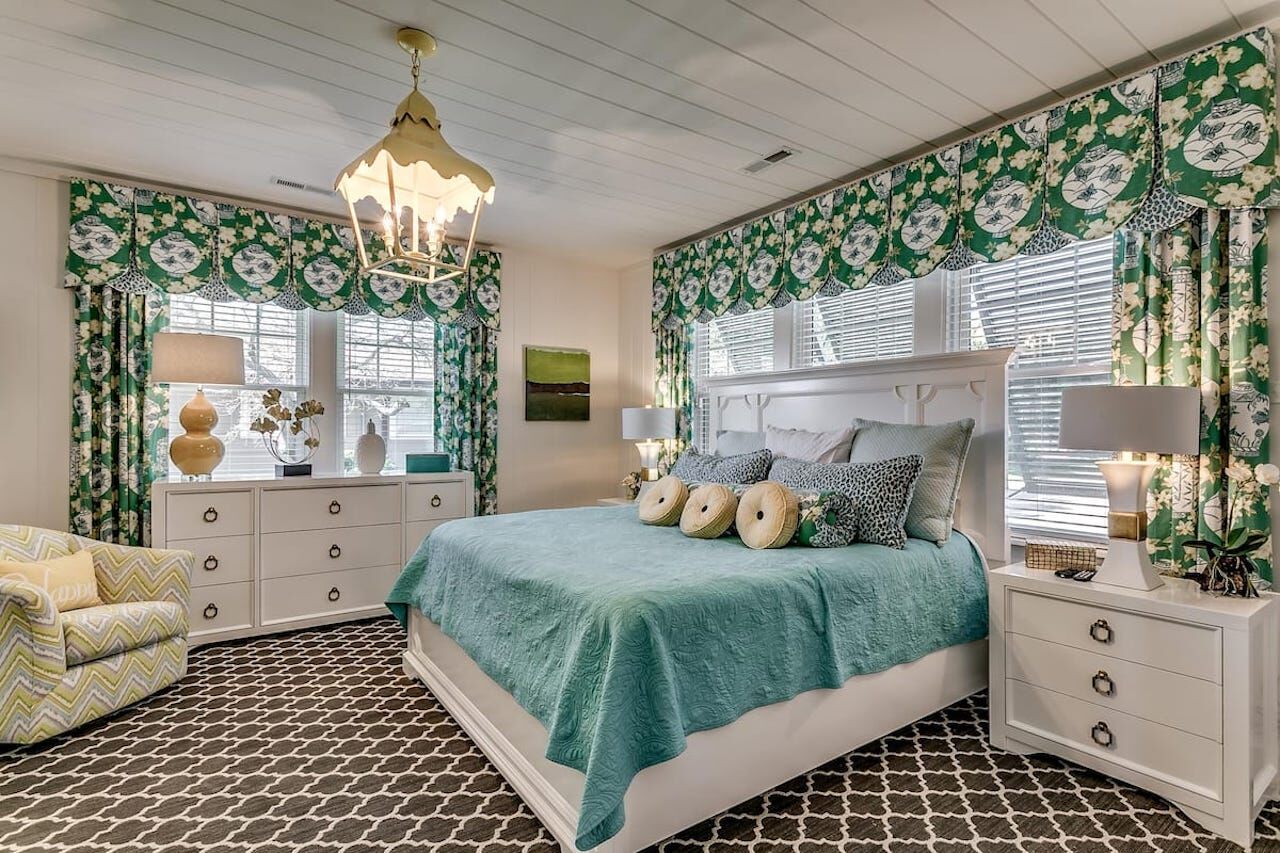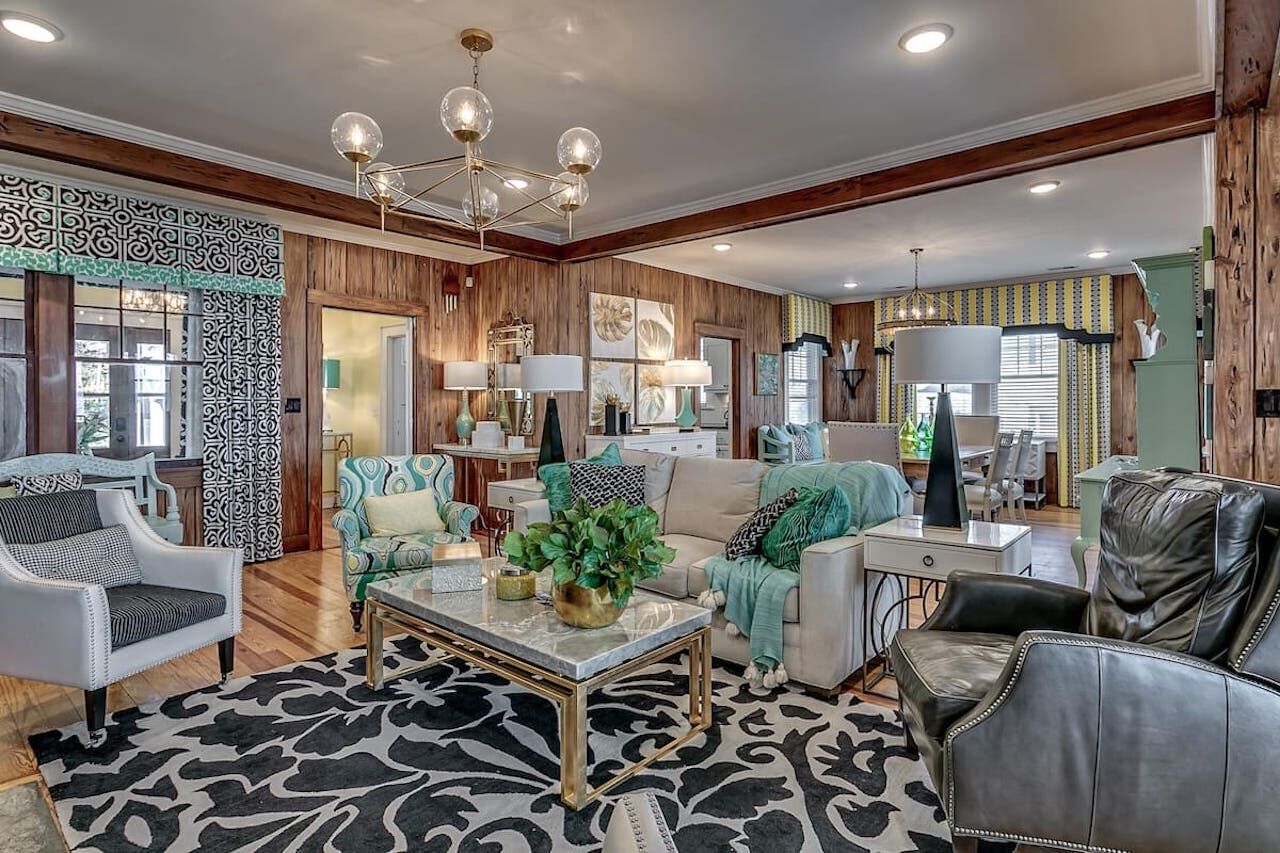 Best for:
Large groups
This luxury escape is not your mother's beach rental, not unless she was a very ambitious interior designer. Exploring the rooms in this eight-bedroom home will be an activity in and of itself. When you're finished admiring the space, you can take a dip in your private pool or walk straight out onto the beach. It's tucked away in a largely residential area of the Golden Mile neighborhood, so you can enjoy your privacy during the day and all the best dining and nightlife after dark. This space would be perfect for bachelorette/bachelor parties, or for a group of friends who like to step outside of the norm.
Sixteen guests, eight bedrooms
Price: $1,309 a night
2. Beachfront condo within an oasis-like resort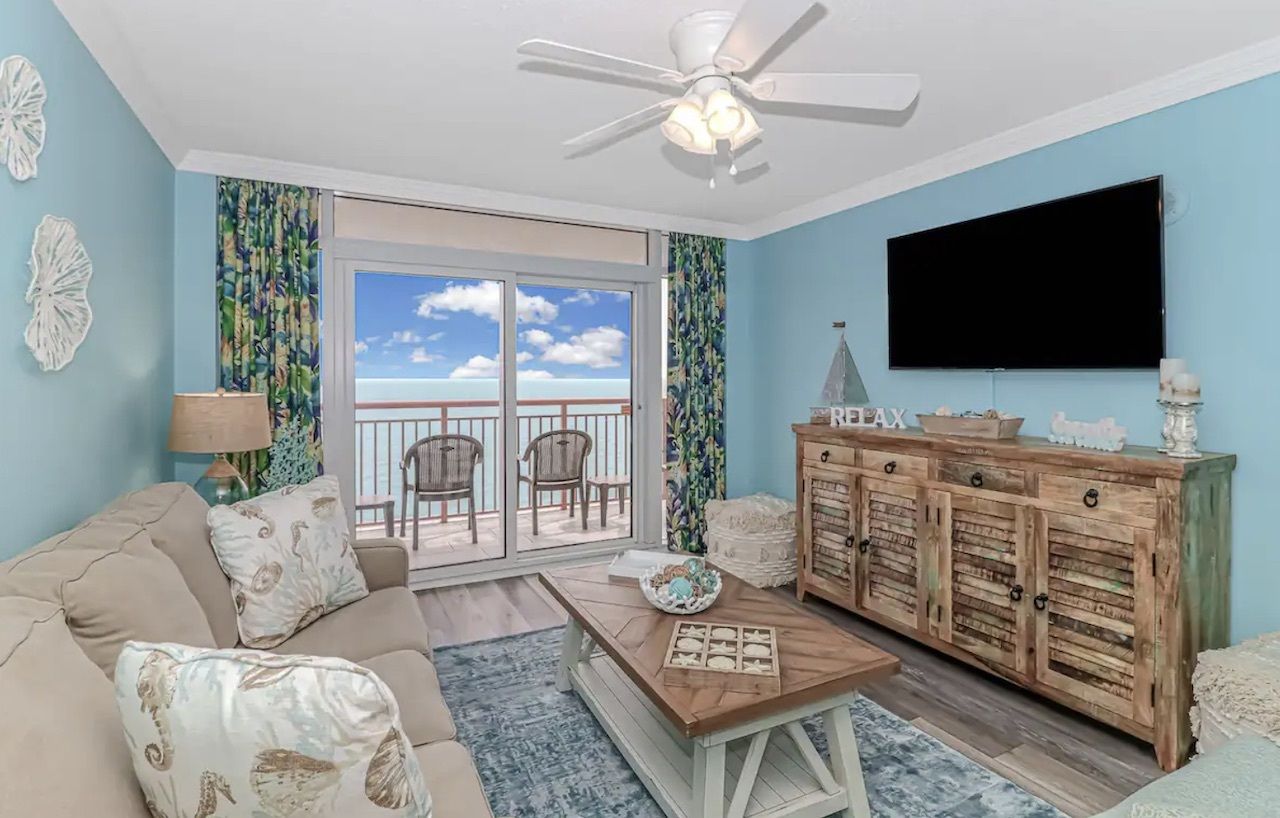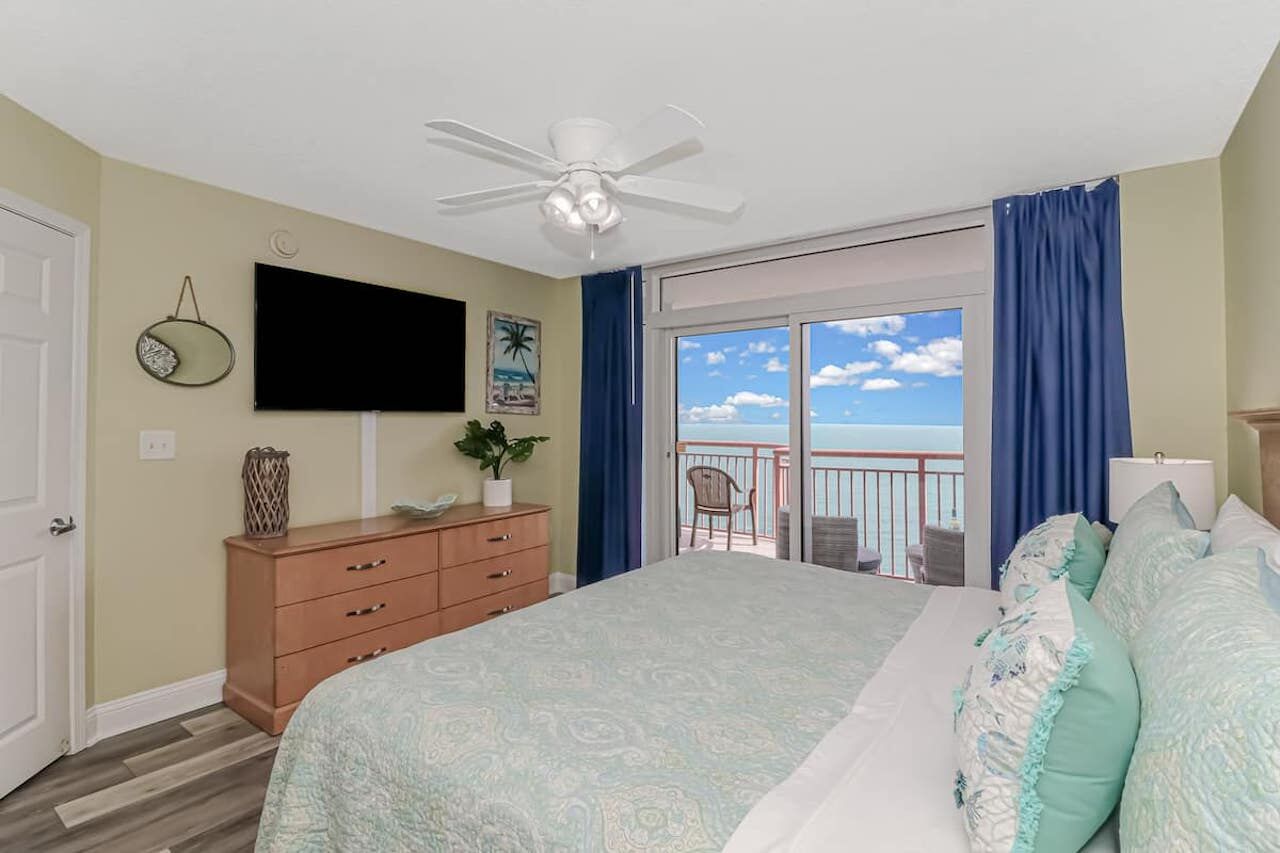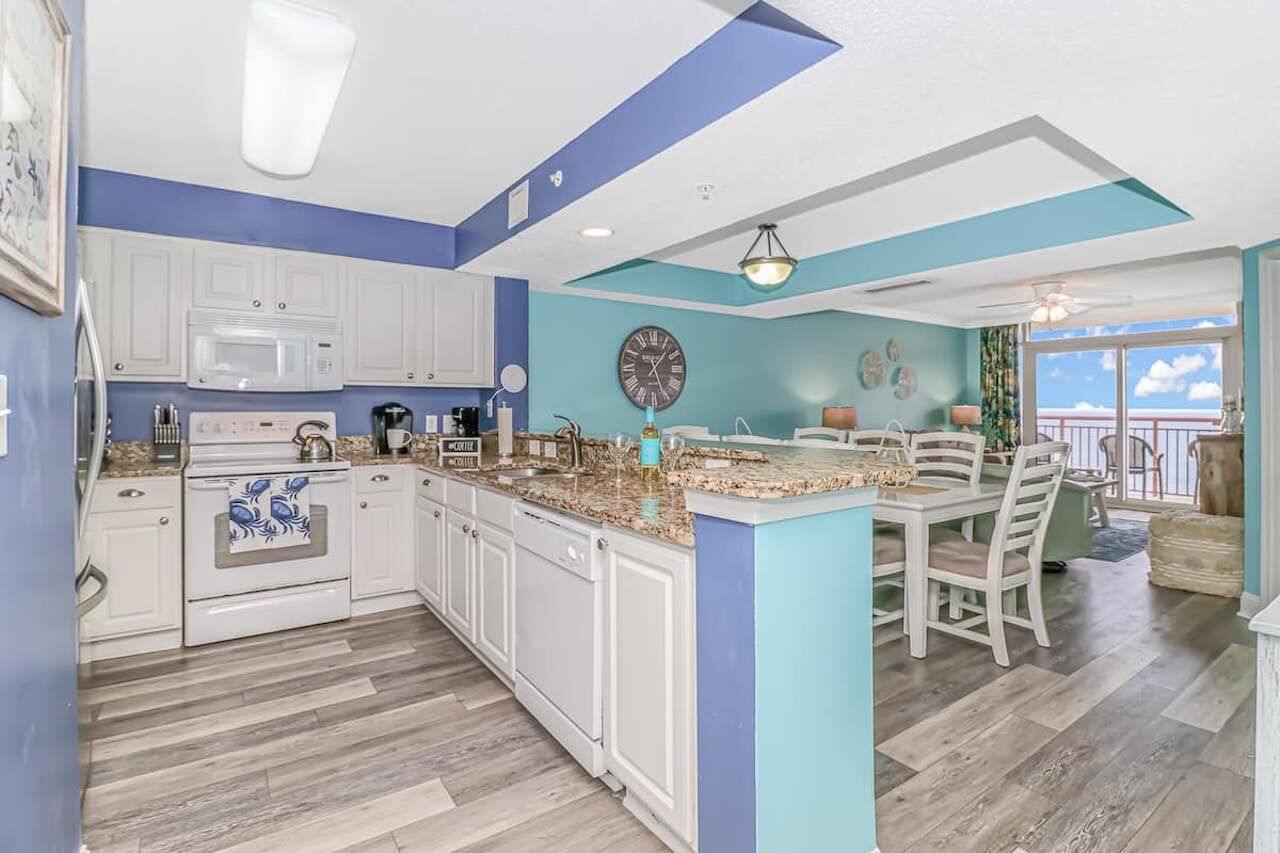 Best for: Groups, families
Location, location, location. Where else could you and 11 other people stay directly on the beach with resort amenities for $30 each a night? This spacious condo overlooks the ocean from the eighteenth floor of the Paradise Resort, complete with beach access, pools, hot tubs, a lazy river, gym, tiki bar, and a Ben and Jerry's. If by some miracle you run out of things to do on-site, you're less than three miles away from the boardwalk and the Market Common for dining, shopping, and fun.
Twelve guests, three bedrooms
Price: $355 a night
3. A lover's retreat on the beach with a bed overlooking the ocean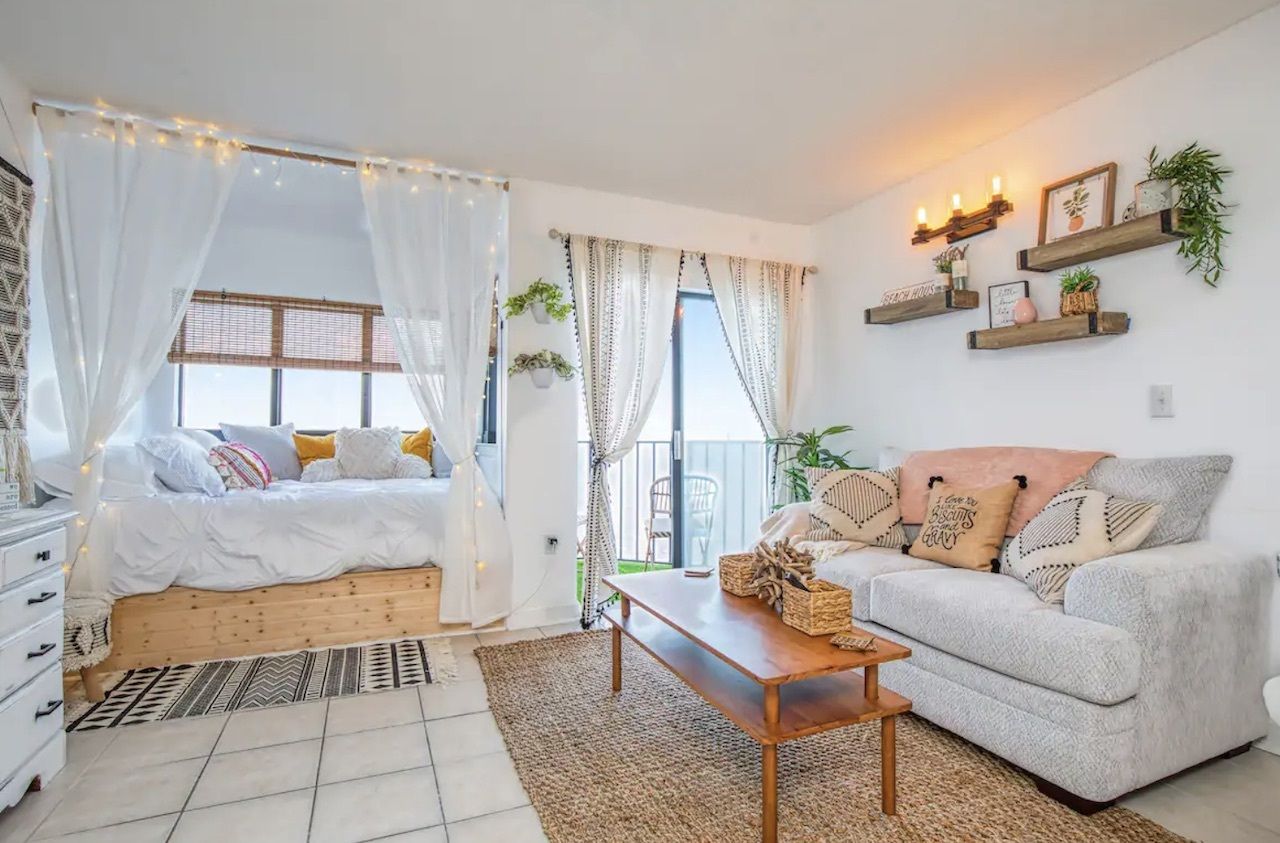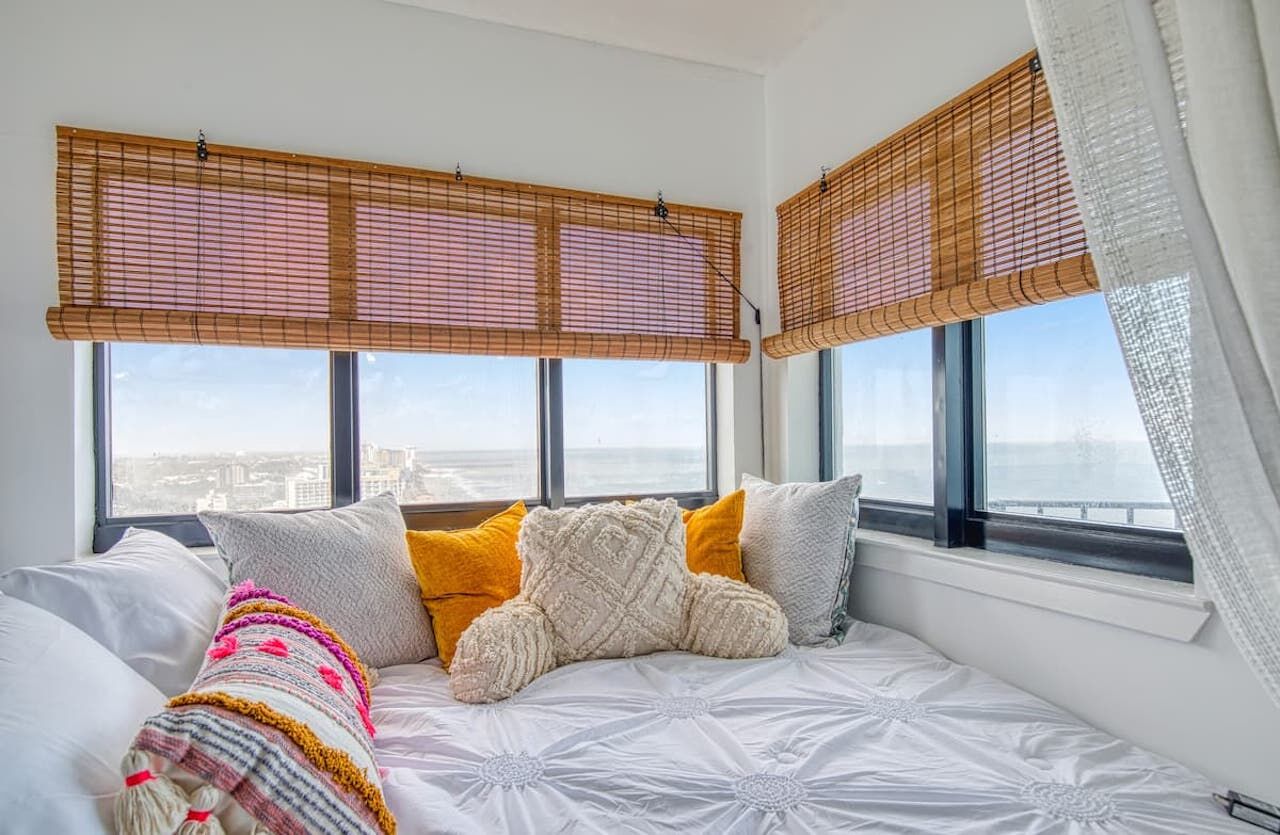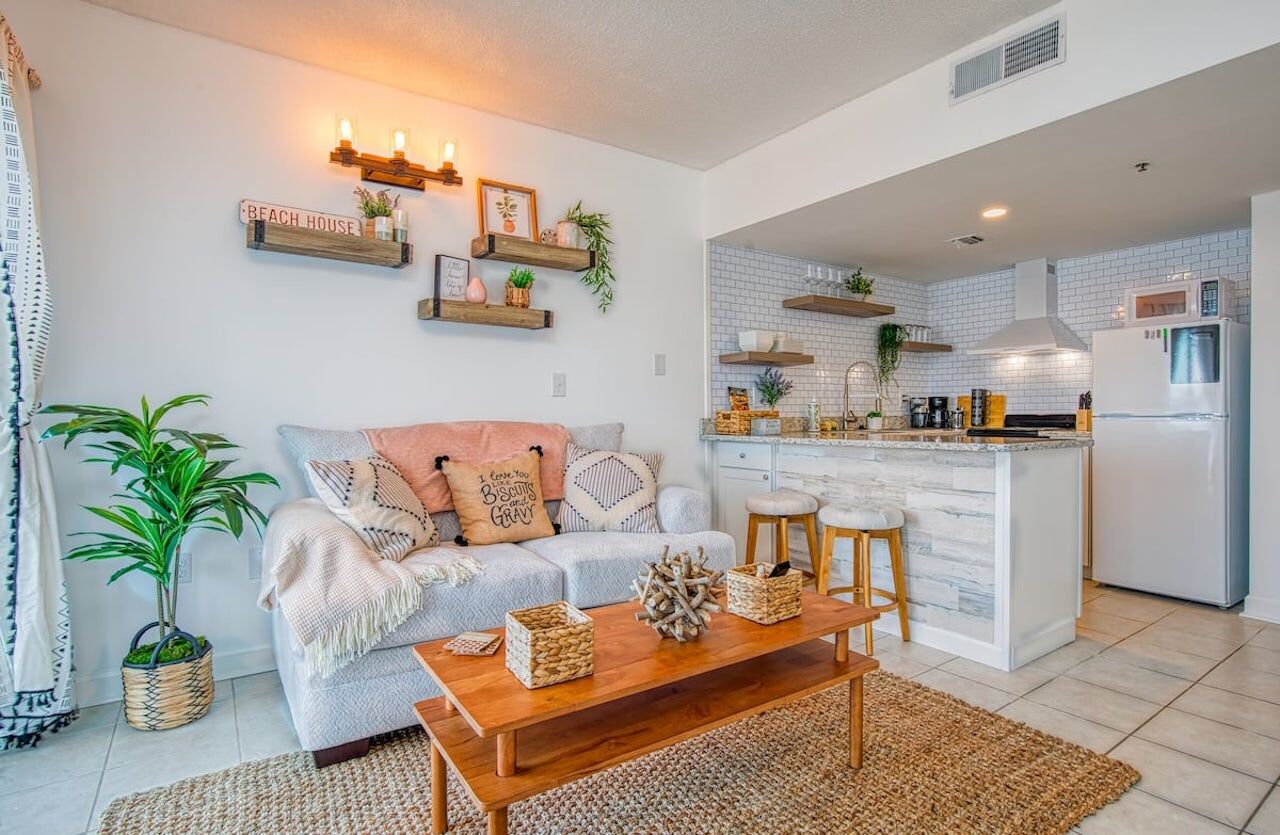 Best for: Solo travelers, couples, remote workers
This adorable studio makes up in character what it lacks in size. It has a light and airy energy, from the curtains above the bed to the granite countertops. It looks more like the apartment of your coolest friend than a vacation rental. The studio is situated on the 21st floor of the Palace Resort. Not only will you have great beach access, but you'll be able to take advantage of the resort's amenities, including the pool, bar, restaurant, arcade, and putt-putt course. Whether you go alone or with a friend, you'll probably want to move in.
Two guests, one bedroom
Price: $191 a night
4. Brand new, centrally-located home in an iconic neighborhood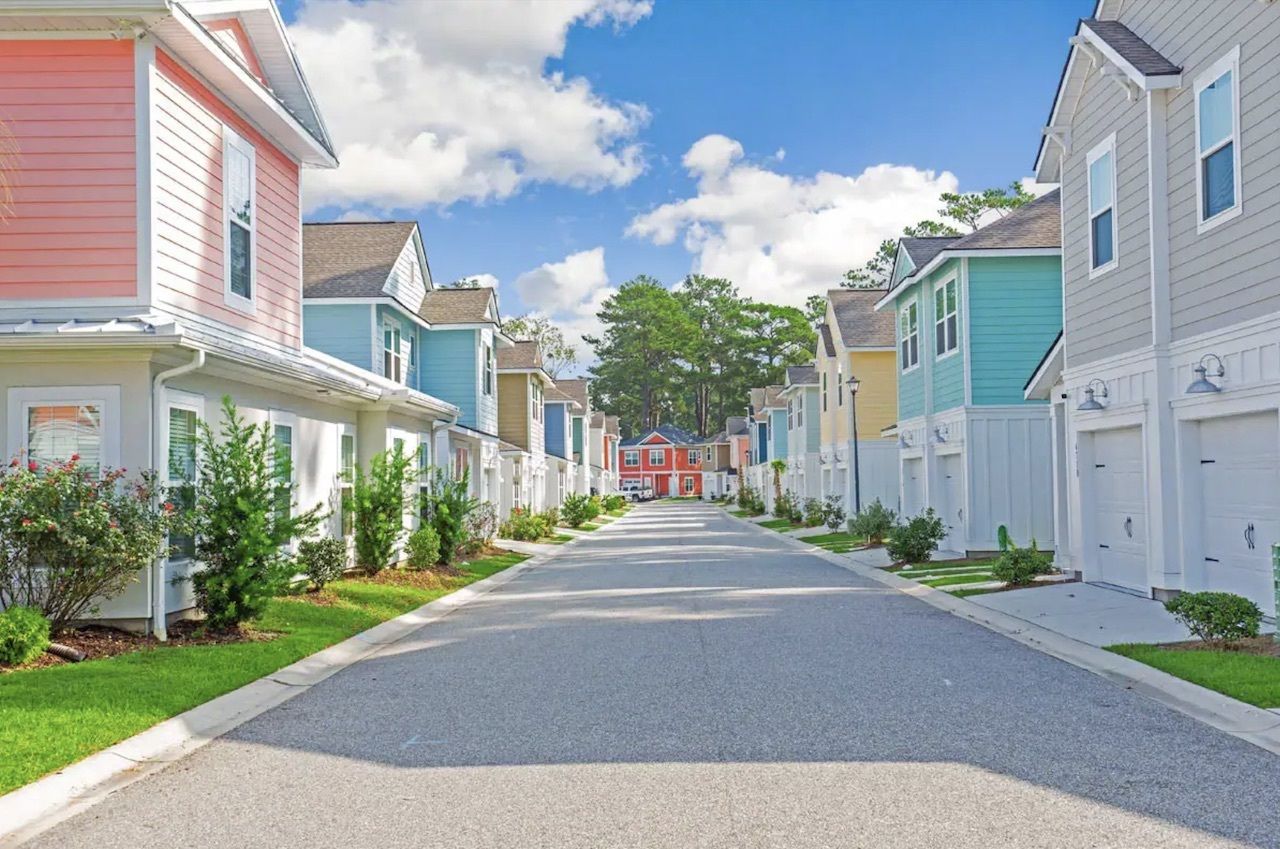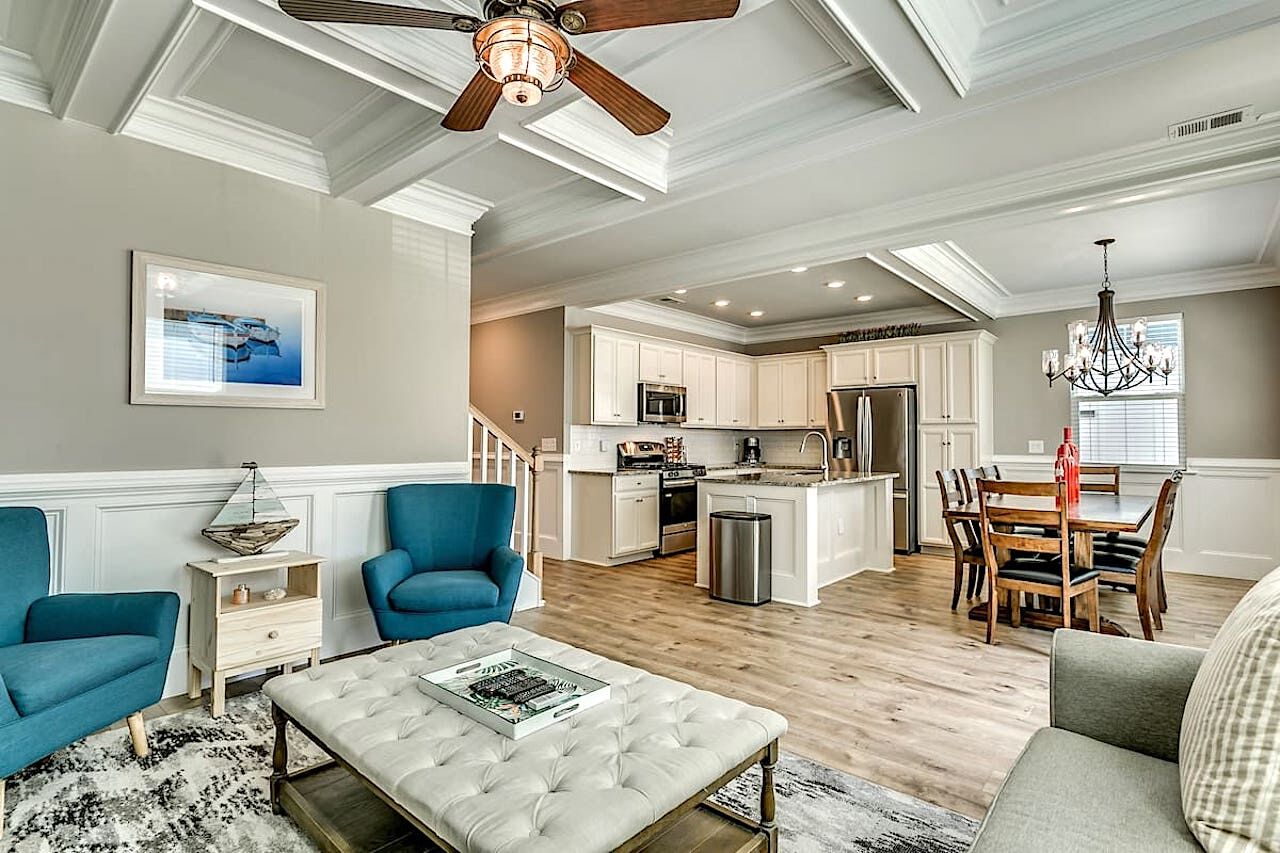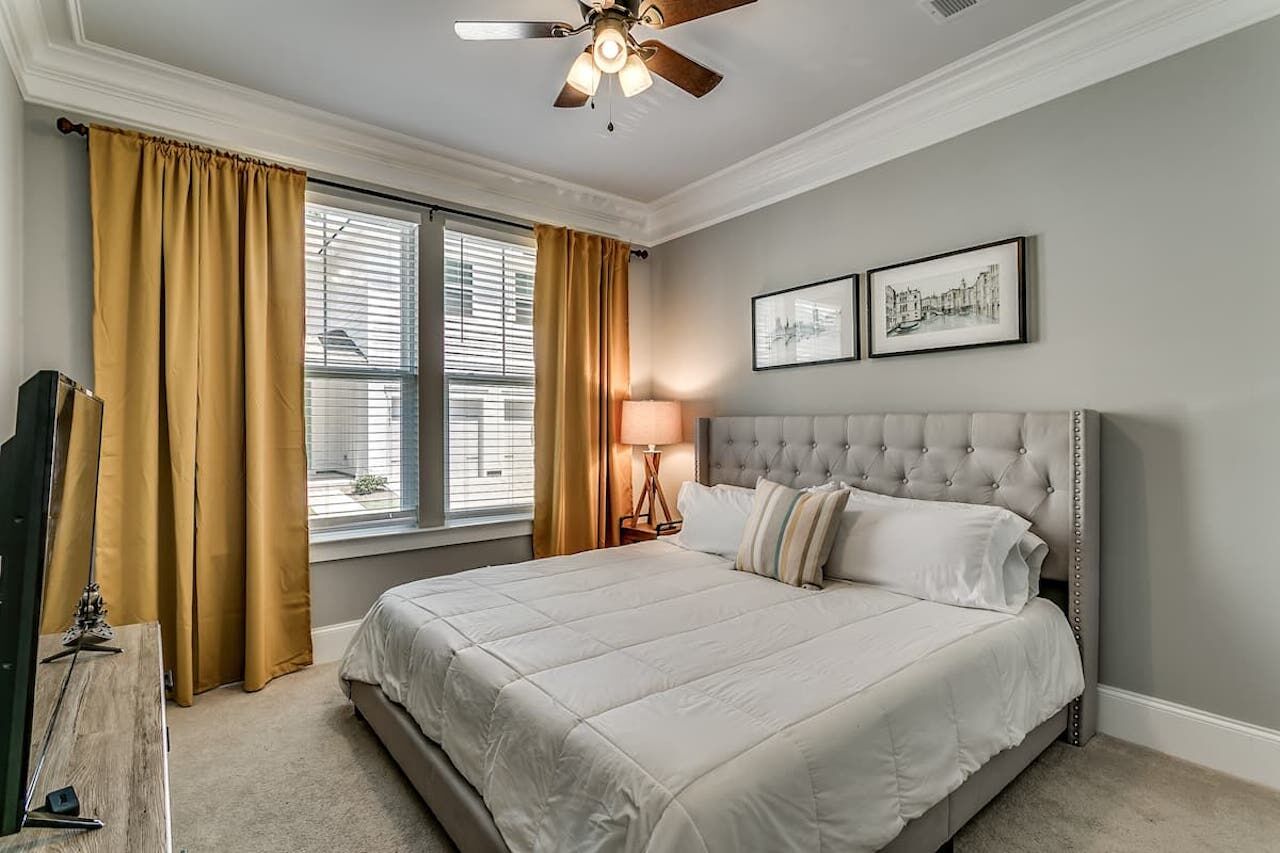 Best for: Families, small groups
This brand new home is situated in a quaint neighborhood where the streets are lined with brightly colored family getaways. If you don't mind stepping away from the beachfront for a lower price, this space will suit you and your family perfectly. With a kitchen prepared for cooking meals of all sizes and a flat-screen television in every bedroom, it's an ideal landing spot after a day at the beach. It's also a great launching spot for a night on the town, with the boardwalk and the Broadway at the Beach shopping center just minutes down the road.
Eleven guests, four bedrooms
Price: $443 a night
5. Tropical-themed condo with a beautiful sundeck and fabulous view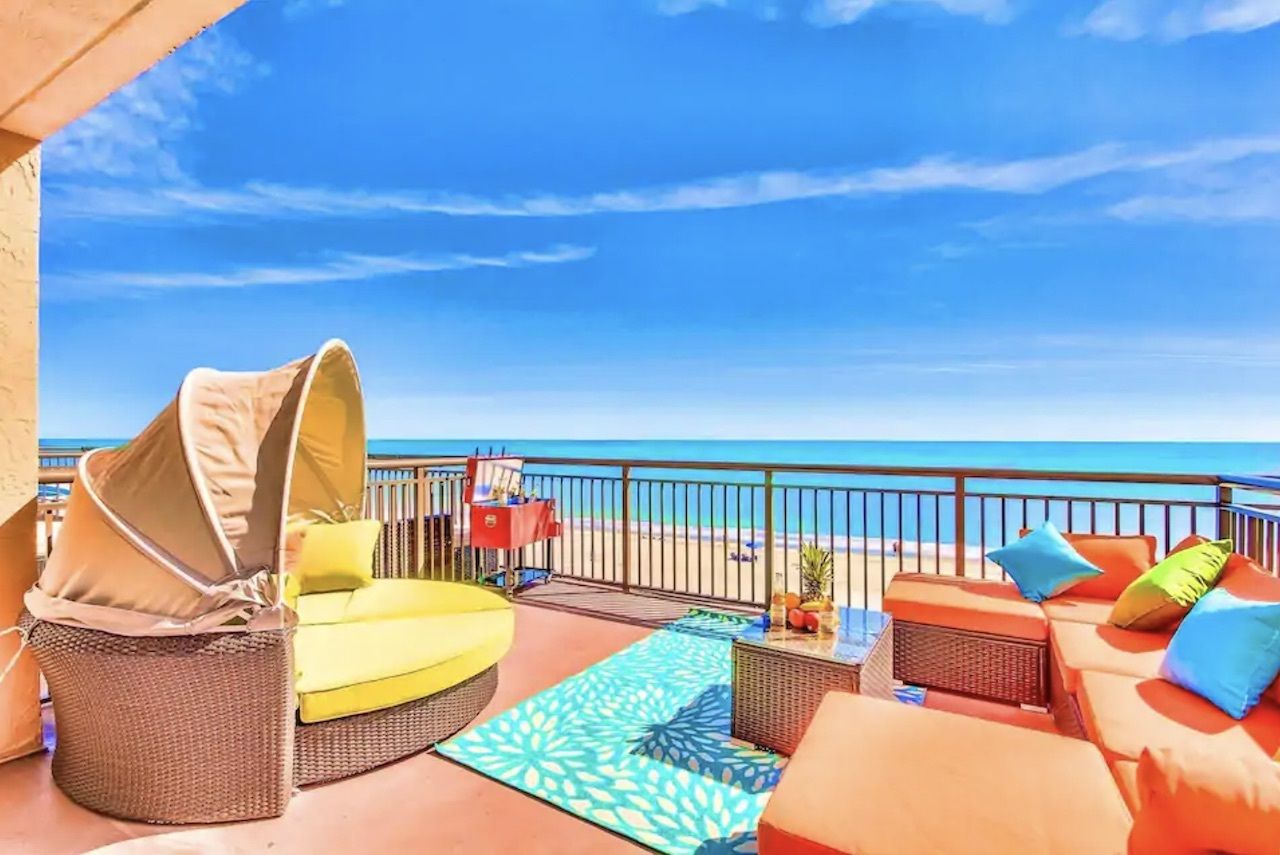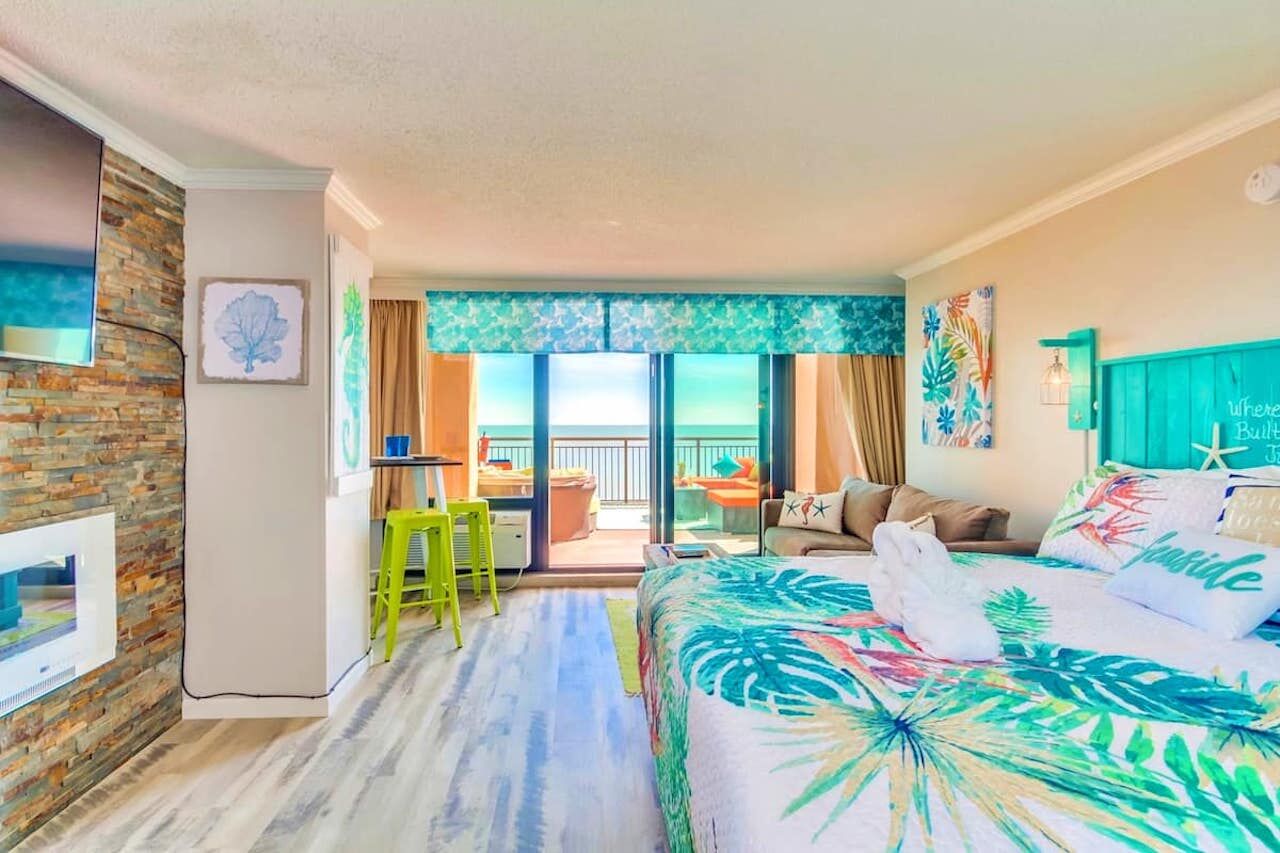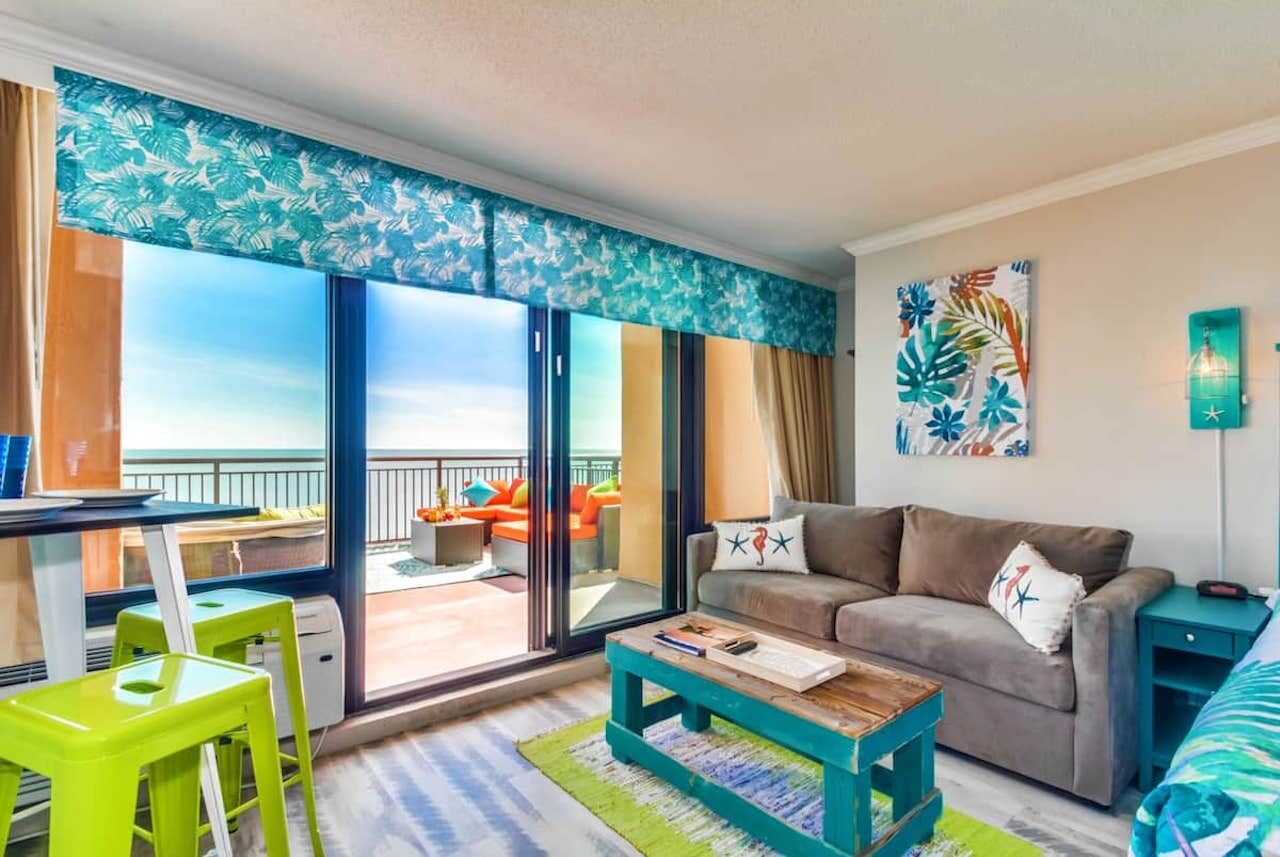 Best for: Couples, families, remote workers
Who says you need to go down to the beach to get a tan? With the amount of time you'll be spending on this balcony, you won't need to. This condo has a picturesque view and an equally beautiful deck to view it from. Inside you'll be greeted by tropical decor in all shades of pink, blue, and green. In typical Myrtle Beach fashion, this rental is inside of a resort, so you'll get to use all of the perks that come with that. If you're craving an outing, two beautiful golf courses are within a five-minute drive.
Four guests, one bedroom
Price: $179 a night
6. "Tenacious Thee" studio fit for remote work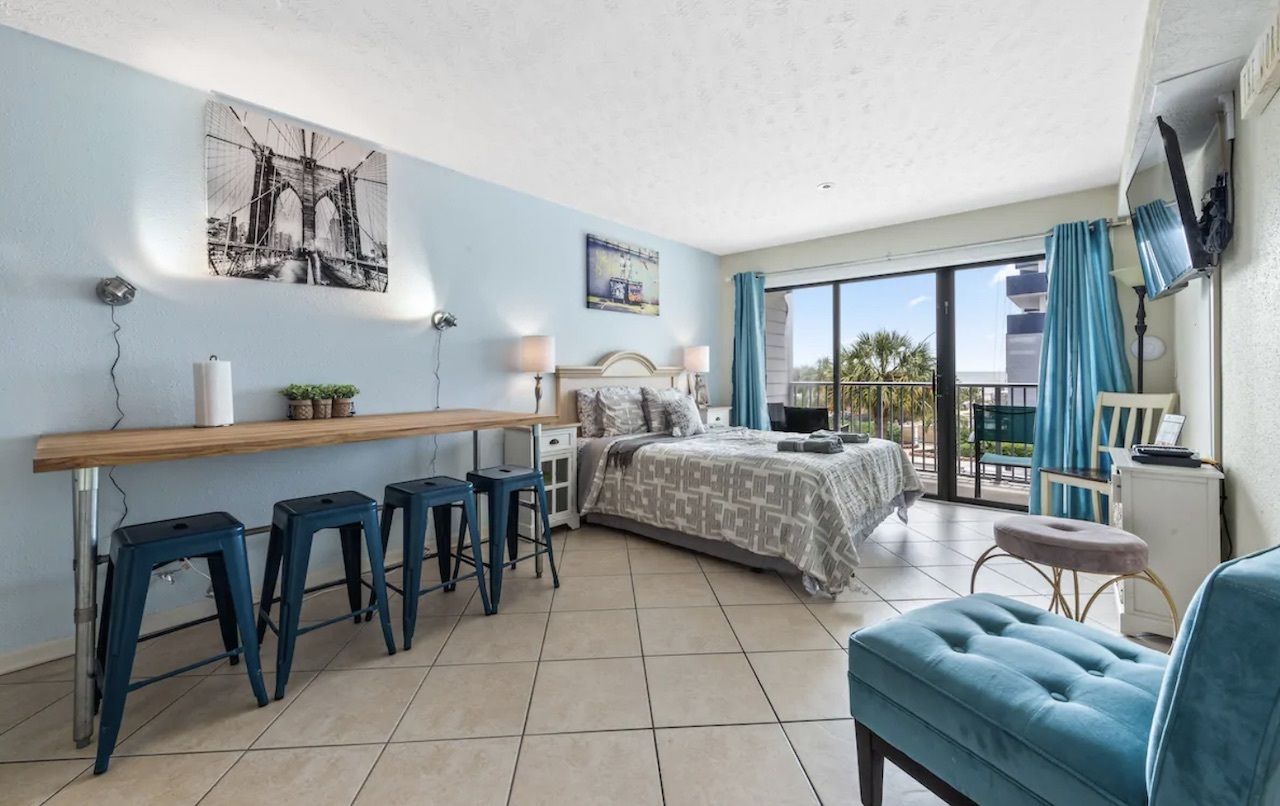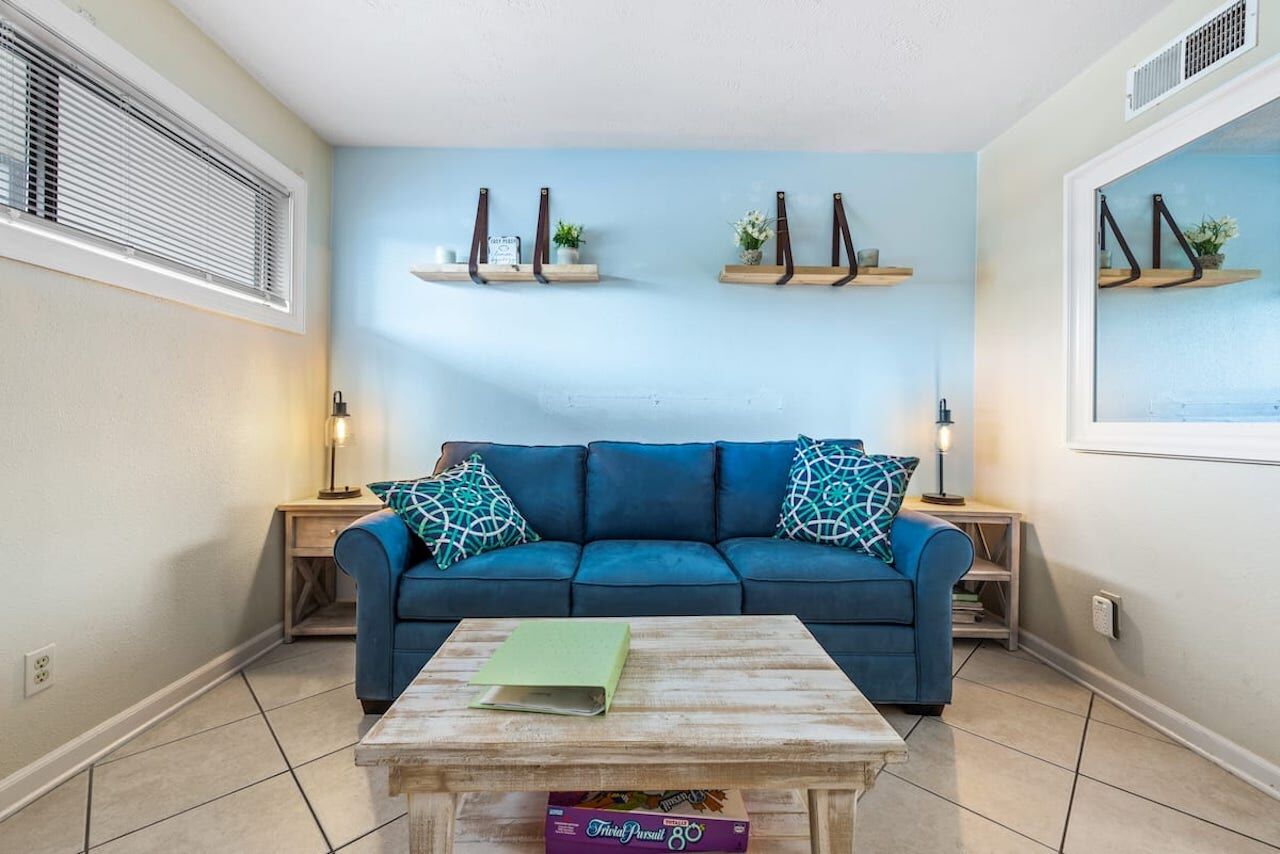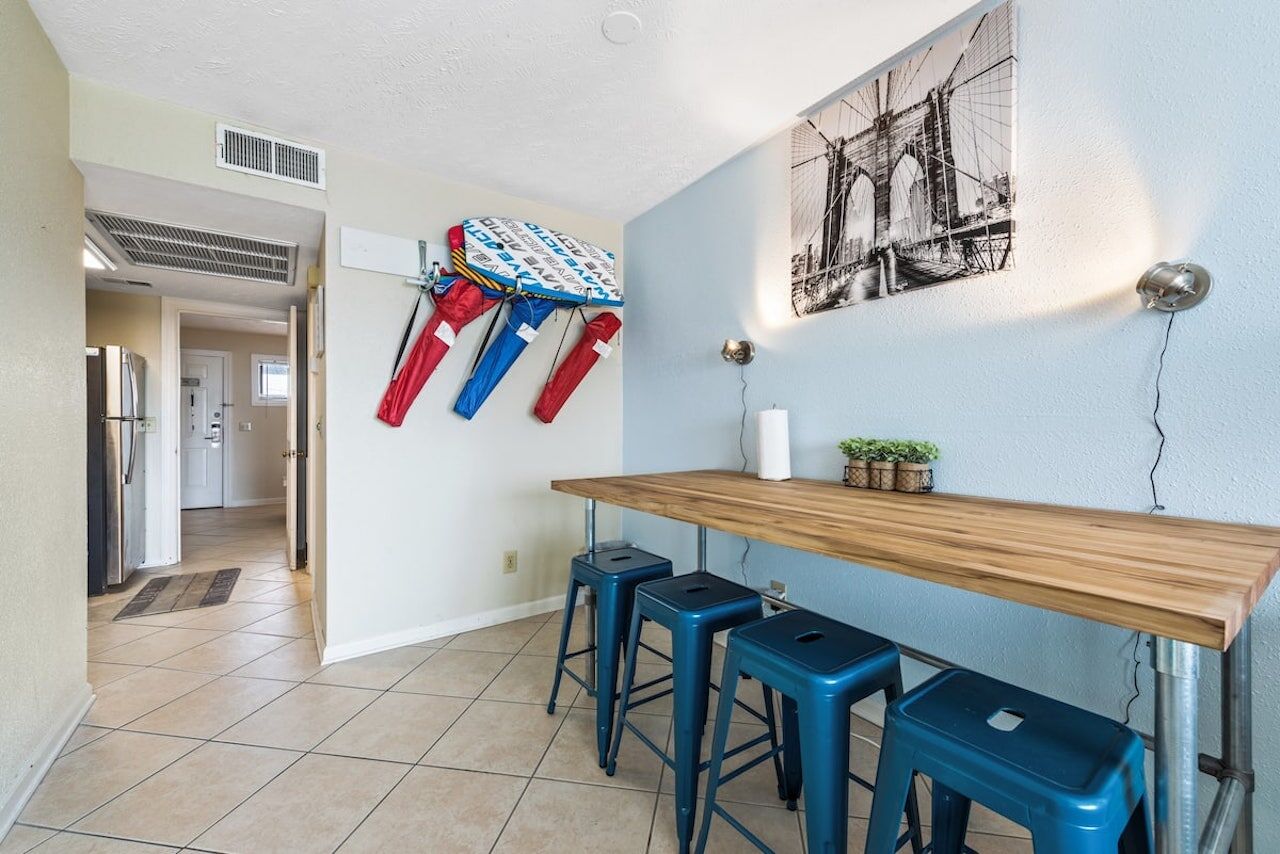 Best for: Solo travelers, couples, remote workers
Blue and beautiful, this cozy little one-bedroom is perfect for a solo traveler or couple. For a price lower than the standard hotel room you could be just a stone's throw from the beach, walking distance to restaurants and shops, and a short drive from the city center. The decor is simple, modern, and almost entirely in shades of blue. It would be the perfect Airbnb Myrtle Beach retreat for a remote worker looking to catch some rays and waves without missing a day of work or a thrifty couple looking for a romantic getaway without a daunting price tag.
Two guests, one bedroom
Price: $125 a night
7. Beautiful Golden Mile five-bedroom beach house with an elevator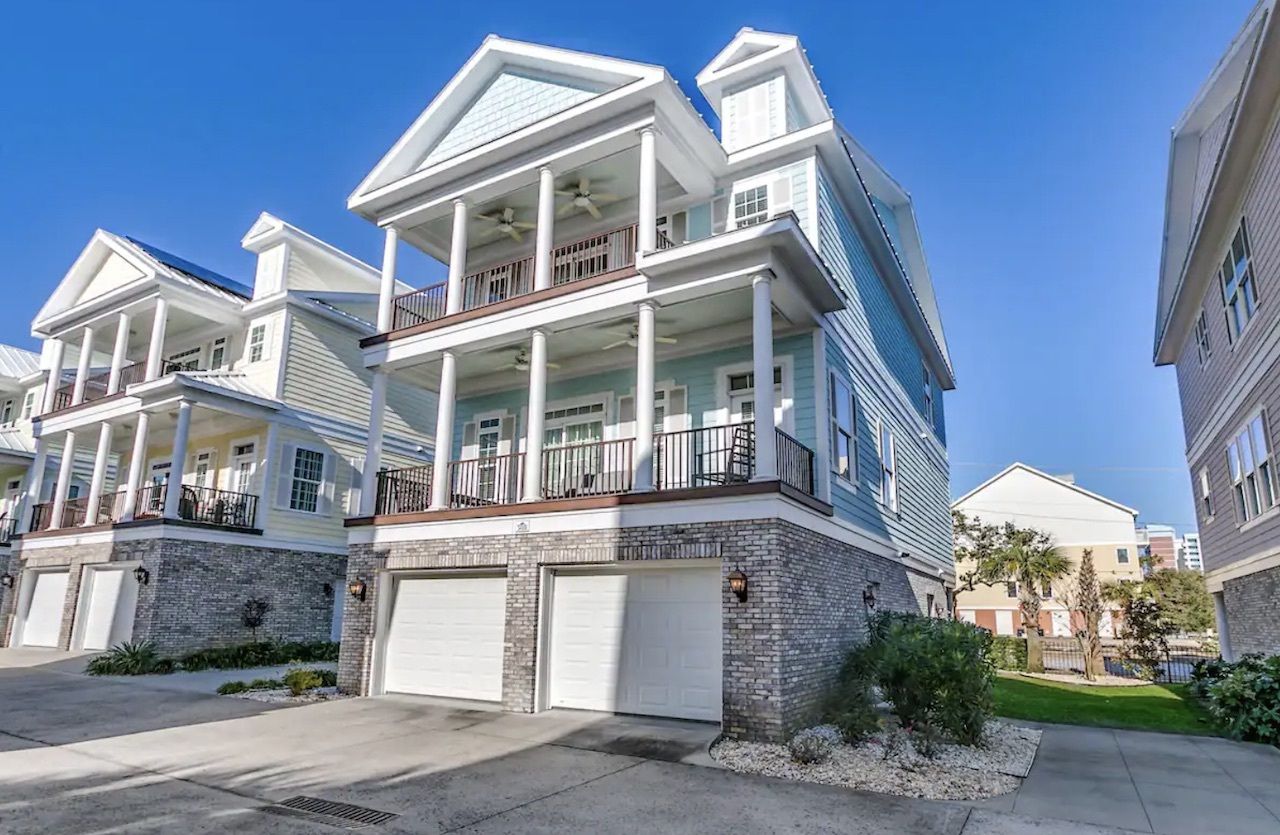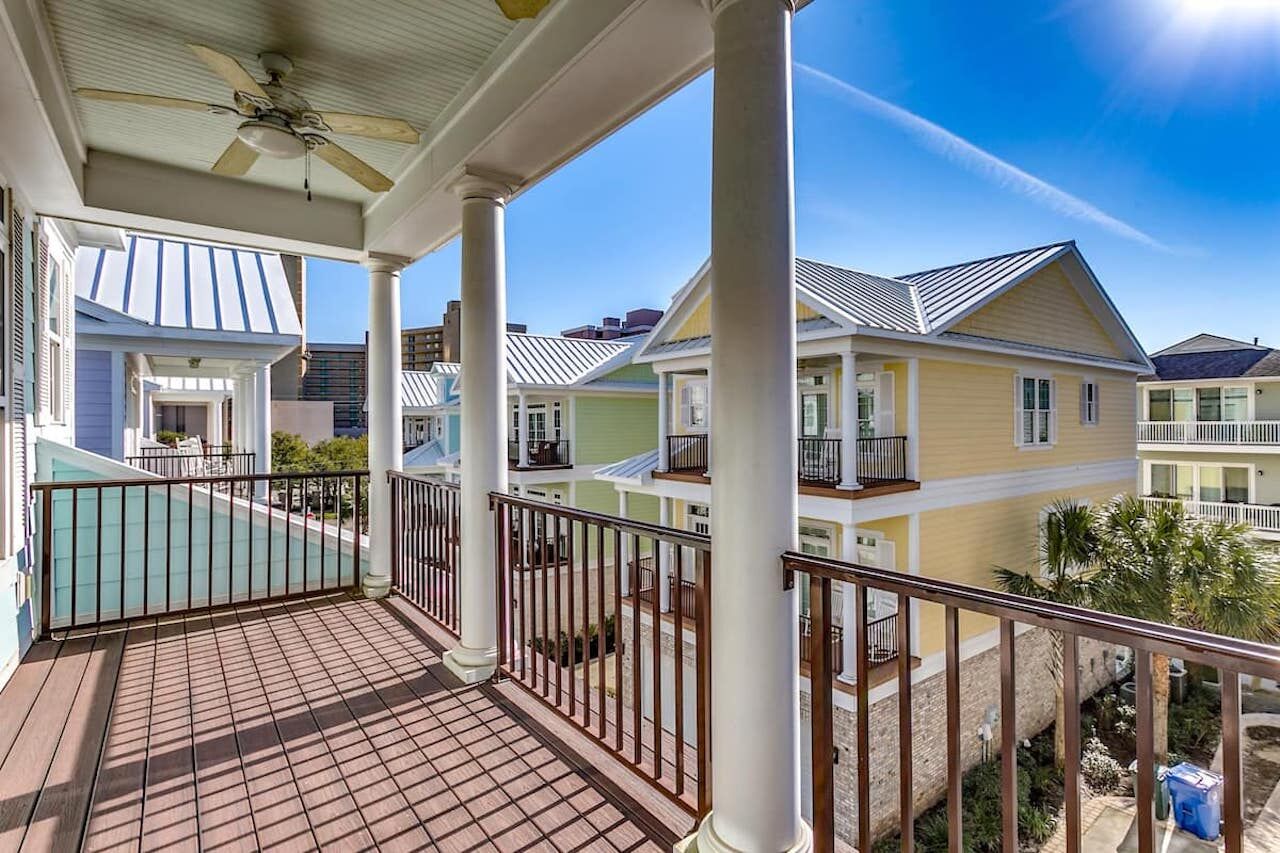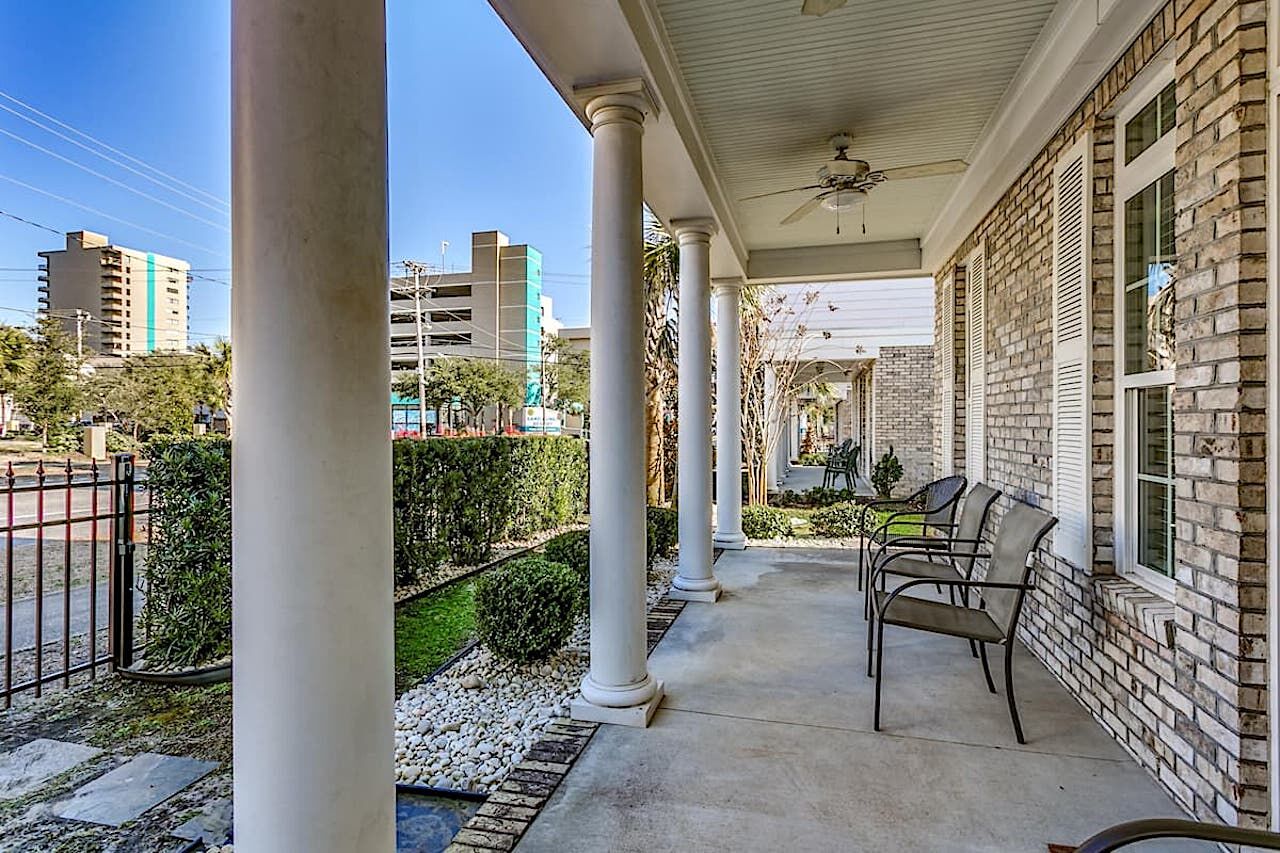 Best for: Large groups
The Golden Mile is the most sought-after neighborhood in Myrtle Beach. It's located right in the middle of the best shopping, dining, and nightlife, and as a bonus, it's a two-minute walk to the beach. This three-story home is tastefully decorated, has plenty of private sleeping areas, and even has its own elevator. With five bathrooms and plenty of room for cars in the driveway, it's the perfect place for a big group of friends to meet up and have an unforgettable time.
Sixteen guests, five bedrooms
Price: $470 a night
8. Luxury condo with incredible views and resort amenities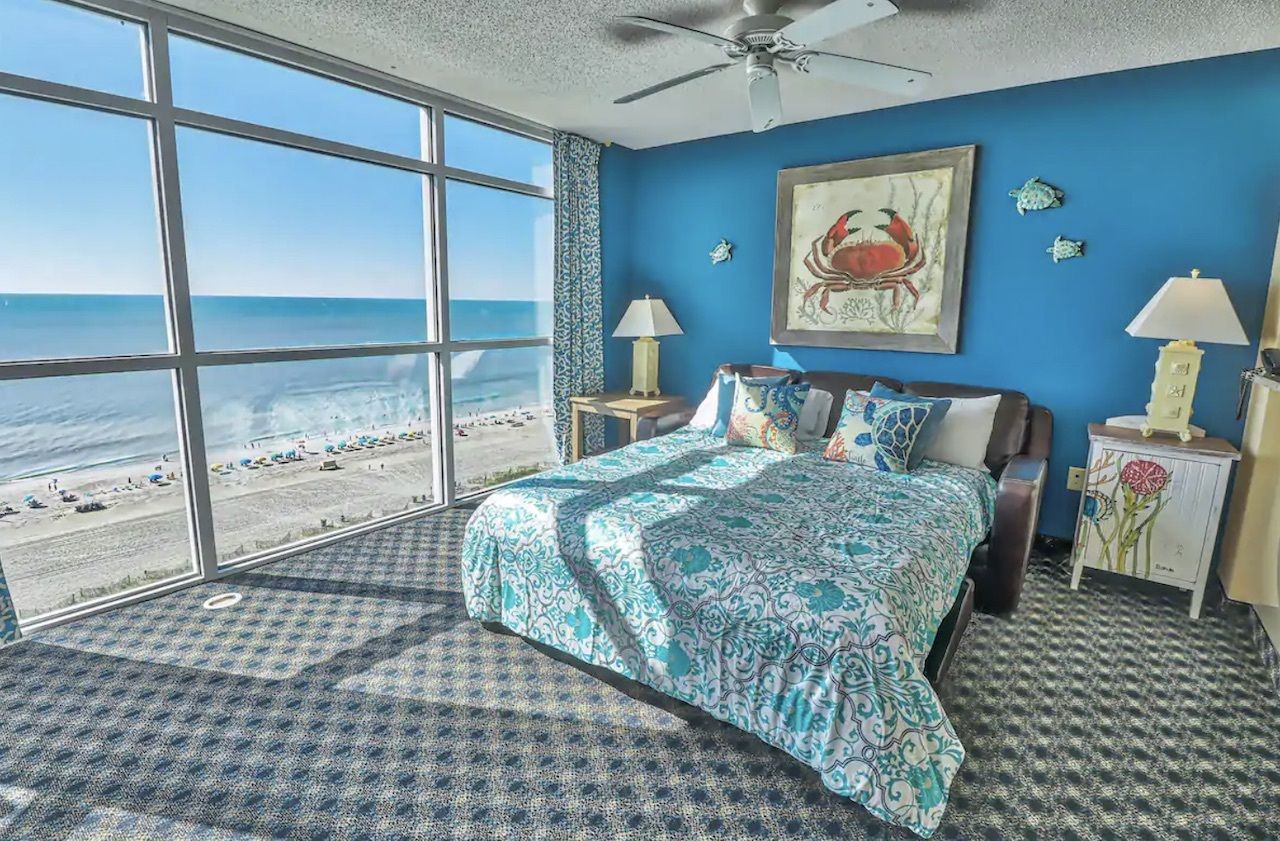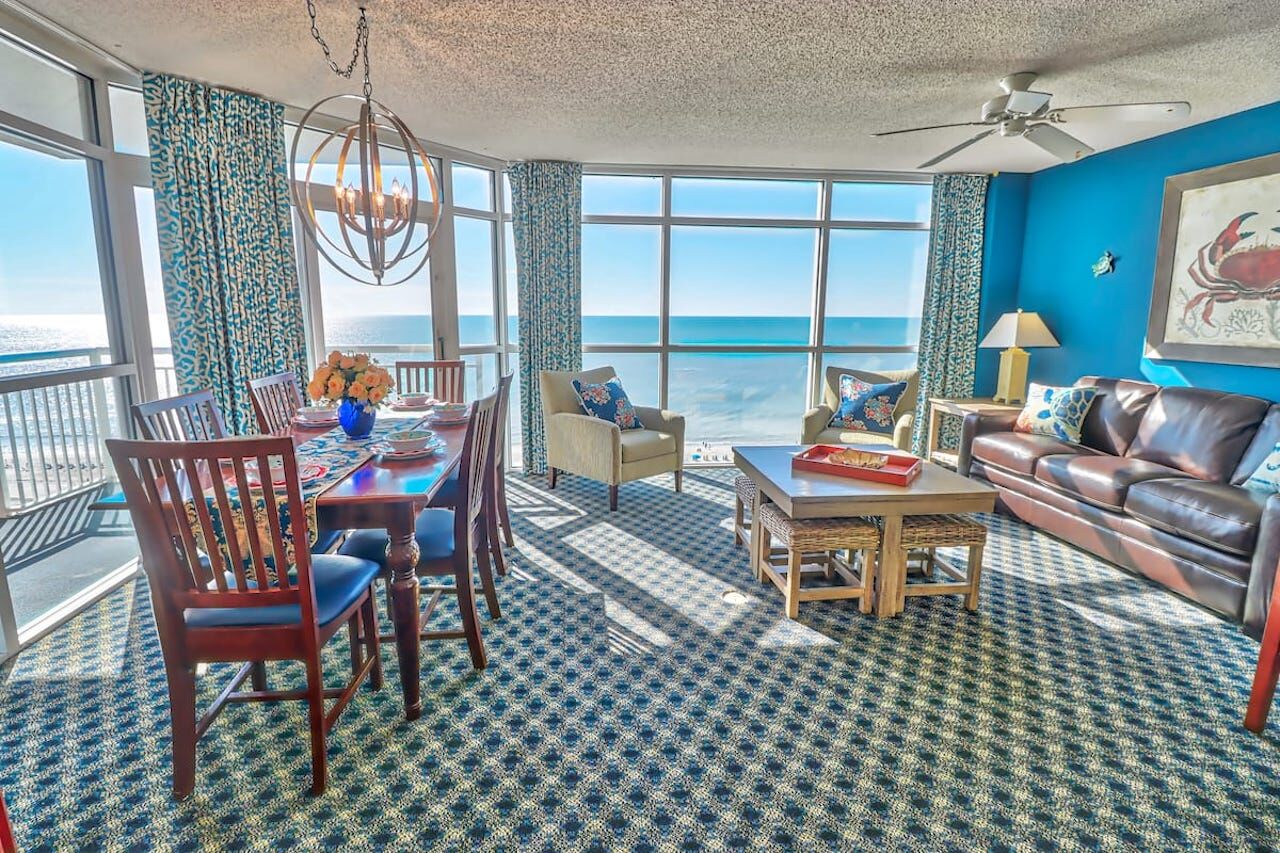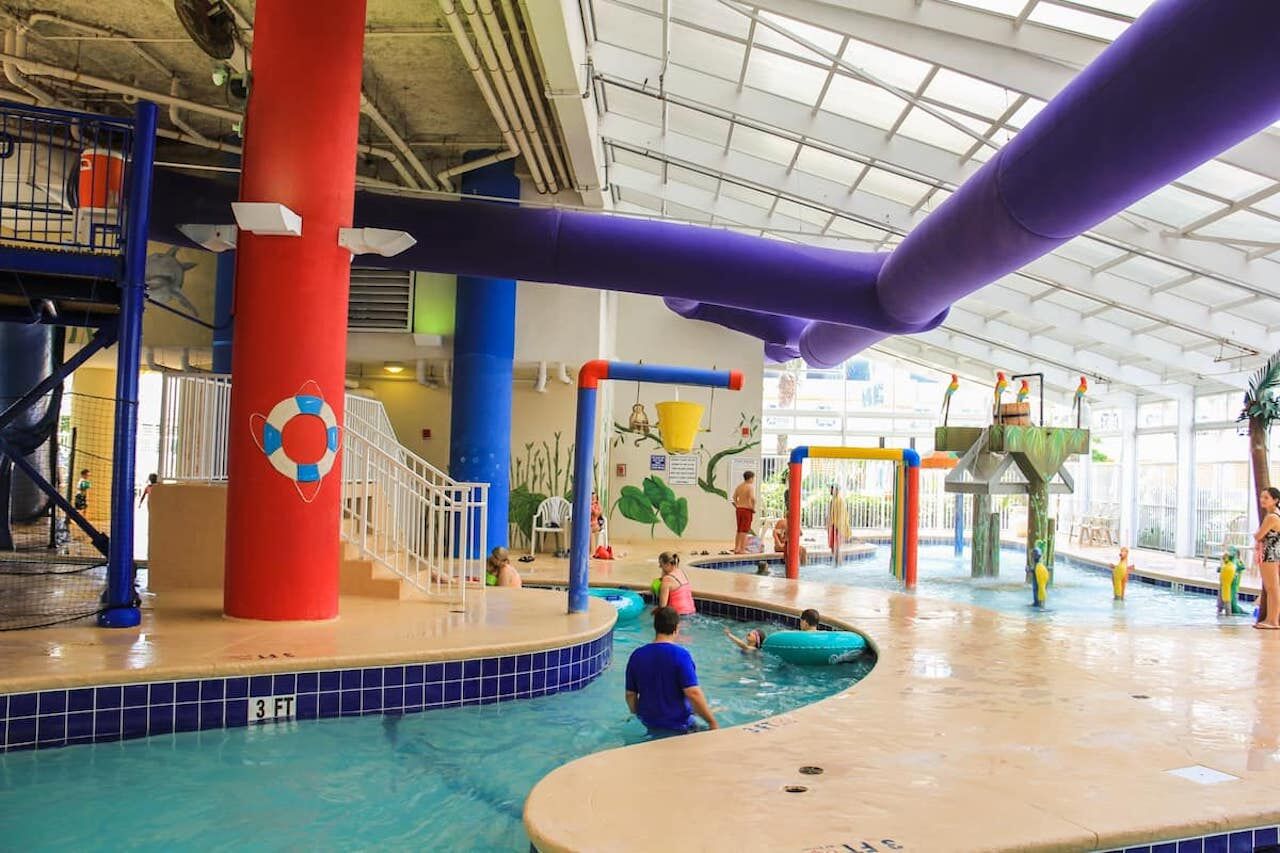 Best for: Families, remote workers, small groups
If you're the kind of person who would like to roll out of bed and step straight into a waterpark, you're going to love this condo. Located within the Dunes Village Resort, you'll have access to all the amenities and activities the resort provides. This would be the ideal rental for a family with one or more remote workers. With a supervised kid's club, the little ones could have a full day of activities while parents take meetings and calls, all while looking out at one of the best views you could imagine.
Ten guests, two bedrooms
Price: $555 a night
9. Oceanfront Airbnb Myrtle Beach condo with elegant decor and an unbeatable view
Best for: Groups, families
Not everyone who goes to the beach wants their space to be decked out in seashells and clam figurines. This condo would be best described as "beach chic." Former guests have raved about the beauty of the space and the view, which you can admire by stepping out onto the 30-foot-long balcony. You'll have direct beach access and the use of a pool that's practically on the sand. The property is a short drive away from some truly beautiful golf courses, so make sure you book a tee time.
Fourteen guests, four bedrooms
Price: $365 a night
10. The Palms beachside mansion with a private pool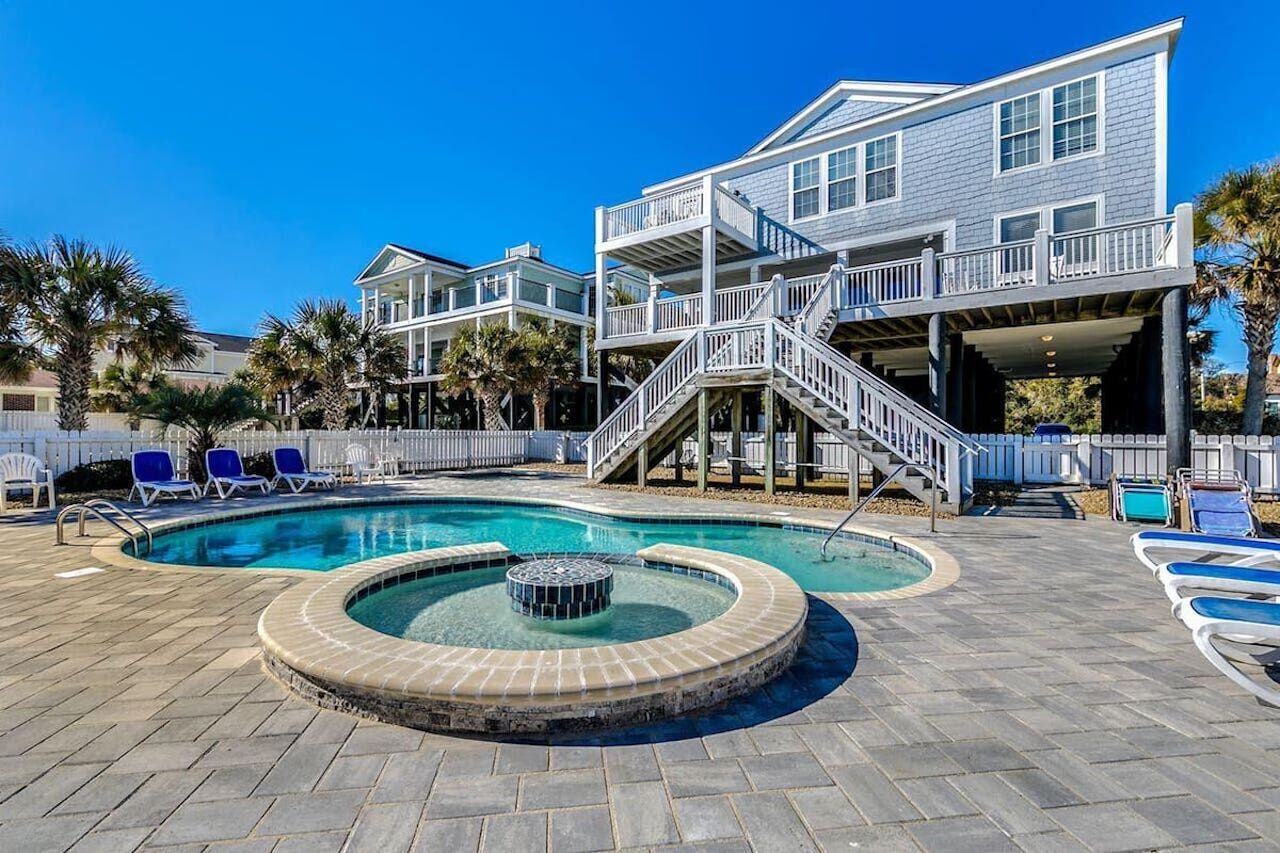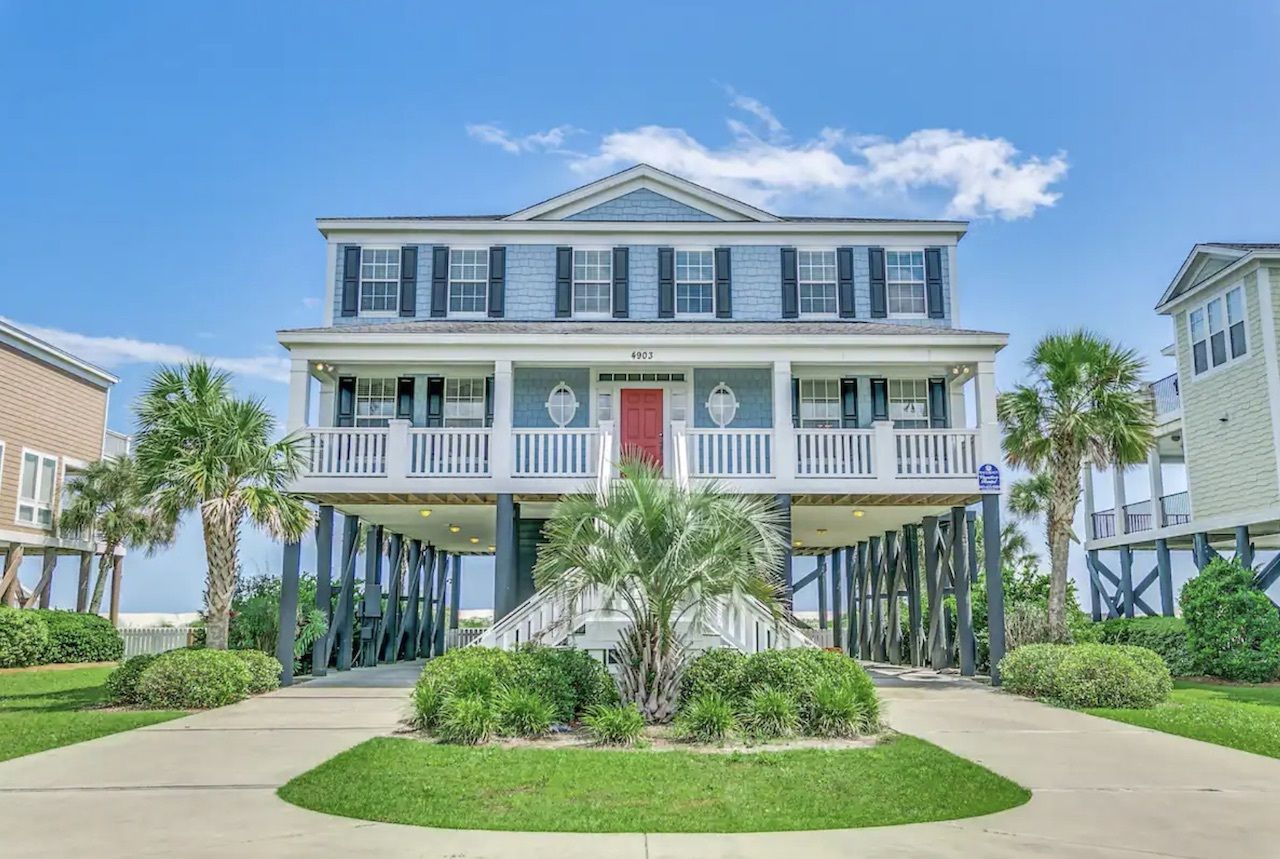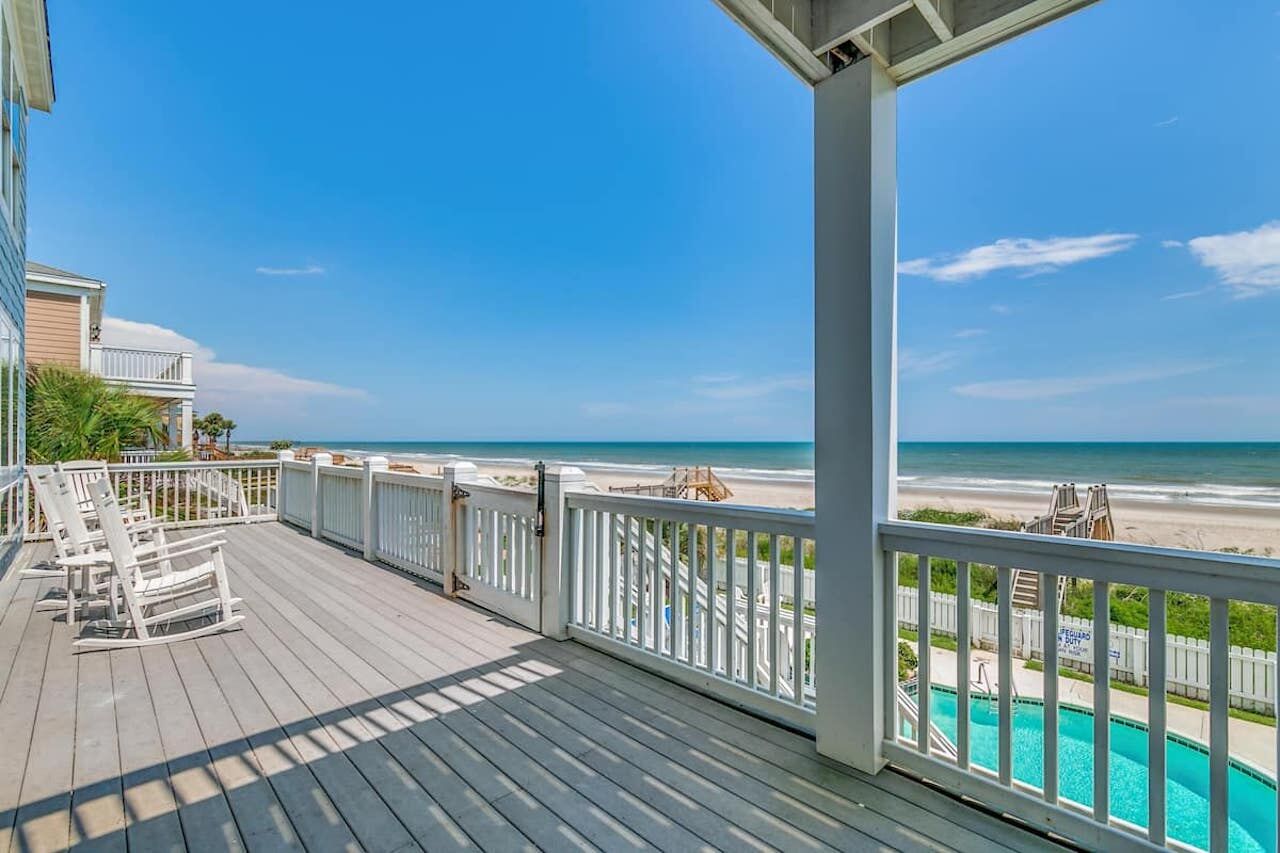 Best for: Large groups, families
This is the kind of beach house that you'd see in a movie. With classic decor, luxurious amenities, and stunning outdoor space, this rental will probably make you feel like a king. If the pillared bathtub wasn't enough, the pool and in-ground hot tub send it over the top. It's located in the upscale Long Bay Estates neighborhood. This area borders the Myrtle Beach State Park and is just south of the Market Common which is known for high-end shopping and dining. The price may seem steep, but when you consider how many people you can fit, it's perfectly reasonable.
Sixteen guests, six bedrooms
Price: $1,434 a night
11. Indoor/outdoor condo with brightly-colored beach vibes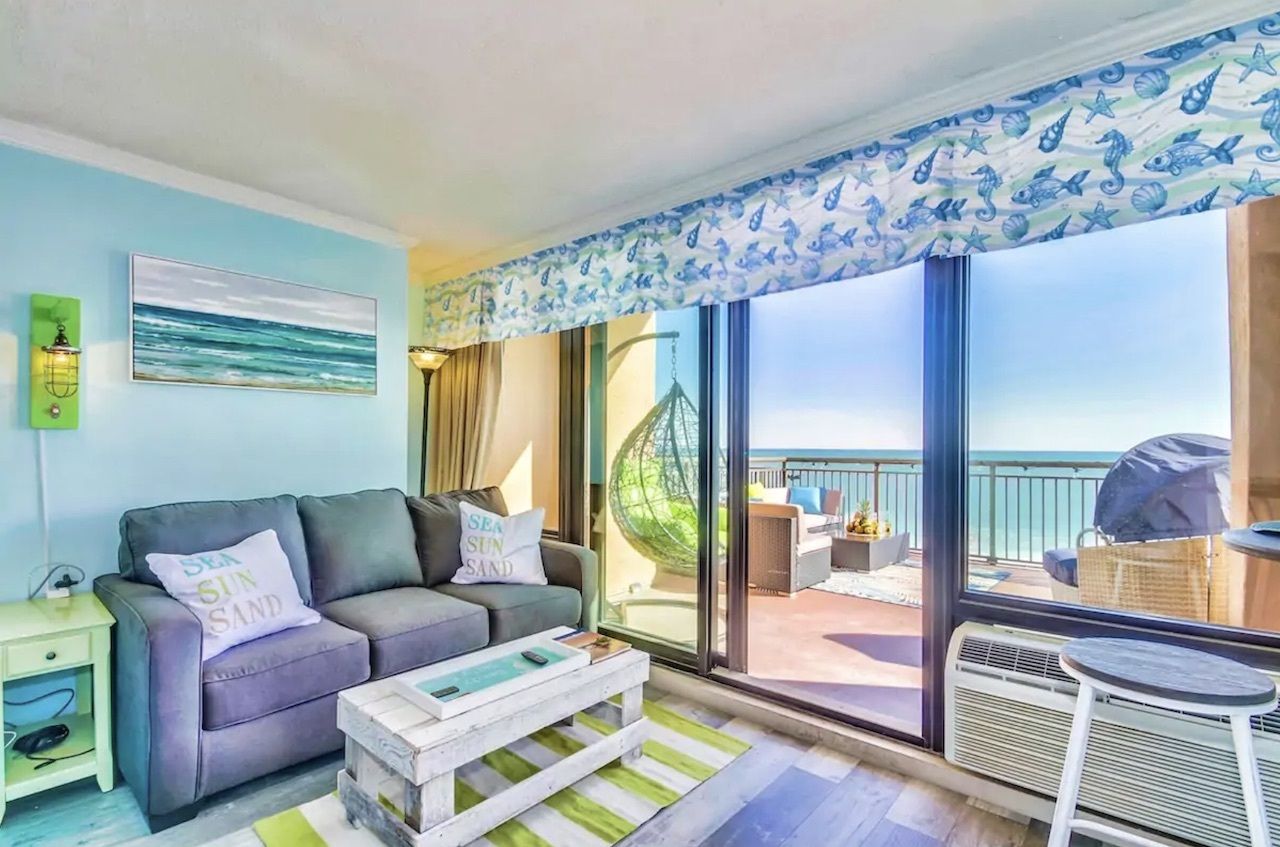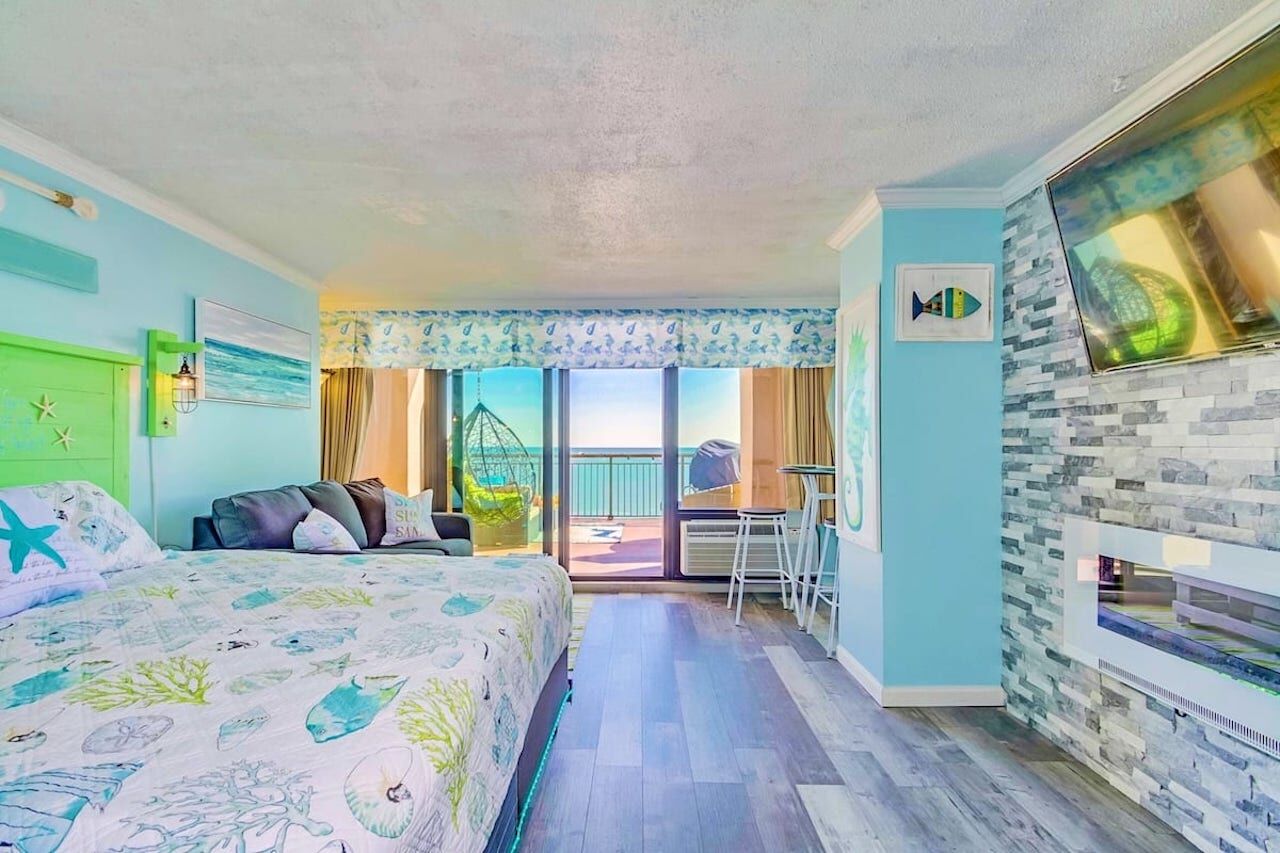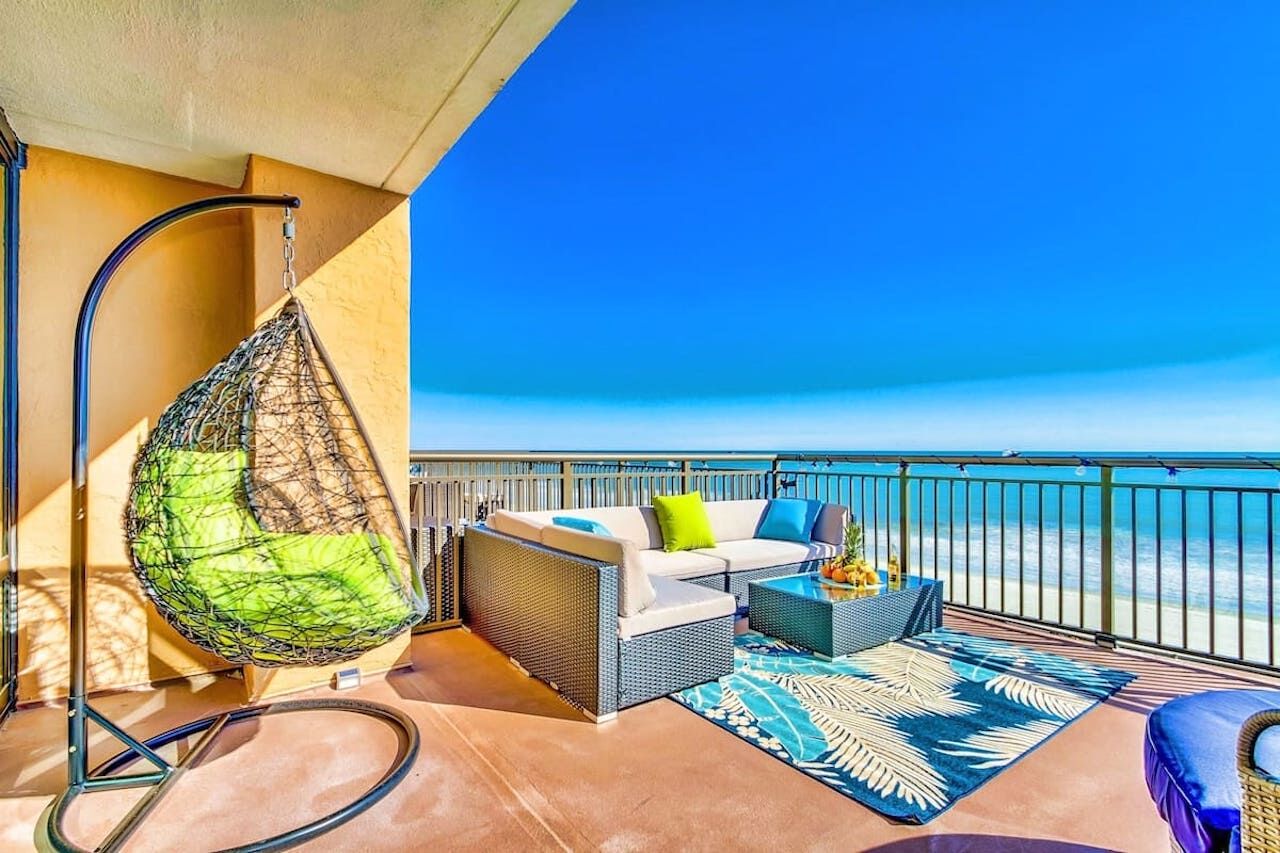 Best for: Couples, families, remote workers
This condo is where coastal decor meets whimsy. While it may look like a somewhat normal beach theme, there are a few details that make it entirely unique. The king bed is lined with colorful LED lights, a psychedelic electric fireplace is mounted to the wall, and you can read a book in the swing on the balcony. The Caravelle Resort offers amenities and activities to guests of all ages. If you're looking to go off-campus, multiple well-loved restaurants are within walking distance.
Four guests, one bedroom
Price: $182 a night
What did you think of this story?