8 Charming Charleston Airbnbs for a Bachelorette Party
If you're thinking about where to book your bachelorette party, Charleston is an ideal destination – and there are plenty of Charleston bachelorette Airbnbs that can accommodate your group.
The city offers culinary delights like fresh oysters and other seafood, award-winning restaurants, and nightclubs and cocktail bars, all in a charming setting right on the water – there are so many things to do in this city, you'll never get bored (maybe you could even make it out to Daufuskie Island). If you want to spend some quality time with friends just relaxing on the beach, Sullivan's Island and Isle of Palms are close by. Your group can spend the day in Charleston, and in the evenings, enjoy the peace and privacy of a luxury beach house with stunning sunsets and views of the waves. However, staying right in the city is just enticing. Charleston's cozy, welcoming atmosphere makes it an ideal bachelorette destination.
Here are the Charleston bachelorette Airbnbs to book for your next trip – and here are 15 more Charleston Airbnbs so you never run out of options.
Traveling to South Carolina? Check out Matador's accommodation guides to the area:
We hope you love the spaces and stays we recommend! Just so you know, Matador may collect a small commission from the links on this page if you decide to book a stay. Listed prices are accurate as of the time of publication.
Downtown home with private pool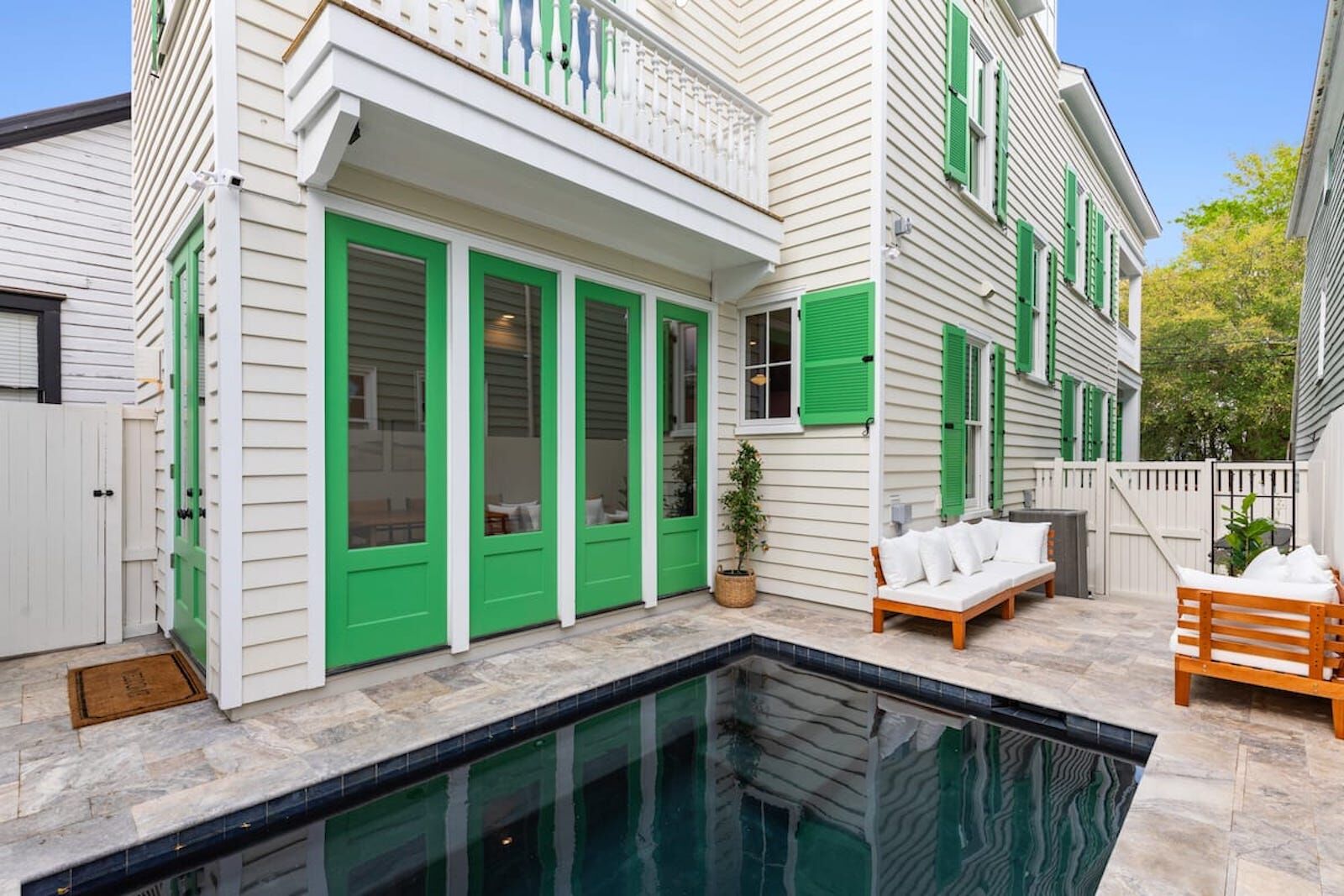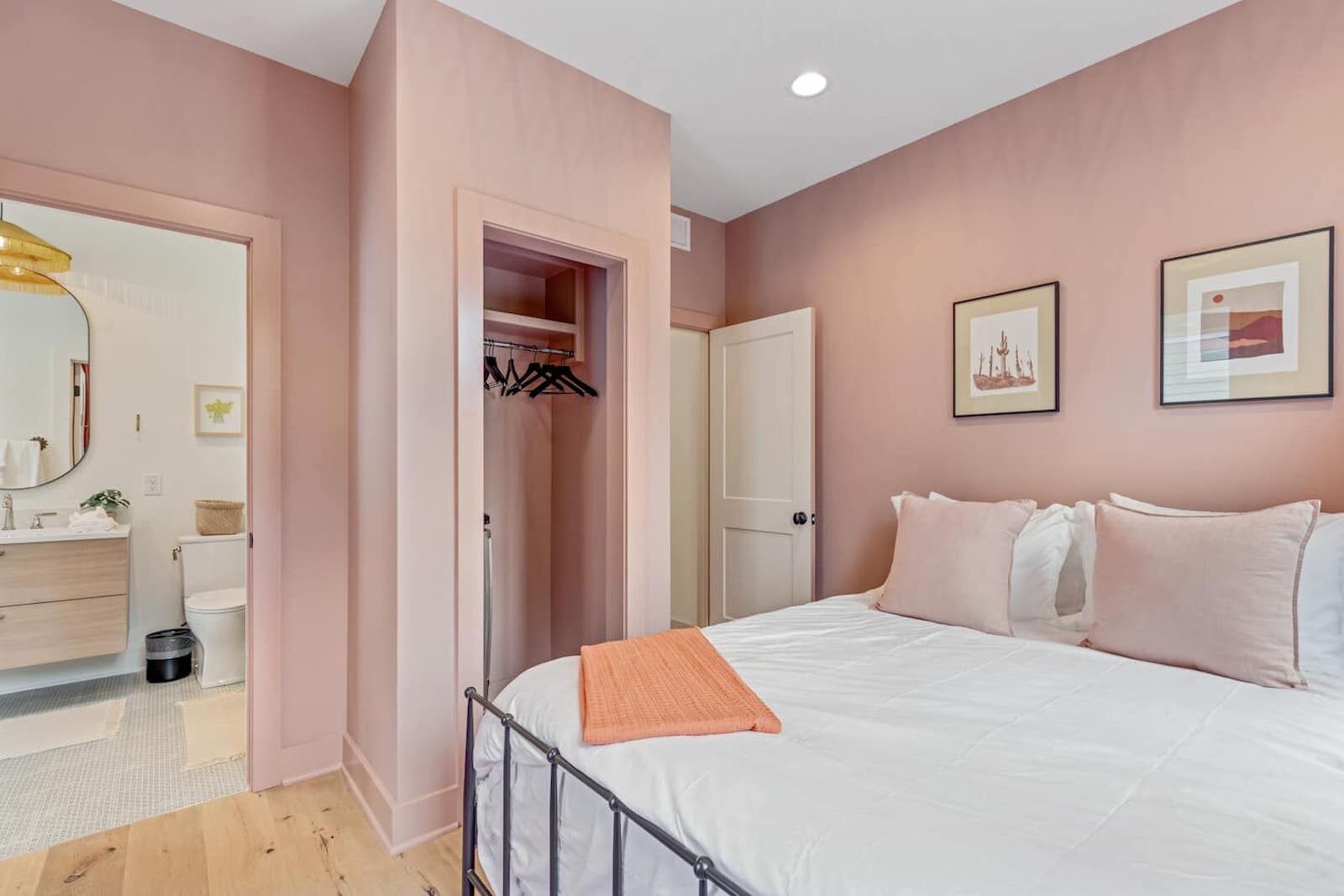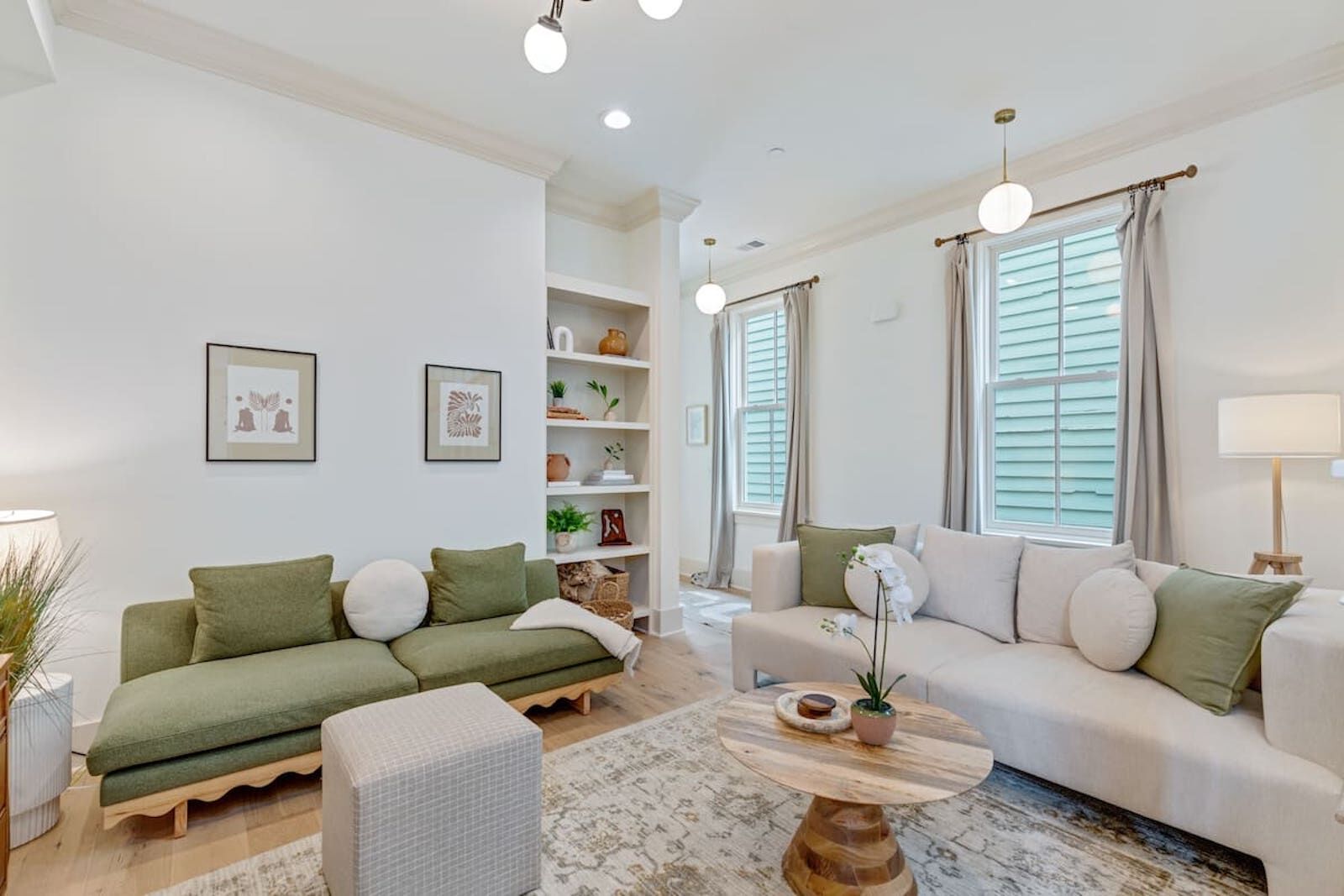 See more photos
One block from Charleston's legendary King Street, this brand new home features a garden patio and a heated pool. There's a small porch where guests can sip coffee, a comfortable living room, and an outdoor grill, as well. The famed restaurants of downtown Charleston are within walking distance, making nights out easy for guests who stay here. However, Sullivan's Island Beach is just 20 minutes away, so if your group rented a car, it would be easy to take a day trip to the beach. The house sleeps 12 guests and has five bedrooms.
12 guests, five bedrooms
Price: $877 per night
Book Now
Home with heated spa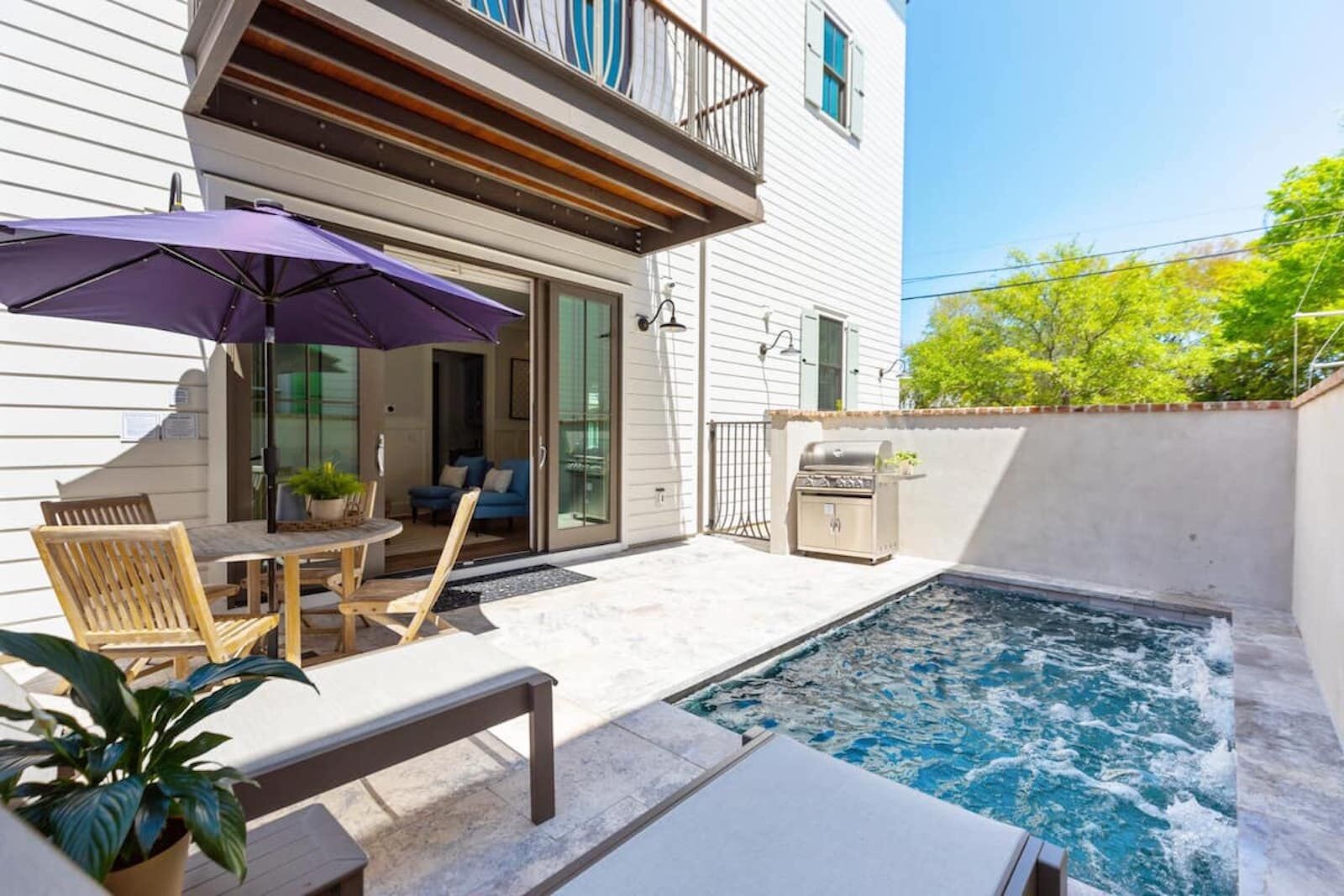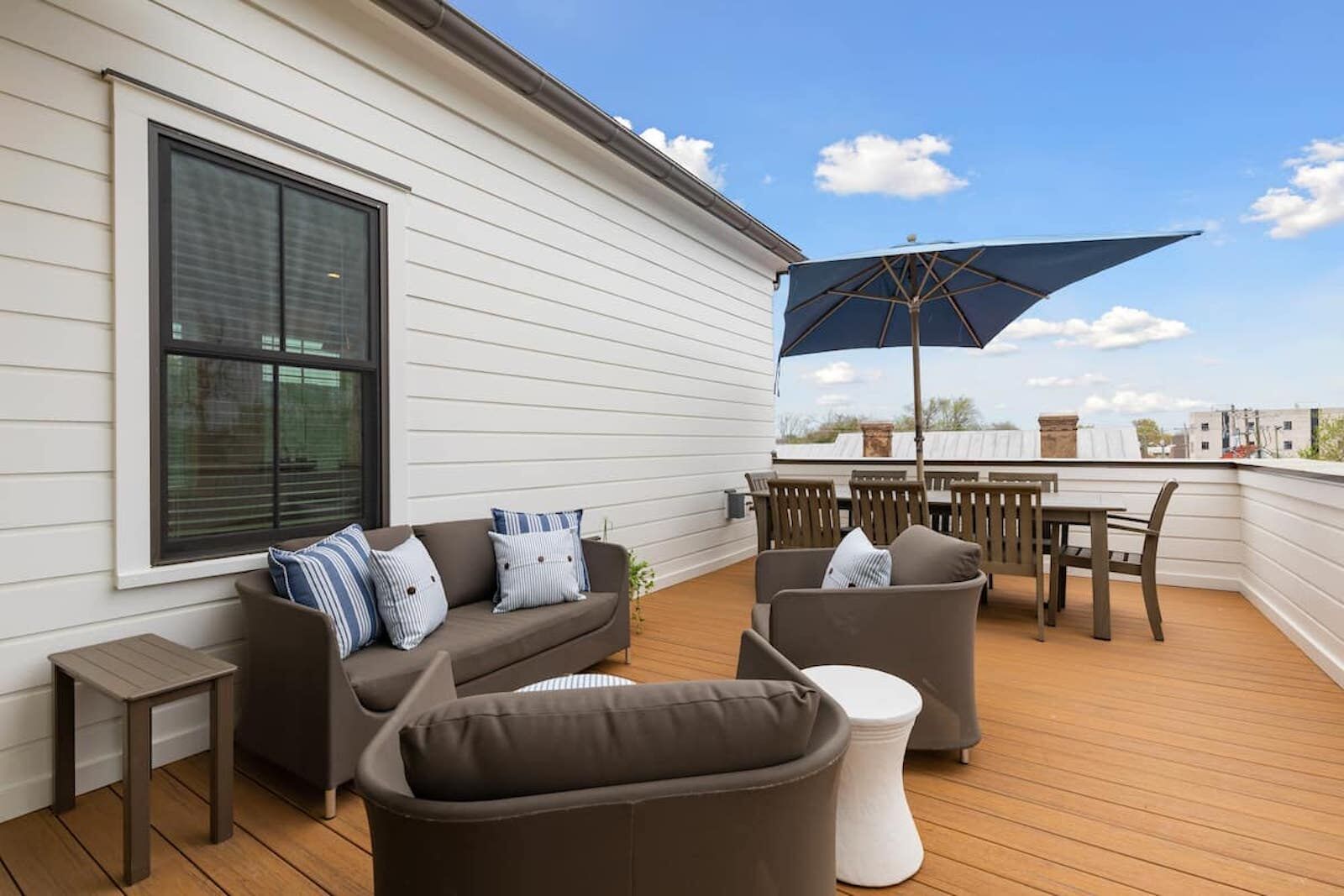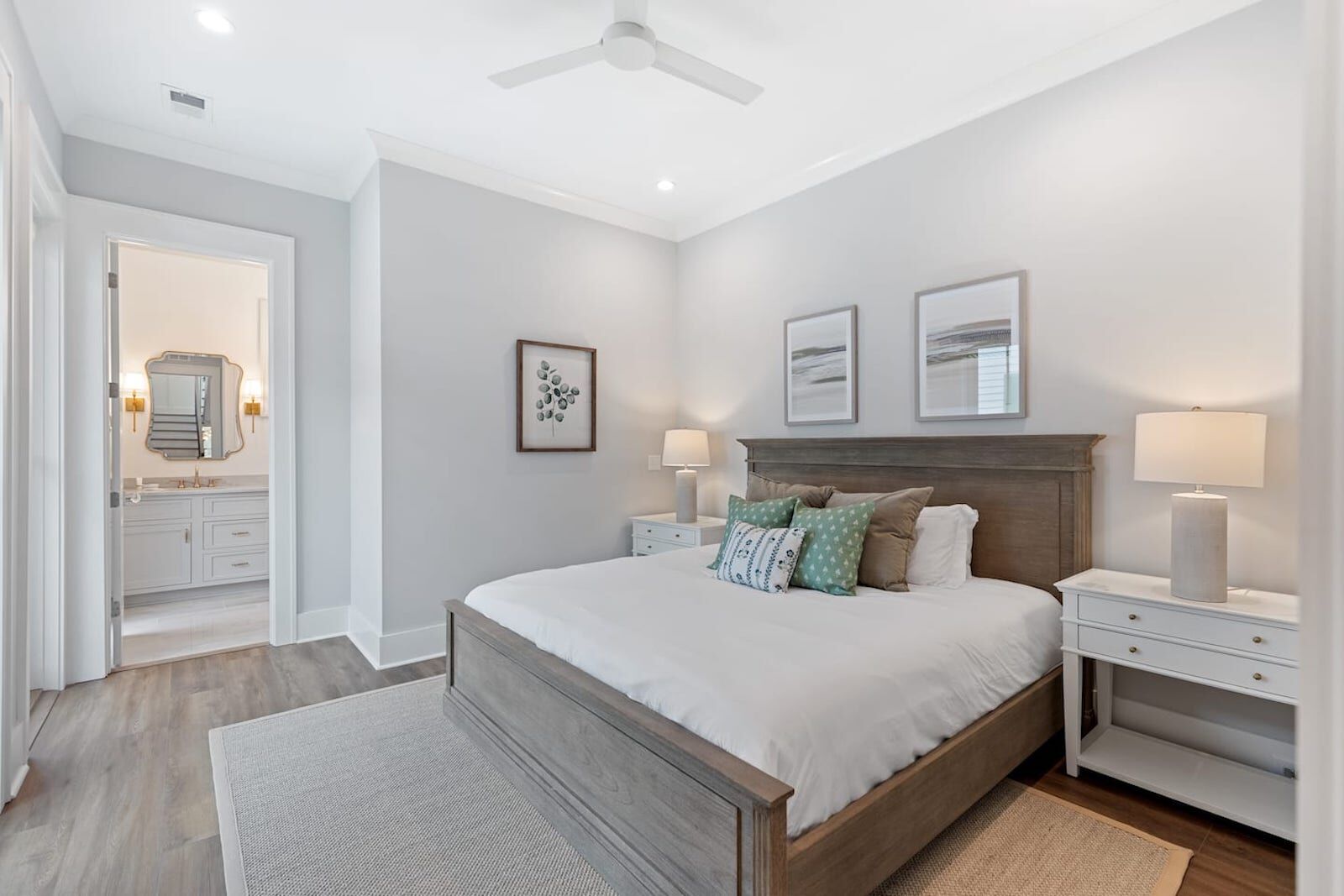 See more photos
The beautiful house in the Cannonborough-Elliotborough neighborhood has several inviting features: There's a cozy backyard with a heated spa pool, and rooftop deck outfitted with comfortable couches and an umbrella and dining room table, plus a smaller porch where guests can enjoy their morning coffee. The house can accommodate 14 guests, and with so much room to spread out and relax, you'll be thankful this is your landing pad after partying in downtown Charleston. The rooftop deck is a great place to recover from a hangover.
14 guests, 4 bedrooms
Price: $877 per night
Book Now
Restored historic home with pool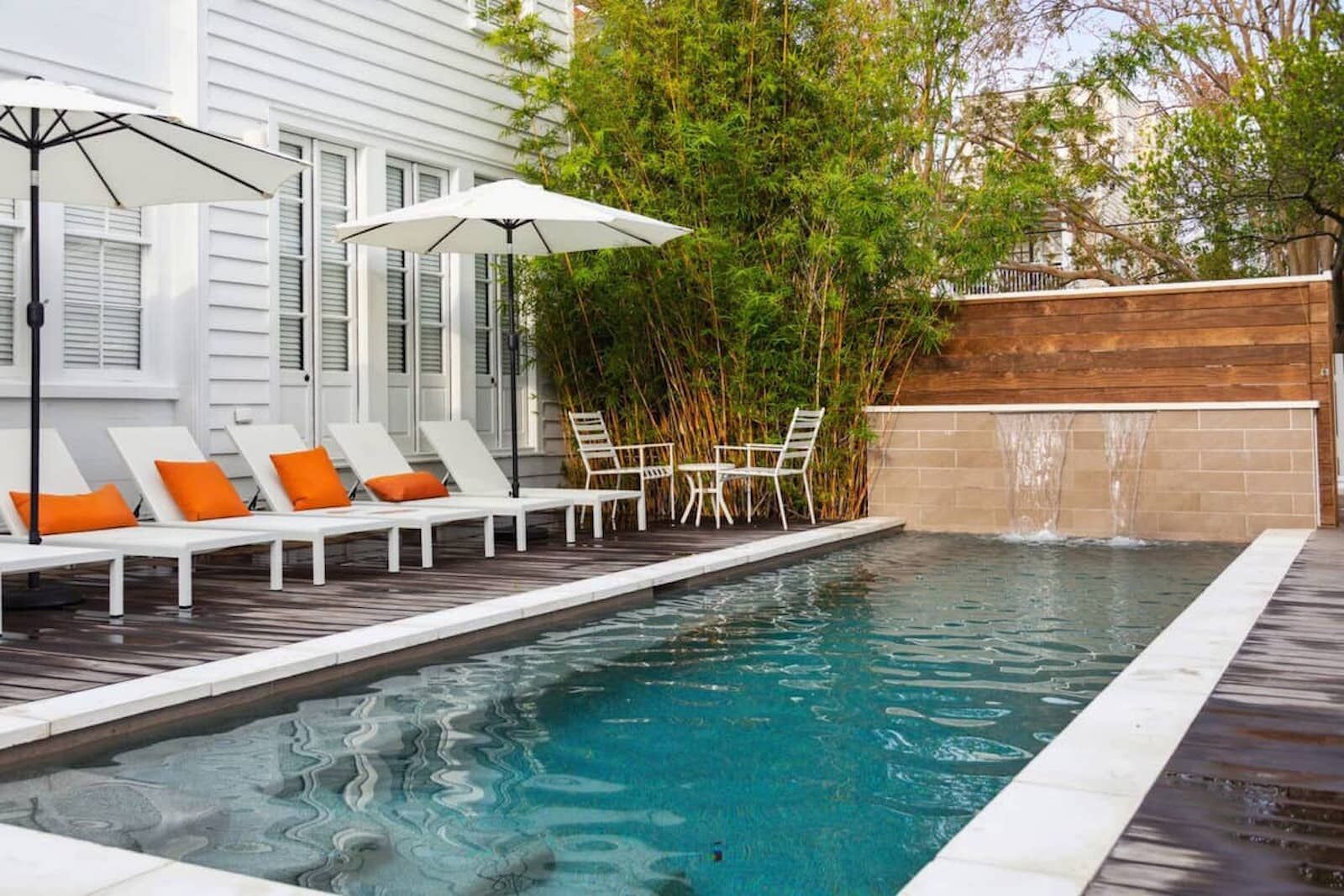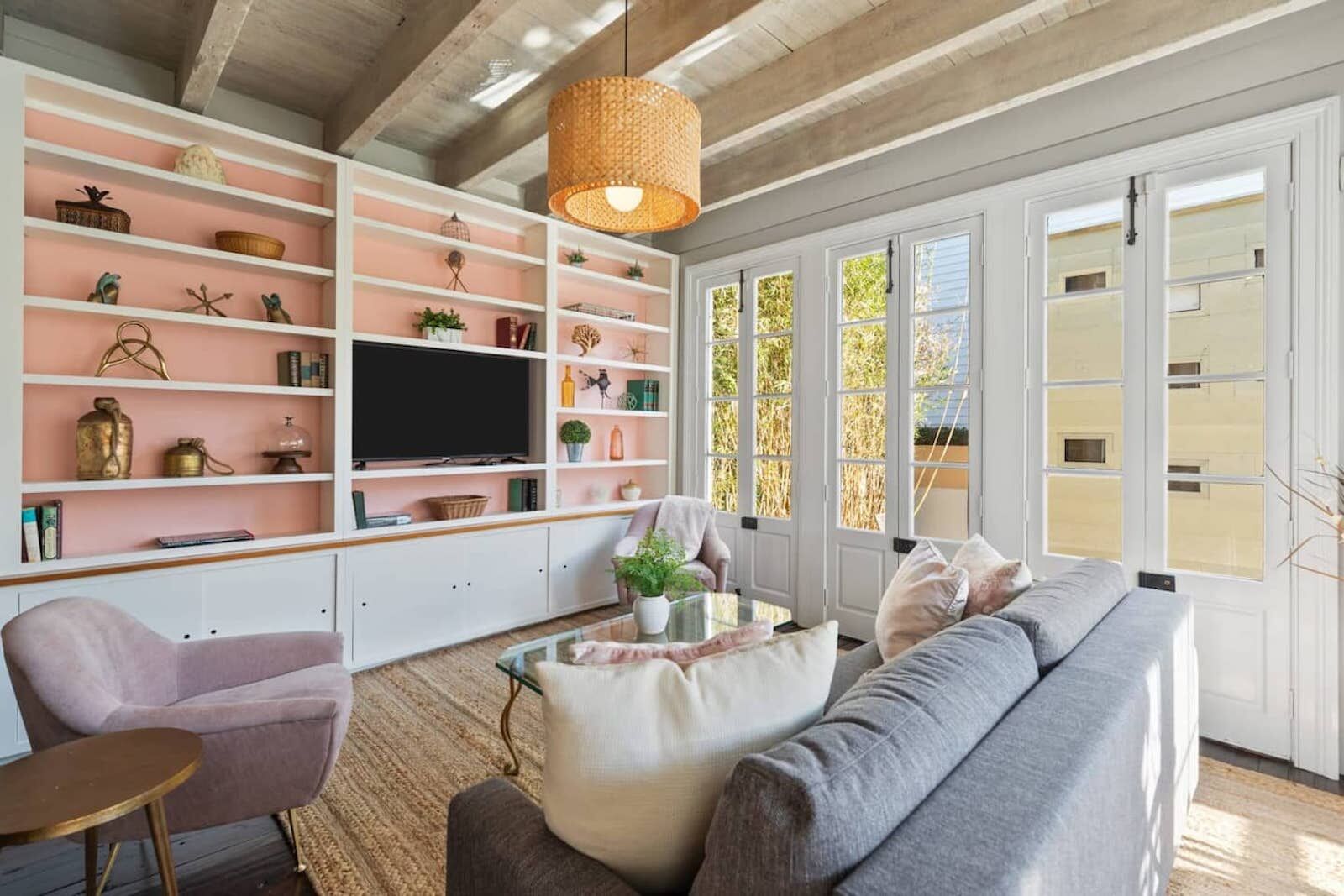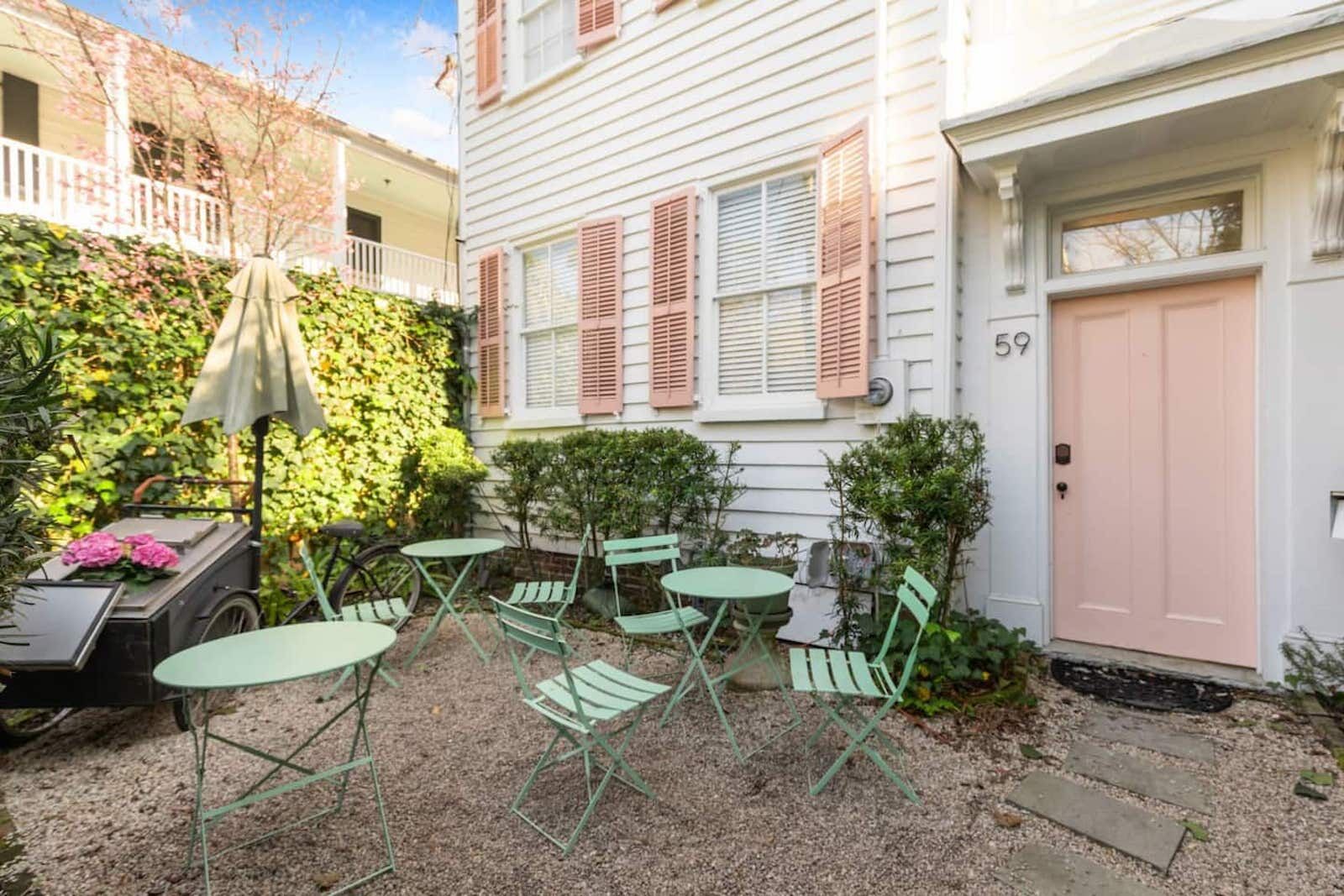 See more photos
This downtown Charleston home features lots of charming details, like a breakfast nook filled with natural light, exposed brick walls, and built in bookshelves painted pink. The kitchen is sleek and modern, and features a long counter so there is plenty of space to cook here. The outdoor pool comes with lots of lounge chairs and there are chairs in the small front yard where guests can enjoy a quiet cup of coffee in the morning or low key cocktails on warm nights.
10 guests, 4 bedrooms
Price: $696 per night
Book Now
Historic home with private pool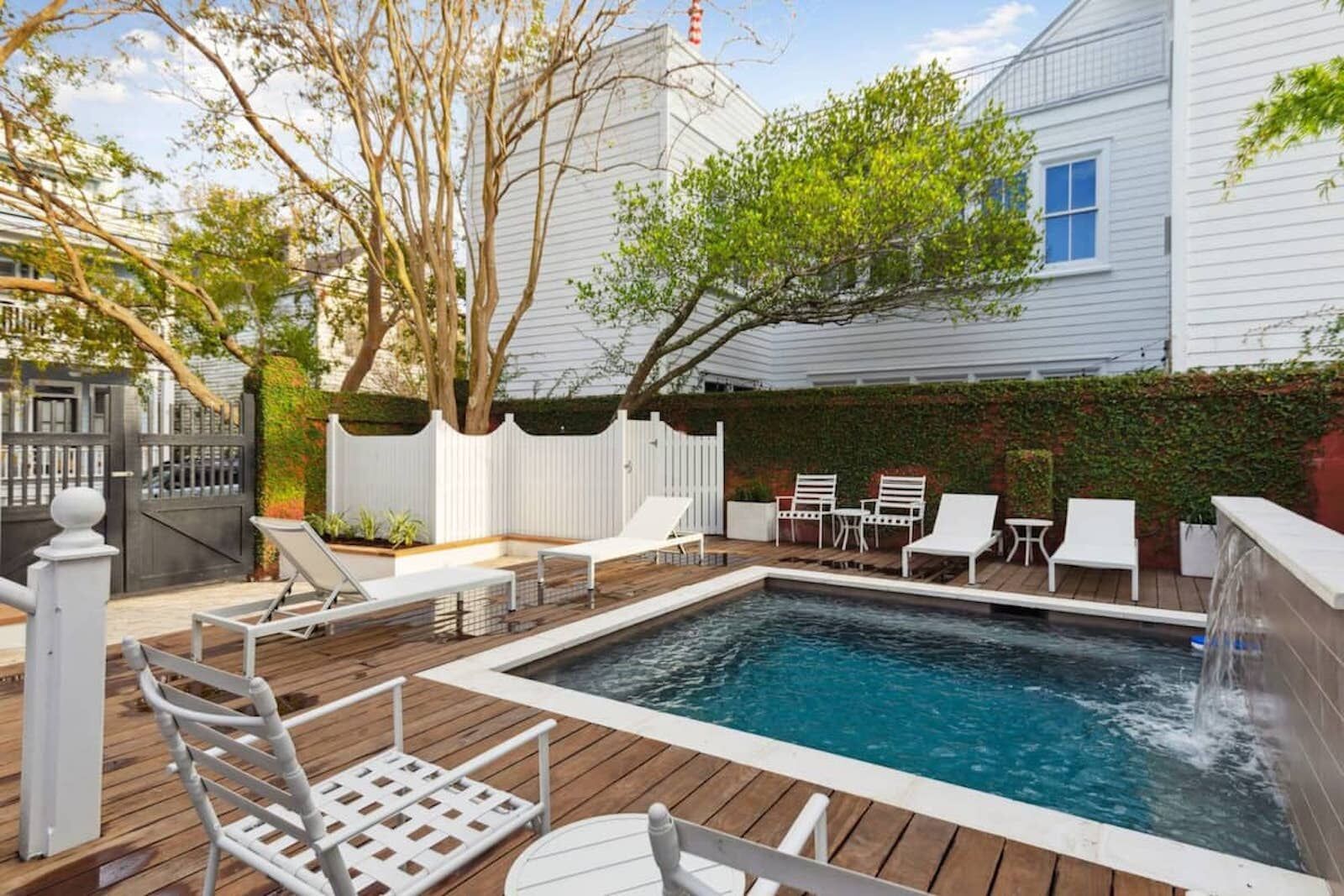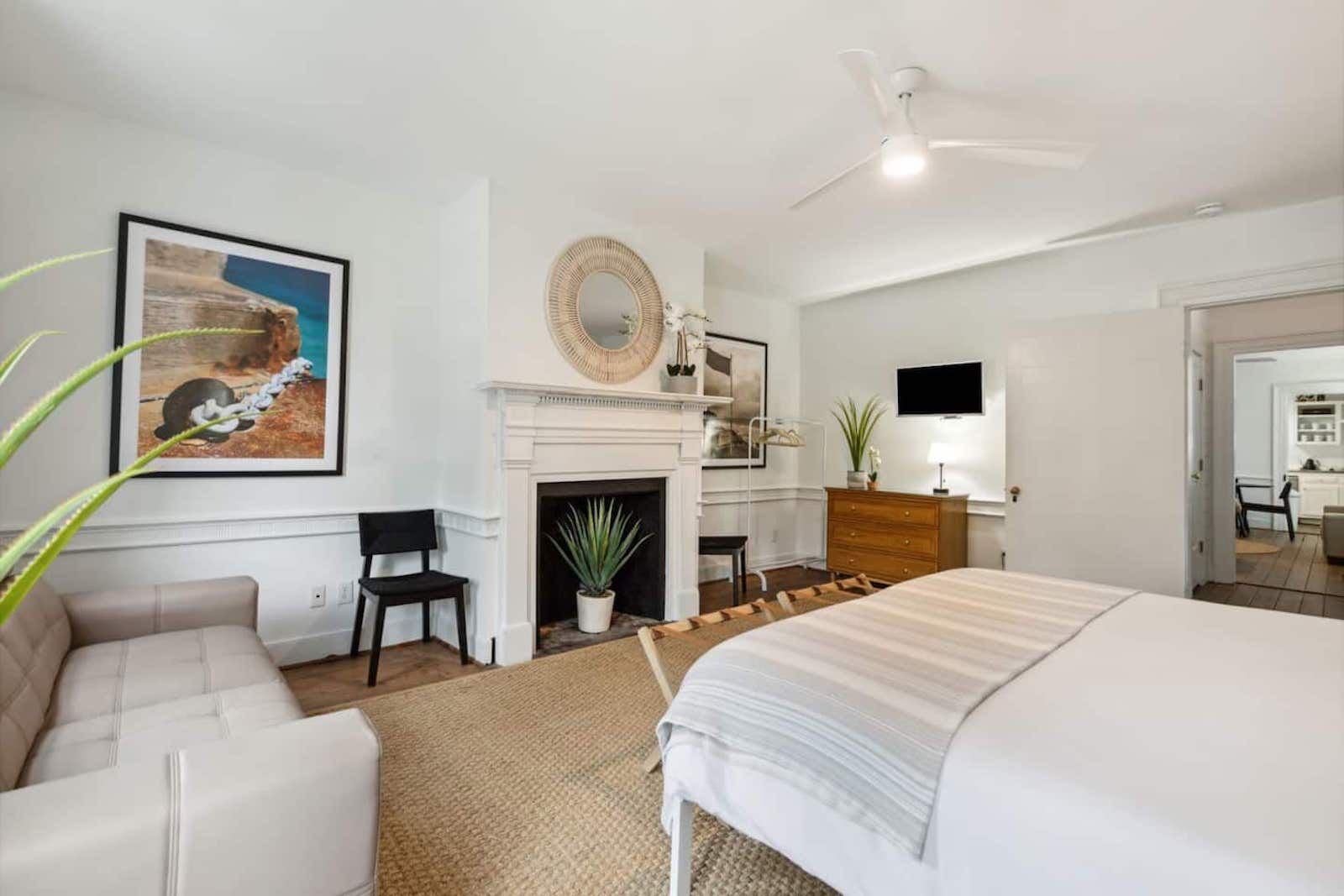 See more photos
This downtown Charleston home has a walled garden surrounding the pool deck, for maximum privacy. The perfect place to lounge on summer days before hitting the town, there are lots of beach chairs surrounding the pool which even features a small waterfall. The three bedroom house fits ten people. Stylish touches like wood floors, two porches, and pink zebra print wallpaper in one room give the space character. The location is great too – it's walking distance from the bars and restaurants downtown.
10 guests, 3 bedrooms
Price: $555 per night
Book Now
Isle of Palms beach house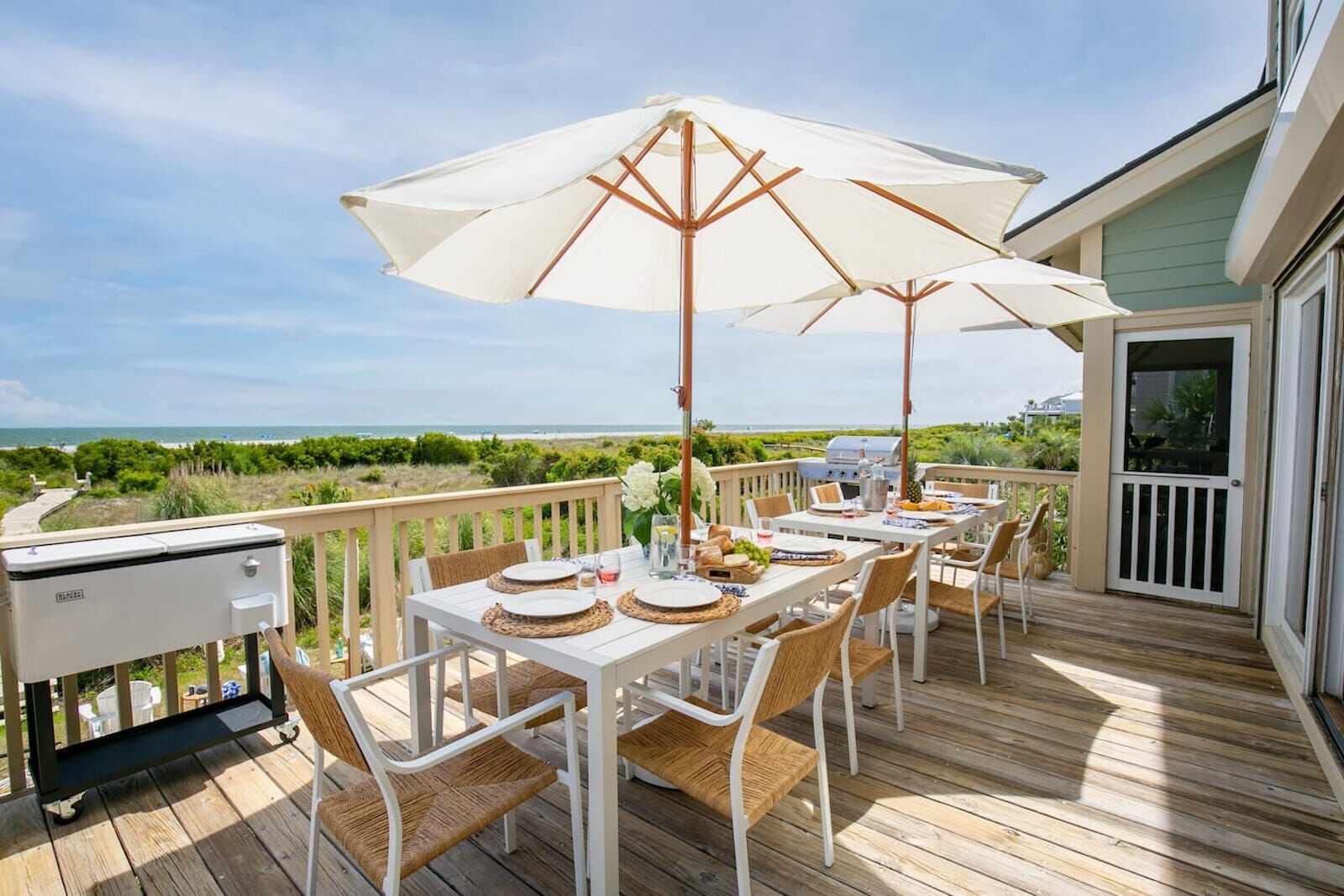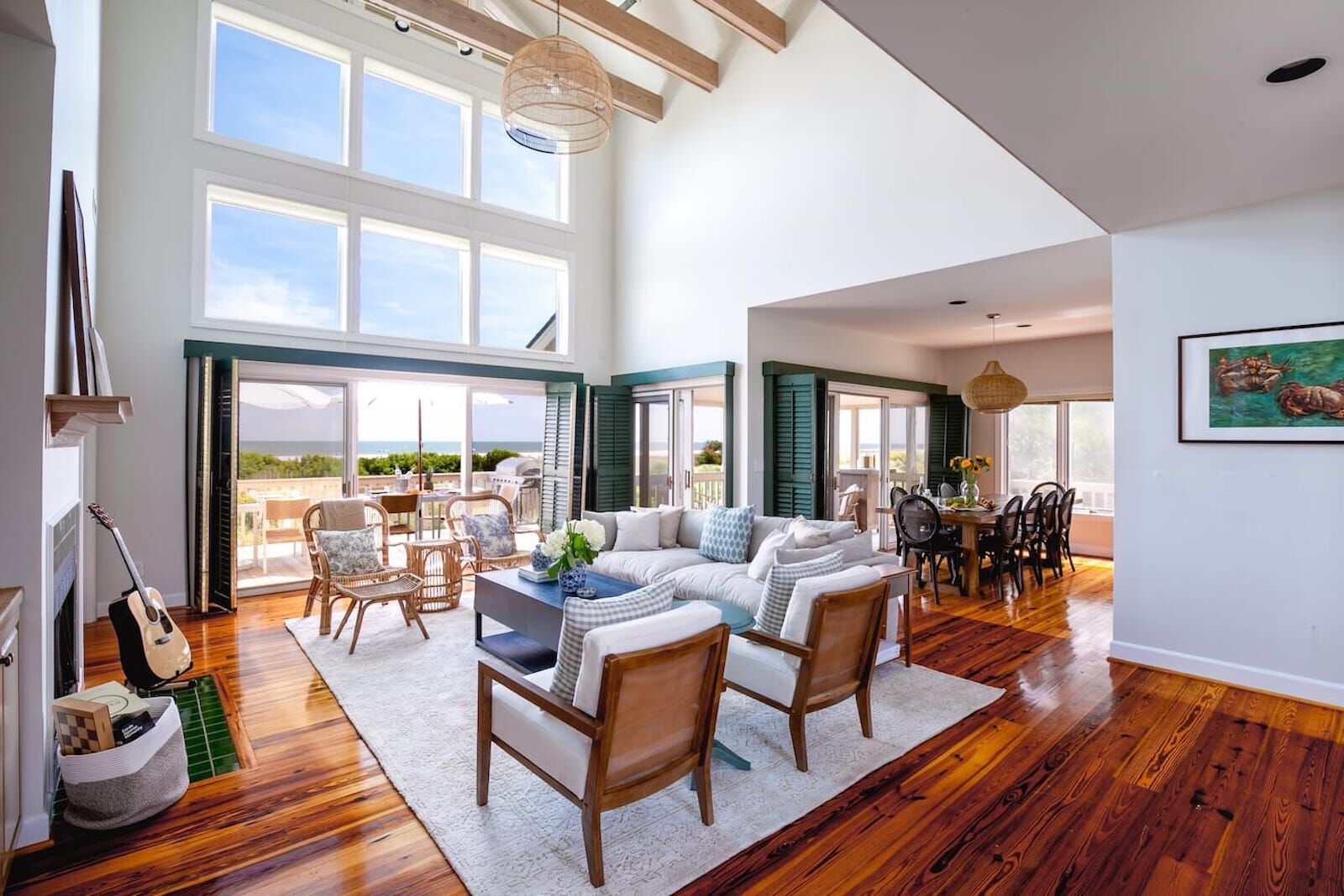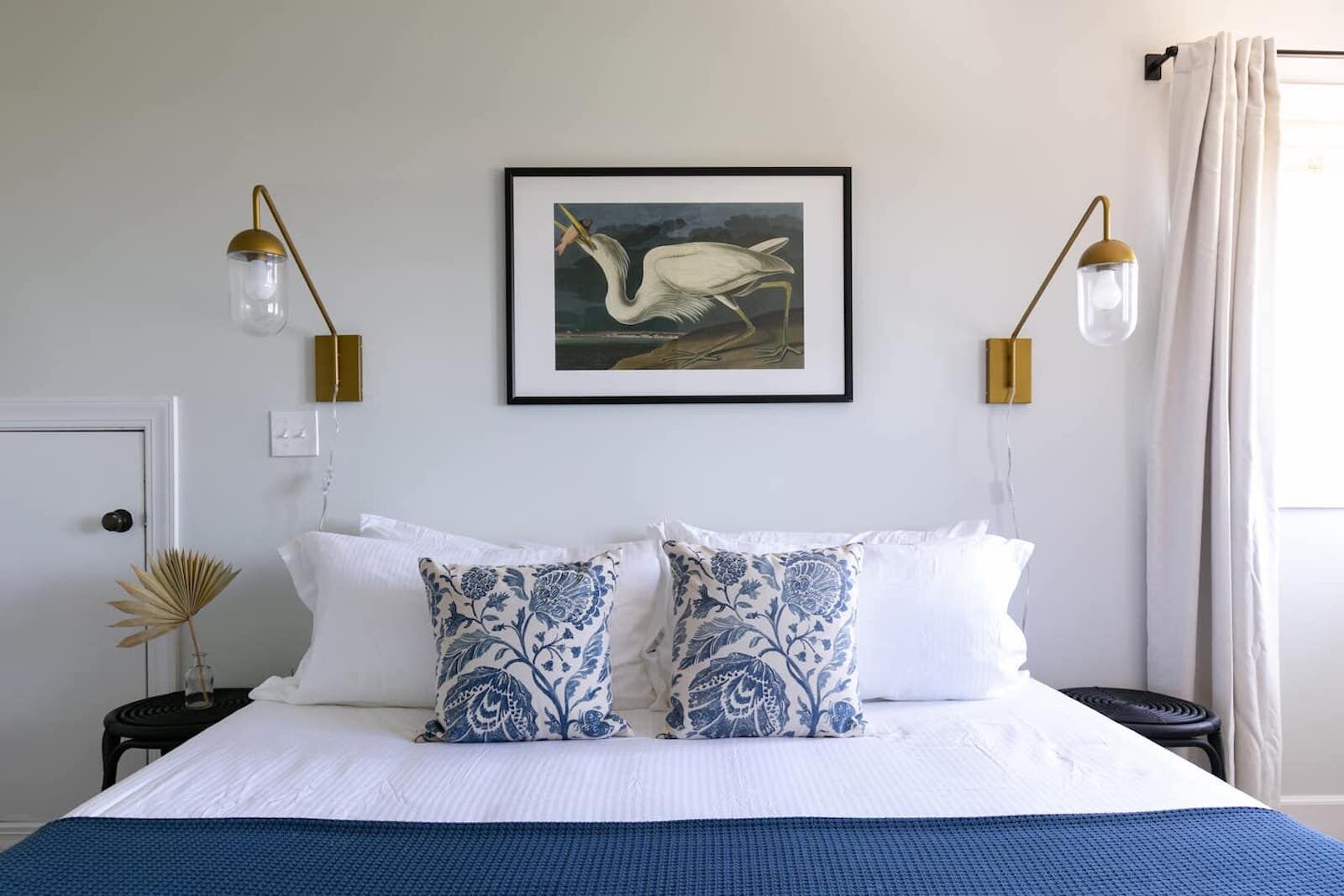 See more photos
This Isle of Palms beach house is a great option for groups who are looking for a quiet, secluded stay in a charming beach town (and have access to a car). Located directly on the beach in Isle of Palms, huge bay windows over stunning views of the sand dunes and the ocean. A short board walk leads directly to the sand. The house features a porch overlooking the beach that would be great for leisurely breakfasts, a covered sunroom, and expansive living room. With six bedrooms, it can accommodate a total of 14 guests. Spend your mornings on the beach, then head out to the bars in downtown Charleston in the evenings.
14 guests, 6 bedrooms
Price: $515 per night
Book Now
Folly Beach luxury house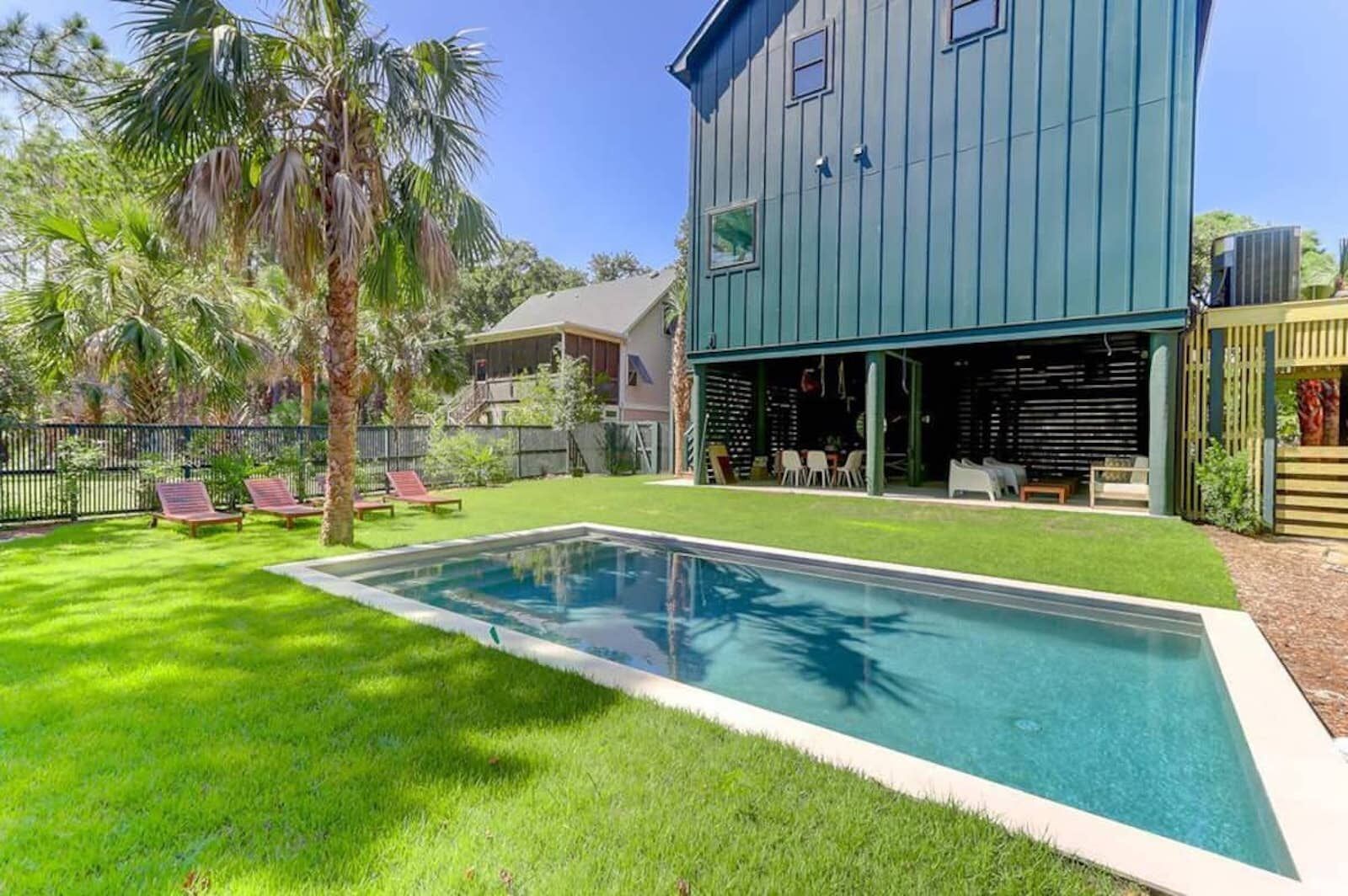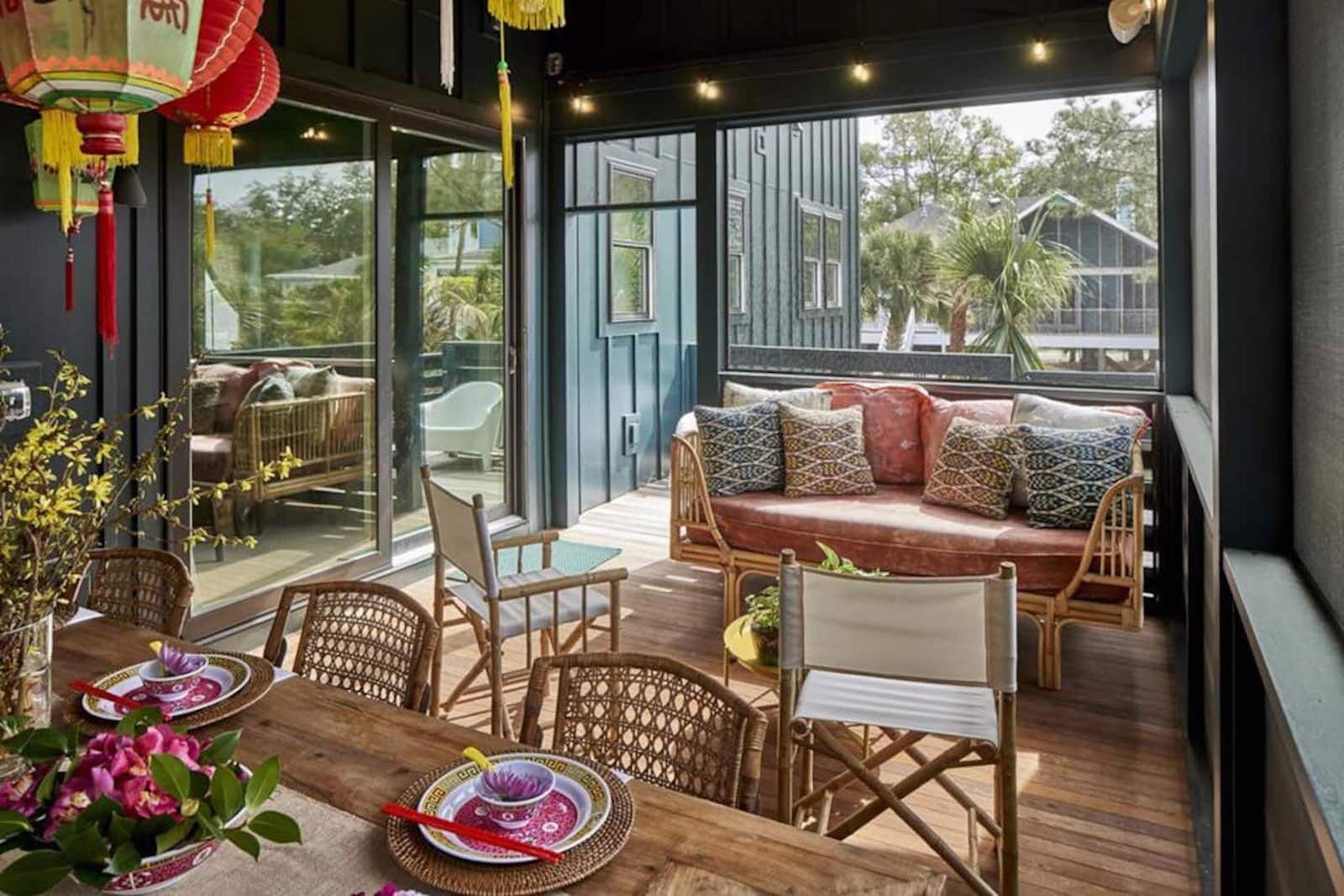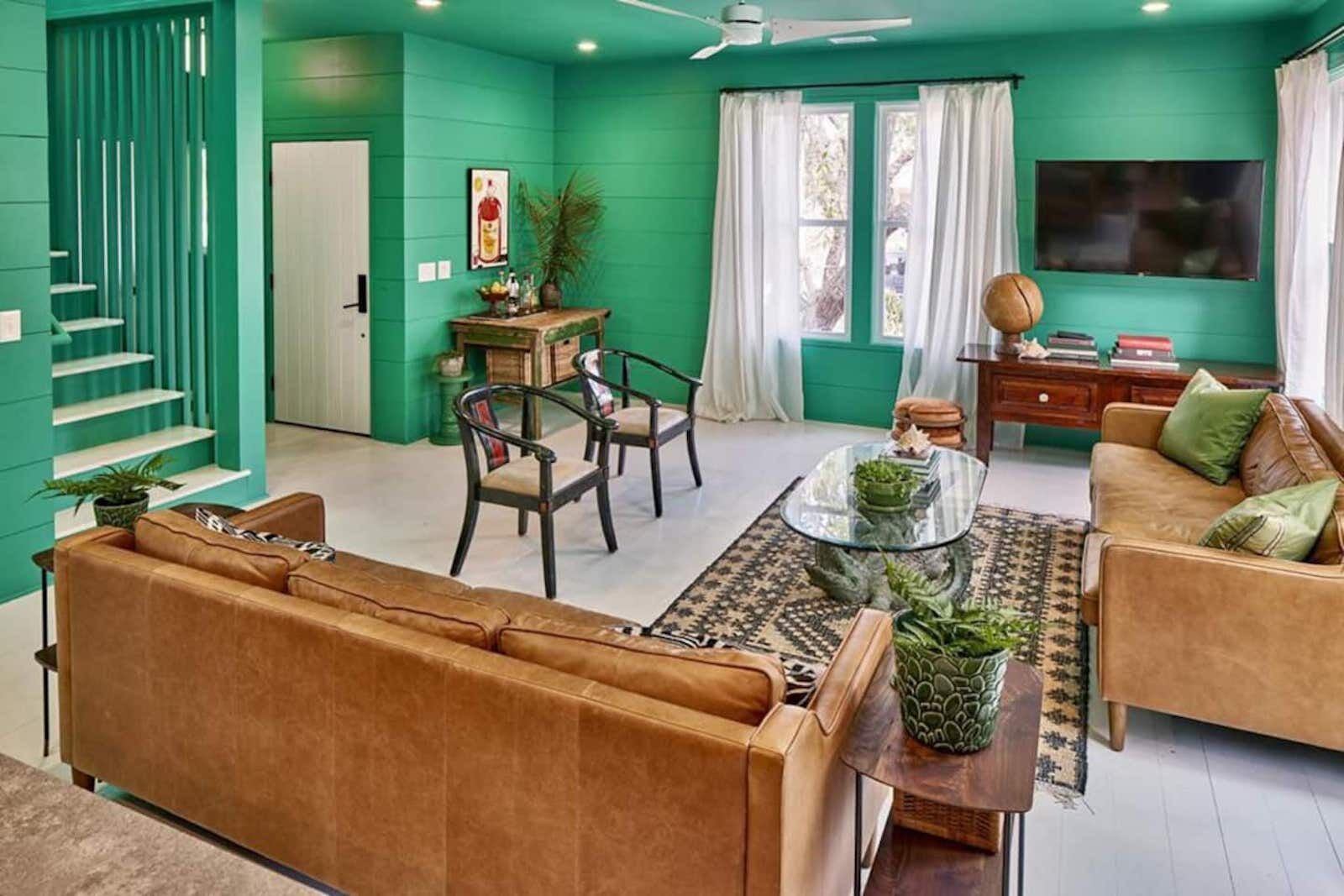 See more photos
This secluded getaway in Folly Beach is perfect for the group who wants to spend time at the home base lounging outside, preparing home cooked meals, and maybe venturing out to Charleston a night at the bars. This colorful house has an artist's sensibility: The living room is painted emerald green and the dining room is decorated with Chinese lanterns. One of the bathrooms features a clawfoot bathtub, and there's a large covered patio area with couches and another dining room table, perfect for dinner on summer nights. The outdoor pool is surrounded by a grassy area where guests can sunbathe all day.
12 guests, 5 bedrooms
Price: $333 per night
Book Now
Elegant downtown Charleston home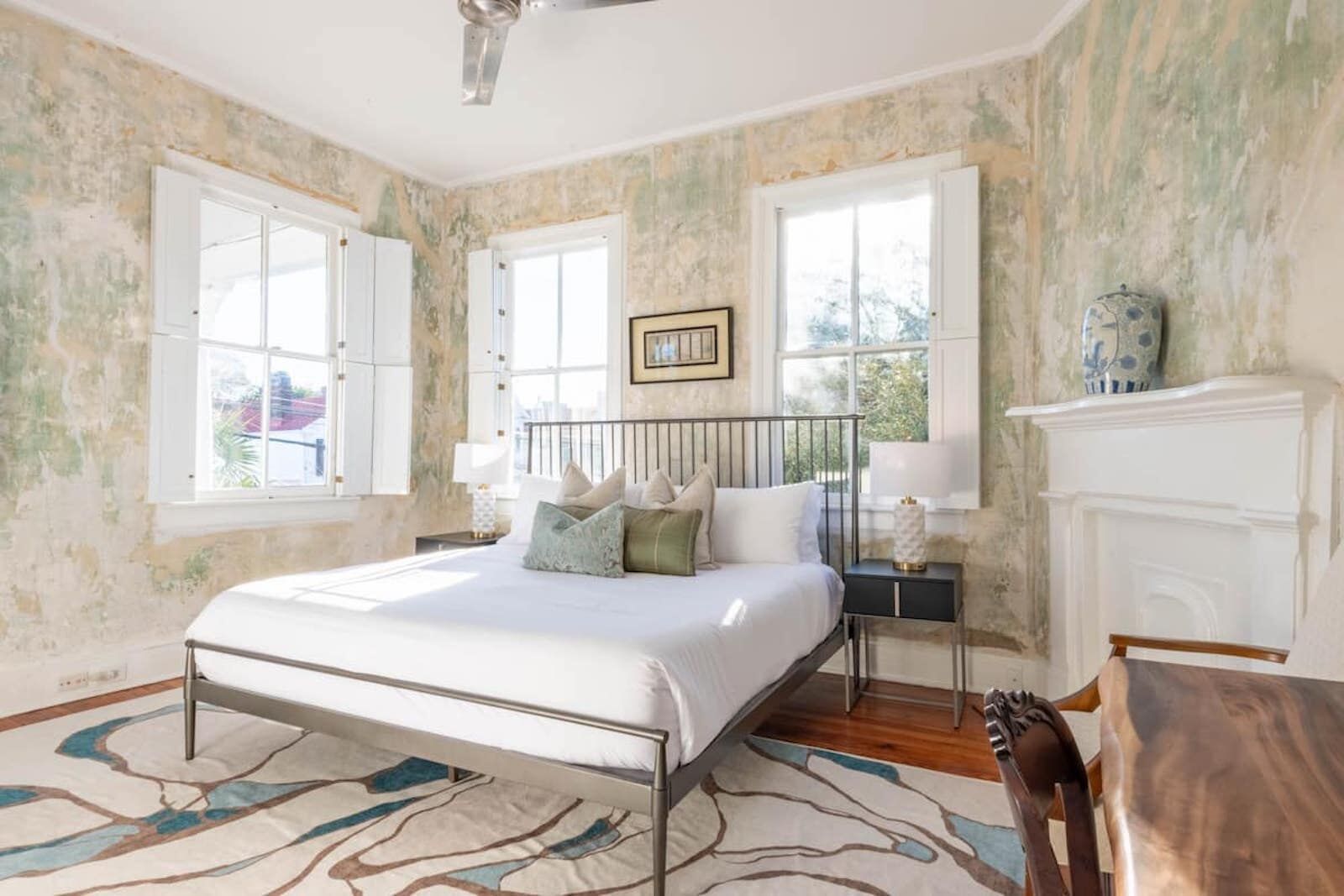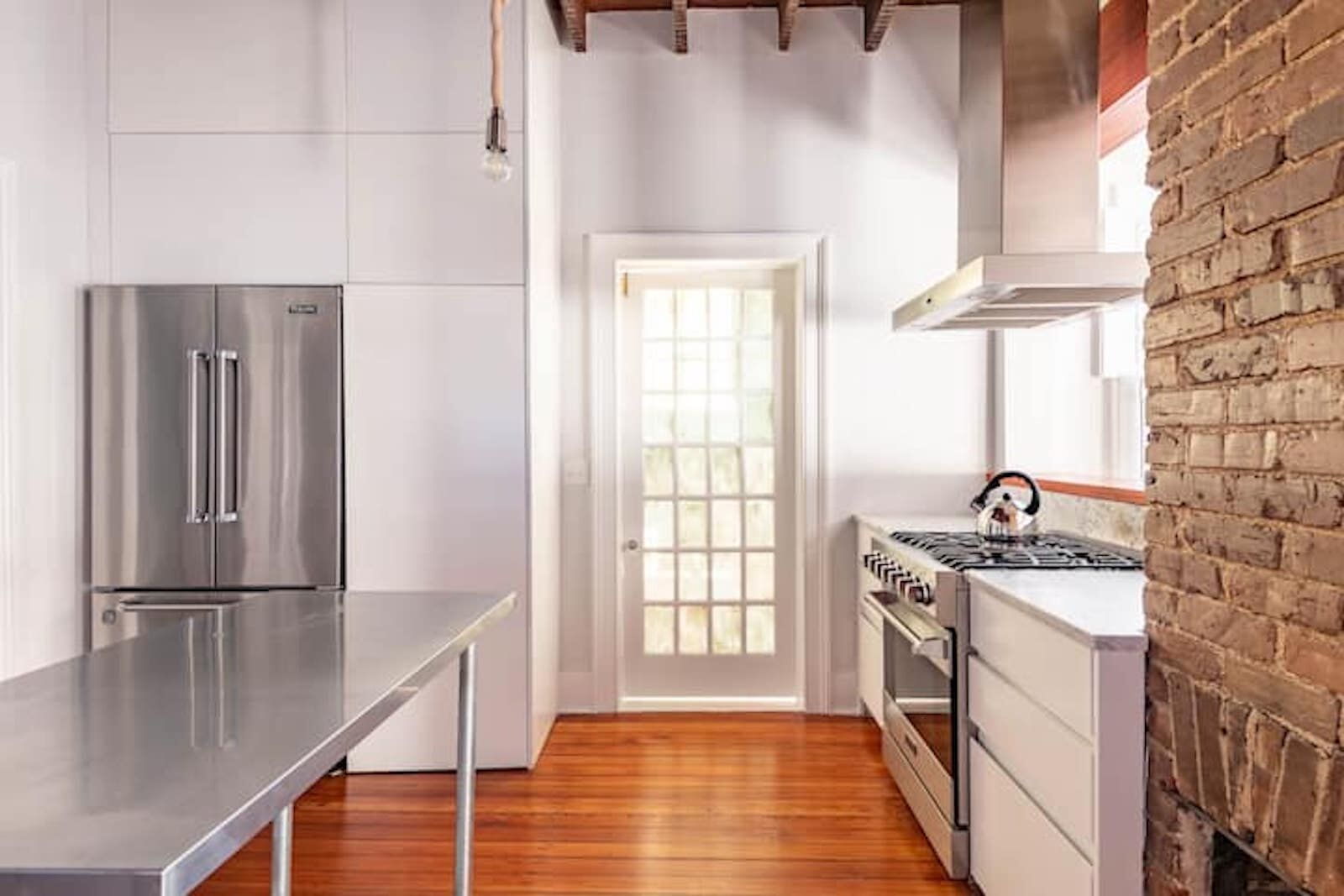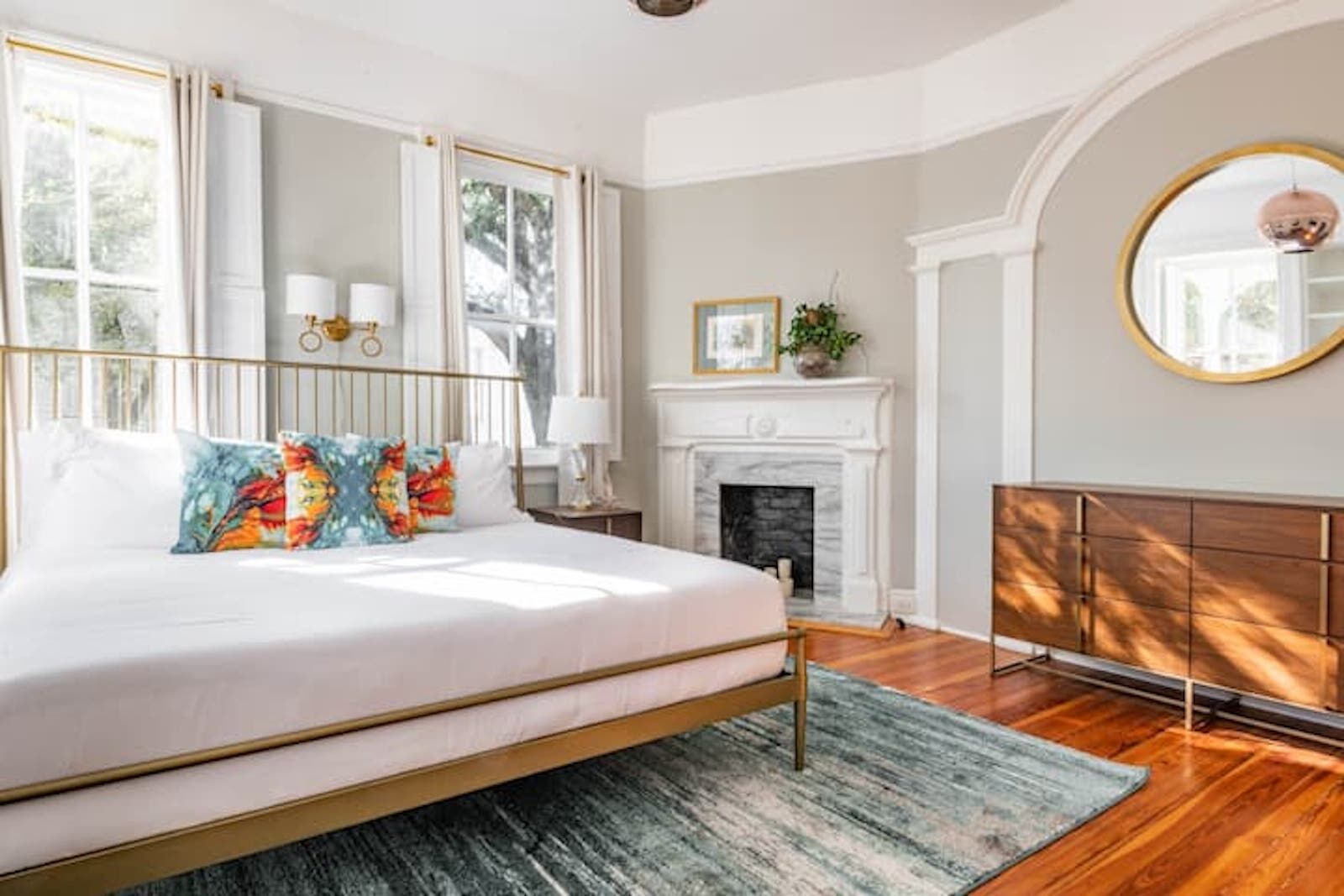 See more photos
This historic home combines exposed brick and original fireplaces with modern touches, like a full kitchen and dining room. The cozy lounge spaces include a living room and a porch with rocking chairs where guests can watch. The spacious bedrooms look comfortable and are artistically decorated with colorful wallpaper and throw pillows.
14 guests, five bedrooms
Price: $370 per night
Book Now
Home with private lawn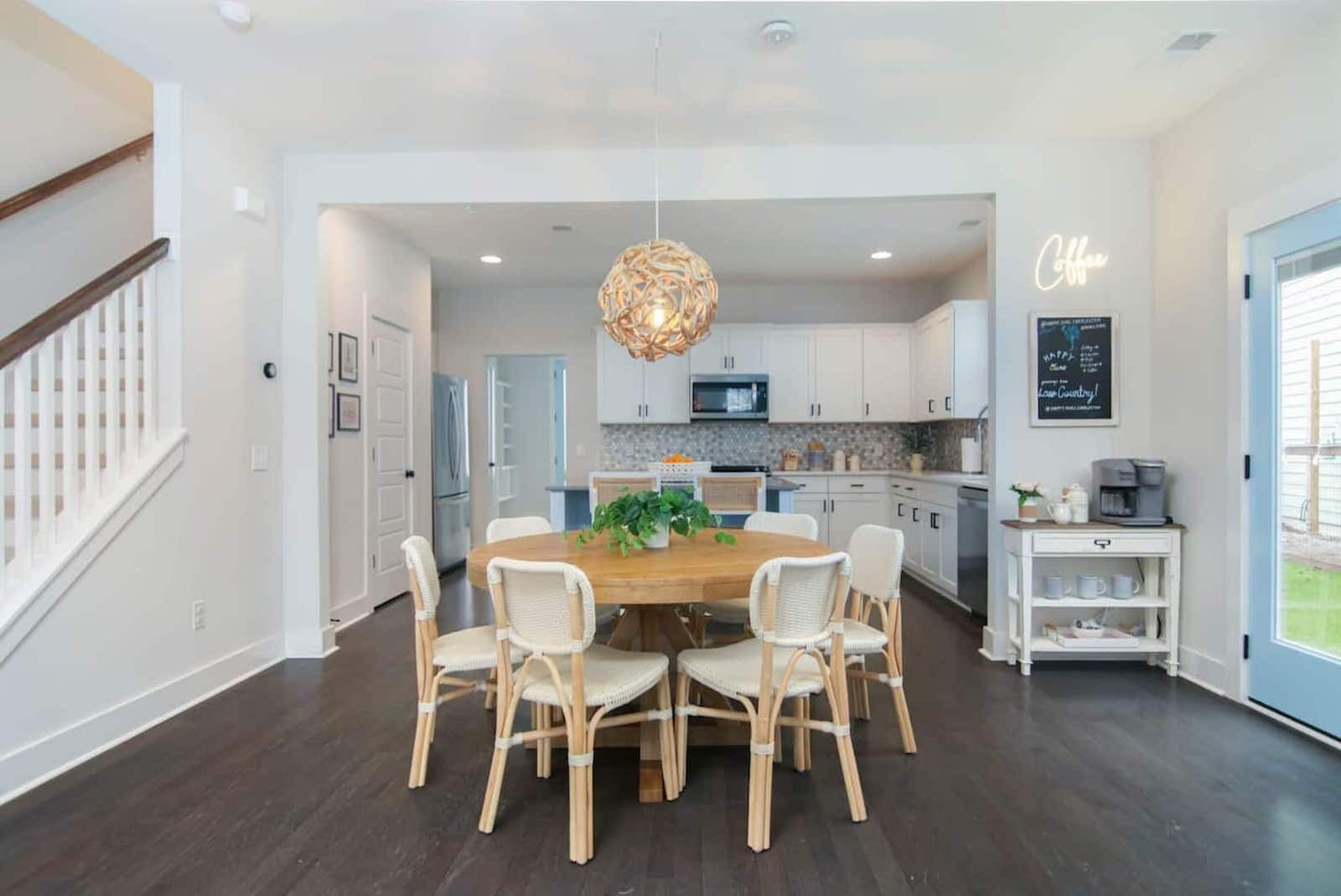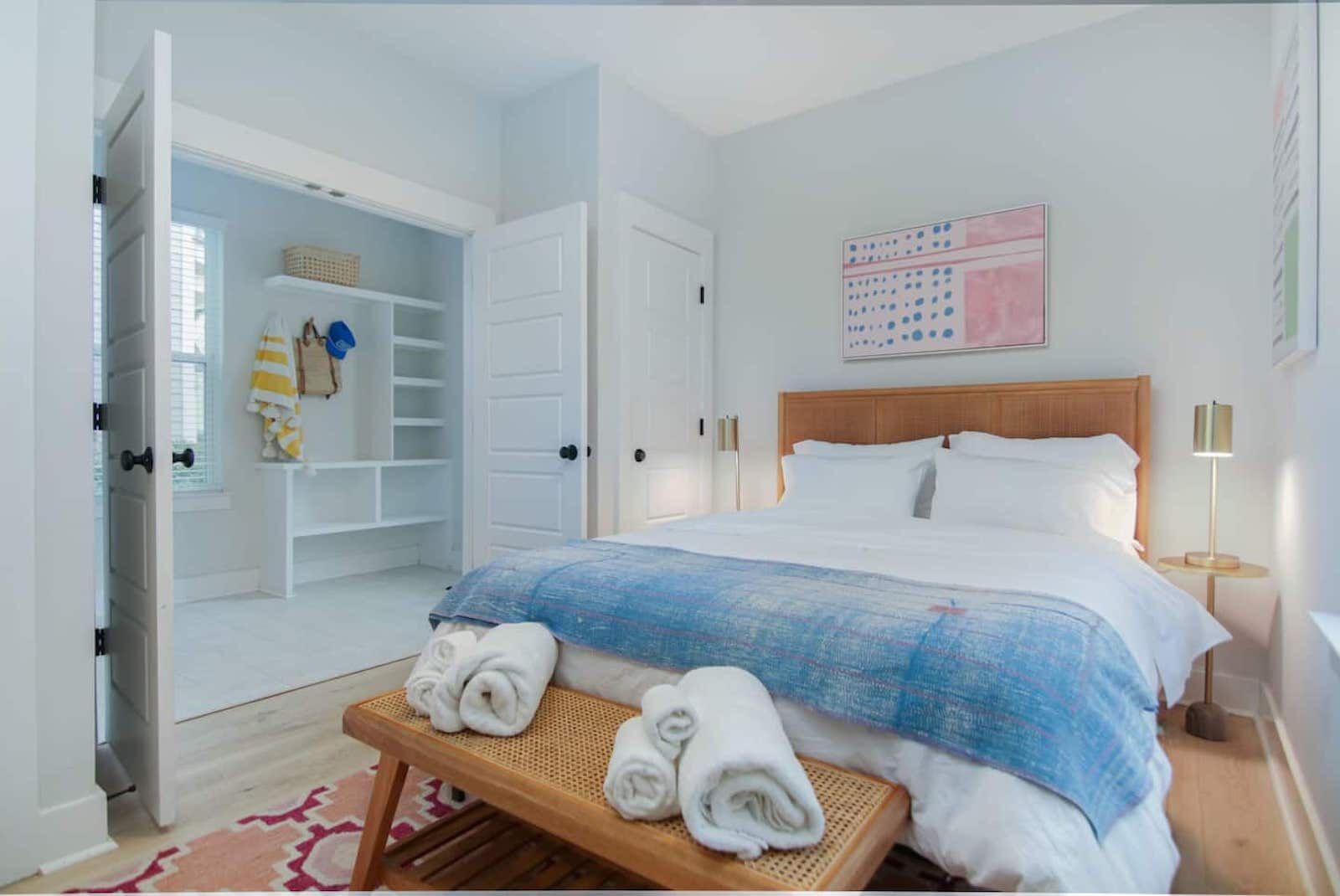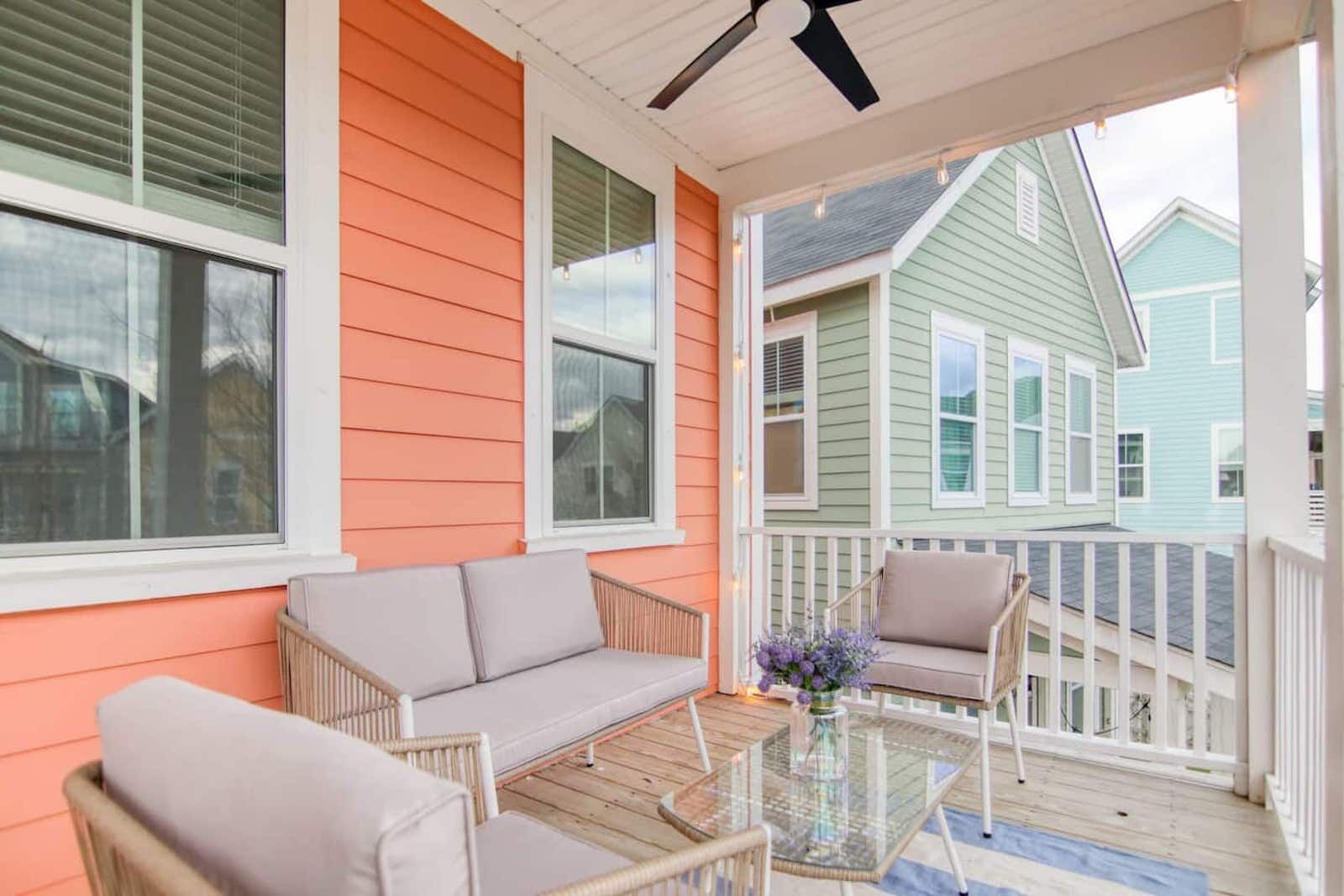 See more photos
This adorable pink house is perfect for groups who like to spend lots of time outdoors. With a big backyard that can accommodate lawn games and lounge chairs outdoors, guests can enjoy sunshine and warm weather. There's also a small porch with a swing and a table and chairs. The full kitchen features a dedicated coffee station, dining room table, and cozy living room.
10 guests, 4 bedrooms
Price: $190 per night
Book Now
What did you think of this story?