in paid partnership with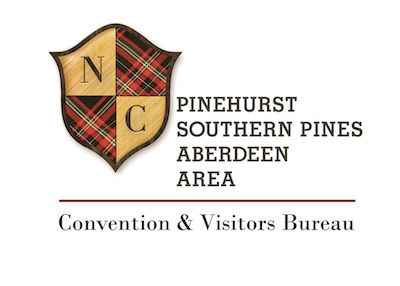 In the Sandhills region of North Carolina, near the geographic center of the state, lies a spot you might not have heard of — that is, unless you're a serious golf fan. The Pinehurst, Southern Pines, Aberdeen Area is renowned for having some of the top courses in the nation, along with a history that earns it the moniker Home of American Golf. Devotees of the sport descend on the otherwise-mellow Moore County for golf outings throughout the year, including major championships.
But look beyond the golf accolades and you'll find the communities here are destinations in their own right, with great hiking and trail-running, barbecue, craft beer, the throwback sport of croquet, and a landmark that's stood the test of time. Whether you're looking for an under-the-radar spot in North Carolina for your next trip, or you're taking advantage of one of the attractive golf-and-stay packages with a travel crew that includes non-golfers, here are 12 fun pieces of intel on the region to get you started.
1. Some of the South's best barbecue is right here.
Pik-N-Pig is the area's answer to classic Eastern NC-style, pit-cooked, pulled barbecue. Theirs is roasted "low and slow" all night over hickory coals, giving the tender meat a sweetly smoky flavor. The pit-master starts with Boston Butts (oddly, this is actually a shoulder cut), because they have the perfect ratio of meat to fat. Grab a seat between the wood-paneled walls, hunker down, and you'll feel like you're in a relative's cozy mountain cabin. (The scent of a sizzling barbecue tops that of pine any day of the week.)
If the signature dish isn't your thing, go for the ribs or smoked chicken. All the meat dishes are pretty much perfection, with a homemade vinegar-based sauce (that's just spicy enough to wake up your palate) soaked up by thirsty white bread, as it should be. And don't forget the fried pickles! This appetizer is more Cajun than local, but it's a Sandhills tradition, so don't be surprised to see your neighbor plop one on a pulled pork sandwich.
2. Area trails can take you anywhere and everywhere.
Rassie Wicker Park is named for the area's chief historian and champion of its preservation. As a young boy, Wicker taught himself to read by poring over the Sears Roebuck catalog. He would take on many jobs in town, eventually earning a degree in civil engineering and becoming the surveyor who ensured that Pinehurst was properly laid out for the enjoyment of all its residents.
The park is full of land set aside for your exploration — 103 acres of it. You'll find nine miles of trails for running, hiking, or biking (part of the larger Greenway Trail system), along with a splash pad; bocce, tennis, and shuffleboard courts; and brick-paved sidewalks.
Bonus: Check out Weymouth Woods Sandhills Nature Preserve to see what this area used to look like pre-Industrial Revolution. It's acres and acres of longleaf pine forest — some trees hundreds of years old — and the way the trees grow makes it a great spot for viewing wildlife, too. More on this one later…
3. The small-town craft beer is gold-medal recognized…
After the craft-beer boom in Asheville in the early 2000s, artisanal brewing picked up throughout the state. Railhouse Brewery in Aberdeen makes the area's most beloved beer, having taken two first-place medals in the 2013 North Carolina Brewer's Cup for their Mastiff Oatmeal Stout and KA-BAR Brown Brown Ale. Not bad for a town of under 8,000.
Southern Pines Brewing Company is worth a stop, too. Run by three former Green Berets trained in the art of brewing, they've got a little bit of everything on rotation — if you're a fan of a good hop, be sure to taste their Man of Law IPA.
Honorable mention: Southern Pines Growler Company may not brew their own stuff, but their ultra-wide selection makes up for it. Go for a flight — they've got a list of 30+ local and regional craft options you'll need help whittling down.
4. …and the wine movement's no slouch, either.
Compared to central North Carolina, Napa Valley is a toddler. The family that's owned the land on which Cypress Bend Vineyards sits has had 200 years to get to know their soil — and that's resulted in their award-winning rosé. Stop in for some much-needed patio time, or take your glass and wander among the vines.
And if you happen to have a fair amount of self-restraint, check out The Wine Cellar & Tasting Room in Southern Pines. They've got plenty of wines to taste, hundreds to buy, and self-dispensers for sample pours of those "you'll-never-buy-that-pricey-bottle" wines at sample prices.
5. Got mallet? You can play croquet!
A sport once all the rage among the Victorian elite, croquet fell out of popular favor in the US over a century ago. But it lives on at Pinehurst Resort, where two manicured courts that evoke the Downton Abbey life are reserved for both serious and casual play. You can even take a lesson! So mallet up, put on your croquet whites (okay, that's not really necessary — khakis and a polo will suffice), and get ready for a crash course in the rules of this old-timey lawn game.
Bonus: If you can't get to Pinehurst Resort, nearby Longleaf Family and Golf Club has croquet, too.
6. Aberdeen has its own Union Station…
Built around 1900, Abderdeen's Union Station is on the corner of Main Street and Sycamore, a beacon of Victorian architecture among the otherwise clapboard and brick houses more common to the contemporary South. The station is now a railway museum, listed on the National Register of Historic Places, and preserves artifacts from the Aberdeen and Rockfish Railroad.
Crawl inside the renovated caboose that still sits on the long-defunct tracks for the feel of what travel was like more than a hundred years ago. Then check out the inspection car, one of only two in existence in the entire country.
7. …and Cameron is known for its fruit.
It's called "dewberry," and it tastes kind of like a blackberry. Check out the Dewberry Deli in Cameron (the "dewberry capital of the world") to get your hands on a slice of dewberry cobbler!
8. "Traditional" music lives on.
It'd be tempting to think a destination built around golf would cater to the modern — but not when it comes to the live music scene. In Southern Pines, twists on blues and bluegrass are the most common finds — the Jefferson Inn has live music four nights a week, the Rooster's Wife (in Aberdeen) keeps the tunes flowing on Sundays, and First Fridays always involve a list of Delta Blues or Appalachian-inspired artists.
Get here after the high season, and the scene won't be over, either. Southern Pine's annual Blues Crawl in November is a pub-crawl-style festival, where musicians fill up practically every local venue and pub — all you have to do is tune in between bites and samples of local fare.
9. The pine trees here are older than yours. And everyone else's.
You could wander the 900 acres of Weymouth Woods Sandhills Nature Preserve and try to take a guess as to which is the oldest, or you could have a park ranger lead the way. They'll point you to the longest-living longleaf pine tree there is — and somehow it doesn't yet have a name.
That tree is 463 years old, meaning it was around pre-Pilgrims, pre-Shakespeare…practically pre-golf! It's a remnant of the kind of forest that used to blanket the Southeastern US — now only small patches of it, like here in Weymouth Woods, remain to tell the tale.
10. Camelot Playground was designed by kids.
If you're in the area with the kids, you'll want to take them to one of the most elaborate outdoor play spaces in North Carolina: Camelot Playground (part of Cannon Park). It was built to be a one-of-a-kind destination, with input from both professional designers and local kids, and the result is magnificent. There are sturdy wooden bridges that connect to castles and forts, swings (of course), climbing ramps, and even a treehouse to hide out in — all under the shade of the tall, aromatic pine trees so ubiquitous in the area.
Parents: For safety, there's only one way to enter and exit the playground — you won't lose sight for too long.
11. The Village Chapel makes a good compass.
You can't get lost in Pinehurst if you keep the 126-foot spire of the Village Chapel in view. Smack in the center of town, the multi-denominational chapel anchors the community with its daily chimes (announcing the time between a reasonable 8am and 10pm) and a steeple that faces in all directions.
A variety of seasonal hymns play on an organ console through the speakers periodically throughout the day. When the late Payne Stewart won the U.S. Open in 1999, "Amazing Grace" rang out, reaching far across the golf courses.
12. Everyone goes to band camp, but only the luckiest go to golf camp.
If your kids are old enough for sleepaway camp, consider sending them on a deep dive into golf at Pinehurst Golf Academy. While not as casual as your run-of-the-mill sports camps (this is one of the premier golf destinations in the country, after all), it's a fun and engaging program that helps young putters develop basic skills and strategy, alongside concentration — something no parent will regret. If overnight camps aren't in the cards, the academy also offers one-off day lessons.
Bonus: If you're staying at the resort, your family can all meet up for dinner at the Carolina Dining Room and debrief over surf and turf. Live it up!