in paid partnership with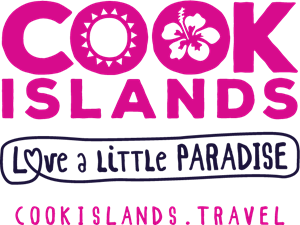 Once you're traveling again, there aren't many better destinations than the Cook Islands. Read on to test your knowledge of this South Pacific paradise.
There are few tourism destinations out there that have avoided the scourge of high-rise condos, Quarter Pounders, and traffic lights. And if that destination happens to be our planet at its most beautiful? Forget about it.
That's why the Cook Islands is so unbelievable. Imagine a group of islands so Eden-esque, so pristine, so undeveloped it feels like stepping back in time. Few tourists, zero chains, and something incredible around every corner — that's the Cooks. Will you get there before the secret's out?
1. It's easier to reach than you'd think…
There's a weekly nonstop flight direct from Los Angeles (LAX) to Rarotonga (RAR) on Air New Zealand. Once it's safe to travel again, set that price alert and start daydreaming about how you'll fall asleep in the air and wake up, bright and early, in undeniable paradise. Tip: Ask about upgrading your seat to a lie-flat bed to get a really good rest before landing.
2. …and with one road, navigation is a breeze.
Rarotonga, the largest of the islands, is a dream for right-side drivers nervous about driving on the left. There's just one main drag that circles the island, and it only takes about 45 minutes to do the 20-mile lap. What's more, there are zero stoplights to slow you down!
3. You won't run into tour groups.
Consider the Cooks like Hawaii was 70 years ago. Only 8,500 US travelers visit per year. If you're looking for a little detox from American life, this is a damn good place to do it. Note: Cook Islands Māori is the local language, but most everyone speaks English.
4. The islands are just north of Canada.
Kidding! The Cook Islands is in the South Pacific, located halfway between New Zealand and Hawaii. The 15 islands can be divided into two groups: the Southern Cook Islands and the Northern Cook Islands. All in all, they're spread out over 850,000 square miles — more than three times the size of Texas!
5. Don't bother looking for your favorite chain hotel…
Nope, you won't be racking up any hotel points here. Instead, you'll wind up somewhere totally memorable and authentic. Many of the resorts are family-owned and operated, so the staff take personal pride in providing the best experience for their guests, no matter the price point. Trivia tidbit: There are zero buildings taller than a coconut tree on the islands. That means no high-rises blocking your view, wherever you decide to stay.
6. …or your favorite fast-food chain.
Skip the Cook Islands if you're the type who expects a Big Mac to be within striking distance when the lazy munchies hit — there are no international franchises to be found here. What's the dish on what you will find? Ika mata (marinated raw fish), poke (a banana pudding-like dessert or side dish), rukau (cooked taro leaves), maniota (cassava), goat curry, and fresh sashimi are all iconic island specialties.
7. Is this the best island in the Pacific Rim? Yeah.
Global Traveler has named the Cook Islands the "Best Pacific Rim Island" four years in a row. The decision was readers' choice, based on the fact that life on the Cooks is stress-free, not overly commercialized, and not too expensive — but still luxurious.
8. It's not as pricey as you might think.
The most widely accepted form of currency in the Cook Islands is the New Zealand Dollar. At the time of writing, you can buy $1 NZD for just 63 cents US. Tipping also isn't customary — don't worry about factoring that into your budget unless you want to.
9. The locals keep it real…
The people of the Cook Islands haven't changed their Polynesian culture and way of life to entertain tourists. A great example of this is the Te Vara Nui Over-Water Night Show. The island's best dancers tell a traditional story set to live music and drums — and rather than translating the show into English, the chants and dialogue are in Cook Islands Māori with translated narration in between.
10. …and they know how to party.
Cook Islanders tend to be a lively group — you'll find that nightlife on Rarotonga will be poppin', even with a population of under 18,000! There are three major clubs, and under normal operations the Raro Pub Crawl party bus fills up with party-goers every Monday, Wednesday, Friday, and Saturday. Pick-ups are from the main road anywhere on the island — but most importantly, they offer a safe ride home at the end of the night.
11. The sustainability movement is going strong.
The Cook Islands is making some serious strides towards sustainability. Ten of the 12 inhabited islands are fossil-fuel free, and solar power is the norm. Environmentally conscious travelers should check out Ikurangi Eco Retreat — each of their Luxury Safari Tents is equipped with a waterless composting toilet, and guests are encouraged to make use of the (free!) bicycles on the property.
12. The weather is nearly always perfect.
Most tropical islands reach peak humidity during certain seasons, but the Cook Islands manages to consistently keep its cool. Average temperatures range between 74°F and 84°F, with the warmest weather from November to March. Whenever you're able to visit, it's all good.
13. This is where you'll find the world's most beautiful lagoon.
What do the editor of Sports Illustrated and the founder of Lonely Planet have in common? Both of them consider the Cook Islands one of the most beautiful places in the world. And the prettiest of the prettiest islands? Aitutaki.
The chain of islets dotting Aitutaki's lagoon are pristine and uninhabited — aside from that one season of Survivor shot back in 2006. Take a lagoon cruise with Bishop's Cruises, and make sure to bring your passport so you don't miss out on the exclusive One Foot Island stamp. It'll be one of the coolest bragging rights from your trip — apart from being here in the first place.
14. Whales!
If you find yourself lucky enough to visit the Cooks between June and October, you're in for a treat. This is prime whale-watching season, as humpbacks migrate across the South Pacific from Australia and New Zealand. If you're lucky, you'll be able to spot them from shore — get yourself to the western side of Rarotonga for the best odds.
15. Here, entire days happen on the water.
With access to far more water than land, getting time on the H20 is a given. Locally owned and operated tour companies offer everything from lagoon cruises and SCUBA diving excursions to snorkeling, kitesurfing, and fishing. If you can dream it, you can do it. (And if you prefer to stay dry, check out sunset paddleboarding. Just don't fall over.)
16. You'll set foot on 18 million years of history.
Mangaia, traditionally known as Au'au, is the oldest island in the South Pacific, with an estimated 18 million years under its belt. A volcanic plateau surrounded by fossilized coral cliffs with "staircases" you can climb, Mangaia is rich in culture, legends, and folklore and can be accessed by a quick Air Rarotonga flight.
17. Good things come to those who wait.
This is an unprecedented time, and it's difficult to read about a place as amazing as the Cooks and not be able to immediately book a ticket. But paradise will be waiting, ready to be explored whenever the time for travel returns. How excited will you be when you're finally able to make the trip?