in paid partnership with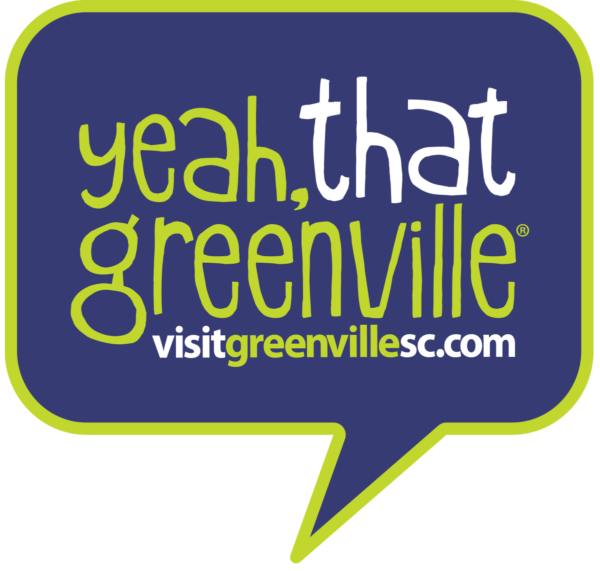 I'm pretty sure Greenville, South Carolina, has just as many streets as any other city its size, but don't let that fool you — you can (and should) plan a visit without ever getting behind the wheel of a car.
Appearing on best-of lists in the likes of USA Today and Lonely Planet — even the New York Times' lauded "52 Places to Go" — Greenville speaks the language of the leisurely stroll. Wide pedestrian walkways, trails in every direction, and one of America's prettiest, most walkable downtowns make this an on-foot no-brainer.
So grab your most comfortable shoes, charge that Fitbit, and get ready to walk off a biscuit or two — here's what Greenville can cram into 3,185 steps*.
680 steps: Liberty Bridge to Peace Center
Get up bright and early, and make your way to the Liberty Bridge at Falls Park on the Reedy. I'm starting you off with a wake-up call — this is one of the prettiest city centers in the entire country. Walk to the middle of the suspension bridge's gentle 345-foot curve and check out the rocky waterfall underneath you. Consider it a warm, misty welcome to Greenville.
If you don't absolutely need coffee just yet, mill around the walking paths beneath the bridge. Dip a toe in the water. Your brain will try to get you to spend all day here, but know you'll be back to wander the park's 32 acres in just 3,000 steps or so. In the meantime, head north toward the Peace Center. There won't be a show going on this early in the morning, but spend a minute checking out their Broadway-level lineup, chill by the fountains and statues in Graham Plaza, and say hi to Aerabella, the "statue of lights" dancing above the front door.
Note: The Liberty Bridge is literally steps from the center of downtown, so walking from your hotel should definitely be an option.
875 steps: Peace Center to Methodical Coffee
You might be hurting for caffeine by now, so continue north up Main Street and then hang a left through ONE City Plaza to get to Methodical Coffee. This place will defy your definition of any 68,000-person town — the coffee is fancy (ethically sourced, roasted onsite, Italian words proliferate), and the people love it. The constant stream of digital nomads matches the hip, vintage vibes of the space, and the coffee is smooth.
If you're not a caffeine junkie, you can swipe 45 steps off your day with a stop at nearby Southern Pressed Juicery. Every drip is cold-pressed and 1,000% good for you. Try "Catching Lightnin' Bugs" or "Lord Have Mercy," and it'll feel like your body is booting back up.
340 steps: Methodical Coffee to Maple Street Biscuit Company
There's a reason I didn't suggest a scone at Methodical or an energy bowl at Southern Pressed — and that reason is biscuits. Just 340 steps away is Maple Street Biscuit Company, and lest the Michelin vibes of Greenville deceive you, remember: We're in the South. You come here to be comforted.
And comforted you shall be. The Squawking Goat, I'm told, is the standard biscuit pitch to first-timers — a warm, flaky biscuit, all-natural fried chicken breast, fried goat cheese, and house-made pepper jelly. I don't recall subscribing to their emails when I stopped in, as I live 1,000 miles away, but it was probably done in some mid-bite trance.
410 steps: Maple Street Biscuit Company to Christ Church Episcopal
Say "thank you" to your empty plate and start heading east. You're about to get out of the hip downtown and into Greenville's Pettigru Historic District. Christ Church Episcopal — on the corner of North and Church Streets — is the oldest in Greenville, consecrated in 1854. It marks the days when the city was home to the Southern Baptist Theological Seminary, and the streets behind the Gothic Revival building are all named after the seminary's original professors.
James Petigru Boyce, the seminary's first president, bought 128 acres behind the church, calling it Boyce Lawn. After he died (and after the lawn's roses were replaced with turnips during the Civil War), it would be partitioned off into Greenville's first suburb. You're about to walk through it. Note "Attorney Row," and start planning your journey into law school just so you can set up shop in one of these historic buildings.
320 steps: Christ Church Episcopal to Pettigru Place B&B
If you're not the type who wants a rooftop bar as part of your hotel experience — and you'd rather sleep in a time machine — consider Pettigru Place Bed & Breakfast, right in the heart of the historic district. You'll see it on your right, just past Christ Church. Even if you do want a rooftop bar, remember: We're still only 10 or so minutes by foot from downtown.
The B&B has everything you need for a Jane Austen-type experience: common rooms, white linen tablecloths, English gardens, a cheese plate and a glass of wine while you sit in one of the Adirondack chairs, counting the flowers — everything.
200 steps: Pettigru Place B&B to the Museum and Library of Confederate History
Turn right onto Boyce Avenue, and on your right will be the cozy-looking Museum and Library of Confederate History (well, minus the cannon out front). Head to the back door, and you'll probably be greeted by V. Michael Couch, Sr. This museum would be a whirlwind of history that's largely indecipherable to most of us if it weren't for him. He knows every trinket, its backstory, what it's worth, and why it's important. Ask him any question. Try to trick him. It can't be done.
Even if you're not the type to sit down with a cigar to Ken Burns documentaries, make the (free, but donations appreciated) stop for the peek into daily life in the 1860s South. Something is bound to fascinate you between "courting candles" and toilets with faces and $22,000 revolvers.
360 steps: The Museum and Library of Confederate History to Cleveland Park/Greenville Zoo
Head down Boyce, take a left on Washington, and you'll soon run into the massive Cleveland Park. This is, essentially, Greenville's Central Park, and its 122 acres run right along the Reedy River. It includes the Rock Quarry Garden, the Fernwood Nature Trail, the Vietnam Veterans Memorial, and — the pièce de résistance — the Greenville Zoo, where over 200 animals spread out on 14+ acres in the city's near-constant sun.
Some 3.3 miles of multipurpose trails wind throughout the park, and you can follow them west all the way back to Falls Park on the Reedy — and downtown — where you started. This is where you get back to that toe-dip in the water or that picnic on the rocks, as promised. Hot tip: People line around the block for ice cream at Spill the Beans, just up the stairs, and Marble Slab Creamery, just down the street. Also "just up the stairs" are 110+ restaurants, even more acres of parks, and half a dozen museums, in case your feet are ready for more.
* Steps based on a leisurely 5'10" stride