in paid partnership with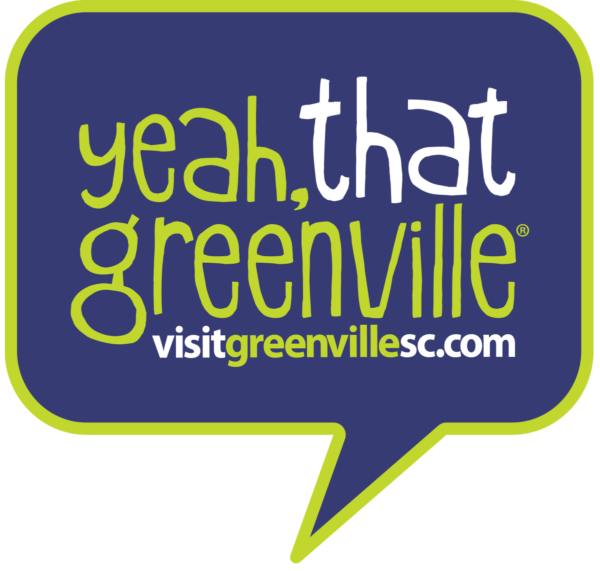 There's a whisper in the travel world that everyone who lives in Greenville, South Carolina, loves it. A welcome challenge, I thought. Without disclosing who I was (a writer) or what I was up to (writing), I went around asking locals if they loved their city. And if they did, why did they love it? What was the community pride built on? What's so great about this Greenville?
Apart from one crotchety New Jerseyan who responded with, "Eh, it gets me what I need," every single person — most were transplants — gave me the answer I was naively hoping for: a resounding, effusive yes. And most, probably like you and definitely like me, stumbled upon it accidentally, not knowing this Greenville from the next.
Here are some of their replies:
"I don't know anyone who doesn't like it. It's a close-knit community — if you run into someone you don't know, odds are you have a mutual friend."

"It's 45 minutes from the mountains, a few hours from the beach. What's not to like?"

"I knew the first time I visited I would move here. It resonates. You feel called."

"People are thoughtful and protective of the city. The concern here is always quality of life."
As someone with conflicting opinions of their hometown (and a skeptic who likes a closer race), I wanted to widen my sample until I got some nuance, but it never came. And as I experienced the town for myself, I saw what everyone was talking about. Here's what the magic "Greenville formula" seems to boil down to — other towns, take note — and it's just seven things.
1. Greenville found the "Goldilocks Zone."
That is to say, everything is "just right."
It's halfway between Atlanta and Charlotte, 45 minutes from the Blue Ridge Mountain Range of the Appalachians, and a few hours from the Atlantic Ocean.
It's big enough to be the region's hub, but small enough that the average millennial can still afford to live well.
You can get outdoors all year long, but it still has distinct seasons.
It's a city in terms of its international cuisines, museums, and art venues, but a town in terms of its sense of community.
And the waterfall in the center of downtown doesn't hurt.
2. The food scene is dizzying.
The food here reminded me of a recent trip to Montreal. Fewer bagel shops and fewer French speakers, sure, but inexplicable diversity nonetheless. In the four-block radius around my hotel alone, I had to choose between Belgian, Afghan, Dutch, Caribbean, Japanese, Southern, Thai, Mexican, Mediterranean — you get the point.
I come from a town the exact same size as Greenville, and it has trouble sustaining more than one Indian restaurant. 68,000-person Greenville, on the other hand, will sing you to sleep with its long, long, long list of options — there are more than 110 restaurants just in downtown!
3. Downtown is "Everybody's Neighborhood."
You'll want to be in Greenville's downtown for its offerings — 110+ restaurants and all — but you'll also want to be in downtown for what it is. Short, old-school brick buildings line wide sidewalks, pedestrians call the shots, greenery and public art is everywhere, and the string lights? A local told me, "I think they put them up one holiday, got lazy, and then realized it worked."
You can follow Main Street — still the main drag — all the way to Falls Park on the Reedy, the town's centerpiece. A simple staircase separates downtown from this huge network of walking trails, the Liberty Bridge, and Greenville's very own waterfall. (I would highly suggest grabbing a cookie from the Chocolate Moose and sitting on a lightly misted rock.) The Peace Center is right here, and the 22-mile Prisma Health Swamp Rabbit Trail has an access point in downtown, too.
Note: It hasn't always been like this. When revitalization efforts began 30+ years ago, the goal was to make downtown "Everybody's Neighborhood." FYI, it worked.
4. This is home base for South Carolina artists.
I managed to catch a show at the Peace Center during my stay, but my most vivid memory of the night happened beforehand: I had a few minutes to stare at the posters announcing this year's Broadway lineup, and confusion immediately set in. How does a South Carolina town nab Chicago-level names?
I eventually had it explained to me that it was a combination of two things: 1) This is the spot to visit if you're anywhere between Atlanta and Charlotte; and 2) Greenville really, really, really, really appreciates art.
And if you visit Greenville, that second point won't need further explanation. The Peace Center rests on a six-acre complex with multiple theaters, a pavilion, and a restaurant; 95+ public art pieces dot the streets; the Village of West Greenville is one giant arts district; and arts markets pop up on the regular. It seems like a town built by — and for — artists.
5. The emphasis is always on the outdoors.
"I moved here from Michigan because I finally found a spot as outdoorsy as me," recounted the small, older blonde with biceps to die for. "I get bored easily. I need to live somewhere that can keep up!"
She went on to explain that within an hour's drive, you can be kayaking on one of half a dozen lakes, biking 20+ miles to Travelers Rest (a cute nearby town), hiking in the Appalachian Mountains, climbing waterfalls, navigating three state parks, zooming down the highest canopy-based zipline in the country, and probably another 15 seconds of suggestions I can't recall.
Not to mention, pedestrian bridges, green spaces, waterways, and trails mean Greenville proper totally deserves its name, and weekly markets and downtown events give anyone an excuse to be out and about in the city. (She's probably too busy scaling tall buildings for those.)
6. It's designed to be enjoyed.
Greenville's City Council — and whatever urban planning guru they hired — should demand a pay raise. The little things never ceased to amaze me: Fancy outdoor public bathrooms and water bottle stations dot pedestrian thruways. Underneath an overpass, you might find bistro tables. Walking trails are as numerous as roads. Public art is always just around the corner. Greenville embodies the idea that high quality of life comes in a hundred tiny packages.
The big things amazed me, too: The centerpiece waterfall — in case I haven't been clear enough, there's a gigantic, gorgeous waterfall cascading right through the middle of downtown — was hidden by a highway overpass up until the early 2000s. This city was willing to betray convenience, galvanize the community, and gather the means to ultimately take a huge risk in uncovering it. And now they're reaping off-the-charts rewards.
7. It's still got secrecy.
Greenville's position off the radar is part of its appeal. Think about it: Paris Syndrome is when a place is so touted it's destroyed by unrealistic expectations. But Greenville Syndrome? Maybe that's what you experience when you stumble on a spot on the map that somehow checks all your boxes. Most transplants had to have come from either smaller towns with fewer opportunities or bigger cities that smoked them out with prices and commutes. I found myself thinking regularly, "Of course everyone here loves it! They didn't think Greenville existed and they're just that relieved!"
So, yeah, of course Greenville locals love their secret little waterfall oasis — but that quickly became obvious. I left with a more existential question: "Did all this awesome make Greenville, or did Greenville make all this awesome?" I'm not sure, but I'd be willing to go back to try to find out.
Note: This article has been updated; it was originally published on July 11th, 2019.