in paid partnership with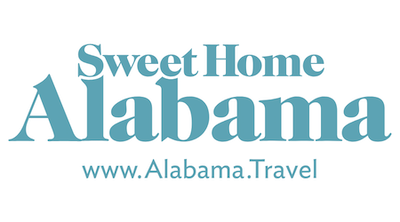 From caves to coastline, from foothills up to dramatic waterfalls, the adventures on offer in Alabama will put your closet full of outdoor gear to good use. It's just about guaranteed you'll leave with a greater appreciation for nature, a little bit of a Southern drawl, and a full belly — thanks to small-town restaurants serving up fresh-caught seafood, homegrown vegetables, and from-scratch desserts. Here's what's in store on your next trip to Alabama.
1. Getting in touch with nature in Mentone
Only a few minutes' drive from the Georgia-Alabama border in the state's northeast lies Mentone, a tiny town of about 300 people backdropped by the southern Appalachian Mountains. (In fact, it's home to Alabama's only ski slope: Cloudmont Ski and Golf Resort.)
Three miles from town, DeSoto State Park is where you'll find DeSoto Falls, a mesmerizing 104-foot waterfall cascading into a cliff-lined pool. Drive just another 15 minutes south to reach Little River Canyon National Preserve and try forest bathing (immersing yourself mindfully amongst the trees) or enjoy a picnic. Pitch a tent or park your RV for the night at Big Wills Creek Campground, which offers full hookups and activities from tubing to kayaking to hiking in Wills Valley.
Tired of your own packed sandwiches? Head into Mentone and grab a table at Wildflower Café, which serves hearty Southern meals alongside organic and vegan dishes. There's a reason its tomato pie is on the state's "100 Dishes to Eat" list: The combination of extra-flaky crust, marinated tomatoes, and gooey cheese is a party you'll never want to leave.
2. Flying like an eagle at Lake Guntersville State Park
Lake Guntersville State Park provides a massive, diverse playground for those who love to spend time outdoors. The park hosts the 18-hole Eagle's Nest Golf Course (fittingly, Guntersville is home to a growing population of nesting bald eagles), an outdoor nature center, plenty of fishing, and 30+ miles of hiking and biking trails. Adrenaline seekers can strap into a harness at Screaming Eagle Ziplines for a one- to two-hour experience that sends you zooming through and above the treetops at heights of roughly 80 feet. When it's time to retire for the evening, choose to rough it — or not — by pitching a tent beside the lake or booking a private cabin, chalet, cottage, or hotel room in the park itself.
There's much more to explore nearby, too. Look for wildlife like armadillos, beavers, and cranes at Wheeler National Wildlife Refuge, or get in your daily steps on the miles of hiking trails at Buck's Pocket State Park. Another Alabama sight to behold is Cathedral Caverns State Park, where you can explore more than a mile of stalagmite-studded underground caves.
When you're ready, retreat to Rock House Eatery in Guntersville for hand-tossed pizzas (the Margarita is a local favorite), steaks, fresh seafood, and homemade desserts.
3. Taking a swing at Pursell Farms
Alabama has 8.9 million acres of agricultural land, and more than 3,000 of those acres make up Pursell Farms Resort in Sylacauga. But you won't find fields of corn or cotton growing here. Instead, this special property is home to a one-of-a-kind resort with a 40-room inn, cottages, cabins, and more, set on land owned and cultivated by the Pursell family for over a century.
The crown jewel is FarmLinks, an 18-hole golf course with fairways so tightly kept they're more like carpet than grass. You'd never know it while you're teeing off, but the course serves as a testing ground for different fertilizer technologies — the only one of its kind in the world.
Not a golfer? Head to the onsite Spring House Spa for an afternoon of rejuvenation via warm-stone massage, or find inner peace through a calming yoga session on Chalybeate Mountain, overlooking the Appalachian foothills and the resort. You can also channel your outdoorsman/woman skills at the ORVIS® Shooting Grounds at Pursell Farms, which offers sporting clays and fly-fishing experiences.
There are three dining establishments on the property once it comes time to refuel, all of which serve farm-fresh cuisine. Eye the catfish plate (an Alabama specialty) at Old Tom's Pub, "The Grille" At The Clubhouse for a quick bite before tee time, and fried green tomatoes and pimento cheese for the table at upscale Arrington.
4. Climbing to new heights at Cheaha State Park
Marvin Gaye had it all wrong: There is a mountain high enough. From the top of Cheaha State Park — which sits more than 2,400 feet above sea level — you can see the entirety of Alabama. (Well, maybe not quite, but it is the highest point in the state!) Pack your hiking boots to explore this nearly 2,800-acre retreat near Delta, which includes two waterfalls, massive fields of granite and wind-warped trees, and eight hiking trails suitable for all skill levels, all the way down to the 0.3-mile Bald Rock Trail.
Cheaha is surrounded by more than 392,000 acres of the Talladega National Forest, offering even more opportunities for camping, fishing, and bicycling. Serious cyclists can jump on the Chief Ladiga Trail, which begins about 25 miles north of the park in the town of Anniston and eventually joins with the Silver Comet Trail outside Atlanta nearly 100 miles east. Together, they form the longest paved trail in the country.
When you've had your nature fix, visit historic downtown Heflin, a 30-minute drive from Cheaha State Park, to shop local boutiques like Sarah Matilda's for an eclectic mix of new and vintage home goods. And Choccolocco Park in Oxford, with baseball fields, playgrounds, soccer fields, and more, is as fun to visit as it is to say.
Hungry? Stop into Garfrerick's Cafe in Oxford, one of the first farm-to-table restaurants in Alabama. The award-winning spot is known for its creative use of organic fruits, vegetables, grains, and meats (think homegrown heirloom tomato salad with sweet corn, purple hull peas, and goat cheese), along with fresh-baked bread and wine-tasting events.
5. Exploring the delta in Five Rivers
If you picture miles of beautiful coastline when you think of Alabama, you'll want to head south to Five Rivers, just 10 miles across the bay from Mobile, in Spanish Fort. It's named for the five bodies of water that converge here — the Apalachee, Blakeley, Mobile, Spanish, and Tensaw rivers — and encompasses more than 250,000 acres of waterways, woods, and wetlands.
Stop into the Delta Resource Center, a facility with a learning center, gift shop, walking trails, and picnic areas, plus conference space for private events. If you have a few hours to spare, book a Delta Discovery boat tour to see the water from a different perspective. Sunday visitors can also check out the outdoor market onsite, held every first Sunday of the month.
When you're ready, head across the bridge into Mobile for an unforgettable meal at Ed's Seafood Shed. Opt for an outdoor table to watch the sunset as you dive into the famed Yo Mama Platter, a massive, meant-to-be-shared meal that includes gumbo, cheese grits, Southern greens, and just about everything fried you can think of (from fish to shrimp to oysters) caught fresh that day. Save room for Swamp Cake for dessert and the decadent Bushwacker cocktail if you're of age. A legendary meal to cap a legendary adventure.