in paid partnership with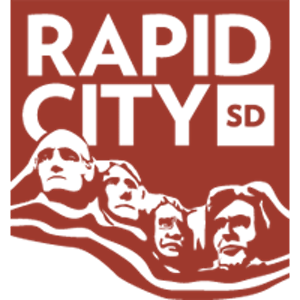 The first National Park cave, famous granite faces, needles made of stone, and lands so bad it's in the name — this is what you can see on just a few of the monumental day trips within a couple hours' drive of Rapid City. And that's just the beginning. If you're looking for the quintessential American road trip experience — only without too much driving — you'll find it in western South Dakota. Here are six ideas to get you started.
Trip #1: Mount Rushmore and Crazy Horse
Mount Rushmore National Memorial — the American icon that needs no introduction — is often the main reason travelers visit the city that locals simply call "Rapid." Shoot southwest on Hwy 16 from downtown and only half an hour later the car will be parked and you'll be parading down the Avenue of Flags. Spot your home state's flag and pillar, and keep an eye on the four famous faces watching from above. Then, join travelers from all over the globe in some good old-fashioned selfie snapping, using these giants as a grand, granite backdrop.
Once you've walked the Presidential Trail and toured the Lincoln Borglum Museum on the lower level (and brushed up on your Mount Rushmore facts), it's time to see the other massive granite memorial in the area — just down the road about 15 miles. Crazy Horse Memorial is the world's largest in-progress sculpture carving, as well as the longest ongoing. It's been in the works since 1948 and currently features little more than Crazy Horse's profile, but once complete, the Oglala Lakota warrior and his steed will rise 27 feet taller than the four US Presidents.
When you're at the site, you can either marvel from a distance or take a quick bus ride to the rocky base of the sculpture. If you want to get even closer, you'll need to visit during either the spring or fall Volksmarch. The trek — a 6.2-mile round trip hike through the surrounding woods — culminates on the ridge of Crazy Horse's arm. With 10,000+ people tackling it yearly, the Volksmarch is one of the most popular organized hikes in the country.
Trip #2: Wind Cave National Park and Jewel Cave National Monument
Travel south of Rapid City an hour toward Custer and take note: The landscape above ground may be stunning, but under the surface lie even more wonders. This is cave territory, formed by the sea some 330 million years ago. Jewel Cave National Monument and Wind Cave National Park are next-door neighbors — most people hit Jewel Cave first and end with Wind Cave, as the latter is a straight shot back to Rapid when you're done. And by the time you've completed two cave tours, you're exhausted and ready to nosh.
For both, you're going to want to reserve a tour online. This will guarantee you a departure time, and also allow you to pick the tour of your preference. There's quite a variety to choose from any time of year (even more in summer), and they're all very different. Do your research and your reserving beforehand.
And repeat after me: Do both. One may be a National Park, the other a National Monument, but neither should be missed. Jewel Cave is the third-longest cave on Earth, and you'll get to explore a portion of its 190+ underground miles, all lined by intensely intricate calcite crystals. Compare that to the (entirely different) boxwork and popcorn of Wind Cave, and you'll practically be an expert in subterranean formations.
Bonus: The appeal of these parks doesn't stop underground. Wind Cave has some 30 miles of hiking trails (look for bison, elk, and mountain lions), while Jewel Cave has a couple self-guided trails as well. And since the majority of visitors are busy exploring underground, these walks are even better than they sound. Both parks also offer nature talks, giving you the chance to touch some of the cave formations outside of the cave.
Trip #3: Badlands National Park
As you drive east out of Rapid, you'll start to notice that you're creeping into a rugged, wilder realm. This red, white, cream, yellow, pink, and gray geological wonderland pops out of the prairie like you've crash-landed into alien territory — in actuality, the Badlands are the result of 500,000 years of ancient seabeds subsiding, streams carving the rock layers, open savanna being covered in ash, and the wind giving it all a good lash. (That said, some of the formations are a whopping 75 million years old.) It'll all be gone in another 500,000 years, and for the record, existing for a mere million years is a geological blink. You're looking at a snapshot in time.
Arrive early enough in the day to give yourself plenty of time to crawl all over this Mars-like fossil bed. You'll want to drive all of Badlands Loop Road — around 30 miles — from park end to park end. Saddle Pass, Door, Window, and Notch Trails can all be completed in a day (they're short but sweet), and if you've got more time, take on Castle Trail (10 miles). Keep an eye out for bighorn sheep, mule deer, pronghorn, bobcats, coyotes, and any of the many, many other animals that call this park home.
Bonus: Badlands National Park runs an awesome night-sky program. Friday through Monday during the summer, head to Cedar Pass Campground Amphitheater, where you'll be given a telescope and some awe-filled memories.
Trip #4: Custer State Park and Needles Highway
Speaking of wildlife, there's nothing like a South Dakota safari. Climb into your ride and zip south of Rapid (as if you're heading to Wind Cave again), aiming for the largest state park in South Dakota. Custer State Park is a world away from the flatlands of the rest of the state — here, you'll find elevations into the 6,000s. It's also not far from the Black Elk Wilderness Area, home to the state's highest point (and the highest east of the Rockies), Black Elk Peak.
For most, a day trip consists of a drive through the state park and its Wildlife Loop Road. Roughly 1,300 bison call the park home, and they share the lands and lanes with bighorn sheep, burros, prairie dogs, and mule deer. That being said, getting out on foot is recommended (in designated areas).
Before you return to the bright lights of Rapid City, point your wheels to Needles Highway (SD-87). This National Scenic Byway offers ever-green scenery, from birch and aspen to flowering bushes, that will lead the way to the pièce de résistance: Needles Eye Tunnel. Stop and look around at the panoramic views, and then find the trailhead for the Cathedral Spires Trail. It's only 1.6 miles, but it packs a punch. Steep at the start, it levels out into a granite amphitheater where you'll be surrounded on all sides by the famous "Needles." Climbing these spires is popular, too (as are other rock-climbing spots around nearby Sylvan Lake).
Trip #5: Hanson-Larsen Memorial Park and Skyline Wilderness Area
Somehow both remote and easy to reach from downtown Rapid, Hanson-Larsen Memorial Park is one big off-road adventure for mountain bikers and hikers. Take a look at a satellite image of the switchback trails to see a zigzag surrounded by the forest that gives the Black Hills area its name. Get to the park from West Omaha Street at Founders Park for a short one-mile jaunt straight up into the hilly, rocky terrain. The elevation of these 20 miles of trails provides a view of Mount Rushmore and Black Elk Peak that you likely haven't seen in the postcards.
And then there's Skyline Wilderness Area, which contains both the concrete kitsch of Dinosaur Park (great for kids) and 150 acres of the great outdoors. Bring a picnic lunch or hop right onto one of the trails — the first one you'll come to will be Petrified Forest Trail, a good prehistoric-themed transition after Dinosaur Park, where you'll see some petrified logs during your hike. Park at the trailhead and you can hike your way along several paths, too.
Otherwise, keep driving along Skyline Drive. At the southern end of the park — about as far down the road as you can get — is Stonewall Overlook, a spot with a restroom and a commanding view of the Black Hills.
Trip #6: Devils Tower National Monument
While in Rapid City, make the short trip west over the state border into Crook County, Wyoming. Devils Tower, a formation sacred to the Northern Plains Indians, was declared by President Theodore Roosevelt in 1906 to be the first National Monument in the US.
Thanks to the flatlands surrounding Devils Tower, you'll see it long before you reach it — the 1,000-foot-high tower juts out of the ground in an almost supernatural manner. How did it form? One legend has it that two boys prayed to the Great Spirit to save them from a giant bear, and the tower sprang up at their feet, ushering them beyond the animals' grasp. The beast clawed and clawed — forming the vertical striations along the rock — but the boys were safe. To add weight to the story, Ursa Major ("Great Bear," or the Big Dipper), can be sighted just above the tower during parts of the year.
Geological reality is a bit less fantastical, but just as fantastic. Consensus has not been reached on how exactly this rocky sentinel came to be, but we know it's a beautiful plume of magma, cooled to stone and exposed over millennia by erosion. Walk the boardwalk around its perimeter and marvel — it's definitely a sight to behold.
Sufficiently awed, head back to Rapid to digest everything you've just taken in. Grab a pint at Murphy's — and maybe some of their famous American buffalo stew — and then check out Main Street Square before turning in. In the morning, it's time to hit the road again…what awaits you this time?