in paid partnership with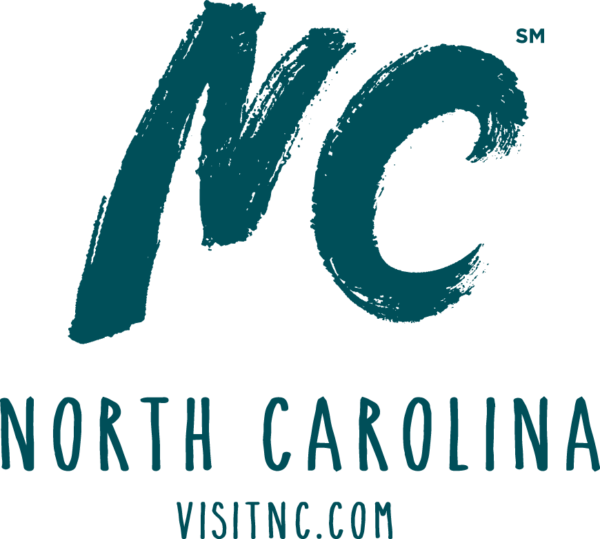 Winding downward from the highest point east of the Mississippi, North Carolina unfurls into rocky gorges, snaking rivers, high sand dunes, and endless barrier islands. But you probably knew that.
What you might not know is that hidden among these postcard landscapes is the country's wildest road, scenic waterfall byways, rolling hills of wine country, and epic pirate battlegrounds. Take a closer look at these places you might never have heard of — until now.
Note: Just like you should practice social distancing and pack your mask to protect yourself and others, these landscapes deserve protection as well — as you explore and connect to the land, keep to the trail, take only pictures, and always leave no trace.
1. Tail of the Dragon
Check these numbers: 318 turns in 11 twisting miles. For some of us, that sounds like a reason to reach for the pepto — for others, there's no better road in America. The Tail of the Dragon starts on Highway 129N at Deal's Gap, snaking through Nantahala National Forest and the Great Smoky Mountains. There are zero intersecting roads, driveways, or stop signs to dull your adrenaline rush. Just make sure to be cautious, as these turns are tight.
Note: If 11 miles sounds like too few, the nearby Cherohala Skyway adds on 47 more miles of scenic cruising bliss.
2. Brunswick Islands
On North Carolina's southernmost shore you'll find the Brunswick Islands, home of the Golf Coast and the "Seafood Capital of the World." The beaches here get name-dropped by National Geographic and Nicholas Sparks — and the golf courses get to name-drop themselves.
Any standard Brunswick Island vacay should go a little something like this: Rent a vacation home with your pod, and use it as a home base for your adventures. Catch late-night rays at Sunset Beach, preferably on a kayak; golf a Palmer-designed course; pop back hush puppies at Waterfront Seafood Shack; drop a line from Oak Island Pier; watch sea turtles lay their eggs; climb Old Baldy, the state's oldest lighthouse; and ferry to Bald Head Island, where cars and worries aren't allowed. The Brunswick Islands are the kind of place you'd expect massive crowds, but you won't find them.
Note: Never disturb wildlife! Give any and every creature their distance. The Brunswick Islands are wild and beautiful — do your part to keep them that way.
3. Ashe County
Welcome to the Christmas Tree Capital of the World. The human-to-tree ratio here is 28,000:2,000,000 — the county's specialty is the classic Fraser fir.
Set in the mountains, with the Blue Ridge Parkway tracing its southeastern border, Ashe County peaks at the 4,665-foot Mount Jefferson — great for hiking — and lights up in hues of gold, scarlet, and tangerine come autumn. In West Jefferson, a leaf-peeping tourist town with a cute main drag, be sure to grab coffee at Bohemia, watch curds being hand-stirred at Ashe County Cheese Company, and munch on a traditional Cuban from Havana Cafe.
4. Beaufort, Bath, and Ocracoke
Some 300 years ago, Blackbeard — the infamous English pirate who stuck lit matches under his hat, who looted ports from South Carolina to the West Indies — wrecked his flagship, the Queen Anne's Revenge, in Beaufort Inlet, near what's now Fort Macon State Park.
Stranded here, he pretty quickly became a North Carolina celebrity. Wander his old stomping grounds in Bath — his New World "hometown" — and then head out to Ocracoke Island via the free car ferry from Hatteras (or the paid ferry from Swanquater, if you'd rather do more floating and less driving). Ocracoke was a favorite hideout of Blackbeard's, and it's here that he met his end on the sound side of the island. Swashbuckling pirates long gone, today's Ocracoke has a cute village and impeccable beaches and restaurants — and one historic Blackbeard's Lodge.
5. Mountain Waters Scenic Byway
Practically every drive in North Carolina could be a scenic byway, but some — like the Mountain Waters Scenic Byway — demand a fully charged camera at the ready. This 61.3-mile route winds through the Cullasaja Gorge to the 250-foot Cullasaja Falls, Bridal Veil Falls, Dry Falls — you get the picture. It's a watery course through Nantahala National Forest from the town of Highlands to Almond, ending just past Nantahala Lake and the Nantahala River Gorge.
If you're looking for a spot to stretch your legs along the way, try the climb to the Wayah Bald Fire Tower, where you'll get views of the Appalachian Mountains across four states. Or pack a bag — for water, snacks, and your trash — and take an afternoon hike on the Appalachian or Bartram Trails, both long-distance routes that crisscross this region.
6. Yadkin Valley
The Yadkin Valley makes for one unforgettably romantic — and COVID-conscious — road trip. Scenic country drives lead you to 40+ wineries, and secluded, often-historic accommodations make the trip feel like a faraway escape.
Here are just a few places you might wind up strolling hand-in-hand: the Italian villa at Raffaldini Vineyards; the rolling hills of Medaloni Cellars (where you can toast the sunset from the front porch of your cabin); in Winston-Salem, the cobblestone sidewalks of Old Salem; and the 46,000-square-foot historic estate and modern-day conference hotel of Graylyn, which could pass for Downton Abbey's American cousin.
Tip: On your way into or out of the valley, be sure to stop for warm Moravian sugar cakes at Winkler Bakery in Winston-Salem — one of the oldest bakeries in America.
7. Brice's Creek Saltwater Trail
Croatan National Forest is the only coastal national forest on the East Coast, and Brice's Creek is the only saltwater-based trail through a national forest in the country. Grab your kayaks — it's a 100-mile loop that's suitable for beginners and can take as long as seven days to complete (though focusing on shorter segments is certainly doable).
To paddle the trail in its entirety, you'll start and end near New Bern and circle the heart of the forest. Watch for wildlife like ospreys and alligators; pitch your tent on the shores of secluded creeks (check regulations beforehand and leave the space like you found it); use that fishing pole; and detour off the main route to wander estuaries, bogs, pocosins (raised swamps), and pine forest. For those without their proverbial water wings, many of the forest's best spots are also accessible by road or hiking trail. North Carolina's adventures are for everyone.