The Wildest Pavilions on Display at Expo 2020 Dubai Right Now
Within seconds of entering the Mobility Pavilion at Expo 2020 Dubai, you know you're in for a wild ride. The lights dim, a spotlight shines on a hyper-realistic sculpture of a young Bedouin girl, the sounds of a millennium of human transportation play, LEDs dance across the ceiling, and the floor begins to lift. You've just entered the world's largest passenger elevator.
Mobility, opportunity, and sustainability are the main themes of Expo 2020. The ride to the Mobility Pavilion, which opens to a spectacle of displays chronicling humankind's advancement through the ages, is a fitting introduction to an expo that's defined by superlatives. It's the first world's fair to be held in the Middle East, the most sustainability-minded to date, and "the most inclusive and international World Expo in history," says the event's senior vice president Sconaid McGeachin.
Every country in the world was invited to participate in Expo 2020 Dubai, which will run through March 2022. One hundred ninety-two countries agreed, building innovative and eye-catching pavilions across nearly two square miles and three districts dedicated to the fair's main themes. This is also the first time in World Expo history that every participating country contributed a signature pavilion.
From their architectural and technological achievements to the cultures they commemorate, these nine national pavilions represent the best of Expo 2020 Dubai, all in the name of mobility, opportunity, sustainability, and global togetherness.
1. United Arab Emirates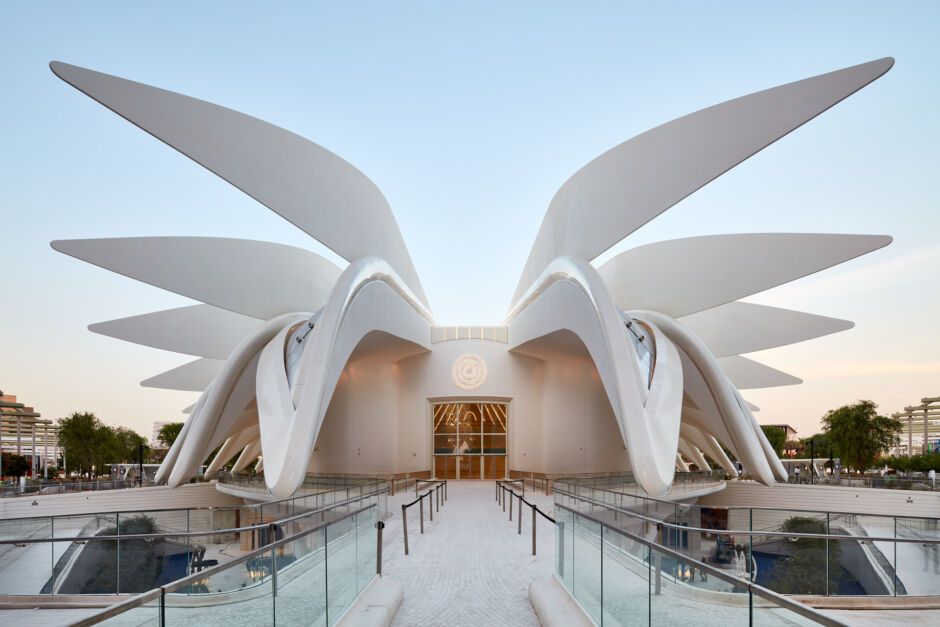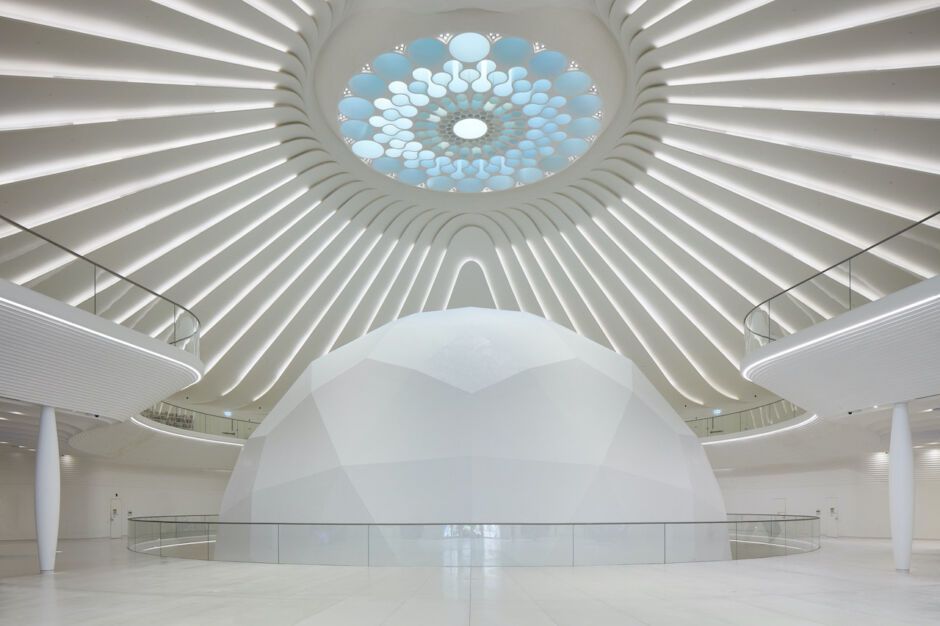 Located in the Opportunity District, the UAE pavilion by architect Santiago Calatrava resembles the wings of a falcon, the national bird, with 28 hydraulic feathers that can open and close throughout the day. At three stories, it's the largest Expo pavilion, with six distinct zones. The "Desert of Dreams" is a highlight, chronicling Emirati history and heritage against a backdrop of dunes made from locally sourced sand, as is the "Dreaming Together" immersive film.
2. Finland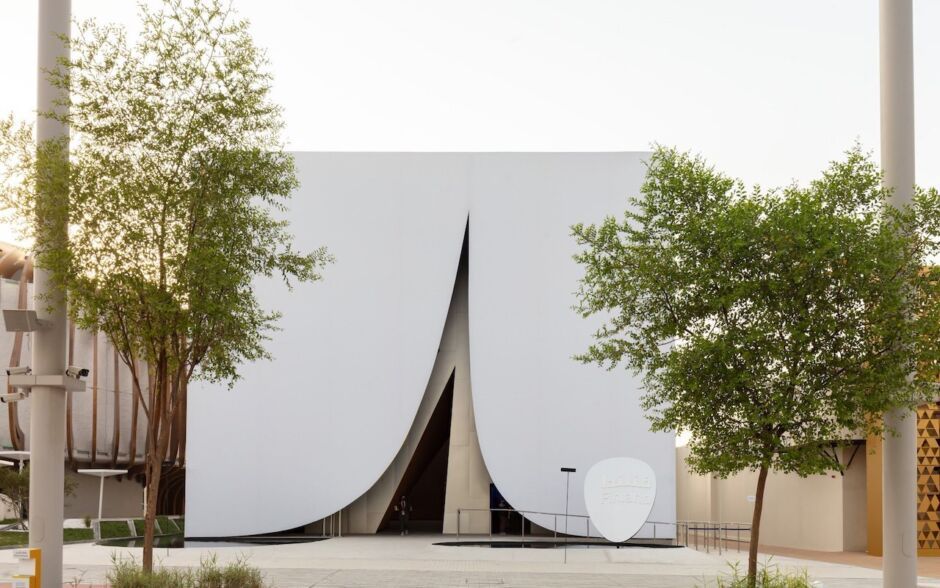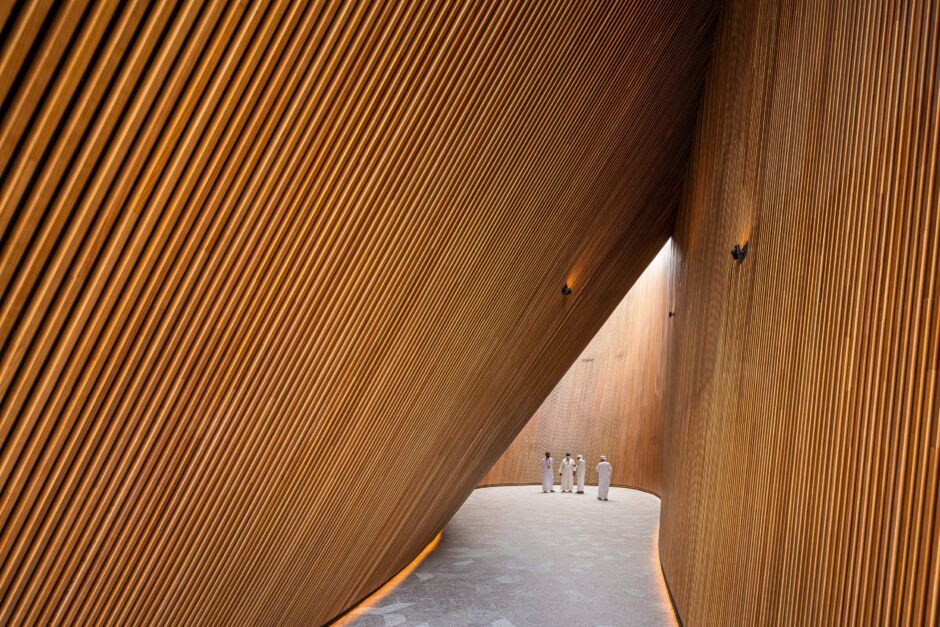 The Finnish pavilion in the Mobility District nods to both Nordic winters and Emirati architecture. Designed by JKMM Architects, the white tent-like structure is reminiscent of a traditional Arabic dwelling while the crisp white exterior evokes a dusting of freshly fallen snow. The simplicity of Finnish Modernism and serenity of the Finnish landscape are accented inside, with wood-slatted walls carved around a central gorge, cool granite floors, and soothing water elements.
3. Singapore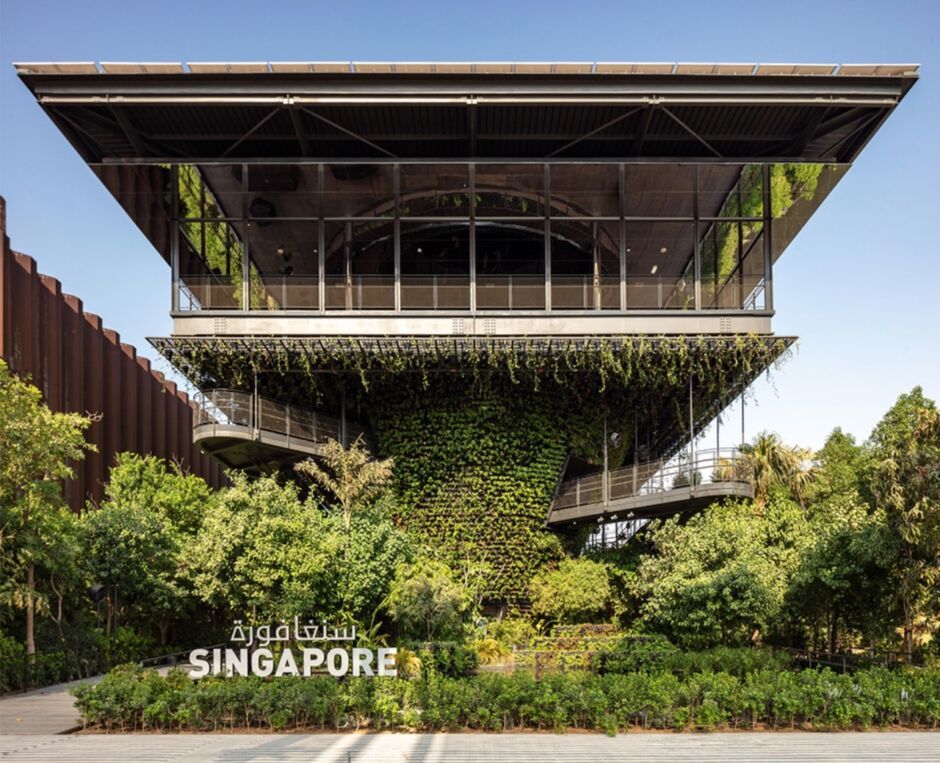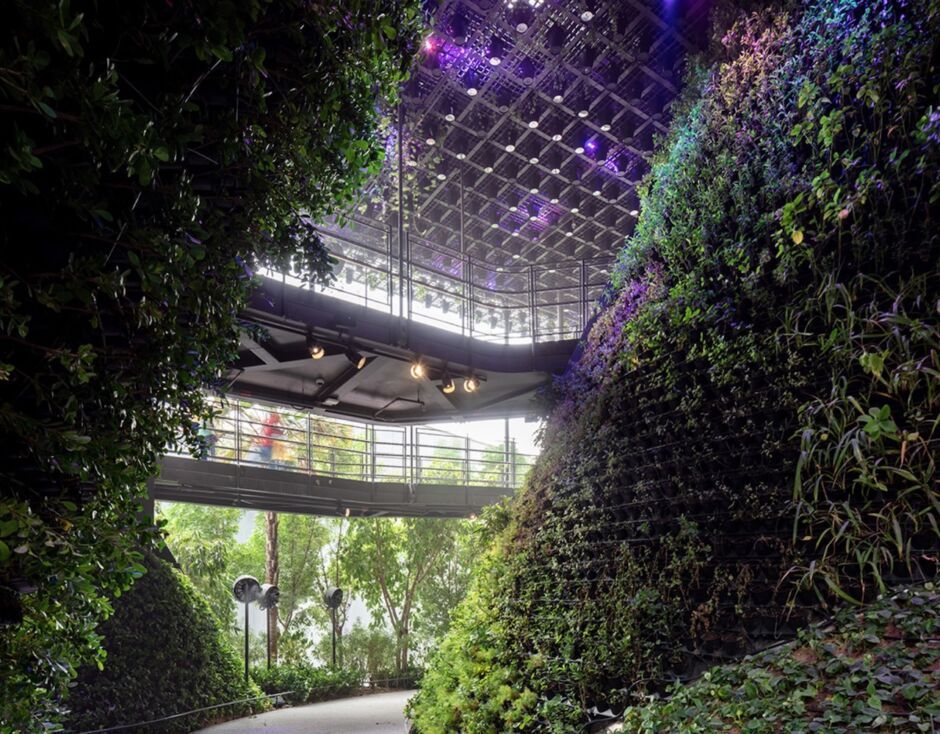 At a glance, the Singapore pavilion in the Sustainability District looks like it's been overgrown with foliage. In fact, it's architecture firm WOHA's vision for the future of urban design, one that integrates nature and architecture using sustainable technologies. Powered entirely by solar panels and watered via a closed-loop irrigation system, the pavilion is a feat of zero-energy engineering, reflecting Singapore's continued aim of becoming a certified green "City in Nature."
4. Brazil
As the Amazon basin is continually degraded, Brazil's pavilion in the Sustainability District serves as a reminder of its sanctity. Architects JPG.ARQ, MMBB, and Ben-Avid collaborated on the multi-sensory experience, which incorporates a reflecting pool made from reclaimed water, projections of Brazil's many landscapes using low-power LED lights, and a symphony of sounds, misters, and aromas that transport visitors to South America's largest nation.
5. Netherlands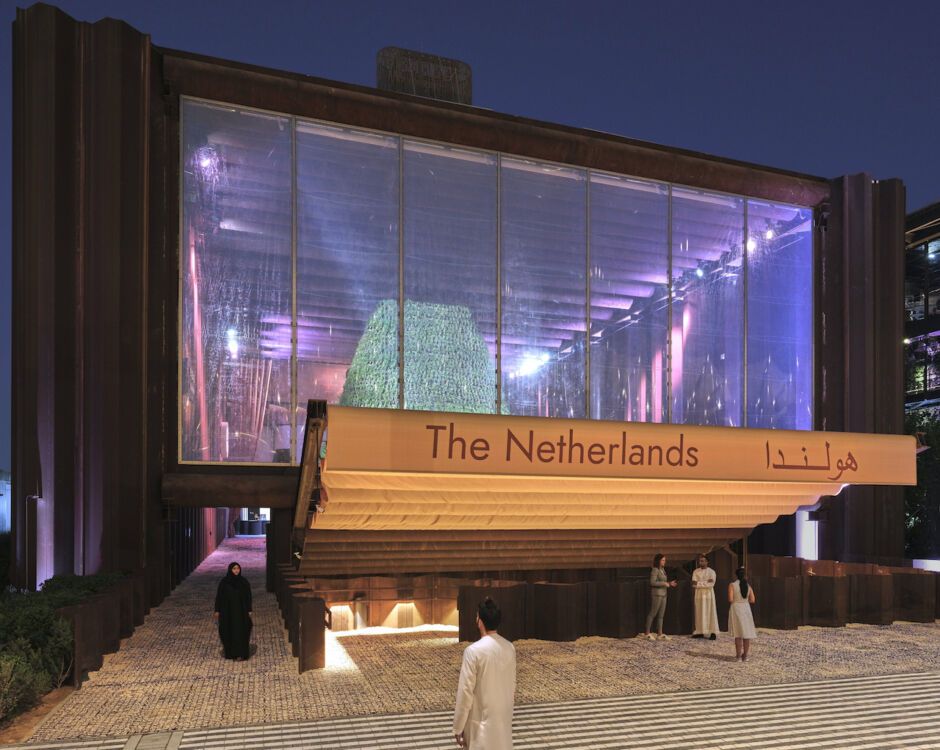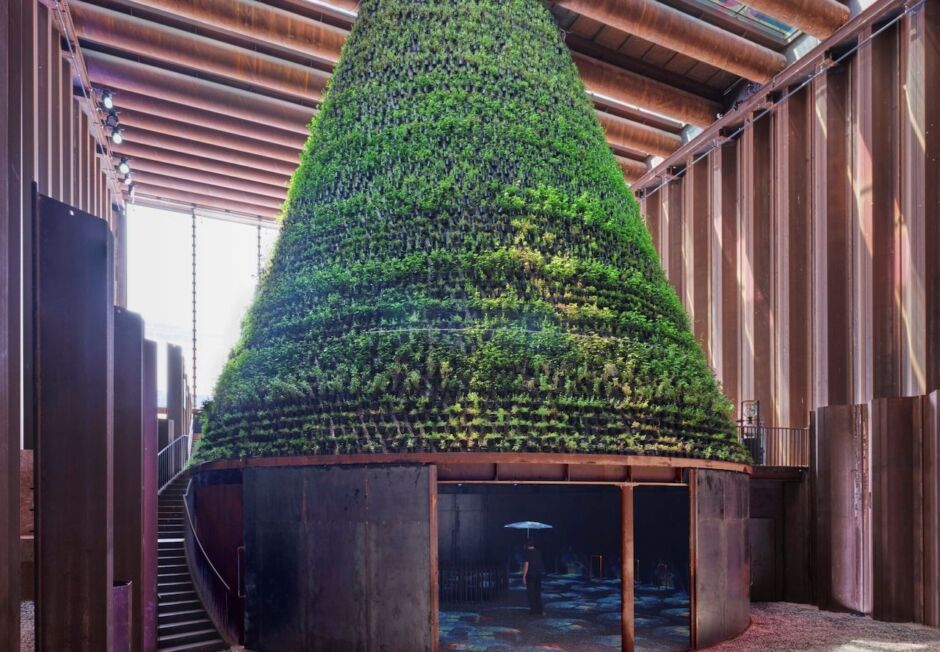 V8 Architects, the firm behind the Dutch contribution to the Sustainability District, created an entire biotope in the Dubai desert, with a self-sustaining climate system that's able to generate food, water, and energy. At the heart of the pavilion is a solar-fed vertical farm made of edible plants and fungi. Up to 800 liters of water are harvested from the air to irrigate the display. Other highlights include an immersive rainfall experience and aroma installation that's scented like Dutch soil.
6. Pakistan
The theme of Pakistan's pavilion is "Hidden Treasures." Designed by Al Jabal Engineering, the exhibition celebrates 7,000 years of history, the countless colors and resources of the natural landscape, and the future of Pakistani innovation. From interactive artworks and multi-sensory displays to the bazaar and dhabba where visitors can shop for souvenirs and sample traditional street food, the pavilion exposes Pakistan's many wonders in a bid to promote tourism.
7. Japan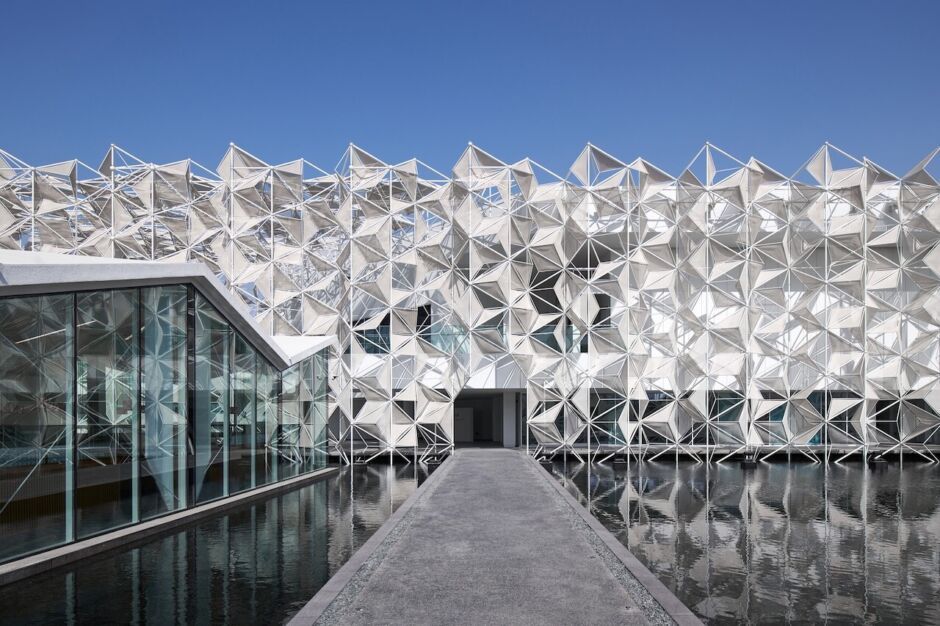 Architect Yuko Nagayama paid homage to both Middle Eastern aesthetics and the art of origami with this Opportunity District pavilion. Inside, a 360-degree theater brings visuals to life with mood lighting, misters, and sound effects. Elsewhere, dioramas capture Japanese culture in miniature and an infinity-mirror room prompts visitors to reflect on modern challenges. Special smartphones collect data as guests explore, culminating in a finale tailored to their interests.
8. Morocco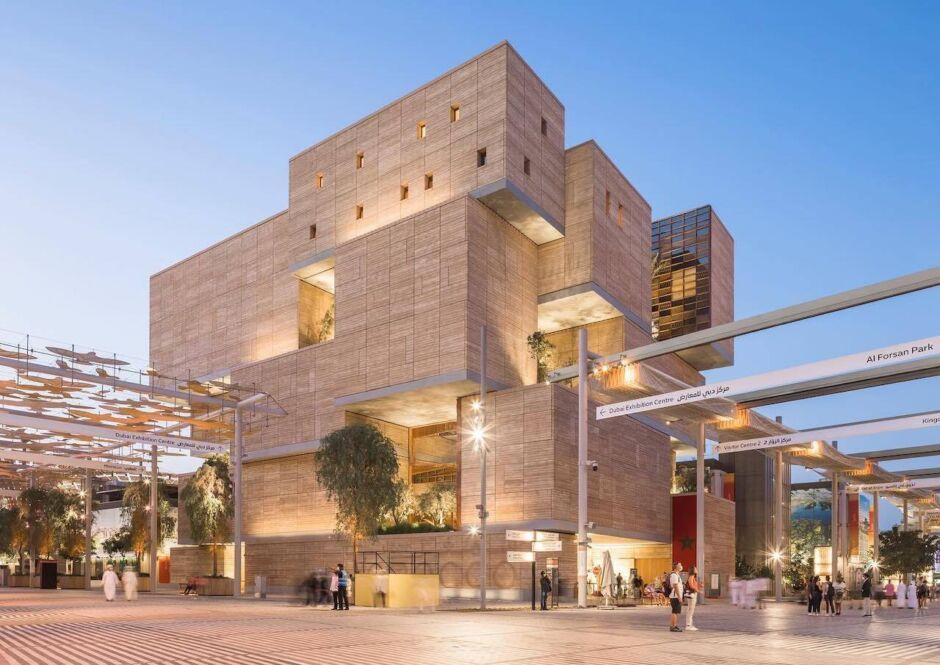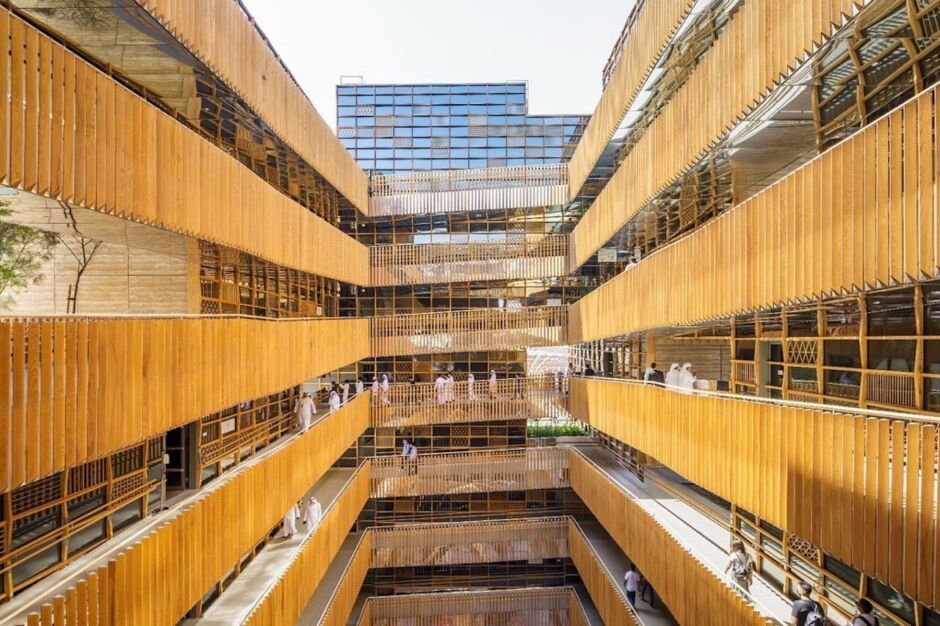 Architecture firm OUALALOU + CHOI's pavilion draws visitors to the Opportunity District before dropping them in a Moroccan medina. The eco-conscious, LEED-certified structure was modeled after a traditional village, with 22 rammed-earth houses stacked around a courtyard, just like a riad. In the name of sustainability, the pavilion will be repurposed as an apartment complex once the EXPO comes to an end.
9. United Kingdom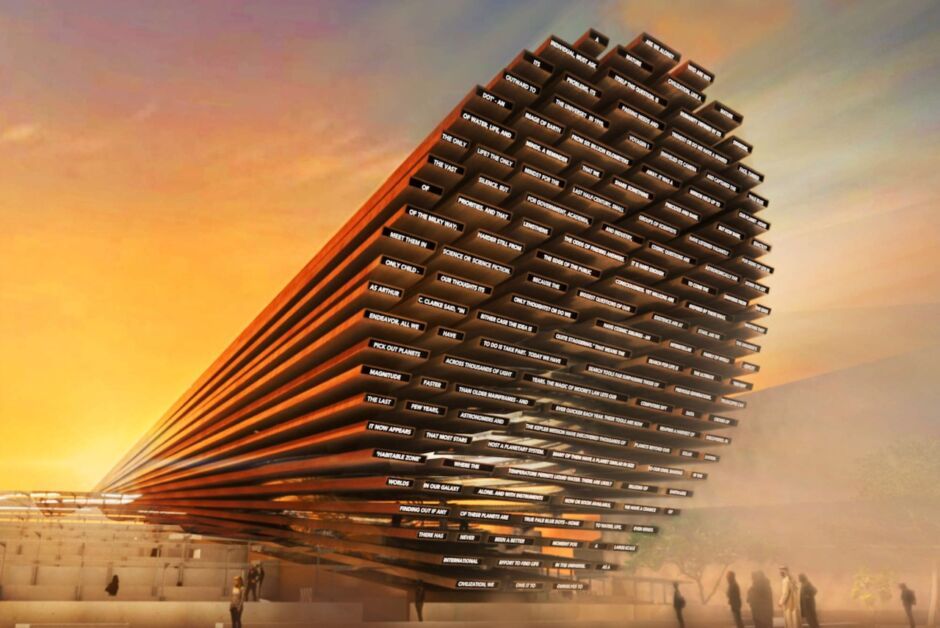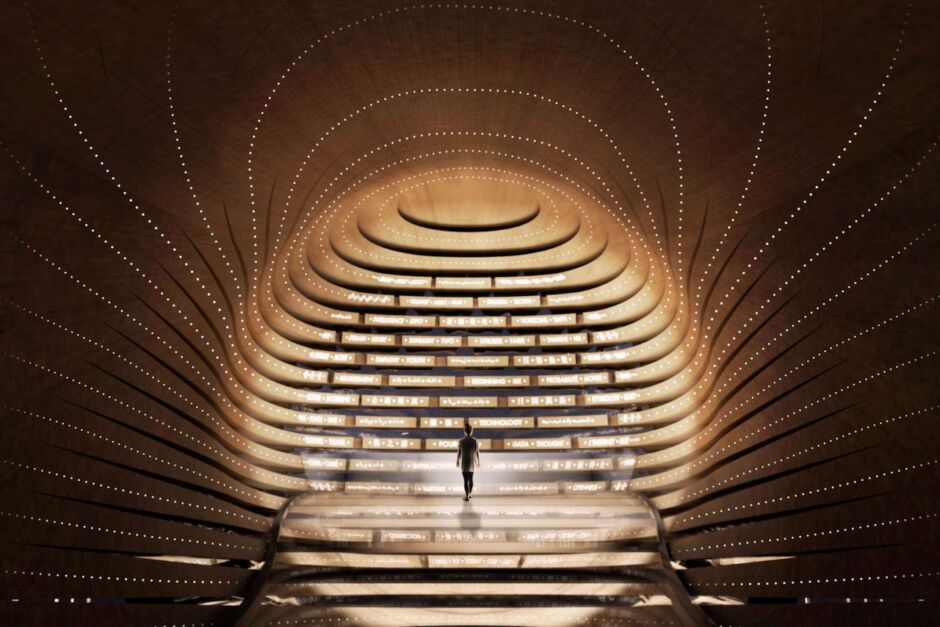 Artificial intelligence and space travel are the themes of the Opportunity District's UK pavilion, whose facade pays homage to Stephen Hawking's "Breakthrough Message" project by displaying AI-generated poems sourced from words submitted by visitors. Designer Es Devlin is behind the project. The first female UK pavilion creator, Devlin set out to honor both algorithmic advancement and the UK's cultural diversity with her design.
What did you think of this story?