in paid partnership with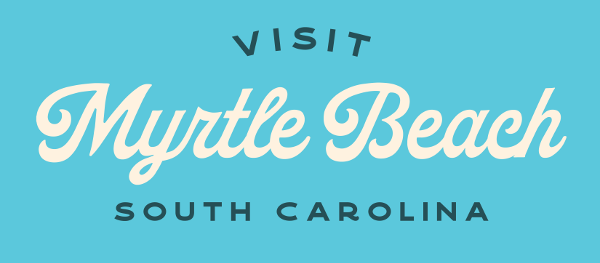 Every year, Myrtle Beach draws some 20 million visitors with promises of endless soft sand, world-class golf, mouthwatering seafood, and just about everything under the sun — every pun intended — in the realm of entertainment and adventure.
And most of them come back, and then back again. A haven for every generation, it's simple to find your happy place here, in any season. As far as we can tell, it only takes four steps.
Step one: Find your beach.
The Grand Strand — Myrtle Beach's coast, essentially — runs for 60 miles of beautiful sand and surf. Stretching from Little River to Pawleys Island, each beach-y spot is different, so find whichever calls most strongly to you. Let's break down the highlights:
Step Two: Find your community.
There are 14 unique communities set along these 60 miles of coastline. Families who have been coming to Myrtle Beach over the years usually return to the same place, passing along the tradition to the next generation. New visitors just need to find their niche. Beyond the highlights noted above, here are a few more spots that could be your perfect vacation home away from home:
Step three: Go beyond the beach.
While most people visit Myrtle Beach for one-on-one time with the sea and sand, if that's all you do then you'll be missing out on one of the nation's largest country music festivals, two state parks, an incredible botanical garden, awesome entertainment venues like the Alabama Theatre and The Carolina Opry, and celebrity-designed golf courses from the likes of Arnold Palmer, Greg Norman, and Robert Trent Jones. Bottom line: There's so much here beyond the beach.
And that includes history. Huntington Beach State Park — think wide-open sand, quiet salt marshes, "seabreeze camping" — was once the coastal portion of a rice plantation. Early in the 20th century, Archer and Anna Huntington purchased the plantation and built their winter home on these oceanside grounds. Known as Atalaya Castle, the Moorish-style mansion is now open to visitors, right in the state park.
Just across what's now Highway 17, the Huntingtons also created Brookgreen Gardens, in part to display Anna's sculptures and other artistic works. Today, this botanical wonderland — one of the best public gardens in the county, bar none — still features a sculpture garden, alongside a wildlife preserve and Lowcountry zoo.
Watersports are also a very "Myrtle Beach" way to experience this coastal gem, and they can look like whatever you want. Kayak the maze of backwaters, blackwater rivers, and coastline; go jet-skiing along the shore; rent a pontoon boat and stock up that cooler; or charter a deep-sea fishing excursion or dolphin-watching tour. This is also one of the best angling spots on the East Coast, and you don't need a license if you're just fishing off-pier (or if you're on a deep-sea charter, reeling in king mackerel).
Step four: Dive into the food scene.
In Myrtle Beach, good restaurants are nearly as plentiful as seashells on the beach — pick one up, toss it, and you'll land near a winner. The East Coast's finest seafood fills most local menus, but if you need some suggestions, here are a few of favorites:
For the record, these steps can be accomplished in any order, so chow down, surf's up, or settle in. Your happy place is just four steps away.
More like this