in paid partnership with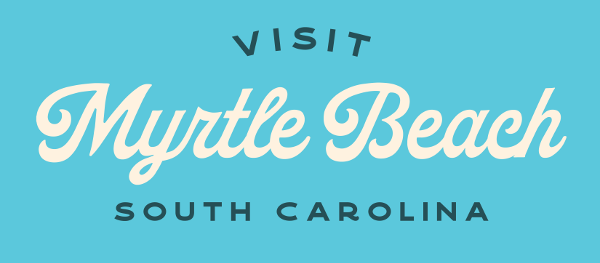 Sitting on a 60-mile arc of uninterrupted sand, Myrtle Beach, South Carolina, wouldn't need much else to earn its nickname: the Grand Strand. But this beach town has grown well beyond its golden shores, transforming into a seaside enclave where all types of vacation seekers can come together to "choose their own adventure," on or off the sand. So corral the kids, gather your friends, or just pack up the car — here are four themed experiences you can have in one incredible destination on your trip to Myrtle Beach.
FOR THE HISTORY BUFFS
Before Myrtle Beach was even a town — much less a vacation hotspot — get this: It had a castle. Known simply as Atalaya, the 30-room stunner was the winter residence of the notable Huntington family. Today, the circa-1930 Spanish villa is located in their namesake Huntington Beach State Park, and you can take a self-guided tour of the grounds to break up a day spent hiking, birdwatching, swimming, or just lounging on the park's three-mile beach.
As if a castle weren't enough, the same family also owned the nearby former rice plantations that became Brookgreen Gardens. Today, it's one of the country's most fantastic public gardens, but that claim really doesn't do the place justice. Open to the public since 1932, the "gardens" also feature nearly 1,500 sculptures — some by names you might be familiar with, like Gutzon Borglum — a wildlife park, walking trails, and a serious holiday lights display.
For a window into how the rest of our grandparents lived, the Horry County Museum in nearby Conway showcases the history and culture — and natural history, too — of the communities around Myrtle Beach. Set in a 1905 schoolhouse, exhibits range from an over-the-top fish tank (featured on Animal Planet!) stocked with native species, historic photographs of the area, and a working, living-history farm onsite. Admission? That's free.
Fun fact: It's pronounced "o-ree" county, and it's one of the biggest east of the Mississippi, mapped at a whopping 1,100 square miles. That's 3.5 times the size of NYC!
FOR THE NOSTALGIA SEEKERS
Okay, SkyWheel Myrtle Beach may look like a Ferris wheel, but this is no retro county-fair attraction. The state-of-the-art thrill ride — picture air-conditioned glass pods with plush seats — flies 200 feet above the Grand Strand, providing uninterrupted views of the sea and sand below. There's even a VIP pod for high-falutin' high flying.
While the SkyWheel might not be considered "throwing it back," per se, taking yourself out to the ballgame certainly would be. The Myrtle Beach Pelicans, a Minor League affiliate of the Chicago Cubs, play seasonally at the ballpark across from Broadway at the Beach. The affordable ticket prices make for a fun night out with the entire family.
Beyond the stands, test out your own skills at Fun Plaza, an open-air arcade on the historic boardwalk beloved by locals and visitors alike since 1938. Expect mostly classics like skee-ball, pinball, and basketball, with a few new-school games for good measure.
You're never far from a miniature golf course on a trip to Myrtle Beach, and each local putt-putt spot might as well be its own little universe. Tee off at the tropical Mt. Atlanticus, the storybook world of Captain Hook's Adventure Golf, or the prehistoric Jurassic Mini Golf. With 50 courses to choose from, some call this area the "mini-golf capital of the world."
FOR THE FOODIES
Murrells Inlet — one of the communities within greater Myrtle Beach — is widely known as South Carolina's seafood capital. Among the must-eat restaurants in this area, definitely sample The Wicked Tuna, a waterfront spot with amazing shrimp tacos, sushi, and creative cocktails. (There's a second location on 2nd Avenue as well.)
Back in Myrtle Beach proper, Hook & Barrel — helmed by South Carolina culinary ambassador Heidi Vukov — sources only sustainable ingredients for its seafood-focused menu, plating local faves like blackened salmon with Carolina gold rice and bouillabaisse.
The dining scene here goes far beyond hook-to-plate, of course. Check out these other standouts on your trip to Myrtle Beach:
The best place to start the day is Croissants Bistro & Bakery. Open for over two decades, the bakery creates incredible cakes and pastries, along with croissant eggs benedict and avocado toast. Don't forget the all-important mimosa!
In central Myrtle Beach, grab a seat at Sea Captain's House, set in a 1930s oceanfront cottage. It specializes in Lowcountry dishes like she-crab soup, Carolina flounder, and shrimp and grits.
Named for its origins in North Carolina, Duplin Winery has a large tasting room at Barefoot Landing in North Myrtle Beach. Visitors (of legal drinking age) can sip on the sweet wines fermented from regionally grown muscadine and scuppernong grapes. Live music and savory cheese plates add to the experience.
If wine isn't your thing, scope out Grand Strand Brewing Company, a new taproom a few blocks from the boardwalk. The beer lineup includes hazy IPAs, hefeweizens, and stouts, and when you're feeling peckish, there are also pub burgers, wings, and sandwiches.
FOR THE FAMILIES
Watch the kids' eyes widen as you walk up to WonderWorks at Broadway at the Beach. The upside-down building is just the start of the quirky fun here. "Edu-tainment" offerings include an astronaut-training simulator, a hurricane-force wind tunnel, and Dr. Seuss-inspired sculptures, and that's in addition to the indoor ropes course, laser tag, and nearly 100 more exhibits.
If that doesn't wear the kids out, The Funplex — one of Myrtle Beach's newest spots — has both thrill and kid-friendly rides, from mini roller coasters to the tallest (and perhaps the only?) interactive 360-degree flying jet ride in the country. The Track is another favorite for families, its go-kart courses ramping up above the coastline.
End your evening with a dinner theater experience, such as Pirates Voyage. You'll watch Blackbeard and crew swing from ropes, dive off planks, and have sword fights on the pirate ship resting in the lagoon. A four-course dinner will keep you busy while you watch the action — or watch the kids eat up the adventure on this unforgettable trip to Myrtle Beach.