The Ultimate LGBTQ Guide To Tel Aviv
Tel Aviv (meaning "Hill of Spring" in Hebrew) is rich in nicknames. Eye its UNESCO-protected Bauhaus buildings, and you'll see why it's called the White City. Step touch with club kids till sunrise, and the Nonstop City seems apt. The First Hebrew City recalls its all-Jewish beginnings, Silicon Wadi describes its tech force boom, and the Big Orange compares Tel Aviv to the Big Apple while evoking Jaffa's 19th-century citrus trade. Then there's the Pink City — a moniker that paints gay Tel Aviv as the Middle East's LGBTQ+ hotspot. Pink: the color that once symbolized gay discrimination and now conjures up queer resilience. What could be a better sobriquet for one of the world's gayest metropoles?
The Pink City is so gay it doesn't have a gayborhood. When 25 percent of the population identifies as LGBTQ+, there's no need for a rainbow zip code. The Pink City is so gay that it catapulted the careers of gender-fluid DJ Offer Nissim, trans-Eurovision winner Dana International, and gay film director Eytan Fox. The Pink City is so gay that when June rolls around, Pride flags fly everywhere, be it Jaffa's ancient gates, Rothschild's buzzy promenade, and even the jetties lining Tel Aviv's powder-sand beaches.
Call Tel Aviv what you like — daring, international, hedonistic, hip — but nothing describes the Hill of Spring quite like pink.
We hope you love the spaces and stays we recommend! Just so you know, Matador may collect a small commission from the links on this page if you decide to book a stay.
---
---
LGBTQ+ life in Israel
In most Middle East countries, openly identifying as LGBTQ+ can be dangerous, if not deadly. Israel, by contrast, is the region's queer haven, and Tel Aviv serves as its epicenter.
In 1988, Israel legalized same-sex sexual activity, and in 1993, the country started allowing openly gay and lesbian citizens to serve in the military. Over the past two years, the government banned conversion therapy and ended discriminatory restrictions on blood donations by gay men. When trans folks seek gender-affirming care, the country's health system often covers the cost.
Although same-sex marriage still isn't legal, the country began recognizing marriages performed abroad in 2006, and in 2020, the Tel Aviv Municipality enacted a law granting same-sex partners the benefits afforded to married straight couples.
Today, Israel has one of the world's queerest governments, with a whopping five percent of parliament openly identifying as gay. The statistic might seem small, but the representation matters. Jewish ultra-Orthodox parties that oppose LGBTQ+ rights still wield influence over the state, and ensuring queer voices have a seat at the table is the best way to spread Tel Aviv's liberal message of love.
Despite Israel's overwhelmingly liberal social laws, the Pink City is a secular bubble within an otherwise religious nation (roughly three-quarters of Israel identifies as Jewish). This is most evident during Shabbat — the Jewish Sabbath — which begins at sundown on Friday and ends the following evening. Drive to Jerusalem, and the entire city shuts down in observance, but in Tel Aviv, the action is 24/7. Traffic thins out and many restaurants close, but the city never stops — even for Shabbat.
The best gay areas for LGBTQ+ travelers
Aside from Hilton Beach and HaYarkon Park, you'll find most of Tel Aviv's must-see sites south of Dizengoff Center, east of Sarona Market, and north of Jaffa Port. Within this square, these are the best spots to explore on foot and use as a home base.
Rothschild Boulevard
This bucolic thoroughfare in central Tel Aviv is the city's beating heart. Walk or bike down its tree-lined meridian to admire the world's biggest collection of Bauhaus architecture. Visit Habima Square, the street's northern end, and you'll find a top-notch theater. Kiosks selling coffee and pastries invite locals to spend the day lounging on benches, and at night, diners take to the city's best restaurants scattered throughout the area. Gay bars Shpagat and Layla are both within walking distance, and hip eateries like Port Sa'id (a sceney spot for Mediterranean tapas) are only a stone's throw away.
Florentin
Artsy, gritty, and cutting edge, this tiny neighborhood is the Bushwick of Tel Aviv. Hunt side streets for graffiti, then sip cocktails along Florentin Street with laid-back locals. Hoaman 17, a popular event venue for queer parties, is located just outside the neighborhood's borders, making this a perfect place for ravers to rest their heads.
Jaffa
Walk through the ancient gate of Jaffa, home to the world's oldest port, and it's easy to feel like you've stepped into the tale of Jona and the Whale (this is where the Biblical hero set sail, after all). But don't let the gleaming cream stones of this Arab quarter fool you — Jaffa's cafes and art galleries attract a subset of Tel Aviv's coolest contemporary cats. Most folks come here for the eclectic goods at Jaffa Flea Market, while those in the know stick to trendy cafes and quirky shops along Rabbi Yohanan and Nakhman Street.
The best Tel Aviv gay bars
You can count the number of gay bars on one hand, but that doesn't mean Tel Aviv lacks queer nightlife. Roving parties take place throughout the city, and if you're looking to twirl the night away, pre-game at one of these haunts before hitting the dance floor elsewhere.
Shpagat
This cafe-bar combo is Tel Aviv's most reliably popular gay hang. Snag a seat during the day to chat over lunch (which is surprisingly tasty, considering the spot known for slinging drinks), or return in the evening, when the lights dim and the party begins. Wallflowers take to the tiered steps leading to the bathroom — a perfect vantage point for cruising the crowd — while social butterflies flit among the groups gabbing and grooving on Nahalat Binyamin. Wednesday night is particularly popular with the Sapphic set.
Top tip: When late-night munchies call, nearby Mount Sinai has the answer. This popular pizza place gives NYC slices stiff competition.
Address: Nahalat Binyamin St 43
Layla
The "Gay As Fuck" banner hanging inside this restaurant and bar near Rothschild says it all: Layla is all queer all the time. While not nearly as popular as Shpagat, you'll still find friends dining on Mexican in the early evening and grinding to remixed Britney beats as the night picks up.
Address: Yavne St 31
MASH Central
Red curtains, neon signs, and wood-paneled walls line this dimly lit, low-key dive. Stop by for the friendly bartenders, easy conversation, and occasional drag shows — but don't expect to see big crowds. Tel Aviv's coolest queers are likely drinking elsewhere. Once you've had your fill of Mash's pizza-and-Goldstar special, stop in the neighboring sex store to find some toys for adult adventures.
Address: Allenby St 38
Lima Lima
Shake your tail feather to reggaeton and hip-hop on Lima Lima's spacious dance floor, or imbibe on the plant-fringed back patio. Monday is for gay guys and Saturday suits lesbians, but this bar near Rothschild Boulevard attracts a queer crowd no matter the night.
Address: Lilienblum St 42
The best parties in gay Tel Aviv
As a general rule of thumb, Pink City shindigs don't pick up until midnight or later, and afterparties sometimes stretch until noon. If you're planning to dance till the devil's hour, treat yourself to a disco nap to keep up with the crowds.
These parties don't always happen at the same venues, so follow them on social media to stay abreast of their schedules. If you decide which events you'd like to attend before visiting, purchase early-bird tickets to save a few shekels.
Pag
Pag brings the drama with Berghain-worthy house music, avant-garde performance art, and a queer set of hardcore ravers who rage until morning.
Forever Tel Aviv
Circuit queens unite at this roving dance fête, where buff go-go dancers shake it to electro-pop while a sea of boys gyrate below.
Dreck
Dreck is one of Tel Aviv's tamer parties, where a mixed crowd of guys and girls bounce to sugar-pop remixes of top-100 billboard hits. Events usually take place on Wednesday nights.
Beef
Hairy, brawny, and big is how the men like it at this cruisy shindig. Remember to bring your harness: although there's no dress code, you might feel naked without one.
Tel Aviv Ballroom
HBO's Legendary gets a run for its money at this monthly showdown packed with TLV chutzpah. Expect high fashion, world-class voguing, and a scene queerer than anything you'll find at a Tel Aviv gay bar.
The best parks and beaches in gay Tel Aviv
With 300 days of sun and temperatures that rarely drop below 60 degrees, Tel Avivians are almost always outside. Connect with the local crowd at these beloved queer destinations.
Hilton Beach
Join speedo-clad sun-worshippers bronzing their bodies on this 1600-foot strip of sand in front of its namesake hotel. This isn't only the best gay beach in Tel Aviv — thanks to its sugary beach, crystal-clear water, and abundance of amenities, Hilton is one of the best gay beaches in the world.
Head to the south side to see families splayed out on umbrella-topped beach chairs while the thwack of Matkot (Israel's version of beach tennis) pings through the air. On the north side, panting pups paddle about, semi-supervised by easy-going owners. The beach's center — in front of the rainbow-hued Tel Aviv sign — is where you'll find the queer action. Lay your towel underneath one of the multicolor gazebos or kick back on a beach chair (provided for a small fee, though occasionally free) to bask in the glow of the cerulean sea. When it's time to cool off, the Mediterranean's sandy bottom and gentle surf may trick you into thinking you're wading in a pool.
Unlike most beach getaways, there's no need to pack a cumbersome bag for an all-day outing. A walk-up bar and restaurant ensure visitors stay satiated, and if you forget a towel or bathing suit, you can buy one on site. For something more active, consider riding the waves with an instructor from Topsea Surfing Center.
Ga'ash Beach
Scramble down a sand-swept cliff to this unofficial nude beach colonized by Tel Aviv's gay community. On balmy days, visitors go full monty on boulders, behind rocks, and along a sandy beach lapped by Mediterranean waves. Visitors occasionally get frisky, but birthday suit action comes second to sunbathing.
When it comes to clothes, sandals are the only necessity. Jagged rocks line the shore, so swimmers should step carefully when entering the water. The trip is 30 minutes north of the city center by car. If you don't have a car, consider taking a cab.
Independence Park
Climb the trail behind Hilton Beach to find expansive Mediterranean views framed by century plants and seaside hotels. But that's not all you'll discover. Independence Park is a historic cruising site, and thanks to its proximity to Tel Aviv's gay beach, even the advent of Grindr hasn't stopped the hookup scene. Watch your step while winding through the dirt mazes east of the paved promenade. Head-high bushes attract al fresco action, and used condoms are a common sighting.
Charles Clore Beach
Florentin hipsters escape tourists by hanging on the southernmost point of this scenic beach. Although it's not definitively queer, its relaxed vibe and views of Jaffa's ancient port attract a local set of LGBTQ+ folks who need a break from Hilton Beach's banana-hammock energy.
Meir Park
This local park near Bialik Square is one of Tel Aviv's oldest cruising haunts. While the advent of dating apps means you're more likely to spot pet owners babysitting Fido at the park's dog run, you can still expect to see lingering eyes exchanged by muscle-bound men at the outdoor calisthenics gym.
Pay your respects at the park's Pink Triangle monument, dedicated to homosexuals persecuted by Nazis during World War II, then stop by the adjacent Tel Aviv Municipal LGBT Community Center. The center hosts movies, games, and clubs for seniors, youth, trans, and disabled folks.
Where to shop in Tel Aviv for LGBTQ-friendly goods
Search for unique souvenirs with a queer twist along Sheinkin Street and Nahalat Binyamin (both near the city center), or peruse the shops in northern Jaffa.
When strolling down Nahalat Binyamin, make a detour to Brakhen (located at Derech Yaffo 44). The recently-opened design store sells gender-neutral, sustainable clothing made from up-cycled materials like lace curtains, doilies, and used fabric. Follow queer vintage fashionista, Elad Hoffman, for more clothing inspiration. He occasionally hosts pop-ups around town featuring a subset of the city's up-and-coming LGBTQ+ craftspeople.
In Jaffa, step inside Asufa to finger through hundreds of hipster prints and admire the quirky decor designed by local artists. At the Hand Factory (Netiv HaMazalot 15), a group of French expats sell original hand-painted sketches of Mediterranean mermaids, Bauhaus architecture, and Israeli landscapes. Try to find the print of a rainbow-clad gay couple riding a tandem bicycle in Orthodox and Muslim garb. The queer reimagining of the Israeli-Palestinian conflict is a sight to behold.
The best gay events in Tel Aviv
Tel Aviv Pride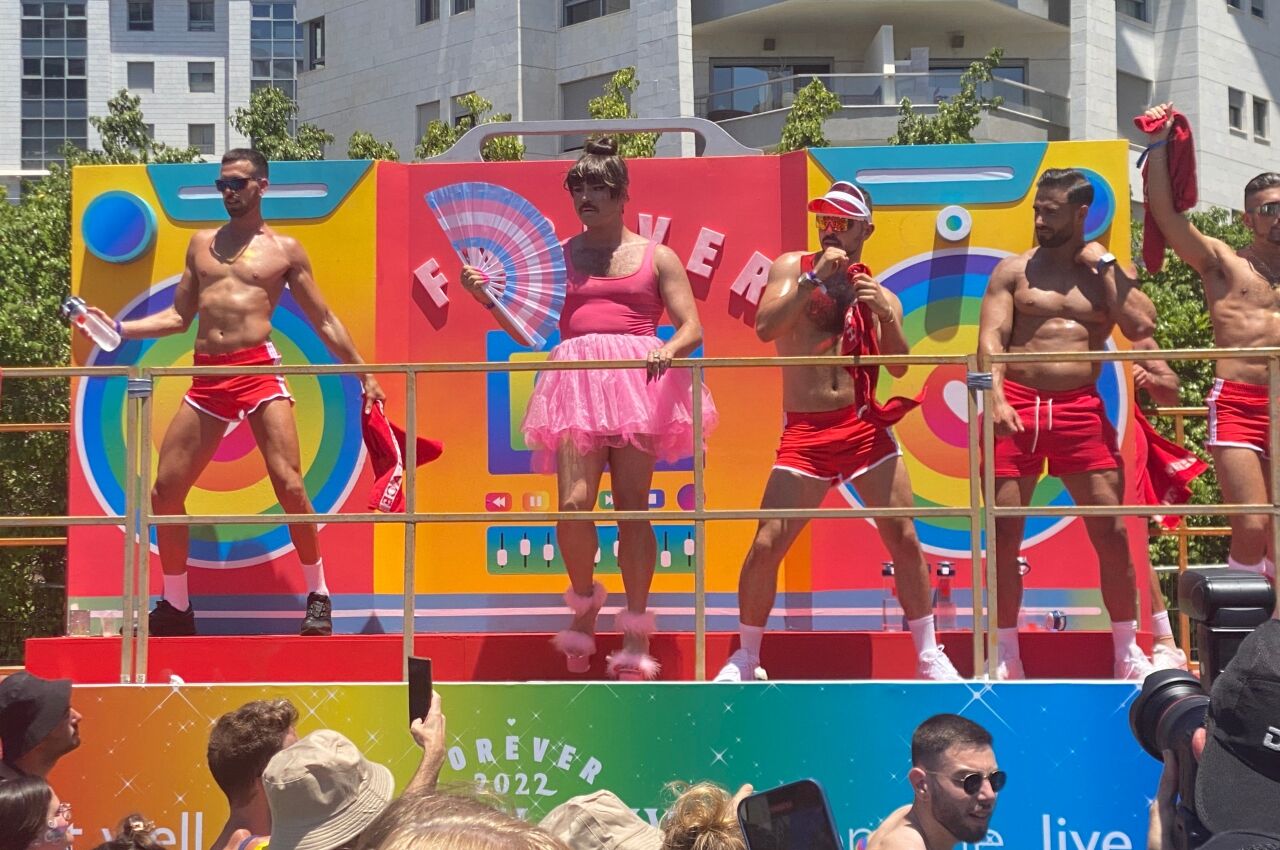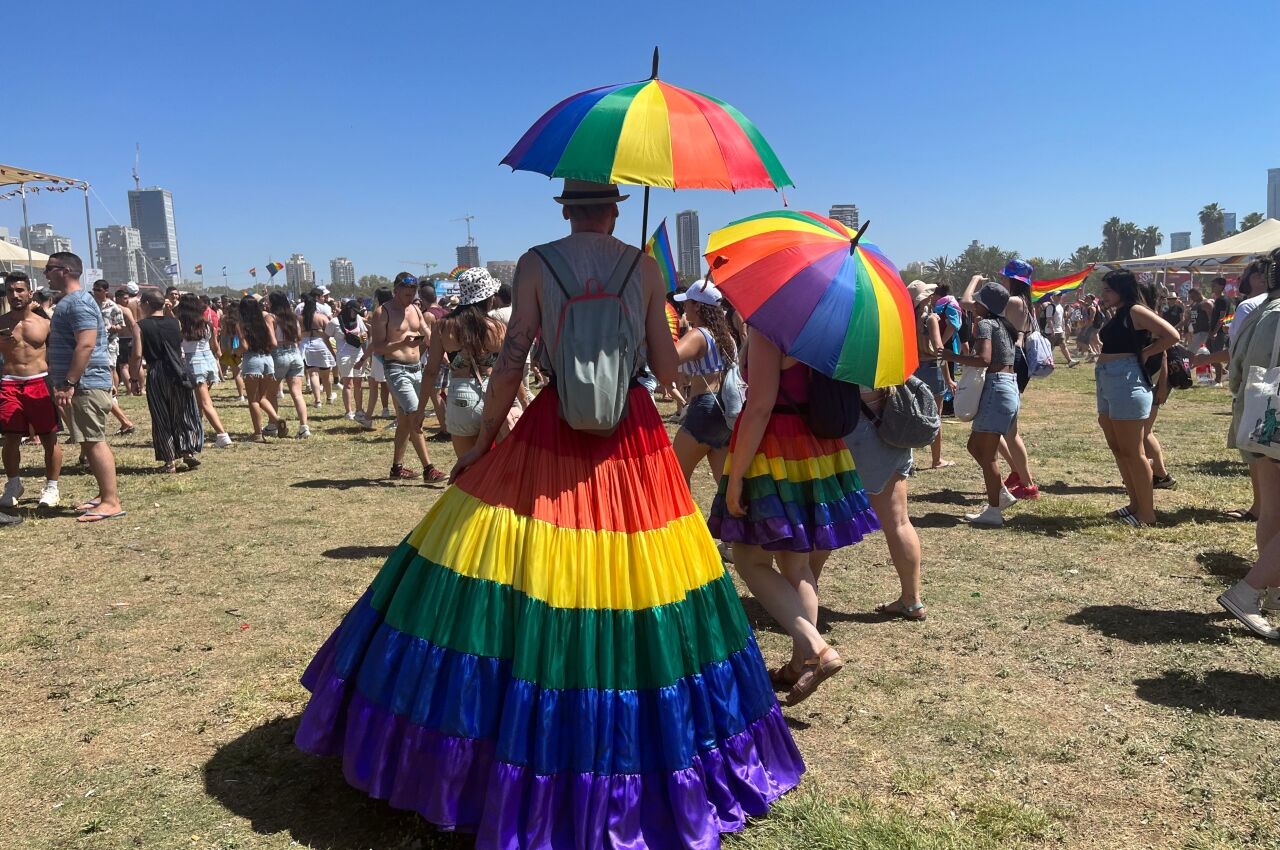 During the second week of June, TLV rolls out the rainbow carpet for a non-stop panoply of parties commemorating the Stonewall Uprising. Crowds in recent years have ranged from 170,000 to 250,000, making Tel Aviv Pride Israel's biggest gathering for all things LGBTQ+. Warm up your gams before getting to town — this week-long celebration, which started in 1998, is a non-stop dance fest.
Get your groove on at parties thrown by Tel Aviv's queer impresarios, but remember to save energy for the annual Pride Parade. More dance-a-thon than march, floats crawl through town as happy-footed spectators twirl alongside them. When the parade ends, an all-day rager begins. Bring plenty of water and sunblock — there's rarely shade along the parade route, and summer's humidity can be unforgiving.
Top tip: If you only attend one Pride party, make it the Offer Nissim outdoor concert in Park HaYarkon. Nissim is Israel's most beloved queer icon, and the jubilant show feels like a gay version of Woodstock.
When: June
TLVFest
Israel's only LGBTQ+ film festival holds monthly screenings of queer cinematic classics, panel discussions with foreign filmmakers, and special events for the local community. Every fall, the festival takes over the Tel Aviv Cinematheque for a week-long sharing of international and Israeli-made films.
When: October
Purim
Sprinkle the Torah with a little bit of Mardi Gras, and you've got Purim — a Jewish holiday in March that feels like a day-long drag fest. Purim translates to "lots," and that's what you can expect: lots of alcohol, lots of food, and enough costumes to put local drag celeb Suzi Boum's closet to shame.
The story of Purim involves Esther — a Persian queen who concealed her identity as a Jew to avoid retribution, only to reveal her religion in a moment that saved her people from persecution. Today, the holiday often takes a secular turn, with Jewish communities worldwide partying hard in celebration. And in Israel, no one parties harder than Tel Avivians.
Don your best-worst Esther drag and head to Charles Clore Park, where Tel Aviv usually throws a raucous day rave attended by locals of all stripes. When night comes, the LGBTQ+ crowd heads to queer parties throughout town to dance in Esther's honor.
When: March
Where to stay in Tel Aviv
The Norman Hotel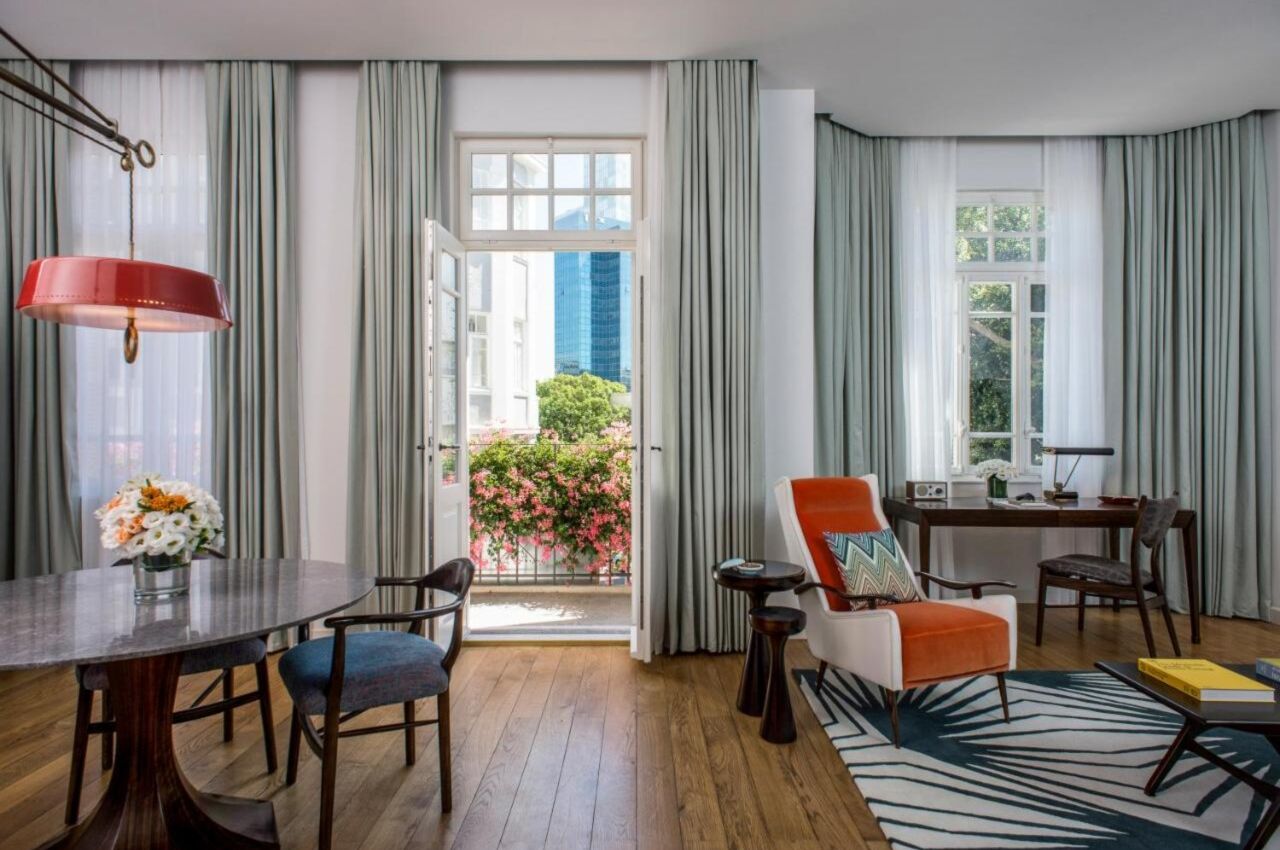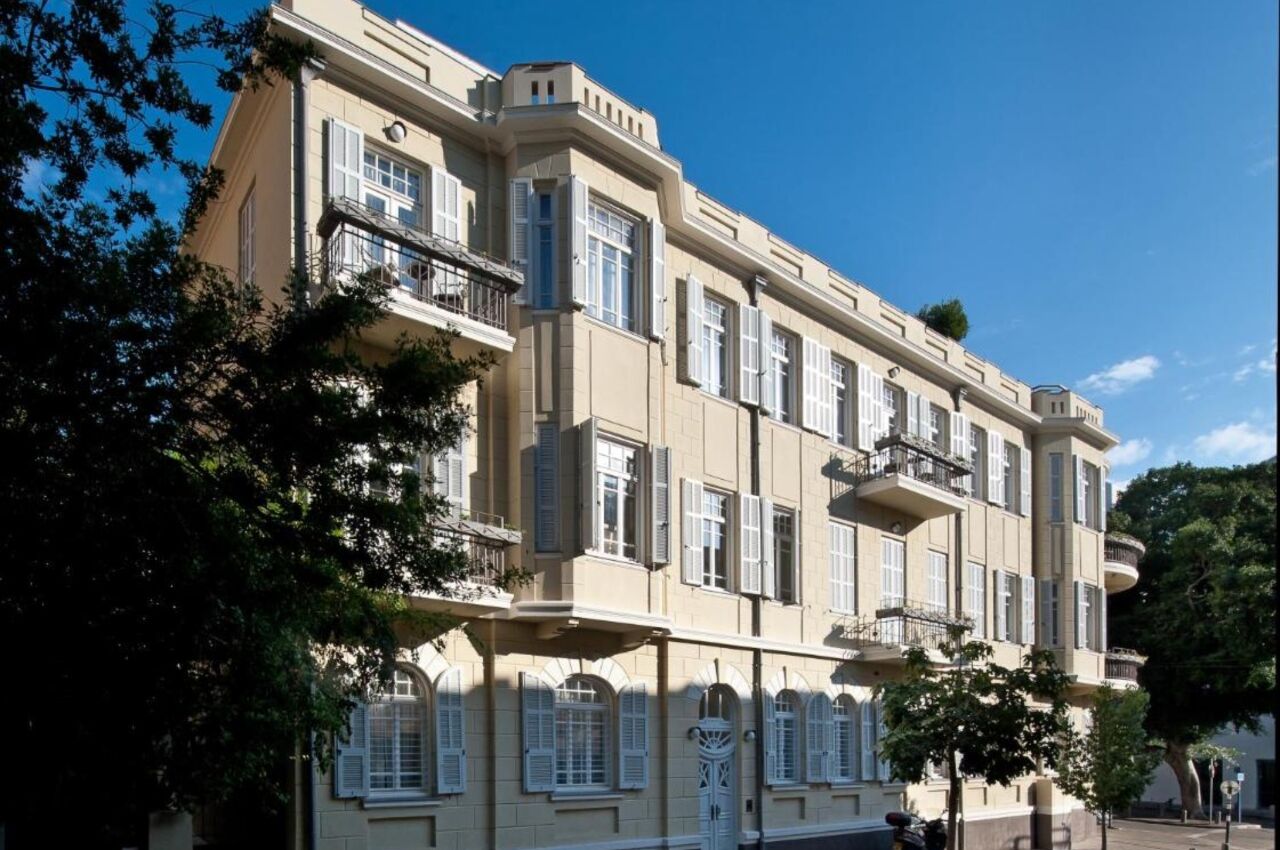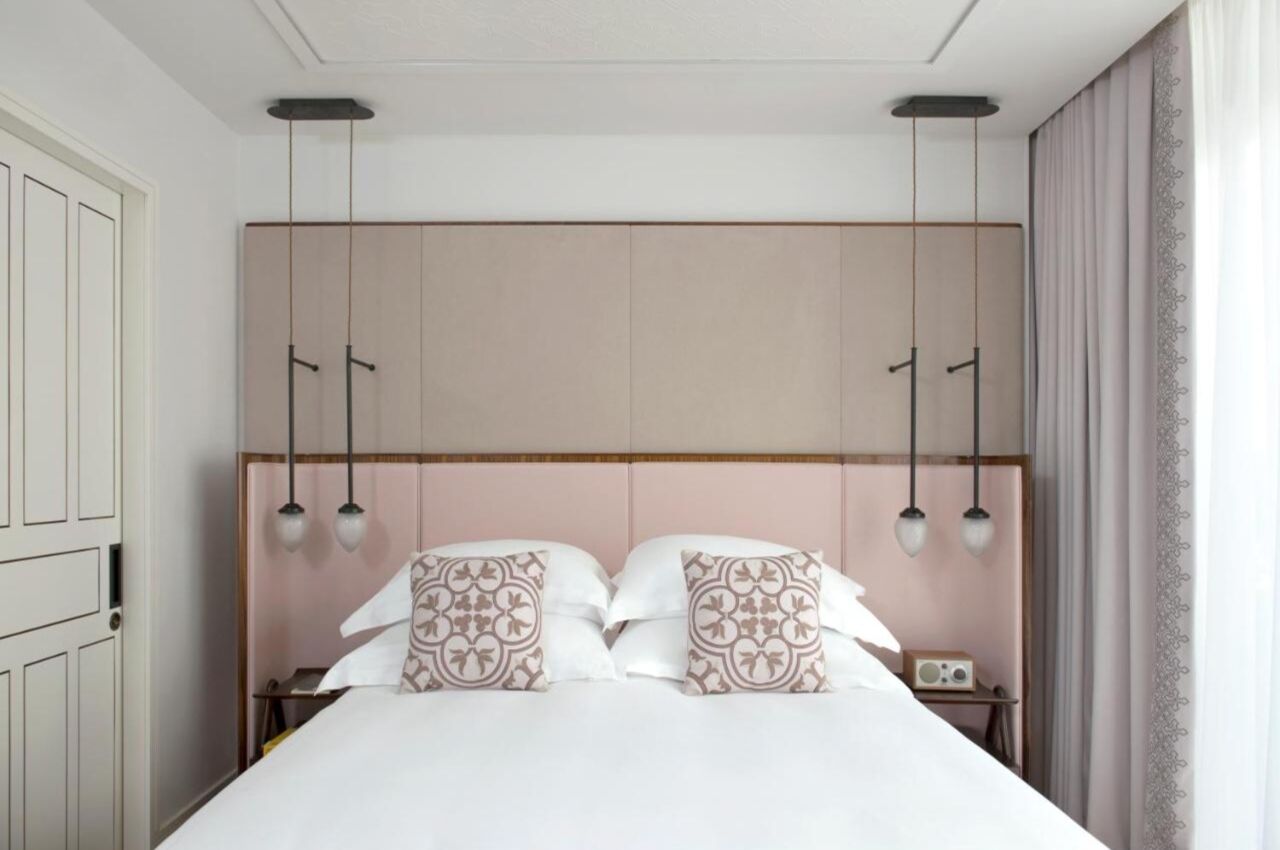 This 1920s mansion-turned-upscale boutique hotel gives off old-school Hollywood glamor. Centrally located near Rothschild Boulevard, the Norman Hotel is within walking distance of the city's top sites, though with all its amenities, you may never leave. Enjoy dishes with Mediterranean flair at Alena (one of the classiest restaurants in town), sip classic cocktails in the art-deco Library Bar, and soak in the rooftop infinity pool overlooking the city's Bauhaus skyline.
Address: Nachmani St 23-25
Polihouse by Brown Hotels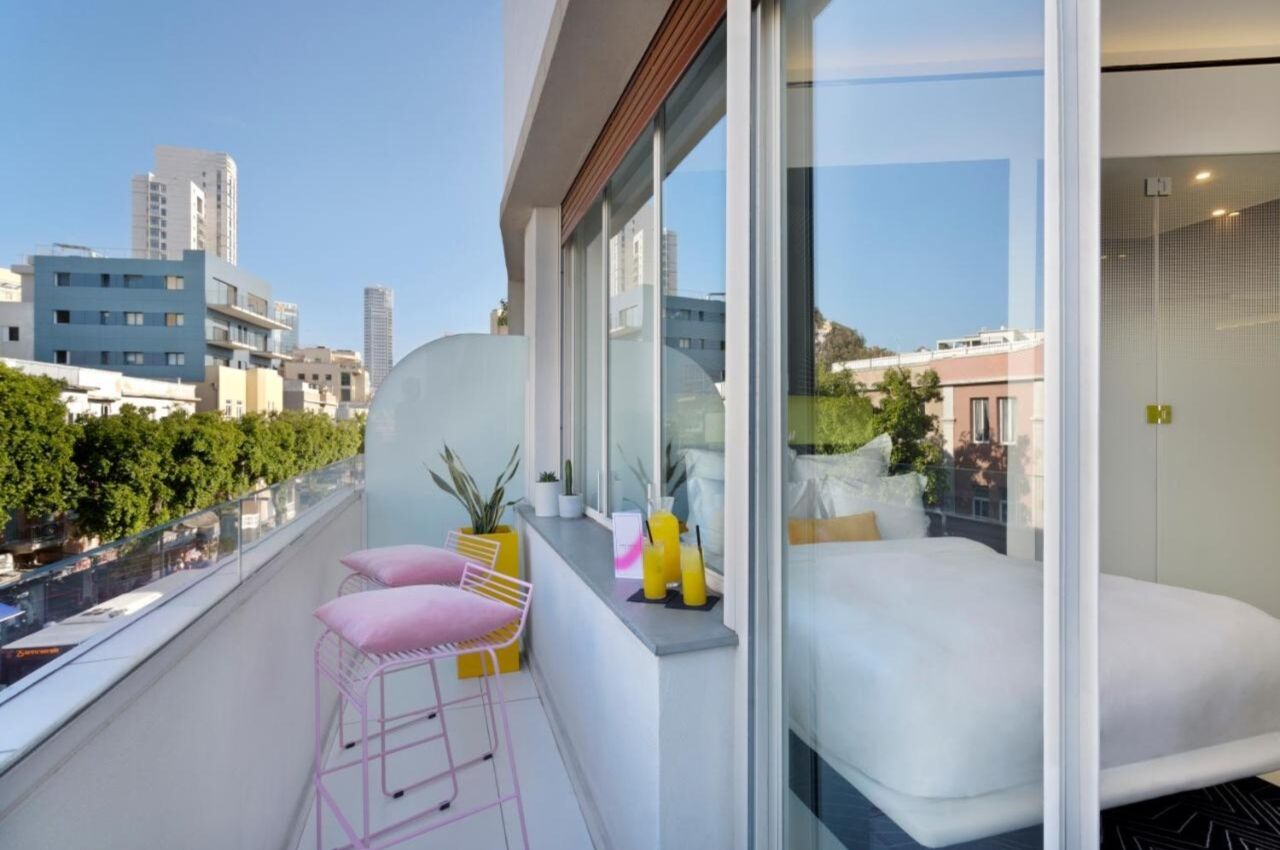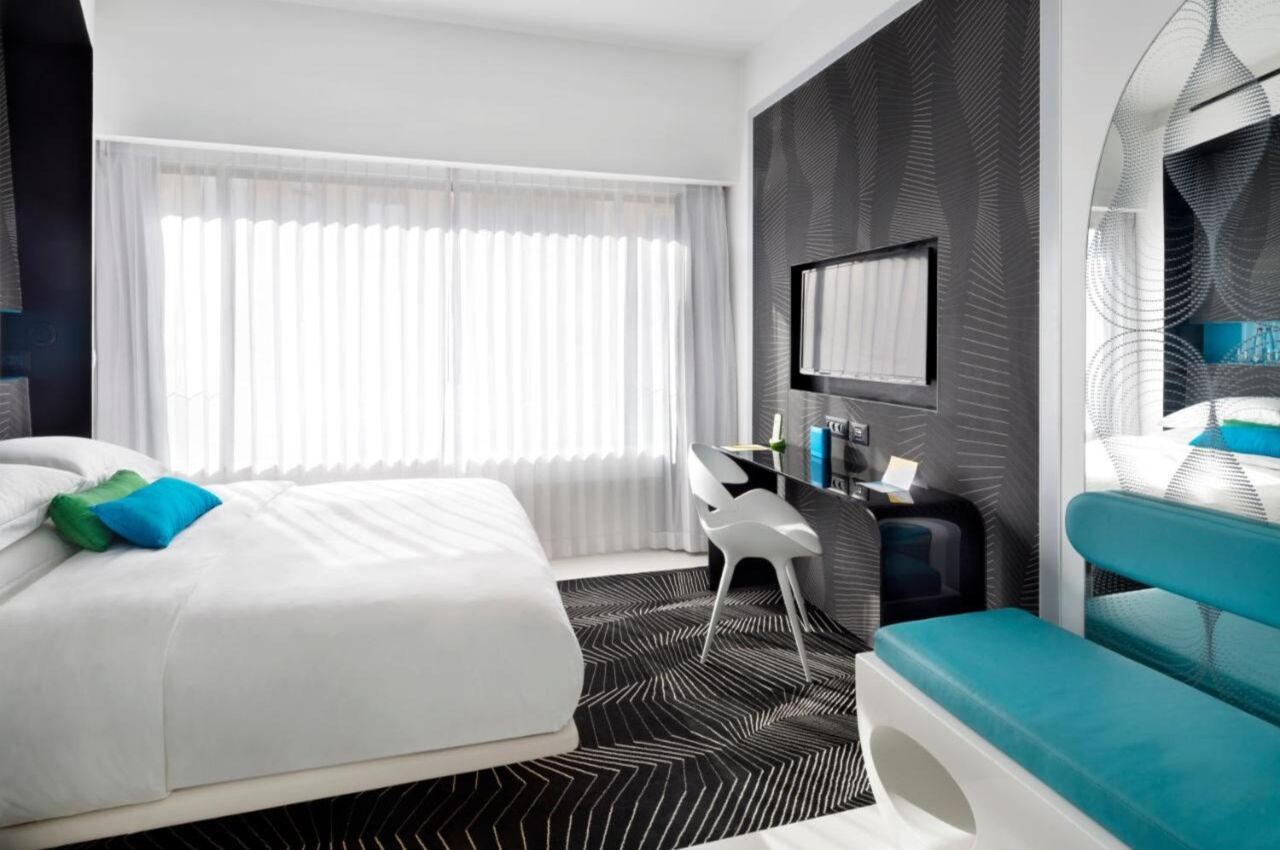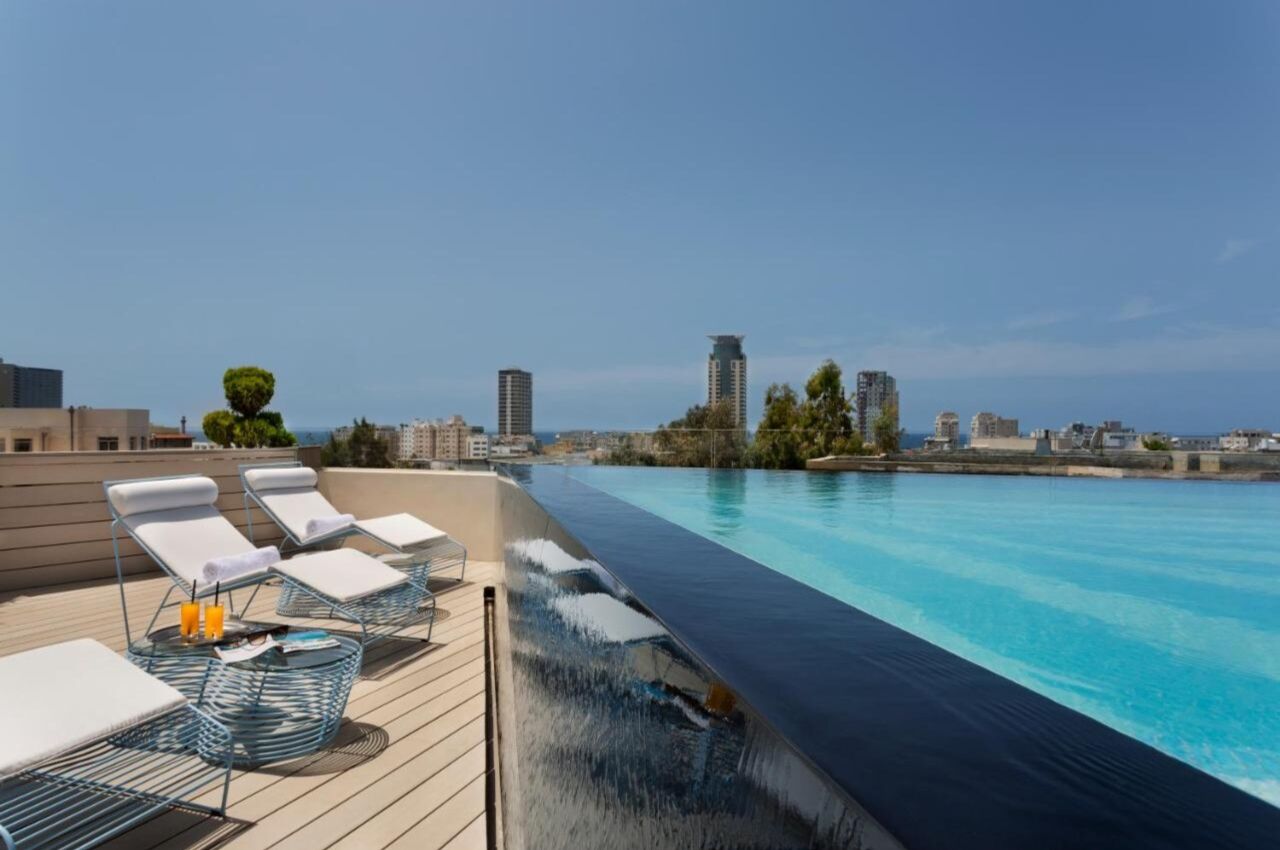 Leon Avigad and his partner Nitzan Perry are the gay developers behind Brown Hotels — a chain of chic lodgings scattered around central Tel Aviv. While all the spots are worth a gander, Polihouse is the best for LGBTQ+ travelers thanks to its prime location on Nahalat Binyamin — Tel Aviv's hippest street. Scope the scene from the hotel's panoramic rooftop, then skip to Carmel Market to taste local treats like baklava and dried apricots. Stay for five nights or more, and you get a complimentary spa treatment — the ideal way to detox after a night at Shpagat, a breezy five-minute walk away.
Address: Nahalat Binyamin St 1
Florentin center Airbnb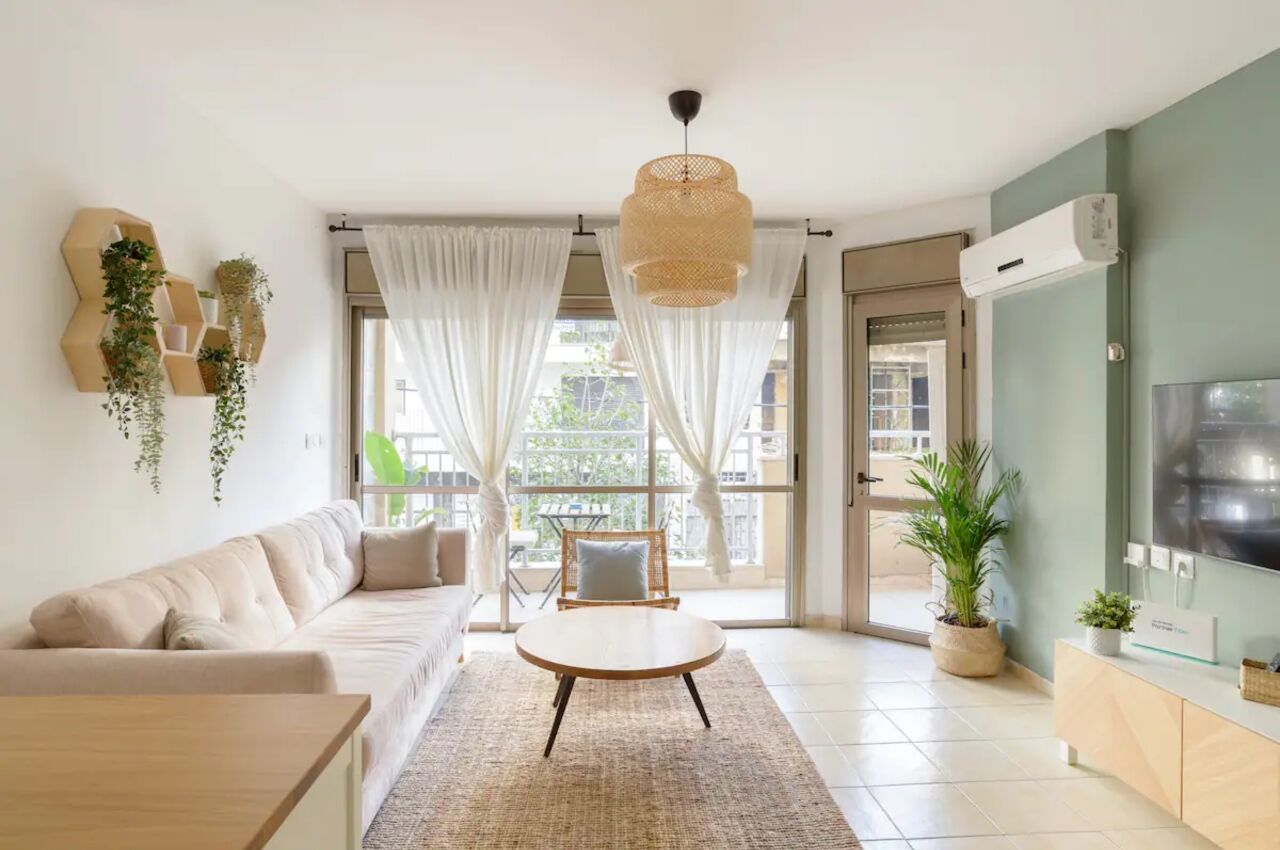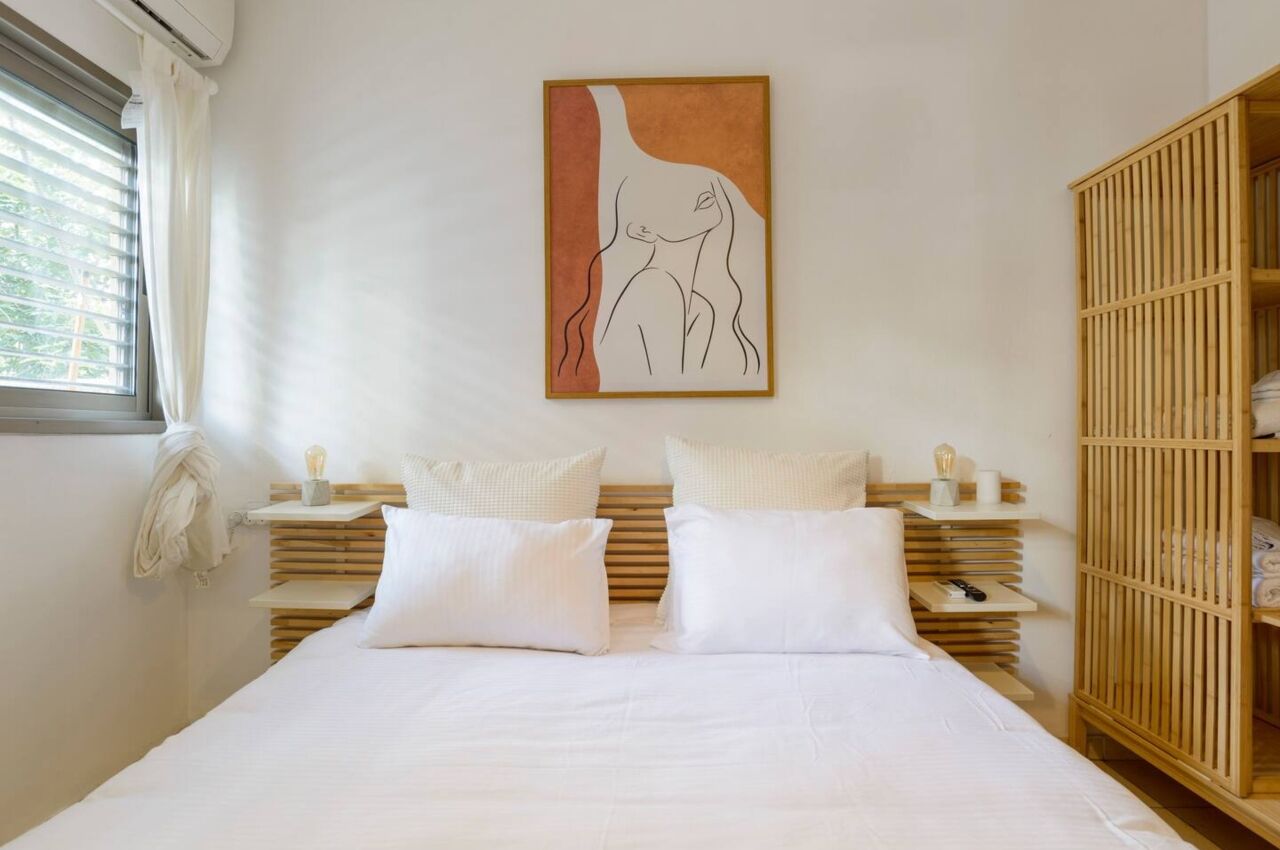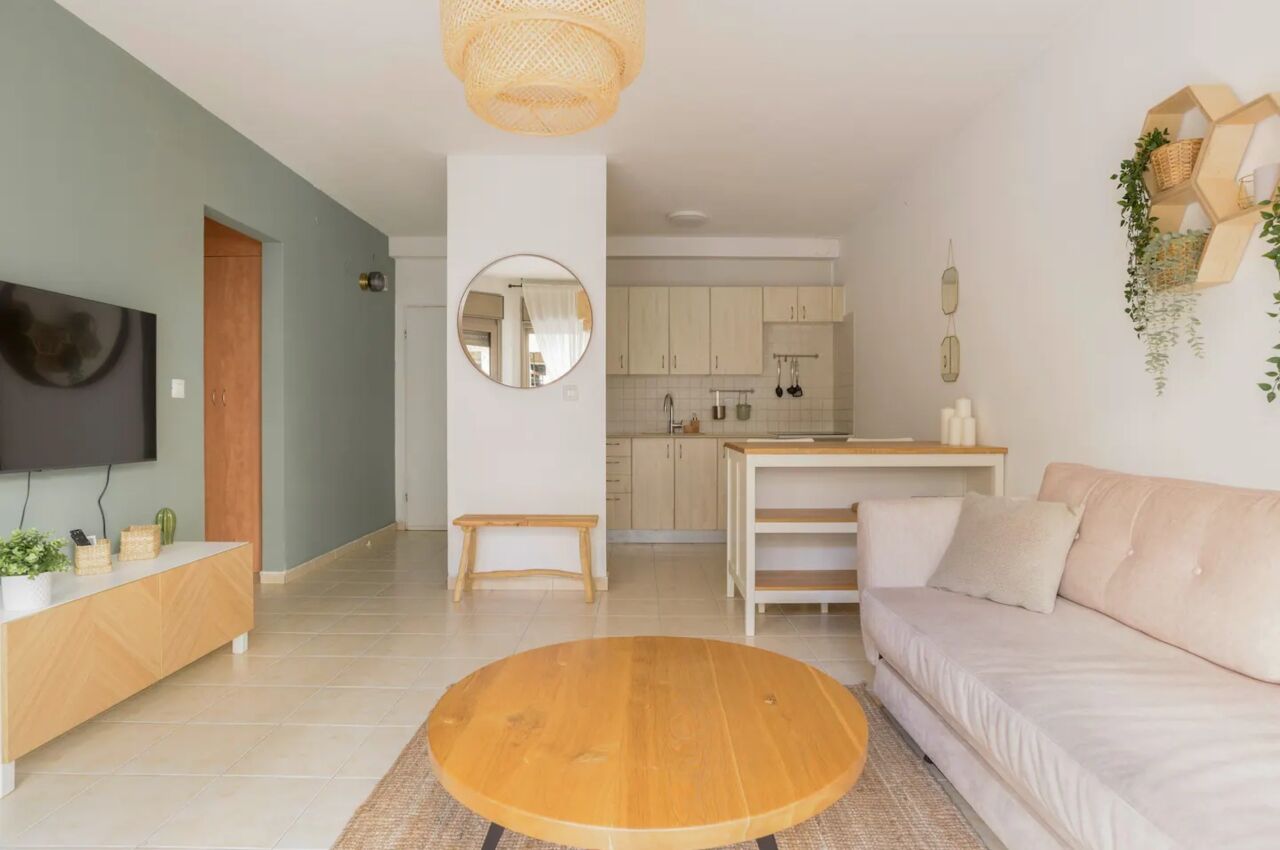 This bright and spacious one-bedroom in the heart of Florentin is a calming respite from the neighborhood's wall-scrawled streets. Grab a coffee from the downstairs cafe and sip it on the balcony before scouring this trendy enclave for street art.
Old Jaffa's clock tower apartment with balcony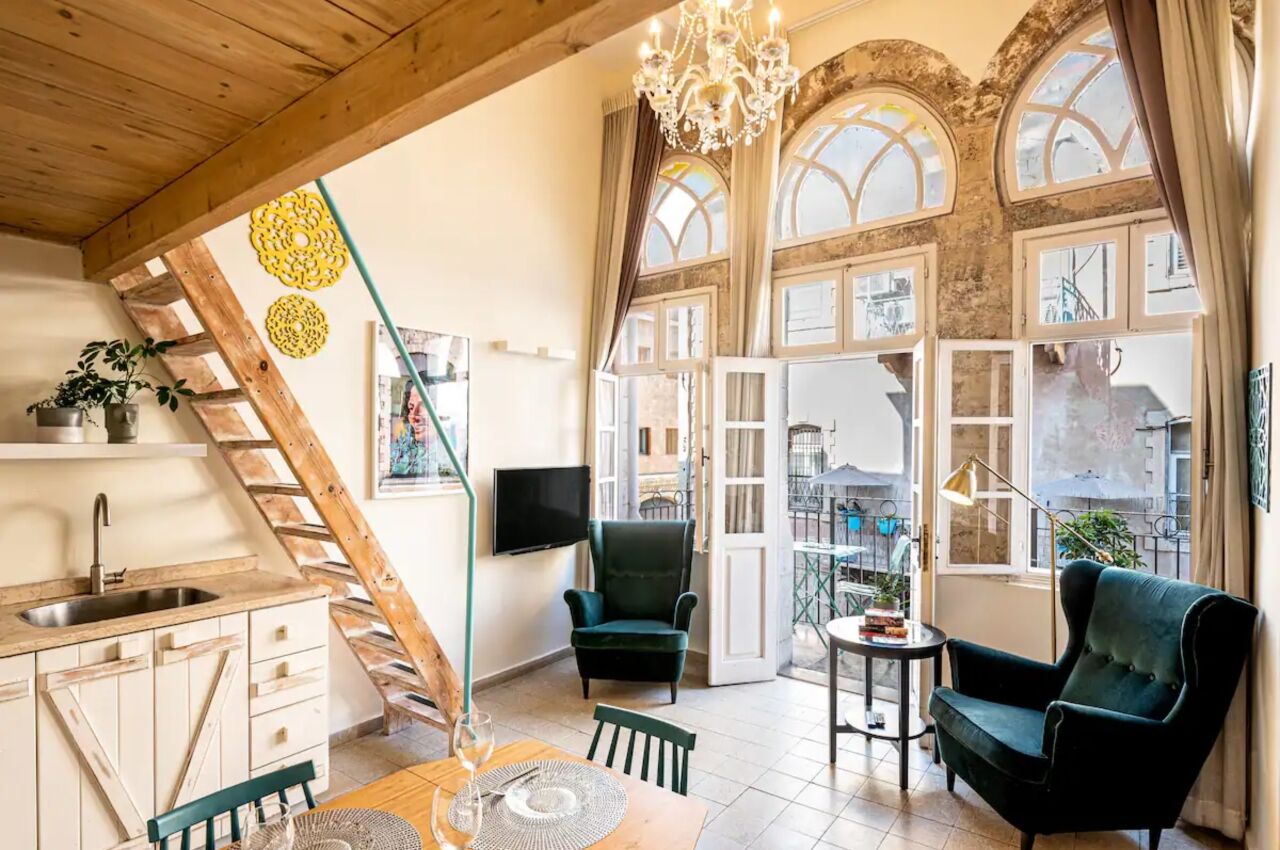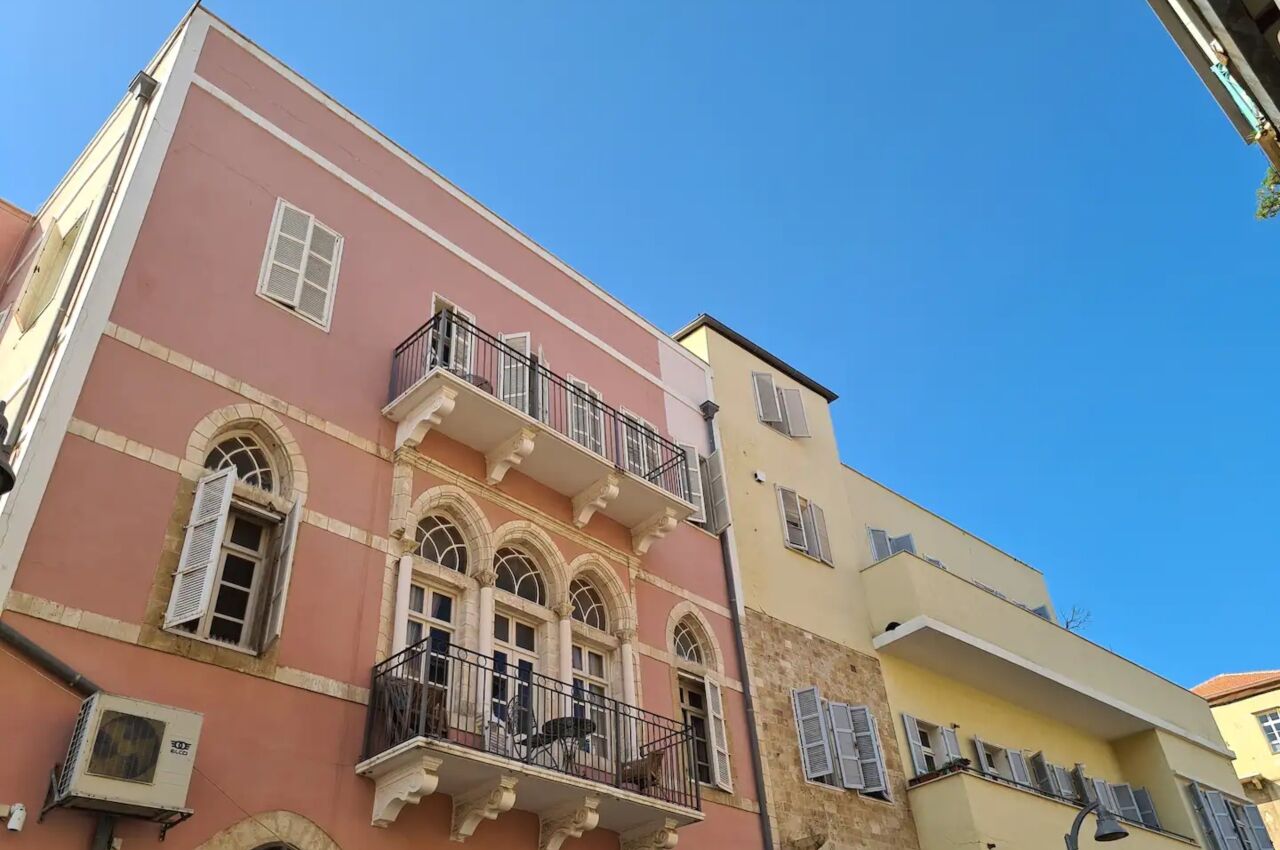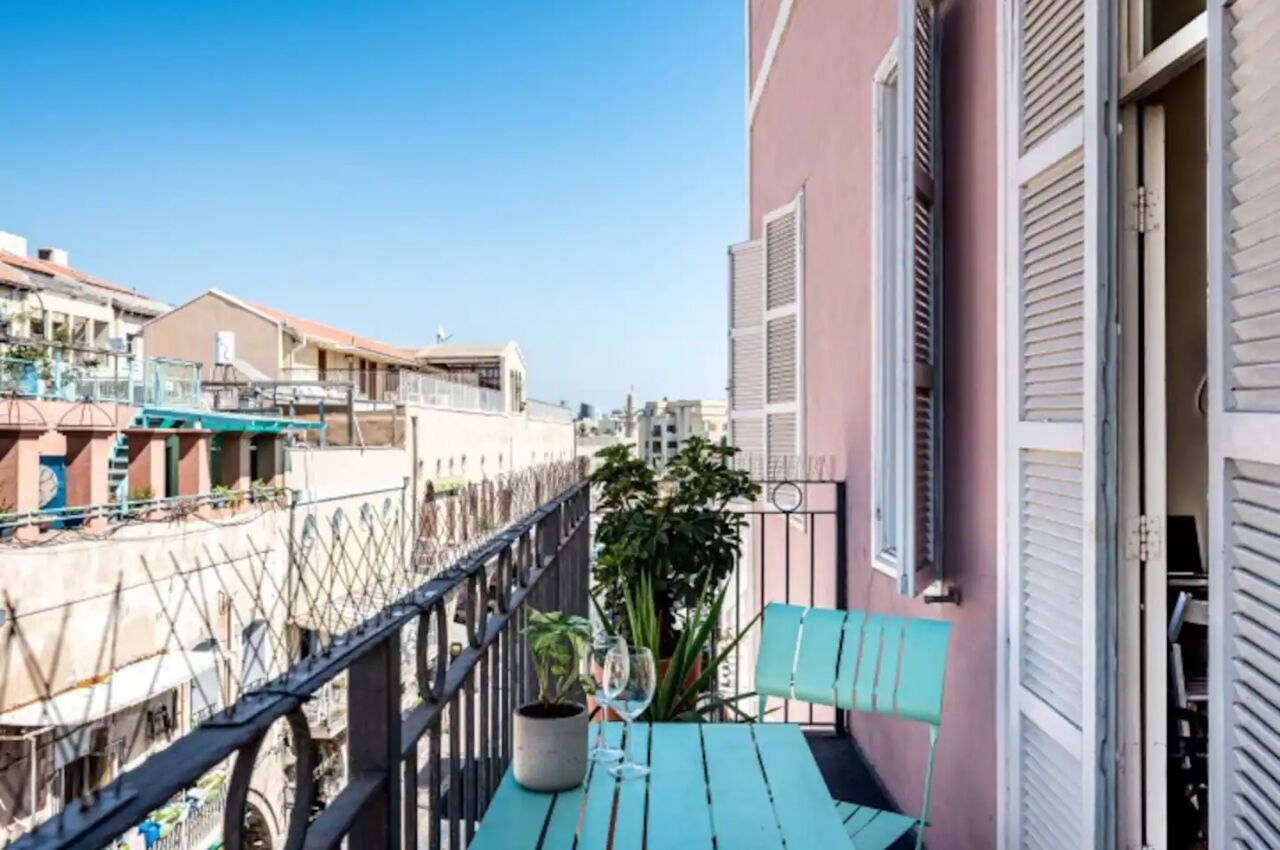 Wake up to sunlight cascading through the arched sky-high windows in this bohemian pad just outside Jaffa's historic district. Easy access to Charles Clore Beach, the Jaffa Flea Market, and yummy eateries like Puaa (Mediterranean) and dama (coffee and breakfast) ensure everything you need is within a five-minute walk.
Check out Matador's LGBTQ+ travel guides to Europe and the world
What did you think of this story?