The Ultimate LGBTQ Guide To Amsterdam
The Dutch word "gezellig" has no proper English equivalent but roughly translates to "cozy," "pleasant," or "comfortable" — a feeling of well-being that arises from a person or place. As an LGBTQ+ traveler, to visit to gay Amsterdam is to know what this means.
Gezellig lives in the tulips that spring from the flower boxes in front of 17th-century townhouses and the choral chime of bike bells cling-clanging through the air. Strolling along the snug houseboats that line the city's iconic canals is gezellig, as is drinking craft beer with good friends in a classic brown cafe. Most importantly, Dutch locals inspire the feeling of gezellig.
They're a people so inviting you may be caught off guard by their kindness. Internationally known for their liberal do-as-you-please laws, it should be no surprise that Amsterdam is a favorite destination for the LGBTQ+ community.
On the flip side, Amsterdam is currently dealing with the strain of over-tourism. The city may be more postcard-perfect than Disney World, but this popular destination is no theme park — it's home to around 800,000 residents who want you to respect them as much as they respect you. From marijuana dispensaries (known as coffeeshops) to live sex shows, it can be easy to over-indulge.
Rather than spending your entire vacation in the Red Light District, check out hip neighborhoods like De Pijp, Oud-West, and NDSM wharf. Moreover, try traveling outside of peak season — July and August — and enjoy the benefits of fewer crowds and cheaper deals by taking a trip sometime between March and April or September and November.
---
---
A brief history of LGBTQ+ scene in Amsterdam
Amsterdam has been a global leader in the fight for LGBTQ+ rights for over 200 years. In 1811, the country decriminalized homosexual activity. The first gay bar, operated by an out lesbian, opened its doors in 1927. The COC, a gay rights organization, was founded in Amsterdam in 1946 and is the world's oldest continually operating organization of its kind. In 1987, the Homomonument became the first memorial to homosexuals persecuted in World War II, and in 2001, the Netherlands became the first country to legalize same-sex marriage.
Knowing all this, it may seem surprising that Europe's most historically accepting city lacks a true gayborhood. Although sections of streets like Kerkstraat and Reguliersdwarsstraat are definitively queer, Amsterdam's LGBTQ+ scene is as far-ranging and free as the city's liberal laws. Luckily, the areas where queer folks congregate are within easy walking distance or a short tram ride from one another.
The best gay bars in Amsterdam
SoHo
Don't be fooled by the classy wood-paneled interior and Victorian staircase in this Reguliersdwarsstraat joint — once the weekend rolls around, this bi-level bar is pumping with trashy pop music until 4:00 AM. The outdoor patio offers a quiet escape from the busy indoor shenanigans, as does the smoking room upstairs.
SoHo is centrally located in the biggest LGBTQ+-friendly section of Amsterdam, and it's steps away from popular gay bars Taboo, and Bar BLEND.
Address: Reguliersdwarsstraat 36
Cafe t' Mandje
Cafe t' Mandje ("the basket") holds the honor of being Amsterdam's first official gay bar. Opened in 1927 by the brazenly out lesbian Bet van Beeren, it operated until 1982 and then re-opened in 2008. The interior is covered from floor to ceiling with photos and memorabilia from the bar's heyday, serving as a time capsule for the city's queer history. This all-are-welcome establishment is perfect for grabbing a beer and chatting with old friends.
Address: Zeedijk 63
Spijker Bar
Spijker originally opened in 1978 as a leather-and-levis bar, and while it's a lot laxer on dress code these days, it still attracts a similar clientele. Red-lit erotic art lines the walls, two dueling TV screens behind the bar play cartoons and hardcore content, and a pool table in the back attracts men looking for some action. (Not that kind of action — if you want to play with real balls, your best bet is to check out Club Church one block over.) Saturday's bingo night, hosted by drag queen Miss Didi Licious, is a popular time to visit.
Address: Kerkstraat 4
PRIK
One can't help but think pink in this cozy city-center gay bar. The sign out front is pink, the walls inside are pink, even the prosecco on tap is pink! The bar also offers light bar bites for those in need of a nosh.
Address: Spuistraat 109
Bar Buka
Buka, the Indonesian word for "open," is a bar for all people, but this comfy spot in de Pijp caters mainly to Amsterdam's lesbian community. The food menu of tasty bar treats features a section entitled "Fries Before Guys," and the specialty cocktails include names like "Pink Pleasure" and "Lipstick Maffia." The bar is open from Wednesday to Sunday.
Address: Albert Cuypstraat 124
The best LGBTQ+ clubs and saunas in Amsterdam
Club NYX
Located in a four-story former carriage house, NYX is a graffiti-strewn dance club that attracts a mixed crowd of queer folk and their allies. The venue has a little something for everyone, including performances by international drag artists, world-renowned DJs, and a new style of music on each floor.
Address: Reguliersdwarsstraat 42
Club Church
Get on your knees, all fours, or whatever consensually works for you to worship at the altar of this gay cruise club. An all-inclusive and sex-positive space, Church celebrates a bunch of fetish subcultures with various theme nights throughout the week. Check the website for schedule updates; be prepared to check your clothes with the doorman once you arrive.
Address: Kerkstraat 52
Eagle Amsterdam
This three-floor maze for leather lovers is a bar, dance hall, and cruise club all rolled into one. You can wander the basement's darkrooms looking for lust, hang in the communal cruising area on the top floor, or dance until dawn all weekend long while DJs spin tunes on the main landing. Check the website's schedule for special fetish nights. You may want to leave the ladies at home — this is generally a men's-only establishment. The bar is open Tuesday to Sunday in the Red Light District.
Address: Warmoesstraat 90
Nieuwuzijds (Gay Sauna)
If you're looking for a soak, steam, or something more obscene, this gay sauna has got you covered — with a towel, at least. The facilities include a Finnish sauna, jetstream jacuzzi, Turkish steam room, private cabins, and a lounge with a fully stocked bar.
Address: Nieuwezijds Armsteeg 95
The best LGBTQ+ events and parties in Amsterdam
Like many urban areas, Amsterdam's gay bar scene has seen a decline in recent years. Now some of the city's best queer nightlife events are one-night-only parties that happen on a semi-regular basis. Here, you'll find a younger, hipper crowd of in-the-know locales.
Is Burning
Hosted at various clubs throughout the city, this party weaves underground house music, techno, and even some disco into a night of dancing for the entire LGBTQ+ community to enjoy.
WTF Wednesday Queer Night at Vrankrijk
Every Wednesday, and some select Saturdays, Vrankrijk hosts performances by queer visual and performance artists. This is a safe space for people of every race, gender identity, physical ability, and country of origin.
Rapido
This popular party attracts a sweaty, shirtless crowd of circuit queens. Tickets usually sell out fast; parties happen about once every month at different event spaces.
Milkshake Festival
Every late July or early August, this Milkshake brings all the boys, girls, and everything in between to the yards of Westerpark for a two-day dance celebration of music, sun, and fun. The outdoor event is an all-inclusive celebration of freedom with an eclectic lineup of DJs, musicians, and performance artists spread around the event's multiple stages. It's a queer midsummer's night dream. Check the website for updates.
King's Day
April 27 is King's Day — a holiday honoring the current King of the Netherlands, Willem-Alexander. Known as Queen's Day until 2013, Willem-Alexander is the first male monarch to grace the Dutch throne after 123 years of women ruling the roost. The Bacchanalian festival welcomes over a million party-goers dressed in orange to the city streets for the celebration. While it isn't technically an LGBTQ+ event, there are tons of queer parties to choose from on both the April 26 and 27. Mid- to late April also happens to be peak season to see the country's iconic tulips in full bloom — another worthy reason to visit this time of year.
Amsterdam Pride
From the last Saturday in July to the first Sunday in August, rainbow flags fly high along Amsterdam's canals for Pride, one of Europe's most beloved queer celebrations. Unlike most global Pride events, which commemorate NYC's 1969 Stonewall Riots and the birth of the Gay Liberation Movement, Amsterdam Pride began in 1996 solely as a celebration of love and diversity.
There are marches, rallies, and parties to attend all week long, but the most popular event is the Canal Parade on Pride's final Sunday. Eighty boats ride the city's waterways from Scheepvaartmuseum, along Prinsengracht, and end at Westerdok. It's one of the only Pride parades in the world to have floats that literally float. Nearly half-a-million people from all over the globe attend the festivities every year.
The best LGBTQ+ landmarks in Amsterdam
Homomonument
In 1987, Amsterdam unveiled Homomonument, the world's first monument memorializing homosexuals persecuted under the Nazi regime.
Located in Westermarkt, thin lines of pink granite form a triangle in the square — a reclamation of the symbol gay men and women were forced to wear in concentration camps during World War II. Inside each of the triangle's three points is a smaller triangle that directs attention to local sites of significance.
One faces the National War Memorial in Dam Square where gay activists laid a lavender wreath in 1970 and were subsequently arrested, sparking the idea for this monument. Another faces Anne Frank's house and is inscribed with a quote from a gay Jewish poet, Jacob Israel de Haan: Naar Vriendschap Zulk een Mateloos Verlangen ("Such an endless desire for friendship"). The third faces the COC Nederland headquarters, which holds the distinction of being the world's oldest continually operating gay rights organization.
Floral wreaths and bouquets are regularly laid on the triangular platform extending outward above the water of Keizergracht as a reminder of the arduous fight for equality faced by the queer community.
Address: Westermarkt
Pink Point
This LGBTQ+ information center and souvenir shop located next to the Homomonument has been in operation for over 20 years. In addition to the queer-themed postcards, tchotchkes, and clothing you can buy, the friendly staff are an excellent resource for insider tips about where to go and what to see as a queer tourist in Amsterdam.
Address: Westermarkt t/o 9
The best parks and beaches in Amsterdam
Vondelpark
Vondelpark is a 19th-century urban greenspace with weeping willow-lined pools, bike paths, and lawns for lounging. The rosarium, located halfway through the park, is infamously known as the most frequented gay cruising area in the city. Yes — you read that correctly — once night falls, men daring enough to drop their trousers in the great outdoors frequent this part of the park in search of pleasure. Most residents, including police, are aware of what goes on here and turn a blind eye. If you happen to fancy a rose garden triste, use caution and be careful of pickpockets.
Address: 1054 NE Amsterdam
Zandvoort Nude Beach
Zandvoort, a coastal town with an expanse of sandy shoreline facing the North Sea, is about an hour's trip from Amsterdam, including a 20-minute walk to the beach. In the summertime, the clothing-optional area between poles 68 and 71 becomes a queer playground for naked boys looking to sunbathe near the seagrass-covered dunes.
Address: Near 2042 AG Zandvoort
Where to stay in Amsterdam
We hope you love the spaces and stays we recommend! Just so you know, Matador may collect a small commission from the links on this page if you decide to book a stay.
Penthouse on Keizersgracht Canal
This luxuriously renovated 17th-century merchant's house is on the Keizersgracht Canal. The penthouse has a private elevator and sleeps four guests in its two large bedrooms. The rental comes with stunning views over the historic heart of Amsterdam and retains the building's original features such as wide oak doors, wooden beams and antique floors.
Luxurious suite with canal view in heart of city
This guesthouse suite, located along the UNESCO World Heritage Herengracht Canal, was built in 1637. It's designed for relaxing window-side with a beverage of choice while watching the canal and the city it traverses flow by down below — a unique take on a city known for action. Of course, the city center and its museums, cafes, and pubs are right there as well, so don't get too settled in.
Price: $227 per night
Check out Matador's comprehensive article on the best Airbnbs in Amsterdam's trendiest neighborhoods for list of trusted rentals.
Amistad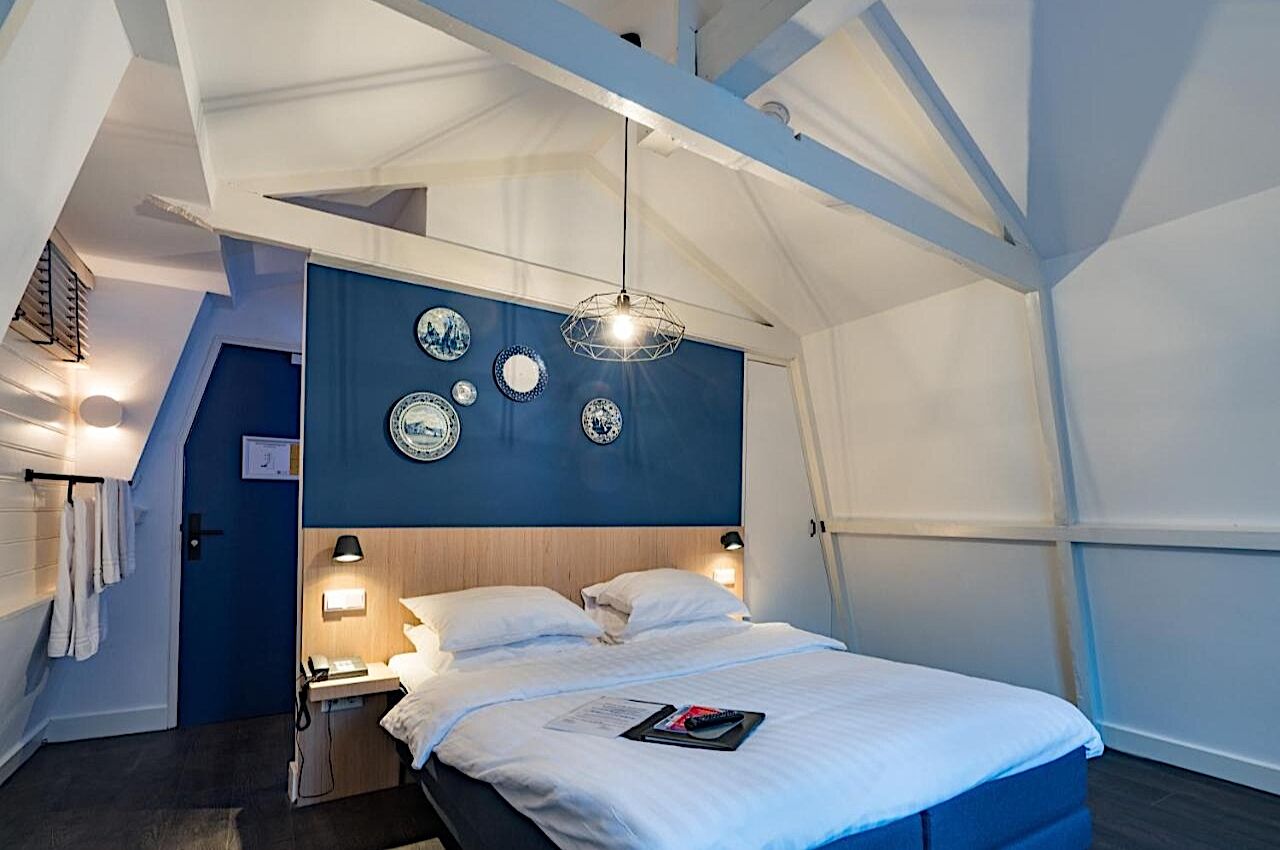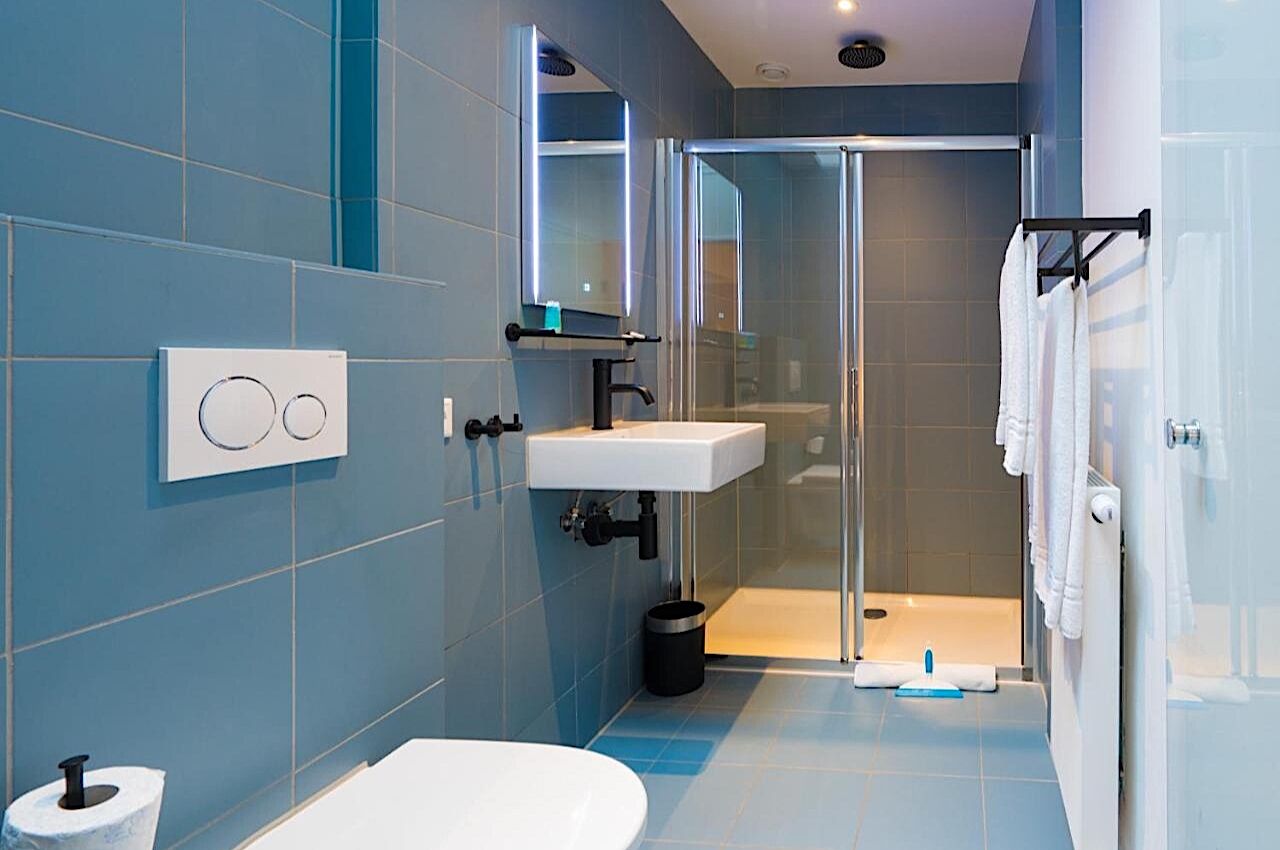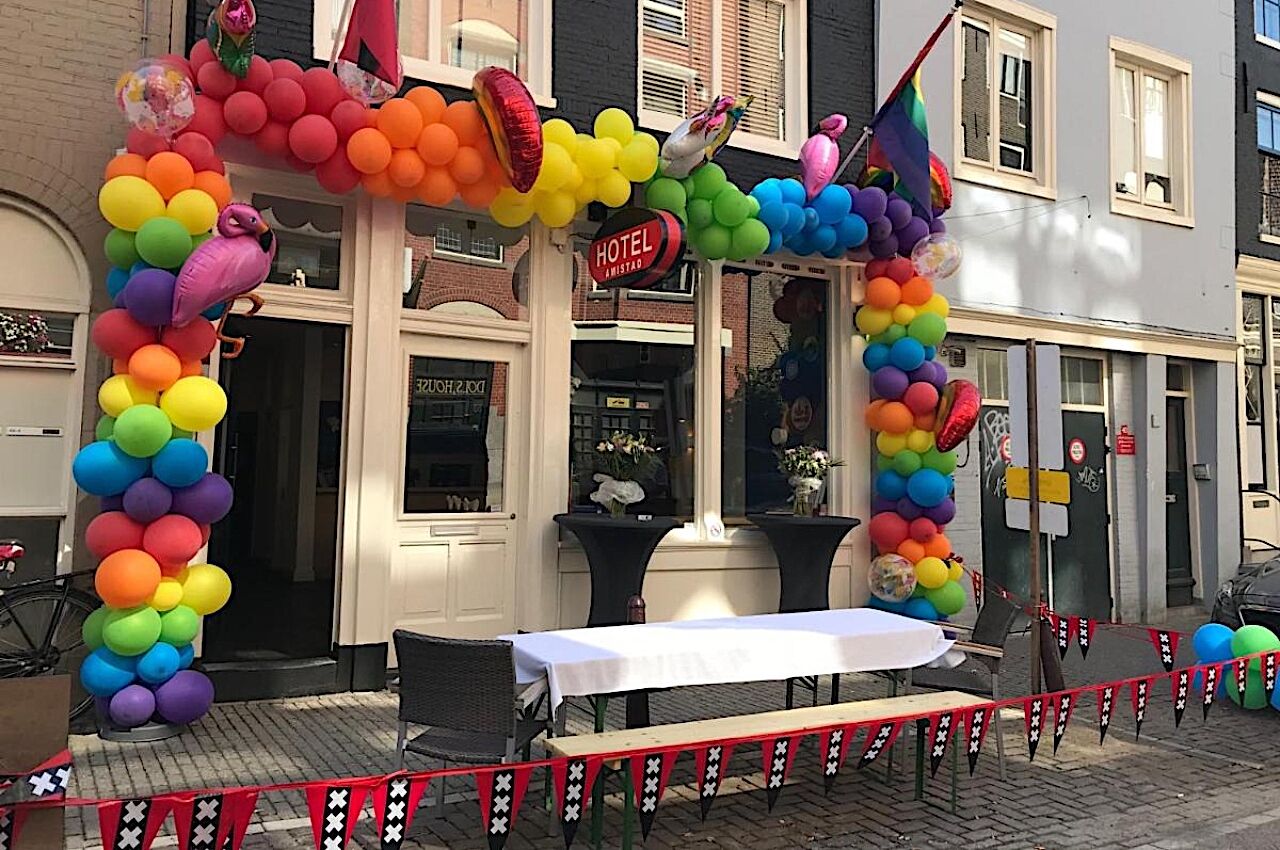 This tiny gay-owned boutique hotel facing Kerkstraat is a five-minute walk from the city's most popular gay bars on Reguliersdwarsstraat and a short stroll to Museumplein. The cozy rooms are minimalist and modern; there's a communal breakfast served every morning.
Address: Kerkstraat 42
Mauro Mansion
In the 1990s, the nine rooms in this 16th-century rowhouse served as a bawdy boutique hotel for upscale gay clientele: Rooms came equipped with bondage gear, slings, and even cages. Although the company is now much more mixed than it once was, a few of the cages remain, and this hotel is still popping with personality. Amsterdam Centraal and the Red Light District are both steps away. Children under the age of 12 are not permitted.
Address: Geldersekade 16
Check out Matador's LGBTQ+ travel guides to Europe and the world
What did you think of this story?