9 Historic Washington DC Hotels That Have Seen Secrets and Scandals
Washington DC is a history buff's paradise with its rich past, gorgeous architecture, and many secrets and scandals both known and unknown. And while the monuments and museums offer a wealth of knowledge, the historic hotels in Washington DC have seen it all — from inauguration celebrations to clandestine meetings and everything in-between. These nine hotels offer a slice of DC history to guests through their exterior and interior designs, on-property programming, and bespoke concierge-designed itineraries that will help you make the most of a stay in the US capital.
We hope you love the historic hotels in Washington DC we recommend! Just so you know, Matador may collect a small commission from the links on this page if you decide to book a stay.
The Dupont Circle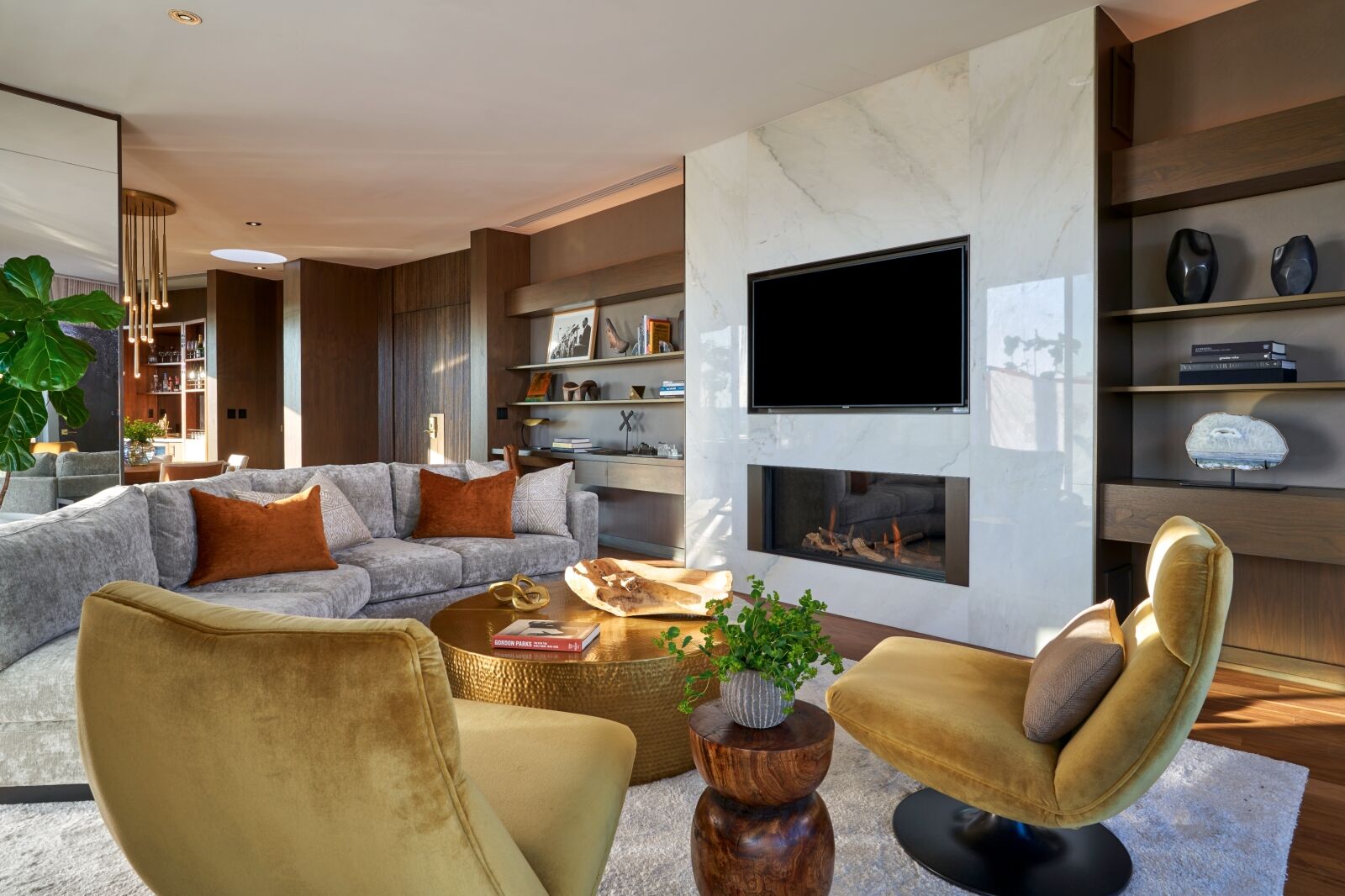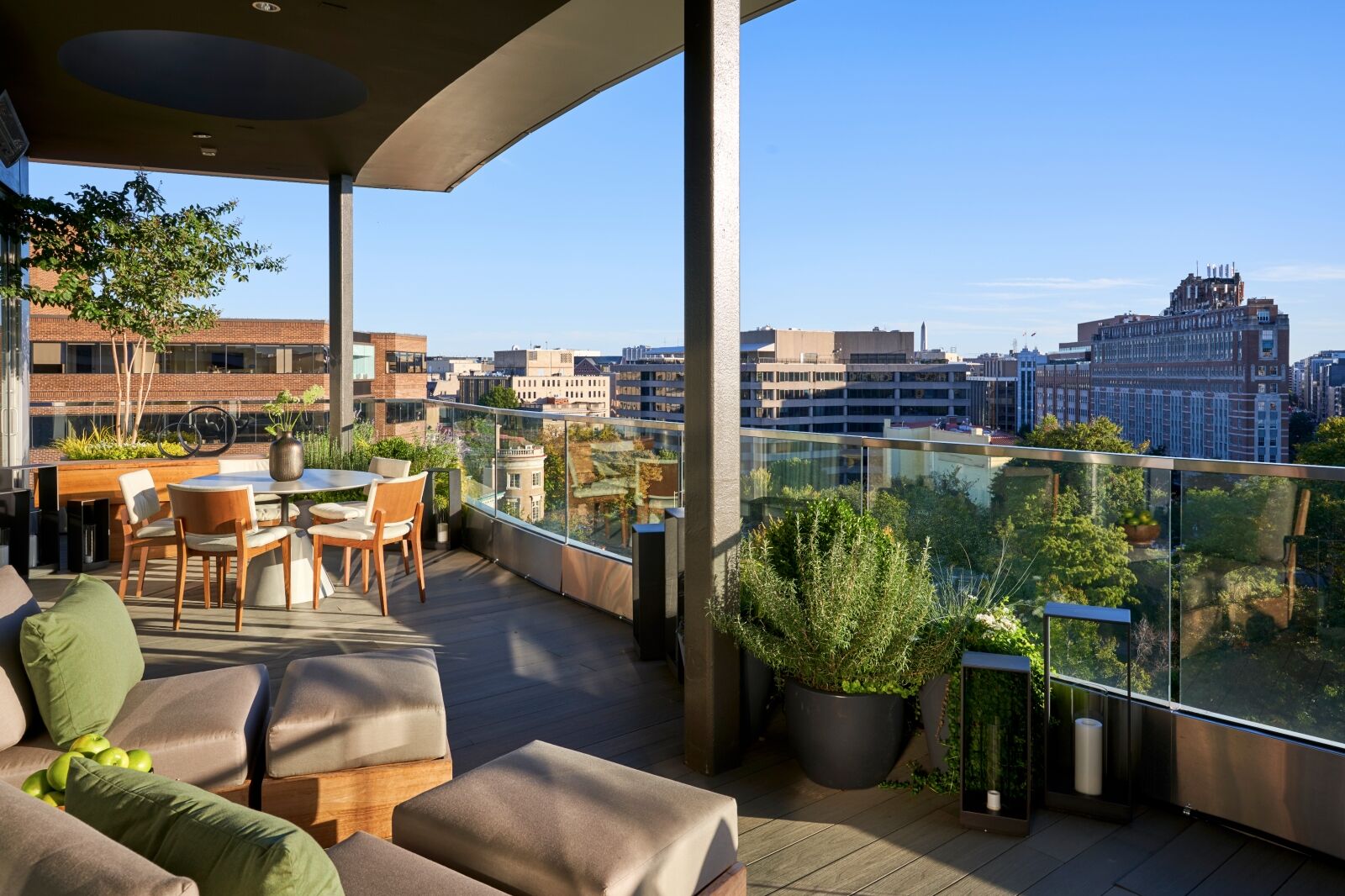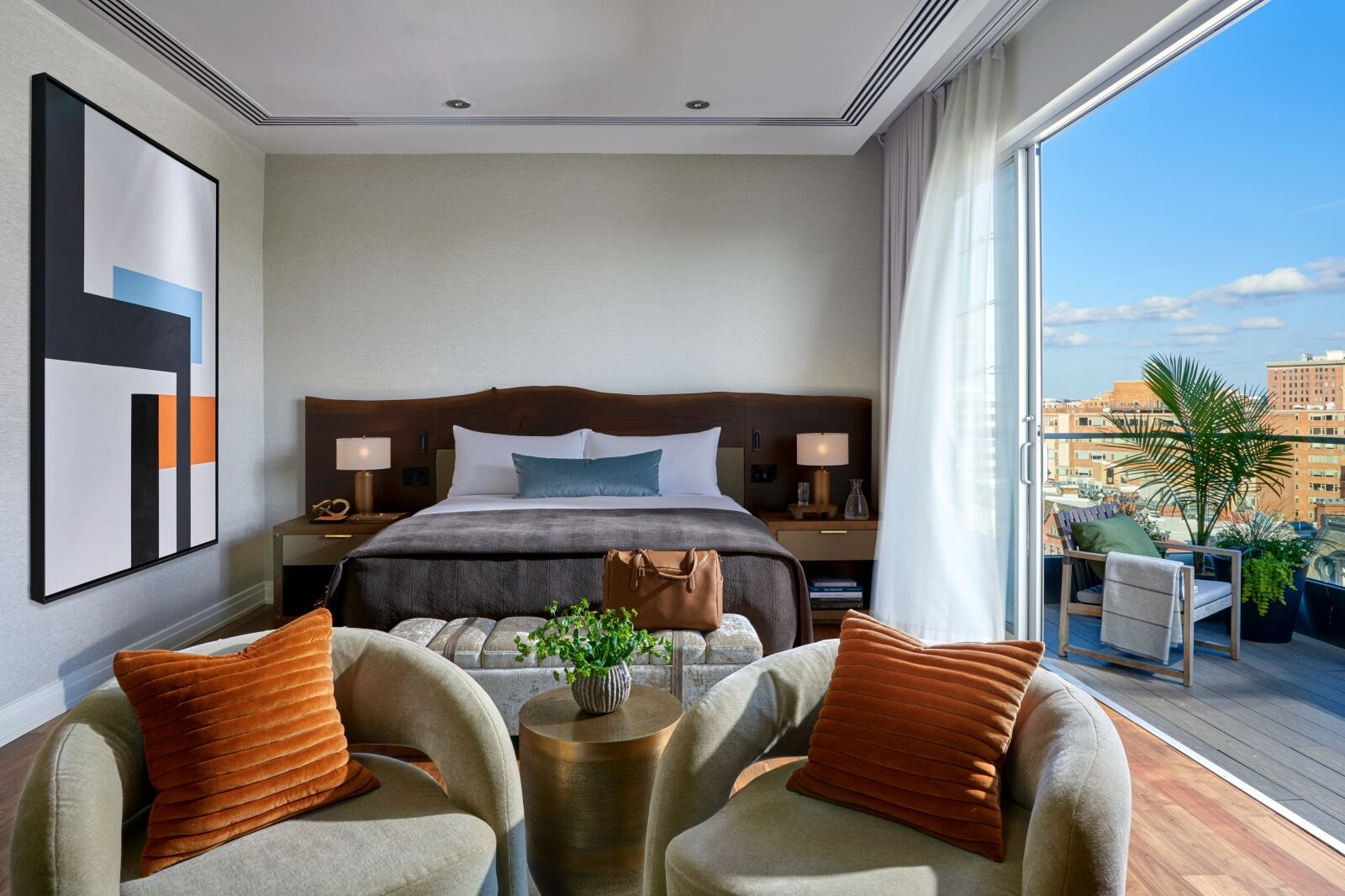 If you want to be in the center of all the DC action, there are few better places to stay than The Dupont Circle, which is close to monuments, museums, and excellent dining options.
The hotel's Slice of the City program features tours, guides, and happenings around town, but Michael High, the chief concierge, can create personalized itineraries for anyone who wants tailor-made recommendations on how to see DC's best historic sites.
"A concierge for over 27 years, Michael has a passion for creating bespoke experiences for guests," says Amir Sakr, the hotel manager. "Whether visiting for the first time or the third, Michael can tap into his extensive network of connections to plan an itinerary that features the very best Washington has to offer — from city favorites such as the National Mall, to local neighborhood gems like The Phillips Collection, the first modern art museum in the United States."
Whether you want to hop on a bike, splurge on a chauffeured driver, or get insider advice on the best walking tours in town, Michael can arrange it. After a day of exploring, retreat to your spacious room or suite, or grab a nightcap at on-site Doyle bar and lounge.
Thompson Washington DC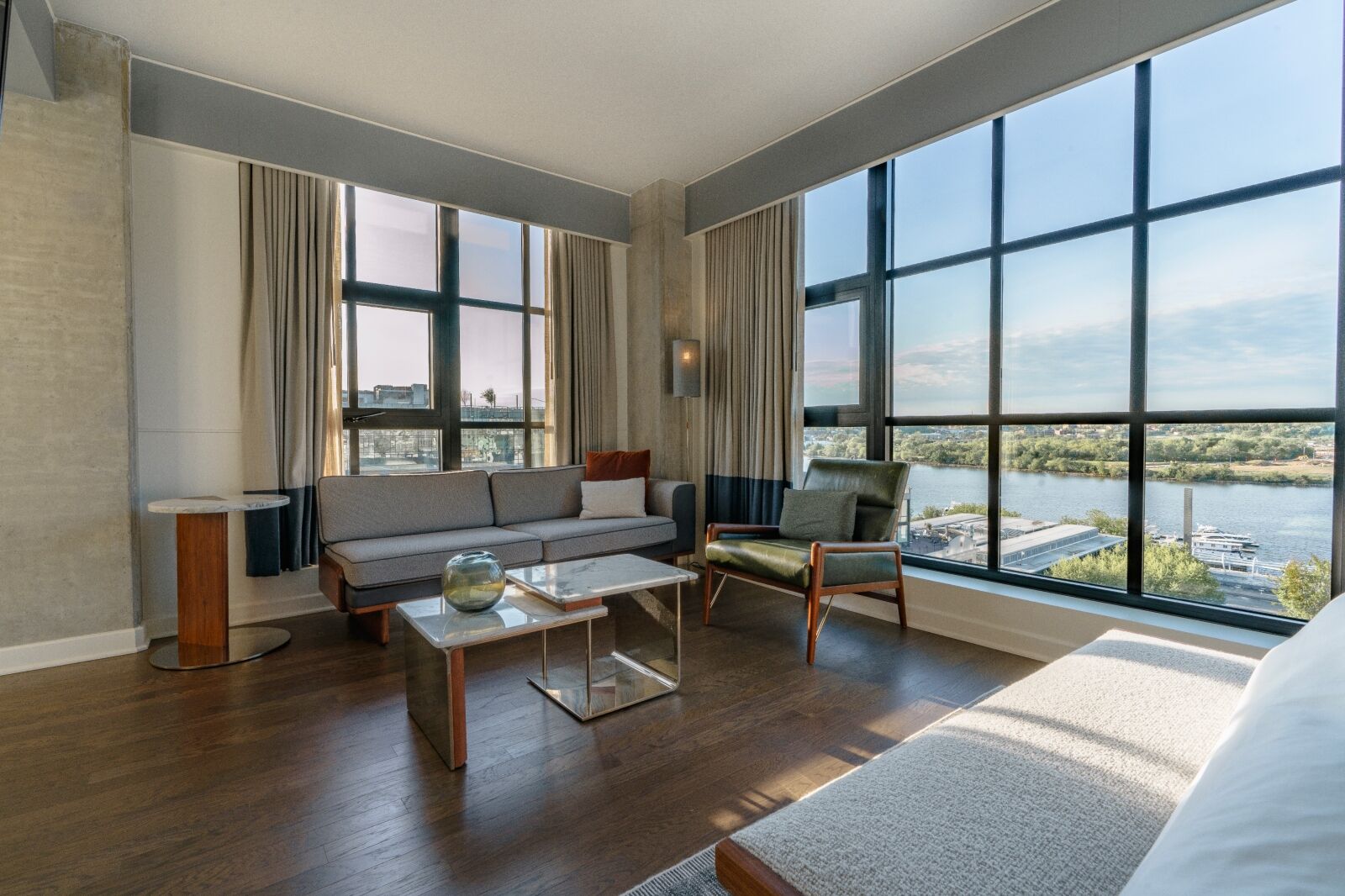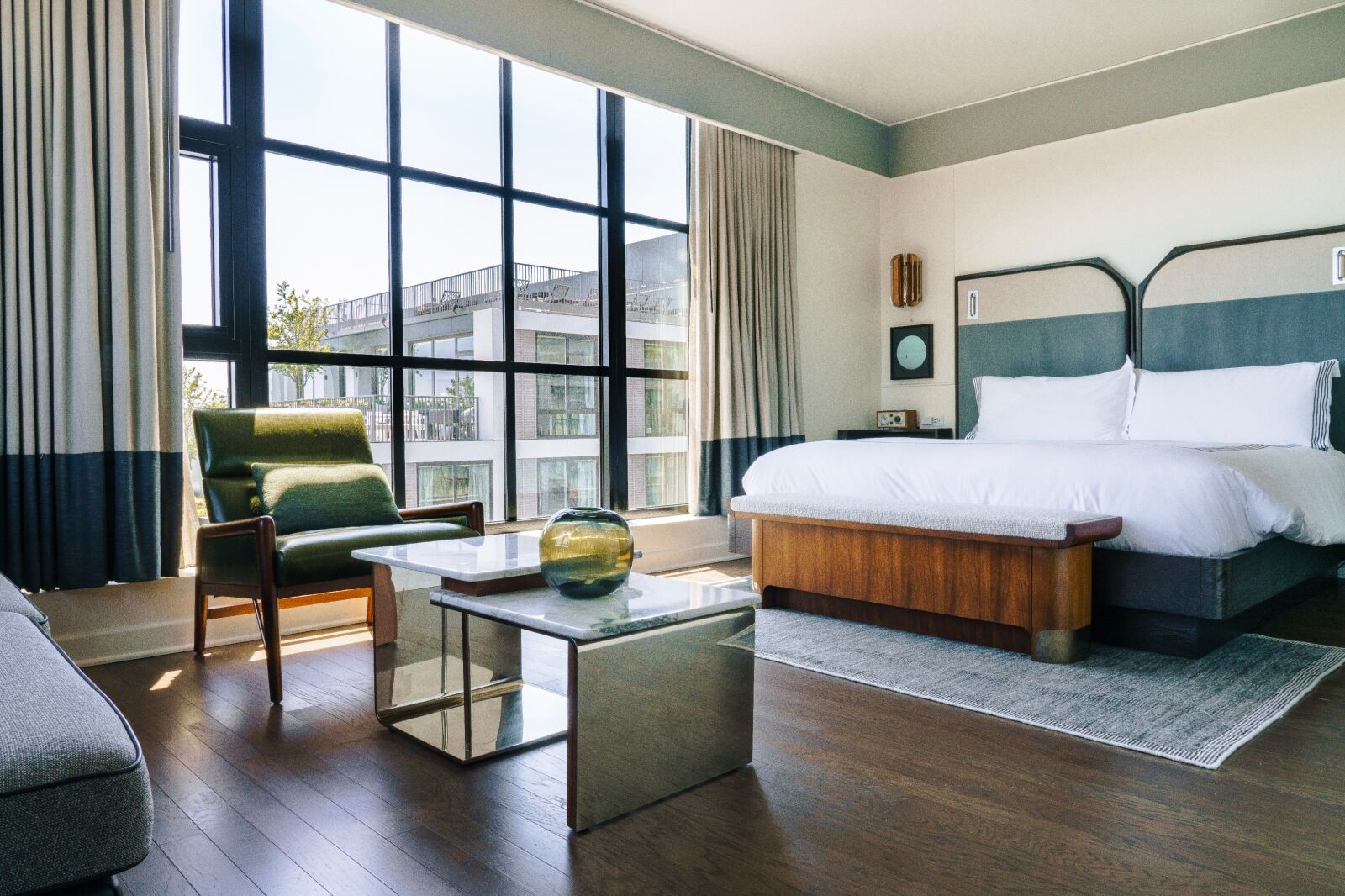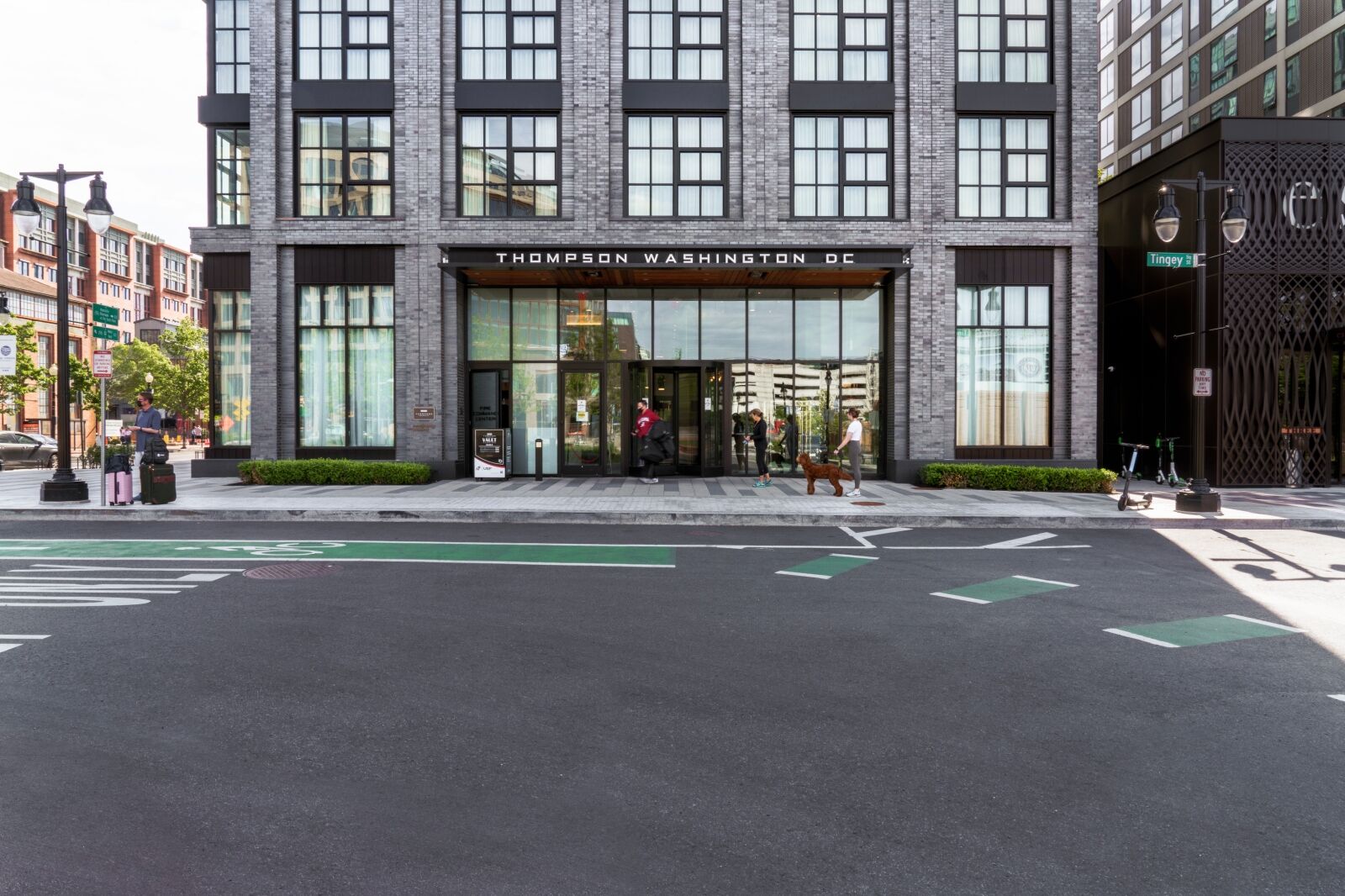 If you want to stay on the water and be close to the bustling energy of D.C's Capitol Riverfront Navy Yard neighborhood, the newly opened Thompson Washington DC offers chic accommodations with plenty to do nearby.
Walk along the Anacostia Riverwalk Trail to reach the US Navy Museum and Cold War Gallery Museum, or head to The Yards for shopping and dining.
For academics, visiting students, and lovers of collegiate communities, Thompson Washington DC can also arrange tours at historic universities like Howard, George Washington, and Georgetown.
"We love being a part of such a dynamic and historic community," says Katherina Kia, the hotel's general manager. "It's a core part of Thompson Washington DC, and it's important we offer and encourage experiences that showcase the vibrant city history we all know and love to our guests."
The property can also coordinate a tour of Old Town Alexandria, which is known for its charming cobblestone streets, 18th-century townhouses, and farm-to-table restaurants.
Kimpton Hotel Monaco Washington DC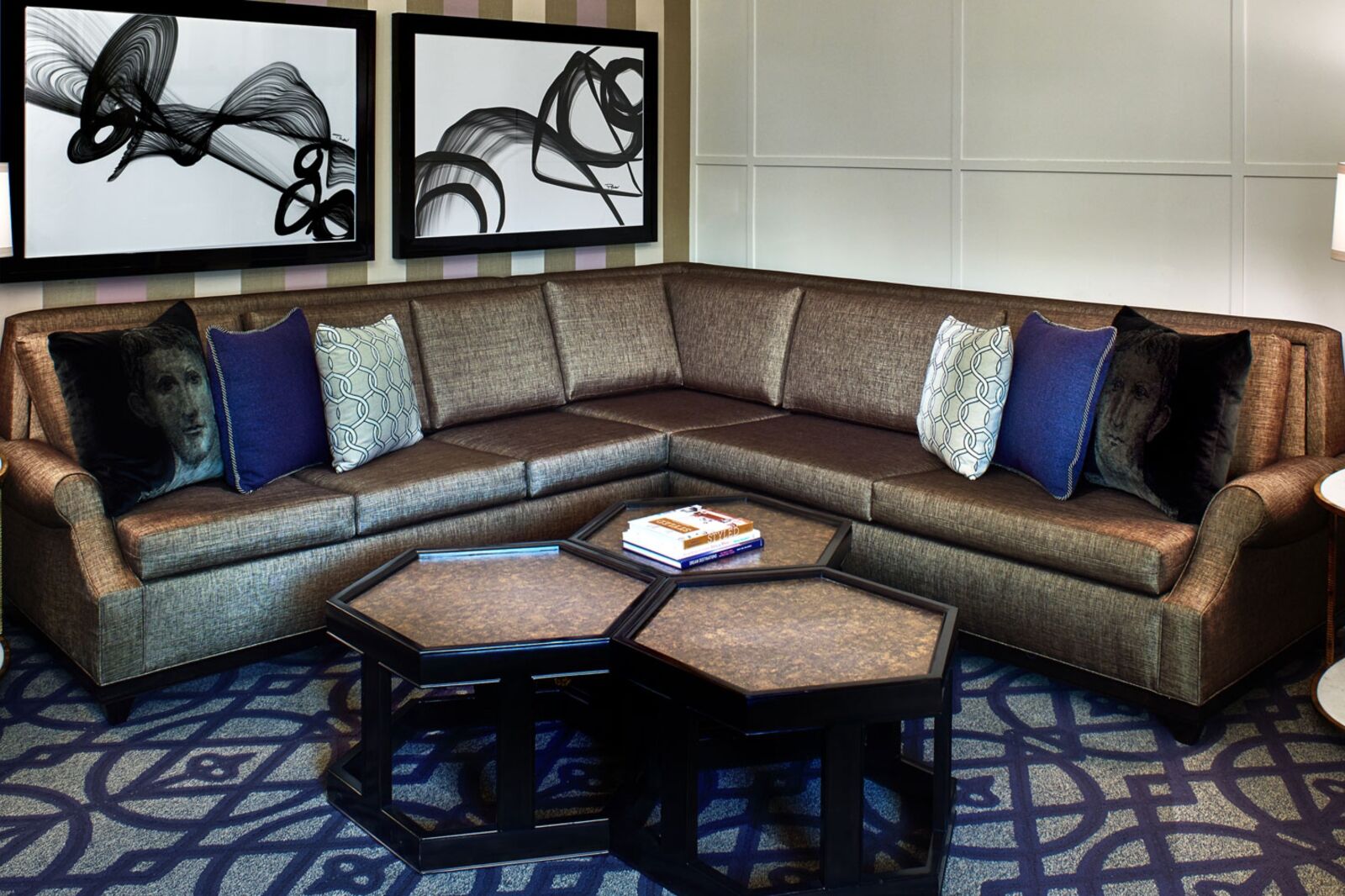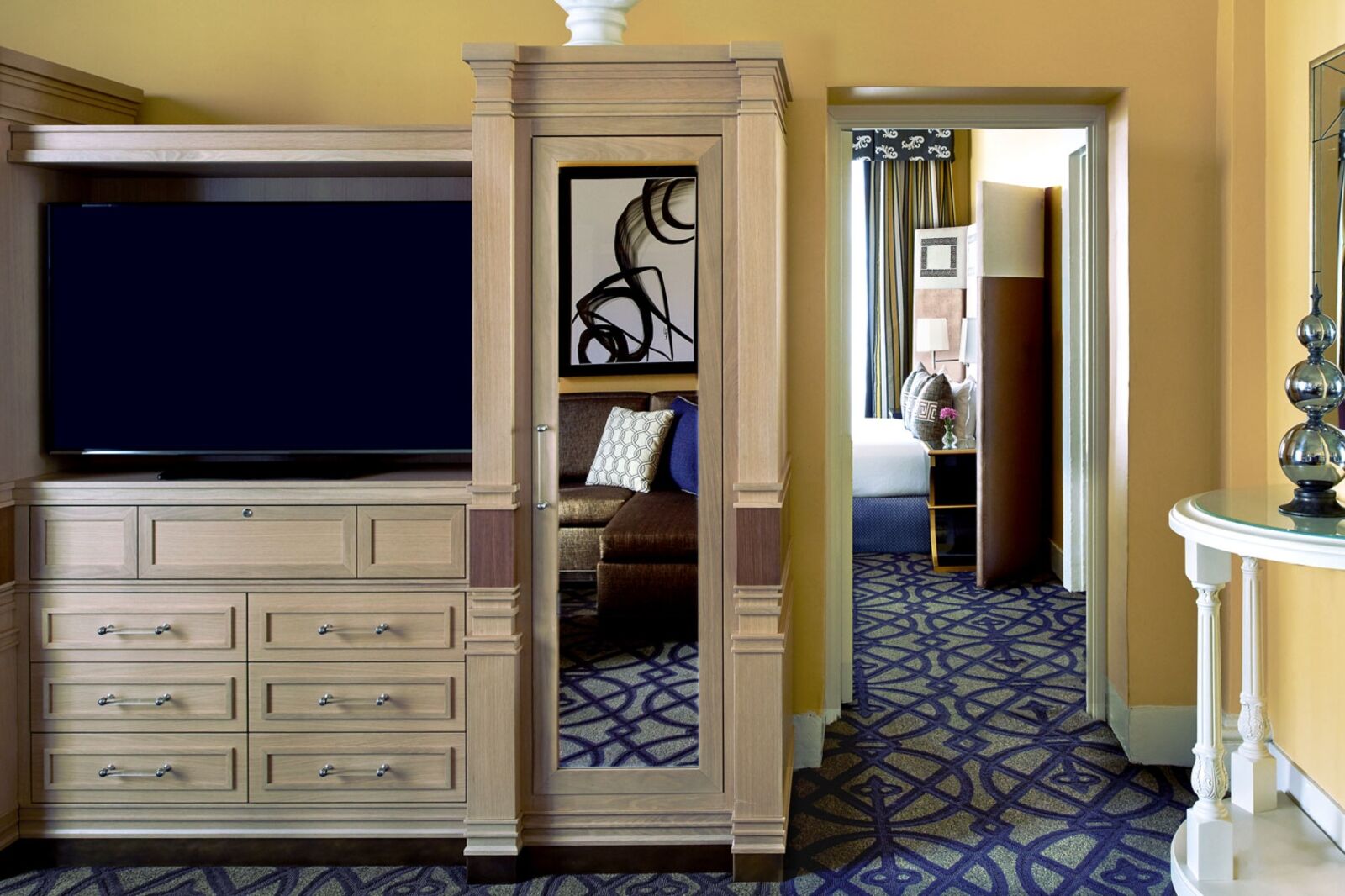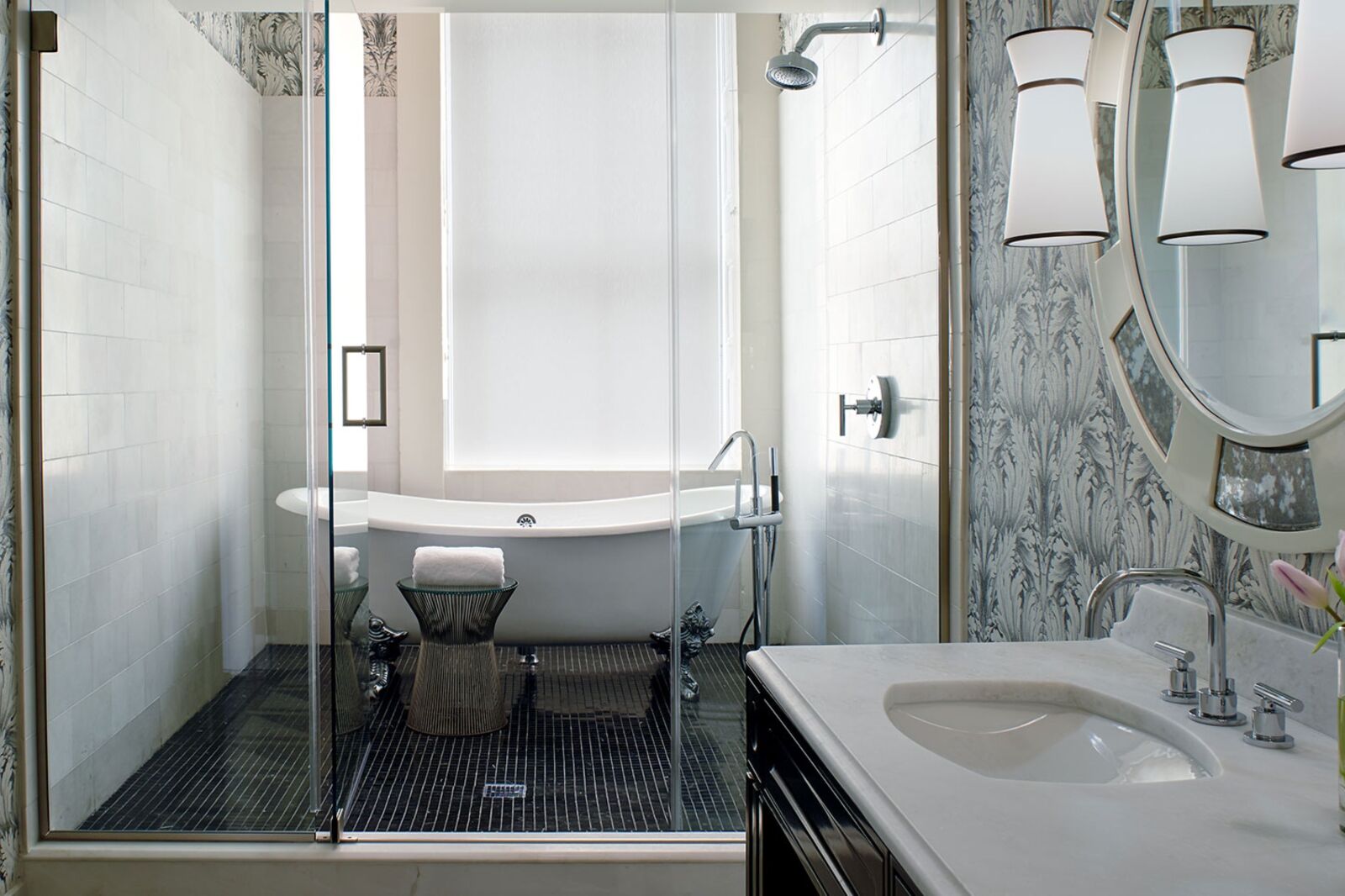 Lovers of bold, opulent design will feel right at home at Kimpton Hotel Monaco, whether they're relaxing in the colorful living room or soaking in their suite's claw-foot tub.
It's also an example of one of the nation's most stunning architectural transformations. The building was designed by architect Robert Mills — designer of the Washington Monument — and was completed in 1842 before getting a north facade extension in 1865, designed by one of the Capitol's architects, Thomas Walter.
The National Historic Landmark was the first all-marble building in the city and served as Washington's General Post Office.
"The building was carefully restored and opened in 2002 as The Kimpton Hotel Monaco, and guests love that many of the original design elements are still here today," says Bill Hanley, the hotel's area director of sales and marketing. "Guests can still descend the building's original marble and cast iron staircase, which is a favorite for wedding photos."
After a day of exploring the city, retreat to hotel restaurant Dirty Habit for happy hour drinks and bites in the gorgeous courtyard.
The Watergate Hotel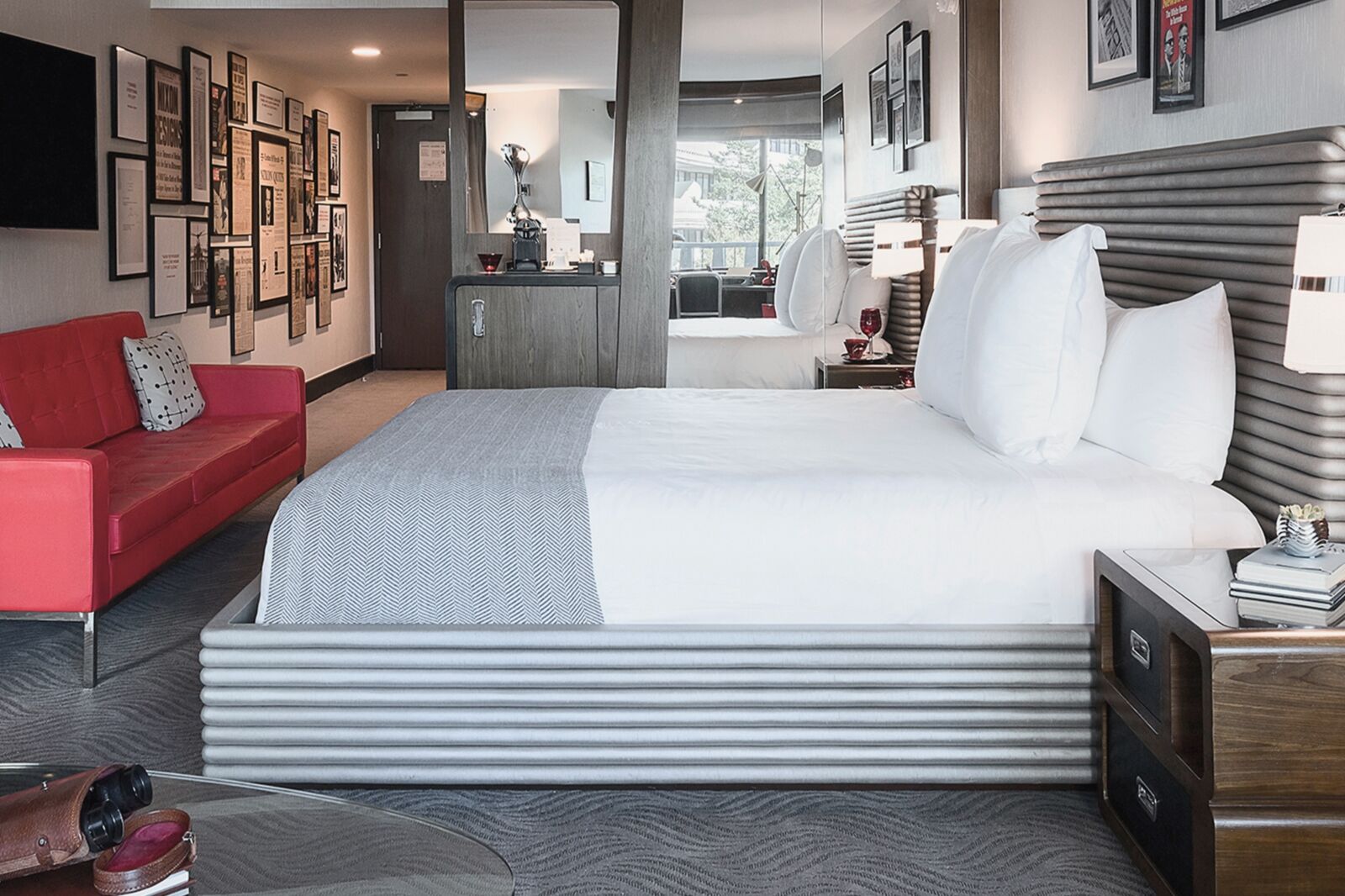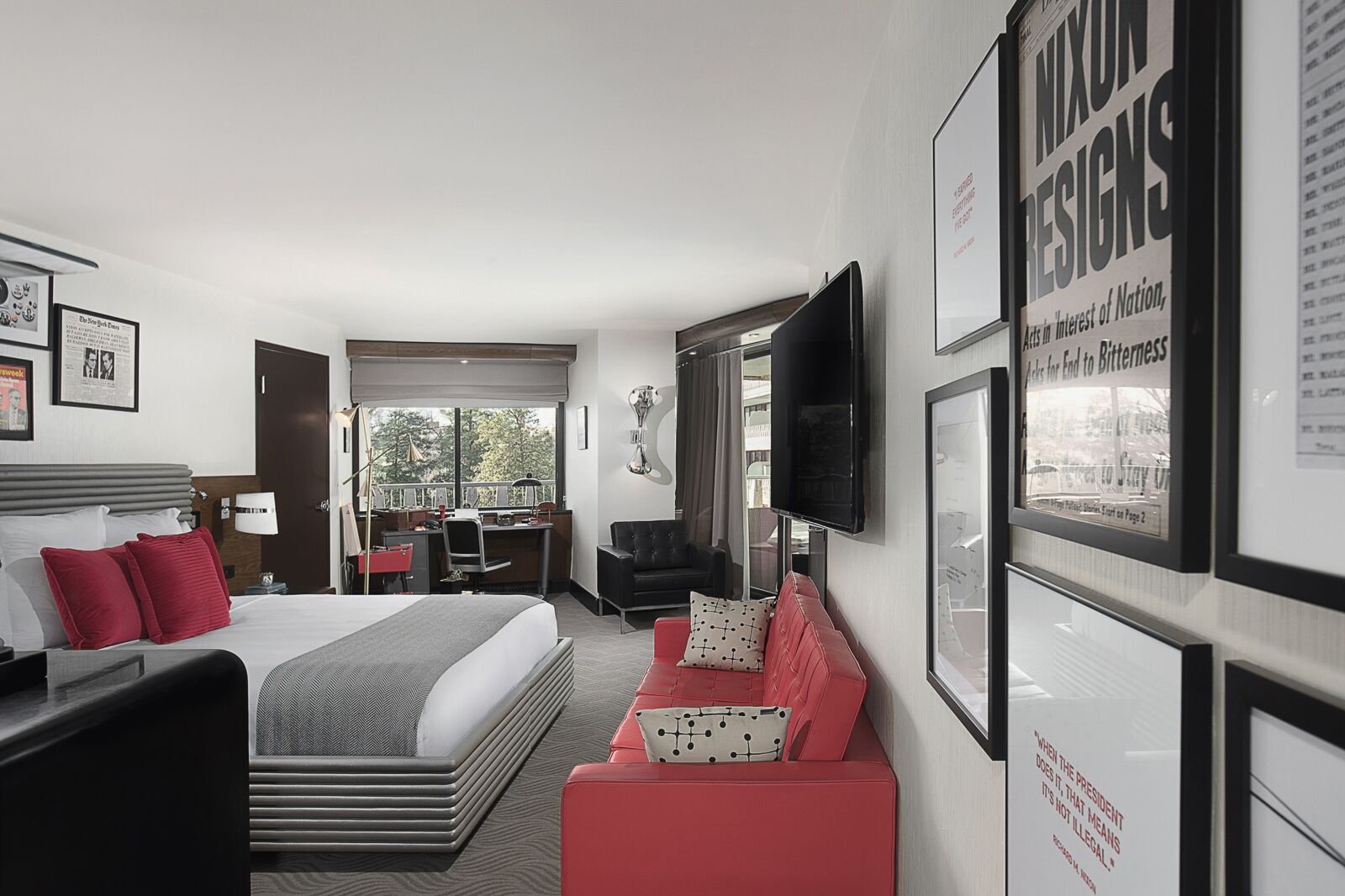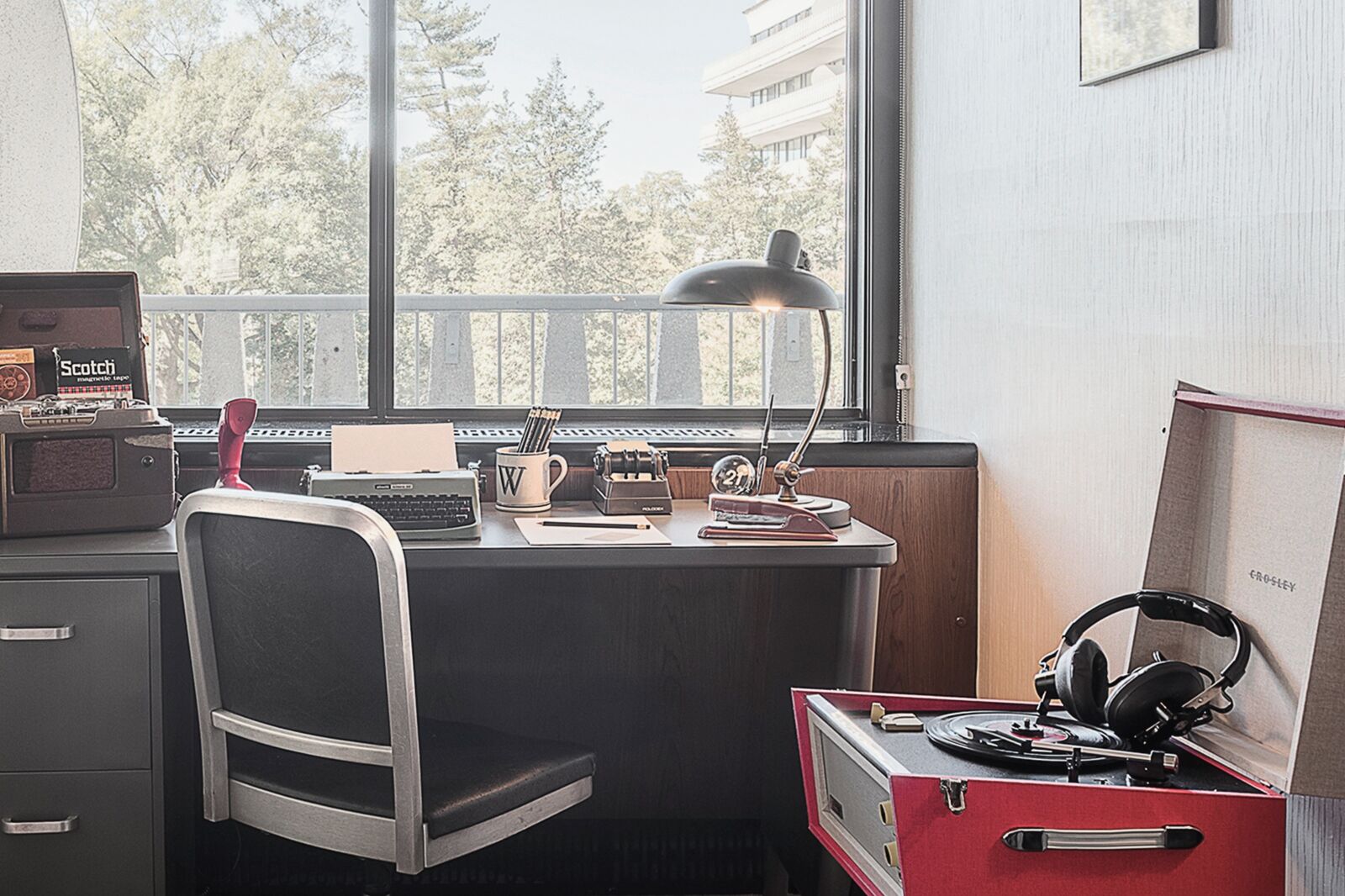 You likely know The Watergate Hotel because it's synonymous with one of the United States' biggest political scandals, but the property was controversial from the start.
When it opened in 1965, its curvy, modern design by Italian architect Luigi Moretti was shocking to conservative DC. It became a hotspot for the rich and famous, where celebrities mingled with congressional representatives who lived in the Watergate apartments.
As 2022 is the 50th anniversary of the Watergate break-in, there's no better time to take a tour of the Scandal Suite, which is always available to guests staying at the hotel.
"We highlight our Scandal Suite to accentuate guest experience and enjoyment, and the 50th anniversary is a commemoration of an event etched in history at an iconic hotel," says Manuel Martinez, the hotel's managing director. "The Scandal Suite was the site where the break-in was orchestrated 50 years ago, with the view from the balcony into what was the DNC office at The Watergate Complex."
After a tour, head to The Next Whisky Bar for a Watergate Scandal cocktail, made with scotch, pear, and a mix of orange and Peychaud's bitters.
The Jefferson, Washington DC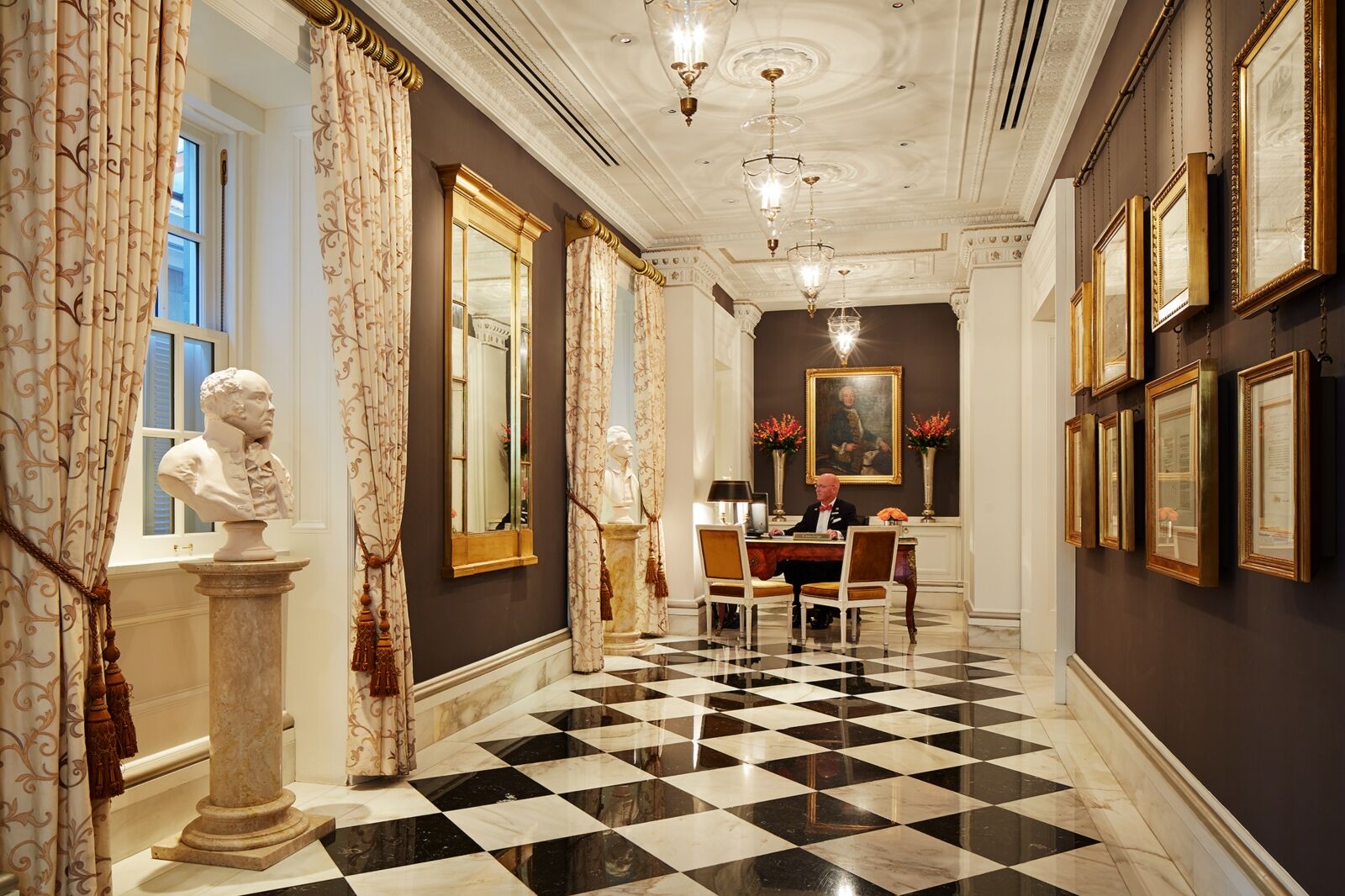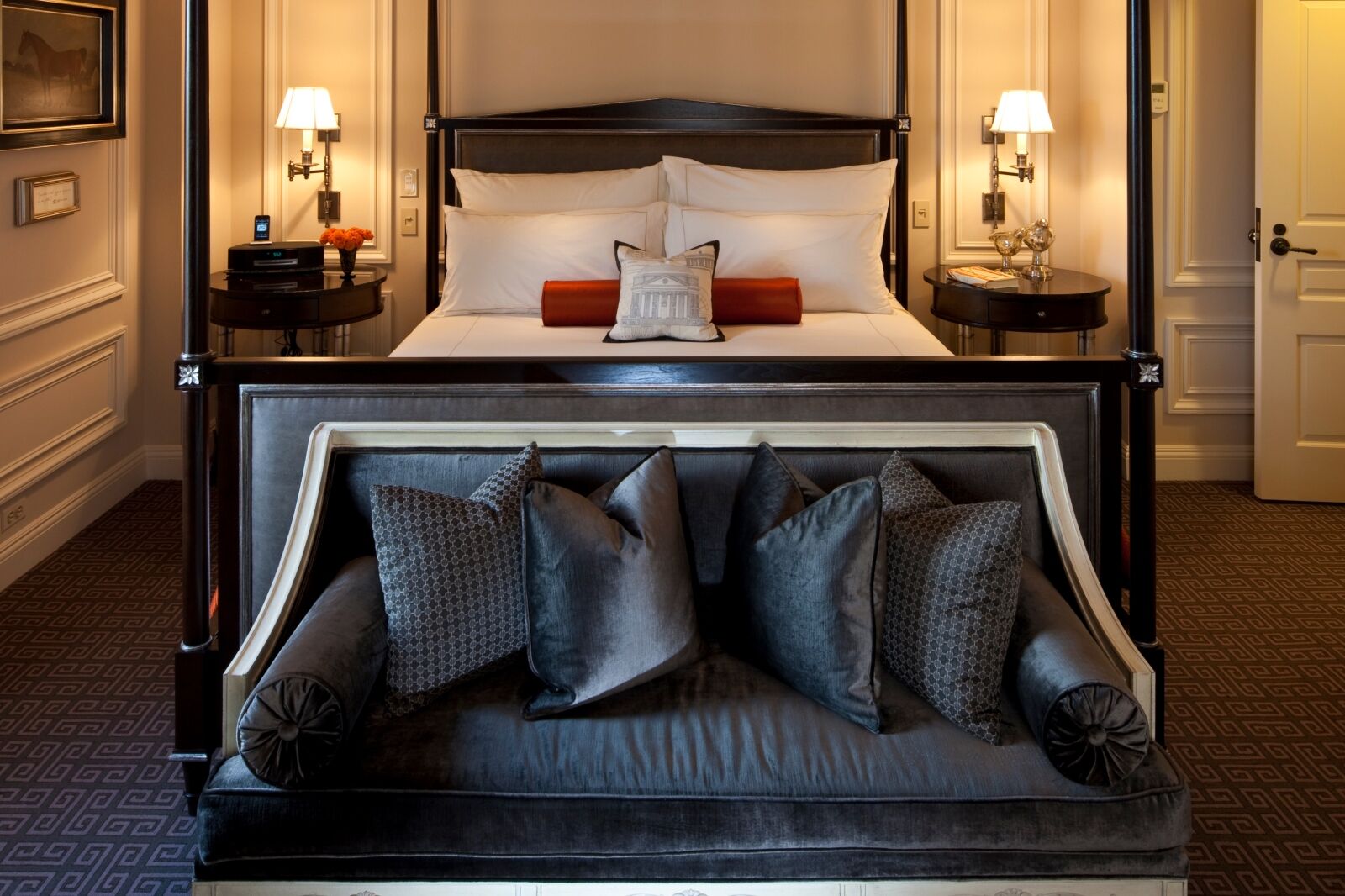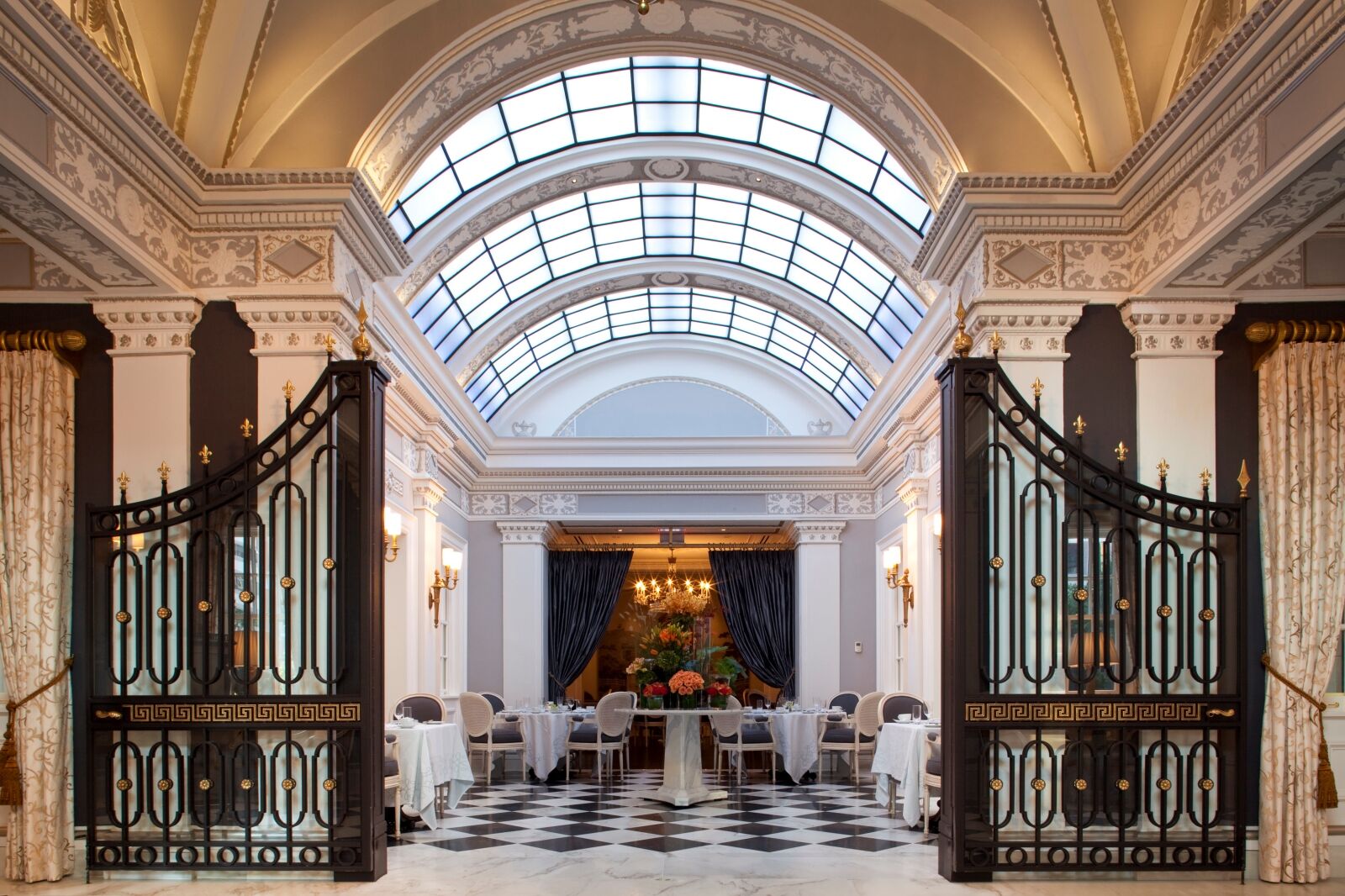 Like much of DC, The Jefferson's architecture is distinctly European. The Beaux Arts building was constructed in 1923 for luxury apartments, and now hotel guests can enjoy its splendor and original details like The Greenhouse restaurant's stunning skylight.
If you're not sure which site to see when visiting the city, Susan Lagon, The Jefferson's property historian, can help light the way.
"Guests can come to me on Saturday mornings in the Book Room to ask their most pressing historical DC questions or allow me to guide them through a private tour of the hotel," Lagon says. "I most enjoy pointing out homages to our nation and past presidents on only-found-here items, including maps, portraits, mirrors, upholstery, dishes, and architectural features."
Lagon has also created self-guided itineraries — like "Honoring Influential Women" and "A Walking Tour for Hamilton Fans" — and a scavenger hunt. All are available for guests at the front desk. When you need a break from exploring, relax and recharge in one of the comfortable, elegant guest rooms, which are equal parts classic and modern.
The Mayflower Hotel, Autograph Collection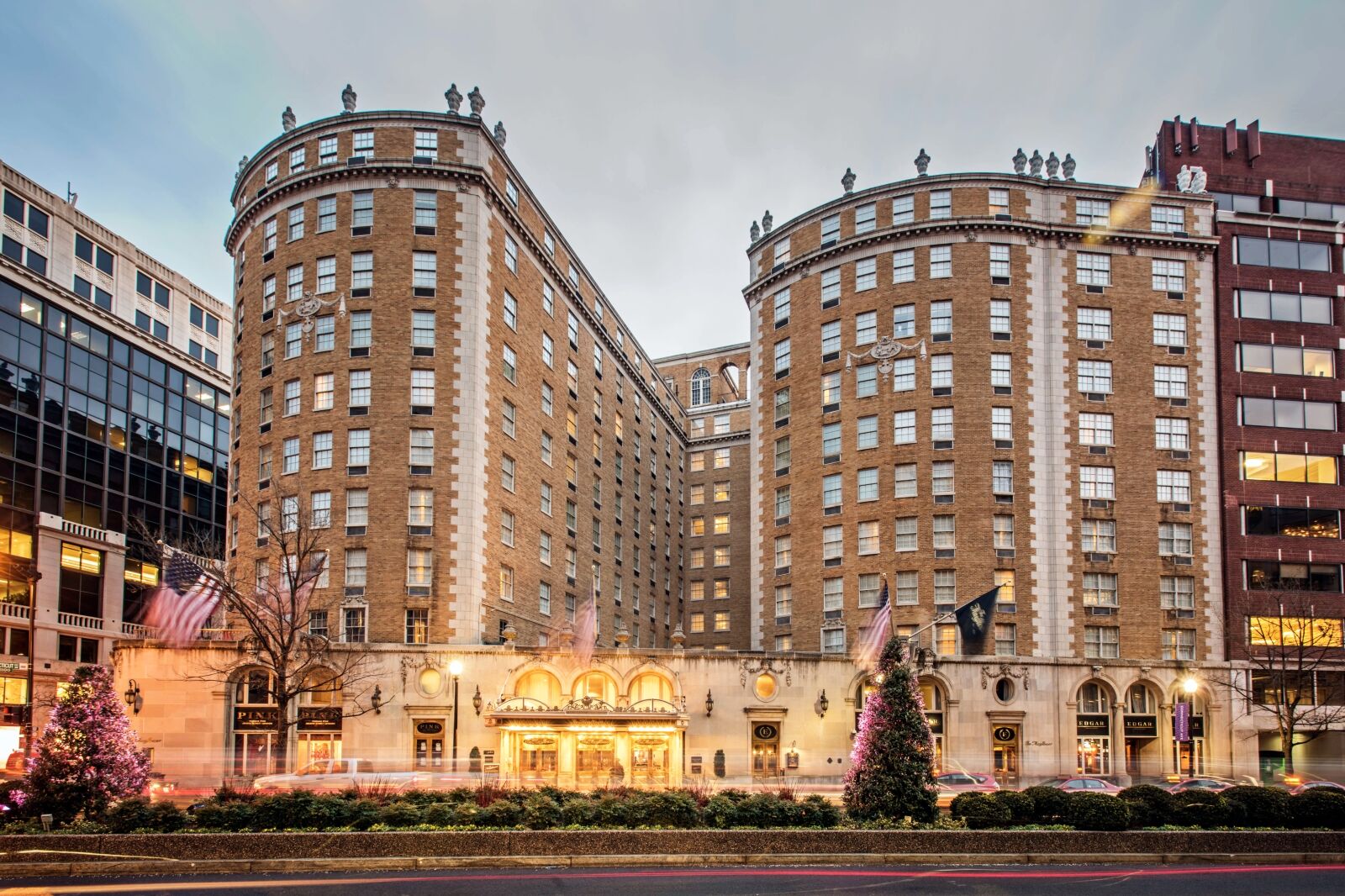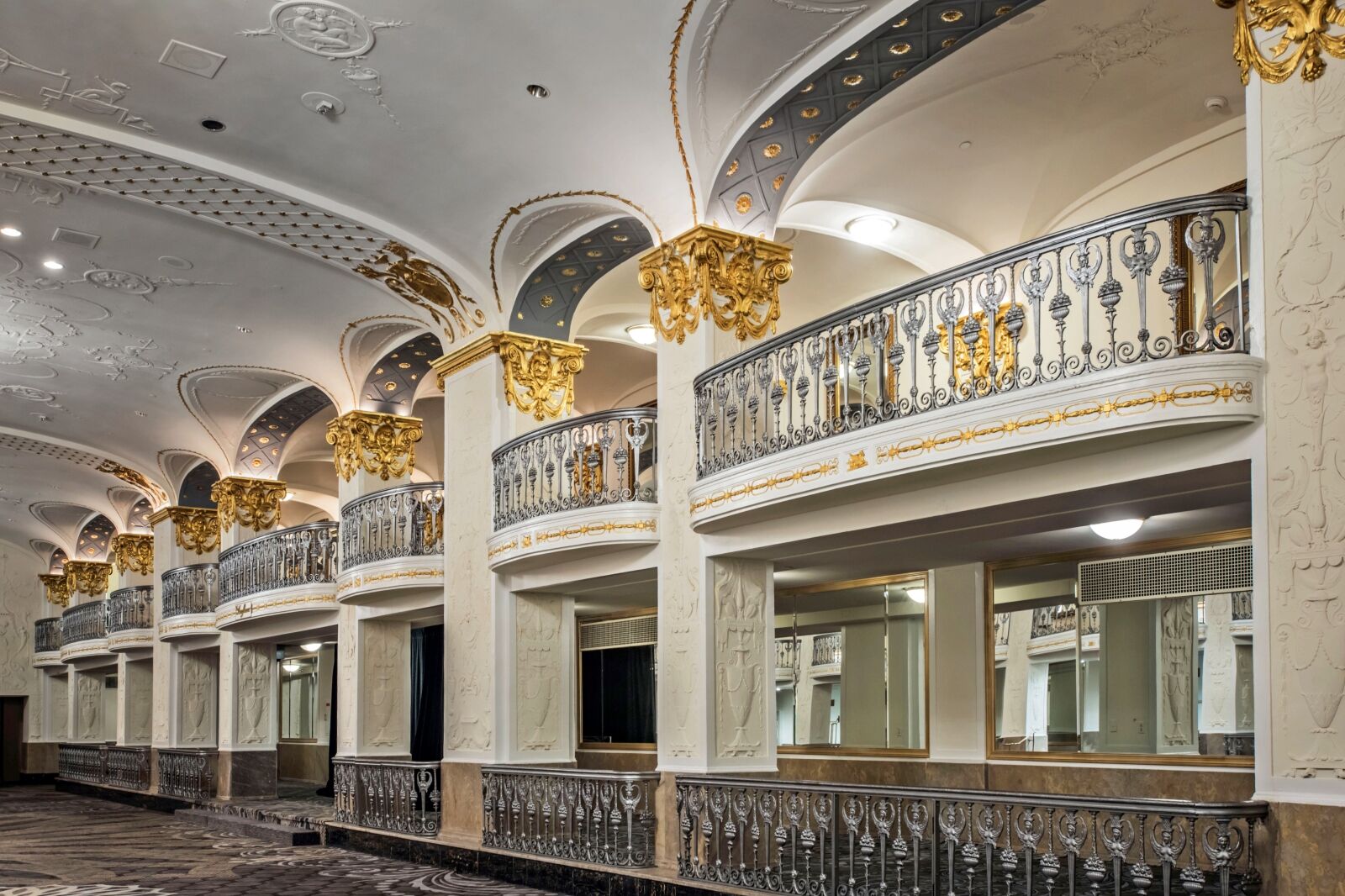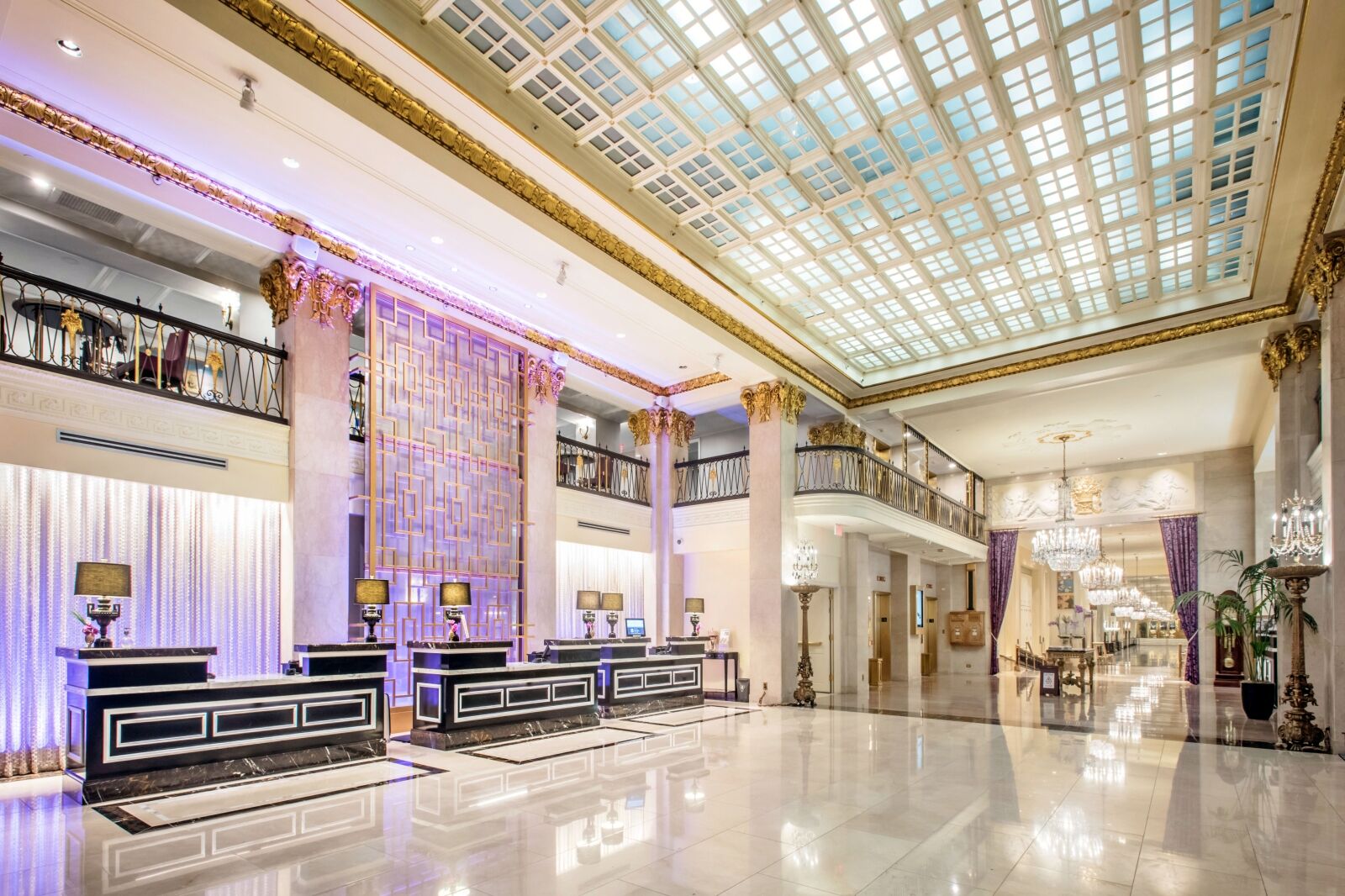 The Mayflower Hotel, Autograph Collection, has been making history since it opened its doors in 1920.
The press announced that it had "more gold leaf in its adornments than any other building in Washington after the Library of Congress," and Nixon gave his farewell speech in one room before resigning office.
There are many more juicy tidbits to be had, which guests can learn about during The Mayflower Hotel's Spies, Secrets, and Scandals Experience.
"Most of our guests comment that as soon as they step into the lobby, they can feel the history wash over them," says Shelly DiMeglio, the hotel's general manager. "Washington, DC has always been a city of scandal, and The Mayflower has been a part of many of the city's most memorable tales."
The 2.5-hour walking tour starts with a glass of bubbly (during afternoon bookings) at the hotel where an expert local guide will talk about the inaugural balls, testimonies, and deception that took place at the property. From there, you'll visit other historic sites like Decatur House and Sickle Home before returning to the hotel for a cocktail at Edgar Bar, named for J. Edgar Hoover, who dined there daily.
The St. Regis Washington DC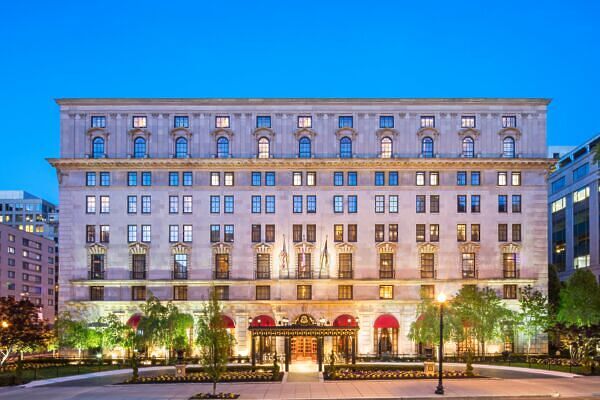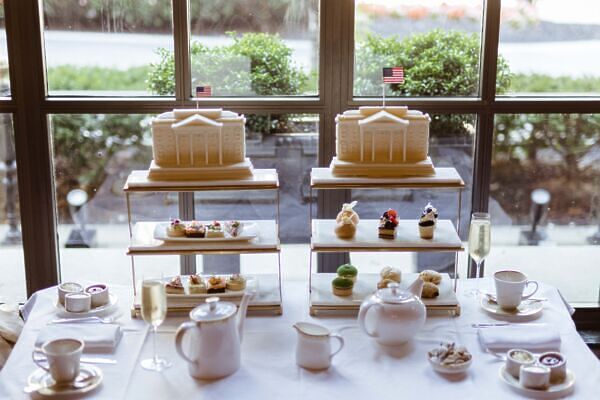 Because of its location just steps from the White House, The St. Regis Washington, DC has hosted almost every US president since it opened in 1926.
Its history of famous guests has even inspired the pastries and sandwiches served at its signature afternoon tea ritual.
"The St. Regis Washington, DC has long served as the backdrop for important milestones in our nation's history and a gathering place for notable political figures," says Elias Assaly, the hotel's general manager. "We are excited to spotlight the hotel's place in US presidential history alongside the delectable creations imagined by our culinary team with our new Presidential Afternoon Tea service."
For example, guests can enjoy a layered blueberry cheesecake, which pays homage to President Franklin D. Roosevelt's love for his wife's blueberry pudding. President Carter grew up on a peanut farm and announced his presidential campaign at the hotel in the 1970s, which inspired a delectable peanut butter chocolate opera cake. Don't leave without trying The St. Regis Washington, DC's signature Bloody Mary, made with gin, chesapeake spice, and garnished with a shrimp.
Riggs Washington DC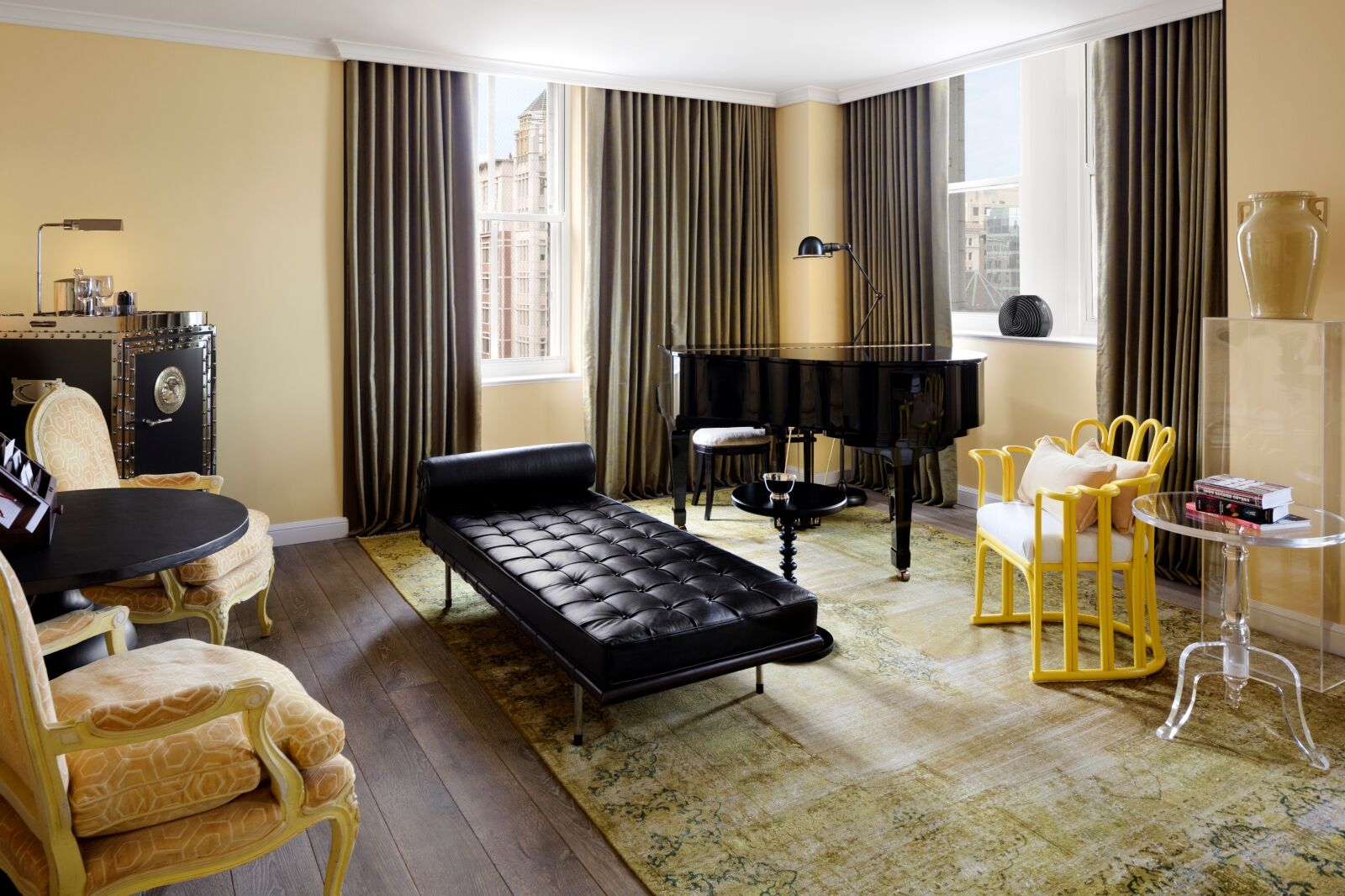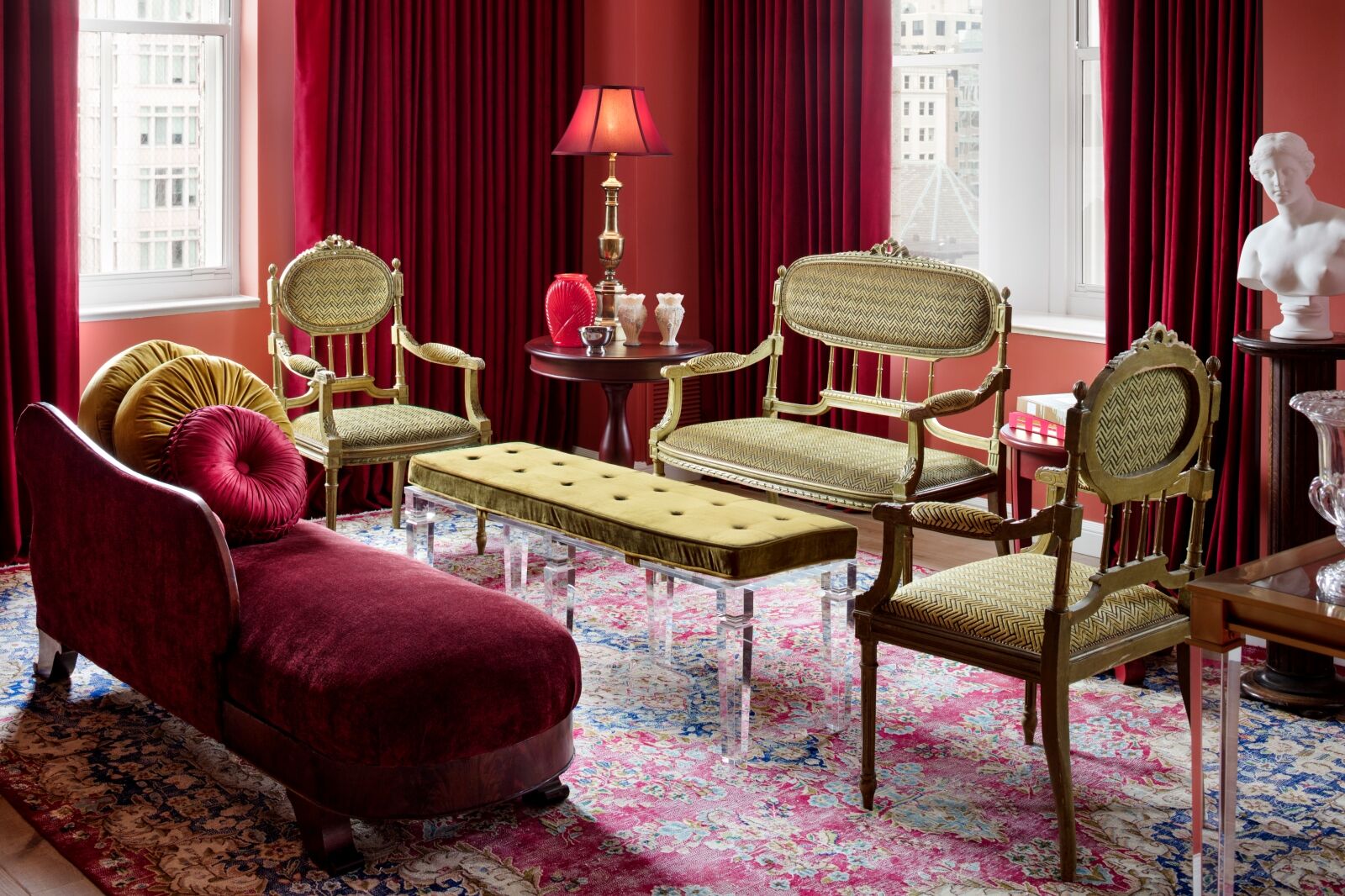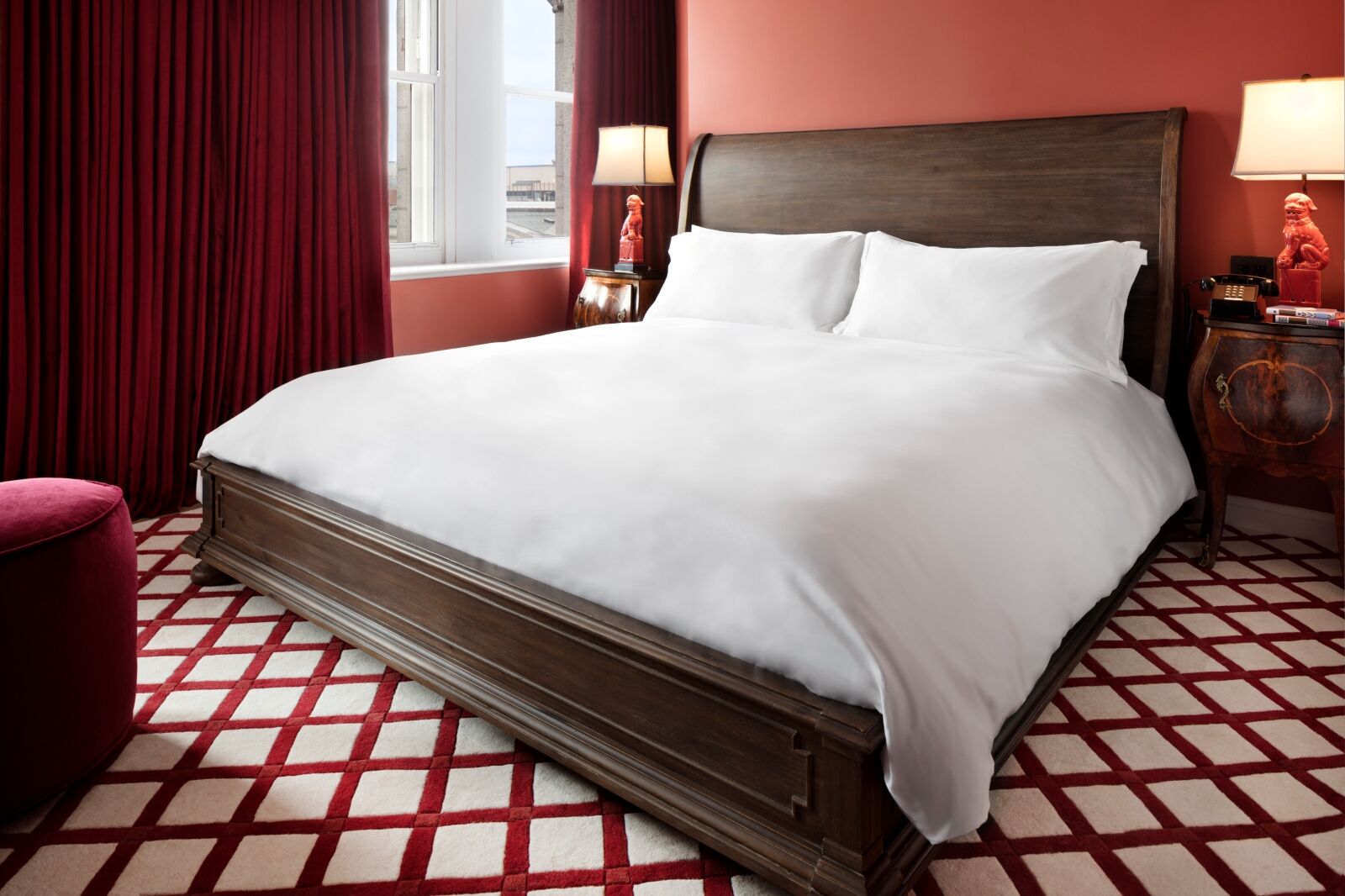 When the Riggs Washington DC building was constructed in 1891, it served as the Riggs Bank, which handled the personal finances of many presidents and embassies in the city.
Several DC hotels pay homage to US presidents, but this property honors their female counterparts with four gorgeously decorated suites.
"Inspired by our four signature First Lady Suites, we wanted to further champion the stories of some of our past presidents' unsung better halves with an offering that invites our guests to dive deeper into the history of these women," says Abe Liao, the hotel's general manager. "Through private guided tours, historic accounts, and personalized accommodations, we hope to help bring their stories to life here at Riggs Washington DC."
They named the four suites after First Ladies Ida McKinley, Caroline Harrison, Louisa Adams, and Angelica Van Buren and include design details inspired by each. For example, Adams encouraged music at the White House and hosted the country's prominent performers of the time, so guests can enjoy a petite grand piano and gramophone when staying in her dedicated suite.
The Hay-Adams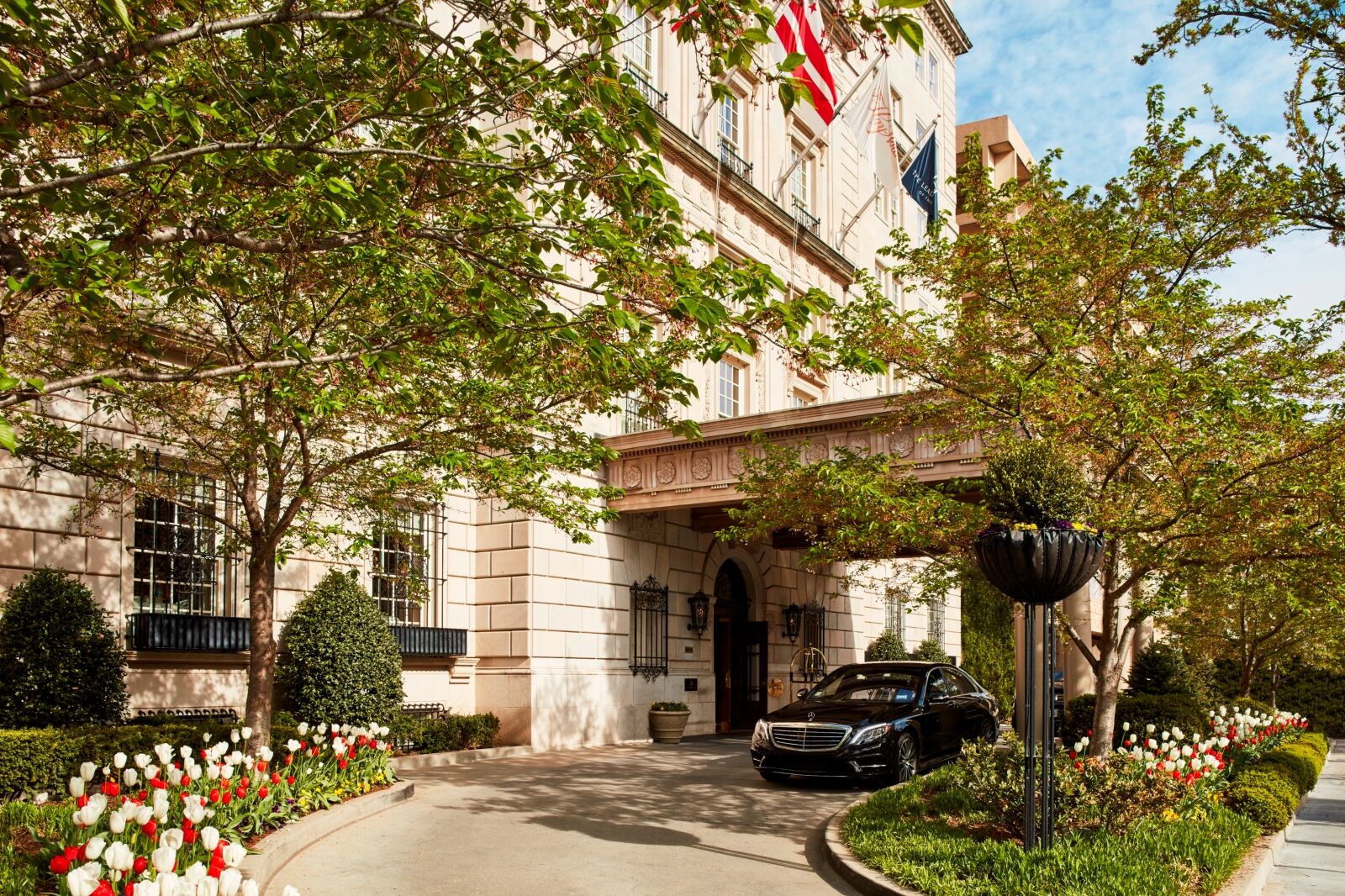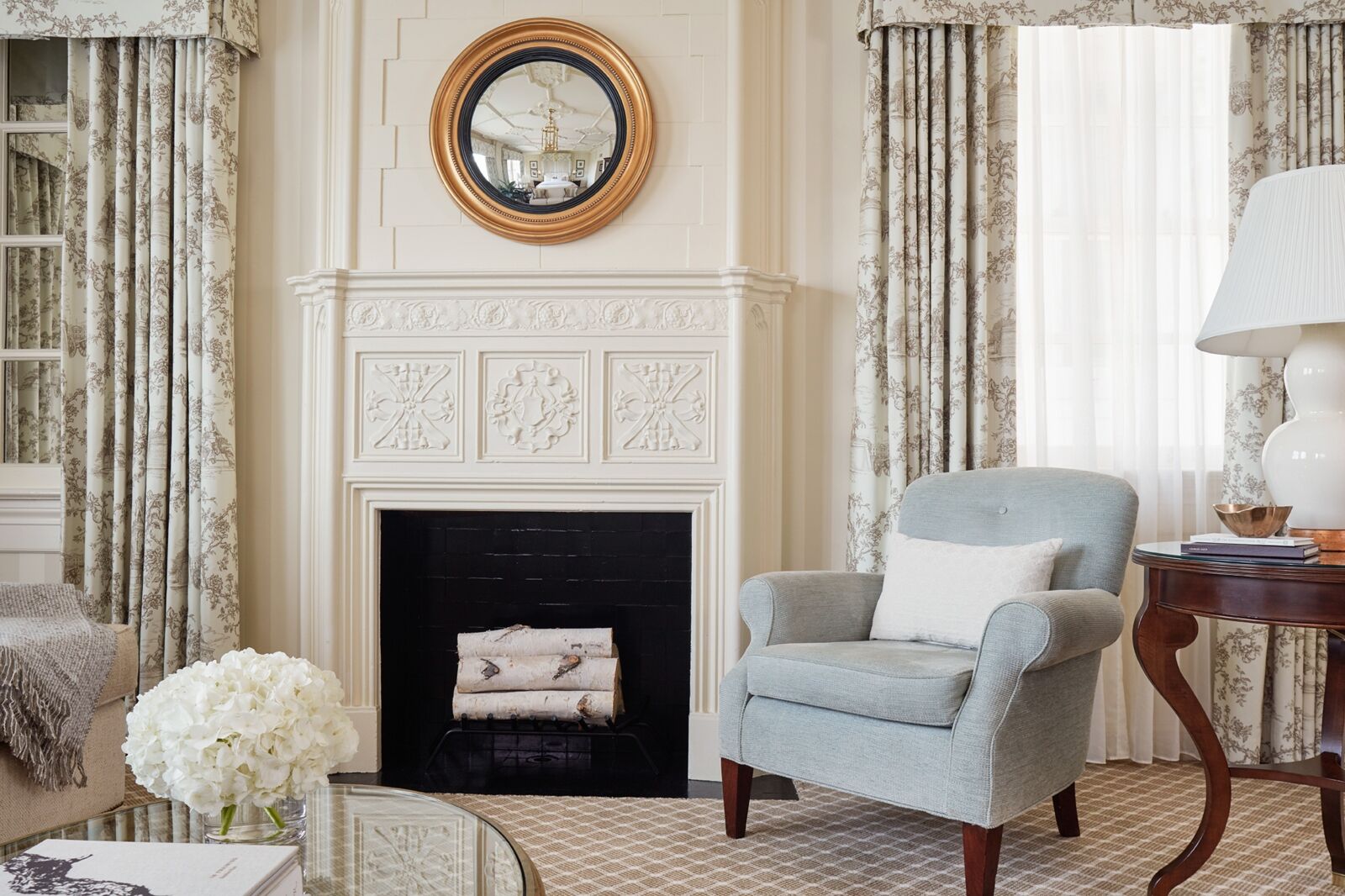 In 1884, architect Henry Hobson Richardson designed elaborate Romanesque homes that became the residences of John Hay (personal secretary to Abraham Lincoln and US Ambassador to the UK) and Henry Adams (Secretary of State under William McKinley and Theodore Roosevelt). Together with their wives and geologist Clarence King, Hay and Adams used their homes as one of Washington's leading salons where intellectuals would discuss everything from art to politics.
Although the buildings have been replaced with the current Renaissance-style structure in 1927, The Hay-Adams is still a site full of rich history and stimulating conversation, especially through the hotel's Author Series.
"The homes of John Hay and Henry Adams, often at the center of society during the city's Gilded Age of the late 1800s, are mirrored in the way guests experience Washington with us today," says Nicolas Beliard, the hotel's managing director. "We want guests to feel cared for as if they were staying in someone's home."
After a day of sightseeing, retreat to the hotel bar Off The Record to sip a cocktail or wine and check out the caricatures of the city's past and present political elite.
What did you think of this story?