8 Stylish Hotels in Downtown New Orleans for 2023
New Orleans, also known as "The Big Easy," is renowned for its vibrant music scene, historic architecture, and unique cuisine. Owing to its location on the Mississippi River, it's been a key trading port for hundreds of years, which means the city is filled with influences from the various cultures and people who arrived at its docks.
Downtown New Orleans is one of the most popular areas for tourists to stay as most of downtown is within walking distance of the city's top tourist sites. History buffs will want to check out the French Quarter, with its beautiful architecture and rich history — and cocktail buffs will want to check it out after dark since it's one of the liveliest parts of the city into the early morning.
Traveling to New Orleans? Check out Matador's lodging and activity guides to the city:
Foodies will love that staying at one of the hotels in downtown New Orleans will put them minutes away from some of the best restaurants in town. New Orleans cuisine combines elements of French, Spanish, and African cooking and has one of the most distinct food scenes of any city in the US. From jambalaya and gumbo to beignets and po'boys, the restaurants near the hotels in downtown New Orleans are some of the best in the country.
From historic hotels with classic Southern charm to modern, sleek accommodations, there's likely to be a surprisingly affordable place to stay for nearly every type of traveler. These are the 8 best hotels in downtown New Orleans to ensure you're in the best part of the city on your upcoming trip to the Big Easy.
---
---
We hope you love the spaces and stays we recommend! Just so you know, Matador may collect a small commission from the links on this page if you decide to book a stay. Listed prices are accurate as of the time of publication.
Rooms are listed in order of starting price per night, so scroll to the end if you're less budget-conscious.
Hotels in the historical downtown area

The Saint Hotel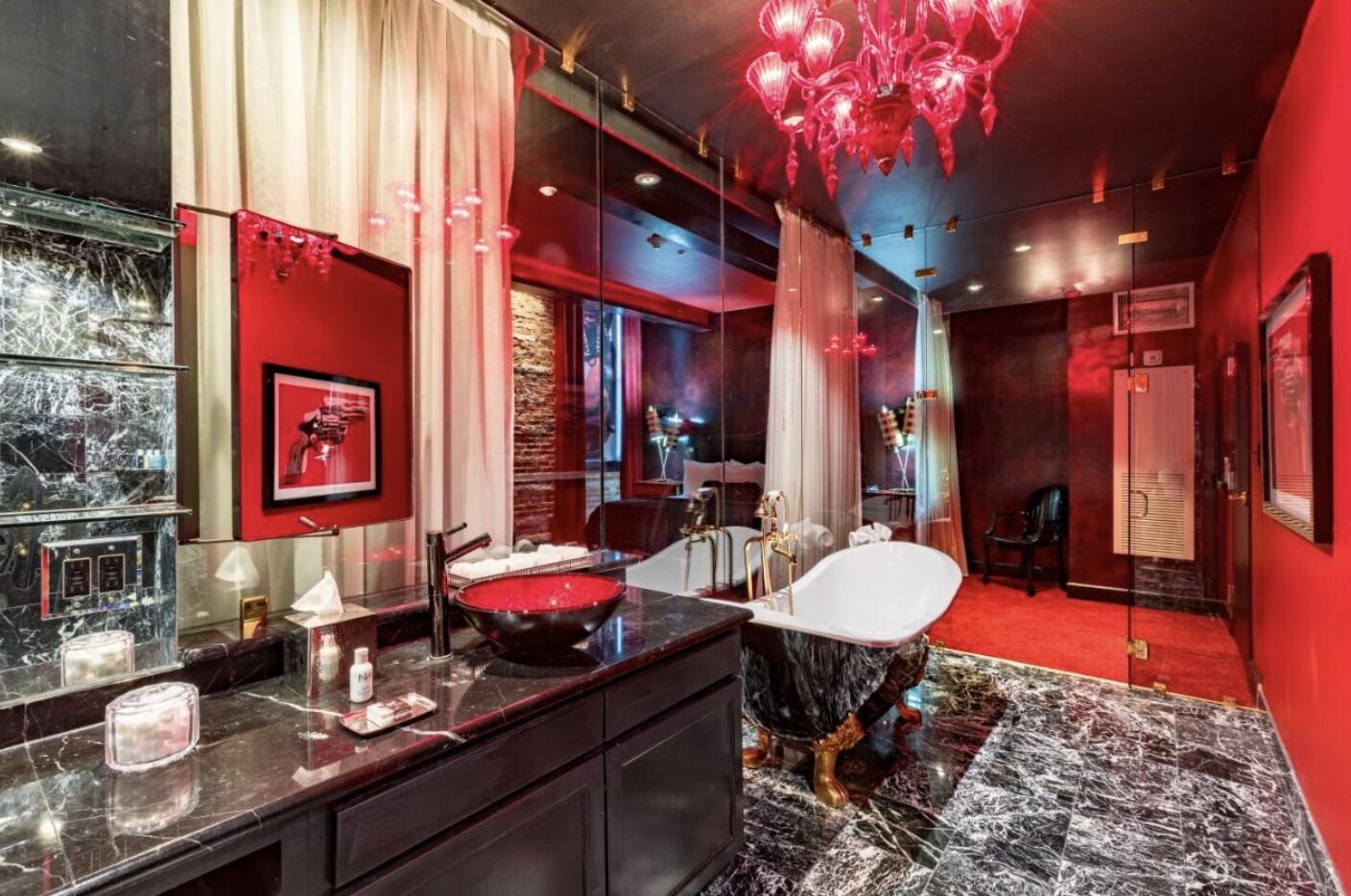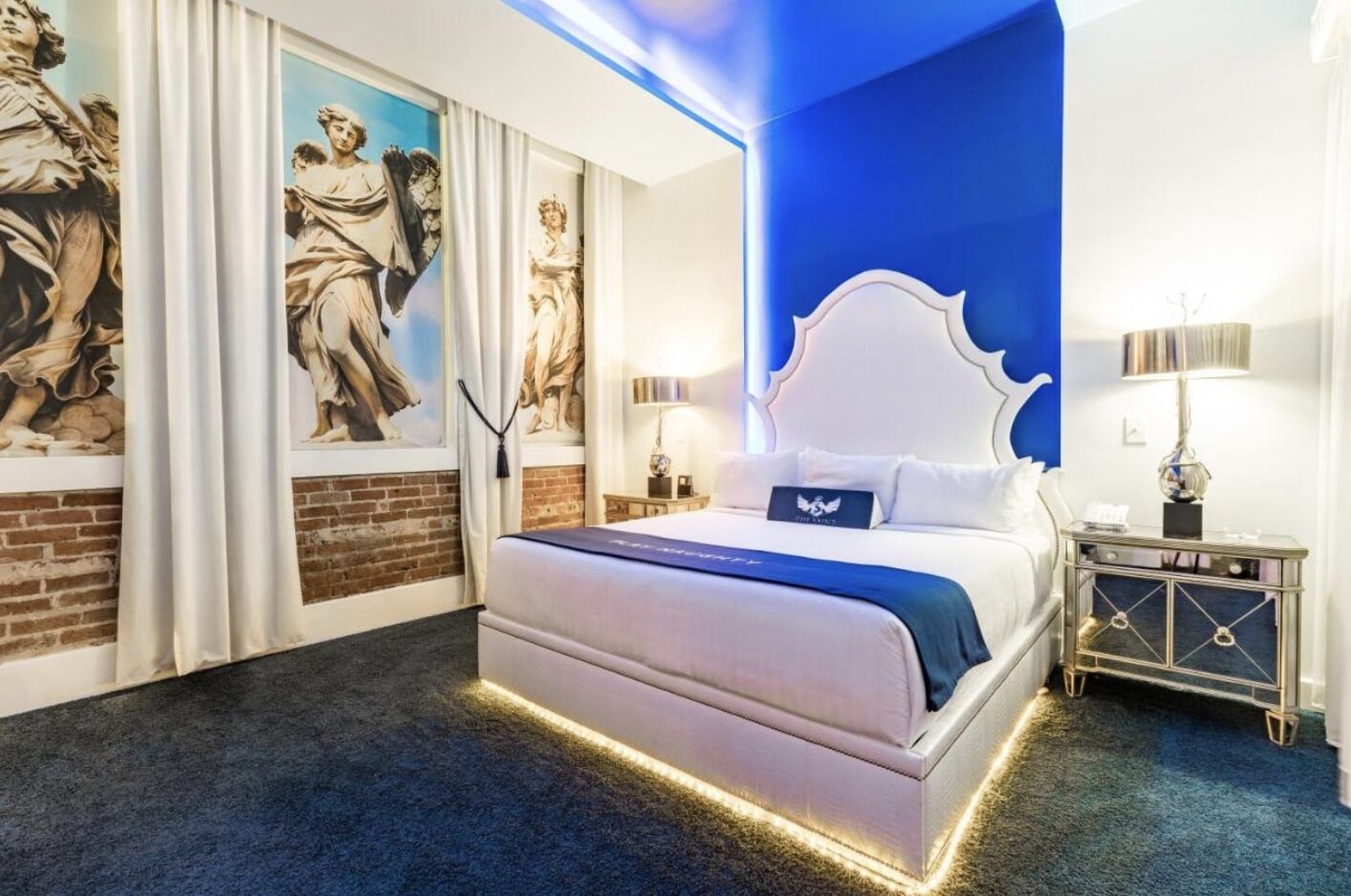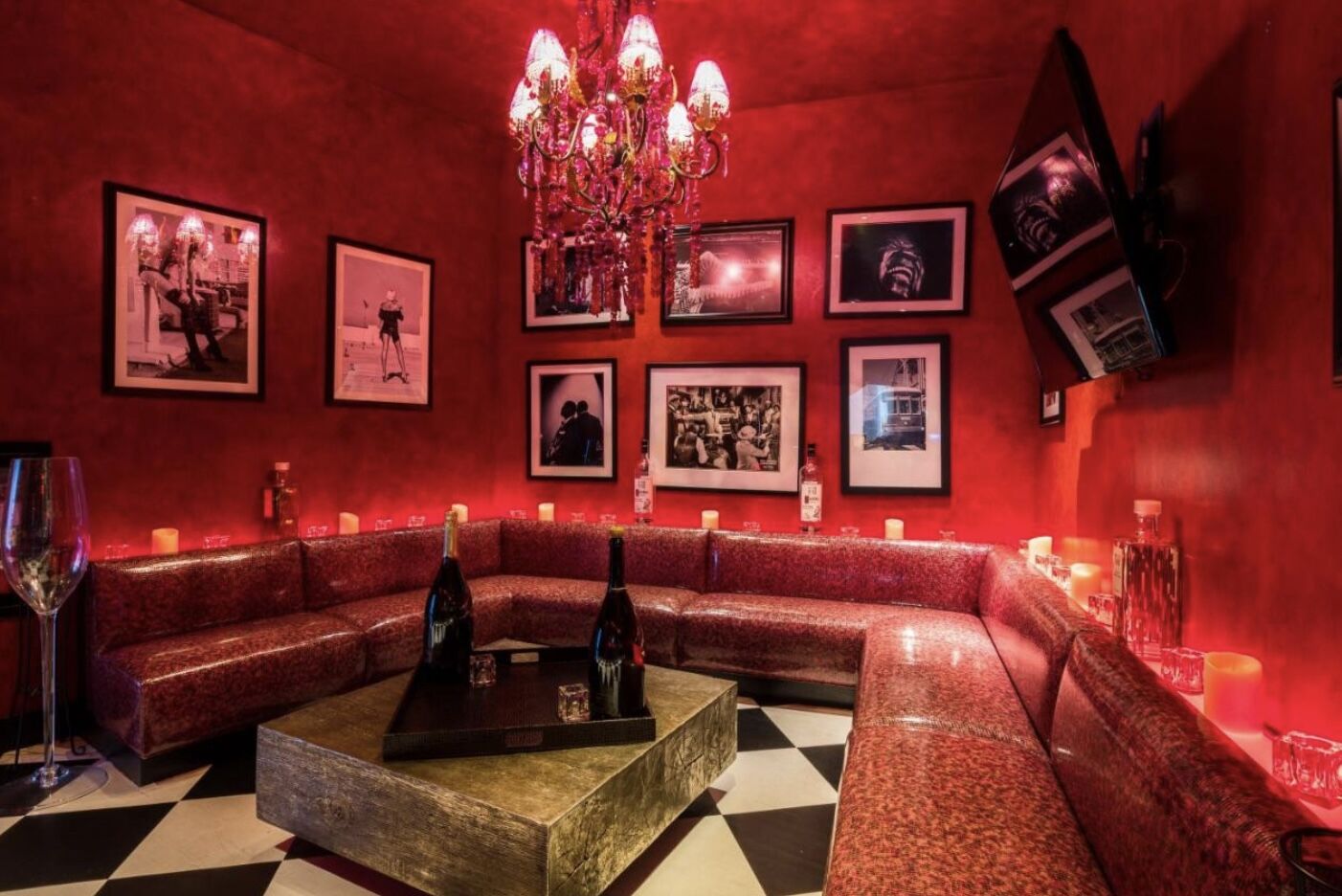 The Saint Hotel, Autograph Collection is a stylish boutique hotel in the French Quarter. One of the standout features of The Saint Hotel is its unique design, which blends elements of modern luxury with the historic architecture of the French Quarter. The hotel features an eclectic collection of contemporary art and sculpture, as well as vintage-inspired furnishings and fixtures in the rooms.
It's one of the best hotels in downtown New Orleans for couples, with an on-site jazz bar and unique suites with decor inspired by everyone from Michaelangelo to the early independent businesswomen of Bourbon Street. Rooms are small but stylish, and the Burgundy Bar is one of the best places in town for an after-dinner cocktail.
Rates from: $127/night
Auld Sweet Olive Bed and Breakfast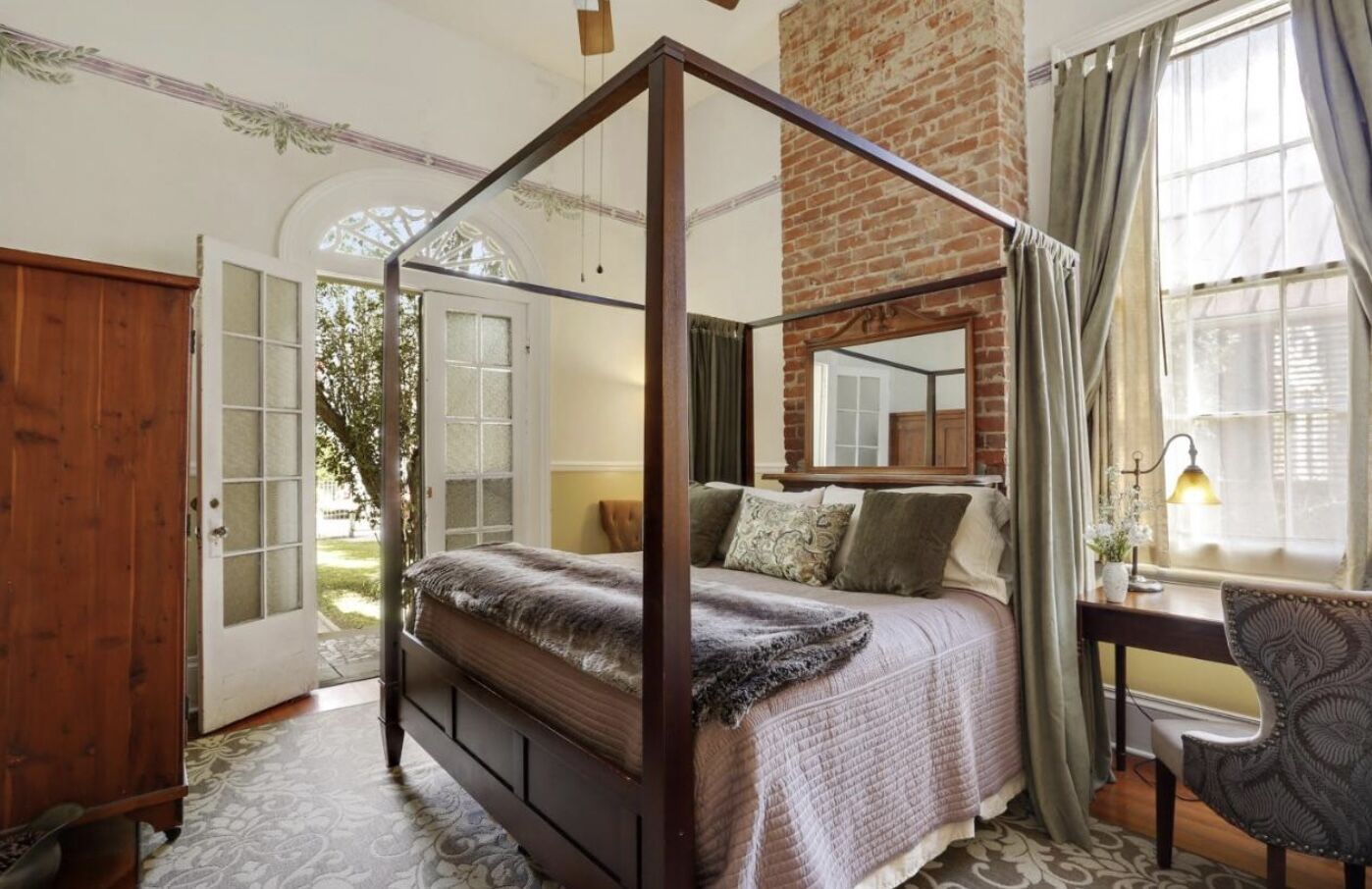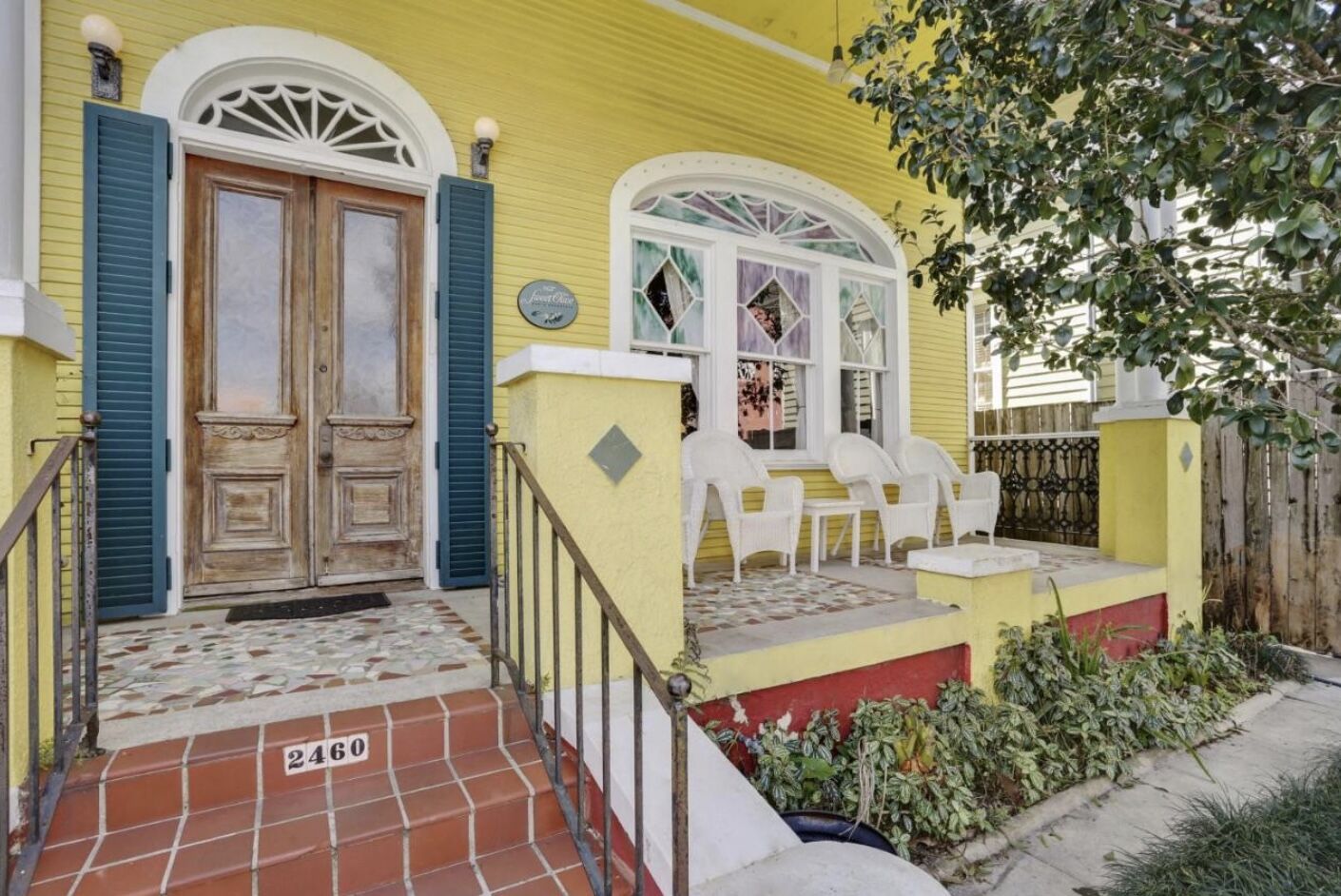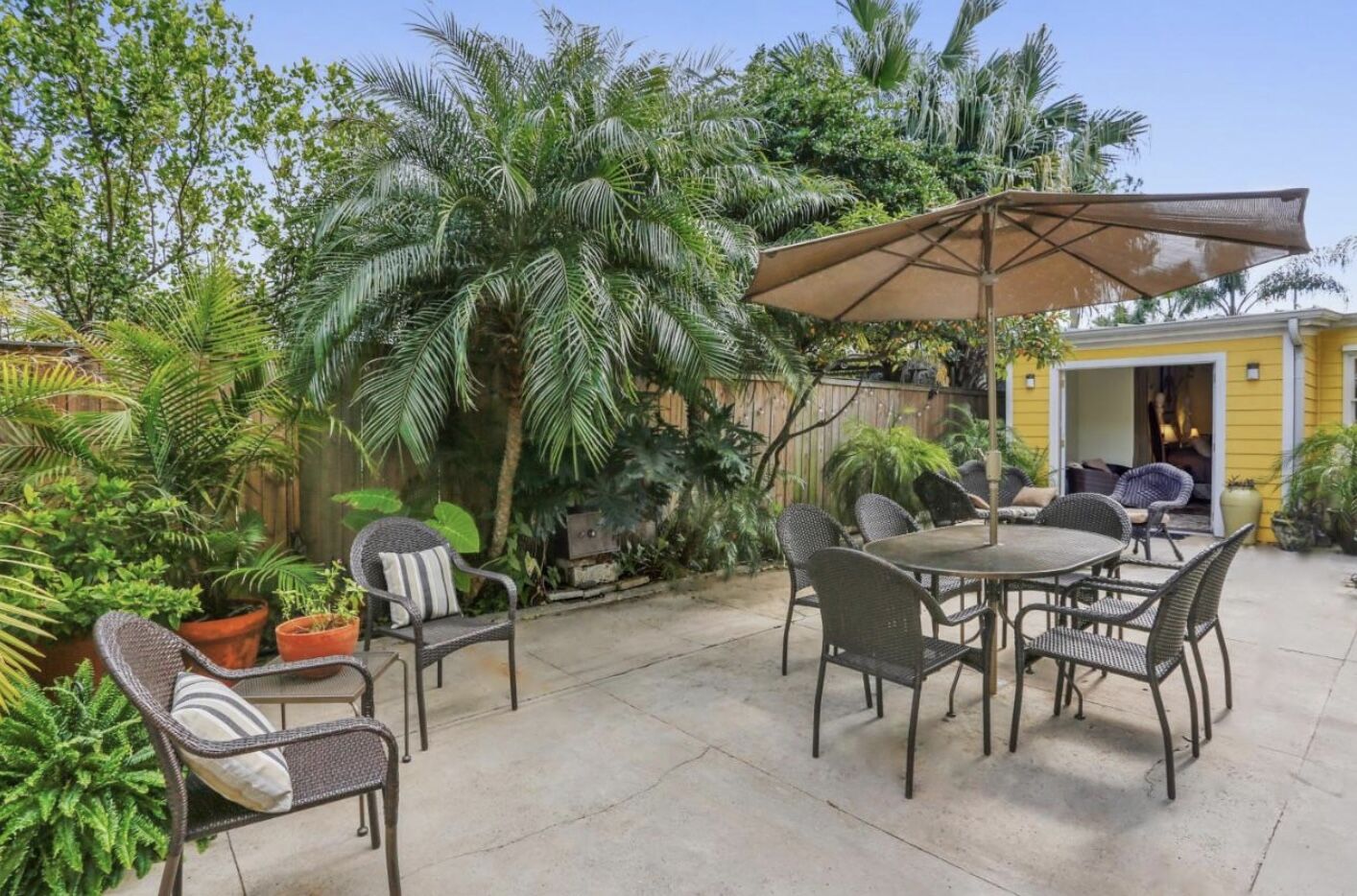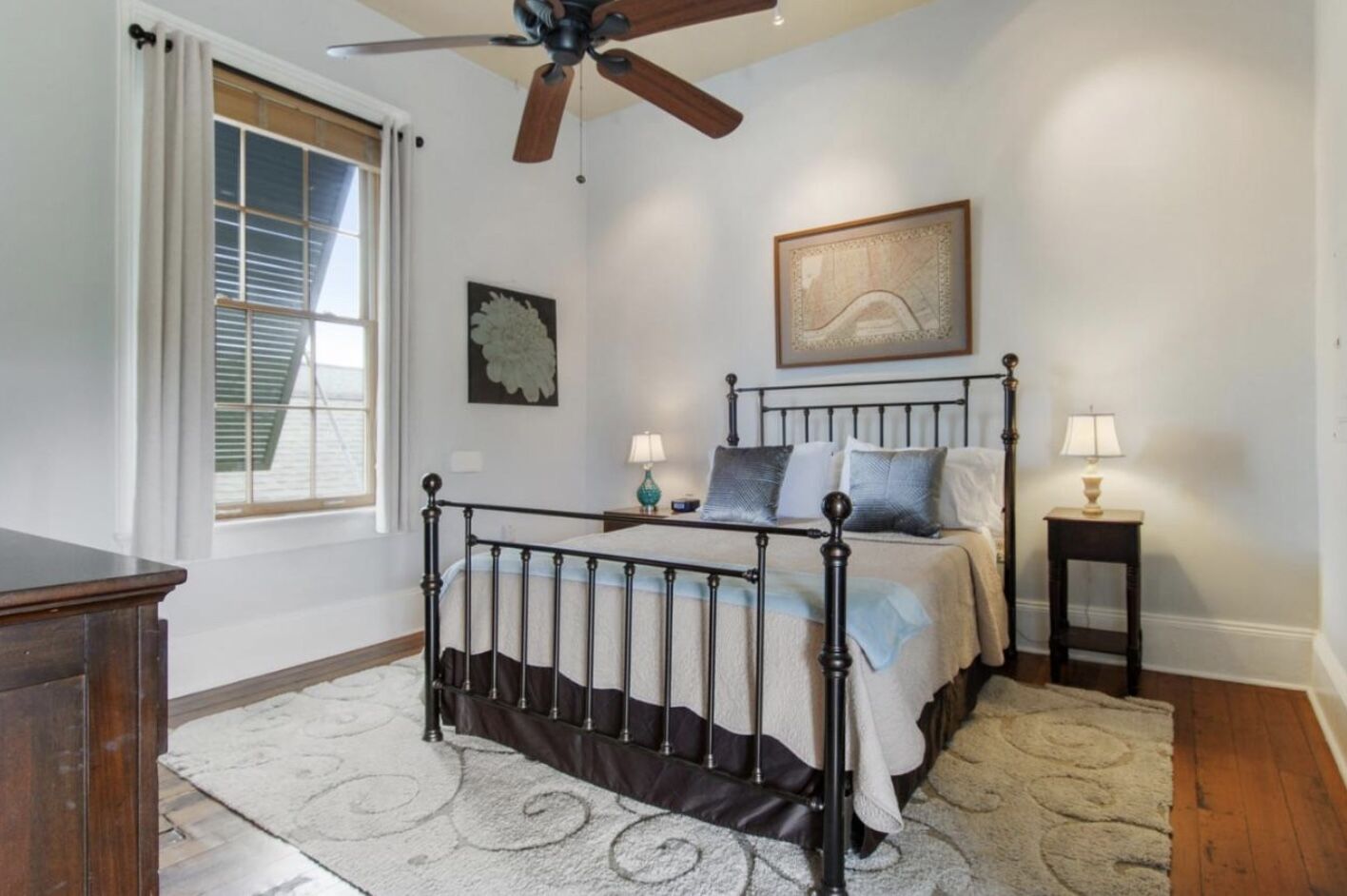 The Auld Sweet Olive Bed and Breakfast is a charming, historic inn in the Faubourg Marigny neighborhood of New Orleans. It's in a beautifully restored 19th-century townhouse, featuring a mix of period antiques and modern amenities. This tiny downtown New Orleans hotel has just four rooms, each with a private bathroom, air conditioning, flat-screen TVs, and free Wi-Fi. Some rooms also have historical details like exposed brick walls, original fireplaces, or clawfoot tubs.
In addition to the guest rooms, the Auld Sweet Olive Bed and Breakfast has a shared living room and dining room where guests can relax and enjoy breakfast each morning. The breakfasts are made from scratch and feature a variety of Southern and Creole dishes with fresh-baked bread and pastries. Outside, there's a lovely courtyard with a fountain.
One of the reasons this is one of the best hotels in downtown New Orleans is the location. It's on the edge of a residential neighborhood, so it's just a very quick walk to the attractions, bars, and restaurants of the French Quarter. In general, this neighborhood is quieter as it's more residential, but it still has a lively music scene. In the Faubourg Marigny, you'll find smaller venues with local blues and jazz, rather than the large clubs and bars of the French Quarter.
Rates from: $143/night
Royal Frenchman Hotel and Bar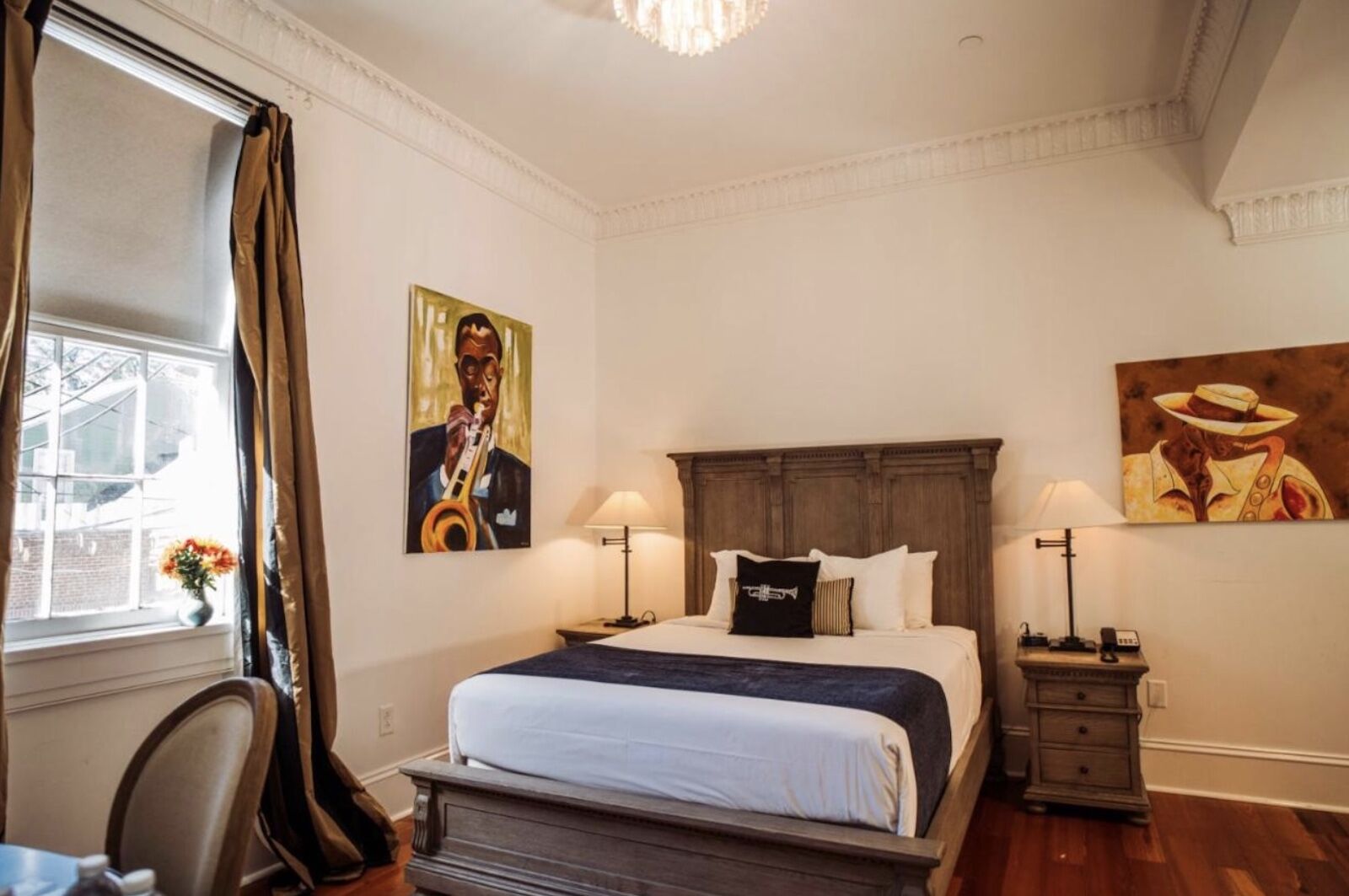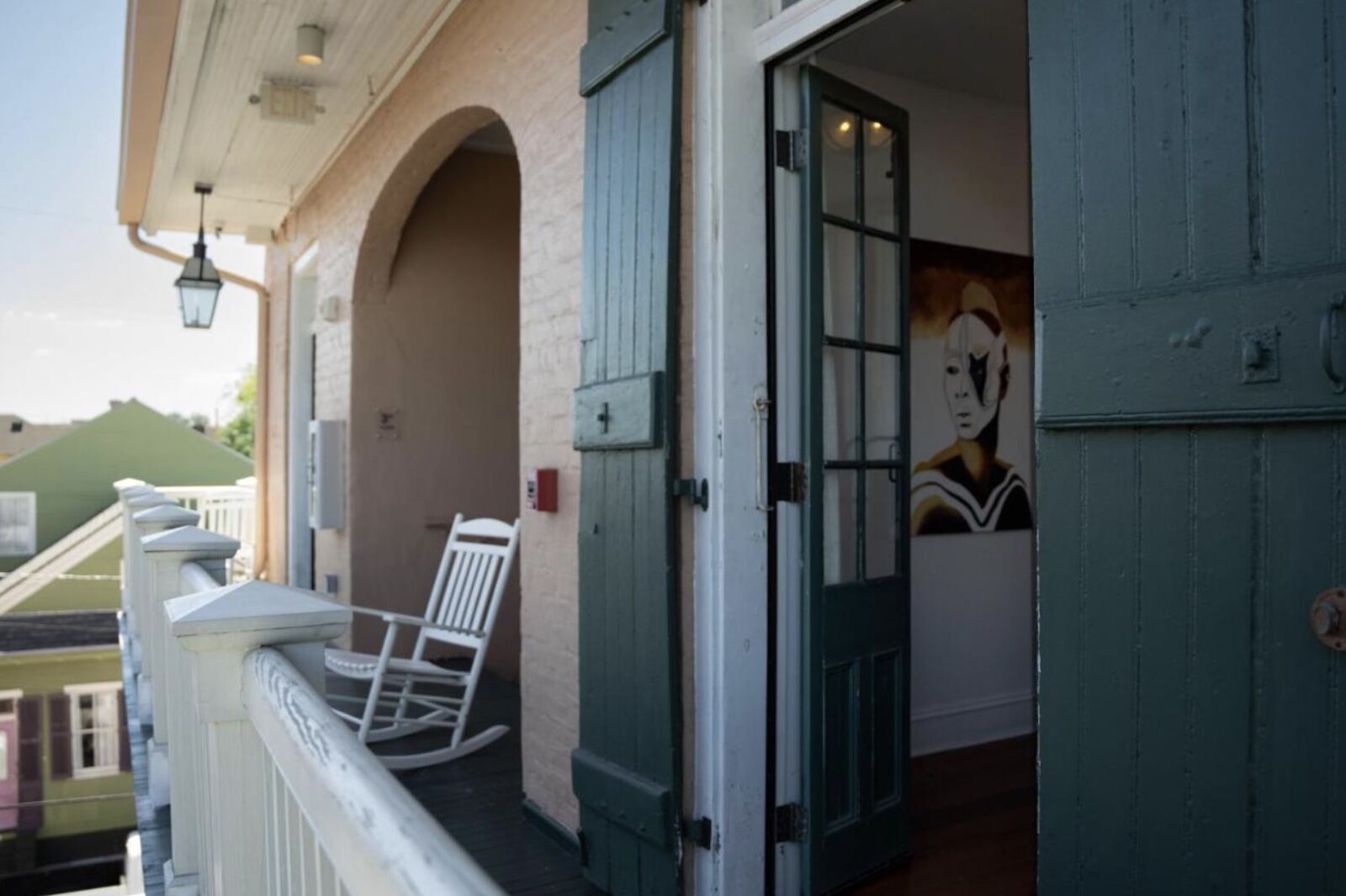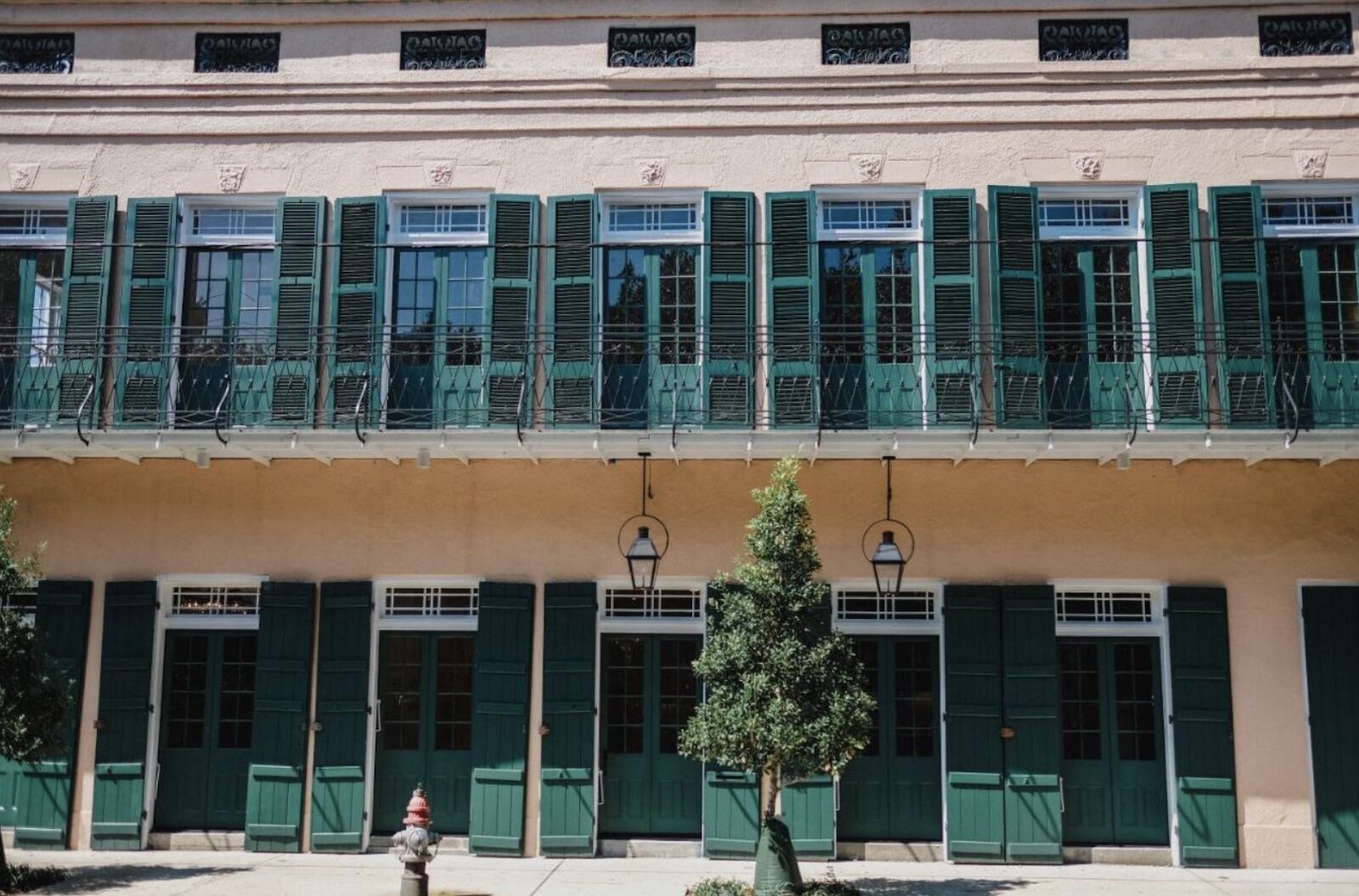 The Royal Frenchman Hotel and Bar is a colorful, friendly, and affordable hotel in the Marigny neighborhood. The small hotel is in a former Creole mansion and is near plenty of local bars where you can catch live music, plus the hotel has a $3 "martini happy hour" in the hotel bar. In addition, there's often live music at the hotel's Remedy Bar, and the brick courtyard is a relaxing place for a morning coffee or evening beverage.
Rooms are comfortable, with plush bedding, colorful local art, and richly colored curtains and furniture that pop against the whitewashed walls. You can't do much better than the Royal Frenchman for one of the most authentic, fun, and unique hotels in downtown in New Orleans that doesn't cost an arm and a leg.
Rates from: $151/night
W New Orleans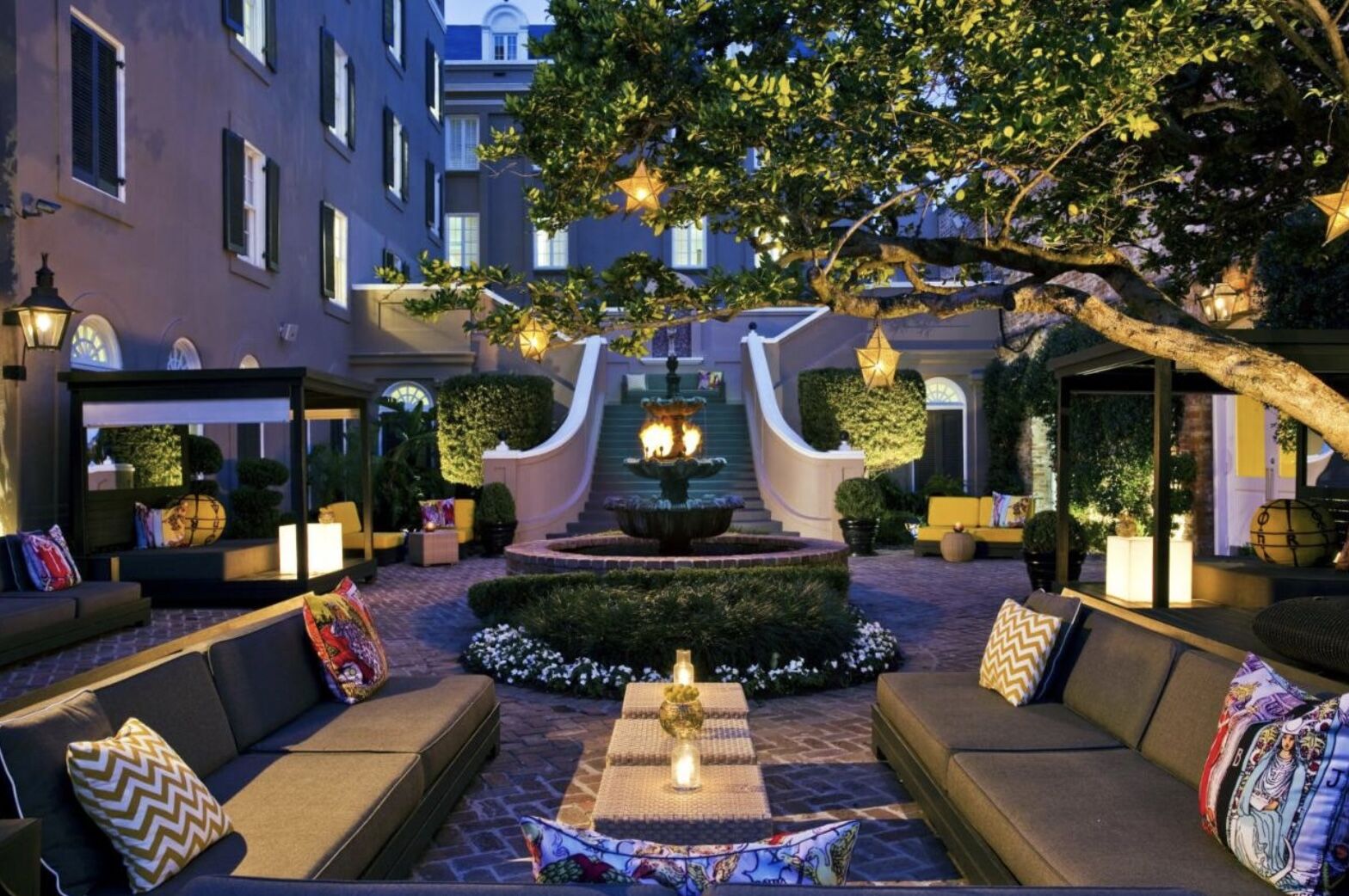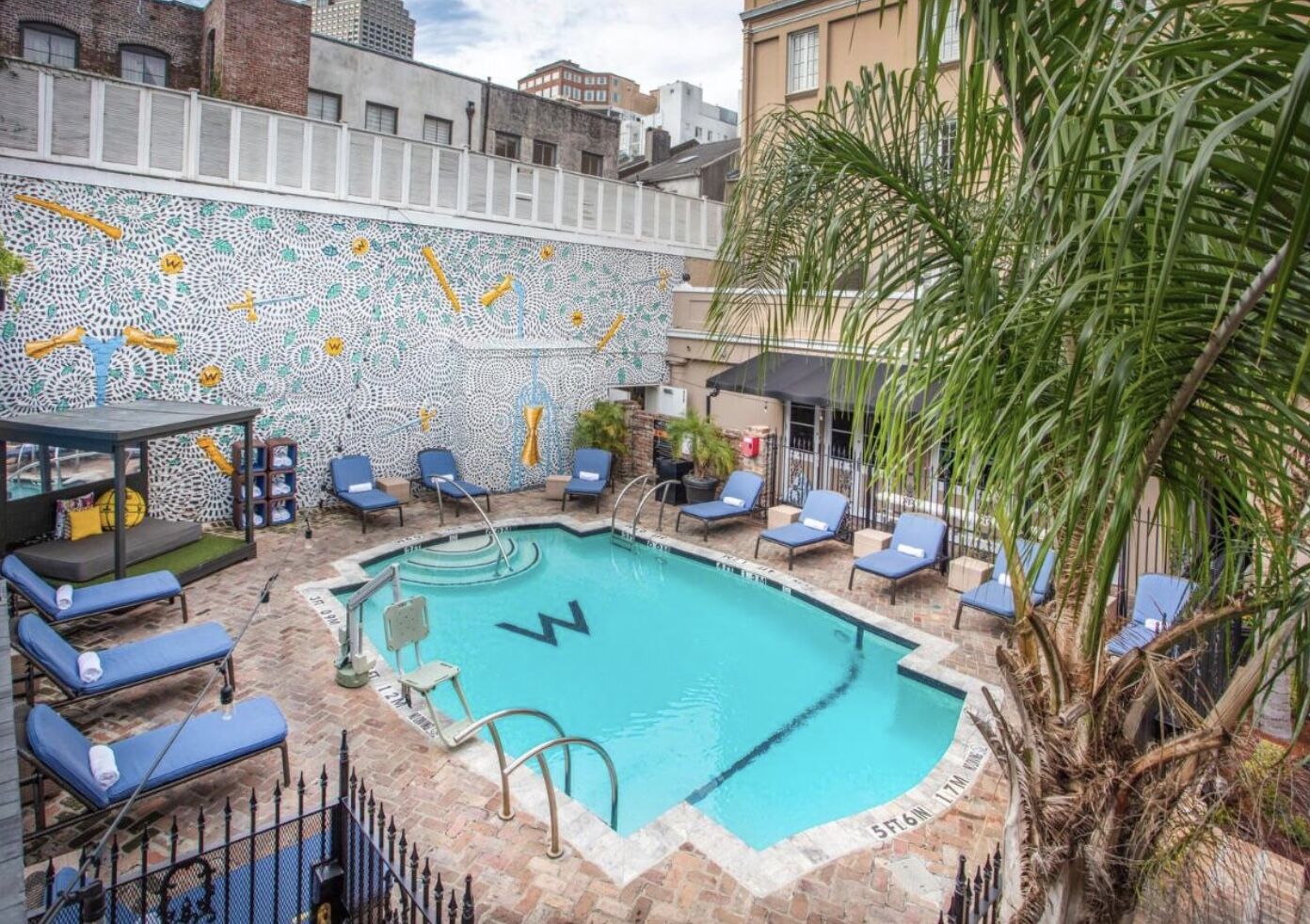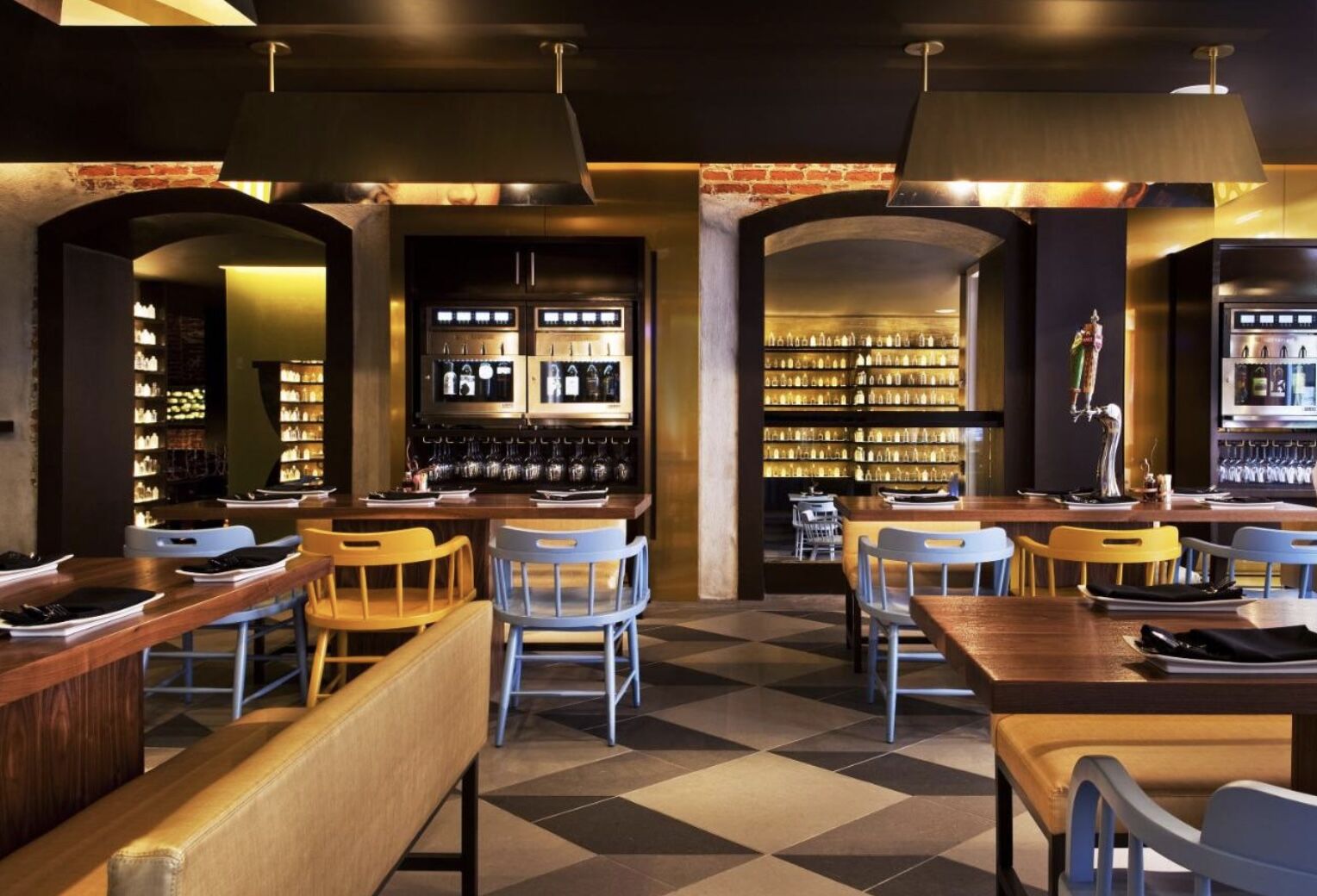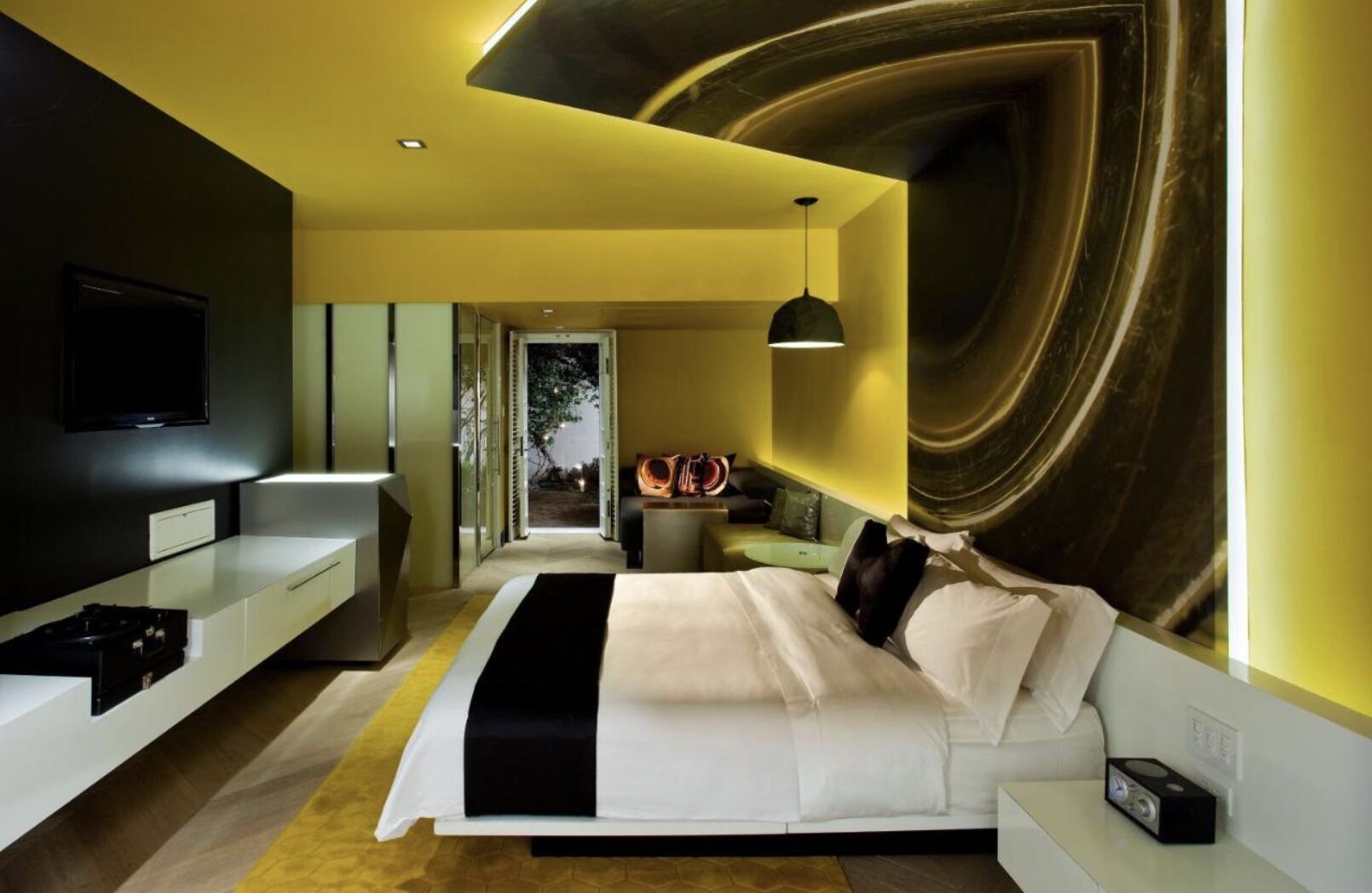 The W New Orleans French Quarter is one of the best luxury hotels in downtown New Orleans in the center of the French Quarter. One thing that makes it especially unique is its historical architecture as it used to be a tobacco warehouse in the 19th century. Today, you can see evidence of that with features like exposed brick walls, high ceilings, and large windows.
Inside, the W leans heavily on modern art pieces and stylish furnishings, which you'll notice as soon as you enter your room. All the guestrooms and suites are decked out in vivid blues and yellows in an homage to the city's jazz roots.
Other features to help make your trip exceptional include a gorgeous courtyard, a rooftop bar and pool, a rich and inviting library room, and an on-site restaurant serving creole cuisine you won't want to miss.
Rates from: $169/night
Hotels closer to the Convention Center

Holiday Inn New Orleans Downtown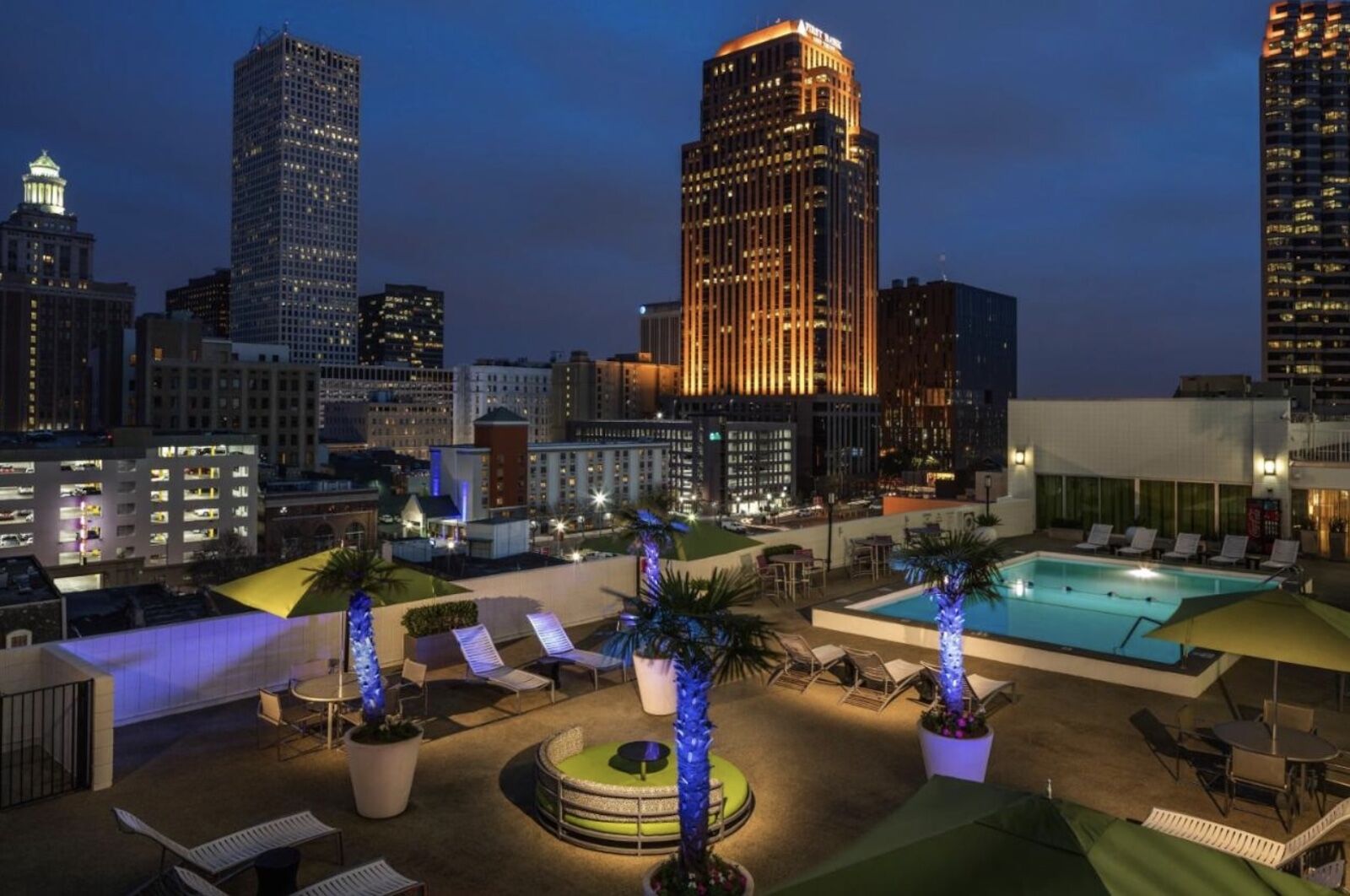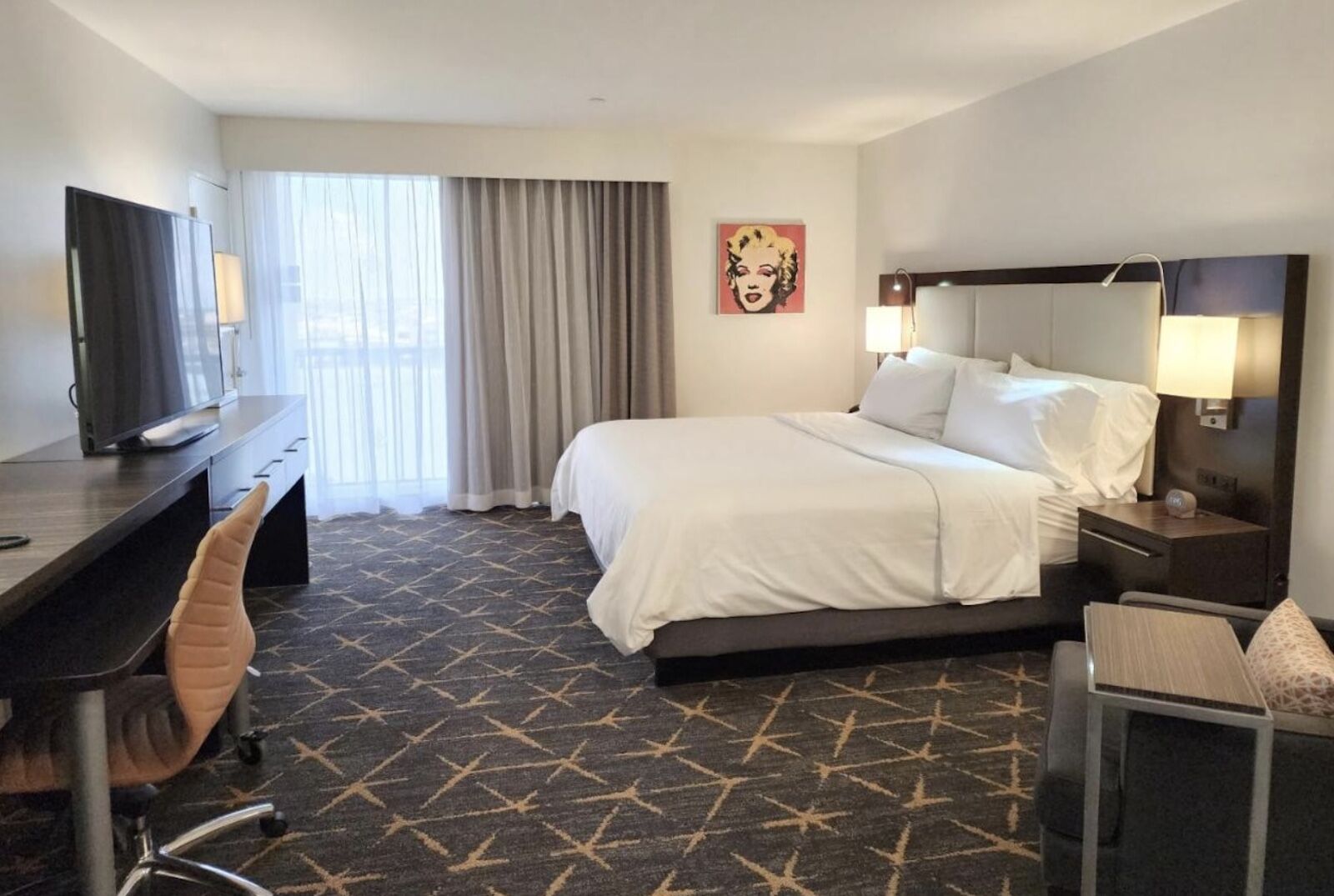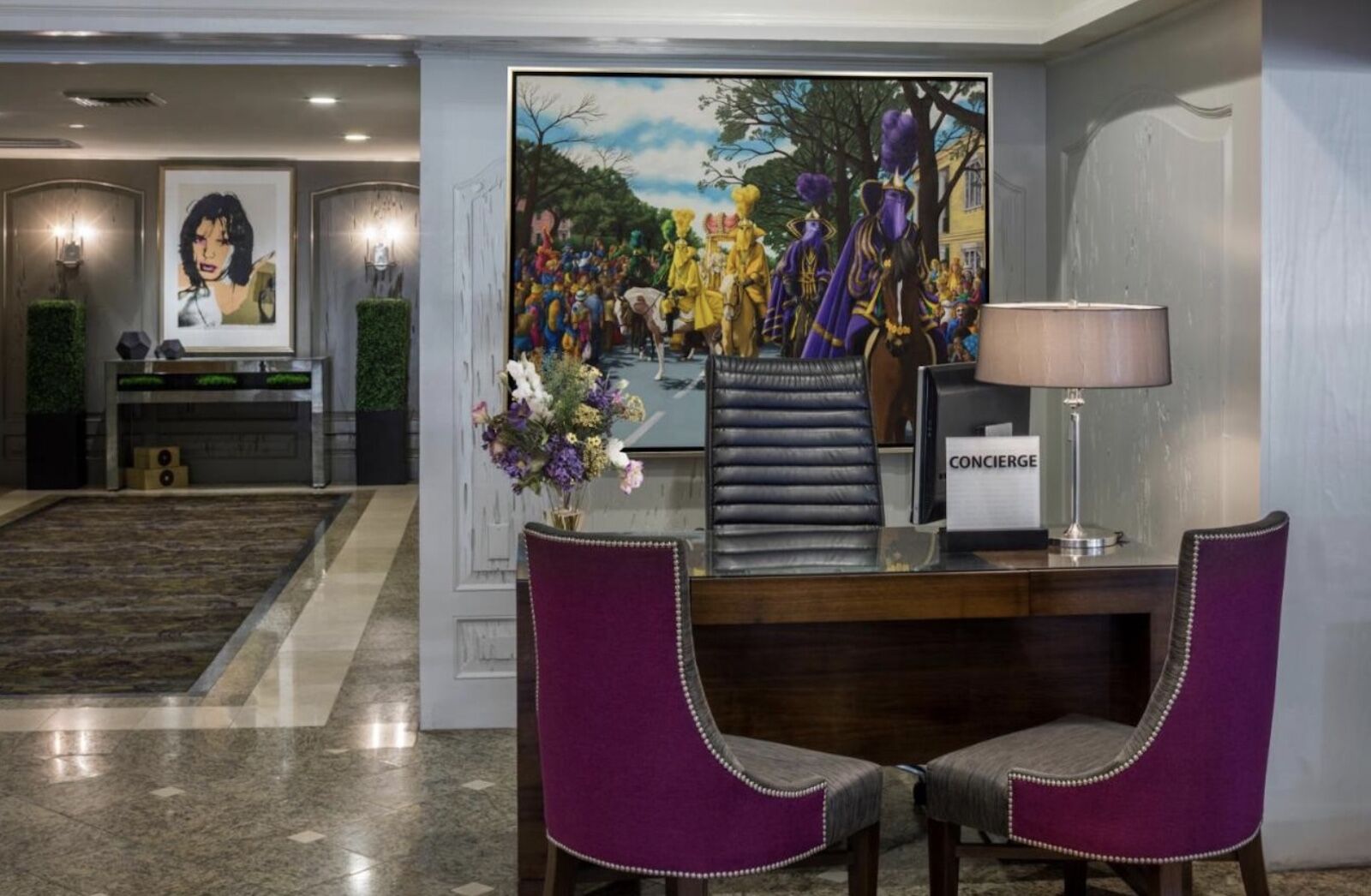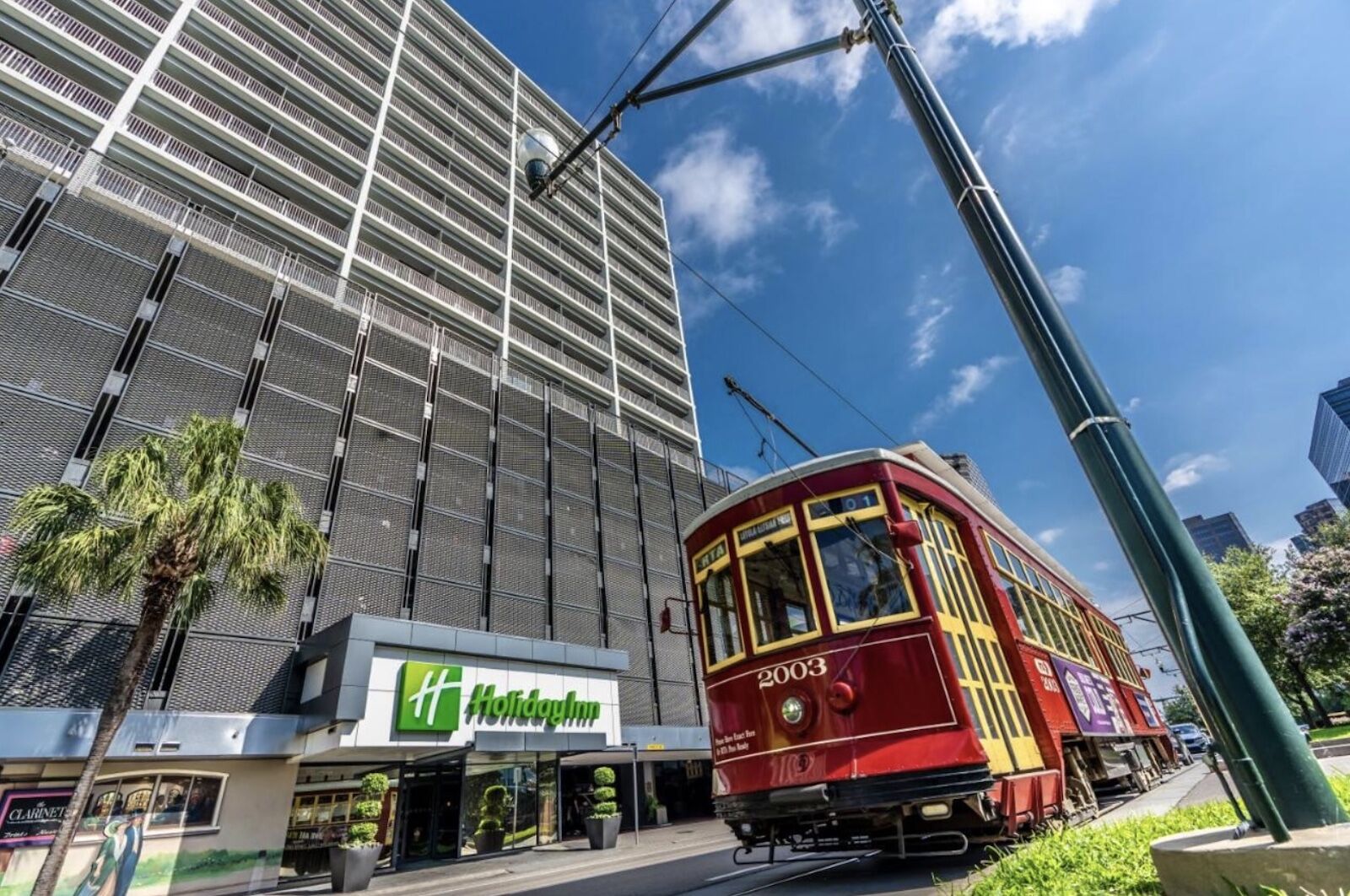 The Holiday Inn New Orleans Downtown is one of the best downtown hotels in New Orleans if you're attending a sports game at the Superdome. It's less than a 10-minute walk away, so if you're in the Big Easy to see the Saints, look no further.
The hotel may not have the historical bonafides of some French Quarter hotels, but what it does have may appeal to travelers who care more about seeing the city than staying somewhere especially unique. Rooms at the Holiday Inn New Orleans Downtown are big and clean, with modern features like built-in USB ports and free Wi-Fi. The on-site restaurant (the Streetcar) serves up Creole-inspired cuisine, and there's an on-site pool and a coffee shop so you can easily get your caffeine fix without leaving the hotel.
Rates from: $116/night
Cambria Hotel New Orleans Downtown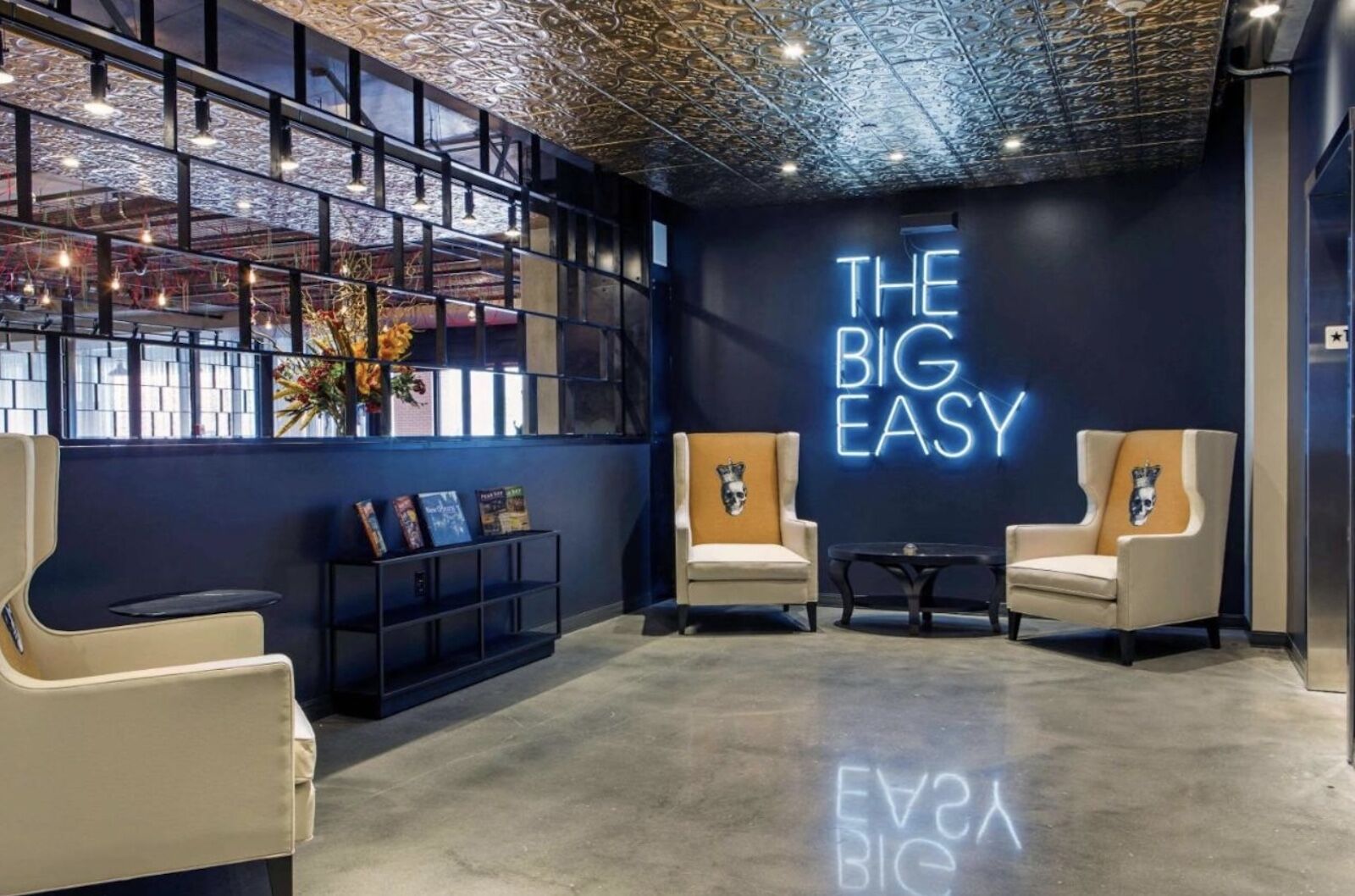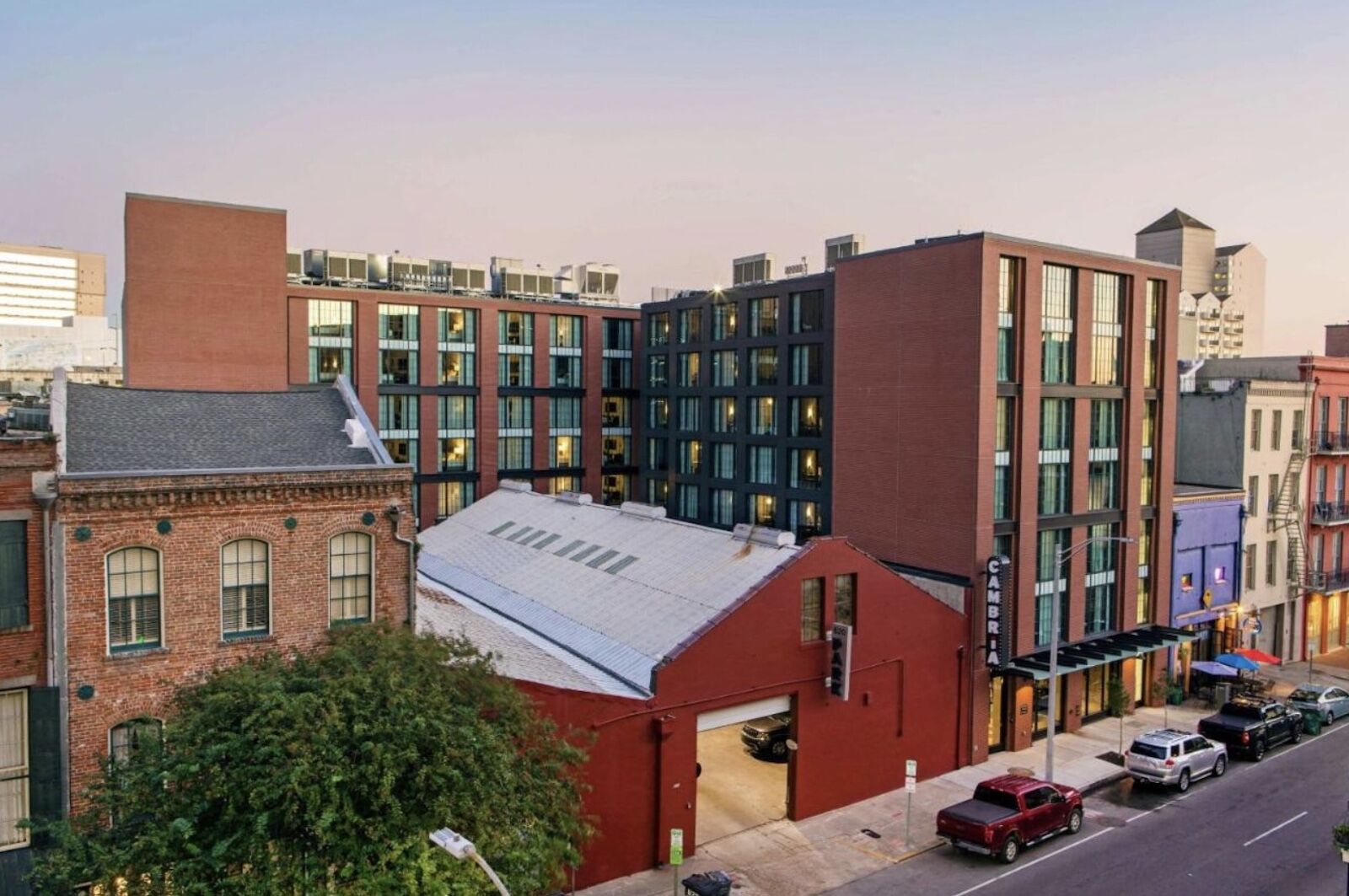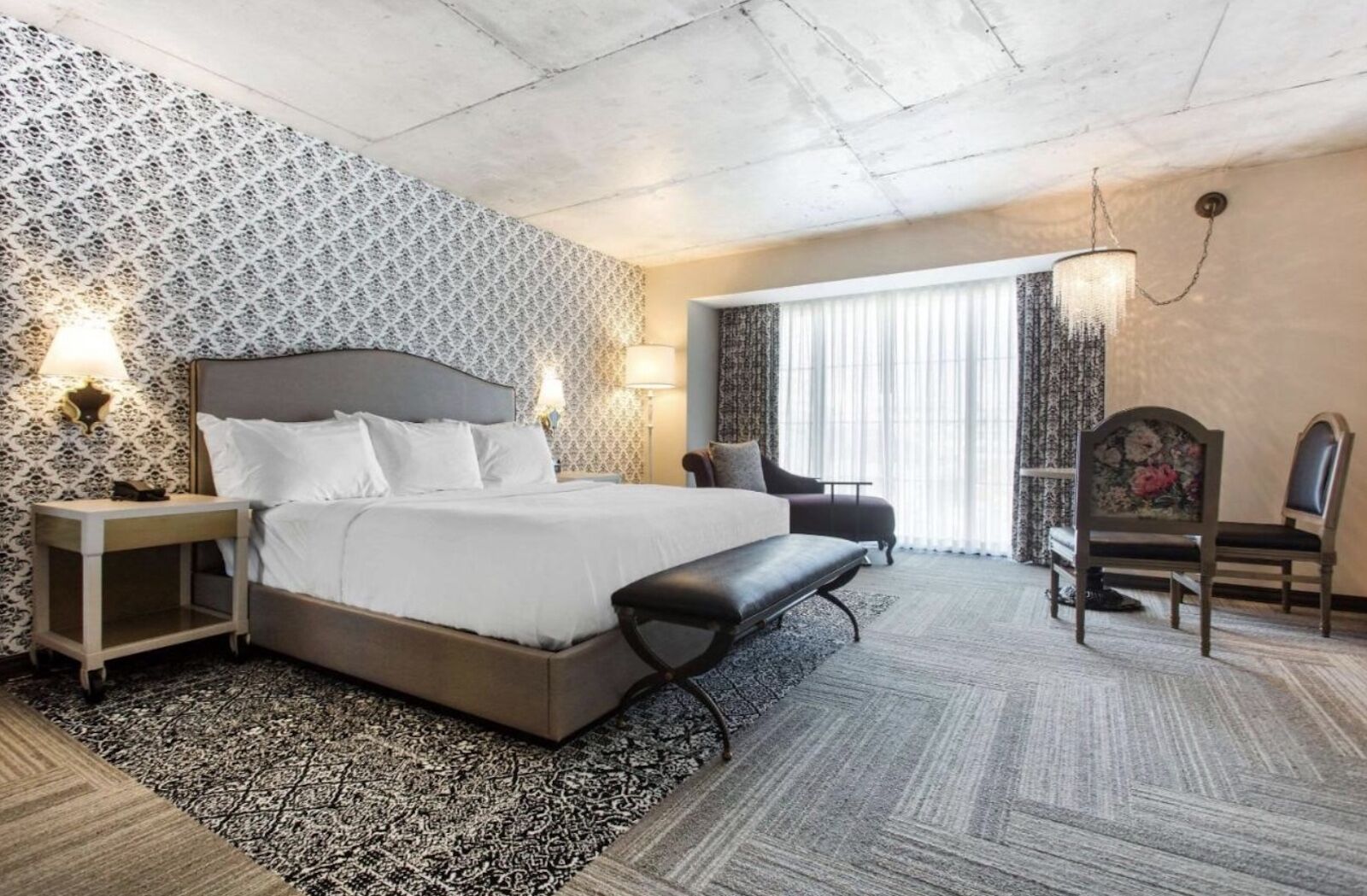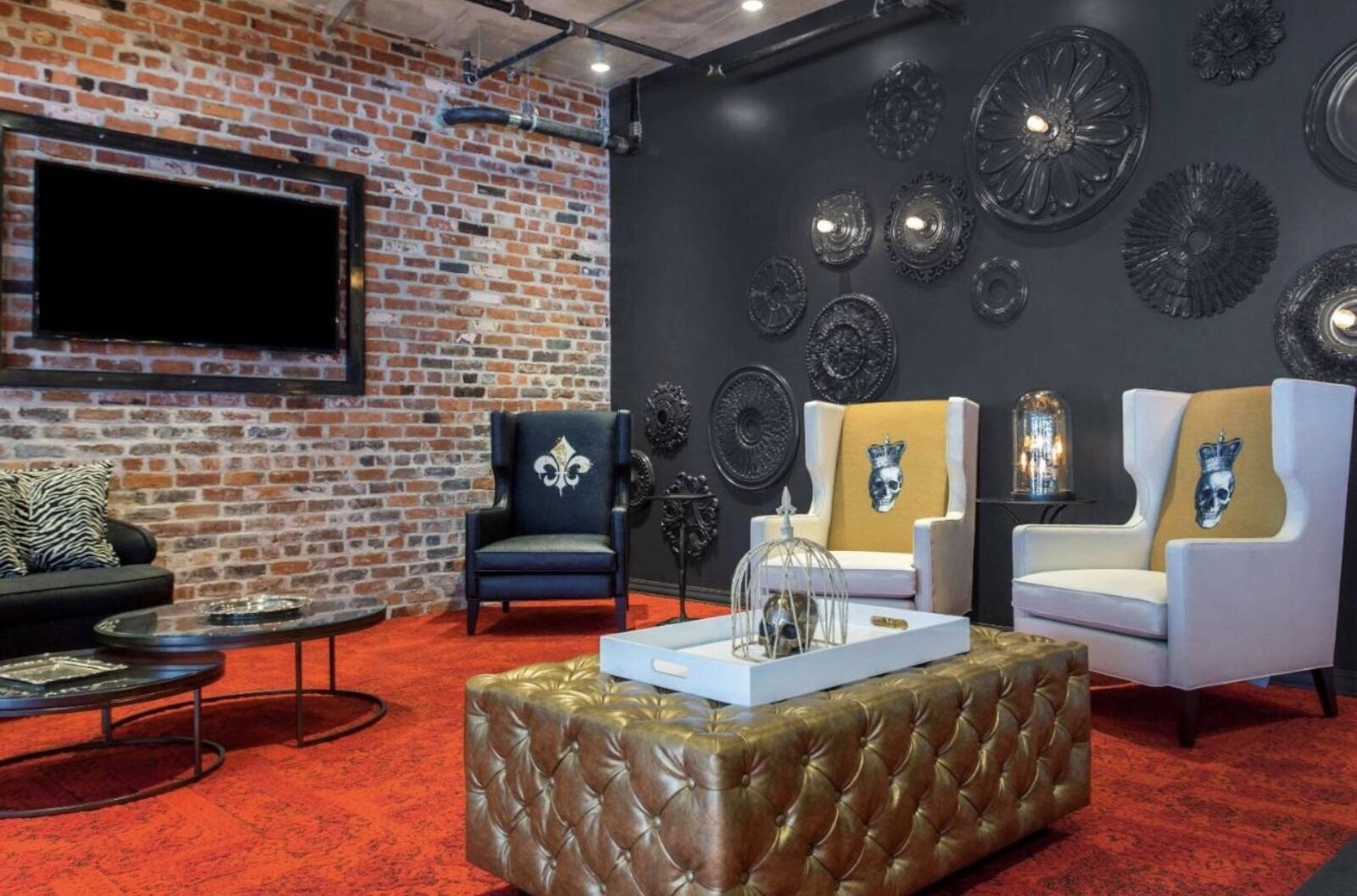 Cambria Hotel New Orleans Downtown is in the city's warehouse district, which some people consider part of downtown, and some people don't. However, it's in a great location if you need a hotel in downtown New Orleans for a mixed work/leisure trip. It's about a mile from the convention center and .8 miles from the French Quarter, so you can quickly get to both daytime events and evening dinners and socializing.
Colorful paintings and oversized art installations give the hotel a Bohemian feel, and a grab-and-go snack station makes it easy to find a late-night snack when you come home late. Rooms are large and comfortable, and the hotel's on-site bar has a creative cocktail menu and excellent happy hour specials.
Rates from: $125/night
One11 Hotel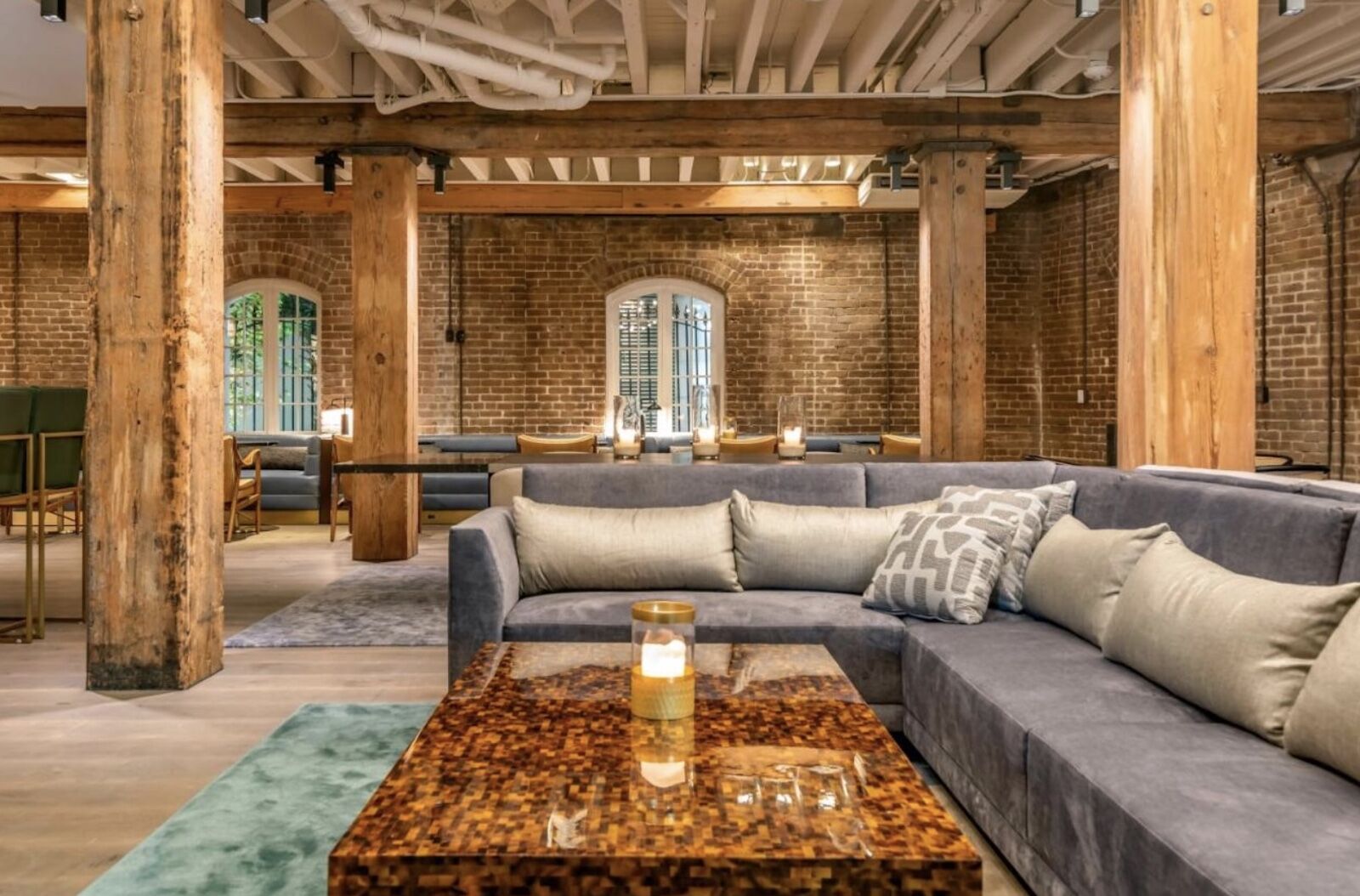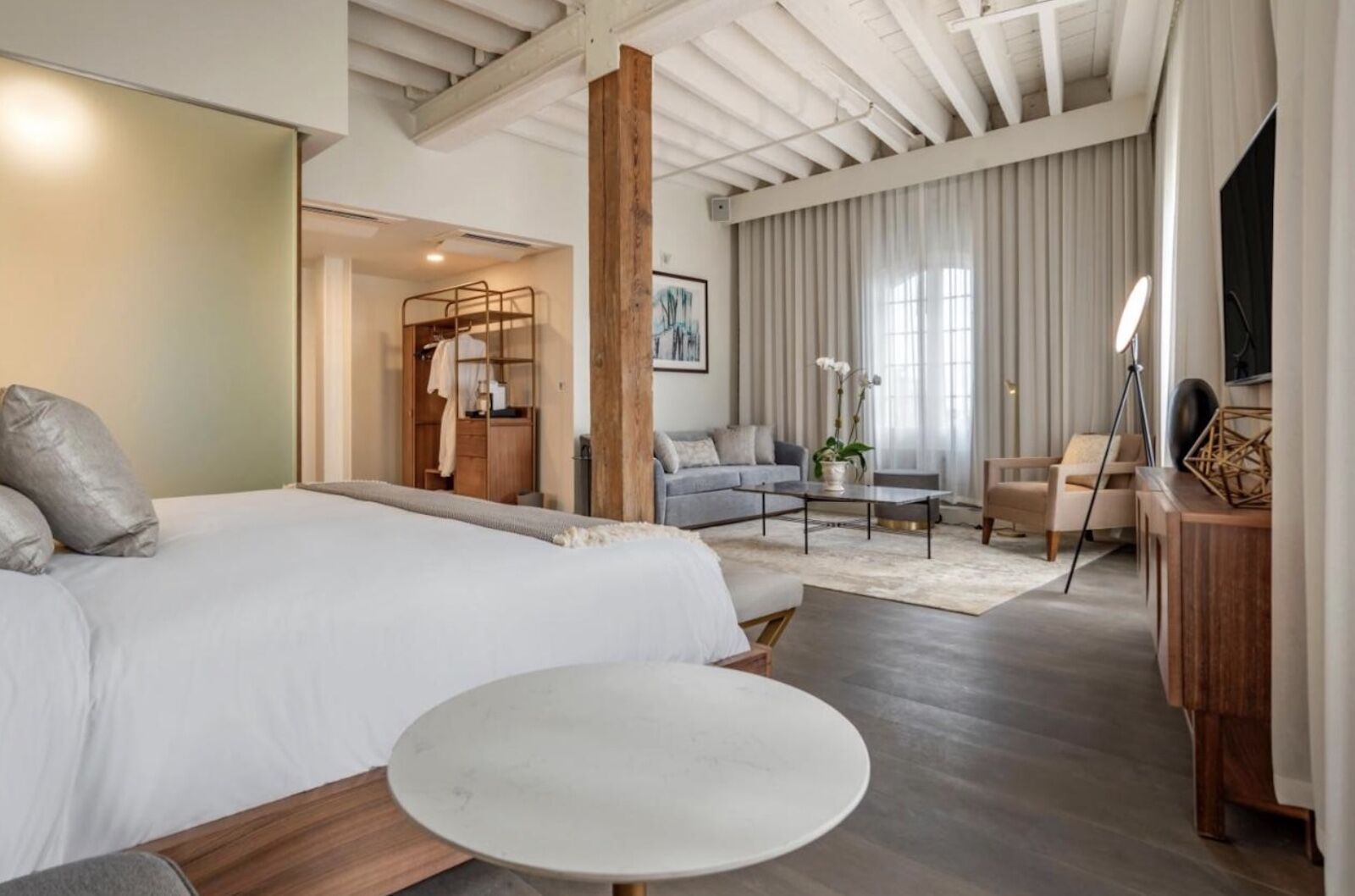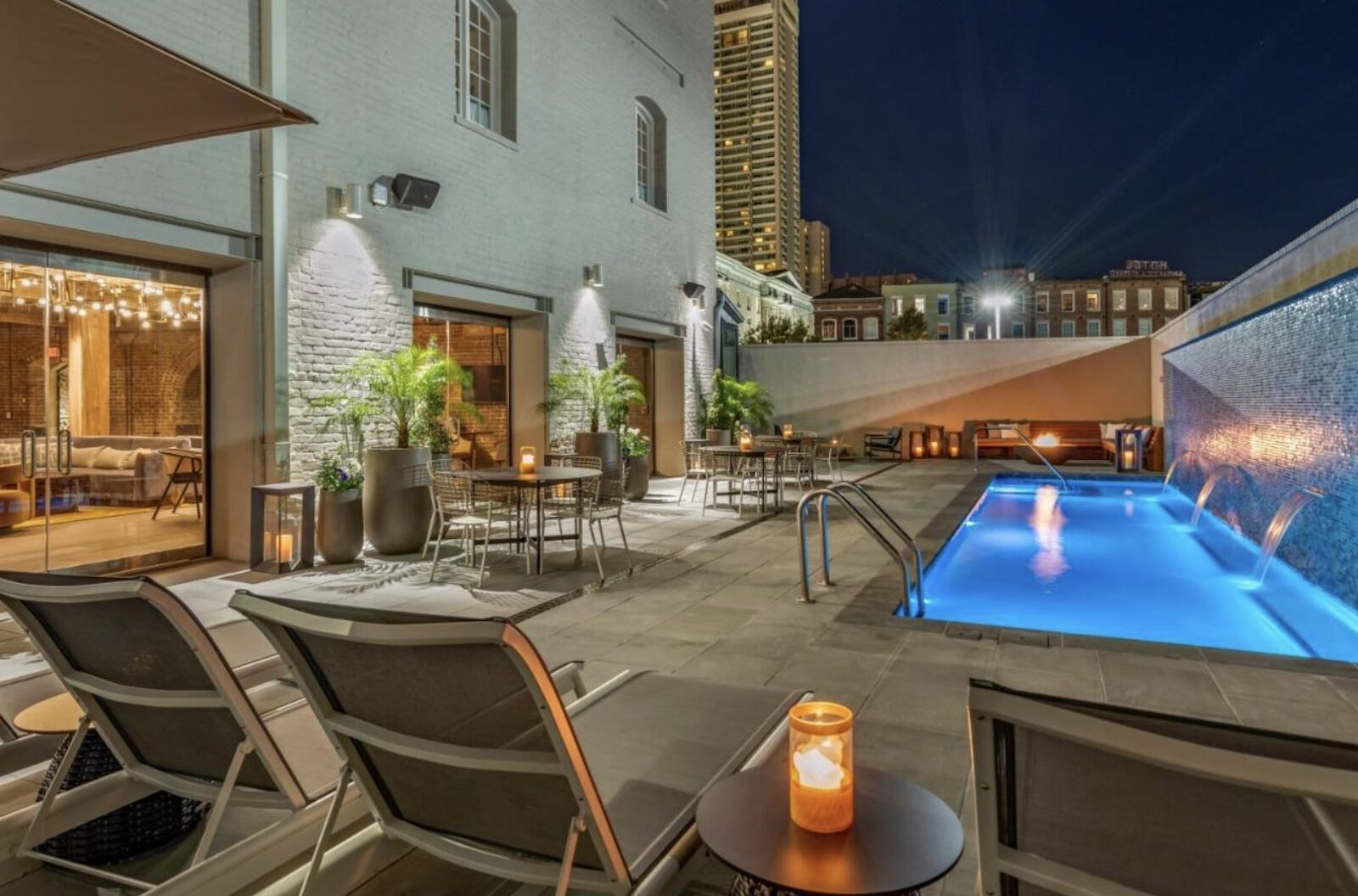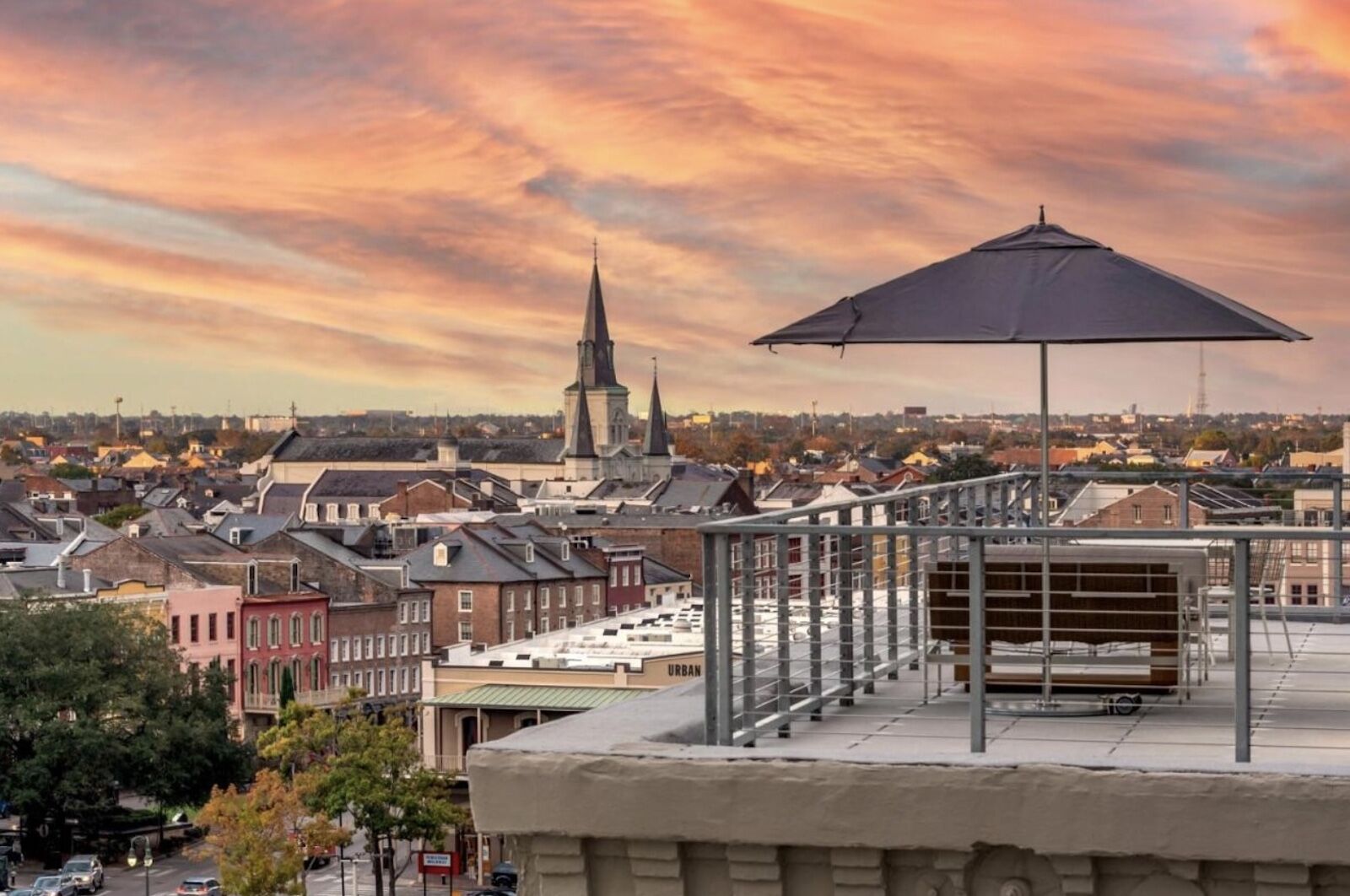 If you want a hotel in downtown New Orleans near Jackson Square, look no further than the One11 Hotel. It's near the water in an area of the city that served as the center of the sugar industry in the 1800s, and the hotel was first built by the American Sugar Refining Company as an office. However, it sat empty for decades before it was purchased and turned into a hotel.
Today, rooms have a unique warehouse-meets-modern look, with tall ceilings, white walls, exposed wood beams and pillars, and brick walls. Many rooms have views of the waterfront, and they're generally pretty roomy compared to hotels in the French Quarter. One11 Hotel also has a rooftop patio, a large pool, and an on-site bar and restaurant that serves a reasonably priced $15 breakfast. It's a great pick if you want to be near, but not in, the lively tourist area around Jackson Square and the French Quarter.
Rates from: $254/night
Maison de La Luz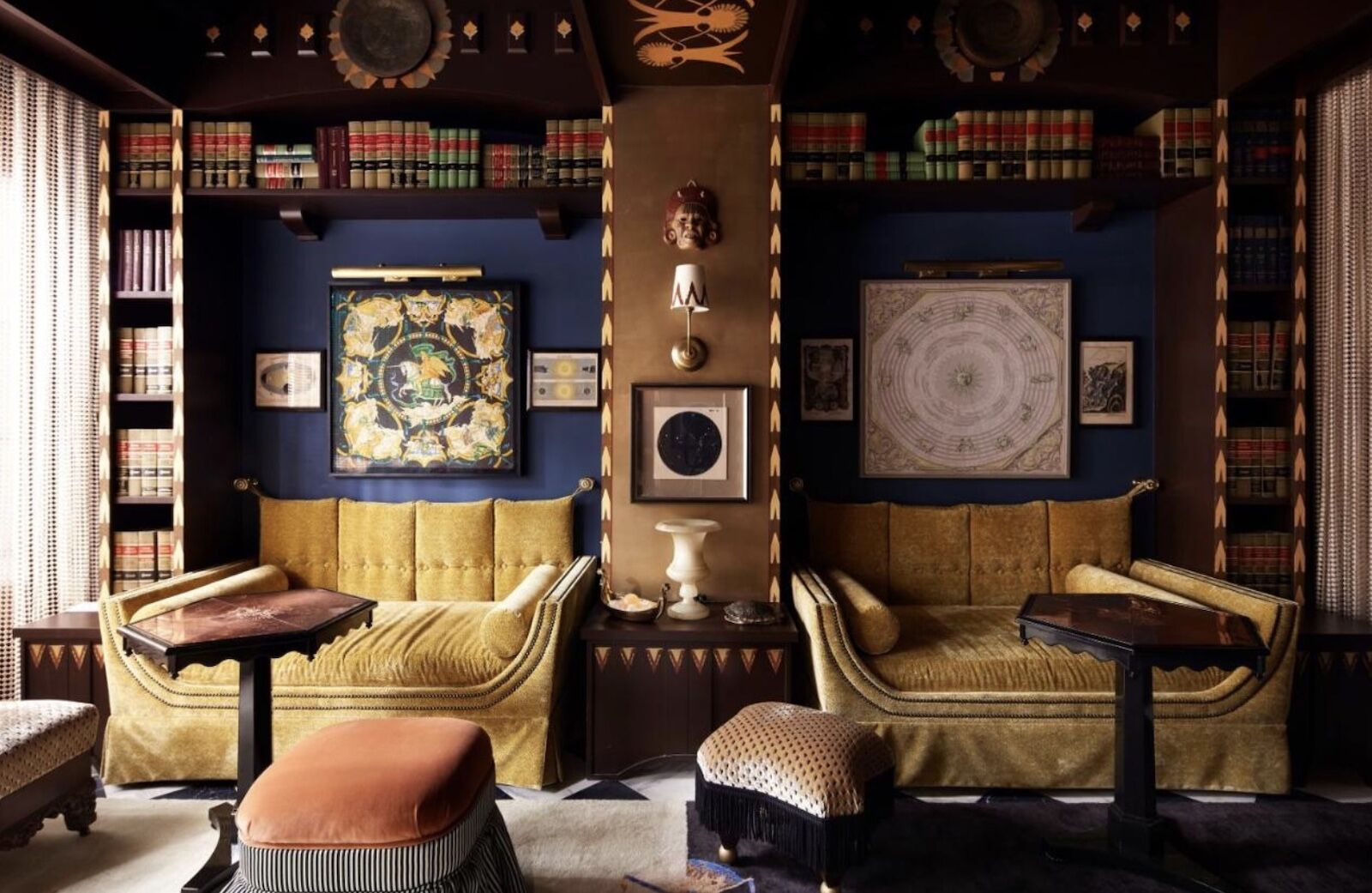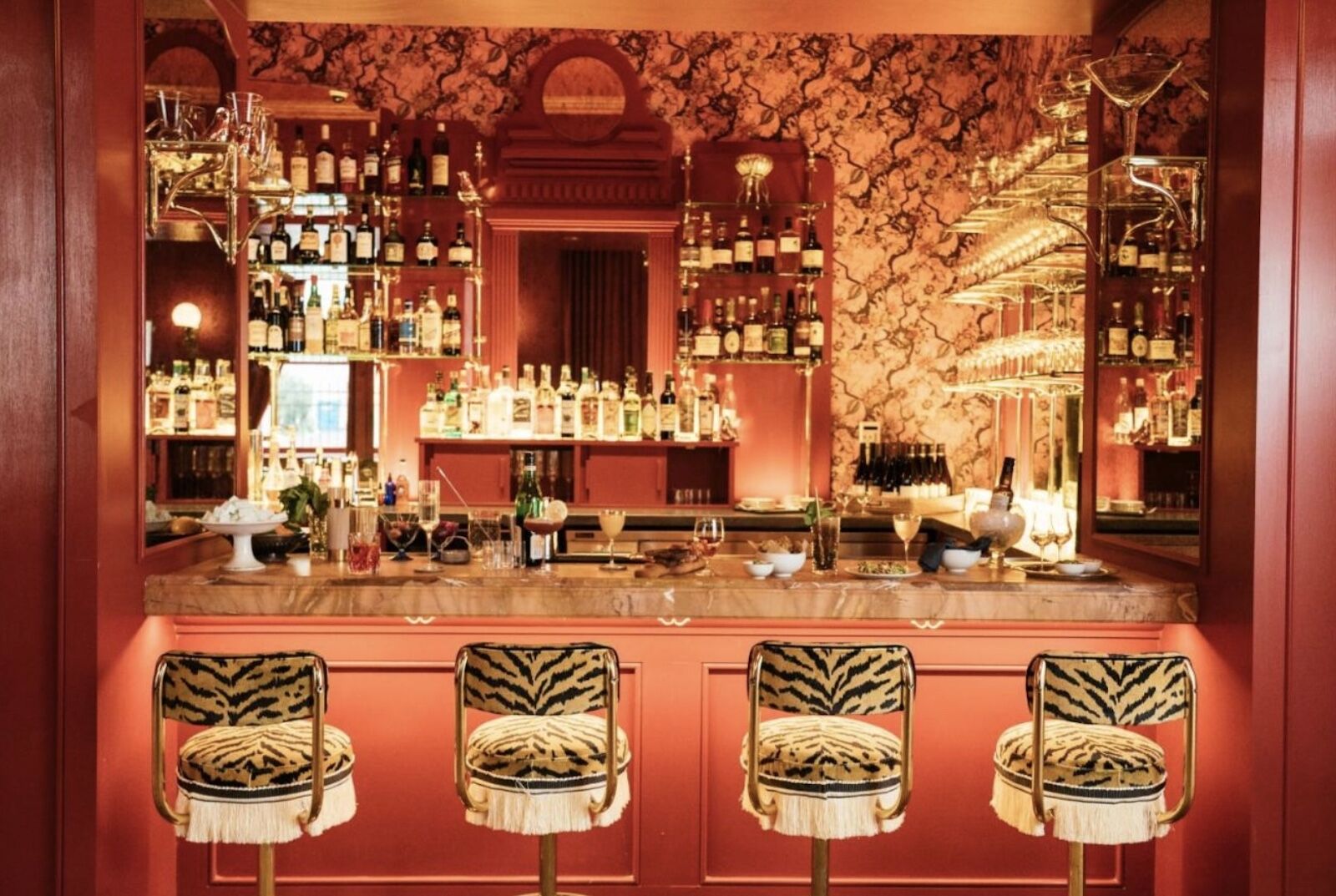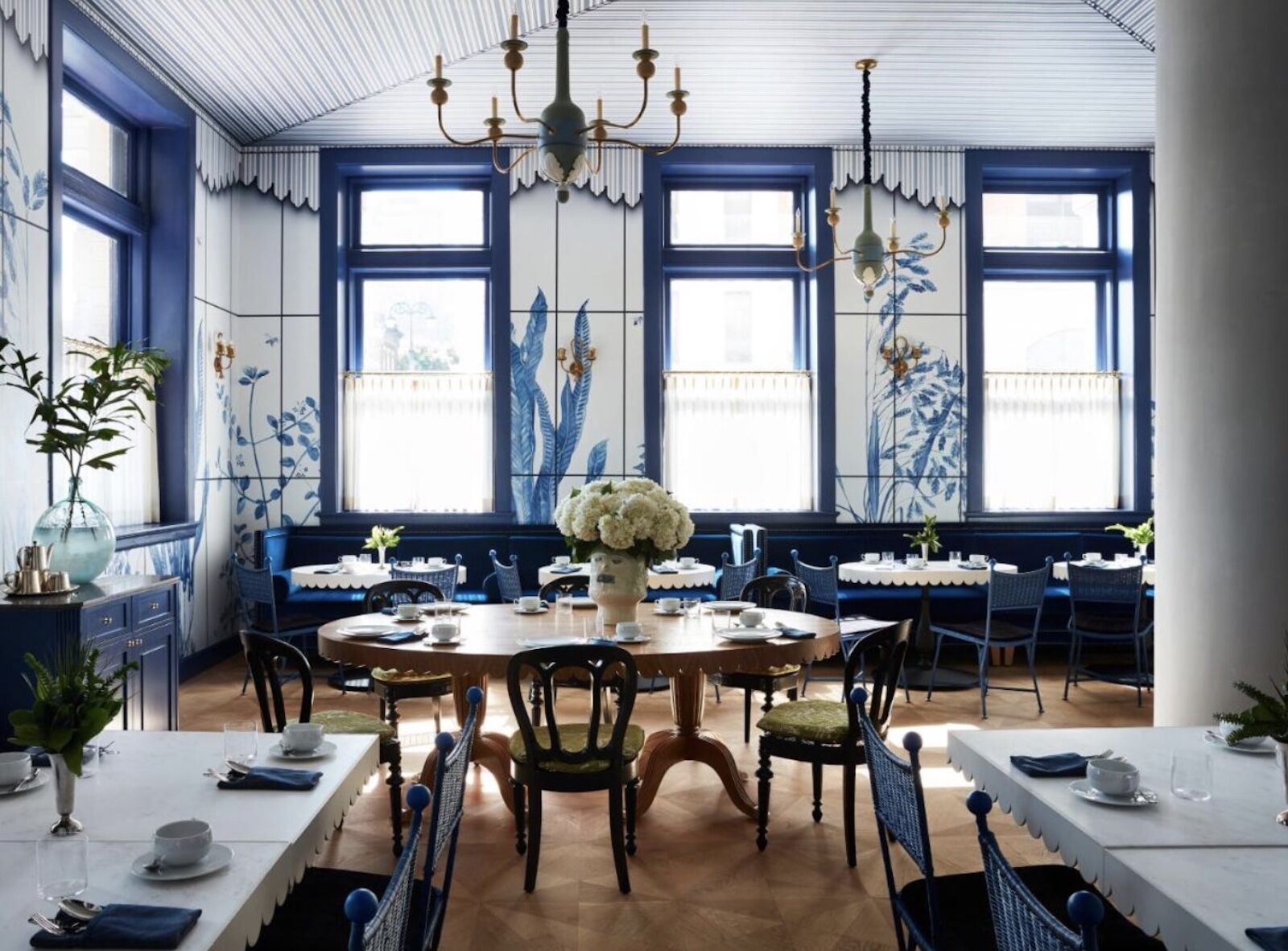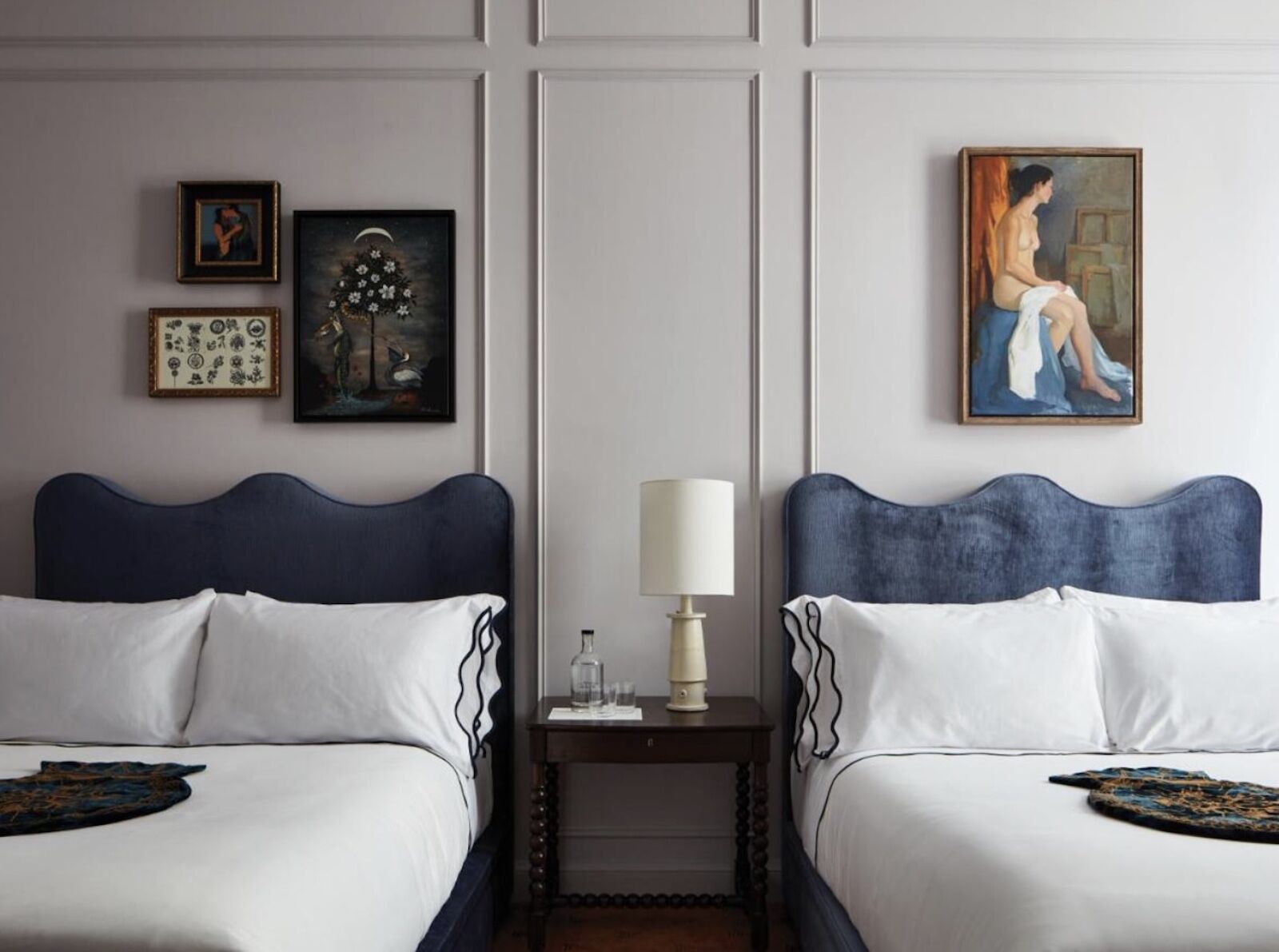 Maison de La Luz may have the most beautiful website of any hotels in downtown New Orleans, which gives you a taste of what to expect at the five-star property. The boutique hotel has individually designed suites curated by an interior designer, and all the common areas are distinct, so take time to admire the surroundings. There's a library room with gold velvet furniture and hand-painted trim, a beautiful red, gold, and glass-detailed bar room that looks like a place where Jay Gatsby would hang out, and skillful tile work throughout the property.
Maison de La Luz is certainly one of the more romantic hotels in downtown New Orleans and is ideal for a special occasion trip — especially because the hotel offers "bespoke concierge services," which basically means they can arrange just about any special treatment or service you can imagine during your stay. Given the hotel's elegance and limited number of rooms, it actually has a surprisingly low starting rate.
Rates from: $271/night
Where is New Orleans?
New Orleans is in the southeastern part of Louisiana on the banks of the Mississippi River. It's the largest city in Louisiana and known for its vibrant culture, music, food, architecture, and history. Much of the city is at or below sea level, so it's surrounded by swamps and wetlands. That means the city experiences hot, humid summers and mild winters. Highs in the summer are around 90 degrees Fahrenheit, but the humidity makes it feel hotter.
The closest airport to New Orleans is Louis Armstrong New Orleans International Airport (named for Jazz icon Louis Armstrong), about 11 miles from downtown New Orleans. You'll find flights to New Orleans from most cities on the East Coast and a few larger West Coast cities, like Los Angeles.
Is it better to stay in the French Quarter or downtown New Orleans?
Well, that depends what you consider "downtown." In most cities, "downtown" is regarded as the area of the city with office buildings, often in areas where people wear suits and work in jobs like tech and finance. Even in cities that generally aren't known for that (such as San Diego), there's still usually an area filled mostly with glass-and-cement buildings and restaurants and stores designed to support people who work roughly 9-to-5 hours.
But in New Orleans, "downtown" is a little different. Perhaps because the city is so old (founded in 1718), the part of New Orleans considered downtown are actually the neighborhoods near the waterfront. That includes the French Quarter, Treme, the Faubourg Marigny (next to the French Quarter), and the southern part of the Central Business District closest to the water (which blends with the Warehouse District). If you stay in those areas, you can walk to nearly all the main attractions in New Orleans Airbnbs in the French Quarter, too.
However, some people are starting to refer to the city's entire Central Business District as "downtown." That part of the city looks more like what people would consider an urban downtown area. It's also where you'll find the city's convention center and the 74,000-person-capacity Superdome.
When is Mardi Gras in New Orleans?
Easy answer: New Orleans' Mardi Gras is in February, or very occasionally early March. Mardi Gras translates directly to "Fat Tuesday," as it's celebrated on the Tuesday before Lent (a period of fasting). "Fat Tuesday" is a last hurrah to celebrate excess before an extended period of restraint.
In New Orleans, the festivities around Mardi Gras usually last for a week or two, so if you're in the city around the end of February, expect it to be busy. Many of the best hotels in downtown New Orleans will be expensive and crowded during Mardi Gras — and likely loud, as the party goes long into the night at nearly every bar.
However, even if you're visiting outside of that time, you'll still be able to find plenty of Mardi Gras-themed bars and decor nearly everywhere in the city. Business owners know that Mardi Gras is a uniquely New Orleans tradition that attracts tourists and generally lean into it year-round.
What street is the best to stay on in New Orleans?
The best street to stay on in New Orleans depends entirely on what type of trip you want to have. Certainly the most famous street in New Orleans is Bourbon Street, running through the French Quarter. It was first named Rue Bourbon (which translates to Bourbon Street) after the French royal family and quickly became a  center of commerce and entertainment. In the early 19th century, Bourbon Street was home to many of the city's finest hotels, best restaurants, world-class theaters, and a thriving red-light district.
During the 20th century, Bourbon Street became a popular destination for tourists from around the world. Today, it's where you'll find many of the city's most popular (and most lively) bars, restaurants, and music venues, making it a great place to stay if you want to stay up late and socialize.
However, if you care more about history and want to stay someplace a little quieter, the best street to stay on in New Orleans may be Canal Street or somewhere near it. Canal Street is in the central business district of New Orleans, running parallel to the Mississippi River. It's known for the historic streetcar line, in operation since the late 1800s. It's where you'll find landmarks like the historic Saenger Theatre and the posh Roosevelt Hotel.
What is the cheapest time to stay in New Orleans?
The cheapest time to stay in New Orleans is usually during the summer, between June and August. During those months, the weather is very hot and humid, discouraging some travelers from visiting. August is the start of hurricane season in New Orleans, so it may be rainy for days on end. All seasons in New Orleans have their pluses and minuses so it really comes down to whether you prioritize cost, good weather, small crowds, and so on.
However, you may also be able to find lower-than-average prices in January and February (outside of Mardi Gras), or in November and December before the holiday rush begins.
What did you think of this story?