Bookend Your Trip To Los Angeles at These Inspiring Hotels Near LAX
Los Angeles International Airport (LAX) is located just south of Venice Beach, a central location that separates it from the trend of major cities building airports far outside of city centers. For travelers, this means the city is right there (though, it takes battling LA traffic to access it). Staying at hotels near Los Angeles Airport puts you close to the terminal as well as the beach and attractions — making these properties a sure win for business trips, solo travel, and for travelers basing themselves in LA before or after heading up or down the coast. These are the best Los Angeles airport hotels.
---
We hope you love the hotels near Los Angeles Airport we recommend! Just so you know, Matador may collect a small commission from the links on this page if you decide to book a stay. Listed prices are accurate as of the time of publication.
Headliner hotels near Los Angeles Airport
Hyatt Regency Los Angeles International Airport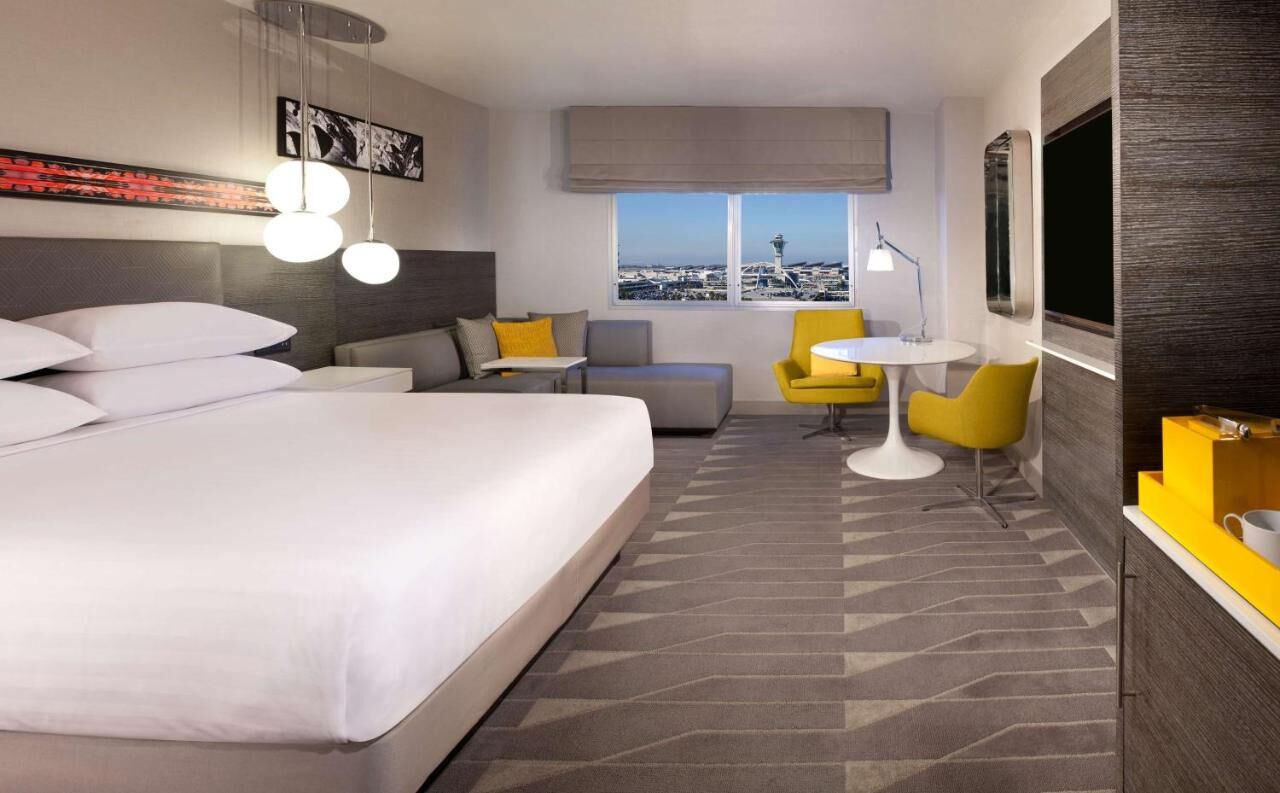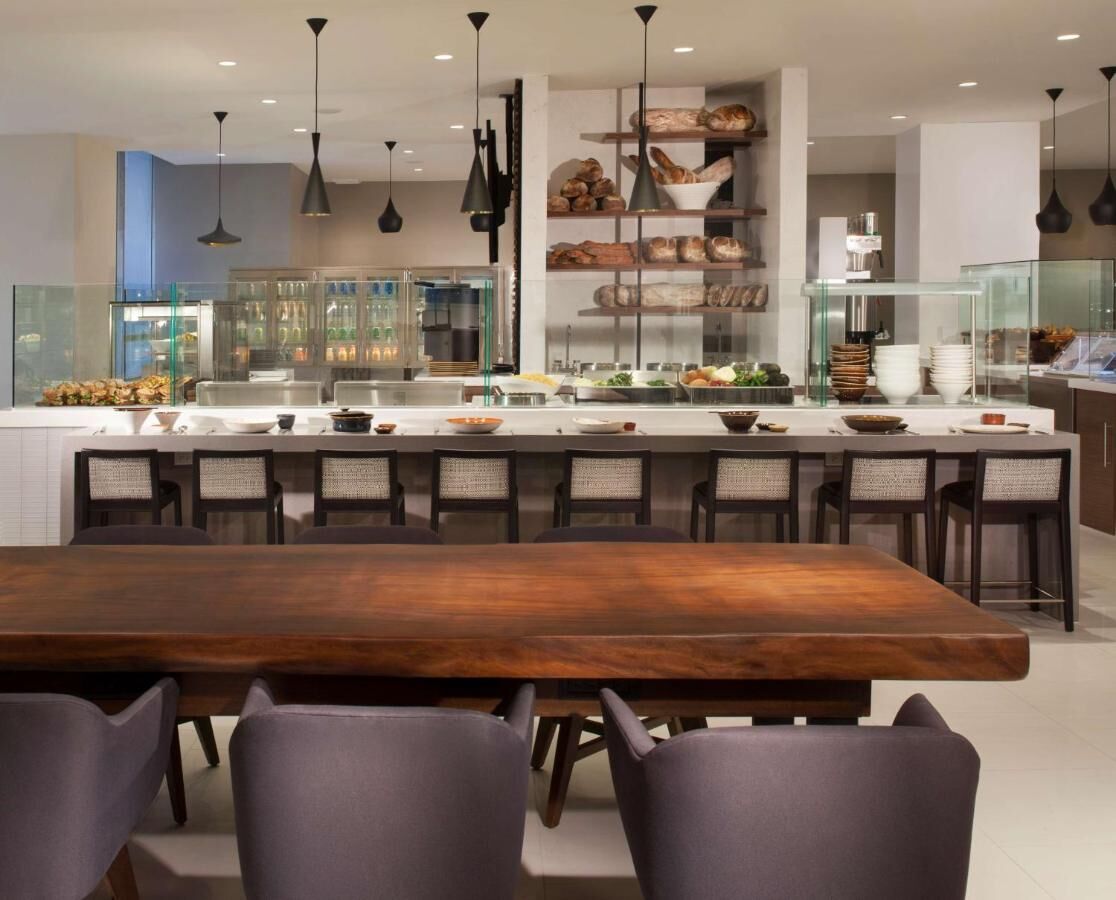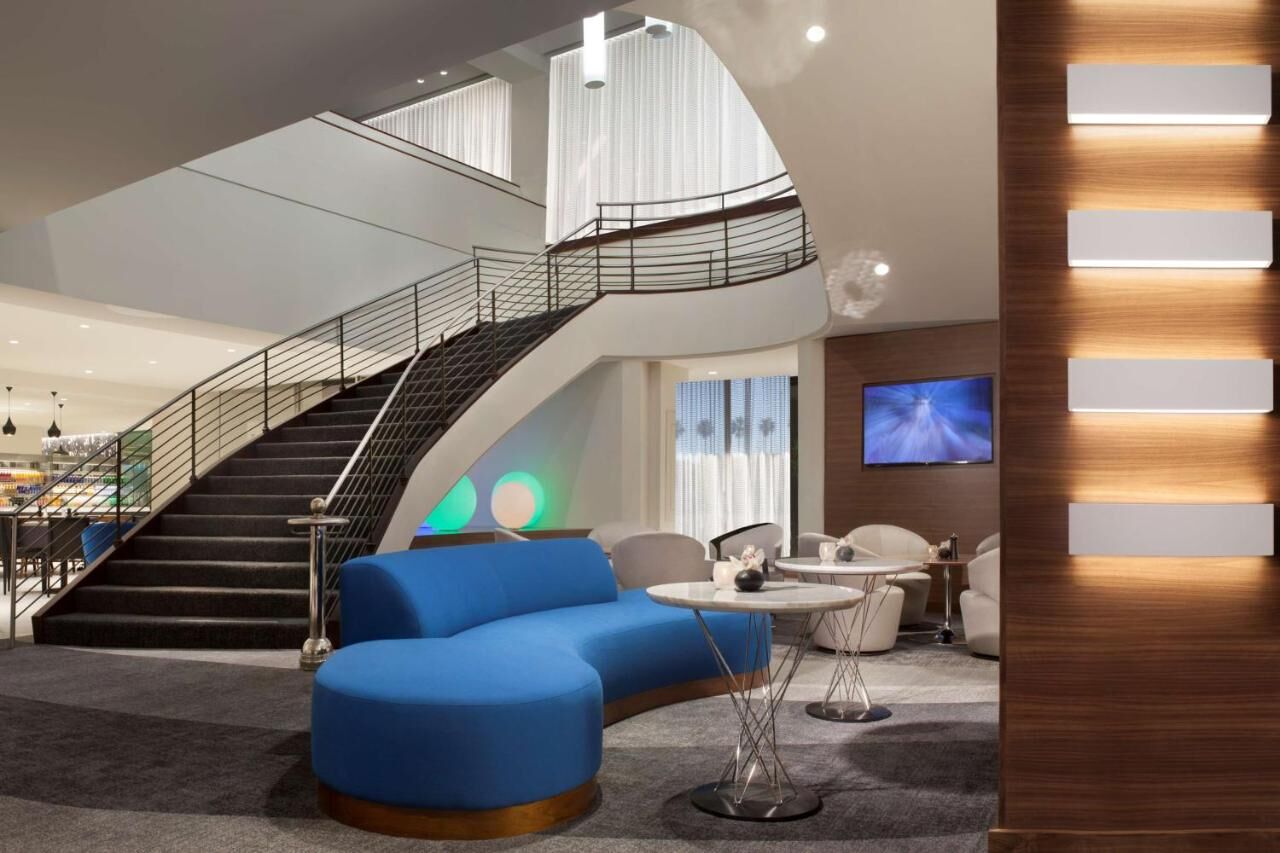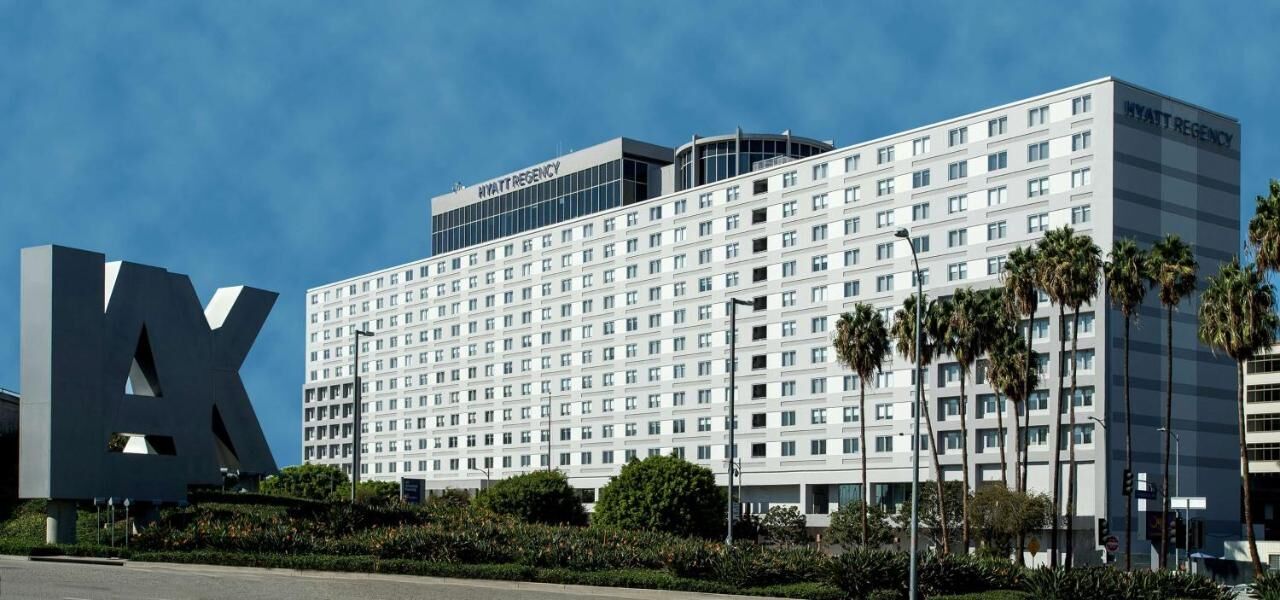 With a 24-hour transfer service that takes less than five minutes, airport hotels don't get more convenient than the Hyatt Regency Los Angeles International Airport. If you just have a carry-on bag, you can easily walk here. It is located across Sepulveda Blvd. from the airport's rideshare pickup spot, and features a 24-hour market for late and early arrivals as well as a restaurant and bar. This is the best hotel to base yourself at after a red-eye flight, and for times when you need quiet and convenient night's rest before an early flight.
Price: From $161 per night
Aloft El Segundo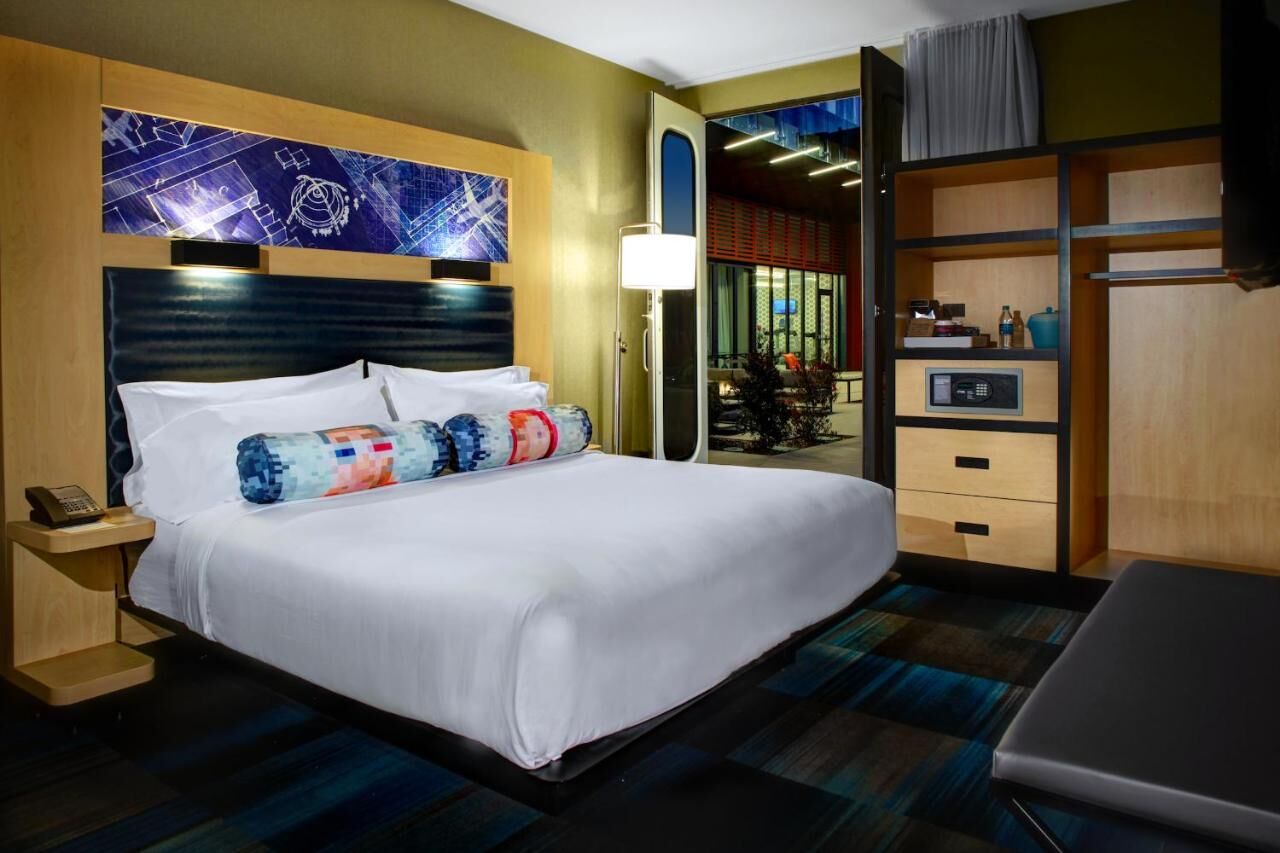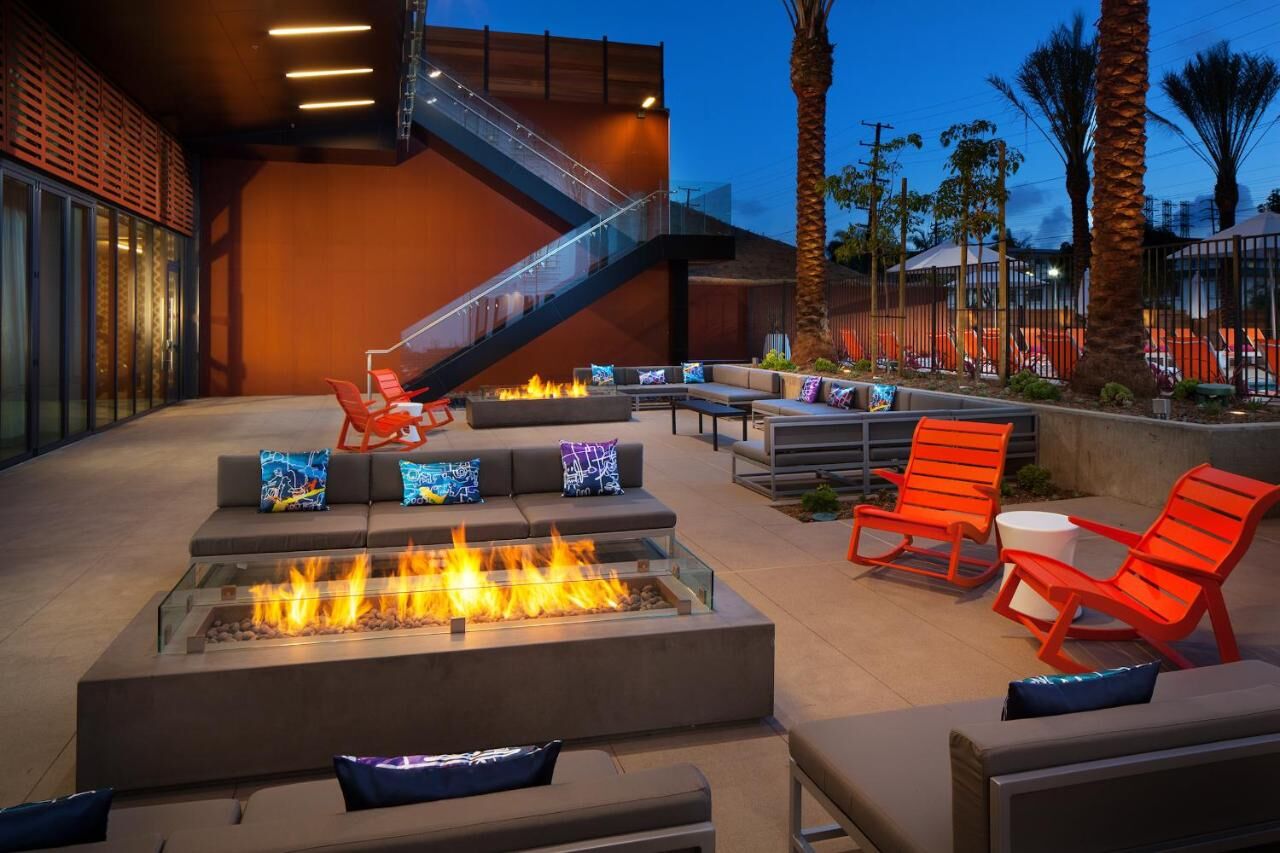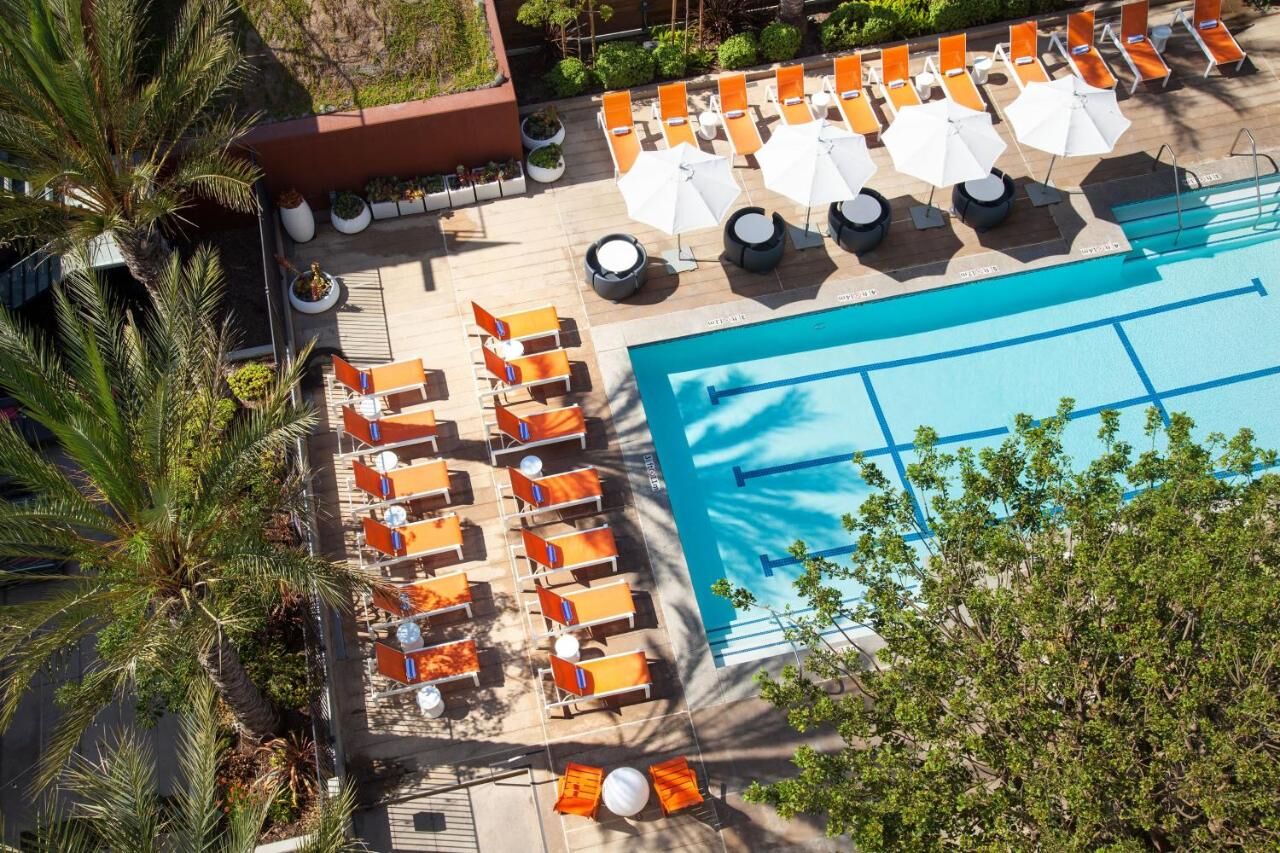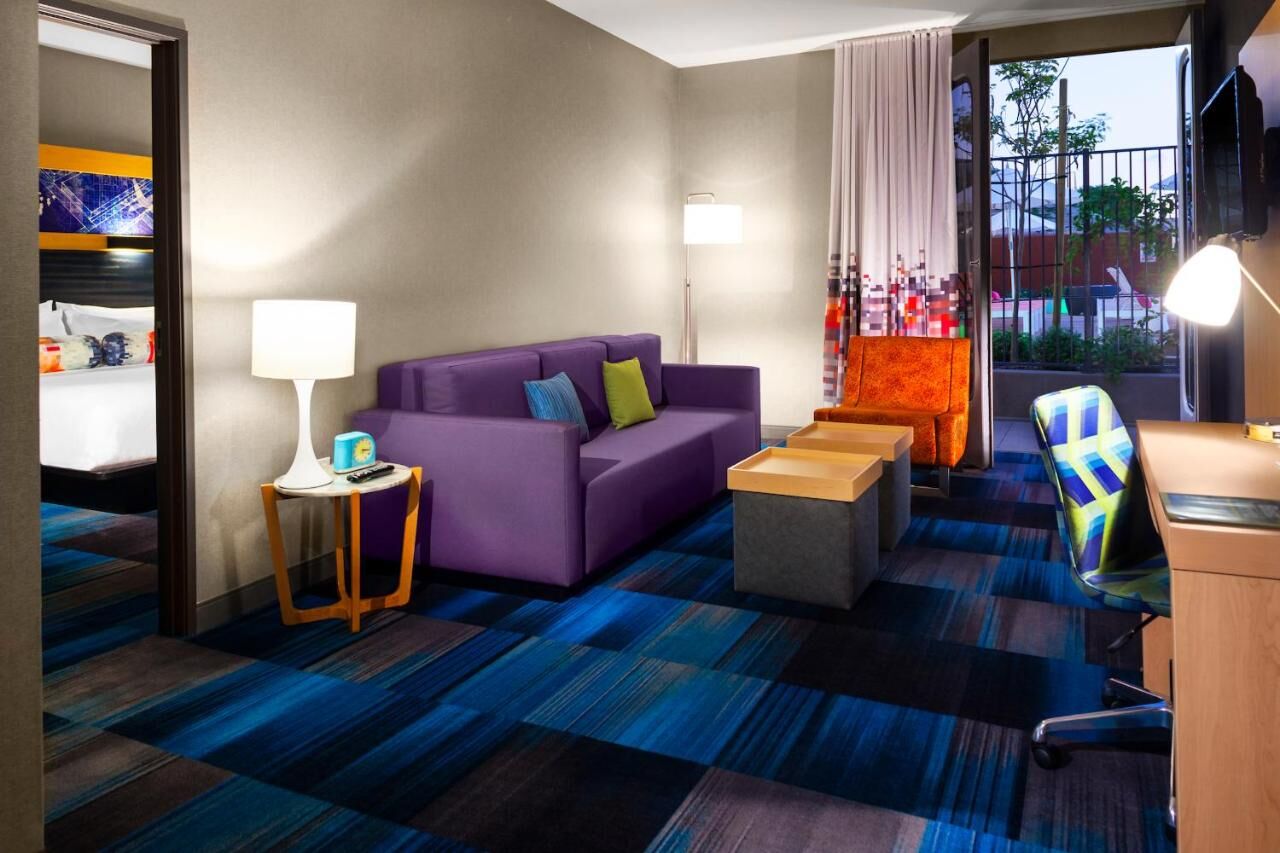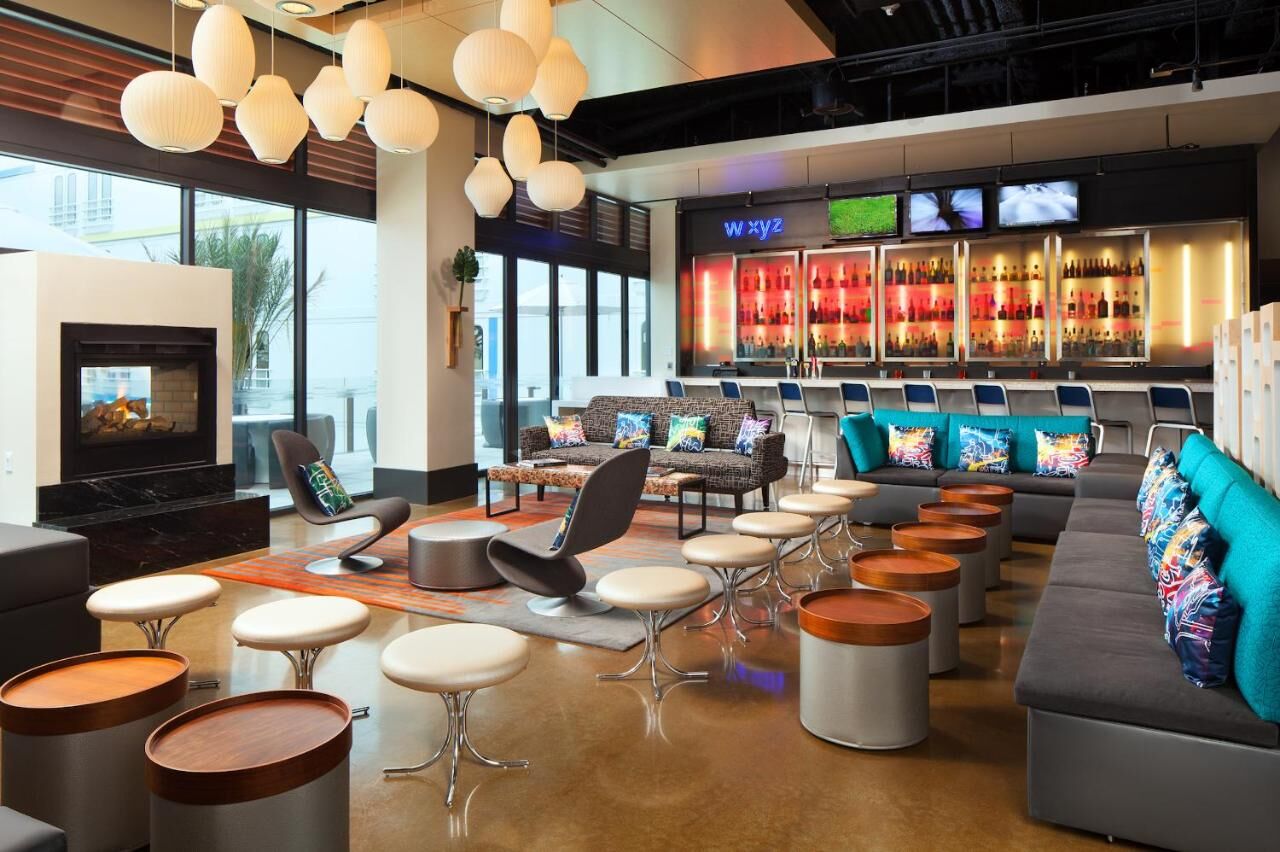 No hotel brand epitomizes the hip aesthetic of the modern adventurer quite like Aloft. Part of the Marriott family, Aloft El Segundo's pool, outdoor fire pit, and indoor lounge are inviting spaces that make you actually want to spend time at the hotel. Rooms are brightly decorated, with a metropolitan aesthetic that calls to LA's international flare. Find yourself in a suite lounging on the purple couch, and you're sure to feel like a rock star, no matter your reason for being in the city. All this while allowing you to collect and redeem Bonvoy points.
Price: From $127 per night
Top Marriott Bonvoy hotels near Los Angeles International Airport
Sheraton Gateway Los Angeles Hotel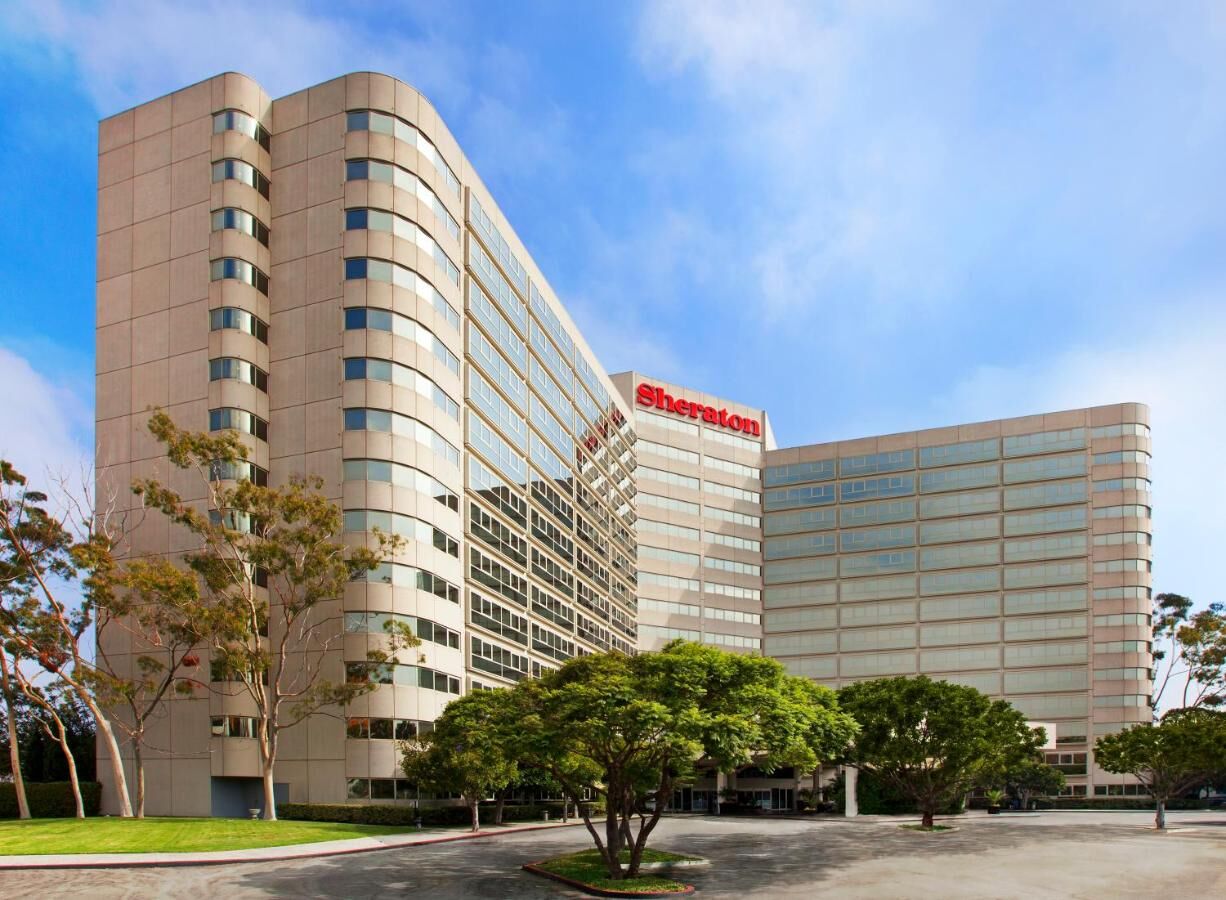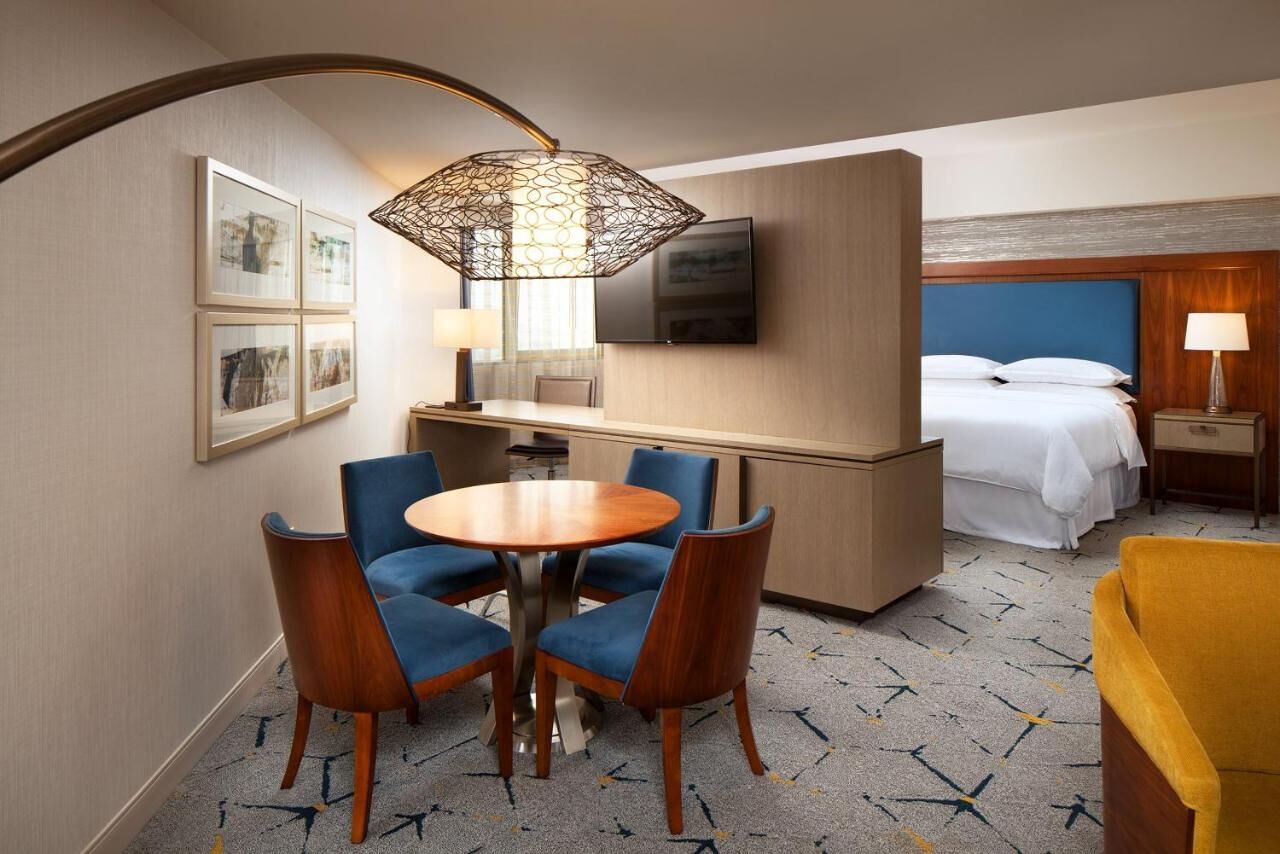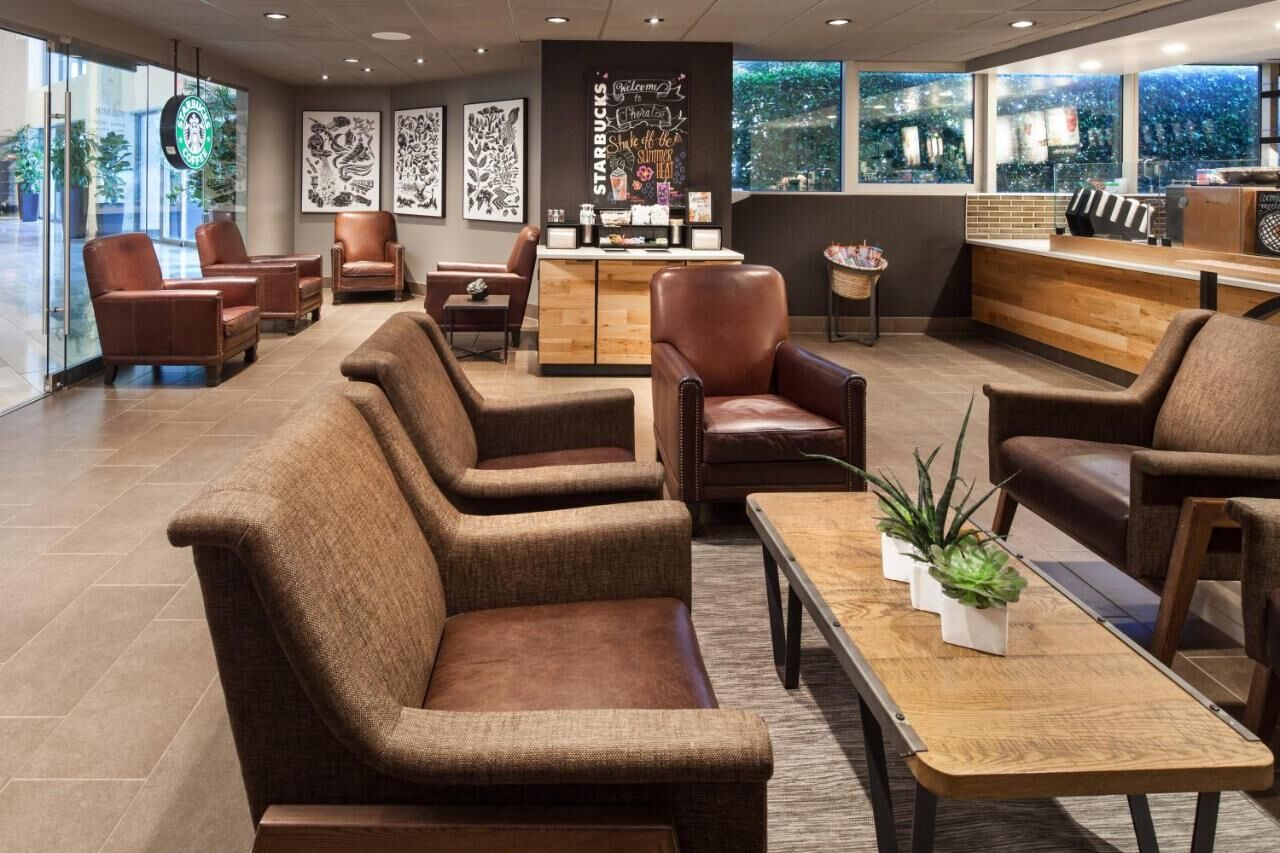 Hip and modern, the Sheraton Gateway Los Angeles Hotel is the type of place you'd want to settle in for a while. This is a great base for work trips to LA, as the in-room work desks and availability of suites make for a comfortable pad. The onsite cafe is also a great spot to settle down with your laptop. Plus, the heated outdoor pool and onsite Costero Bar and Bistro are great leisure options to unwind at the end of the day. Rooms are well-trimmed and recently remodeled, with the down pillows and high-thread-count sheets the brand is known for. The hotel's breakfast buffet is a destination even for adventurous locals, so be sure to pop in before heading to the airport.
Price: From $129 per night
Courtyard by Marriott Los Angeles Airport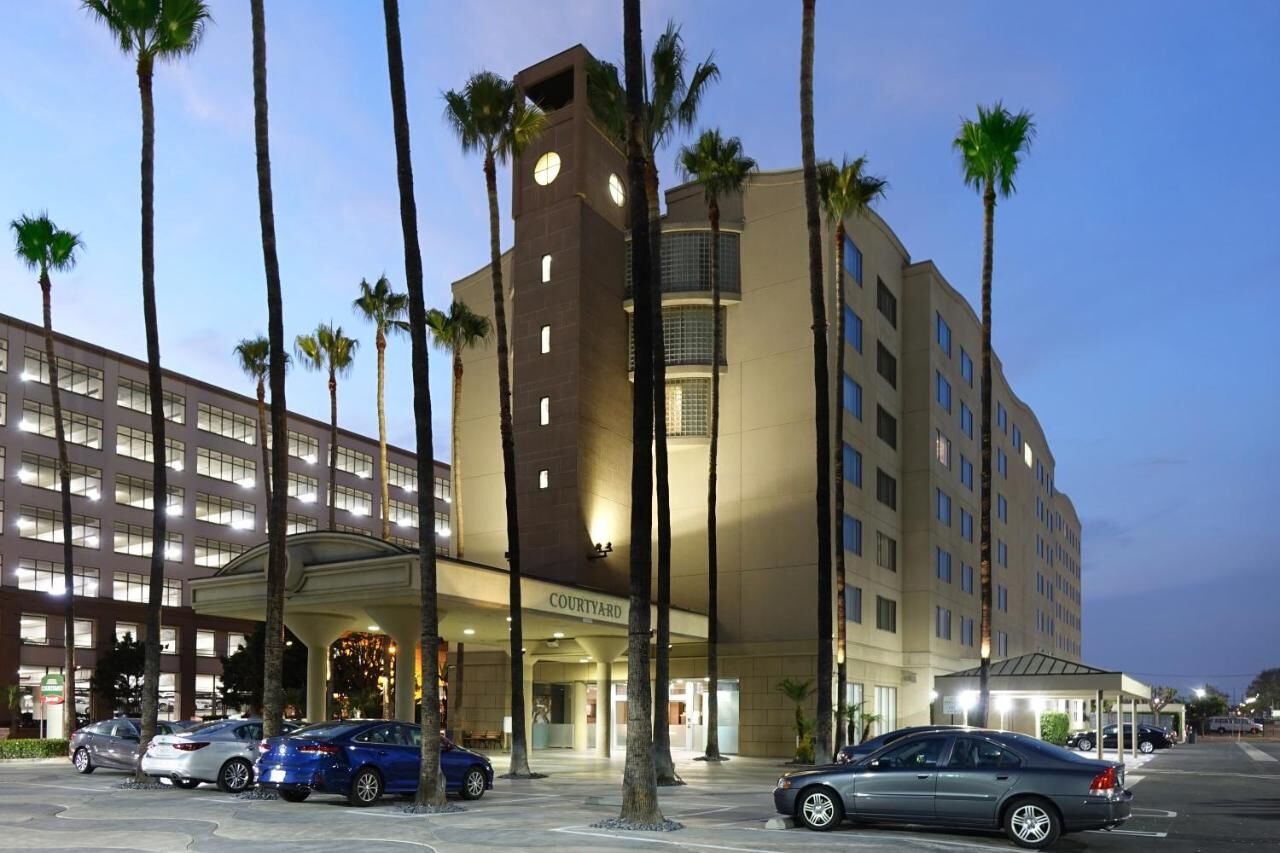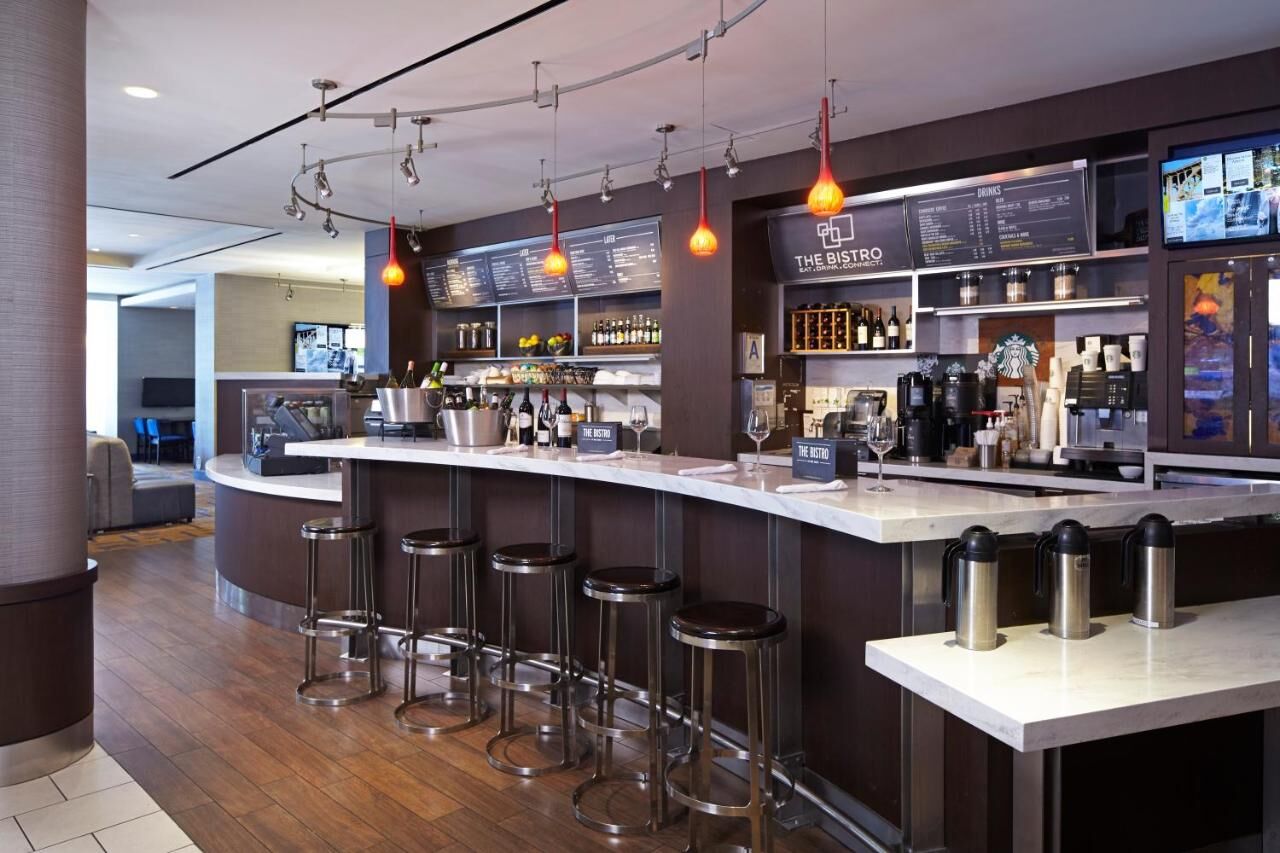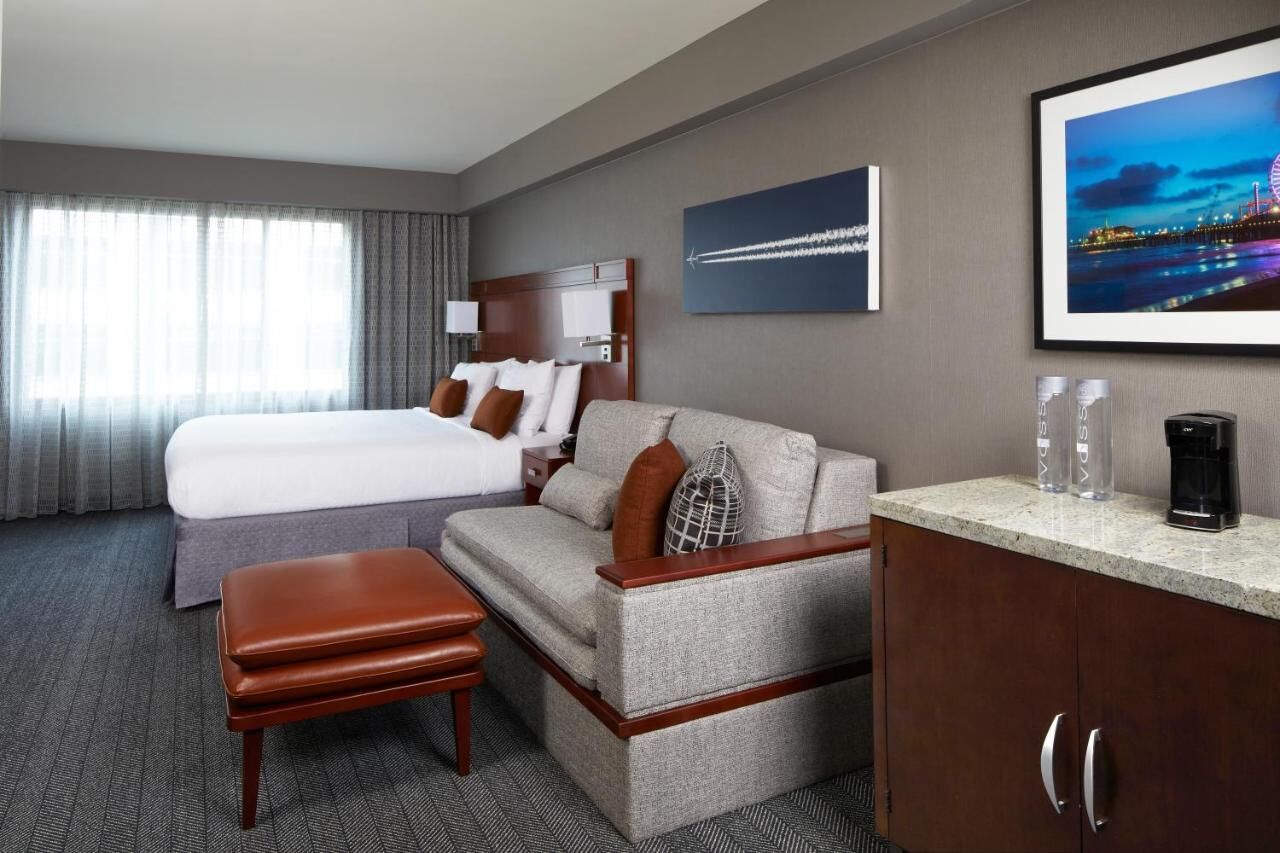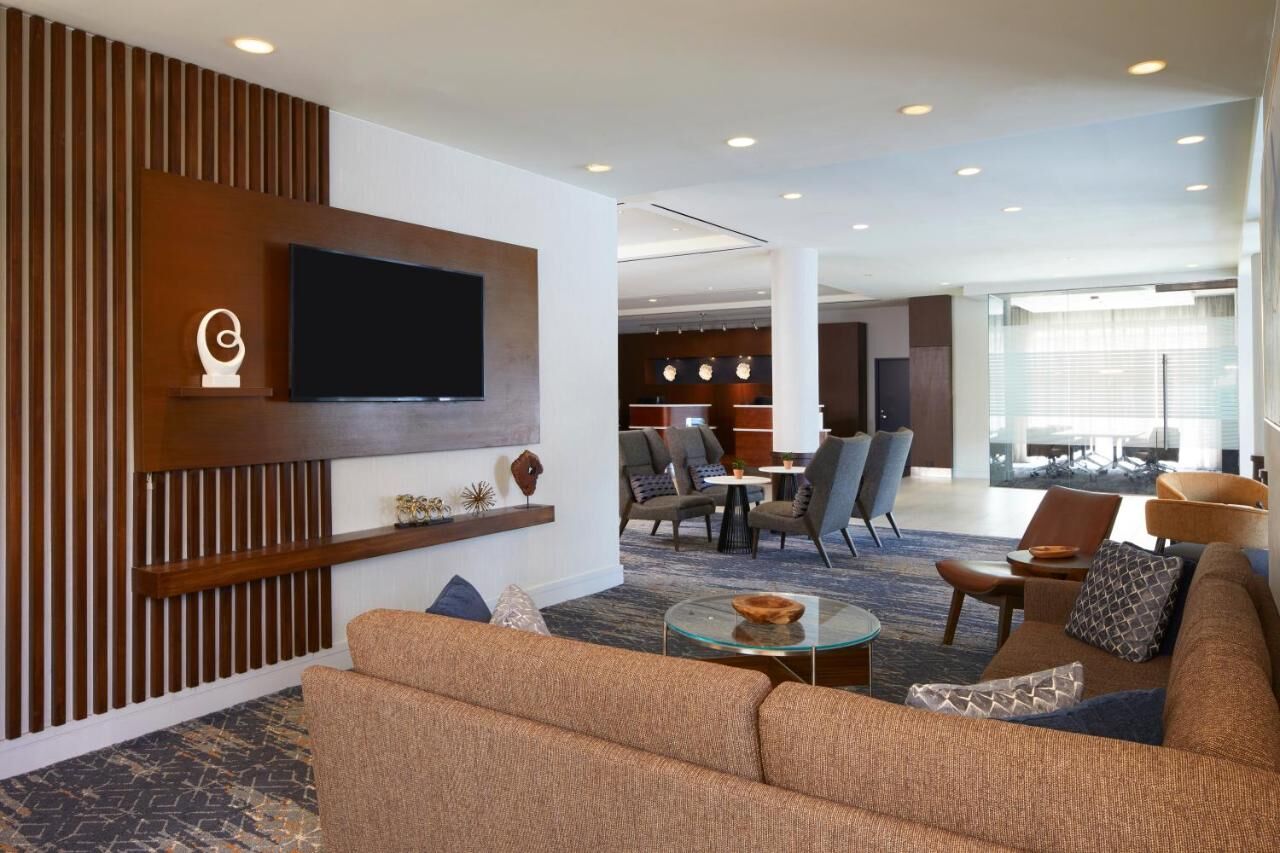 Courtyard by Marriott Los Angeles Airport provides the niceties of soundproofed rooms complete with a refrigerator and extra lounge space. The hotel's apartment-esque vibe makes it a comfortable place to stay with families or groups. Breakfast and dinner are available at the onsite bistro and the hotel features a grab-and-go market that is ideal for early morning and late-night flyers. Its proximity to the airport — a five-minute shuttle — makes it easy to get to the terminal no matter the time of day.
Price: From $143 per night
Taking a trip to Southern California? Check out Matador's guides to the best places to stay across the region:
Top Hilton Honors hotels near Los Angeles International Airport
H Hotel Los Angeles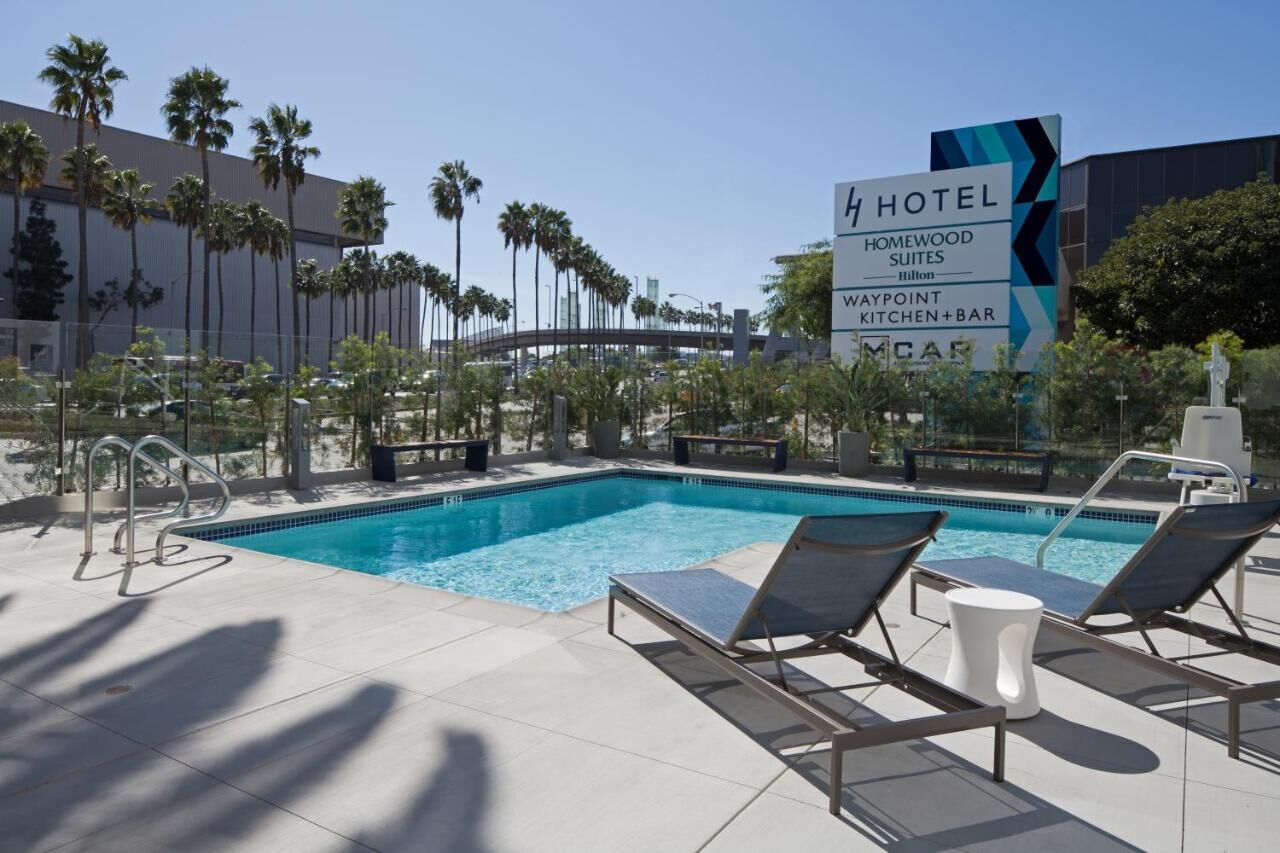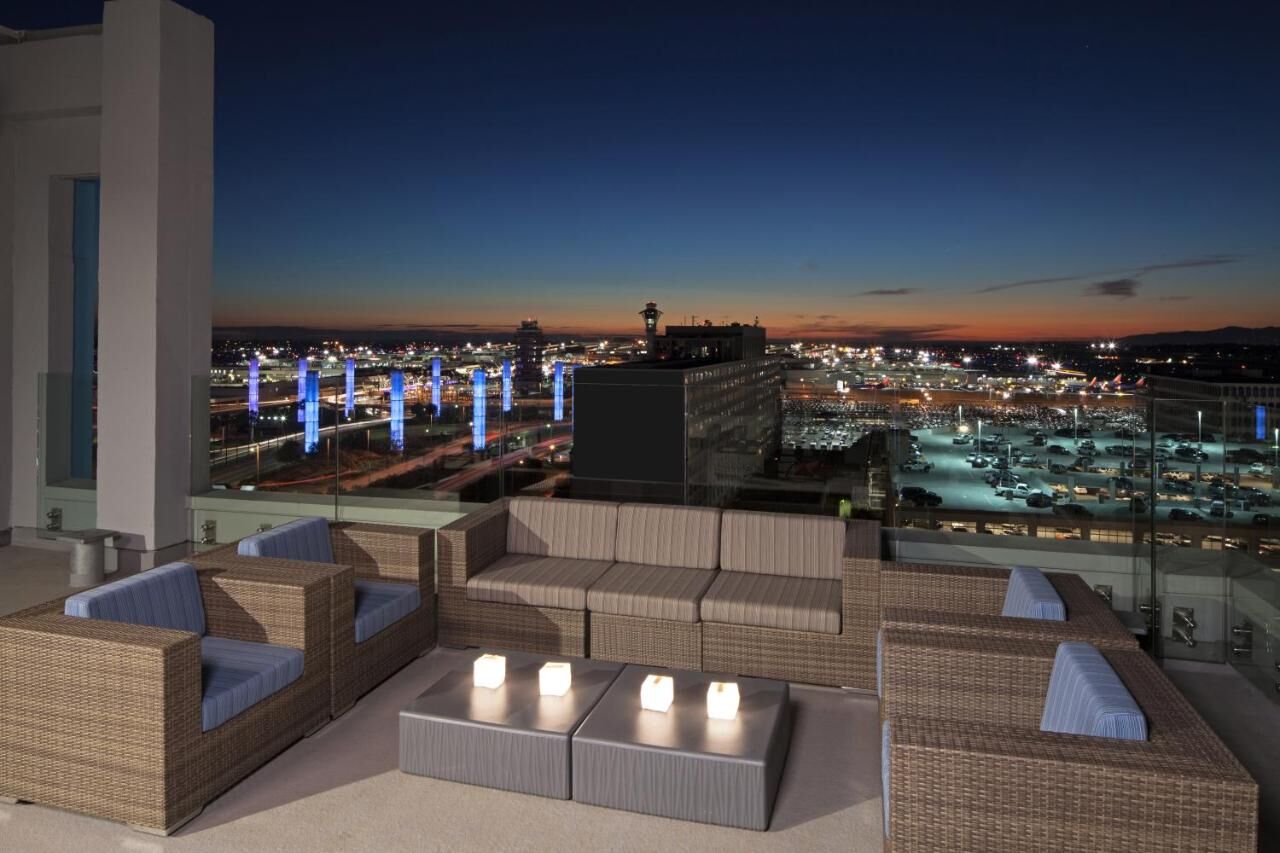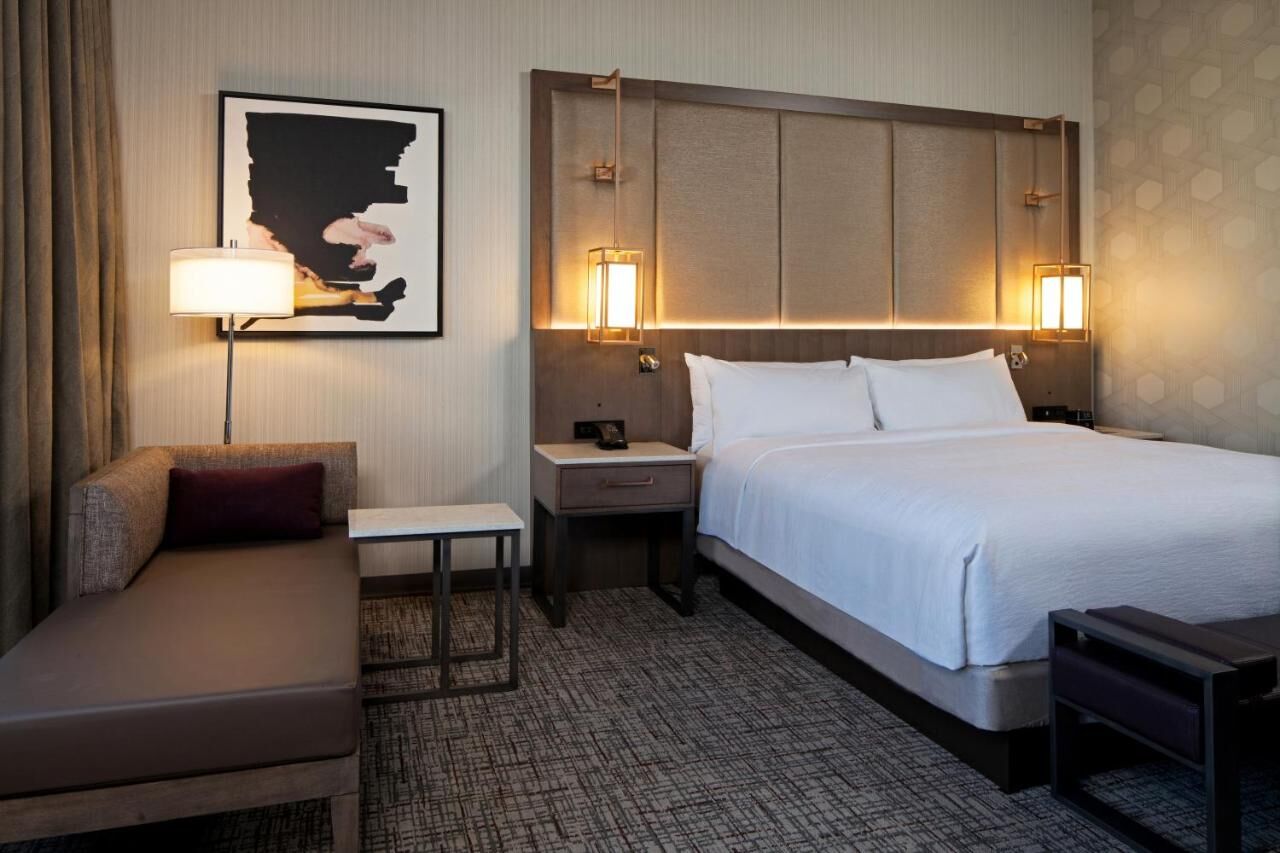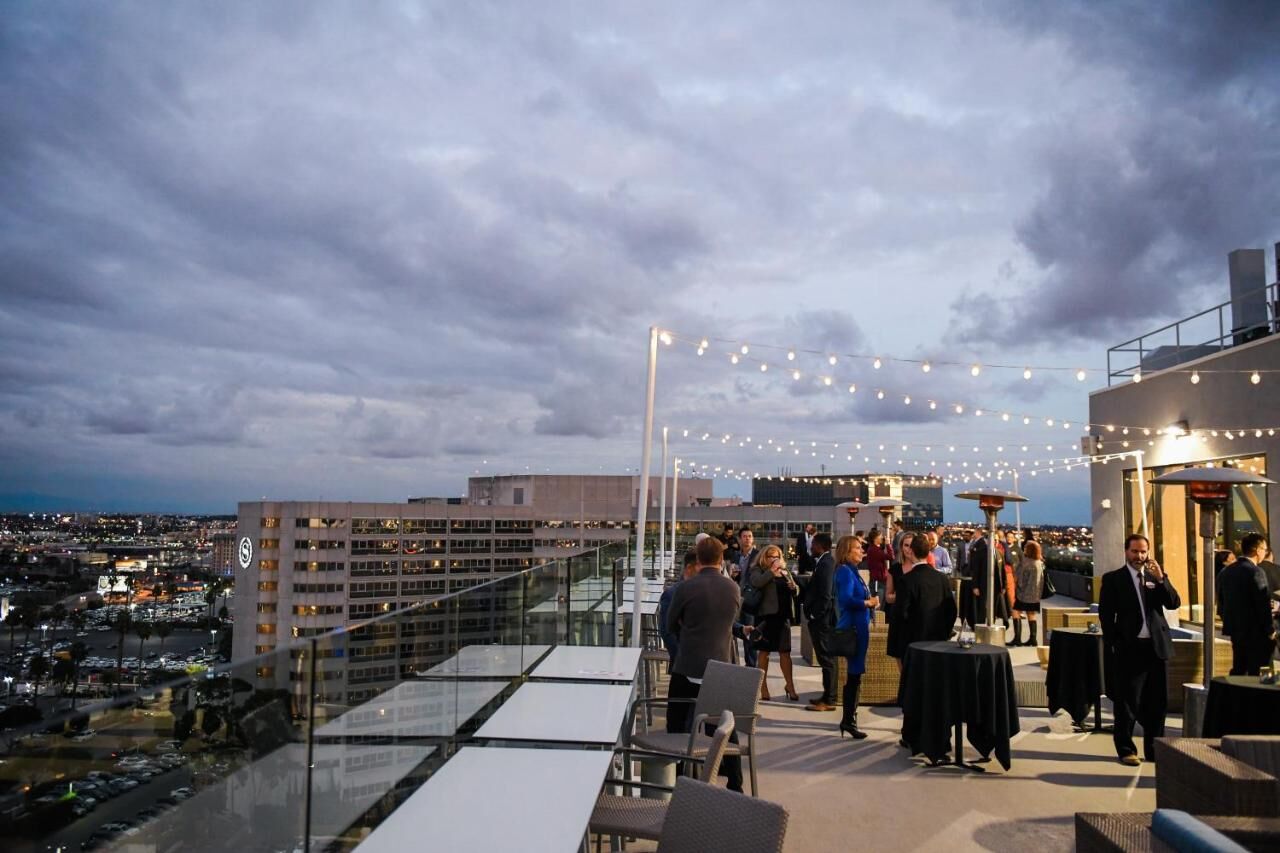 If you want to feel like you live in a hip LA high rise, the H Hotel Los Angeles is the place to do so. Its elegant rooftop patio offers views from the coast to the city. Rooms are clean, cozy, and quiet. The hotel itself is an ode to artistic design, from the waved bricks running its exterior from top to bottom, to the palm-lined outdoor pool and bright lobby. If you need a place to impress on a quick trip, do it here.
Price: From $179 per night
Homewood Suites by Hilton Los Angeles International Airport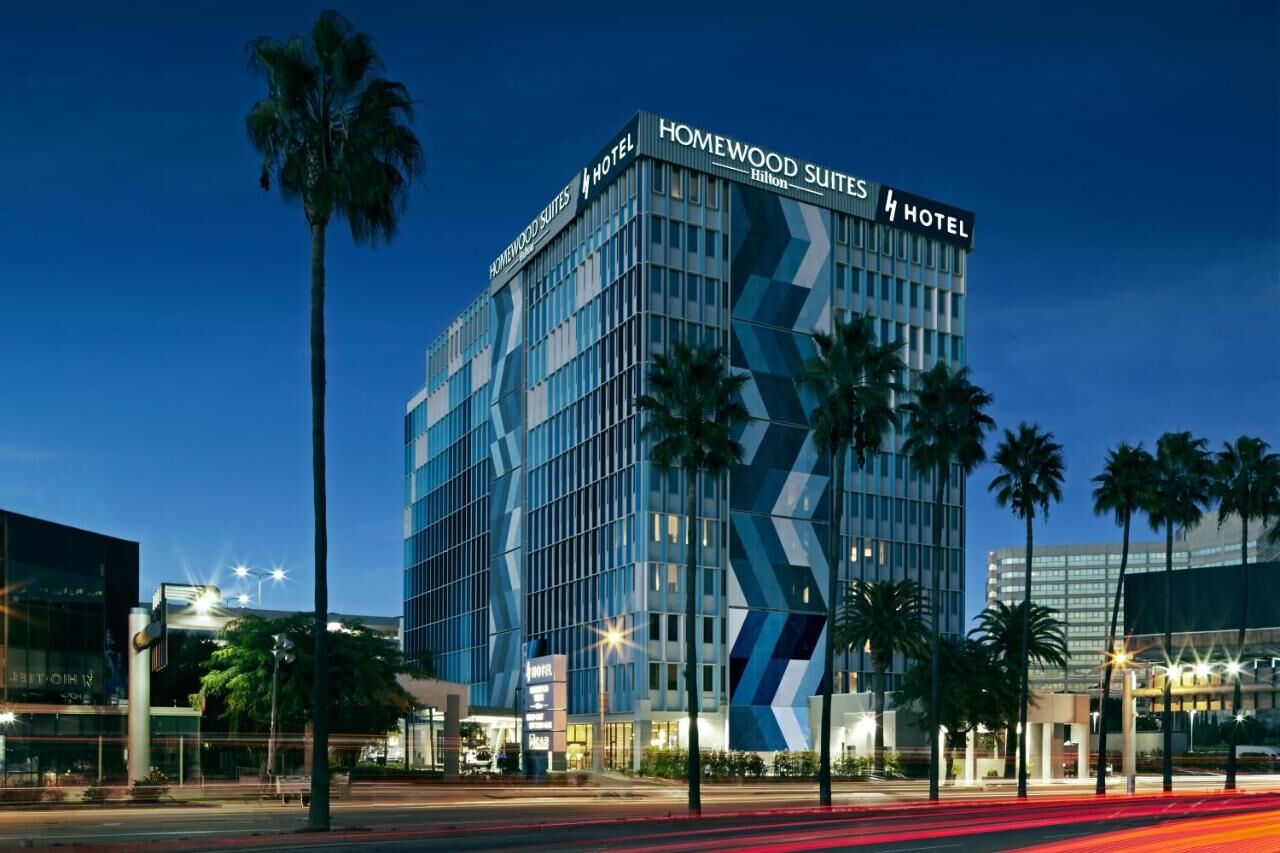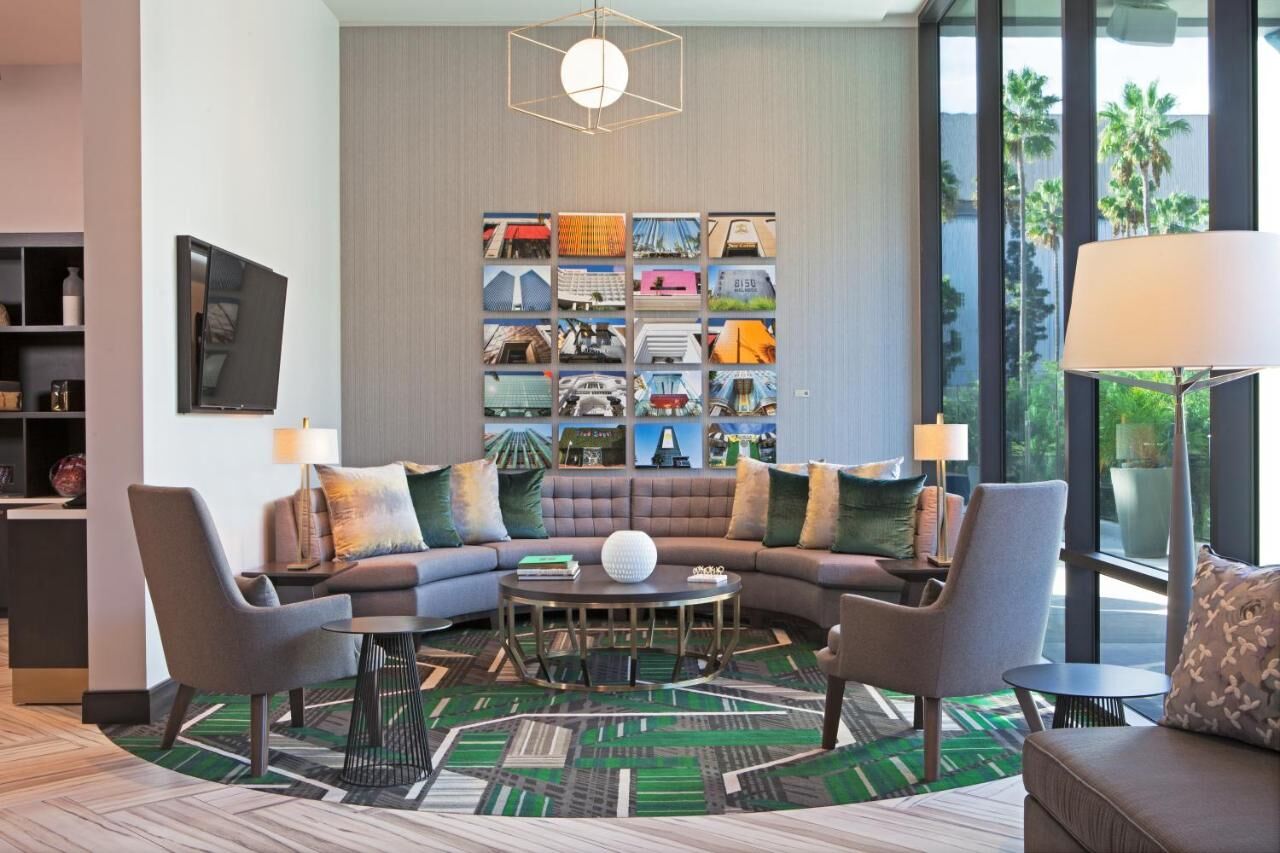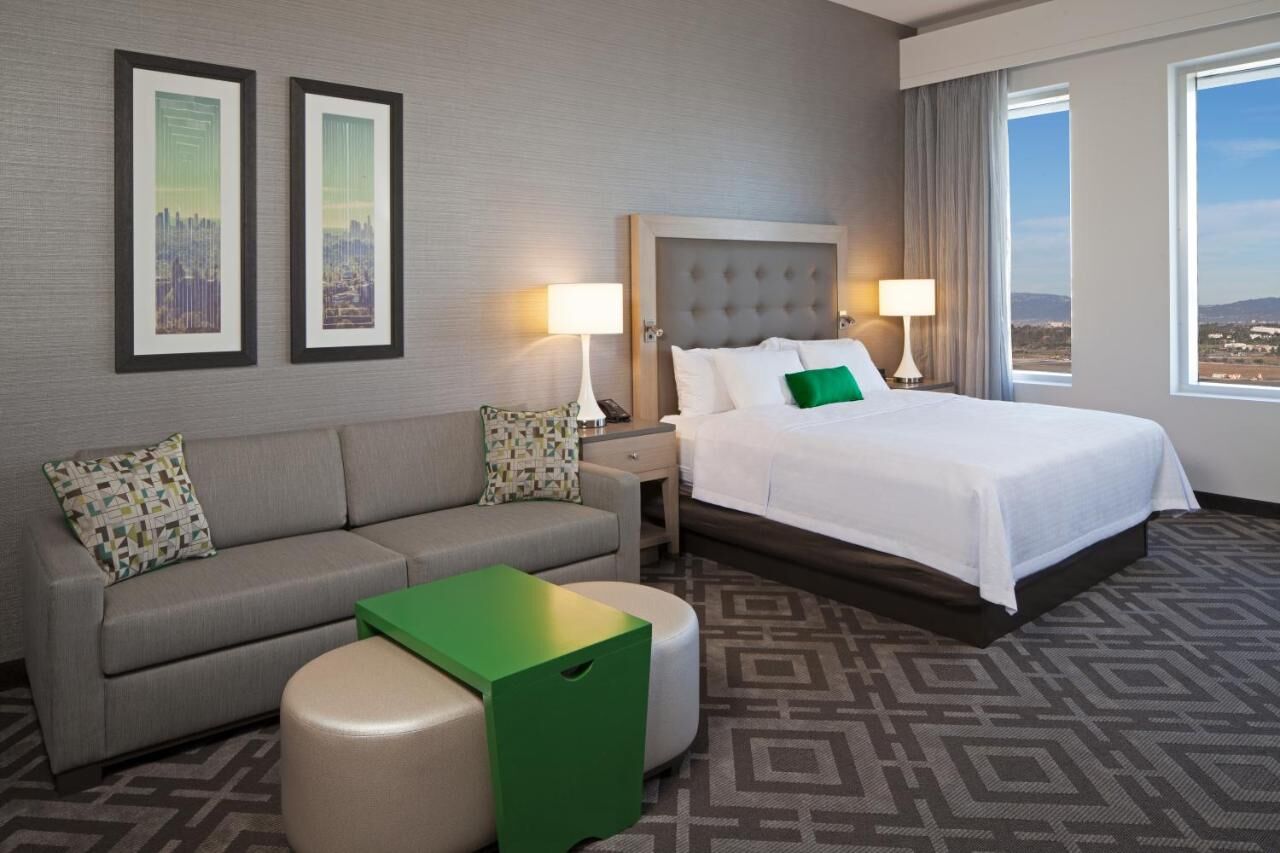 Each suite at Homewood Suites by Hilton Los Angeles International Airport features a living room and sleeping area. Two-bedroom suites are available if you need more room. Spread out on the couch and relax or get some work done at the desk. Tuck into the Waypoint Kitchen and Bar for dinner and a drink. The outdoor pool is set with palm trees and plenty of seating space, an ideal feature in a city with balmy weather year round. If staying in Los Angeles for multiple days, and combining the amenities of a hotel with the comforts of an apartment, there is no better place to stay.
Price: From $179 per night
Embassy Suites LAX North and South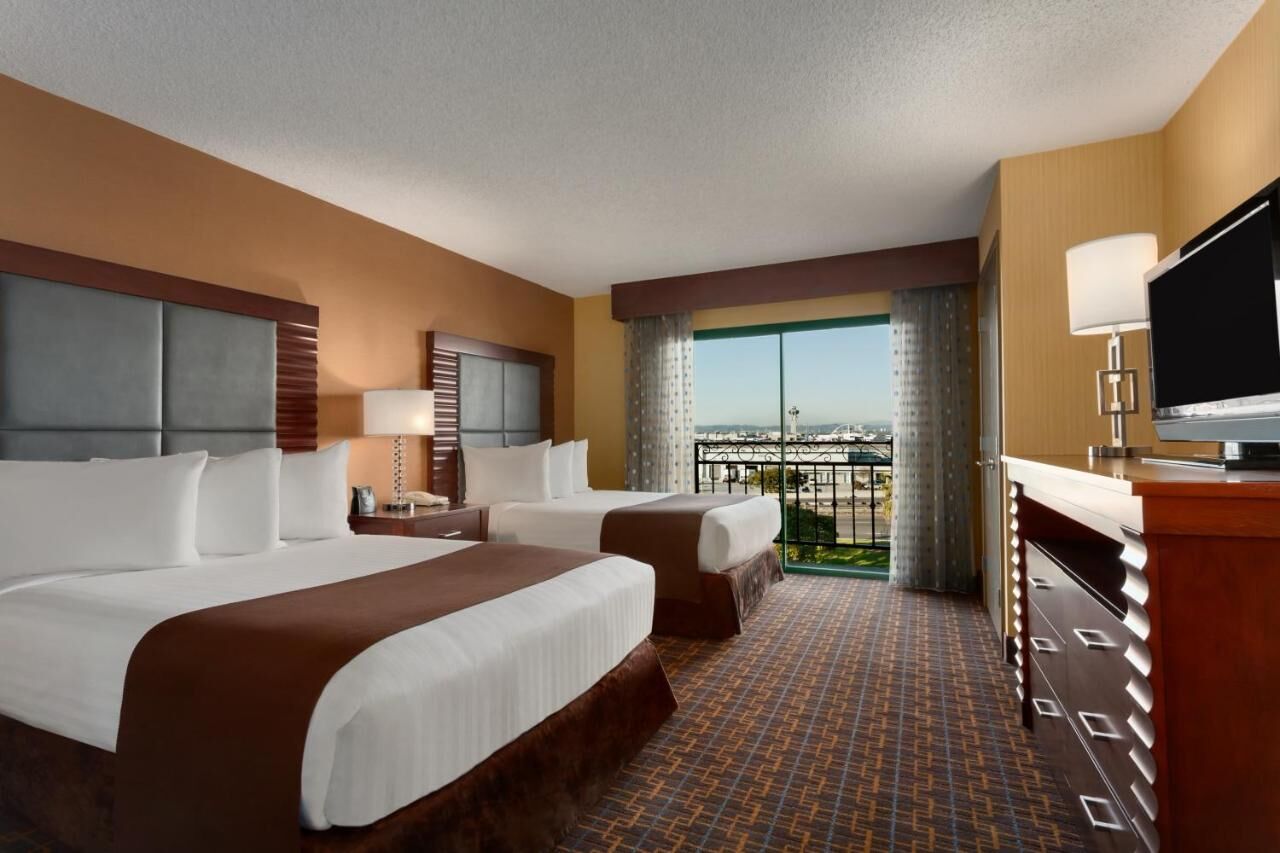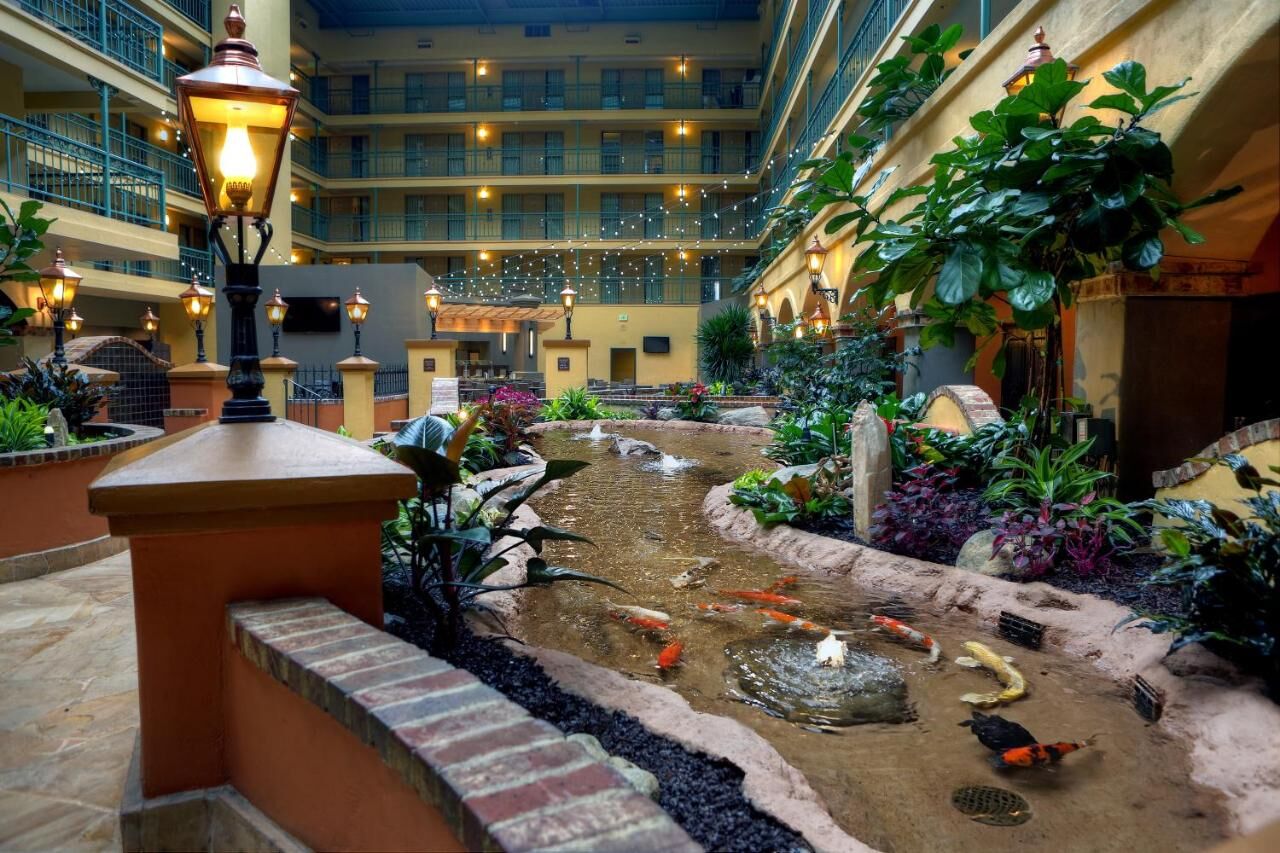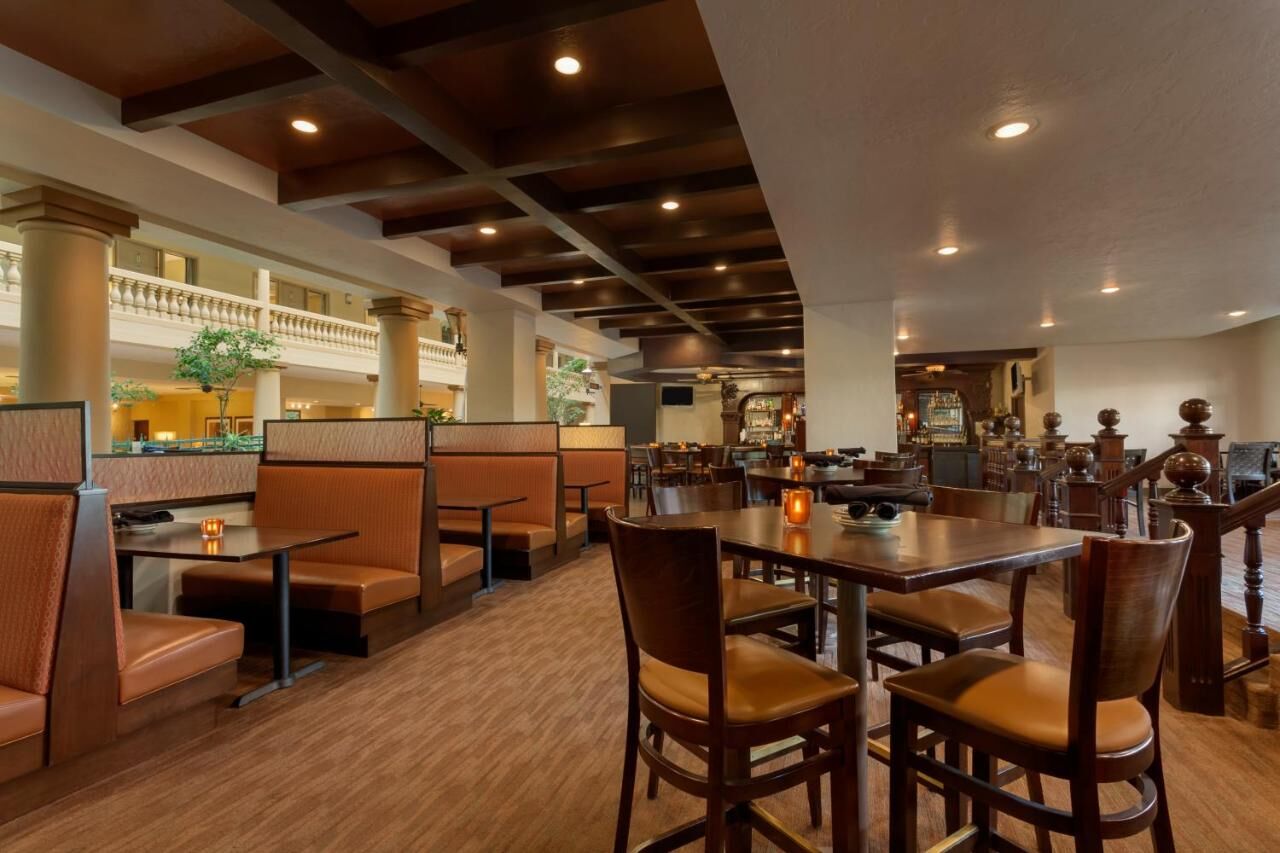 Whether you're headed north to Venice and Hollywood or heading south towards El Segundo and Orange County, there's an Embassy Suites near LAX on the way. Both the north and south locations offer expansive lounge seating in the lobby with a cafe serving meals throughout the day. A cooked-to-order breakfast is complimentary, and all rooms are — as the name suggests — suites. The vibe at Embassy Suites properties is one of attainable opulence — everything about the stay is top-tier and kids love the wraparound hallways encircling the vaulted-roof lobby.
Price: From $152 per night
Top World of Hyatt Rewards hotels near Los Angeles International Airport
Hyatt House LAX Century Blvd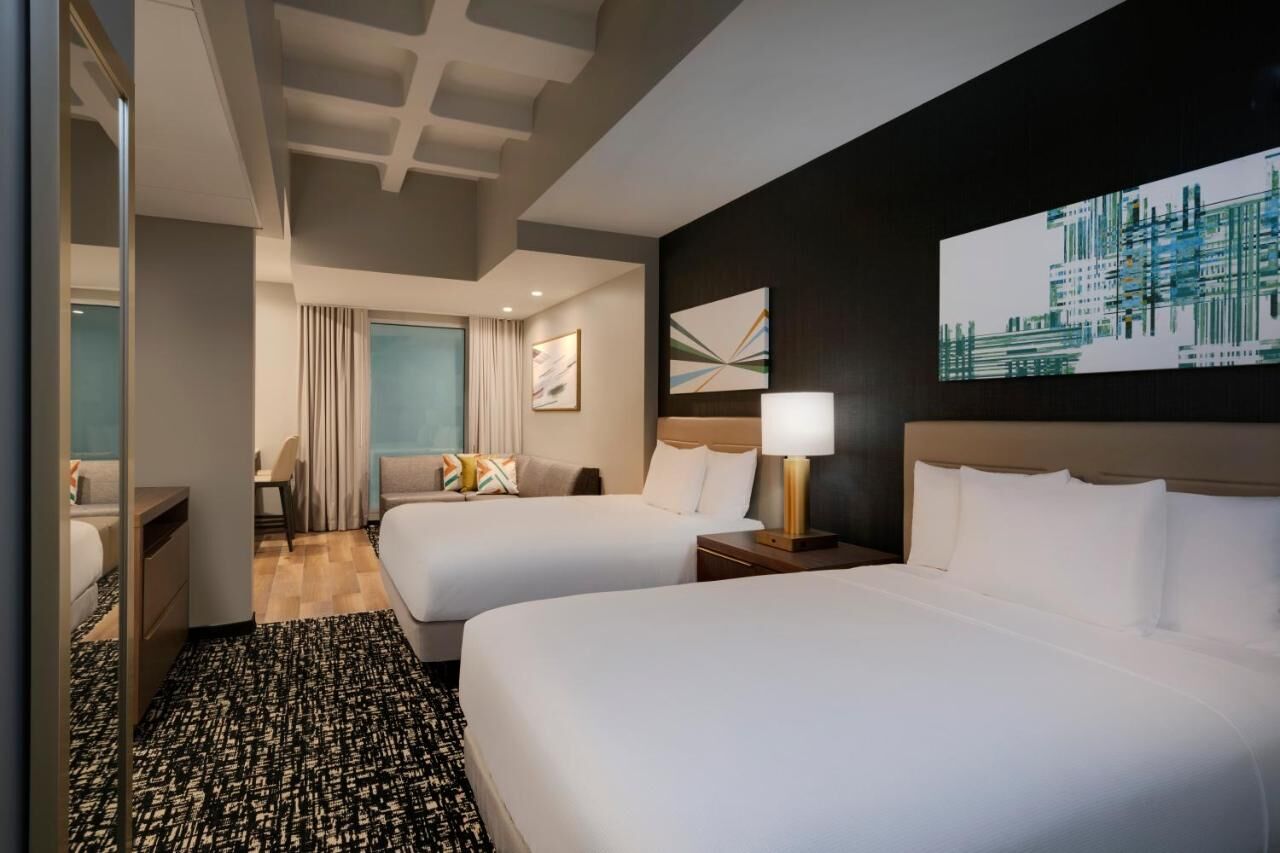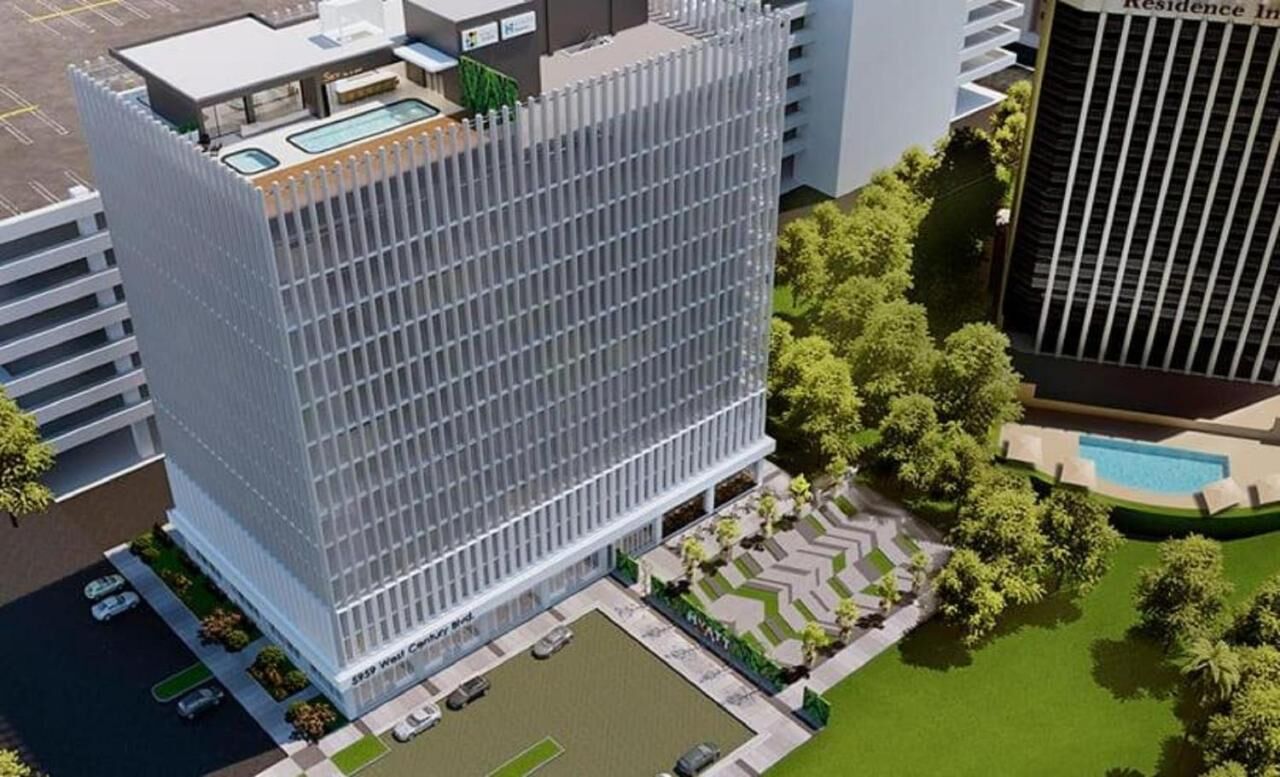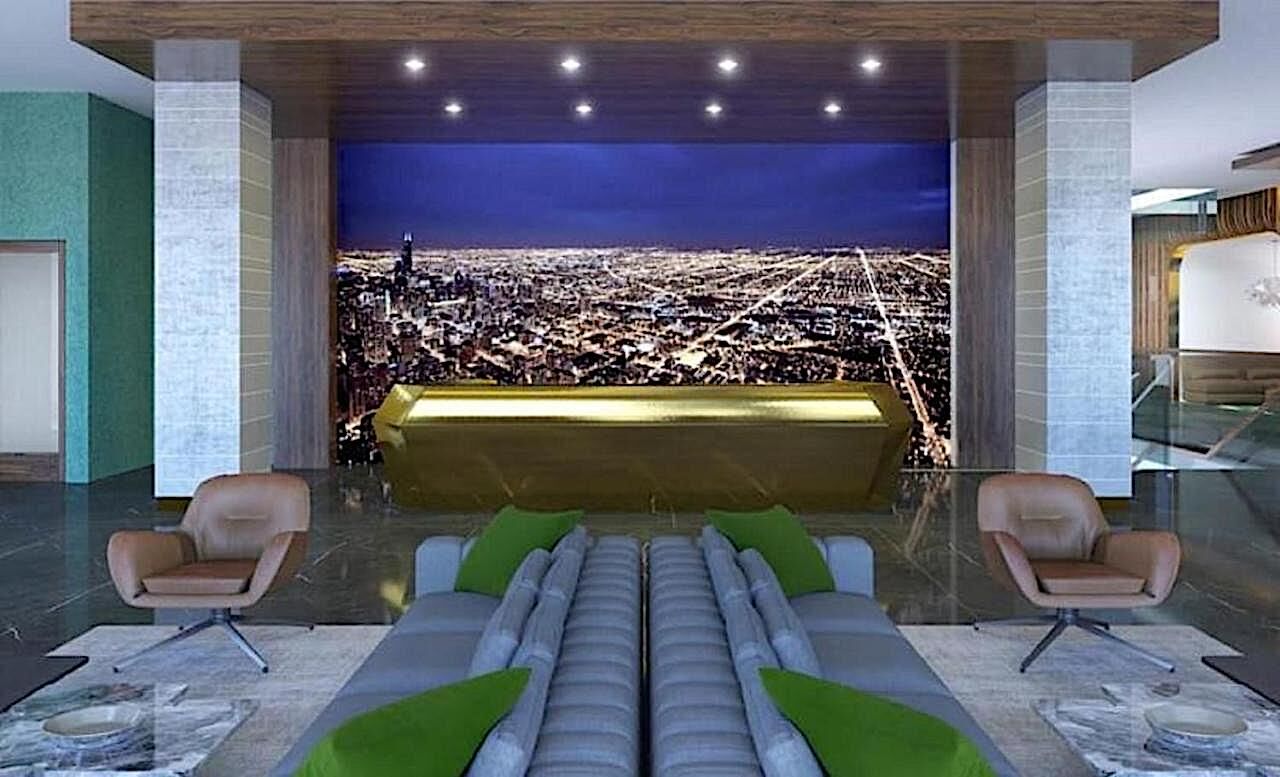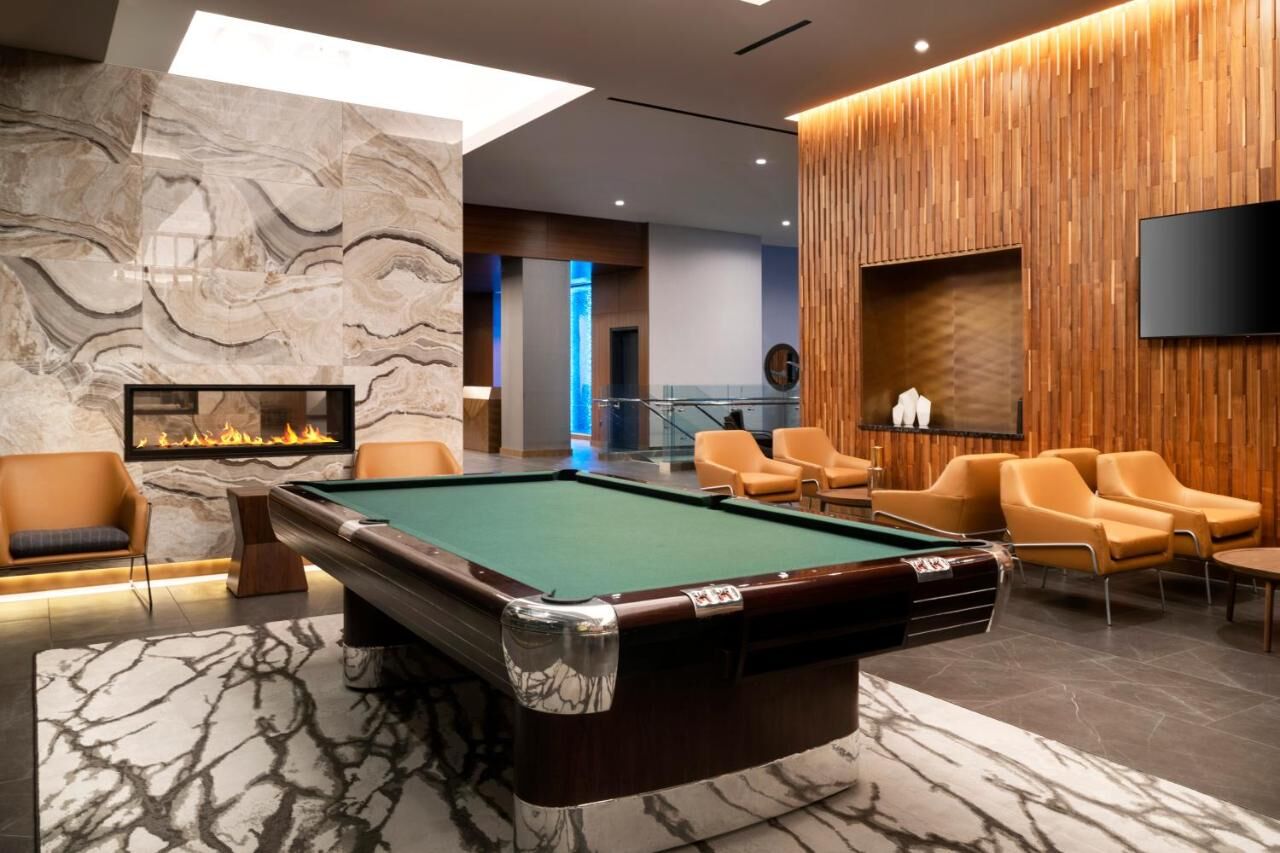 Hyatt House is the spot for adventure travelers and remote workers posting up for a night or two, before or after experiencing the great outdoors of Southern California. You'll find a bar and pool table in the lobby with plenty of space to lounge, work on the laptop, or socialize around the rooftop pool and lounge. The hotel is a scene in and of itself, with brightly-decorated rooms featuring big, comfortable beds and views out over the city. It's a great place to separate yourself from the sprawling city around you.
Price: From $151 per night
What did you think of this story?