7 New Orleans Festivals Not To Miss in 2023
Call it what you will: New Orleans, NOLA, and the Big Easy are just a few of many names for the vibrant Louisiana city.
It seems like every city's local marketing organization will claim it has a "lively spirit" and "unique culture," but it's hard to deny those things are especially true of New Orleans. The city's blend of French, Caribbean, and bayou cultures has given it has a culture all its own, and the New Orleans festivals held throughout the year are world-famous for their over-the-top celebrations.
While Mardi Gras is the most well-known celebration, the city offers plenty of ways to dive into its culture that don't (have to) involve drinking and staying out until 4 AM. There's a food fest, a beloved jazz fest, and a festival celebrating famous playwrights, among others.
Check out the best New Orleans Festivals below, listed in chronological order by month. You won't find too many New Orleans festivals happening in the middle of summer as the town gets hot, to say the least.
What makes New Orleans' culture unique?
New Orleans is famous for its culture that mixes African, American, French, and Spanish influences. Perhaps most well-known is the city's musical heritage, which blends jazz, blues, and zydeco (which started with Louisiana Creole peoples). But cuisine is also an important part of New Orleans, and dishes come from various geographic locations. For example, gumbo was likely brought to New Orleans by enslaved West Africans, and the city's famous beignets belie NoLa's French influences.
Fortunately, the best festivals in New Orleans include both food and music. But if you can't attend one of the festivals below this year, don't worry. You can still explore the city's history through architectural tours, watching a second-line parade, taking a historical ghost tour, or, heck, even staying out late enjoying some blues at a bar on Bourbon Street.
Mardi Gras: February
Mardi Gras, French for "Fat Tuesday," is the biggest of the New Orleans festivals; the city's celebration is famous around the world. It's held on the day before Ash Wednesday, the start of the Christian season of Lent. The origins go back to medieval Europe when it was a day to celebrate before the start of fasting and penitence (Lent), which ends on Easter. The celebration was brought to New Orleans by French settlers in the early 18th century and has since evolved into the colorful, vibrant, and wild celebration it is today.
The celebration typically starts two weeks before Fat Tuesday and culminates in a final frenzy of parades, parties, and revelry on the day before Ash Wednesday. The most well-known and iconic feature of Mardi Gras in New Orleans is the parades, for which local groups prepare a year in advance. The parades feature elaborate floats, marching bands, and costumed revelers who throw trinkets, known as "throws," to the crowds. Visitors can participate by catching throws and wearing costumes. You've probably heard stories of people doing all kinds of crazy things to collect a strand of beads. On that note: some celebrations are more family-friendly than others. Celebrations can be wild and rowdy.
Another important aspect of Mardi Gras is the music. There are many live music performances during the celebrations, usually focused on jazz and blues (or straight-up dance parties at area bars). Food is also an important part of Mardi Gras, and visitors can enjoy traditional New Orleans dishes such as jambalaya, gumbo, and pralines.
If attending Mardi Gras (or any other popular New Orleans Festivals), book your hotel as early as possible as the town gets quite busy. Don't stay in the French Quarter if you want to get much sleep.
Tennessee Williams Festival: March
The Tennessee Williams/New Orleans Literary Festival is an annual literary festival that celebrates the works of Tennessee Williams (author of "Cat on a Hot Tin Roof," and "A Streetcar Named Desire," among others), as well as the rich literary culture of New Orleans. The festival typically takes place in March and features a variety of events, including panel discussions, author readings, theatrical performances, and more. The festival is held in various locations throughout the city, including hotels, theaters, and cultural institutions. There are also writing workshops, book signings, and opportunities to meet and interact with authors and scholars.
Visitors can purchase a festival pass to attend all of the events, or individual tickets to specific events. There are also special events and packages available, such as dinner parties and literary walking tours in case you want a more immersive and intimate experience of the festival. Some events sell out very quickly, so if this New Orleans Festival is on your bucket list, keep an eye on the event website so you don't miss announcements of new events and ticket launches.
French Quarter Festival: April
The New Orleans French Quarter Festival is an annual celebration of the city's vibrant music, food, and culture, held in the historic French Quarter neighborhood of New Orleans. The French Quarter was originally established by the French in the late 1700s and is characterized by narrow cobblestone streets, beautiful wrought iron balconies, and pastel-colored buildings. The festival typically takes place in April and is the largest free music festival in the South, attracting over 500,000 visitors yearly.
The French Quarter Festival usually has more than 20 stages for music, showcasing a diverse range of local and regional musicians, including jazz, blues, R&B, gospel, and more. In addition to music, the festival also features a variety of food vendors. You don't need to buy tickets and there's not a set venue; stages are spread throughout the neighborhood and most bars and restaurants will have special events, too. Visitors should be aware that the festival is usually quite crowded, so plan accordingly and be prepared for long lines and a lot of walking (so wear comfortable shoes).
New Orleans Jazz Fest: May
The New Orleans Jazz & Heritage Festival, commonly known as Jazz Fest, is an annual festival celebrating the city's rich jazz heritage. It includes several days of headliner and A-list local and international musicians. The festival is held in April and May at the Fair Grounds Race Course, a historic horse racing track in the Mid-City neighborhood of New Orleans. Past headliners include everyone from Fleetwood Mac to Katy Perry, The Who, Lizzo, and Trombone Shorty.
The festival was first held in 1970 and has since grown to become one of the most popular and well-attended music festivals in the United States. The festival has more than 500 performances on multiple stages over two weekends and has a wide variety of food vendors, offering traditional New Orleans dishes such as jambalaya, gumbo, and crawfish étouffée, as well as international cuisine. Visitors can also shop for arts and crafts from local vendors or take cooking classes and dance lessons.
Tickets go on sale usually in mid-Feb and almost always sell out. Only weekend passes are available; you can't pick and choose which performances you want to attend. Book your hotel as soon as you know what weekend you'll be attending as the city gets very busy. Aside from Mardi Gras, this is probably the most popular of the various New Orleans festivals.
New Orleans Wine & Food Experience: June
The New Orleans Wine & Food Experience (NOWFE) is an annual food and wine festival in May and features a variety of events, including wine tastings, food seminars, cooking demonstrations, and more. The festival is in various locations throughout the city, including hotels, restaurants, and cultural institutions. You can buy a festival pass for access to all events or individual tickets to specific events.
Many hotels and restaurants may host their own specials and events not affiliated with the festival, but past official festival events include:
The Grand Tasting: A large-scale tasting event that features hundreds of wines from around the world, as well as food from local restaurants and chefs.
Wine Seminars: Educational seminars that provide in-depth information on various wine regions, grape varietals, and winemaking techniques.
Cooking Demonstrations: Hands-on cooking classes that allow visitors to learn about new recipes and cooking techniques from top chefs.
Wine Dinners: Special dinner events that feature a multi-course meal paired with a selection of wines.
Vintner Dinners: Exclusive dinner events that allow visitors to meet and dine with winemakers and winery owners.
Tickets are available online on a rolling basis depending on the event; as of February 2023, the Grand Tasting Event is the first one opened to the public.
VooDoo Festival: October
 

View this post on Instagram

 
Voodoo Festival, also known as Voodoo Music + Arts Experience, is an annual New Orleans music fest. It typically takes place over Halloween weekend and features a diverse lineup of musical performers, including rock, hip-hop, electronic, and alternative acts. The festival is in City Park, a large urban park in the Mid-City neighborhood of New Orleans.
Voodoo Festival was founded in 1999 and has since become one of the largest music festivals in the South. Alongside music, the festival also features a variety of food, drinks, art installations, and other interactive experiences. The festival has a reputation for its eclectic and eclectic lineup of performers, as well as its immersive and interactive atmosphere. Think of it a bit like Coachella, but with a little less fashion and a little more New Orleans je ne sais quoi. The festival describes itself as a "musical gumbo stirring together music, art, community, cuisine and all the mystery and adventure that Halloween weekend in New Orleans conjures."
Visitors can purchase single-day or weekend passes to the festival or opt for VIP packages with perks like reserved seating and exclusive access to certain areas of the festival. The festival didn't happen in 2022, but it'll likely be back for 2023.
The Bayou Bacchanal: November
 

View this post on Instagram

 
The Bayou Bacchanal is an annual New Orleans festival celebrating the city's Creole culture. Creole culture in New Orleans refers to the unique blend of cultural influences that shaped the city and its people over centuries. It's a mix of African, Native American, Spanish, French, and Caribbean influences and is deeply intertwined with the city's history, influencing everything from music, food, and architecture to religion.
The Bayou Bacchanal takes place in a picturesque park along the banks of Bayou St. John. The festival features a range of events that highlight the city's rich cultural heritage, including music, food, and other cultural events. Past festivals have included food tastings, plenty of live music, cultural workshops, and artisan markets and classes. Ticket and event details are usually announced in late spring.
Where to stay in New Orleans
Just like New Orleans has its own unique culture, so too does it have some of the most unique hotels in the US. You can stay in luxury properties, riverfront homes, luxury hotels, or, of course, stunning Airbnbs. It's not a super-expensive city compared to places like NYC or SF, but hotel prices do jump quite a bit during Mardi Gras and Jazz Fest.
Traveling to New Orleans? Check out Matador's lodging guide to the city:
We hope you love the spaces and stays we recommend! Just so you know, Matador may collect a small commission from the links on this page if you decide to book a stay. Listed prices are accurate as of the time of publication.
Villa Convento: a historic French Quarter Hotel
If you're attending any of the many events in the French Quarter, get a true NoLa experience by staying at the historical Villa Convento. The hotel was built in 1883 and was rumored to be one of the city's most popular brothels back in the day. Rooms are quirky and charming and many have balconies overlooking New Orleans' famous streets. Rooms start around $102 a night.
Hotel Monteleone: for Jazz Fest or Mardi Gras
 

View this post on Instagram

 
For over-the-top luxury in New Orleans, stay at the Hotel Monteleone. It's a great choice for New Orleans festivals like Jazz Fest (it's on the shuttle system) or Mardi Gras, since it's in the French Quarter. The entire hotel is gorgeous and unique, as exemplified by the on-site bar: the Carousel Bar and Lounge. It's a rotating bar made from a vintage New Orleans carousel (and worth the wait). Rooms start around $380 during Jazz Fest but can be more affordable in the off season (generally mid-summer).
Luxury Historic Creole Cottage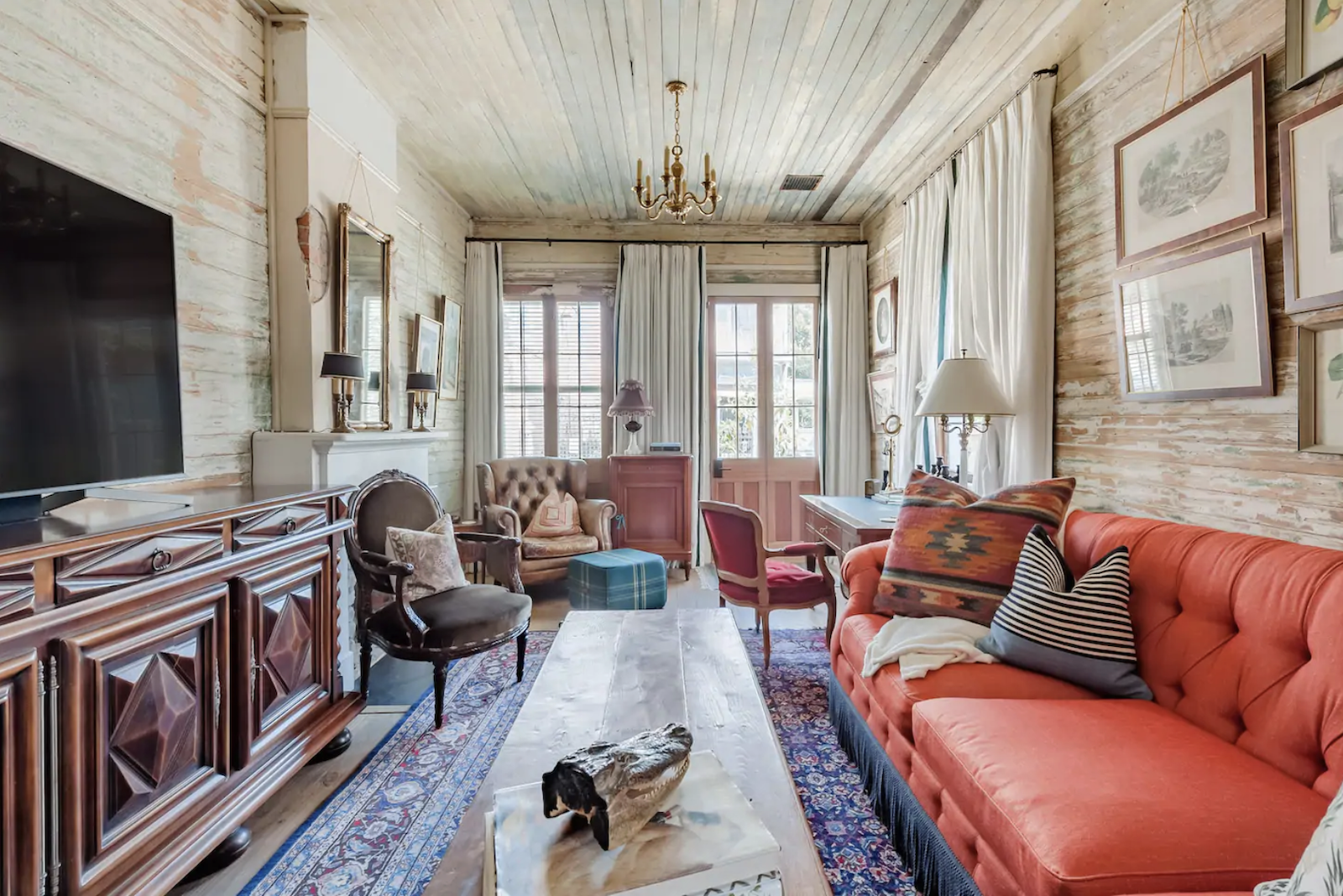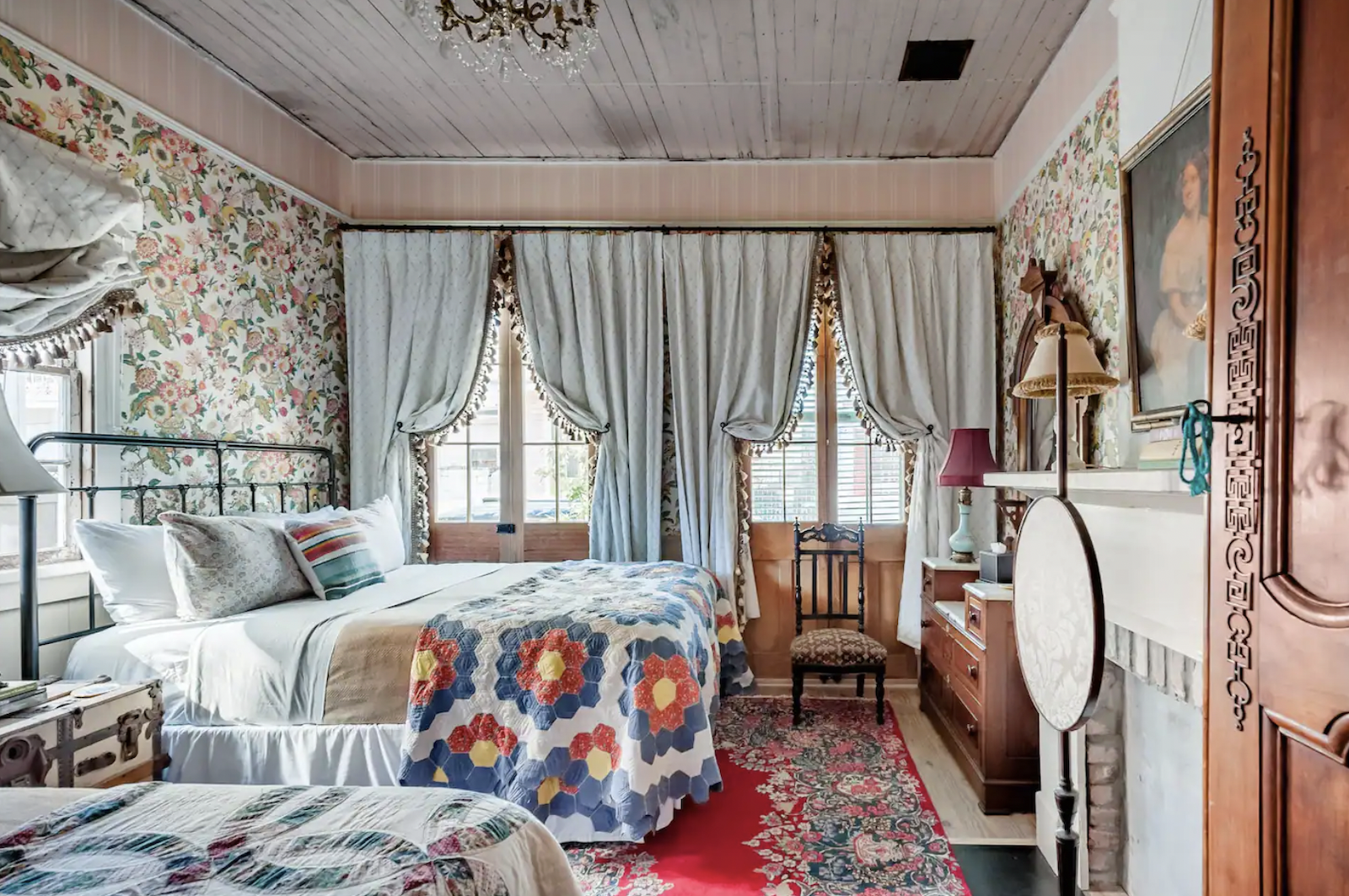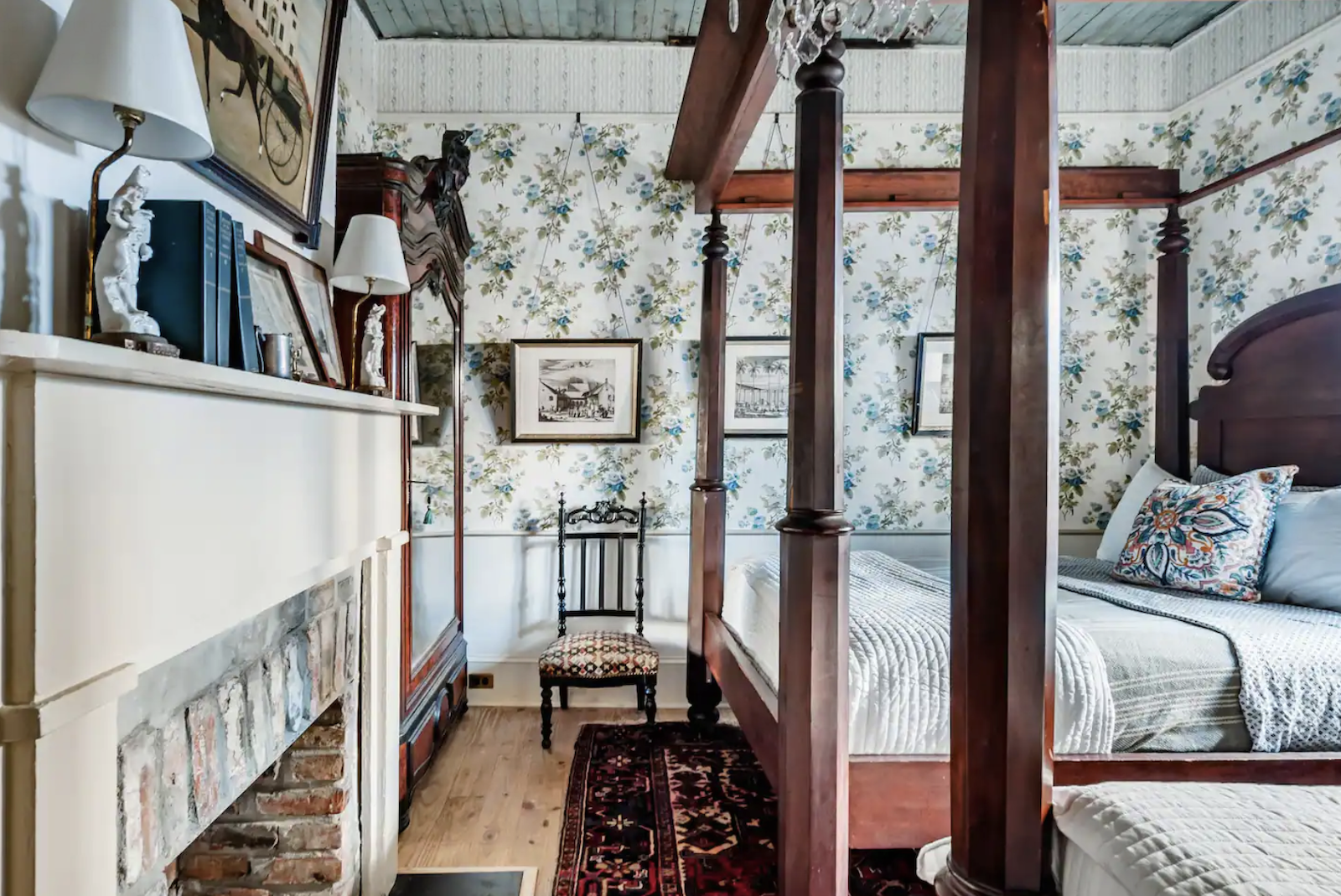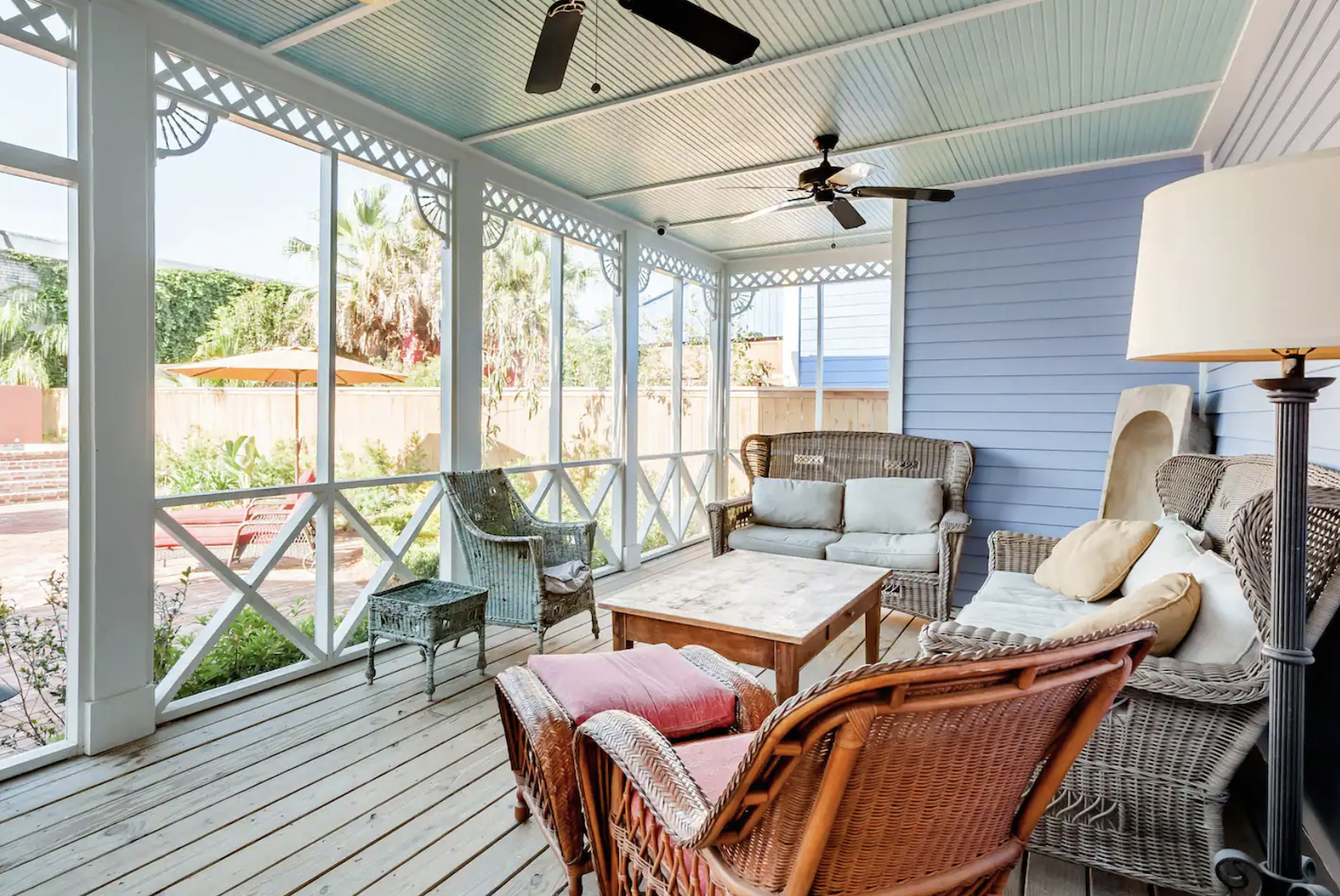 Good luck finding a place that oozes more New Orleans charm than this 200-year-old Creole Cottage. It's been updated structurally but still retains nearly all of its original style, right down to the color palette of the furniture and decor. It has five beds across three bedrooms and is walking distance to the trolley lines. And no, this isn't an older cottage dolled up to look nicer than it is: the stunning home had a full spread in Architectural Digest Magazine. So, yeah, it's pretty nice. Rates start around $500 a night.
What did you think of this story?