This Bright Pink Hotel on a Tropical European Island Is a Literal Dream Getaway
If I had to describe my dream hotel, it would be some combination of a few factors. It would need to have a historical component, luxurious rooms, fantastic views, and plenty of outdoor space. And since it's my dream hotel, I'd probably also throw in a Wes Anderson-esque color palette, a massive swimming pool, and heck, even a botanical garden. And why not a touch of wine and a sudoku puzzle in lieu of a traditional turn-down service?
Well, it's not a dream: enter Belmond Reid's Palace Madeira. The insanely cool hotel is more than 100 years old and cascades down cliffs on a peninsula jutting into the tropical blue waters of the Atlantic.
Yes, the Atlantic. That's not a mistake; it's not only the Pacific that houses lush, warm-weather islands. The historic, stunning, and bright pink property is potentially the most well-known hotel on one of my new favorite destinations: Maderia. It's a small European island that offers everything from hiking to scuba diving to world-class mountain biking, canyoneering, cliff jumping, and delicious food. And lots and lots of wine.
If you're a wine aficionado, you might be quite familiar with Madeira. In fact, the US Founding Fathers drank Madeiran wine when they signed the Declaration of Independence. Part of Portugal, Madeira is an island roughly 580 miles off the coast of Morocco, and the constant, near-perfect weather means it grows fabulous grapes (as well as nearly all other types of produce).
I'm already planning my next trip there, and there's no question about where I'll stay: Belmond Reid's Palace Madeira — the Wes-Anderson-meets-luxury-estate meets-historic-seaside-hotel of my dreams.
We hope you love Belmond Reid's Palace Madeira! Just so you know, Matador may collect a small commission from the links on this page if you decide to book a stay. Listed prices are accurate as of the time of publication.
It's hard not to be immediately wowed by Belmond Reid's Palace Madeira
You can't drive through the Funchal, Madeira's capital, and not notice the stunning Reid's Palace Madeira. The enormous, beautiful building is bright pink, set on a peninsula surrounded by gardens. And because it backs to the ocean, you can expect a wow factor when entering the hotel lobby.
I loved entering through the small double doors, immediately stepping onto a checkered black-and-white lobby with potted plants and historic photographs. That foyer directly opens to a massive balcony dotted with french doors. And that balcony — an excellent spot for coffee or an evening wine — overlooks the hotel's botanical garden and, beyond that, the glimmering Atlantic Ocean.
Even the "basic" rooms are amazing
I stayed in one of the hotel's lowest-tier rooms, and it's safe to say it was nicer than the fanciest rooms I've stayed in at other historic properties. The door opened into a carpeted hallway, with a door on the left leading to a massive bathroom with a soaking tub, separate shower, and high-end amenities. Past the bathroom was the large bedroom, with a door to separate it from the hallway area. My room, like all others, had a writing desk with a cleanliness/COVID kit and flowers, a cozy armchair with a footstool, and doors that opened to a large balcony.
My room was a "superior room," which isn't marketed as having ocean views — but it absolutely did. Belmond Reid's Palace Madeira also has Deluxe Rooms, Junior Suites, Standard Suites, and Presidential Suites; I can't even imagine how stunning those views must be.
It was once of the most luxurious hotels in Europe
And honestly, maybe it still is?
Reid's Palace was the first resort in Madeira and opened in November 1891 — two years after the death of its founder, William Reed. It was only open in winter to be an escape for wealthy Europeans seeking sunnier surroundings for months on end. Pricing started around £12 for a month-long stay (about £1,624.55 in today's market). Rooms for staff and servants were less, at around £6.
The travelers who came to Madeira from Europe stayed for at least a month, especially as the sailing was long and often choppy. Guests would arrive via ship in the hotel's early days, as roads hadn't yet been built across the rocky and mountainous island. But the walk up the cliffs to reach the hotel was often too much for female passengers (and likely being clad in corsets and thick dresses didn't help). As such, the hotel began a new welcome for travelers: it would send "muscular and gently men" bearing hammocks down to meet the ships at sea level and carry the women up the hill in hammocks to reach their rooms. The Reid family advertised this in guidebooks, promising that the journey would easy and that guests' time could be spent in "unfatiguing exercise."
In its early days, guests would spend their stay attending garden parties, playing tennis, painting, dancing, and relaxing on the coast. The list of celebrities who've stayed at the hotel is too long to list, but includes emperors and queens, Prime Minister Sir Winston Churchill, Prime Minister Margaret Thatcher, arctic explorer Sir Ernst Shackleton, playwright George Bernard Shaw, and James Bond portrayer Roger Moore.
The whole hotel feels like going back in time to the glamorous heyday of turn-of-the-century travel, albeit with high-speed Wi-Fi and memory foam mattresses.
The outdoor space includes 10-acre tropical garden and three pools
Aside from the fact that every one of the hotel's 111 rooms and 43 suites has a private patio or balcony, the hotel has a nearly endless array of outdoor spaces open to all guests. It has three huge pools (one saltwater), numerous decks and verandas, and an ocean platform for easy access to ocean swimming. Naturally, there are sun loungers and umbrellas on the numerous tiered, grassy platforms between the lobby level and ocean level, so it's easy to find a private area for two without having another guest nearby.
There's also a 10-acre cliffside botanical garden, and the hotel offers a walking tour with a horticulturist two times a week. Though I didn't have time to do it, there's also a more in-depth botanical workshop available in the hotel's greenhouse.
The thoughtful details push it over the top
Reid's Palace Madeira certainly has the ambiance of a five-star hotel, but the small details push it over the top. Turn-down service included an evening sudoku puzzle, there's a book library by the pool, and the toiletries are high-end and plentiful. When I ordered breakfast to my room, it arrived promptly at the scheduled time. And though I had just ordered a cup of black coffee, the delivery included an entire carafe, mug and serving plate, and cream and sugar arranged on a linen-draped tray.
Around the resort, there are vintage telephones and historical photos, fresh flowers, and rooms for everything from billiards to cards to lectures; guests are welcome to use all the spaces. There are even complimentary postcards in each room tucked into the nooks of the cute writing desks.
The food is bonkers good
(Yes, that's a technical culinary term)
The food at Reid's Palace Madeira is beyond compare — simply delicious. Historic hotels sometimes rest on the laurels of their reputations, but this hotel does no such thing. Guests are greeted in their rooms with two traditional Madeiran sweets: bolo de mel (a molasses and almond cake) and queijadinha (akin to cheesecake and my absolute favorite).
Breakfast at Reid's Palace is a spread with everything from cookies and pastries to hot items to a smoothie and coffee bar, fresh fruit, cheese, meat, and breakfast sandwiches — pretty much anything you can imagine. It's served in a lovely room overlooking the pool terrace and even comes with a smoothie and "pastry of the day" served to your table.
The hotel has a beautiful old-school tea service with trays loaded with cakes and snacks. If you schedule an afternoon tea, I recommend doing it outdoors on the patio overlooking the ocean. I also recommend dinner at the fabulously decadent and high-end Villa Cipriani if you like Italian cuisine (ask for a table on the huge cliffside veranda). Reid's Palace Madeira also has a Michelin-starred restaurant, as well as a historic bar that feels straight out of The Great Gatsby. There's a low-key option for casual dining near the pool, too. Each restaurant was delicious, unique, and felt like it was part of the greater luxury experience rather than just a place to grab something to eat.
It's near everything you want to do in Madeira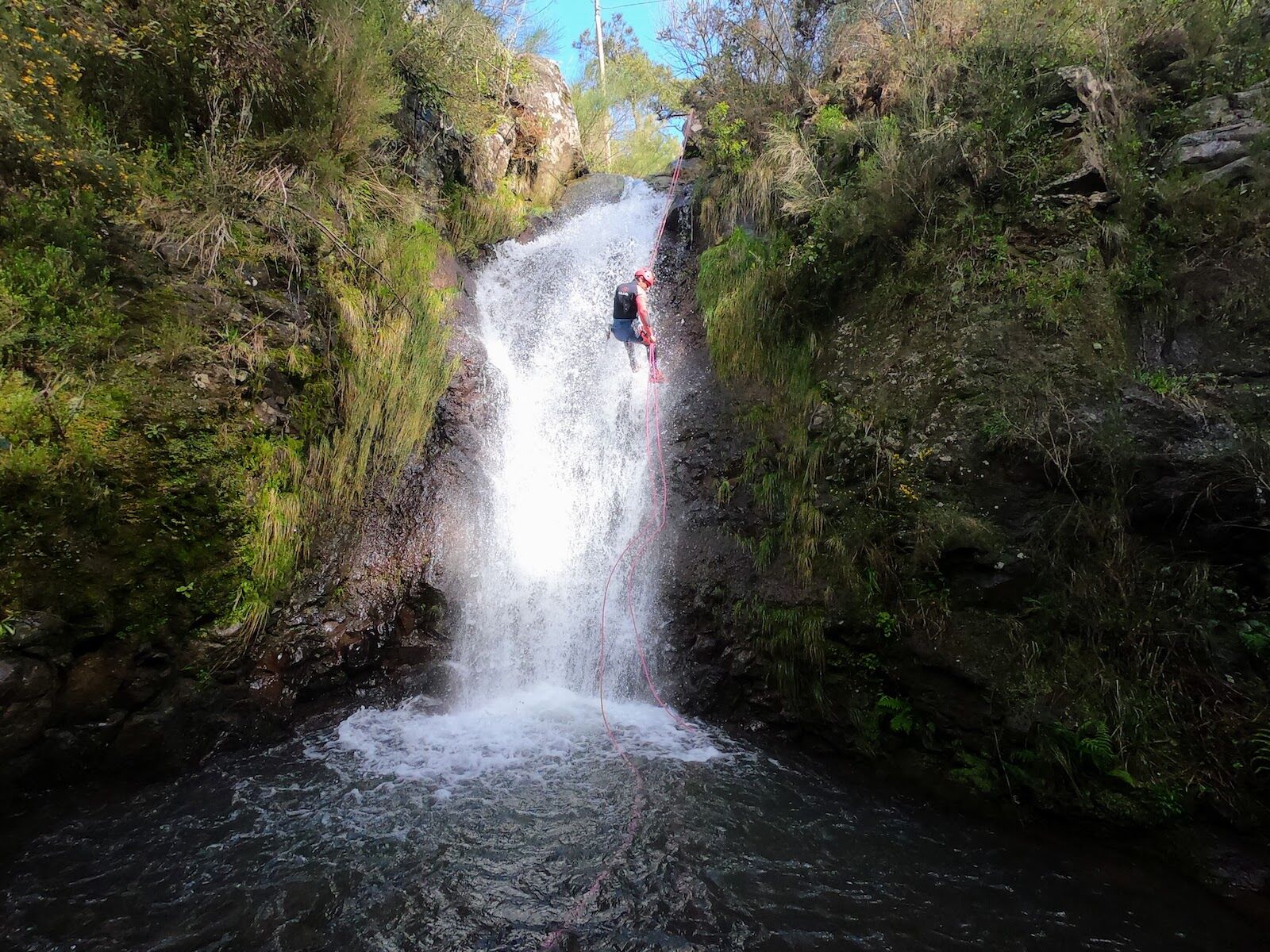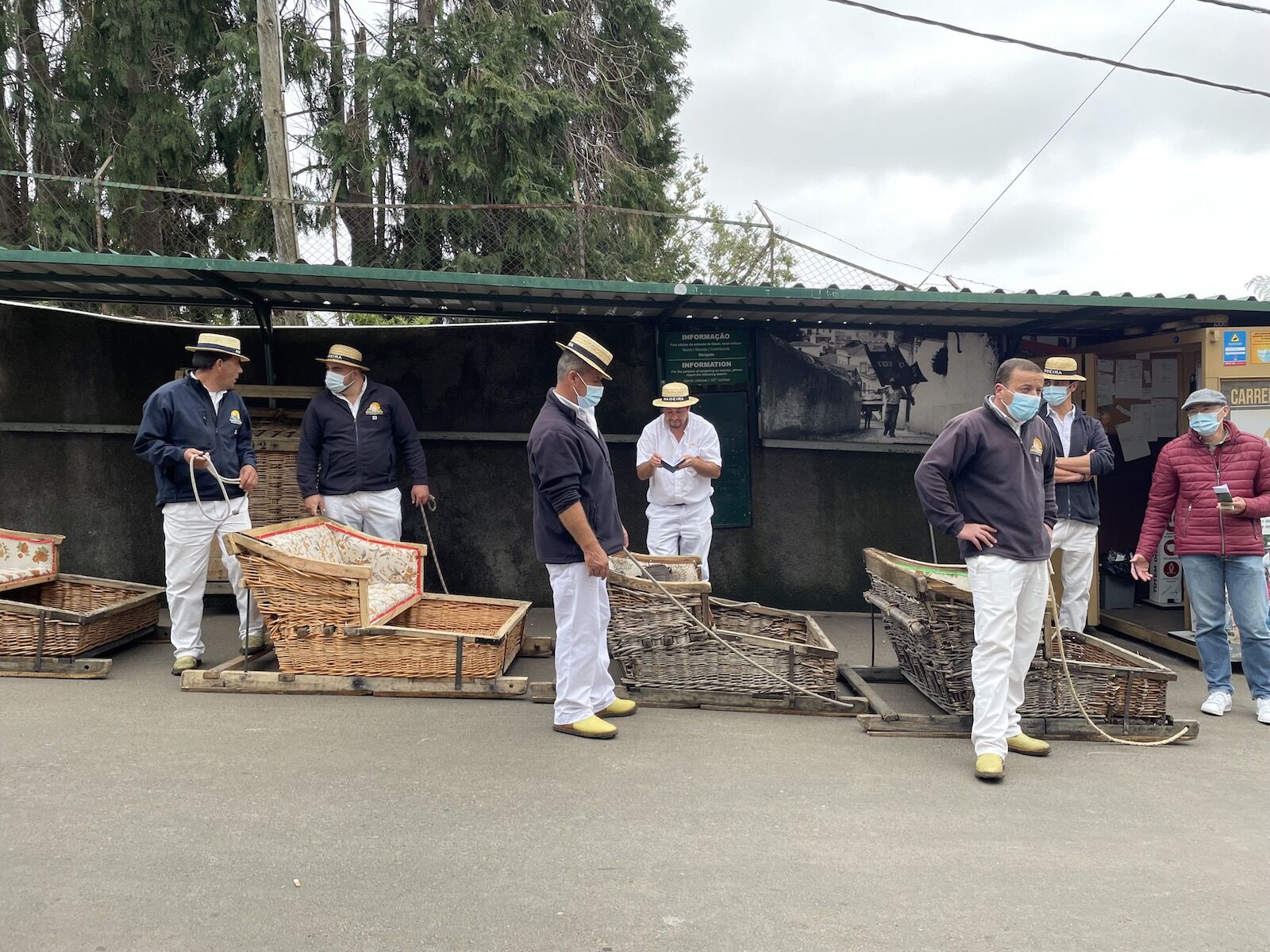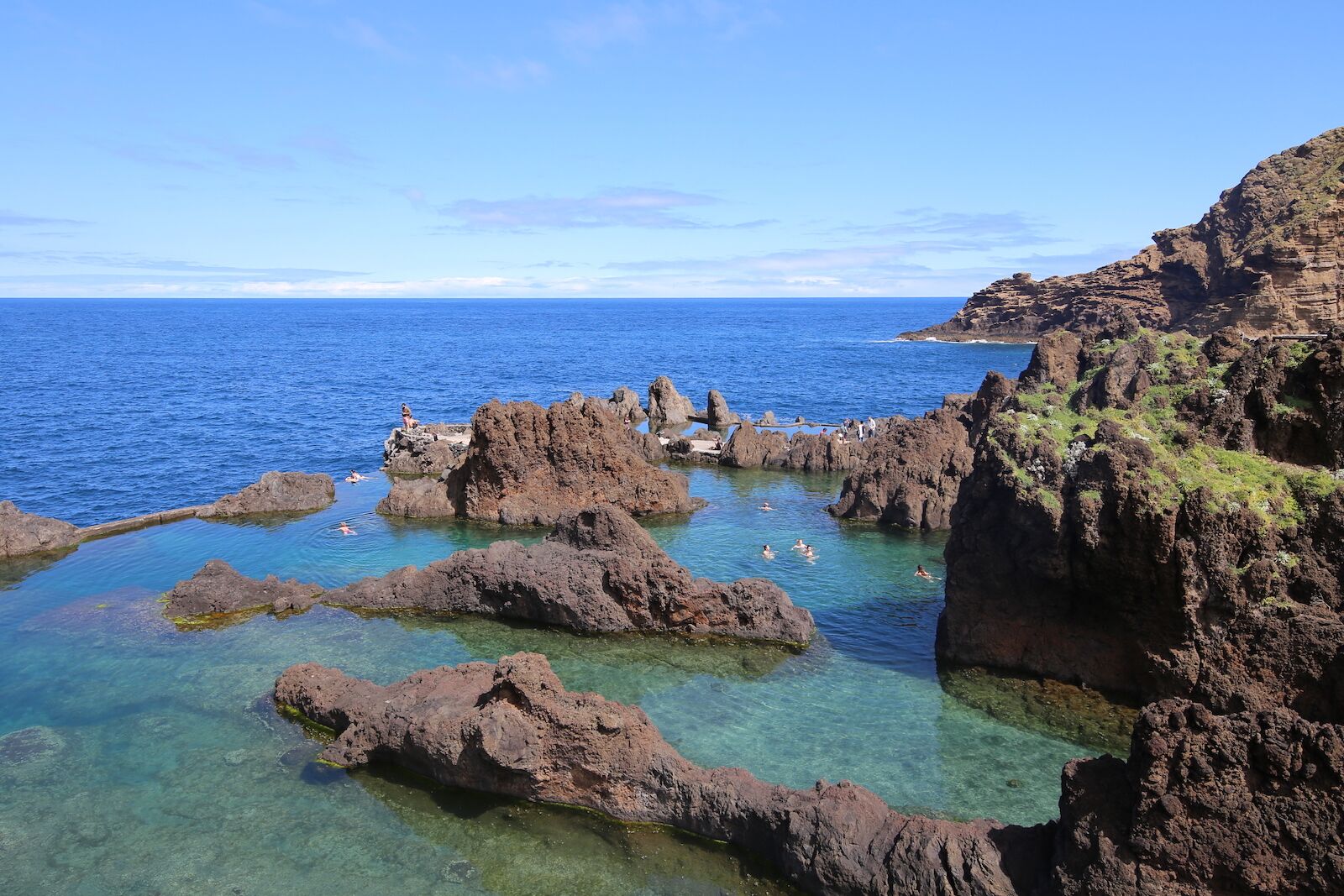 I managed to fit a lot into my short time in Madeira, including a food and wine tour, a canyoneering experience, a day of hiking, and even a one-of-a-kind experience where I sat in a human-sized basket and slid down a hill, slowed only by a "driver" who's rubber shoes created enough friction to keep me from reaching mach speed. And Reid's Palace Madeira was convenient to all of it. I walked from downtown Funchal several times back to the hotel, and the various tour operators had no problem picking us up from the hotel's central location.
Costs
There's no beating around the bush: this is a pricey hotel. If you haven't traveled much during COVID and are itching to treat yourself to a nice vacation, you won't regret the splurge. It's definitely a "bucket list" hotel. Off-season rates start at a semi-reasonable $370 a night, but in the peak of summer, rooms can be over $1,000 a night.
In general, however, Madeira is not exceedingly expensive and is much cheaper than your average US city. Going out in the evenings, we paid somewhere between €1 to €2 for beers and poncha, and entrees at high-end restaurants like Avista or Terreiro Concept start at under €20. As of writing, the USD to Euro exchange rate is almost one-to-one, which makes it a very favorable time to visit Madeira. Because Reid's Palace Madeira is pricier, you could spend your final few days on the island there and pick a more wallet-friendly hotel for the rest of the time.
If you're able to fly out of the NYC area, you can fly direct on TAP Air Portugal to Madeira for around $600. It's around a six-hour flight, which is also how long it takes to fly to LA from NYC. So really, you could do it in a long weekend. 
What did you think of this story?