The Most Jaw-Dropping Hotels in Santorini With Iconic Views
Santorini is breathtakingly beautiful. The picturesque Greek island is built on the remains of a volcanic caldera in the Aegean Sea. It's known for its stunning white-washed towns, breathtaking views, and amazing sunsets that light up the caldera. The crimson evening sky is so well-known it's one of the most photographed places in the world.
Fira, Imerovigli, Firostefani, and Oia are Santorini's most popular towns — for good reason. Here you'll find blue-domed white houses draped with fuchsia bougainvillea, built into cliff faces and set against the backdrop of the endless ocean.
Where you decide to stay on the island can really make or break your vacation and with a view such as this, many hotels and Airbnbs come with a high price tag. Of course, there are ways around this if you have your heart set on a villa with an infinity pool. Deals can be found depending on when you take your Greek vacation. Opt for the shoulder seasons and avoid the premium areas on the island for a lower rate per night.
As a general rule of thumb, the west side of the island is where you'll find the best Santorini hotels. If you are visiting for the first time and want to have a hotel equally as beautiful as the surroundings, here are some of the finest options.
We hope you love the Santorini hotels we recommend. Just so you know, Matador may collect a small commission from the links on this page if you decide to book a stay.
Delion View Hotel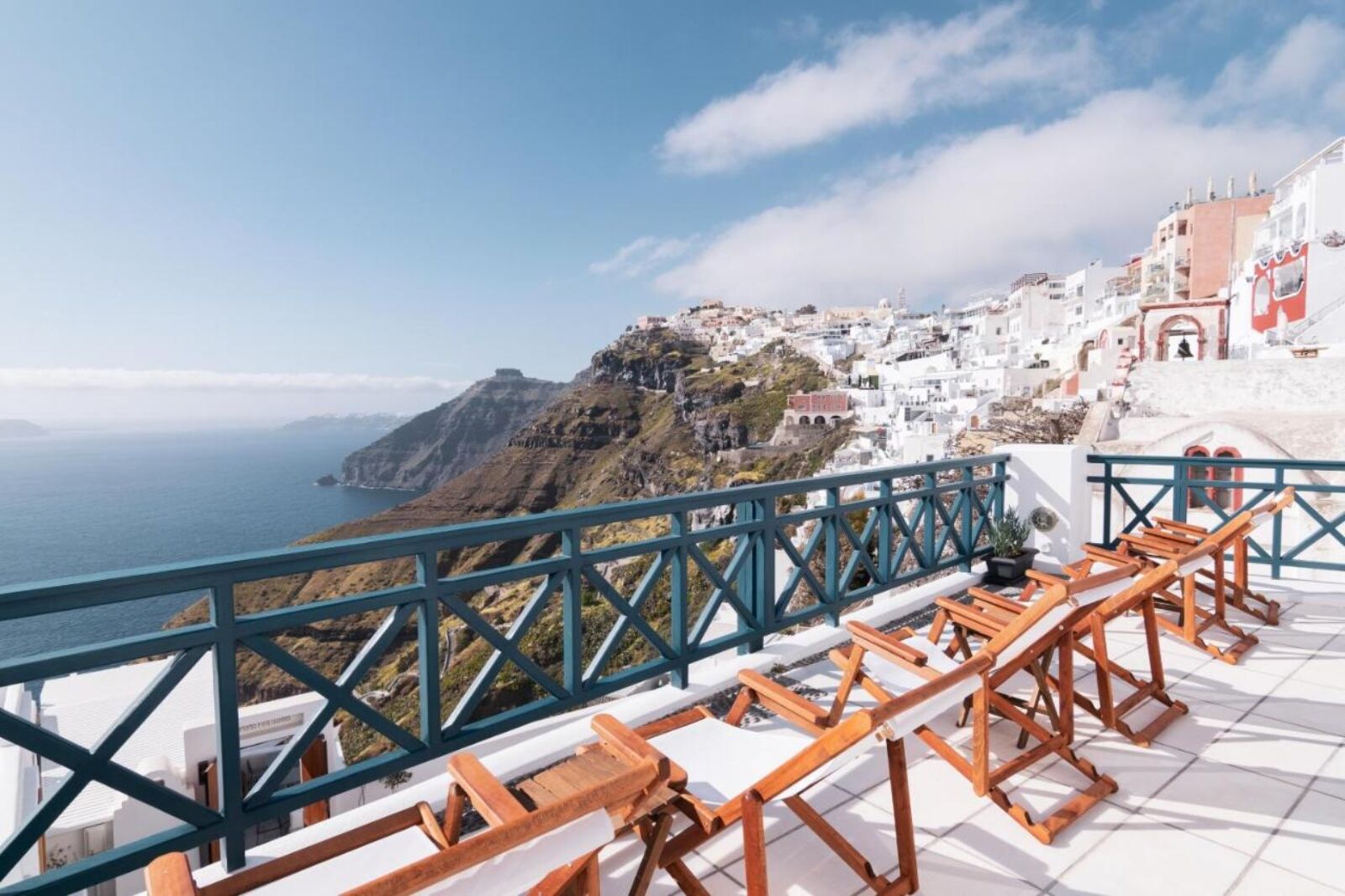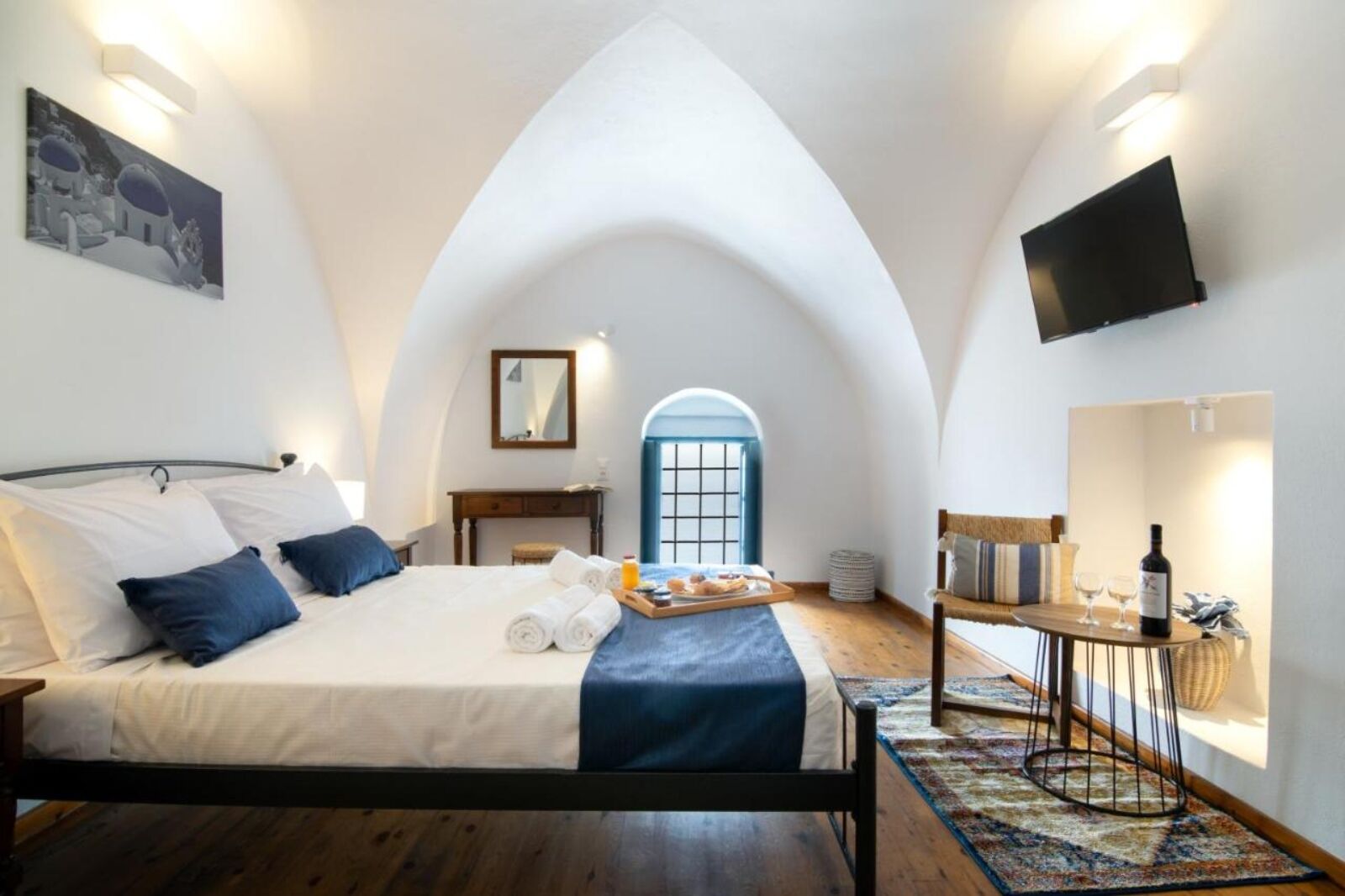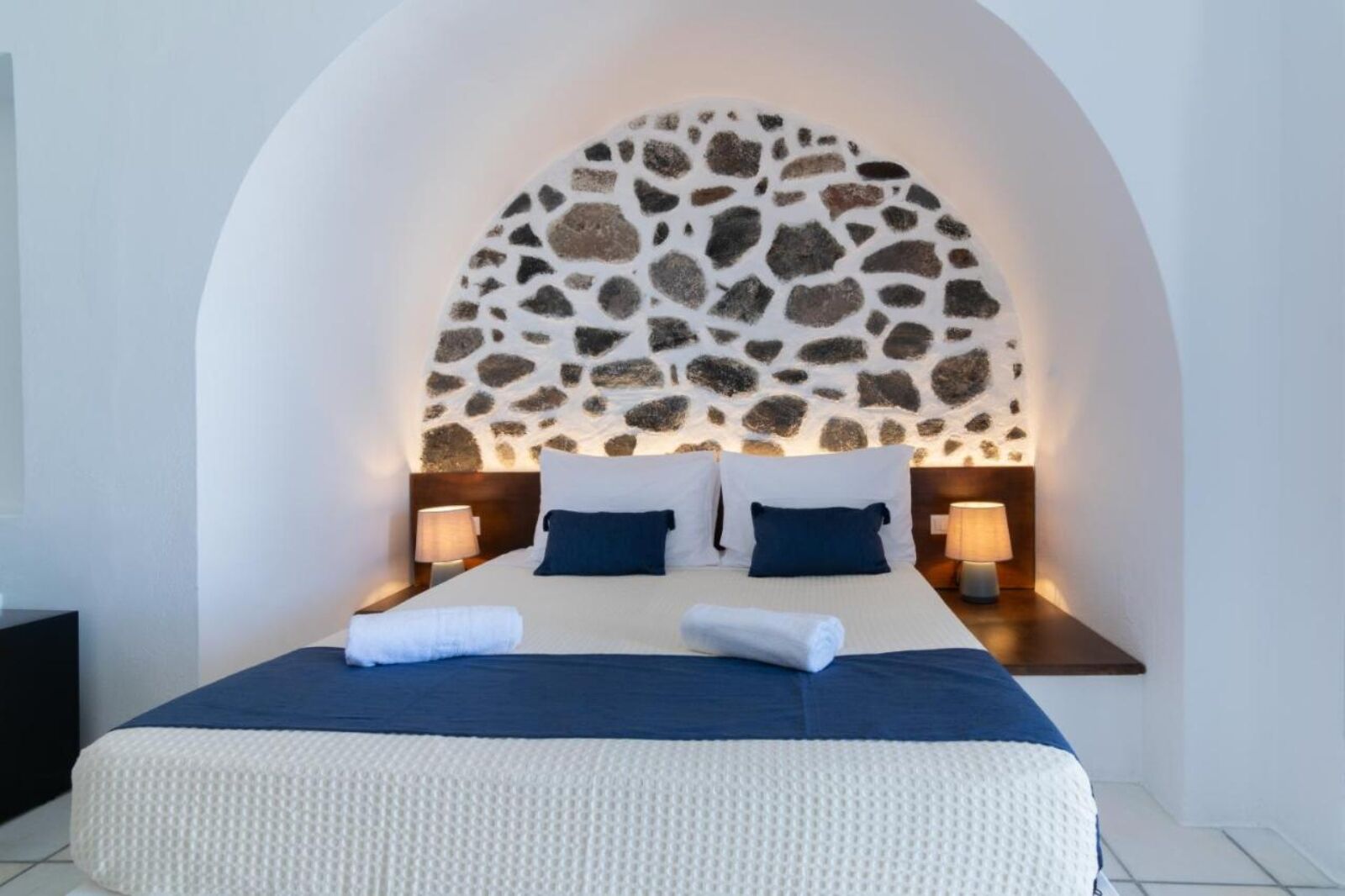 Delion View Hotel has four stars and is located in the picturesque village of Fira. Each room or suite has epic views, and guests can also enjoy access to a terrace and a stunning indoor pool. This hotel is a great option if you are traveling with family or in a group. The Junior Suite, for example, sleeps four with one large double bed and two singles. The spacious suite also has a private balcony and an outlook over the caldera.
Amenities at Delion View Hotel
Free WiFi.
Room service.
Concierge service.
Luggage storage.
Airport transfers.
Car rental service.
Excursions such as sunset catamaran tours and wine tastings.
Where: Fira 84700, Greece
Cresanto Luxury Suites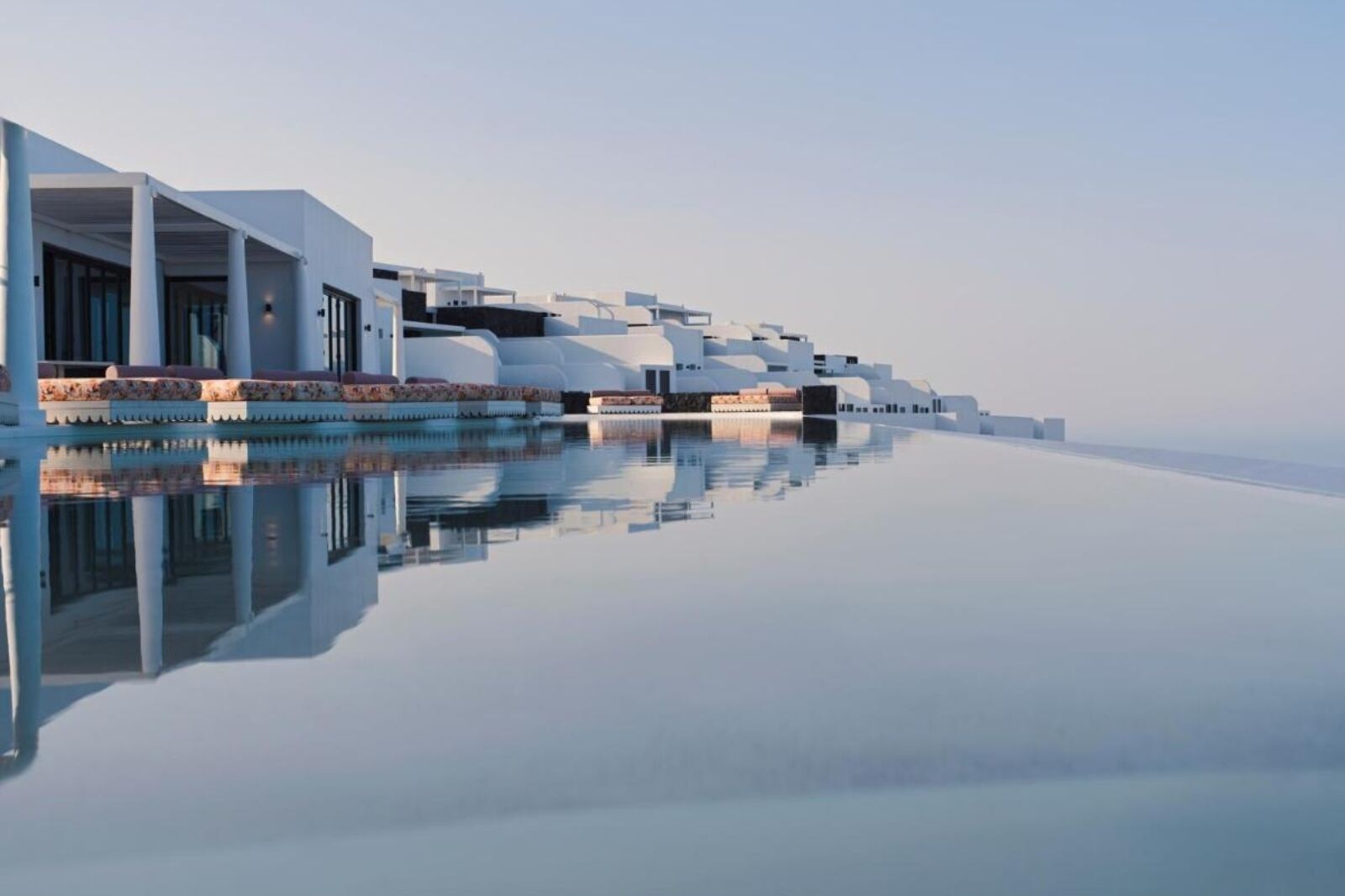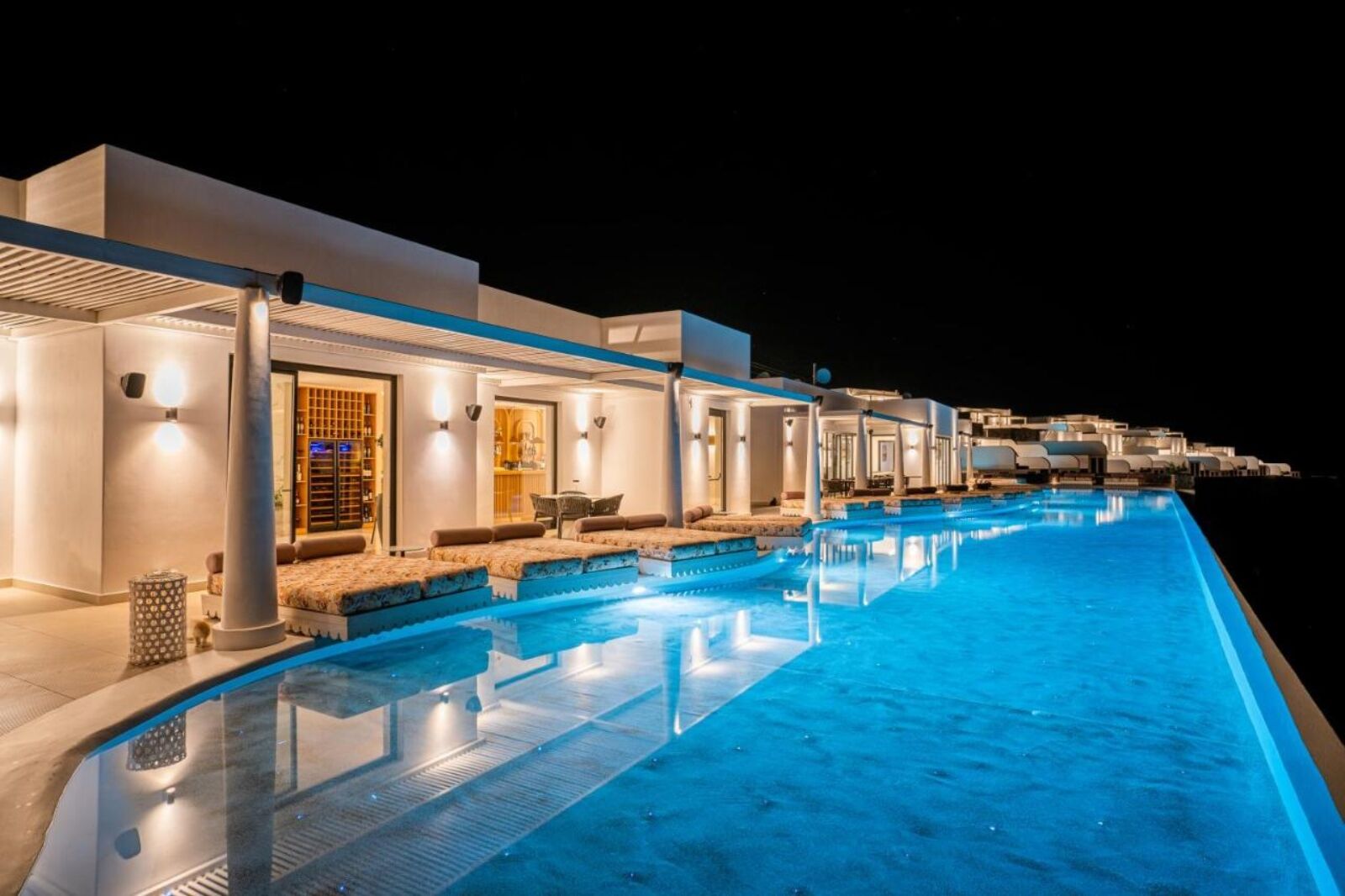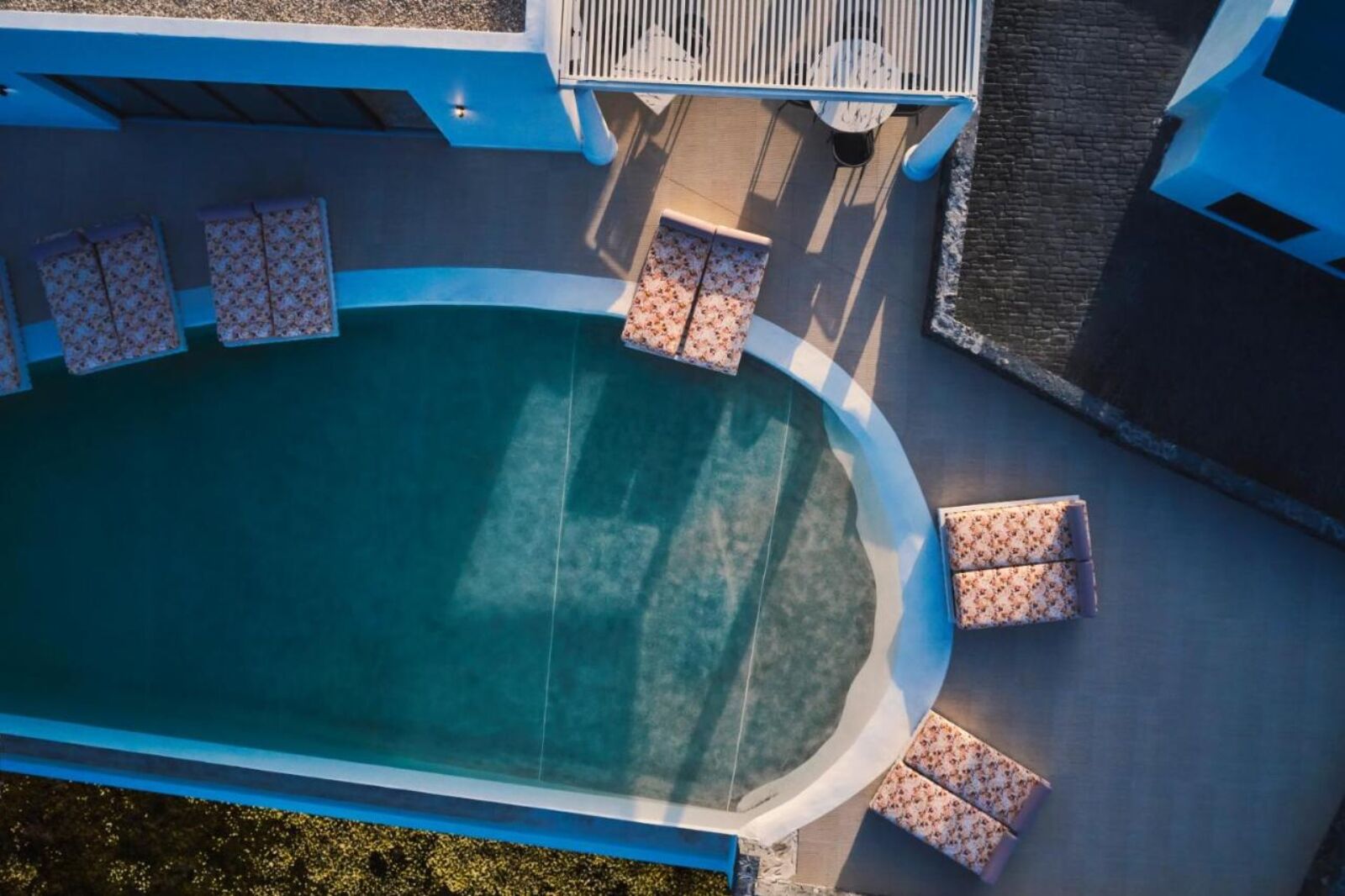 Located just over a mile from the Archaeological Museum of Thera, Cresanto Luxury Suites has five-star, contemporary luxury private villas. The hotel towers over the island and is one of the best options for couples looking for privacy for a romantic vacation.
There are seven different types of suites at Cresanto with hand-picked luxury amenities, chic decor, and outdoor hot tubs or plunge pools with a choice of garden or sea views. Previous guests state there is no faulting this property and rave about the exquisite breakfasts. There's also a gourmet restaurant on-site celebrating Greek and Mediterranean ingredients and a stunning pool bar surrounded by plush outdoor seating areas.
Amenities at Cresanto Luxury Suites
Free WiFi.
Room service.
Concierge service.
Luggage storage.
Airport transfers.
Free private parking.
Fitness centre.
Where: Imerovigli 84700, Greece
Sun Angelos Oia — Luxury Cave Suites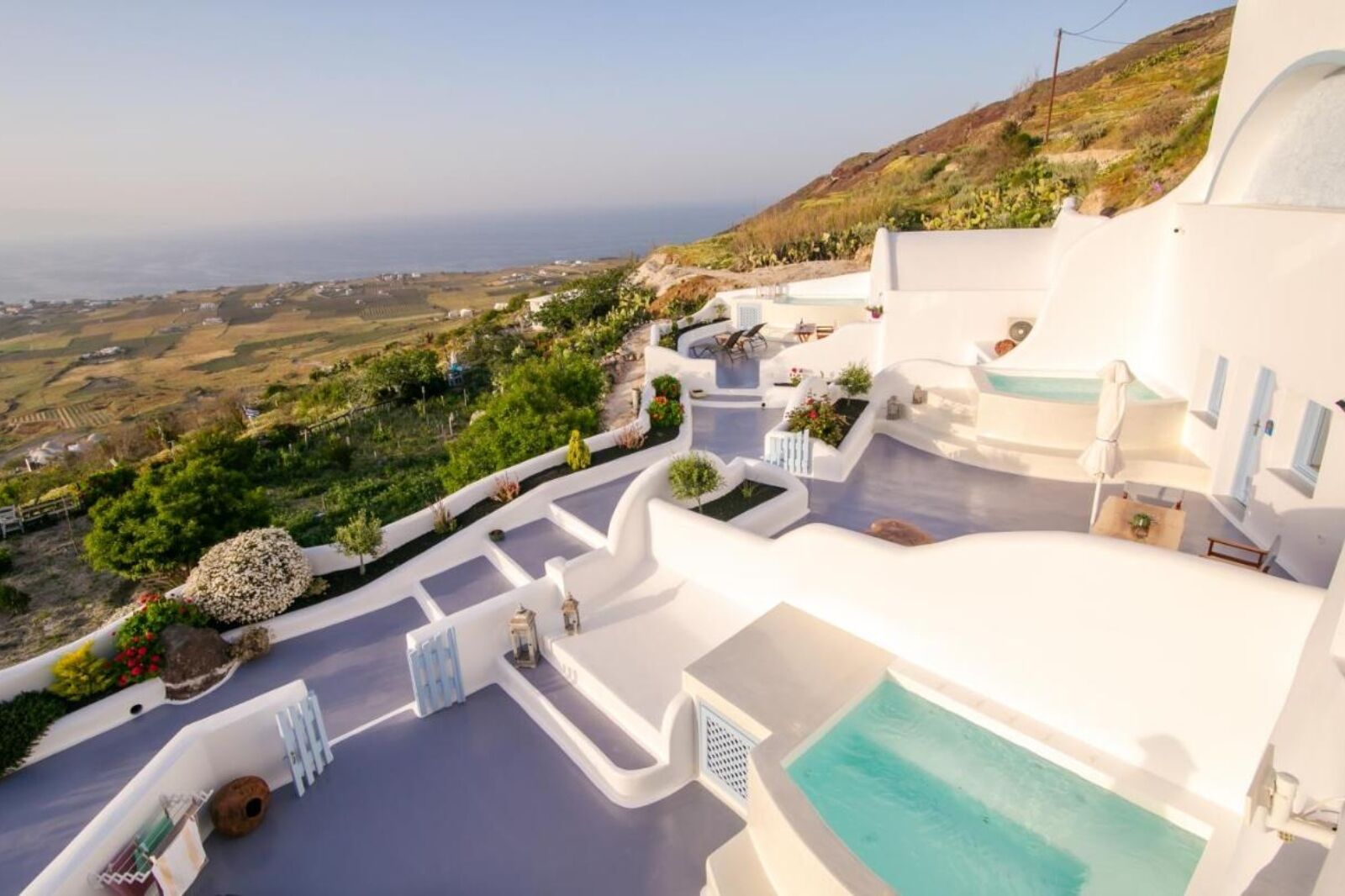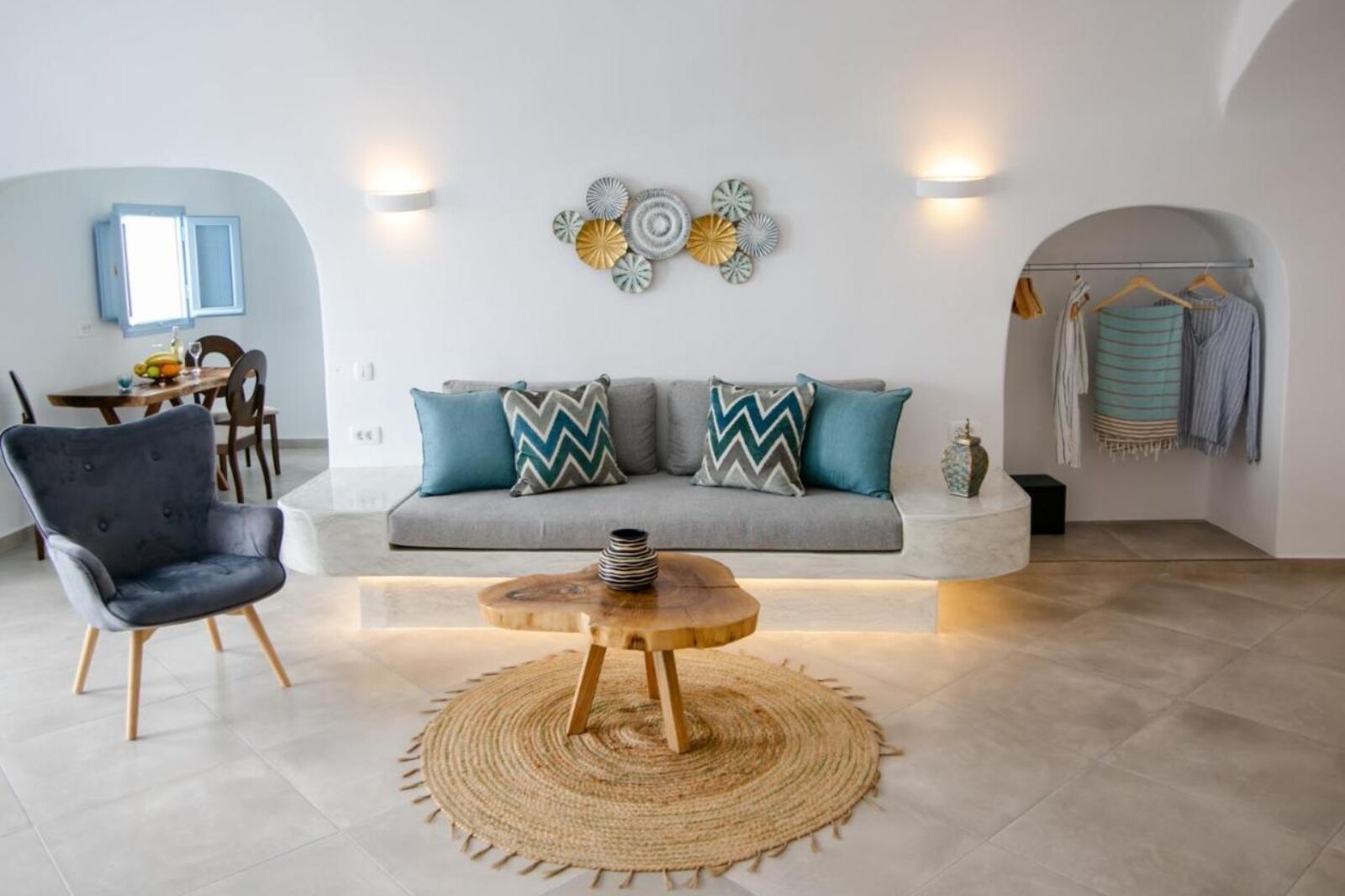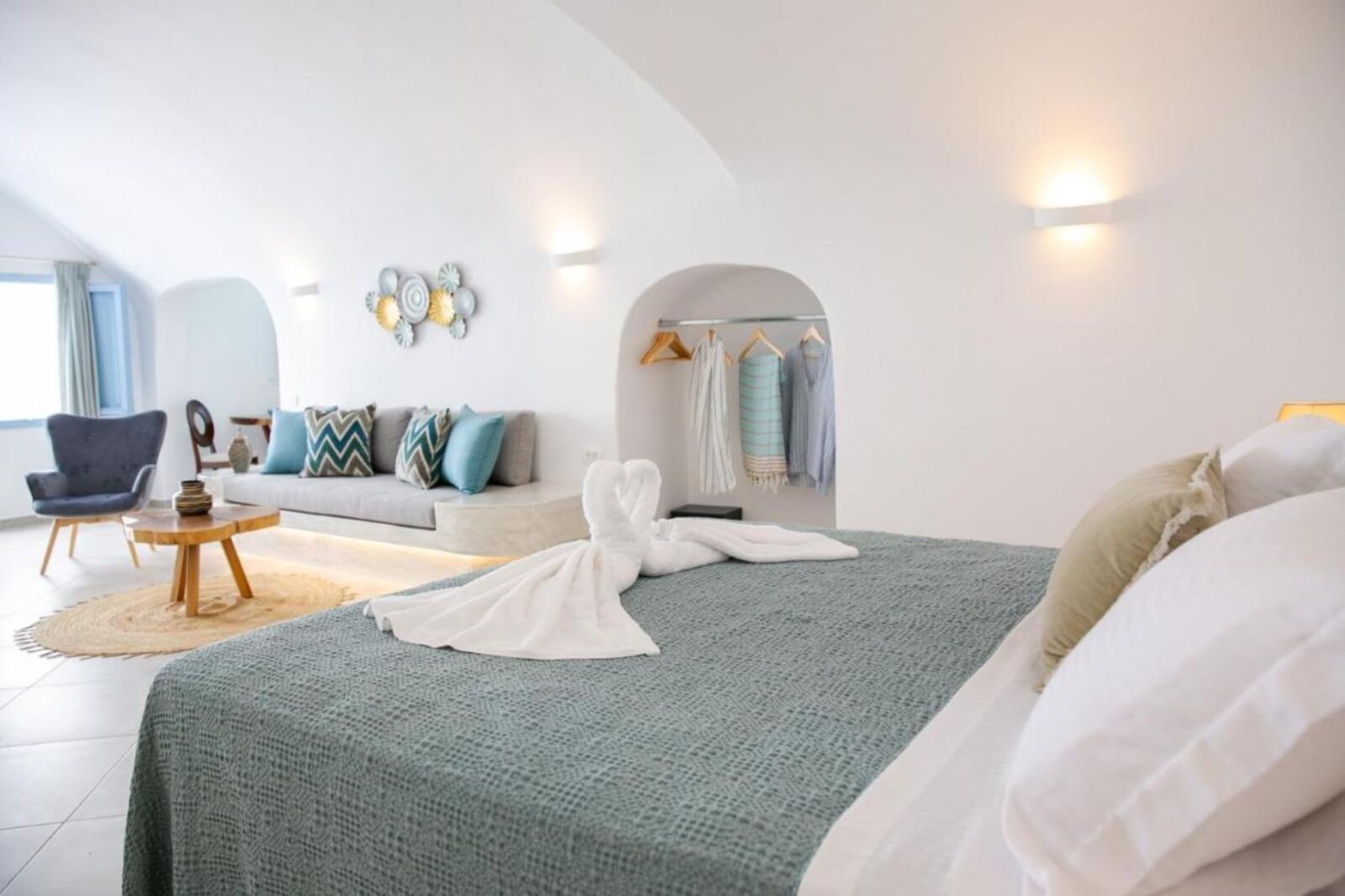 If you'd like to be close to the action in Oia, but prefer a peaceful place to stay, Sun Angelos Oia fits the bill. The apartments are well-equipt and come with a kitchen area with a stovetop and fridge. This makes this accommodation ideal for those who would like to go to the local markets and pick up produce for breakfast or lunch on the outdoor terrace. The hotel also has a beautifully manicured garden and a hot tub.
Amenities at Sun Angelos Oia — Luxury Cave Suites
Free WiFi.
Luggage storage.
Airport transfers.
Car rental service.
Kitchenette.
Where: Oia, 84700, Greece
Apeiron Blue Santorini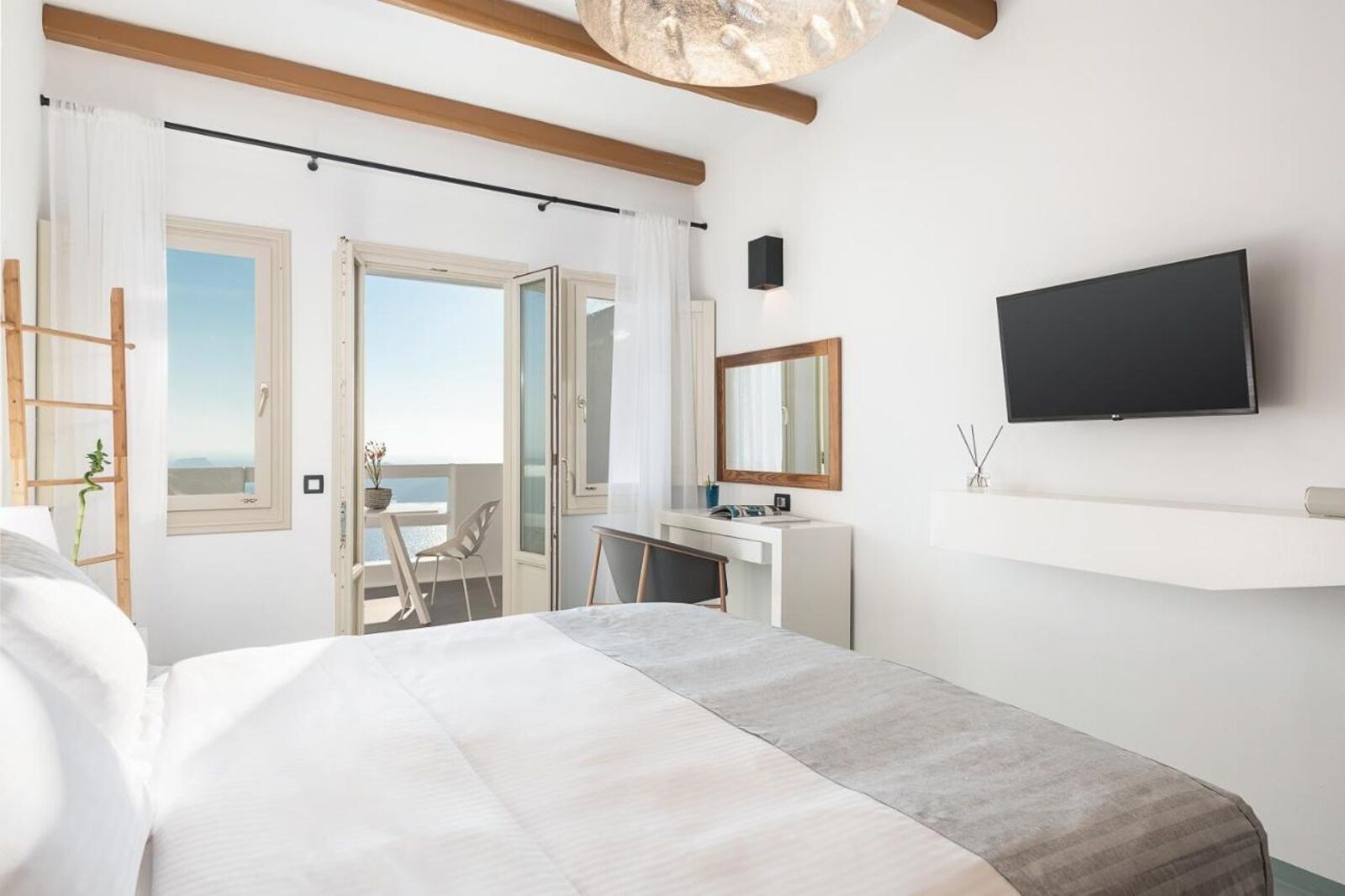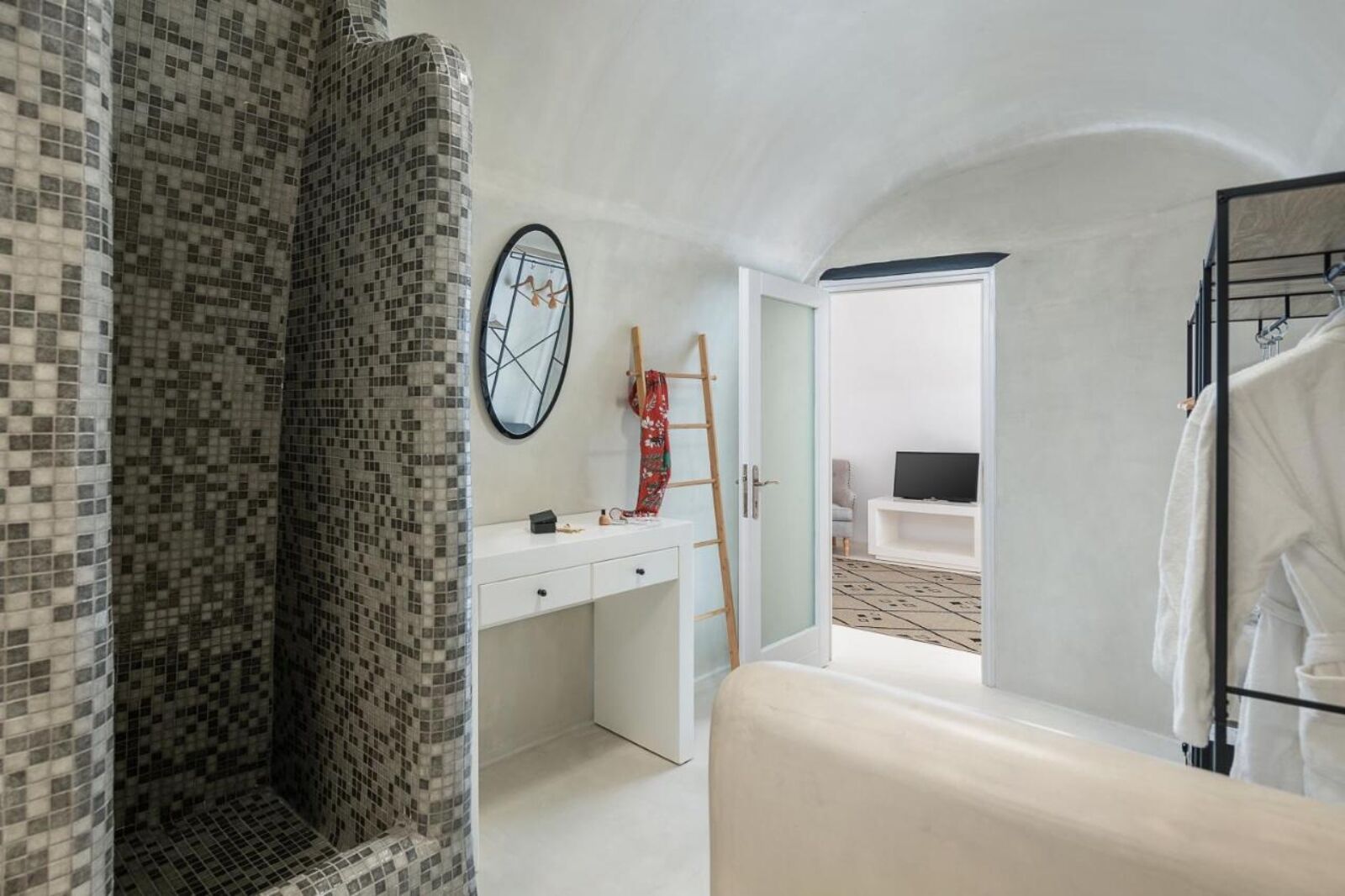 Apeiron Blue rests on the caldera rim close to the islands capital Fira. Respecting Cycladic design with white-washed walls, rounded corners, and flat roofs, the five-star hotel blends traditional architecture with modern luxury. The suites have an unobstructed view of the Aegean Sea and are very spacious.
The Honeymoon Suite, for example, has a stunning outdoor area with a private veranda capitalizing on the ocean view. And you don't get more romantic than relaxing in the outdoor Jacuzzi hot tub — with a stunning terrace shower — watching the sunset from one of the optimum viewpoints on Santorini.
Apeiron Blue specifically market to those getting married and honeymooners. Check out their planning services offering the stunning venue, catering, decorations, and other services that you may require.
Amenities at Apeiron Blue Santorini
Free WiFi.
Luggage storage.
Airport transfers.
Free private parking.
Car rental service.
Concierge.
Wedding and event planning.
Where: Mesaria 84700, Greece
Perivolas Hotel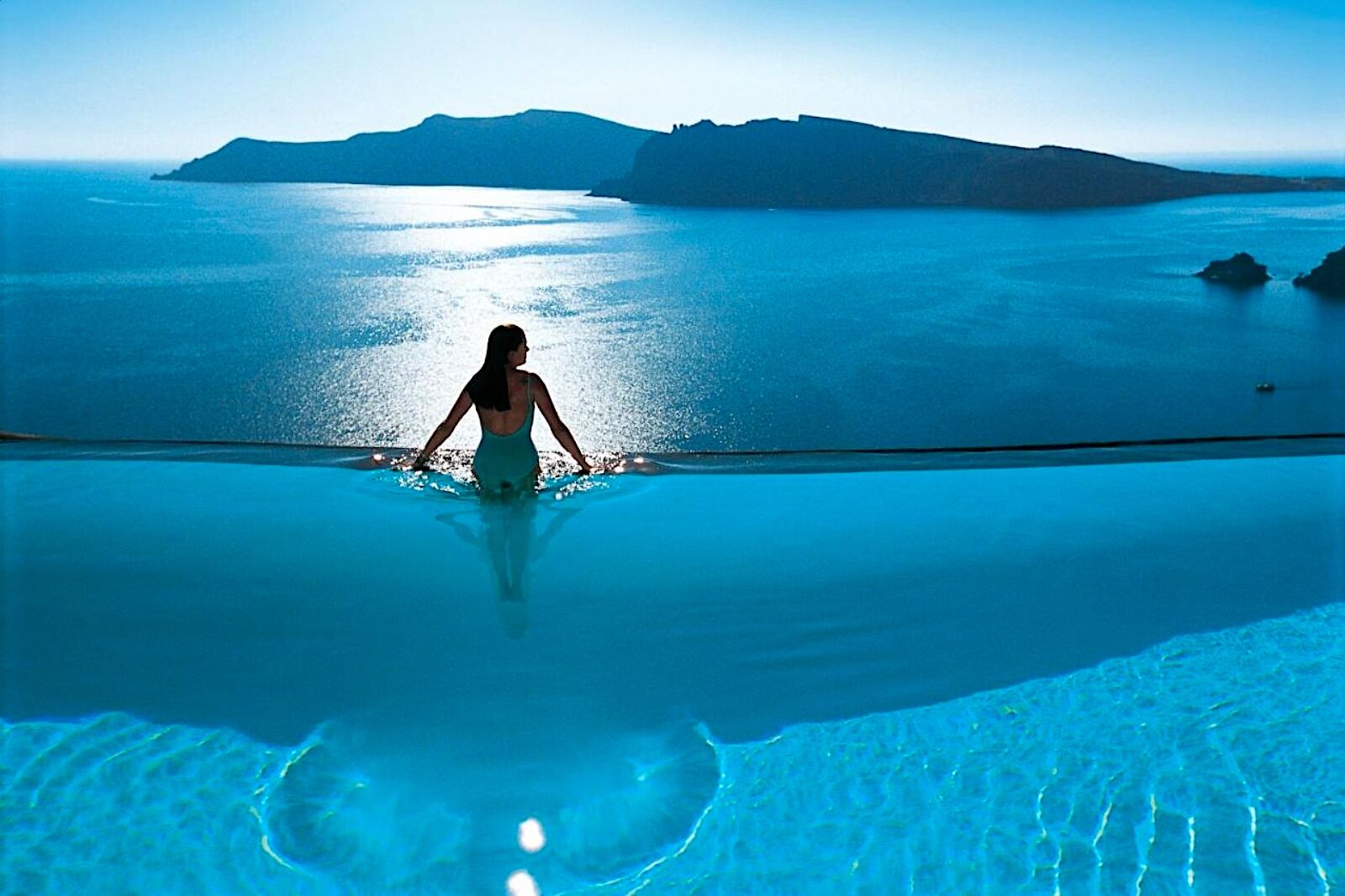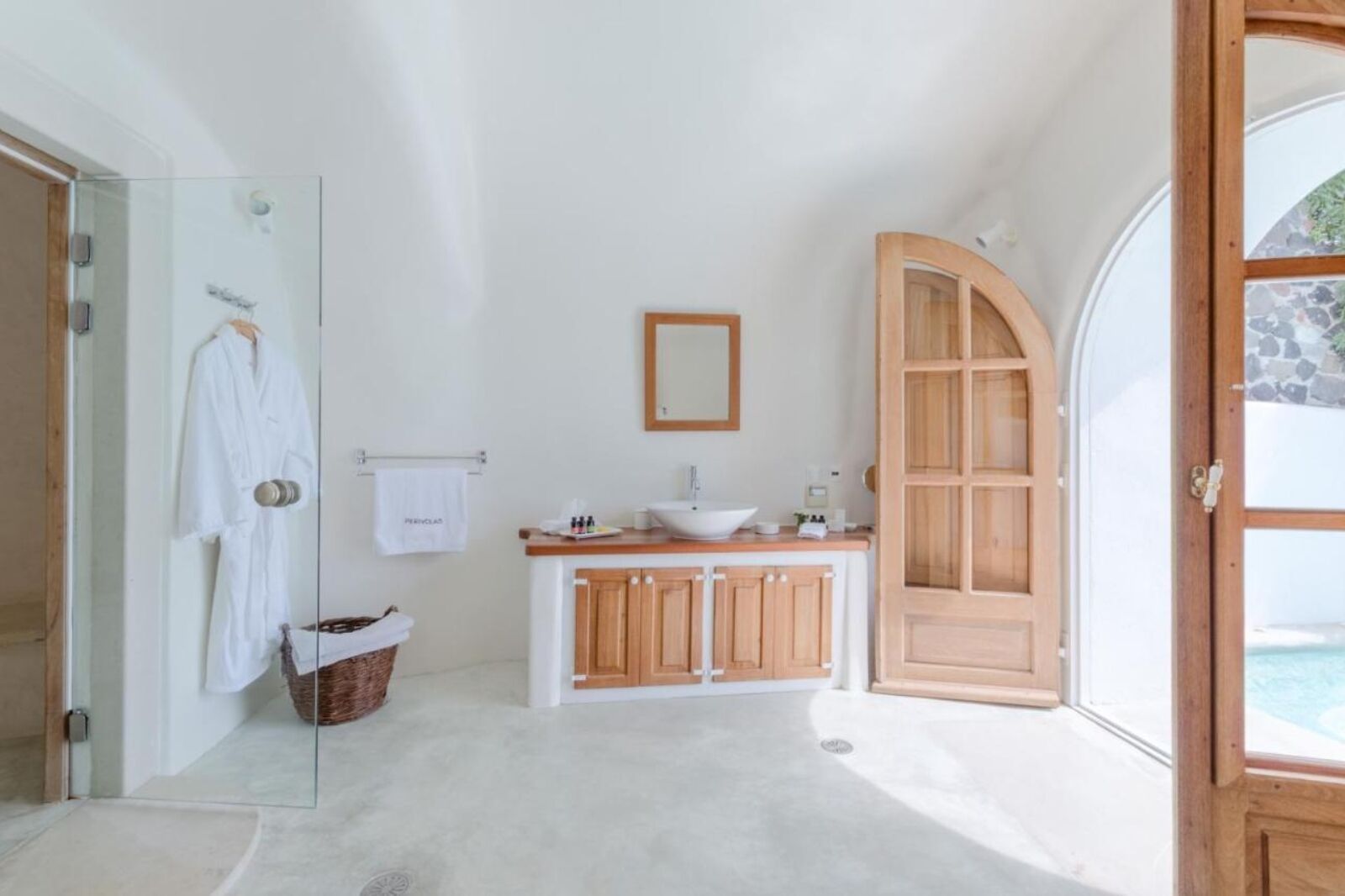 Perivolas is in a league of its own in Oia. Located on the edge of Oia, you come here for many reasons, the primary being the lack of crowds. The hotel's UPS is privacy. This is unique on Santorini, it comes with a price tag, but you'll be guaranteed a tranquil stay and exclusivity.
The hotel is a labor of love. The family business opened its doors in 1983 taking a cluster of 300-year-old cave dwellings and transforming the cliff area into 20 unique studios and suites. The decor is minimalistic and traditional Greek blue and white color palettes are accented with hot pink and lilac. There are eight different types of rooms, the most expensive have a private terrace with a plunge pool and steam room. And although these suites are not cheap, Perivolas is worth it.
Amenities at Perivolas Hotel
Free WiFi.
Luggage storage.
Airport transfers.
Free private parking.
Car rental service.
Concierge.
Two swimming pools, a wellness center and spa.
Where: Oia 84702, Greece
Andronis Boutique Hotel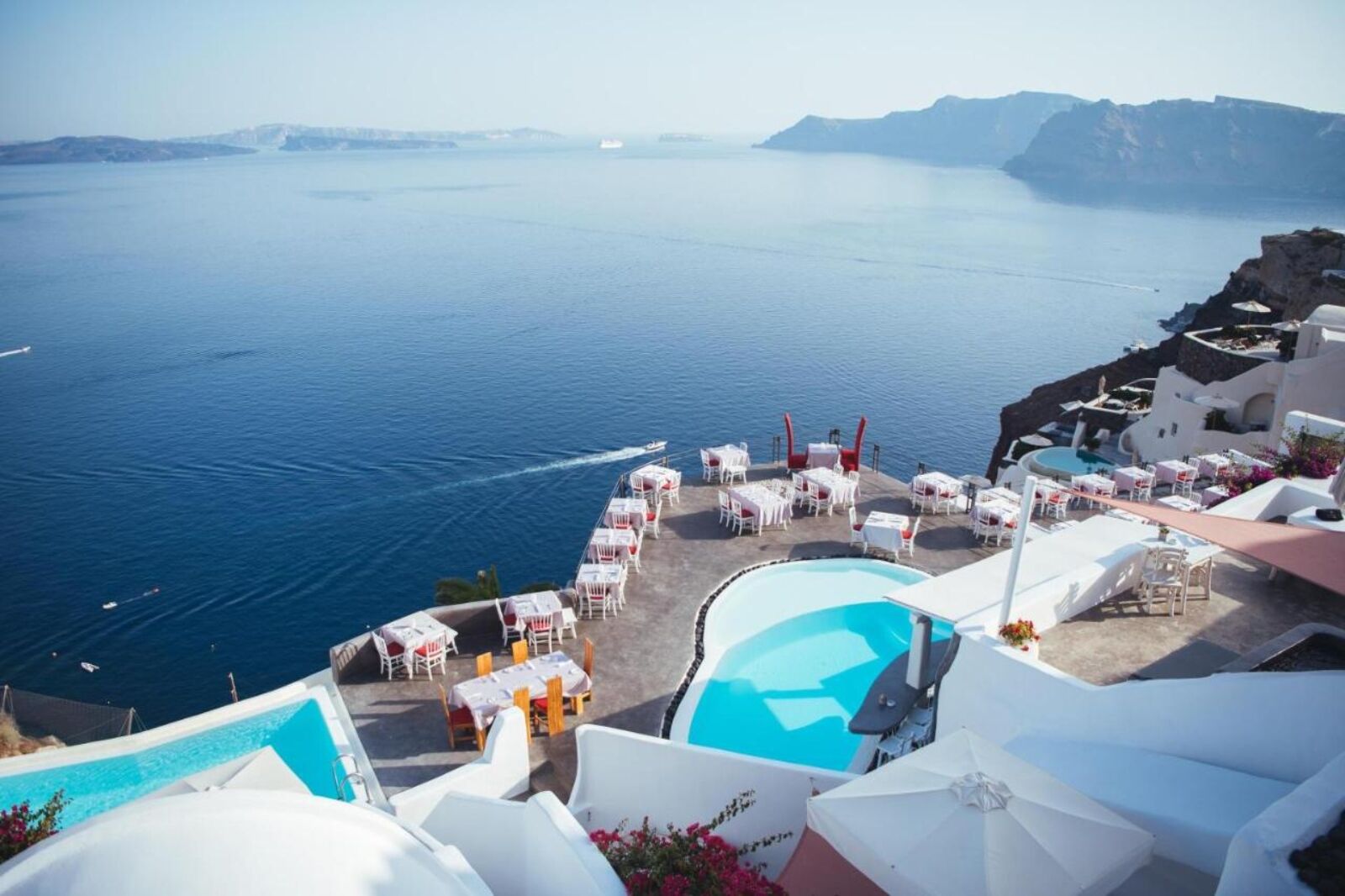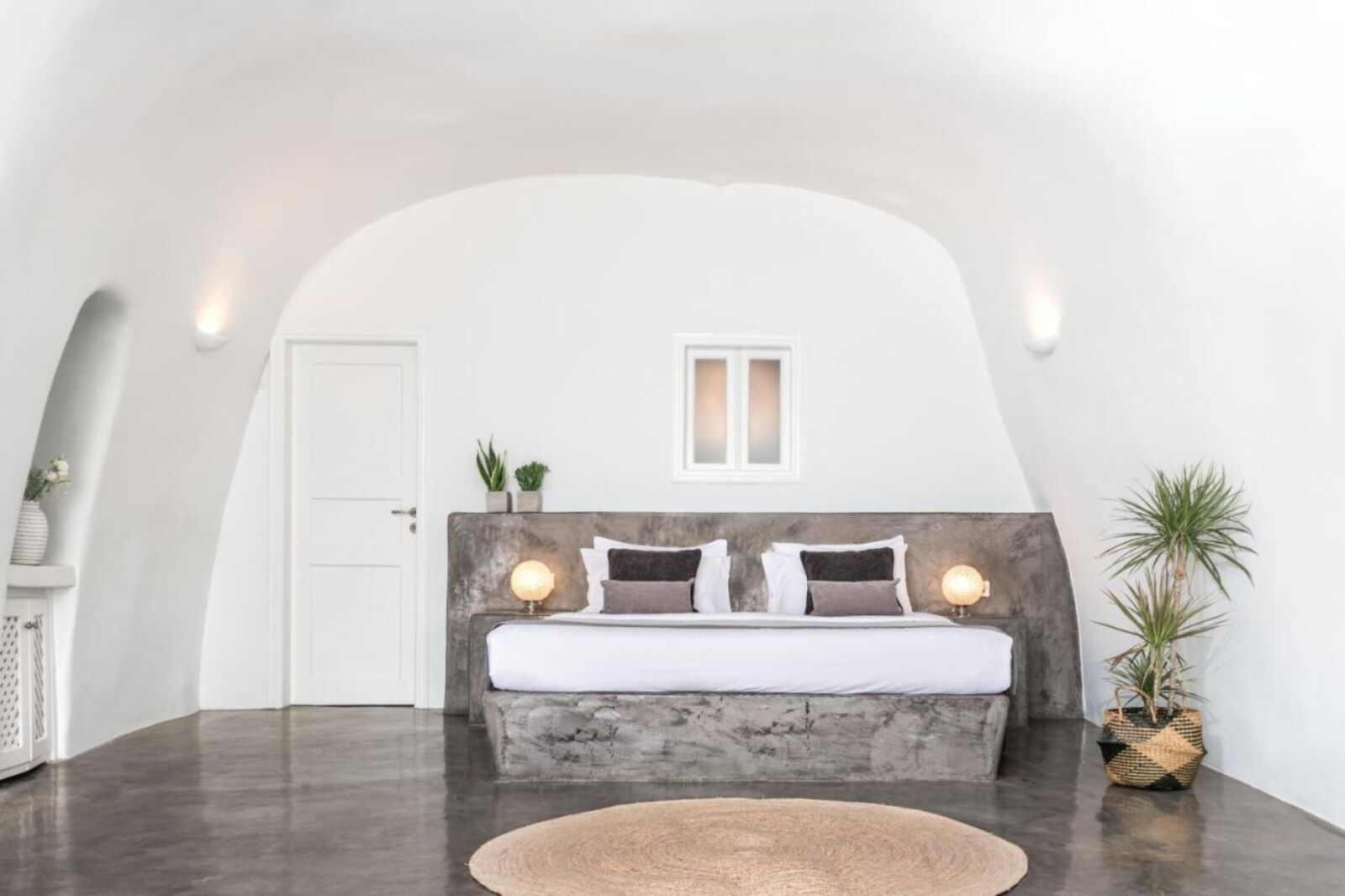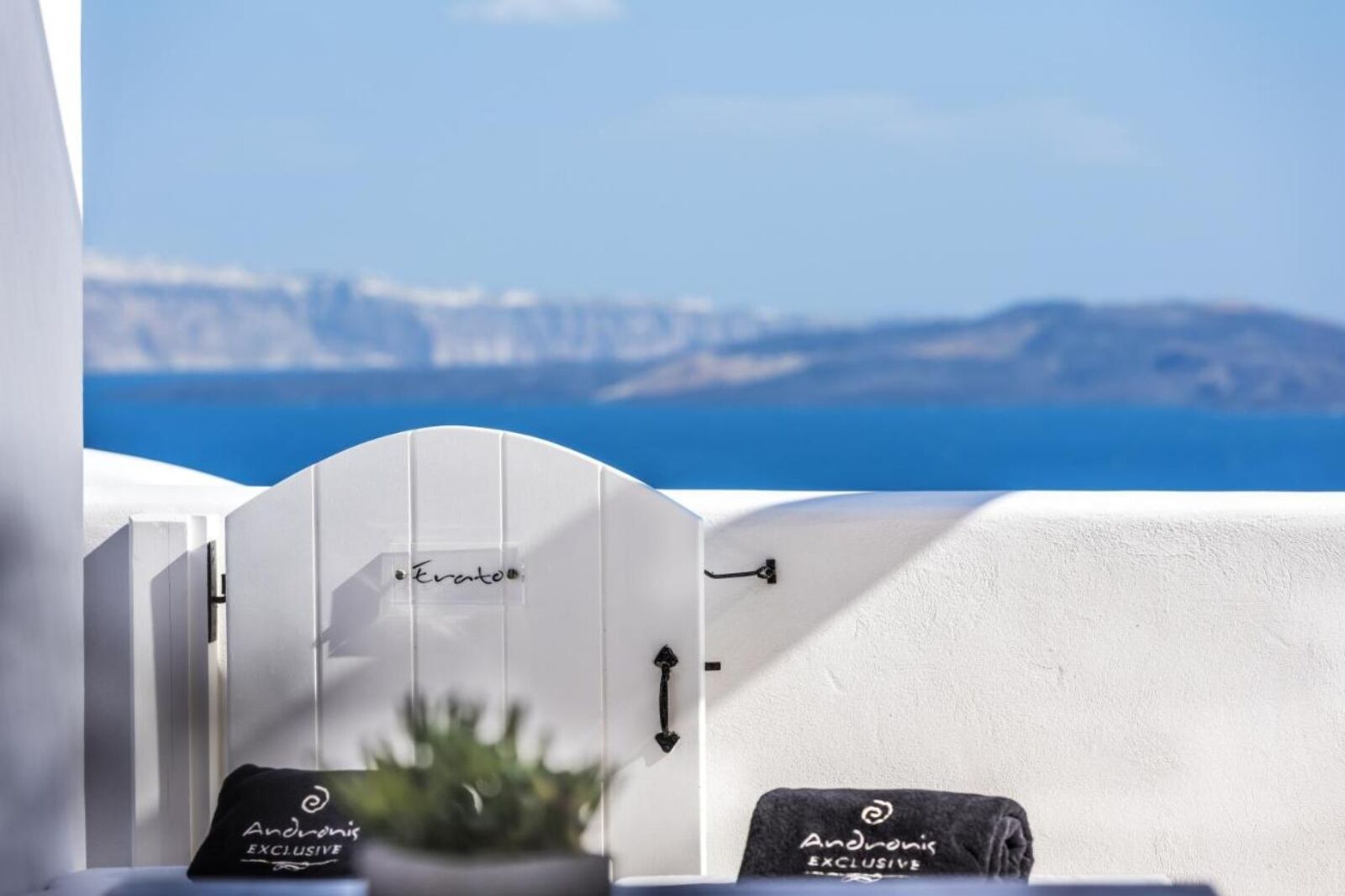 Andronis Boutique Hotel offers a charming escape amongst the crowds of Oia. The hotel is a peaceful haven. The only dominating factor of the caldera-side accommodation is the view. It is also a five-minute stroll to the ruined castle which is a famed viewing point for sunset.
The verticle hotel has bags of character and welcoming service. There are 24 cave suites cut into the cliffside. All have a private terrace and elevated rooms have plunge pools, whirlpool tubs, sunloungers, and outdoor tables and chairs.
The hotel's restaurant, Lauda is managed by three Michelin-starred chef Emmanuel Renault. People flock here for the signature dish, which celebrates lobster.
Amenities at Andronis Boutique Hotel
Free WiFi.
Luggage storage.
Airport transfers.
Car rental service.
Concierge.
Renowned restaurant and bar.
Where: Oia 84702, Greece
Astro Palace Hotel & Suites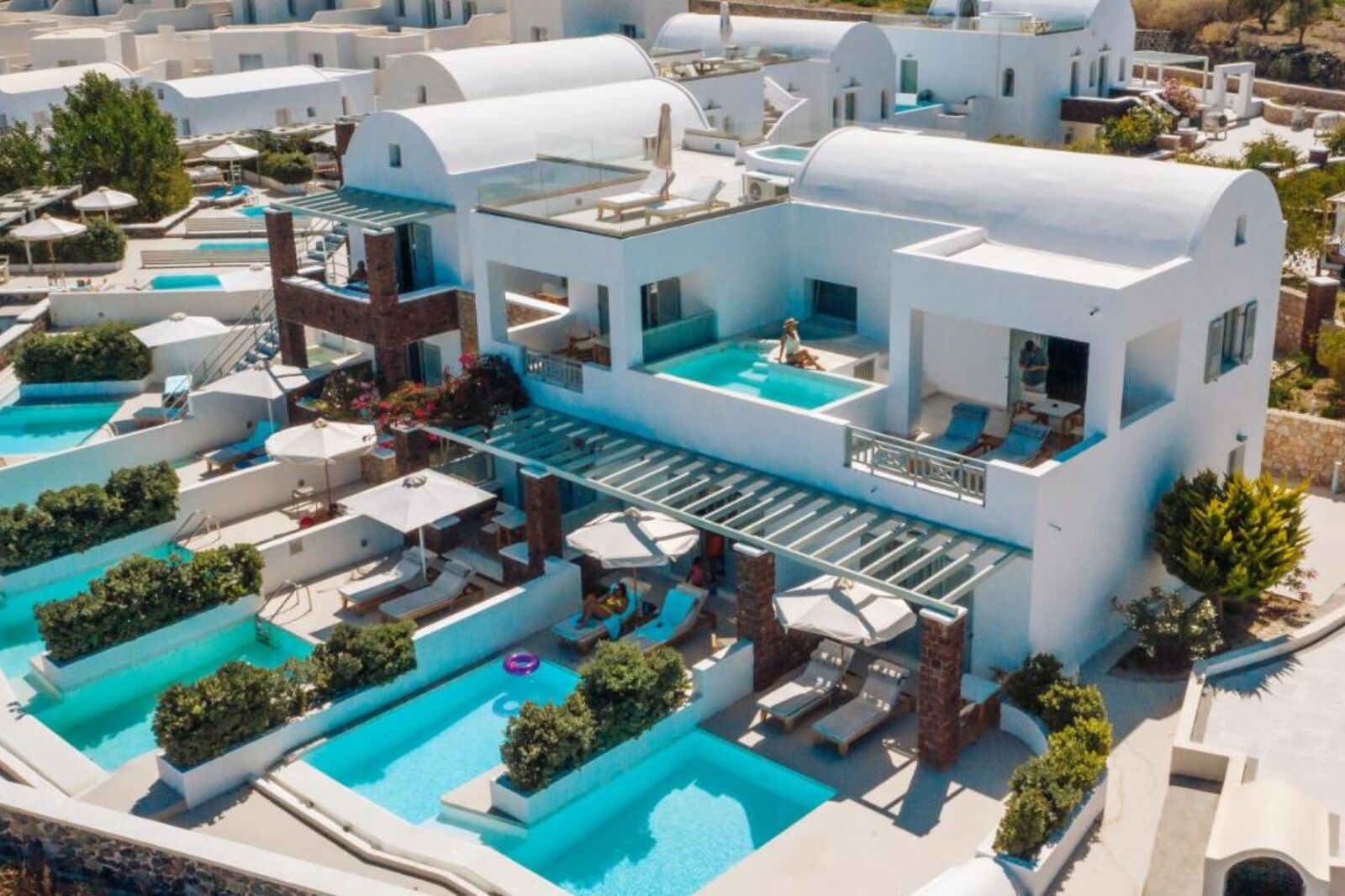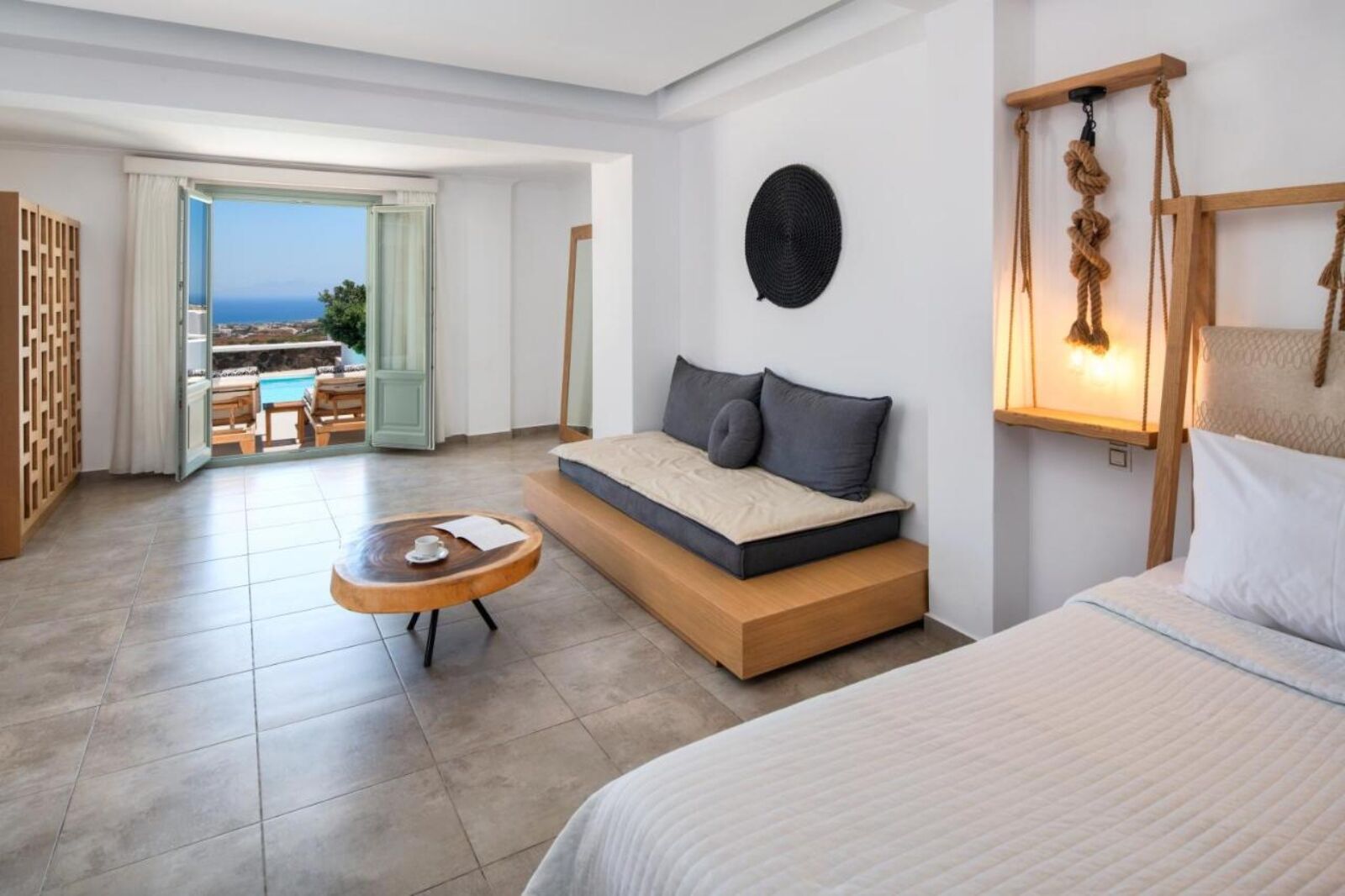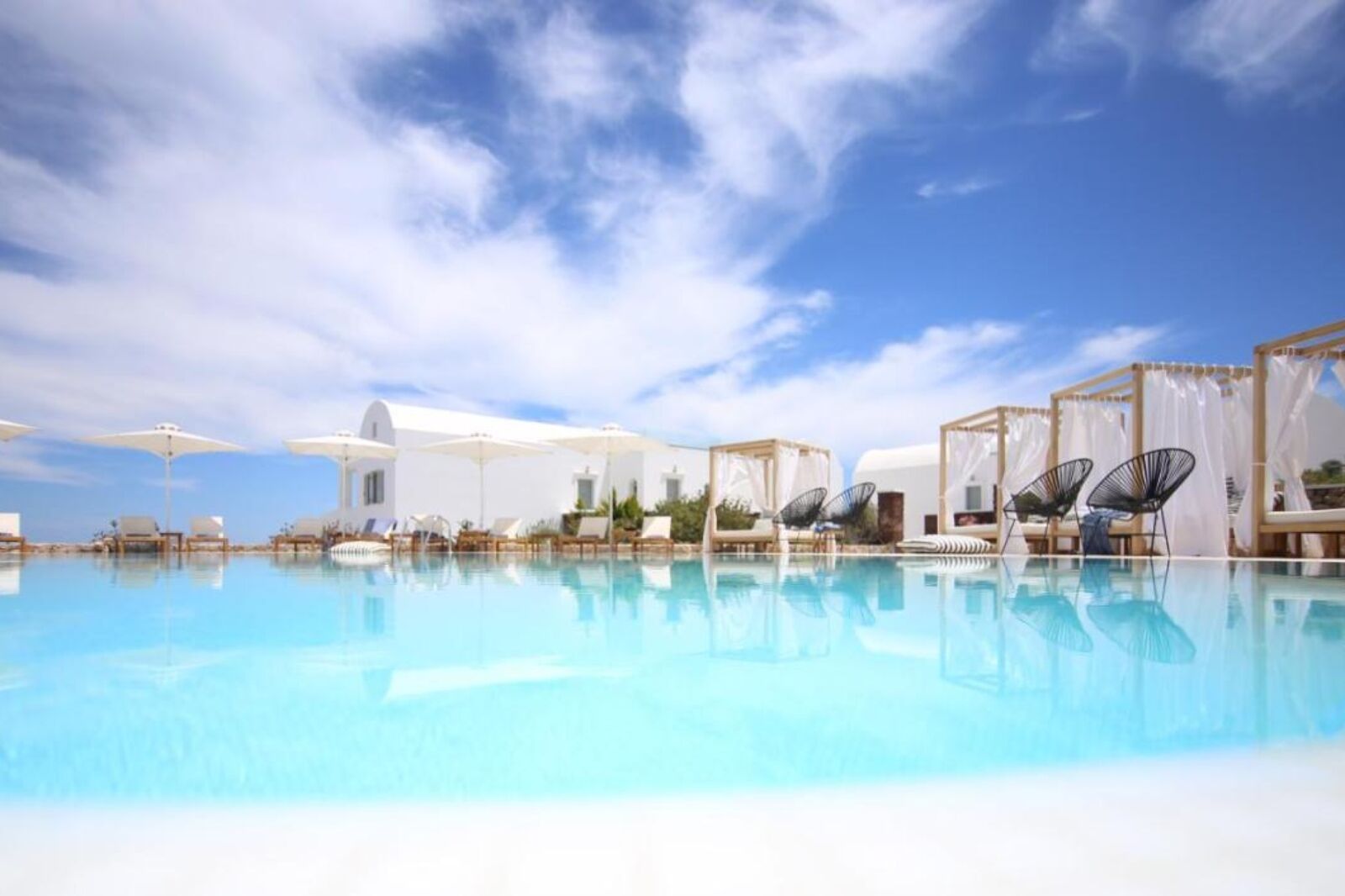 Astro Palace Hotel & Suites is ideally placed between the airport and the island's most popular town, Fira. This is another hotel ideal for couples. Guests here enjoy extra perks delivered by the five-star service from staff. Personalized experiences, such as a romantic dinner in the hotel's wine cellar, private sunset cruises, and exclusive wine and cheese tastings set Astro apart from the other luxury accommodations in Fira. When booking, contact the concierge and discuss options for tailoring your vacation.
Amenities at Astro Palace Hotel & Suites
Free WiFi.
Luggage storage.
Airport transfers.
Private parking.
Car rental service.
Concierge.
Swimming pool, fitness center, and spa.
On-site bar and restaurant.
Excursions and private activities.
Where: Fira 84700
Iconic Santorini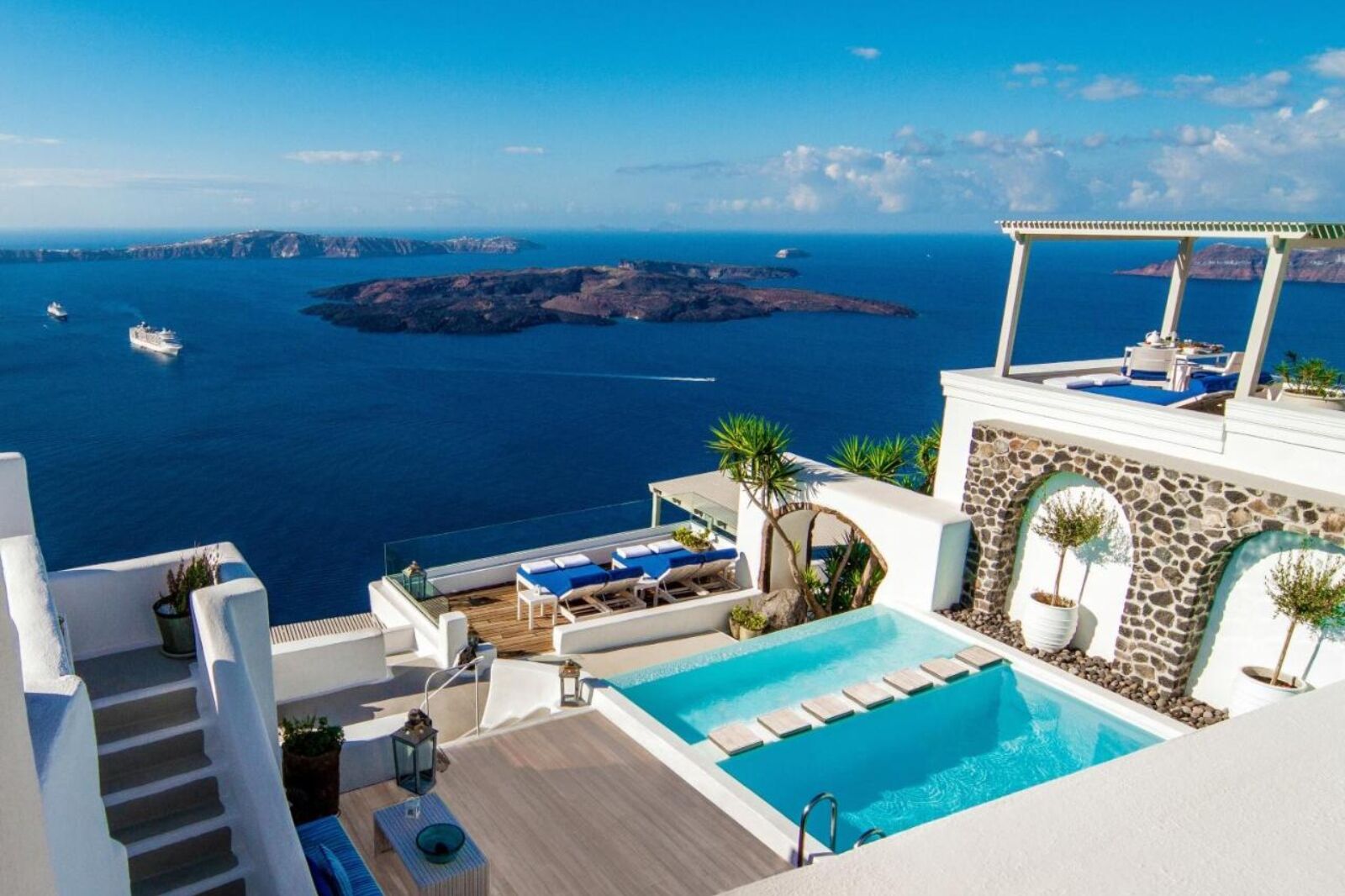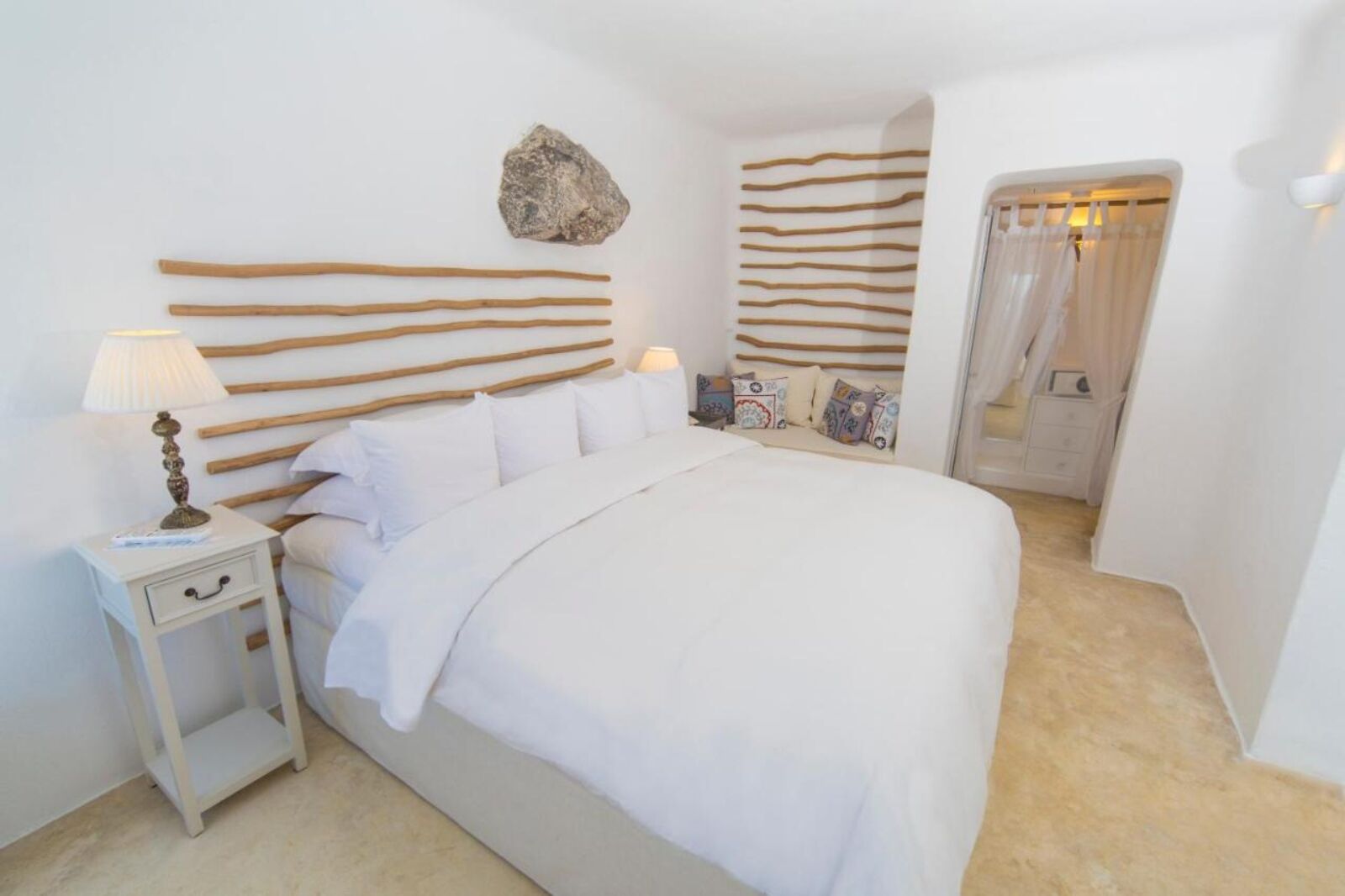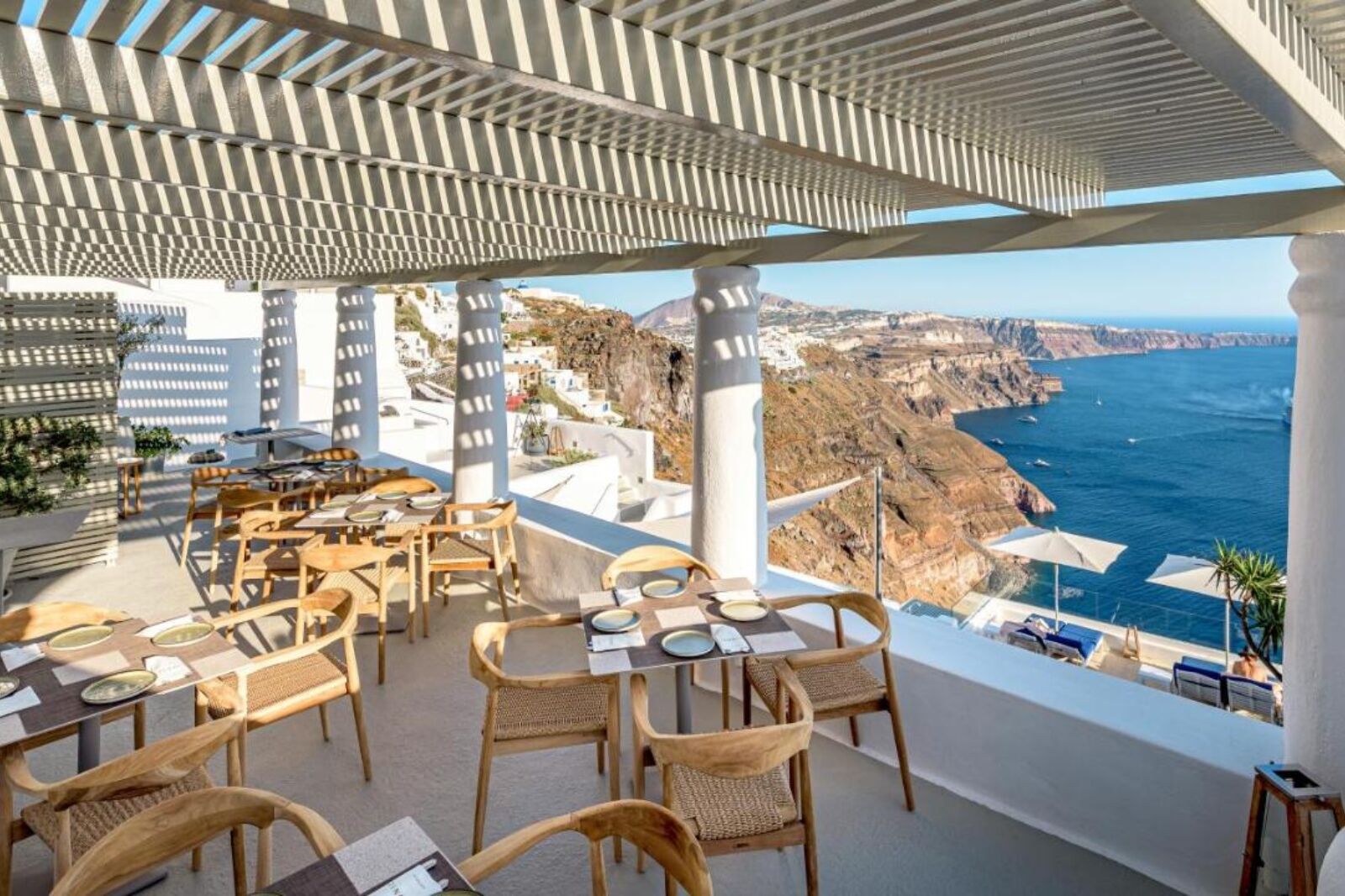 Iconic Santorini is one of the only listed properties here located in the stylish, quiet village of Imerovigli. Away from the crowds, this unique hotel has a good-sized pool and epic views in a unique location. Although the property is somewhat hard to find and does not offer private parking, there is a shuttle service offered from the ferry port or airport.
The decor leans heavily on Santorini's traditional white and blue with dashes or prints and stripes. The hotel is small — 19 cave suites in six differing sizes — but its facilities rival those of the other luxury hotels above. There is a small but well equipt gym, a heated plunge pool, an infinity pool, a restaurant, and a spa.
Amenities at Iconic Santorini
Free WiFi.
Luggage storage.
Airport transfers.
Car rental service.
Concierge.
Fitness center, pool, and spa.
Where: Imerovigli, 84700, Greece
What did you think of this story?