in paid partnership with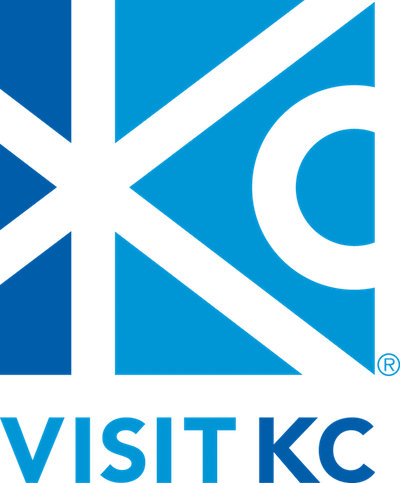 All around Kansas City, you'll see young and old alike sporting KC apparel, driving cars with bumper stickers supporting the Royals and the Chiefs, and touting KC gear and goods. Indeed, Kansas City swells with local pride like few other places.
Even travelers visiting on a short trip will experience just how tempting it is to get swept up in the KC spirit — and how easy. To feel the city's pride and joy, to partake of the authentic, local side of Kansas City on your visit, here's where to go.
WHERE TO STAY
Downtown Kansas City is seeing a massive resurgence, and some impressive boutique hotels have moved in to repurpose and revitalize some of the district's most historic buildings. Crossroads Hotel has done up the former Pabst Brewing Depot, drawing in creatives and remote workers with sleek rooms and a rooftop beer garden. Hotel Kansas City, in the iconic Kansas City Club building, took one of the Midwest's premier 19th-century social clubs and created an award-winning, bespoke lodging experience for its guests. And Hotel Phillips has added modern touches to a 1930s Art Deco structure that was once the tallest building in town.
You can't miss the newest addition to the downtown skyline, Loews Kansas City Hotel, which pays tribute to the city's railroad history in its restaurant and bar — and comes with prime views of the stunning Kauffman Center for the Performing Arts from its seventh-floor open-air terrace. Make sure to stop by Bar Stilwell in the lobby for a cocktail glass full of The New Midwest, a KC-made creation featuring Tom's Town double-oaked bourbon.
For a more low-key local stay, try Southmoreland on the Plaza, an independently owned B&B set in a 1913 Colonial Revival mansion that's within walking distance of the must-visit Nelson-Atkins Museum of Art. A short hop to the north is The Truitt, a recently opened boutique spot in a historic home that's been lovingly redone by a Kansas City couple.
To really get away from it all while still being within reach of the action, head to one of Suite Tea's two glamping sites, which come with memory-foam mattresses, running water, and fire pits. Both are just a 20-minute drive from downtown but offer a true sense of escape.
WHERE TO EAT
Tangy, thick-sauced barbecue has been a tradition in Kansas City for more than a century, and it's still mom-and-pop joints that smoke the best meats. KC has more than 100 barbecue restaurants on its roster: Get a taste of history and heritage at Arthur Bryant's; go whole hog at Joe's Kansas City Bar-B-Que, set inside a gas station; eat in the parking lot outside the revamped Jones Bar-B-Q (as featured on Queer Eye); or sample the chef-driven plates at Q39.
While Kansas City is clearly known for its barbecue, that's far from the only option on the menu. Get a taste of the produce of the Great Plains at The Farmhouse, which works directly with farmers in Kansas and Missouri; similarly, Westside Local features farm-to-table dishes sourced from small, local businesses.
Meanwhile, the gorgeous Fox and Pearl, a James Beard semifinalist, concentrates its local dishes around a live-fire hearth. And the intimate Antler Room combines Mediterranean, East Asian, and Midwestern flavors for a fusion you've likely never experienced (until you've dined here!).
WHERE TO IMBIBE
When 1920s Prohibition slammed shut bars around the country, Kansas City (under the influence of political boss Tom Pendergast) mostly flouted the law, and speakeasies and bootleg distilleries flourished. A similar energy is back in the air these days (this time above-board, of course) as new distilleries set up shop around town.
Originally opened in 1887, J. Rieger & Co. was forced to close when the 18th Amendment was passed, but nearly 100 years later it's been resurrected by the founder's great-great-great-grandson. Visit the distillery to pick up a bottle of their unique Kansas City Whiskey blend, which mixes aged whiskey, rye, and sherry for a deliciously smooth sip.
And you can barely walk a few blocks in central Kansas City without running into a local brewery, making for an absurdly easy (and highly recommended) way to explore. Top stops for beer lovers include Casual Animal Brewing Company, its newly expanded space festooned with plants, area rugs, globe bulbs, and wooden tables all enclosed by exposed brick walls. And don't miss City Barrel Brewing Company, which specializes in "hoppy, wild, and sour" beers. Behind the bar is reclaimed wood from the gallery walls of the Nelson-Atkins, and the restaurant's tables and chairs are made from Missouri white oak, as are their sour-beer foeder tanks.
Download the KC Tap Tour app, a digital passport, for a long list of breweries and to rack up rewards for visiting. It's gotta be one of the most delicious scavenger hunts out there.
WHERE TO SHOP
Now that you've toured the town, you're ready to take home some Kansas City goods of your own. Head to one of the locations of Made in KC, a clearinghouse of locally made goodies of every description, from only-in-KC apparel and accessories to art and skincare. For quirky posters, stationery, and cards, stop by Hammerpress, a letterpress print shop and design studio in the West Bottoms that sells all its own creations. Nearby, Westside Storey sells clothes, pins, and stickers from more than 20 Kansas City-based designers out of a historic 1920s building.
To bring a literal taste of Kansas City home, make your way to Christopher Elbow, a decadently high-end chocolatier started by a Kansas City native who previously worked alongside chefs Emeril Lagasse and Jean Joho. Nab an assortment of hand-crafted chocolate pieces that are so beautifully decorated they'd pass as miniature works of art. Elbow also operates Fairway Creamery, where donuts and ice cream finally get the chef-style treatment.
And if, after your visit, you think you're ready to make some KC barbecue on your own smoker, stop at Local Pig, a butchery that sources local and humanely raised meat, or Broadway Butcher Shop, a gourmet grocer beyond their incredible meat selection (and excellent sandwiches). Because here's the thing: When it comes to Kansas City pride, you can absolutely take it home with you.