Outdoor Summer Destinations To Escape the Texas Heat Without Leaving the State
Everything is bigger in Texas, including the heat, and summer months can be especially brutal. Temperatures often top 100 degrees, so it's important to explore Texas outdoors in order to escape the dog days without leaving the state, because who would ever want to do that?
When you hear the locals screamin' "Man, it's hot as all get out." (which is true Texas lingo), you'll know they ain't just whistlin' Dixie. It's hot and about to get hotter. Lucky for you, Texas has several places to visit when you're ready to cool off, and each of them offers something special that will make your summer vacation memorable.
We hope you love the spaces and stays we recommend. Just so you know, Matador may collect a small commission from the links on this page if you decide to book a stay.
Schlitterbahn Waterpark
Native Texans are practically raised on Schlitterbahn Waterpark in New Braunfels, Texas. It's a legendary waterpark, so it's only fitting that the word eventually started creeping out to travelers worldwide. 
There's something for everyone at this massive waterpark which features a staggering amount of rides, attractions, and kid's areas. 
Schlitterbahn has four distinct districts: the original Schlitterbahn West, Blastenhoff, Surfenburg, and Tubenbach, which are known as Schlitterbahn East. Each of these districts contains a swim-up bar, a kid's area, and a signature attraction. You could spend all day in any one district and have an incredible visit, but why would you when there's so much to experience?
What to do at Schlitterbahn Waterpark
Thrill-seekers can ride the multiple-award-winning Master Blaster (probably the most popular ride in the entire park) which is in the Blastenhoff district. 
The Falls is an extremely popular tubing adventure in the Tubenbach district. This district features several attractions and beaches that are no-wait, so you spend less time in line and more time getting pruny in the water. 
Visitors will want to make it a point to stop by Surfenburg to experience Dragon's Revenge, the first uphill water coaster, while those looking to relax can float down the lazy river. 
Families will also appreciate the park's many kid-friendly rides, including the Kiddie Koast (in Surfenburg) with its pint-sized slides and splash pads.
Where to eat and drink at Schlitterbahn Waterpark
There are over 30 dining options for food to choose from inside Schlitterbahn Waterpark. Visitors can choose from their signature Big Bahn Burger at the Festhaus Grill to a half-pound foot-long chili cheese dog at the Lagoon Grill. There are lighter fare options such as salads and grilled options for park-goers to enjoy as well. Be sure to pick up a Schlitterbahn Souvenir bottle that comes with unlimited refills for those in your party with an unquenchable thirst. 
Looking for a great meal outside of Schlitterbahn? Head over to Muck and Fuss Craft Beer and Burger Bar which is only half a mile away from the park. There you can indulge in a Mango Habanero Burger and a wide selection of local craft beers. 
Where to stay at Schlitterbahn Waterpark
There are several options at the waterpark itself, such as the Resort at the Bahn or the Treehaus Luxury Suites, which are perfect for larger groups. 
A short walk away are lodging options like this condo at Twin River Villas, which gives you incredible proximity to the park and you'll also be just a few minutes from other attractions such as the Gruene, Texas, historic district. 
Hippie Hollow
On the shores of Lake Travis and on the outskirts of Austin is the only legal clothes optional public park in Texas. Hippie Hollow is over 100 acres of sacred ground for the adventurous and free-spirited and has become a Texas tradition over the years. It's an immensely popular spot for locals and out-of-towners alike and fills up fast on holiday weekends, so you'll want to get there early to claim your spot. 
Some visitors call it a "beach" but that's a bit of a stretch, seeing as it's a steep, rocky shoreline with just enough room to stretch out on a blanket and let it all hang out. Don't let it deter you, though. Hippie Hollow is a Texas rite of passage. 
There is a fee to enter the park, and you'll want to bring towels or yoga mats to sit on, plus your favorite pair of sneakers or water shoes for the rocky paths. It's an adult playground, so only those 18+ years of age or older can visit Hippie Hollow, but you can bring your favorite adult beverage. The rule to follow at Hippie Hollow: while nudity is acceptable, lewd behavior is not. 
What to do at Hippie Hollow
Once you hit the rocky shores of Hippie Hollow, feel free to drop your tops (and bottoms). Sunbathing and swimming are the major attractions at Hippie Hollow. Bring your inflatable rafts or inner tubes and relax the day away on the beautiful waters of Lake Travis. 
Downtown Austin is about half an hour away if you want to keep it weird and there are areas around Lake Travis to rent rides like jet skis or boats, but these are on different parts of the lake. So while you'll see boats bobbing about on the waters, you'll have to get dressed and leave the park to enjoy those attractions. 
In the evening, you can enjoy the dazzling Texas sunset, which will provide plenty of distraction while you apply aloe to your burned buns.
Where to eat and drink at Hippie Hollow
The Oasis on Lake Travis is one of the more popular places to dine and take in the spectacular views of Lake Travis. It's a multi-level restaurant that has become famous for its sunset tradition, including the Sunset Bell. It can get extremely busy on most weekends, so you'll want to plan accordingly. 
If you're looking for fewer frills, then you'll want to bring your crew to Rudy's Country Store and Bar-B-Q, which is less than 10 minutes from Hippie Hollow. Here you'll get your fill of brisket and ribs served up cafeteria-style in an indoor setting with picnic tables.
Where to stay at Hippie Hollow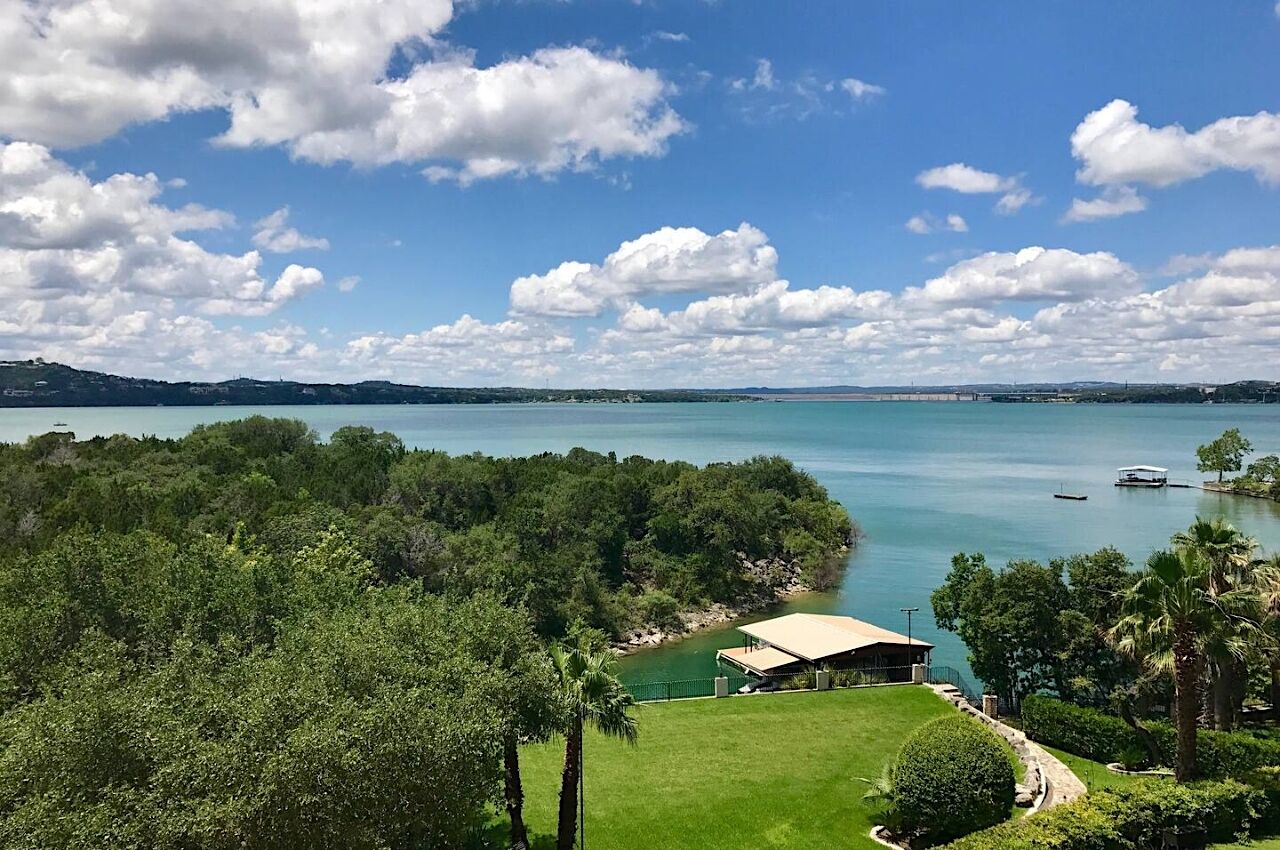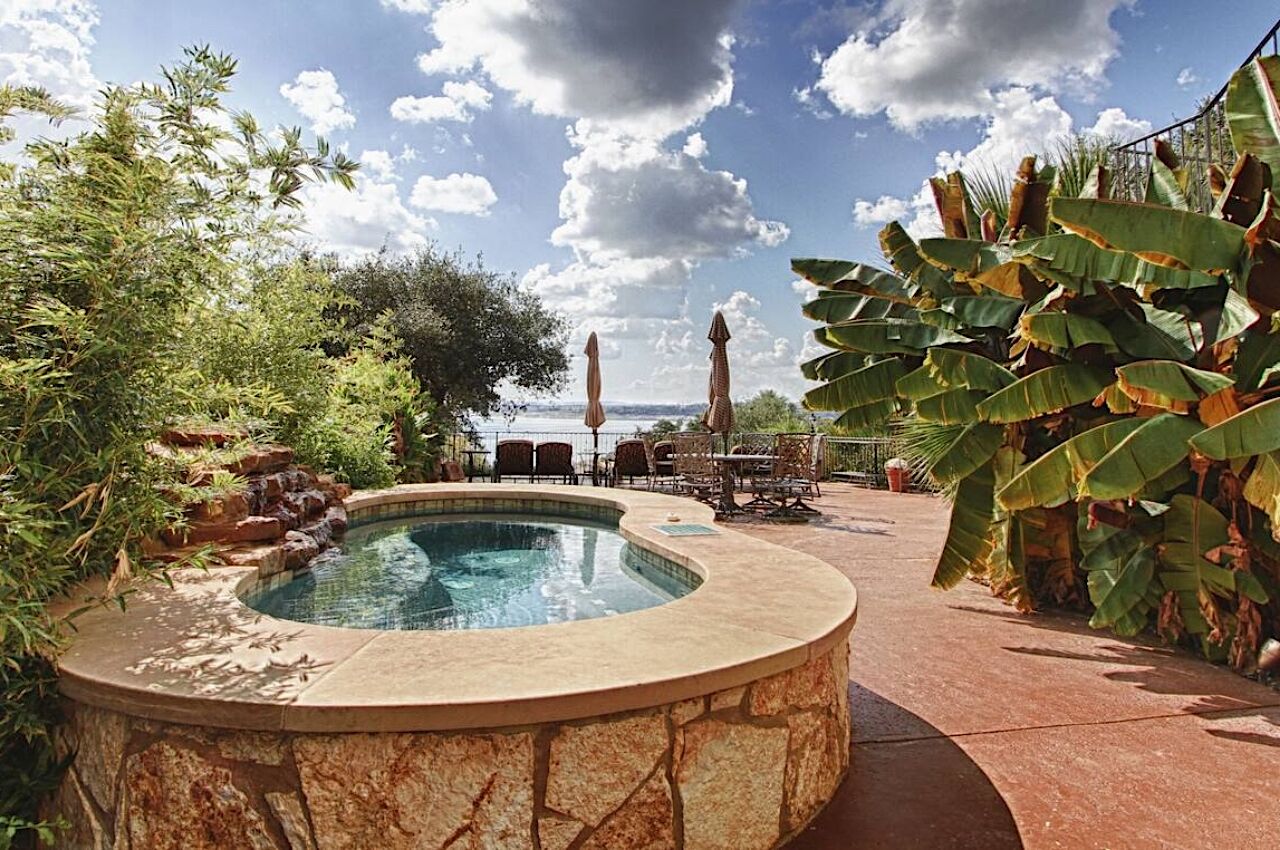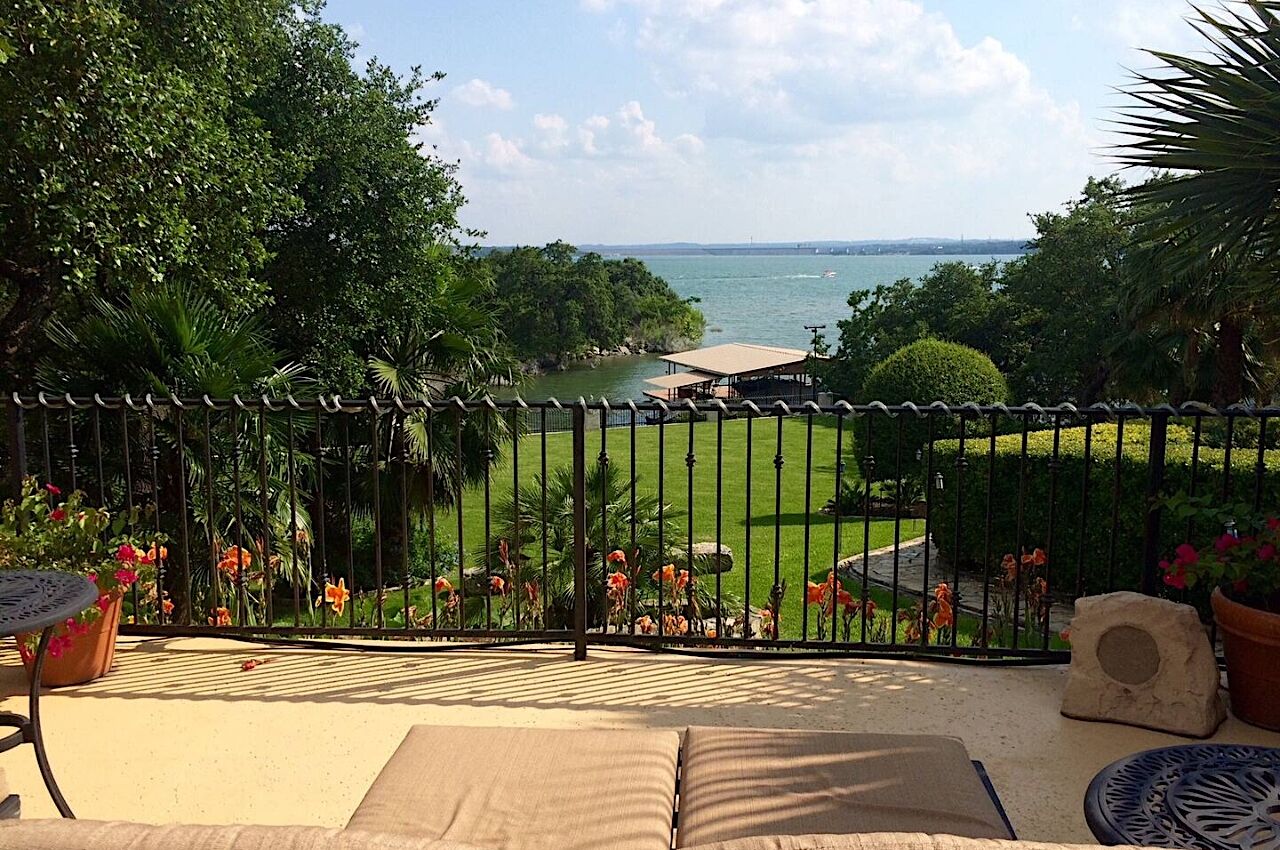 Have the run of the lake when your group stays at the Palms on Lake Travis guest house that's right on the water. It's private, gated, and high-end — just like your naked body. 
A short walk away from Hippie Hollow, you can relax in this Airbnb that features incredible views of the surrounding area and gives you a perfect home base for visiting Austin.
Barton Springs Pool
Barton Springs Pool is another treasure found in Austin. Underground springs feed this refreshing oasis and it maintains a year-round temperature of 68-70 degrees, making it the perfect place to escape the summer heat. 
The Barton Springs Pool is three acres in size, which gives visitors plenty of room to splash around whether they're swimming laps, floating on an inner tube, or practicing their diving skills.
Barton Springs Pool sits in a historic area called Zilker Park near the center of Austin, just off the Colorado River. The park itself is over 350-acres of botanical gardens, sports facilities, a community theater, and the Barton Springs Pool. During the year, multiple events are going on around the park, which makes it an all-day destination. 
Reservations aren't required for Barton Springs Pool, but the pool is closed for most of the day each Thursday for thorough cleaning. Entry passes are required after 8:00 AM on Tuesday, Friday, Saturday, and Sunday and can be purchased in person at entrance kiosks or through the ATXswims app.
What to do at Barton Springs Pool
Swimming, of course, is the highlight at Barton Springs Pool. The cool water makes a welcome relief from the tough Texas heat and humidity. Besides swimming, Barton Springs Pool also offers a variety of other activities, such as sunbathing on the grassy banks, picnicking in the shade, and hiking on the surrounding trails. There's also a diving board to show off your jackknife or belly flop skills.
Next to the pool bathhouse is a free indoor exhibit called Splash! where visitors can learn about the history and make-up of Barton Springs and the Edwards Aquifer, which feeds it. If you have young travelers who are interested in science or history, then this is a great way to break up the day and inject fun, important talking points into the trip. 
If you're visiting Barton Springs between March and October, check out Zilker Hillside Theater, where audiences can take in a Shakespearian drama or sing along to a lively musical in professional quality community productions. It's free to watch any of the performances or cultural events held at Zilker Hillside Theater, but you'll want to get there early with your lawn chairs or blankets to get the best seats.
Where to eat and drink at Barton Springs Pool
For the adults in your group who are sunburned but ready to get toasted, take the quick walk from Zilker Park to the Barton Springs Saloon. The "B.S. Saloon" as locals often refer to it, is a no-frills, hot queso, ice-cold beer kind of place with a happy hour that goes from noon until 6:00 PM during the week. 
If you need a more traditional family option, then Sandy's is the place. Sandy's Old Fashioned Hamburgers has been an Austin landmark since 1946. Get a tasty burger or hotdog and top the evening off with a chocolate-dipped cone or a root beer float. 
Where to stay at Barton Springs Pool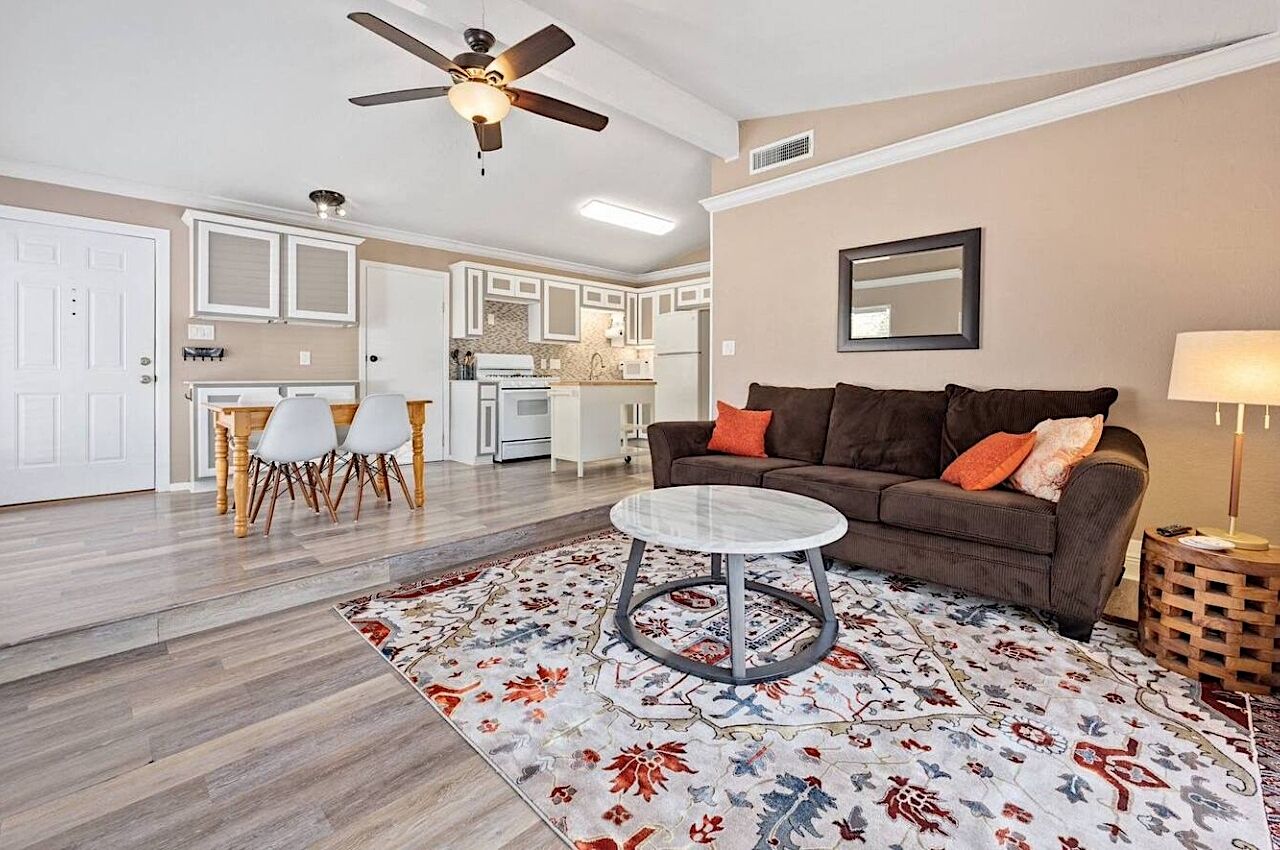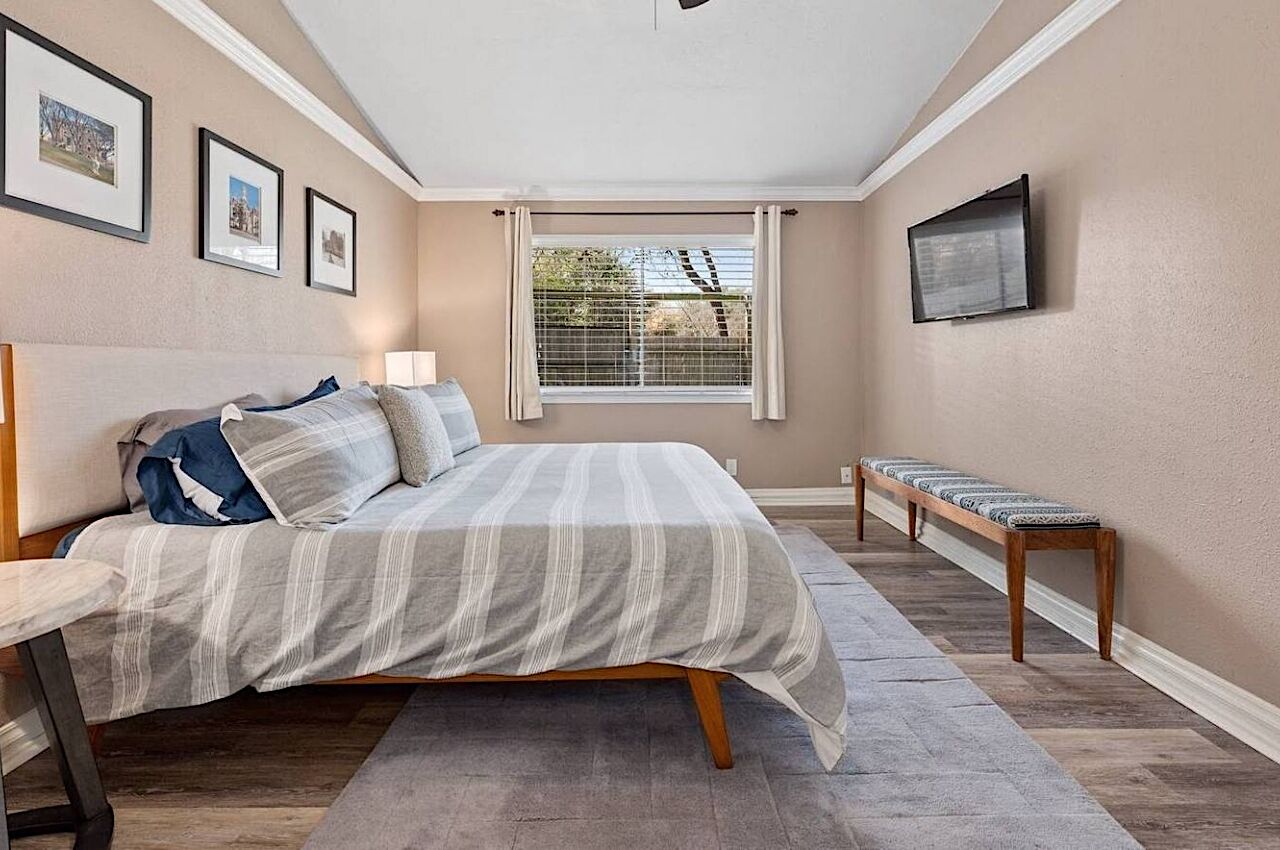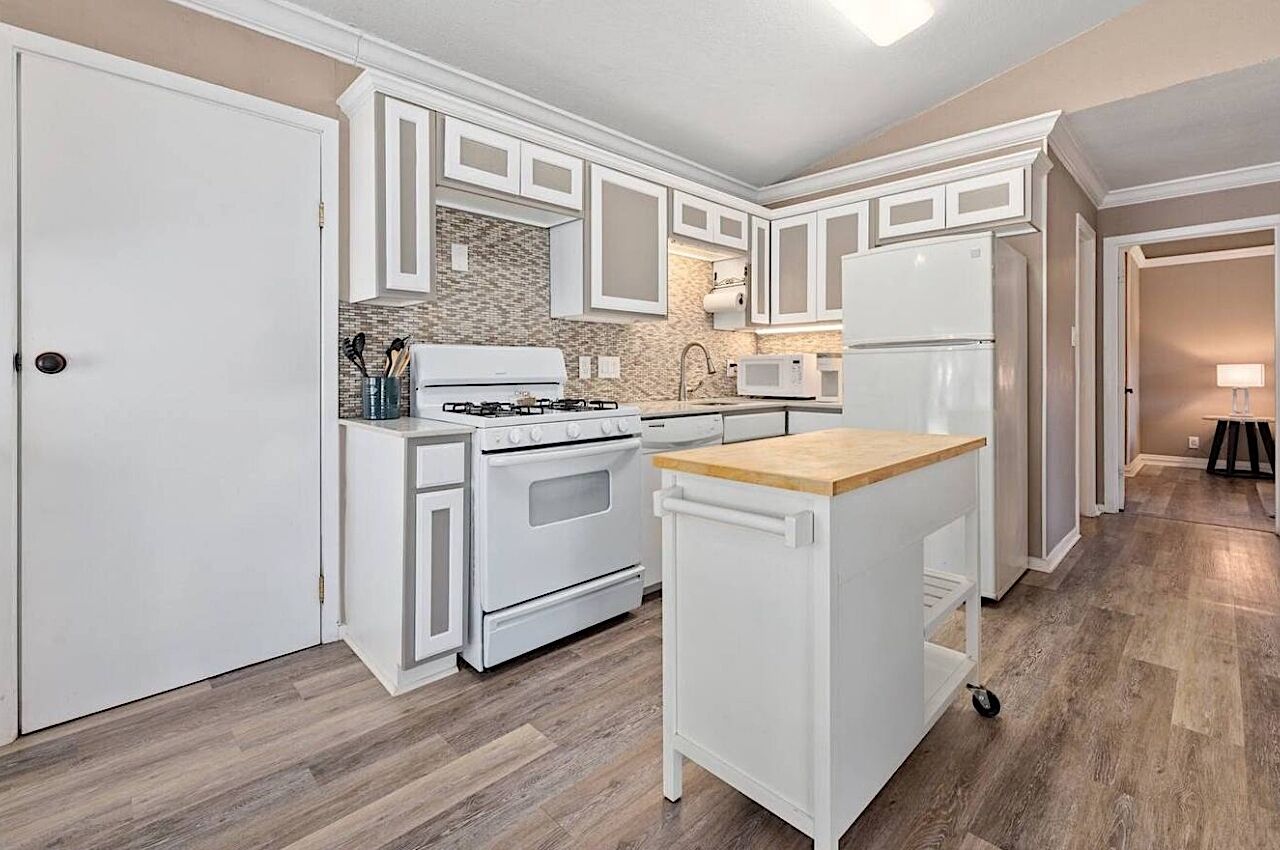 You can't get much closer to Barton Springs Pool than this house dubbed "The Gateway to Zilker." Along with the iconic pool, you'll also be a short distance away from downtown Austin, the South Lamar District, and Lady Bird Lake. 
If you need a more intimate setting while still within walking distance of local attractions, try this apartment. It comes fully stocked and even on the nights you just want to relax and stay in, you'll have the Austin skyline as your backdrop.
South Padre Island
You've probably heard of South Padre Island. It's famous (or infamous) for its popularity with college kids on spring break. The beautiful beaches, stunning sunsets, and overall "island-time" vibe attract nearly five million visitors a year to the tiny strip of island just north of the southern border of the United States. 
Be sure to set your GPS to "South Padre Island" as the northern part of the 113-mile long island is known as the Padre Island National Seashore. A beautiful place, for sure, but not the same energy.
The Queen Isabella Causeway connects the mainland to the southern tip of the island referred to by Texans as the "Texas Riveria" because it entices travelers from all around the world to its sandy shores. Once you pass over the Laguna Madre to South Padre Island (translated: mother lake, father island), you'll want to kick off your shoes, throw on your shades, and set your phone to 'do not disturb' because you're officially on vacation.
What to do at South Padre Island
Drive along the beach, layout with a few towels, and soak up the sun. You can play in the water, or hike along the nature trails. There are water activities like parasailing, jet-skiing, and tubing available. It's totally up to you. Whichever way you like to unwind and let the stress of everyday life melt away. 
Families with younger travelers will want to head to the popular Beach Park at Isla Blanca. The whole family will have a great time on the bodyboard ride "The Surf Rider", or the uphill water coaster called "The Storm Chaser." Most importantly for parents is Bob's Float-In Bar which will make you the delicious adult beverage of your choice.
Right before you take the causeway from the mainland, you'll see the historic Port Isabel Lighthouse. Built in 1852, the lighthouse's thick walls have withstood the test of time, weathering thunderous storms and hurricanes and involvement in the Civil War where both Confederate and Union soldiers occupied the area at different points in time. Tickets are just a few dollars, and it's a great place to take photos and mix in a little history on your trip.
One of the most unique experiences while visiting South Padre Island is witnessing a SpaceX shuttle launch. In Brazos Island State Park, just south of South Padre, you'll find the home of Elon Musk's spacefaring venture SpaceX. Time your travels correctly and you can get a front-row seat to the best air show this side of Cape Canaveral.
Where to eat and drink at South Padre Island
Ceviche Ceviche is an island tradition. It's the best place for mouth-watering — wait for it — ceviche. Ceviche is an island favorite and this is the best place to enjoy the dish.
Get some of the freshest seafood dishes and dazzling views by visiting Painted Marlin Grille. The menu features favorites such as crab cakes, blackened ahi tuna, and the Big Ol' Chargrilled Cheeseburger. Grab a seat on the outdoor patio and enjoy the sunset. 
Where to stay at South Padre Island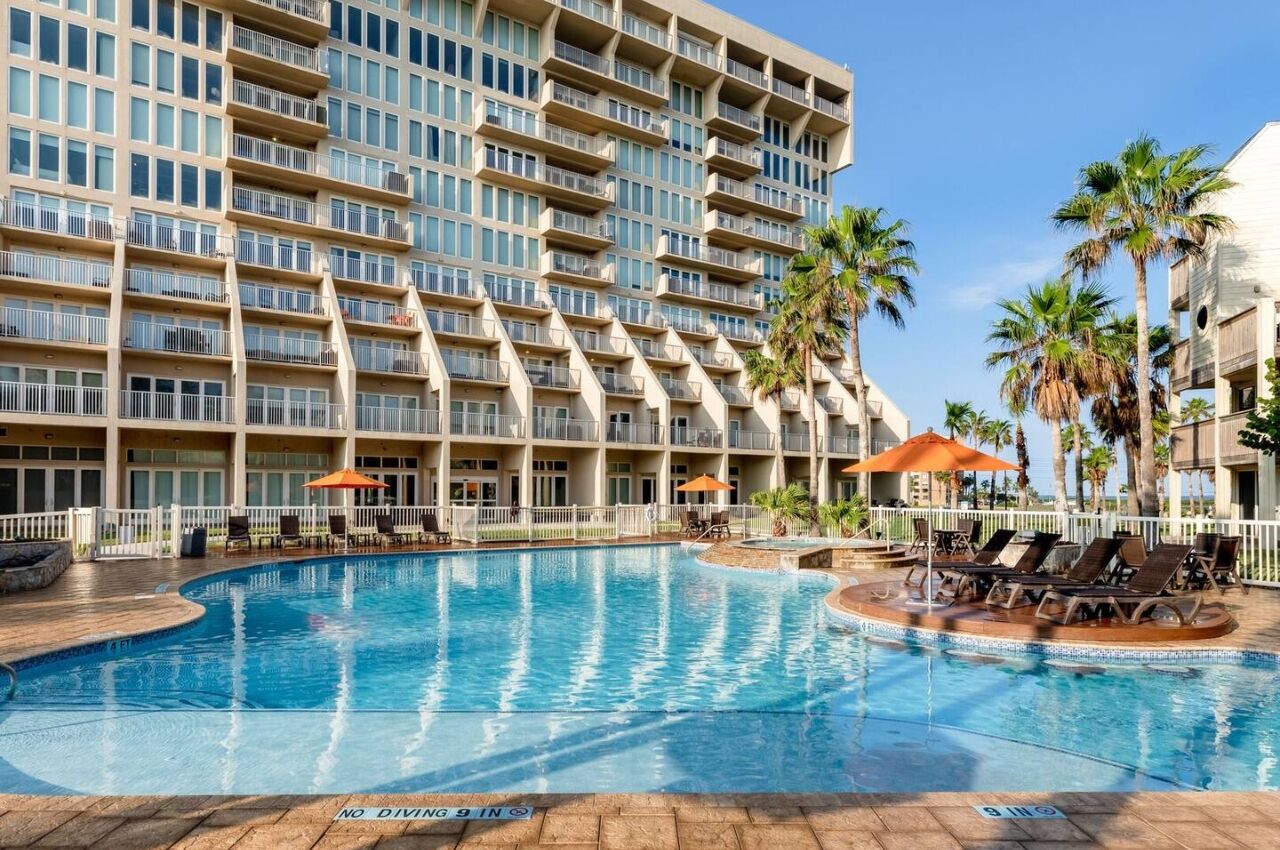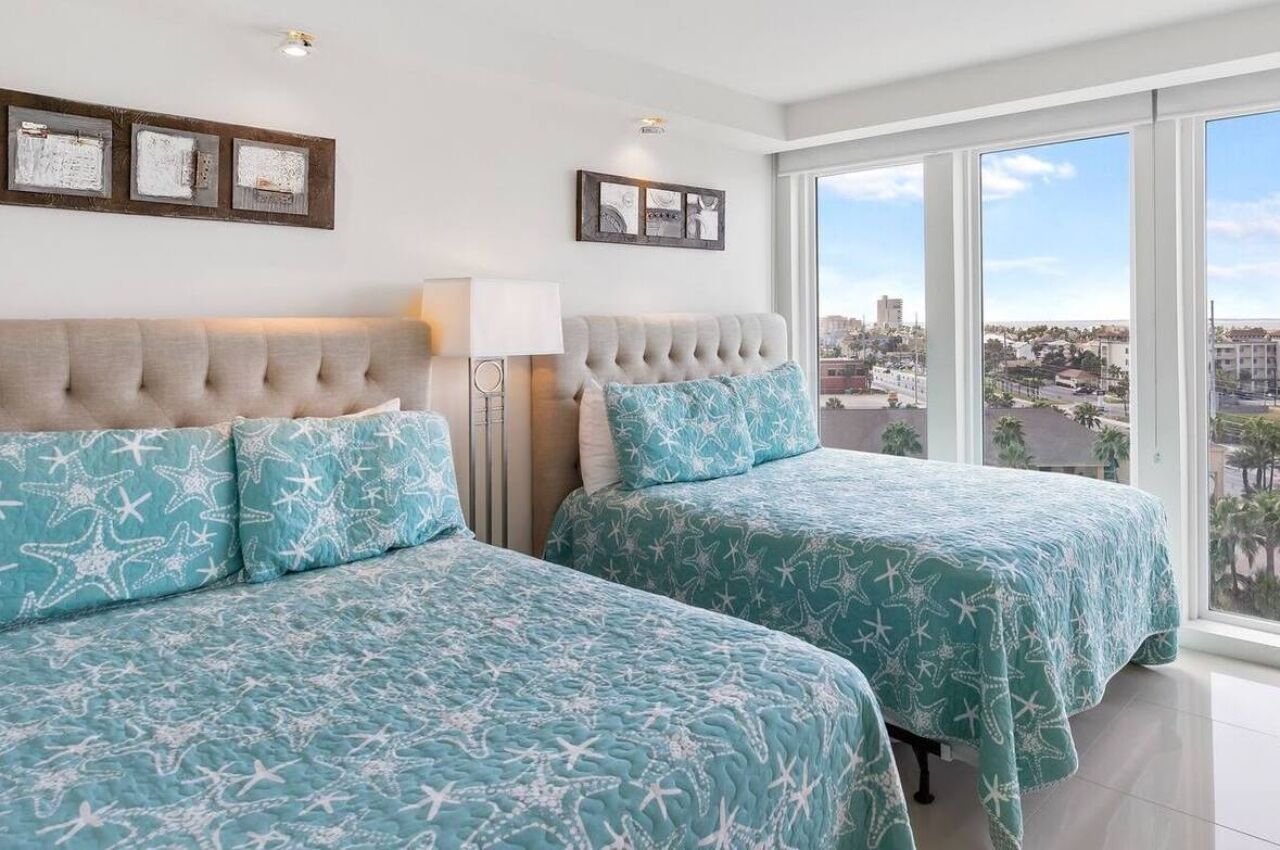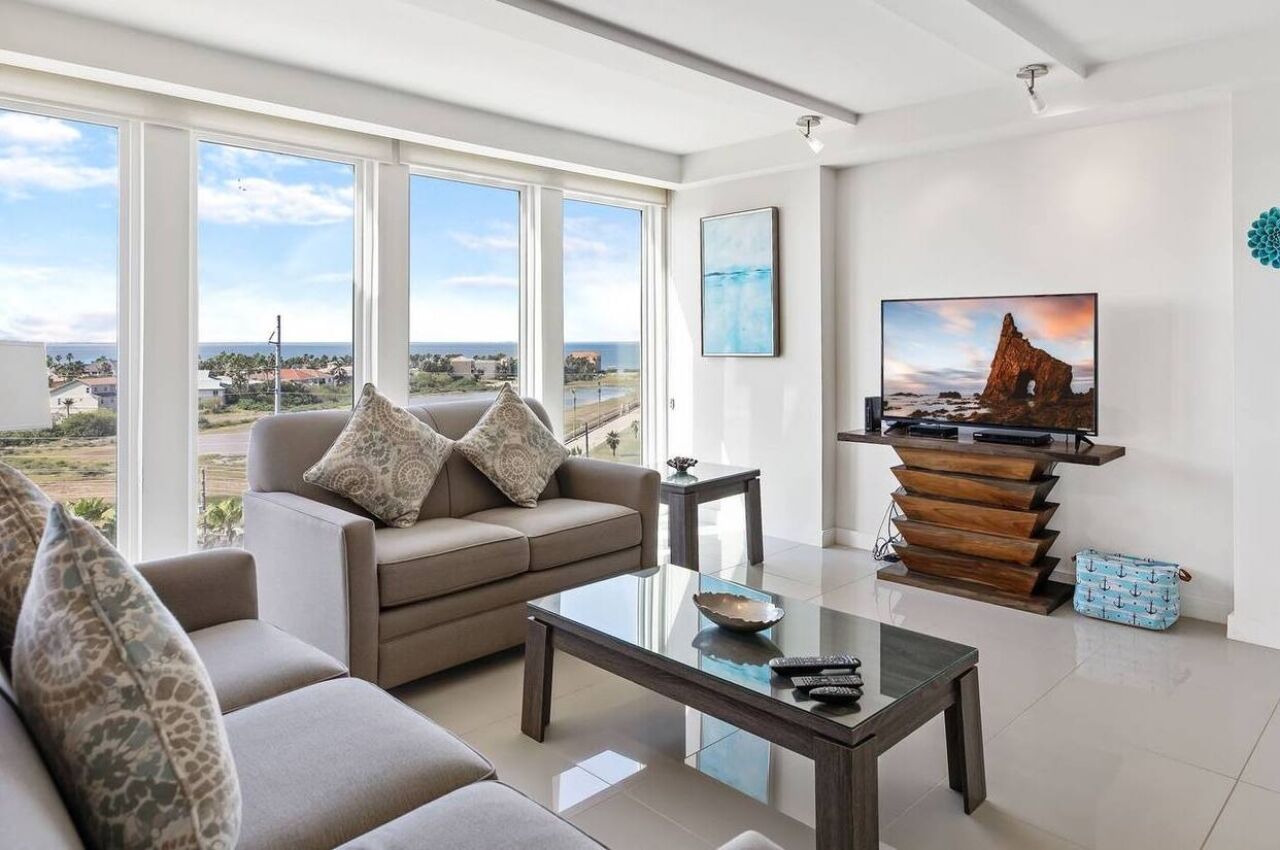 Your group will love you for picking out this condo with incredible bay views. It's in the middle of the island, it's close to everything, and the scenic pleasures are going to make you a popular person.
If you're traveling with several people in your crew, consider the Sapphire Condo. Not only does it have beach access, but you also have entry to a pool, movie room, game room, and world-class spa. 
Frio River at Concan
While the crowds pack the banks of the Guadalupe River in New Braunfels, Texas, for a summer of tubing adventures, the smart travelers head to Concan and the Frio River. 
While still a popular destination, the Frio River is usually less crowded while being less commercially overrun. 
What to do at Frio River
The Frio River runs center stage in this region, so whether you like tubing, swimming, fishing, bird watching or just letting nature guide you while you wander around, the Frio River has something for everyone. 
Bring your swimming shoes (the Frio River has a rocky bed) and head to Andy's on River Road. Get outfitted with everything you and your group will need to have a complete day on the river. 
Another popular option is Happy Hollow Frio River Outfitters. No reservations are required at Happy Hollow but be warned that it's first come first serve and the hotter more popular months can get busy.   
Nearby is Garner State Park where families can swim, hike, camp, canoe, or paddleboard. The entire crew can ride bikes or enjoy 16 miles of scenic trails throughout the park, then settle down for a picnic to top off the day. There are fees to enter, but admission is well worth the price. 
No trip to the Frio River at Concan is complete without witnessing The Frio Bat Flight. Book a tour for a truly once-in-a-lifetime event as millions of Mexican free-tailed bats ascend into the sky at sunset in search of dinner. 
Where to eat and drink at Frio River
Hippie Chic's River Shack is a fun bar and grill where you can sit and relax after a long day having fun on the river. They specialize in wood-fired pizzas and sandwiches, a tasty craft beer selection, and live music in a park-like atmosphere. 
Since 1926, family-owned and operated Neal's Dining Room has been serving classic comfort foods like fried chicken, bacon cheeseburgers, and all your breakfast favorites. As an added bonus, Neal's also offers lodges so you won't have very far to waddle once you're done with dinner. 
Where to stay at Frio River
The Log Cabin at River Road is for those traveling in a larger group. It sleeps up to 14 guests and is centrally located, giving you easy access to everything along the Frio River. 
River Road Cabin is cozy and sleeps up to 10 guests at a time. Eat outside under the stars every night thanks to the firepit and picnic tables.
Jacob's Well
Between Austin and San Antonio, Jacob's Well is a popular swimming and diving destination found just outside northwest Wimberley, Texas. It's a naturally occurring artesian spring that flows from the bed of Cypress Creek and features a visually stunning mouth or opening that is 12 feet in diameter. 
The spring sits on an area called Jacob's Well Natural Area, which is over 80 acres of land preserving the space from commercialization. It's the second-largest fully submerged cave in Texas and leads to an extensive underwater cave system that is 140 feet deep. 
The water stays a consistent 68 degrees year-round, so it's the perfect spot to cool off from the Texas heat. Reservations are required if you plan to swim and there are fees. Wearing your sneakers or swimming shoes for the nearly 15-minute walk from the parking lot to the swimming hole.
What to do at Jacob's Well
Swimming and a day of water fun are the principal attractions at Jacob's Well. The water hovers around 68 degrees, so you'll get a nice chill on those hot Texas days that reach triple digits on the thermostat.
If you want to explore Jacob's Well Natural Area guided tours are available and are free to the public on Saturdays from October to April. Tours are not in service in the summer months. Ain't nobody got time for that stuff in the heat of summer. 
For the rest of your visit to Jacob's Well, consider visiting the sundial, birdwatch, hike the trails, try your hand at scenic photography, or take the little ones to the children's play area or the Loose Parts Play Area. 
Where to eat and drink at Jacob's Well
The Leaning Pear offers Hill Country-inspired cuisine for hungry travelers, including fried Brussel sprouts, wood-fired pizzas, and Bavarian pork roast.
One of the best and unique bars you'll ever spill wine at, The Shady Llama lets your finish your visit with delicious local craft brews, exceptional wines, and tasty crafted cocktails. Here you'll also meet the llamas and donkeys that roam the acreage.
Where to stay at Jacob's Well
The Sundance Cabin at Jacob's Well Acres is perfect for a romantic getaway to Texas Hill Country. It's a private retreat that shares a border with the Jacob's Well Natural Area.
You and your guests have the run of this entire quaint little home that is a fourth of a mile from Jacob's Well and just a few minutes from the Wimberley town square.
Balmorhea State Park
Out in West Texas, among the sand dunes and prairie dogs lies a state park that you wouldn't even notice if it weren't for the few signs on the interstate. Balmorhea State Park is set off and away from Interstate 10 that runs through Texas, and given that it's only 45 acres, we wouldn't blame you if you thought little of it. 
You would be wrong to dismiss this desert park because it's an oasis. Water from the San Solomon Springs feeds the pool at Balmorhea State Park, creating a crystal clear 25 feet deep, 1.3-acre pool visitors can enjoy. 
Built by the Civilian Conservation Corps in the 1930s, over 15 million gallons of water emanate from the springs where the water stays in the 70-degree range throughout the season. It's also home to several desert fish, birds, and assorted wildlife and fauna, including the endangered Pecos gambusia and the Comanche Springs pupfish.
Yes, here at Balmorhea State Park you'll swim with the fishes in the middle of a desert, so pack up the Winnebago and head out for a truly unique West Texas experience.
What to do at Balmorhea State Park
The pool at Balmorhea State Park is 3.5 million gallons of water where you'll swim with and among the wildlife. Visitors can also scuba or skin dive, or snorkel if you bring your own gear. Seeing that the state park is in a very rural part of West Texas, you'll want to plan ahead as best you can because supplies can be very limited, but the park store has a limited supply of some products. The park also offers lodging and opportunities to camp as well as bird watching and geocache.
Where to eat and drink at Balmorhea State Park
The town of Balmorhea has several options for food and drink, with Matta's Burger Place being a popular option. It's a small place of business with a simple menu of burgers and fries, but out in the high desert, you really can't complain. 
La Cueva De Oso Restaurant offers travelers Southwestern and traditional Mexican fare like tacos, enchiladas, and chile rellenos.
Where to stay at Balmorhea State Park
The state park usually offers lodging but can close temporarily for renovations and cleanings. In Balmorhea, you can find clean beds and comfortable surroundings at The Eleven Inn or El Oso Flojo Lodge.  
In nearby Fort Davis, visitors can settle down in this cozy adobe home which is within walking distance of the town's main street. It also makes an excellent base for Big Bend National Park, which is just two hours away.
Fort Worth Water Gardens
Designed by storied architect Philip Johnson, the Fort Worth Water Gardens are an engineering marvel and are often described as a cooling oasis in the concrete jungle. The urban park is a shaded refuge where visitors can observe Mother Nature, even in the middle of a crowded, bustling city. 
What to do at Fort Worth Water Gardens
The Fort Worth Water Gardens feature three main areas: the quiet pool, the aerating pool, and the active pool. 
The quiet pool is surrounded by Cypress trees and imposing walls that are covered by a sliver of water that pours straight down into a majestic blue pool below. The aerating pool features a multitude of illuminated spray fountains that dance around the pool area. 
The major attraction for most visitors is the active pool. Water crashes down nearly 40 feet of steps and terraces to a small pool at the bottom.
Lake Sam Rayburn
Lake Sam Rayburn is a reservoir that lies in the heart of the East Texas Piney Woods, roughly 70 miles north of Beaumont, Texas. The lake not only helps with flood control but also provides hydroelectric power generation and water conservation. Lake Sam Rayburn is the largest lake wholly within the state of Texas.
The lake is named after Samuel Rayburn, the longest-serving Speaker in House history (17 years), who served 48 years in the House of Representatives and was a champion of soil and water conservation. It's only fitting that this lake, named after such a champion for conservation, is the East Texas outdoor playground for so many enthusiasts.
What to do at Lake Sam Rayburn
For beating those sometimes oppressive Texas heat months, then you're going to want to stay in the water and make use of Lake Sam Rayburn's watersport options. Bring your own boat or rent one for water skiing or wakeboarding. Younger travelers will enjoy being pulled along while they sit in an inner tube and take in the beautiful day. 
If you like the outdoors — but only as a friend — then head into Jasper, Texas, to Capelli Salon and Day Spa and get pampered while the others play in the water.
One of the biggest attractions for those who love fishing are the variety of fishing tournaments held throughout the year on Lake Sam Rayburn. Events like the Annual Reel United bass tournament or a host of others keep Sam Rayburn hopping all year long.
Where to eat and drink at Lake Sam Rayburn
The Hamburger Depot at Lake Sam Rayburn is the perfect way to end a day on the water. Chili cheese fries and a Depot Burger will no doubt go great with those adult beverages you downed at lunchtime like you were a freshman in college. 
The Eagle's Nest in nearby Zavalla is a popular breakfast, lunch, and dinner stop for hungry fishermen who are eager to get to the lake, or desperate to come up with a reason they missed the "big one" again this year.  
Where to stay at Lake Sam Rayburn
Lake Sam Rayburn is massive, so there are lodging options everywhere but for something right on the water try Honey's Hideaway. It's got two enormous decks to enjoy sunrises and sunsets. There's no cable or WiFi, so this is perfect for those really looking to "unplug."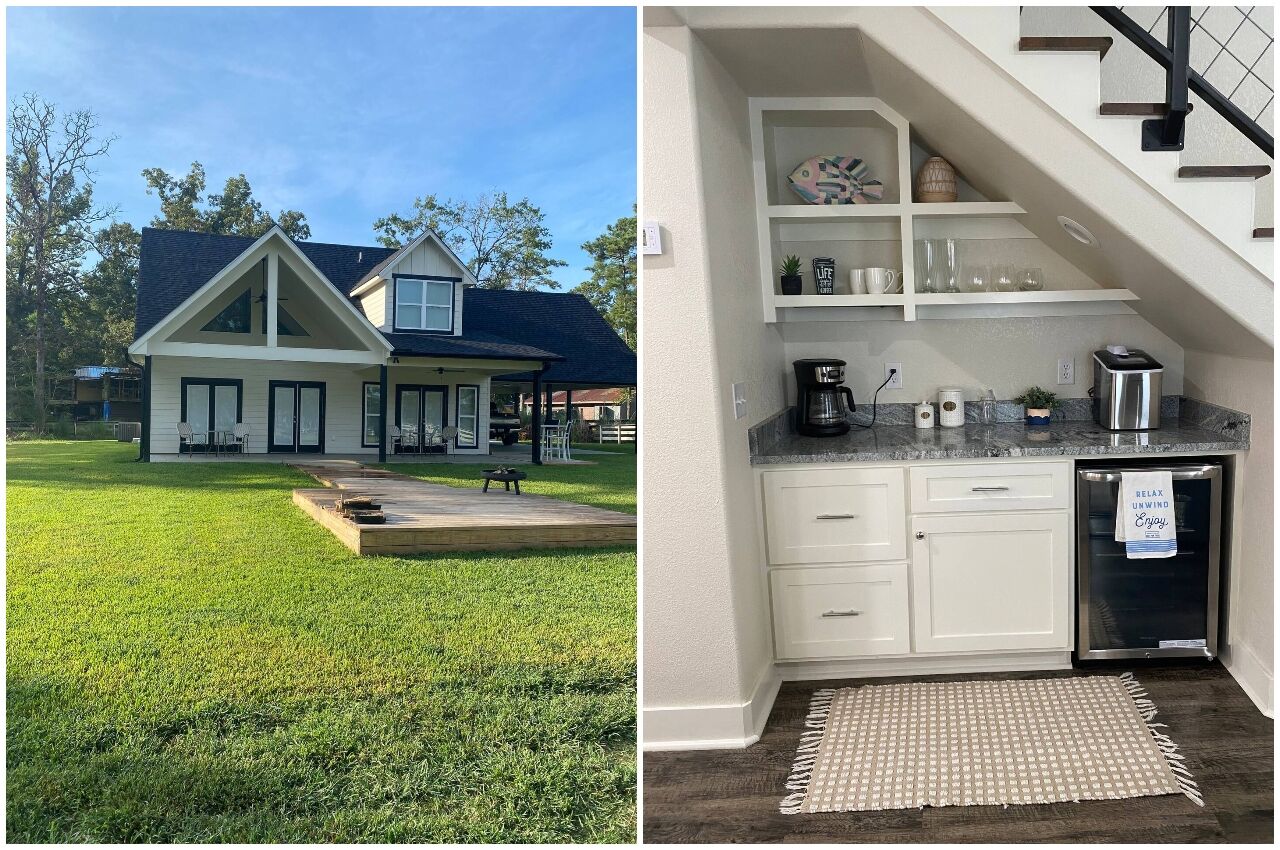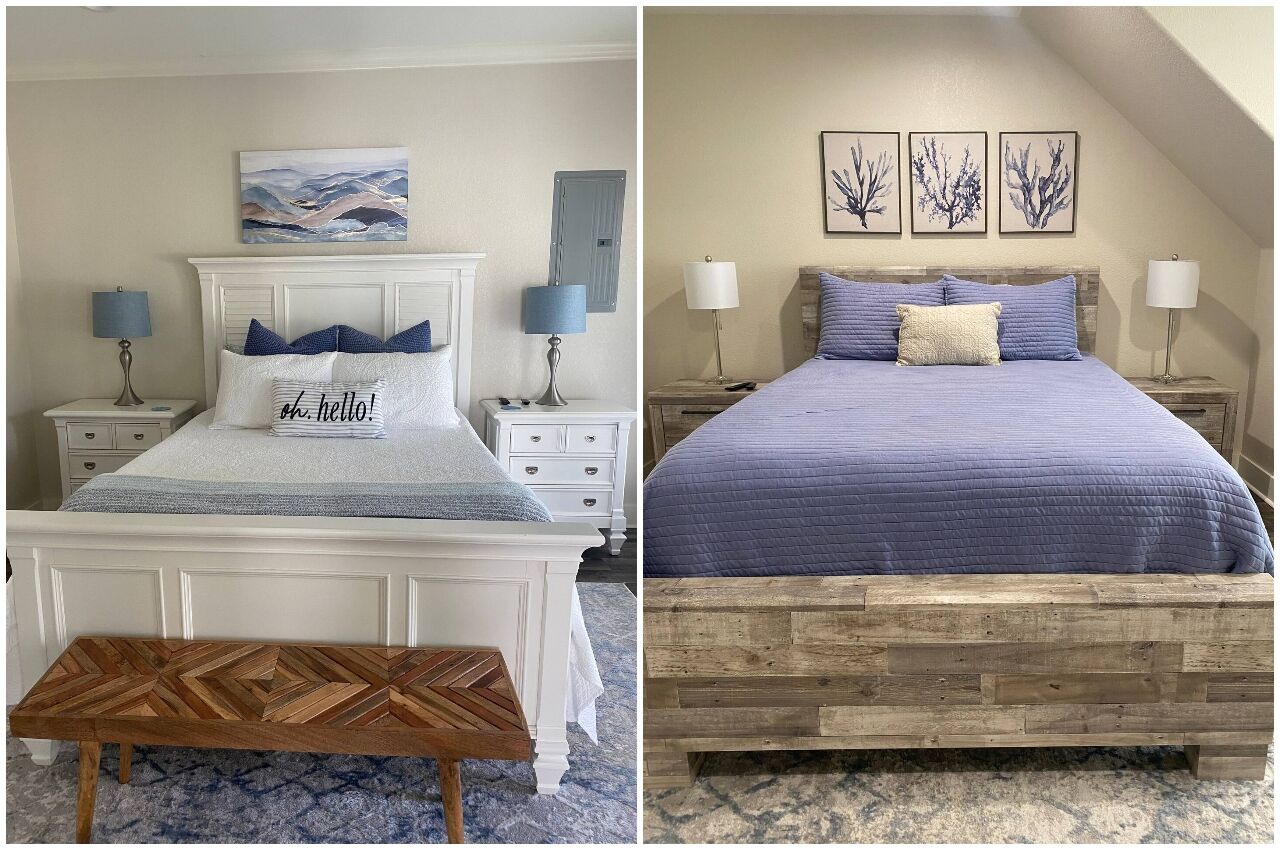 This waterfront option is big enough for 10 guests and features new construction. The home offers plenty of parking for boats and electricity at the dock for recharging batteries. 
Lake Texoma
Lake Texoma, or Texomaland as the locals call it, is a sprawling water playground for recreation devotees which is ringed by campgrounds, parks, wildlife refuges, and marinas. It sits on the Red River border between Texas and Oklahoma (hence the name) and attracts nearly six million visitors every year. 
A short drive from the Dallas-Fort Worth metroplex, Lake Texoma is a popular stop for city dwellers looking for relaxation and sandy shores. It's one of the largest reservoirs in the US and is another water conservation effort by Texas representative Sam Rayburn, along with area businessman George Moulton.
The lake itself is massive (surface area of 93,000 acres) so even when it's crowded in the hot Texas months, there's plenty of room for you and your friends. 
What to do at Lake Texoma
Not only are all the popular water activities available (swimming, boating, jet skiing, water skiing, wakeboarding) but intimate events like sunset cruises provided by Texoma Destinations will help you capture those one-of-a-kind Texas sunsets. 
If you want a bit of fun on dry land, try Eisenhower State Park on the lake just outside Denison, Texas. There you and your group can hike over four miles of scenic trails, fish, camp, and more. Eisenhower State Park is also ATV friendly in certain areas, so bring them along to complete the vacation. 
Where to eat and drink at Lake Texoma
Pelican's Landing Waterfront Restaurant is at Cedar Mills Marina and Resort, where you can catch beautiful lake vistas while relaxing in a casual atmosphere. 
If you're looking for a late-night watering hole then try a locals favorite in Anchor Up Club and Grill in nearby Pottsboro. It's open late for cold drinks, a round of billiards, and a bit to eat.
Where to stay at Lake Texoma
Perfectly suited for larger groups, this cabin in the woods sleeps up to 12 guests in four bedrooms and comes equipped with everything you need for a perfect vacation, including a giant grill for all your seafood catches.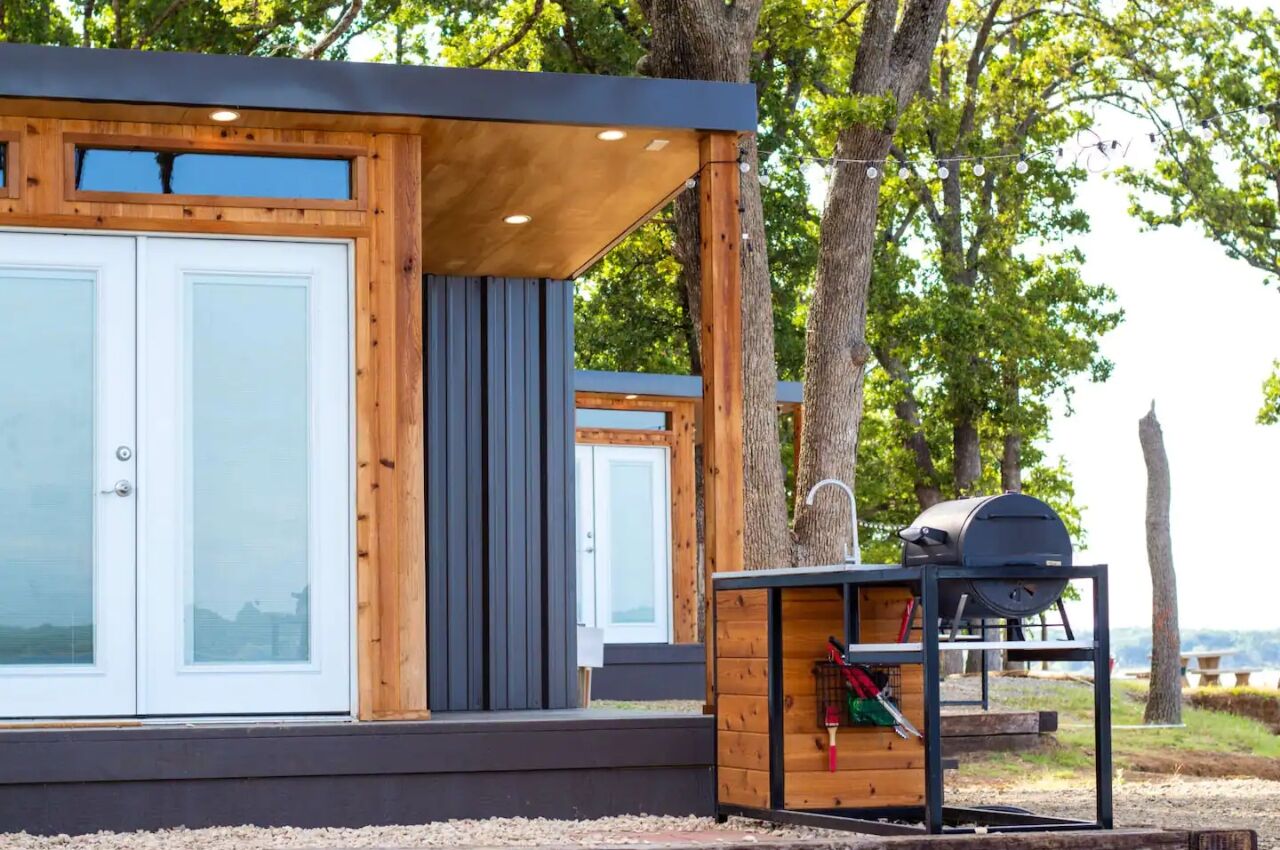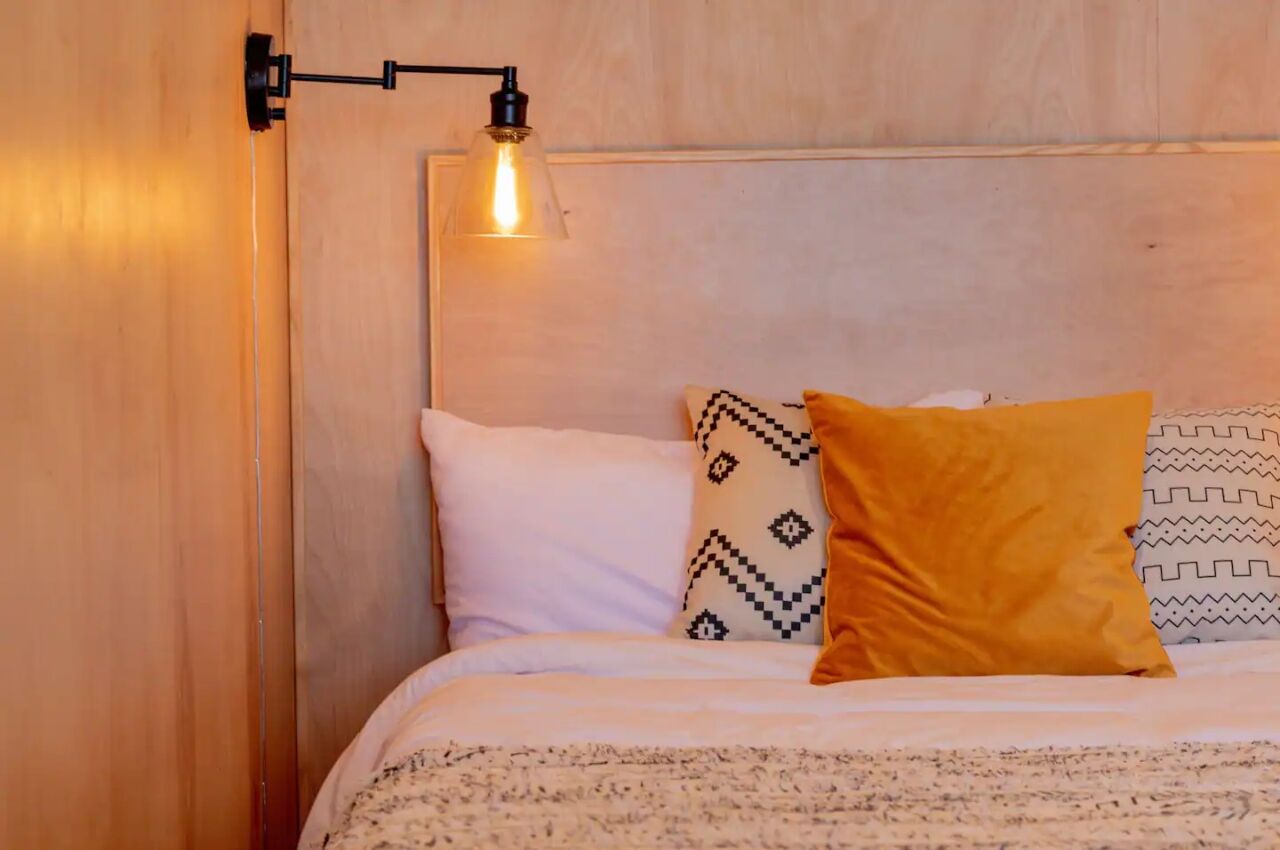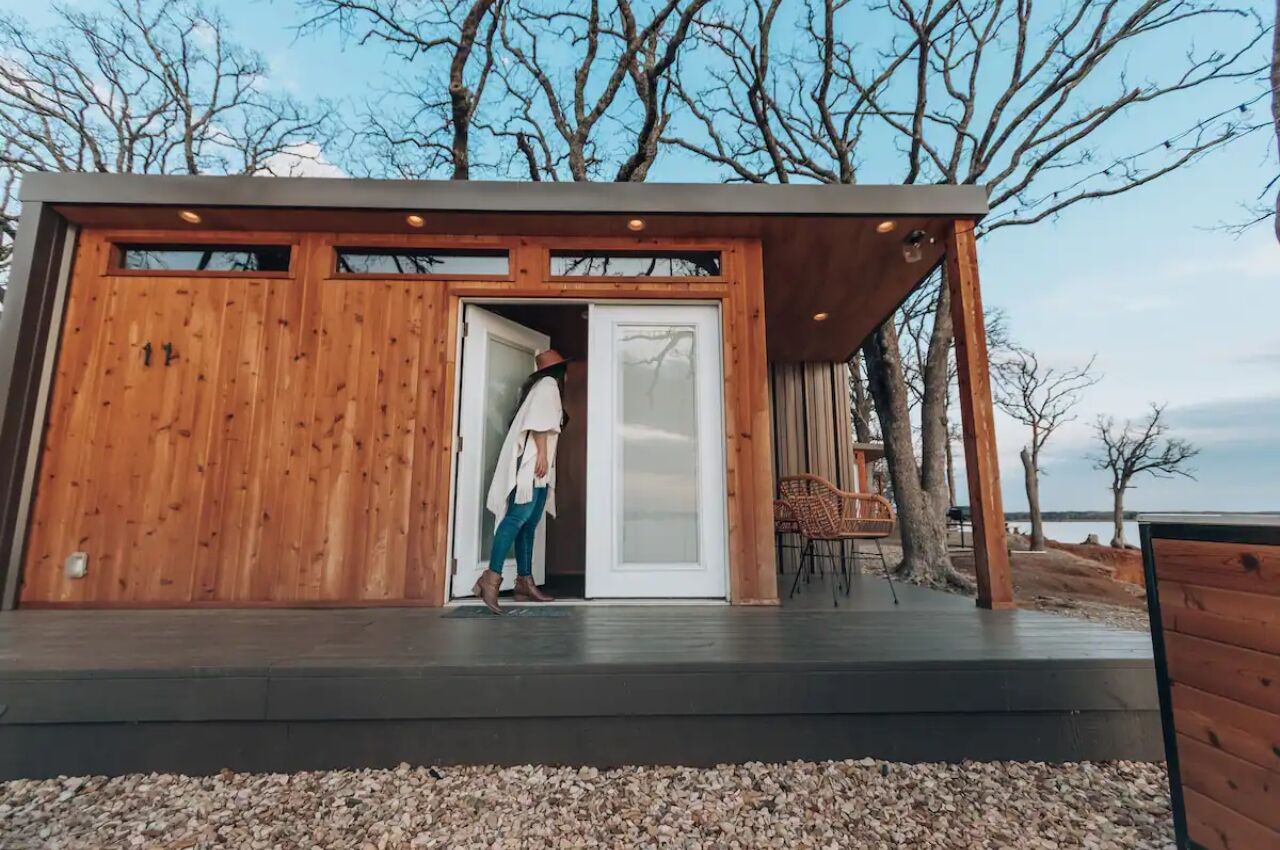 If you're not traveling with a group, then consider these stunning waterfront tiny homes that come standard with all the modern amenities (like USB charging stations) that you'll need, including a grill for your catch of the day.
What did you think of this story?