7 Surprising Ways To Enjoy the Water on Dominica
in paid partnership with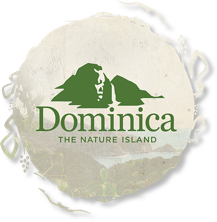 Think of your standard Caribbean island, and you'd probably bet money you could name the ways to enjoy the water there. You'd say surfing, lounging on the beach, jet skiing, snorkeling, maybe kiteboarding or parasailing.
None of those is on this list. Dominica, the Nature Island, is not your standard Caribbean island — and fittingly, here are seven incredible and incredibly nonstandard ways you can enjoy its warm, teal-blue waters.
1. Canyoning through a volcanic gorge
Imagine you're walking down a granite hallway, the hundred-foot-high walls smoothed from millennia of rainfall. The ceiling is missing, and sunlight filters down in rays like divine hands. A calm river runs along the floor, mossy boulders of various sizes blocking your path. You hit a spot where there used to be stairs, but now there's only falling water — a full story below you, it's splashing into a deep pool. Crabs scurry around your feet, and someone tells you to jump.
You do. Again and again and again until the river bottoms out. This is the art of canyoning, and it is wild. What's wilder? Everyone can do it. With good shoes, a life jacket, and a willingness to jump, you qualify.
Talk to the folks at Extreme Dominica to get started — they're the best in the biz. They'll get you outfitted, trained, and navigating Dominica's deepest gorges. (And if you need someone to hold your hand, they'll do that, too.)
2. Tubing down the Hampstead River
The family providing services on Batibou Beach also runs tours on the last section of the Hampstead River. When you're done lounging on the sand — and snarfing down Irma's food — ask about tubing. It's sort of like a speakeasy right now; only those who know to ask can and do.
They'll hook you up with a guide, some inner tubes, and take you to an easy spot to put in. You'll float down the river's twists and turns, through the untouched jungle, all the while counting white egrets on the bends of coconut trees and trying not to run into any fallen flora. At the last moment, a cliff emerges to your left, and then you see it, your endpoint: the Atlantic Ocean.
3. Kayaking to a private beach…
Stay at Secret Bay, and your opportunities for water adventures sans other humans just exploded. One of the absolute must-dos is kayaking + lunch on their private beach. It's even better than it sounds.
Paddle into the hidden cove and a picnic spread will be waiting for you on the sand. The beach will be empty, and the watermelon juice will be fresh. Lunch might be something like pulled-pork poke bowls, and remember this: Secret Bay's food is as good as its views. You're in for a real treat.
4. …and navigating sea caves
Also at Secret Bay, let them know you'd like to check out their sea caves. They'll alert you when the tide is right for the experience — it has to be at its lowest to make the caves both safe and accessible.
Your guide, probably Donna, will lead you into the caves for some light scrambling. Soon enough, you'll find yourself sometimes walking, sometimes crouching, sometimes army-crawling into hidden cubbies, hidden corners, and hidden rooms. Don't take too long, though — the tide always comes back in.
5. Fighting on the ocean's behalf (with a spear)
…aka lionfishing. This invasive species is wreaking havoc across oceans far from its native Indo-Pacific, altering habitats, impacting coral reefs, and driving other species (both plant and animal) to extinction. If you want to go fishing, lionfishing is a solid choice. What's more, they're quite tasty!
But this isn't a normal day's work with rod and reel. Lionfish have venomous spines, and since they're slow-moving, they're best caught by spearfishing. You'll need an expert guide, but they'll show you the ropes and give you a chance to have a go yourself. The secret? Get within inches of the fish, get closer, and strike. (Yeah, they're that slow.) If you're interested, most guides will help you turn your catch into a meal.
6. Scuba diving in "champagne"
Just south of Roseau, Dominica's capital, the Earth is still bubbling. Lest we forget, Dominica is a relatively young volcanic island, and Champagne Reef is just one reminder. Here, geothermal springs send bubbles to the surface, like a glass of champagne that never empties.
Dive Dominica can get you there, with either a scuba setup or a snorkel. And don't write off diving if you've never been! You can take a discovery course and get right into those warm-water bubbles.
7. Boating down the Indian River
You've probably seen Pirates of the Caribbean: Dead Man's Chest. There's a scene with a creepy witch — do you remember it? She lives in a hut along a river, overgrown, dark, very eerie. Turns out that's Dominica's Indian River, and you can paddle down it just like Jack Sparrow.
Well, with a guide (try Cobra Tours). They'll take you in a rowboat into the jungle, down the slow-moving river, and — instead of dropping you off at the witch's hut — deposit you at the bush bar. Grab a seat, order a rum punch, and sit back. On this trip, you may feel cursed, but only with good luck.
What did you think of this story?