The 10 most artistic towns in America
---
by Amanda Machado
The towns on this list have stood out on the American landscape for decades, and continue to reinvent their artistic communities each year. These are places where old army bases are converted into galleries, abandoned strips malls into studios, and boarded-up homes into art residencies. In each place, inspiration is easily available, and a laid-back lifestyle gives you time to act on it. 
We picked these as the most artistic towns in the US based on the following criteria:
The scene is still relatively small (No New York or Los Angeles).
Emerging artists have access to a great quality of life at a low cost.
There is a strong community of visual artists, musicians, and filmmakers.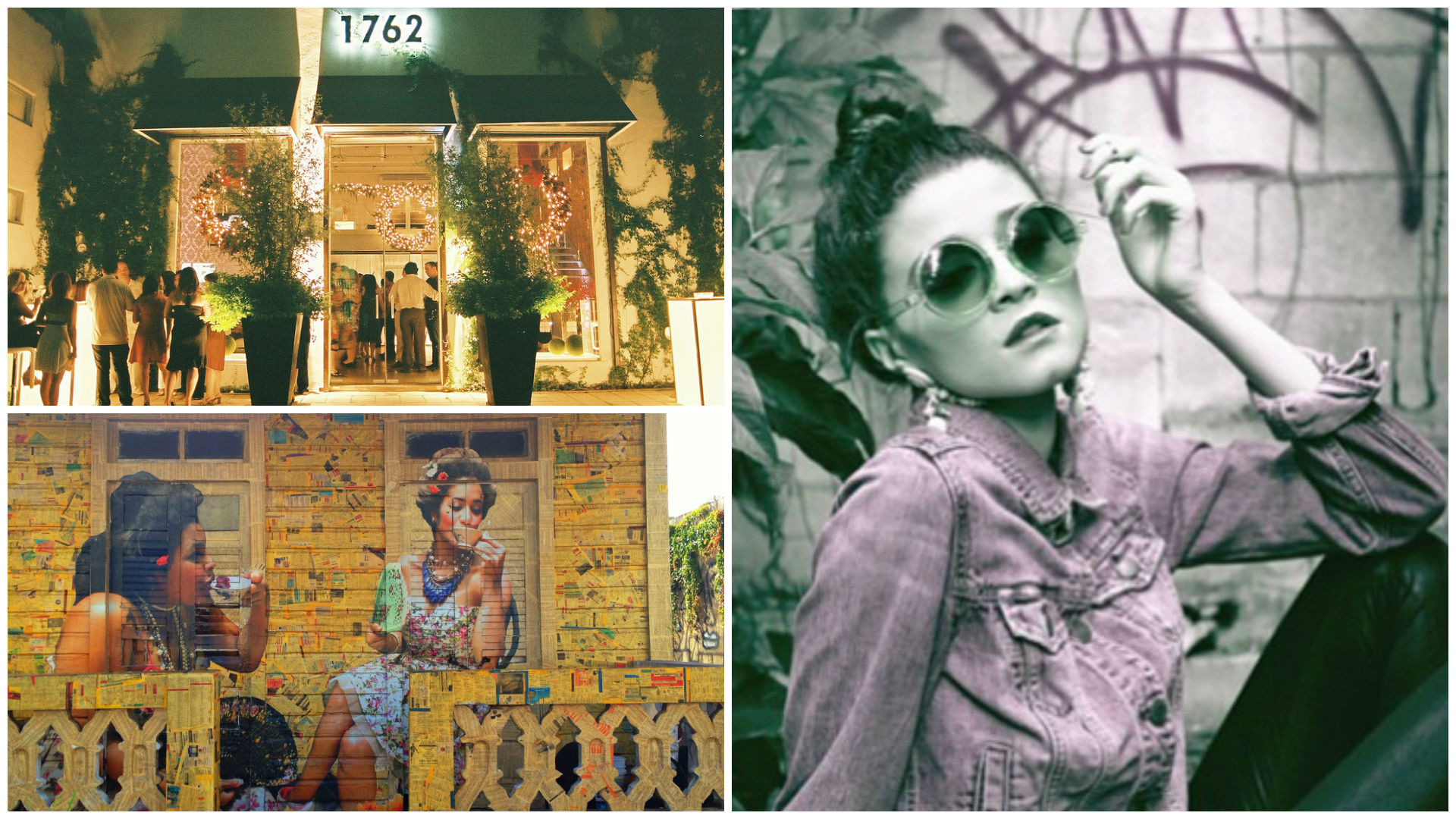 The Old San Juan district was the city's artistic home base for years, but these days, the Santurce neighborhood has gained more attention for its younger and grittier crowd. Bustle ranked San Juan third in its list of  "Best Cities for Young Artists" and art publisher Phaidon named it one of the Art Cities of the Future. Rent is reasonable (if you stay away from the beach), and with temperatures averaging in the 70s-80's no matter the season, it's one of few towns where the art scene can be experienced outdoors year-round.
Eats/Drinks
La Factoria serves craft cocktails with live music in Old San Juan, or go to Oceano for drinks right on the beach. Visit Casa Lola for gourmet criollo food, or eat at Los Pinos for 24/7 Carribbean food at budget prices.
Artsy spots
C787 Studios is dedicated to experimental design (exemplified with its walls covered in quirky t-shirts). La Respuesta hosts local indie band concerts in addition to its art exhibitions. Roberto Paradise has developed many young Puerto Rican artists into international stars, and has attracted art collectors to the Caribbean in the process. Espacio 1414 includes internationally renowned works from artists like Guillermo Kuitca (whose work is also on display at the Tate Modern in London and the Museum of Modern Art in New York).
Festival
Photos by (left to right): Dimaris Cruz and Luis Alvarez – Ebuscapé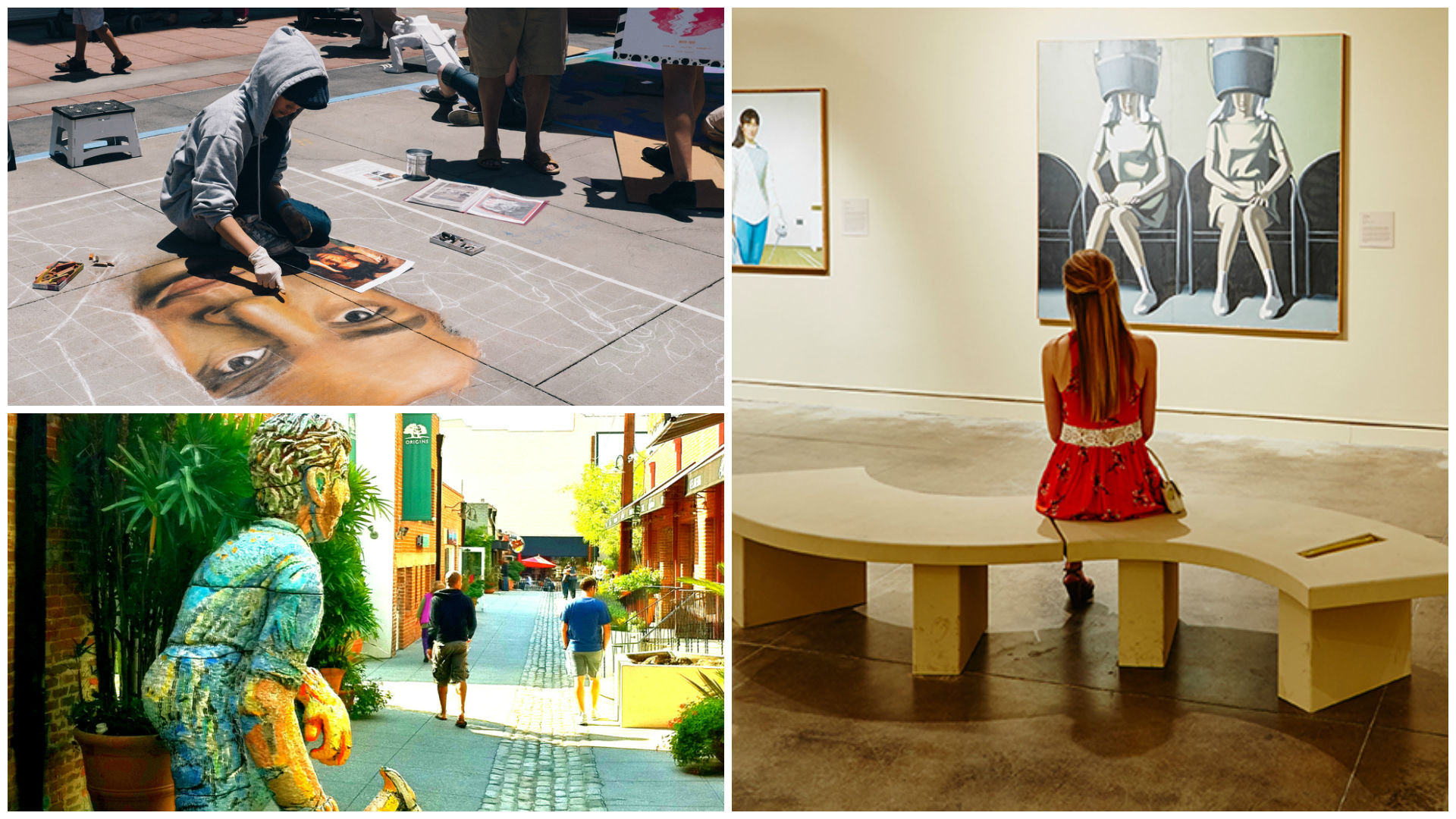 2. Pasadena, California
---
Unlike neighboring Los Angeles, Pasadena's art scene isn't built for tourists, or temporary visitors hopping from one trendy scene to the next. Instead, it's made for and by residents who truly care about art, and consider it a foundation for their community. With its array of artistic options — and a diverse population increasingly participating in every one — it's no wonder Sunset Magazine named Pasadena the Best Arts Town in the West this year.
Eats/Drinks
La Grande Orange Cafe is housed in the historic 1930's Del Mar Station. Pop Champagne Dessert Bar has the perfect ambiance for a date night. El Portal serves what many have called the town's best Yucatan Mexican food, margaritas, and assortment of tequilas.
Artsy Spots
Check out the Norton Simon Museum, USC Pacific Asia Museum, Pasadena Museum of California Art, and the Huntington Library and Art Collections. Visit the Wrigley Mansion or other nearby Craftsman homes for examples of historic architecture. The Art Center College of Design, the Los Angeles Children's Chorus, the Dance Conservatory of Pasadena and the Armory Center for the Arts all also provide great performances, workshops, and opportunities for young artists to practice their craft.
Festival/Events
Make Music Pasadena, the Pasadena Chalk Festival, and, of course, the Tournament of Roses Parade.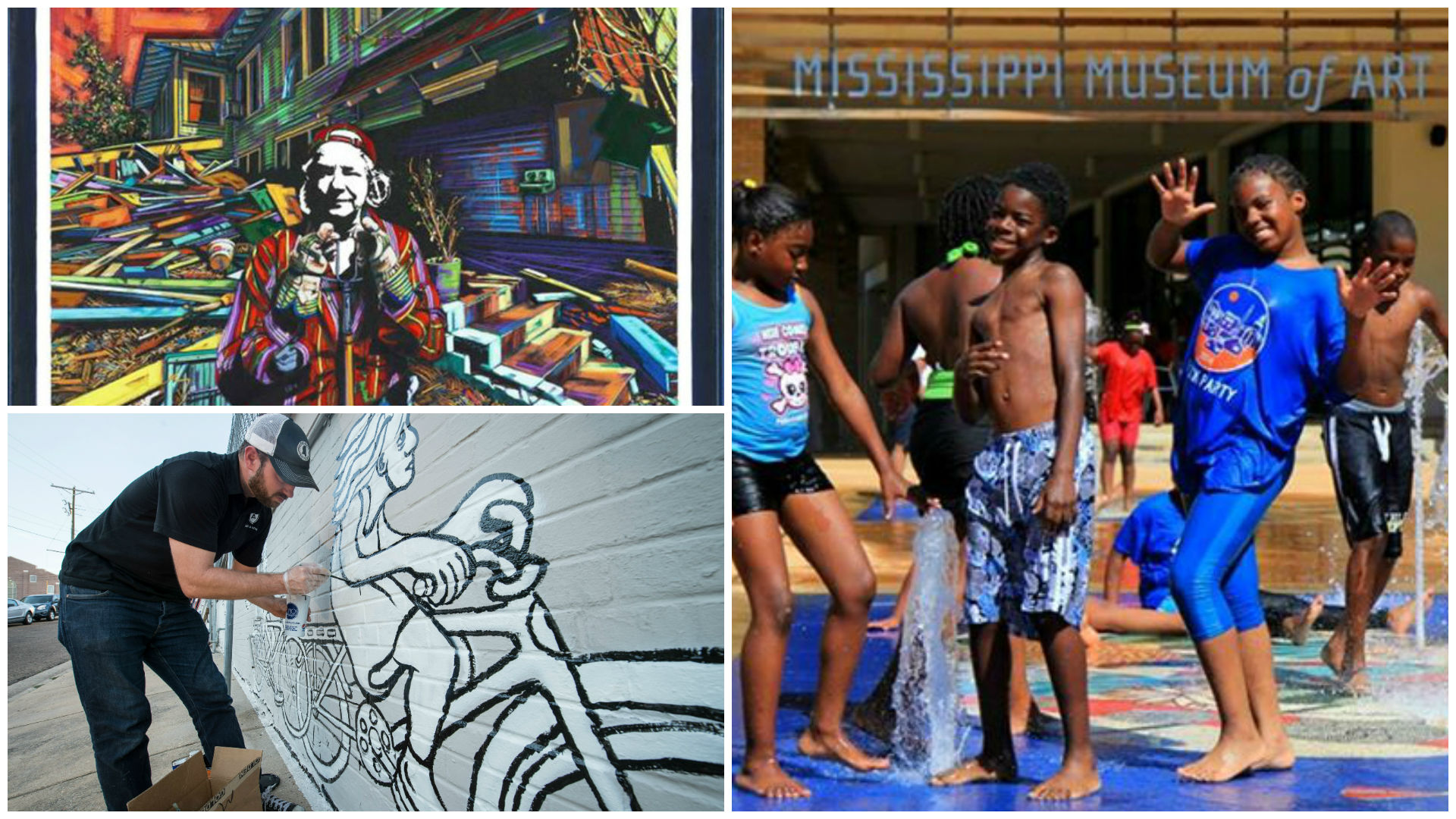 3. Jackson, Mississippi
---
A recent article in Citylab said Jackson might be "the best city for the next generation of artists." Across town, artists have begun converting warehouses, old boarded homes, abandoned strip malls, and even an old Bell South building into recording studios and performance spaces. As one artist in the article said "The artists here have a drive like no other, because we have to make something out of literally nothing."
The cost of living is low (some artists pay around $250 a month for 600 square feet) and the scene is still relatively small, making the community tight-knit and communal. City Council member Melvin Jackson called the city "a perfect place for a young person who feels lost in the crowd elsewhere."
Eats/Drinks
The chefs at Saltine and Walker's Drive-In are James Beard nominees. Or go to Pig & Pint for BBQ and craft beer, or Babalu Tacos and Tapas for great food in a renovated elementary school.  
Artsy spots
The Fondren and Midtown neighborhoods have particularly managed to attract young artsy types. Visit Fondren Art Gallery, or Fischer Gallery for contemporary southern art, or visit Southern Breeze Gallery  in nearby Ridgeland. The Mississippi Museum of Art is the largest art museum in the state (the community has supported the institution for more than a century). The Muslim museum is the first in the country to celebrate Islamic history and culture.  
Festival
Fondren hosts a giant block party every first Thursday with late-night gallery openings, live music  and live-art shows.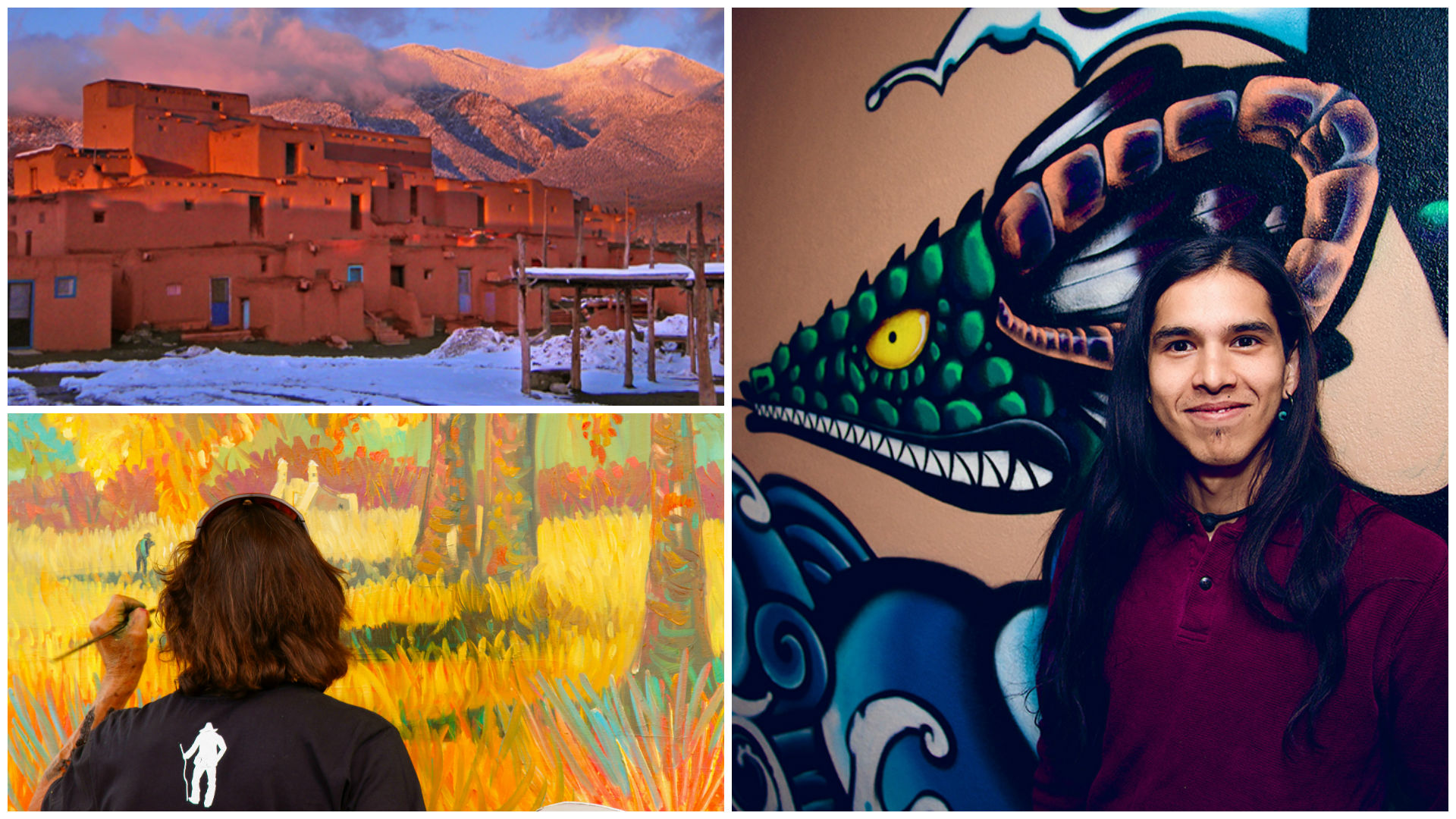 4. Taos, New Mexico
---
In the 1920's, benefactress Mabel Dodge Luhan devoted her wealth to helping painters, writers, photographers, and musicians settle here. And now they haven't left. Located in middle of the southern Rockies, Taos has the natural beauty that would inspire any artist to stay (Painters Ernest L. Blumenschein once said he'd never seen a place more beautiful than Taos).
The town has been a notable home to many famous artists in the past (Ansel Adams, Georgia O'Keeffe, Ralph Meyers and Nicolai Fechin, to name a few) and still attracts young artists from across the country with its ancient southwestern charm (Taos pueblo itself is over 1,000 years old) and an easy-going quality of life.
Eats/Drinks
Go to The Gorge Bar and Grill to eat with a view of Taos Plaza. Or visit Michael's Kitchen, Eskes Brewpub and Taos Mesa Brewery.
Artsy Spots
Taos Art Museum, the Ranch at Taos, Taos Artisans Cooperative Gallery, the Taos Center for the Arts, the Harwood Museum of Art, and the Millicent Rogers Museum.
Festival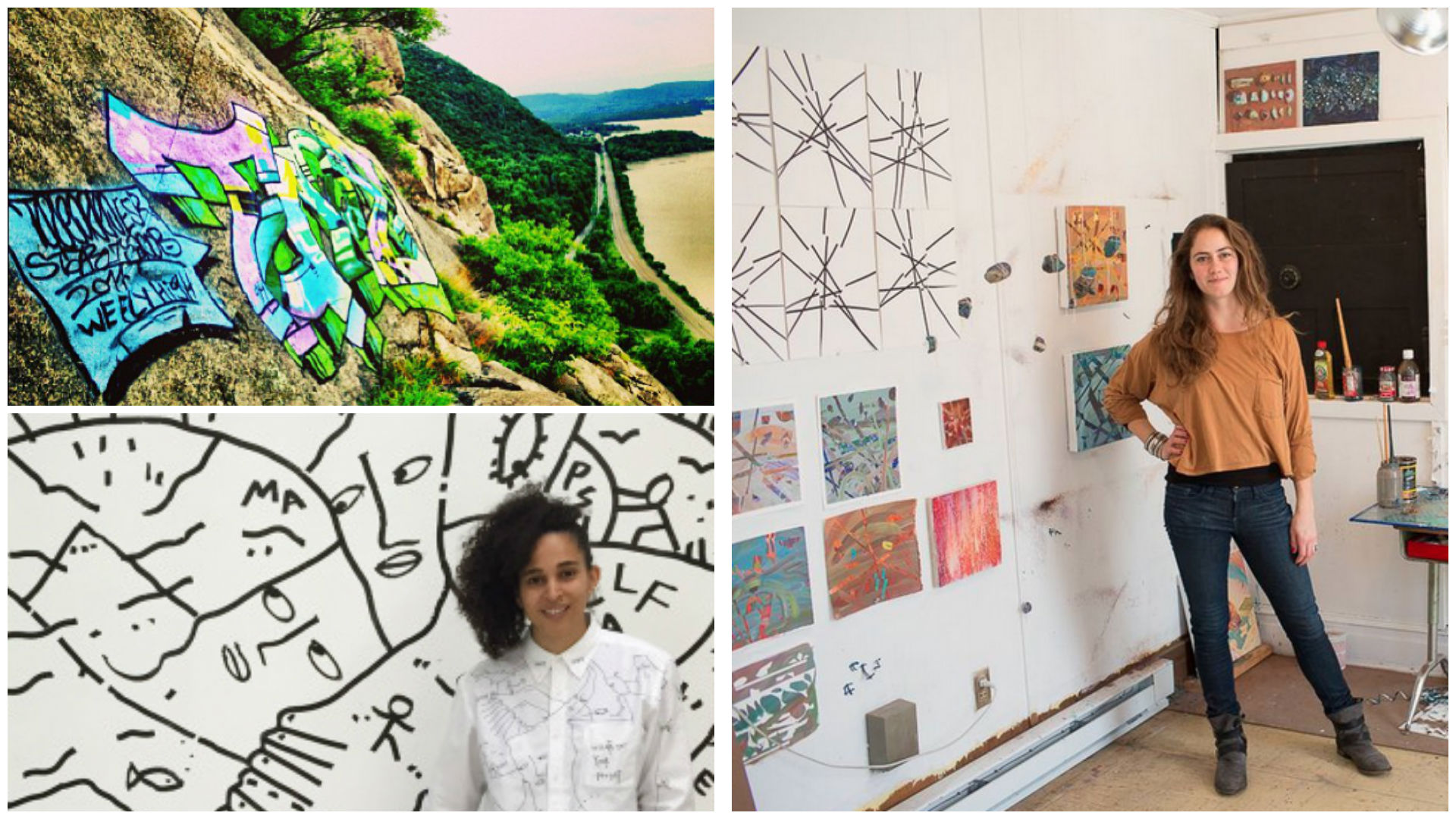 5. Hudson Valley, New York
---
In 2011, the New York Times called what was happening in Hudson a "Williamsburg-ification."  But unlike New York city, here you get the artsy vibe without the city grime. The area is home to the popular Marina Abramovic Institute and the famous Dia:Beacon. And it's gradually becoming home to several artists of every age and experience who have migrated from the big city in search of a creative, but less hectic, lifestyle.
Eats/Drinks
Market Market has a locavore menu and weekly spoken-word poetry slams.
Artsy Spots
The Basilica Hudson used to be a glue factory but now hosts ska concerts, avant-garde movies, and a variety of other exhibits. The three-screen Moviehouse on Main Street has an art gallery and cafe. The Wassaic Project is an arts organization housed in a refurbished mill and animal auction house.
Festival
The Phoenicia Festival of the Voice.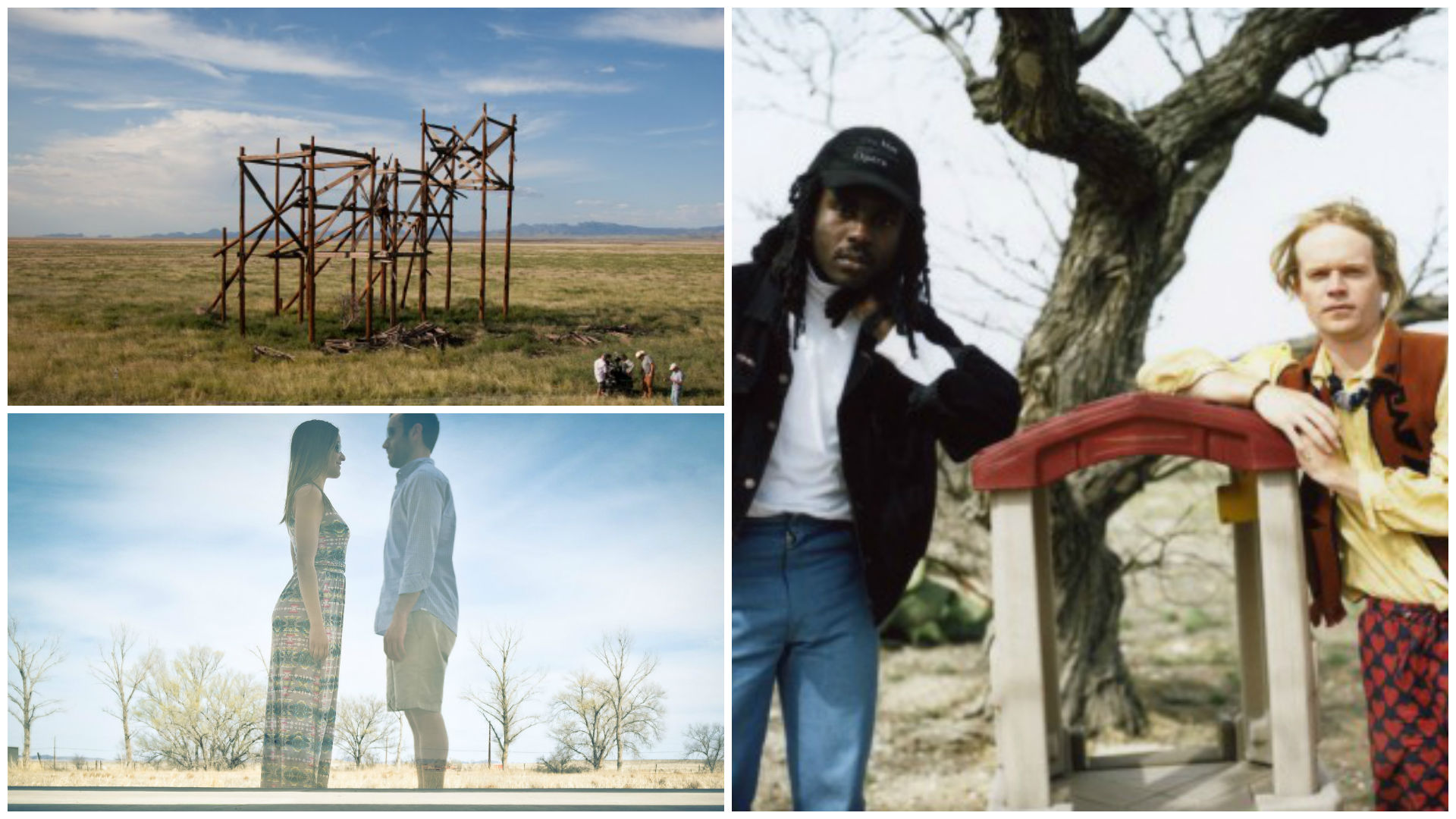 6. Marfa, Texas
---
Four hours southeast of El Paso, NPR called this town a "Western-themed outpost of Brooklyn." Marfa was headed towards becoming a ghosttown until minimalist artist Donald Judd came in the 1970's, wanting to escape the New York City art scene. He converted an old army base into a gallery of art, and since then has attracted artists hoping to follow in his footsteps.
These days, the town of 2,000 still has only one stoplight and no hospital (read: few retirees), but still maintains a thriving art scene that keeps the town alive with screenings, readings, gallery shows, and more. The small size, harsh environment, and lack of amenities naturally selects an artistic crowd that's young, committed, and (as NPR put it) "truly hardcore."
Eats/Drinks
Maiyas Restaurant, or the gourmet food truck Food Shark. Grab ice cream while doing laundry at Tumbleweed, and grab a drink at Padre's, a funeral parlour turned into a bar.
Artsy spots
The Chinati Foundation (chinati.org) is a contemporary art museum showing what the New York Times later described as "the last great American art of the 20th century". Ballroom Marfa (ballroommarfa.org) is a gallery housed in a historic building from the 1920's. There's also Marfa Contemporary (others from site). Marfa Book Company is the only place in town that sells the New York Times also hosts Yoga classes in the morning.
Festival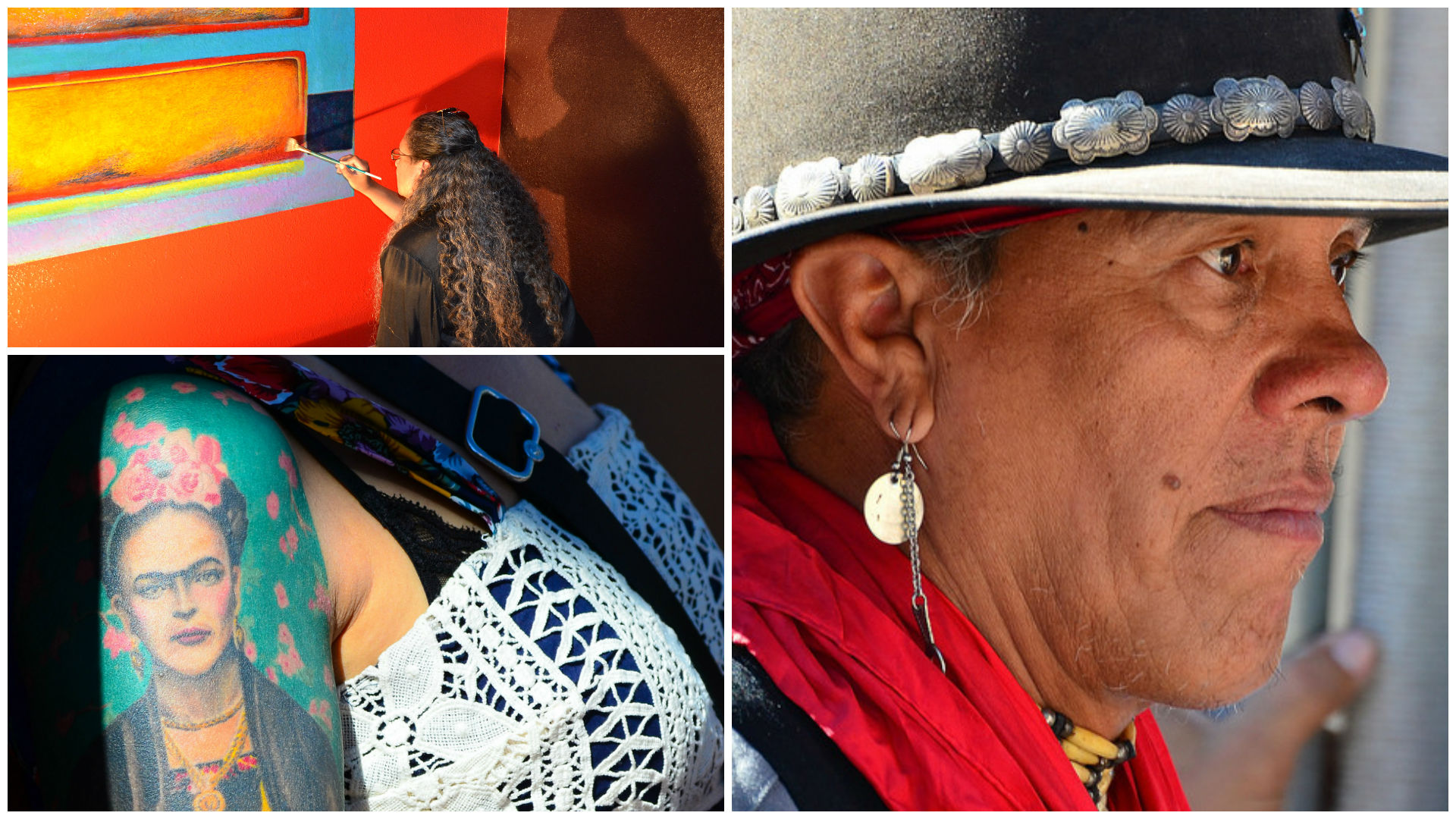 7. Santa Fe, New Mexico
---
Emerging artists from around the country take a pilgrimage out to Santa Fe not just to show their work to a respected community of artists, but to learn from seasoned crafters who have spent decades fine tuning their craft.  Ranging from impressionist paintings and turquoise jewelry making, Santa Fe celebrates all forms of artistic expression.
Special thanks: KaeLani Kennedy
Eats/Drinks
Kakawa Chocolate House channels the ancient spirit of chocolate with Mayan and Aztec chocolate elixirs. Second Street Brewery has a 20s and 30s Social group that hangs out here. There's also plenty of cool cafes:  Cowgirl Cafe, Counter Culture Cafe, and Iconik Coffee Roasters. For drinks, there's a popular dive (aptly) named The Matador.
Artsy spots
The city has over 100 galleries running along three miles of Canyon Road. Some to look out for: Michael Henington Fine Art Gallery, the Chiaroscuro Contemporary Art Gallery (showcasing Native American, Aboriginal, and Southwest abstract art). heck out Canyon Road Arts for weekly happenings.
Or, visit Museum Hill to check out the Museum of Indian Arts & Culture, the Wheelwright Museum of the American Indian, the Museum of Spanish Colonial Art, and the Museum of International Folk Art, all displaying some of the most significant collections of Native American and folk art in the US. On the hipster side of the tracks the Railyard District — formally called the Guadalupe District — is an outdoor space used for performances and markets.  Perhaps most famous is the Georgia O'Keeffe Museum. The Santa Fe Playhouse is the oldest still running theatre west of the Mississippi. Featured performances range from classic Shakespeare plays to modern interpretive dance.
Festival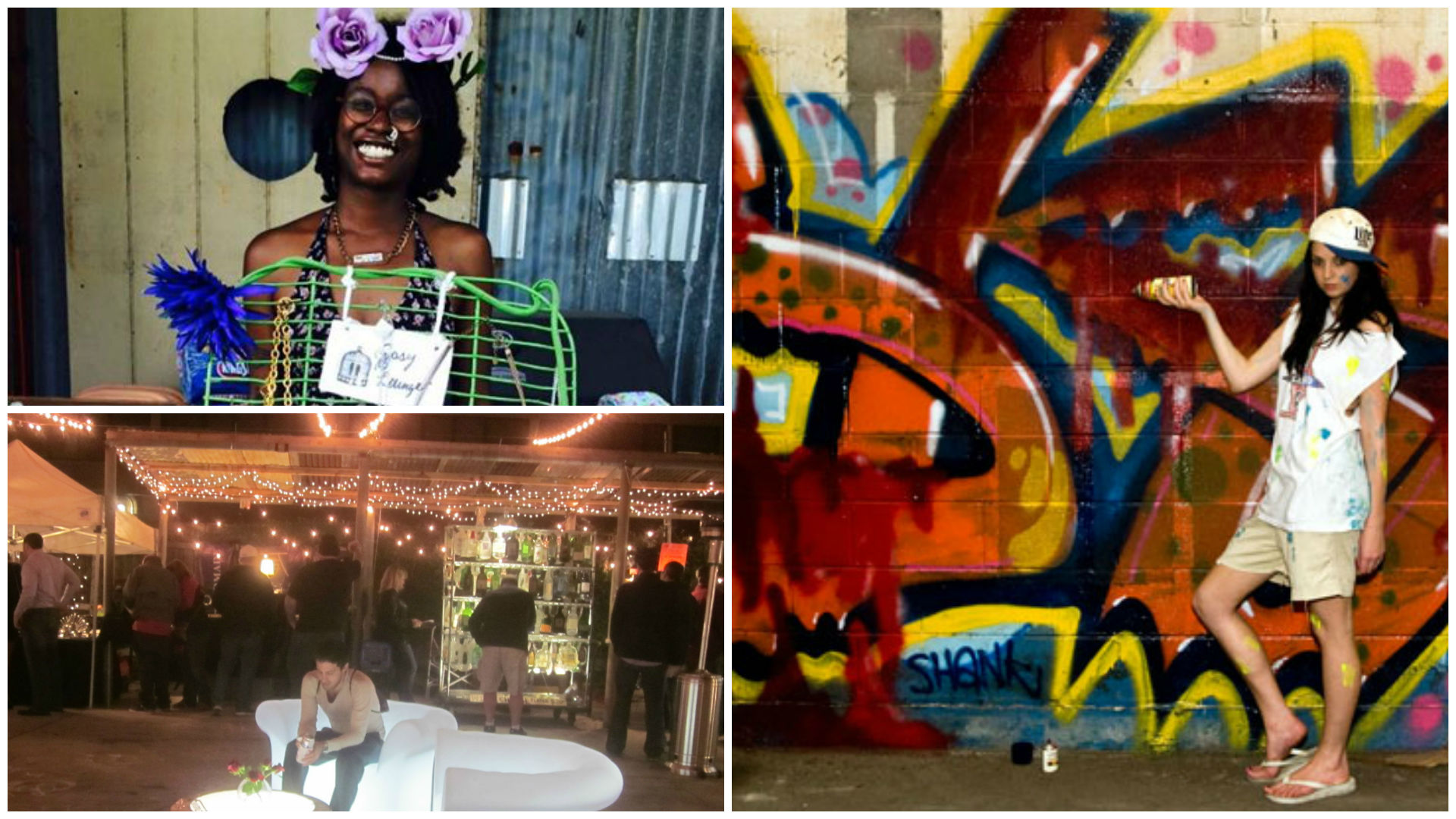 8. New Orleans, Louisiana
---
Ten years after Hurricane Katrina, this city breathes art from every corner. In fact, some city art traditions — like its annual Draw-a-thon, a free 24-hour public art exercise — were birthed from impromptu moments of artistic inspiration that formed a sense of community days after the hurricane hit, and helped the city heal. Now the art scene feels firmly established: art festivals (like Arts for Arts' Sake, the unofficial kick-off for the city's art season) draw tens of thousands to town, city buildings display a wide variety of public art, and artsy neighborhoods like the Marigny and the Bywater attract young professionals ready to reinvent the scene. 
After a chaotic history, art in this city symbolizes autonomy and resistance. As one local said "When you have a pencil, you have control. You can create something."
Eats/Drinks
Café Dauphine is one of the few restaurants succeeding in the Lower Ninth Ward.
Artsy spots
Visit Frenchmen Art Market or the Piety Street Market for large displays of work from local artists, jewelers, designers, makers, vintage collectors, and more. Or, check out The Avant Garden whose mission is "to provide an alternative to the usual local Arts Markets by a process of individually inviting vendors that represent emerging talent in the city."  Check out notable galleries like 39 Congress and the Antenna Gallery. Visit the Backstreet Cultural Museum in the Treme to see the elaborate and heavy (some over 100 pounds) costumes worn by African-Americans in their alternative Mardi Gras celebration, back when the parade was as segregated as the rest of the country. Organizations like Constance New Orleans or Pelican Bomb report on other upcoming art happenings. 
Festival
This town's got so much more than Mardi Gras: In August the Warehouse Arts District hosts White Linen Night with gallery crawls, live music, and food and drinks from top restaurants throughout the city (this is closely followed by Dirty Linen Night, when Royal Street gallerists place laundry baskets outside their shops, hand out dirty martinis and dirty rice to visitors, and where the dirty linens they wore for the block party the week before). 
9. New Bedford, Massachusetts
---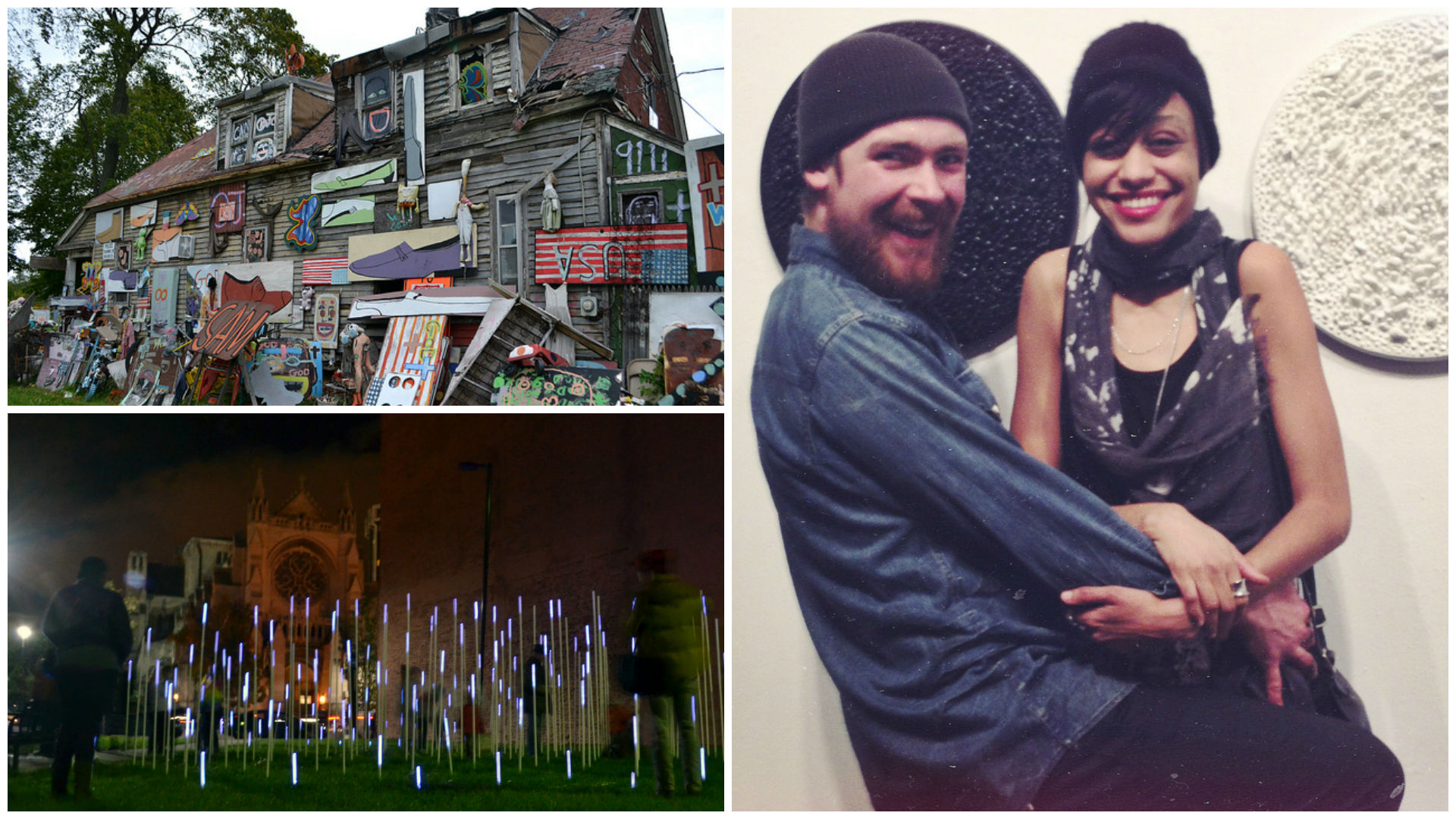 10. Detroit, Michigan
---
Any city where you can buy a house for $30,000 is bound to attract artists. With prestigious foundations committing money to developing arts projects and fellowships, the city has now become a haven for the talented, struggling artist looking for their first break. The effort is working. Detroit's growing art scene is becoming yet another example of the city's resilience.
Eats/Drinks
Cliff Bells for award-winning cuisine and live jazz in downtown, Hudson Cafe for brunch, Atwater Brewery for craft beer. Around since 1965, the Traffic Jam and Snug now has an in-house bakery, microbrewery, a dairy, and a multi-level dining room serving an "eclectic" menu.
Artsy Spots
The Detroit Institute of Arts almost closed in 2012 after the recession, but citizen support ensured it stayed around. Each week, they host a variety of events, including free performances from musicians around the world. Red Bull's House of Art is an emerging-artist incubator, and Mosaic Youth Theatre develops young artists. 555 Nonprofit Gallery and Studios (housed in a former police precinct) is a volunteer artist-run organization providing affordable workspaces and programs.Art Detroit Now represenst 90+ art organizations, galleries and museums in the metro Detroit area to sponsor city events like Detroit Gallery Week, Detroit Gallery Guide, DLECTRICITY, and Third Thursday.
But there's plenty more to see: the Museum of Contemporary Art, the Contemporary Art Institute, the Detroit Artists Market, Start Gallery, Spread Art at Contemporary Detroit, Tangent, The Scarab Club, Inner State Gallery, Trinosophes, Butcher's Daughter, Re:View, What Pipeline.
Festival