in paid partnership with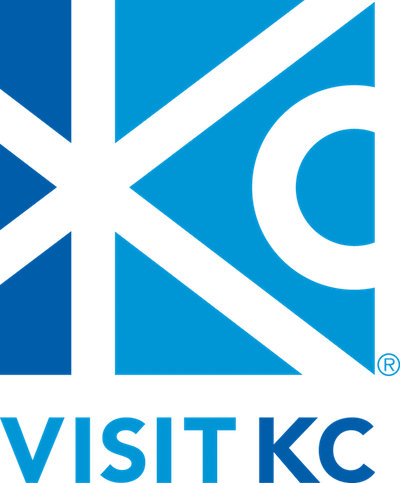 1. Getting around is easier — and greener — than ever.
Kansas City took a while to jump on the high-tech public transit bandwagon, but the new streetcar line was worth the wait. The line runs smack dab through downtown, connecting the city's hippest neighborhoods — the Crossroads Arts District, the Power & Light District — with top attractions — Union Station, City Market, and the Kauffman Center for the Performing Arts. Did I mention there are seven-foot-tall interactive touchscreen kiosks at the stations and the whole system follows the same routes as the city's 328 free-wifi access points? Oh, and wifi isn't the only thing that's free — fare is free, too.
Want to explore beyond downtown? Kansas City may not be as synonymous with biking as Portland or Minneapolis, but don't let that fool you. When Portland was cutting the ribbon on its first city-wide bike share program, KC's B-cycle program was blowing out the candles on its 4th birthday cake! Bikes stations are scattered around the metro, including several along the popular 10-mile Trolley Track Trail.
2. Sweet, tangy Kansas City-style barbecue will change your life.
In Kansas City, barbecue is all about the sauce. Each family touts their own secret recipe, and the Fiorella clan is no different. After learning the trade in his parents' restaurant, Jack Fiorella set out to take barbecue upscale — complementing the family recipes with such novelties as wine and actual cloth napkins. The departure from the norm earned Fiorella's Jack Stack Barbecue a Zagat title of #1 Barbecue House in the Country.
Across town, Jack's sister Mary stuck to tradition. Equally delicious and decidedly "unfussy," The Stack is a neighborhood joint tucked into a strip mall next to a Chinese food restaurant. Grab a fistful of paper napkins — you're going to need them as you dig your way through a pile of fall-off-the-bone-tender pork ribs and classic KC "burnt ends," cut from the end of a slow-smoked brisket. Whichever sibling's smokestack you choose, you can't go wrong — because the family's signature Cheesy Corn Bake is available at both.
3. Your Untappd profile will thank you.
So you're a big-time beer connoisseur and you think you've tasted it all? Why crack open another over-hopped West Coast brew when you could plunge tastebuds-first into the most untapped beer scene in the country? (Pun very much intended.)
Boulevard Brewery, with their best-selling-in-the-Midwest Unfiltered Wheat, has been doing craft beer since before it was cool. These days, admittedly, they have a bit more competition, but they've weathered the new-craft-brewery-on-every-corner storm, and are now the largest specialty brewer in the Midwest.
At KC's Torn Label Brewing Company, you can wake up your tongue with Home Brew, a unique "wheat stout" brewed with locally roasted coffee; heat things up with the Quadjillo, a Belgian-style quad brewed with whole guajillo chilis; and put out the fire with the Bloody Christmas blood orange stout.
Across the river at The Big Rip, taps change so often there's always something new to try. Cross your fingers for the OCR (Oatmeal Raisin Cookie) or Zelda's Vanilla Cream Ale. Gluten-avoiders rejoice — there's always a wheat-free fruit beer in rotation.
4. It's tough to find a bigger bang for your vacation buck.
The streetcar isn't the only thing you'll get for free in Kansas City. Some of the city's hottest attractions charge an admission price of ab-so-lutely nuthin'.
Get all misty-eyed watching old commercials at the Hallmark Visitors Center, where there's a button-activated machine that will make you a signature star-shaped red ribbon gift bow, because: why not? (BONUS: free souvenir!) Tour Kansas City's very own air-roasting coffee company, The Roasterie. Pretend you're in Paris as you stroll through the impressively curated Nelson-Atkins Museum of Art.
And when you're ready to crack open your wallet, take pleasure in knowing that average KC hotel rates, food costs, and other prices are among the lowest in the country.
5. It's always game time — and no one cheers like KC.
Kansas City sports fans are notorious for having the loudest cheering sections. Perhaps it's all the practice they get, with three national franchises and a hearty showing of local teams. No matter what month it is, there's a team to cheer on somewhere in town. In summer, locals flock to "The K" to root, root, root for the home team Royals, who — in case you didn't hear — were the 2015 World Series champs.
Once fall rolls around, fans simply walk next door to Arrowhead Stadium and swap Royal blue for Chiefs red. Chiefs games are as exciting outside the stadium as they are inside, thanks to an impressive tailgate culture frequently rated among the liveliest in the nation. With so many football fans about, it should come as no surprise that the city is also home to a women's tackle football team, the Kansas City Storm.
Winter adds Missouri Mavericks ice hockey to the mix, as well as an often-bawdy, always-entertaining Roller Derby season. And come spring, soccer kicks off. Unlike many American cities, soccer is a big deal in KC — there are two teams: Sporting KC, a Major League Soccer team, and FC Kansas City, a National Women's Soccer League team.
6. The souvenir shopping can't be beat.
KC is a city of makers, and you're gonna want room in your suitcase for more than a few local finds. Head to Urban Provisions for American-made soaps, sauces, and designer gems for your house. Jellies, pickles, and drinking vinegars can be had at Kansas City Canning Co. At Westside Storey, you'll find an impressive collection of oh-so-hip vintage-inspired tees — alongside a well-curated collection of actual antiques. Keep an eye out for the ubiquitous KC heart tee, by local label Charlie Hustle.
For those in a hurry, the "Made in KC" store is a convenient one-stop-shop for all things local. But if you have the time, it's worth whiling away an hour or two exploring the maze of floor-to-near-ceiling shelves that is Brookside-institution The (New) Dime Store. Summing up their inventory is no easy task, but suffice it to say, Ariel would've loved this place — they've got gadgets and gizmos aplenty.
7. Four seasons means four times the fun.
Unpredictable Midwest weather = no problem in Kansas City. In fact, locals often brag about how lucky they are to experience all four seasons: a green, blossoming spring; hot, sunny summer; crisp, colorful fall; and a cozy winter.
The city is undeniably well suited for whatever the weather brings. On a rainy day, head inside one of the city's top-rated museums: from kid-favorite Kaleidoscope to the quirky Arabia Steamboat Museum (which houses the King Tut's Tomb of the Missouri River), or the acclaimed America's National Negro Leagues Baseball Museum. Or, take refuge indoors and try your hand at rock climbing at The Cave Bouldering Gym or RoKC.
Need to cool off from the summer sun? You could get soaked at the Oceans of Fun amusement park — or grab a friend (or six) and head to the '40s-era diner Winstead's for a foot-tall "Skyscraper" milkshake. Next, it's time for fall foliage. Take a stroll through Loose Park to view the city skyline peeking out above a blanket of reds and golds. Or day-trip it out to Weston for u-pick apples and the fresh cider.
When winter is nipping at your nose, head to the Crown Center Ice Terrace for some grade-A hand-holding. While you're there, crane your neck way up to take in the 100-foot Mayor's Christmas Tree, one of the tallest in the country. And don't leave without ducking in and out of shops in the Country Club Plaza shopping district, where holiday lights outline the Spanish-style rooftops — the same as they have every winter for the past 86 years.
8. Kansas Citians put the heart in Heartland.
The biggest reason to visit Kansas City won't hit you till you're on your way home. As you're gazing out the car/train/plane window, reflecting on your trip, you'll find yourself trying to put a word to the vibe radiating throughout this city. Mouth-watering barbecue and world-class attractions aside, the real magic of Kansas City is the spirit of its people.
A spirit of teamwork — experienced through collaborations like Boulevard's sold-out Chocolate Ale made with cocoa nibs from local chocolatier Christopher Elbow. A spirit of loyalty — heard in the roar of tens of thousands of devoted fans, who only cheer louder when their home team is down. That's how we do KC.